This article may contain affiliate links; if you click on a shopping link and make a purchase I may receive a commission. As an Amazon Associate, I earn from qualifying purchases.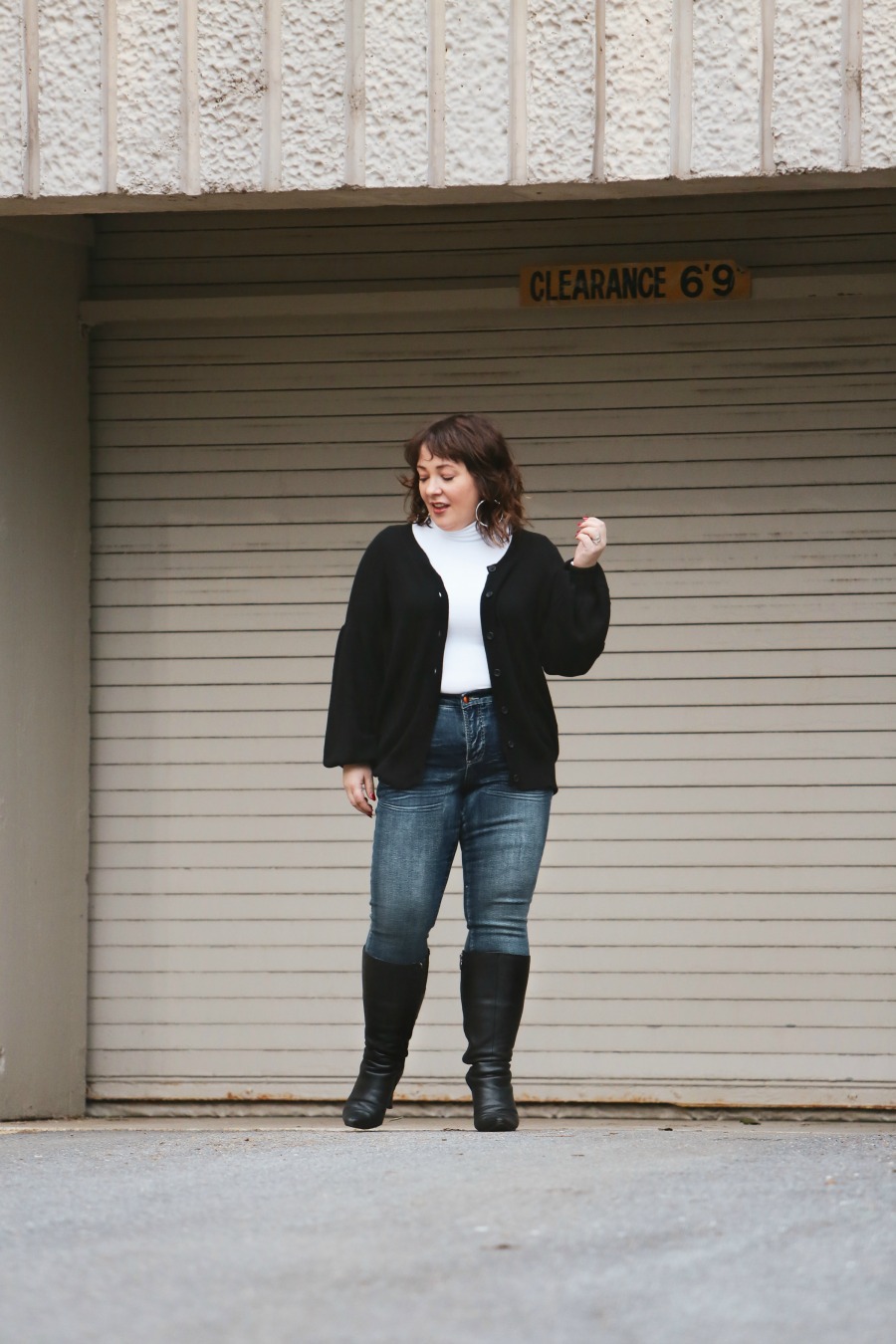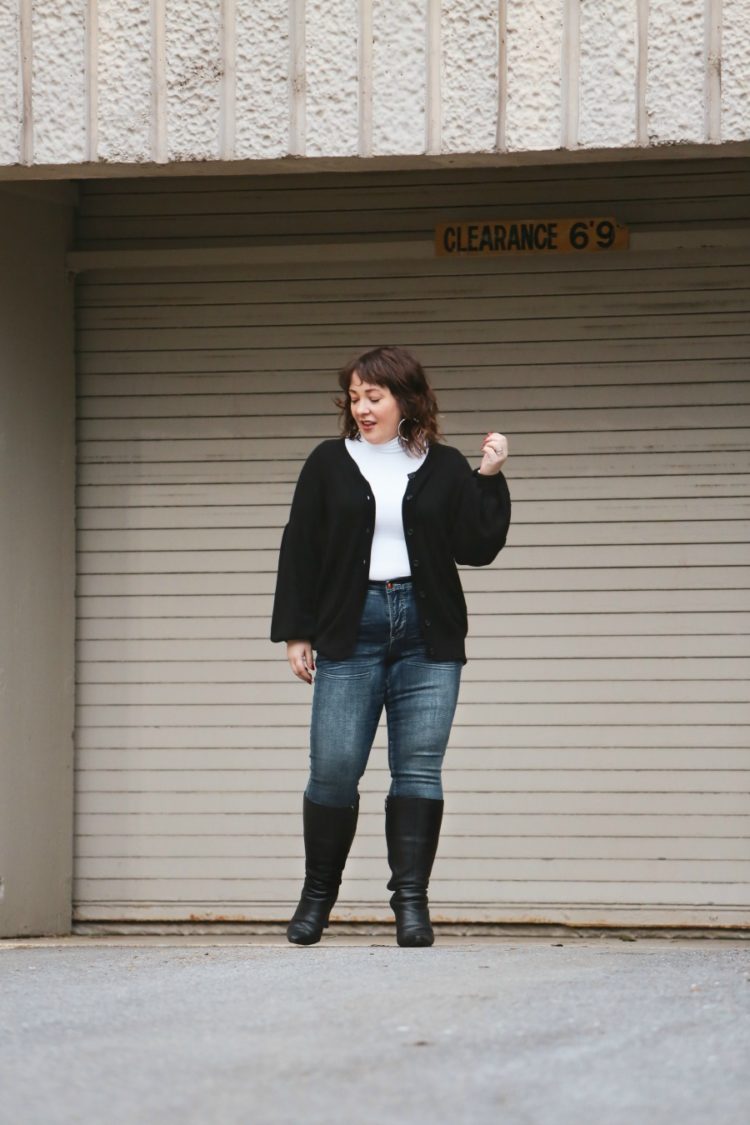 Have you heard about the Universal Standard Foundation Mystery Box? This weekend only, Universal Standard is offering this cool offer – starting at $50 you pick your choice of mystery box in your size. The box will include one piece from their Foundation line with two other pieces.  You don't get to pick the pieces (though from readers in the WO2 Community I've heard US will look at your purchasing history to be sure not to send something you already have).  All of the boxes are valued at least at $200 but can be worth up to $500.  The boxes are available in sizes 6-32 and there is even a petite box available. It's a great way to try out the brand, and if you already are a Universal Standard fan, to get some amazing pieces at a ridiculously good price.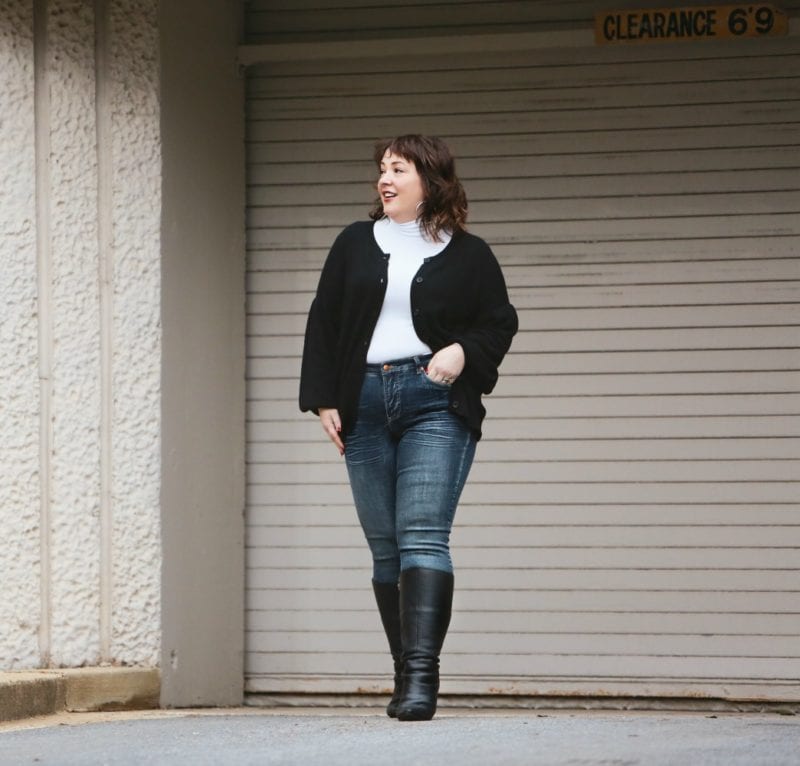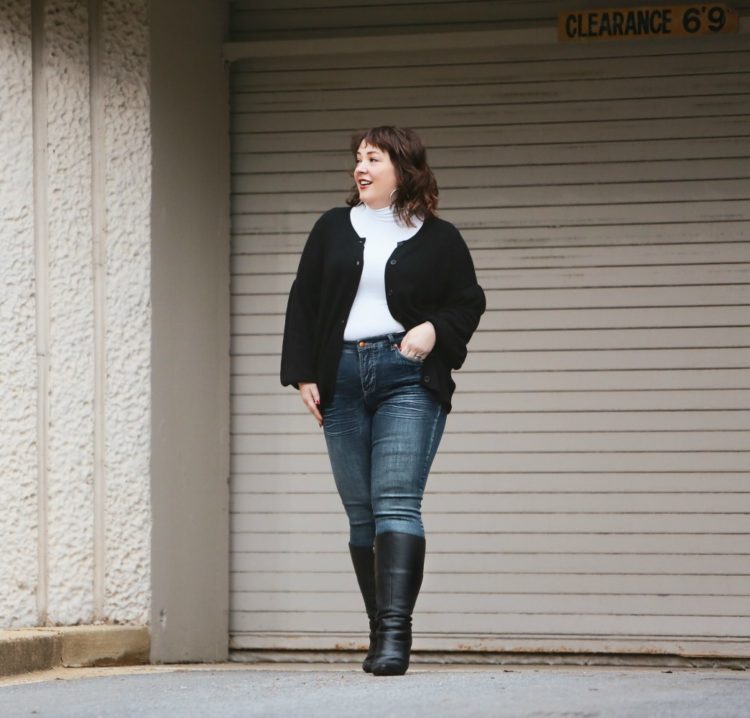 sweater | turtleneck | jeans | boots | earrings (on sale!)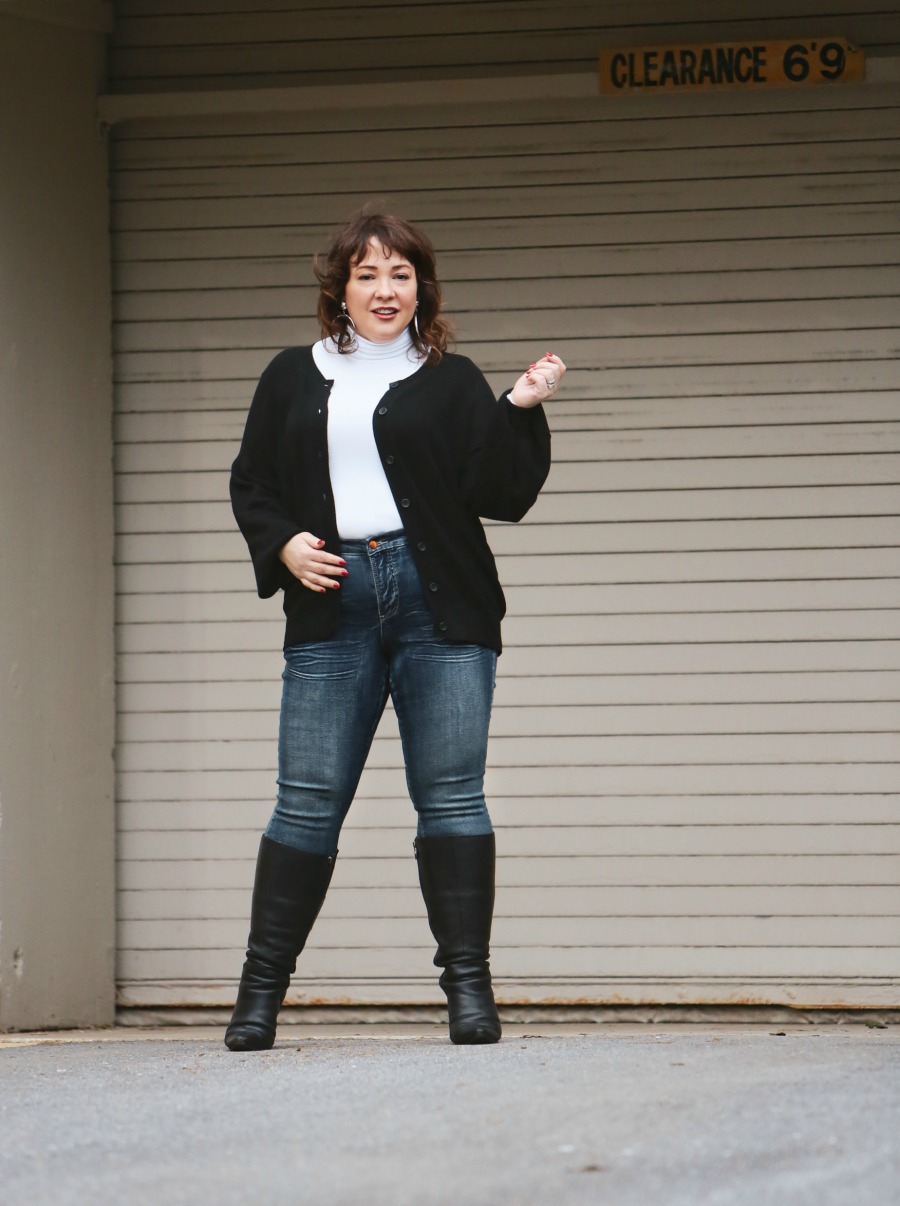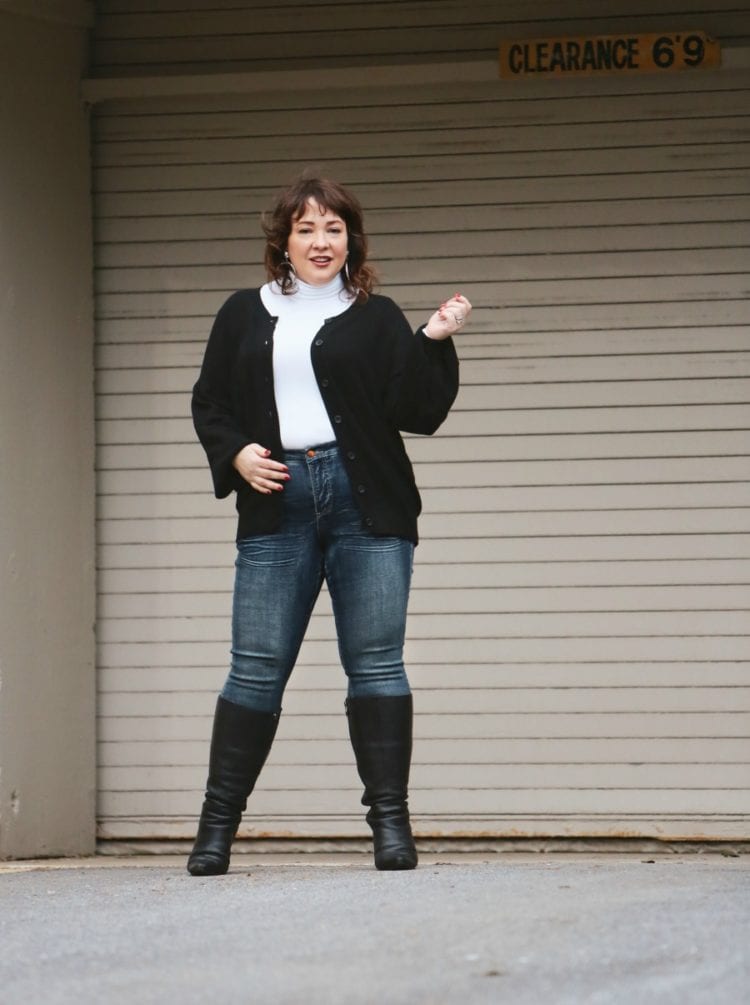 Sweater: Mayon Balloon Sleeve Cardi c/o Universal Standard (XS) | Turtleneck: Foundation Turtleneck c/o Universal Standard (XS) | Jeans: Petite Seine Jeans c/o Universal Standard | Boots: Ros Hommerson (old; similar) | Earrings: Jenny Bird (on sale!)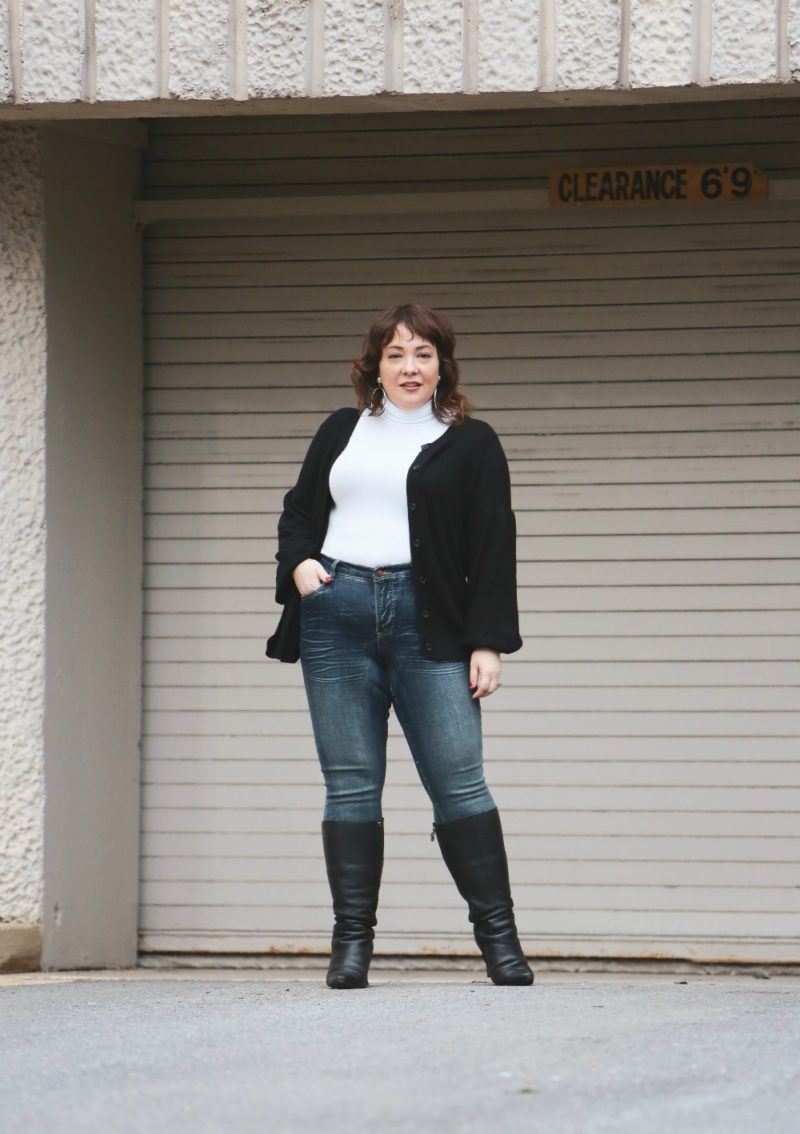 Universal Standard invited me to try their Foundation Mystery Box.  In it were this turtleneck, this sweater (not on the site) and this skirt.  The skirt didn't make it into the photo because while it fit and I loved the eggplant color, I didn't like it with this outfit.  I'm okay with fitted, but feel my best balancing fitted with some volume and having the turtleneck and skirt together was a bit too bodycon for my comfort level.  However, I'd totally wear it with an untucked cashmere or thicker knit turtleneck, tights, and ankle boots.  The sweater isn't on the website but I hope it shows up soon because it's way more awesome than these photos show it to be.  It's soft, ribbed, has cool balloon sleeves, is a great weight, and has a drape that works with pants, jeans, and dresses. The packing slip says this sweater costs $100. For a $50 box, I received $205 worth of Universal Standard clothing.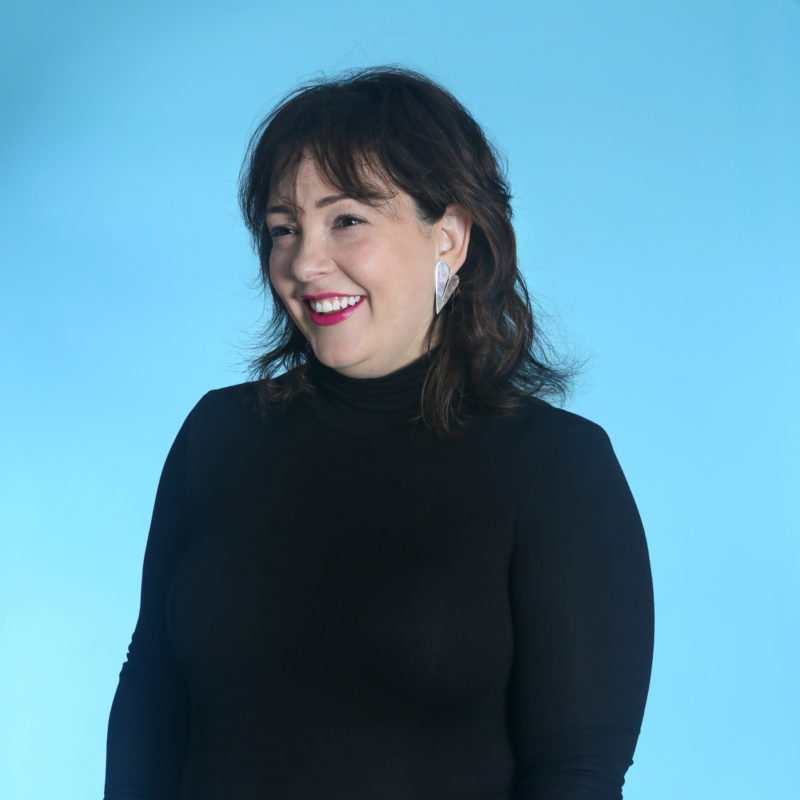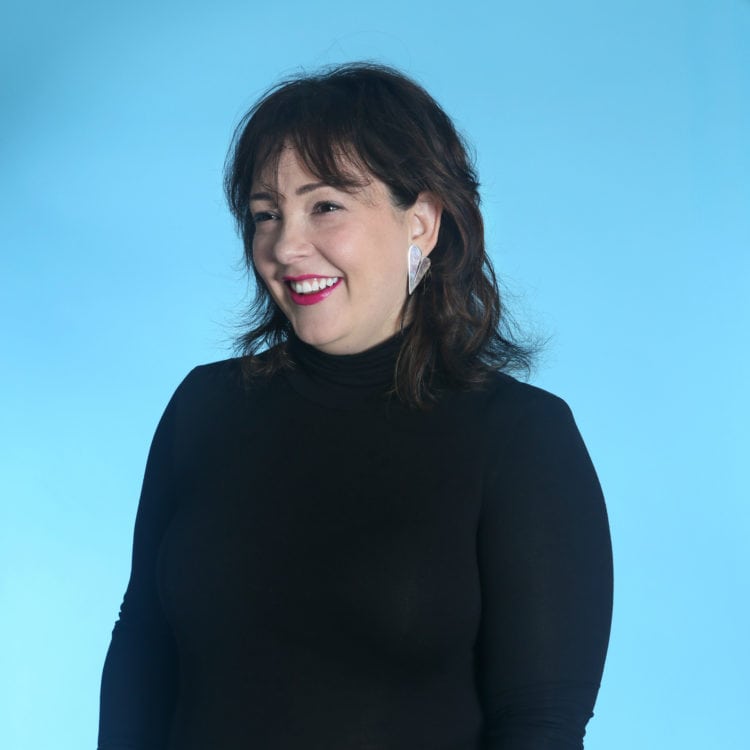 Earrings: Two of Hearts c/o Jenny Bird | Lipstick: Revlon Colorburst Lacquerbalm in Vivacious
I already have the Universal Standard Foundation turtleneck in black and I love it.  It's thin and super stretchy, but not transparent.  Here I am wearing it after the jeans review shoot, where I wore the US Foundation crew neck t-shirt. And here is the last time it was on the blog. I wanted to show how the collection is so opaque, even under studio lights.  I was hesitant to order any of the Foundation line in white thinking it would be sheer. I have a t-shirt bra under the shirt (this one to be specific) and you can't see it at all, even though I chose to tuck in the turtleneck really tight like a bodysuit. I'm so glad they sent it so I could see even in white this fabric remains opaque even when stretched over curves.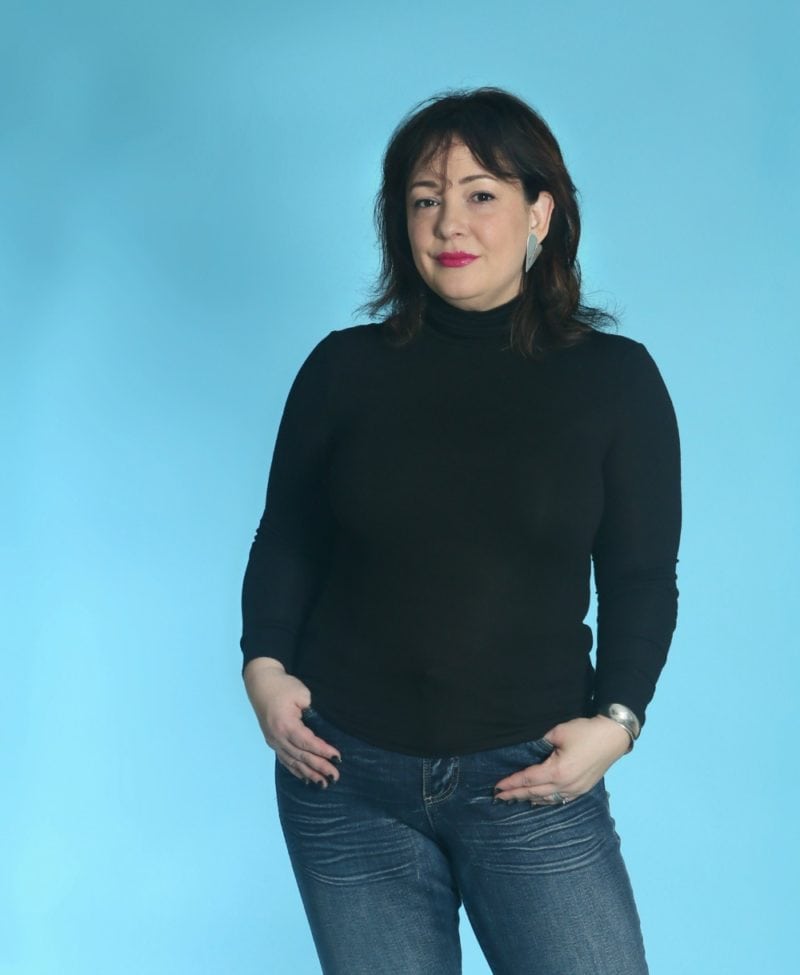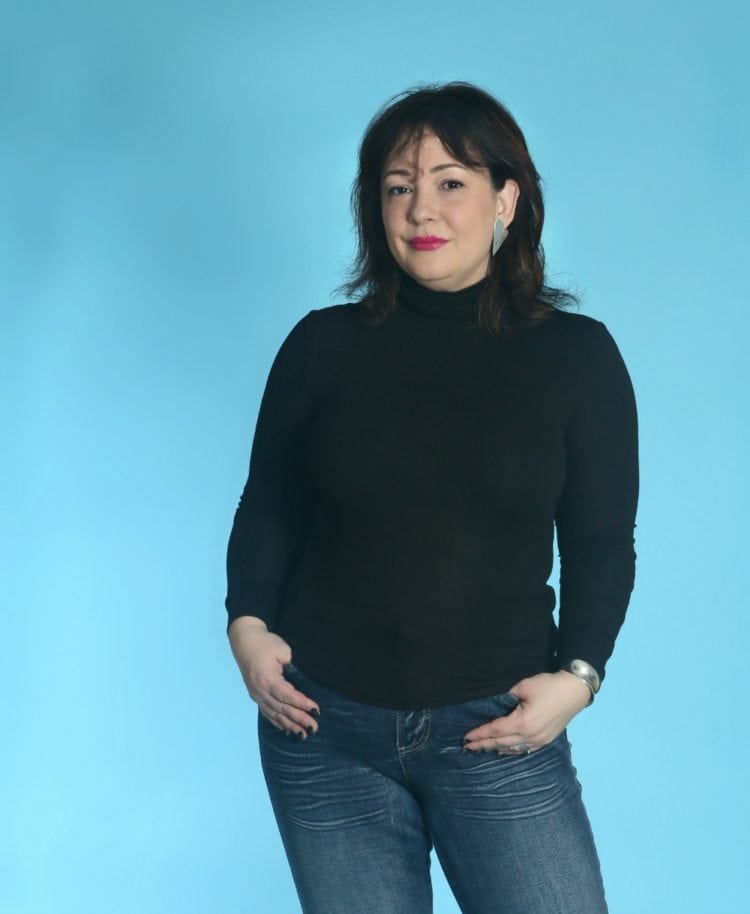 Sizing wise, the Foundation collection is meant to be fitted, it's a foundation piece though the opacity means you could wear it on its own.  I don't recommend sizing up; the fabric is uber stretchy and if you size up it may just hang weirdly.  The pieces are also long; here I have the turtleneck tucked in and bloused out enough so it looks like it's untucked.  If I pulled it down it would be a micromini dress on me yet it's not so thick that it feels bulky tucked in.  For those who are tall or have curves, there will be enough fabric. The tucked in white turtleneck look above? It's four hours later and I'm still wearing it tucked in and it hasn't wriggled out.  Unlike a bodysuit that can give you a wedgie, the Foundation pieces can give the effect without discomfort.  The collection is available in size 00 through 40; I've washed and dried my Foundation pieces several times and they've remained saturated in color and the same size and softness. At the time of these photos of the black turtleneck, the thing must have been laundered at least a half dozen times.
Shop the Look:

I received the Universal Standard Foundation Mystery Box in exchange for a little social media promotion.  I chose to write this post after seeing so many of you discuss the Universal Standard Foundation Mystery Box in the WO2 Community and have had so many of you email, comment, and DM me asking the thickness and quality of the Foundation line in general.