This article may contain affiliate links; if you click on a shopping link and make a purchase I may receive a commission. As an Amazon Associate, I earn from qualifying purchases. 
I had been curious about sauna blankets for a while. I decided to purchase a sauna blanket for my husband and me to share… but when researching sauna blankets I found that they weren't very size-inclusive. Looking for a more size-inclusive option, I found this portable infrared sauna and bought one. Below is my honest unpaid low EMF portable sauna tent review.
I am updating this sauna tent review in 2023 buying it in 2020 to share our family's honest thoughts on this appliance, how it has held up, and whether we think this was a good purchase.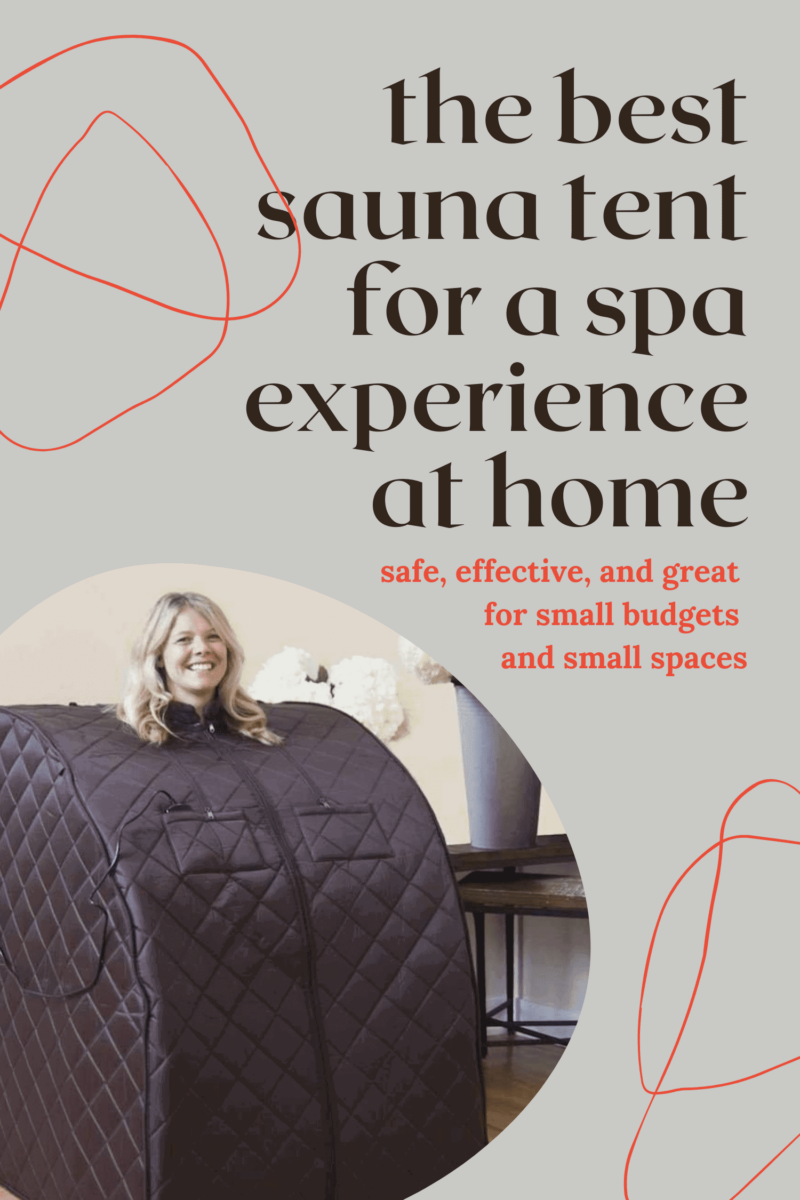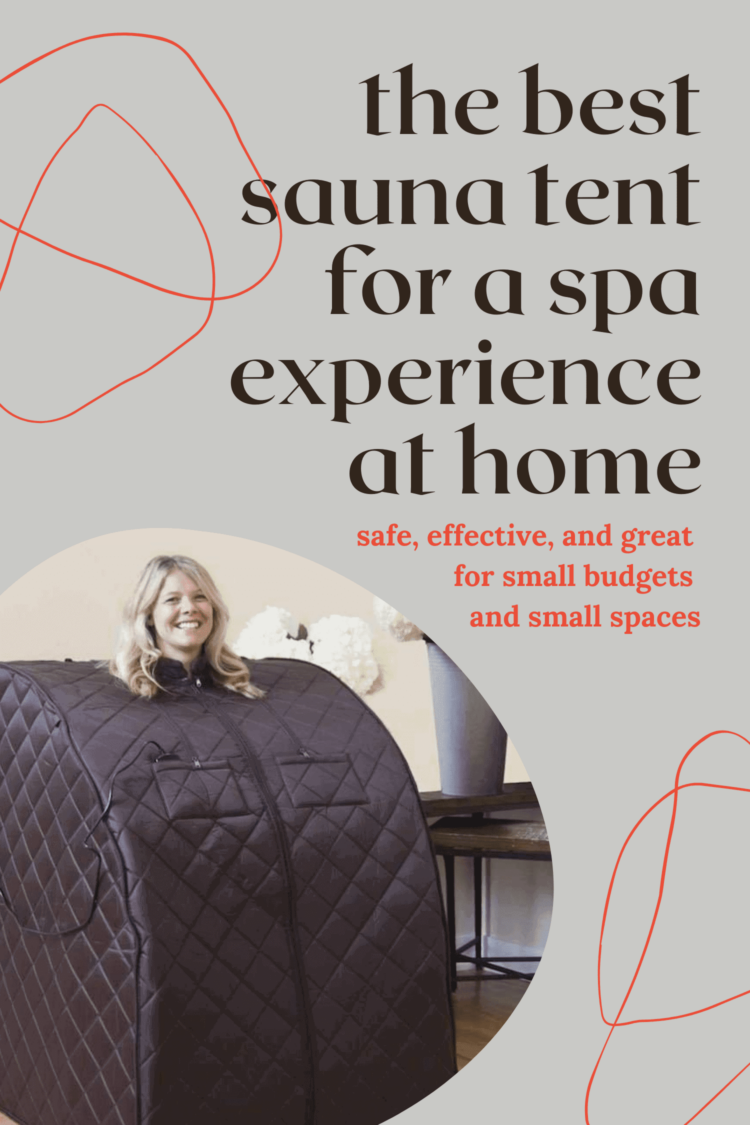 Low EMF Portable Sauna Tent
Why We Considered a Portable Sauna for Our Home
I freaking love a sauna. I haven't been to spas a lot, but when I do I always head to the sauna. I love the heat, the steam, the sweating, and then having a cool shower afterward. How my skin feels great, my body feels limber, aches and pains are lessened, and I am relaxed.
My husband has always been athletic, and since he turned 40 has been looking for ways to reduce inflammation and improve performance and recovery from workouts. In his research, he saw saunas recommended for workout recovery and for reducing pain.
We lived in a relatively small house; it was just under 750 square feet. We added on to the house a little over a decade ago; even so, neither our home nor our bank account is large enough to have a sauna in our home.
2020 made us realize the value of turning our home into a retreat. I think many of us can relate to this. Whether it's switching up the décor or upgrading an appliance, such purchases felt almost necessary after months confined to the same space.
We by chance purchased a Peloton at the beginning of the pandemic and it proved to be one of our best purchases ever. We bought a screen house so we could enjoy our yard without the mosquitoes eating us alive. We got a bidet and liked it so much we got another. It was amazing how small purchases like this improved our well-being and made lockdown less miserable. But back to the sauna.
Why is a Portable Sauna Tent Better Than a Sauna Blanket
So, I have seen a few influencers and bloggers rave about the HigherDOSE infrared sauna blanket. I've been considering it for a while; I even added it to a self-care gift guide thinking it a genius product. When my husband told me about some podcast he listened to that discussed the benefits of a sauna, I told him about the sauna blanket and suggested we buy it for a Christmas gift to ourselves.
The thing is, the HigherDOSE sauna blanket is promoted to women because it's made for smaller bodies. The dimensions of this sauna blanket are 71″ x 71″ unfolded with an interior circumference of 65″. This means if you are over 6′ tall you may have part of your shoulders and torso hanging out. It also means if you're larger than a woman's size 18 or men's XL there's no way you can comfortably get your arms in there to get the full experience.
I went searching for size-inclusive sauna blankets and found that all the quality ones were of the same exact dimensions. Looking for a sauna blanket alternative, I came across portable infrared saunas. Reminding me a bit of a shower tent for camping but R2D2 size, these squat soft-sided saunas are plugged into the wall to provide infrared heat.
A portable infrared sauna seemed like a good alternative. And while it was much larger, it easily folded down to slide behind a sofa or under a bed. Also based on online reviews it sounded easier to clean. This sounded like a great option even with a smaller home.
What Are the Benefits of Sauna?
The idea that a sauna can detoxify is a myth, but that doesn't mean there are not many benefits to a sauna. A sauna can offer the benefits of improved circulation, relaxed muscles, and relief from joint pain. Infrared saunas have been seen to reduce muscle soreness and increase recovery from weight training. Even Lady Gaga has an infrared sauna and believes it helps her with chronic pain. The sauna can also help you relax and improve your sleep.
Is Infrared Better than Steam Saunas?
I have used both infrared and steam saunas and liked both but wondered if one was better than the other for health benefits, recovery, and pain reduction.
I went down a bit of an infrared versus steam rabbit hole and haven't found anything to prove that infrared is preferable to steam sauna or vice versa. Most studies say when you factor in temperature, time in the sauna, and breaks taken in between, they in general offer the same benefits. One should pick their type of sauna based upon what they enjoy more or fits better into their lifestyle.
We chose an infrared sauna over steam because infrared saunas are less complicated, easier to pack up or portable, easier to maintain, and usually cheaper. If you are looking for a portable sauna that takes up little space and requires little effort, you'll want a portable infrared sauna.
How Safe Are Portable Infrared Sauna Tents?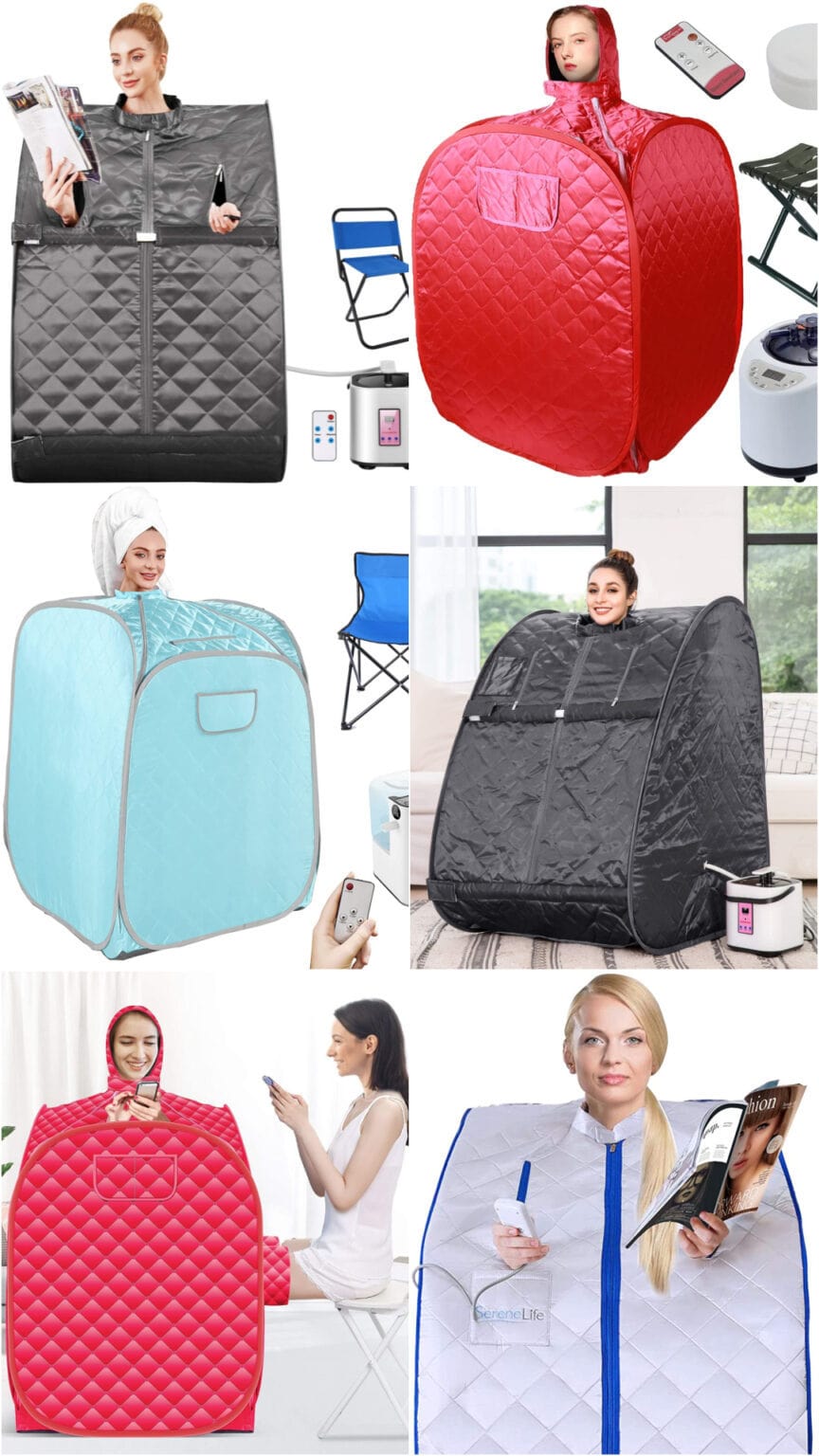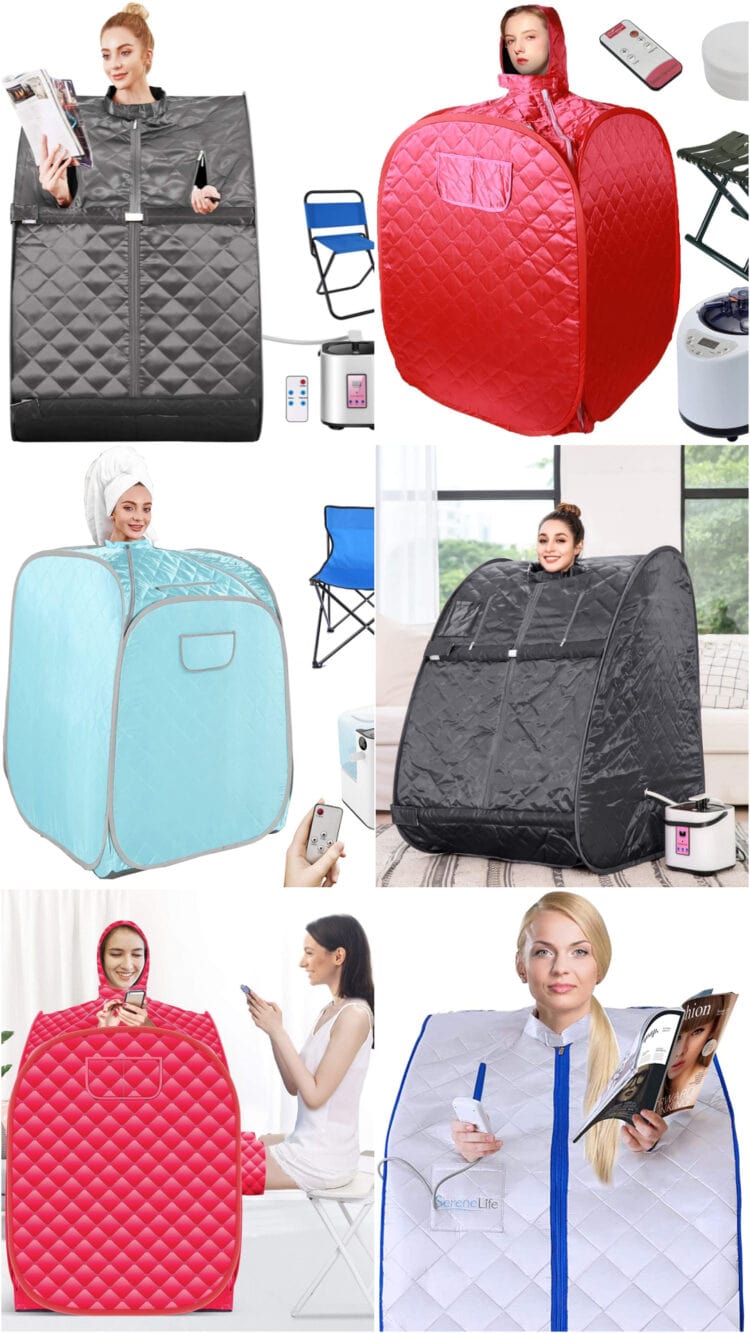 If you search for portable infrared saunas or sauna tents, you're going to find most of them on Amazon. And most of them look exactly the same just with different brand names. They have the same overly made-up women smiling as they scroll through Instagram or complete a crossword puzzle photoshopped into these pastel quilted toaster covers. They have weird typos and grammatical errors in the descriptions and claim ridiculous unsubstantiated benefits.
In summary, these sauna tents look sketchy AF. I don't know about you, but I'm not down with heating my body until it's sweating WATER while it's inside an ELECTRIFIED tent sitting on a METAL CHAIR. And then on top of that, when researching infrared saunas I learned about EMFs.
And I started going into the comments of these cookie-cutter sauna tents and finding that the EMF ratings stated were inaccurate and in fact, the sauna tents had EMF ratings that were dangerously high.
What Are EMFs and Why Are They Bad?
EMF stands for electromagnetic fields. You get exposure to ambient EMFs in daily life, but most sauna tents have very high concentrations. There are differing opinions of what are the side effects of high exposure to EMFs but I've read high EMFs can potentially cause premature aging of cells, sleeping difficulties, anxiety, difficulty concentrating, fatigue, depression, and even cancer. Essentially, you're microwaving yourself in high-EMF sauna tents.
I wasn't willing to risk high EMF exposure, and I don't think you should either. But by learning about EMFs I learned that they make low- and no-EMF saunas. But most of the no-EMF saunas for sale are the kind for those with bigger homes and bigger bank accounts. I began searching for a truly low-EMF sauna tent.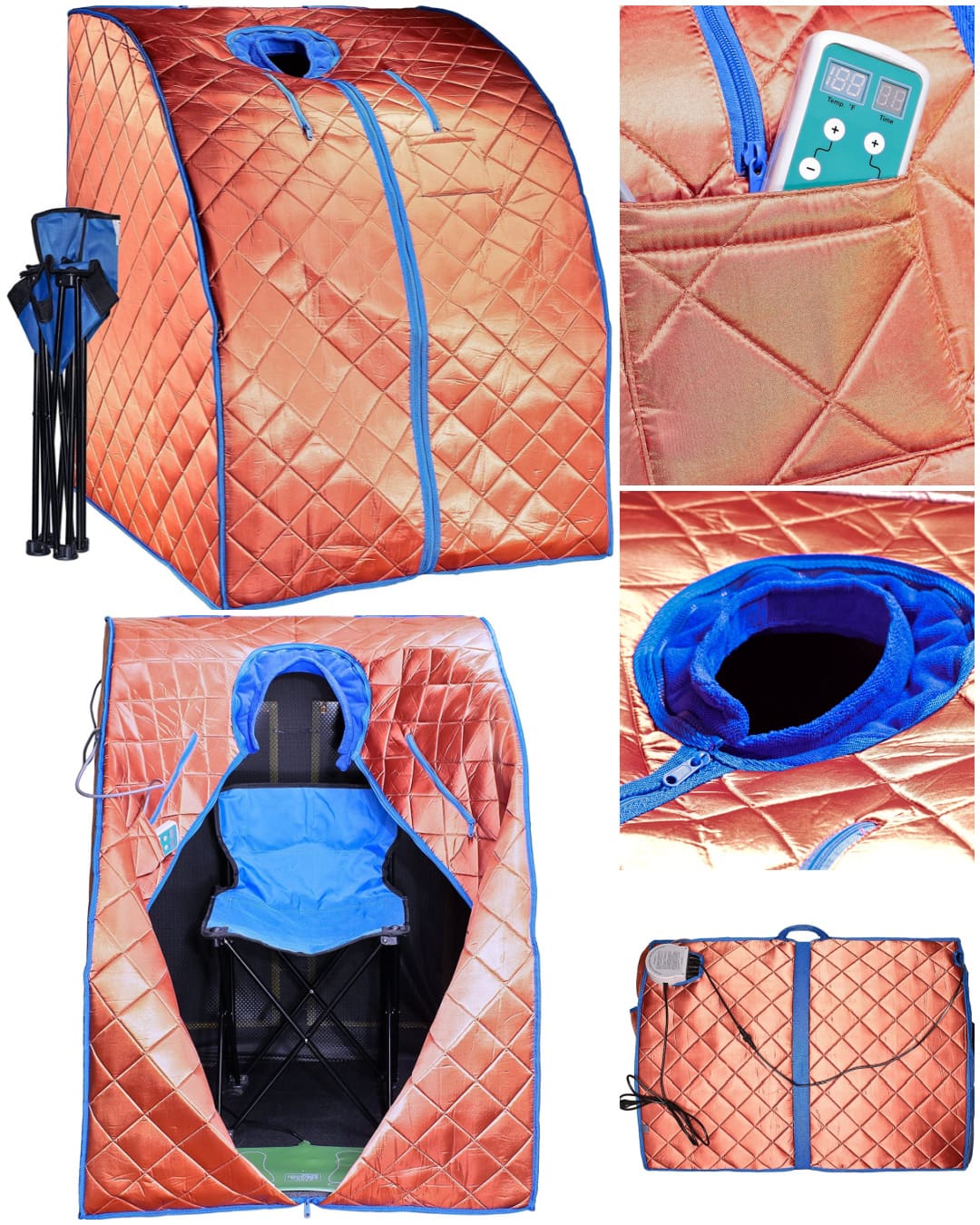 What Is The Best Portable Sauna Tent? My Pick:
Don't believe every review you read on Amazon, especially if it's glowing. However, you can learn a lot from the reviews if you're looking for the best appliance or gadget. And I learned a lot about the benefits of infrared heat, portable saunas, and EMFs in the Amazon comments.
And I learned that this is considered the best low- to no-EMF portable sauna tent because techie owners of this sauna tent have the gadgets and know-how to measure the EMF levels in all the different zones at different times of use.
I learned that people over 6' in height and 200 pounds comfortably enjoyed this sauna. Some replaced the chair or sat on the floor to be comfortable, but they still liked their sauna tent and recommended it.
I also learned that most people felt this sauna tent looked the way it was described online, It was extremely easy to assemble and pack down, easy to use, easy to clean, performed well even after months of use, and while it was slow, customer service usually was willing to resolve any issue (not likely with many of those cookie cutter saunas on the first page of an Amazon search).
Durherm Portable Sauna Tent Review
We purchased the Durherm infrared sauna tent. This type of portable sauna tent arrived in less than two weeks in a lightweight yet large cardboard box. My husband was able to set it up in less than ten minutes. It is a quilted, insulated tent with a frame, removable foam floor, a waterproof footpad that heats (essentially a heating pad without the flannel cover), and a small armless camp chair. There is a heavy-duty cord with a three-prong plug at the back and a corded remote in front that controls the temperature (both in degrees Fahrenheit and Celsius), duration, and whether or not you heat the footpad.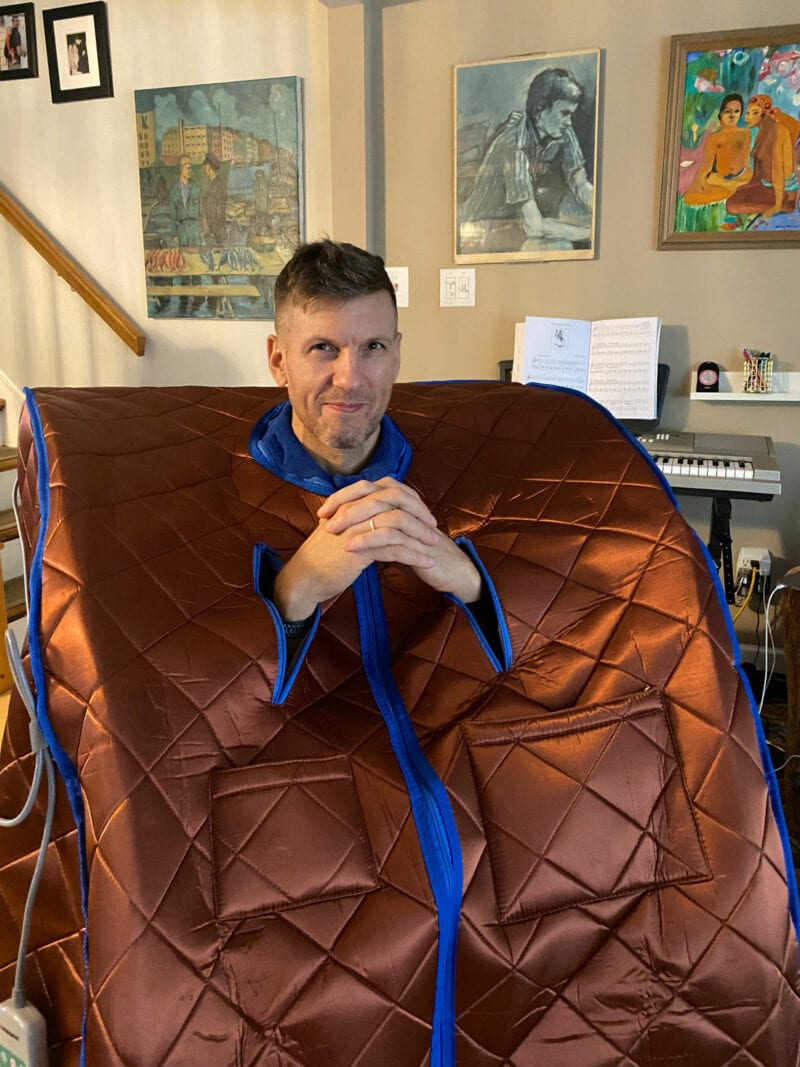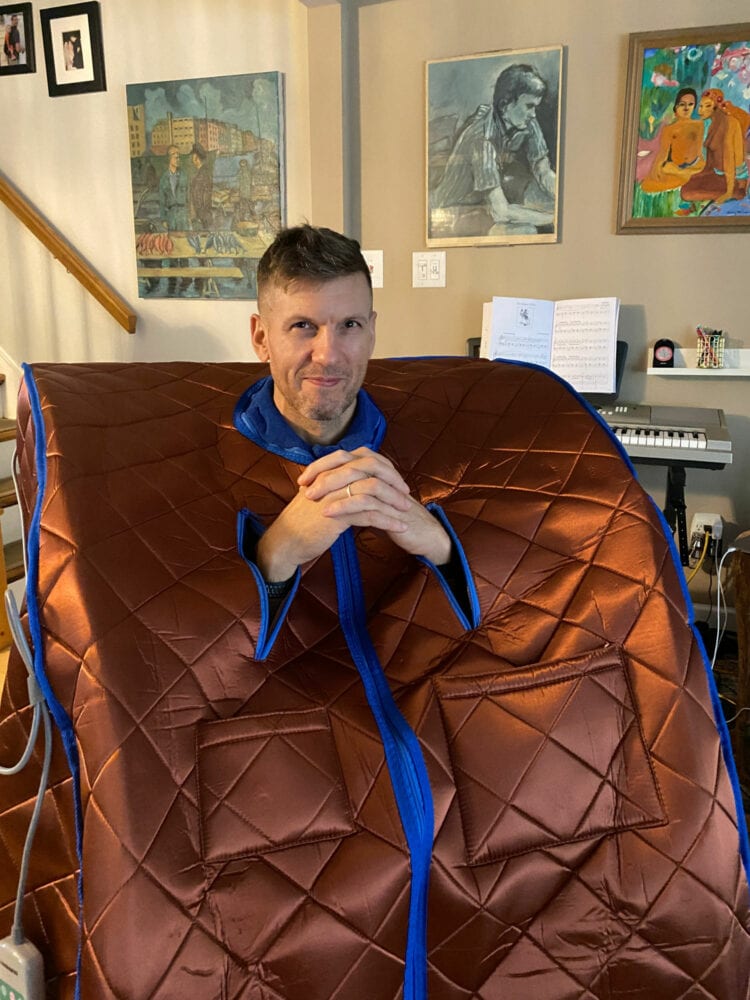 The tent has a double-sided zipper that can easily be opened and closed with one hand, and the same style and quality of double-sided zippers for slits to have your hands free from the tent. Below each hand slit is a large pocket. I can fit a 32 oz water bottle, two TV remotes, my iPhone, and the sauna tent's remote in these two pockets. The neck hole has a removable soft velour towel-like cuff that is comfortable and also keeps in the heat. The sauna comes with two of these neck cuffs so you can wash and have one available or assign different cuffs to different members of the household.
It's a burnt orange/copper color from a synthetic fabric that looks like a sleeping bag or kitchen appliance cover. The trim and zippers are bright blue as is the canvas sling seat of the camp chair. The footpad is corded, but the black foam floor is removed for packing up and cleaning.
Some reviews state the Durherm infrared low-EMF portable sauna tent is off-gassed, but we didn't have an issue. It smelled a bit of new plastic/synthetic materials when it came out of the box, but the smell dissipated quickly and by the time we used the sauna that evening, we didn't smell it, even when it heated up.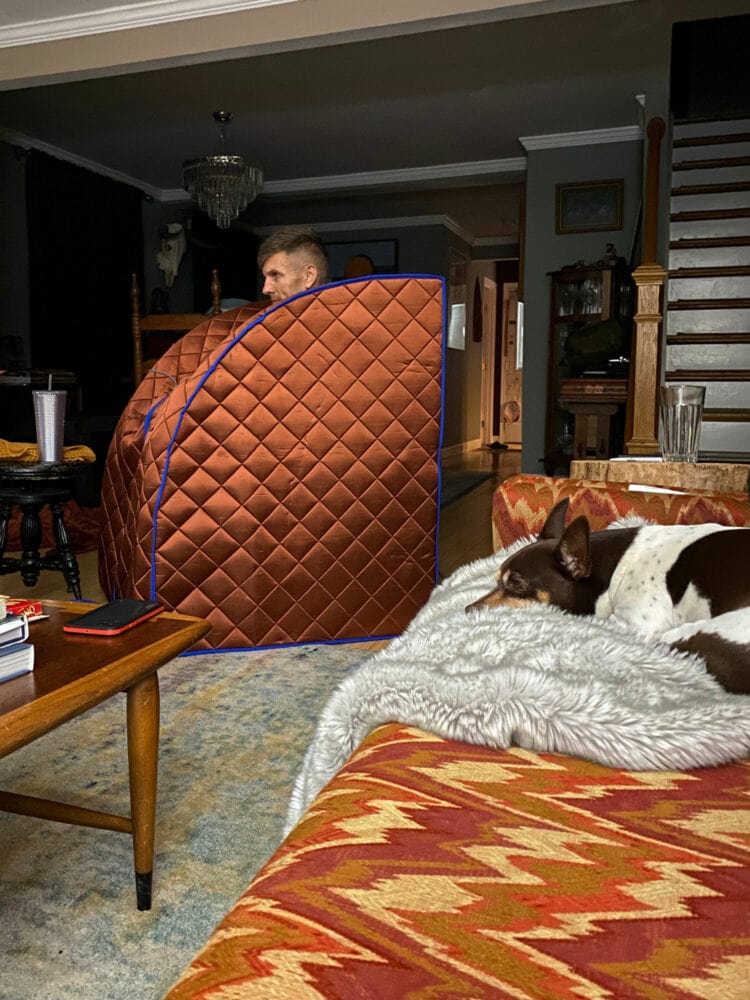 My husband used it first. He is 6'4" and wears a size Large. He found it very comfortable; his knees hit the front wall of the tent but the front doesn't contain heating elements. He tucked his water bottle in one pocket and enjoyed a TV show.
I tried it next. I am 5'3" tall and a size XL. I also found the sauna tent comfortable. I sat on the camp chair, my hands fit through the slits so I could reach the contents of the pockets, and my head popped out of the opening on top just fine. Depending on my positioning, my knees would brush the front of the tent, but that wasn't uncomfortable.
If I moved around a lot, my shoulder or arm would brush against one of the sides which heats up. It was not so hot it would burn but warm enough to have me yank myself away from it. At 5'3″ my feet don't rest flat on the footpad, just the balls of my feet but that's normal for me in most standard-sized chairs.
The heated footpad heats up a lot; I don't keep my feet on it the entire time. I would keep them there until it was too hot, then move them off the pad or have them on the edge of it. I tried the sauna without turning on the footpad and it didn't feel as evenly warm since the front of the tent doesn't heat up. Even if you don't put your feet directly on the footpad, I find it beneficial to have it turned on.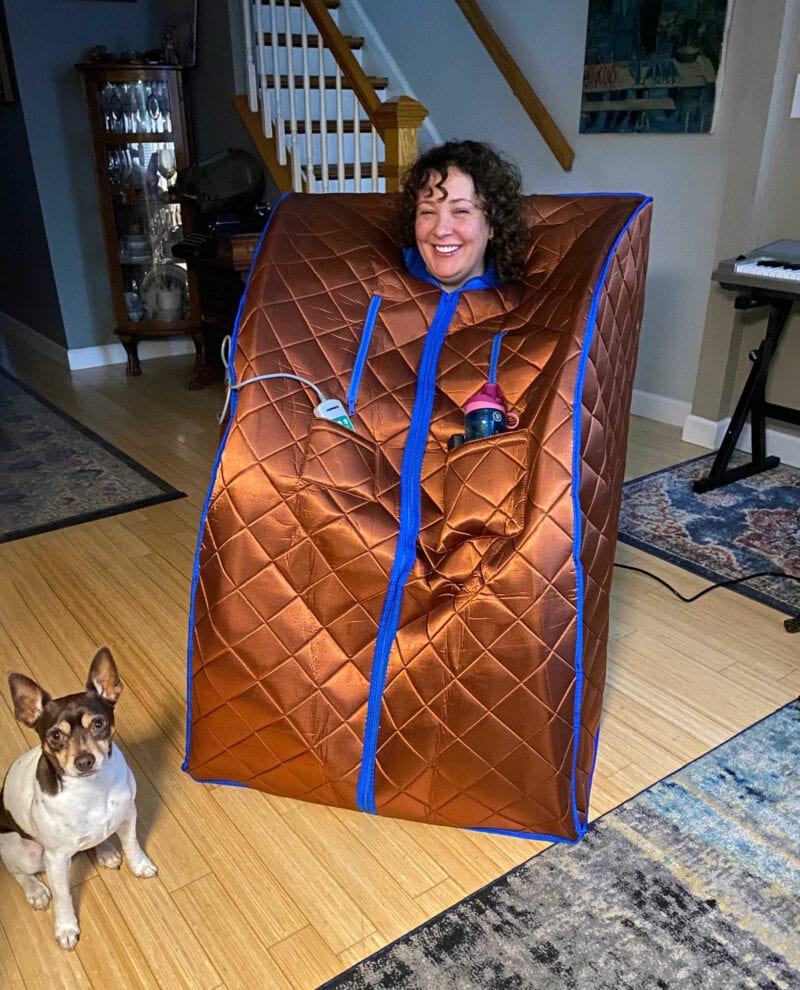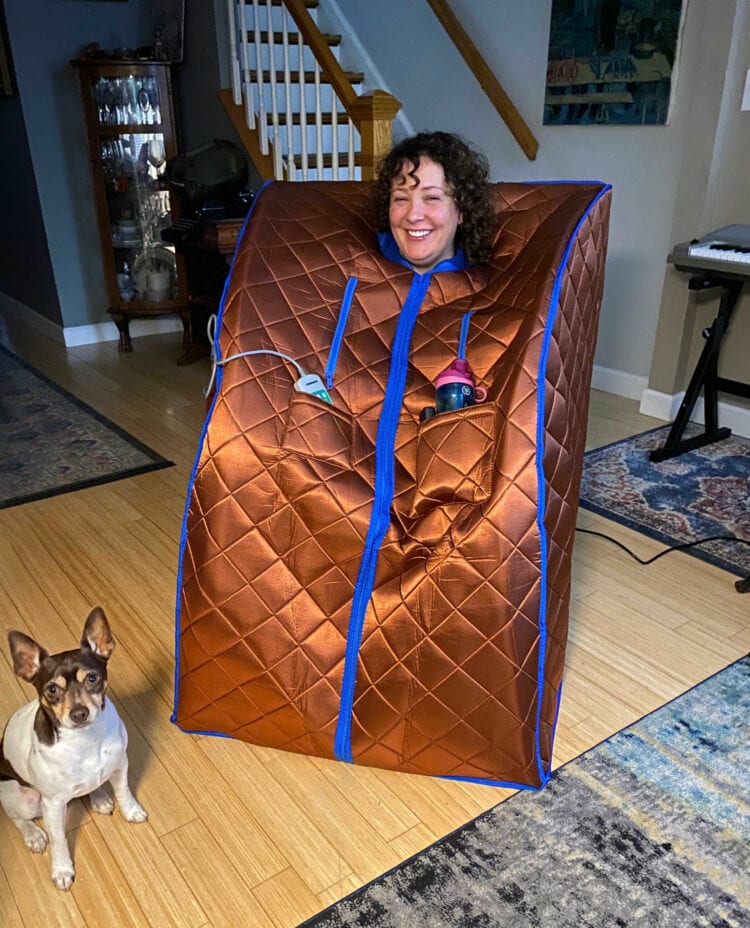 The sauna will be set for up to 30 minutes, but you can add minutes if you so desire. I have gone up to 45 minutes but if I do more I don't find it enjoyable. You can power off the sauna easily with the remote and it cools down quickly. I also drink a lot of water while in the sauna; I bring a 32 oz. bottle with me and consume most or all of it during a session. You will sweat a LOT and it's important to rehydrate.
While all the weird photoshopped photos of women in these sauna tents have them reading magazines, I personally find it more enjoyable to just chill and watch TV so I can keep my arms inside the sauna tent and get the full experience.
I don't feel any hot spots, the sauna tent heats up gradually so you don't feel as though you're being cooked alive, and it's super easy to unzip and hop out if you feel overwhelmed. I can easily feel overwhelmed when hot and in a cramped space, but because it's so easy to unzip with one sweaty hand, easy to get my hands in and out, and my head is free, it never was an uncomfortable experience. In fact, I found it very relaxing.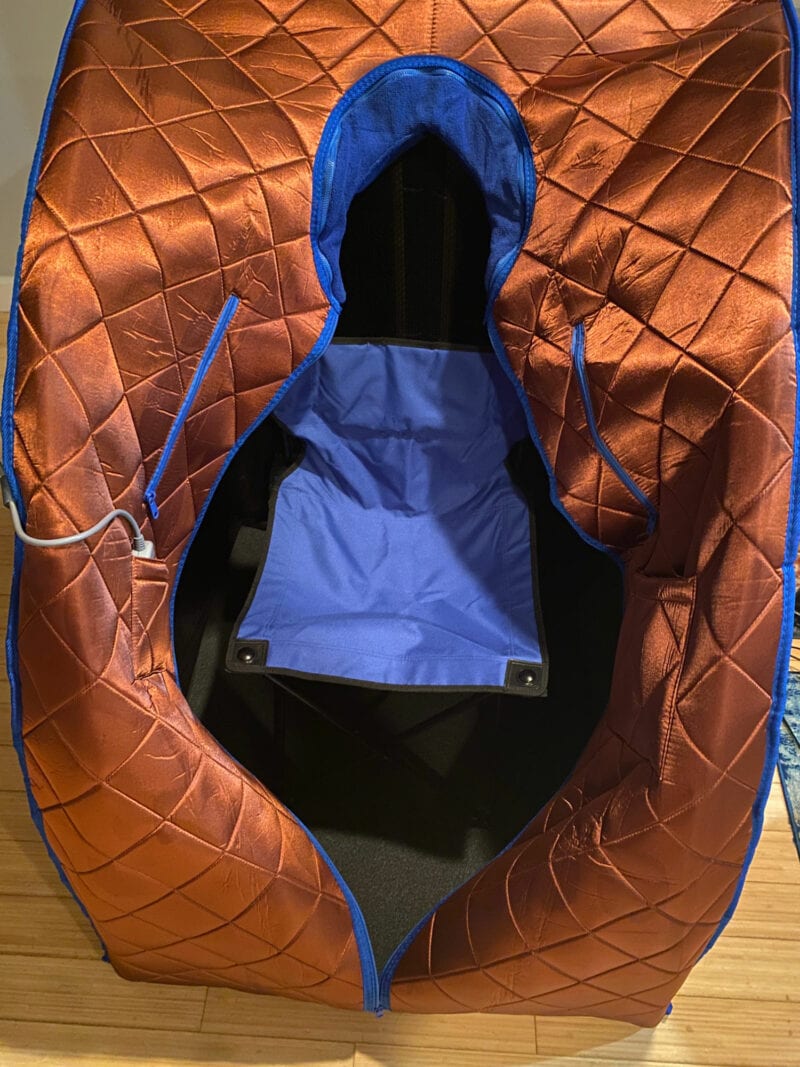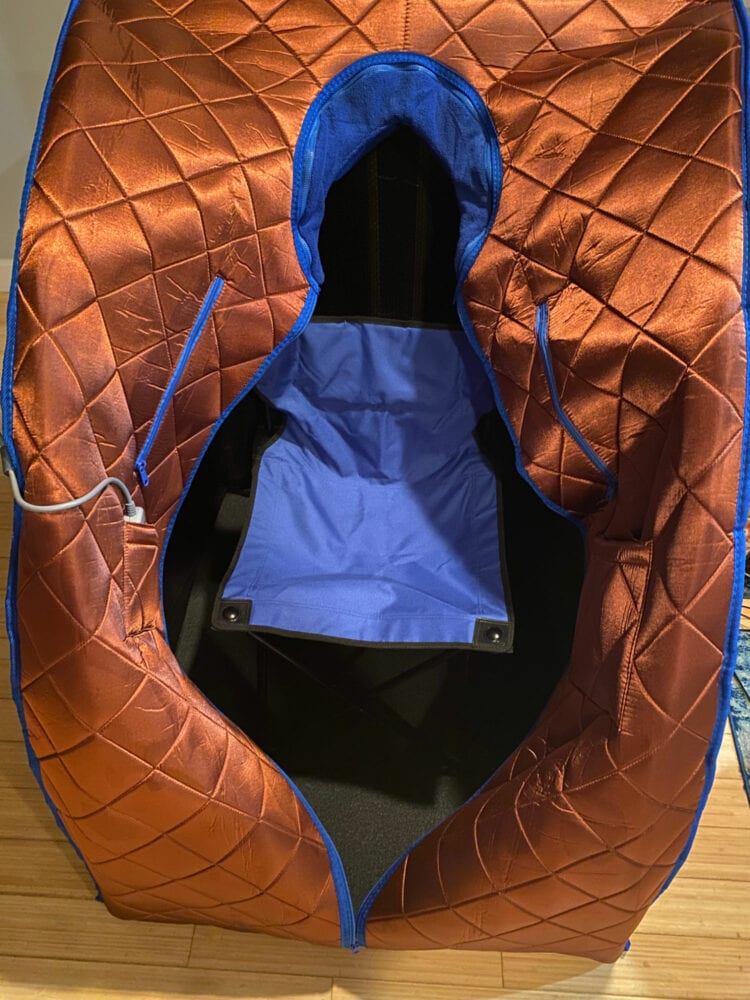 If you have a larger body, you may wish to replace the included camp chair with a more comfortable seat. A sturdy camping stool or one of these collapsible stools you could hose off can be a good alternative. You want something that can get wet and won't have metal against your skin. We place a hand towel on the seat to soak up some of the sweat and after sauna-ing, place the seat outside to help it fully dry before the next use. But we're happy to see that the chair has held up nicely.
We have had our Durherm sauna tent for over two years with almost daily use, and many of those days are being used twice (once by me, once by my husband). The heat has been consistent, the hardware has held up, and it has been easy to set up, easy to clean, easy to dismantle, and hide behind furniture. The sauna does not create steam that affects the ceilings or walls of our home, does not scent the rest of the house, and the tent itself has no smell. The neck cuffs have laundered well, they have held up well, are easy to put back on, and haven't lost their color or softness.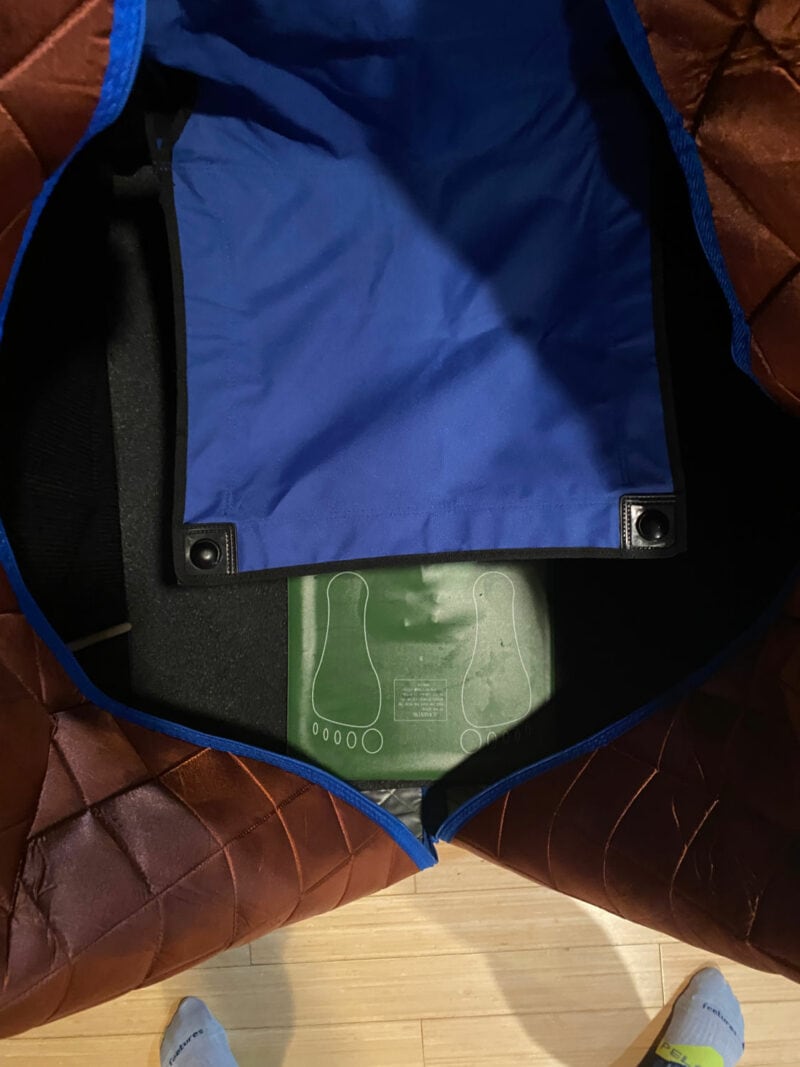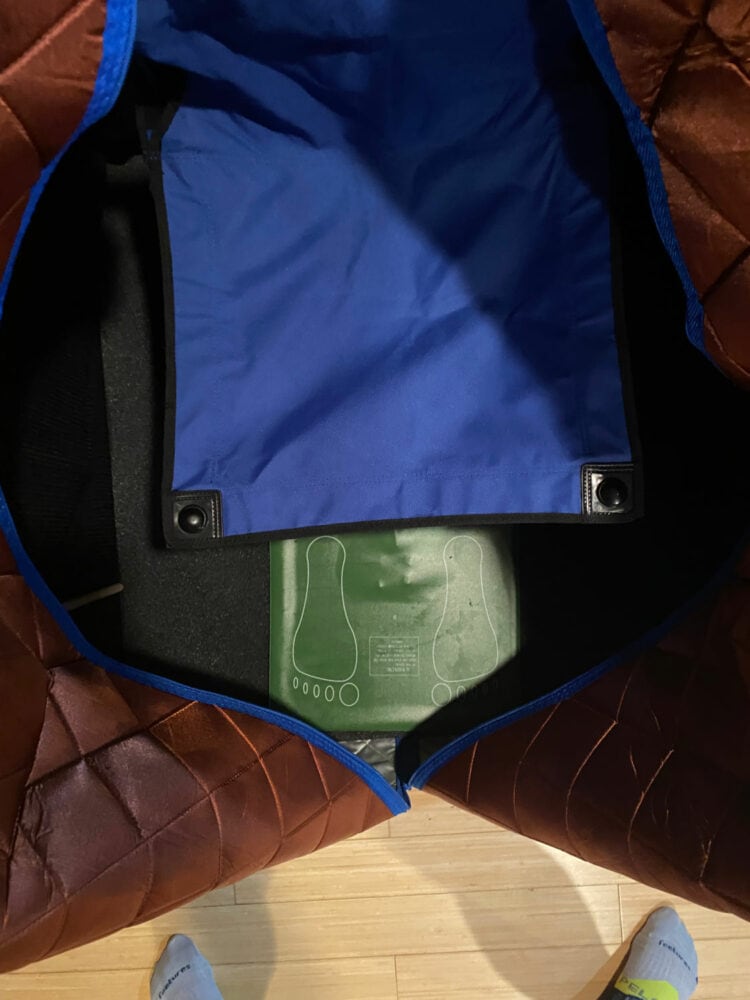 We are very happy with our portable infrared sauna and think it's such a cool gadget and especially enjoyable in cold weather, I had to write this review and share it with all of you!
Infrared Saunas and Sweat
Infrared saunas will leave you sweaty, and you may feel more sweaty than with a steam sauna because you don't have the steam to rinse it away (or have you think the moisture all over you is steam, not sweat). After a session in this tent, I will have sweat dripping off my knees, my feet will be wet, and the camp chair will be damp on the seat and back.
I recommend having an old towel or bath mat outside the tent to stand on after a session so your sweat doesn't get on your rug or floor. Have another towel to wipe yourself so you don't drip as you head to your post-sauna shower.
I pin my hair up and most of it doesn't get sweaty, and I am a naturally sweaty, and head sweaty person. I do wash my face before using the sauna tent because my face does get a bit sweaty. If you have skincare like Vitamin C that benefits from a bit of heat and sweat, consider using it during your session to get a bit of a spa experience.
I take a quick shower after a session in the sauna, and the temperature is dependent on the time of day and my mood. I find if I sauna in the evening and finish with a lukewarm shower, I sleep like a baby. If I sauna in the morning after my workout, I finish with a cool shower which wakes me up and makes me feel ready for the day.
As mentioned above, if you haven't bathed that day, if you just finished an activity or workout that left you stinky, or if you're wearing perfume/cologne I recommend a quick shower before using the sauna. My husband used the sauna tent after a day of just running errands but he wore cologne that day; 20 minutes in the sauna tent and our entire downstairs smelled like Gucci Guilty. Even with a post-sauna cleaning and washing of the neck cuff, it still took a couple more sauna sessions to get that smell out of the sauna.
Unlike a sauna blanket where you need to protect your skin with long sleeves, pants, and socks, with a sauna tent you can do as little clothing as you desire (or go commando). If you're sharing with others in your household I recommend at least a swim bottom or underwear, but honestly, anything goes. Whatever you wear will be sopping wet at the end of a session.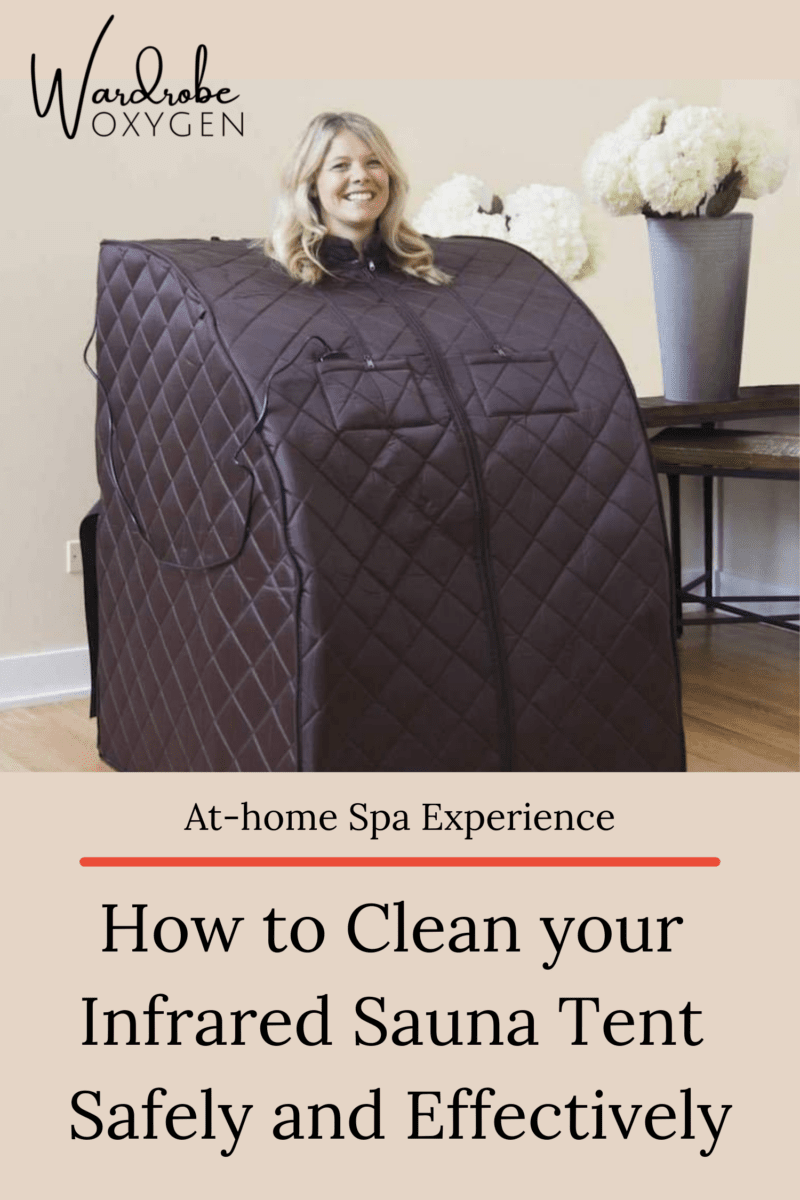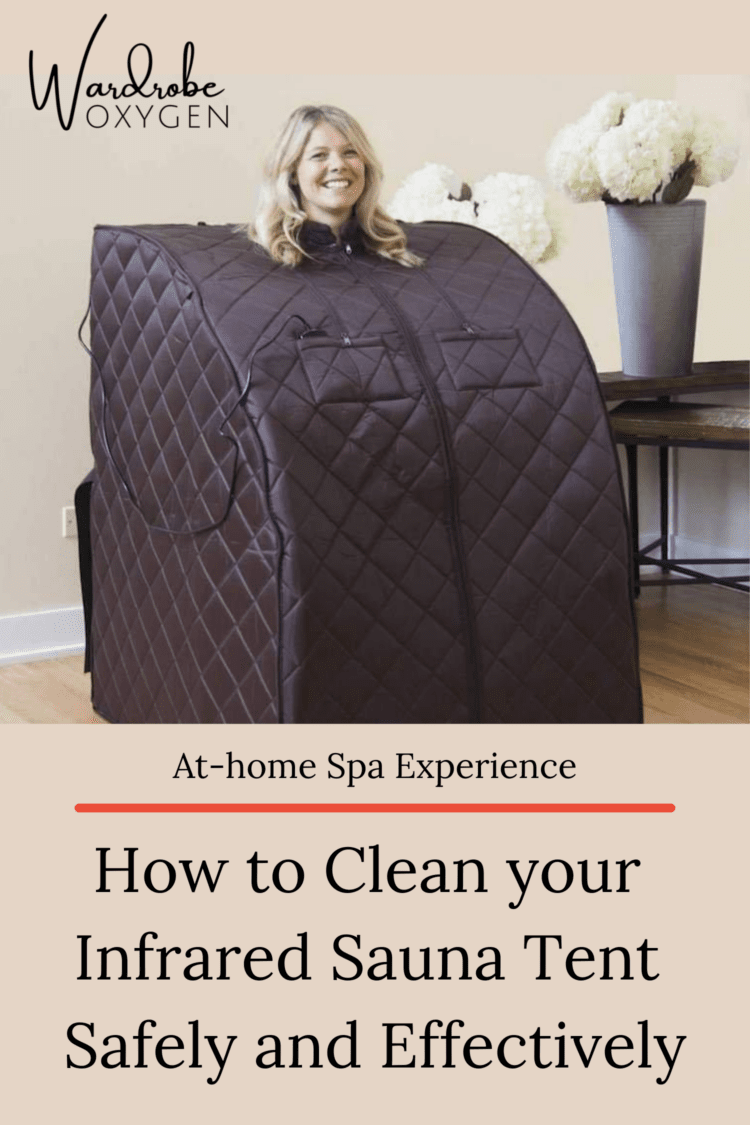 How to Clean a Portable Infrared Sauna Tent
After every sauna session, take a towel and wipe down the floor and footpad completely. Check the walls, if they are damp anywhere, wipe them down as well. I take the foam floor and footpad and prop them up inside the tent so they can dry on all sides, and remove the chair so it can dry in the open air. After an hour, it's all dry enough to pack up and store away.
Every so often, wipe down the interior of the sauna tent with a natural soap diluted in water; we use Dr. Bronner's. Use a towel to wipe afterward and leave it open for an hour before packing up. Some use water with essential oils to spray down the interior and wipe dry; we prefer to have the sauna without a scent as it will end up scenting your entire space when heated.
Do not use traditional cleaning products with your sauna. As it heats up, the residue of these products will end up in the hot air inside the sauna tent and can have a chemical reaction or you may end up inhaling them. While we love vinegar as a cleaning product, we have not used it in the sauna because if it's not all rinsed away, the next sauna session will have the whole house smelling like hot vinegar and that's not relaxing or spa-like IMO.
One Year Later, Do I Recommend This Sauna Tent?
My husband and I were discussing the best things we have bought for our health and comfort. His #1 was our Peloton bike, his #2 was this sauna tent. And considering how often he uses it, it has totally paid for itself. He says this has been a better purchase for his health and well-being than his Theragun, foam roller, TENS unit, salt baths, and Squid ice compression device combined.
For the past two years, my husband has used it at least twice a week and he says it has drastically reduced muscle soreness from workouts and injuries, and has helped him sleep better (both longer and deeper as seen on his fitness tracker), and has completely cleared up any back acne he'd get from workouts. I think it has made his skin in general look better, even his face which isn't inside the tent. He will do his workout, do a quick shower, sauna, and watch TV while hydrating, and then take a proper shower or a salt bath to rinse off the sweat.
To be honest, after the first couple of months, I use the sauna maybe once every few weeks. I use it after a tough workout or if I am feeling sluggish, but I don't enjoy the process of showering, then being in there for a half hour watching TV or listening to an audiobook, and then bathing again. But I am not as much of an athlete as my husband and I do not deal with as much back pain, muscle soreness, or have as much of a need for recovery.
We don't find the sauna tent uses a lot of electricity; we haven't noticed a difference on our utility bill even with it being used regularly. We do find that if we have it plugged in on the same outlet as our space heater the circuit breaker will trip. But we also experience this with our vacuum cleaner and space heater.
We do not pack up the sauna tent after each use. We keep it upright, unzipped in the corner of our living room, and slide it to a place to watch TV when we use it. Even when we have taken it upstairs, we've done so without breaking it down (it's super lightweight). However, we do pack it up when we have guests and find it quick and easy to dismantle and put back together, though it takes some time to pack it down as small as it was when it arrived in the mail.
The Durherm sauna tent still looks like new two years later. We haven't had to replace any part of it, nothing is torn worn, or broken. the zippers still move easily and the tent has kept its shape even after being packed down (and once we even took it with us on a vacation to a lake house). Even the little folding chair that came with it, and gets soaked with sweat with each session, is still in great condition.
If you know you have a lifestyle where a sauna tent will fit into it, this is a good purchase. Durable, reliable, and effective.
Is a Portable Sauna Tent Worth It?
I really think the Durherm portable sauna tent is worth it. We canceled our gym membership when the lockdown happened and found ways to create a hot gym experience with the Peloton bike, Peloton app, and some hand weights and small fitness gadgets. This sauna tent recreates the sauna experience we had at gyms and spas yet works in a small space and is not an exorbitant amount of money.
We used this portable infrared sauna at least 50 times before writing this initial review which means each session has been about $10. And to think now we have used this sauna tent for two years, at least twice weekly, still enjoying the results, the cost per use is pennies.
When I think of all the random things I have purchased to feel better and have forgotten about or regretted; the creams and facial gadgets, the DoorDash deliveries, the cozy loungewear, and so many sleep aids… I have spent more than this sauna tent with mixed results.
I like that this can be used not just by me, but also by my husband. I like that it feels good, but it is also doing good for my body. I like that I can turn my living room into a steam room while watching TV, while my daughter is practicing the piano, and my husband is preparing dinner. I'm already thinking of putting this out on our deck on a tarp or plastic rug to enjoy in the winter (of course, only during days with dry heat). Hot tubs are delightful in cold weather; I think this will be as well!
I get this isn't for everyone and many will find this silly, complicated, or pointless. But this review is for those like me who enjoy a sauna experience and want to find how to do it in a small space, to have it easy and cost less than traditional saunas.
Have you tried a portable infrared sauna tent? Do share your experiences in the comments to benefit other readers of Wardrobe Oxygen so they can be informed consumers! And if you have any additional questions, do not hesitate to ask. I will answer honestly with as much information as I have!
ORIGINAL POST: 12/01/2022
UPDATED: 08/27/2023