This article may contain affiliate links; if you click on a shopping link and make a purchase I may receive a commission. As an Amazon Associate, I earn from qualifying purchases.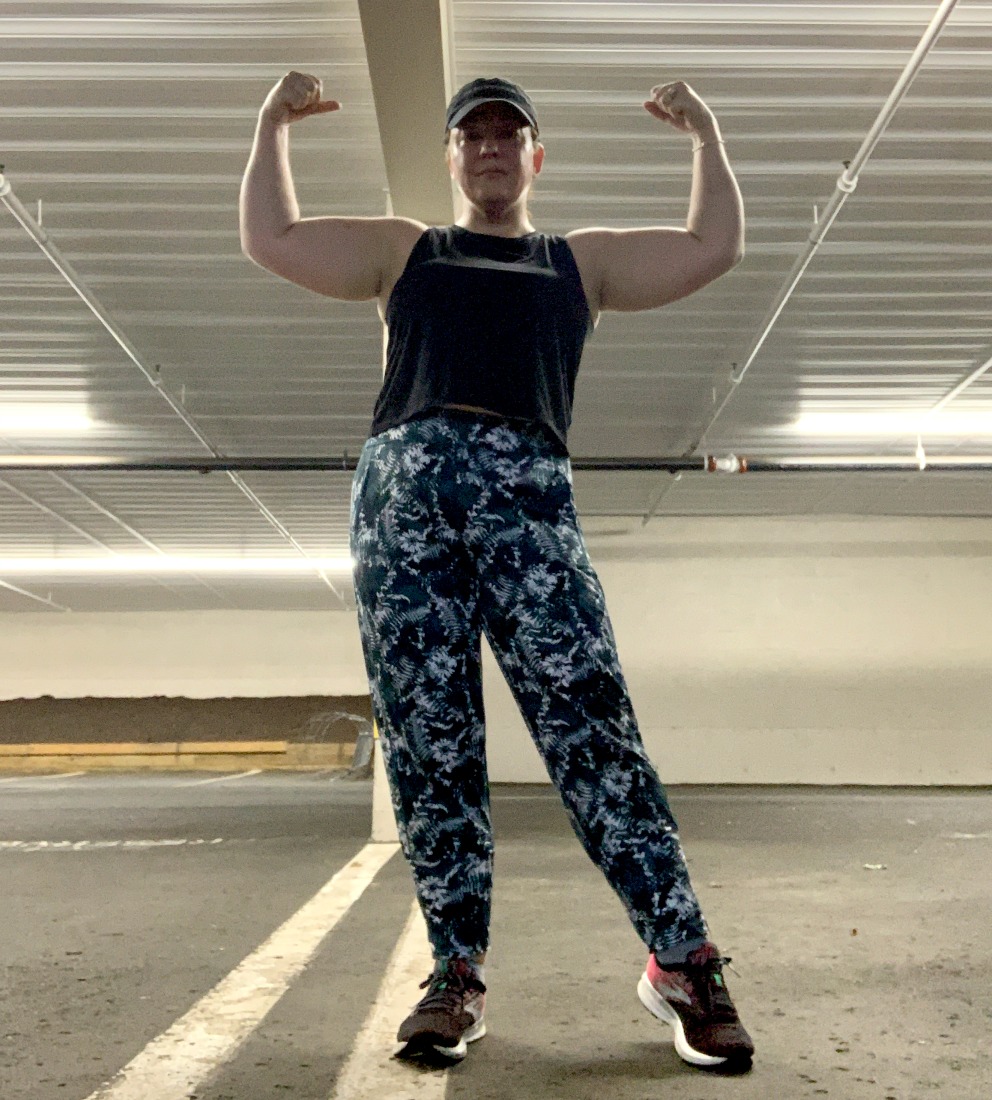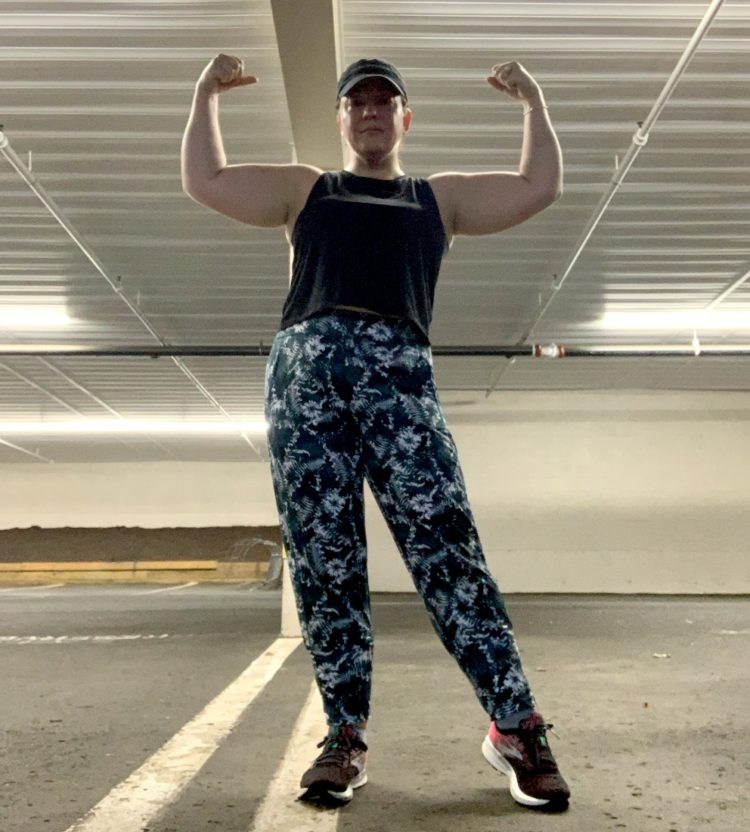 One of the most popular questions I am asked on Instagram is where I buy my activewear. And I haven't written a post about it because my answer is not exciting. I am 5'3" which has me between regular and petite sizing, and I wear a 14 in pants, 12 in some jeans. This makes me usually a Large in activewear, but we've all learned in the Wild Wild West of women's apparel sizing, not all Larges are created equal. On top of this, I have a large bust (36F) so I perform best with both support and coverage. My activewear collection has been cobbled together from multiple sources.
Why and Where I Wear Activewear
Almost every weekday morning I go to a gym where I weight train and occasionally go on a treadmill.  A couple of times a week, I may also go to a different gym where I go on the elliptical, occasionally a bike, and sometimes more weight training.  On weekends I ride my bike with my family – nothing hardcore, but enough that I do better in activewear than street clothes.  Once a week I go to yoga. I look for activewear that can work for all of these occasions instead of unique products that have a single purpose.  I like fun activewear, but I usually stick to black, gray, the occasional pop of color so that the pieces can be worn multiple times, through the whole year, and not be so memorable anyone realizes I often wash and rewear the same pieces more than once in a week.
Where I Buy Activewear
Zella
Zella is an in-house brand from Nordstrom that offers regular and plus size activewear at a reasonable price. I've tried several styles of their leggings and like the weight (no going sheer when you do a squat), the fit (no sliding down because of my booty), and the durability (I have pairs two years old that have been washed and even dried dozens of times and still look amazing). Zella is often on sale; search the brand and then go by price and you can often find their live-in leggings at 30-40% off in some last-season color or detail. Even full price, Zella is worth the price for the fit, quality, and style.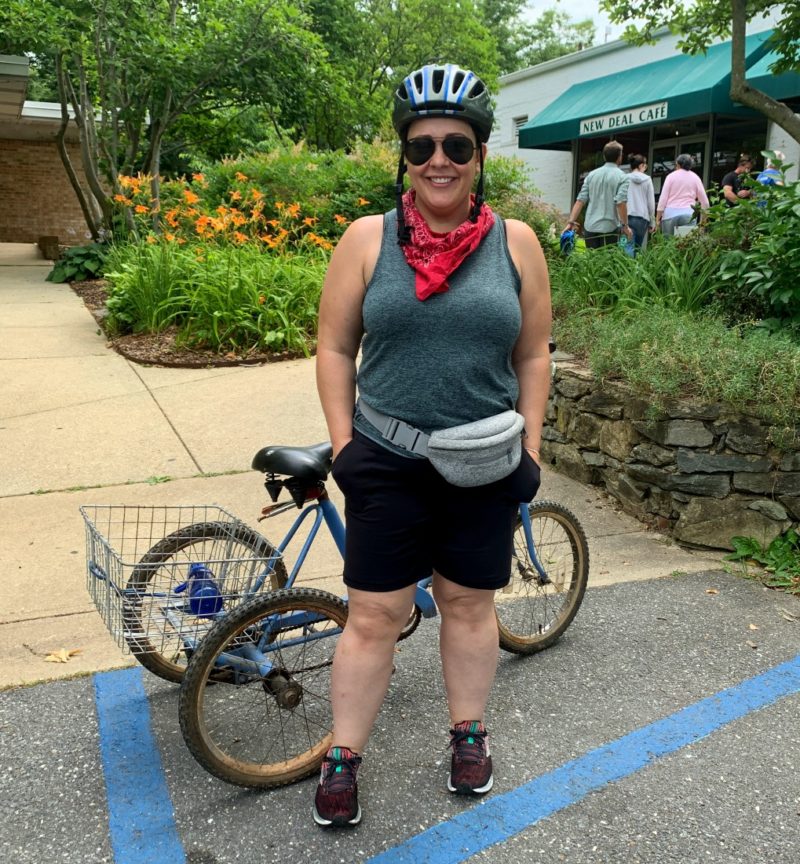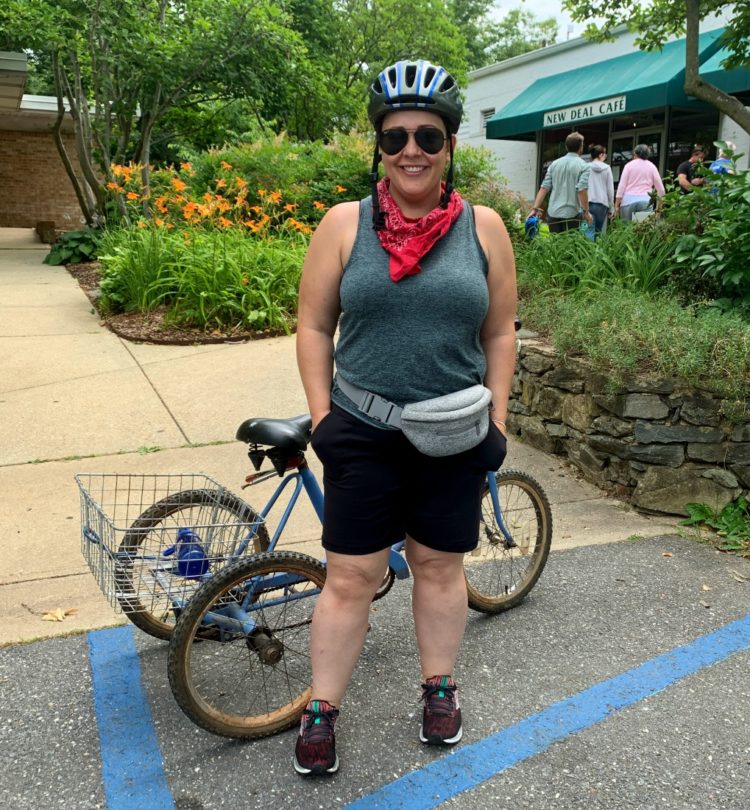 Nordstrom
I go to activewear, narrow down by the type of item I am looking for, my size, and then I filter from cheapest to most expensive. I often find activewear, especially workout tops, on sale at Nordstrom for less than $35 and they're good brands. I type this before going to the gym in a sleeveless gray wicking t-shirt with the Nike logo on the front that I got at Nordstrom for about $14. Many find Nordstrom expensive, but it's all about how you shop the retailer.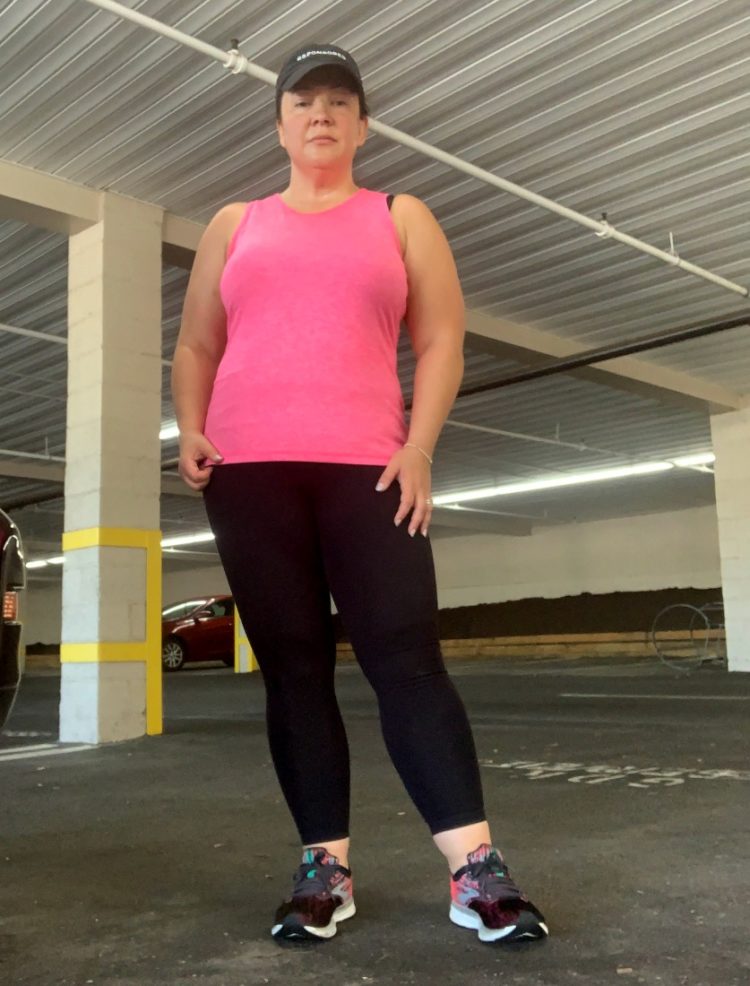 Macy's
I shop the same way at Macy's. Choose activewear, then I usually choose "all activewear" and then my size. Then I filter from least to most expensive. I find Macy's to be more hit and miss with quality than Nordstrom, but I still have a few tops and shorts from there that I scored and ridiculously low prices that have held up nicely. Their brand Ideology has cute workout tops for less than $15.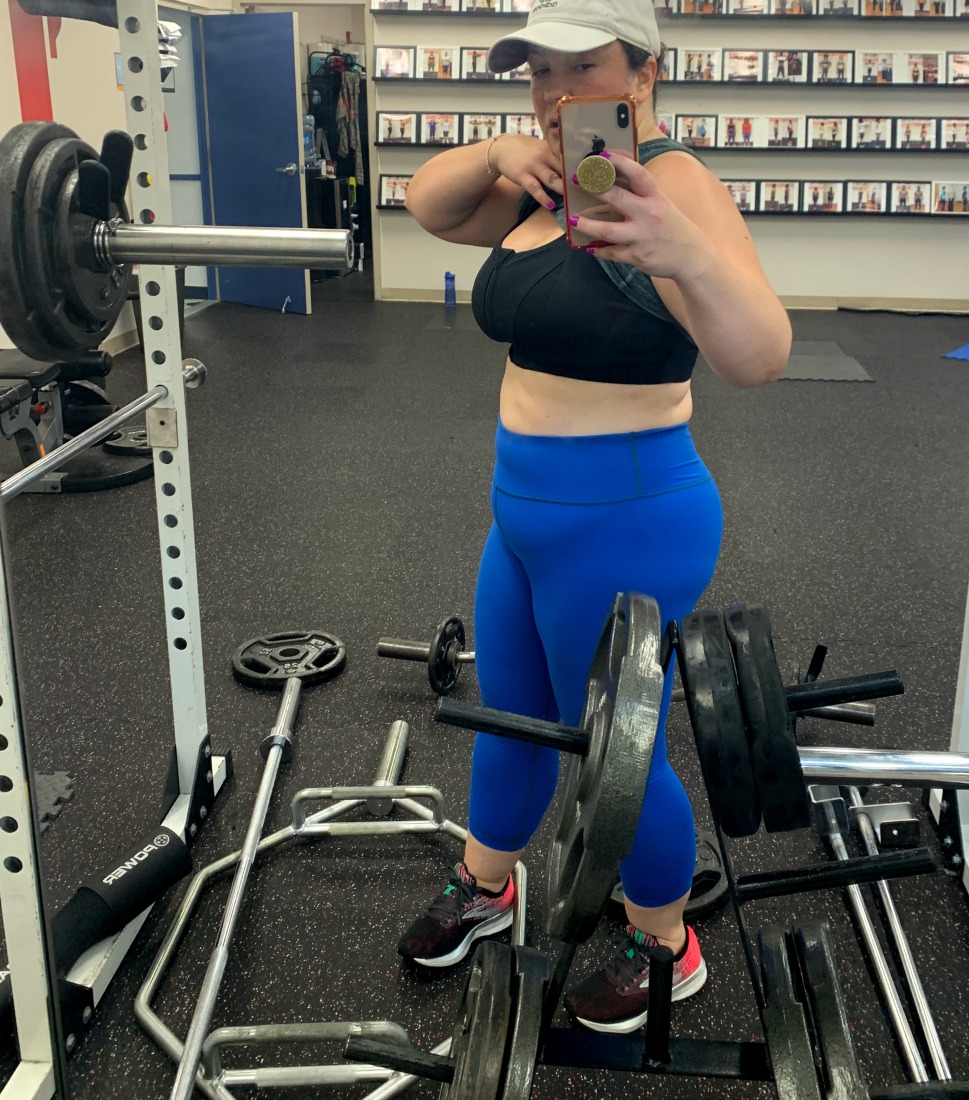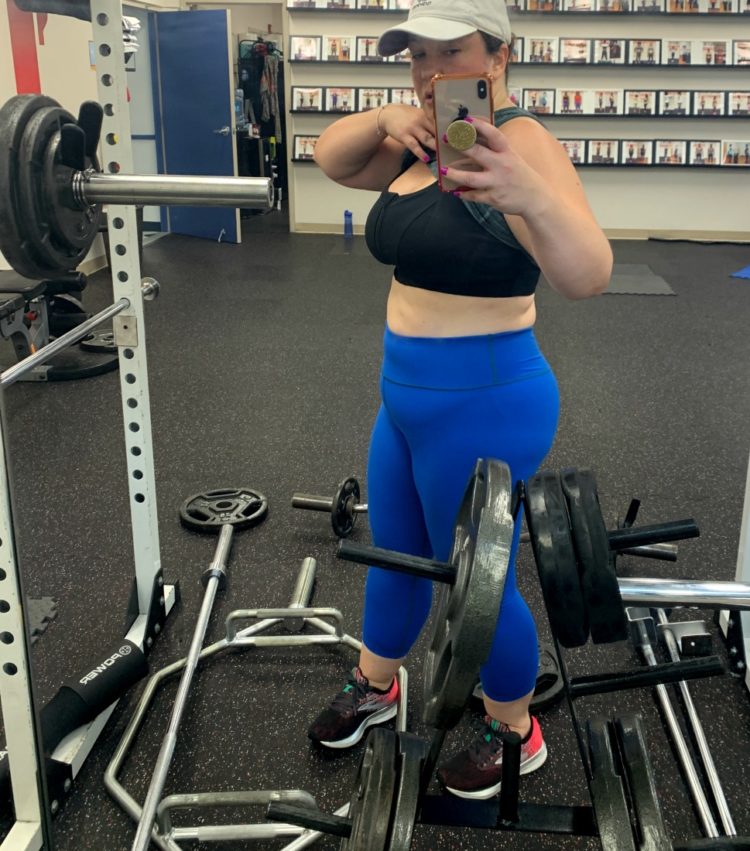 TJ Maxx
I don't shop in brick and mortar stores often. It started due to lack of sizing, but continued because it doesn't benefit my wallet. I go in a store and feel I should leave with a purchase to justify my drive and search and sweaty hair from the Frito-smelling fitting room session. I buy what works, but I don't necessarily love. So 99% of my clothing purchases are from online… and that 1% is usually activewear from TJ Maxx. I stick to brands I have heard of – no need for fancy brands like Sweaty Betty or Outside Voices but names I know like Under Armour, Gaiam, Reebok. TJ Maxx is great for leggings and capris and lightweight loose tanks and sleeveless tees for under $20. I don't try to find chic or trendy, but I have some amazing leggings in solid colors, some with sheer panels that are years old and cost about $18 at TJ Maxx. Do note, the larger your size the smaller the selection. Also, some TJ Maxxes aren't as good about offering plus sizes. Don't go expecting to fill a drawer with choices, but you may find one, possibly two gems.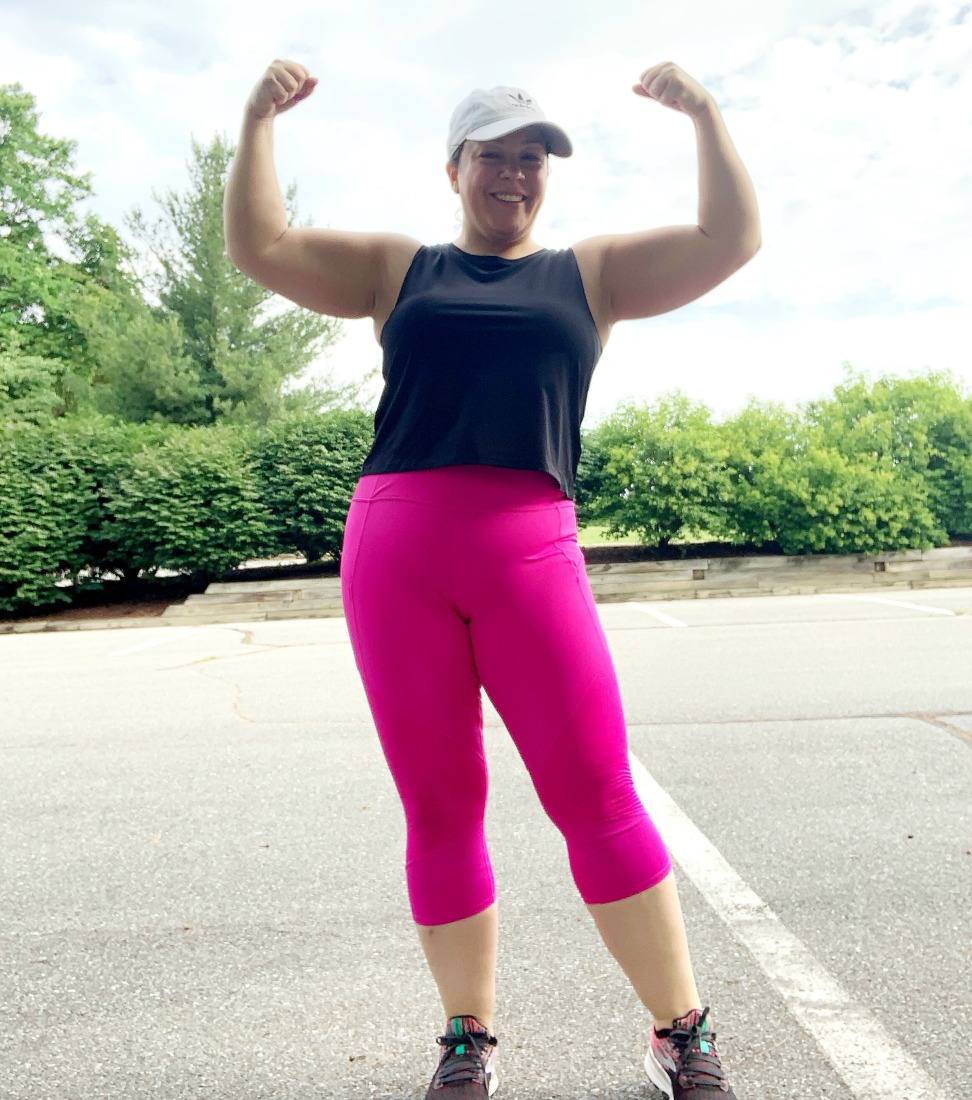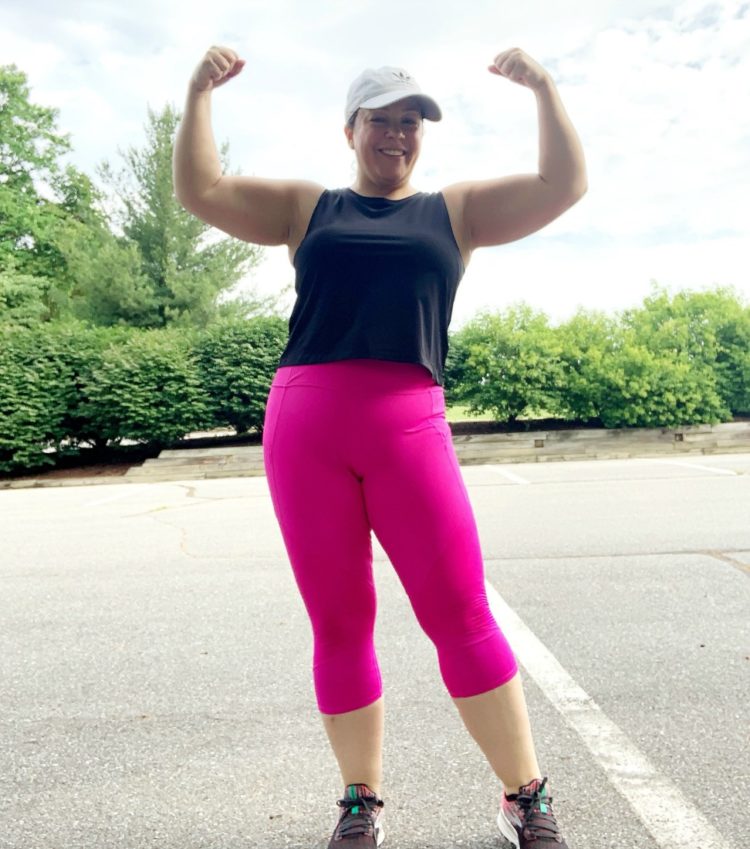 Athleta
When I want something to fit and be functional I go to Athleta. Extensive customer reviews, reasonable size range, detailed descriptions, and pieces that have style yet function. Their offerings go beyond leggings and workout tops to gear great for specific activities and outdoor excursions up to size 2X.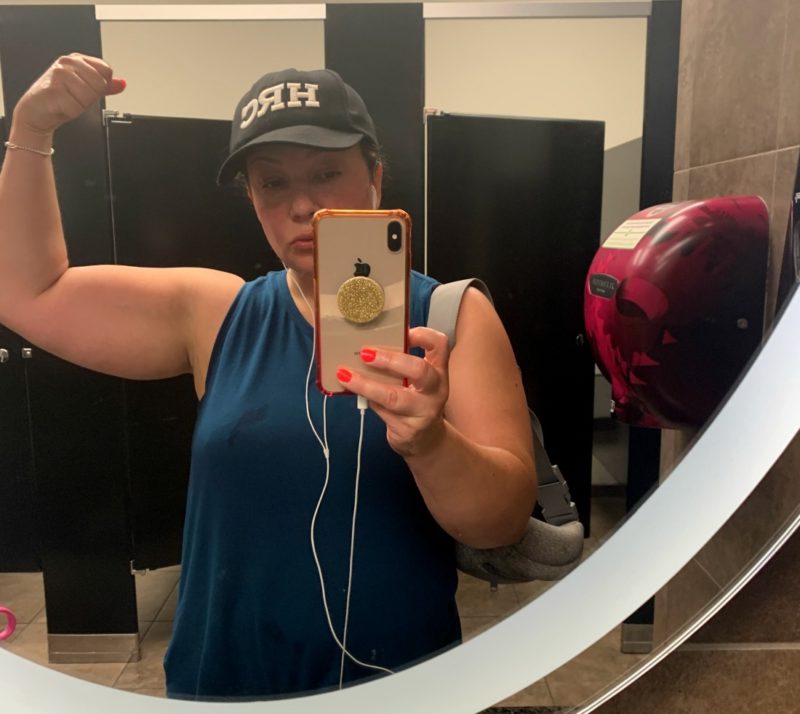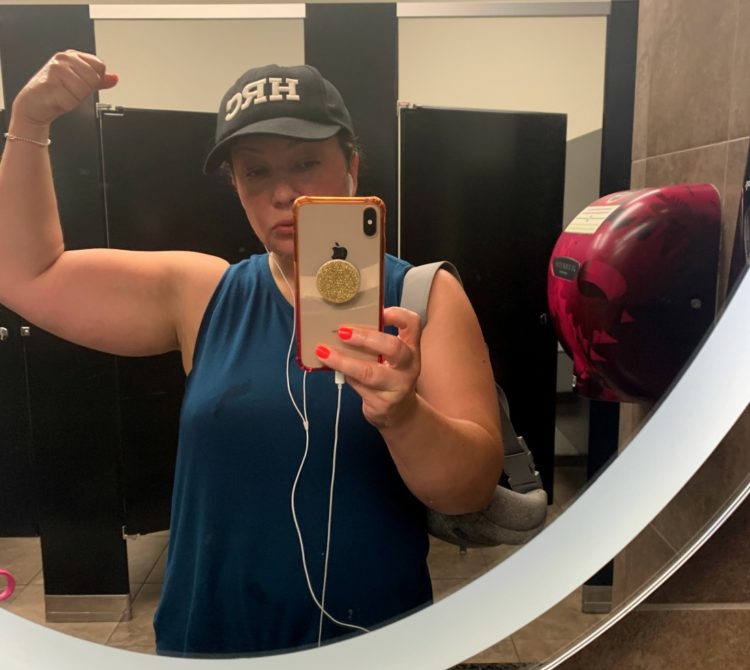 Old Navy
I have pretty much written off Old Navy for clothing. At 44, I find the quality and fit are more misses instead of hits. However, I still rock their activewear. Decent quality, consistent fit, on-trend styles, nice size range, and amazing prices. I don't LOVE Old Navy, the fit isn't perfect for my curves and they often seem to add weird details for interest just cheapens the piece and makes it less effective, but it's a good place to go for a decent pair of leggings at a decent price.

Universal Standard
Before I changed sizes, Universal Standard was my JAM for activewear. The quality is stellar, the style is minimalist chic, the fit is awesome. However, at my current height and size, I find all of it too long and tall for me. But I had one top I wore twice a week, which meant I washed it twice a week, for a year. The only way you could tell it was so worn was because the printed label inside wore away a bit. The top stayed saturated, no pills, no snags, no thinning, so no change in shape or weight. The leggings are equally great quality. We often look for the lowest price, but when it comes to things like activewear that gets so beaten up with use and washings, it may prove more cost-effective to buy quality that can survive longer.

Core 10 by Amazon
I had the opportunity to try a free pair of Core 10 leggings over a year ago. They continue to be my favorite leggings in my drawer. Nice and thick, holds their shape. They have stayed saturated black, haven't gotten fuzzy even though they aren't washed with care, and the wrap style waist (the version I got) is flattering and stays in place even when it's leg day and my trainer has me do nothing but squats. Amazon has several versions, I did the "build your own" yoga pant legging which let me pick length of leg and type of waistband; this specific legging is $44 with Prime shipping and returns and part of Prime Wardrobe. Core 10 goes up to size 3X and many versions come in short and tall options.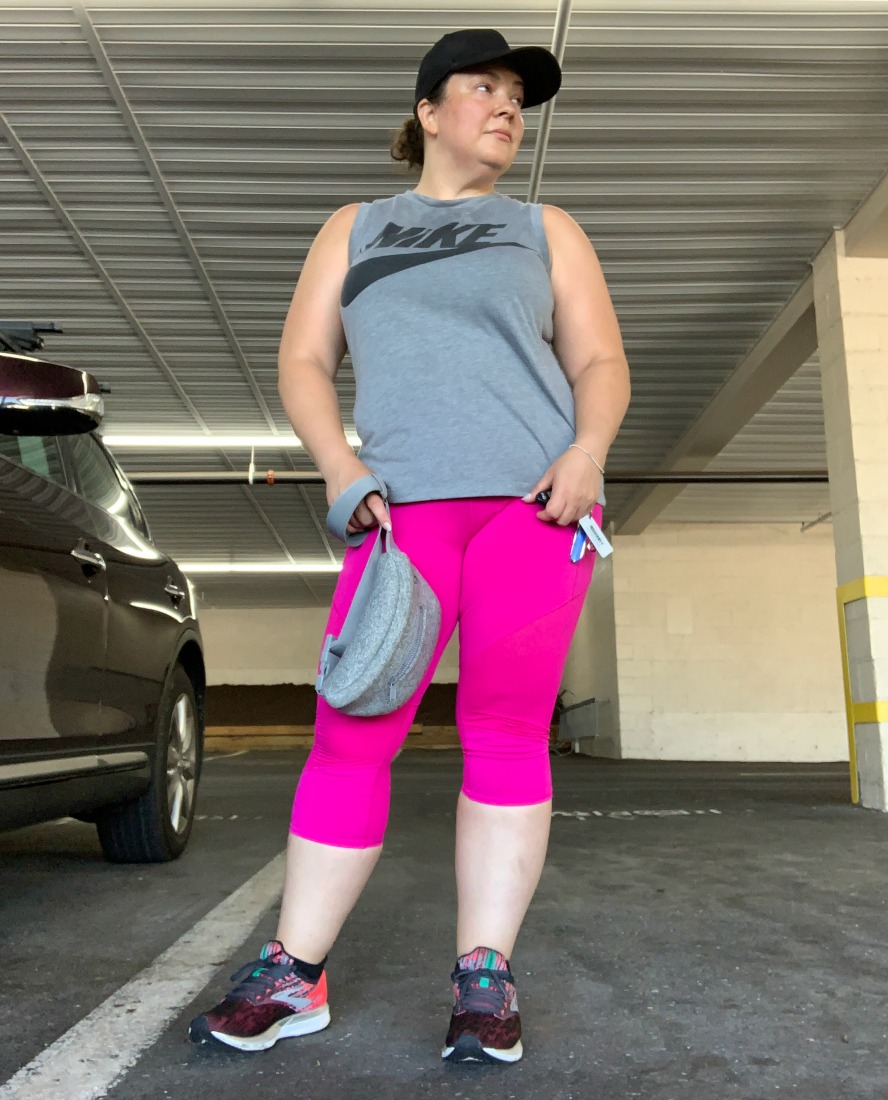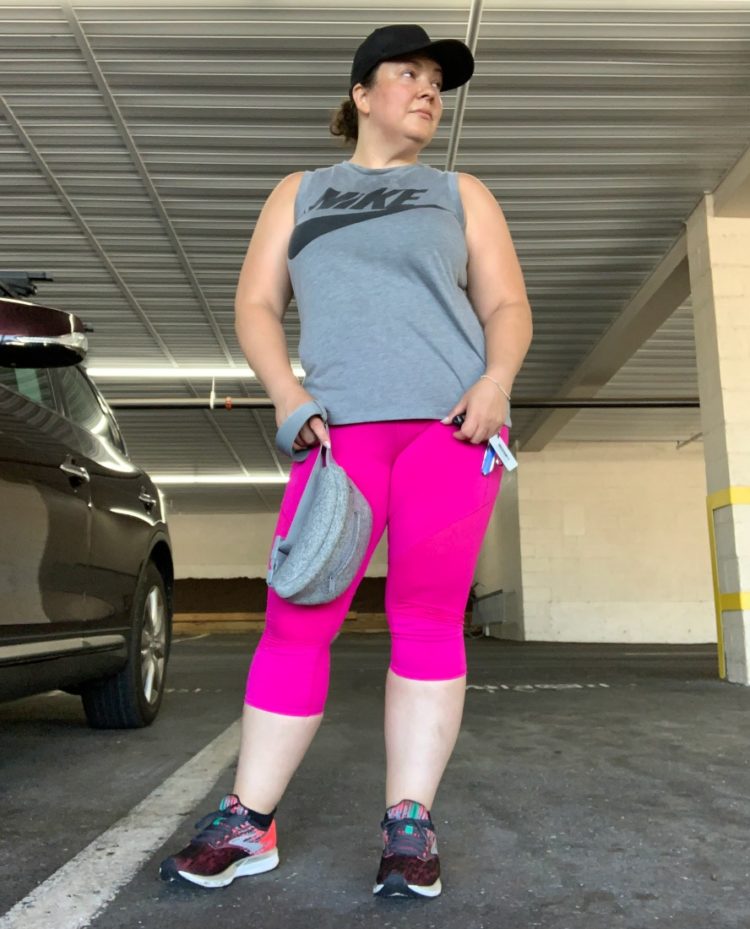 Where I Buy Sports Bras
I am always on the search for a great sports bra. So far in 2019, my favorite has been this one by Freya. I like it so much I just ordered a second one to use when the other is in the laundry. Because I have a large bust, I do not wear traditional sports bras and look for styles with more "bra details" from retailers known for designing for a large bust. Bare Necessities and Nordstrom are my two go-to retailers for decent return policies, broad range of brands, and customer reviews.
Workout Sneakers
I have one fallen arch, and feet that in general fit better in a shoe box than an actual shoe.  I need a shoe with arch support, a roomy toebox, and a shoe that is relatively straight.  I like shopping at Zappos and Nordstrom because the return policies are good and there are plenty of reviews to know better what I am ordering.  My third favorite is Dick's Sporting Goods because they have a surprisingly varied selection, good shipping and returns, and often the lowest price online. I have the most success in finding arch support and support in general from Asics and Brooks.  I have stopped trying to find trendy or "cool" sneakers because foot pain is way less cool and affects my desire to exercise.  My two most recent workout sneakers I've owned are:
ASICS GT-2000 6 Running Shoe: The arch support on these are amazing, so much it took some getting used to.  But totally worth it. This shoe comes in a variety of colors, I chose all black thinking it would look more neutral but think fun colors may look more hip.  I bought it at Nordstrom and it's now sold out but I found it on Nordstrom Rack, at Dick's Sporting Goods, and also on sale at Amazon for less than $75.

Brooks Ricochet Running Shoe: This is my current sneaker.  It doesn't have as much arch support as the ASICS but it has a lot of cushioning while also offering ankle and foot support.  They offer so much cushioning treadmill days aren't as dreaded as they used to be.  With these, I went with the most ridiculous color combination available.  Still not trendy or going to get compliments… well actually they do because fellow fussy feet people will stop me and compliment me on my shoe choice because they too love Brooks!  I got mine at Nordstrom, I also found them at Zappos.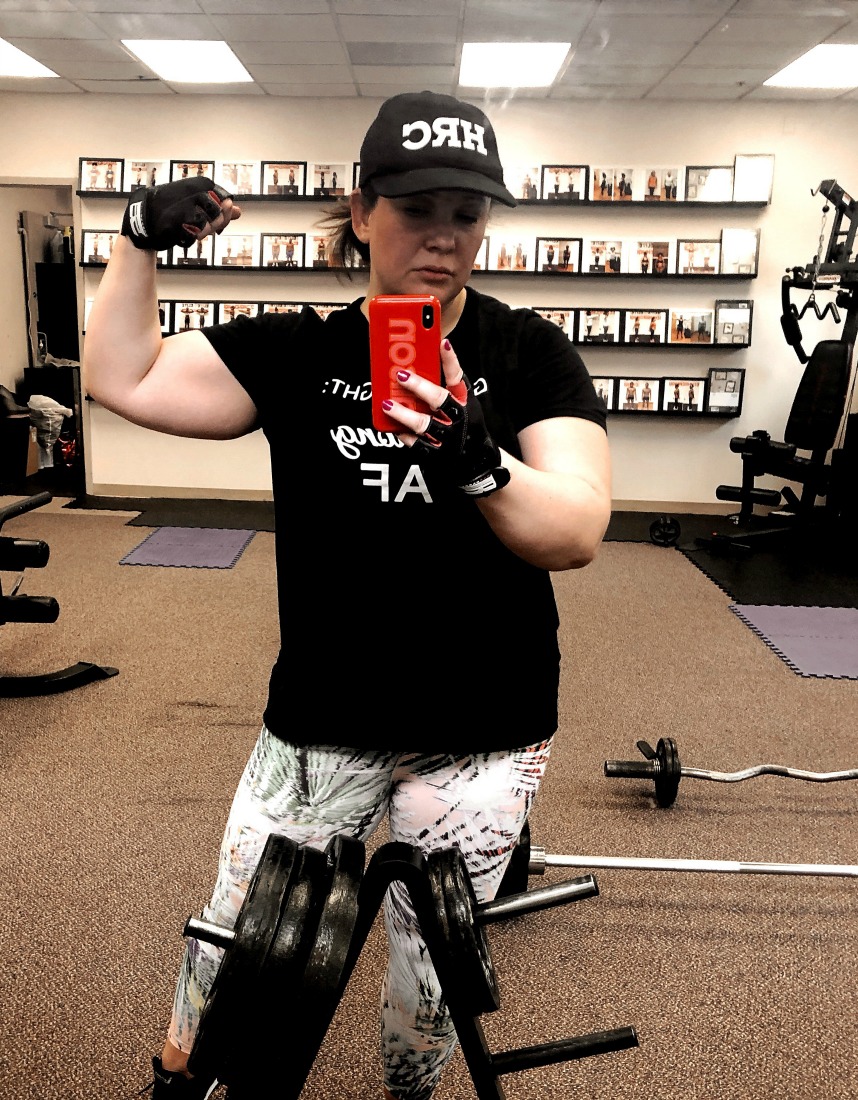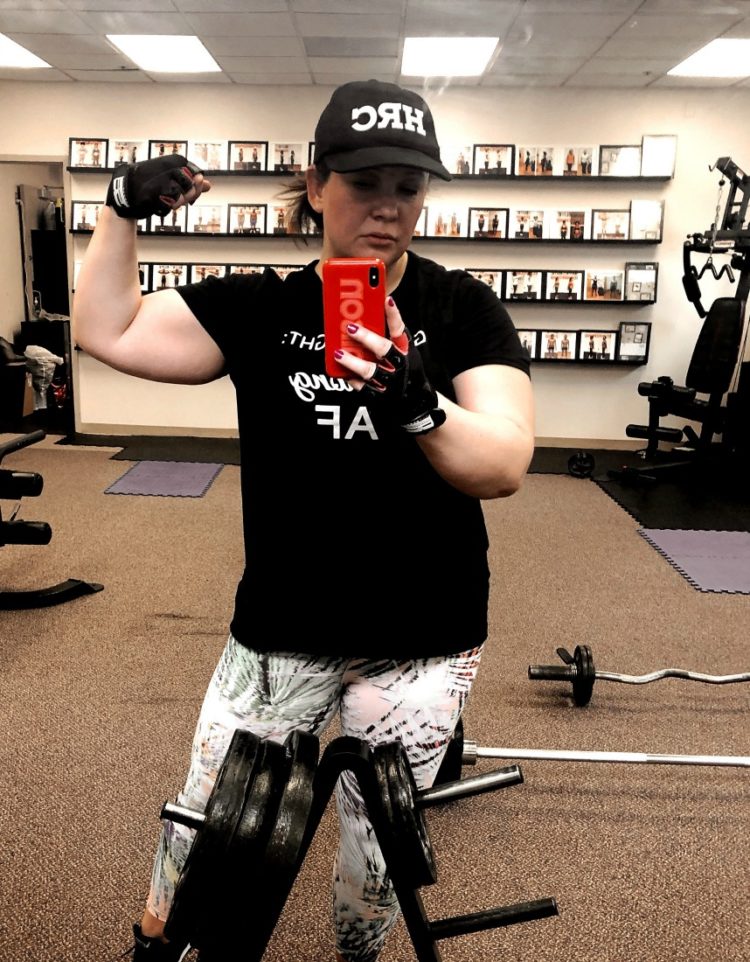 Where I Have Not Had Luck…
I don't love sharing negative reviews because my miss can be someone else's hit.  However, I know a lot of you have similar body types and this may assist with narrowing down choices:
Fabletics: One of my absolute favorite pair of leggings is from Fabletics.  They're so comfy and a cute print.  That being said, every other thing I have gotten from Fabletics has fit me terribly.  I have thick thighs, an ample booty, a lower belly and the leggings are just too straight and they end up sliding down while also suffocating my calves.  Their sports bras, even the high impact, are no match for my chest.  Their tops are really meh, also straight cut and even with all the deals I don't think worth the money.  Fabletics is great if you have a smaller bust, if you're more straight or pear-shaped, and if you're looking for fun activewear that doesn't cost a kazillion dollars.  Everything is way cheaper if you join, and it's relatively easy to cancel by email/chat.
Knix: I love Knix's boyshorts and have several pairs, but everything else I have tried from them, including their Catalyst sports bra, have been a disappointment.  I hate to admit that because I love the company, but I think the fabric is just too easily stretched out.
SHEFIT: I had several readers ask me to review the SHEFIT bra.  I purchased the SHEFIT Ultimate Sports Bra. I think it's awful.  It's heavy and such a cumbersome contraption.  The velcro catches on my workout tops.  The bra does support, but it gives an awful weird bust shape, it's lumpy under workout tops, there's no way I'll wear it without a shirt over it because it looks like a posture support product or part of a Kevlar vest.  You can do better.
Now I'd like to hear from you! Where do you shop for activewear? What are great resources for your specific needs? Your suggestion may be exactly what another woman needs to feel great during her next workout!
Shop the Items in the Photos That Are Still Available: