This article may contain affiliate links; if you click on a shopping link and make a purchase I may receive a commission. As an Amazon Associate, I earn from qualifying purchases.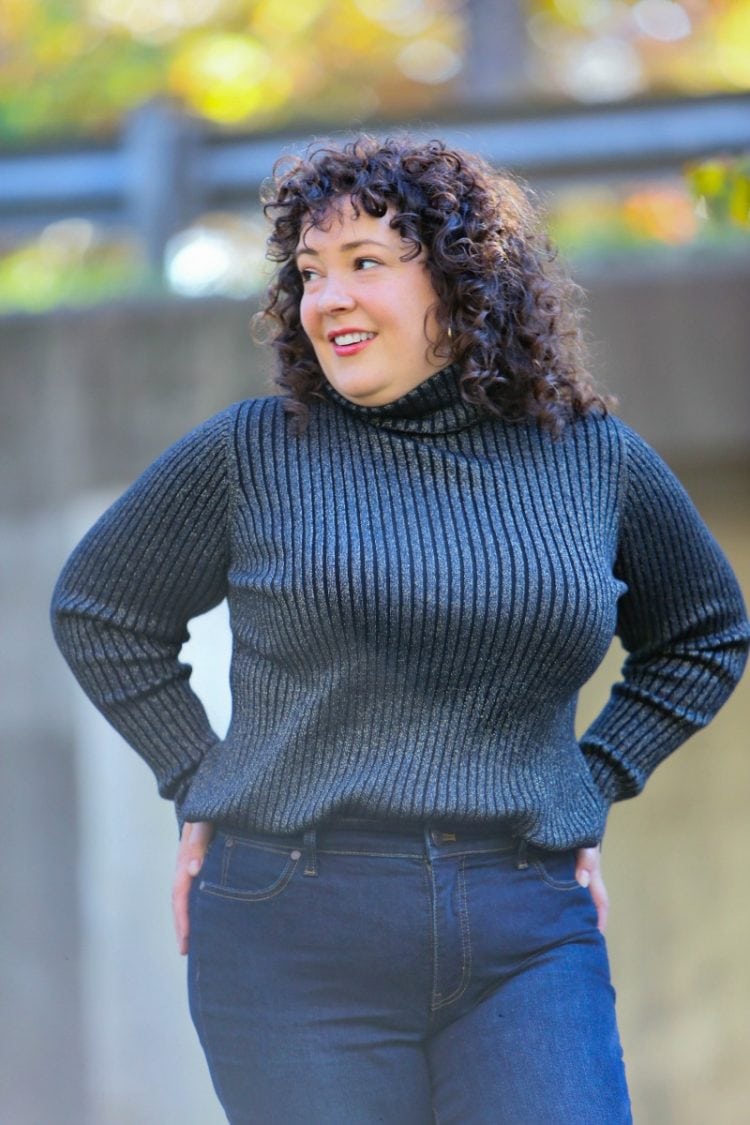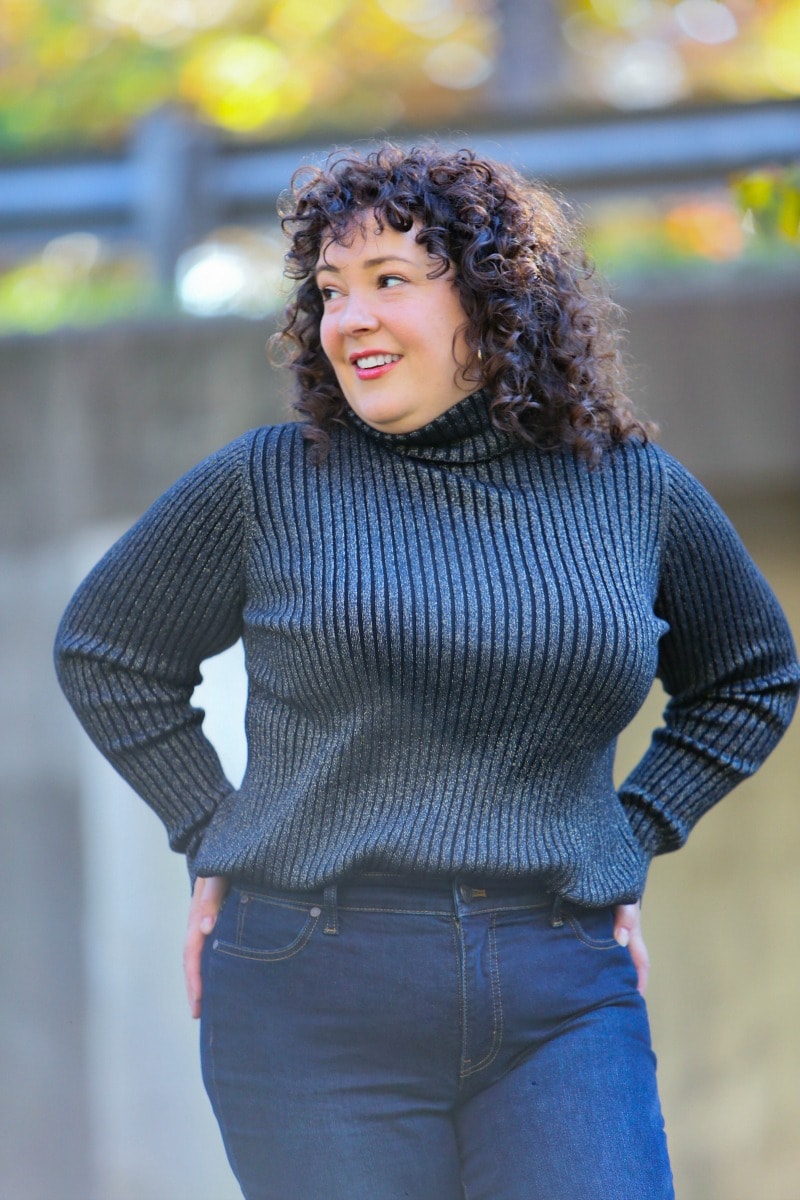 What a year this has been, and what an intense few months. I feel as though it was just summer and now Thanksgiving is right around the corner. I feel I need to catch up and get ready for the holidays, and that includes my holiday wardrobe! I am ready for some sparkle and shine while also staying warm, cozy, and comfortable!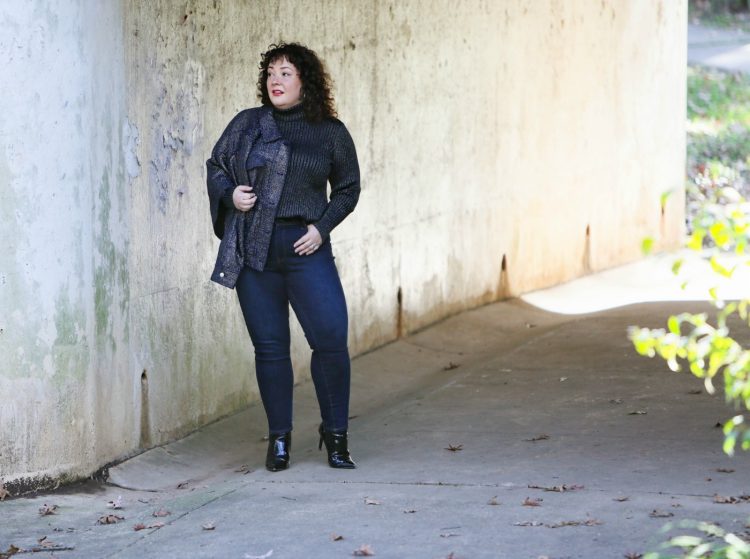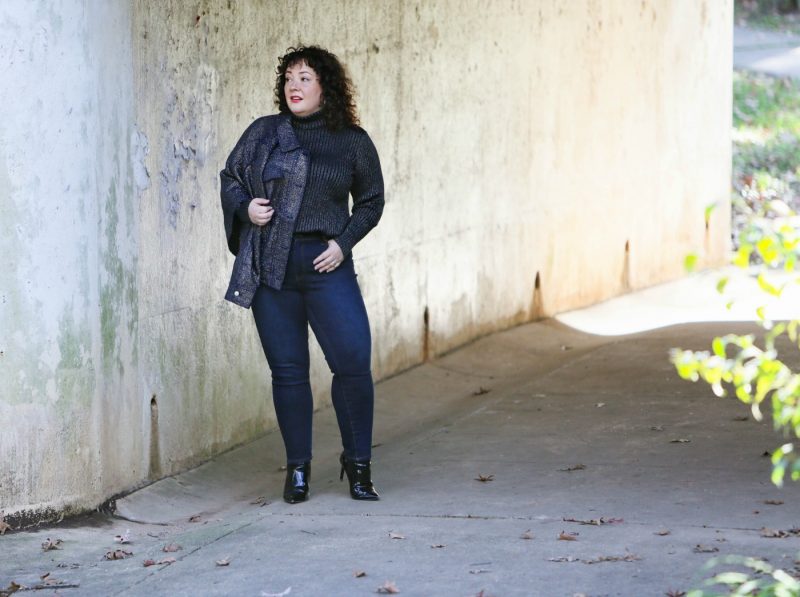 As I've mentioned before, I am a Chico's Ambassador and that gives me the opportunity to try their New Arrivals and style them any way I wish. I've worked with Chico's for several years; two years ago I got one of their Coolmax turtlenecks and fell in love with its ability to keep me warm without overheating.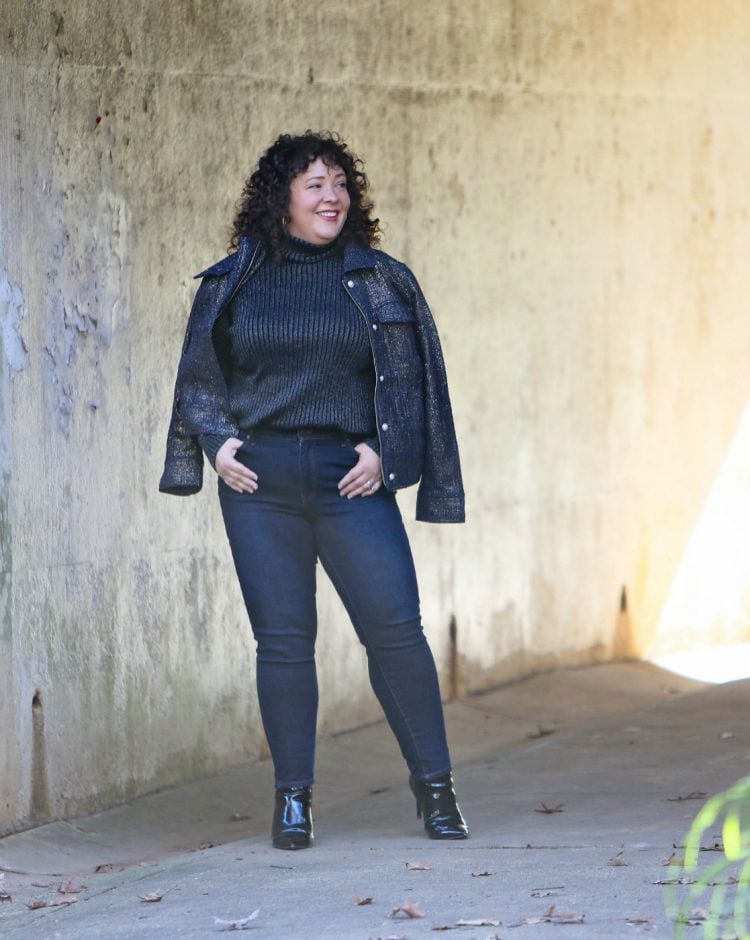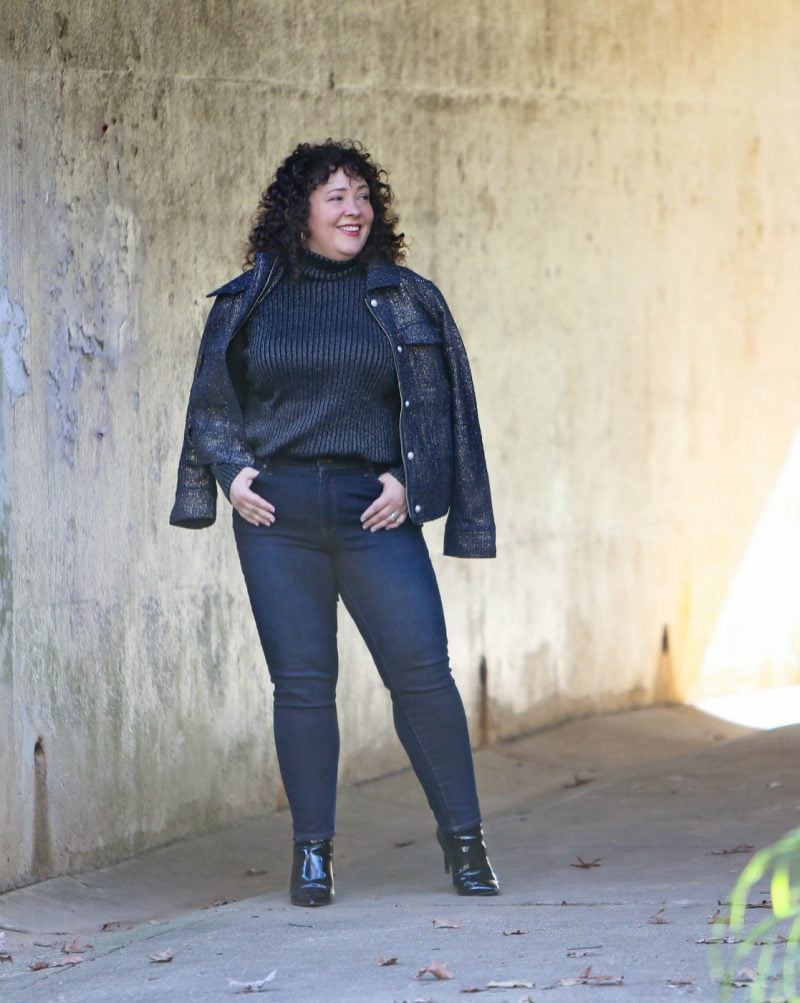 You can see me wear that Coolmax Turtleneck in this blog post, in this blog post, and in this blog post as well.
I often find turtlenecks confining and I can easily get hot and feel itchy, even if the fabric isn't itchy. Also with full arms, shoulders, and bust, I sometimes feel like a stuffed sausage in turtlenecks, especially when layered under other pieces.
I never felt that with the Chico's Coolmax turtleneck and was looking forward to adding another one to my wardrobe this winter.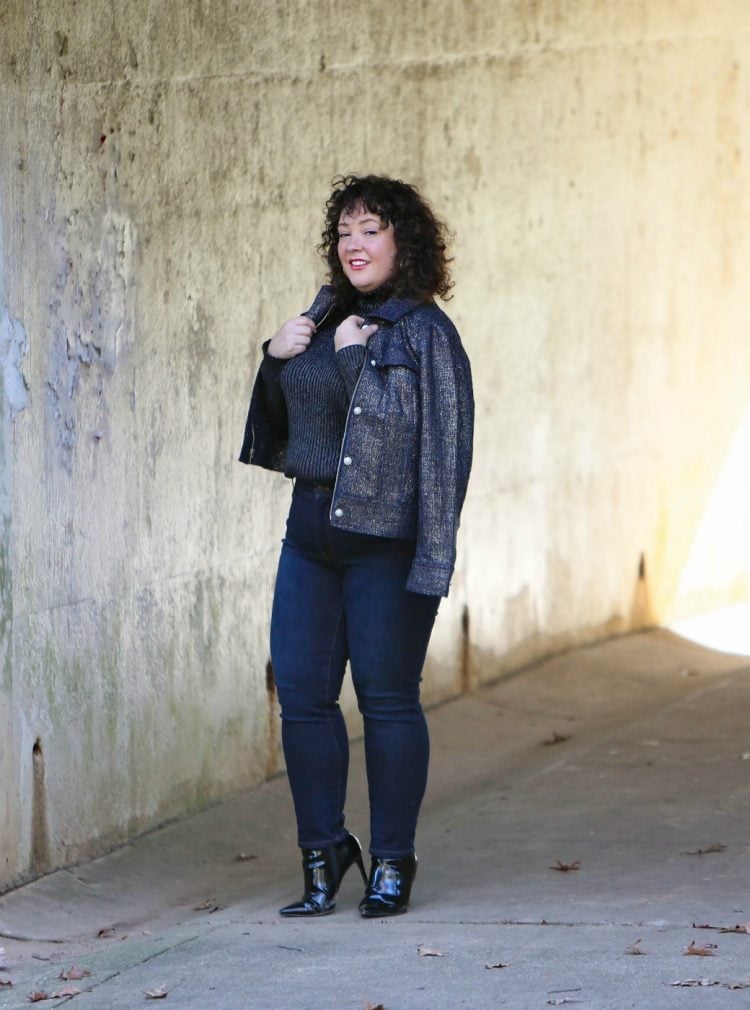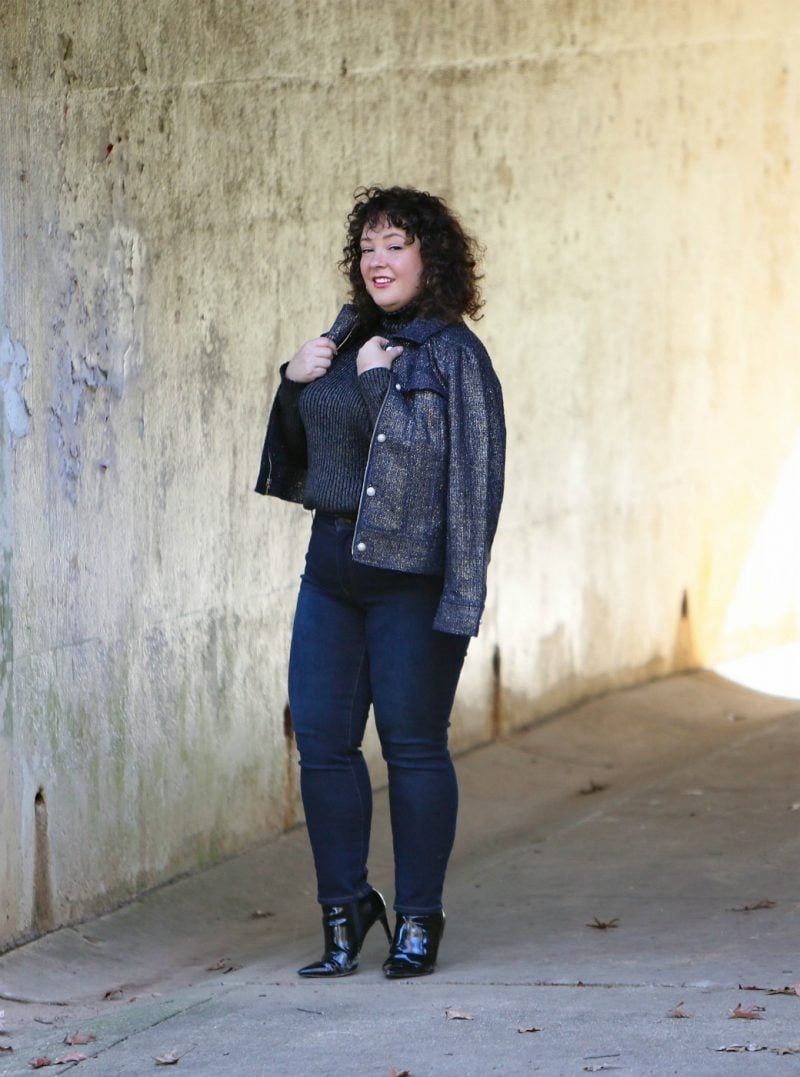 Sweater: Lurex Ribbed Coolmax Turtleneck c/o Chico's (2) | Jacket: Foil Tweed Jacket c/o Chico's (2) | Jeans: Fly-Front Jeggings c/o Chico's (1.5 Short) | Earrings: c/o Chico's | Booties: ASOS (old; similar)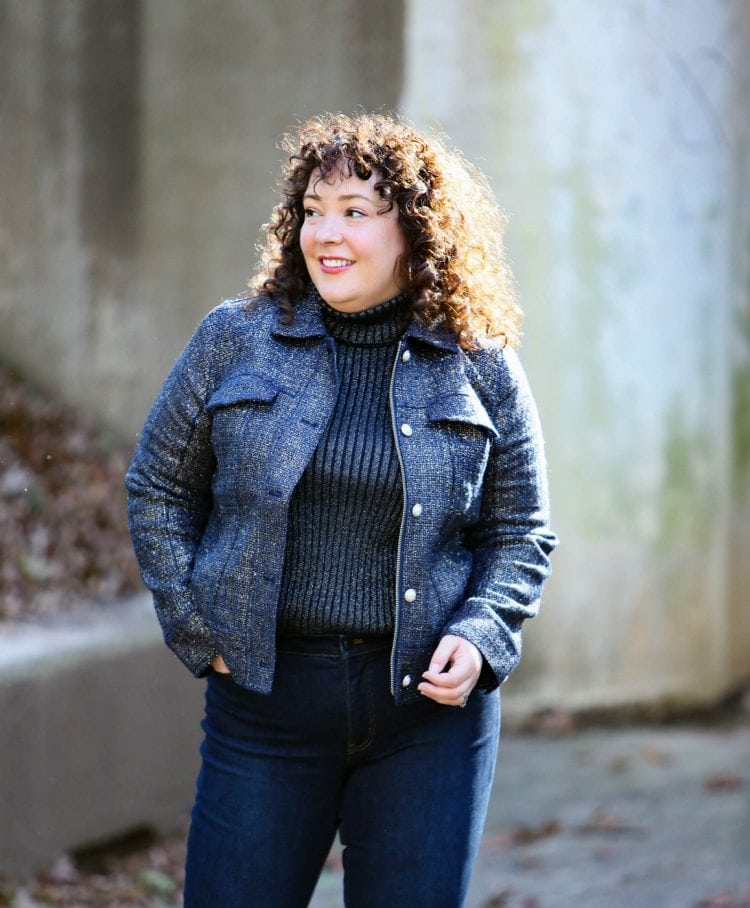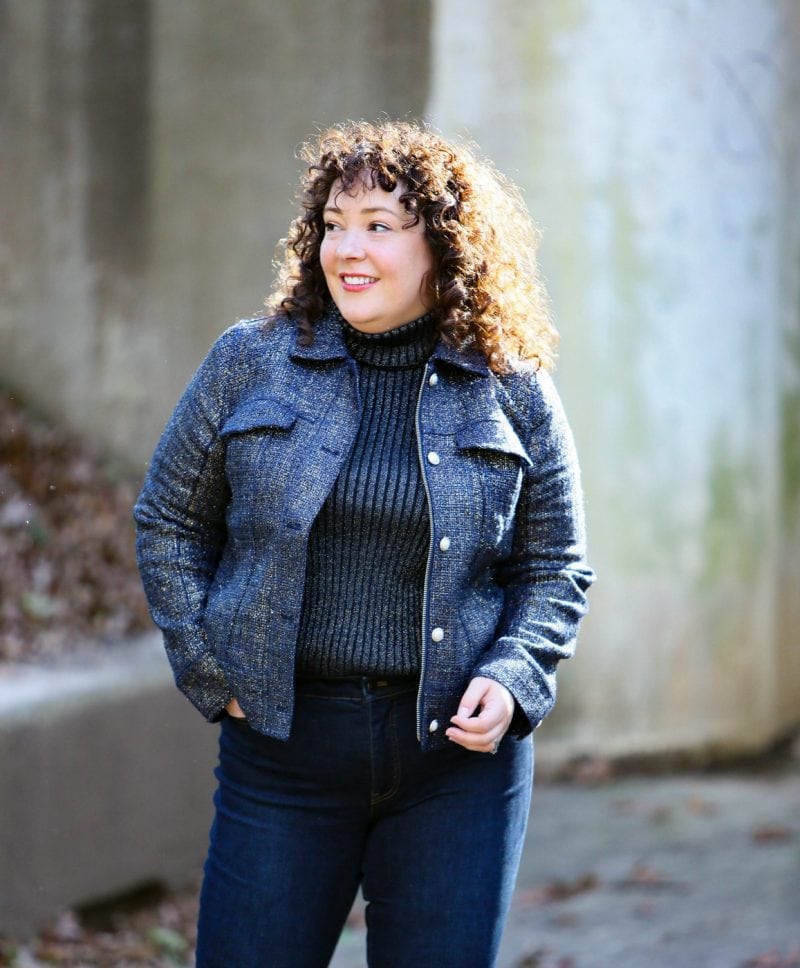 Sparkle, Shine, and Comfort with Chico's Coolmax Turtleneck
Well this year, the Chico's Coolmax turtleneck is available in a ribbed version. Available in a deep red or navy with sparkly Lurex at this link, gray and ivory and plum with Lurex at this link, and in non-sparkly colors at this link; these sweaters aren't too thick but will keep you warm without being overheated. And no itchiness!
This is a sweater that looks great tucked in or left out, under a blazer or jacket or on its own. I love the subtle sparkle of the Lurex versions, it's perfect for the holidays or if you just feeling like celebrating!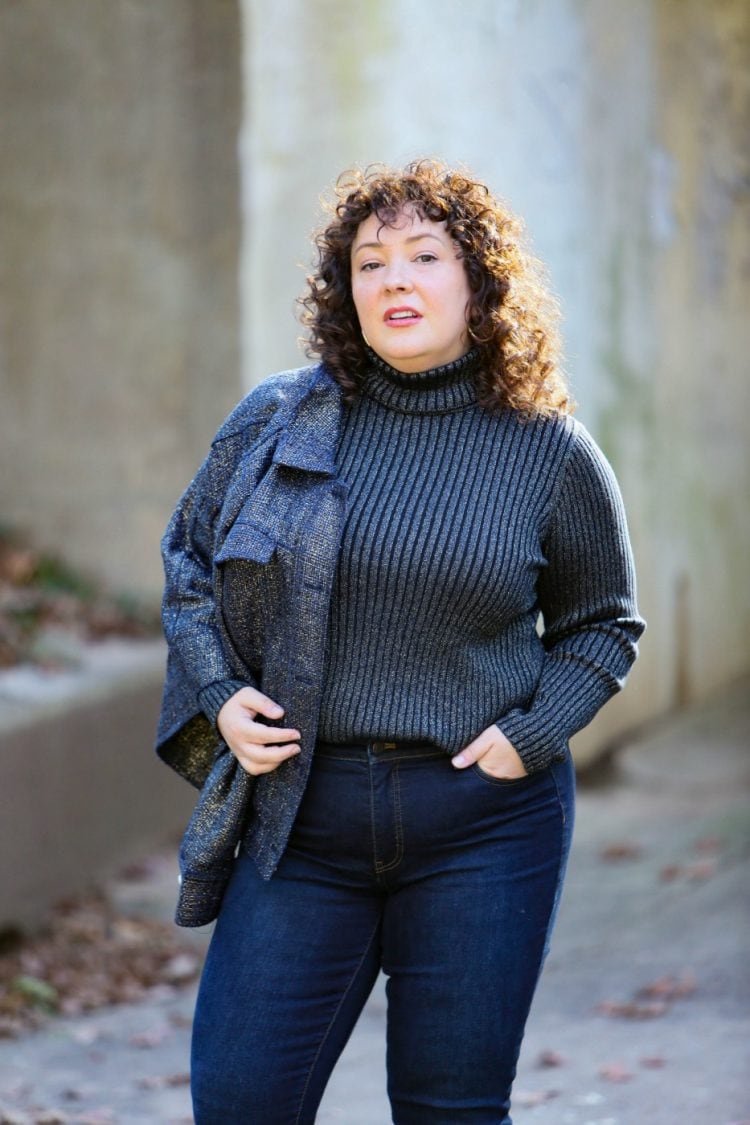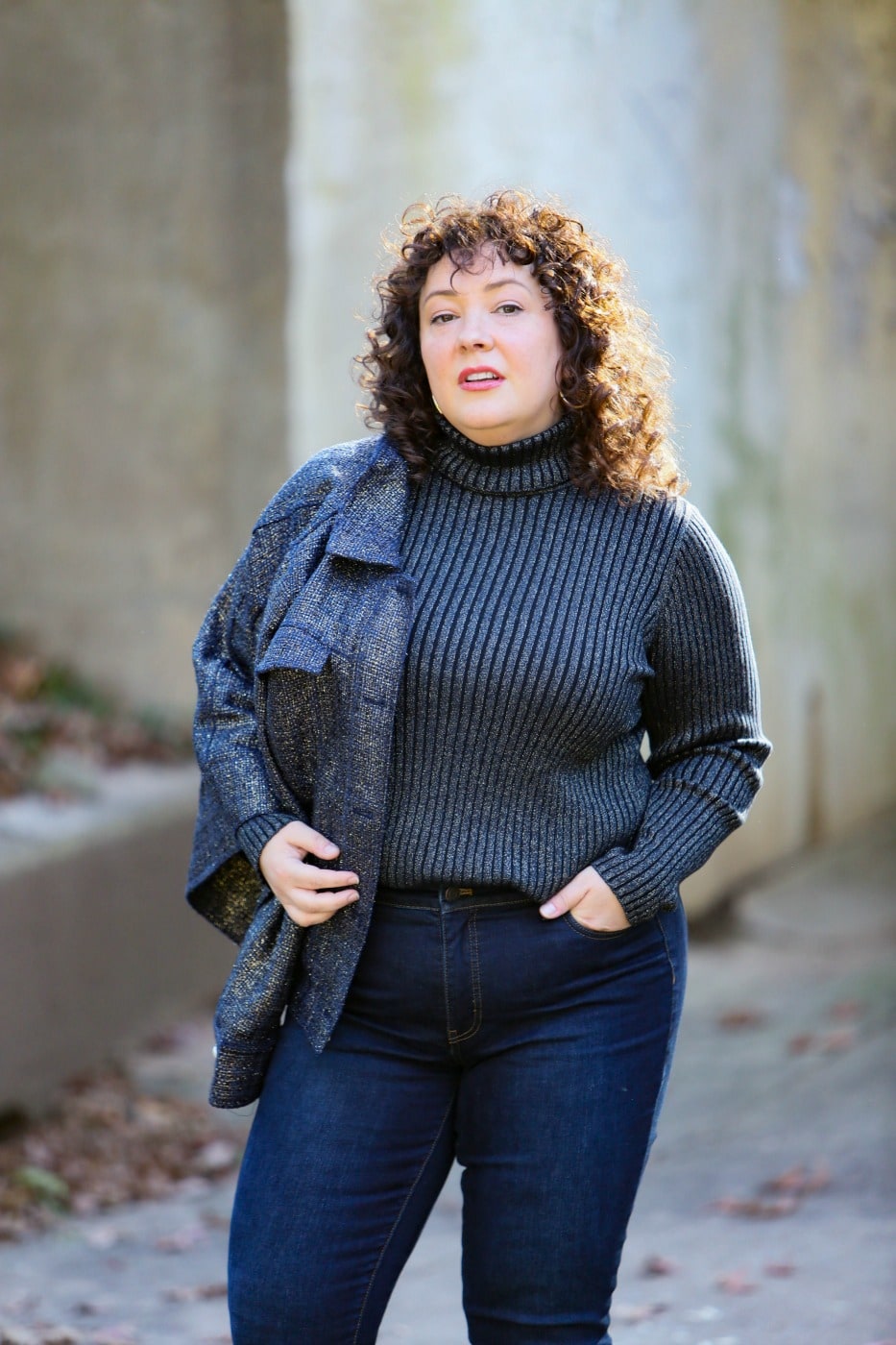 I asked Chico's for this turtleneck… and then I saw this foil tweed jacket and had to pair the two! With pearl buttons, a zipper, and a lining this could be a lightweight piece of outerwear, or could replace a blazer to create an ensemble.
It could glam up a graphic tee or look elegant over a black pantsuit, ponte sheath dress, or a knit tee (with a strand of pearls!).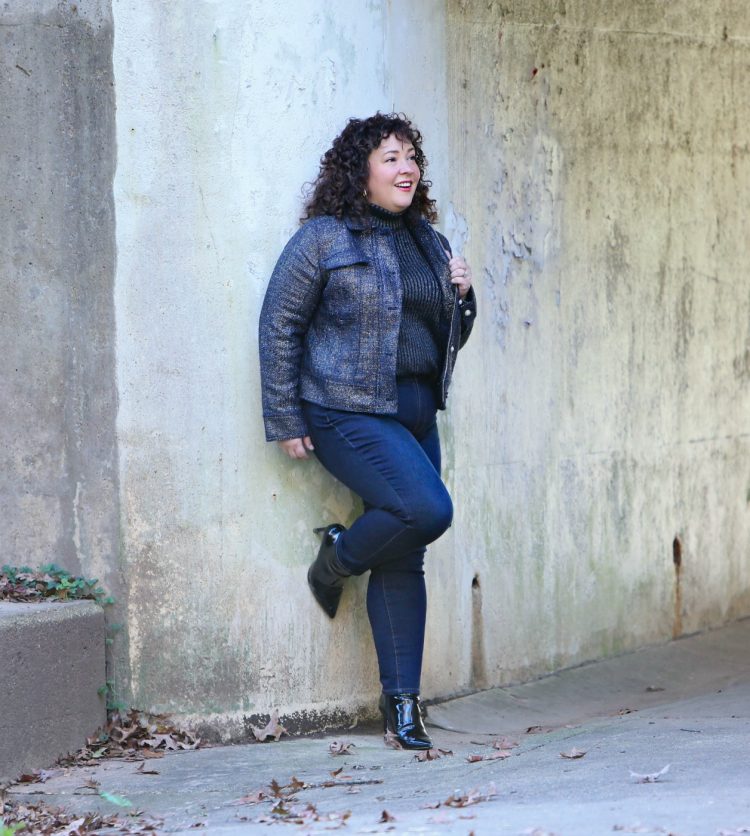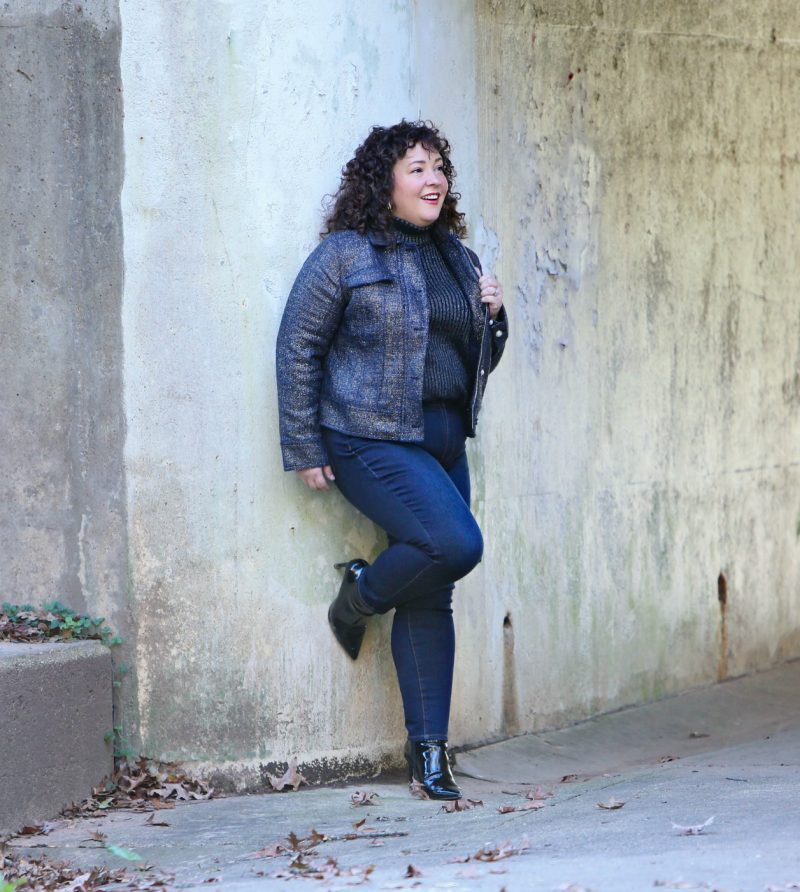 Seriously, this is the kind of jacket that pulls together so many things in your closet. Black, navy, denim, stripes, even a cat print could be a fun contrast with this navy with gold foil tweed jacket! I totally plan to wear this jacket with a graphic or striped tee, black joggers, and my favorite trendy sneakers!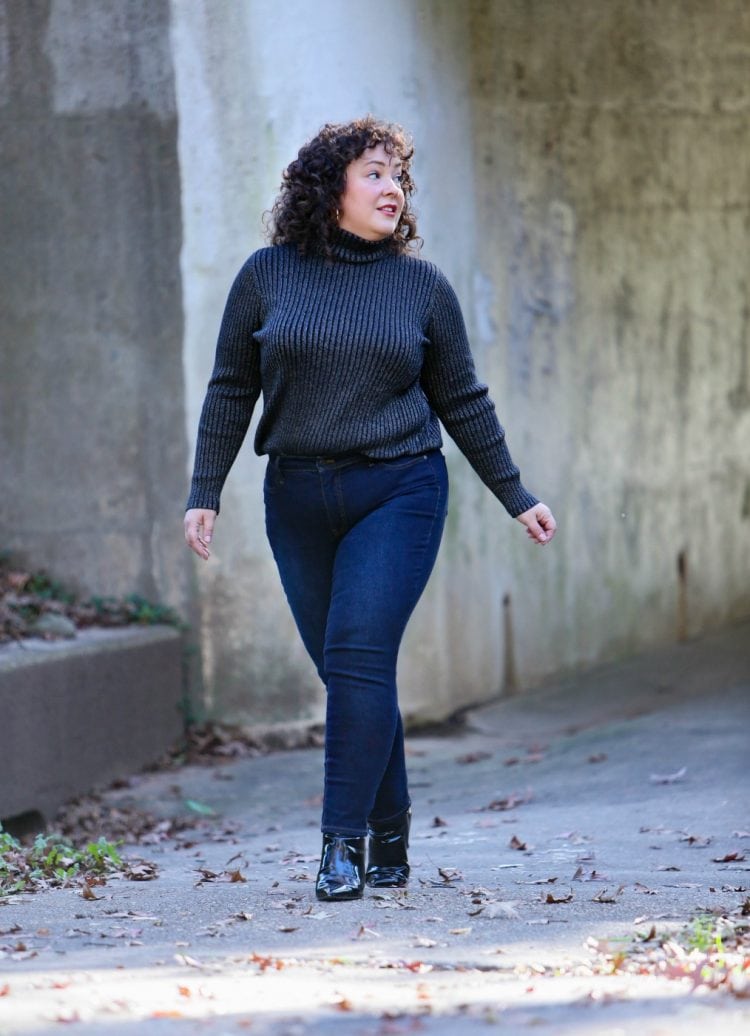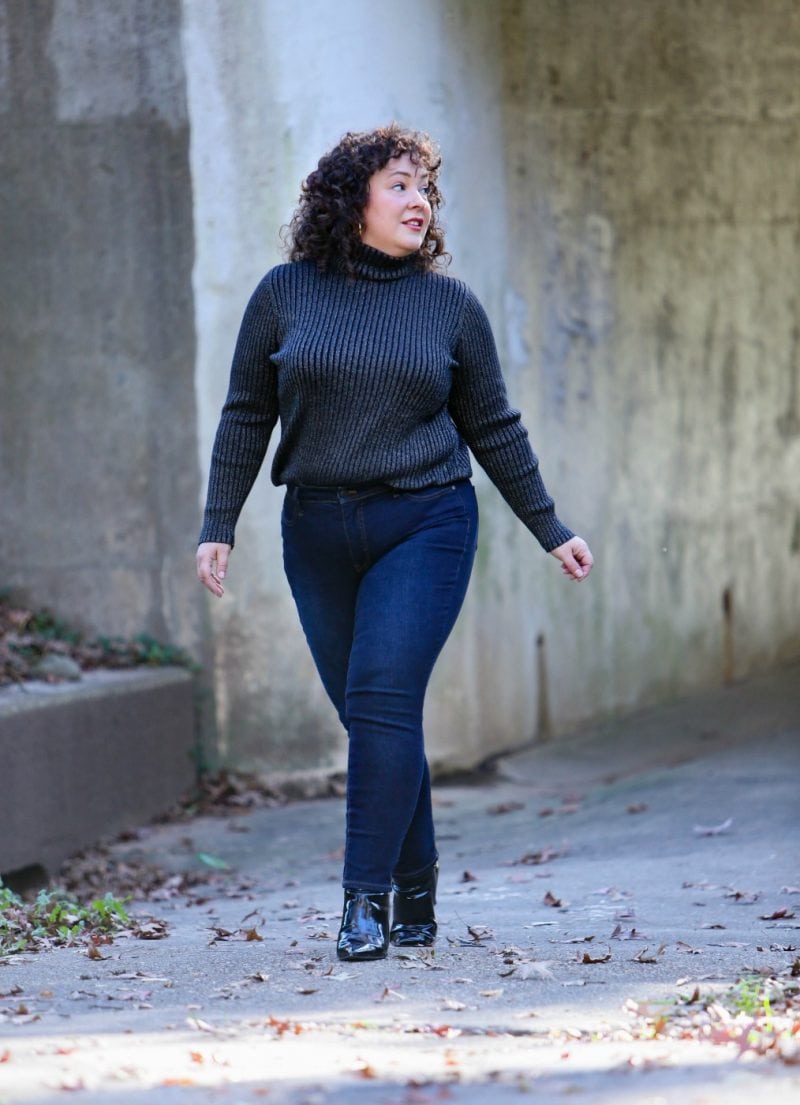 I've had these jeggings from Chico's for a while. They're stretchy without being thin or legging-like, have traditional 5-pocket styling, wash up nicely, and keep their shape. I like the color which isn't rinse, but isn't distressed. It can dress up or down.
While I often size down in Chico's denim, with these I recommend going with your regular size (TBH I wish I did as I wear such jeggings with shorter sweaters and jackets instead of like leggings with tunics). They really don't stretch out more than a quarter of a size and I haven't found them to shrink in the wash.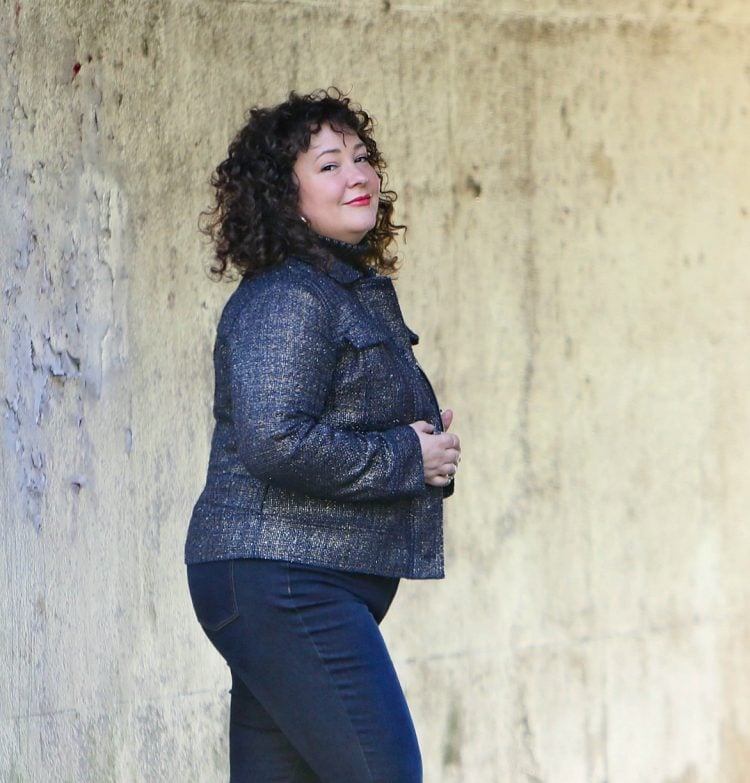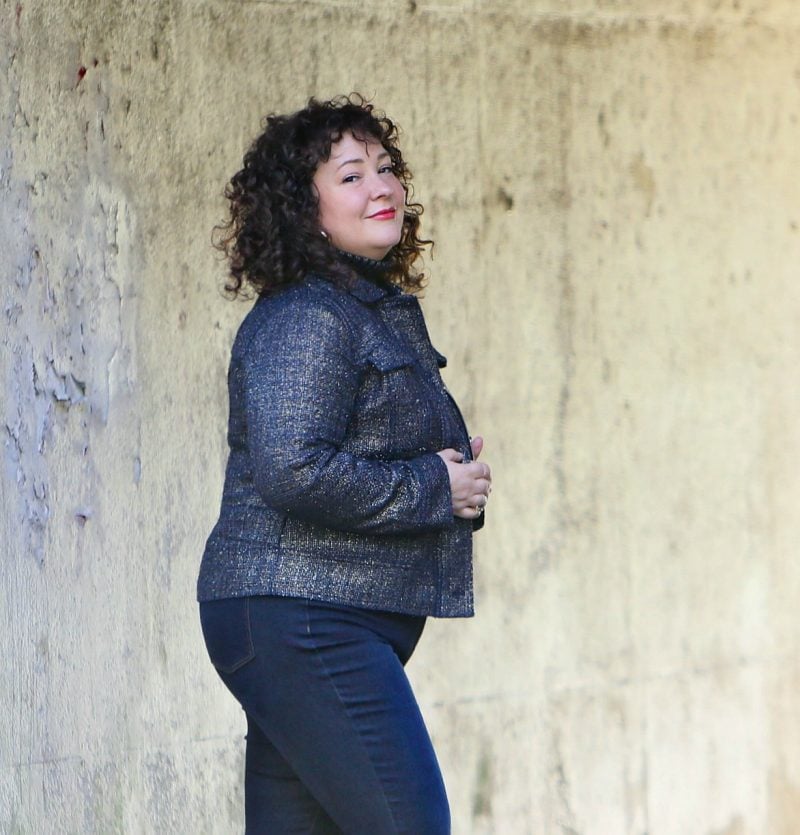 Shop the Post: