This article may contain affiliate links; if you click on a shopping link and make a purchase I may receive a commission. As an Amazon Associate, I earn from qualifying purchases.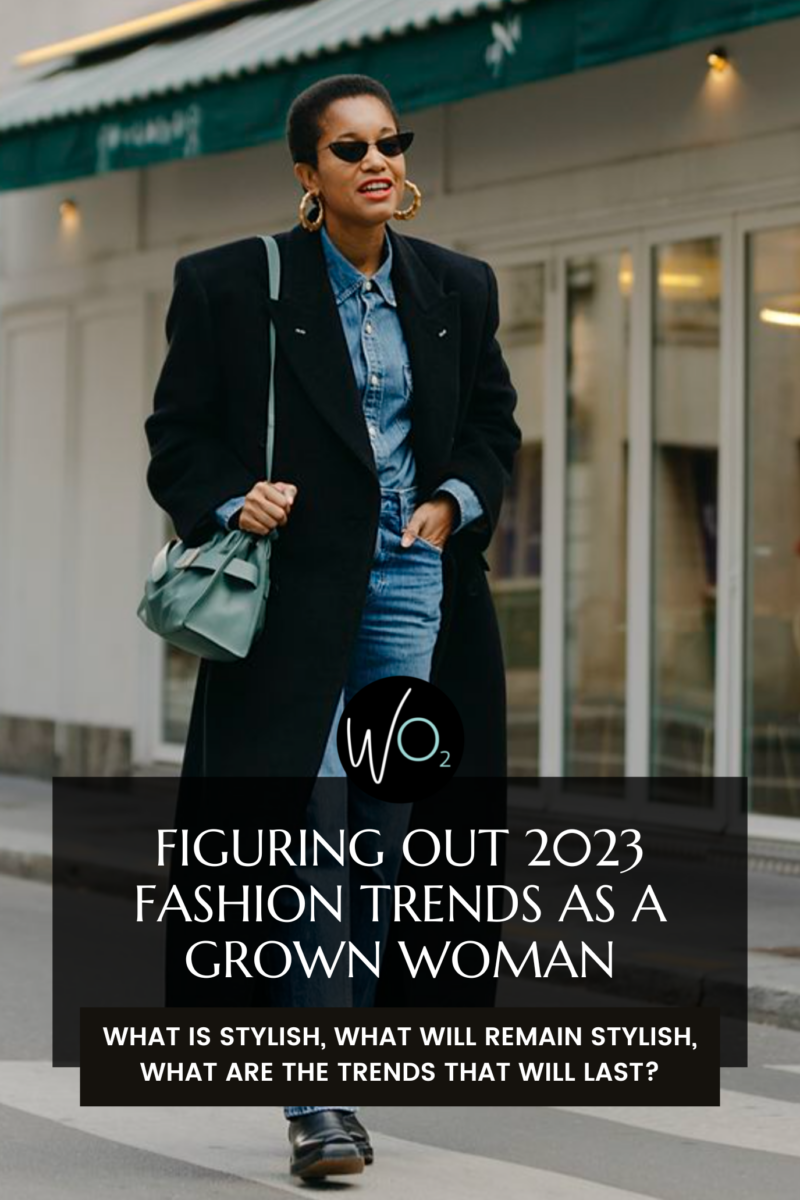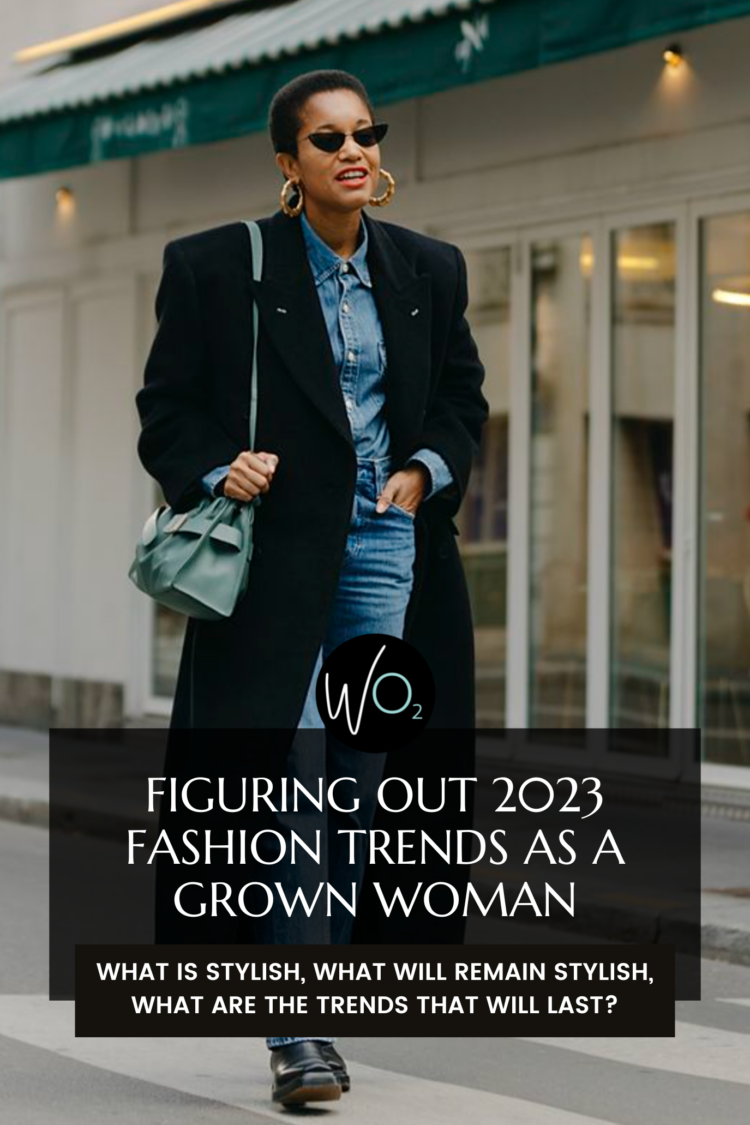 Let's talk about style, trends, and what is considered a classic. If like me, you're checking out the new arrivals at retailers and seeing what is on runways and street style icons you may be trying to figure out how to update your existing closet. And if you're like me, you're trying to shop smart and buy things that will still be stylish beyond 2023. How do you know what 2023 fashion trends will remain stylish and what will be a trendy flash in the pan?
Deciphering 2023 Fashion Trends for Grown Women
Buckle in, this is a long blog post. I break down how to determine if a new trend will last, how lasting trends come to be, what are the 2023 fashion trends, and the eight trends from this year I believe will still be stylish five years from now.
I also break down why the skinny jean is out and it's not because a bunch of teens on TikTok deemed it so. It's the same reason why we don't think twice about pairing a sundress with a pair of sneakers. Grab a beverage or three and get your scrolling finger ready. I look forward to your thoughts in the comments!
How to Determine if a Tend Will Last
These are the questions I ask to determine if a trend is going to stick around more than one season:
Can this trend be created well at a range of pricepoints or if it's a specific item, is it an accessible pricepoint?
Can this trend be worn by a large percentage of the population? Is this something that can be worn by young and old alike, multiple genders, or easily fit multiple body shapes and sizes?
Is it versatile? Can it be dressed up or down? Can it be worn by a range of personal style aesthetics?
If a trend can be made at least in four different pricepoints and most every clothing size, it will likely stick around up to a decade. If it is also comfortable and the style versatile, it can last on the scene even longer. Jeans are a great example of this. Durable, versatile, available at any pricepoint in every size, and thanks to innovations in textiles, they can also be comfortable.
Examples of Lasting Trends: Jeans and Sneakers
Two items that have remained stylish for decades are jeans and sneakers. Available at a range of prices and sizes, jeans and sneakers are worn by infants and centenarians, all genders, and fit many different personal style aesthetics. But that doesn't mean every single style and brand of jeans or sneakers is stylish.
Denim and sneaker trends change with other trends, but also change with historical moments. And the reason we're having a hard time determining what is actually stylish and what is passe is that we've recently had a major historical moment that we're really trying to pretend never happened.
History and Fashion Jeans
World War II changed our society. It changed our feelings about our country, our safety, and ended up changing our wardrobes. War rationing changed clothing styles and textiles and also made it more acceptable for women to wear pants and durable clothing for physical labor.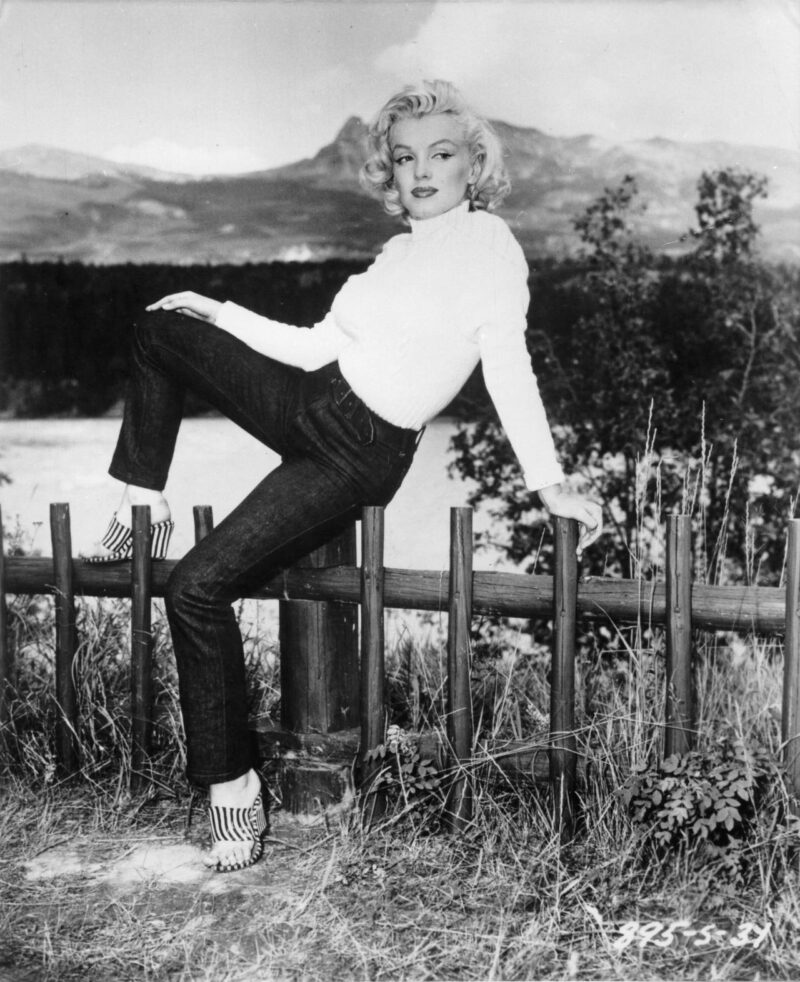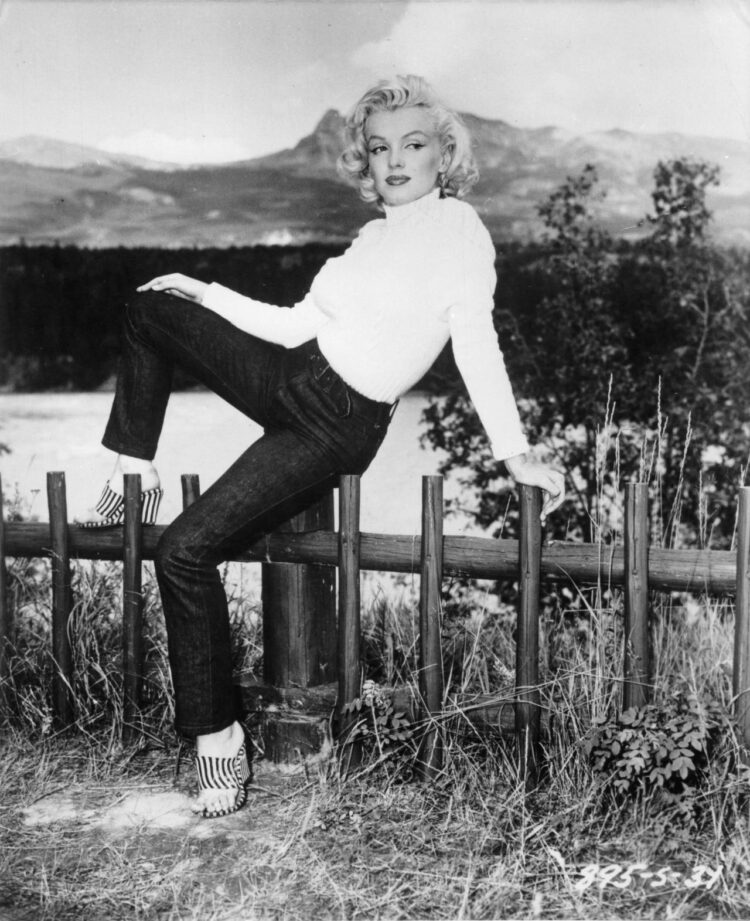 Jeans became popular in the 1950's thanks to stars like Marlon Brando and Marilyn Monroe wearing them on the silver screen. Jeans, which had previously been only worn by cowboys and miners became a fashion statement and a statement of rebellion.
Ever since, jeans have followed the trends of fashion and the changes in our society. Major changes in jeans happened with historical moments in society and innovation. Just think about the amazing journey from Marilyn Monroe's Lady Levi's in River of No Return to Pajama Jeans.
History and Fashion Sneakers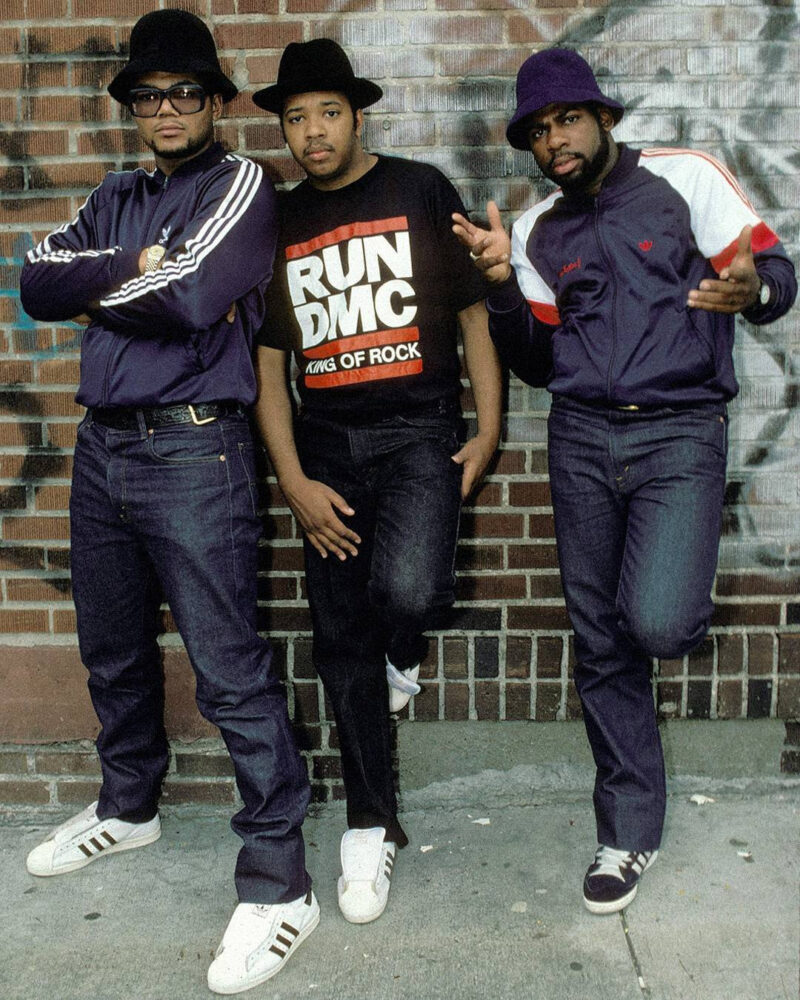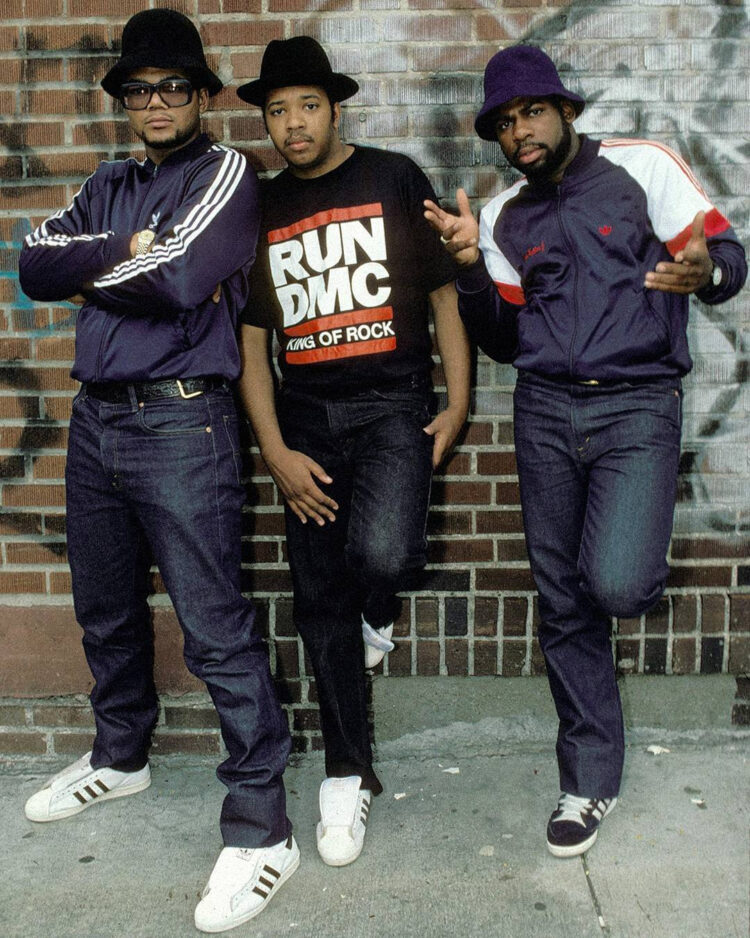 Sneakers have been worn by athletes since the 1920's but didn't become something found in a typical American's closet until the 1970's. Hip Hop culture brought sneakers beyond the track and court. Comfortable, easy to recreate in a range of sizes, and replicate at lower pricepoints, sneakers became the default casual shoe for our society.
9/11 changed our society. It changed our feelings about our country, our safety, and ended up changing our wardrobes. So changing, fashion bowed to sneakers and adjusted hemlines and silhouettes to accommodate them as everyday footwear.
Sneakers are not going anywhere, but sneaker trends have, and will continue to change. Some brands and styles will be flashes in the sartorial pan, some will be stylish for a couple of seasons, some will be chic for a long while, fade away for a bit, and then return as hot as before.
COVID and the Skinny Jean
Let's return to jeans, more specifically the skinny jean. Skinny jeans have been in and out of fashion since the 1960's but got a chokehold on America in the 21st century thanks to the injection of Lycra Spandex. Able to be made cheaply and in any size, skinny jeans were accessible and comfortable. Boyfriends, girlfriends, kickflares, and capris came and went but the skinny jean persevered… until now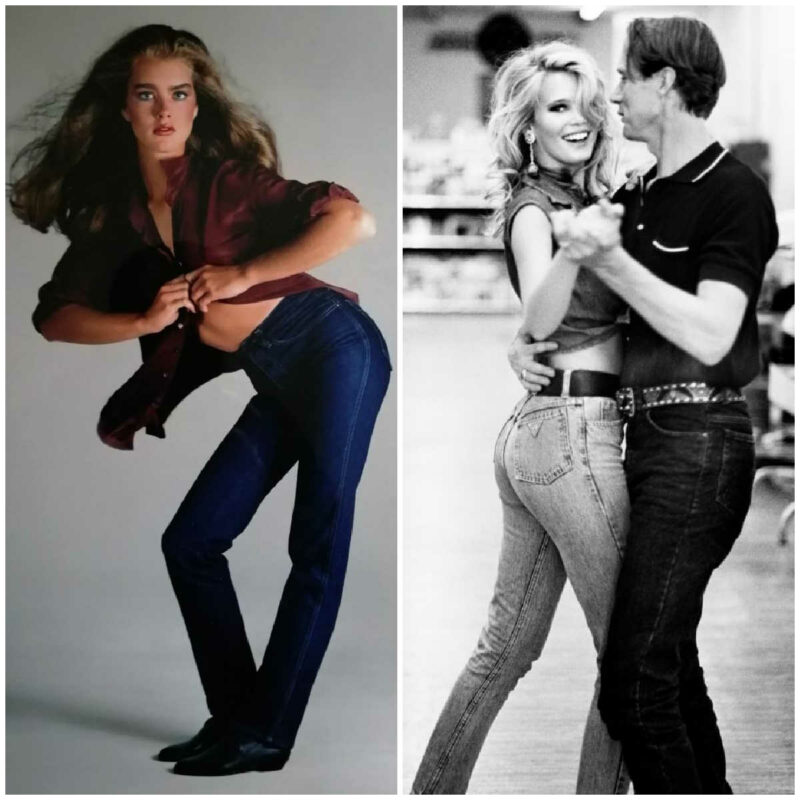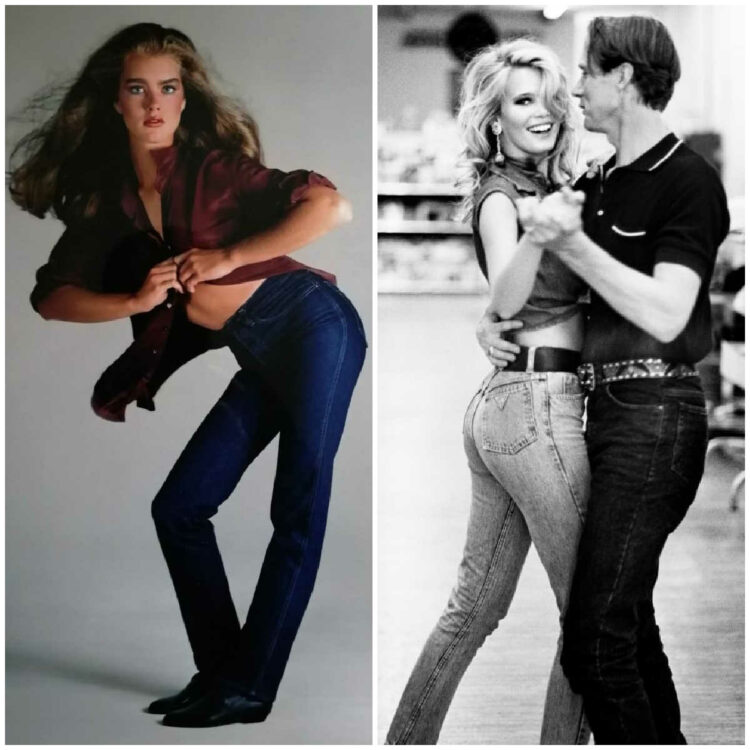 Fashion experts have been calling skinny jeans passe for about three years now, but many folks, especially us grown-ass women, we're saying hell naw you can't have our comfy versatile favorite jeans that work no matter the time of the month or the season of our life. I don't think skinny jeans are dead, but I do think that just like how we shelved versions of them before with Brooke Shields and Claudia Schiffer, it's time to shelve them again.
If you have stretchy skinny jeans or jeggings in your closet, you likely also have one or more of the following:
A cardigan or sweater jacket that hits anywhere from mid-thigh to mid-calf
Suede over-the-knee boots
Waterfall cardigan
Almond- or pointed-toe ankle booties
Riding boots
A top that has a high-low hem or is designed to be styled shorter in front and longer in back
Pointed-toe flats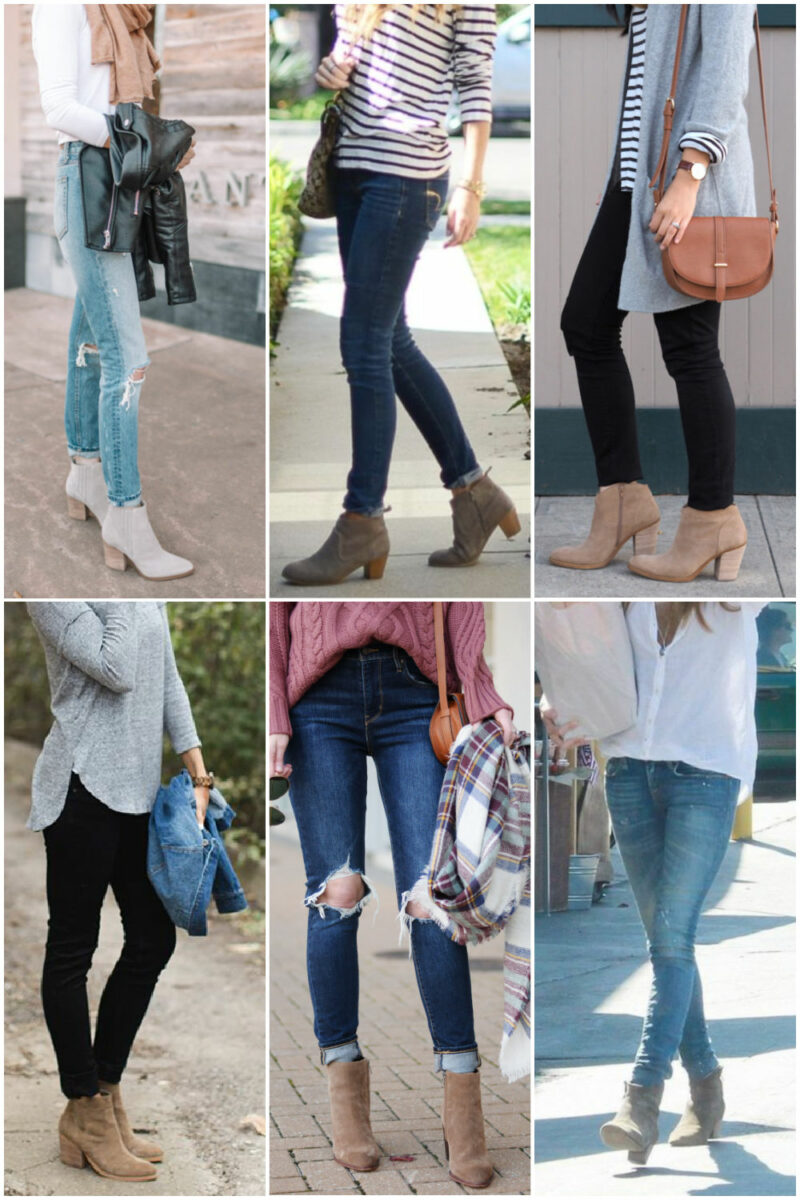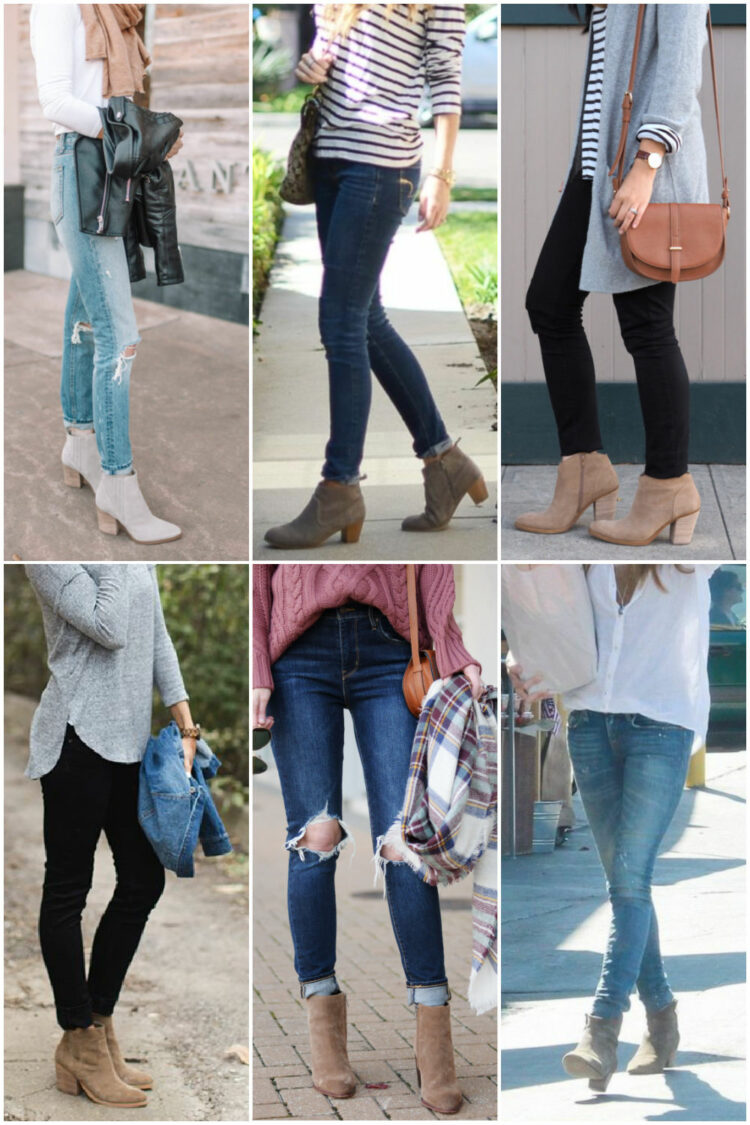 There is nothing wrong with any of these items in your closet, but when paired with skinny jeans, it harkens back to a previous time. The time before covid. The time when society changed. It changed our feelings about our country, our safety, and ended up changing our wardrobes.
The 2020 Style Reset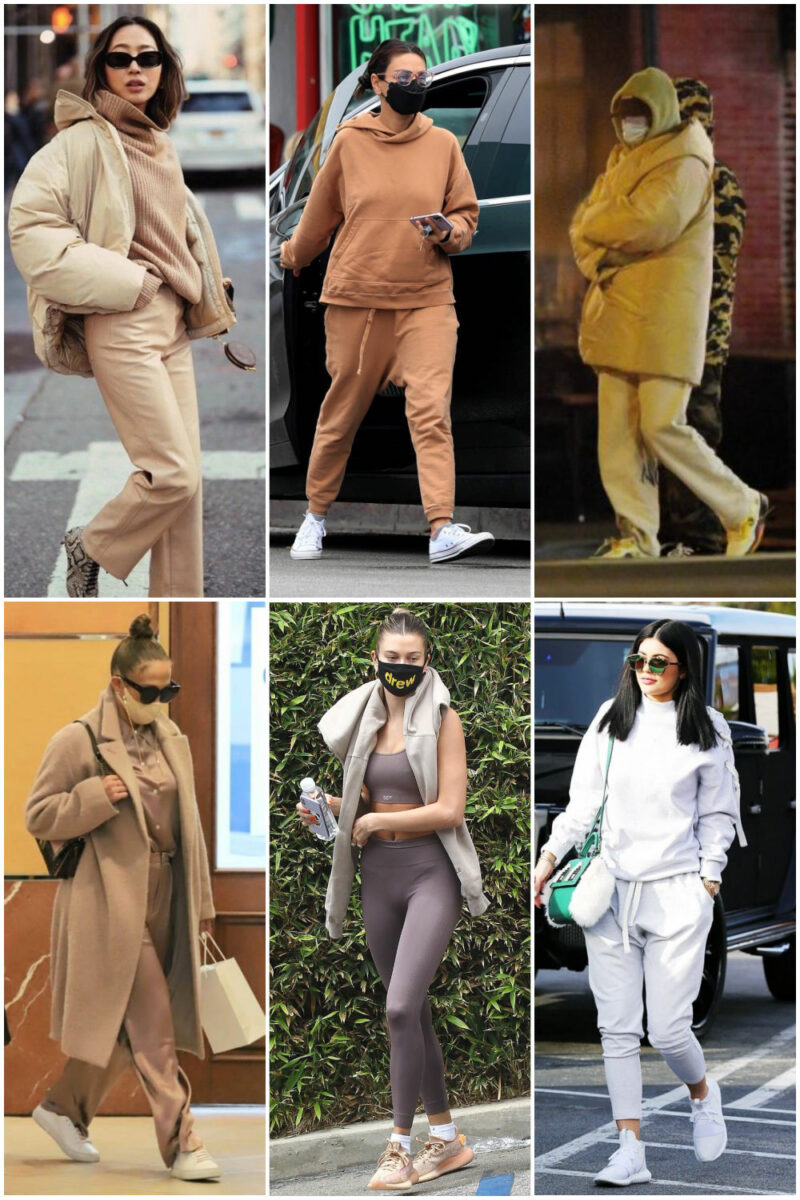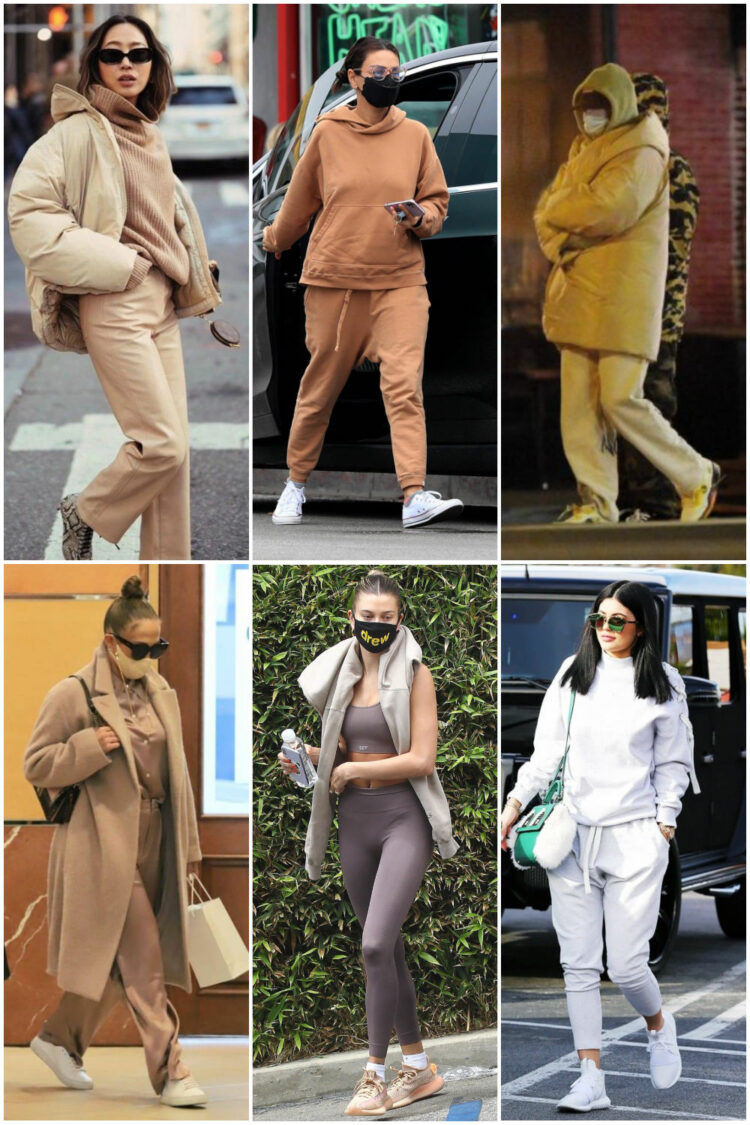 The first wind of change was pretty soon after Lockdown and the world was pretty quick to embrace it. The theme was soft. Soft fabrics, soft colors, soft silhouettes. We weren't wearing jeans, we were wearing joggers and sweatpants and things that didn't bind, didn't have hardware. It was so neutral, so… beige, that it became sort of a style reset.
Just as it has been after any major historical moment, fashion takes a bit to get its footing, but it is clearly leaving some trends behind. And one trend being left behind is the skinny jean. Heck, it's pretty much any skinny pant that has been left in the dust. Even leggings are loosening up with a flared hem (we grown-ass women used to call them yoga pants).
In 2023, wearing a waterfall cardigan and tan suede ankle booties with a pair of skinny jeans is the equivalent of in 1993 wearing acid-washed pleated jeans with a Coca-Cola rugby shirt. That is just not current society's vibe.
What is the 2023 Vibe?
I can say so and so had such and such on their runway and this other guy had this color in his collection and the trends for 2023 will be yadda yadda. But really, when looking at the direction of fashion right now… it's about taking up the space you deserve. I don't think I've seen anyone discuss this thread, but it's one I see and have seen building the past few seasons.
Whether you are into minimalism, street style, prep, punk, feminine, masculine, casual, formal, whatever… clothing is giving you space. Cargo pants, oversized pantsuits, wide-leg trousers, maxi skirts, combat boots, clogs, shoulder pads, ruching, tote bags, it's all unapologetically existing. In comparison, skinny jeans, especially with drapey tops and pointy shoes, look like an apology.
A secondary vibe is a nod to nostalgia. The '90s, Y2K, but also bit of the '70s and '80s and a touch of Victorian lace and war-rationed minimalism. Even futuristic fabrics and silhouettes feel more like a nod to sci-fi from the past or a look worn by a resident of The Capitol.
And the third vibe is one I've been preaching for a while – fashion is fluid. The rulebook has been thrown out the window. Wear whatever the hell you want, confidence is your best accessory. You survived a pandemic, the least you can do is enjoy what you're wearing.
What Is Stylish in 2023 and Likely Will be Stylish in 2028?
Pending another historical event, I think these are items that are stylish now and will remain stylish for the next five years. I am looking at overall trends in colors, silhouettes, details, and brands, what has been stylish before and is returning or what has been stylish long enough that it has worked with a range of personal style aesthetics.
These items also pass my test of the questions I had at the top of the post but am re-sharing them because who likes to scroll up and down on a blog post?
Can this trend be created well at a range of pricepoints or if it's a specific item, is it an accessible pricepoint?
Can this trend be worn by a large percentage of the population? Is this something that can be worn by young and old alike, multiple genders, or easily fit multiple body shapes and sizes?
Is it versatile? Can it be dressed up or down? Can it be worn by a range of personal style aesthetics?
These are items that will not make a statement. Anything that is the It Color or the It Detail means will be the Passe Color or Passe Detail next year. These are complementary items, building blocks of a closet, subtle enough to transition from season to season with style.
Because it is the beginning of the year, I will focus on items that can be worn now, through spring, and into summer. I will review this topic with fall to winter fashion later in the year.
Retro Classic Sneakers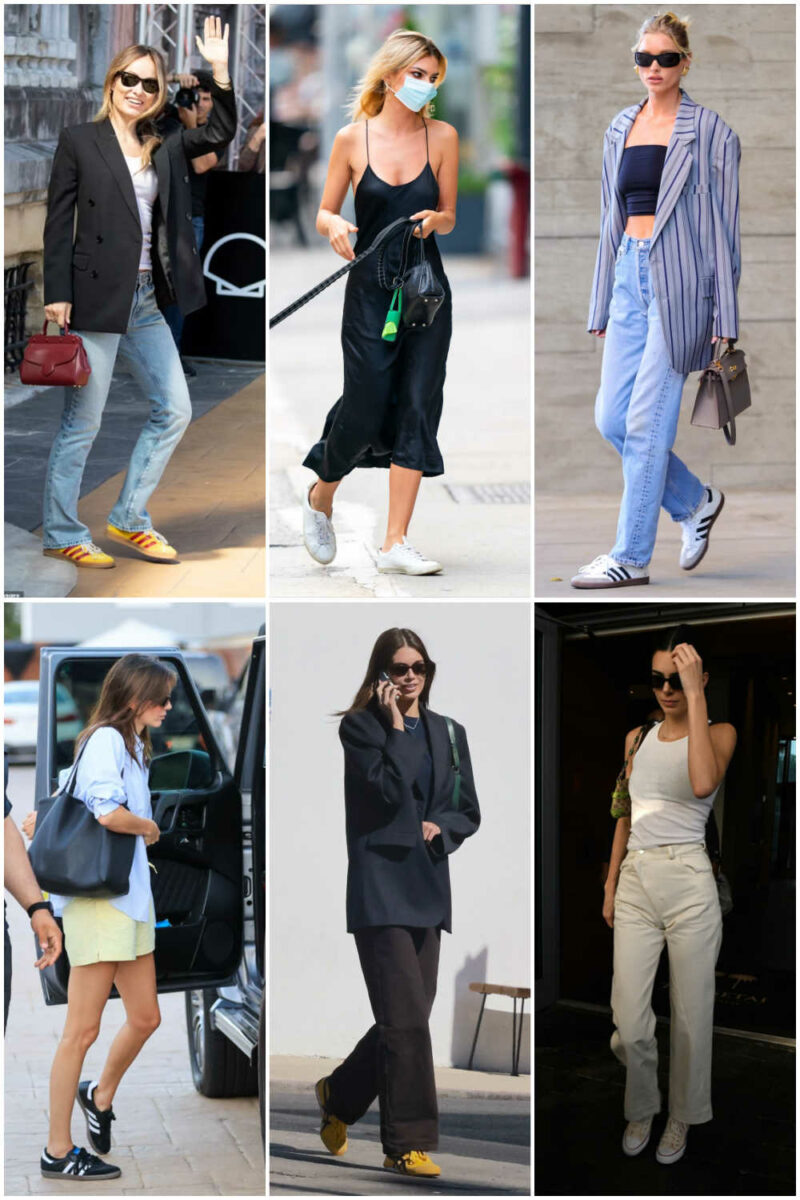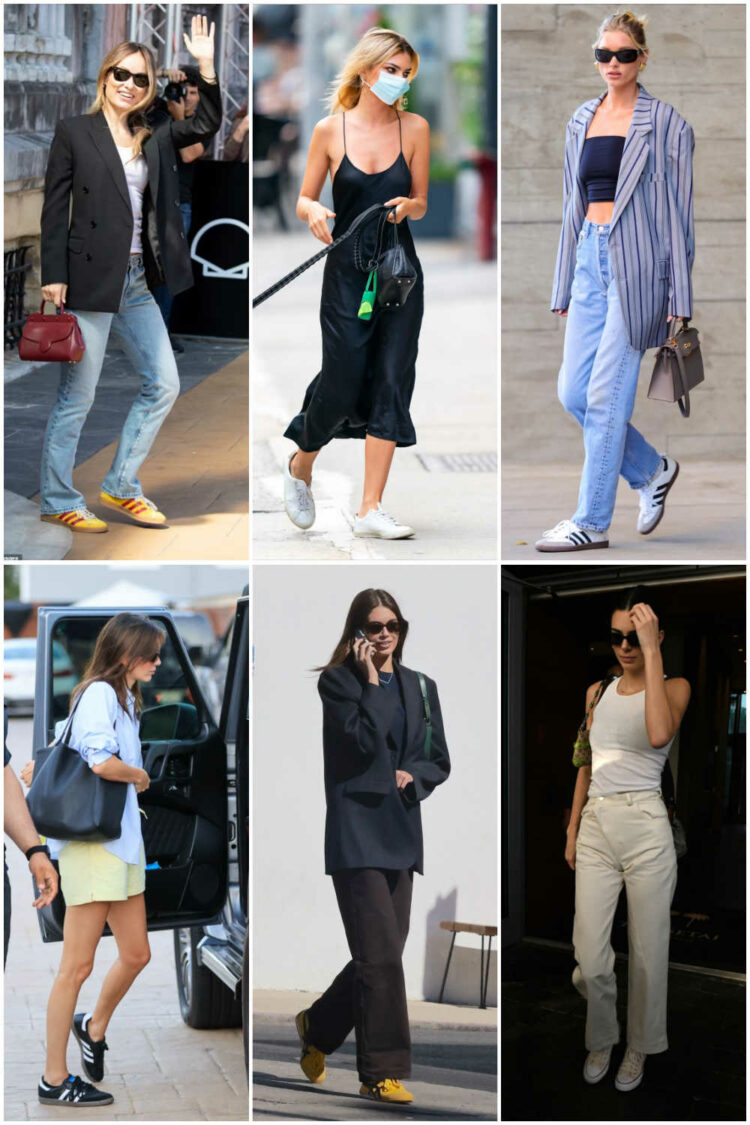 This year, nostalgia is hot and it's definitely showing in sneaker trends. For us grown women, we're likely looking for a versatile sneaker that will work with our not skinny jeans, casual pants and dresses and this trend works extremely well for such apparel. My suggestion is to stick to a white, off-white, or tan sneaker with a subtle nostalgic nod to have shoes that will work all four seasons and as color trends change.
For the past few years, the default fashion sneaker has been low-profile but this year high-tops have returned. Not just for style setters, high-tops can work with looks worn to the mall, to school pick-up, and even creative and casual office environments.

Leather is a great choice because it looks more polished than fabric and it can be polished, meaning they will look nicer longer. However, canvas is having a moment and you can find some very chic sneakers that are free of leather. While tech fabrics are great for athletic sneakers and are being worn by GenZ with everything from sweatpants to ballgowns, I think as grown women who want as timeless a purchase a possible, keep those fabrics for occasions that benefit from such technology.

Adidas and Nike still reign supreme. New Balance is popular but I think will be phasing out and be replaced by Asics (which is the parent company of Onitsuka Tiger, a very trendy brand right now). Check out Gola sneakers, and when in doubt a pair of Chucks is still cool (I'm partial to the white and natural-colored high tops).
Wide-Leg Trousers with Drape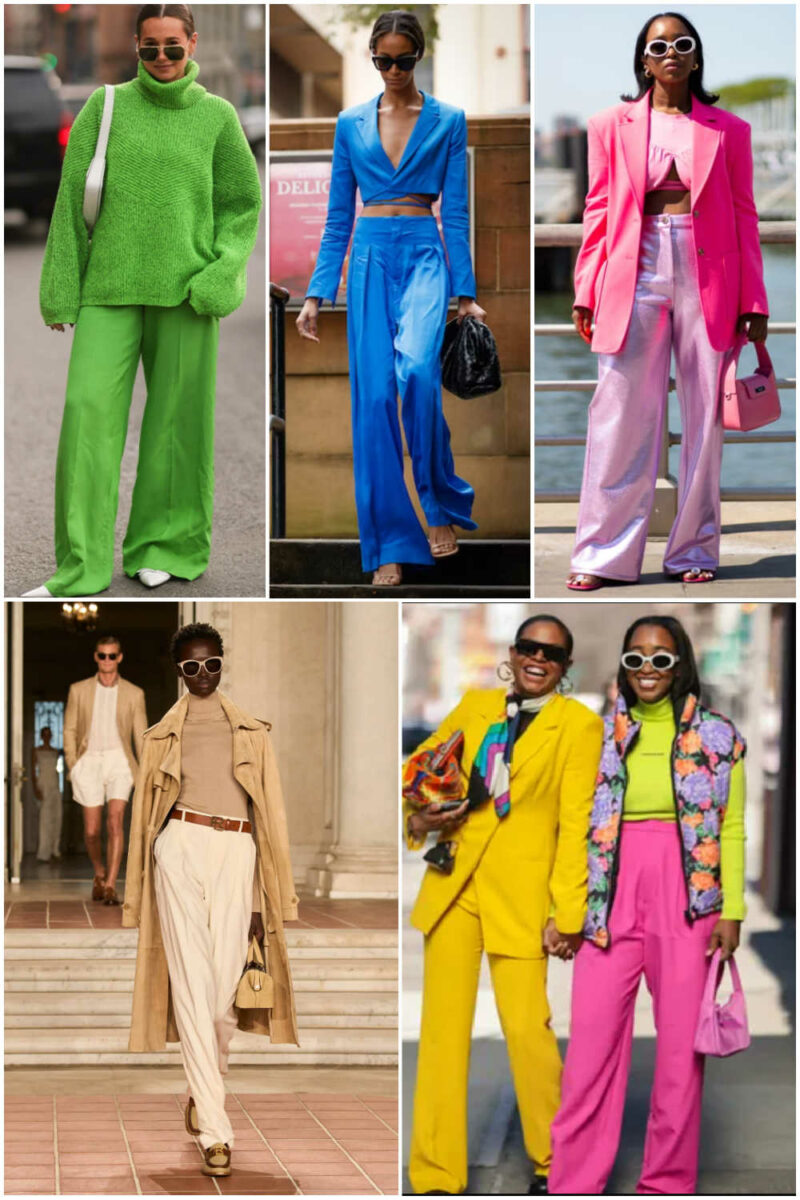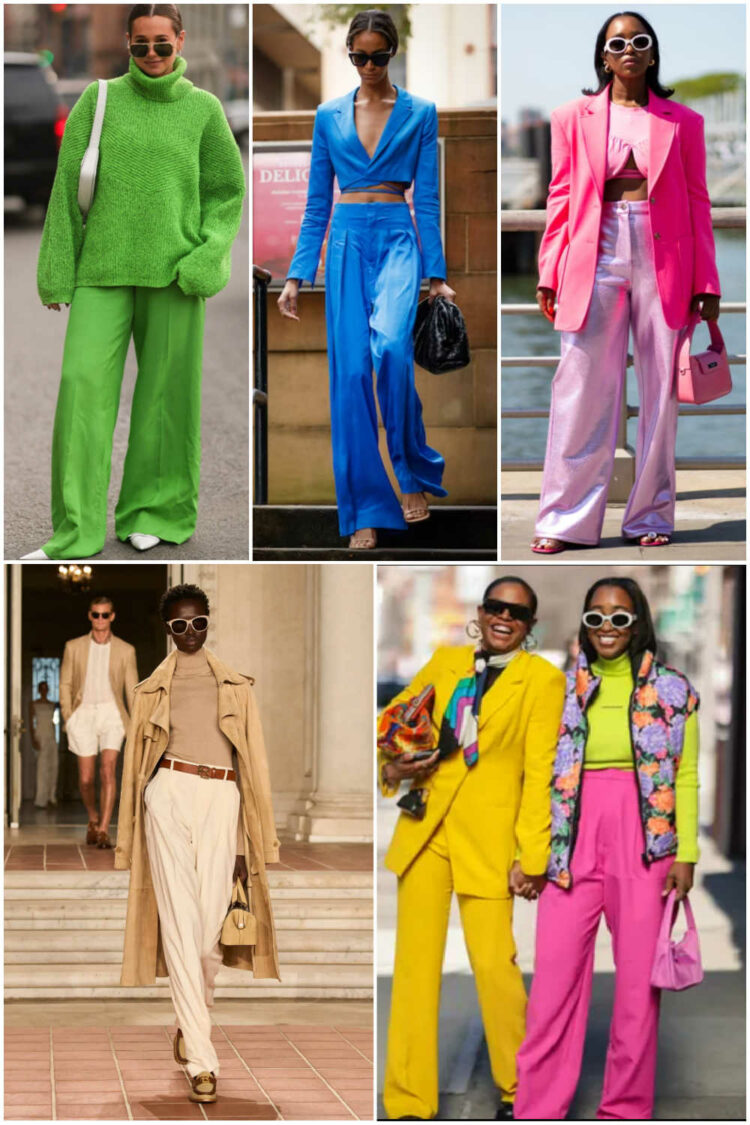 This is a hard trend to embrace if you have spent a lifetime following style rules that push you to appear small, tall, trim, and contained. Remember, 2023 is about taking up space and throwing that rulebook out the window. IMO, the easiest way to do this is with a pair of wide-leg trousers in a drapey fabric.

Crepe, silk, linen, matte jersey, even a lightweight ponte works. You want a fabric with a hint of stretch and a fabric that swishes when you walk. Preference is to a pant with a proper button and fly, the waistband can be flat or elasticized in back. The pants are loose enough that they hang from your rear and belly instead of following every curve.
If you wear tucked-in tops, these pants look great with that, alone or under a matching jacket or coordinated layering piece. But you can wear untucked tops with wide-leg drapey trousers, as long as the top hits from crop level to mid-hip. You can go even longer if the top is the same fabric as the pants, making a drapey matched set.

Stress less about creating a waistline and an hourglass shape and more with creating a really cohesive color/pattern combination. Think the same color blue sweater and pants, purple pants with a blouse that has the same purple in it, or bold colorblocking (red with orange or pink, blue with purple or turquoise, green with yellow or brown).
For shoes, most anything goes, but don't feel you have to balance the volume with height. Test drive them with a pair of sneakers, a loafer, a flat sandal. It can feel weird AF making such a drastic change in your wardrobe silhouette but it may switch up the relationship you have with your shape for the better.
Wide-Leg Jeans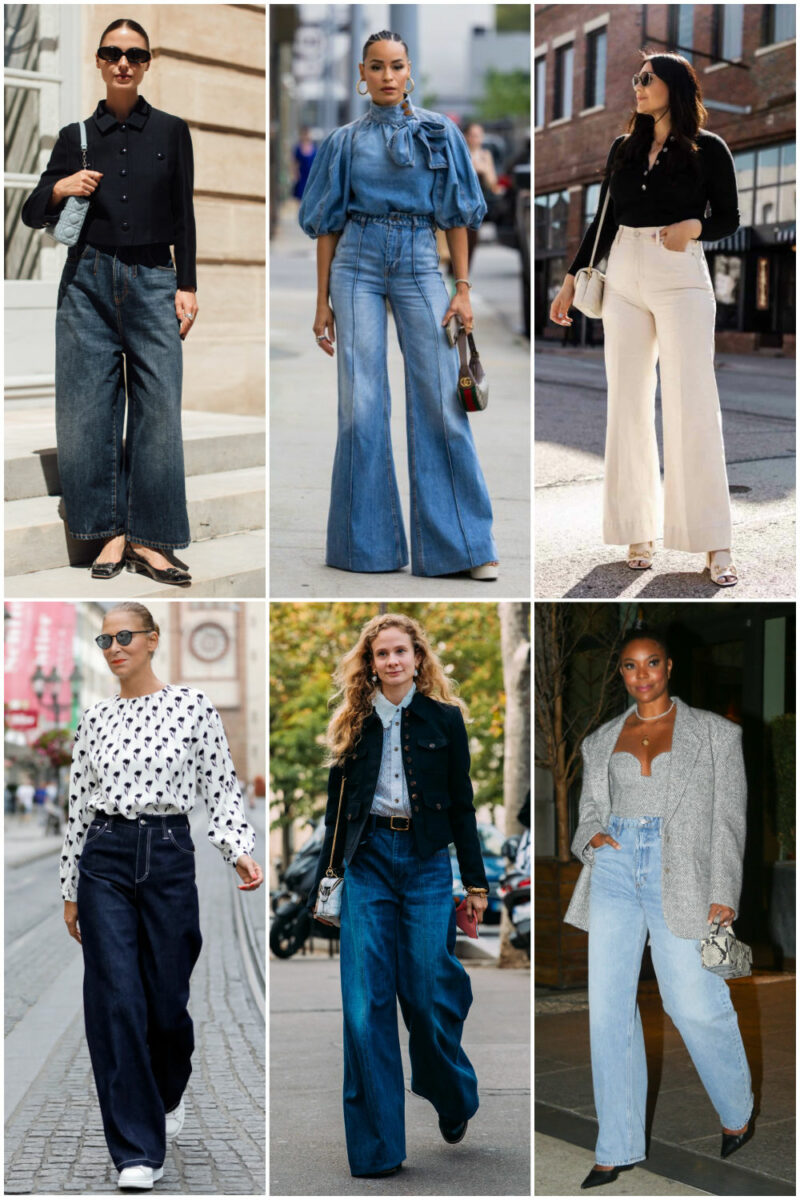 After a couple of seasons where denim has been trying to find its footing the wide-leg denim trend has settled down. The look is mid- to high-rise, slim in the hips with an a-line angle to the hem. Sure you can do slouchy, but you may find the cleaner lines of 2023's wide-leg jean easier to work with your existing wardrobe.

These aren't JNCO's, the leg width is subtle, and depending on your height and shape, may not look much wider than a straight leg on a different body. That's okay, there are no rules on exact width to determine coolness. You may have to try around to find the right pair for your unique body.
These are what you can wear with a simple tank, or a graphic tee, or a Breton striped top. A silk blouse or an oxford shirt, a cami with a cardigan, a turtleneck with a blazer. Like the wide-leg pants, you can go tucked in or left out for tops. To fit your existing closet, consider tucking, half-tucking, or untucked tops that hit mid- to high-hip.

Whatever weight of denim, percentage of Lycra for stretch, and wash is up to you and what looks best with your closet. Distressing is better on faded denim to give a vintage vibe. Denim trousers are also an option and can look more appropriate in the office and for evenings out. While you will see everything from hemlines ending above the ankle bone to jeans dragging on the ground, as a grown-women I would recommend if the pant is full length, have it end about 1/4″ to 1/2″ from the ground for a clean yet still modern effect.
For shoes, it's pretty much the same as the wide-leg pants. You will also see folks in more streamlined of shoes with wide-leg jeans (trim sneakers like Sambas and structured ballet flats), but if that feels weird to you, there's no need to do it. Just steer clear of sleek pointy heeled shoes which right now feel a bit dated.
Straight Leg Jeans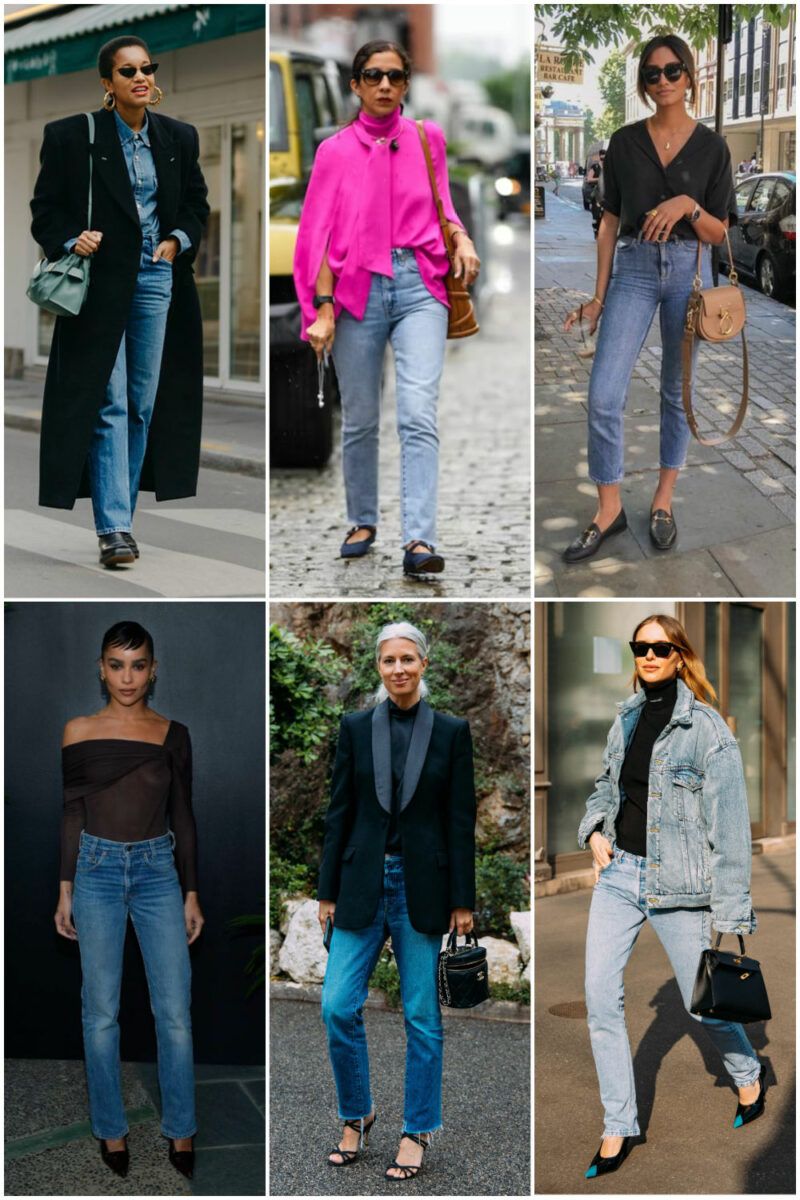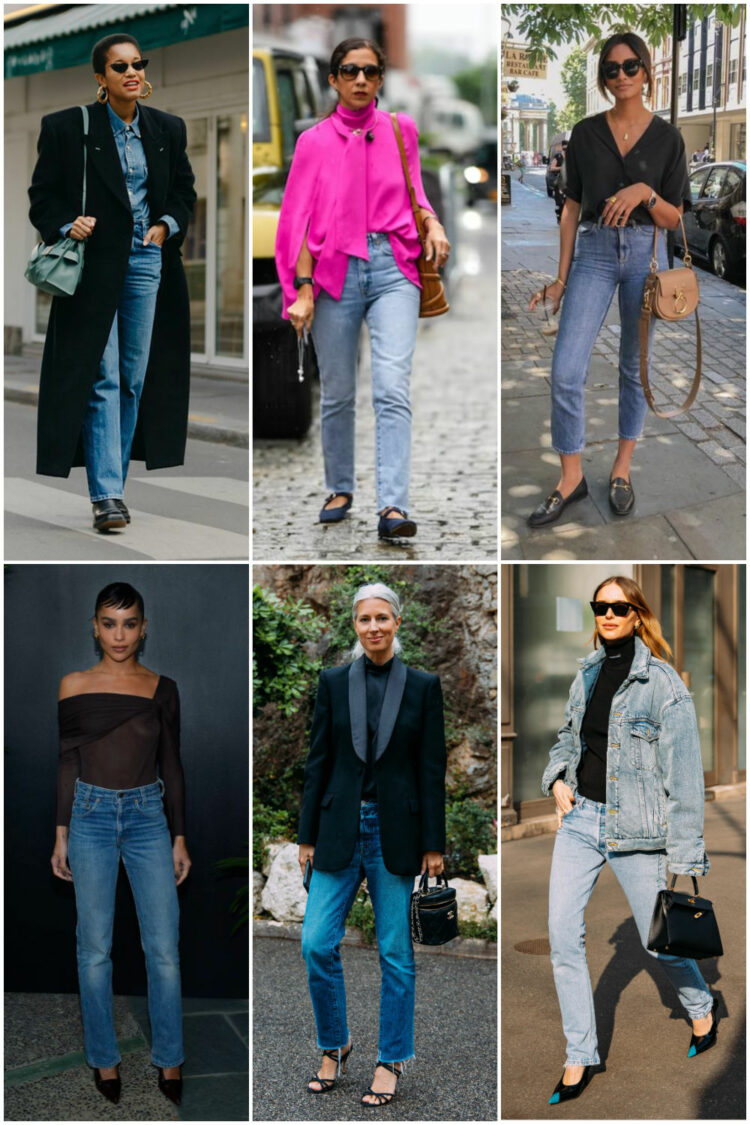 This jean is not skinny, it is not slim, it is not barrel, it is not boyfriend. This is a jean that reminds you of the 501's you wore in the past. In fact, if they still fit, whip out that old pair of 501's because they're highly coveted in 2023. The straight leg jean of 2023 is pure nostalgia.

I recommend having these jeans hemmed to somewhere between the bottom of your ankle bone and the top of your foot. These aren't ankle jeans, and a lack of "break" (where the pant/jean folds on the top of the foot) will feel both current and vintage. You can have a cut hem (looks like it was recently sliced off), a hemmed edge (traditional), or something that looks as though it's been through years of wear. Depending on your personal style aesthetic, you can even do a single cuff.

Vintage-looking washes are on trend. Weathered stonewash, faded, or a traditional dark denim that has gone through the wringer. However, you can still do a rinse denim, but have it with a bit of personality. Something more ringspun versus just a dark blue, a darker jean that looks as though Brando could have worn it.
Ballet Flats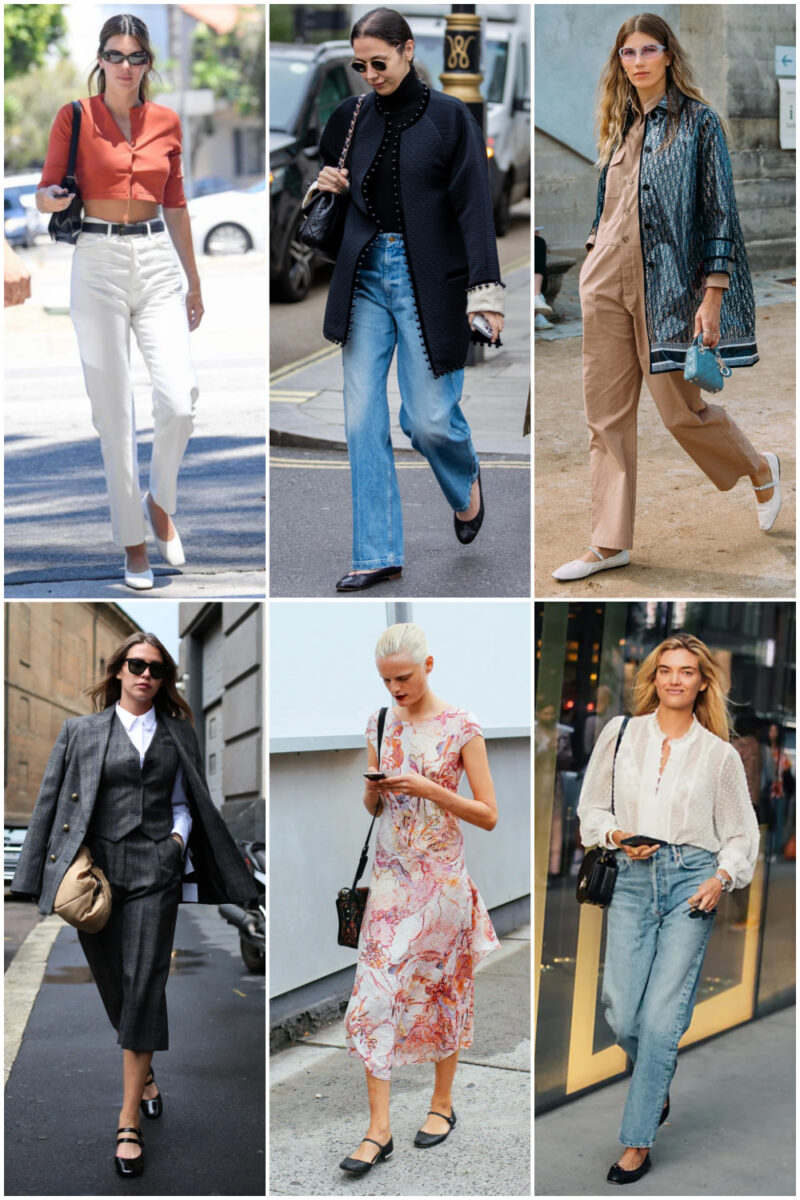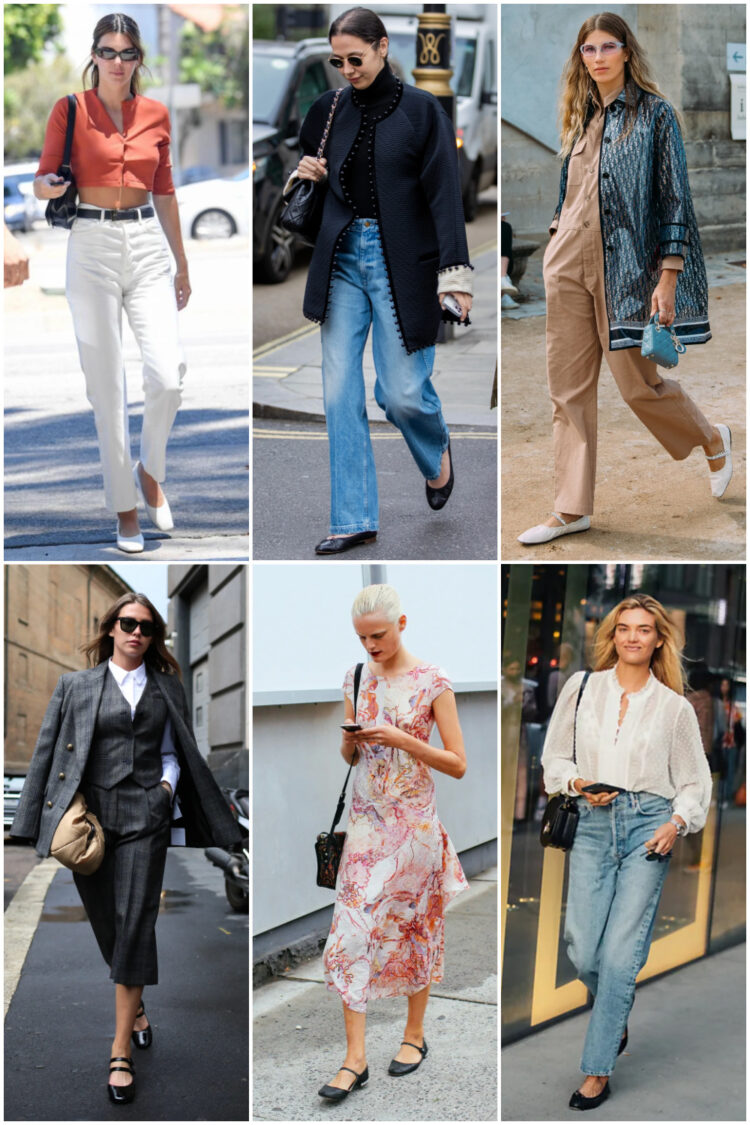 Over the past couple of years we've seen ballet flats topped with giant gold logoed hardware, buttery leather ones so supple they're shipped folded in half, and a good many of us have a pair of recycled plastic knit ones with a sole resembling a yoga mat. These are not the ballet flats I see being stylish this year or over the next five years.

The current ballet flat in general is made of a sturdier leather or textile that keeps its shape. It may have pleats like the fabric was gathered up around the toes. It may have a squared-off toebox or a split toe (tabi). These are shoes substantial enough that some versions have a Mary Jane strap (or multiple straps). They can look modern, futuristic, or as classic as a pair of Repettos.

I recommend this trend only if you're the type who already wears this kind of shoe. If you're looking for an update from your Rothy's or Tieks or want to upgrade from that well-worn pair you got at Target/Old Navy/Nordstrom Rack that was never quite right, this is your year.

Wear with midi-length skirts and dresses and jeans in a variety of styles, though the length is crop cropped to just the top of the foot/no break. They look fresh with tapered and relaxed ankle pants and for those who like to have fun with fashion, try them with the dressier cargo pants on trend this season.
Denim Beyond the Jeans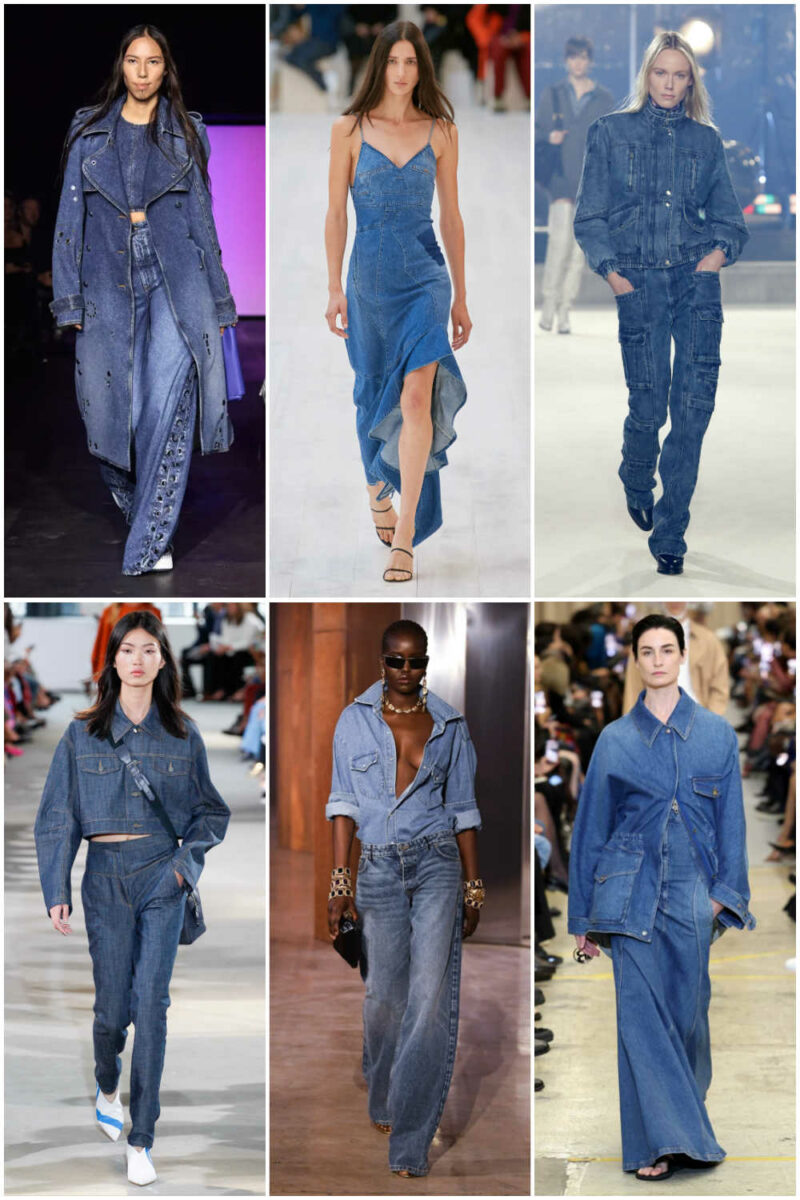 If you remember fondly a denim blazer, trench, shirtdress, or sheath this is your year. Denim on denim is back, but so are atypical denim garments. But that doesn't mean the exact same Ann Taylor denim blazer you wore in the aughts is on trend in 2023.

The best way to choose a denim garment that will remain stylish is have it look like it's made of denim. That means none of this indigo tonal stitched stretchy stuff, no non-blue denim, and no flimsy chambray. Pearl snaps, copper and silver rivets, and classic washes will not only be more likely to look cool over the next five years, it's more likely to look cool beyond that or be able to pack away and bring back in a few years looking more modern than ever.
The style this year for denim on denim is edgy and strong. Leather instead of lace or eyelet, black and white instead of color, and consider switching out your delicate gold chains for a tougher piece of jewelry. It can still be elegant and office-appropriate, but it's just bolder than the last time we did this trend.
Pantsuits with Personality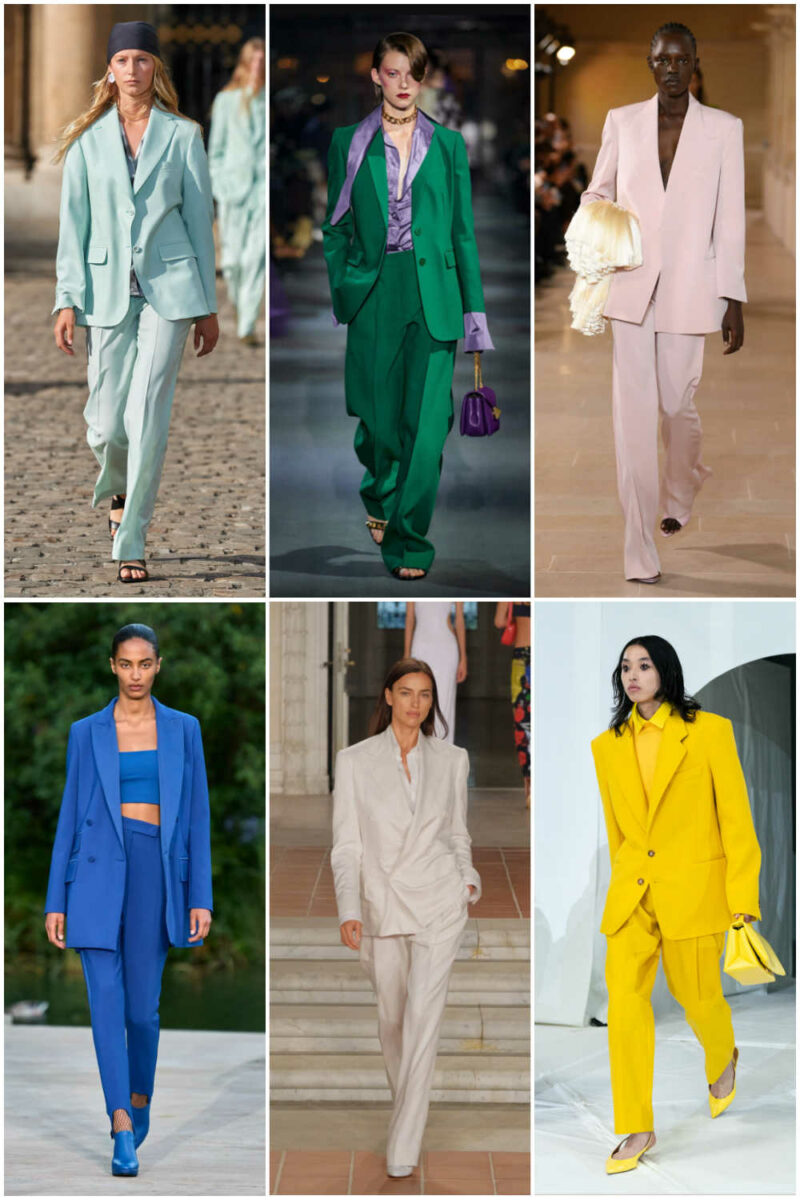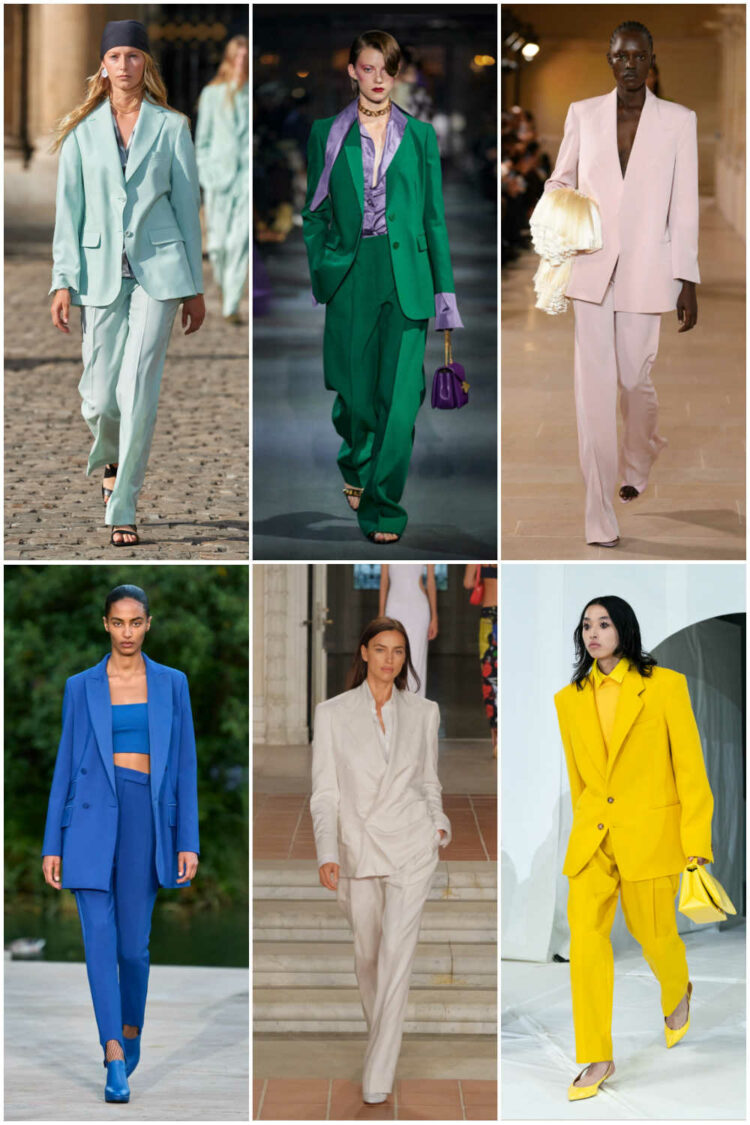 A pantsuit with personality is one that is in a fun color or print or incorporates a modern trend. For a while, a solid-colored suit in a clean neutral (black, white, or almost white) or an unexpected shade like red, pink, yellow, or green has been chic, but the silhouette has changed since 2020.
Before 2020, the suit was trim and tailored usually with an ankle-length pant. But since lockdown, the suit has grown and become more relaxed. We've seen double breasted and single breasted, cropped jackets and elongated, jogger pants and cargo pants and straight legs and wide legs.

I think a suit in a solid color that makes you happy in a fabric that has a bit of drape is a great alternative to a dress for most social occasions, is good for the workplace, and it can be broken up and worn as separates. The pant should be straight to full, the jacket whatever cut makes you comfortable and can be worn buttoned up. Buttons should be the same color as the garment to best transcend any trends.
While we've been raised that a lined pant is higher quality than one that is unlined, for this trend you may find an unlined pant will have better fit and drape and work better with your curves. That being said, a jacket that is at least partially lined will have better shape and structure. As for shoes, consider the same styles you'd wear with wide-leg pants.
Black Leather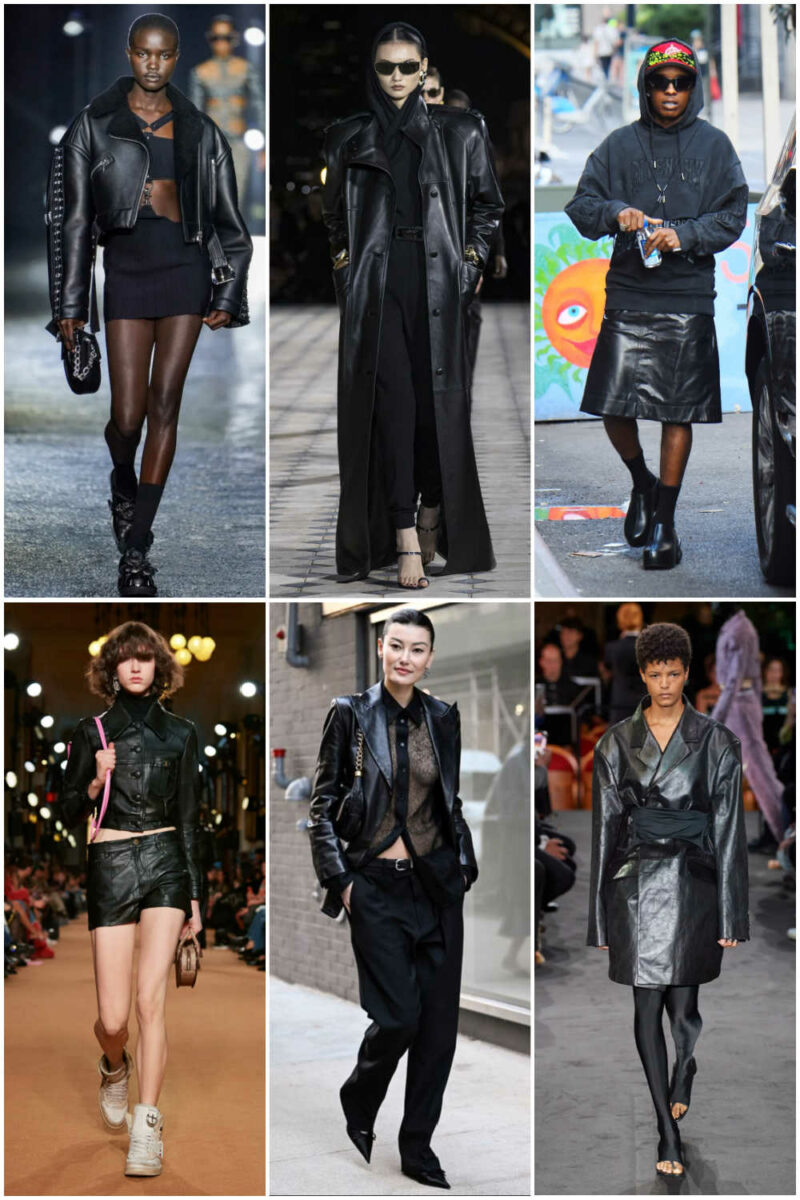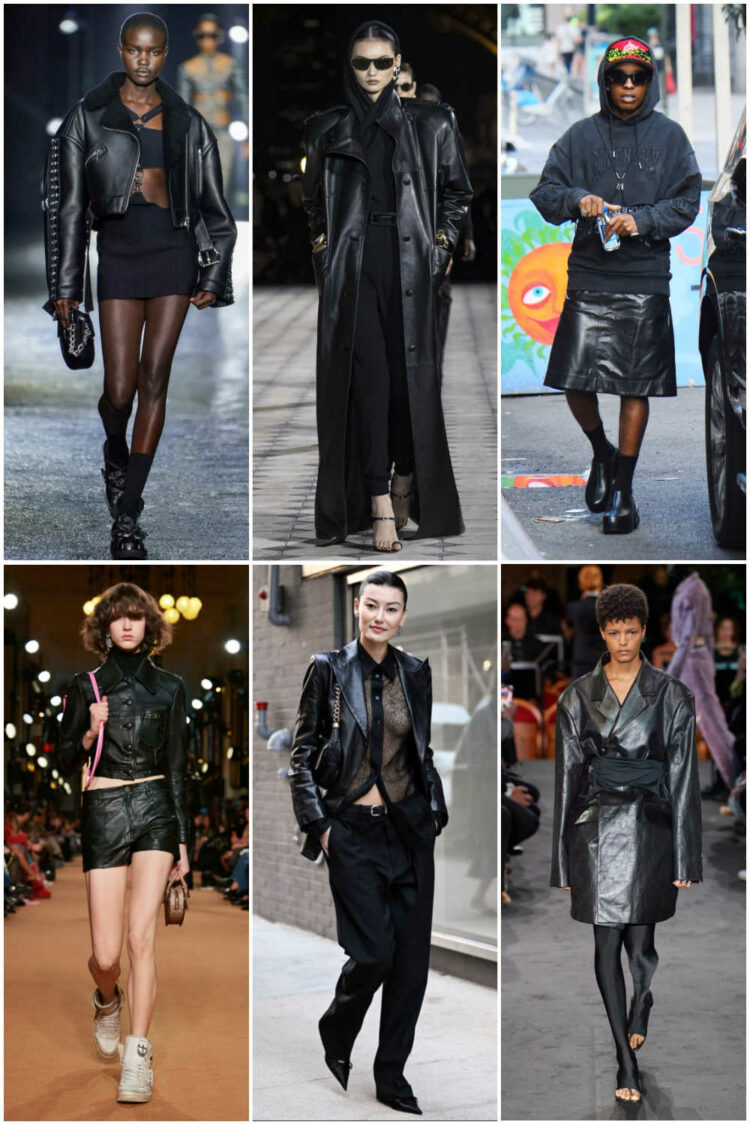 Glossy, strong, bold, tough, supple, and elegant, black leather is usually associated with winter but I expect to see it even through the hottest months of 2023.
Right now, you'll see a lot of black leather moto jackets with silver hardware and black leather jeans, pants, leggings, and skirts. As the temps rise, don't be surprised to see elegant leather shorts styled with everything from t-shirts to silk blouses and sandals in black leather along with classic summer shades of brown, tan, and white. Come fall, leather dresses and polished pieces like blazers will be popular along with boots of every height of shaft and heel.

To keep it looking stylish as long as possible, choose a smooth black leather free of distressing or embellishment. Either firm and glossy, or soft lambskin, nothing tumbled or nubuck. Have buttons and hardware also black so they don't steal the spotlight. The leather can be faux as long as it looks pretty realistic and is pliable.
The only exception to the glossy leather is a perfectly worn leather biker/moto jacket. If you have one up in the attic or find one at a thrift store rock it with your straight jeans, your retro classic sneakers or structured ballet flats, and anything from a turtleneck (fitted, opaque or sheer) to a t-shirt (switch out the witty graphic for a solid neutral color, white, or striped), or a tank (the white tank top is still on trend this year).
What If I Don't Like Any of These Trends?
If you don't like any of these trends, you're in luck! Fashion is fluid and you do not need to adopt and single new trend to look chic. However, I encourage you to step outside your comfort zone with silhouettes and fabrics. You may be surprised how much you like a different cut of denim or a new-to-you shoe style!
What About Trendy Looks to Update My Existing Closet?
Hang tight, my friends. I have already written a novel with this blog post. I will do another one as I do most seasons (here is my post about Fall 2022 trends) and it will delve into what trends are most wearable and how to incorporate them into your existing closet in a cool and grown-ass woman way!