This article may contain affiliate links; if you click on a shopping link and make a purchase I may receive a commission. As an Amazon Associate, I earn from qualifying purchases.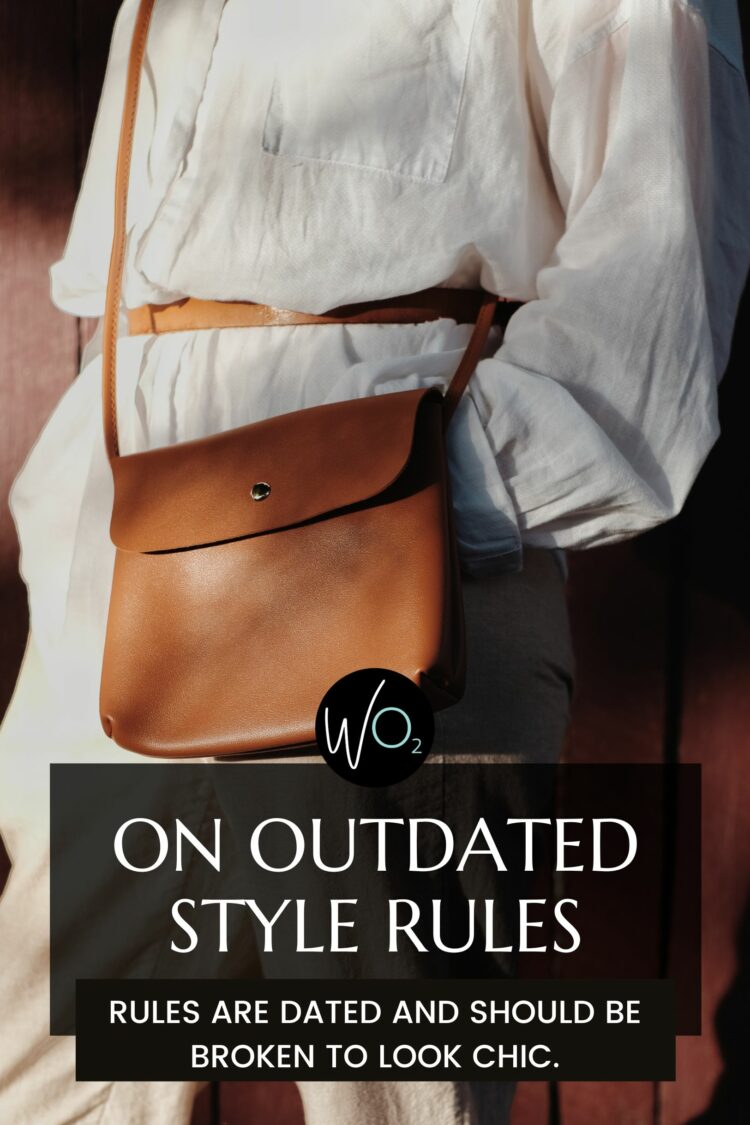 Dear More Magazine,

I love you, and I'm one of your biggest champions. As a woman who loves style but could be the mother of many of the models in Lucky Magazine, I appreciate More for featuring articles and models that I can relate to. However, a web article you shared yesterday on Twitter disappointed me greatly.
With style icons like Diane von Furstenberg, Julianne Moore, and Helen Mirren, we all can see that style doesn't end at a certain age, and that the dated fashion rules have been thrown out the window. Maybe you shared this piece to add some controversial fodder to your social media feed, if so you have accomplished it. As soon as I saw it I had to offer a rebuttal. From your 21 "What Not to Wear, EVER" pieces, I only agreed on four, and that is because they were so ridiculous and obvious, no one would likely disagree. But I'd like to share how the rest are passé fashion rules, and pieces that can be worn by any woman, no matter her age.
On Outdated Style Rules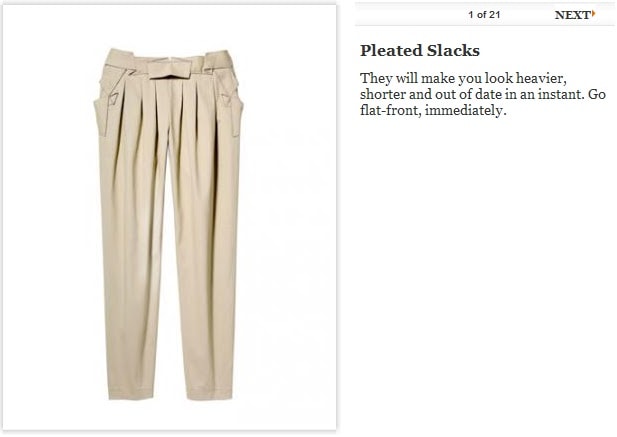 Pleated Slacks
When I started this blog in 2007, I agreed with this rule wholeheartedly. No matter your size or age… heck no matter your gender, pleated slacks were a fashion no-no. No woman wants to add girth to her lower abdomen, no woman wants her legs to look shorter than they actually are, and such a detail was dated.
However, the trouser has improved in the past several years, and I must say I have been admiring pleated styles the past couple of seasons. Be they wide-leg and higher-waisted to create a Katharine Hepburn look, or slouchy and cropped, modern pleats are stylish, flattering, and quite wearable. As a curvy woman, I like the slouchy look, balanced with single-sole pointed pumps and a tailored blazer or a silky drapey tucked-in top.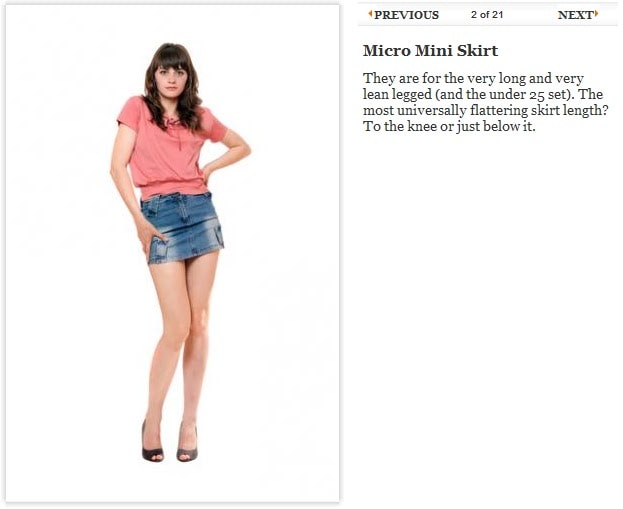 Mini Skirts
I must say, as I get older my legs do look far better with a skirt that is near the knee, but that doesn't mean such skirts must be reserved for the under-25 set. Look at Jennifer Aniston, Diane von Furstenberg, or Sheree of the blog Not So Deep to see that women over 30 can rock a short skirt. And for those who are not long and leggy, a shorter flippy skirt can be far more flattering to a petite curvy woman than a knee-length pencil. The key to making this work is knowing your body, and that the best skirt is one that ends at one of the slimmer parts of your leg.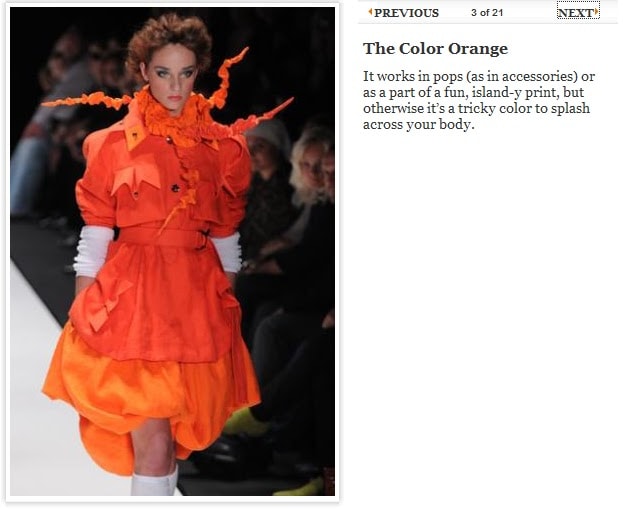 The Color Orange
I actually began my reply tweet to you as soon as I saw this choice. Orange is a statement color, one that makes the wearer stand out in a crowd. However, it can add a glow to one's complexion and really make a positive impact. If you like orange, wear it as you would a bright shade of pink or red. Pair with charcoal gray or olive green for a fresh and modern take on the color, and orange looks fabulous with all washes of denim.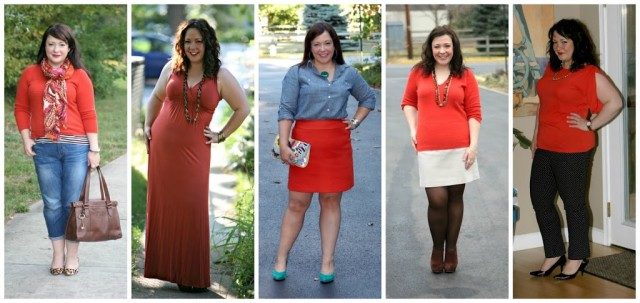 Orange is my favorite color, it was even our wedding color.  I regularly wear orange on my blog to prove that the old rules are wrong and that it's a color to embrace all months of the year, by women of all ages.
Acid-Washed Denim
Acid-washed denim was popular in 1986… but it has come back en vogue. I do believe that if you wear a trend the first time, you may be better off not wearing it the next go-round, but I have seen some very chic looks of recent incorporating this wash of denim that make me think True Fashionistas could actually carry it off in 2013.
Cap Sleeves
When it comes to cap sleeves, some people look far better in this sleeve length, especially if they have a large bust. Most short sleeves end right at the widest point of your chest, making one look wider. A variation can actually slim the figure.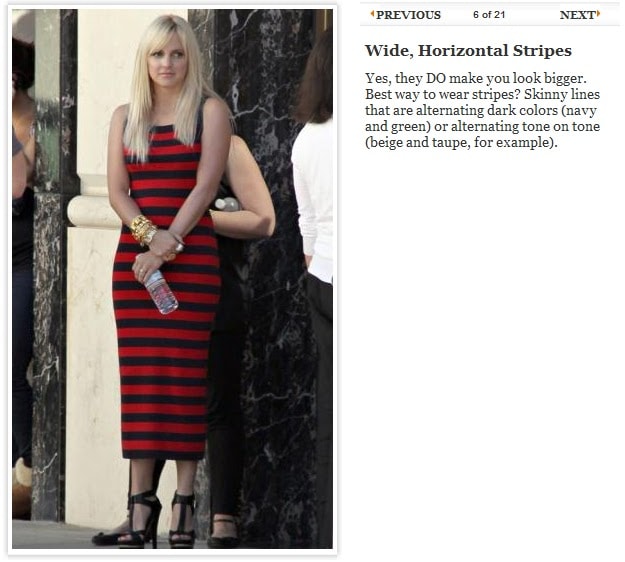 Wide Horizontal Stripes
I could go on and on about how you should dress to have fun, not to force yourself into a little boring box where all you wear is clothing to make you look thin but I won't (though you can read my thoughts on stripes here).

As a woman who LOVES herself some stripes (I own over a dozen striped shirts), I think if you wear the stripes intentionally, and there's a light ground, the look can be quite chic. Audrey Hepburn, Jackie O, and Brigitte Bardot are all style icons for a reason, no?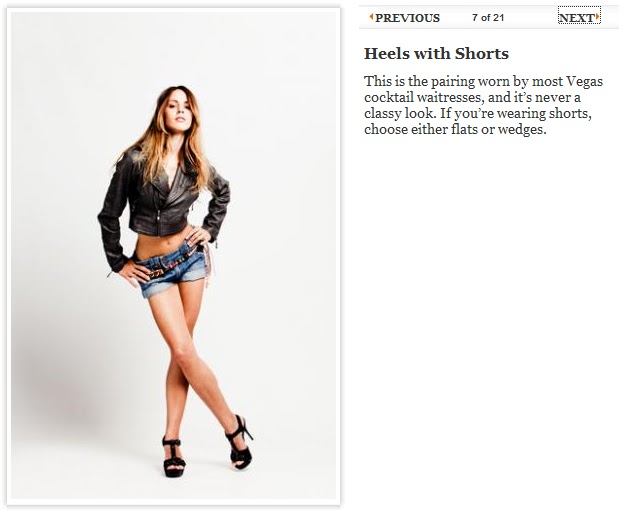 Heels With Shorts
Again, incredibly dated advice. Yes, a decade ago anyone who wore heels with shorts was seen as tacky or desperate, but since then shorts have become almost as commonplace as skirts.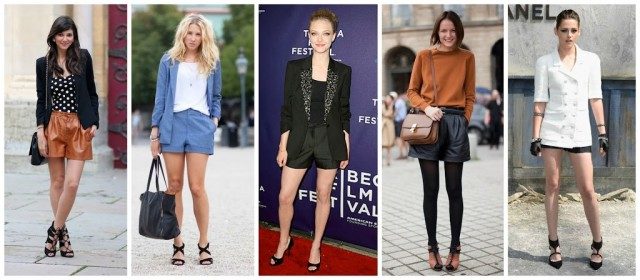 Be it an elegant take on a romper, a pair of black leather shorts with a blazer, or with a matching jacket for a summer suit, shorts are for more than just barbecues and they look best with equally stylish foot wear.
Christmas Sweaters
Well, duh. No one is wearing a Christmas Sweater in an attempt to be a fashion icon. But can't a woman have fun with her wardrobe, especially when it's a festive time of year?
Overalls
See my previous discussion on acid-washed denim. Overalls are back, and can look incredibly chic. Fashionistas like Leandra Medine and Miroslava Duma prove that.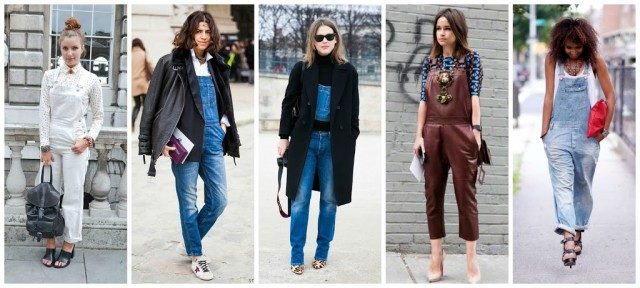 Now available in a range of fits and fabrics, overalls have gone from the garden to being quite glam. And just as mentioned with Christmas sweaters, we deserve to have some fun with our wardrobes!
Hair Accessories That Match Your Outfit
I don't even know where to start with this one. A turquoise paisley bow to match your turquoise blazer is surely passé, but such a look is rarely seen anymore as such hair accessories are quite hard to come by, even in Claire's. However, with the Royal Wedding and Gossip Girl series, fascinators and headbands have come back on the scene and can really complete a certain type of ensemble. I also think of True Fashionistas (Zoe of Girl with the Flower immediately comes to mind) who totally rocks matching hair accessories.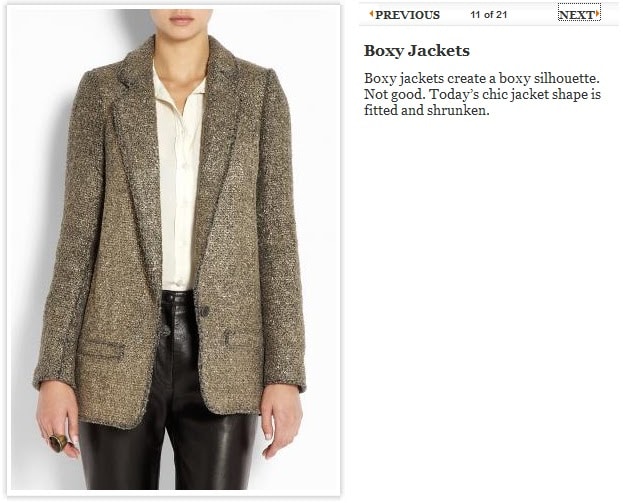 Boxy Jackets
Actually… today's chic jacket shape is not just one silhouette. Tuxedo-inspired, slouchy boyfriend, tweed riding jackets, tweed professor blazers, oversized leather biker or denim jackets… you name it and the silhouette is pretty hot. If you're not sure how to wear volume, a good rule of thumb is to pair boxy with slim, structured with slouchy to have some balance and show there's a figure under all that fabric.
Flannel Nightgowns
I find such a nightgown far better than your husband's stained and ratty tee with flannel pants decorated with cartoon characters. And are we now judging what folks wear in the privacy of their bedrooms?
Clothes That Are Too Tight
I fully agree. If you don't like the size on the tag, cut it out. Too tight clothes will kill all your style and destroy your figure. And really, if it's too tight it's likely not comfortable.
Nude Pantyhose
Thank you Princess Kate for bringing back nude hose!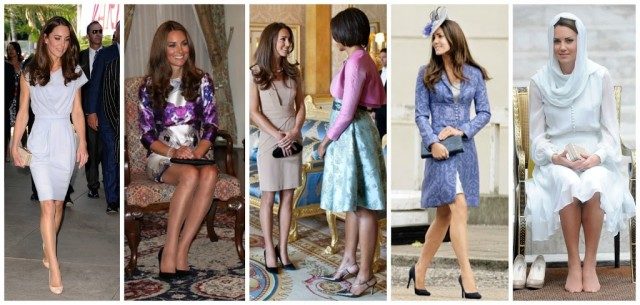 While I don't wear them, they have become acceptable again for conservative work environments and more formal affairs. For us women of a certain age, it's a blessing that will help cover veins, age spots, and the like and is far less messy than self tanner!
Stockings With Sandals
Another dated rule that has been broken by the most stylish women on the planet. While I wouldn't condone anyone wearing their canvas espadrilles with opaque tights, all the hot footwear designers have been creating winter styles that have peeptoes, slingbacks, and plenty of straps and cut-outs to purposefully expose tights.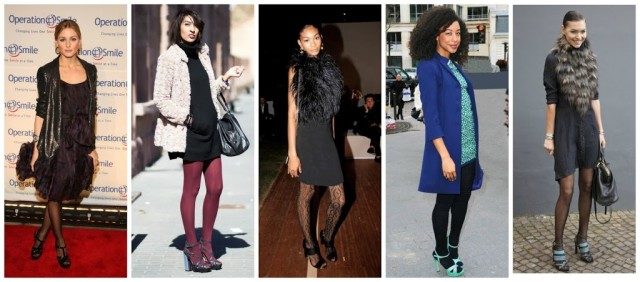 Look at Olivia Palermo and Corinne Bailey Rae to see how sandals and hosiery can be a match made in sartorial heaven.
Chipped Nail Polish
Another duh, but with the return of grunge fashion, I do expect many a style icon to purposefully rock chipped black polish in the next couple of months. I myself will leave this to the True Fashionistas.
Leggings As Pants
While I wouldn't recommend them with a tucked-in t-shirt and pair of pumps, leggings, especially ones of ponte and faux leather, can look quite chic with a longer blazer or sweater.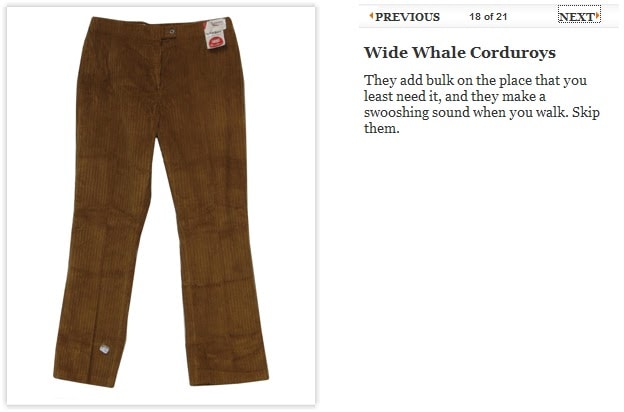 Wide Wale Courduroys
I don't believe in writing off an entire fabric or trend. While I do agree that wide wale corduroy adds bulk, so do velvet, thick wool, and many other popular fabrics. This isn't really a fabric that is on trend or that has been for women for a couple years, so I don't think it's really an issue, but I wouldn't be surprised if it comes back in style (I could see it as a narrow pant with riding boots and a fitted blazer or silk bow blouse). As for the sound, this is one reason why corduroy hasn't been in my wardrobe since I was a tyke. And by the way, it's wale, not whale.
Logos
A quick look at street style blogs and photographs of NYFW attendees will show that this rule has been broken by many a stylish woman. This is an attempt to say that wealth whispers and only old money know how to wear designer clothing. If you are proud of your logoed designer item, I say wear it.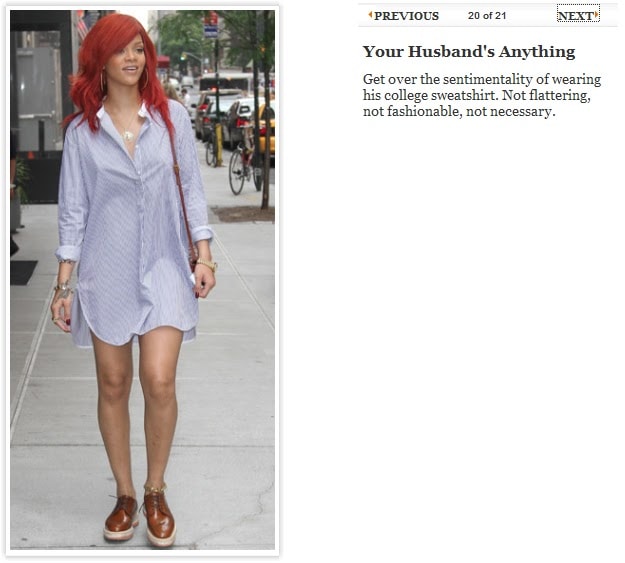 Your Husband's Anything
I chuckled when I read this for this very weekend I saved a blue J. Crew dress shirt from my husband's donation pile because I felt it could look quite chic cinched over a leather skirt with ankle booties. With "boyfriend" jeans, blazers and sweaters available in every store, it's clear that you can indeed raid your partner's closet and look quite stylish. There's a huge difference between sporting your husband's college sweatshirt and rocking an oversized button-front a la your example image of Rhianna. The key is to make it your own – cuff, cinch, belt, knot to show the look is purposeful.
Muffin Top
I think we're all aware that this look is not only unflattering but uncomfortable. Thank goodness pant and jean trends are becoming more forgiving to those who are not 16 and a size 00.
I love you More Magazine, I really do. But before you post such pieces, I wish you would really look at who your audience actually is. We're intelligent, we're aware, and we desire real-world fashion advice, not rash judgment and outdated style rules. If you desire a fashion writer, you know where to look!

Sincerely,
Alison