This article may contain affiliate links; if you click on a shopping link and make a purchase I may receive a commission. As an Amazon Associate, I earn from qualifying purchases. 
Last weekend, Karl, my sister, and our two friends headed to the Baltimore Shindig Festival 2014. It was the weekend before Karl's birthday (the big 4-0 yo!), and the festival was featuring some pretty great bands that he and I both love: Clutch, Jane's Addiction, Gogol Bordello, Fishbone, and more.
Baltimore Shindig Festival 2014 Review
Since it was Karl's birthday, we splurged for VIP tickets (regular were $35, VIP $70) and I say if you can swing it, VIP is the way to go. There were two VIP areas with shade, seats, trailer bathrooms in place of porta-potties, separate food and drink vendors, and all the bottled water you'd like was included.
The VIP areas had space to the side of each stage where you could get a decent view without being in the crowd; there were also observation decks for each stage just for VIP. The ticket also came with a merchandise packet of one of those backpack/string things, a mix CD and a Shindig tee shirt.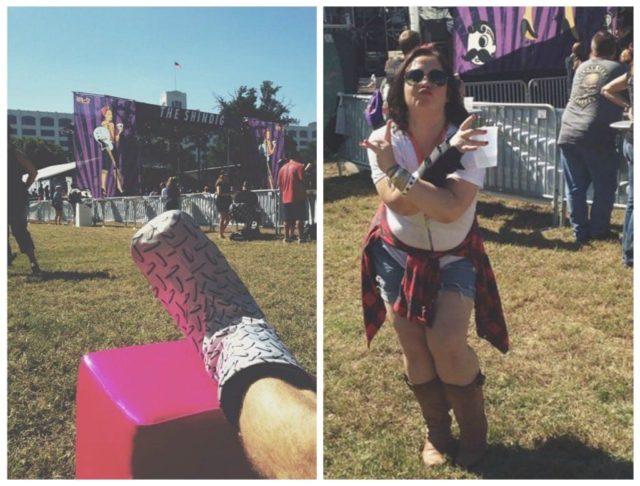 Karl resting his foot in VIP, wearing his "steel toe boot" c/o CastCoverz! and me in my "OOTD." Wore a white tee from rag & bone with my old battered and better with time self-distressed Target shorts, my "festival boots" (the DUO boots I bought in 2007 and wear to every music festival and most concerts), and I tied my Gap plaid flannel around my waist to put on when it got colder after dark.
I don't think I've mentioned it here, though I've shared on Instagram and Twitter, but Karl got a stress fracture in his foot a few weeks ago and has been rocking a boot and had to stop teaching yoga for a while. While the boot helps, he really should keep off his foot as much as possible and I was worried about this festival. However, with VIP (not just the seating and close locations, but closer parking and a shorter line to get in), he was able to rest his foot between must-see sets.
We arrived 1pm and got a lay of the land. The fest was pretty dead at that time, but I wanted to see Charm City Devils. We got there in time to catch a bit of Bad Seed Rising; gotta love young talent and this band rocks it. And Charm City Devils was just as great as I thought; I'd like to see them again in a dark club where the music would be more appropriate. We then went to VIP to get drinks and a snack but returned to see Larry and his Flask. I never heard of this band before but LOVED them! What a fun group, I would totally see them again if they toured the DC area!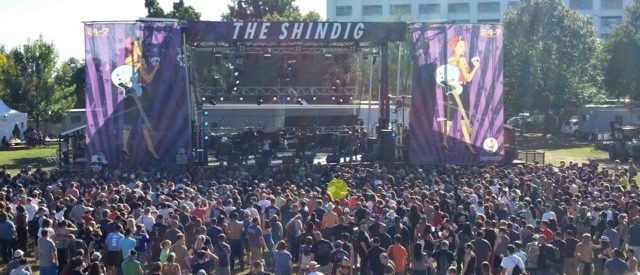 The crowd at Fishbone, that yellow dot is Karl (being the shortie I am and in front of K you can't see me)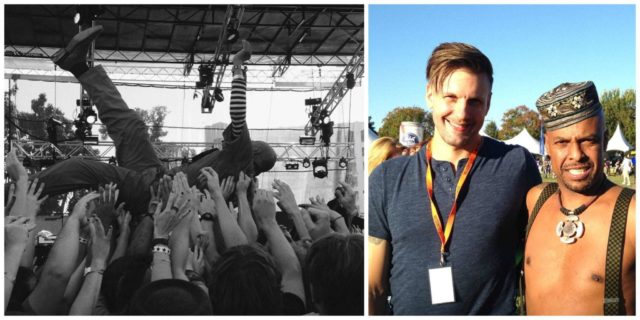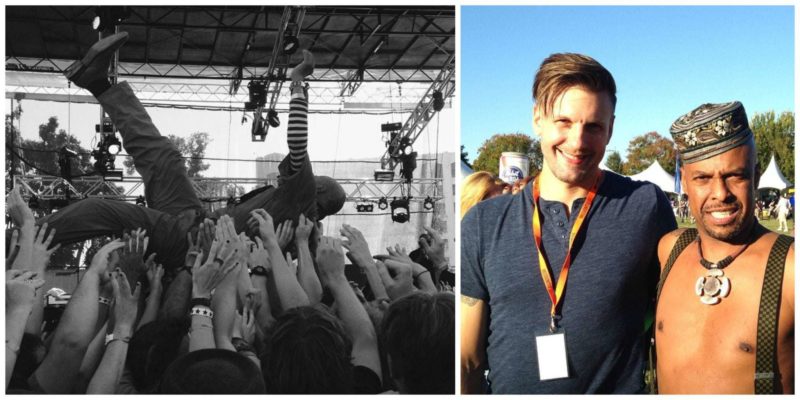 A picture I took of Fishbone lead singer Angelo Moore crowd surfing during the Fishbone show; we then met Angelo during the festival and Karl got a photo with him.
One of the must-sees of the day was Fishbone. When Karl was stationed in Mayport, he saw Fishbone live and it was one of his most memorable shows. Though few of the original members remain, Fishbone's performance was tight and terribly entertaining.
The crowd was also amazing. We were in deep, just a couple people from the pit and the energy was infectious. The pit was one of the most… is courteous a weird word to use? Well, it was a courteous pit, where people were aware of one another, having a blast instead of getting angry.
I think it helped it was earlier in the day, fewer drunks. There was this one woman on the edge of the pit and she was totally my hero. With my arm and Karl's leg we had to stay a safe distance away but she was raging for me and it was an awesome sight to see. She probably found me crazy but I had to give her a hug after the show, she proved that you don't have to be young or male to enjoy a hard rock show.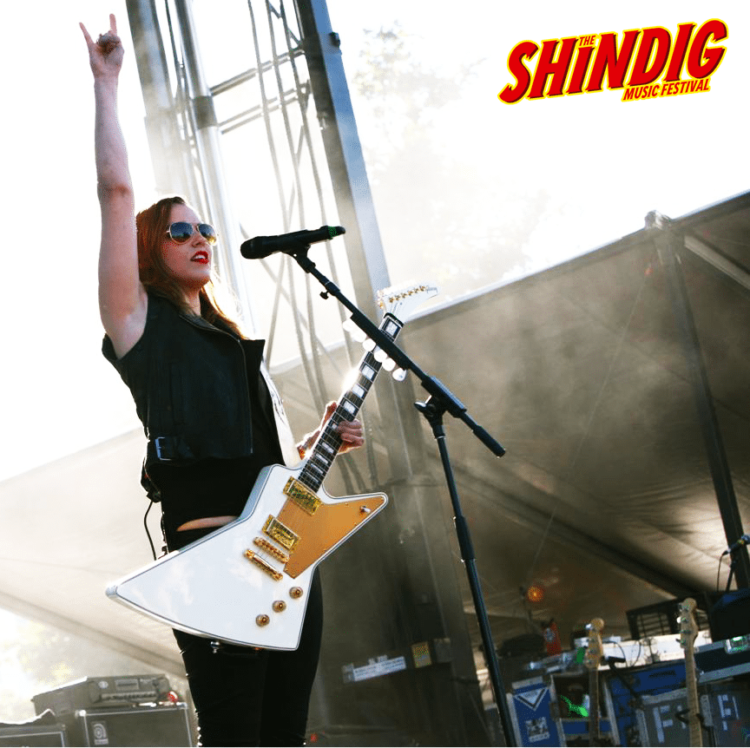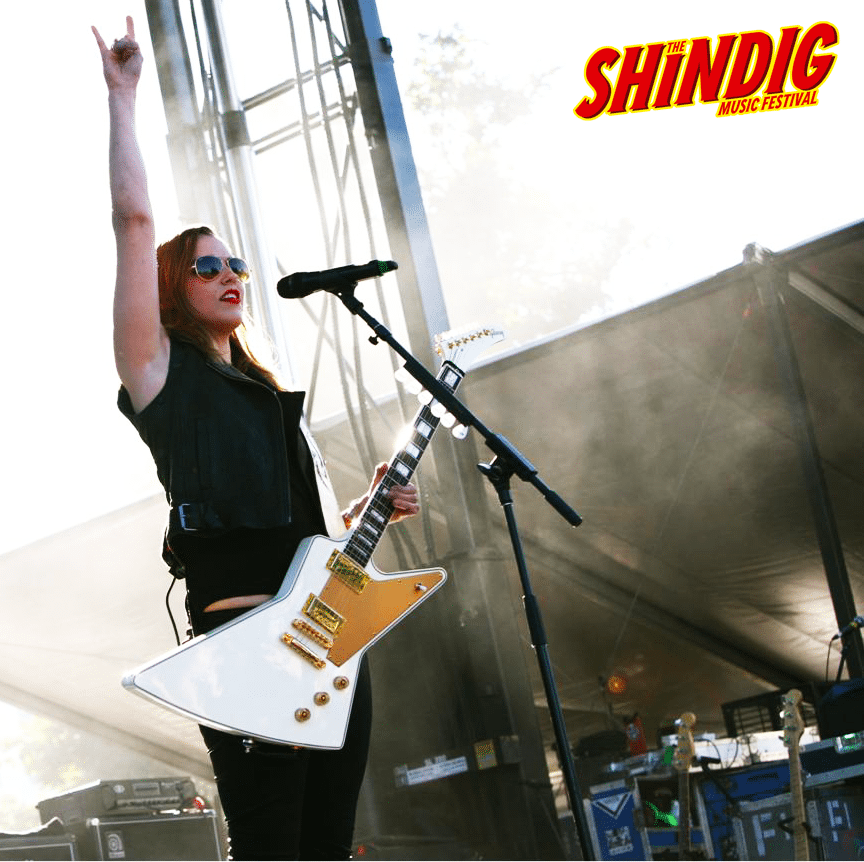 Lzzy Hale of Halestorm, photo via the Shindig Facebook page
This woman was one of many badasses at this festival. The woman power was fierce at Shindig, from female rockers in Bad Seed Rising and Halestorm, to the amazing staff and attendees. I saw a woman wearing a baby in an Ergo rocking the heck out of denim cutoffs, fishnets, and Doc Martens.
I stopped a gorgeous woman with white pigtails, a gauzy white dress and combat boots to compliment her on her look, and was in awe by the personal style of so many female rock fans of every age, size, and style. Saturday was such a great reminder to not let the age on your driver's license dictate your wardrobe, your taste in music, or how you choose to spend your free time.
So back to the festival! We wandered a lot during the day, caught Lucero (who was great), Halestorm (who was phenomenal), J Roddy Walson and the X (they were fine, I know their music and it's good but it's not my jam), and returned back to the Babe Stage for Clutch.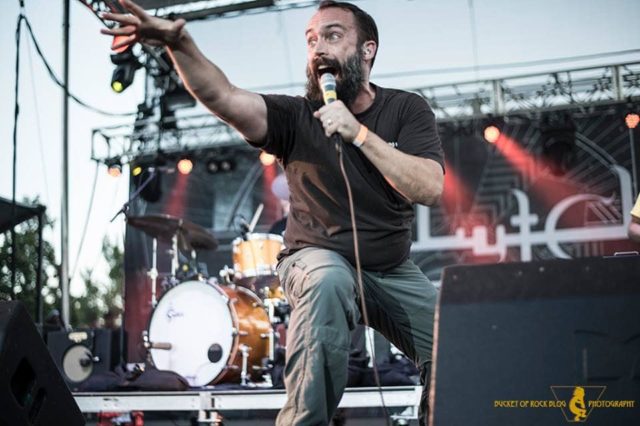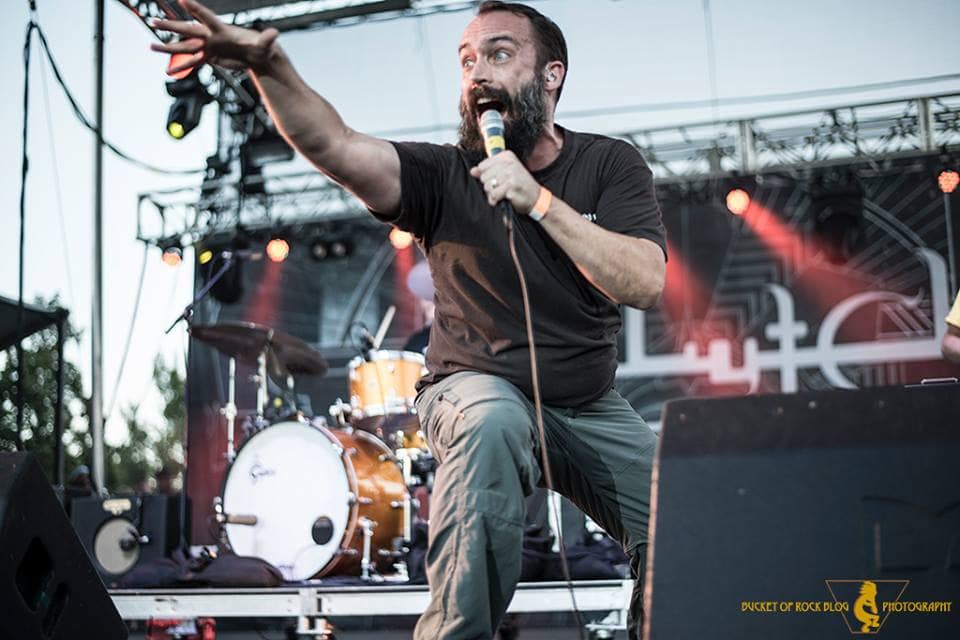 Photo credit: Cassandra Mullinix of Bucket of Rock Blog
Clutch was another awesome crowd, we saw faces we recognized from previous Clutch shows, one guy even recognized me from the Clutch show at Forecastle! We befriended a couple from North Beach and again were near the pit so we totally vibed off that energy.
The crowd was a bit older for Clutch, and since it was later in the day we encountered a few drunk and disorderly people, but we as a fan group took care of one another and quickly got rid of those causing a disturbance. Clutch was awesome as always; I'm sad their 9:30 December show is New Years Eve because I always look forward to it every year but am not going to spend NYE with a bunch of drunk men in a mosh pit and then attempt to drive home.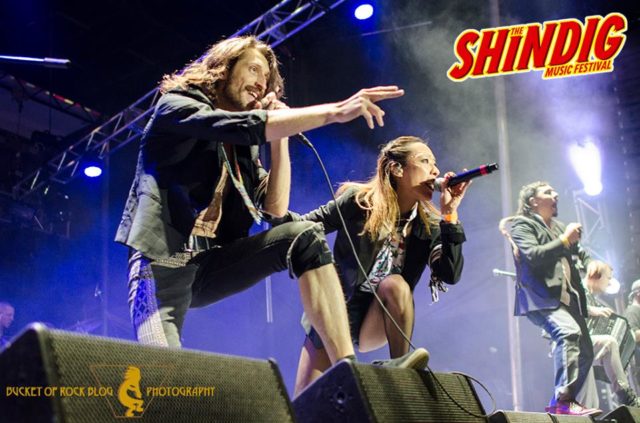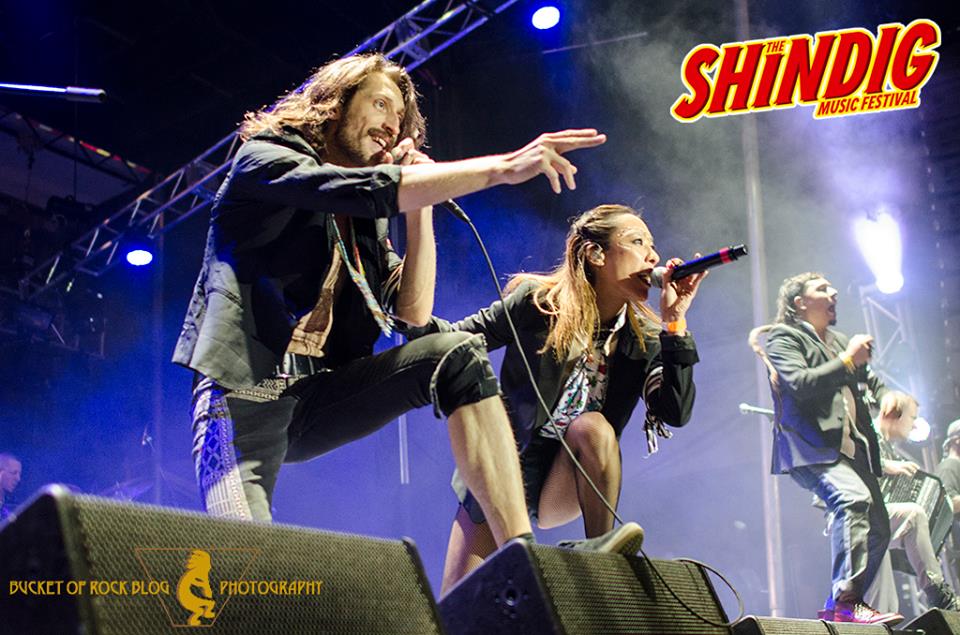 Photo Credit: Cassandra Mullinix of Bucket of Rock Blog, via the Shindig Facebook page
Anyway, back to the fest. We didn't dig deep into any crowd after Clutch. It had gotten dark but not cold, the moon was shining and we really enjoyed just walking through the fest seeing the scene. We headed over to the Bird Stage to catch Gogol Bordello but missed the beginning and the crowd was super packed so we stayed on the edge.
Karl's foot was starting to ache and while we really wanted to see Jane's Addiction, we saw them a couple years ago with NIN and didn't think it was worth possibly hurting Karl's foot further. So we headed out after Gogol Bordello and went to a nice dinner with our friends. I heard Jane's Addiction was amazing, but with so many shows under our belts and how busy our lives are, having a leisurely and delicious meal with some of our best friends was the perfect way to end a very fun day.
We usually hit a big music festival every summer, but with my arm and Emerson starting kindergarten that didn't happen. Going to Shindig got our music festival fix, but it also makes me super excited for the next show on our calendar!