This article may contain affiliate links; if you click on a shopping link and make a purchase I may receive a commission. As an Amazon Associate, I earn from qualifying purchases.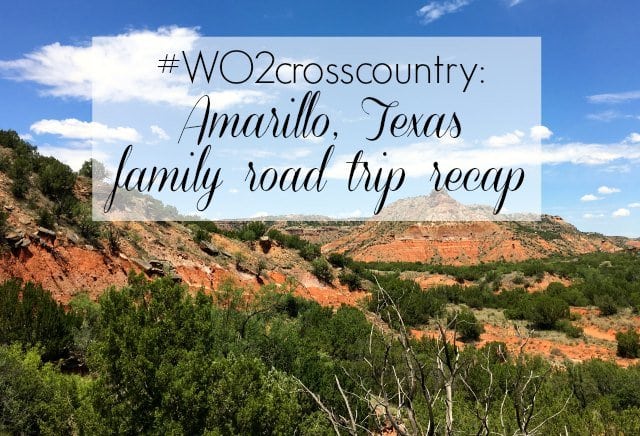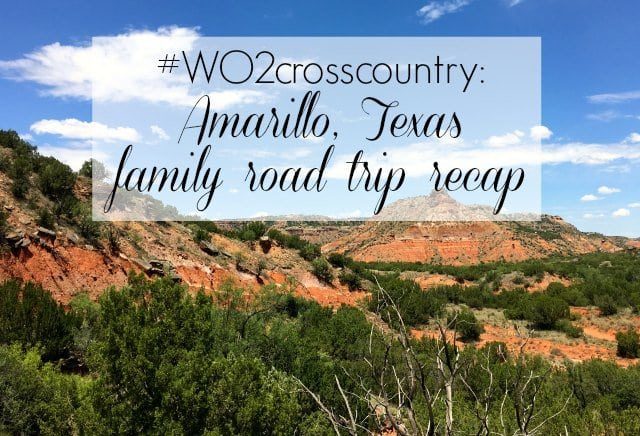 When we planned this family road trip, we knew a couple cities we had to stop in and others were planned based off location and whether Karl and I had always wanted to visit. While Karl's dad didn't go to Amarillo on his road trip, he did follow Route 66 and visited The Midpoint Café not too far away in Adrian so we added this city to the itinerary. I reached out to the Amarillo tourism department and they not only provided us two nights' stay in their city, but a long list of amazing things to do and places to eat. The city of Amarillo was so kind and generous and worked with me to figure out a great schedule for our time there and a couple places to stop by before we got to their city.
Midpoint Cafe on Route 66
The drive from Albuquerque to Amarillo is only around four hours (though it seems like five due to the time change), and again we had gorgeous blue skies for the duration of our trip. We left early which meant we arrived at the Midpoint Café just in time for lunch.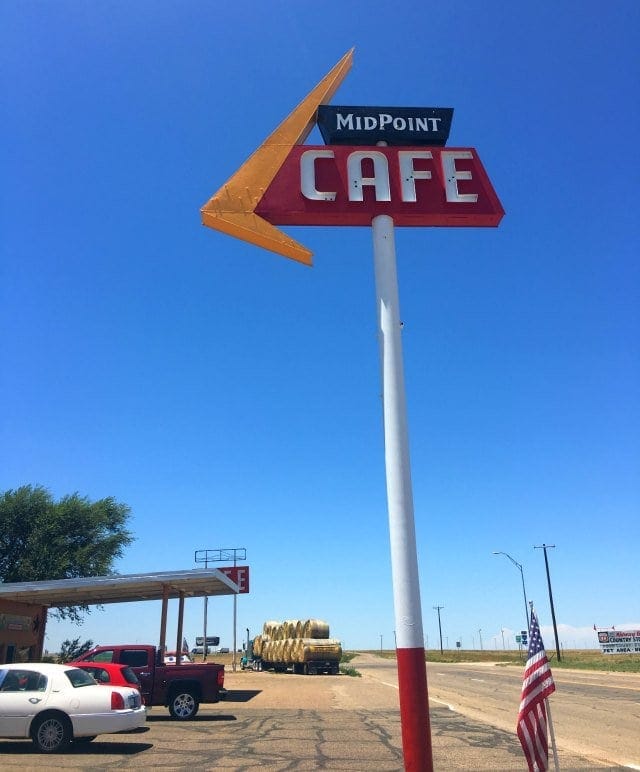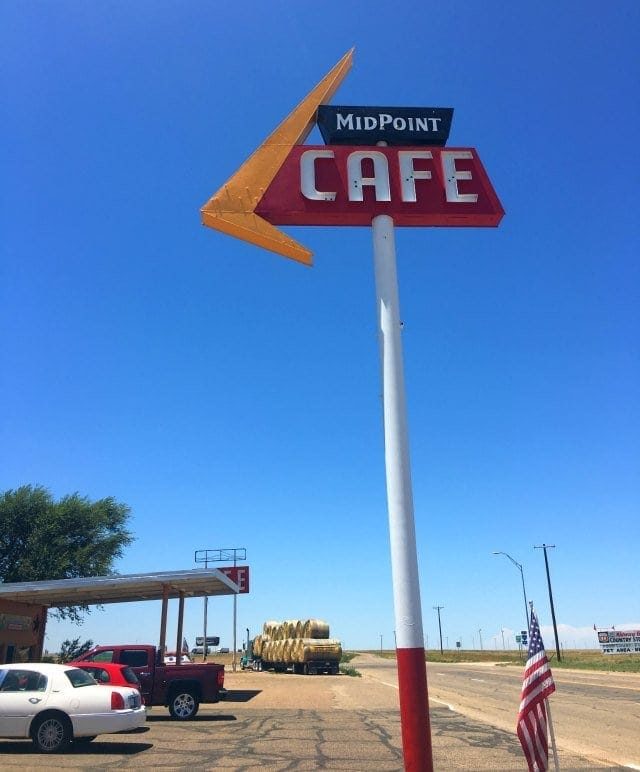 The Midpoint Café has gone through many names, styles, and sizes. The café was built in the late '40s or early '50s as a one-room café. Zella Crim, a life-long waitress always dreamed of operating her own café and moved to Adrian, Texas from Oklahoma specifically to make that dream come true. She leased the building, called it Zella's and specialized in barbeque, having the firewood for the pit on the east side the building brought in all the way from Oklahoma.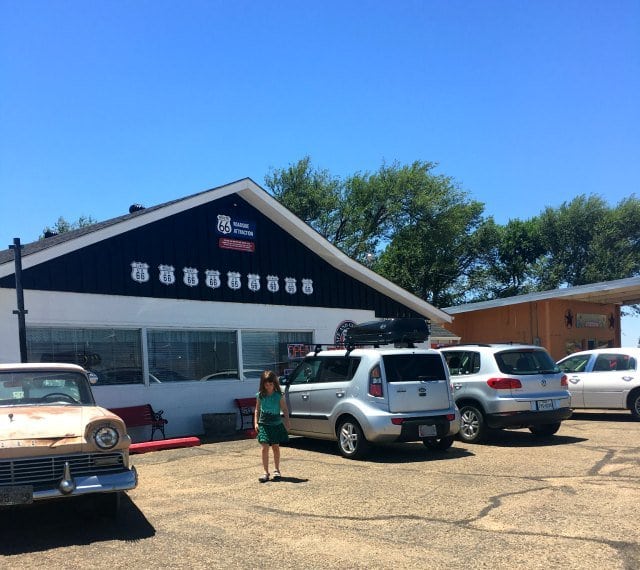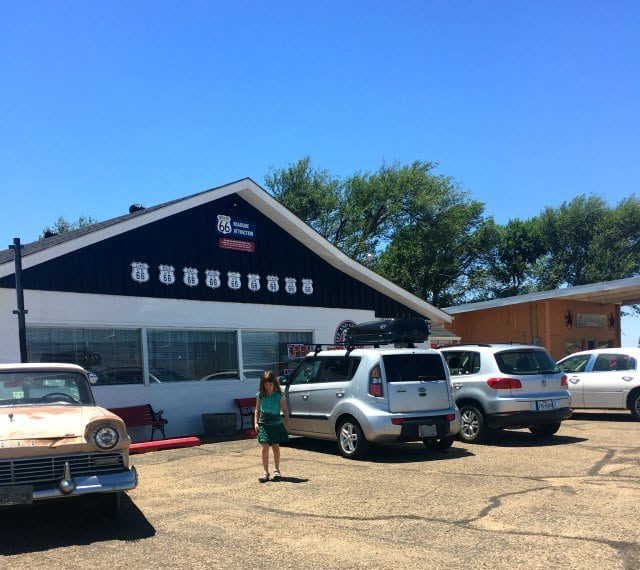 Zella passed away in the late '50s and since went through a few different owners, a couple fires, and many names and purposes. In 2012, Dennis and Donna Purschwitz bought the café and turned it into the landmark it is today. Super clean, retro and charming, The Midpoint is a must-visit when in the area. Only open from April 1 to October 31, The Midpoint Café has a simple yet traditional café menu and is known for its famous "Ugly" pies, at least eight flavors available daily. It is considered the exact midpoint of Route 66.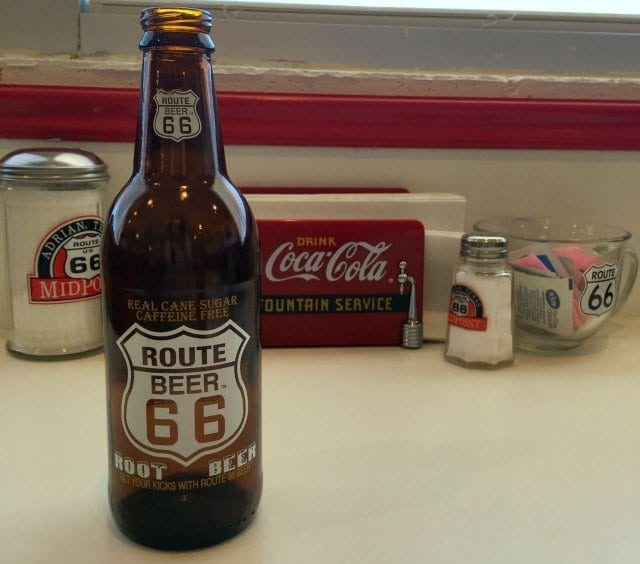 When paying the bill, Karl got into a conversation with the co-owner Dennis. Come to find out Dennis grew up just a couple miles away from us and we shared stories about old haunts and how the area looks now. I bought a Midpoint Café coffee mug to remember this quaint place.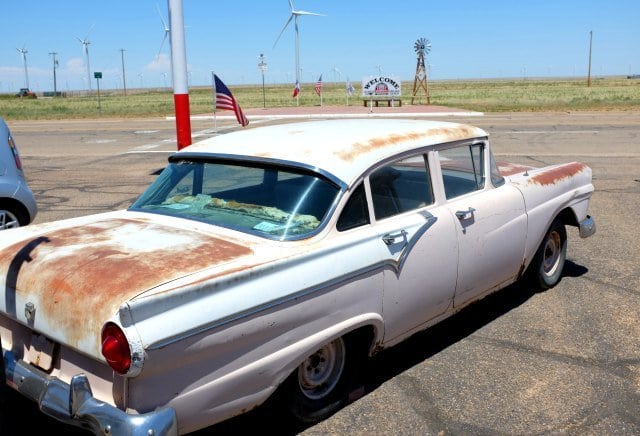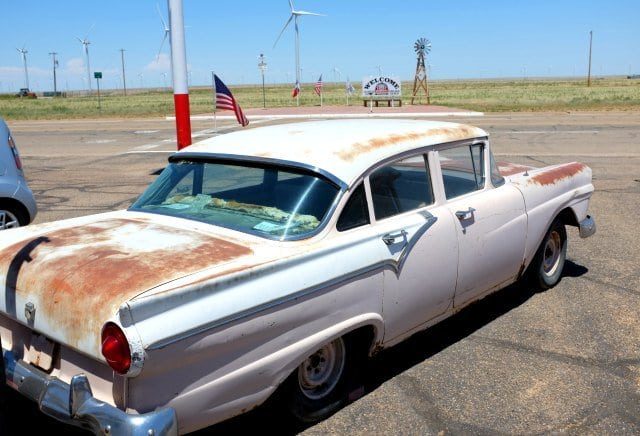 After we were feeling nostalgic and decided to take Route 66 instead of I-40, like Karl's dad did. They run right along one another and both would take us to Amarillo. However, Route 66 isn't well maintained and we were having gravel constantly shooting up at our windshield. By 1985 Route 66 was no longer a major thoroughfare thanks to the bigger highways and the road is broken up and just local roads, not always well maintained. When a rock popped up that was so loud we feared we got another windshield chip, we merged back to I-40.
Cadillac Ranch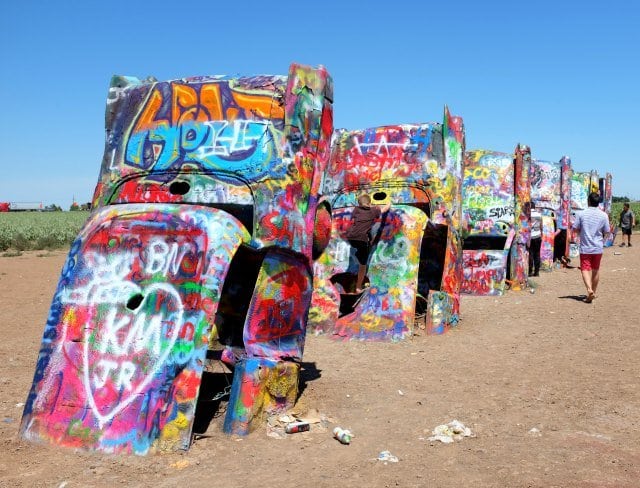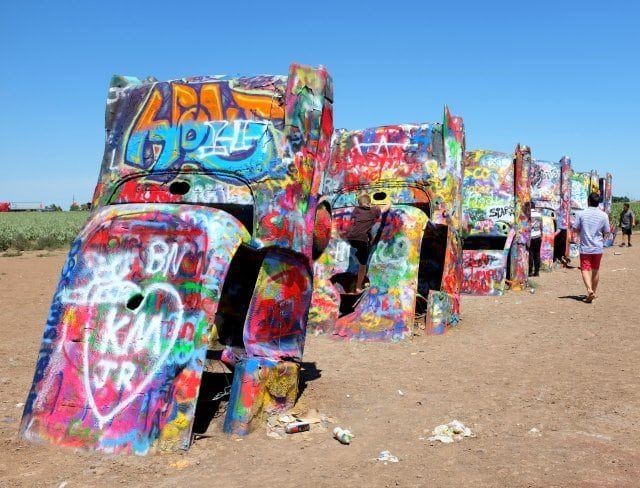 However we didn't stay on for long as we had another stop before we hit Amarillo – Cadillac Ranch! Created in 1974 by a trio of San Francisco artists who called themselves The Ant Farm along with eccentric Texas millionaire Stanley Marsh 3, Cadillac Ranch is ten Cadillac automobiles from 1949 to 1963, representing the evolutions in the car line. The car bodies are half-buried nose-first in the ground, at an angle corresponding to that of the Great Pyramid of Giza.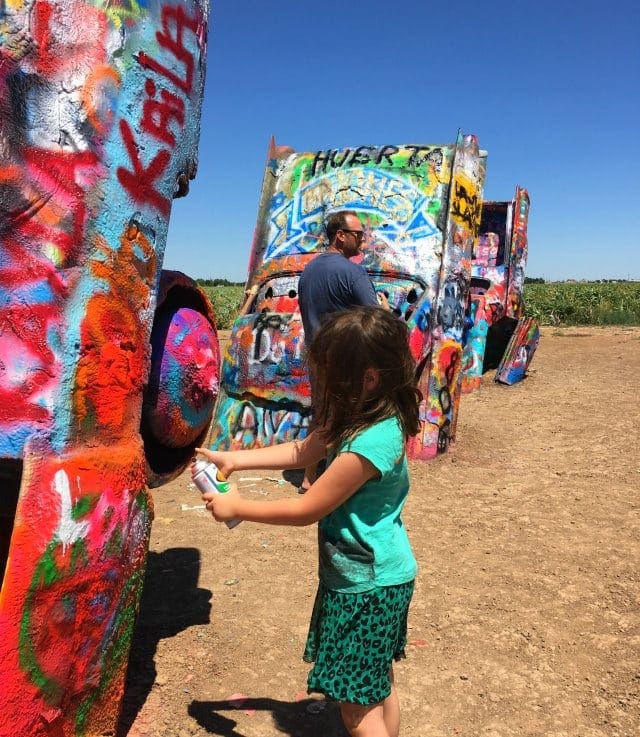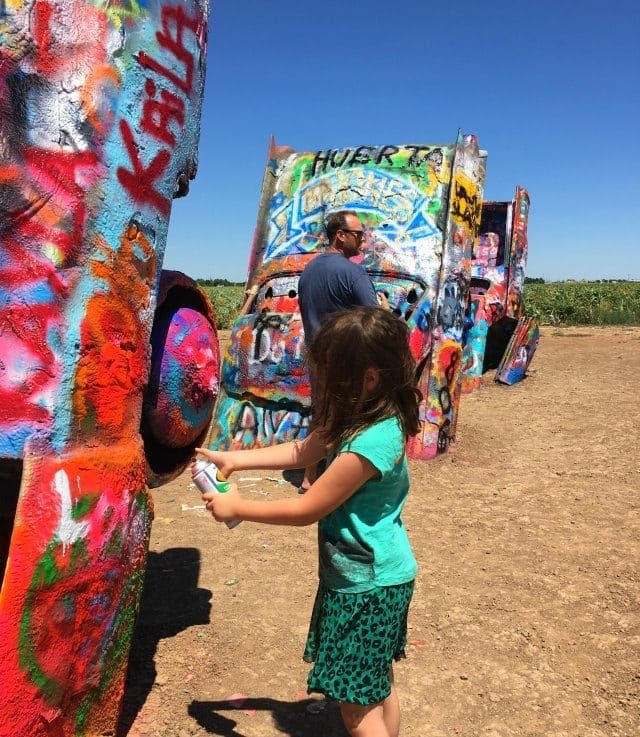 Cadillac Ranch is off the main road, in the middle of a cornfield. You know you reached it when you see the line of cars. There's no visitor center, no gift shop, just a metal gate, a dirt path, and the clearing with the ten cars. Bring a can of spray paint with you, though if you forgot some, we found a gentleman, a Navy vet and father who was selling jewelry and magnets he made from Cadillac Ranch paint chips also had cans available. Karl was wearing his USS John F. Kennedy cap and the two of them bonded over stories from their overlapping years in the Navy. We borrowed two cans of paint from him and headed into the cornfield.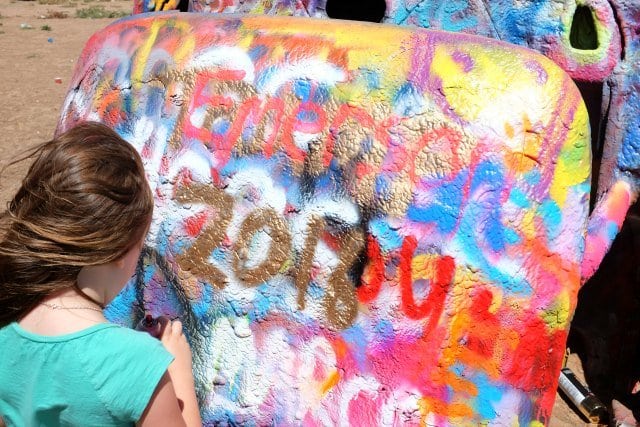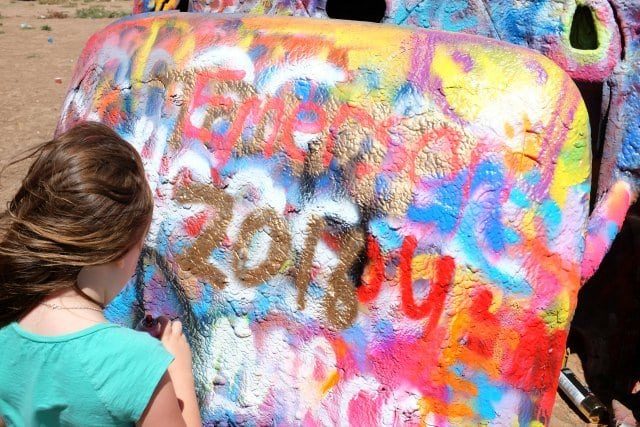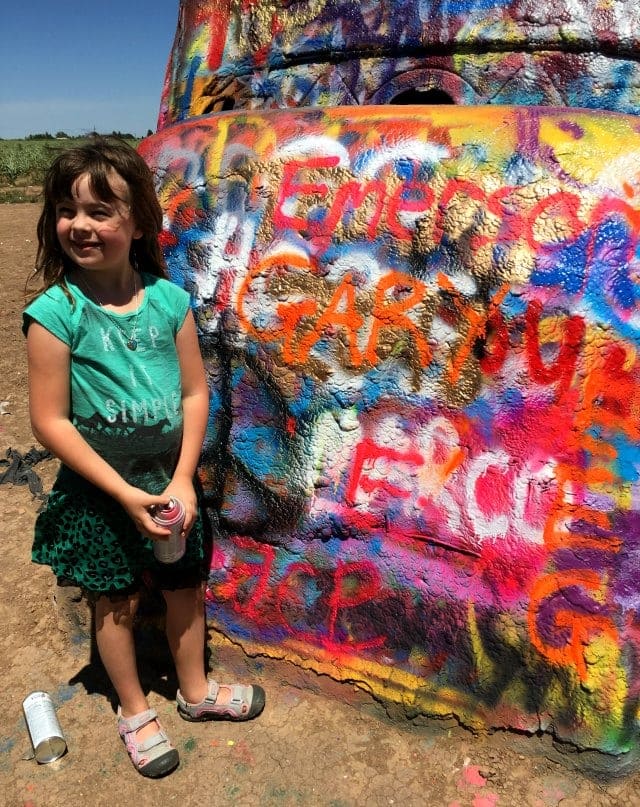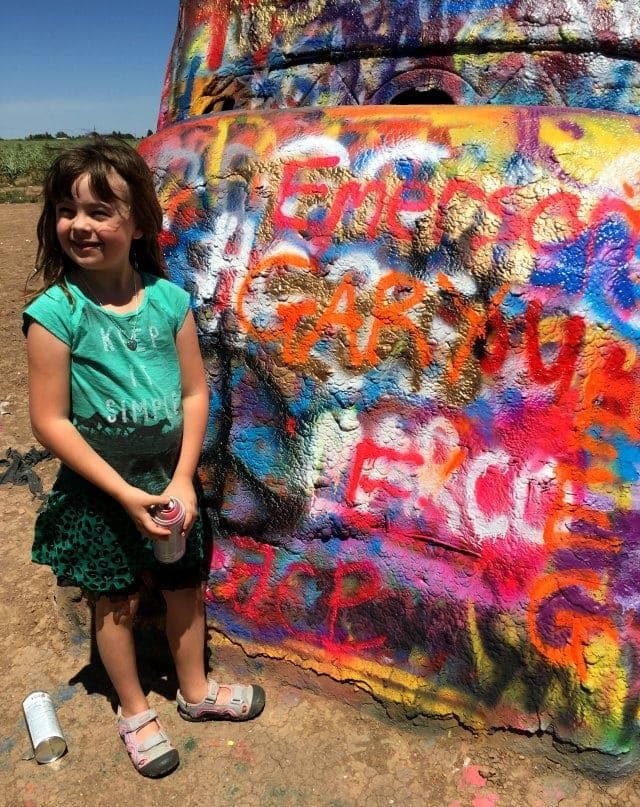 It was a hot and windy day and there must have been two dozen other people at Cadillac Ranch with us. We heard all sorts of accents and languages from around the country and around the world. Some people climbed up on the vintage Cadillacs, others stayed on ground. We wrote our name, Emerson got familiar with the (pink of course) spray can by drawing a heart. She then saw "TRUMP 2016" written in gold spray paint and decided she wanted to write her name over his. I rarely discuss politics on this blog because I what makes America so awesome is how we have the right to believe what and vote how we wish, but I am extremely concerned about the presidential election this November and I was damn proud of my daughter at that moment.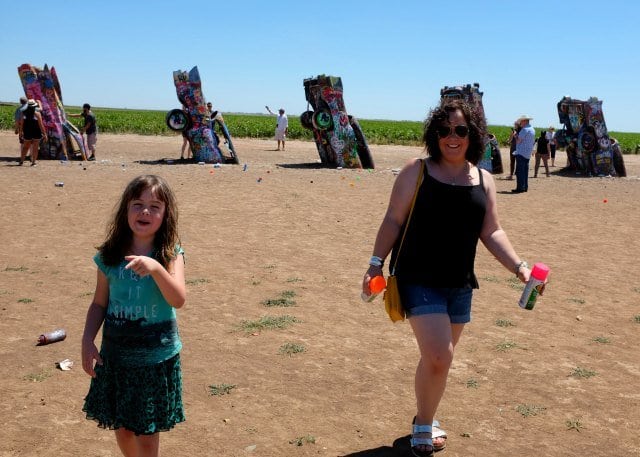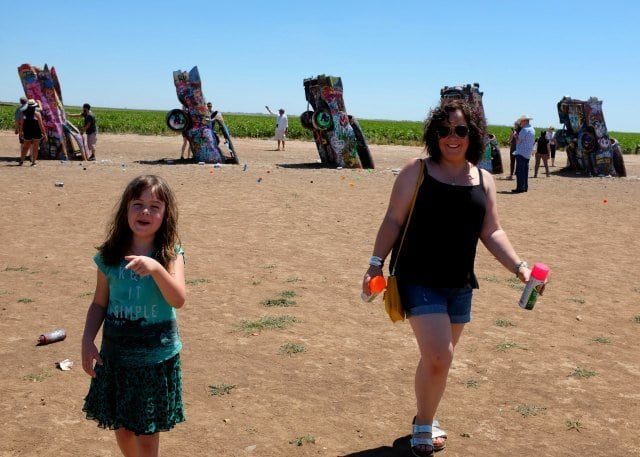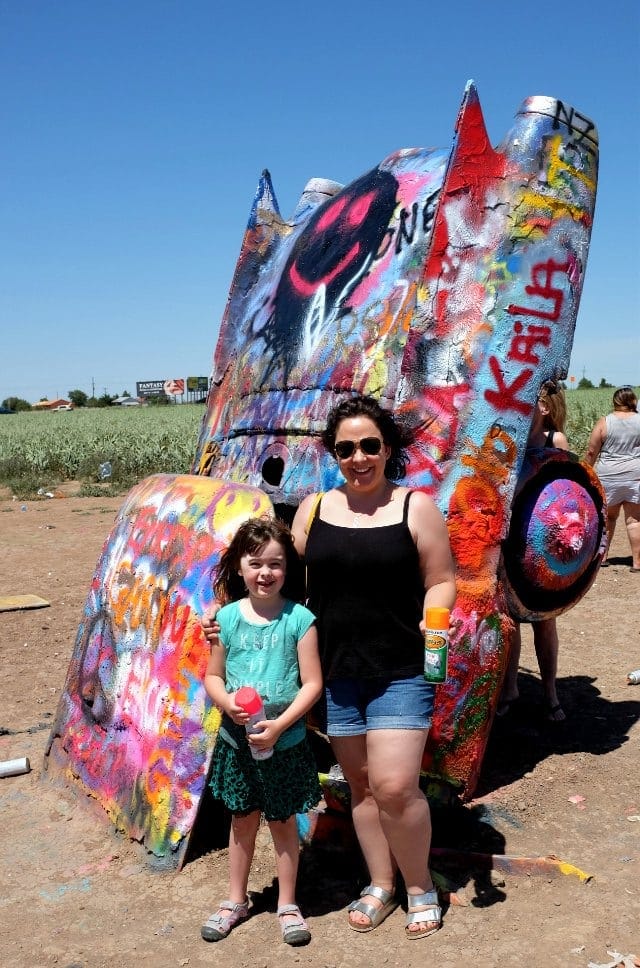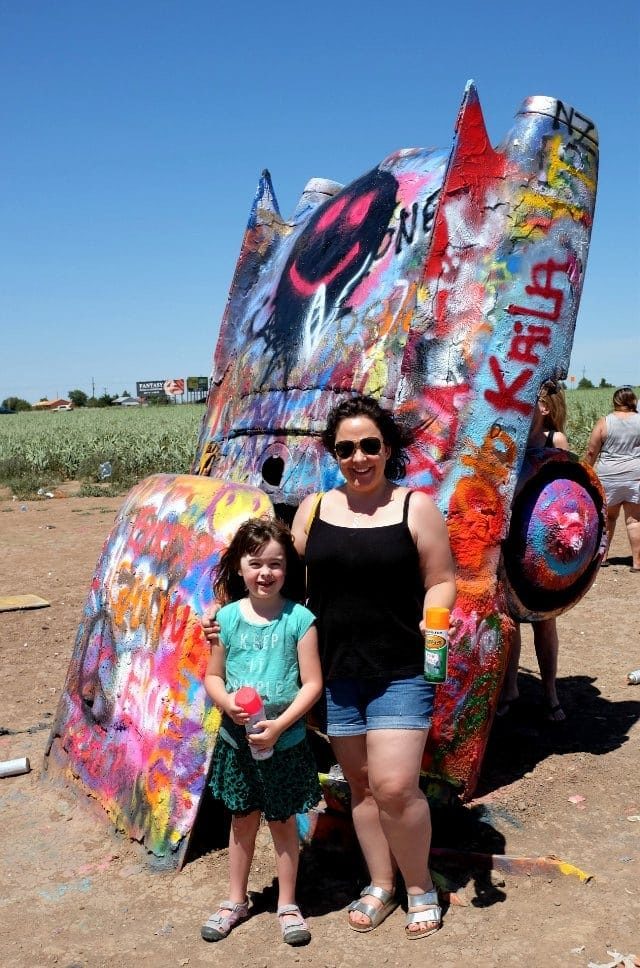 We gave back the cans to the man at the truck and he gave Emerson one of his necklaces as a gift; he and Karl grasped hands and we wished him much success. With that, we were on to Amarillo!
Amarillo, Texas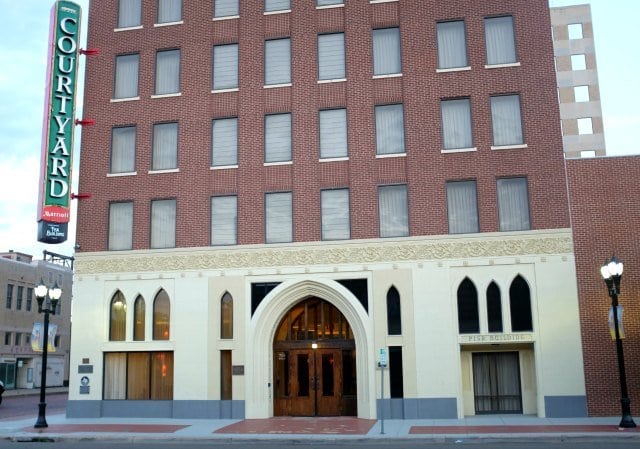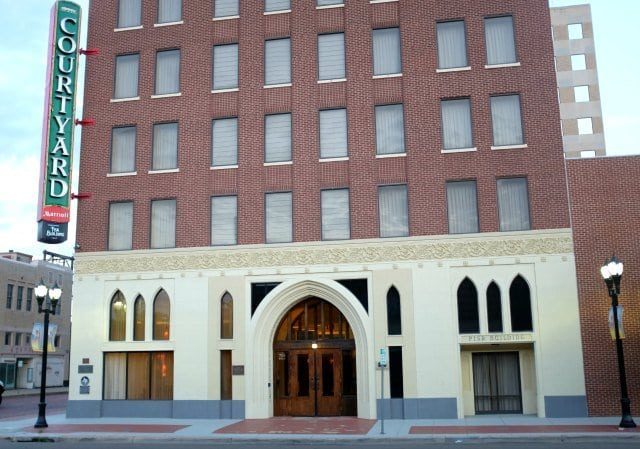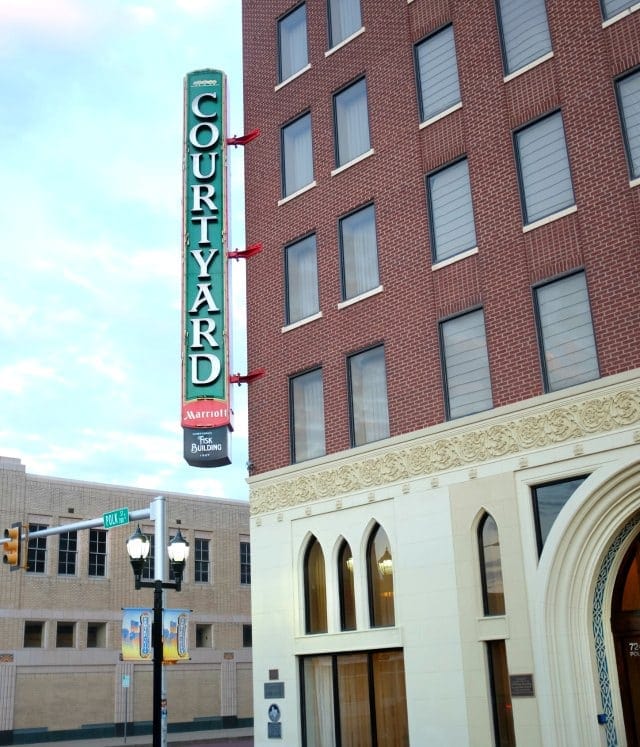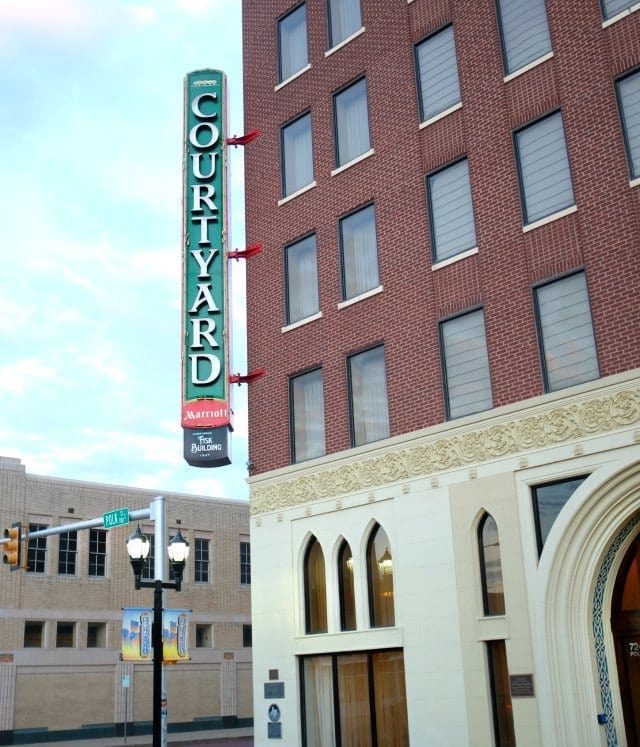 The city of Amarillo was kind enough to set us up at the Courtyard by Marriott Downtown Amarillo for our two nights' stay. The Fisk Building, originally built in 1927 as the Fisk Medical Arts Building, went through a $12 million renovation in 2011 to become this hotel. The hotel's design team worked with the Texas Historical Commission and the National Park Service to ensure the exterior façade was restored to its original lustrous terra cotta design. They also retained its original historic Gothic Revival exterior elements such as cast stone gargoyles and inlaid detail surrounding the Main Street entrances.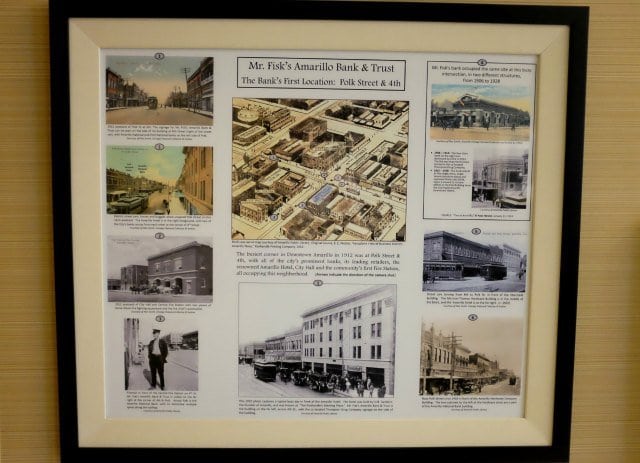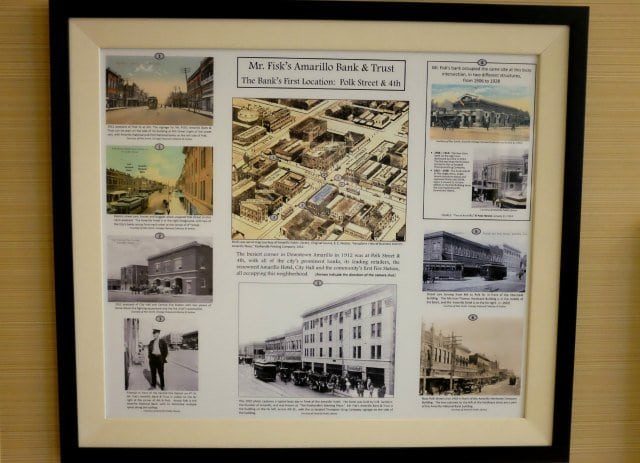 The interior incorporates some of the historic elements in the interior such as the original Cutler mail chute and letter box at the north side of the elevator lobby and on each floor. My old office in DC had one of these and it was a fun detail to see and recognize. In the lobby and near the elevators you can read about the history of the building in Amarillo and see displays of historical pieces from the original building.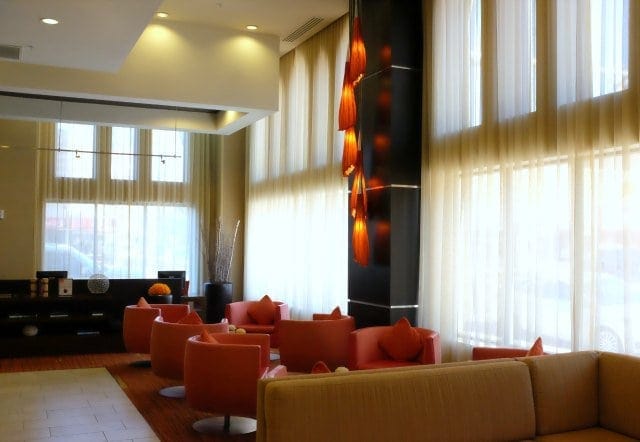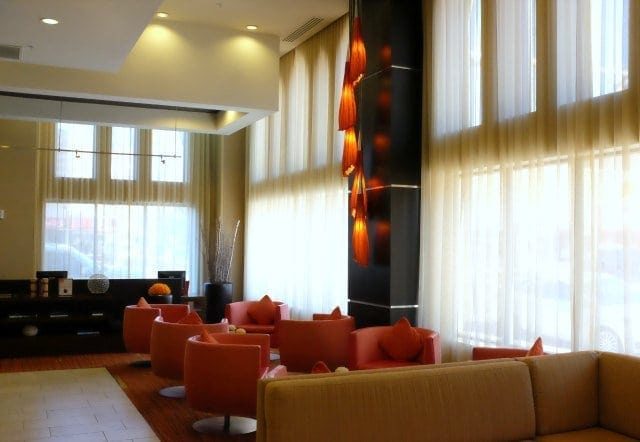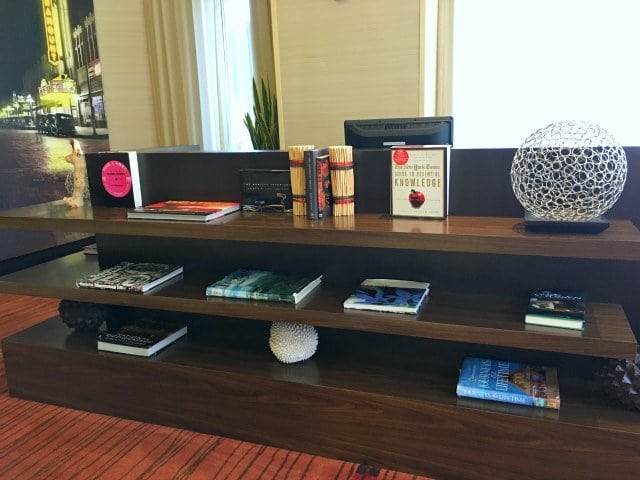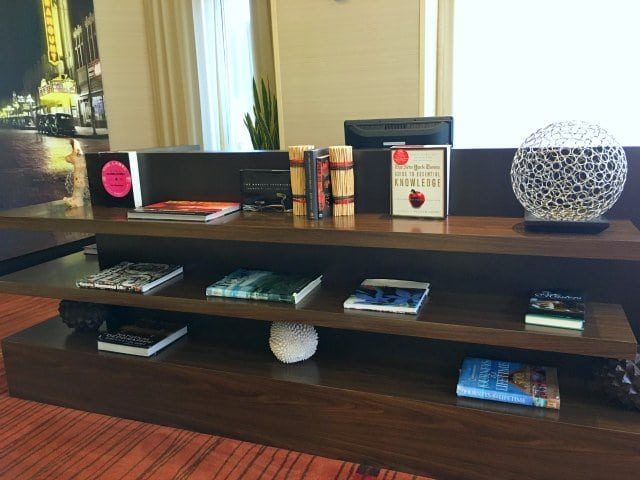 The hotel lobby is gorgeous – modern, stylish, and airy. As a previous business traveler, this lobby is a dream. There's a business center, computers to print boarding passes, books, plenty of little nooks where you can read, work, and relax. The Bistro offers Starbucks coffee and snacks as well as a full menu for breakfast, lunch, and dinner that can be taken to your room or served at one of their tables. The staff is very friendly and extremely accommodating. We were provided a double queen room for our stay. This was no traditional hotel double queen; it was extremely spacious with a wardrobe as well as large closet, and a living area with a sofa bed. Like the lobby it was clean, modern, and inviting.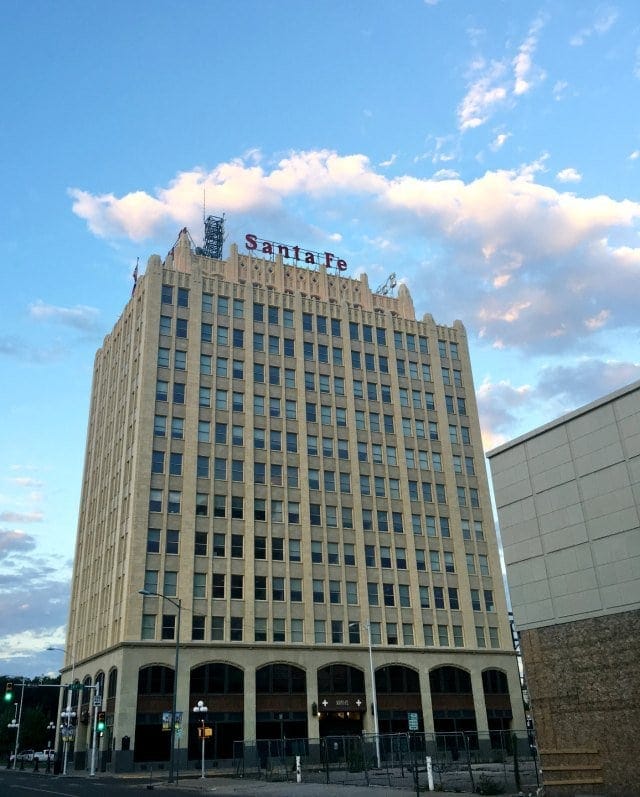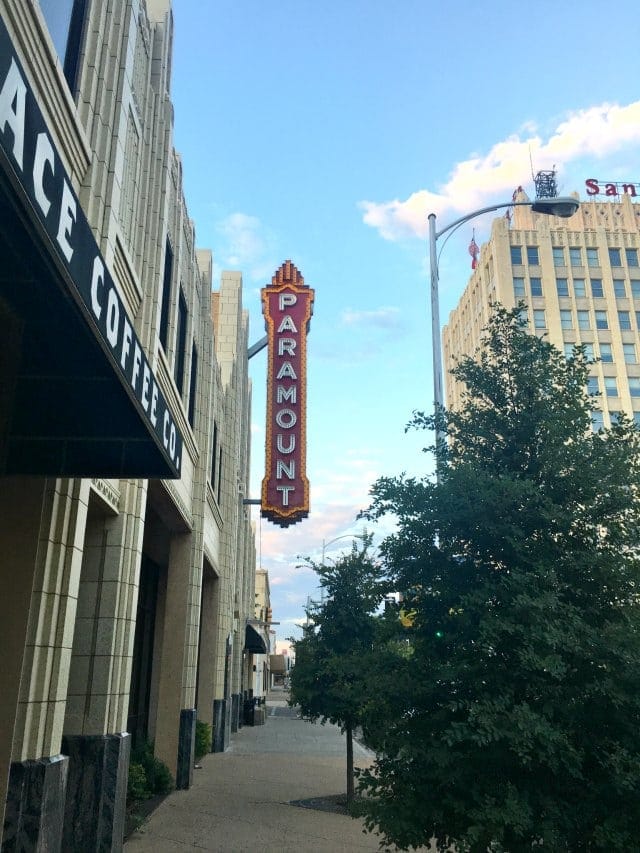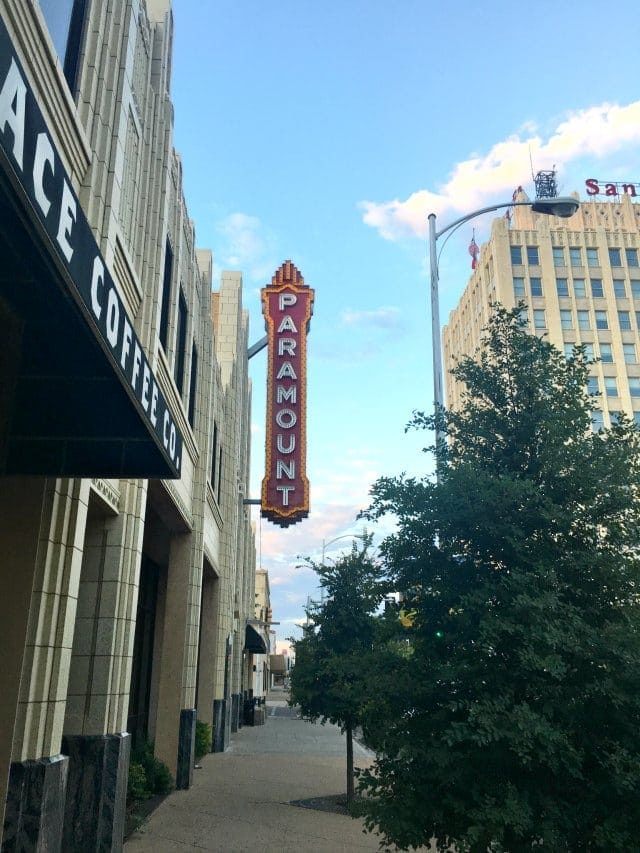 Downtown Amarillo is full of history and charm while constantly growing and improving. The city is doing a fantastic job of bringing in modern housing, restaurants, and other businesses while maintaining the history and style of the city. Like the Fisk Building which was respected while being renovated into a hotel, other historic buildings were maintained while being updated.
The Big Texan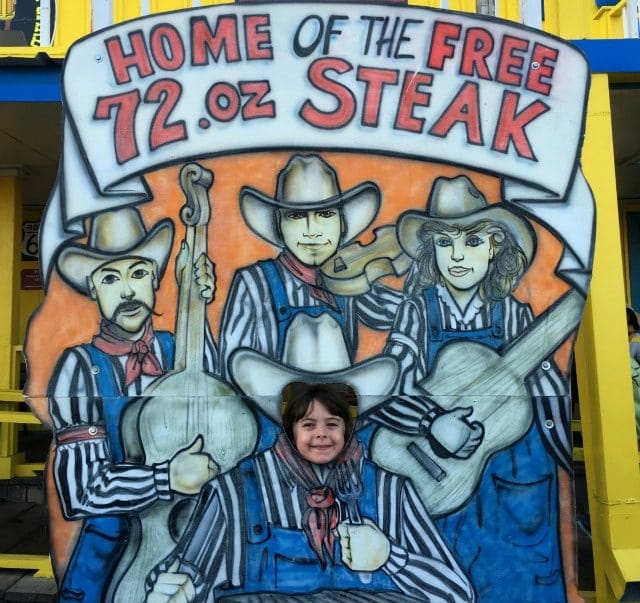 After showering and unpacking we were ready for dinner. No trip to Amarillo is complete without a trip to The Big Texan, and that's exactly what we planned for the evening. Opened in 1960 on Route 66, The Big Texan became famous thanks to their 72 ounce steak challenge. One day in 1962 a cowboy came in to The Big Texan proclaiming he was so hungry that he said he could "eat a whole cow." RJ "Bob" Lee, Big Texan owner, decided to see if that was true. The cowboy quit after 72 ounces of meat, but Bob was so impressed he announced that anyone who could match it would get their meal for free.
Since then, The Big Texan moved to a spot along I-40 (see a theme here?) and has become a bona fide tourist attraction. The building is not just a restaurant that seats 500 patrons, but has a huge gift shop, bar, ice cream stand, games and more. The Big Texan also has its own brewery, hotel, and RV park. The restaurant also offers free rides to and from the restaurant in their Longhorn Limos. We took advantage of this feature; Emerson found it too cool to be in a limo and the driver gave us some history of The Big Texan and Amarillo.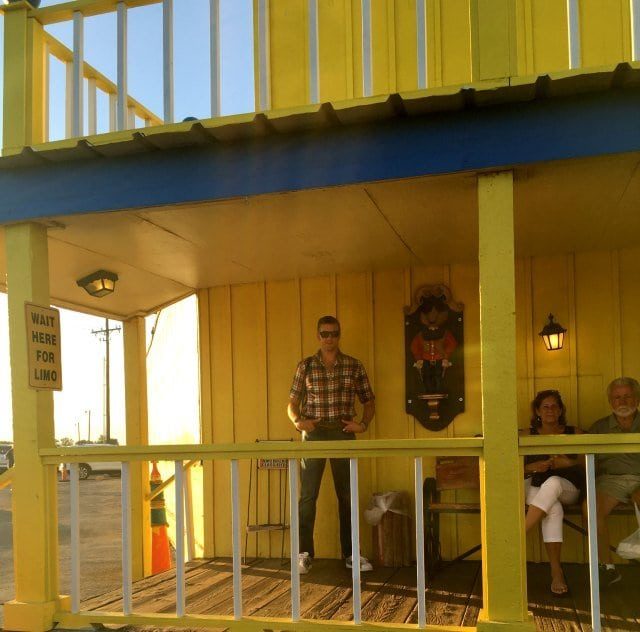 On a Saturday evening The Big Texan was wall to wall people though we only had a 40-minute wait for our table. The dining room of The Big Texan is decorated to look like an old saloon, has some booths along the perimeter, seats on a second floor that overlook the family-style long tables in the center. There's a stage where those competing in the 72 ounce steak challenge sit; every table in the place can get a view and the restaurant encourages patrons to cheer them on, come up and watch or photograph. We chose to remain in our booth.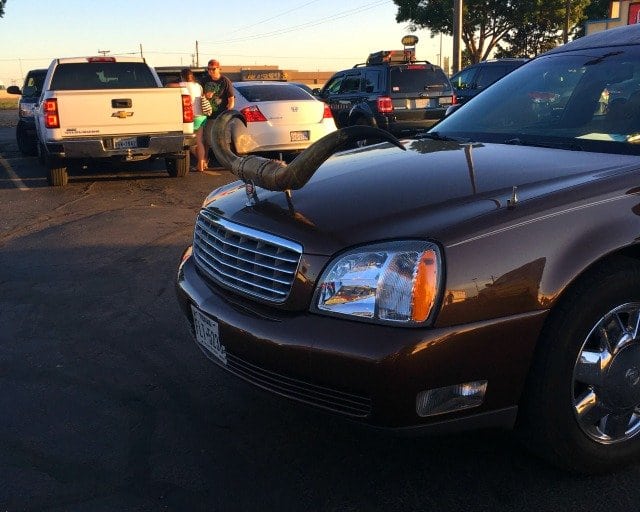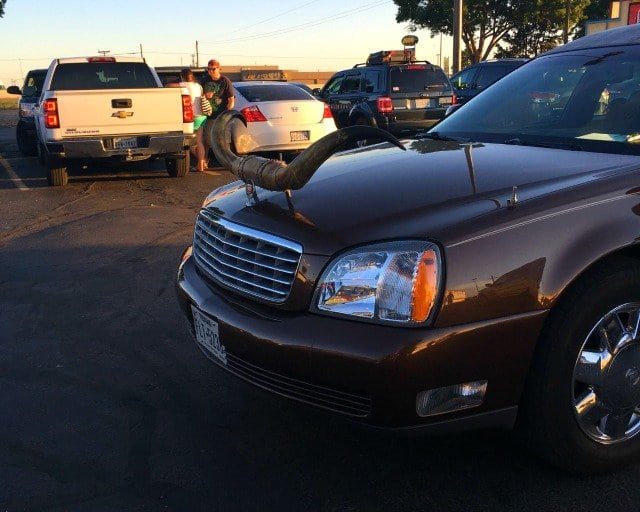 When in Texas… Karl and I each ordered a steak, the first ones we had consumed since January while Emerson stuck to ole reliable – chicken fingers and mac and cheese. Emerson's meal came served in a kid's size cowboy hat. As expected the steaks were good and the servings for all of us were quite plentiful. I got a margarita which was extremely sweet though Karl liked the Big Texan brewery's beer. However, you go to the Big Texan for the experience, not the food. And that experience is pretty intense and for folks like us who are road weary, it was sensory overload. We finished our meal and dragged ourselves into a Longhorn Limo and headed back to the hotel.
The next morning I woke before the family and checked out the hotel gym, which was on the same floor as our room. It was big, well-equipped, extremely clean. Like many hotels, the Courtyard's machines had built-in TVs and I ended up catching a portion of The White Cliffs of Dover and was so engrossed next thing I knew I had been on the elliptical for over an hour. Went back to the room and my family was still asleep so I showered, dressed, and headed down to the lobby with my laptop to get some blogging done.
The lobby was packed with families and what looked to be many people who attended the same conference or event. There was a long line at the Bistro but the staff was efficient and kept everyone happy. I grabbed a Starbucks latte and powered up the laptop and got about an hour of email answering and admin stuff completed before I got a text from Karl letting me know they were awake.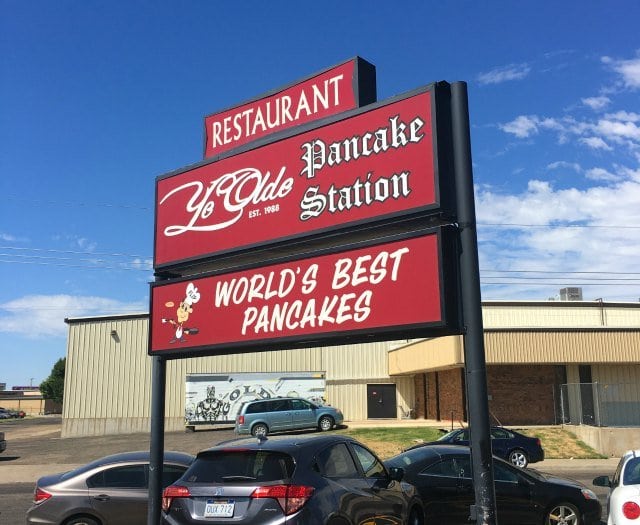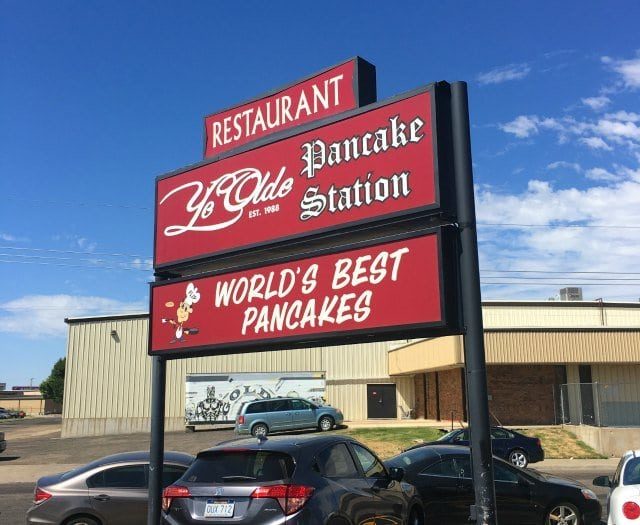 We were all hungry and thanks to some of your suggestions, we headed to Ye Olde Pancake Station. Since 1981, Ye Olde Pancake Station has been offering breakfast and lunch in a relaxed, friendly atmosphere. It was around 10am on a Sunday and we waited about 20 minutes for a table. It was totally worth the wait. The service? The best we experienced on our trip – friendly, quick, attentive, personal. The food? Big portions and delicious. Emerson had a pancake and agreed it was the world's best. The management? Brilliant – this place is a well-oiled machine; well-staffed, very clean, no one seemed stressed and it seemed everyone working there cared about the restaurant, the customers, and one another. Thank you all for this suggestion, it was a great one!
Palo Duro Canyon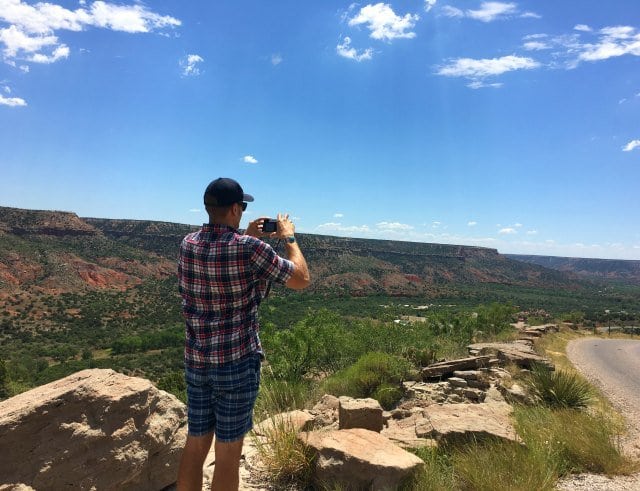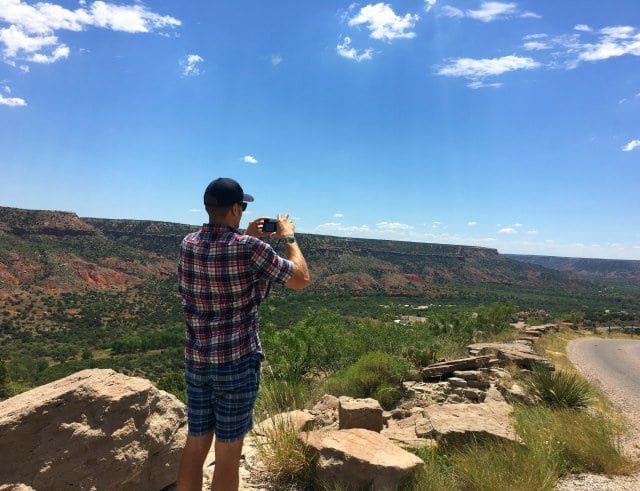 Bellies full, we headed to Palo Duro Canyon for the afternoon, a short 30 minute drive from Amarillo. After the Grand Canyon, this is the second largest canyon in the United States. Palo Duro Canyon was formed by water erosion from the Prairie Dog Town Fork of the Red River. Early Spanish Explorers are believed to have discovered the area and dubbed the canyon "Palo Duro" which is Spanish for "hard wood" in reference to the abundant mesquite and juniper trees.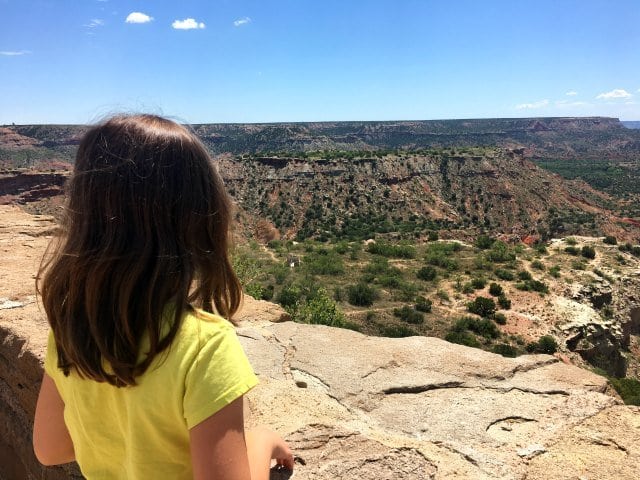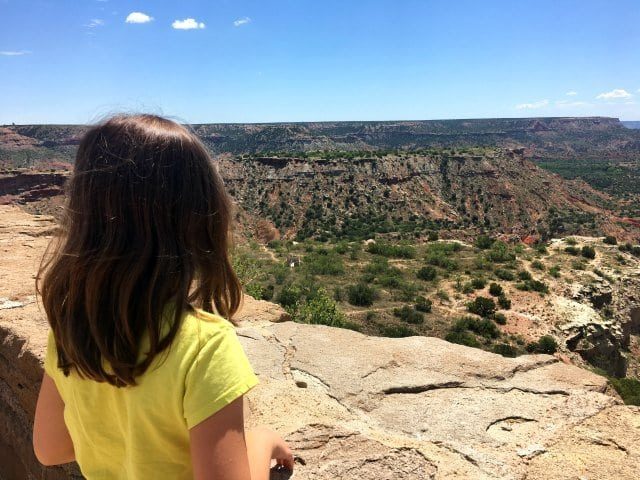 It was far too hot to hike the canyon, but we still got to enjoy the beauty of Palo Duro by car, stopping occasionally to enjoy the view or take advantage of a gift shop/bathroom. Palo Duro Canyon is set up to accommodate all types of camping and also has cabins for rent; we'd love to return sometime and enjoy the canyon overnight (and during cooler temps!).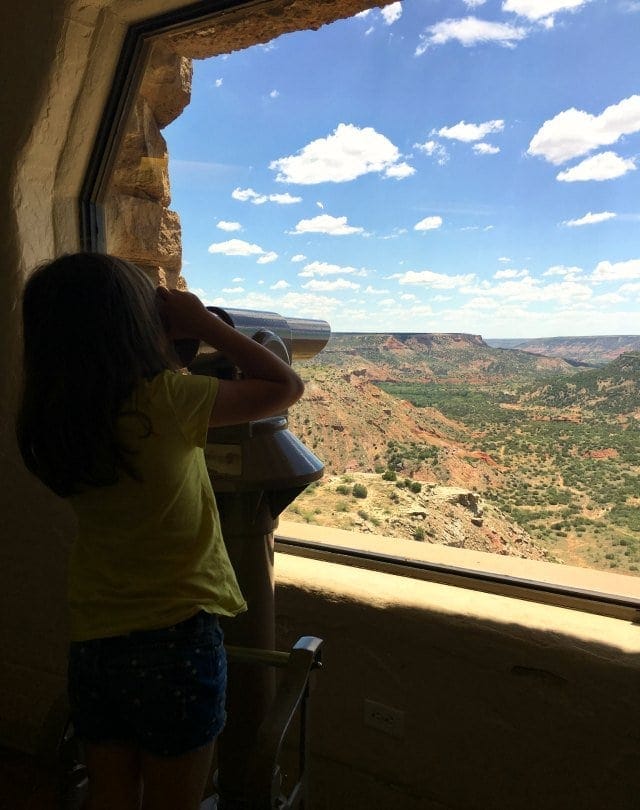 On our way out, we stopped at the visitor's center which had a museum and gift shop where Karl bought a vintage sterling and turquoise ring (the center sells "picked" jewelry made in the area with the profits supporting the park).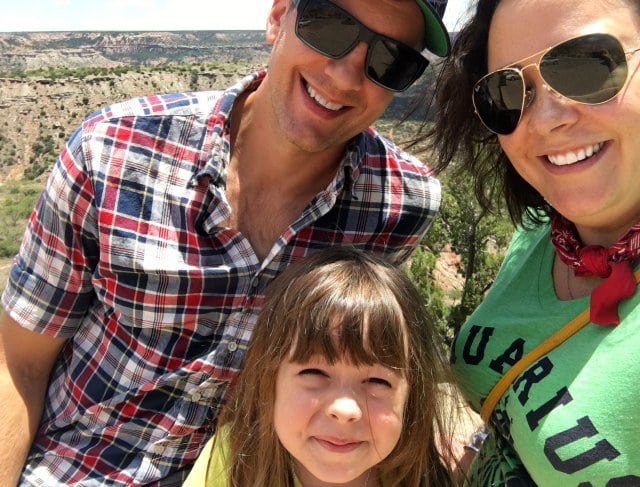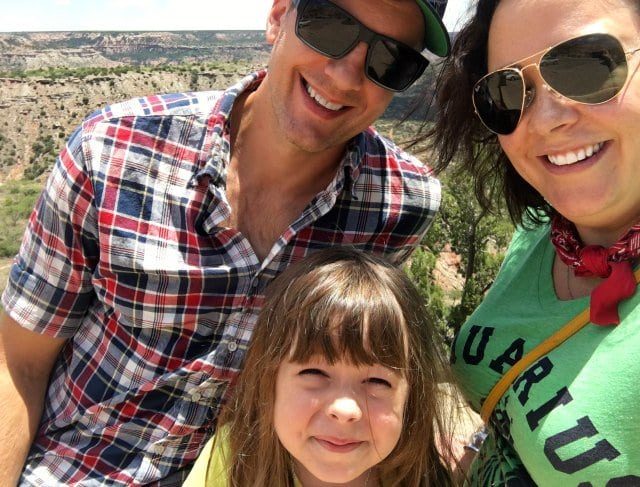 Along with the Amarillo tourism department we planned to go ziplining at Palo Duro Canyon but after being out in the heat we were tired… and also quite hungry. So we headed back to Amarillo and grabbed lunch at Abuelo's. The food was fantastic, the service amazing, the margaritas delicious, and tablet-free Emerson was psyched to find they have one at each table to play with. We made a wish in their fountain and headed back to the hotel where all three of us took a nap.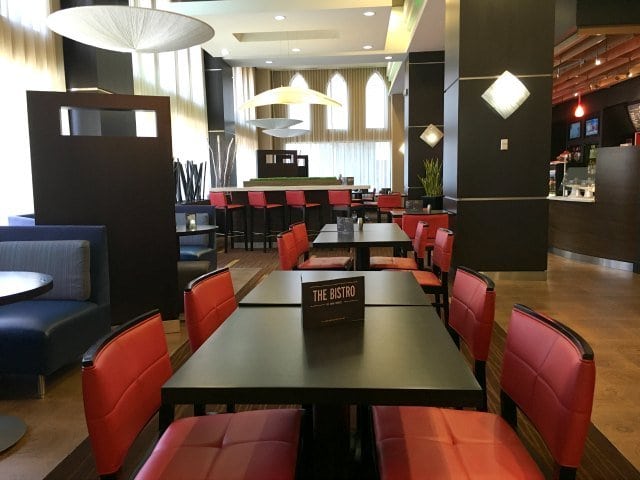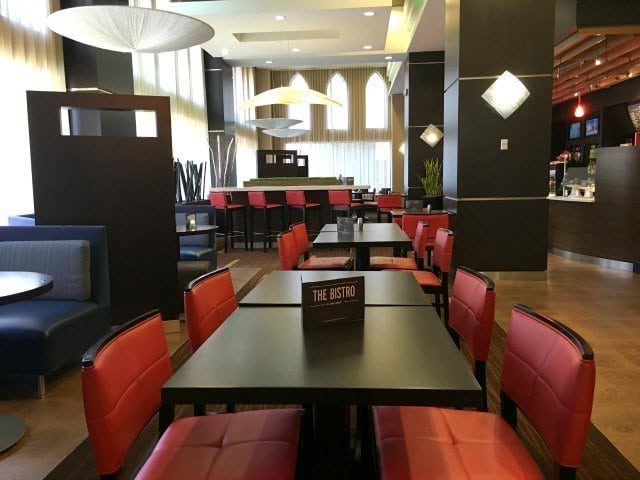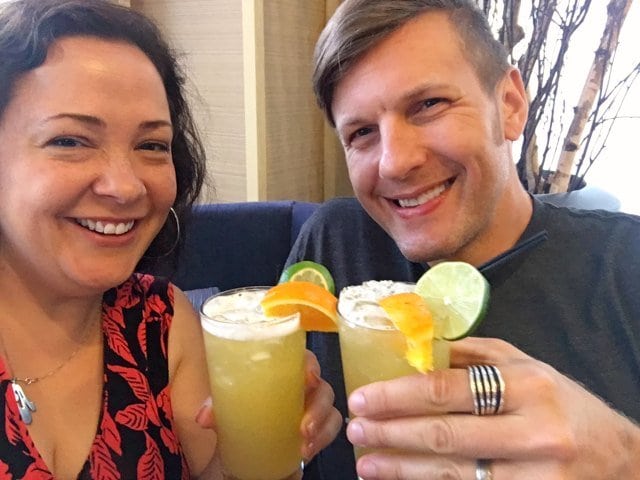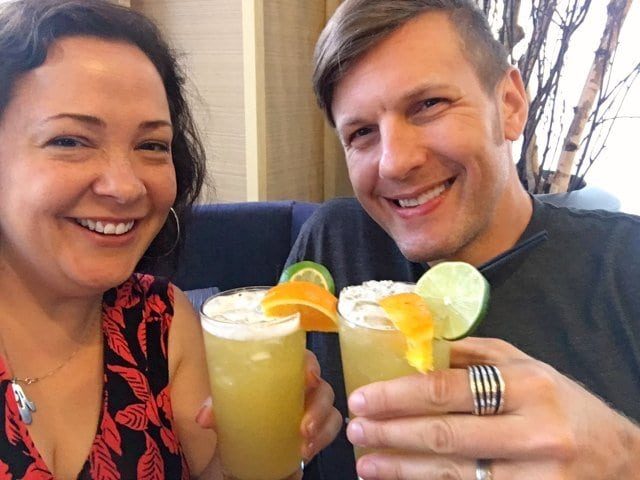 On Sundays, Amarillo (like many cities in the west and south) is very quiet and few establishments were open. We'd had our fill of steak and Tex Mex by this point which left few options where to dine in the downtown part of the city. We decided to eat at the hotel's Bistro. Like Downtown Amarillo, the hotel was very quiet and we were the only ones in the lobby. Karl and I each got Asian Chicken Salads and shared an order of potstickers; Emerson had a pepperoni pizza. It was National Margarita Day and the woman at the Bistro made us two delicious mango margaritas to celebrate. I was impressed to have such a delicious meal at a hotel bistro and such stellar service too; the Courtyard by Marriott exceeded all our expectations!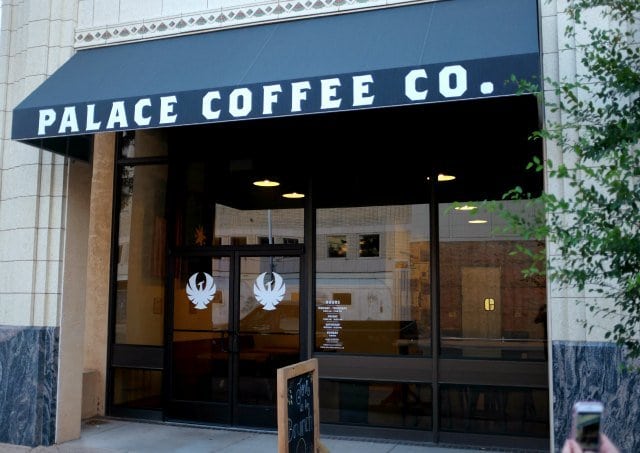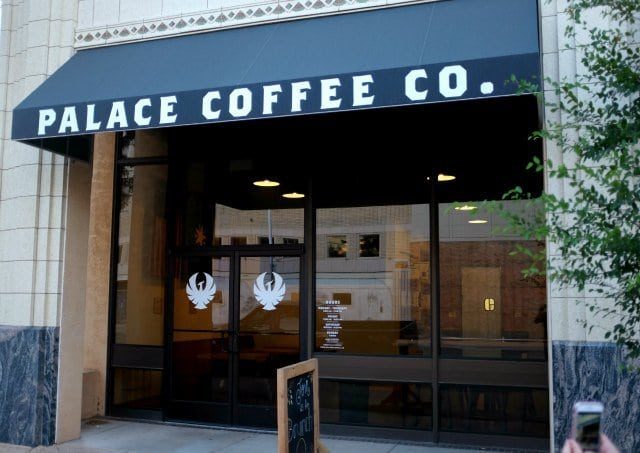 The next morning before getting on the road, we stopped by the famous and much-loved Palace Coffee which is catty-corner from the Courtyard by Marriott. I see why Palace Coffee is a must to visit when in Amarillo. Palace Coffee's motto is, "Be Kind: Serve Great Coffee" and they did just that. Karl and I each got an iced coffee that was so perfect it was delicious black. We all snagged a pastry for a to-go breakfast, mine was a roll stuffed with jalapenos and sausage that was warm, flaky, and delicious. The atmosphere was inviting but we had a 10-hour drive ahead of us so we got our orders to go.
Thank you Amarillo, for the warm welcome and the wonderful visit! There's so much to see and do in Amarillo, we could have easily filled a week with activities!
What We Learned on This Part of the Trip
Don't Mess with Texas… on Sunday.  I mentioned this in the St. Louis post, but many cities roll up the sidewalks on Sunday and Amarillo was one of them.  This is something I wish I considered when planning the itinerary.
Not everyone serves ginger ale.  We first encountered this in Dodge City when Karl asked for ginger ale at a bar and they said they didn't serve it.  In Durango they also didn't have ginger ale on tap but they made Karl some with bitters and other ingredients.  Everywhere in Amarillo and at the Midpoint Cafe they looked at us as though we had two heads when asking for it, and would offer Sprite as an alternative. We didn't find ginger ale until Tennessee!
Use the gym even if you're not a gym person.  I mentioned this in my capsule wardrobe, but starting the day with even a gentle workout can help with stiff limbs from riding in the car, dehydration from the heat, time changes, and overall frustration of being in a metal box for several hours at a time with your family.  The elliptical was my BFF on this trip.
Stay hydrated.  When the temperature is very different from home, you may not realize how dehydrated you're getting until you're cranky, achy, and have a headache.  By this point, we three were carrying water bottles everywhere.  And speaking of water, most hotels have a filtered water machine in their gyms which is far more tasty (and requires less of a need for ginger ale) than water from the tap.
Next stop, Memphis!
Save
Save
Save
Save
Save
Save