This article may contain affiliate links; if you click on a shopping link and make a purchase I may receive a commission. As an Amazon Associate, I earn from qualifying purchases.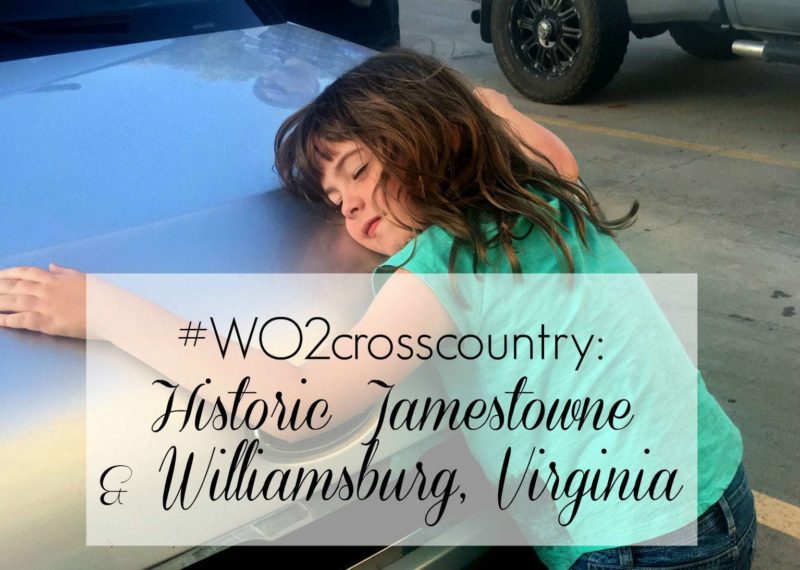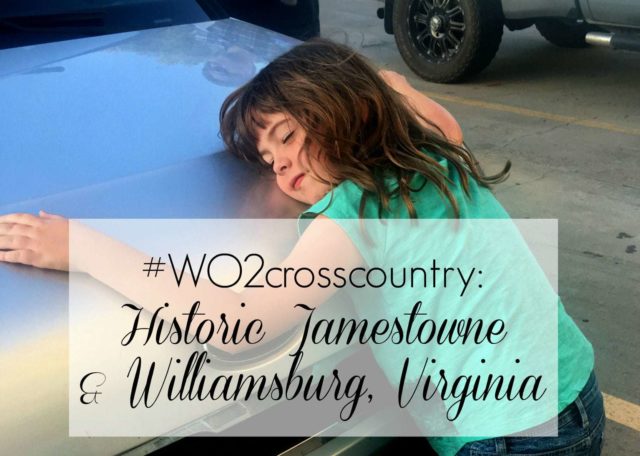 This is the last post from our cross-country road trip.  To read the previous posts, click this link!
Our original plan after Memphis was to stay in Nashville one night, then head home with a possible overnight stay somewhere if the drive was too long. After two weeks on the road we knew one night in a city was pointless. We decided we HAD to visit Nashville, but this trip was not the right time. Karl mentioned in Arizona that he had always wanted to see Jamestowne. Growing up in the DC area, I was surprised he had never gone as a Boy Scout or school overnight trip. Also with a father who was a mega history buff (he even wrote a book about the Civil War), I couldn't believe his dad did take him and his sister there. I had been to Williamsburg, Jamestown, and Jamestowne a handful of times over the years but so long ago I only had memories of horseflies, sweat, how my rich friends could get period costumes while I was stuck in a tee shirt and jorts… and I remember crappy candy. Candy that adults said kids my age back then treasured so I felt obligated to suck on it even though it was gross, I was hot, I had a horsefly bite on my thigh, and felt mega lame in my jorts.
It's over 12 hours from Memphis to Williamsburg so we had to stay overnight somewhere. I researched reasonably priced but not sketchy midpoints and came up with Knoxville, Tennessee. Thanks to my BFF Trip Advisor I found a Holiday Inn Express with low rates and high scores for cleanliness and service. I have an IHG® Rewards Club card and had some points accumulated from years ago and got us a room for about $40. We arrived around 5pm.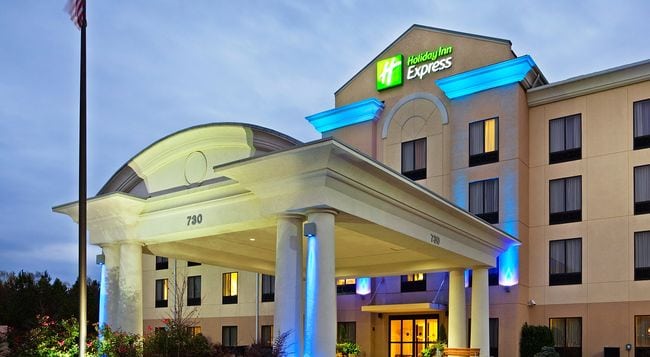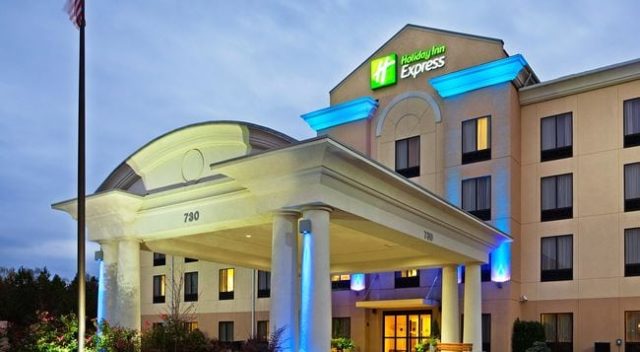 The Holiday Inn Express Knoxville – Strawberry Plains was exactly as the reviews stated – super clean, modern, recently renovated, and staffed by nice people. We got a double queen with a glamorous view of the back parking lot and the woods beyond it. Awesome water pressure, tons of towels, clean sheets, working TV, speedy wifi, mini fridge… we were happy campers.
I looked to see what restaurants were nearby for dinner, there was an Italian place we passed when we got off the highway… and an Outback. We decided to go to the Italian place but when pulling out of the hotel to go there Karl and I both got major déjà vu. "Have we been in Knoxville before?" "Doesn't this intersection look familiar?" We realized we HAD been there before, several years ago on our way to Bonnaroo. We didn't stay at this hotel, but we DID eat at that Outback Steakhouse! So we switched up the plan and decided to go back to Outback for dinner.
We again had a great experience at this Outback, again with young but eager to impress waitstaff. I got the wedge salad and ahi tuna and Karl and I got a bottle of wine and we let Emerson play a few games on my phone and we relaxed. We were back on familiar ground and we knew we'd be home in a couple days, our time in Memphis was like going to a resort and we felt as though our bodies and brains were regulating.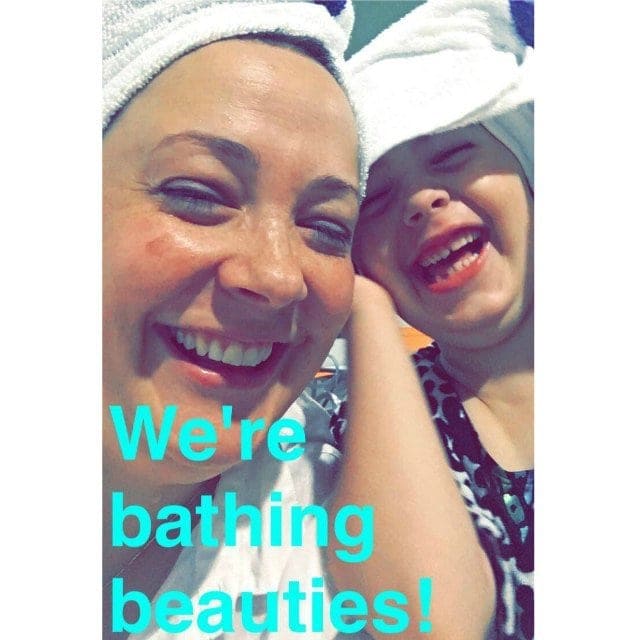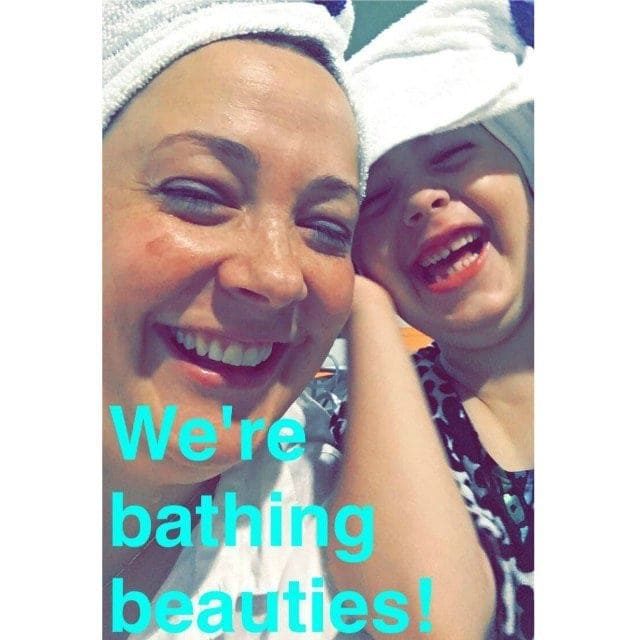 One big reason we chose the Holiday Inn Express was because it had a pool. Emerson hadn't been to a pool since Albuquerque and really craved one. After dinner, we went up to our room to fully unpack and change, then Karl went to the gym and Emerson and I went to the pool. The pool is indoor, a decent size, and quite clean. There were two kids around middle school age there for a bit, but they left after 10 minutes so Emerson and I had the whole pool to ourselves. The sun was setting, the pool lights were on, and it was a really fun time. At bedtime, we came up, showered, and Em went to bed while Karl and I decided to watch more of the DNC and have a glass of wine. We realized we had a bottle of wine and no bottle opener; Holiday Inn Express to the rescue – they had one at the front desk!
The next morning I got up early and used the gym. Like the rest of the hotel, it was clean, modern, spacious. I grabbed some coffee and went outside to that hill and woods beyond the parking lot to chill. I felt as though I had spent a lot of time recently on the trip cooped up in cars, indoors in hotels and other buildings. It may have been a gravel-filled dead grass patch near a highway, but it felt good to breathe natural air and have unfiltered sun on my face. When the family woke, we had the hotel's continental breakfast (quite nice – biscuits and gravy, eggs, sausage, even a pancake machine), packed up, and got on the road.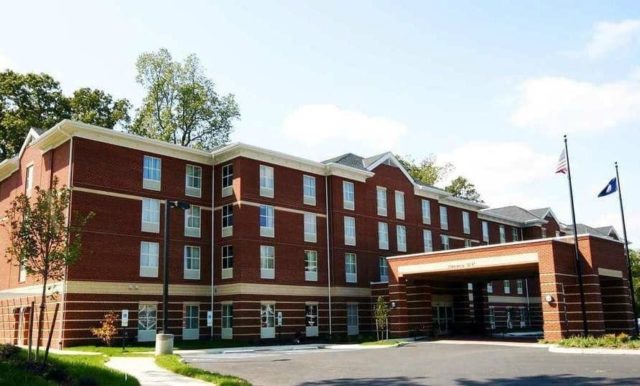 I booked the hotel for Williamsburg based off TripAdvisor reviews and reasonable price. We experienced luxury in Memphis, we were just a couple hours from home and we only needed clean, safe, and comfortable. I booked a room for two nights at the Hampton Inn & Suites Williamsburg Historic District.
This is a very big hotel and it caters to families. It's constantly busy, loud, and especially for those without kids, can seem bit chaotic. We could hear full conversations, farts, phone alarms, the whole shebang from the room next to us and kids running down the hall all through the night. The hotel is older and while it is clean, it looks a bit shabby. But whatever, it's clean, safe, and comfortable enough.
It was dinner time. The hotel recommended restaurants that my friends who went to college in the area said ABSOLUTELY DO NOT GO THERE because they were crappy food tourist traps. We didn't desire super fancy and expensive, but had no desire to eat crappy food. Based off a quick cursory look at Yelp and TripAdvisor we decided to dine at Food for Thought.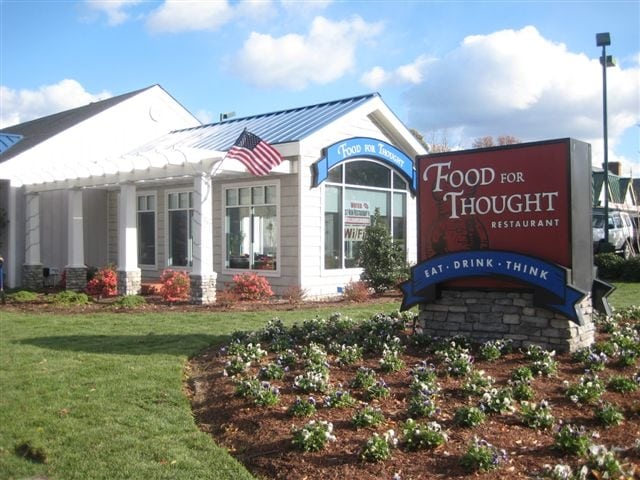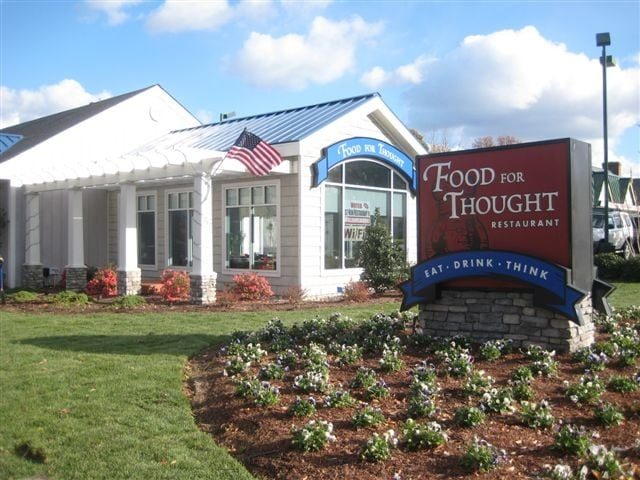 Food for Thought combines great thought leaders with great food. The menu is crazy extensive, with everything from pot roast to Pad Thai and plenty of options for vegans, vegetarians, and those who require a gluten free option. The restaurant is decorated with biographies and quotes from inventors, scientists, and social leaders. Food for Thought was HOPPING, Karl was smart to drop me off at the door while he looked for a parking space. People were racing to the door to get in their name first, and the lobby was packed with families waiting. I got our name on the list and we had about a 20 minute wait; I think it would have been longer if we didn't have families of 8, 10, and more waiting ahead of me. Sometimes it pays to be small! The lobby was packed so we sat outside in the blazing heat, but we didn't mind it after a day in the car.
Food for Thought is a well-oiled machine. Though it was very busy, it was very clean, the staff organized, and no one felt rushed. The tables are covered with white paper and you have crayons to draw. The staff provides a 10% off coupon for your second visit to encourage return customers. As stated, the menu is extensive and much has cutesy names relating to famous people. I decided I would go back to being a pescatarian after our trip so I ordered a steak; Karl got salmon and Emerson, big shocker, had chicken fingers.
The food was good. It was reliable food – nothing creative, interesting, or unique. Good basic American food with nice sized portions. Our waiter was very sweet, the room had lots of windows, the acoustics were good, it was such a contrast to the wait for our table. However, I don't really see why this restaurant gets such raves as a DO NOT MISS in when in Williamsburg. But then, living in the DC area I have access to some pretty terrific restaurants, food trucks, and holes in the wall so I may be biased.
The next morning, Karl was the one to wake up early and go for a run while us ladies slept in. However, we were all ready for the hotel's complimentary breakfast by 7am. Breakfast at this Hampton Inn is insane. The food is in this small room and you have to shove through siblings fighting and kids having tantrums and moms who thought it made sense to bring strollers into this tight space to get your food. There's not enough tables in the lobby for the crowd so families are watching you eat so they can grab your table (one tried to grab mine while Emerson was sitting there and I got up to get more coffee).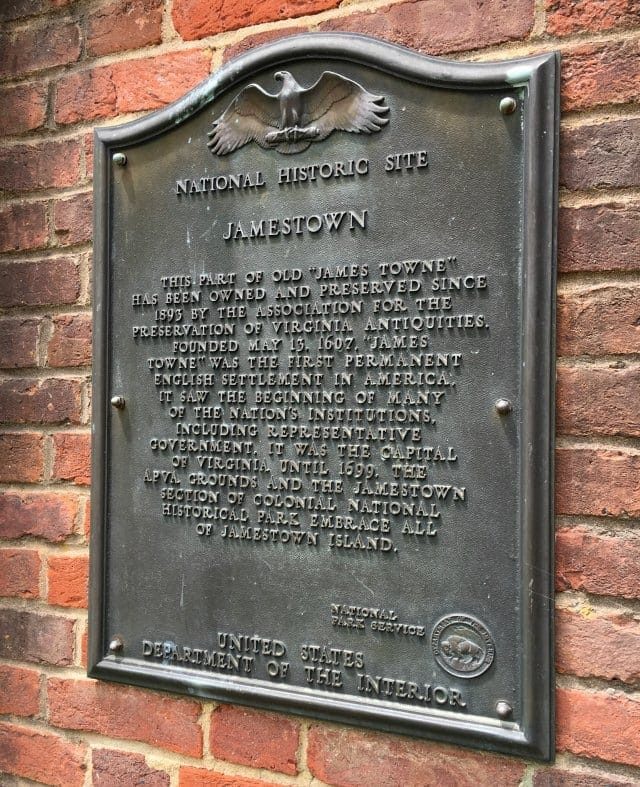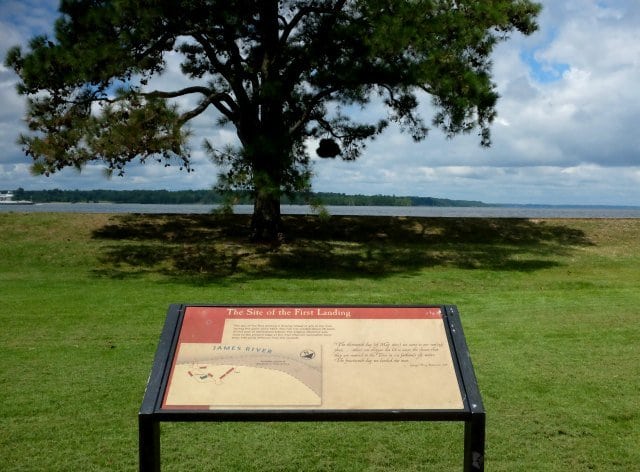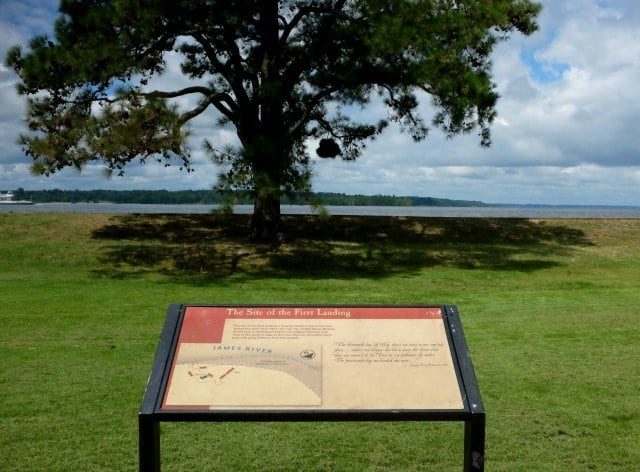 Since none of us had the desire to linger over breakfast, we made an early start. We knew we wanted to see Historic Jamestowne, and if we had time, maybe Jamestown. Like his dad, Karl is a bit of a history buff and he has read a lot about the Jamestowne settlement and was excited to see it in person. Most people say go to Jamestown Settlement and skip Historic Jamestowne as it's not flashy. No costumes, no people dressed in period fashion, no kid-friendly activities. But unlike Jamestown Settlement, Historic Jamestowne is run by both the National Park Service and the Colonial Williamsburg Foundation and is the actual site of the original Jamestown fort and town. That's what Karl wanted to experience, and after driving almost 5,000 miles around the country that's what he deserved. And since Emerson had never experienced Jamestown or Williamsburg, she didn't know what she was missing and really enjoyed Historic Jamestowne.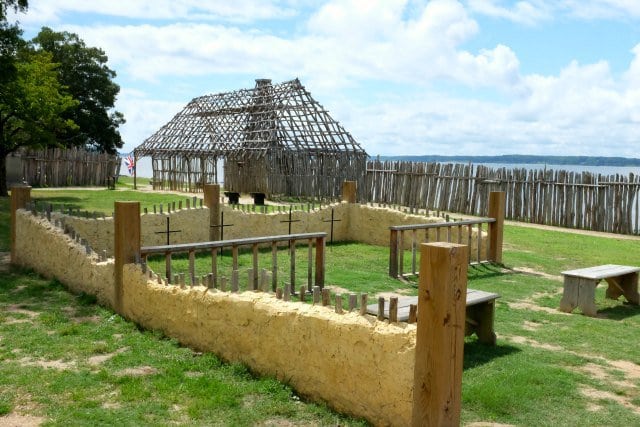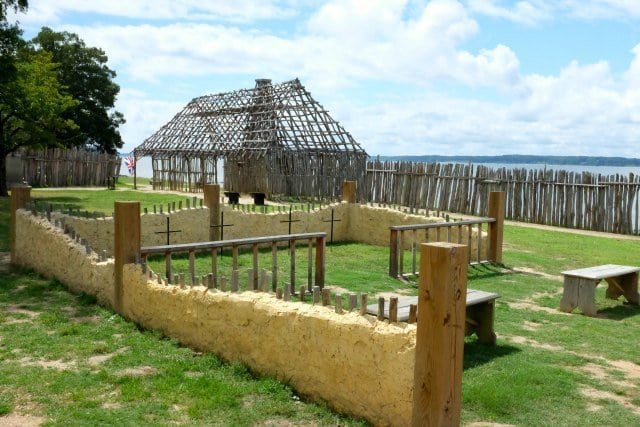 Established in 1607, Jamestown was the first permanent English settlement in North America. The place was chosen because it had excellent visibility of the James River, but angled so they could see attackers by water before the attackers saw them. It seemed lush and great for farming, and was surprisingly not inhabited by Native Americans.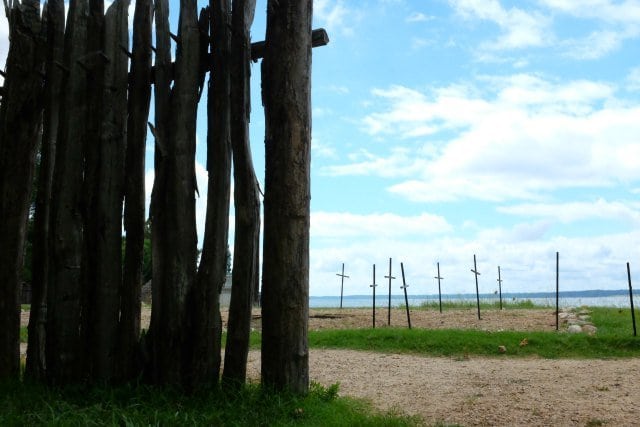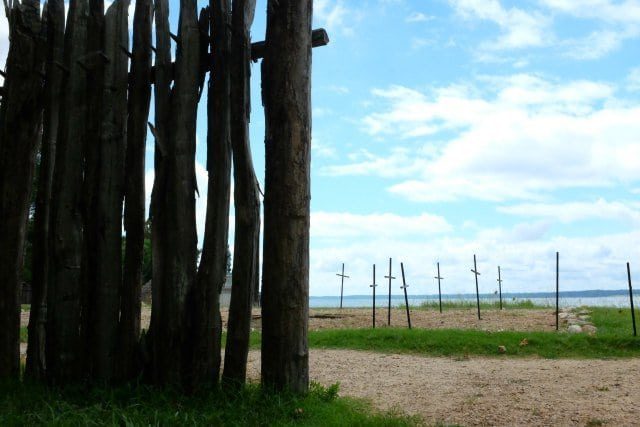 That should have been a tipoff. The water of the James River was brackish, every well they dug went bad, the land was sort of isolated thanks to a swamp causing the area to have little wildlife to hunt. That swamp also brought mosquitos carrying malaria. All that and two weeks after settling they were attacked by Paspahegh Indians, a year after building their fort it burned down, in 1609 they experienced a severe drought and a hurricane shipwrecked their much-needed supply ship. In October 1609 their leader, Captain John Smith returned to England for medical attention to a gunpowder injury. This started the well-known Starving Time, when the settlement went from 500 to 60 colonists and it appears they ate shoes, their horses, and even resorted to cannibalism to stay alive.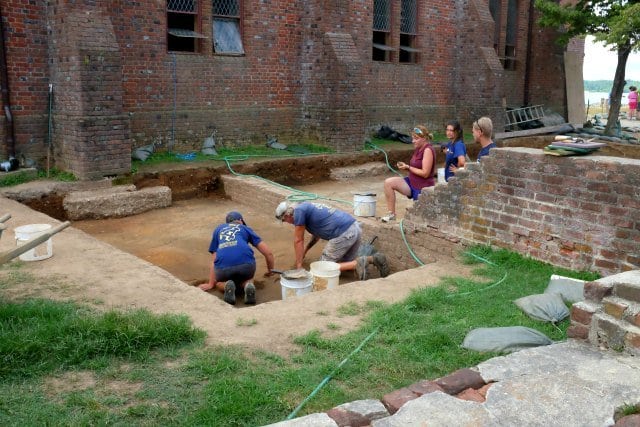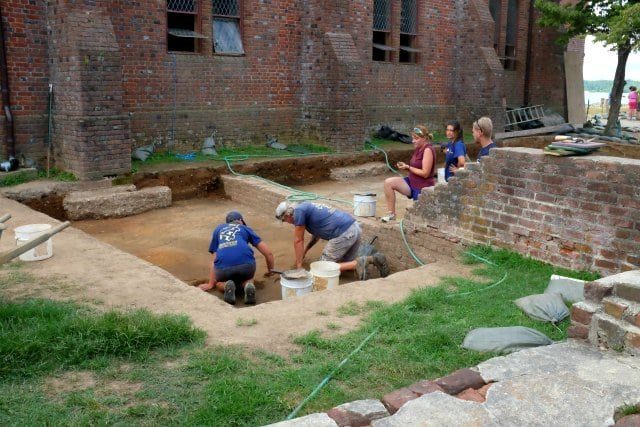 History often paints these colonists as lazy, stupid, not willing to farm and thinking they'd get by with trade and supply ships. However, there is ongoing research and archaeology that shows that they did plant crops and tried very hard to be successful and self-sustaining but they had all the cards stacked against them.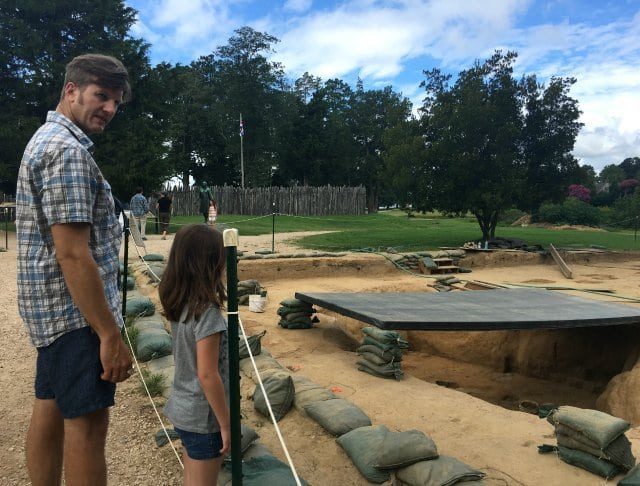 Visiting Jamestowne we saw the archeologists at work. While they don't find buried treasure, trash at the bottom of wells and soil stains help them know more and more about these colonists and the life they led and how much that we learned in our history books was completely wrong.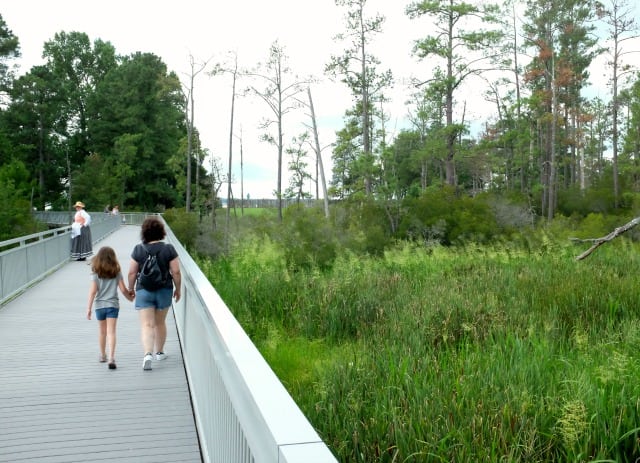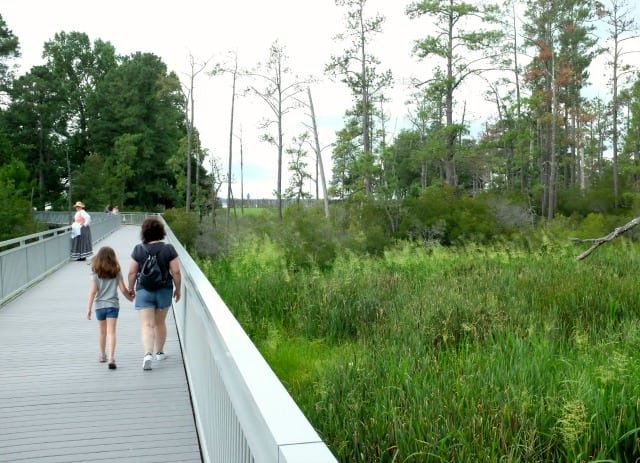 We parked at the visitors center for Yorktown and Historic Jamestowne, paid the nominal entry fee and walked a bridge over the swamp to the settlement. There are a few statues and monuments built over the years, some wood structures, a museum with gift shop, and a church. You can experience all that Historic Jamestowne has to offer in two hours, leaving plenty of time in a day to also see Yorktown, Jamestown, or Williamsburg.
The church itself is an example of how we've learned over time that what we thought about Jamestown was wrong. Multiple churches were built at the Jamestown settlement over the years, but in 1639 they began building one out of brick but never finished it. Attempts to complete the church happened in 1647, then burned down during Bacon's Rebellion in 1676. They know a decade later another church was built on this church's foundation with a tower as part of it. The tower still exists. In 1907 the National Society of the Colonial Dames of America built the current church at Jamestown, designing it based upon a nearby church they thought was built in 1632 and possibly similar to that original church. However, historians later learned that model church was actually built in 1682. So while the church at Historic Jamestowne is quite lovely, there's nothing historically accurate about it.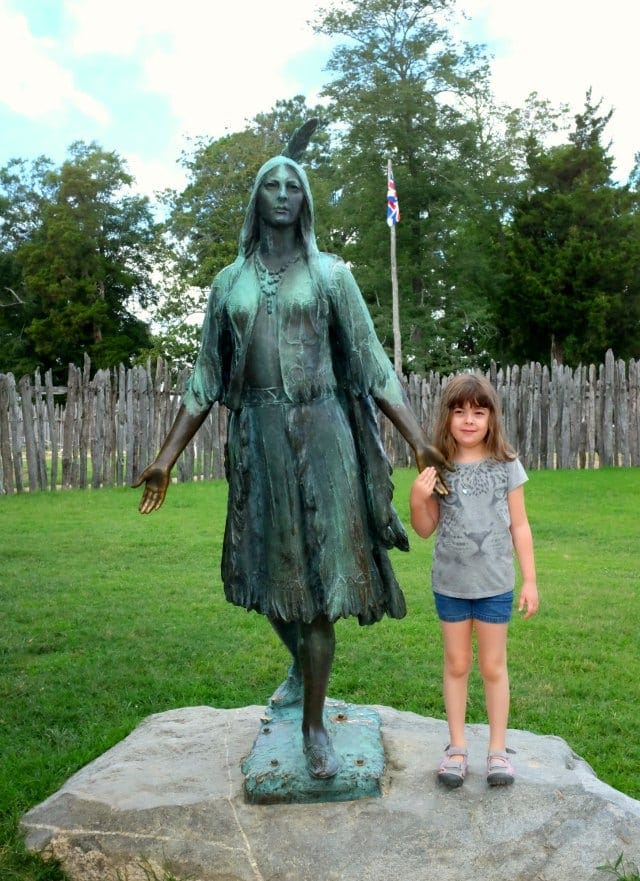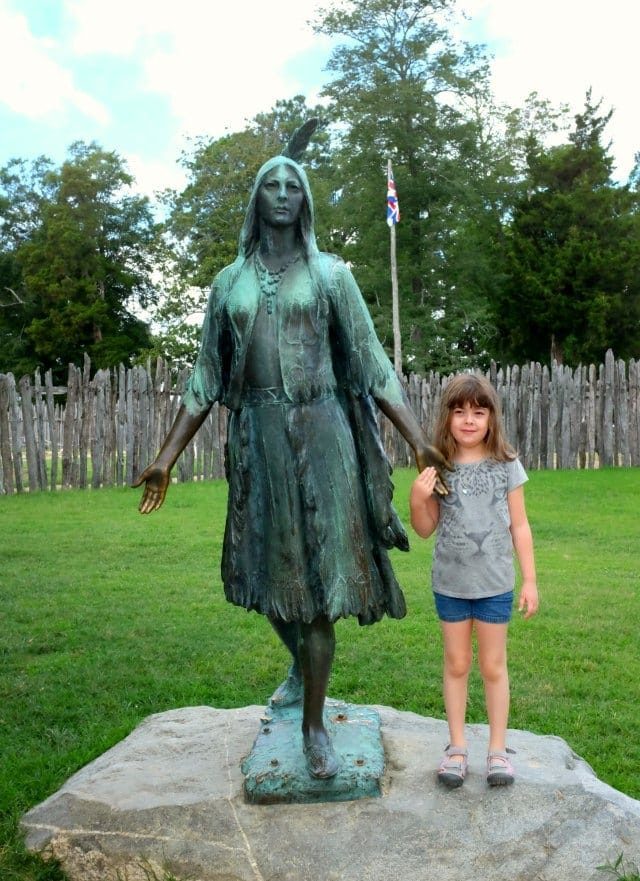 We arrived and walked around a bit but one of the free tours was starting so we joined. The tour is extremely interesting; we started by sitting but then were guided to the different excavations taking place on the property to find out what they are learning about this settlement, which seems to be something new every single day. A while ago, they thought due to erosion part of the fort had gone into the river, but they've now found all sides of it. Places they thought uninhabited they're digging down and finding wells and basements. In 2010 student archeologists dug up the site of the church where Pocahontas married John Rolfe.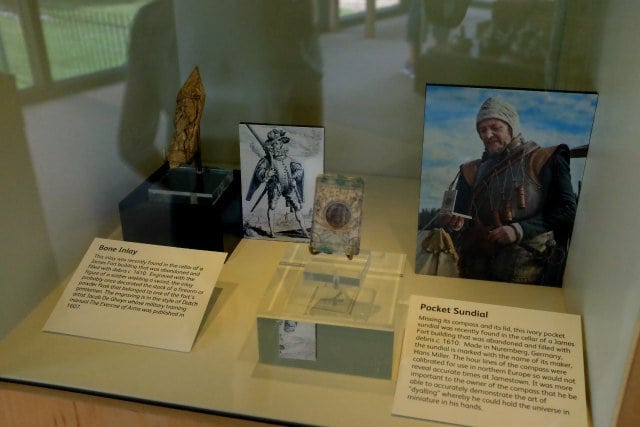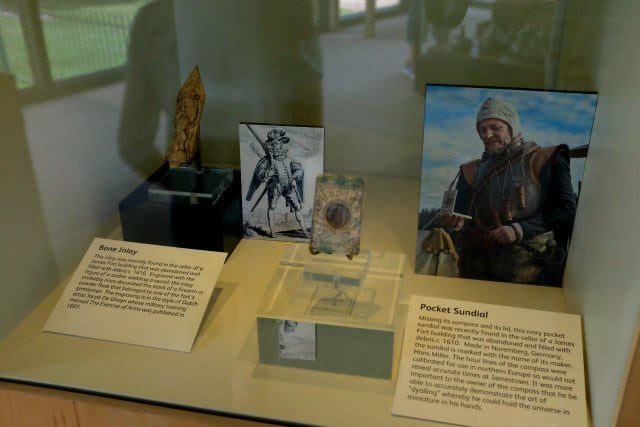 We visited the museum which isn't large but is fascinating.  On our way out we stopped by The Glasshouse at Jamestown.  There's remnants of the original glass house as well as a current working glass house with blowers using tools similar to those used in the 17th century to create items you can buy.  Emerson got a little medicine jar that looks more like a tiny bud vase, Karl and I each got a blue glass mug.  Since they're handmade they're all different shapes and sizes; Karl's is tall and straight while mine is shorter and has more curves.  Sort of like us!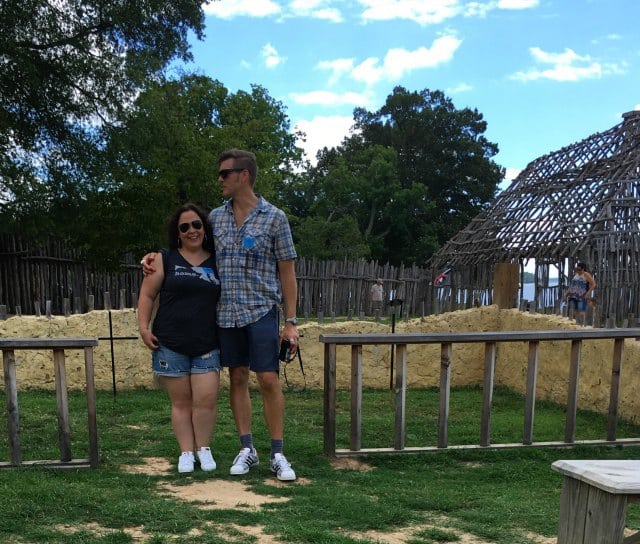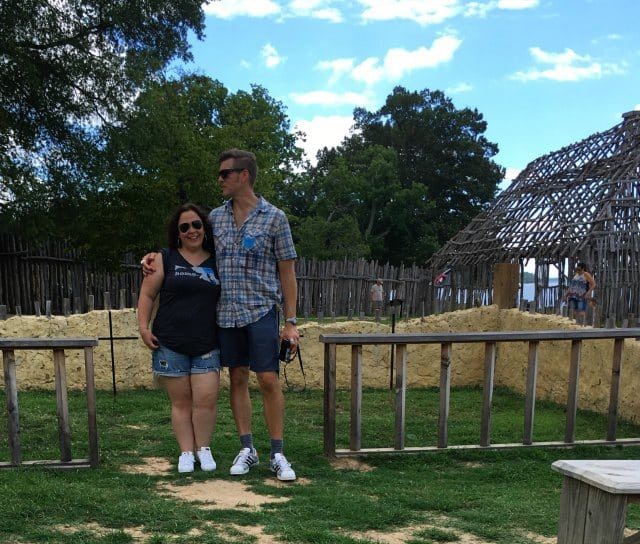 Karl and I standing where Pocahontas and John Rolfe married.  Photo by Emerson!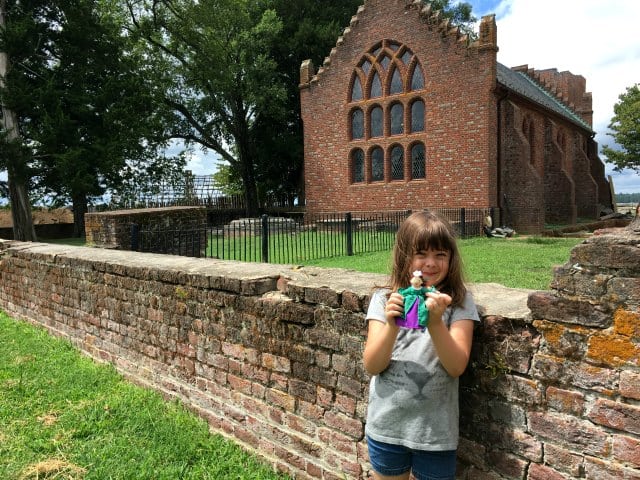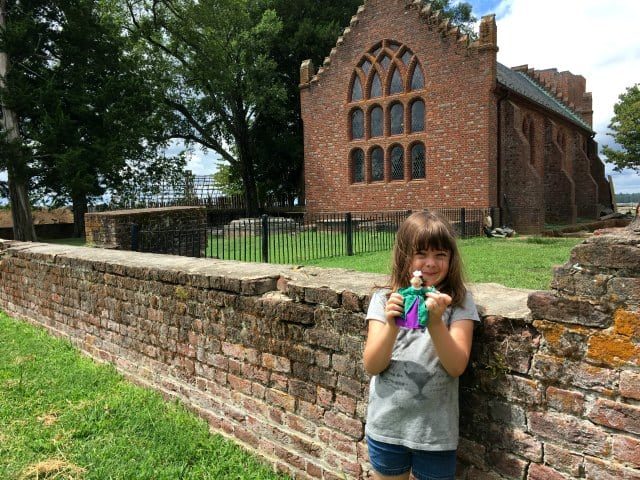 What's crazy to think is that in 50 years Jamestown may no longer exist. The James River is rising higher than other bodies of water, and the land Jamestown is on is sinking. The archeologists are working as fast as possible to gather as much information as they can while the land is still there. We were so glad we stopped by, and I encourage you and your families to do so if it's been on your list while you can.
The one place recommended to me more than anywhere else for our trip was The Cheese Shop in Williamsburg. Oh Allie, you MUST visit The Cheese Shop! The Cheese Shop is the BEST! Have a sandwich with their dressing, it's to die for! Buy a bag of their bread ends for $1! Okay okay I hear you loud and clear, we'll go to the Cheese Shop!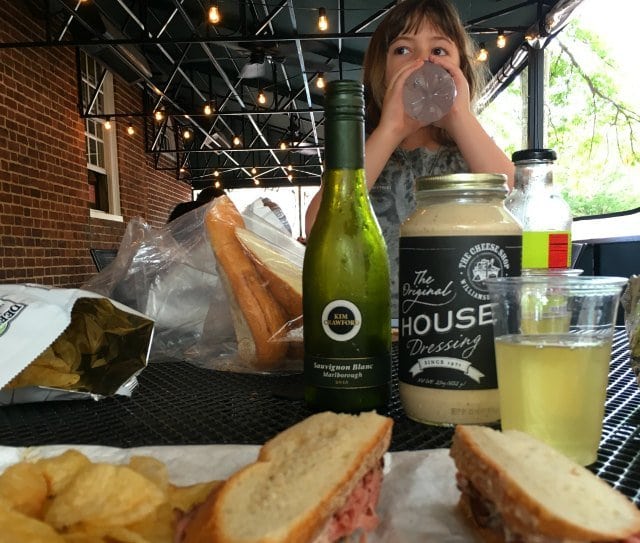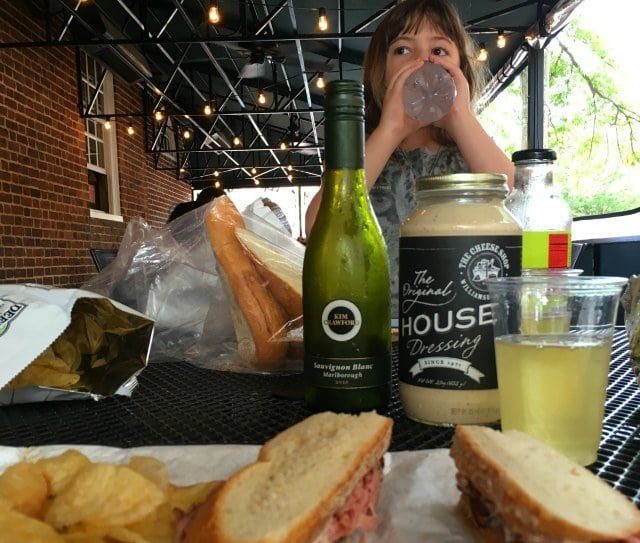 Yeah, you all were right. The Cheese Shop is pretty fantastic. However, I am going to share what no one else shared with me. It's total chaos and you feel like an outsider not knowing the Cheese Shop Culture.
First, find one member of your party, preferably the one who hates crowds, who will hold a table outside and play with his or her phone or read a book until the meal arrives. That person should also babysit all packages and large handbags. Tables, especially with shade, are in high demand and the store is a place where you don't want your hands full or to be bumping into people and things.
The sandwich orders are in the back of the place. Head to the left, that's where you place the order for the sandwich. There's a menu board but you can pretty much order any kind of sandwich. I got a roast beef that was on the menu board, Karl got something turkey, Emerson got a ham and cheddar.
After, you hang out. Grab a basket if you can find one, and you can grab drinks, chips, a jar of their dressing to take home. In the cooler next to the sandwich counter there's bottled drinks as well as mini bottles of wine. There's also cups and one of those giant Gatorade coolers of ice water to enjoy while you're waiting. Downstairs is a wine shop and they are really great about recommending based on what you like and what you can afford. It took about 15 minutes for our sandwiches to be ready and by that time my basket was full and Karl bought two bottle of wine.
When you get your sandwiches, take everything to the register at the front of the store. They will ring it all up together and there they will offer cutlery and cups if needed.
Head out to your friend who was holding the table and ignoring the dirty looks of those who have sandwiches but nowhere to sit. Lay everything out like a picnic, clink plastic glasses, and enjoy your sandwiches which are much deserving of their praise.
After lunch we decided we didn't want to go to Jamestown or Yorktown or Williamsburg. We were sick of go go going. We knew in 24 hours we'd be back home and we were completely fully totally ready for that. So we got all suburban and took our bug-splattered Kia for a bath.
Did you know most car washes can't accommodate a car with a cargo box on top? Yeah, we didn't think about that. We finally found a self-service car wash where Karl blasted off the grasshoppers with a hose while Emerson and I sat inside and sang along to Katy Perry. We then went to CVS to buy bottled water and Zyrtec because we're big ballers like that.
We went back to the hotel where I thought we all were going to take a nap, but I woke up to a dark and empty room and a note saying my family went to the hotel pool. This gave me time to do a face mask, have a glass of wine in my new blue glass mug, and play on the internet. Well I TRIED to play on the internet…
I am always frustrated by the wifi policy for Hilton's brand of hotels. Hampton Inn and other Hilton hotels have free wifi for all guests, but you can pay something like $9.95 for faster internet.  As a HHonors member I am to get this higher-end internet for free.  However, each time I stay in a Hilton the ant-sized non-mobile friendly login never recognizes my password so I have to reset it which takes forever because I'm using the standard wifi, which is slower than AOL dial-up. Once I change my password again and get the email and try to log back in… I HAVE TO RE-ENTER IT EACH TIME I COME BACK ON THE PREMISES! What archaic hoop jumping is this, Hilton? Even going old school and hooking my laptop up to the Ethernet cord at the desk I was struggling to have Google load. Good thing my family arrived just as I was ready to throw my computer out of the window…
Emerson said she wanted to pick the location for our last meal on the trip. We said sure, why not. She had been such a great sport the entire time, up for anything, trying new things, not complaining. There are two Sal's in Williamsburg, our hotel was right down the street from Sal's Ristorante Italiano. Emerson wanted to go there. So we did.
There was one other table with patrons. The white wine was warm. The pasta tasted like it came from a Costco-sized box of Mueller's. The table was sticky. The waiter was terrified. The atmosphere was sad. But Emerson loved her cheese pizza and said it was the best meal she had in weeks and was thrilled with her decision so we were happy for and with her. The plus? One of the cheapest meals we'd had that didn't come in a bag.
That night, I was in bed trying to check social media and the molasses internet was beyond ridiculous.  I made a ranty tweet out of frustration, turned off my phone and went to bed.  Ten minutes later the phone rang, it was the front desk.  They received a call from Hampton Inn's headquarters and was offering me their premium wifi for free and apologized for the poor service.  I thanked the gentleman, as he did his job but honestly, I found this mega creepy as I didn't mention which location (there's more than one Hampton Inn in Williamsburg).  I was already asleep so I didn't try to use it that night, but the next morning I did and it took a call to the front desk to make it work and THEN it stopped working before checkout time.  Save the money you're spending on social media stalking and put it towards better wifi for all and/or a simpler login process for members.
The next morning, we knew we only had a couple hours to get home and considered seeing more of Williamsburg. The night before I even texted my friend Morgan thinking we could meet up for coffee while I was there. But when we woke at 5am to what we thought was a smoke alarm but was just the neighbor's alarm clock going off without them waking up to turn it off, we saw it as a sign. We got our breakfast to go, got on the road, and was home before lunchtime.
This trip was AMAZING and I am still on a high from it. We saw so much, learned so much, and became closer as a family. We all have the travel bug, and look forward to seeing more of this amazing country. We're already plotting out our 2017 summer vacation and look forward to sharing that and trips before that here on the blog.
I was nervous sharing so many travel posts on Wardrobe Oxygen, but the reaction has been extremely positive. At 41 with a family, I'm doing fewer concerts and festivals (though I'm going to a festival in a couple weeks!) and I don't get as much pleasure out of bars, clubs, and blogger events. Travel is something that can be a solo experience, a couple's activity, a girls' getaway for friends, or an adventure for a family. Seeing this bit of the United States made me love my country more… and want to see more of it. I plan to share more travel on Wardrobe Oxygen, but as always it will be infused with style, packing advice, and real-life experiences. I thank you for following along on our journey and look forward to sharing more with you in the future!