This article may contain affiliate links; if you click on a shopping link and make a purchase I may receive a commission. As an Amazon Associate, I earn from qualifying purchases.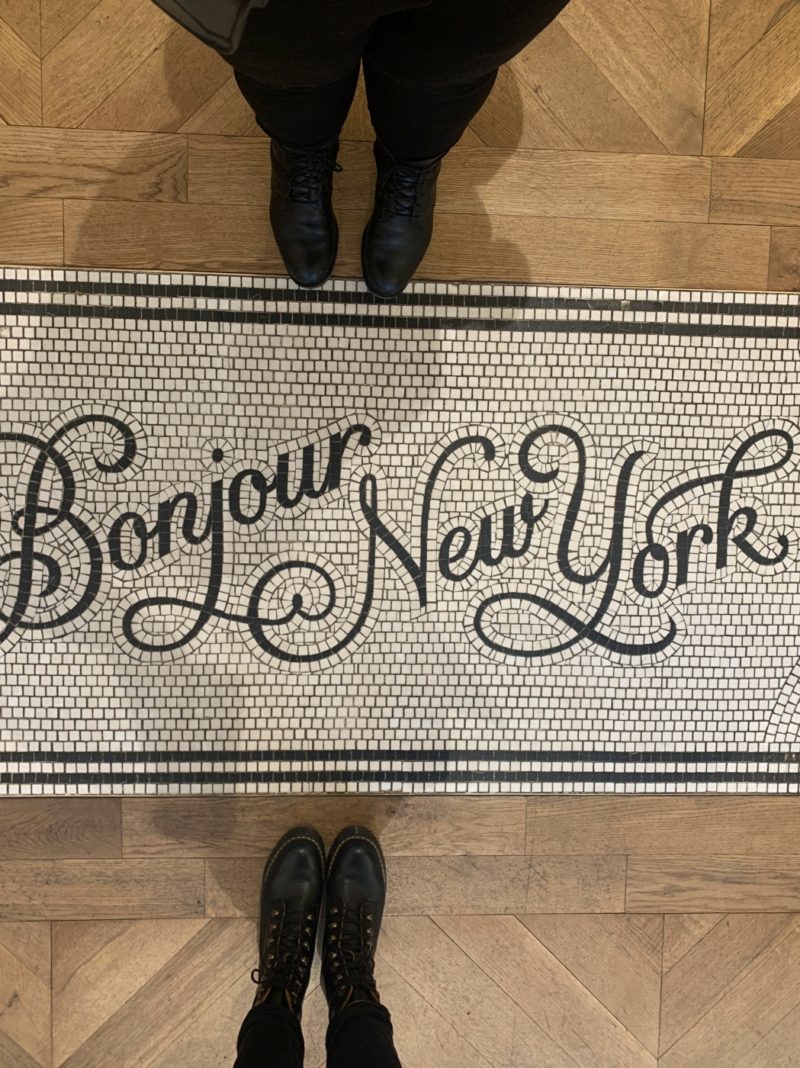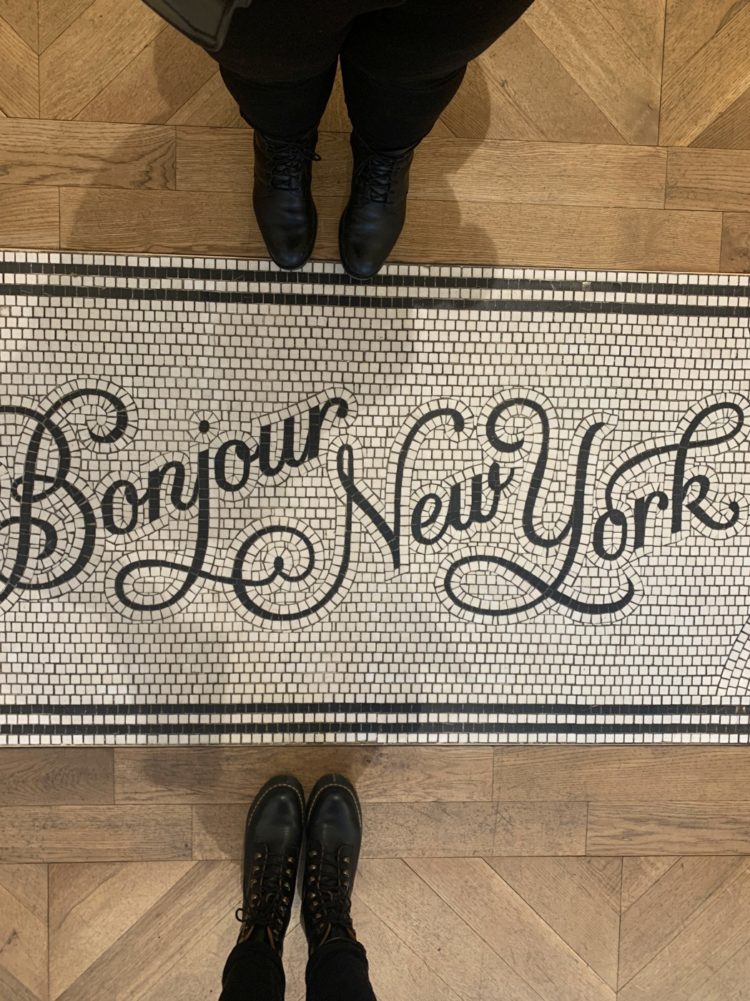 Two years ago I left Corporate America to focus on this blog full-time. I had seen so much transition and layoffs not just as my job but with many of my friends in various fields I stopped feeling as though there was truly a thing like job security with my skillset. Why not follow my dream? And two years later I am still following my dream and having success with it. I turned 45 this year and it got me thinking about money, time, and opportunities. I'm trying to buy less, but I'm realizing my life is pretty much half over and I shouldn't wait when opportunities present themselves. I want to say no more to things that suck my time, creativity, and patience so I can say yes to more things that are fun, adventurous, unique, and life-changing for the better. So when my friend Sylvia unexpectedly asked me last month if I'd like to spend three days in NYC with her during NYFW I immediately said yes. We had no invites to shows, hadn't booked a hotel, but I already felt it was going to be a great adventure. And it was!
Three Days in NYC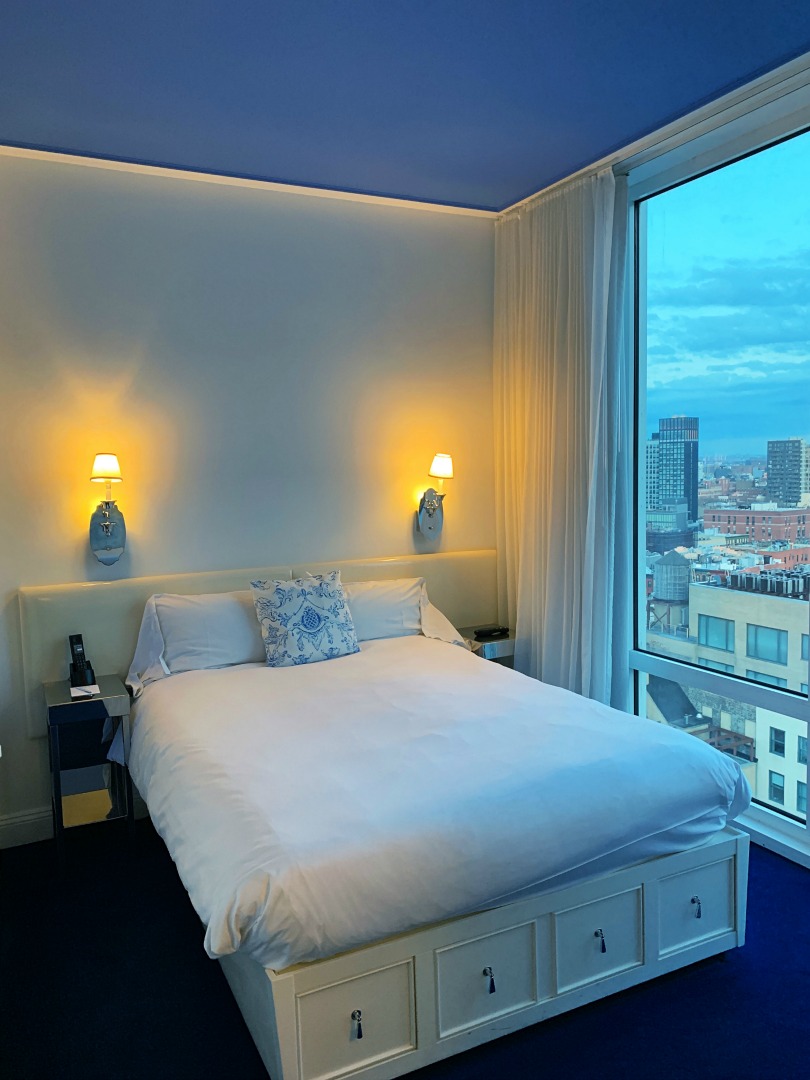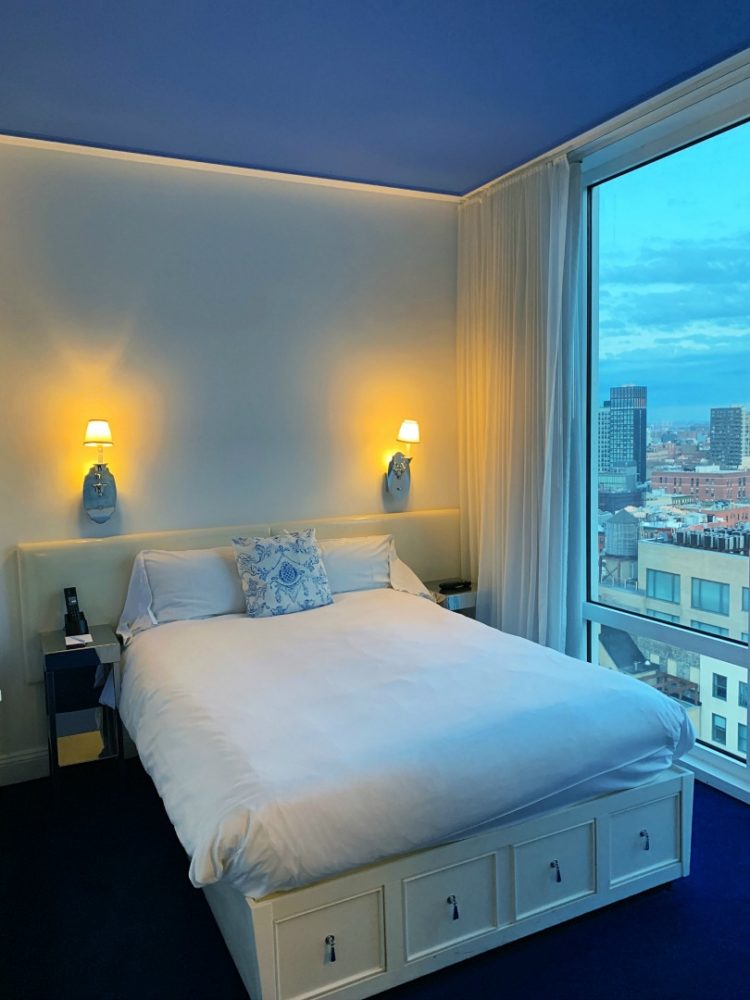 Sylvia and I have been friends for a couple of years; we met through both being bloggers and influencers in DC. She invited me to lunch to get to know me better and we instantly hit it off. Sylvia has a sense of adventure, she has traveled, lived many lives, and has fun with life. She lived and worked in NYC for many years and travels there often; I thought it would be fun to visit the city with someone who knows it completely different than I do. Sylvia suggested we stay at the NoMo SoHo, a hotel I've seen many chic influencers stay at. I was shocked that through Hotels.com we were able to get rooms there for under $200 a night! It's in a great location, it's a beautiful hotel with nicely appointed rooms with gorgeous views, the lobby has a great restaurant and two bars, and the staff is fantastic. On this trip Sylvia taught me to not accept the first hotel room provided; she asked for a room on a higher floor and we were awarded spectacular views and two rooms next to one another.
The Best Way to Get to NYC from DC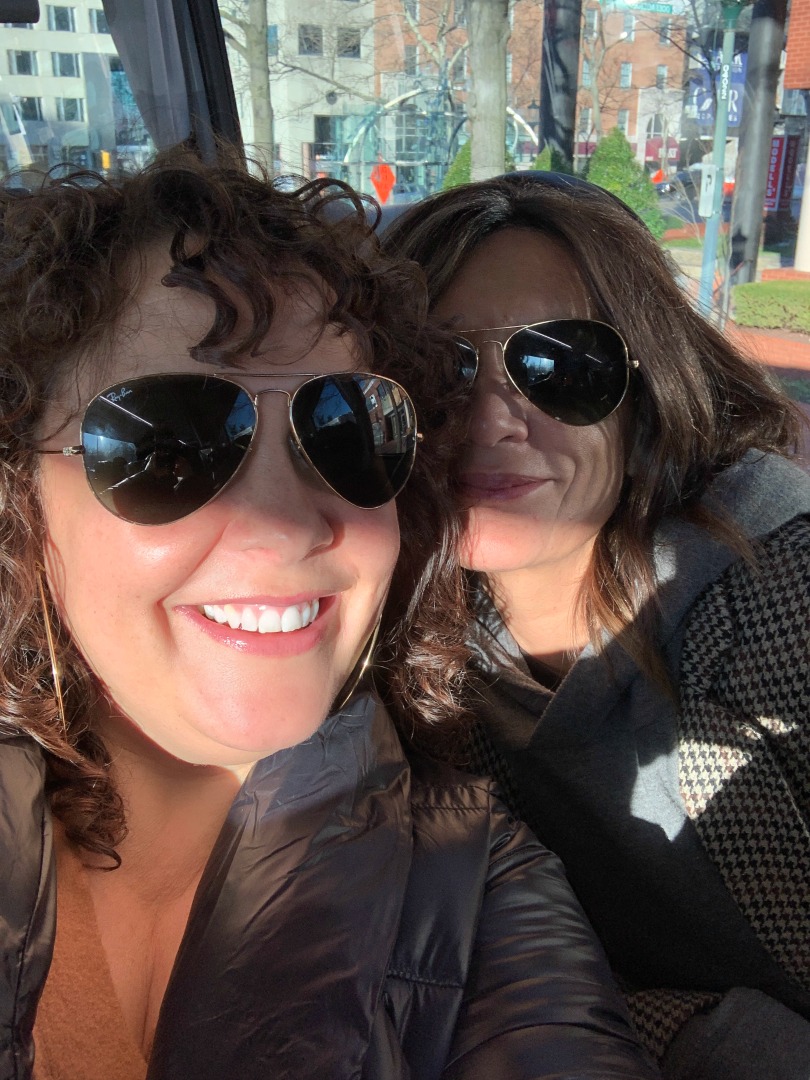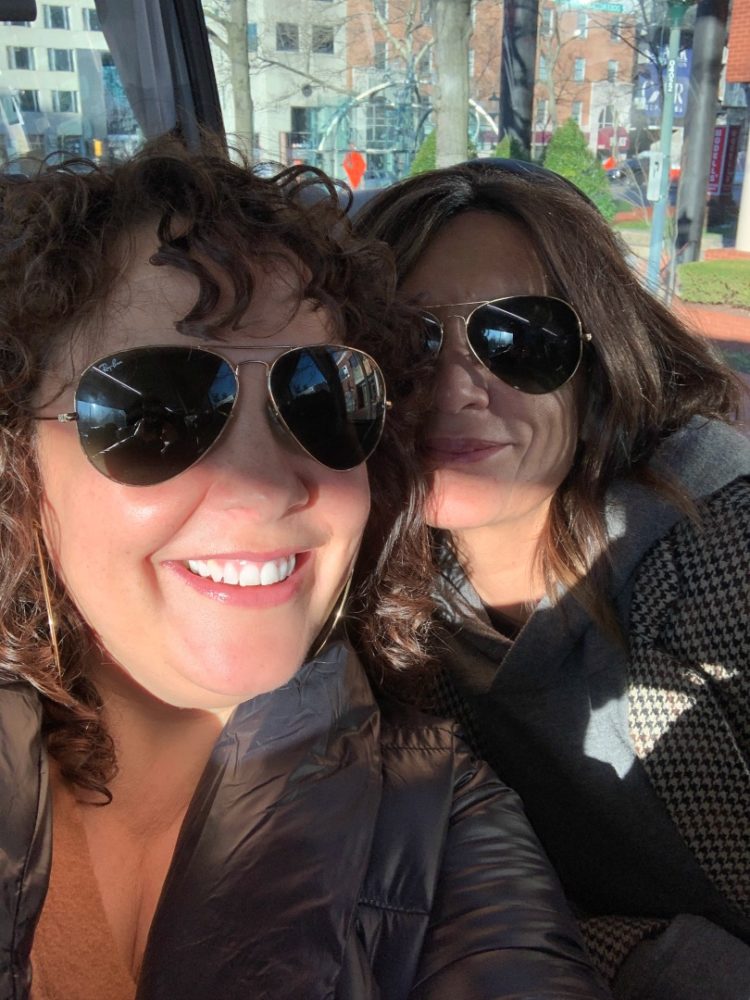 Sylvia also taught me that taking the bus to NYC instead of the train is not only cheaper but can be faster and more comfortable. We took TripperBus which exclusively offers trips from the DC area to NYC and back. TripperBus has locations in Bethesda, Maryland and Arlington, Virginia. It was $80 for round-trip from the Bethesda Farm Women's Market (where we hung out in the Panera until the bus arrived) to Penn Station and back. We took a Sunday morning bus to NYC and I don't even think there were 20 people on it. The coach bus was very clean and new with leather seats, large windows, and a clean bathroom. Each seat had an outlet and the bus had free Wi-Fi. Sylvia and I were able to each have a row to ourselves so we could nap on the trip. On the Tuesday evening bus ride home, it was fuller but we were still able to get single seats and be comfortable enough to work and nap.
Sunday in NYC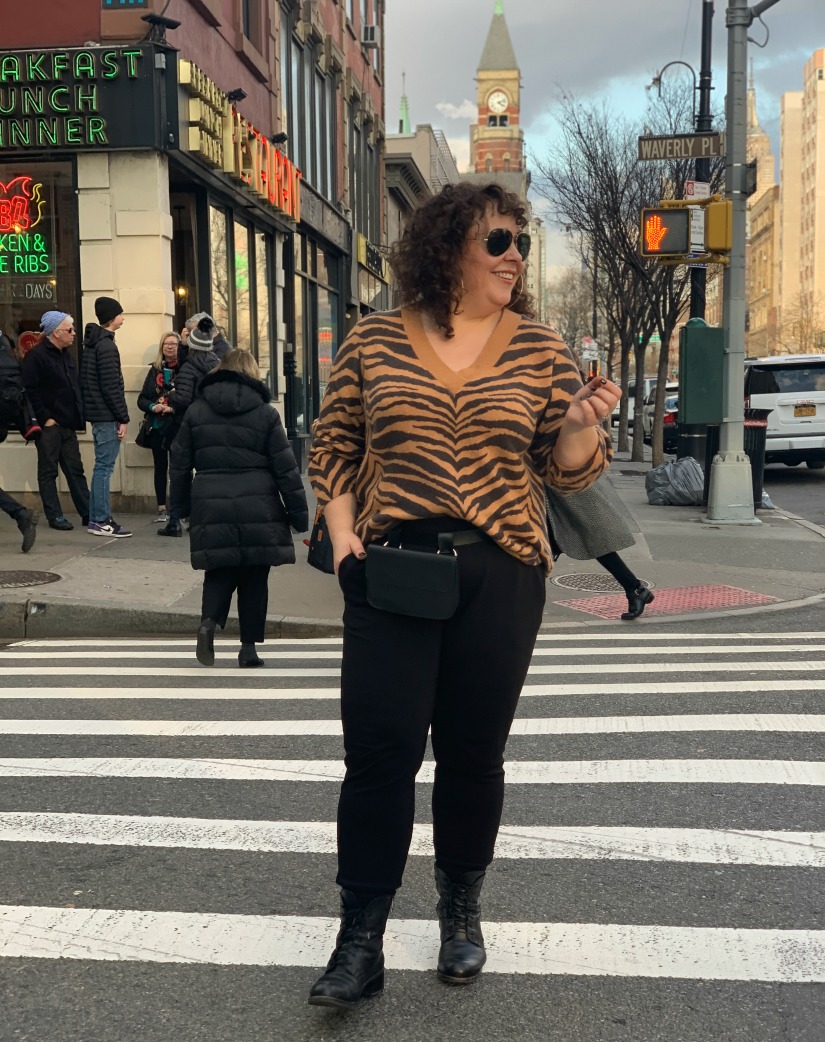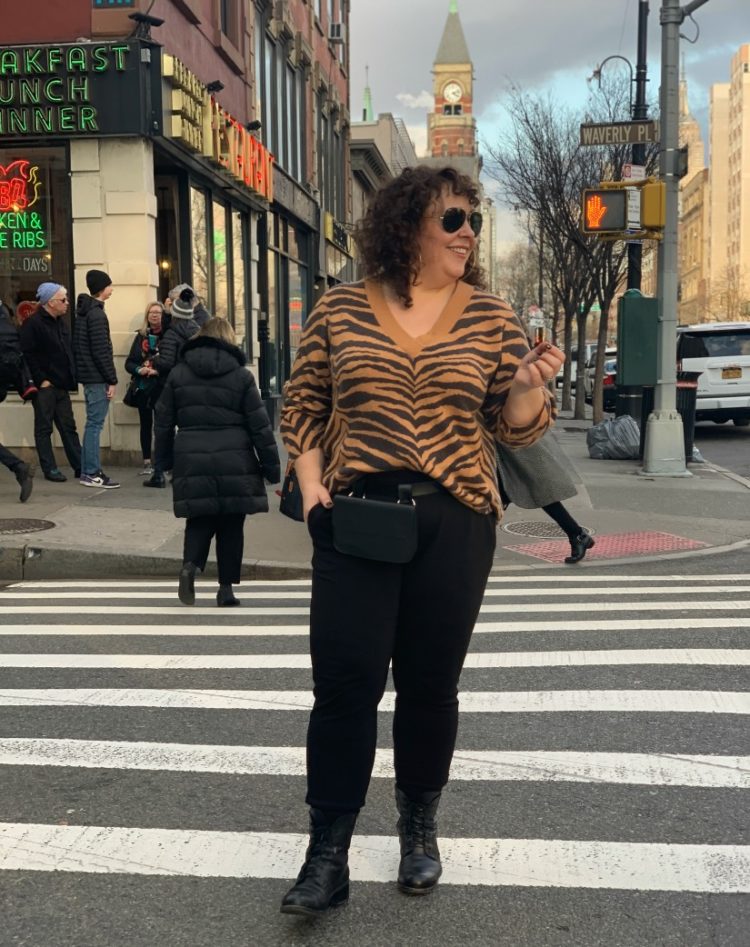 What I Wore on the Bus and Around NYC: Rails cashmere sweater (L), Cabi knit joggers (L; sold out, alternative), Universal Standard belt bag (old; similar), La Canadienne boots, Ray-Ban sunglasses, Jenny Bird hoops (old; similar), Universal Standard puffer (XS; gift from the brand)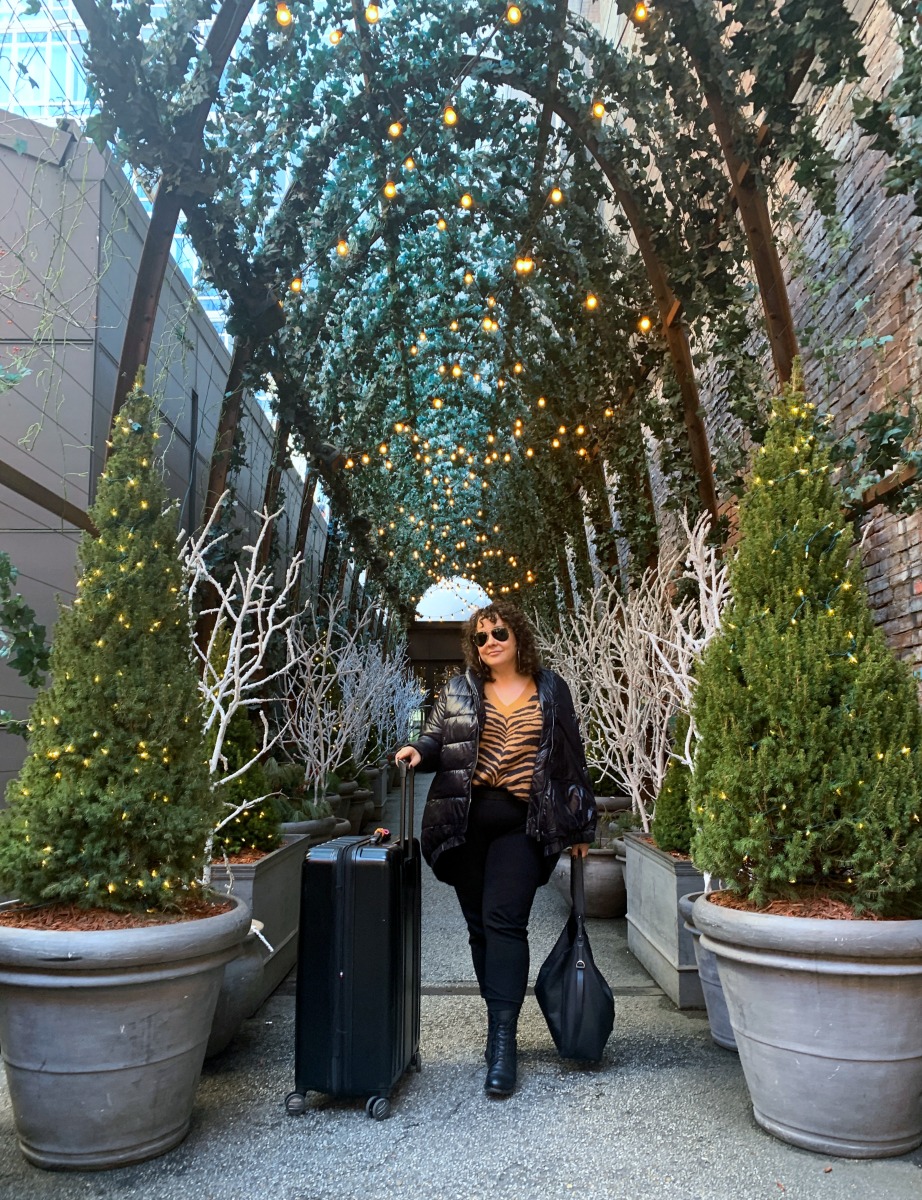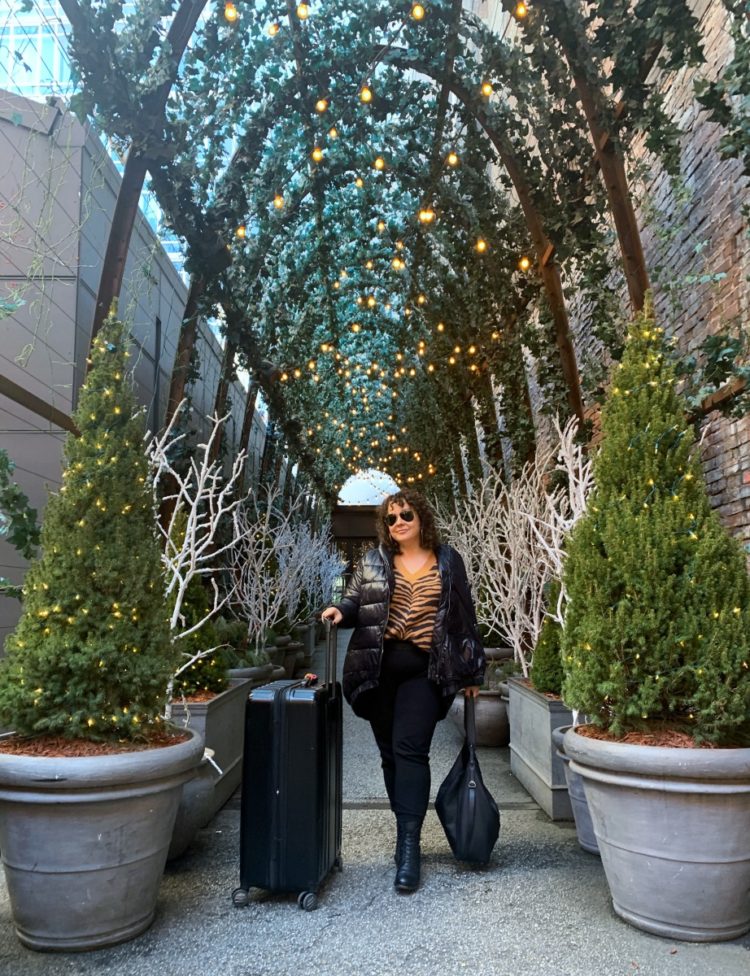 We arrived in New York around noon on Sunday. Our rooms weren't yet available so we had the NoMo SoHo hold onto our bags, we used their bathroom to freshen up, and went to explore the city. The weather forecast said Sunday was to be cloudy with chances of rain but we arrived to sunshine and mild temps for February.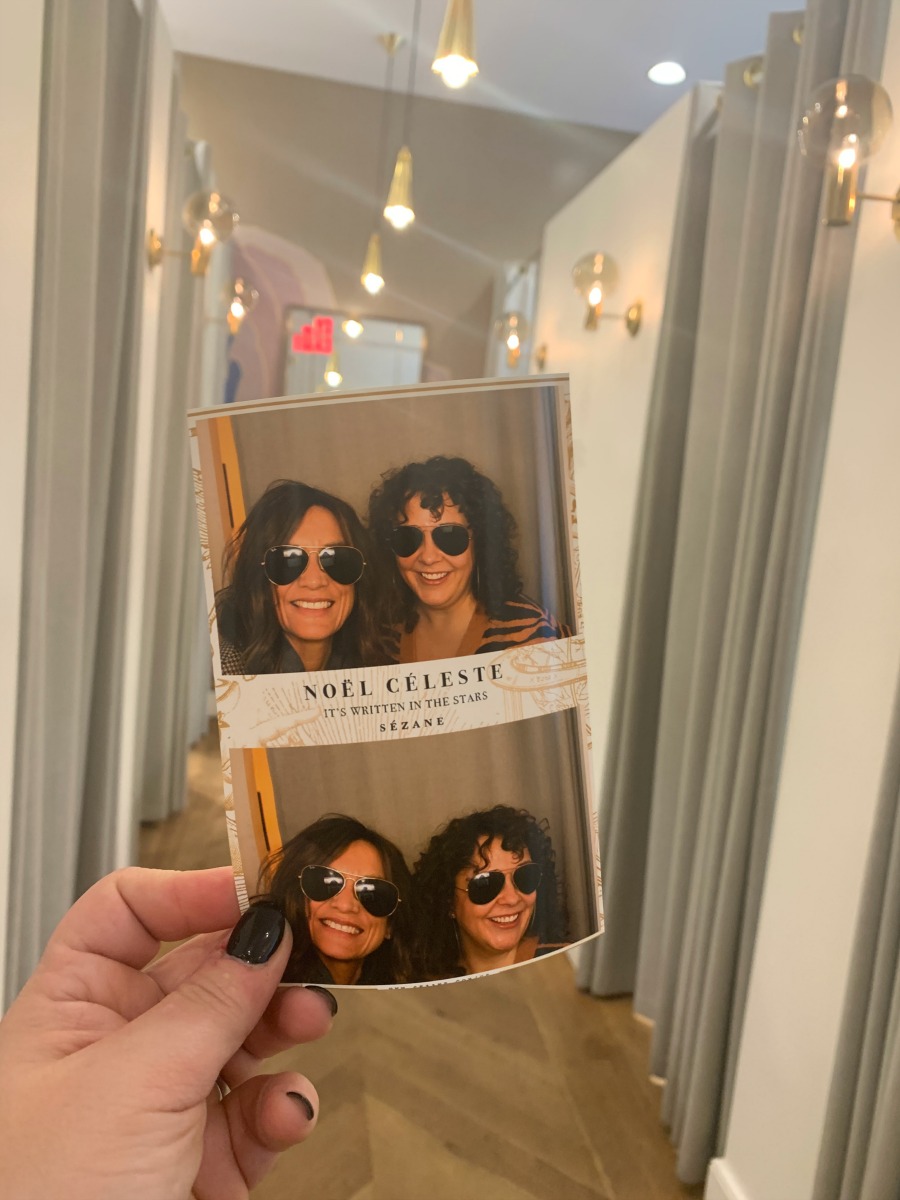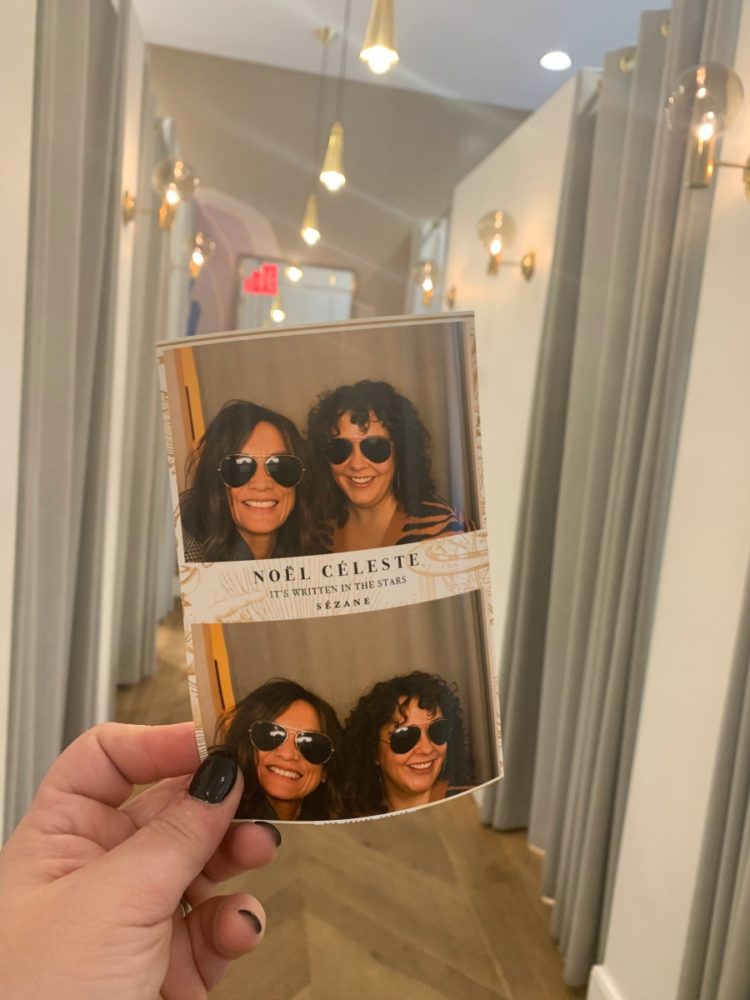 Sylvia had a few shops she wanted to visit that aren't available in DC and I was happy to follow along and window shop. We visited Sézane, one of her favorite retailers and I saw so many things I liked. I didn't think Sézane would fit me but they go up to XXL. I didn't try anything on, but we did get our photo taken in their photo booth! We then went to Frankie, which had the coolest curated collection of pieces but quickly looking at the racks there was nothing in my size. Sylvia tried on a t-shirt with padded shoulders that was so darn cool; the largest they had was a Medium and I decided to try it on to make a point and was shocked to find that not only it fit, but it looked really great. I bought it!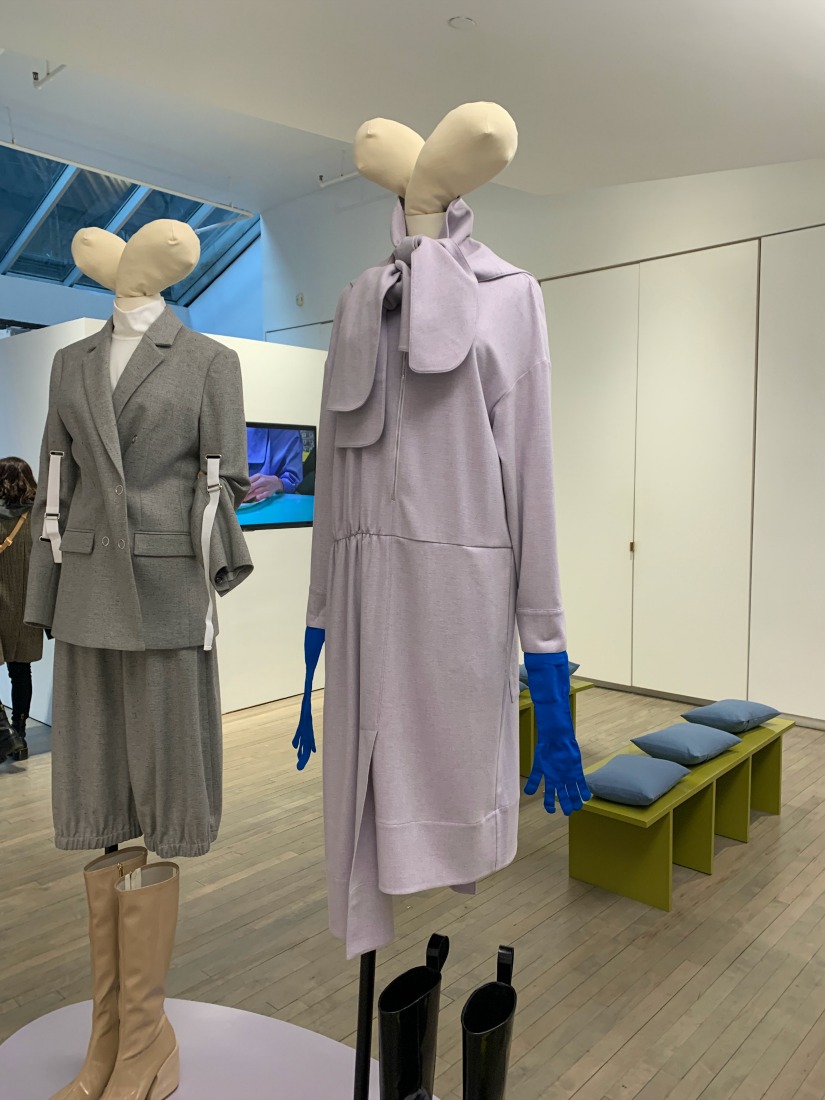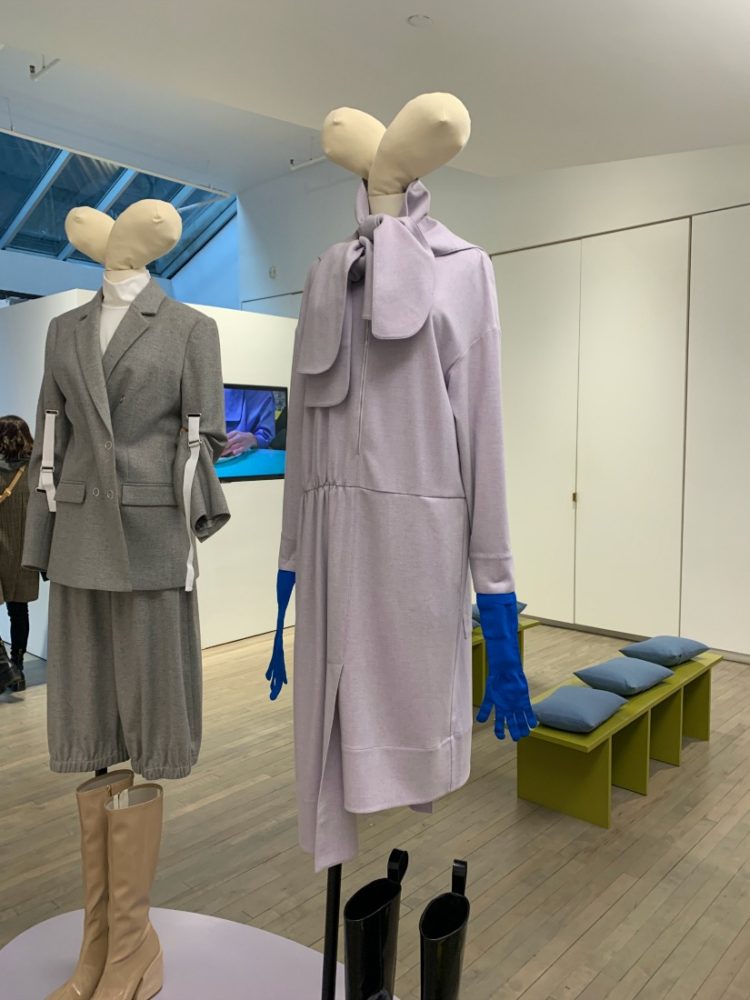 We decided to stop by the Tibi presentation. During Fashion Week, designers will have shows, but many have presentations. These are events that are more relaxed. No seats, no catwalk, occasionally with models standing in the clothes, sometimes just the clothes on display, sometimes with an interactive element. Tibi didn't have models. When you walked in a few pieces in what looked like ivory silk were strung up to show their architecture. A few looks were on mannequins that in place of heads had two neck pillows like you use on a plane. The whole collection was styled with neck pillows – some bejeweled with satin ribbon ties, and even a ginormous bean bag-eque one on the wall. The collection was on hangers against the wall, there were benches lined up to watch a movie on a large TV, and in back a VR "activation" that we never got to see because a group of people were in there a very long time experiencing it and taking pictures of experiencing it. There were many influencers there; I didn't recognize any of them but they were slim, stylish, long curtains of hair and kept posing and strutting around the space with a photographer (and some with an assistant carrying a light or reflector) taking their photo. While I really dug their white faux leather pants (these are them in black which I did try and the 12 I can't even slide over my hips), the rest was really… underwhelming. I was surprised; I saw many people I follow and know share this presentation on Instagram Stories and their angles and filters made it look way more impressive and cool than it was in real life.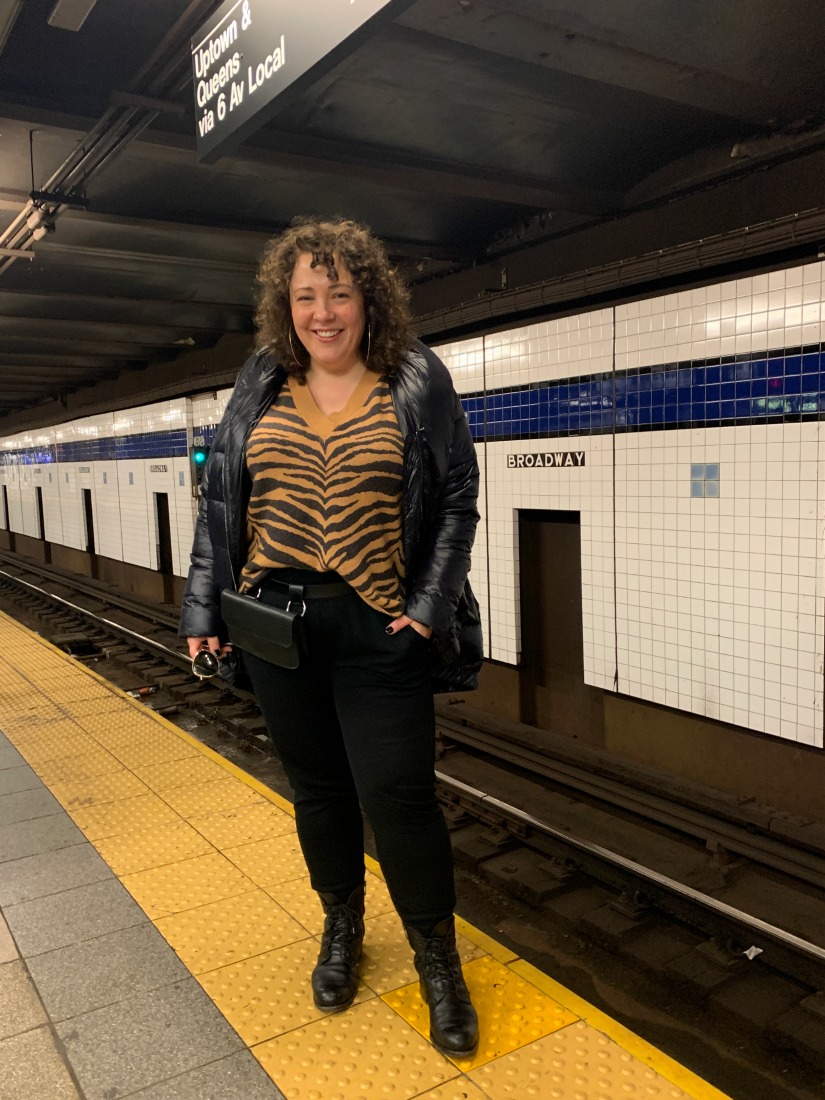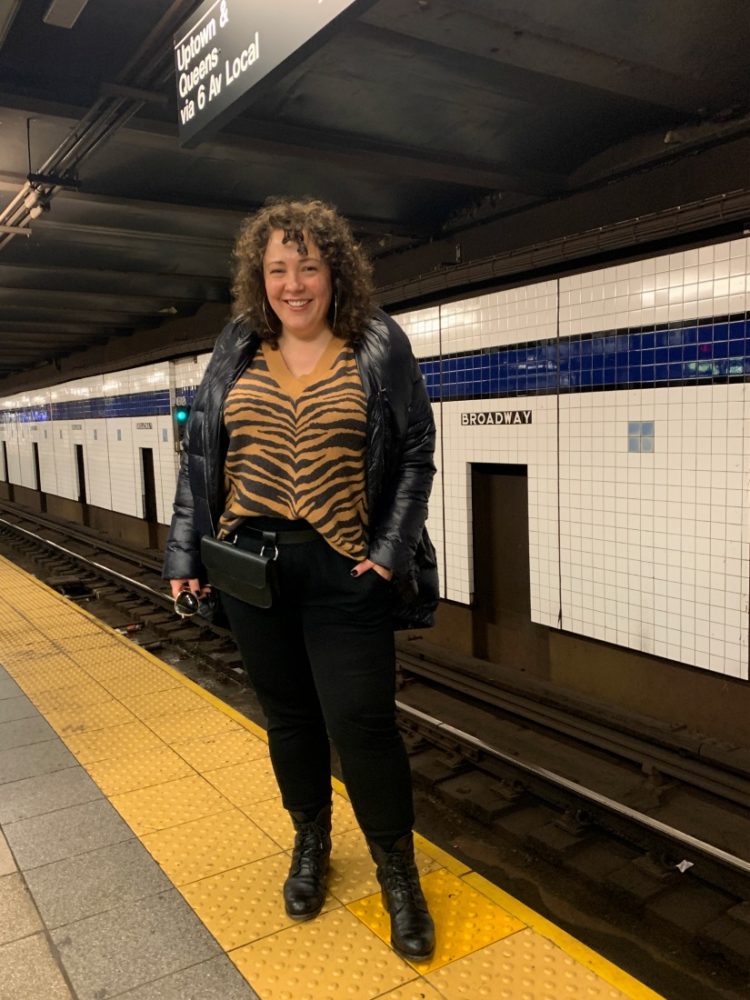 We walked and subwayed our way around the city for about five hours. I was so glad I wore my La Canadienne boots with these insoles; my feet didn't hurt a bit! We headed back to the hotel where we checked in, unpacked, and got ready for the evening.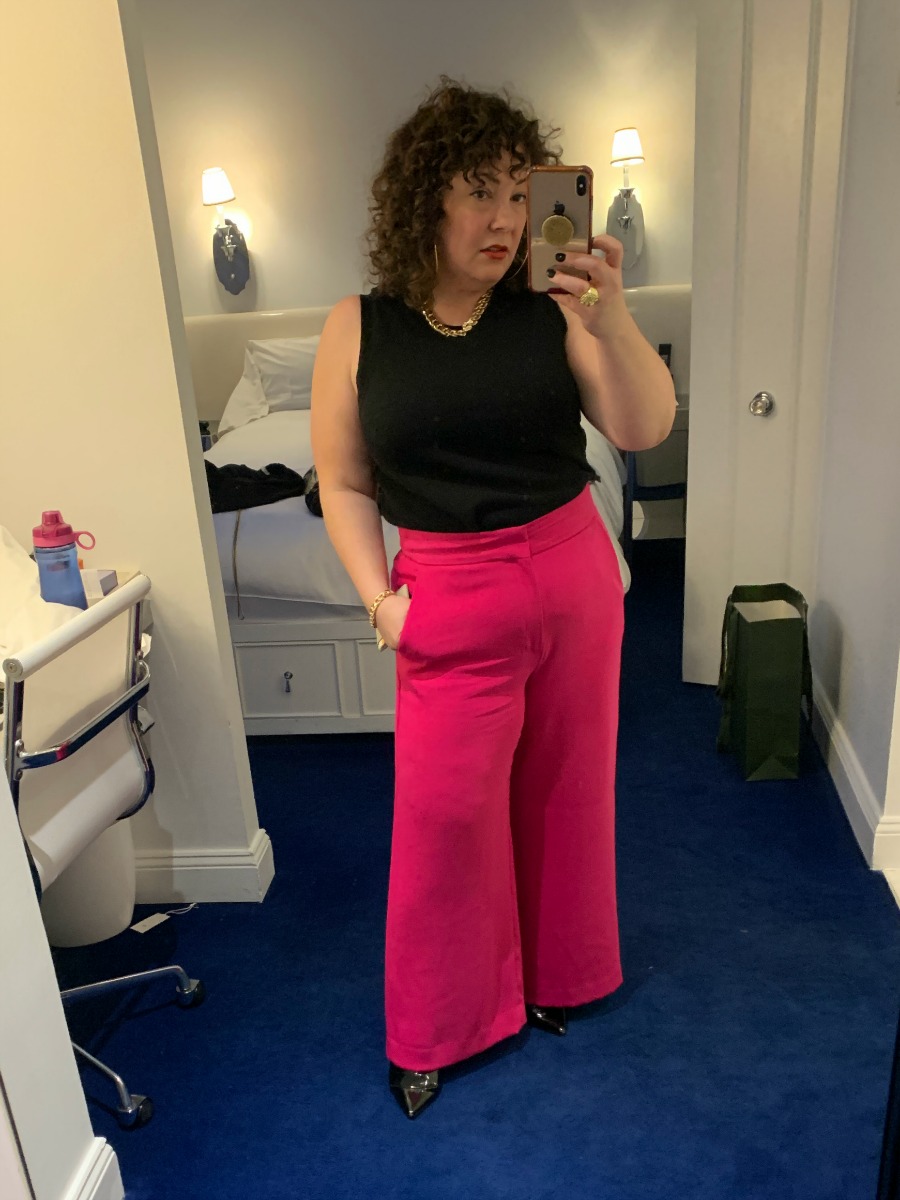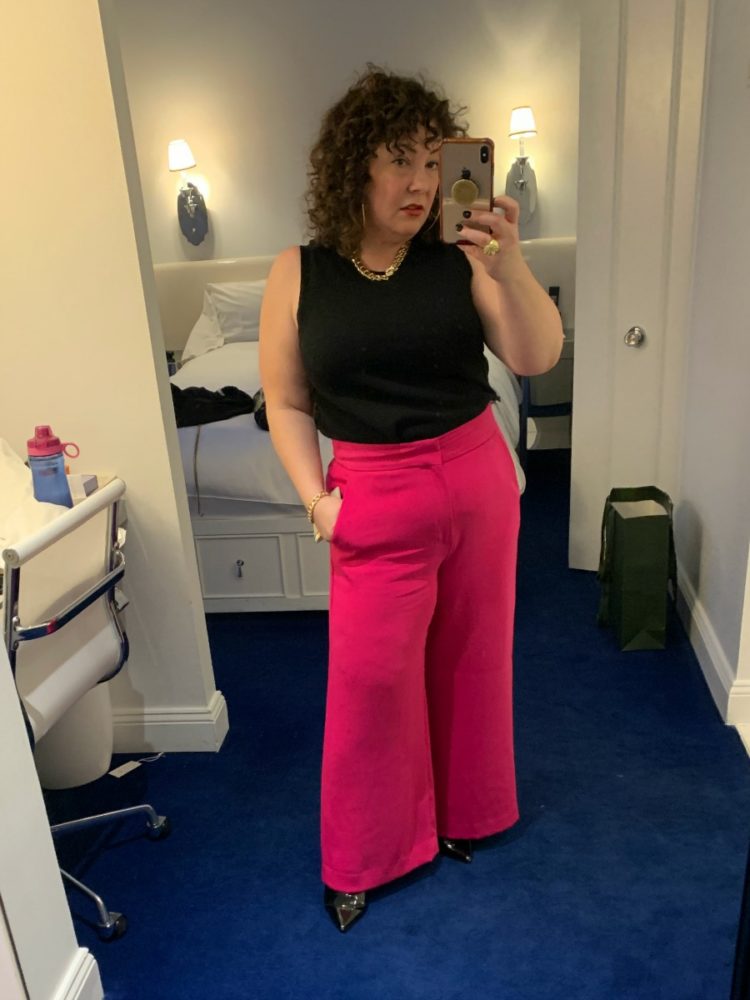 What I Wore: Everlane cashmere shell (L; gift from the brand), Banana Republic pants (14 and hemmed), Baublebar necklace, Baublebar bracelet, REALM ring (gift from the brand), ASOS booties (old; similar)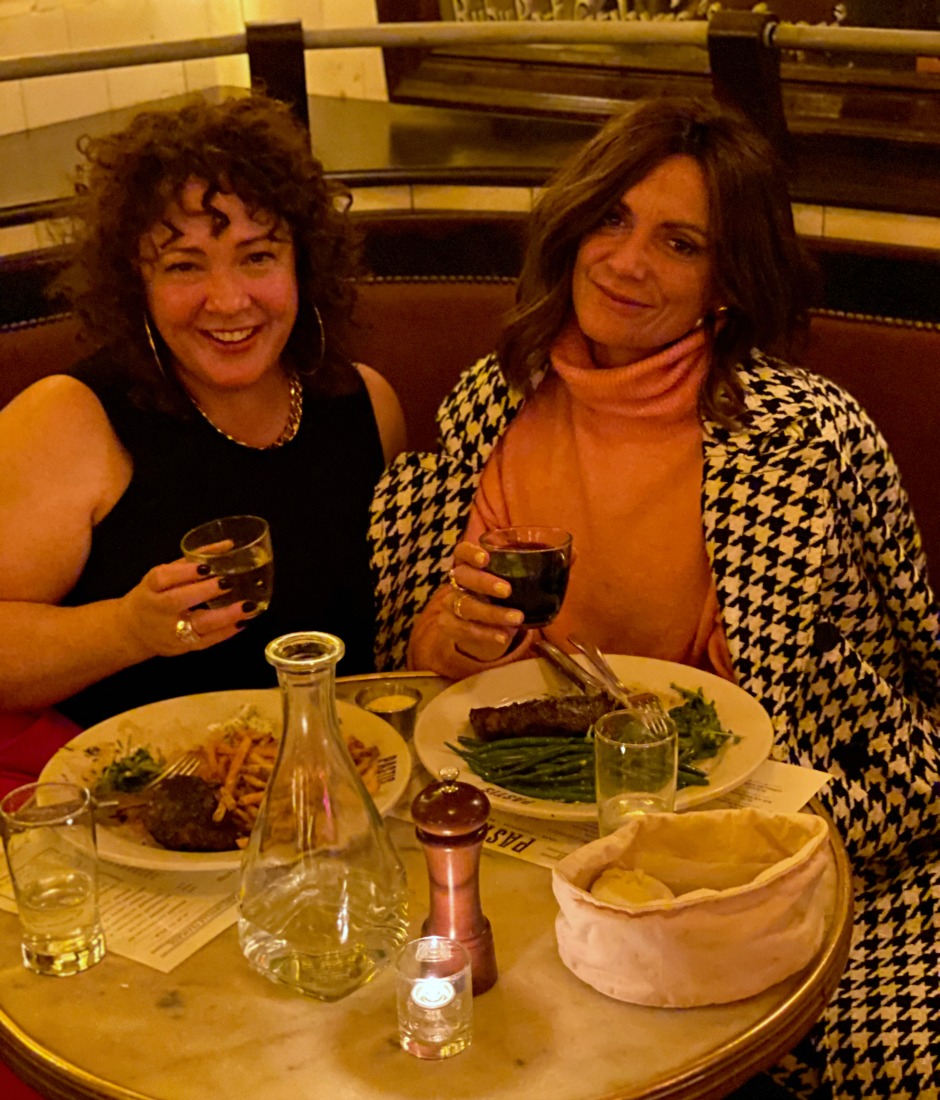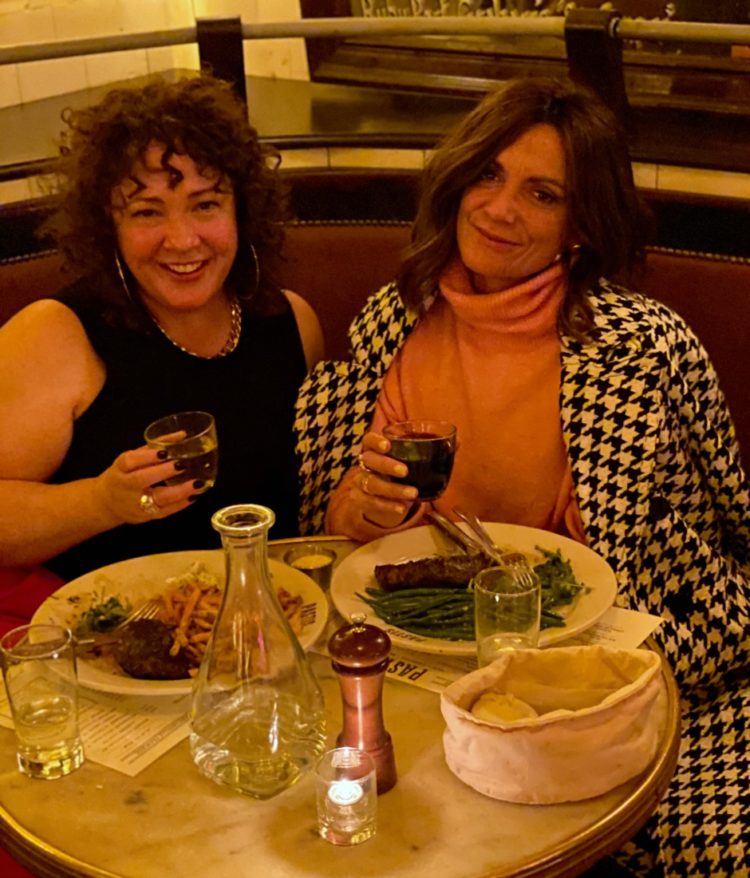 That evening, we went to Pastis for dinner. It's a charming French restaurant in the Meatpacking District. We made reservations but changed them to later because we spent so much time exploring the city. We scored a corner booth and shared a salad and each got the hanger Steak Frites, me with fries and she with green beans so we could both enjoy the sides. We shared a dessert and got coffee and it was just a lovely dinner and end to a fun day in the city!
Monday in NYC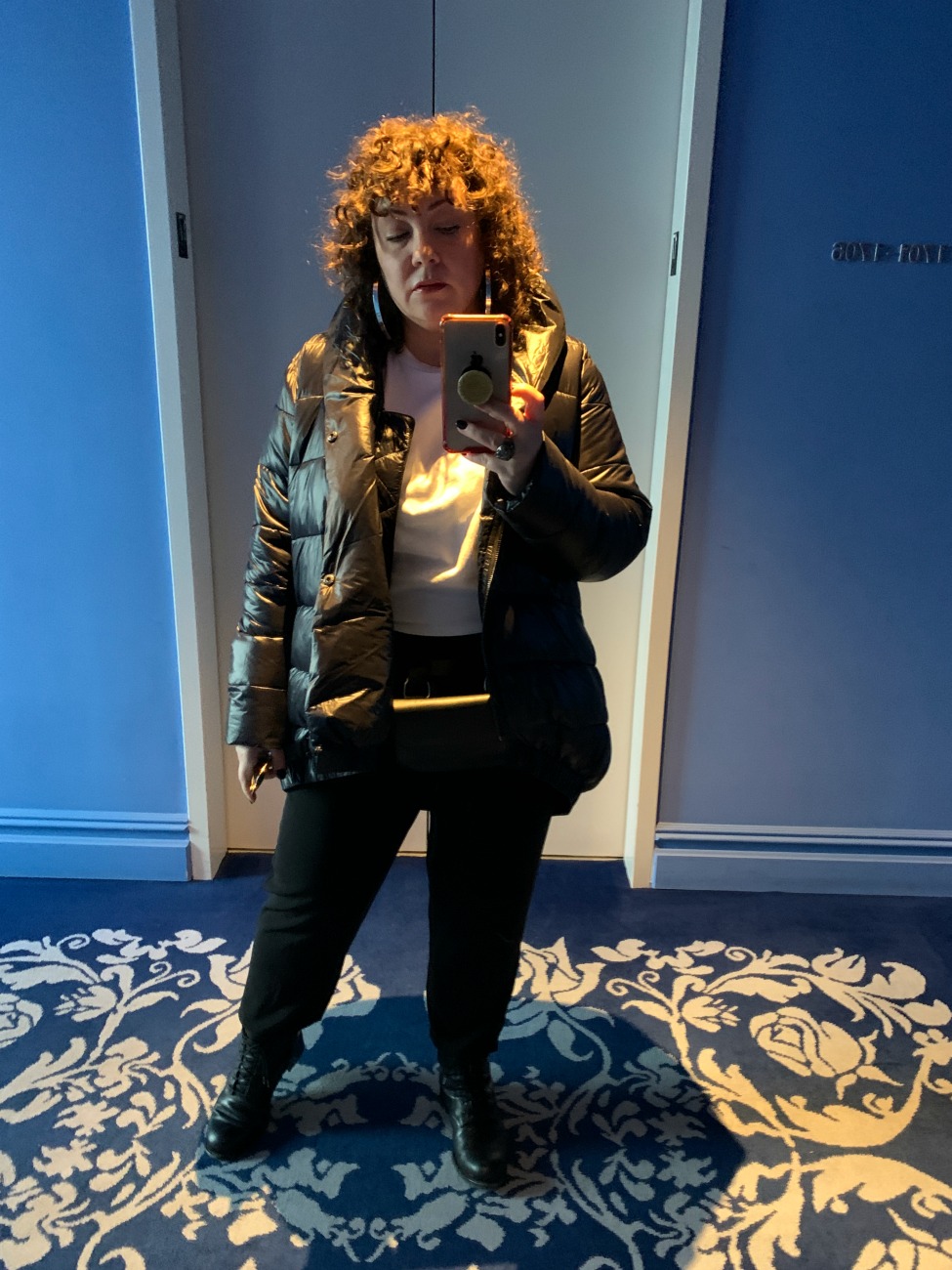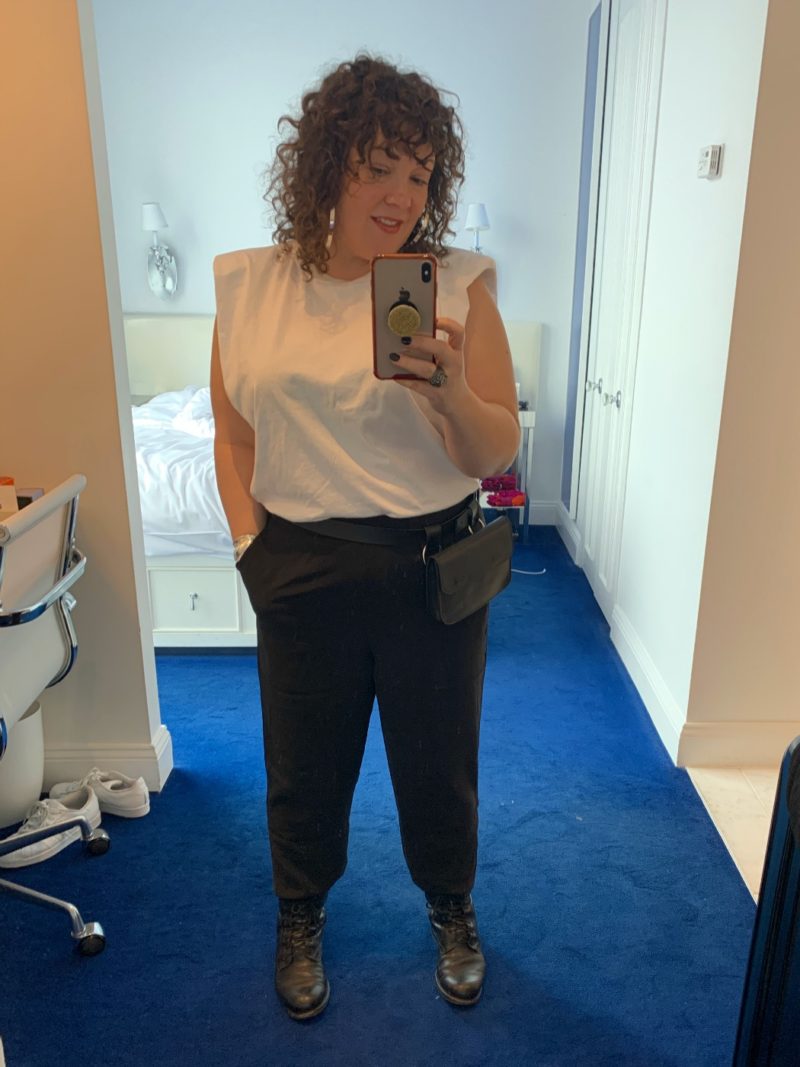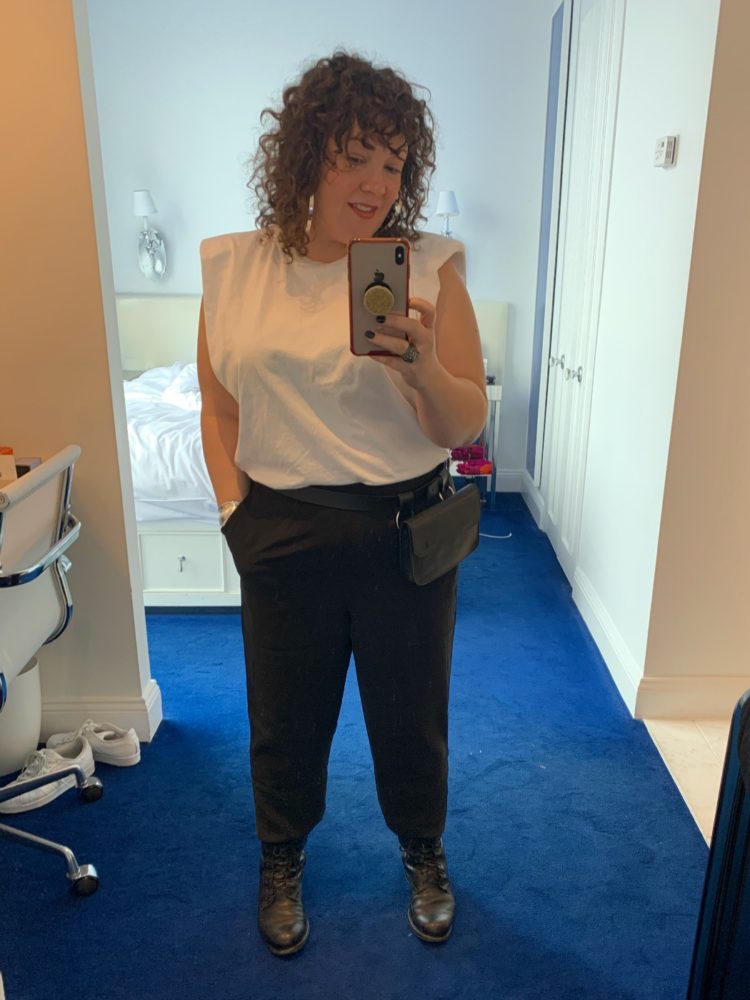 What I Wore All Day and Evening: T-Shirt from Frankie Shop (M), Chico's pants tucked into boots (2, gift from the brand), Universal Standard belt bag, Jenny Bird hoops (old; similar), La Canadienne boots, Universal Standard puffer (XS)
The next morning, Sylvia and I grabbed coffee and she headed to a scheduled Soulcycle class while I walked around SoHo. I went back to my room to try to finish a blog post and found I was locked out (I wrote more about that in this blog post). It was cold and rainy and a bit windy which affected my outfit choice for the day. I had something else planned but decided to go very simple and utilitarian so I could handle rain, puddles, and overall weather grossness. I'm glad I did, since it was cold and rainy no one really saw my outfit and I ended up with happy feet and hands-free for umbrellas and warm drinks.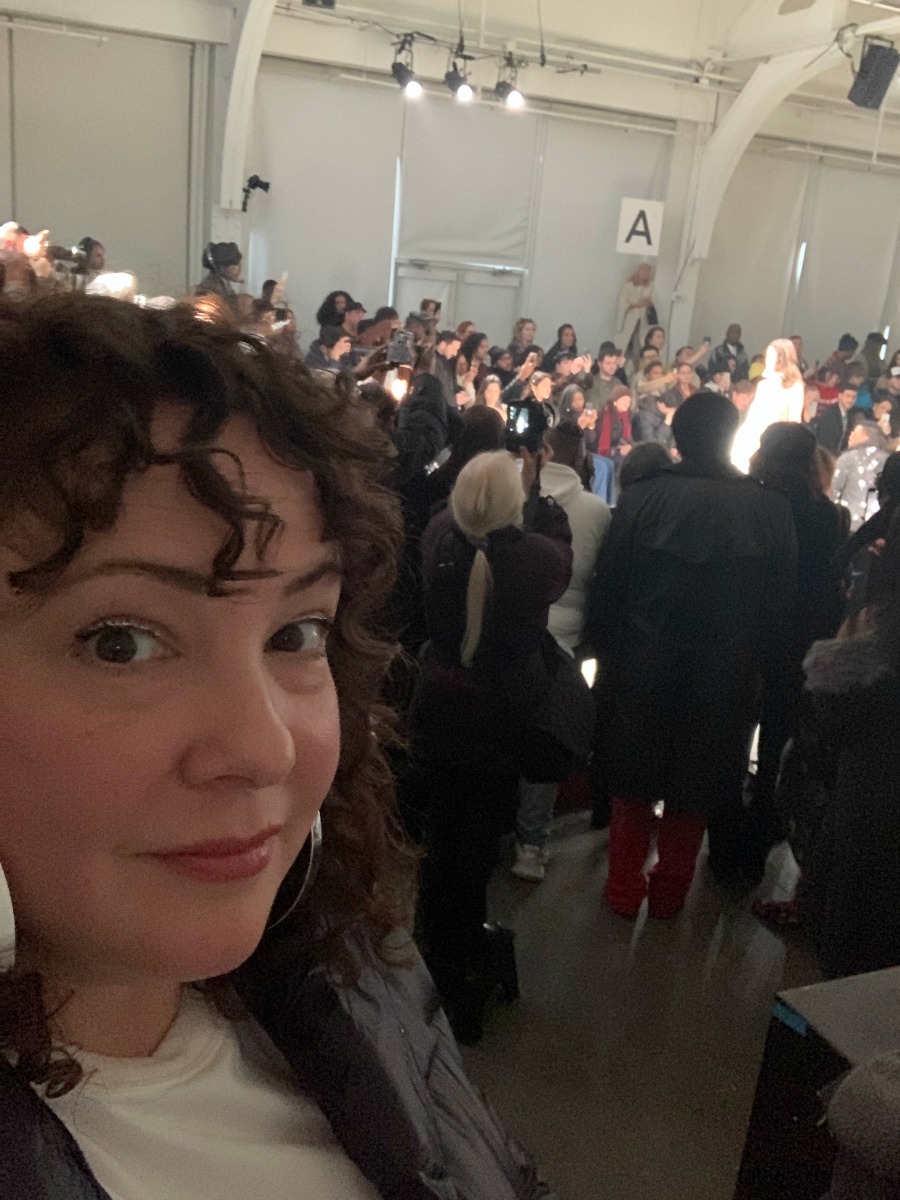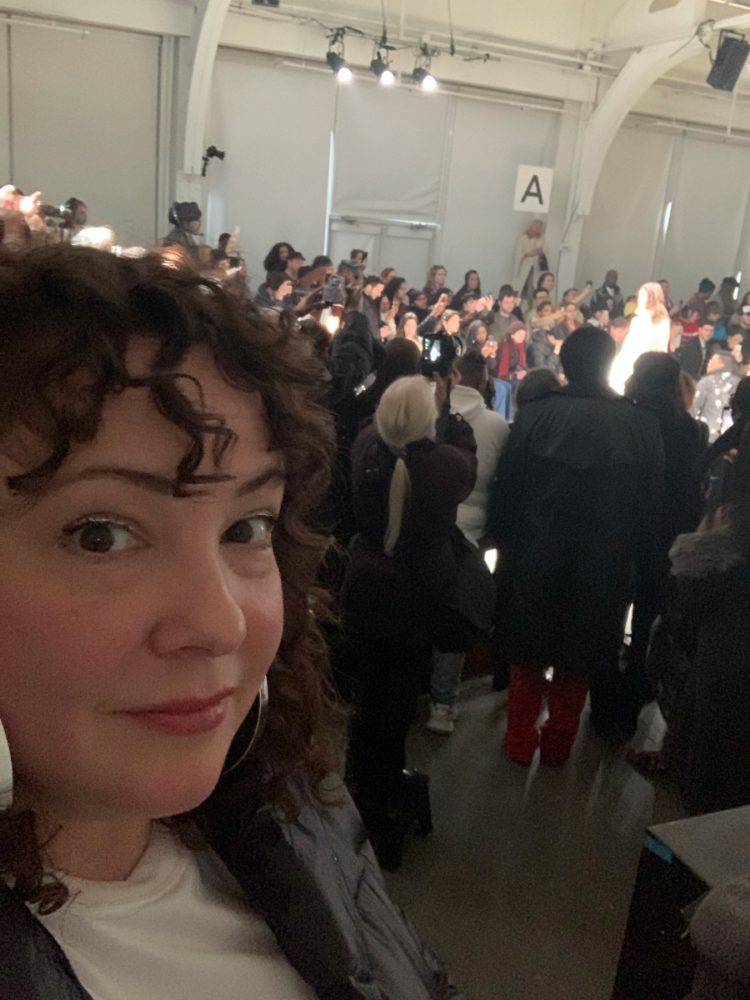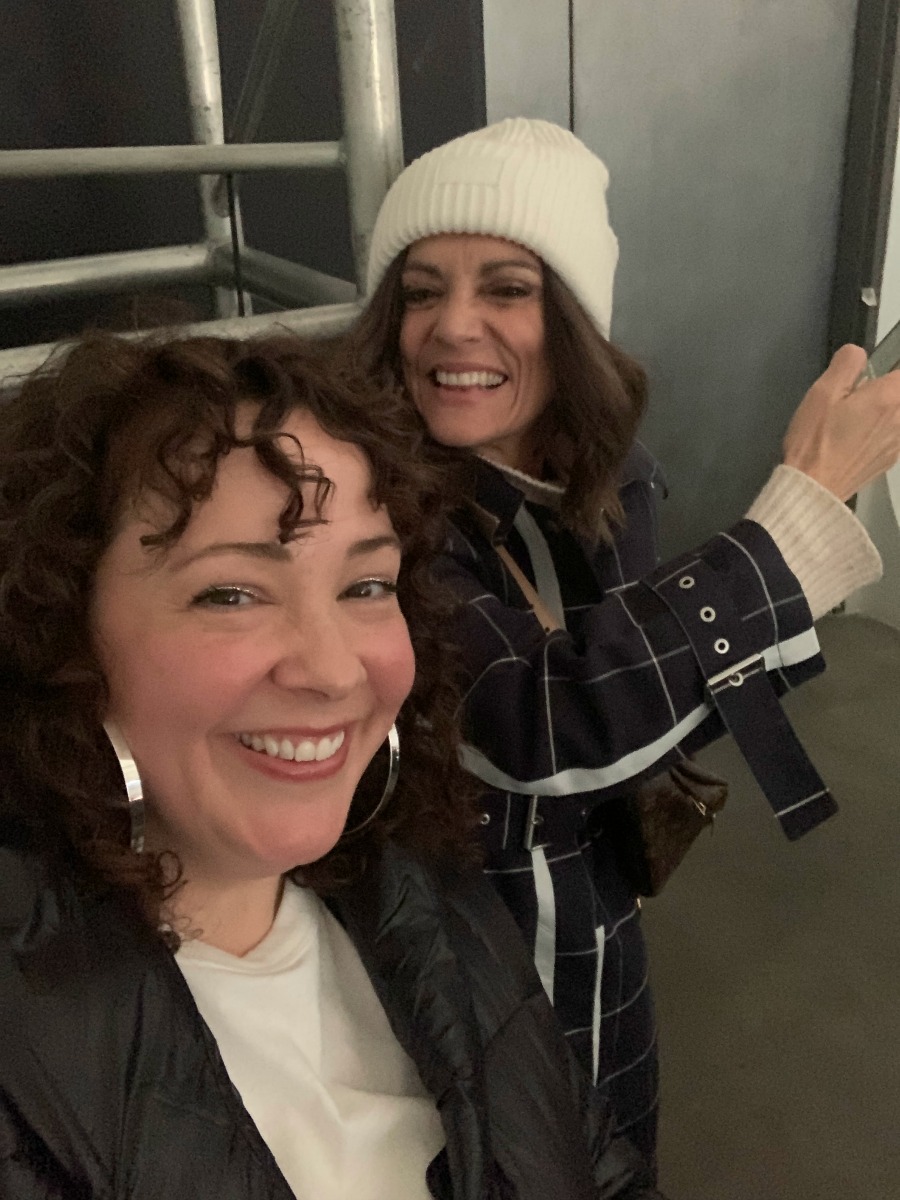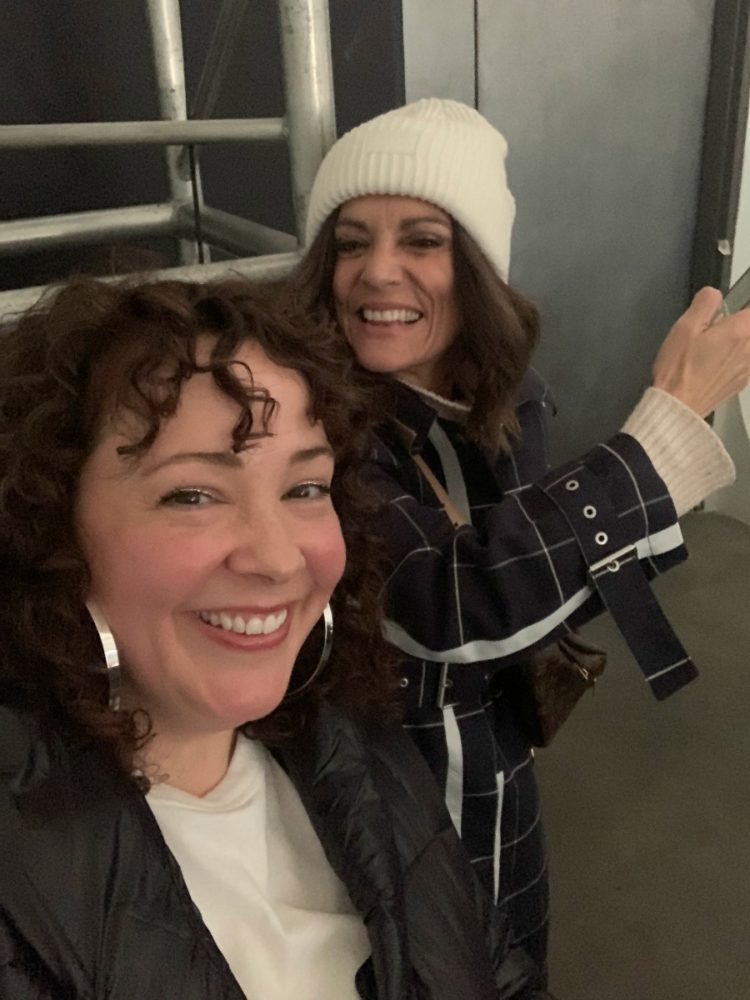 My friend Cathy at Bay Area Fashionista goes to NYFW for most years but couldn't this year because one of her kids had a competition. She offered us her tickets to a show at Chelsea Piers. We decided to grab lunch and then head over. Lunch was at an adorable café that was even more charming in the rain. The food was delish, but the place was so disorganized I won't share the name. We had to ask multiple times for our drinks, our food, the salmon ordered to go on top of the salad. The bathroom hadn't been well maintained and the restaurant wasn't so busy it could be justified. Lunch ended up taking far longer than planned because they were such a mess and then traffic was a beast because of the weather and we ended up arriving to the show after it started. They let us in, but we couldn't go to our seats. We were in the standing area and couldn't see squat but saw a few others had gone into the shadows of the corners of the room and climbed up the lighting trusses to see so we followed suit. They had a platform about four feet from the ground that had us above everyone's heads for a great view of the entire spectacle. We saw two shows from that vantage point and then headed back into the rain. It was chaos outside the show but we were able to score a cab from someone who was just dropped off.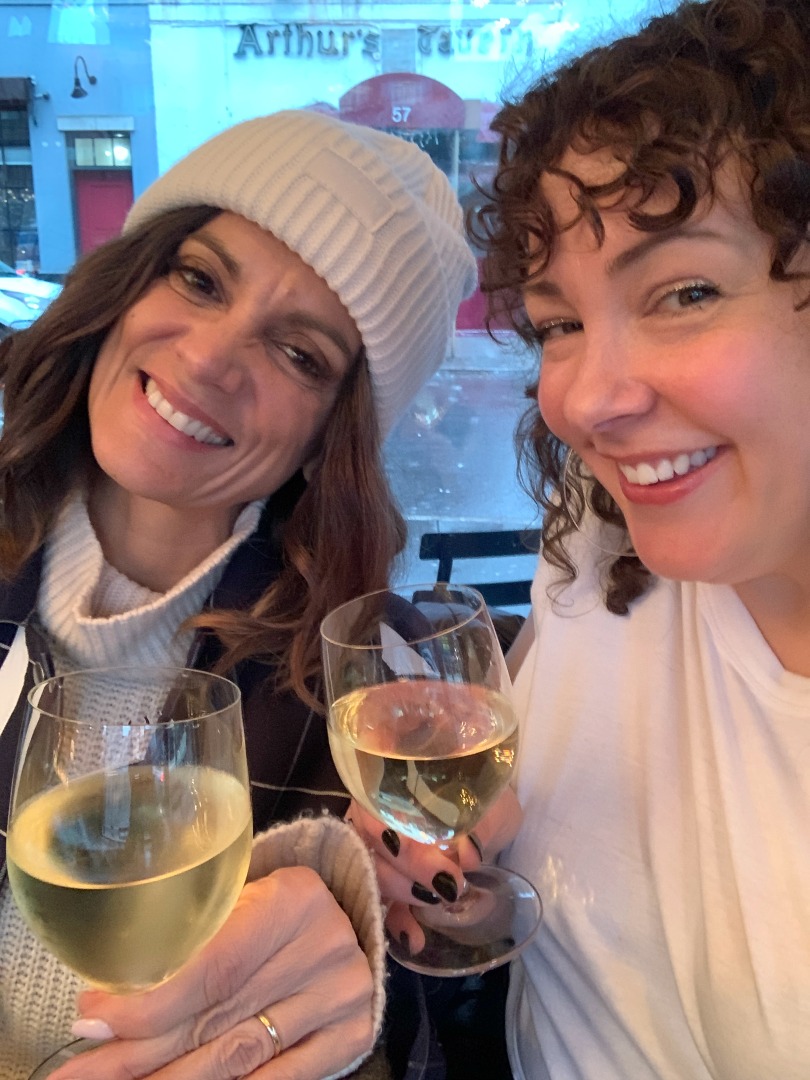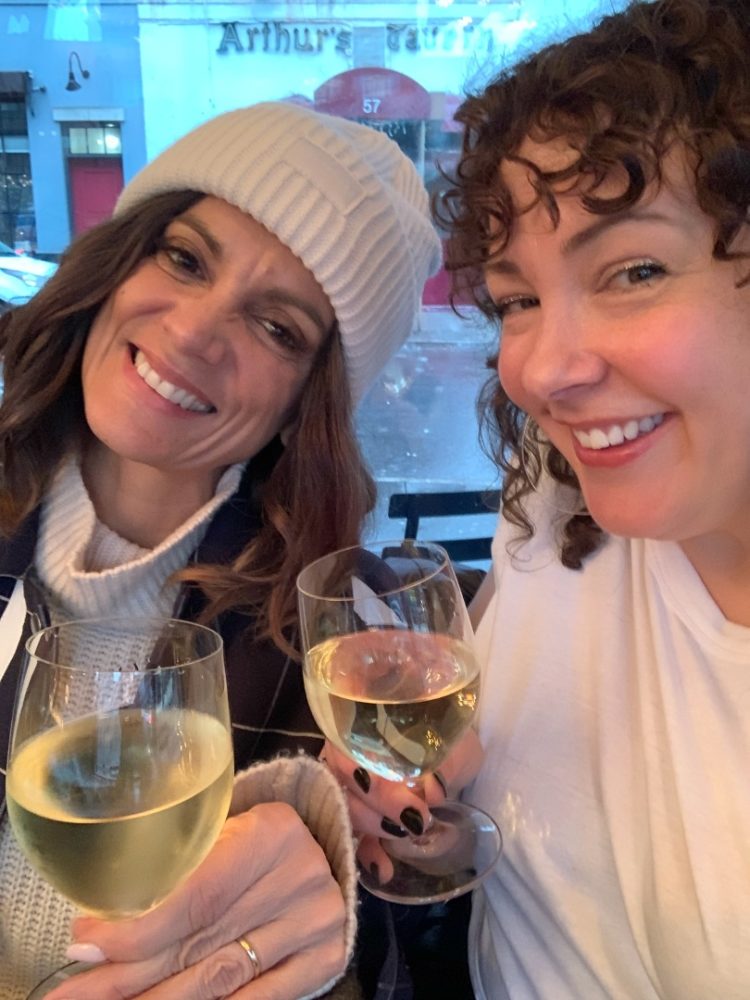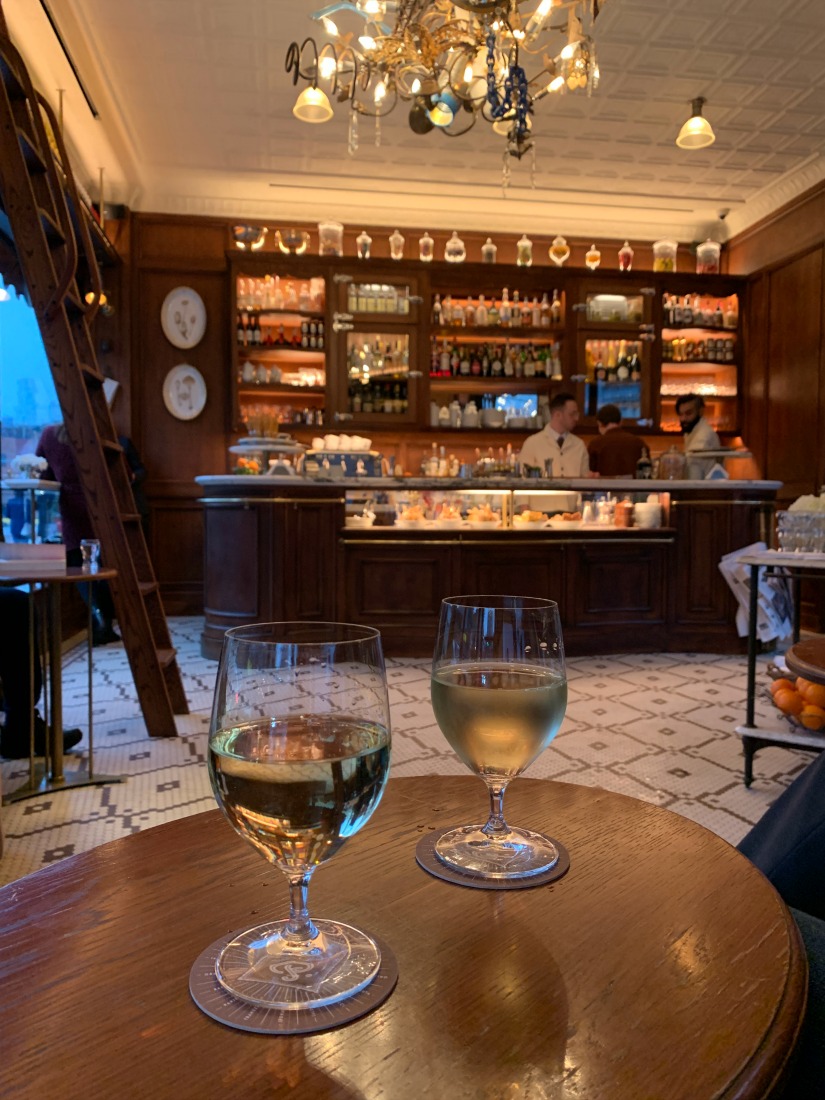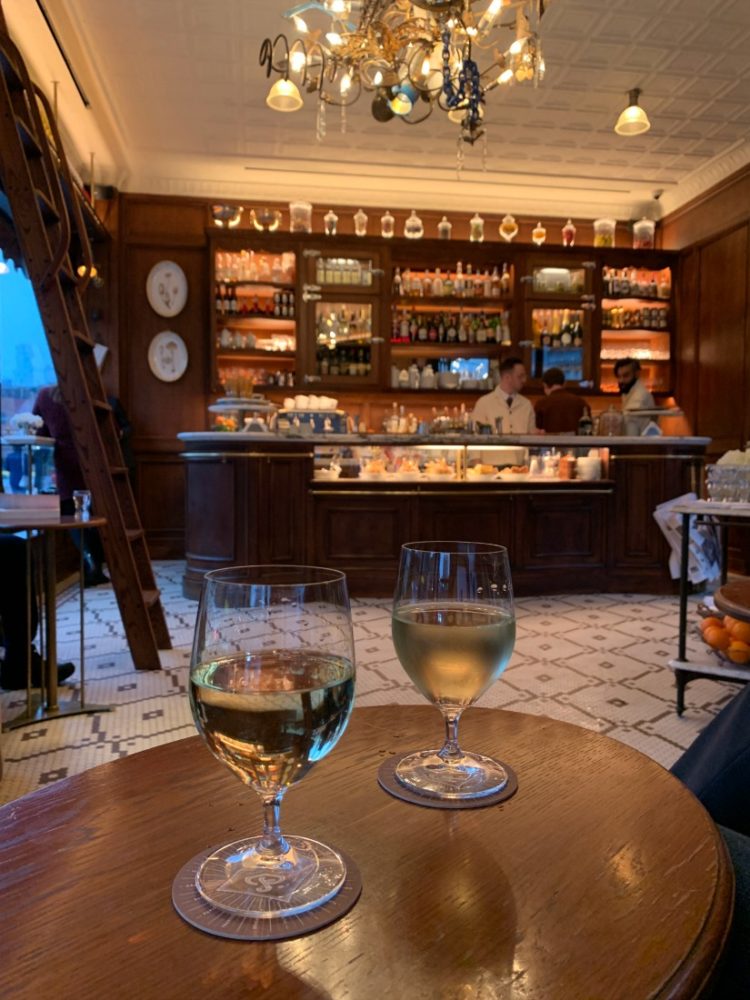 We stopped by a shop where Sylvia was seeking out a certain coat, and then stopped by Bar Pissilino which was an adorable little café with benches along the walls with little tables. While Pissilino is known for coffee, we indulged in a glass of wine and then headed back to the hotel. At the hotel, I met up with Didi Gluck, the editor of The Plum where I have written a couple of articles. We had yet to meet in person and enjoyed catching up over a glass of wine. Sylvia and I then headed to Sel Rrose where we met Becca Freeman, the co-host of the podcast Bad on Paper. I met her when I was a guest at the podcast's live show in DC and was happy to see her again in person. We enjoyed some truffle fries and a cocktail while catching up. We then walked back to our hotel where Sylvia and I had dinner at the hotel restaurant.
Tuesday in NYC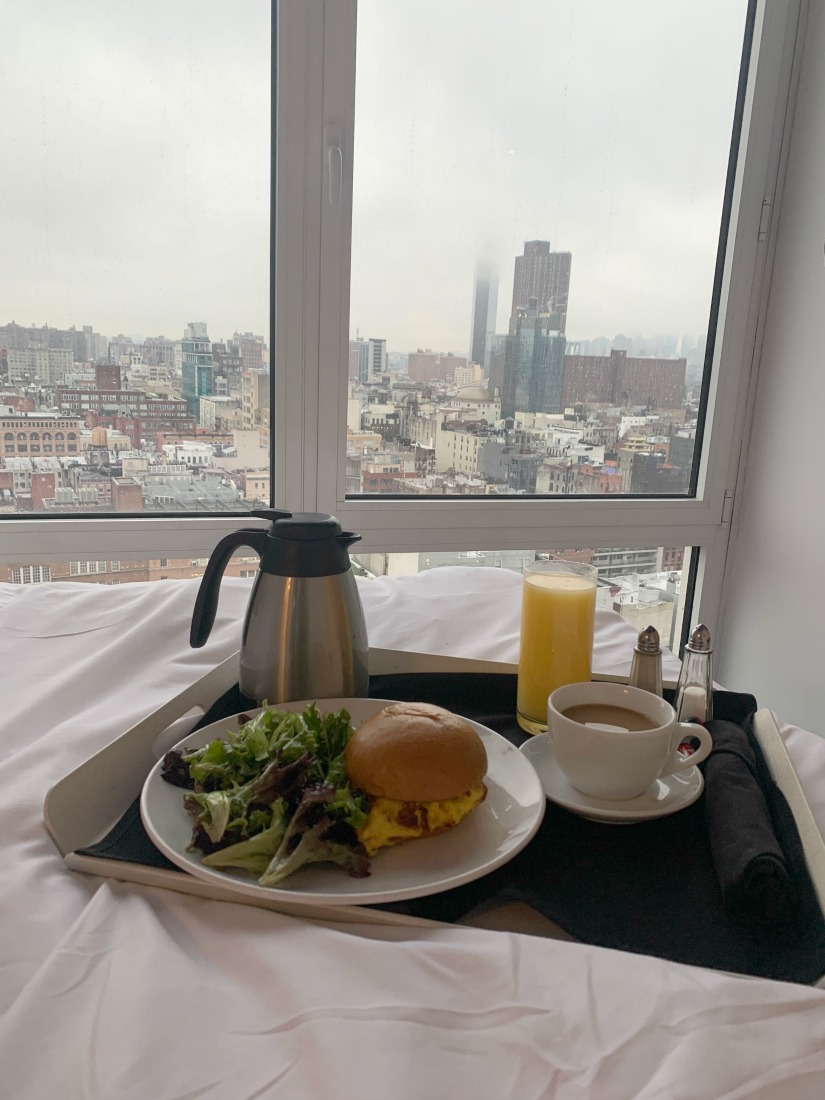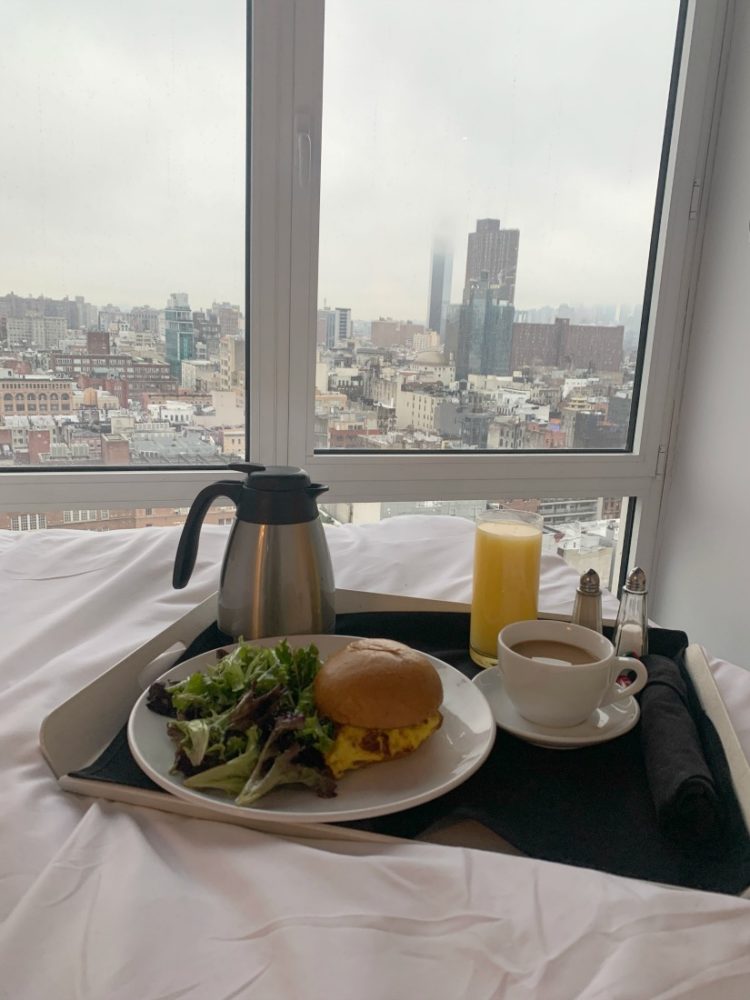 Tuesday morning, I was feeling the drinking from the day prior and ordered room service to allow for a slow start to the day. After a hot shower, some stretching, and plenty of fluids I was feeling much better. Good thing, because we had a 9:30 date back at Pastis with a photographer. When you're an influencer, you need pictures from the trip, right? I made a decision not to buy any new clothes for this trip and for this shoot I wore a suit I've shown on the blog and social before with a coat I rented from Rent the Runway. I'll have the full look on the blog Friday!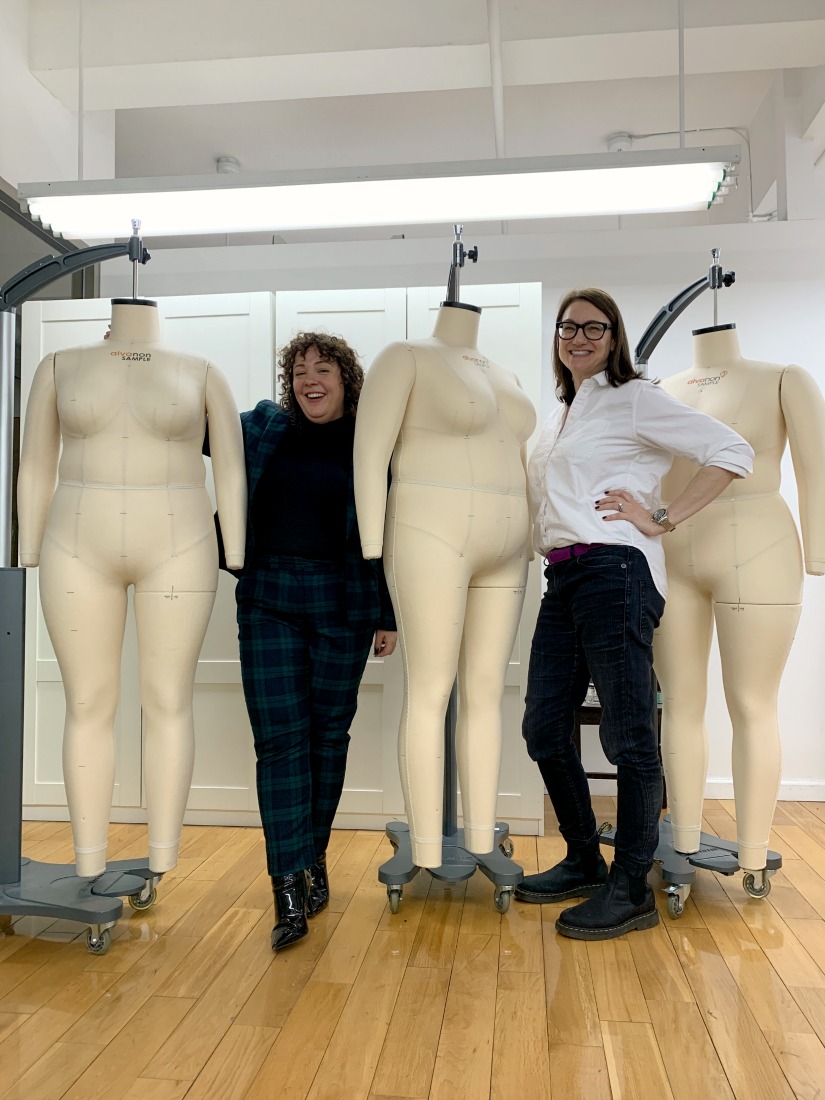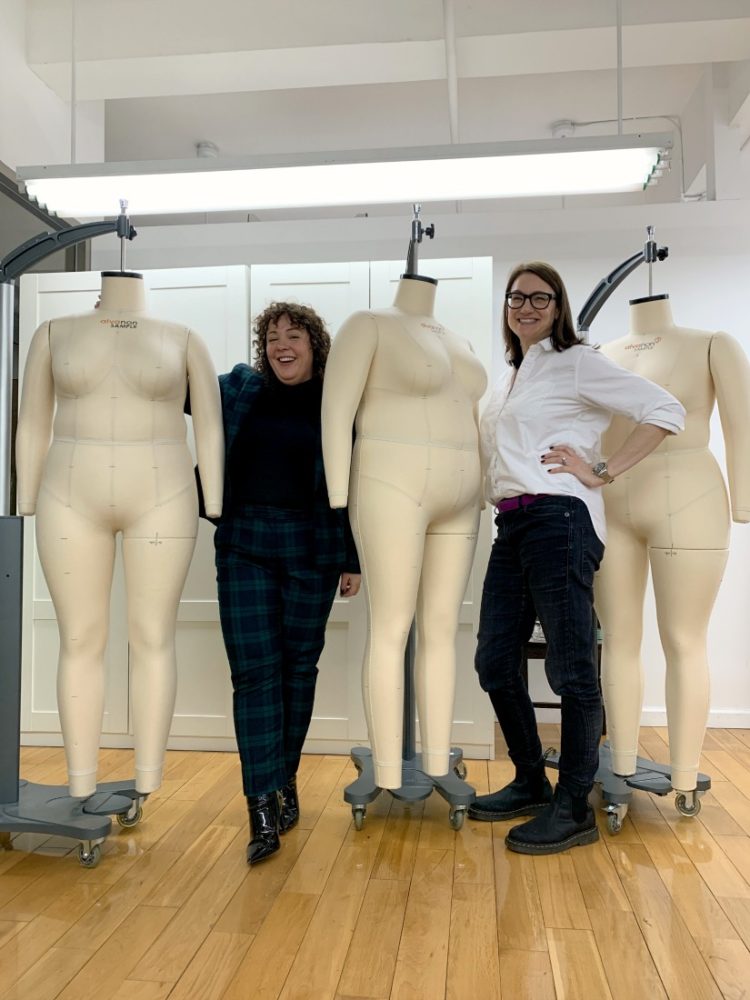 After the shoot, we did a bit of errand running and shopping and then headed to the Garment District to visit the clothing brand Pari Passu. I learned about Pari Passu last spring from my friend Rosana who invited me to the brand's trunk show in DC. I was impressed by the quality of the brand, the luxe fabrics, attention to detail, and the unique sizing. It was nothing I had ever seen before in plus size fashion. This fall I co-hosted another trunk show for Pari Passu, this one at Nordstrom to celebrate the brand now being offered at Nordstrom online. Shanna Goldstone, the founder of the brand is so awesome, we've become friends and she invited us to come visit where the Pari Passu magic happens!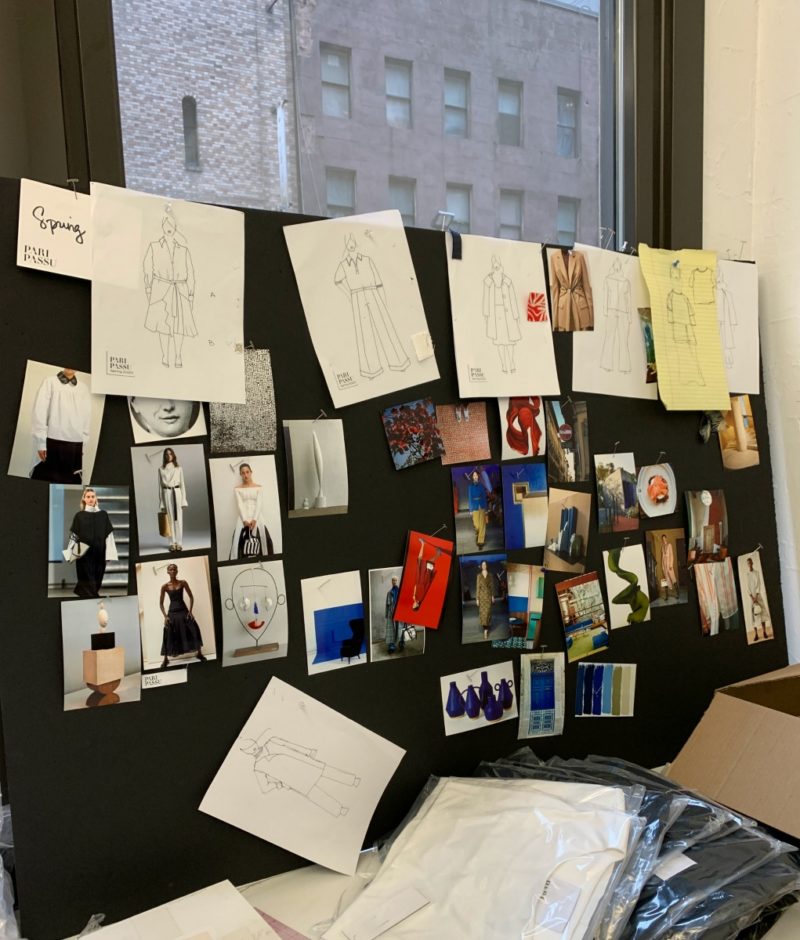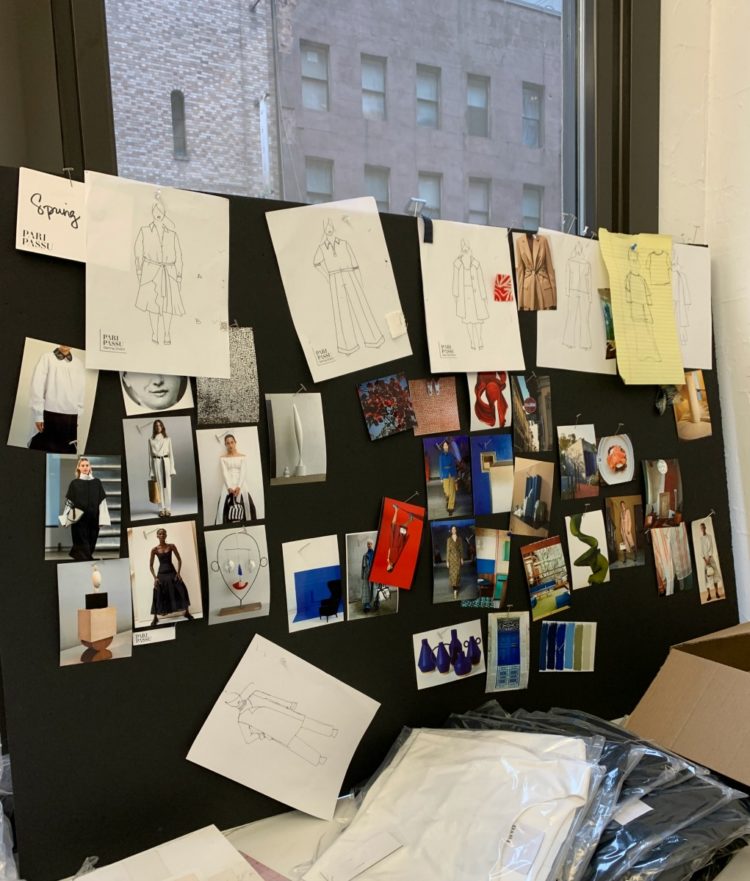 Pari Passu is in the same building as major brands sold at department stores and online boutiques like Shopbop and Net a Porter. Shanna gave us a tour, we saw the mood boards for the upcoming collection, the unique dress forms she created based off the 3D body scans of over 7,500 adult women over a size 12, and saw where the clothing is crafted. We saw the pattern makers, the fabric cutters, and all the sewers in a bright, clean, spacious room. It was so neat to see the behind the scenes; I recommend you visit my Instagram highlights from this trip (this trip is saved in one of the circle icons on my profile page titled, "NYC 2/20") it's cool to see where the clothes are made but also learn more about how plus-sized fashion is sized.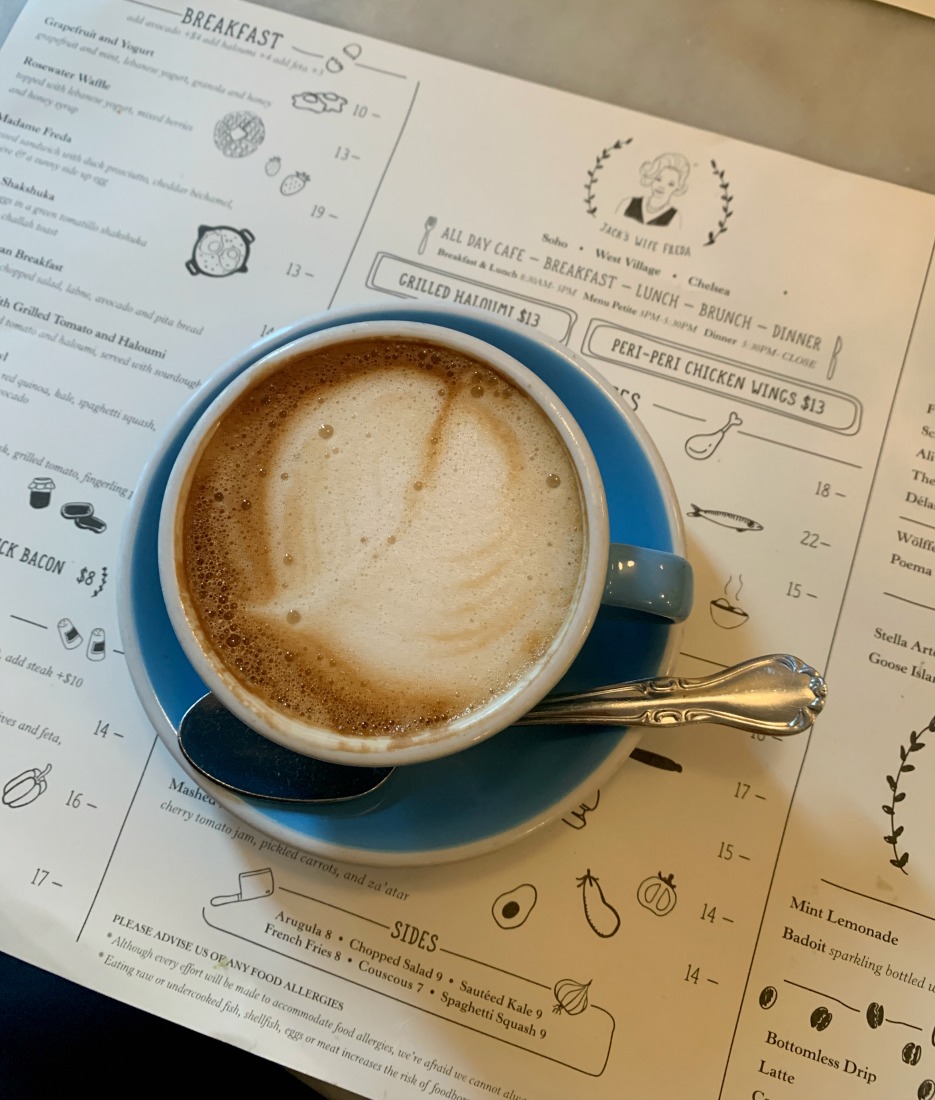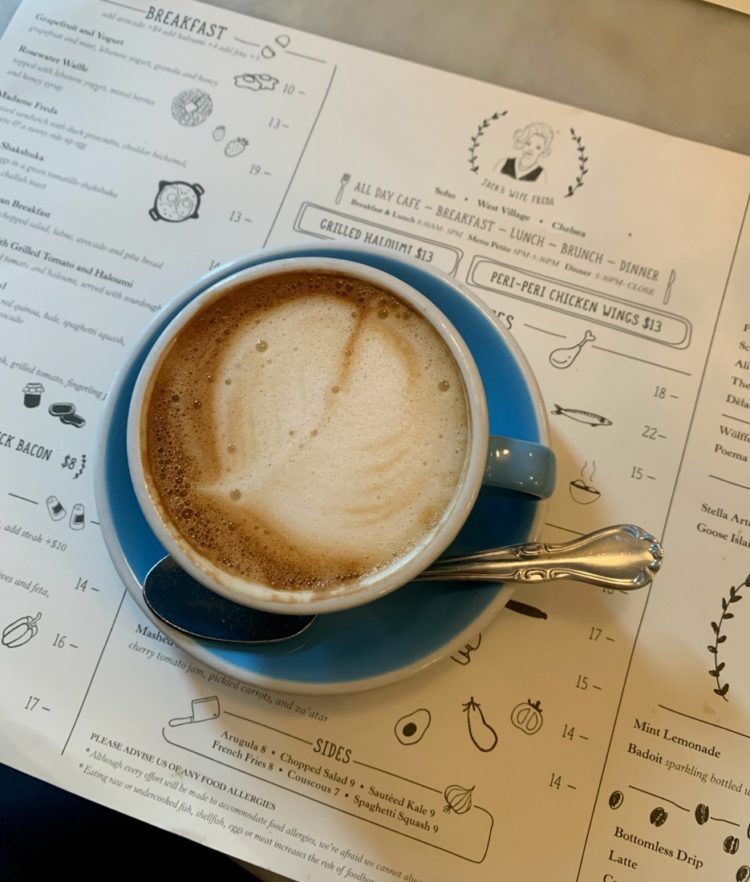 After visiting Pari Passu, we headed to Jack's Wife Freda for lunch. We've both been here before and know it's a great place for a delicious and relatively healthy lunch. I finished with an oat milk latte for a bit of a caffeine kick to get through the day and we headed back to the hotel where we changed, did a late checkout, and had them hold our bags as we did a bit more around the city (and capturing more photos like the ones in this outfit post which is the outfit I'm wearing below).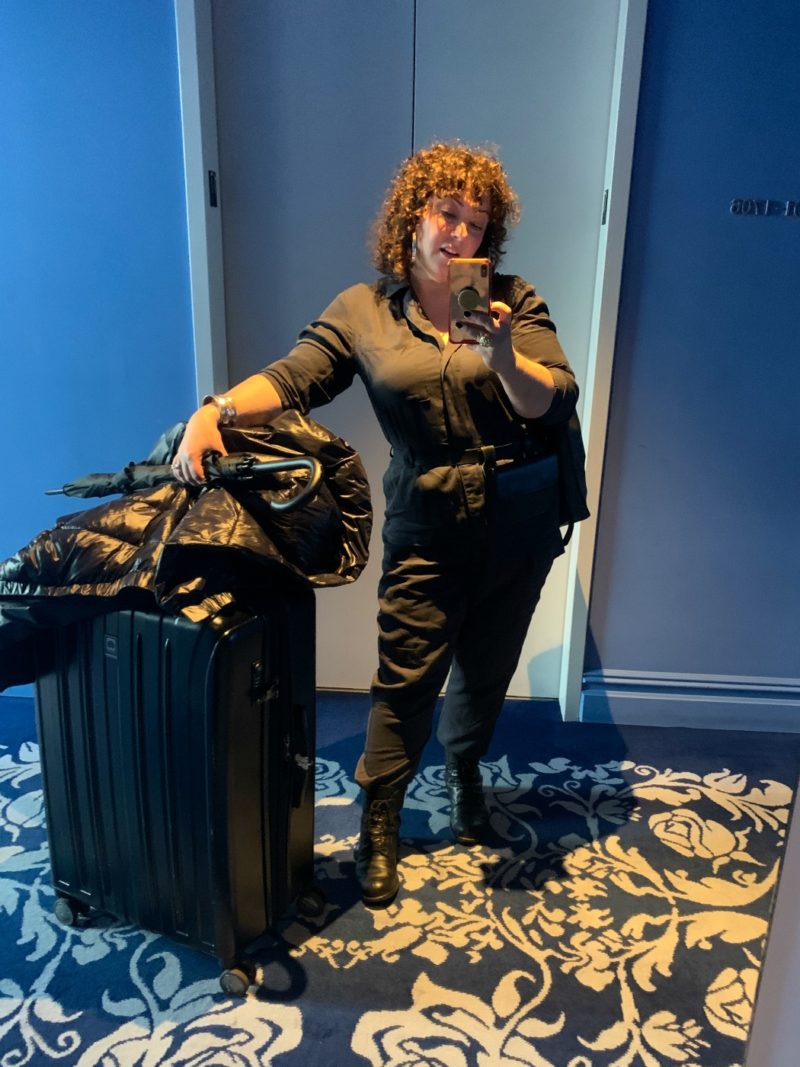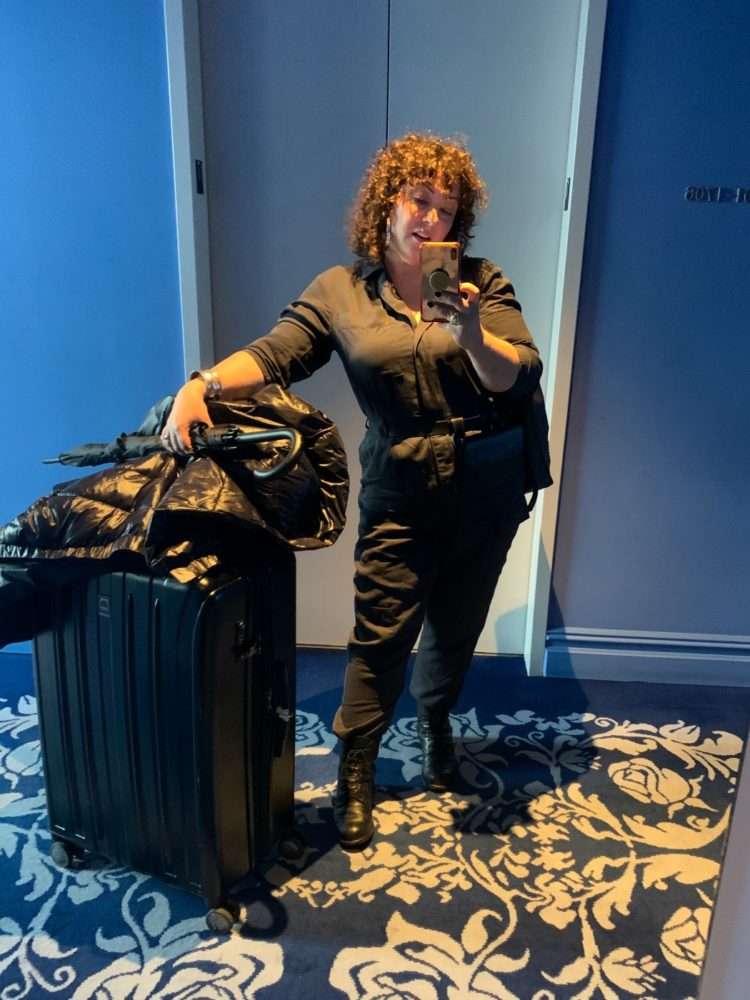 The bus was leaving at 5 pm; we got to Penn Station with enough time to grab some snacks for the ride home. While the bus was pretty full, there were empty rows near the back and the two front seats right behind the bus driver were open. We took those front seats which had a table with cup holders and an amazing view of the city as we drove south towards Maryland.
Lessons Learned on This Trip to NYC
Each time I visit New York City I become more informed so I can make the next visit even better.  What I learned or knew and used on this trip:
Ask for a room on a higher floor.  Not only will there be less noise, but you'll also get a better view.
Carry snacks. The first day we had a great time… so great we forgot to eat and I started feeling cranky and jittery.  We stopped in a Starbucks and I grabbed a bag of almonds and that helped but I wish I prepared better with a protein bar in my bag.
Bring your own water bottle.  Most every hotel has a filtered water machine in their gym if not elsewhere in the hotel. Save money and reduce plastic and bring your own bottle.  Even consider bringing a big one for the trip there and in the room and a small one you can tuck in your day bag.
Belt bags and fanny packs rock.  I didn't pack a proper purse for this trip.  Every outfit worked either with my belt bag or my Bandolier phone case with zipper pouch.  When I'm in a rush I'm prone to forgetting things, I'm also prone to being klutzy and banging into things.  I never had to worry about forgetting my bag, slamming it into a stranger, or having it knock over my cafe chair in a coffee shop since it was literally strapped to me.
Take advantage of hotel amenities.  Our hotel had coffee in the lobby in the morning, big umbrellas to borrow for the rain, and happily held our luggage multiple times.  They can suggest restaurants, make reservations, and often know the coolest places to go and where to shop. Just be sure to have a few singles in your wallet to tip for luggage valet and such.
Cabs are cheaper. Cabs were faster and cheaper than Uber in NYC.  All of them now take credit cards and you can add tip right there on the screen and the driver can give you a receipt.  The only drawback is you occasionally get the cab driver who will try to take the long route thinking you're a stupid tourist but that doesn't happen as often as it used to years ago in NYC.
Wear comfortable shoes that can handle grossness.  You may want to up your fashion game when in the Big Apple, but don't sacrifice your comfort, health, or your precious wardrobe for it.  I wore my La Canadienne boots 99% of the time because I knew they were comfortable and waterproof without looking like hiking boots.  I made sure to have socks that fit well and wouldn't slide down and were wool so they kept me warm but also dry. My original Rothy's flats review was after a rainy day in NYC; good sightseeing shoes can come in all shapes and sizes!
Bring stain removal and laundry supplies. I splashed toothpaste on my shirt minutes before I needed to head out the door; thank goodness for my Tide to Go stick.  I also travel with these packets of Tide which do a good job of hotel sink laundry.  This is great if things go awry and you have to rewear something or you just want to pack light.
I'm so glad I said yes to this adventure. Sylvia and I had a great time together, we got to experience a bit of NYFW without racing from show to show, we saw friends and new-to-me places, ate amazing food, stayed at a beautiful hotel, and I can't wait to return to NYC!