This article may contain affiliate links; if you click on a shopping link and make a purchase I may receive a commission. As an Amazon Associate, I earn from qualifying purchases.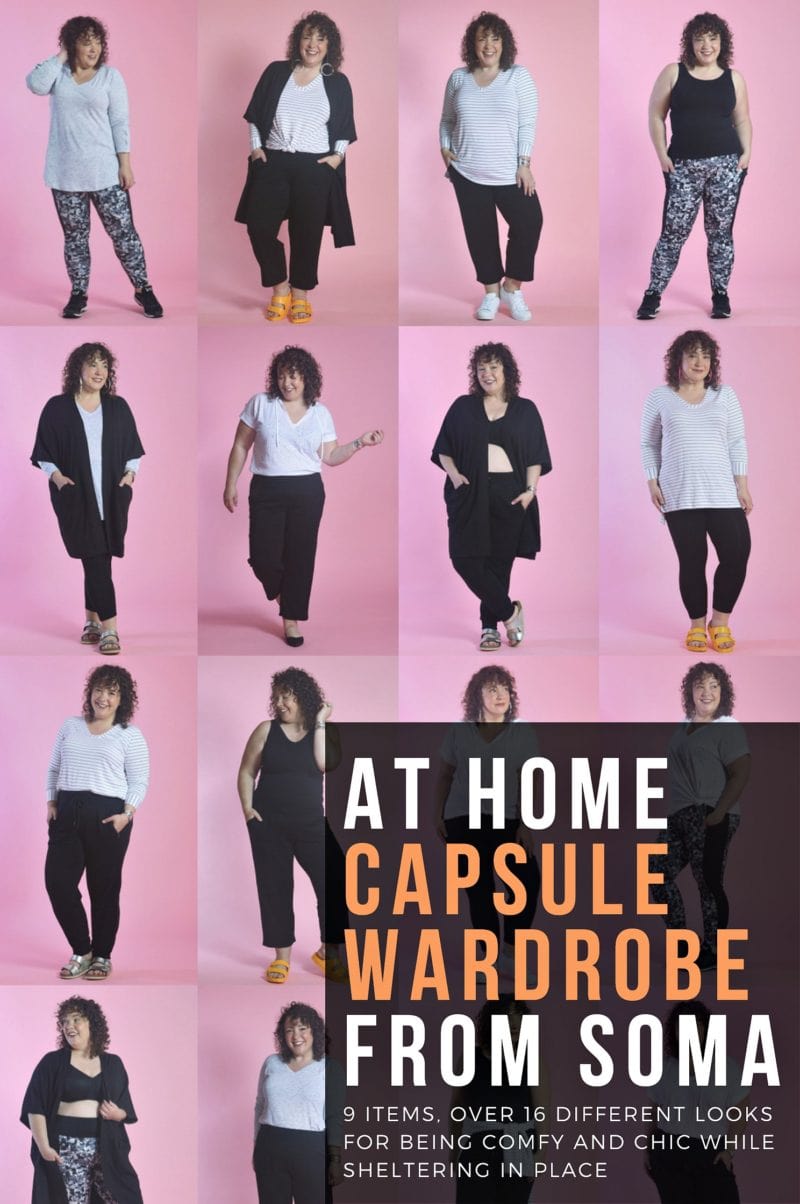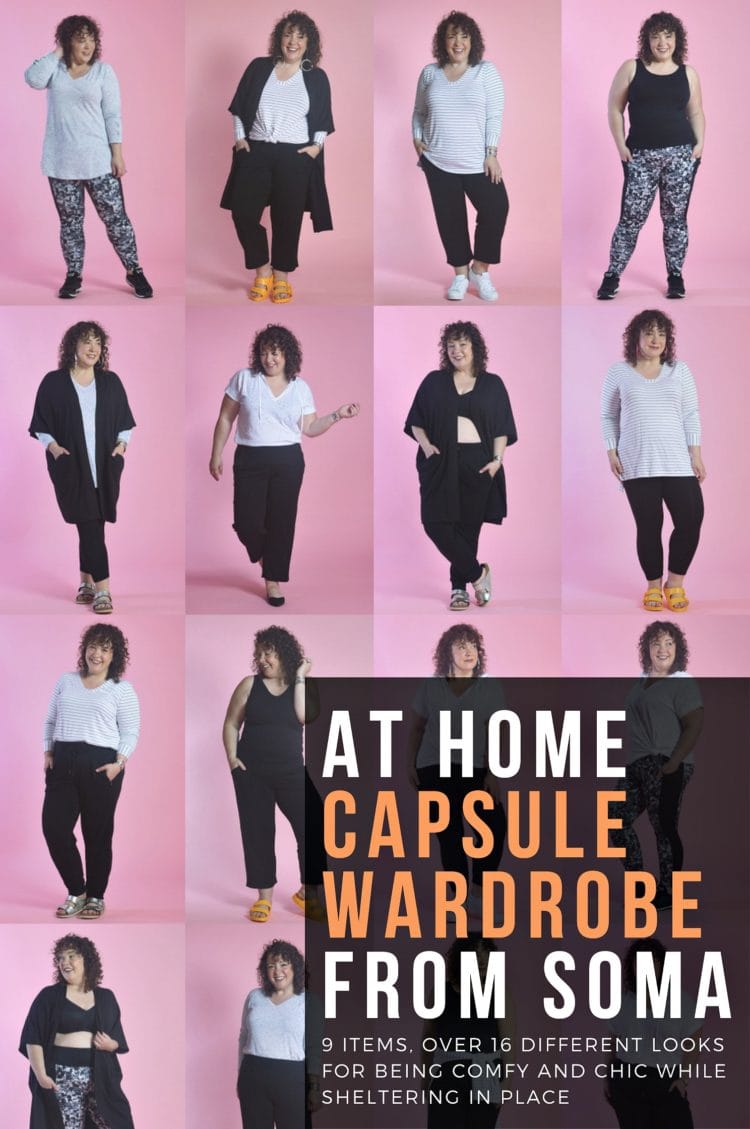 I love capsule wardrobes, and love brands that lend themselves to creating capsule wardrobes right within their collections. I've been wearing a lot of Soma loungewear the past several weeks and have found that the pieces mix and match quite beautifully while also being practical and comfortable. Soma invited me to photograph a stay at home capsule wardrobe of their loungewear collection for Instagram; I liked it so much I decided to also share it here on Wardrobe Oxygen. You have seen several of these pieces already, and I love how this stay at home capsule wardrobe shows even more ways to style some of my favorite loungewear in my wardrobe.
Stay At Home Capsule Wardrobe
This stay at home capsule wardrobe features clothing from Soma. All pieces are size Large, when short or petite is available that was chosen. For reference, I am 5'3″ and usually wear a size 14 in most popular retailers, petite when available. With nine pieces from Soma Intimates (plus my favorite comfort bra from the brand) I was able to create over 16 different looks for sheltering in place, whether it's curling up on the couch and watching Netflix, organizing your home, doing a streaming yoga class, or taking the dog for a walk. This is a capsule wardrobe that can easily incorporate pieces already in your closet to extend it even further and transition into warmer weather.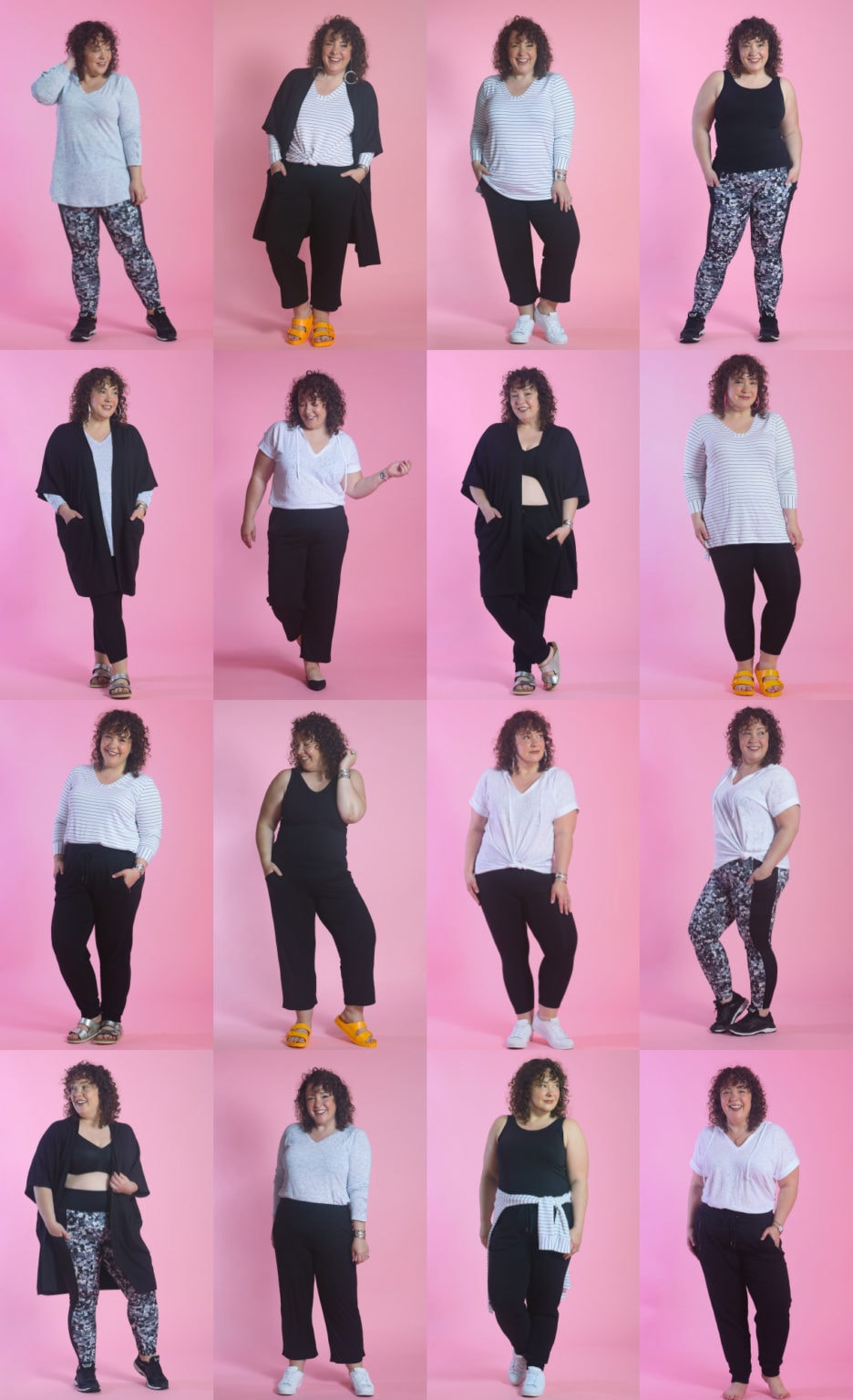 What's In the Capsule Wardrobe:
Cool Nights Crop Pajama Pants | Burnout Dolman Hoodie | Nonstop Legging (three colors available) | Fleece Cocoon Wrap | Essential Legging (three lengths available, these are the short) | Seamfree Turnaround Tank | French Terry Jogger | Striped French Terry Pullover | Snap Sleeve Long Sleeve Tunic (two colors available) | Embraceable Full Coverage Wireless Unlined Bra (multiple colors) | Silver Birkenstocks | Orange Birkenstocks | White Sneakers | Black Flats
Shop the Capsule Wardrobe:

You've seen me wear the Soma Joggers many times before in my recaps of what I wear all week while at home. They continue to be a favorite; they are soft, not too thick, the pockets zip closed, and they have washed up beautifully. I also added some other pants from Soma that I wear regularly. I have two pairs of the Nonstop Leggings; I've had the black pair for several months and got the floral ones seen in the capsule in the past month. See the black ones on me in January, and also in this outfit recap post. They're a great weight, they don't sag down on me during a workout but aren't so thick and constricting that I don't also like them for a walk or hanging out at home, and they have super deep side pockets that can hold a large iPhone, sunglasses, a small wallet, and other essentials. I am a huge fan of Soma's Cool Nights collection and their plain black pajama pants, since they don't have a drawstring or any details, have become loungewear during this time of sheltering in place. I have the cropped because I am short, but they come in other lengths. And the Essential Leggings… oh how do I love thee. They were my go-to pants for flights because they're opaque, super soft and stretchy and don't bag out. They're thin enough to wear under dresses, but thick enough that everything isn't on display. I have two pairs, one pair is a couple of years old (seen in this work from home capsule wardrobe) and has gone in the dryer many times and still looks new.
As for the tops, the Cocoon Wrap you have also seen many times in my what I wore recap posts. I love the pockets that hold my iPhone Max and how it's just enough warmth in spring to stay comfortable while indoors. The Seamfree Turnaround Tank, I own two but they don't get a lot of love on the blog because they are favorite base layers. However while at home, I find I wear them just as regular tanks because they're not bulky, they're opaque, and they don't roll up like many similar tanks. I like how one side is a scoop neck, one is a V, so I have two looks with one garment. These two wash beautifully; this black one has been washed a dozen times and still is saturated and dark. The Striped French Terry Pullover is so soft and feels amazing on; it too washes great (no shrinking!) and I love how the fabric is really good for knotting, half-tucking, or just throwing on over leggings. The Snap Sleeve Long Sleeve Tunic has the cool snap detail not just on the sleeves but the sides so you can snap them open or closed to adjust the fit and style. To be honest, I find both too long for me at 5'3″; I don't wear the snap sleeve tunic regularly though I can't resist the comfiness of the French terry pullover. The Burnout Dolman Hoodie I like much more in person than when I saw it online. I love the silhouette, and the floral burnout print is subtle but way more stylish than a simple white t-shirt. That being said, I don't wear it a lot but that's mainly because I am a klutz and white tops and me are not the best partnership.
As a woman with a large bust, unlike many memes on the internet, I am not going without a bra while staying at home. For me, that is less, not more comfortable, especially since I have properly fitting bras. I do love this wireless bra from Soma and have two of them; they are what I wear the most now that I am spending days at home. I've written about this bra before; check out my review of the best comfort bra for large busts.
As for the extras, I kept this capsule wardrobe realistic with the shoes I wear at home. I really recommend Birkenstocks because they have arch support and a good footbed to keep your feet happy and prevent foot issues that come from going barefoot all day. My silver metallic ones are a couple of years old and my default house shoes in place of slippers. The orange ones are made from EVA, they can be washed and can get wet. They're not as durable as the leather, but they are quite comfortable and a much lower price. I keep these usually for going out in the yard. I sometimes switch to sneakers so my feet stay adjusted to street shoes; these are the adidas Superstar sneakers, which I've worn since high school when we called them "shelltops." As for the jewelry, it's a way to feel more me during this time. I love bold silver jewelry, why keep it just for others? I feel happier and more together when I finish my at home styles with some fun earrings and the silver cuff I've owned since 1997!
To see the individual looks, tap any of the photos below to scroll through the gallery. Just X out to return back to this screen.
I hope this capsule wardrobe shows how you don't need a lot of clothing to create a lot of fab looks. That mixing and matching pieces that you enjoy wearing can give you miles of style. I hope you all are well while sheltering in place, and that you keep yourself feeling fabulous, comfortable, and stylish!
Shop the Post: