This article may contain affiliate links; if you click on a shopping link and make a purchase I may receive a commission. As an Amazon Associate, I earn from qualifying purchases. 
I know it's a somber topic, but I live in a hot climate and I have a relative who is ill and in hospice. I realized today that I have no idea what is okay for a funeral in a VERY hot climate.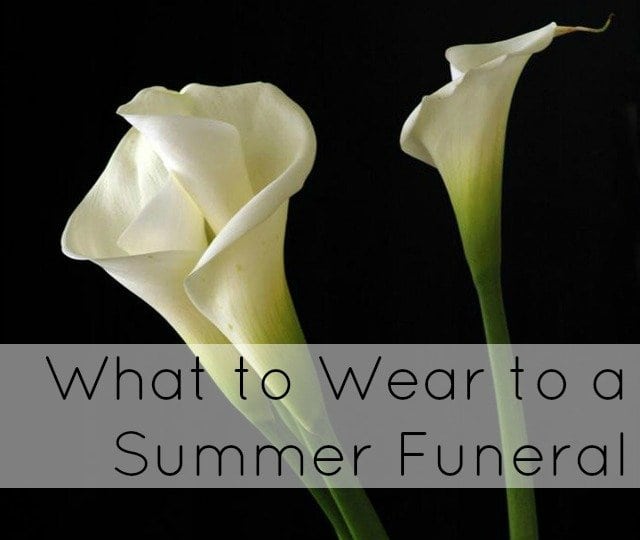 FASHION TIPS FOR YOUR SUMMER FUNERAL ATTIRE
The most important thing to factor when dressing for a funeral, is dressing out of respect. First, consider the religion of the service, then dress in a way that shows you understand the formality of the situation and that you know you are not the subject of attention. A good rule of thumb is that if you wouldn't wear it to church or to an office where it's Business Attire (not Business Casual), it's not appropriate for a funeral.
Can I wear sleeveless to a funeral?
These days, a sleeveless dress and bare legs is appropriate at most American funerals, especially when it's a very hot climate. Consider a lightweight cardigan if there's a service inside the house of worship and a hat to protect yourself from the sun at the grave site. If your shoulders are bared, your neckline should be very modest, the fit not too tight, and the hemline at the knee.
In your email, you mentioned a maxi dress and while it wouldn't be inappropriate to wear a long skirt, many maxi dress styles these days are lightweight jersey and have low necklines. If you have one that is of a dressier fabric (cotton sateen, crepe jersey, linen, silk blend) and doesn't show off your décolleté, it can work. Again, if you wouldn't wear it to church or to work, I'd consider something else.
Can I wear pants to a funeral?
Pants are acceptable for less religious funerals, and can be far more comfortable in the heat. Linen trousers (not drawstring slouchy pants) with a silk or crepe shell is perfectly acceptable.
As for color, black is not necessary these days; as long as the color doesn't scream "look at me!" it's acceptable. Muted colors like navy, olive, plum, mauve, gray, taupe, and brown are acceptable. If you wear a print, it should be very subtle (watercolor prints, tone on tone). Again consider the religion before choosing the color; some only wear black, some wear white, and some encourage bright jewel tones.
As for fabric, as long as it's not too casual (denim) or too formal (satin), it's okay in such heat. Linen and cotton is acceptable if it's in more formal of cuts and ironed before wearing.
Accessories as part of your summer funeral attire will set the tone for your outfit; keep the sparkly necklaces and statement shoes at home. A simple pair of leather shoes in a neutral, a delicate chain necklace or a strand of pearls, a leather bag free of adornments that complements the color of your outfit. If there is a grave site service, choose a wedge or flat shoe so your heels don't sink into the grass. Though you may be seeing many people from your past, it's not a high school reunion and not a time to show off your sartorial skills.
Finally, your summer funeral attire is not as important as your attendance. Few will even notice what you're wearing; as long as you don't dress to receive attention you will be just fine. My heart goes out to you and your family during this difficult time.