This article may contain affiliate links; if you click on a shopping link and make a purchase I may receive a commission. As an Amazon Associate, I earn from qualifying purchases.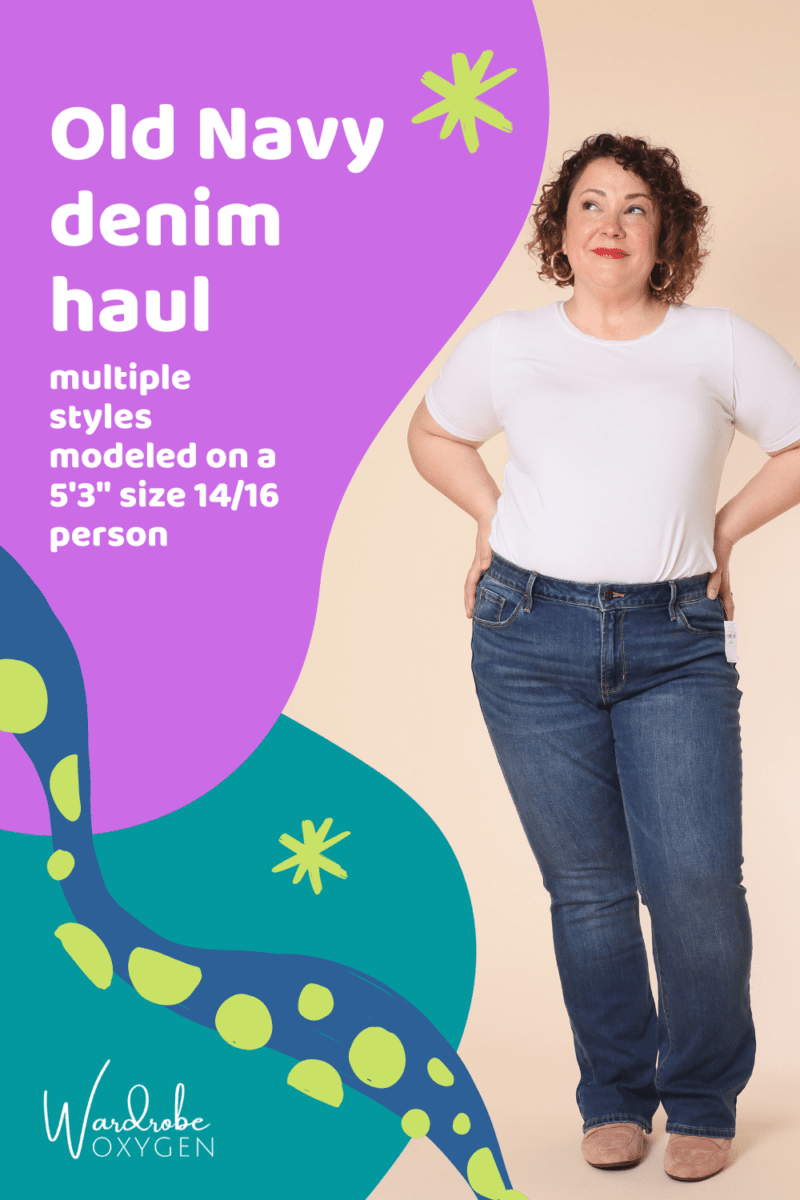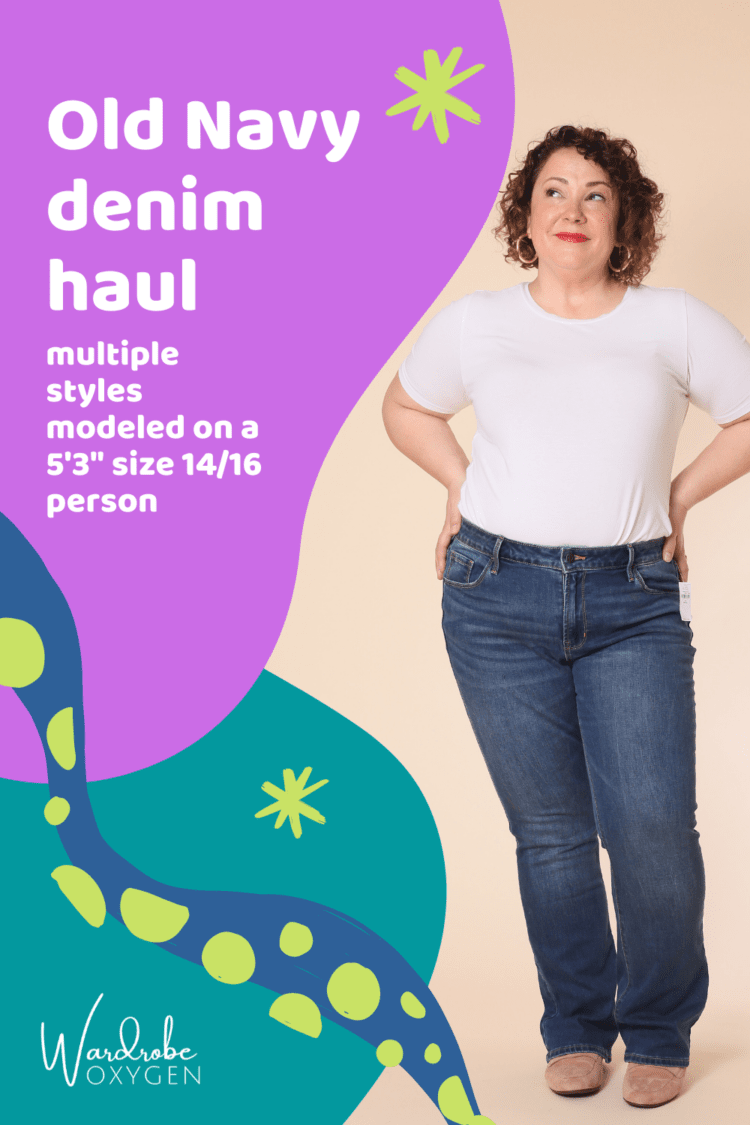 After having no success finding jeans with my Gap denim haul, many members of the Wardrobe Oxygen community suggested I take a look at Old Navy. I haven't had luck with Old Navy jeans in the past, but the retailer has made a lot of changes in recent years, the best one being they stopped separating plus from Misses and now offer their selections up to size 30. Loving this inclusivity, I decided to do an Old Navy denim haul ordering 23 pairs of jeans to see if I could find a great pair for spring (and to also showcase some of Old Navy's jeans here and share my thoughts).
Why I Chose to Do an Old Navy Denim Haul
At a time when retailers are selling jeans for well over $100 and many $250-$400, Old Navy is a budget-friendly alternative that offers on-trend silhouettes and washes. When I ordered jeans for this Old Navy denim haul, every single pair cost me less than $32. There was a denim sale, but Old navy regularly has sales and promotions making their already reasonably priced jeans even kinder to the wallet. Even without a promotion, Old Navy jeans are less than $60.
And unlike most denim brands, Old Navy offers petite jeans larger than a size 10. While Old Navy offers their collection up to size 30, they offer Tall and Petite up to size 20.
The average woman in the United States is 5'3″ tall and there are plenty of statistics stating 67% of women in this country wear a size 14 or larger. For reference, I am 5'3″ tall and am between a 32/14 and 33/16 in jeans. I am essentially a pretty average body for a woman from the United States yet I struggle to find retailers that carry sizes that fit my stature and size.
And when I do, with a brand like Old Navy, I still don't see myself in the models they choose. I am 47 years old, have soft curves that are primarily in my lower belly and rear. I know that even if I wear the same clothing size as that 20-something model, my body isn't the same, doesn't adjust to clothing in the same manner, doesn't hang or lie or rest in the same manner.
These differences are not bad. We only think they're bad because society is obsessed with youth and that's what they primarily feature in the media. If we do see an older model, they are usually quite slim and toned. If we don't see representation of age, shape, and ability in the media, we can't help but think our perfectly normal, perfectly lovely bodies are wrong.
My hope is seeing my perfectly normal, perfectly lovely 47-year-old body in these jeans will help you narrow down which styles may actually work for you while also normalizing… well normalizing normalness!
What I am Looking for in Jeans
I am not looking for jeans that make me look thin or tall, but jeans that are on trend, modern, and different from the skinny jeans already residing in my closet. This spring, light wash denim is a hot trend and I think it's an easy way to update and modernize an existing wardrobe so I focused on that color.
What Jeans I Ordered for this Old Navy Denim Haul
While I ordered 23 pairs of jeans, I did not have all of them photographed on me. The styles I ordered for this Old Navy denim haul that I did not shoot and why:
That being said, I still photographed myself wearing nine different pairs of jeans for this Old Navy denim haul. I think the styles that I photographed are ones other grown-ass women may be interested in if they are looking for an alternative to skinny jeans but not looking for anything too baggy or trendy. The styles of Old Navy jeans that I review below:
Spoiler alert, I didn't keep any of these jeans. However, I did have more success with my Old Navy denim haul than I did with my Gap denim haul. I found the denim to be more consistently sized and the fits to work better with my shape.
The Specific Styles of Jeans I Ordered from Old Navy:
Old Navy Denim Haul: Sizes 14/16
And without further ado, my Old Navy denim haul! What I bought and what I thought:
Old Navy Midrise Boyfriend Jeans Review
I loved boyfriend cut jeans in the past and digging the barrel cut of jeans this season, I thought the Old Navy Midrise Boyfriend jeans may be a less extreme and more version. Reviews said these jeans ran loose in the hip/rear and the style didn't come in petite so I just ordered size 14.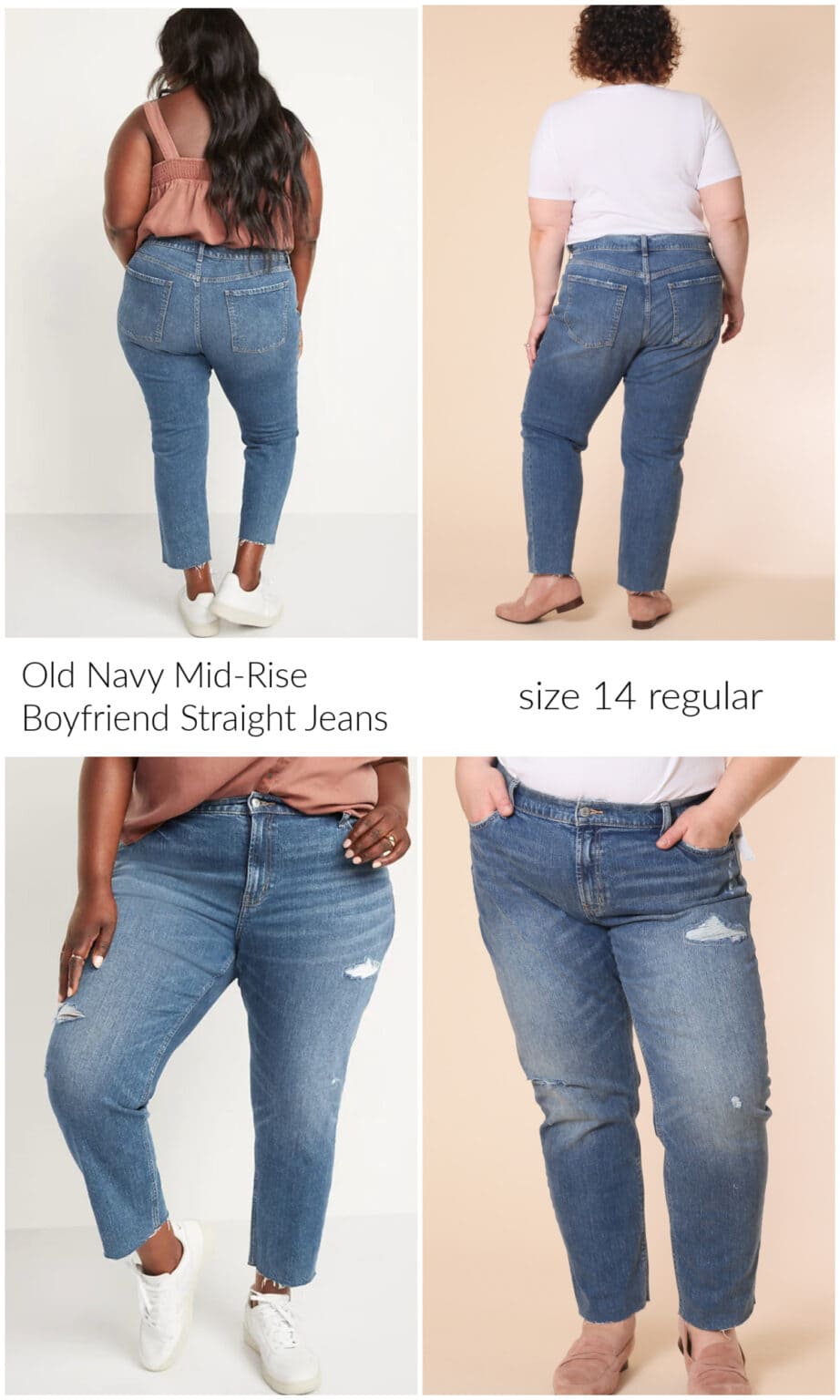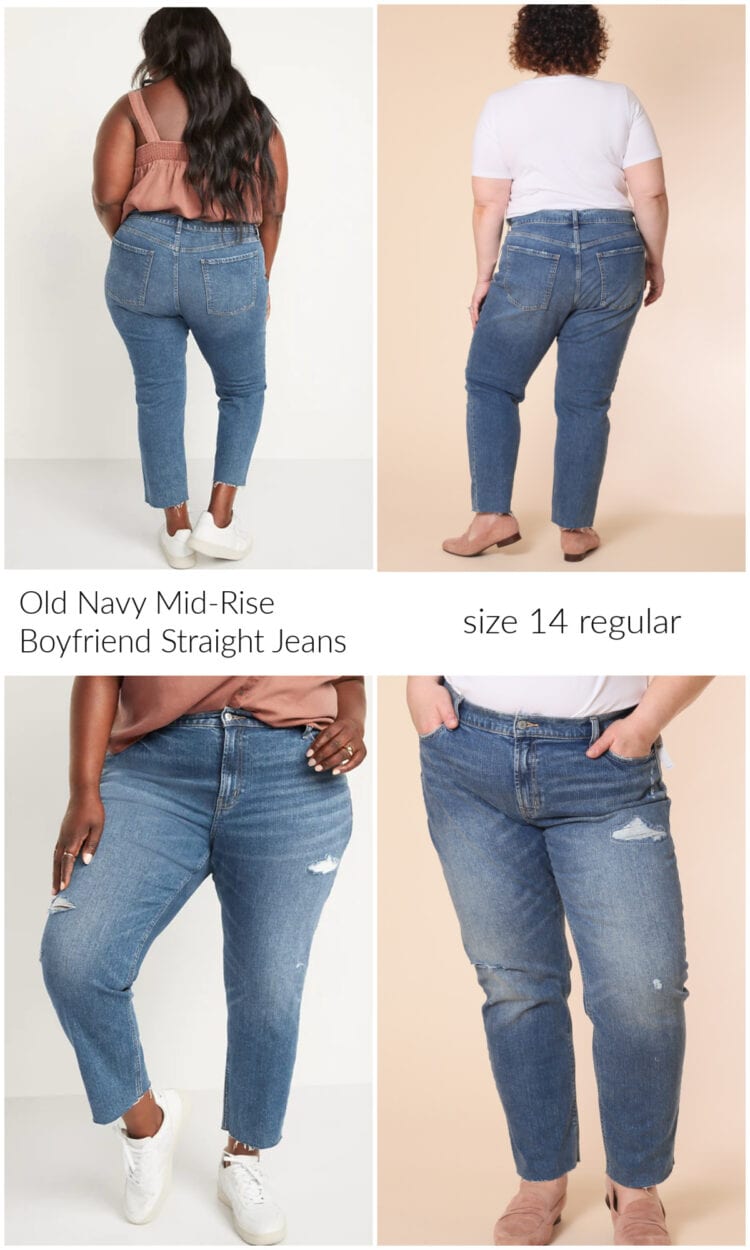 The reviews are right, these jeans fit pretty true to Old Navy size (which I have found is a bit more roomy than Gap and similar to Talbots, Kut from the Kloth, and Democracy) but are roomy in the rear and hips. You can see how the model who has more curve in her hips but slimmer legs fills out the jeans differently.
I didn't think these were bad jeans, they were a comfortable weight (93% cotton, 6% recycled cotton, 1% spandex), not too stretchy, a comfortable rise (slightly higher than the mid-rise from sister company Gap). I just didn't think these were anything to write home about.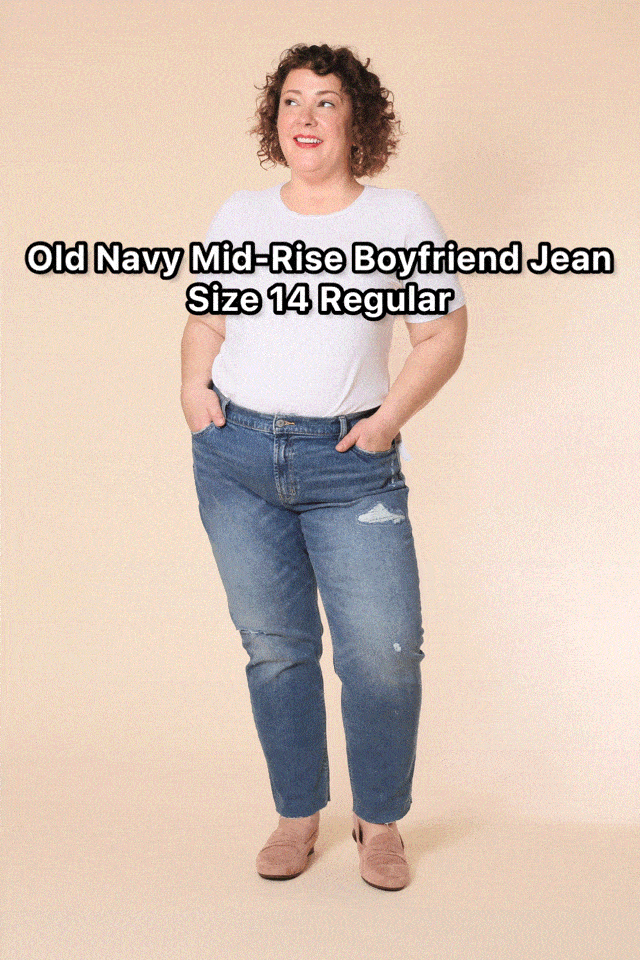 I would have taken them to the tailor to put a proper hem on them which would also help them be a better length for sneakers and sandals (I think a jean above the ankle bone is best for sockless shoes). But since I wasn't in love with them, I returned them. However, these jeans are a nice alternative to a skinny jean and a modern take on the rolled cuff boyfriend jeans we rocked a decade or so ago.
The Old Navy Mid-Rise Boyfriend Jeans retail for $44.99. They come in regular sizes 00-30 and tall sizes 2-18.
Old Navy High-Waisted Slouchy Straight Jeans Review
The Slouchy Straight jeans from Old Navy looked exactly like what I was desiring for my wardrobe. Not too full, not skinny, a faded wash that isn't too blue and isn't too Lita Ford, and a length that could work with sockless shoes for warm months and a pair of boots come late fall. I ordered these in a 14 petite and 16 petite.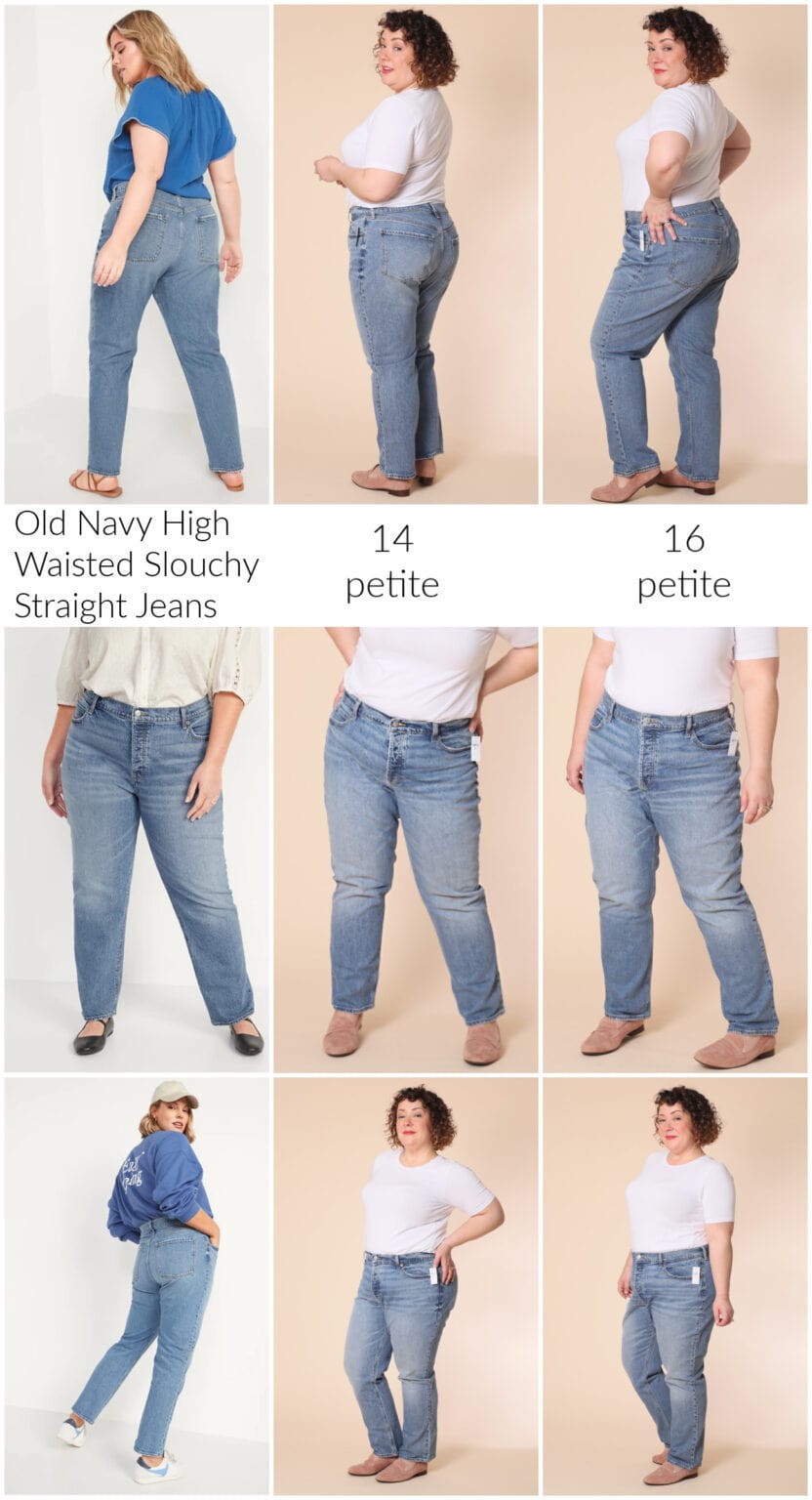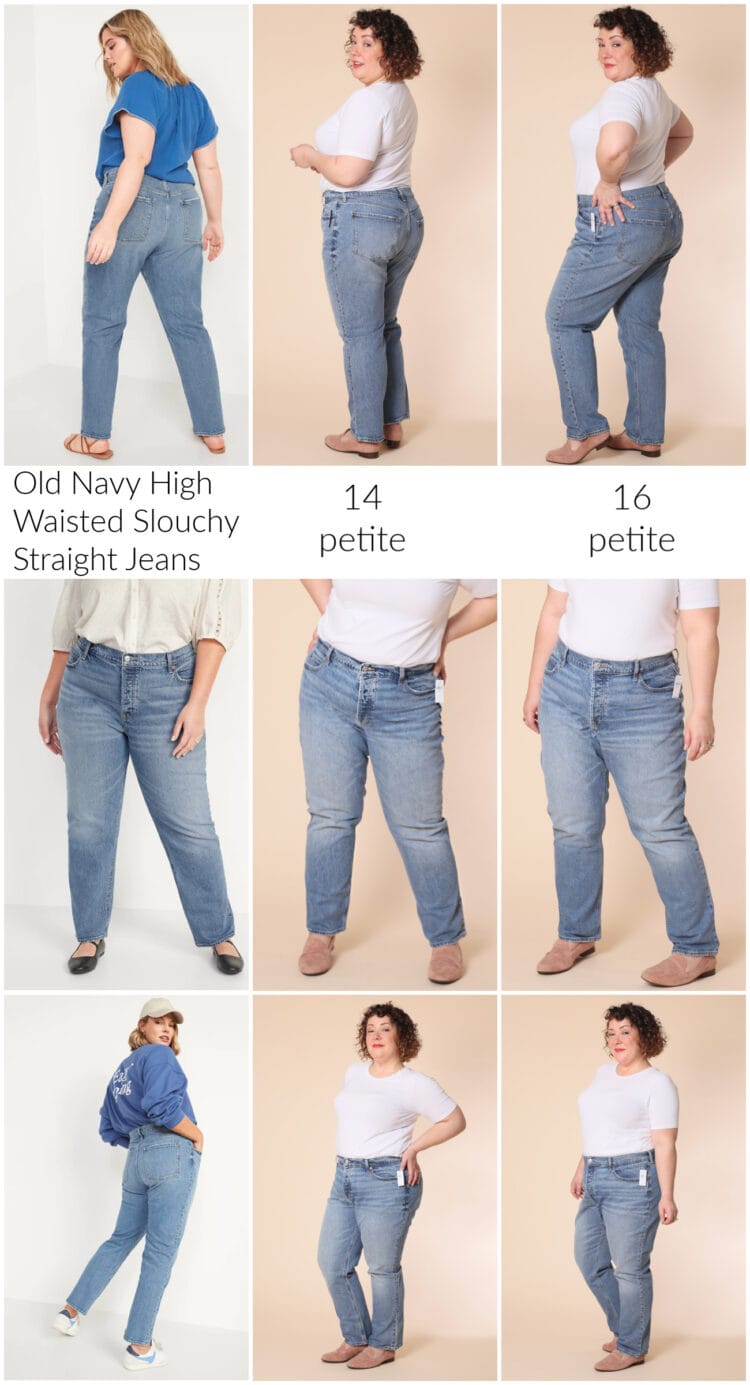 These were my favorite jeans of this entire Old navy denim haul, and I also liked these better than the Gap '90s Loose jeans that I reviewed last week. A little more slouchy than a traditional straight jean but not dumpy, a length that can work with a range of footwear, a good wash and not too much distressing.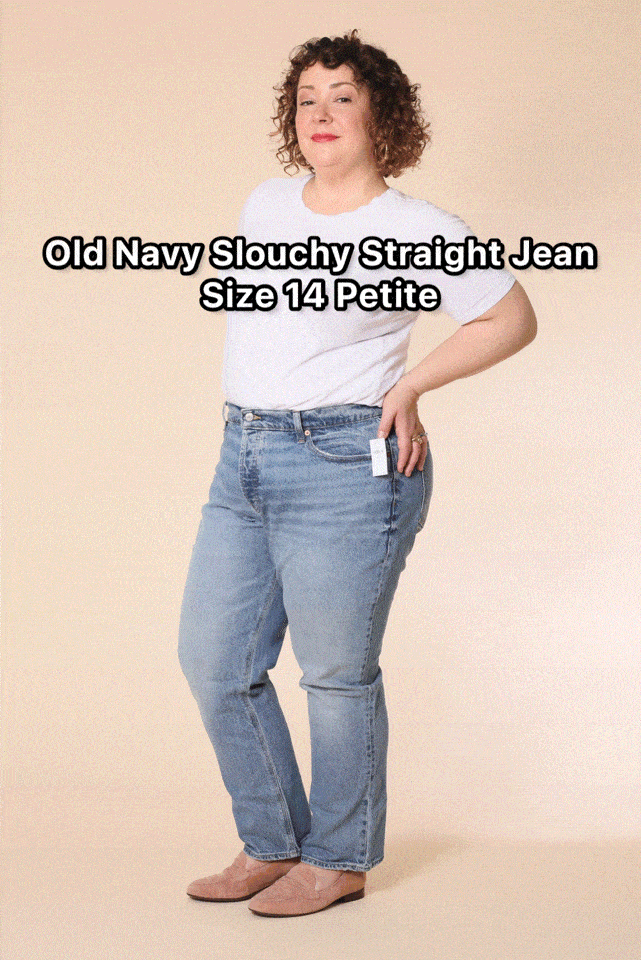 However, I do wish the 14's were a hair higher. As I wore these jeans, squatting to put away the last pair I tried on and grab the next ones, going up and down the stairs, the jeans did begin to migrate down. With soft curves, jeans desperately want to be at my natural waist which gives me muffin top and bunches around my lower belly creating a diaper effect. If these were an inch higher in the rise I would have kept them. Which made me excited to try them in the next size up.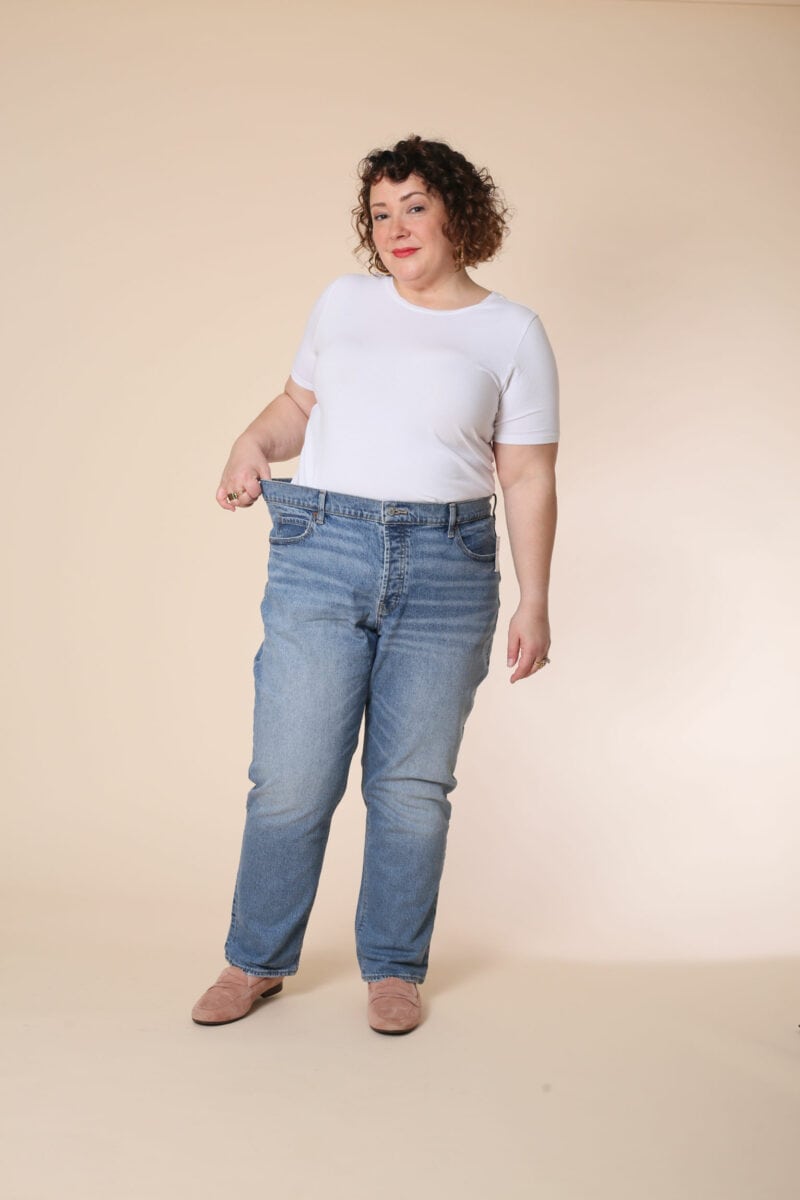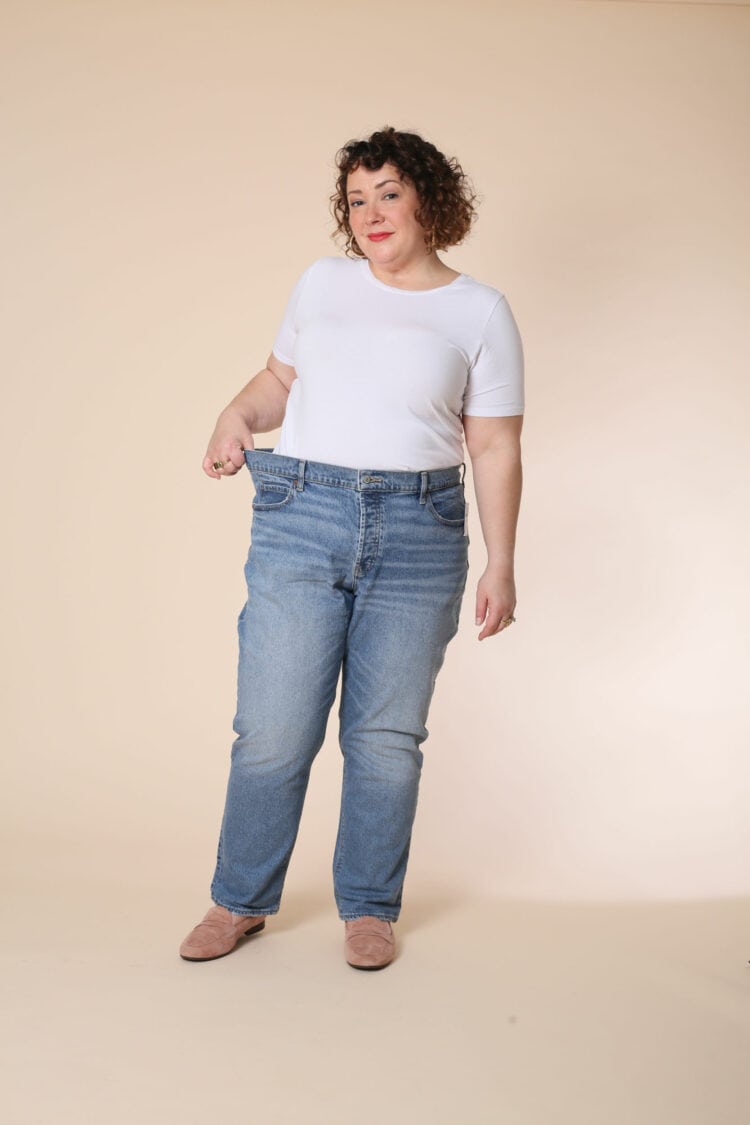 The next size up in these jeans was higher in the rise, but too loose. The collage above doesn't really show it, which is why I have the photo above. A lot of times I get feedback that the jeans I think are too big are actually the right fit, but still photos can only show so much. And we all know jeans grow with wear.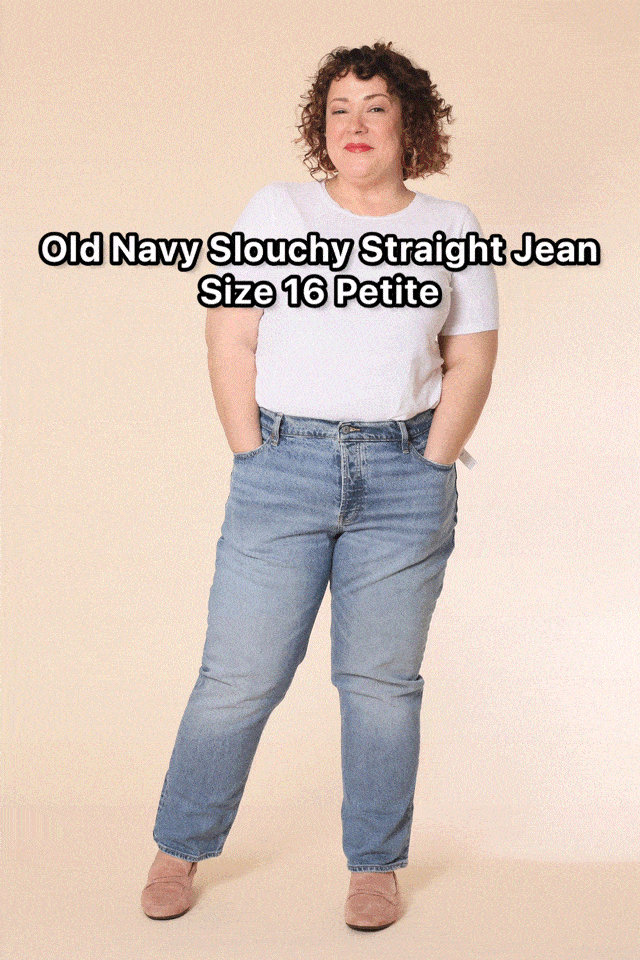 That being said, these are really great jeans! Not too trendy, not frumpy, a cut you could do with tucked or untucked tops. AND they have nice deep front pockets! They are made from 69% cotton, 24% lyocell, 6% recycled cotton, 1% lycra and the Slouchy Straight cut comes in a range of washes and even shorts.
The Old Navy High-Waisted Slouchy Straight Jeans retail for $39.99. They come in Regular sizes 00-30, Tall sizes 2-18, and Petite sizes 0-18.
Old Navy Curvy High-Waisted OG Straight Jeans Review
I think the OG Straight jeans from Old Navy were the style of jeans community members raved about the most. While on the models they looked a bit slimmer than I desired, I still felt they were a different effect from the skinny jeans in my closet and online the wash looked really promising. I ordered the Curvy version of these jeans in 14 petite and 16 petite.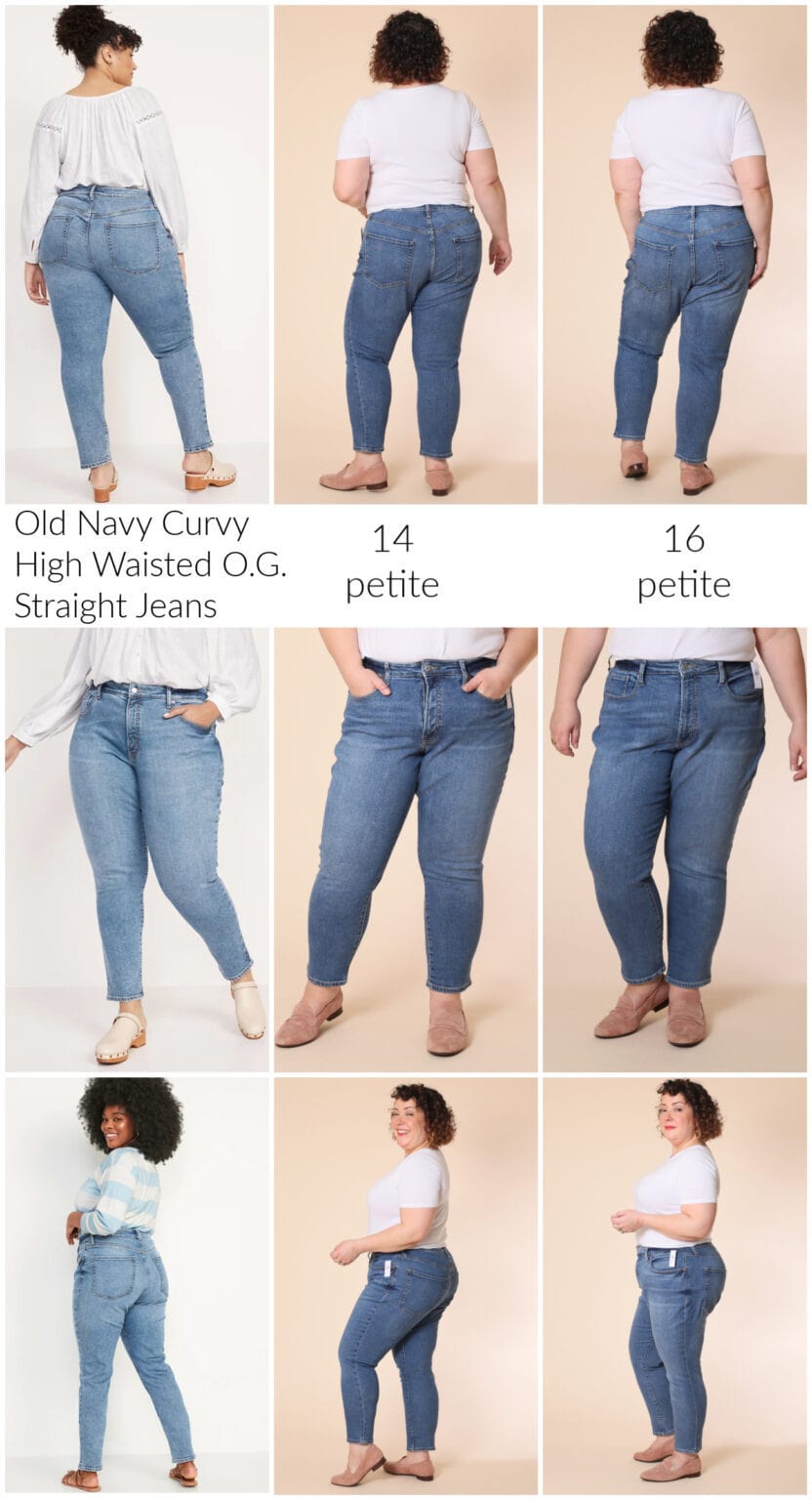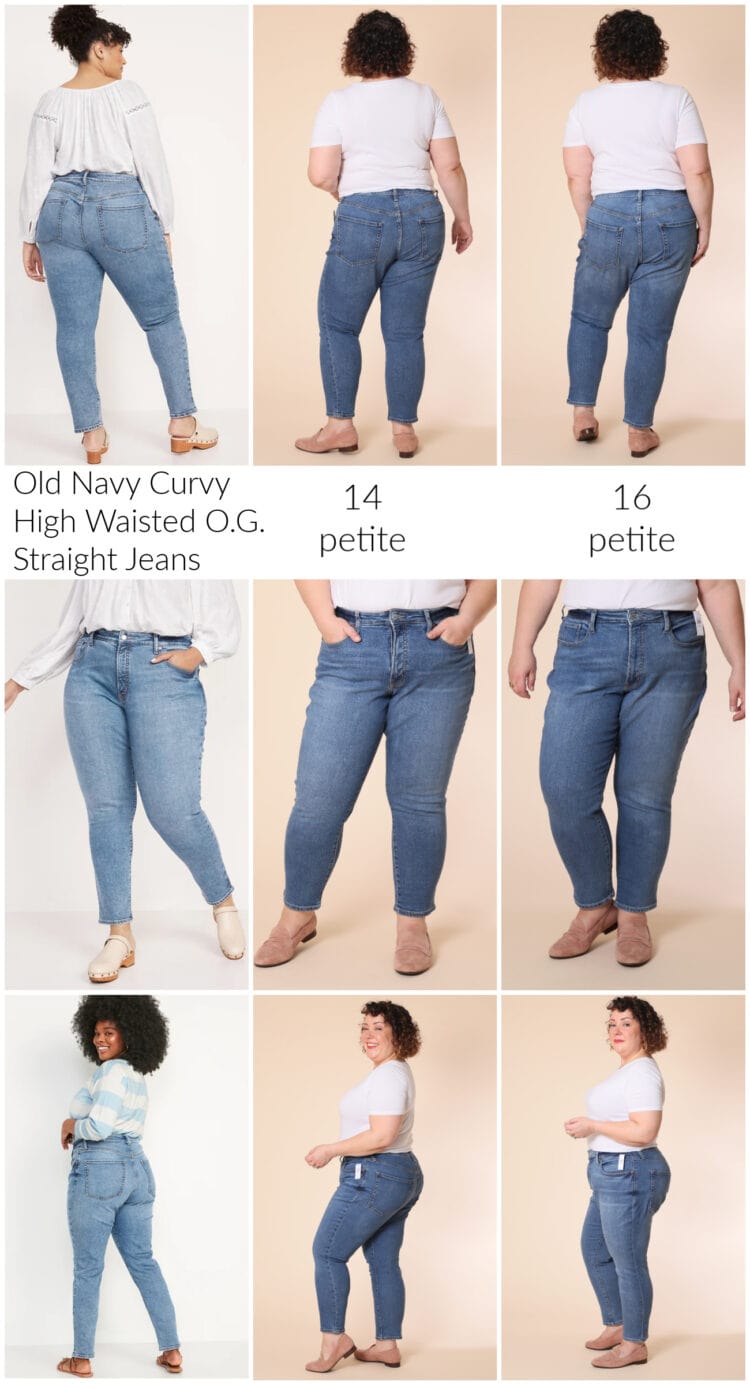 I switched it up and first tried on the size 16 petite of these jeans. Wow, these are some comfy jeans! And I like the wash! Deep pockets too! They felt great on but then I looked at myself in the mirror and wasn't as thrilled with the results. They were fine in the waist but had too much going on below. They looked kind of dumpy and frumpy on me, even though they had a cool wash and finishing and were a nice length.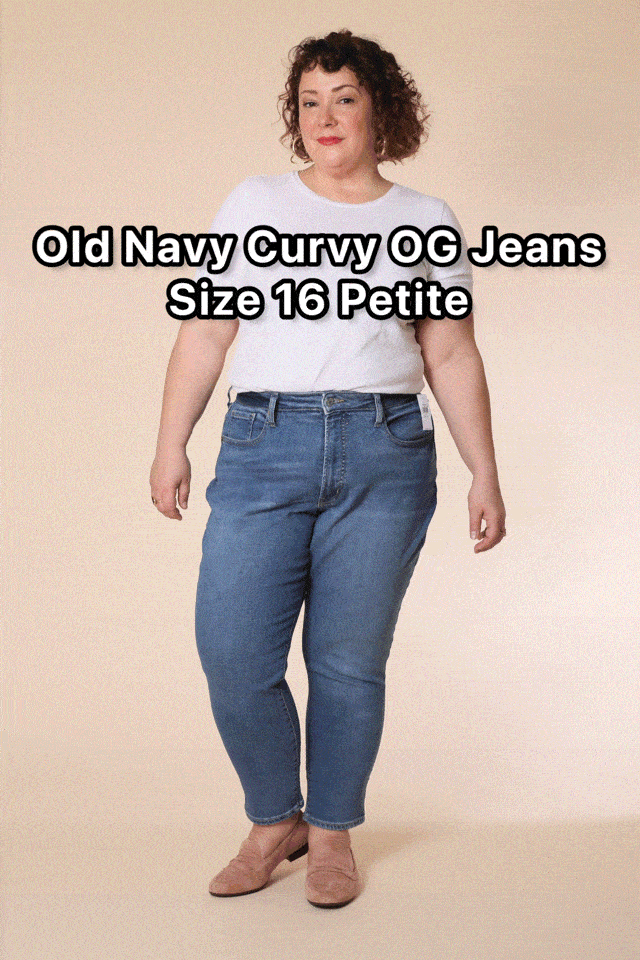 I had high hopes for the 14 petite but they were too snug in the waistband. But it made me realize the problem isn't the O.G. Straight jeans, the problem is this is the curvy fit of these jeans, and I don't have the curves they are made for. I think a lot of jeans that claim to be curvy just have some extra room between the waistband and the knees, but these are clearly designed for those who carry their curves lower which is pretty cool.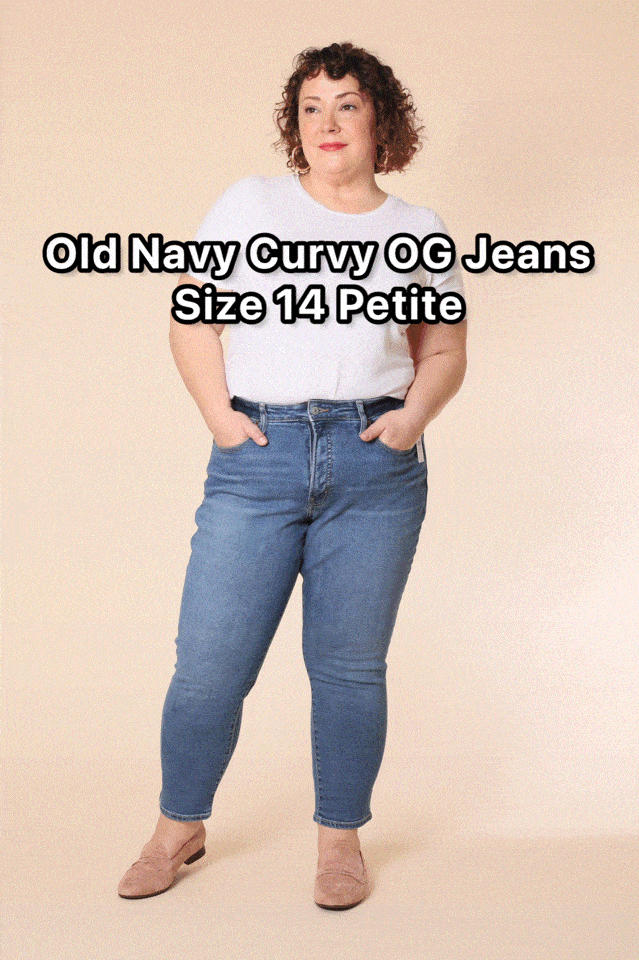 The Curvy O.G. Straight Jeans are 80% cotton, 10% recycled polyester, 5% recycled cotton, 3% other (what the heck is other?), and 2% spandex. They supposedly have "Clever Secret-Smooth front pockets" that are to smooth and hold you in but I didn't feel or notice this at all. Maybe that's what the "other" is in the fabric composition?
The Old Navy Curvy High-Waisted O.G. Straight Jeans retail for $39.99. They are available in Regular sizes 00-30, Tall sizes 2-18, and Petite sizes 0-18.
Old Navy Higher High-Waisted O.G. Straight Jeans Review
Good thing I also ordered the O.G. Straight jeans in a non-curvy version! These are supposedly 1″ higher rise than their high-waisted options, but Old Navy doesn't share rise measurements on their site so who knows. I personally didn't find these to be as high as the Sky High version and they didn't seem to be dramatically different from the Curvy High-Waisted O.G.'s, though the curvy fit may have been a reason. Anyway, I got them in 14 Petite and 16 Petite.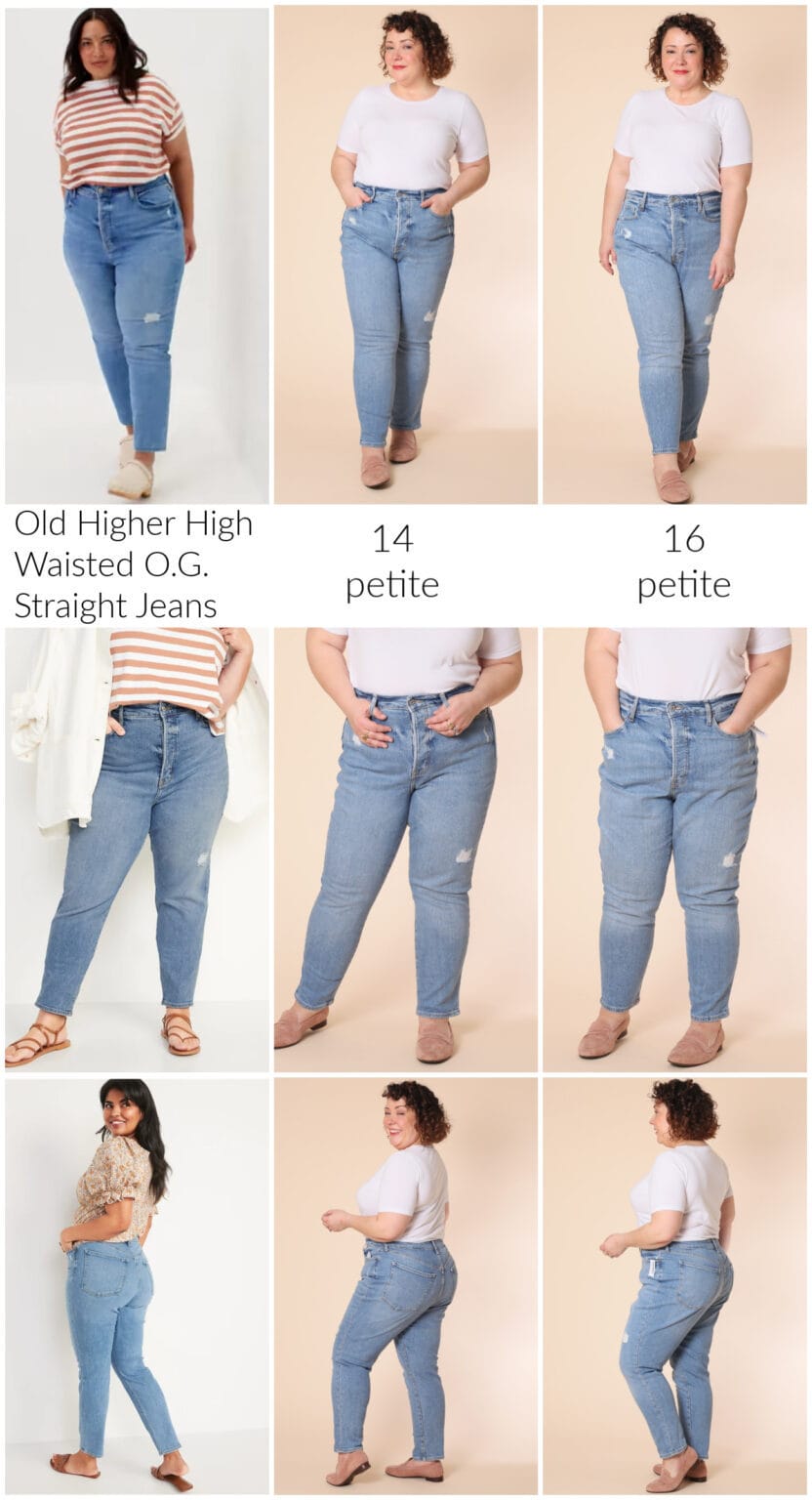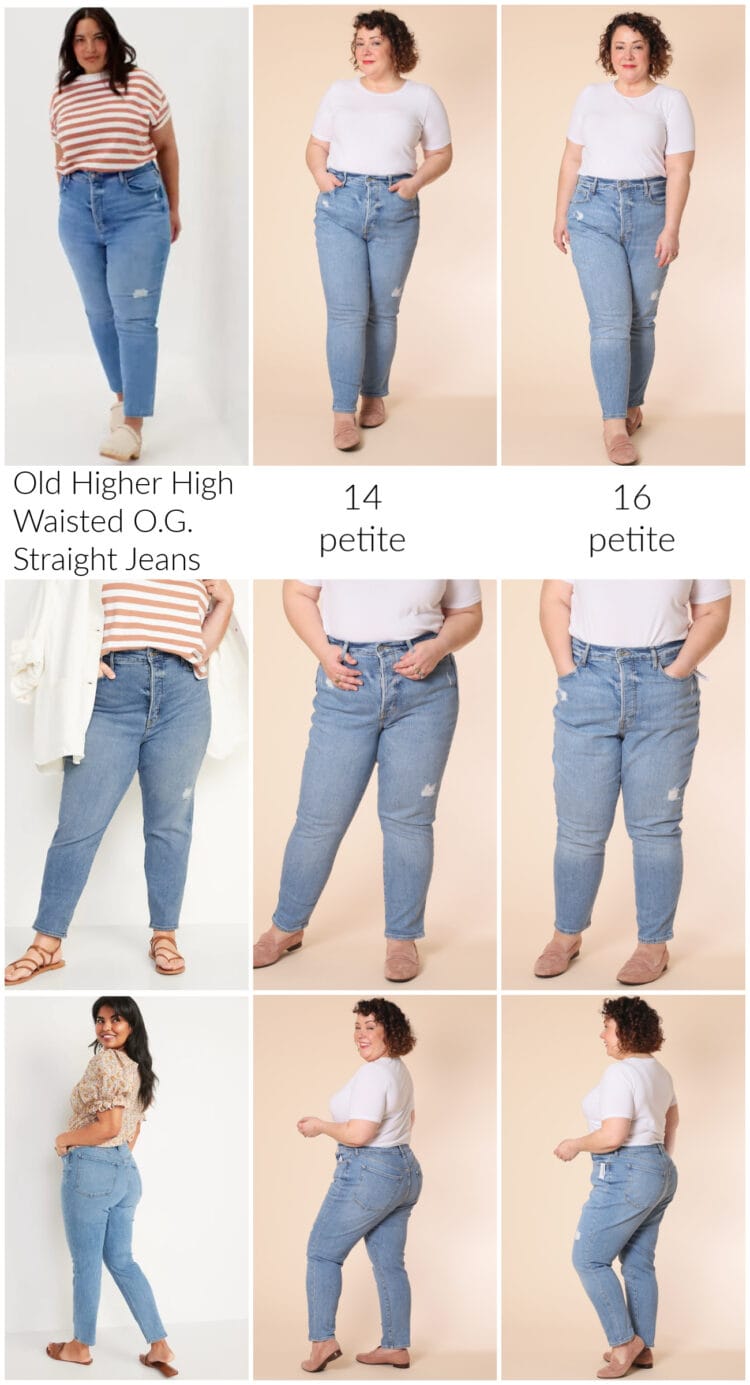 I started with the 14 Petite. I found these jeans a bit snug in the waist, but saw why so many of you think these jeans are great. Talk about a good gateway jean from skinny to non-skinny. The higher rise was enough to get past my belly button and stay in place even if I squatted. I wondered if the 16 petite would be a better fit.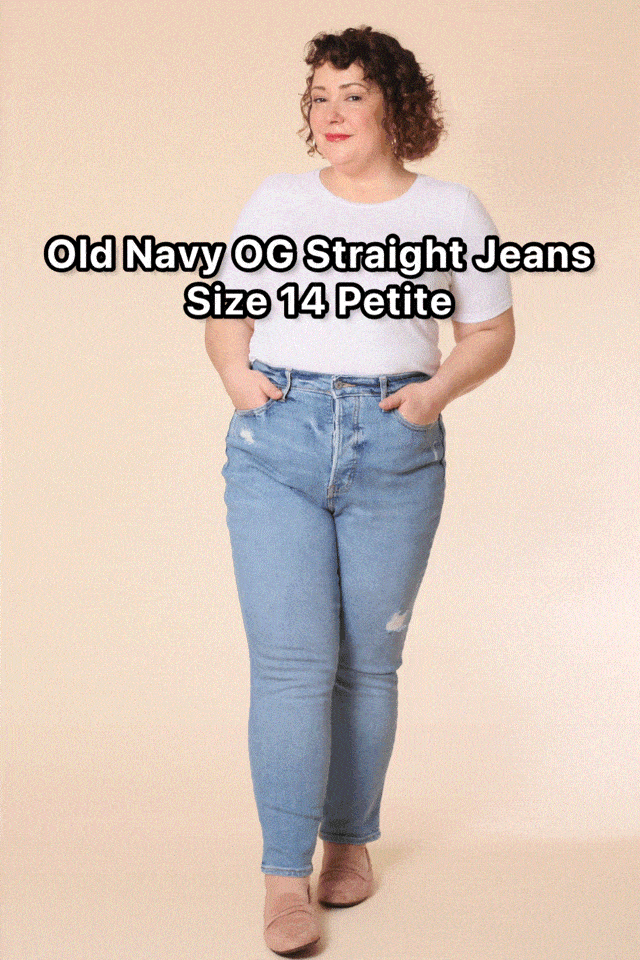 Nope, the 16 was too large, and I also didn't like that these jeans had a button fly. A button fly isn't as easy (especially when you're staying well hydrated), they're not always as comfortable (I remember the circular dents I wore all weekend after choosing button-fly jeans for a cross-country flight), and they don't do as good of a job of holding the shape of your lower stomach. I own some button fly jeans (these) and they really do emphasize my lower belly.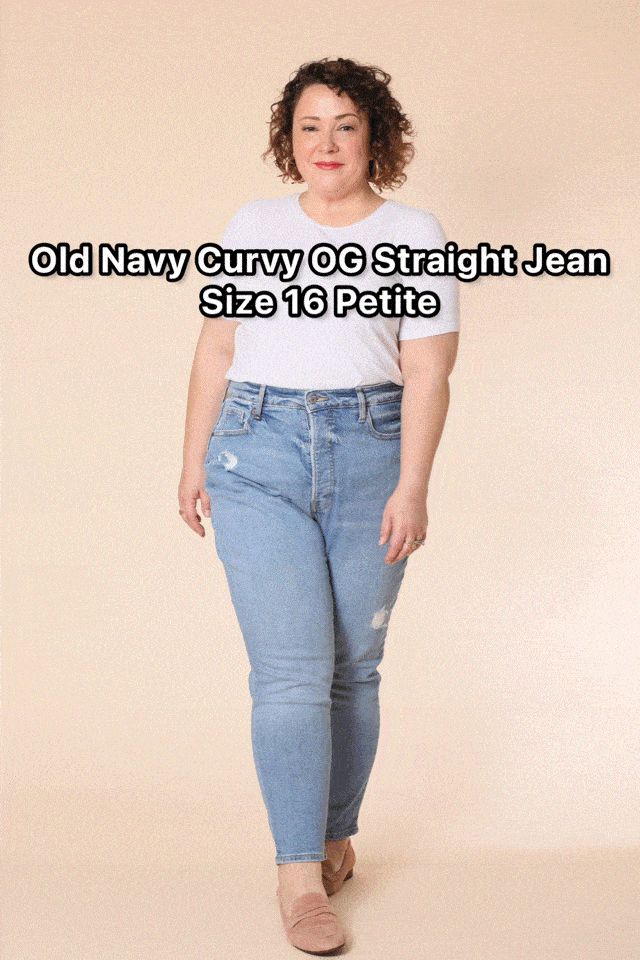 If you like the idea of these jeans, the O.G. Straights are available in a really nice mix of washes, finishes, and cuts (including shorts) and I seem to have ordered one of the few options with buttons instead of a zipper fly. The Old Navy Higher High-Waisted Button-Fly O.G. Straight Jeans are made from 94% cotton, 5% recycled cotton, and 1% spandex and also has those secret smoothing pockets that I didn't notice or feel so that means the pockets in the curvy jeans aren't made from the "other."
The Old Navy Higher High-Waisted Button-Fly O.G. Straight Jeans retail for $49.99, making them the priciest jeans of this Old Navy denim haul. They are available in Regular sizes 00-30, Tall sizes 2-18, and Petite sizes 0-18.
Old Navy Mid-Rise Kicker Boot-Cut Jeans Review
On Instagram Stories and in the Facebook Community I asked if folks wanted to see bootcut jeans and the response was overwhelmingly yes. So I ordered the Mid-Rise Kicker Boot-Cut in 14 petite and 16 petite, even though I knew they weren't the silhouette I was looking for. But you never know, and hey, research, right?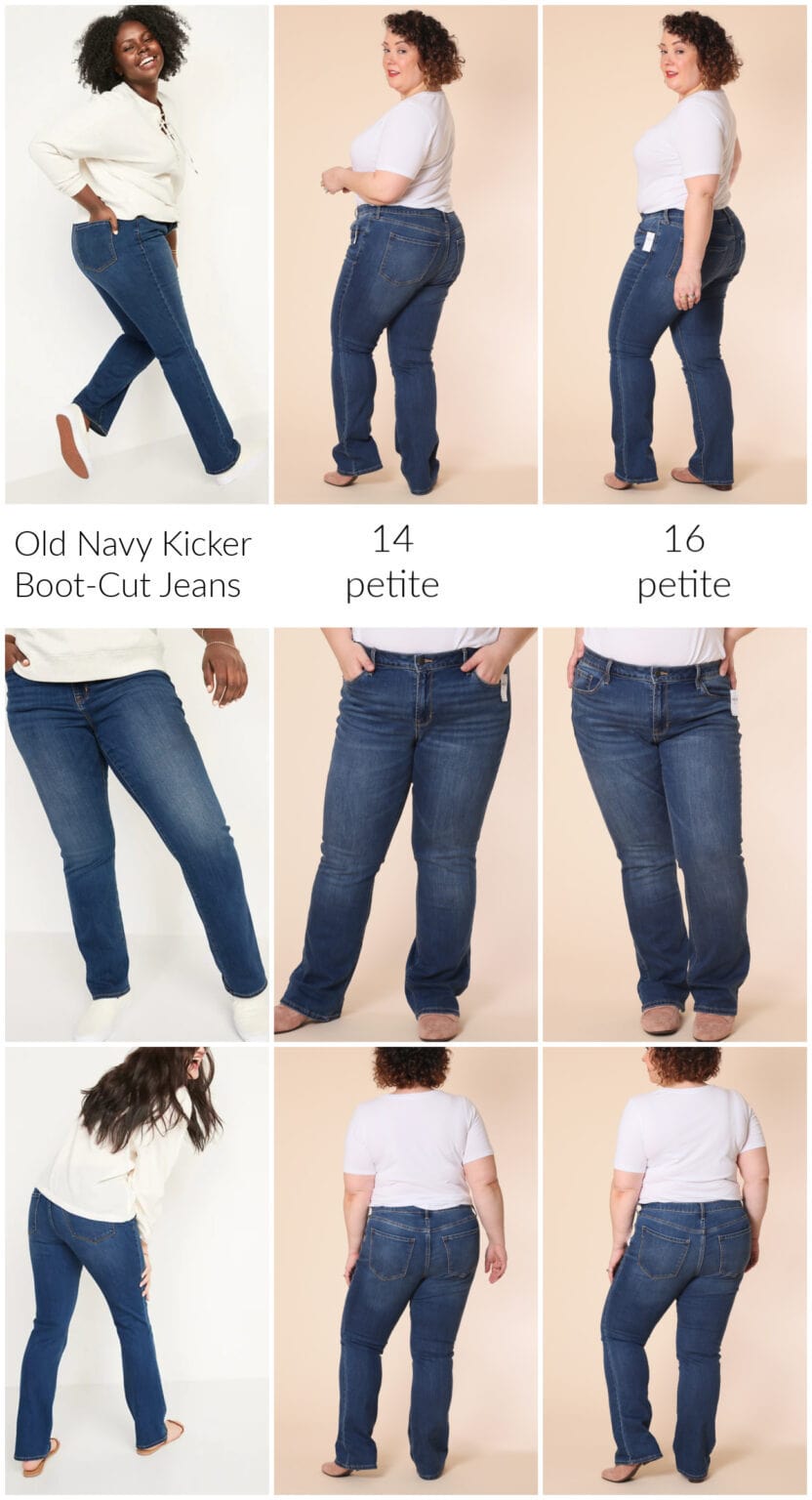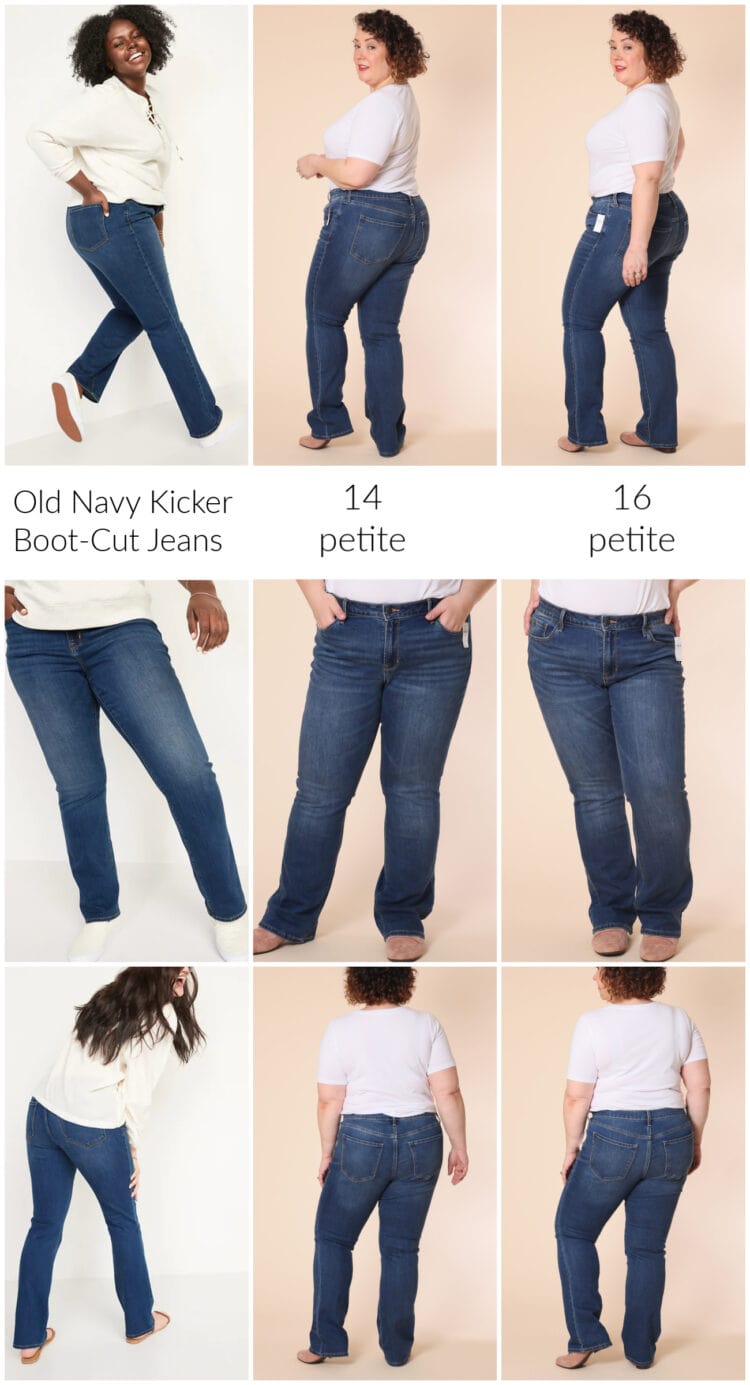 These jeans look much better than they felt. I don't think it was fair for me to keep the slimmest jean for the end of the shoot, because sliding these on felt like Saran Wrap after sweating under the studio lights and wearing more relaxed fit jeans. But they reminded me that 2022 bootcuts are not like 2002 bootcuts.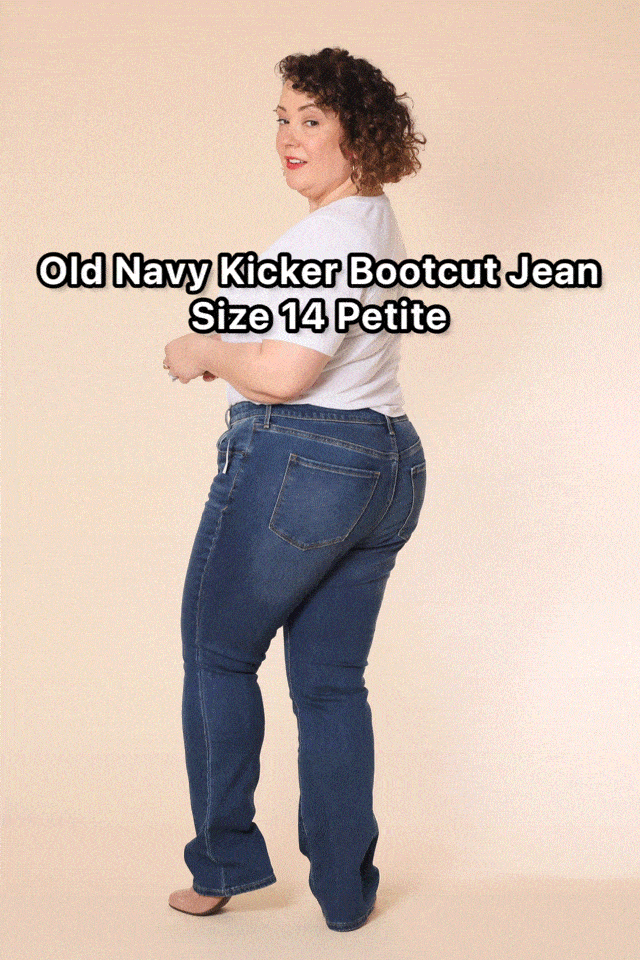 These jeans are a very stretchy, skinny fit until the bottom which kicks out a bit. These ran long, but bootcuts are best worn with a boot, which has at least a hint of a heel. And I think the combination of the wash, the slim fit, and these over a pair of boots or heeled shoes could look quite nice if that's your aesthetic.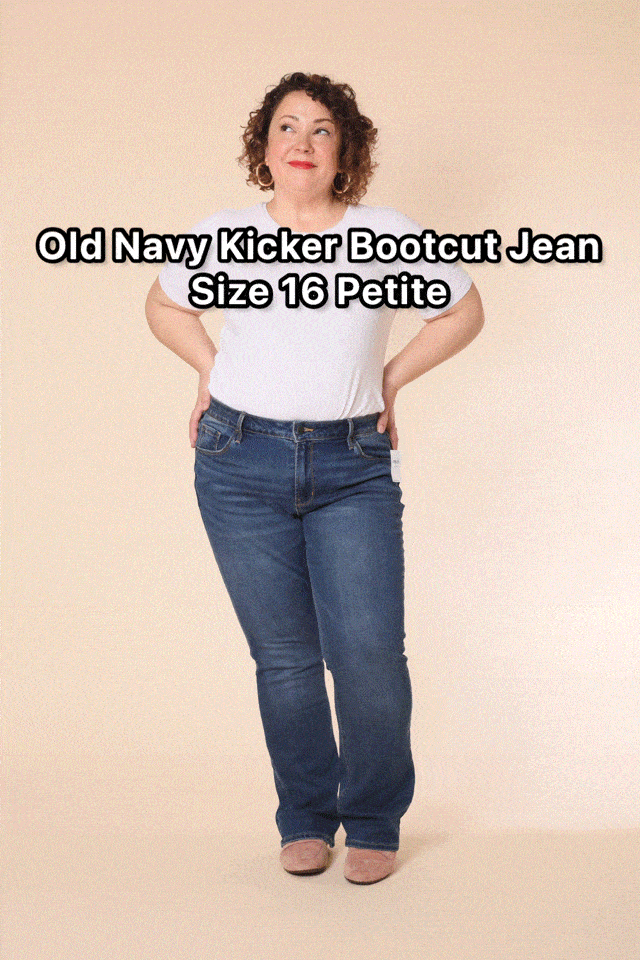 The 14 petite was too snug for comfort in the waist and gave a muffin top not due to location of rise, but due to being too tight. The 16 petite was more comfortable, and they didn't seem to bag out when I squatted nor did they gap in the back, making them a better choice if I was purchasing bootcut jeans.
Keep in mind I have very solid, strong legs and extremely large calves (we're talking 19.5″ boots sometimes are too snug). If you are a true apple with slimmer legs, you may like the idea of a bootcut jean. It's skinny enough that it will look nice with untucked tops. However, my personal opinion is that such a jean is more for fall/winter, unless you plan on wearing them with a heeled shoe or boot with some substance.
It's Not You, It's the Clothes, and Price Doesn't Equal Quality
Old Navy and Gap are sister companies, but their jeans couldn't be more different. Gap jeans are about twice the price of Old Navy which would have you think the quality would be twice as good but nothing could be further from the truth.
Gap denim is a heavier weight than Old Navy, and the washes and details are better (cooler looking distressing, sturdier hardware, better quality pockets and interior finishes) but Old Navy denim held its shape better when squatting, sitting, and wearing through the day.
With my Gap denim haul, I found Gap sizing was incredibly inconsistent with two jeans of the same size being a good inch different in width and length. I experienced legs being two widths and mistakes in stitching. I didn't encounter any of this with Old Navy. The sizing was in general, pretty consistent as was length.
With Gap, I fit better in a 16 or 33; with Old Navy the 16s were too big and the 14's usually fit pretty well or a hint snug. I am usually a 14 in Talbots, Kut from the Kloth, and Madewell and a 16 or 33 in J. Crew, Levi's, and AGOLDE. I know Old Navy is famous for vanity sizing, but I appreciate that vanity sizing is pretty consistent.
My point is, the size on the label doesn't mean Jack. It's a guide, not gospel and has no bearing on your value as a person or even the size and shape of your body. I have jeans everywhere from a size 10 to a 16 in my closet, some are petite, some are not, some are W/plus-sized, and some are just an extended size. If the tag bothers you, cut it out because these denim hauls are proof that a number means absolutely nothing.
This Old Navy denim haul is also proof that you can't assume what fit will work for you. Don't think because you're curvy you need curvy fit. I have worn curvy fit from other brands and have appreciated how it tapers in at the waist and gives room for my rear. But just as we humans carry our curves in different places, so do the jeans of different retailers.
Price doesn't equal style or quality. The size on the label has nothing to do with your body; don't give up after one pair. And go outside your comfort zone and try a new-to-you cut or wash. You may be pleasantly surprised with the result!