This article may contain affiliate links; if you click on a shopping link and make a purchase I may receive a commission. As an Amazon Associate, I earn from qualifying purchases. 
Every woman is different, and every woman's wardrobe is different. However we are upon an amazing season of fashion where there are SO many fabulous versatile items en vogue. I keep telling women, NOW is the time to stock up on wardrobe essentials and that special little "something" that brings YOU to your wardrobe. Whether you are a rocker, a prep, a romantic, an artist, a minimalist, or something else, these items will really add depth, versatility and a current feel to your closet.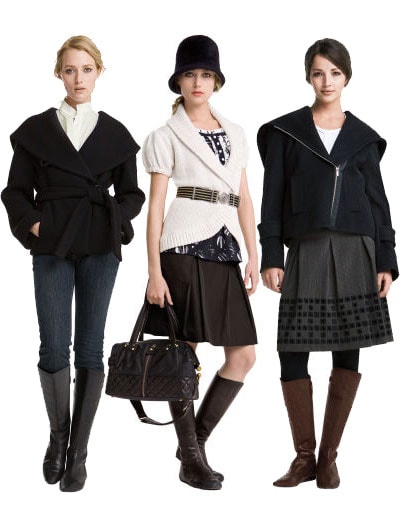 Riding Boots. Have a day where you just want to wear a sweatshirt and yoga pants? Switch to leggings (or jeggings) and a cozy sweater and pair with your riding boots, and you will look chick yet still be comfortable. Want to add a touch of YOU to your corporate pencil skirt and tailored shirt? Add a pair of riding boots. Want a way to make that short-sleeved shirt dress work for fall? Add riding boots and a tailored little jacket. Want to make that tee and jeans look special? Slide some boots over your denim.
A pair of tall boots with a slight equestrian feel are very stylish now, and very versatile. Pair with a pencil skirt, a swishy shirt dress, a relaxed turtleneck sweater dress. Slip over leggings or skinny jeans and top with a chunky sweater or a striped boatneck tee. A pair of these will be the glue to pull your wardrobe together, bring fall favorites into winter wearability, and be worn more often than you could ever expect.
Riding boots are fantastic because they aren't completely flat, but have a low enough heel that makes them great for standing on your feet or walking all day. Add some insoles for extra comfort. The classic, simple line can work for most any style of fashion. If you like a more edgy look, consider black leather. Classic women may prefer brown. A weathered look will compliment vintage fanatics, and silver hardware will make riding boots look a bit more Harley and appeal to the rocker chicks.
Companies like Duo Boots offer boots in custom sizes so you can find a pair that flatters your calves, no matter the width. Zappos and Wide Widths are sites that have extensive collections of brands that cater to wide calf women. If your boots are almost perfect in size, a cobbler can narrow or widen the shaft for a custom fit. A pair of riding boots can give you years of style and comfort – you will be amazed at how versatile they can be!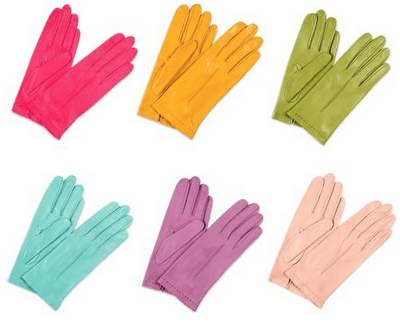 Colorful Leather Gloves. If you live in a part of this globe that gets cold, you will own at least one pair of gloves. Most women I know have at least a half a dozen pair, and when the time comes to wear some, they usually can't find a matched set, or are grabbing some cheapy fleece ones they picked up last year from the Old Navy bargain bin.
Instead of spending a bit here and there on random gloves you don't love (and easily lose), save up and buy a pair of really nice gloves. Last Christmas my mom got me a pair of royal purple cashmere-lined leather gloves. They are so soft, fit… well like a glove, and are so pretty, I don't want to lose them. Just as I move my wallet from purse to purse when changing bags, I move my gloves from coat to coat when I wear different outerwear. A great pair of gloves glams up the most utilitarian coat, adds a bit of cheer to a cold and gray day, and wearing gloves protects and preserves your hands!

A Bit of Bling. Me personally, I love a sparkly skirt. Be it sequined, brocade with metallic threads, a silvery lace overlay – a sparkly skirt can take your simple black turtleneck and leather pumps and make it holiday-party worthy. For others, it may be a beaded shell they pair with their basic black suit or rhinestone-studded cardigan they slip over a simple sheath dress. The beauty of these pieces is that they are very simple in silhouette and work just like a wardrobe staple, only with more flash.
A sparkly skirt in a classic silhouette (pencil, slight a-line, drop waist) will come to be as versatile as your LBD. For a more casual affair, pair with a black cashmere turtleneck and opaque black tights. For a night out with the girls, pair with a refined fitted tee and ankle booties. For a cocktail party, top with a trim velvet blazer and some platform pumps. The options are endless.
Keep your bling refined by choosing a more muted hue. Colors like pewter, black, bronze, brushed gold will get you more miles than silver, bright red, or another eye-catching color. Also if you keep the color subtle, you have more options with what colors you pair with it. A gray sequined skirt can work with black or royal purple; a bronze metallic lace camisole can work with brown or ivory or a festive shade of red. Once you have the glitz in your closet, you will be trying all sorts of ways to fit it into your daily wardrobe!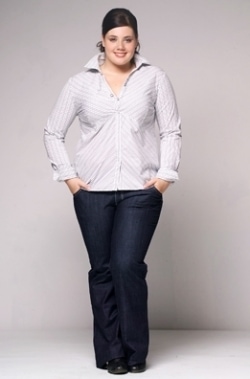 A New Pair of Jeans. In the past decade, jeans have gone from being a pretty standard staple to a status symbol. It has been exhausting to keep up with the high-end brands and the constantly changing trends. Whiskering, fading, blasting, high waist, low rise, stovepipe, sailor… it has been fun but also painful to the wallet (and to the psyche of many women who do NOT look good in the recent denim trends).
Well now is the time to get yourself some brand-spanking new dungarees. The look now is very classic – dark denim, simple lines, low-fuss pocket details. Designers are listening and the rise now is not overly high and not thong-baring. In almost any shop, you can find a silhouette that ranges from a subtle bootcut to balance out many feminine builds, to a very narrow cut that looks great on leggy ladies, or slipped under a pair of tall boots. Wide waistbands work better with feminine curves, and thicker dark denim with a hint of stretch will work with most figures. Check out retailers you haven't tried before, and go back to the ones who disappointed you a couple years ago. You may be pleasantly surprised.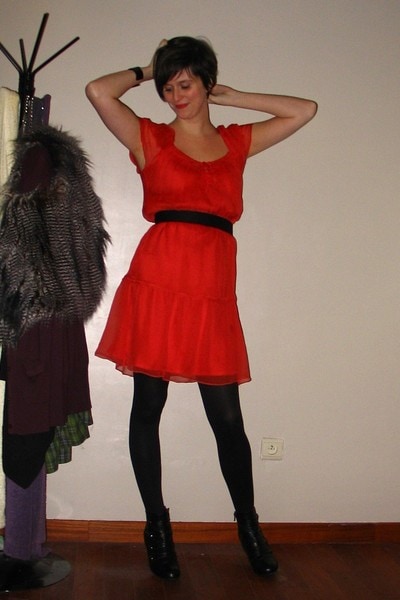 Really Opaque Black Tights. Yes, black stockings are back en vogue. That doesn't mean they should be worn by all women and at all times. Walking the streets of DC, I often see women in what they may have thought were tights when they picked up the pair at Target, but on their legs they look like sheer hose.
The thing is, sheer hose gives a completely different effect from opaque hose. Sheer hose is more feminine, more sexy, and often more formal. When you pair a cheap pair of shiny semi-sheer tights with a short shift dress, a pair of tall heeled boots, or some sky-high Mary Janes, the outfit ends up looking a bit Lolita-esque (or streetwalker-esque). If you are going for that look, more power to you. But for all you women looking for a way to make your little dresses be day- and work-appropriate, it's worth it to invest in a higher quality, and higher-denier pair.
Blogger Hope Robertson recently wrote about her three favorite brands of black opaque tights. I am also a fan of We Love Colors, who makes high-quality tights in almost every color under the sun. Not only that, they carry plus size tights AND a style of uber-opaque hose that are fantastic for day wear.
What items have you recently purchased that have transformed your wardrobe?