This article may contain affiliate links; if you click on a shopping link and make a purchase I may receive a commission. As an Amazon Associate, I earn from qualifying purchases. 
In my previous life, I was a retail gal. I worked my way up from a part-time manager in training while I was in college, to being a personal shopper, store manager and eventually a visual merchandiser. Having a past in apparel retail will affect you for the rest of your life – for some, it's the desire to color-coordinate their closets. For others, they will catch themselves sizing rounders while shopping at The Gap. I know one of my friends who still folds her jeans in the same exact manner as she did when working at Express and snagged a sweater folding board to fold her knits at home into perfect rectangles.
For me, other than the desire to size every store in my local mall, it is to finger space all the hangers in my closet. When I worked at Express in the late '90s, this was something that you did to the entire store after closing. All garments facing the same direction, hanging properly on the hangers. Everything sized from smallest to largest, and then you would take one hanger hook between each finger and slide everything to the right of the bar. All hangers would end up a finger's width apart from each other. This would leave a very tidy look in the store, and nasty black marks on the bottoms of your digits.
After leaving retail, I was pretty big about keeping my closet as organized as my old stores. Matching hangers (black plastic ones I got from work that do great with monkey-hanging), everything separated by style (all dresses together, all pants together, etc.), everything color coordinated, and everything finger spaced. Having a tidy and attractive closet calmed me, and made getting dressed all the more easy and enjoyable. I could open those accordion doors and immediately be able to put together an outfit, or know what piece I should buy that season to make my wardrobe more cohesive.
Then I had a baby.
Suddenly I had no clue what size I was, and had no time to really care for my hair, let alone my closet. I had everything from size 10 to 18 hanging in there – winter clothes in July, sundresses in January. Piles of shoes on the floor collecting dust – either too high for my postpartum body or too small with my now size-8 feet. My husband tried to help and any clothes that came out of the dryer he hung up. This meant I had to dig through yoga pants and hoodies to find something appropriate to don for work. Let's add to this mess the fact that the closet was a fun hideout for my dogs (and once she started walking, my daughter). Amid the dusty shoes and dirty laundry on the floor, one could always find giant puffs of blonde dog fur, a chewed up stuffed animal, or a Sandra Boynton
book.
As Emerson gets closer to the age of two, I get closer to being Alison again. Baby steps towards reclaiming myself, finding balance in this new world. This week, my goal was to reclaim the closet.
I started with my bureau. As that many items in the closet should actually be there, I wanted to start with a clean slate. Out went the beat up nursing tanks, the oversized yoga pants, what the heck is a maternity tee still doing in there? Out went the white pants, the stained tee shirts, the icky yellowed and grayed ribbed tanks. While at it, gone were the stretched out postpartum granny panties and all the nursing bras that didn't lift and support and act like a regular bra to my bust. I made two piles – what to donate, and what to turn into rags.
Green Tip – Take your old tee shirts, cut off the sleeves and hems and cuffs and you will end up with two nice-sized rectangles perfect for dusting and quick clean-ups! Have a basket under your kitchen sink or in your linen closet, toss in the wash when dirty and you will be amazed at how easy it is to go paper-towel free! you can also do this with old yoga pants and other knits – just cut to size and the edges will roll on themselves, keeping them from fraying.
I then tackled the closet. I removed all the items that should be in a drawer (pajamas, casual knits, jeans, bras that were line drying in the bathroom and moved to the closet by my husband). When I put them away, I put them away with purpose. A drawer for lingerie, a drawer for nicer knits (tanks and shells and tees that I will wear out in public), a drawer for jeans and casual bottoms, a drawer for workout wear and lounge wear (and the one or two bummy tees I kept for when I paint a room or work in the garden).
I then went through what was leftover. I had a box for what was out of season and needed to go into the attic, a bag for that which needed to be donated, a bag of what I thought I could sell on eBay, and then I added some more to the rag pile.
Wow, I just whittled my closet by more than half! Instead of feeling sad that I had a smaller wardrobe, I felt liberated. I looked at what was left and felt so… creative! Hey, wouldn't that top look really cute under that sweater? What if I wore that dress as a tunic with skinny jeans and boots? Oh the options!
Before continuing, I decided to clean. I took a rag and water with a drop of Dr. Bronner's
and wiped down the metal bars and the shelves.
Finally I took everything and hung it up properly a la Retail Alison. All facing the right way on the hangers, gripper hangers for the slippery pieces, using garment loops to keep items from falling off hangers. I even hung my skirts so they were flush with one side of the pant hanger. I organized by style, with the most worn pieces at the center of the closet. And finally, I finger-spaced the garments. I knew I wouldn't maintain it, but it was a nice way to finish that portion of this project.
I stood back… and felt such serenity. There was my wardrobe, my options, my suit of armor. Looking at it all nicely organized made me realize I had a pretty good collection and didn't want for much. Having my clothes so tidy made me want to keep them tidy – not just when in the hanger, but caring for them properly when wearing and laundering so they would stay looking pretty and tidy.
I haven't finished my closet project – the floor is still littered with cardboard books and summer flip flops and old dusty boots. The bags need to be stored properly (great use for old pillowcases). But I did weed out the shoes and they are now in the properly-labeled box. My hanging organizer is organized, though not yet weeded. I hope to have this project complete before this coming Monday, but wanted to share photos with you now. It's proof that style doesn't come with quantity, but with having a useful wardrobe of staples. Stick to one color story and style for more versatility and the ability to mix and match with little thought. Keep it simple, use accessories to show personality and change up wardrobe basics. Respect and love your clothes and they will be more likely to love you in return!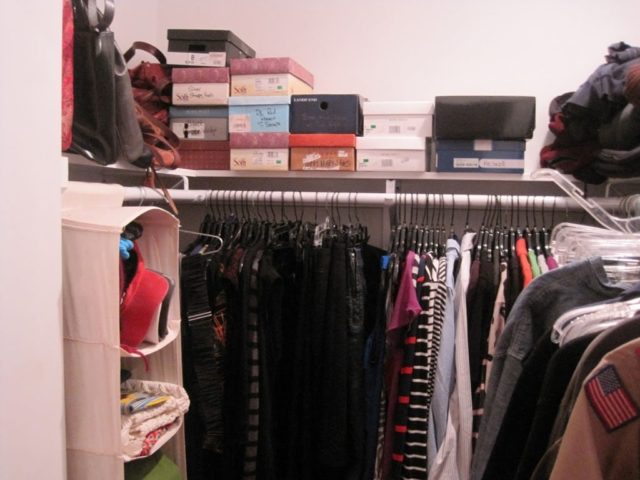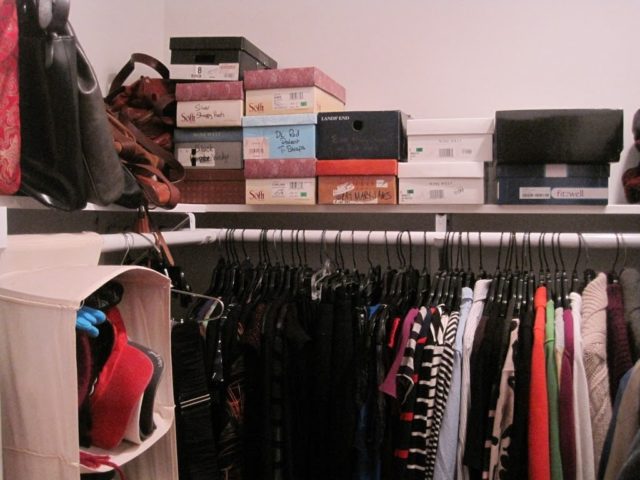 My side of the closet – what I have accomplished so far.  The boxes hold all the shoes I own – boots and flip flops are stored on the floor of the closet.  Bags have yet to be sorted and properly stored in cloth bags. And nope, the hangers are no longer finger-spaced!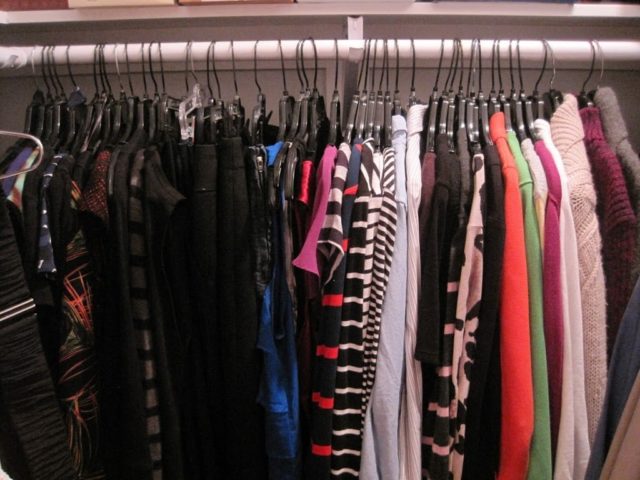 My wardrobe collection.  You can see I pretty much stick to a base of black and gray with the occasional pop of color.  This season I am really loving striped shirts and have added a few to my wardrobe – very classic, touch of French chic, and a cheap way to add a current trend to my collection of basics.
I know with this collection I have something to wear to work every day of the week, something to wear to a holiday party, a cocktail party, a wedding, a funeral, or most any event that life throws my way!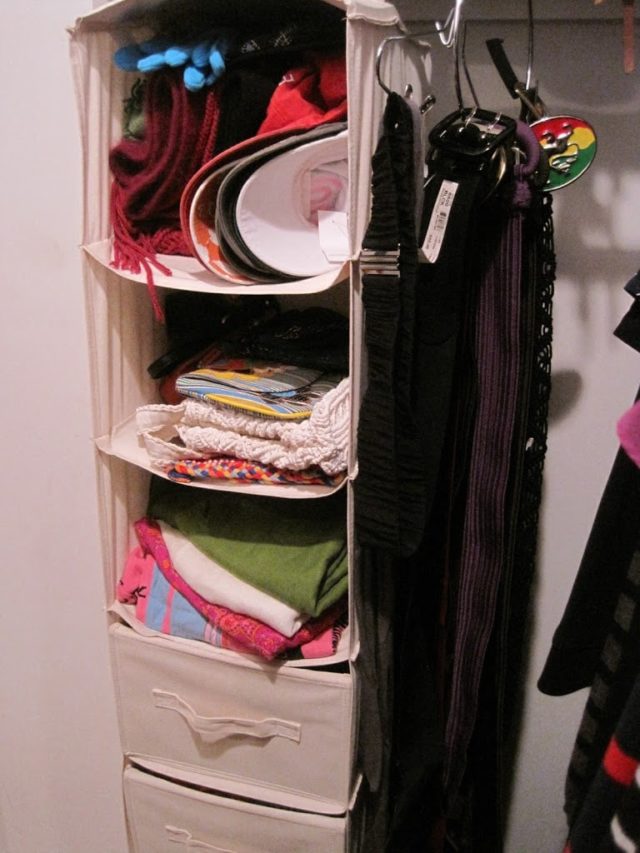 My accessory collection.  I purchased this hanging organizer almost 20 years ago.  First shelf are seasonal accessories like scarves and mittens, plus my baseball caps that I only wear to baseball games (two for the Orioles, two for the Nationals).  Second shelf are dressy or small purses I use most often.  Third shelf are pashminas and scarves I use most often.  First drawer holds more pashminas and shawls that I don't wear as often.  Second drawer holds my scarf collection, and the bottom drawer holds the rest of my clutches and dress purses.  My husband and I house our belts together on the two contraptions to the right.  More belts are stored in a box on the shelf with my shoe boxes – those belts are novelty pieces that I rarely wear.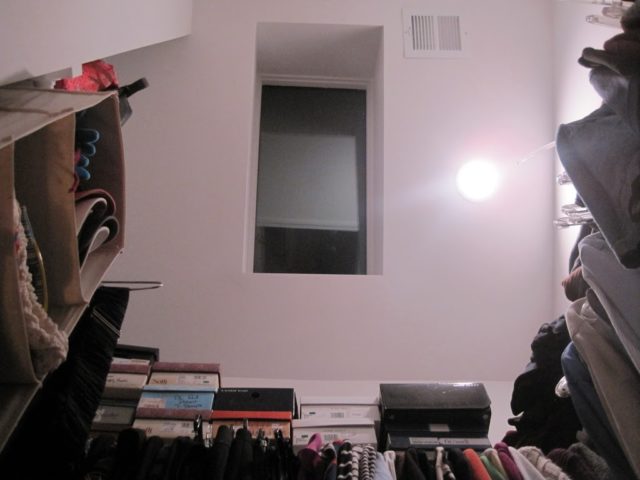 The reason I love this closet – the skylight!  Natural light, hardly ever the need to turn on the electric light (except at night like this photo), and a beautiful scene to help me every morning as I contemplate what to wear!