This article may contain affiliate links; if you click on a shopping link and make a purchase I may receive a commission. As an Amazon Associate, I earn from qualifying purchases.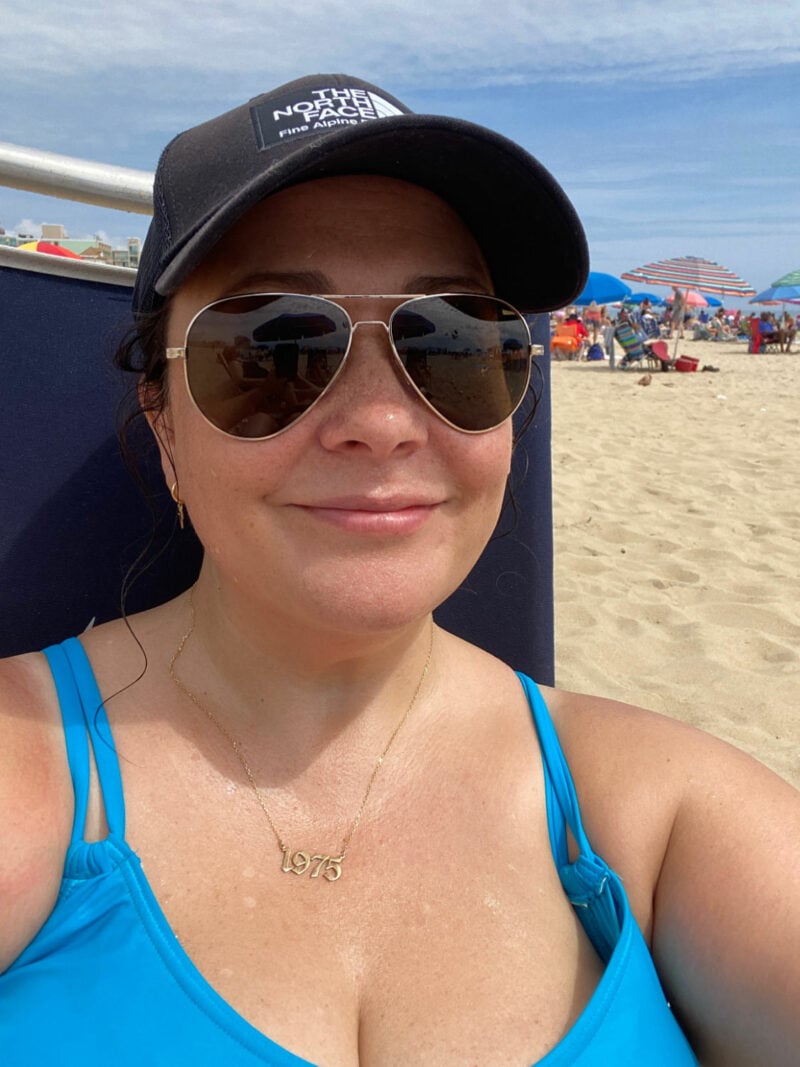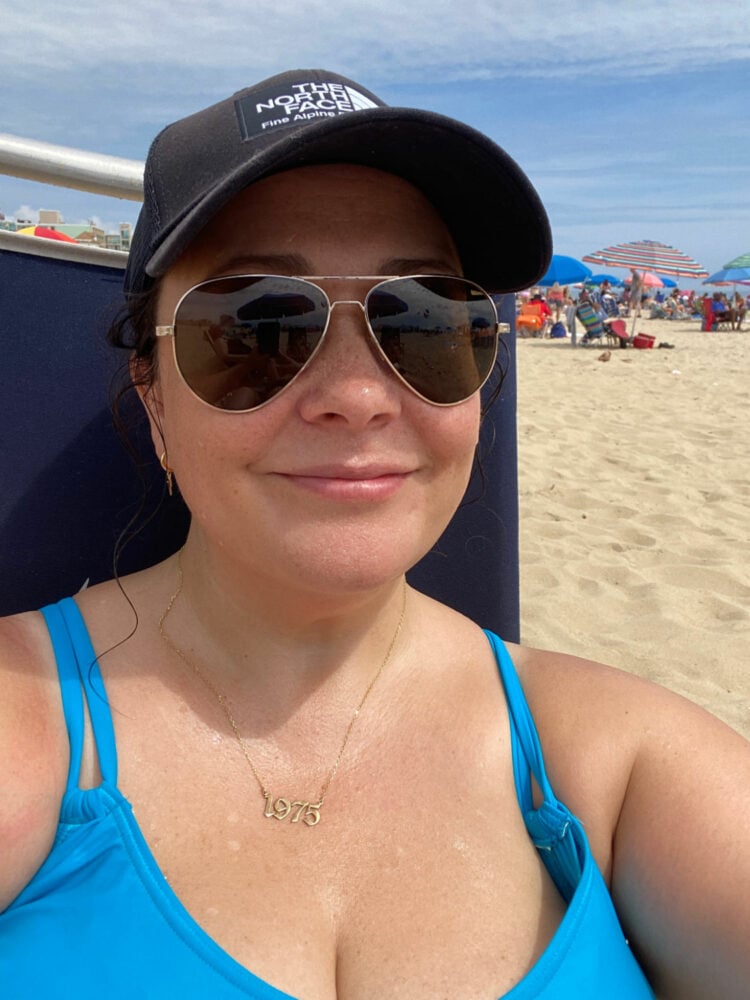 Weekend Reads
The girlboss apologia era is upon us. (Vanity Fair)
"…when Google Reader disappeared in 2013, it wasn't just a tale of dwindling user numbers or of what one engineer later described as a rotted codebase. It was a sign of the crumbling of the very foundation upon which it had been built: the era of the Good Internet." (The Ringer)
On Instagram, I shared I got one of these dresses from Ever By X, a woman-owned slow fashion brand from Australia. They fit sizes 6-24 and come in regular and petite; I got the petite and it fits well. I haven't played much with it, but I washed it in the machine on gentle, hung it to dry and it was dry in just a couple of hours and is ready to wear, no ironing or steaming needed. Fantastic fabric for hot weather too; I'll have a full review next month!
It's hard to be a moral person. Technology is making it harder. (Vox)
The grandparents are not okay: on the rampant and unexamined fatphobia of many Boomers and tips on how to talk about this subject (or stop this talk) with your parents. (Burnt Toast)
1,000-year-old remains may be of a highly respected nonbinary warrior. (NPR)
I bought a volcano face roller. I threw it in my bag and forgot to throw in my blotting papers, powder, and even forgot my bandana to mop my brow. Needless to say in humid and hot AF DC I gave it a literal spin before meeting friends for lunch. This shizzz works!
As someone who was in a gifted program from 2nd-4th grade where I was pulled out of class, usually at the time of math, to learn about archeological digs and write a research paper on REM sleep and then went to a gifted magnet school from 5th – 8th grade and to this day wonder if I had stayed in my neighborhood school if I would have been a more successful student… I found this article quite interesting. (Washington Post)
We had a Ford Aerostar. (Esquire)
How the pandemic laid bare America's diabetes crisis. (Reuters)
We're going on vacation where we need to pack light, will be staying somewhere a bit rustic, and we'll be gone for a week. On our road trip, drinking tap water in different cities sort of messed up my husband and daughter's stomachs. So I bought some of these universal water bottle filter adapters from LifeStraw for this trip and just for the future. They fit on the Kleen Kanteens, Hydroflasks, and Nalgenes already in your cupboard and have replaceable filters that remove 99.999999% of waterborne bacteria and 99.999% of waterborne protozoan parasites and replaceable activated carbon capsules that remove chemicals and chlorine and improve taste.
The digital world is now our primary residence. (The Dispatch)
Growing old is a crisis more and more Americans can't afford. (New York Times)
Ohio court sentences Black woman to 18 months in prison the day after giving white woman probation for same crime. If you think that sounds like some clickbait title, I encourage you to click to actually read. (The Root)
"We all dreamt, We'll grow old together. We'll be old ladies together. And we did." (The Atlantic)
TMI may be just too much to process. (Dame Magazine)
Carmen, an influencer I follow (I almost wrote friend because we do DM but I have never met her) has been discussing this topic a LOT lately on her Instagram Stories and this article sort of encompasses it: Celebrities like Jake Gyllenhaal have spoken out about how little they bathe. That's easier to say if you're white. (Insider)
Last Friday I shared I ordered this budget-friendly bikini top for large busts and how I liked it but it ran too big. I ordered it one band and one cup smaller and it's a keeper! I also got this bottom in XL which is high enough to cover my short-torso's belly button but doesn't touch my ribs. It is conservative enough in front that I don't need to do a lot of landscaping before heading to the pool, but the back is cute and doesn't make me look saggy bummed. I got the orange, I will be wearing it on our trip, you will see it on Instagram!
This article about Rebecca Minkoff popped up on Twitter for me. (New York Times). So to go with it, here is your regular reminder from me that Rebecca Minkoff is a Scientologist. (The Truth about Scientology) As is her father (Tampa Bay Times) and other members of her family. The Rebecca Minkoff items you purchase fund Scientology, if that's okay with you, cool, I just wanted you to be an informed consumer.
Duran Duran front man Simon Le Bon on a life of great videos, great gigs, and, yes, great hair. (Vulture)
For those who remember Dobbin Clothing and wonder what happened to the brand, for those who have been gaslit in relationships, or to just read about a strong woman you should click here and read this piece. (Atoosa Unedited)
This was one of the most… intense reads I read this week. TW: speaks of the former president and many individuals part of his campaign/team. (Vanity Fair)
And this past Monday my sister sent me this piece by Anne Helen Petersen that echoes what I am feeling and wrote about last week. (The Washington Post)
See/Hear/Read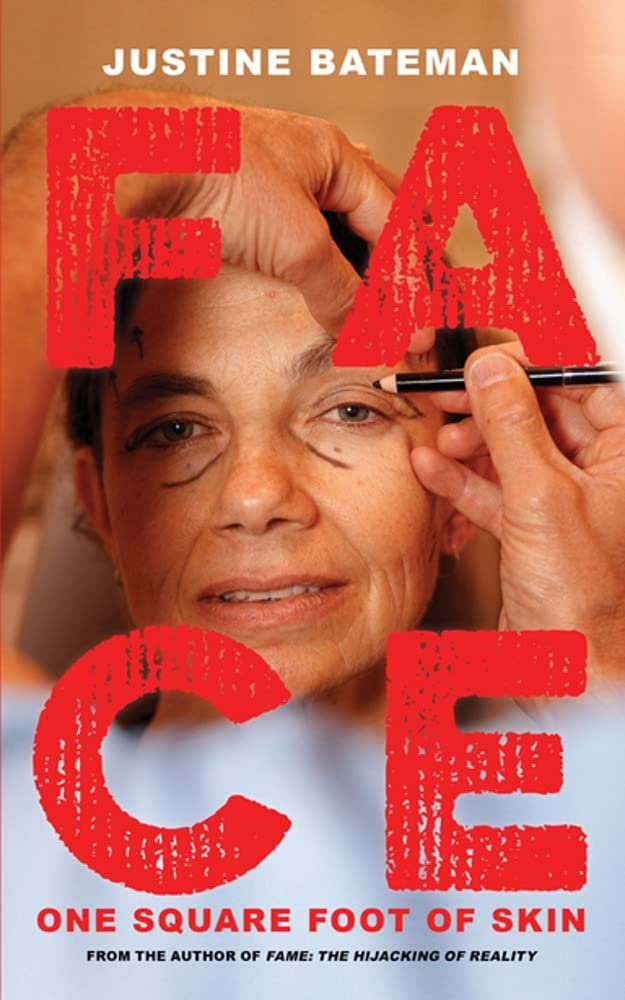 Justine Bateman, known to many of my generation as Mallory, older sis to Alex P. Keaton on Family Ties has come out with a book called FACE: One Square Foot of Skin. I've been intrigued by it but once it came up in discussion in the Wardrobe Oxygen Facebook community I bought a copy. I'm about halfway through.
Dude. Duuuuude. This book is a very strong fuck you to society expecting women to spend money and endure pain to achieve an appearance of youth. It is a series of anonymous short stories of women primarily in their 40s and 50s. They are housewives and housekeepers, actresses and architects, their tales sometimes written like journal entries, sometimes like poetry.
Just as I believe with fashion, I support people doing whatever the f*ck they want to their face or body that makes them happy. I myself got Botox once and we all know I've had a thing for skincare, including acids and "anti-aging" ingredients for decades.
If you're feeling pressure to do something to your face based on your age and society's perception you will love this book. If you are annoyed, angered by, or jealous of women who have modified their face or body with age, this book may help you realize where those extreme feelings are coming from. If you have been questioning why you are doing certain things for your appearance that you don't enjoy or can't always afford… this book may give you the confidence to change your perception on beauty, priorities, and power.
If you are someone who loves your Botox or have procedures to make your face look the way you wish… at least halfway through this book I'm feeling this book is not for you. Like seriously, don't read this book, don't think about this book, don't bring this energy into your life, you do you and own it. Own your life, on your terms.
As Bateman stated in an article in Vanity Fair:
"I think it's possible that I'll be criticized by those who have decided that plastic surgery is some kind of feminist position. That criticism of "how dare you be critical of women that have taken control and are making the changes that they see are necessary?" But look, this is just how I see things. My hope for women is that they can get a steel spine as far as how they feel about themselves. That the condition of their face is completely immaterial. We assume others are going to reject us. We don't trust that things are going to be okay. Because of that, women feel they have to make sure all these other people are okay with what they look like. As if that's the only way they're going to move forward.And I don't believe things actually work that way."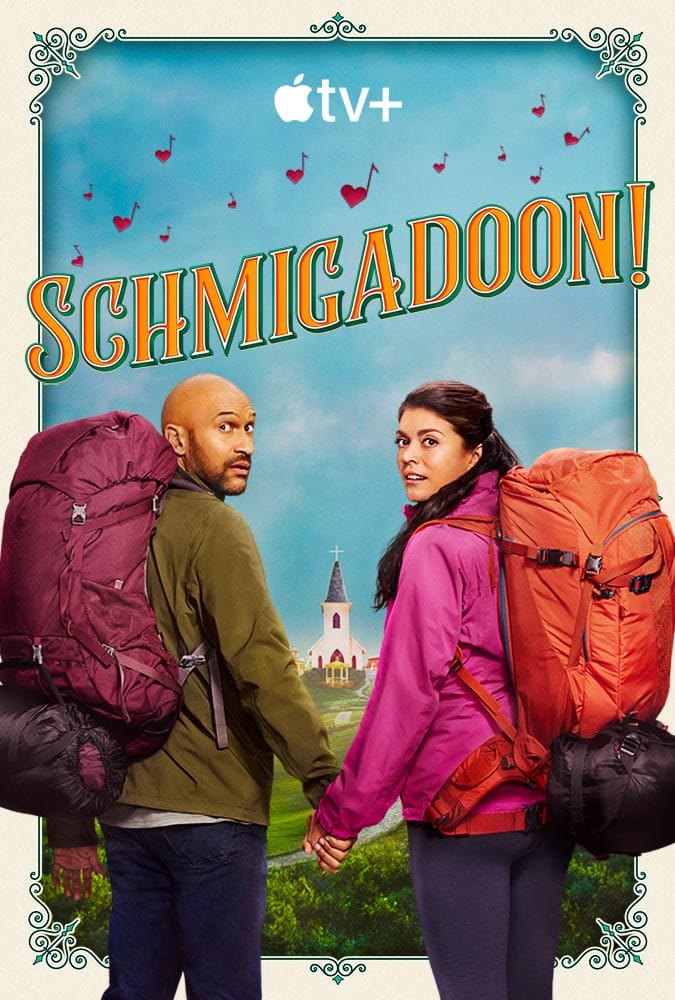 This week we started watching Schmigadoon!, a series on Apple TV from Lorne Michaels where a couple who goes on a hiking trip to reinvigorate their relationship end up in a musical taking place in a town called Schmigadoon. The only way they can leave is if they find their one true love… which they thought they already found.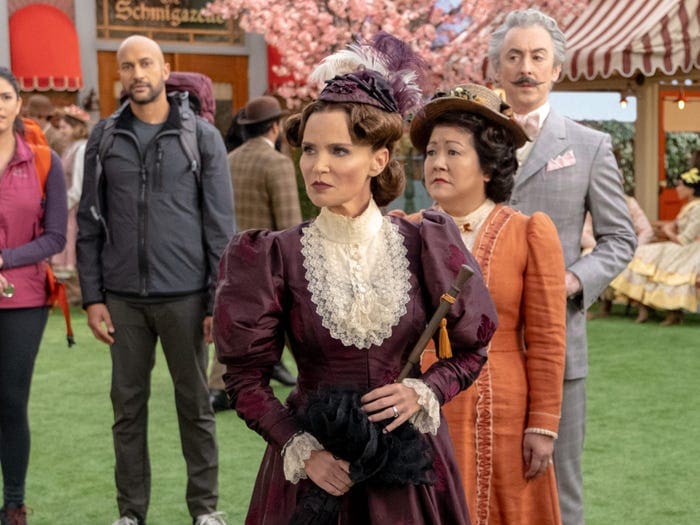 Schmigadoon! stars Cecily Strong from SNL fame, and Keegan Michael-Key known from Key and Peele as well as many other roles (Keanu, my kid recognized him from Jingle Jangle) as the couple stuck in this town. The mayor is Alan Cumming, Fred Armisen is the town minister with Kristen Chenoweth as his wife. Martin Short plays a leprechaun, and that's just a bit of the star-studded cast of this weird musical comedy.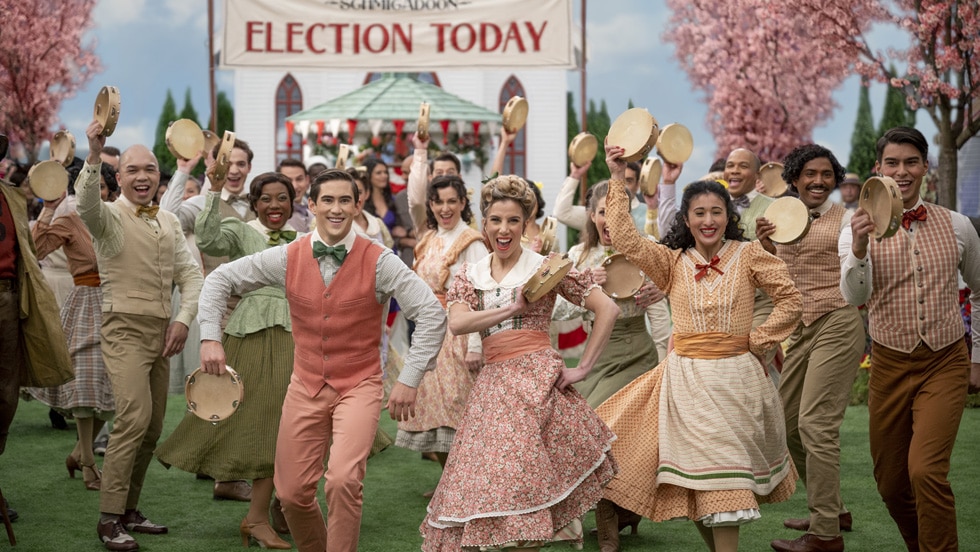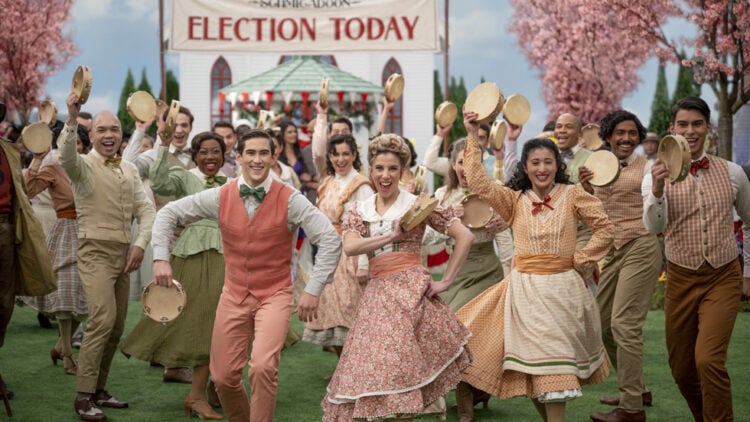 I'll admit we're only three episodes in but it's ridiculous and funny and relatable (Michael-Key makes so many faces, jokes, and references that remind me of my husband as well as many of his friends and I know Strong's character (maybe I am a bit her character?). Our whole family is watching it and enjoying it (though if you're unsure if it's right for your tweens and teens check Common Sense Media).
For Your Entertainment
"If you could see yourself, from the outside in you'd say that you don't have to be more thin It's okay, and if you, could see yourself from above the sky, i think you'd say that you're doing fine." So starts Orla Gartland's latest release, "You're. Not Special, Babe" coming from her album which drops next week. Gartland is a Dublin, Ireland singer/songwriter/musician who rose to fame on YouTube. She released her first YouTube video 13 years ago, at the age of 13 and had her first EP in 2011.