This article may contain affiliate links; if you click on a shopping link and make a purchase I may receive a commission. As an Amazon Associate, I earn from qualifying purchases. 
Each week I will be posting a free way that you can update your look or wardrobe – simple and budget friendly steps that are super easy to accomplish. This week's idea – cutting the purse strings!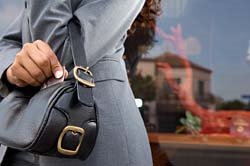 With use, leather and leather-like bags often start to fray, especially at the straps. We often miss this detail, with our purses becoming almost a part of our bodies. We throw them over our shoulder and don't usually give them a second look. Walking to work today, I saw several women (and men with messenger and laptop bags) carrying expensive looking and new styles of bags that looked a big raggedy just because of these wayward threads.
With a pair of embroidery or cuticle scissors, snip all the little strings from the edges of your purse. While you're at it, grab your laptop bag, your favorite tote and any other handbags in your collection and give them a trim. You won't need to even touch the fabric, little scissors like this will get close enough to the bag for a clean finish without damaging the material.
A little snip of those purse strings, and your bag will look newer and more polished!