This article may contain affiliate links; if you click on a shopping link and make a purchase I may receive a commission. As an Amazon Associate, I earn from qualifying purchases. 
This post is sponsored by FreshDirect, but all thoughts are my own.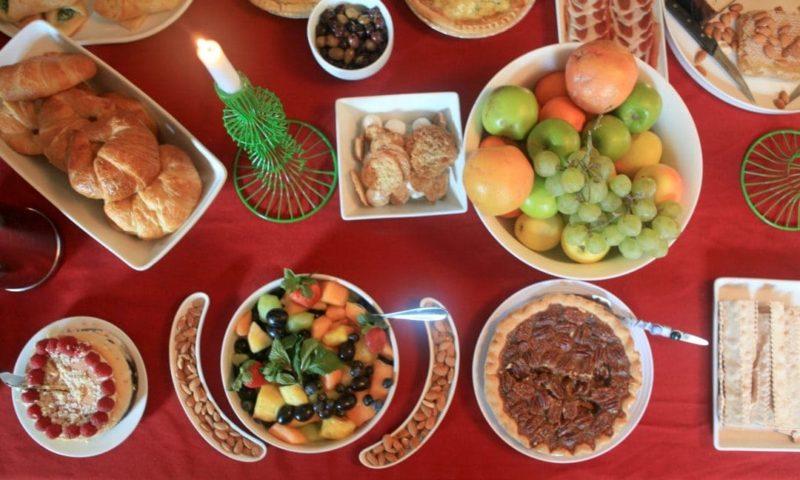 This summer I was invited to a lunch to celebrate the launch of FreshDirect DC. Prior to the event, I hadn't heard of FreshDirect but it was happening a day when I was off work, it involved free food, and was taking place just down the block from where I had another meeting that day. It was one of the coolest events I have attended as a DC blogger. We learned how to cook, we ate the meal we watched being prepped, and sat at tables with some of the most fascinating women in the Washington DC area. And I learned about FreshDirect, a New York-based food tech company that launched in 2002 and is the Northeast's leading online fresh food grocer. Serving seven states including the metro areas of New York, Philadephia, and DC, FreshDirect is different from other grocery delivery programs by sourcing the freshest and best-tasting meat, fish, produce, and specialty items through direct relationships with suppliers, growers, and farmers. In 2016, FreshDirect expanded its portfolio with the launch of FoodKick, an on-demand business that caters to the needs of urban dwellers with a curated selection of food, alcohol, and essentials—all delivered in as little as an hour (currently only available in NYC).
I attended another FreshDirect event this fall, where they partnered with Pineapple and hosted a panel of woman-owned food entrepreneurs at Union Market. All of these women sold their products through FreshDirect. Some shared stories of how they couldn't find anyone to sell their product until FreshDirect, and once FreshDirect took a chance on them they were finally able to grow, go national, be sold at other grocery store chains. Getting to know FreshDirect, they're all folks passionate about good food, supporting small brands, and sharing it with their customers and community.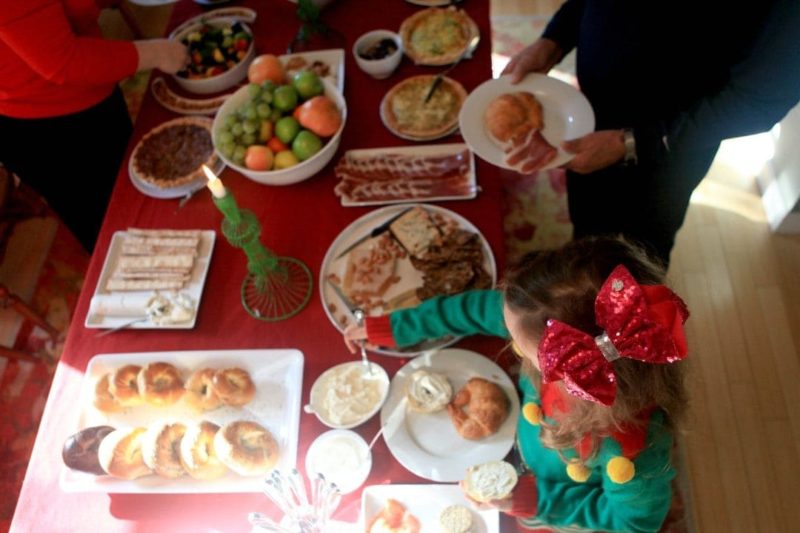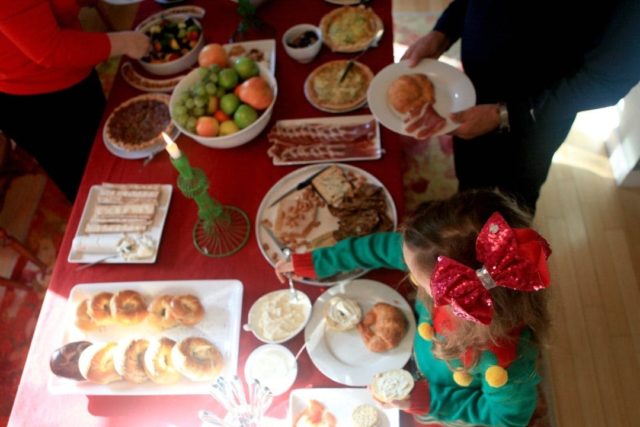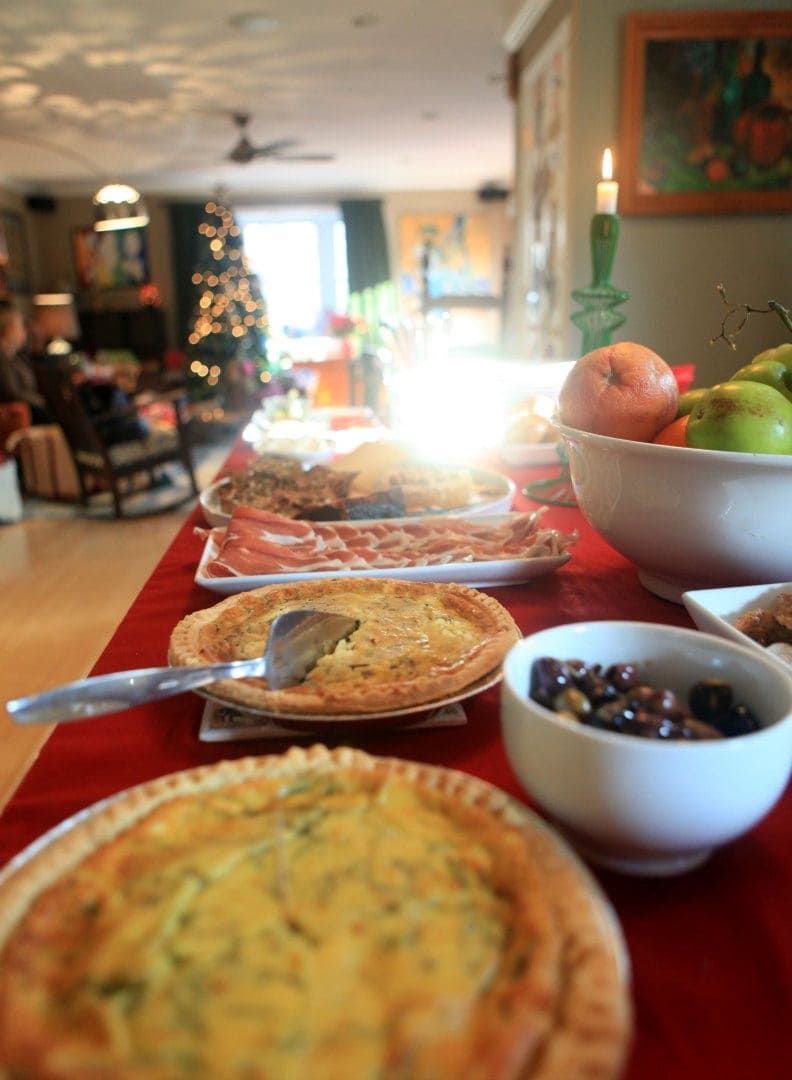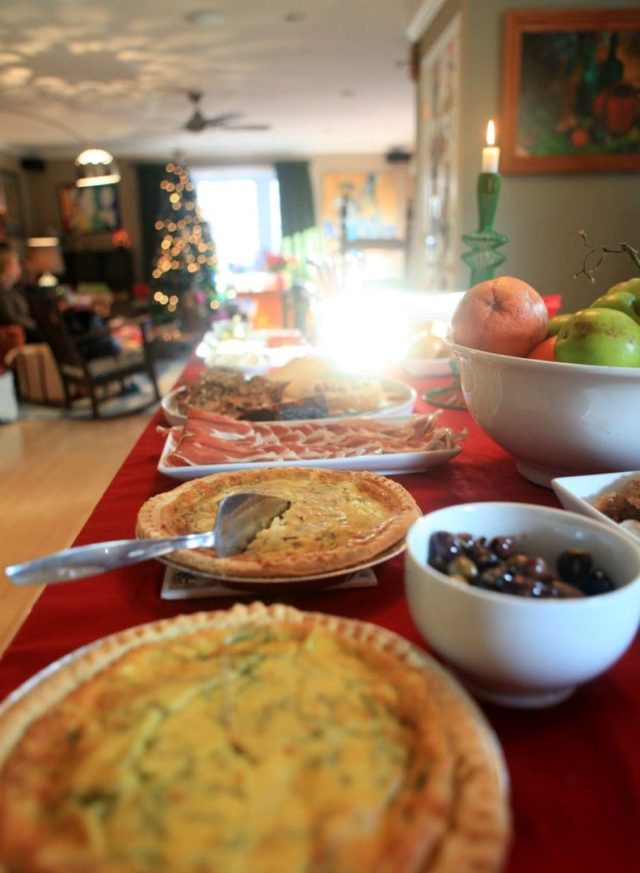 Each Christmas Day, we host a brunch for our family and sometimes include neighbors and friends. We start the day opening presents, and then have a buffet brunch that can extend into the late afternoon. Each Christmas is a stressed out panic for me, the days leading up to it a frenzy of cleaning, cooking, present wrapping, planning, and the occasional migraine while trying to get the blog content scheduled, my days at the office so long trying to prepare to have a few days off. Christmas Eve Day, I usually work at the office because they let us out early without having to use PTO. I race home, clean bathrooms, begin prepping food, usually run out of time for a shower and douse myself with deodorant, dry shampoo, and perfume to look halfway decent for Christmas Eve at my sister's. We come home, put Emerson to bed, and then continue to cook, clean, and put out presents for the next morning. Christmas morning I wake up around 5am to have everything ready for when family arrive.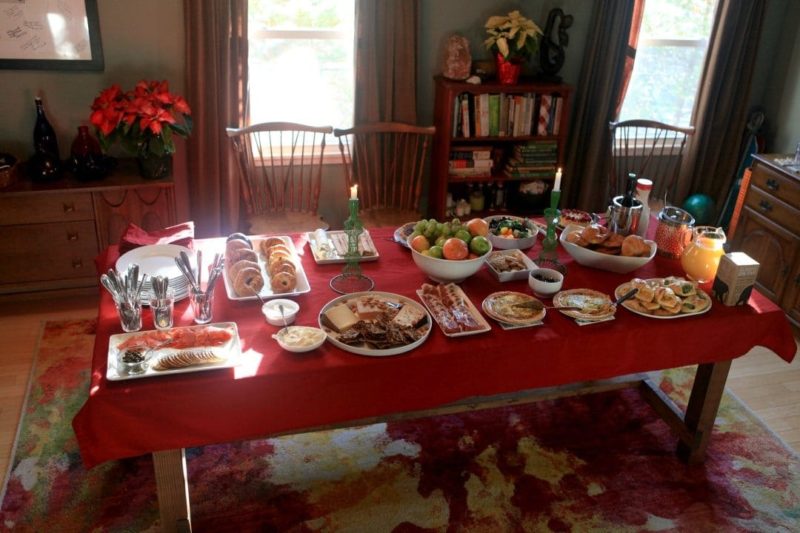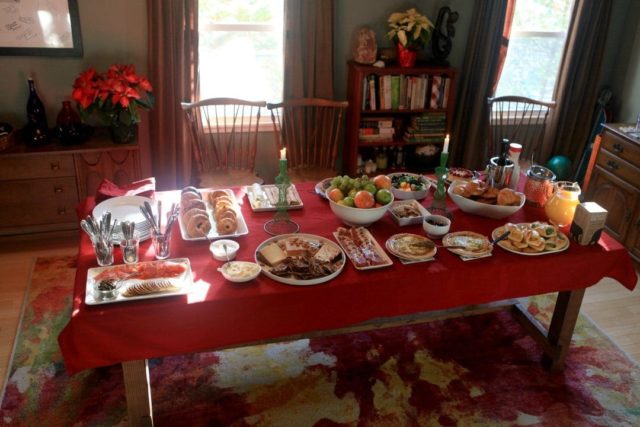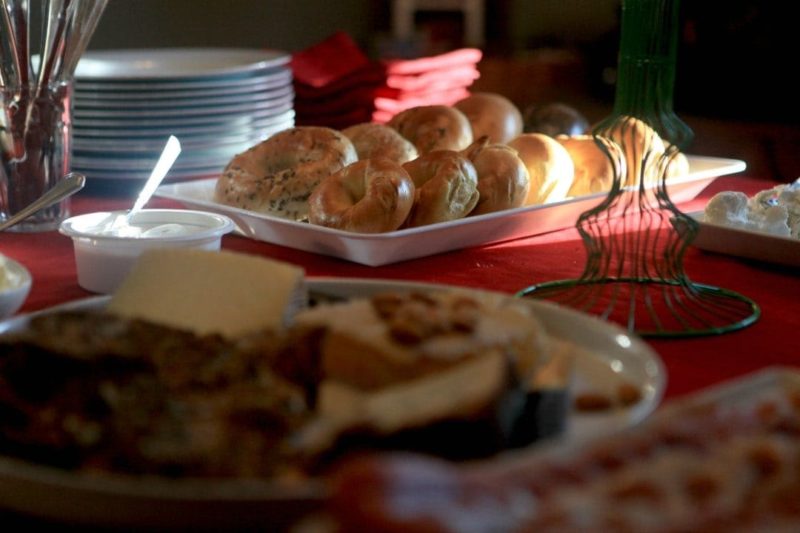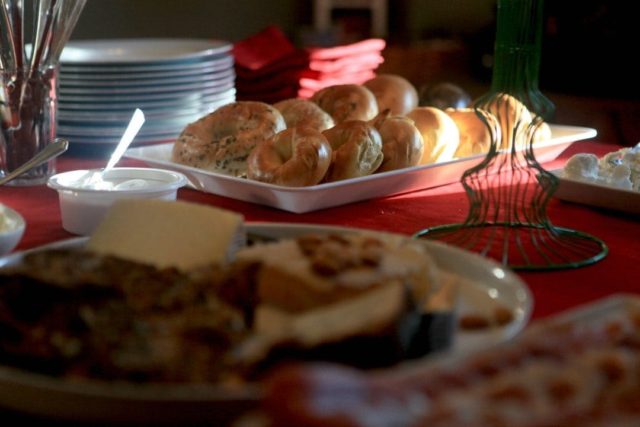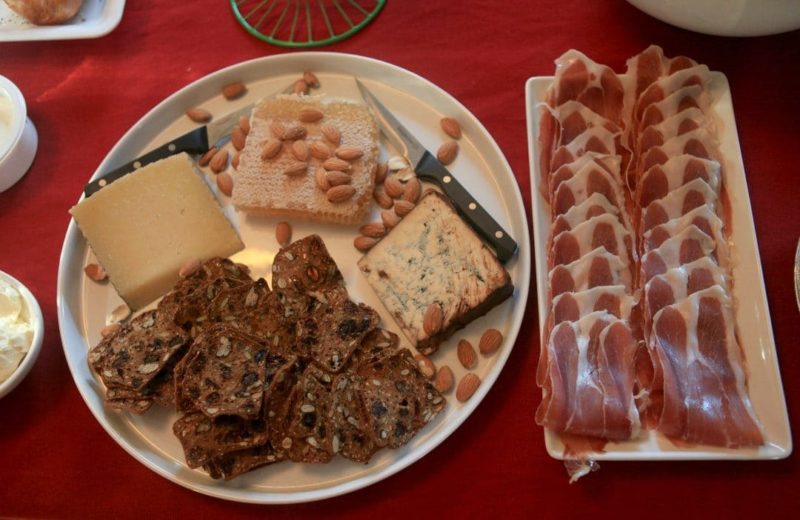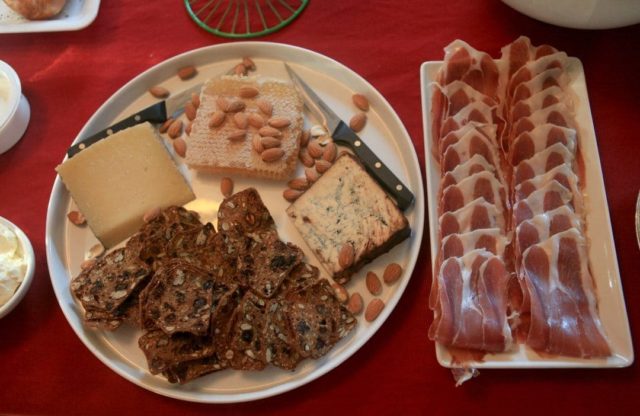 This year was different. Without the day job, I wasn't working right up until the holiday. With the blog, I decided months ago to budget so I didn't have to freak out about content every single day so I could enjoy the holiday. But one of the best decisions was partnering with FreshDirect and letting them provide Christmas brunch.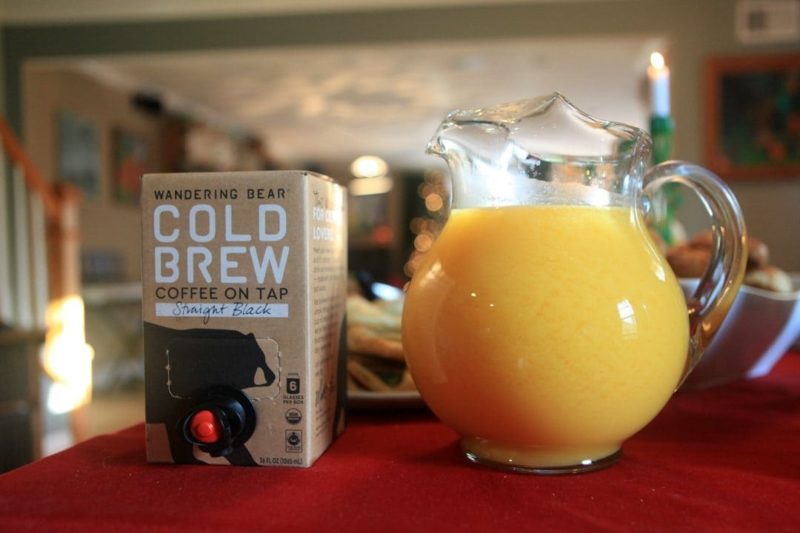 With FreshDirect, you can get traditional groceries, but also prepared foods, party platters, catering packages, and complete meals. We decided to go as low-prep as possible for our brunch but still make sure there was plenty of variety and healthy options. We had folks who were lactose intolerant and some who were vegetarians and wanted food that would be great for all. A few of the things we ordered: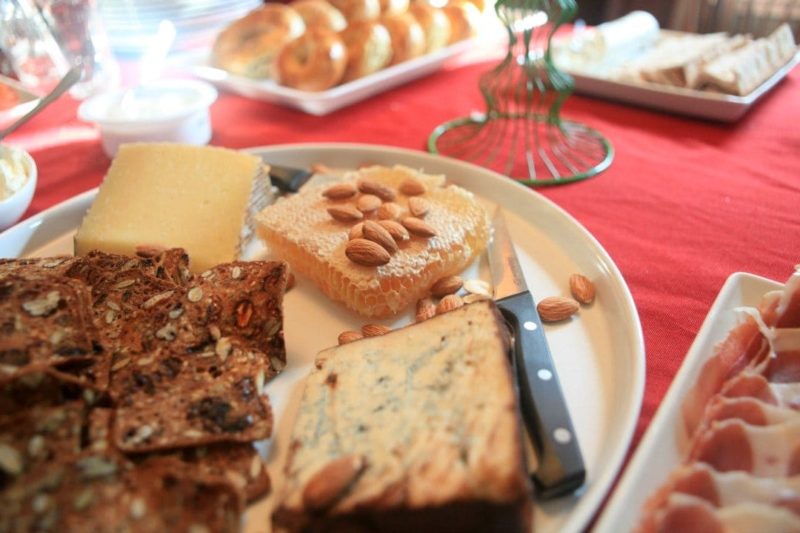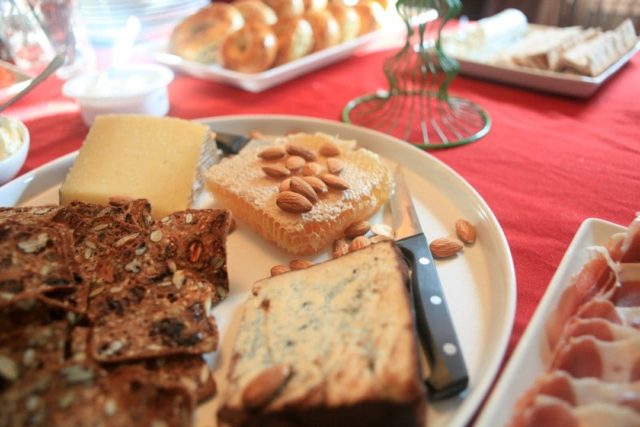 When you order from FreshDirect, you don't have a random delivery person throw the boxes on your front step. FreshDirect schedules a 2-hour window for delivery to your home where they come and help bring in your order. FreshDirect doesn't come to our zip code (yet!) so I scheduled my delivery to my friend's house who lives 5 miles closer to DC. Our delivery person arrived in the scheduled window, was super nice and helpful and made sure everything was secure in our car for the drive home. Everything was packaged smartly, and almost everything in eco-friendly packaging (100% recycled material, minimal packaging, packaging that can easily break down and be recycled, biodegradable bags). Nothing was damaged, even the lush poinsettias that FreshDirect included in our order (yes FreshDirect even does flowers)!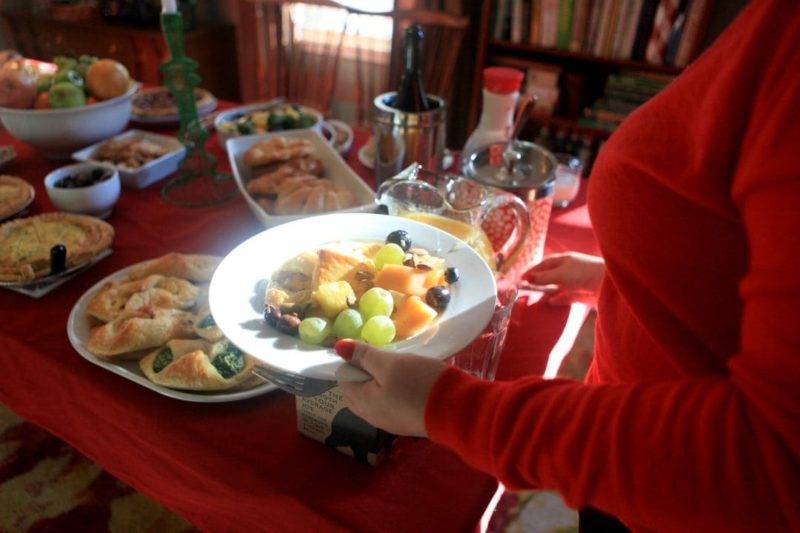 After our Christmas Eve dinner at my sister's, we came home, put Emerson to bed, put out the presents, and went to bed ourselves. Before going out, I ironed the napkins and tablecloths, did all the dishes, and set out the platters and bowls I'd be using the next day (budget friendly entertaining tip: buy only white serve ware then you can buy cheap, clearance, even thrift store and everything matches and it lets the food be the star). I slept a full eight hours, the first time I got a decent night's sleep on Christmas Eve, and woke to just heat up some items and transfer others into pretty bowls and plates. Since I wasn't preparing and cooking a lot of food, I was able to be present with my guests when they arrived. Everything was so delicious, it was easy to send guests home with doggy bags of leftovers – they wanted to have more for the remainder of the week! The food was perfect for a proper meal, or for nibbling throughout the day. FreshDirect made it super easy to make a brunch look elegant without requiring a lot of time and thought.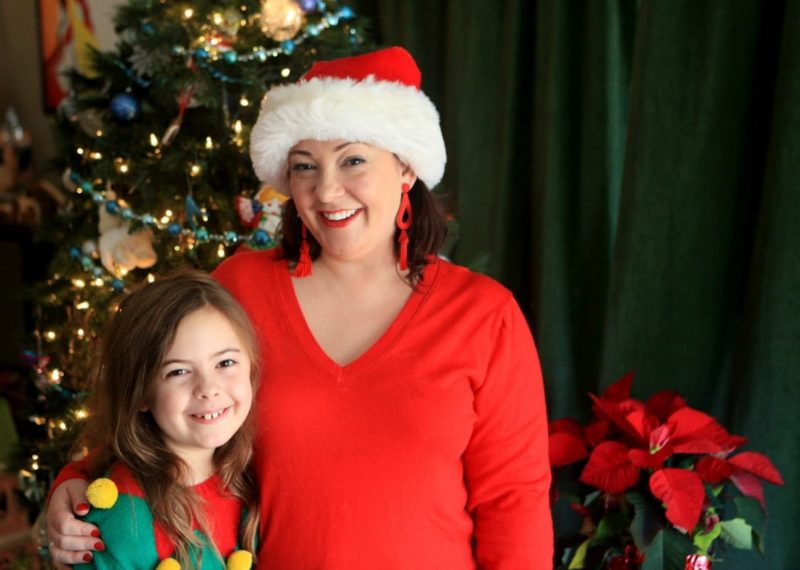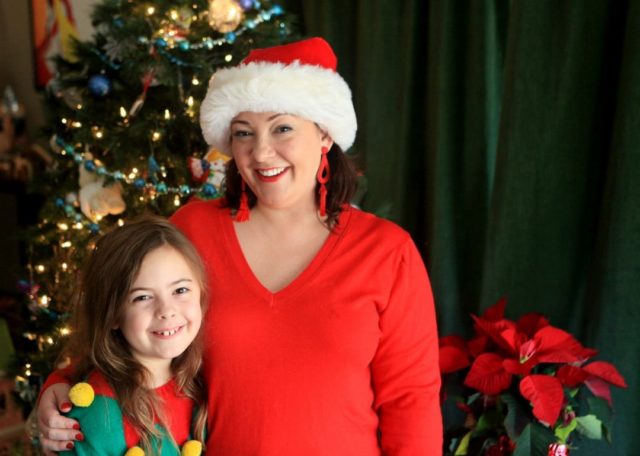 This was the first Christmas where I wasn't exhausted, I didn't have my mind in 50 different places, I wasn't racing from the tree to the oven. I could truly savor the holiday, and I think it made it a better day not just for me but all my loved ones. When everyone left, it was easy to clean up. We had a couple hours where we weren't scrambling, but relaxing together, and then Emerson and I joined my mom and sister at the movie theater where we saw The Greatest Showman. When we came home, Karl had made a quick dinner incorporating some of the ingredients from FreshDirect. The whole day was so fun, so relaxed, and I truly felt in the moment for the first time in a long while. Walking to our house after the movie, Emerson declared this the best Christmas ever, I totally agreed.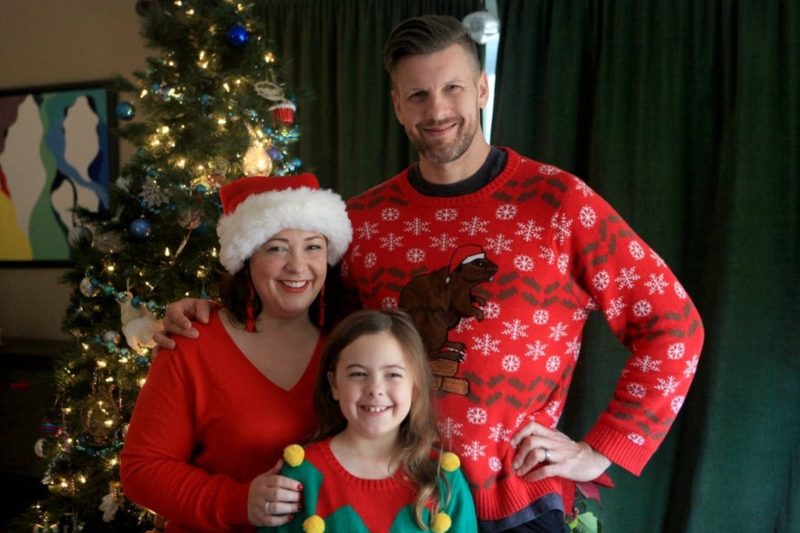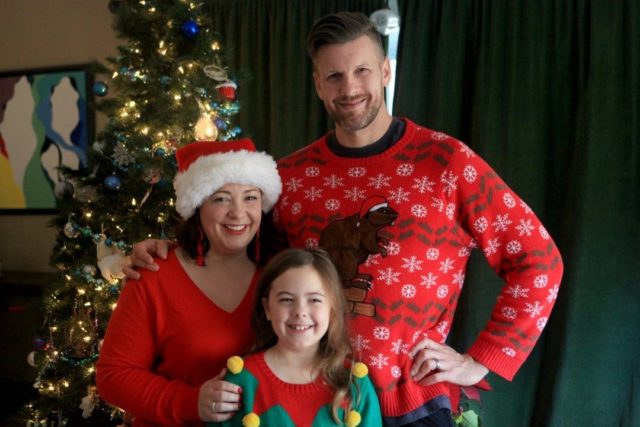 We can put so much pressure on ourselves when entertaining, especially in the day and age of Pinterest. We can stress out so much on the taste and presentation that we don't have anything left to enjoy the moment. There's nothing wrong with getting a little help, and FreshDirect did just that for me with this brunch. And I know I'll be looking to FreshDirect for future meals, parties, and times in life that are delicious and should be savored.
Non-food Details: My sweater is Banana Republic, earrings are Gurnani Deepa by Deepa Gurnani. My lipstick is L'Oreal Riche Matte in Eva's Red. Karl's beaver sweater is from Amazon, so is Emerson's elf sweater dress. Emerson's bow was a stocking stuffer from the JoJo Siwa collection. Tablecloth and napkins from Target, green candlesticks were found at a vintage store on the Eastern Shore. Serveware is a real mix, some from Target, some from thrift stores, some IKEA, some from Marshall's; plates are Amazon. Ice bucket is Diane von Furstenberg (a Christmas gift from my sister from a couple years ago).
SaveSave
SaveSave