This article may contain affiliate links; if you click on a shopping link and make a purchase I may receive a commission. As an Amazon Associate, I earn from qualifying purchases.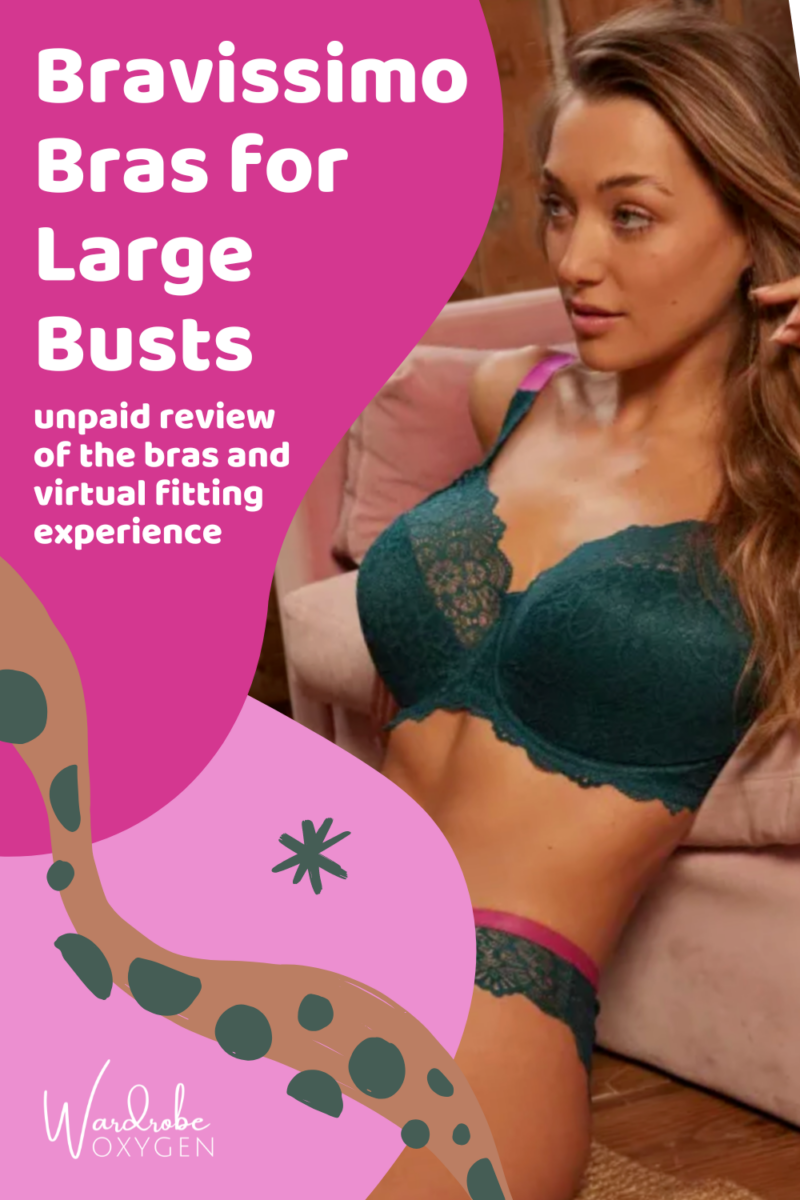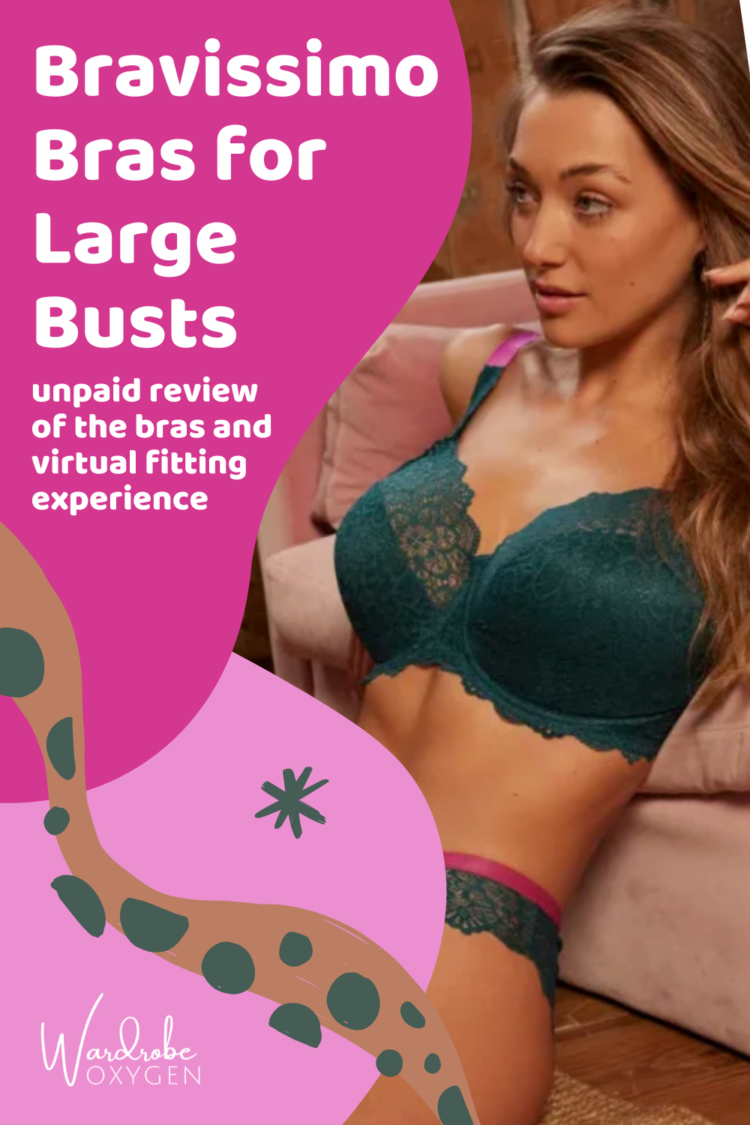 I am a, depending on the brand and the time in my life, a 36 or 38, a DDD to a G. I've had large and heavy breasts all my adult life. In college and in my 20s, while my friends were buying bras at Victoria's Secret, I was seeking out mail-order options that lifted and supported my breasts without making me look like a middle-aged mom (props to Frederick's of Hollywood for getting me through Y2K with a beautiful bustline).
And now I am a middle-aged mom and I still don't want a bra that makes me look like some tired stereotype. My breasts have lost volume and elasticity over the years, but I still want my bustline to look as fantastic as possible.
I like my breasts high and tight. I don't want to swing my arms and slap one on the side, causing it to hit the other, turning my torso into a sideways Newton's Cradle. I like to wear fitted clothes from time to time, scoop necks and v-necks to show off my well-supported cleavage
Until my Bravissimo virtual bra fitting and trying the bras Bravissimo recommended instead of what I thought I needed, I felt the only style of bra that worked with my bust and my petite but not small torso were demi bras and molded cups. I had tried SO MANY BRAS over the years, I felt the Fantasie one was the only one that really worked and gave me the effect I desired. Come to find out, I was wrong and I now have a new favorite everyday bra.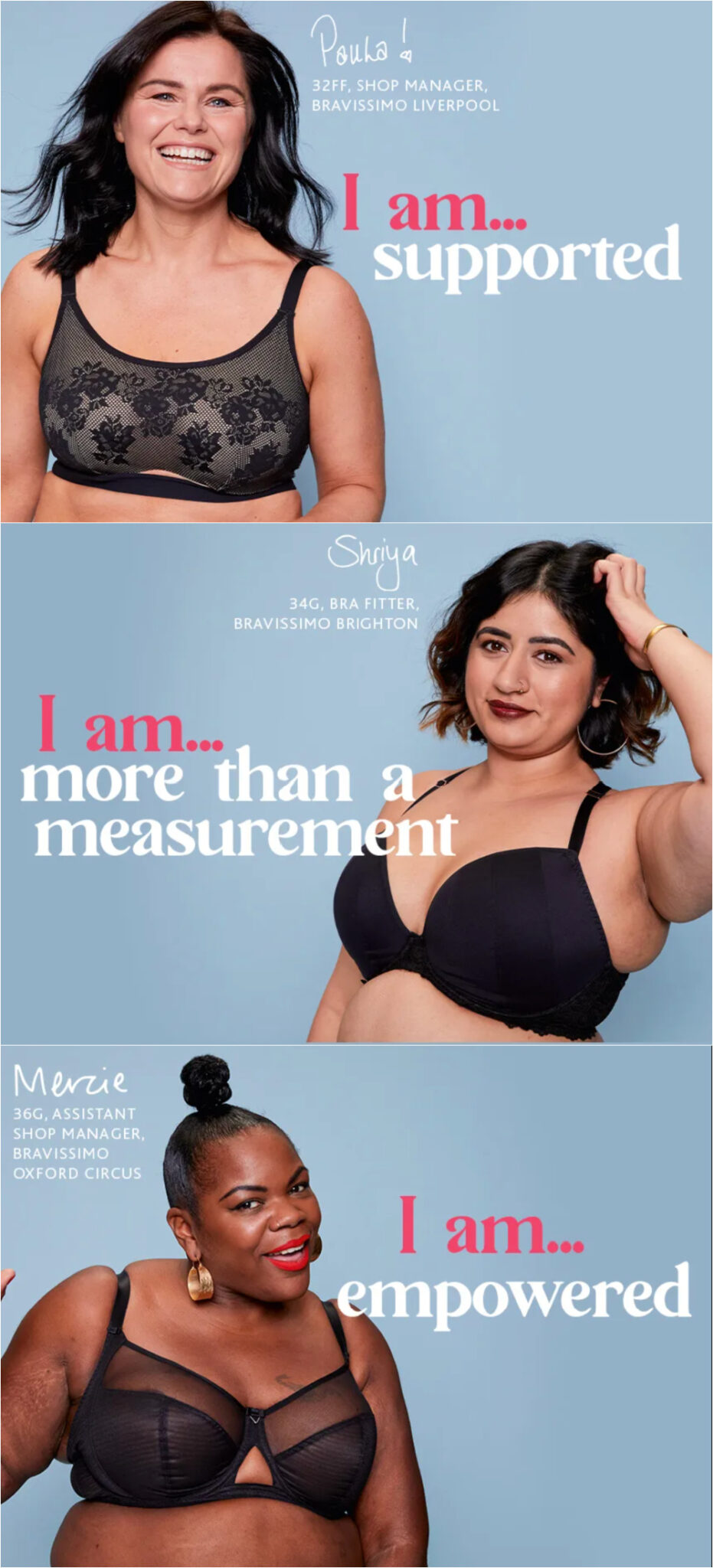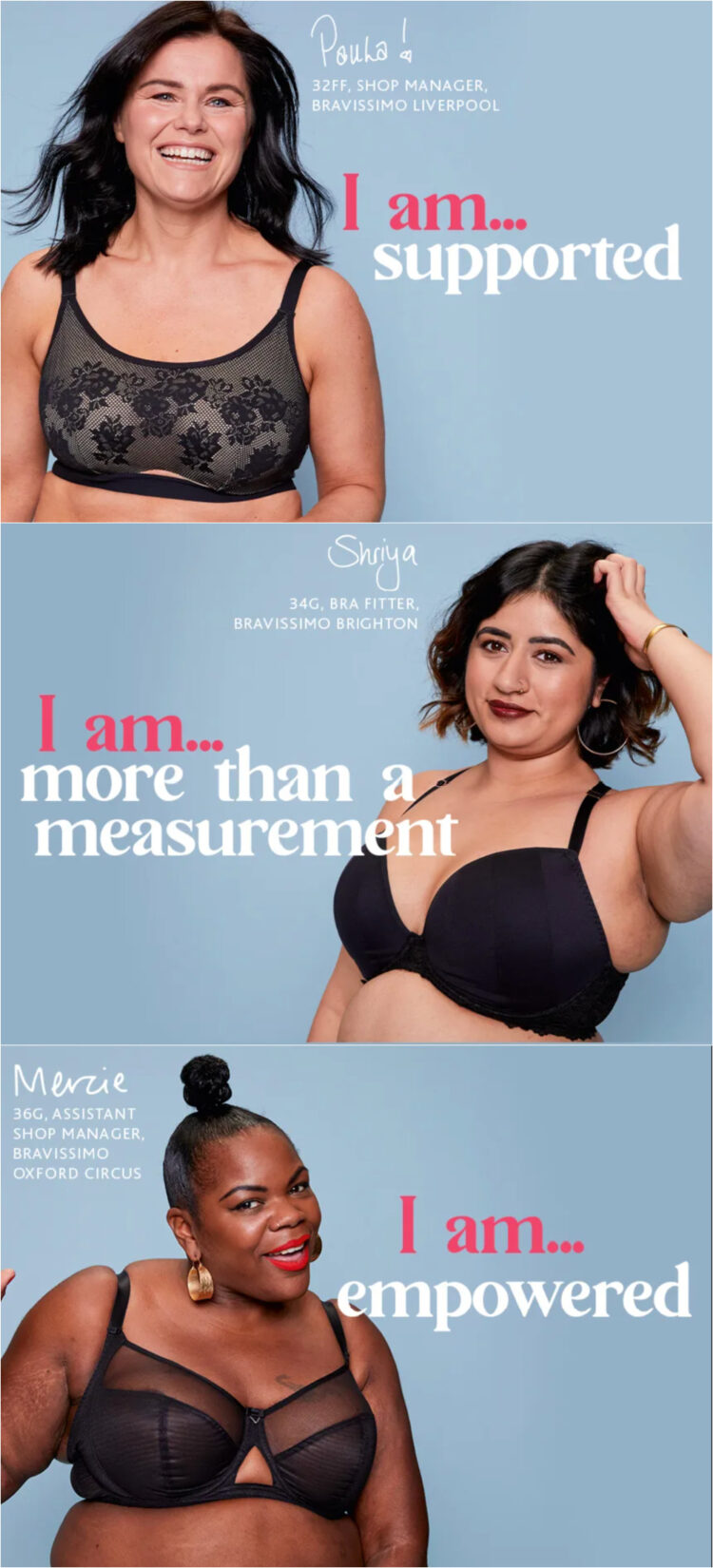 What is Bravissimo?
If you are in the US and haven't heard of Bravissimo, I am not surprised. Based in the UK, Bravissimo is a company that relies more upon word of mouth than traditional advertising to gain its customer base. It must be working because Bravissimo has been in business for over 25 years and every time I write a large bust bra review or share my favorite swimsuits for large busts, a UK reader recommends Bravissimo.
Started in 1995, Bravissimo specifically caters to the large-busted person. Offering bands 28-40 and cups D-L, Bravissimo has its own brand for bras, sleepwear, streetwear, and swimwear but also carries all the top intimates brands that also cater to a large bust. At the time of writing this, Bravissimo offered over 200 styles of bras from 23 brands; this includes 66 styles from Bravissimo's in-house collection.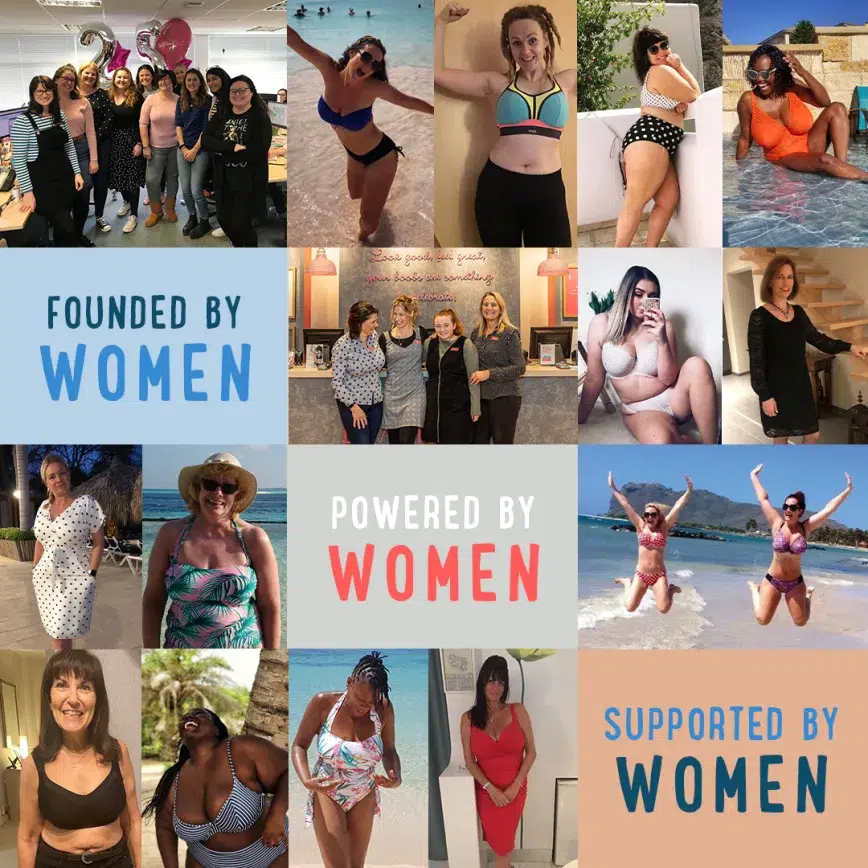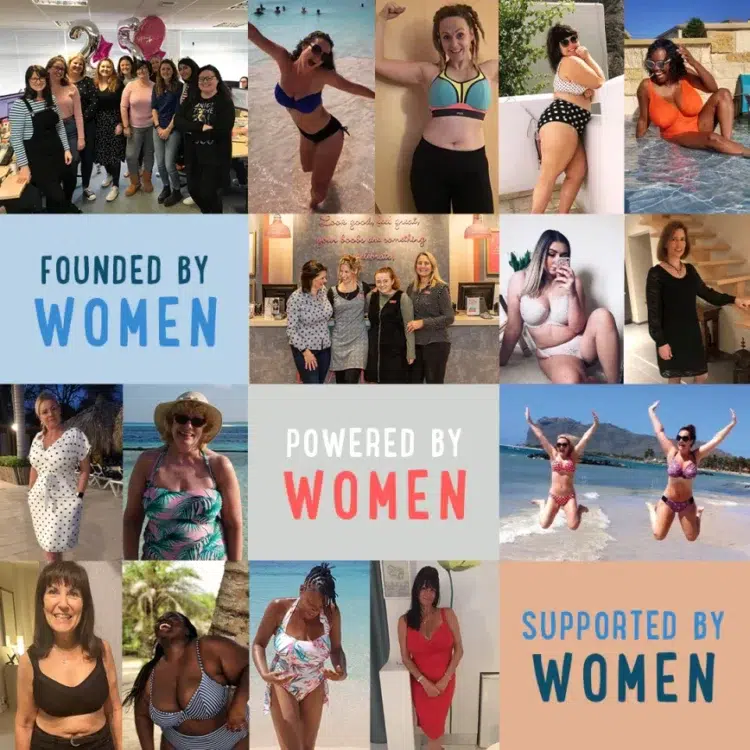 Bravissimo is a company that strives to be inclusive. They welcome everyone to shop with them and state it on their website. Women, transgender, non-binary, men, people with disabilities or neuro-diverse conditions, and any other needs are all welcome and Bravissimo makes every effort to provide you with a comfortable experience. Bravissimo no longer uses the color name "nude" and focuses on offering a range of skintone bras with names appropriate to their shade. You can read more about Bravissimo's diversity and inclusion initiatives at this link.
Back in the days when I had to shop via mail order to find a cute bra for my young curvy self, I tried Bravissimo. But back then, shopping other countries was a serious pain in the ass. Shipping took forever and cost almost as much as the item you ordered. It came DHL and required a signature. And if a return or exchange was needed, the cost to send the item back was more than the money you'd get from the refund. This is all if your credit card company didn't flag the order as fraud and require a phone call for confirmation and to place the order a second time (and hope it didn't process twice).
I ordered once from Bravissimo in the past, didn't order the right thing for my body, was frustrated by the cross-Atlantic process, and never tried the brand again.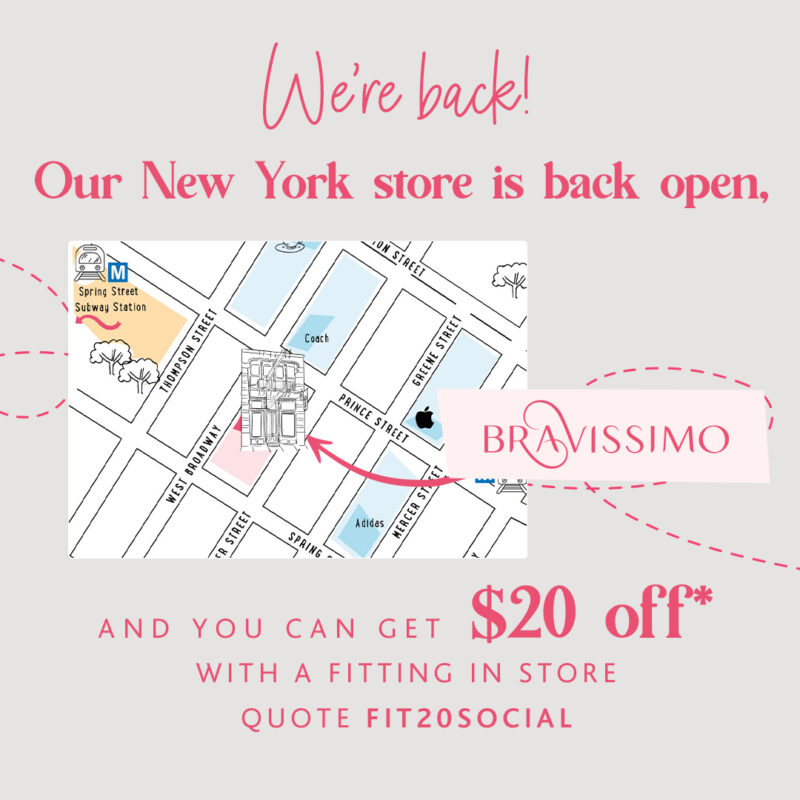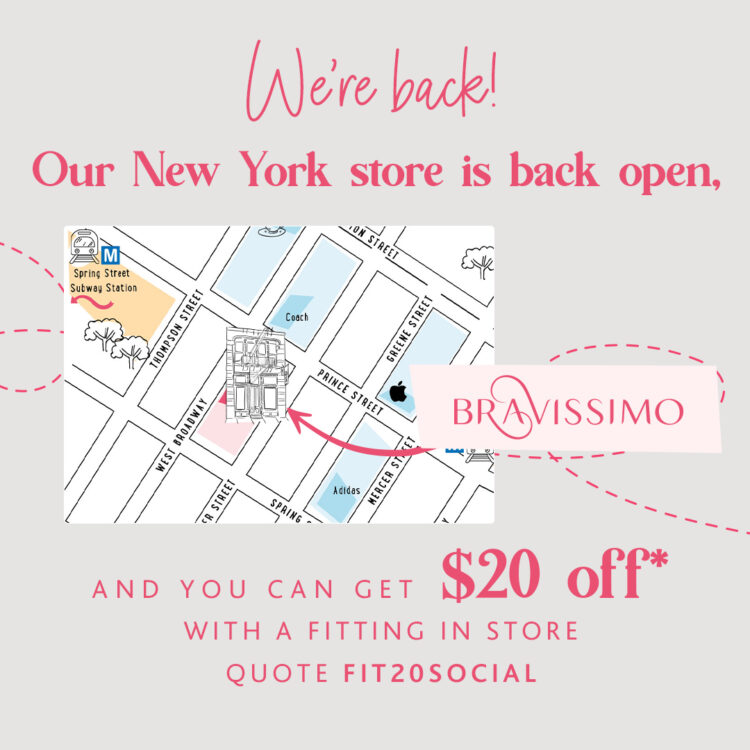 But times change, and Bravissimo has been keeping up with the times. Now offering a US-specific site, Bravissimo offers super easy free 60-day returns and now has a boutique here in the US in the SoHo part of New York City. Bravissimo offers free bra fittings at their US store but they also provide free virtual bra fittings.
Scheduling a Bravissimo Virtual Bra Fitting
I am on the Bravissimo marketing list, so every couple of weeks I receive an email sharing Bravissimo product appropriate to the season, new items, sales, that sort of thing. And I received one about a five-star bra they have in 81 sizes and it inspired me to click on it and check out Bravissimo. I was thrilled to see the free US returns, the US sizing on-site, that they had an NYC store, and they offered virtual bra fittings (something a lot of you readers have been looking for, especially since 2020).
I replied to that marketing email, asking if Bravissimo would consider gifting me some product in exchange for an unpaid review. Bravissimo wouldn't have any editorial or image rights, so I could write exactly what I thought, good or bad or otherwise.
Bravissimo was excited by the idea and recommended I first experience a virtual bra fitting. This way I could see what it was like to have a virtual bra fitting with Bravissimo, but also ensure I was choosing pieces in the correct size. Considering I haven't been fitted in person since before 2020, I was also excited. I also felt this would ensure I could give a more thorough review.
My Bravissimo Virtual Bra Fitting Experience
When the day for my Bravissimo virtual bra fitting arrived, it was a DAY. I think we all can relate to such a day. I joined the Zoom a couple of minutes late, no makeup, a stained t-shirt, and an ill-fitting bra that I shouldn't own anymore but it's really comfy. Again, I think we all can relate to such a bra in our wardrobes and it being worn on such a day.
I didn't have time to get into blogger mode. The mode where I do a full face and hair and a colorful top so I can take photos of me going through the process for this review I knew I would write. I'd also take some video of the experience so I could turn it into a Reel. Yeah, I didn't do any of that.
But by doing that I think I had a better experience. I wasn't a blogger, I was a regular customer. Mila, the NYC store manager performed my virtual fitting. She was personable and friendly, cool and stylish, she put my stressed self at ease. She shared her extensive experience with Bravissimo and bra fitting, info about Bravissimo and what makes the company different, and asked me about what kind of bras I liked.
The Bravissimo virtual bra fitting experience was not at all what I expected. I thought it was going to be the telehealth version of a department store bra fitting. I was armed with a tape measure assuming the fitter would just guide me for proper tape measure placement as I measured myself, ended up with the same size I got from the A Bra That Fits calculator, and then would pick out some bras in that size.
Instead, Mila asked me to take off my shirt, and to make me comfortable being in my bra on a webcam, she too took off her shirt (fabulous bra she was wearing, natch from Bravissimo). no take measure was needed. She asked the size of the sloppy bra I was wearing had me move a bit to see my profile, back, etc. and based on that figured out my size. I was wearing a 38 DDD from Chantelle; Mila recommended a 36 F.
Not only did Mila give me my size, but together we went through the Bravissimo site and looked at the Bravissimo bras that were best for my shape. Many styles that I gravitated towards she didn't pick and ones I'd normally dismiss as not supportive enough or offering what I think I need she said were good choices.
I was hella intrigued by these suggestions, and glad I was getting these pieces free so I could risk trying something I was darn sure I'd be hating once I tried in person. I think you know by now that I didn't hate any of the bras I received from Bravissimo.
Mila placed my order and it arrived about three weeks later. As a reminder, Bravissimo is a UK company. While they have one store in NYC, orders come from the UK so you will have to be patient. But based on my experience, it was worth the wait.
What Bras I Ordered from Bravissimo
I shared with Mila that I like a t-shirt bra; something that is virtually invisible under fitted clothing but gives me a lot of lift and shape. Something I can wear every day with most every outfit in my closet. Mila recommended the Bravissimo Niya bra.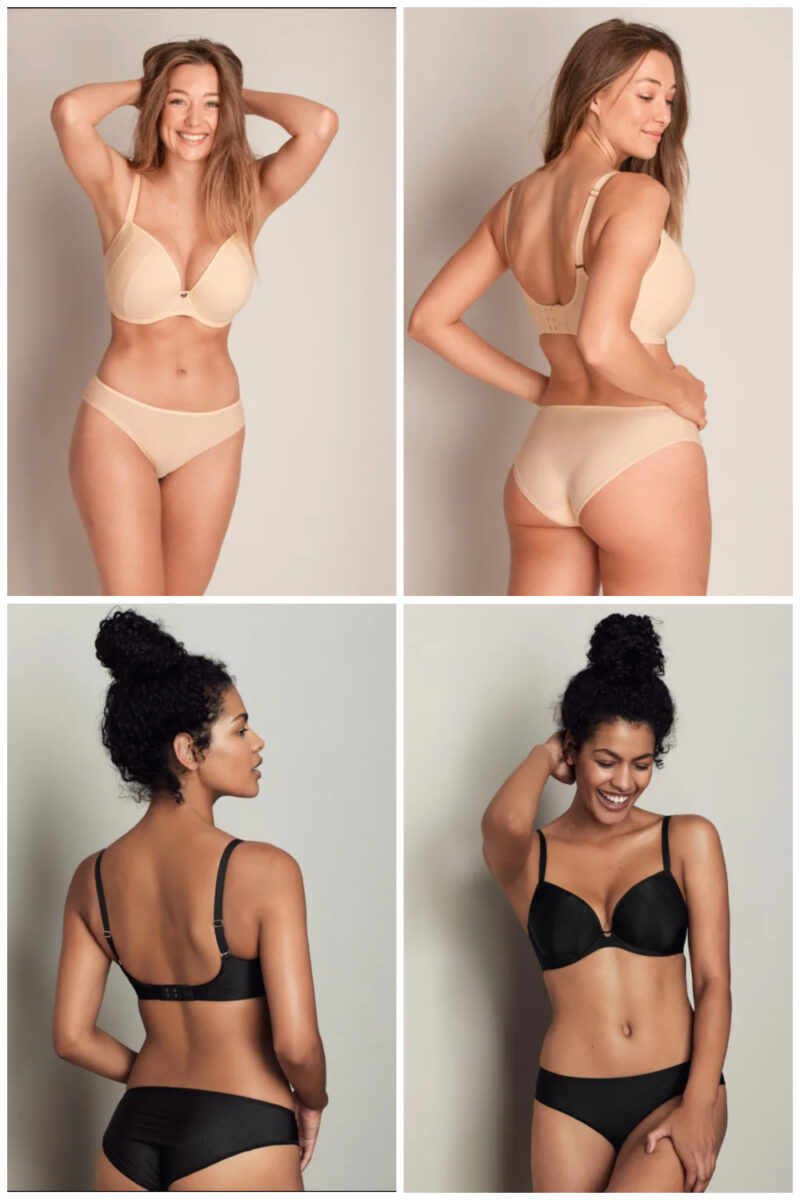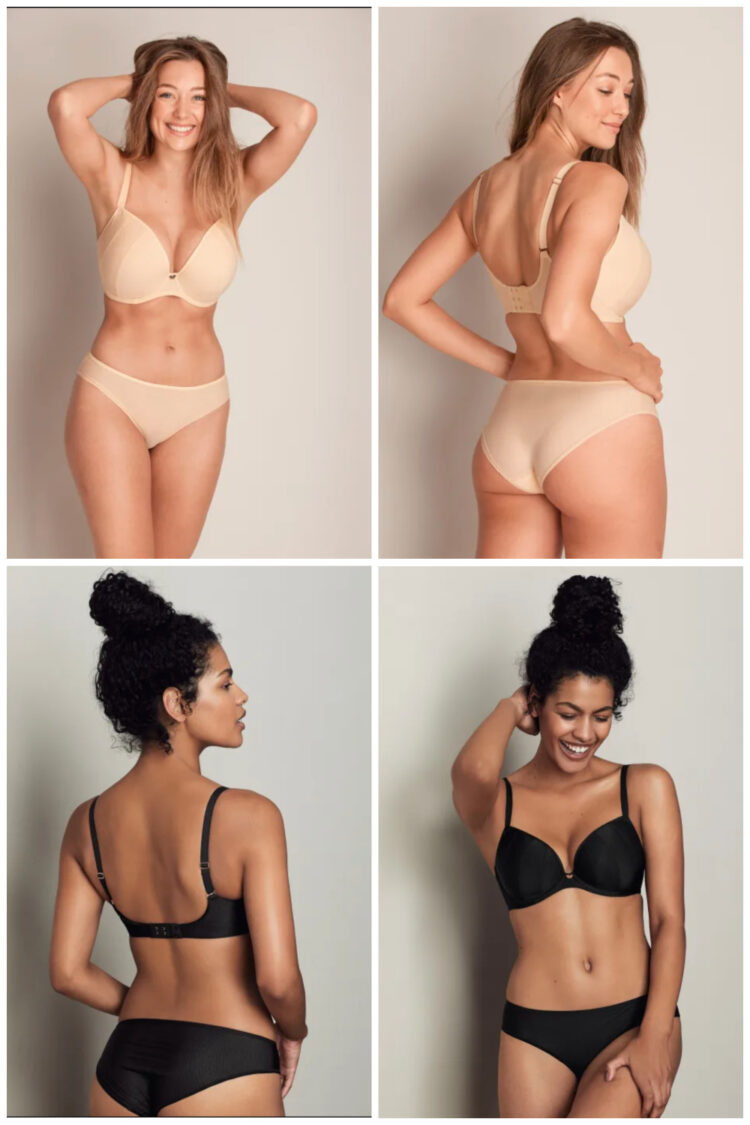 I chuckled to myself, there was no way a plunging bra like that could contain my bodactious boobage. I've tried so many bras over the years, a bra like this worked when I was 27; this 47-year-old bust is a whole other situation and needed more structure to hold things in place. But I was game since it was free, already writing the snarky review in my head.
I also said I'd love a sexy colorful bra that still gave me good shape under clothing. Mila recommended the Millie bra, which was the one in the email that inspired me to pitch this Bravissimo review. It was also a bra I immediately dismissed for myself. Bras like that on my short torso often are too high, peeking out of necklines, buckling when I sit, and riding too high under my arms. I also often find the seams in uncomfortable places and such lace itchy.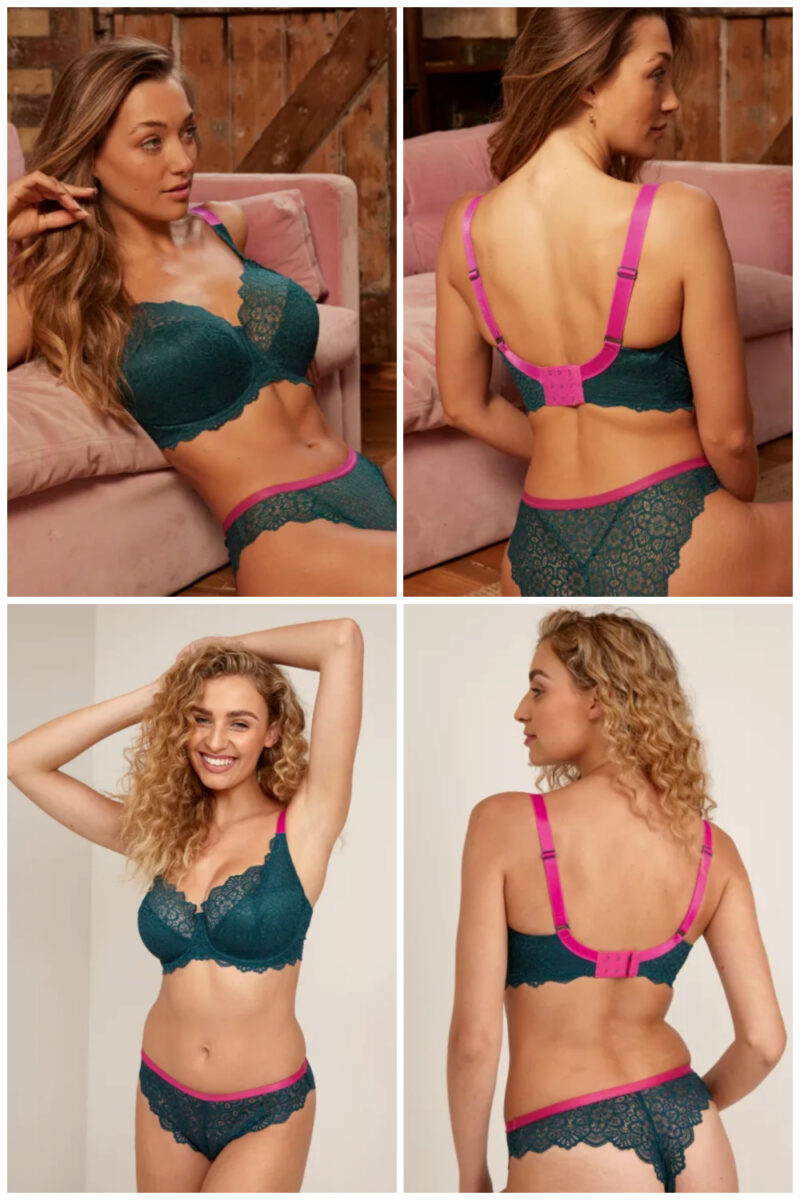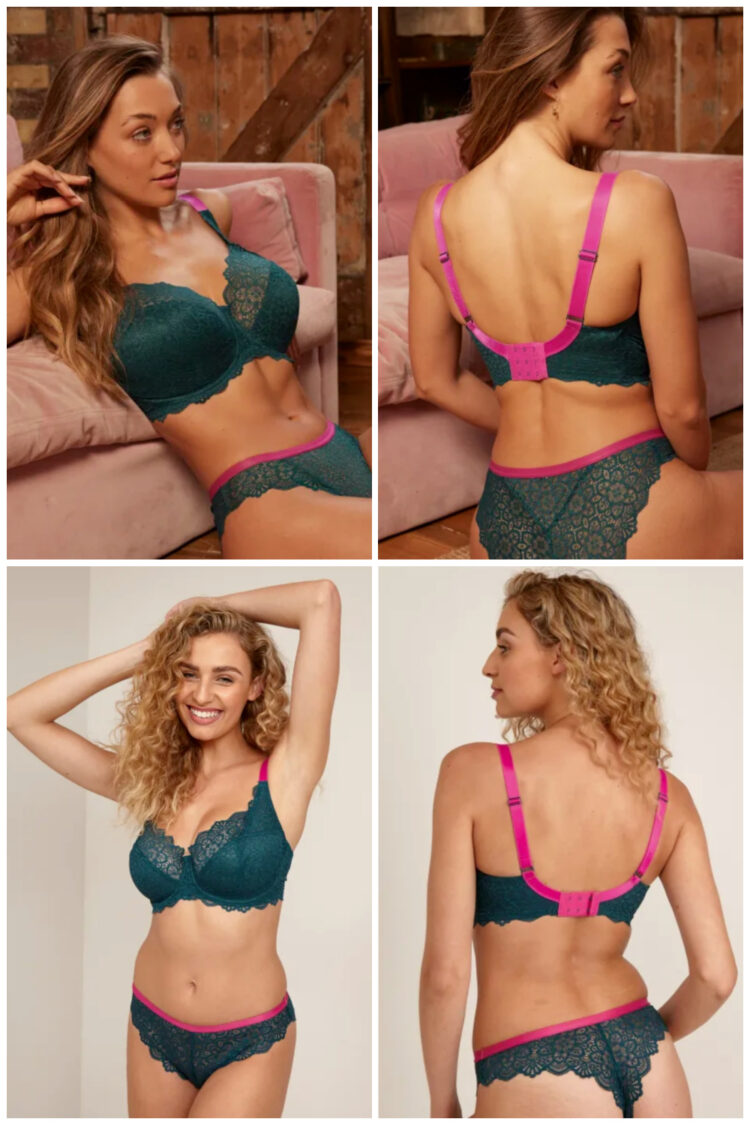 I shared my concerns with Mila and she assured me the Millie bra was designed so it would fit properly on my figure. I figured why not and chose the green/pink combo and from the three matching undies, chose the high waist brief thinking the idea of a supportive and functional yet also pretty matched set is a soft curvy over-40 woman's dream.
Trying the The Bravissimo Niya Bra
I need to tell you about the Bravissimo Niya t-shirt bra because it drastically changed what I thought I could wear for this body. This bra is lightweight and soft and pliable. The straps are slim and simple, hiding easily under a tank top or sundress. It is comfortable all day, even when sitting. And while the top of the cups may peek out of a wide scoop neckline, the v-neck is low enough to unbutton that extra button.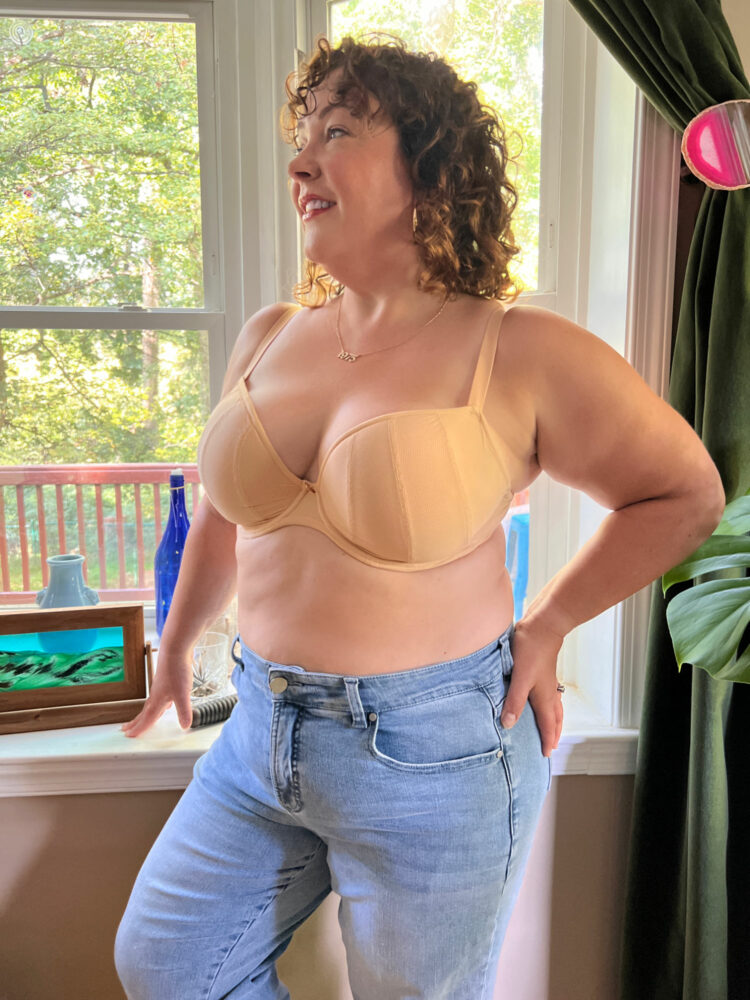 This bra has some strategic seaming which gives my bust shape and support without a lot of hardware or heavy materials. Those seams may show through a thinner fitted top (for example, you can see them through my white Chico's microfiber tank, but the black one I own is a hint looser and a hint thicker and there is no show.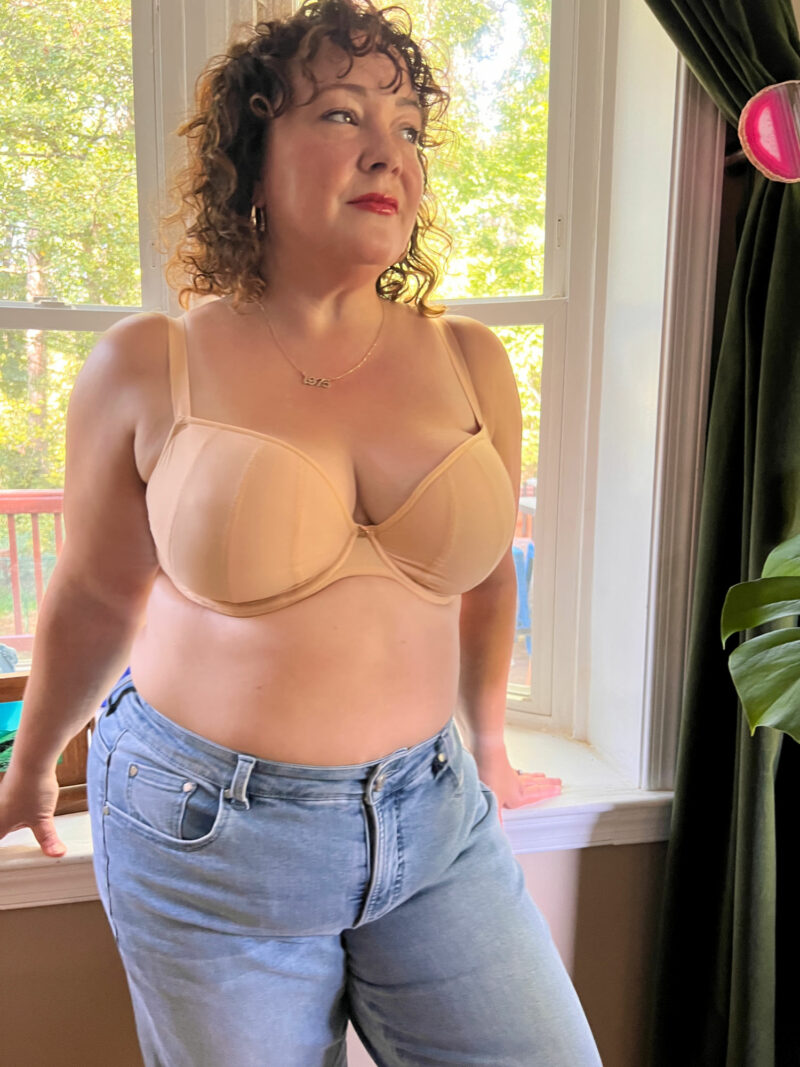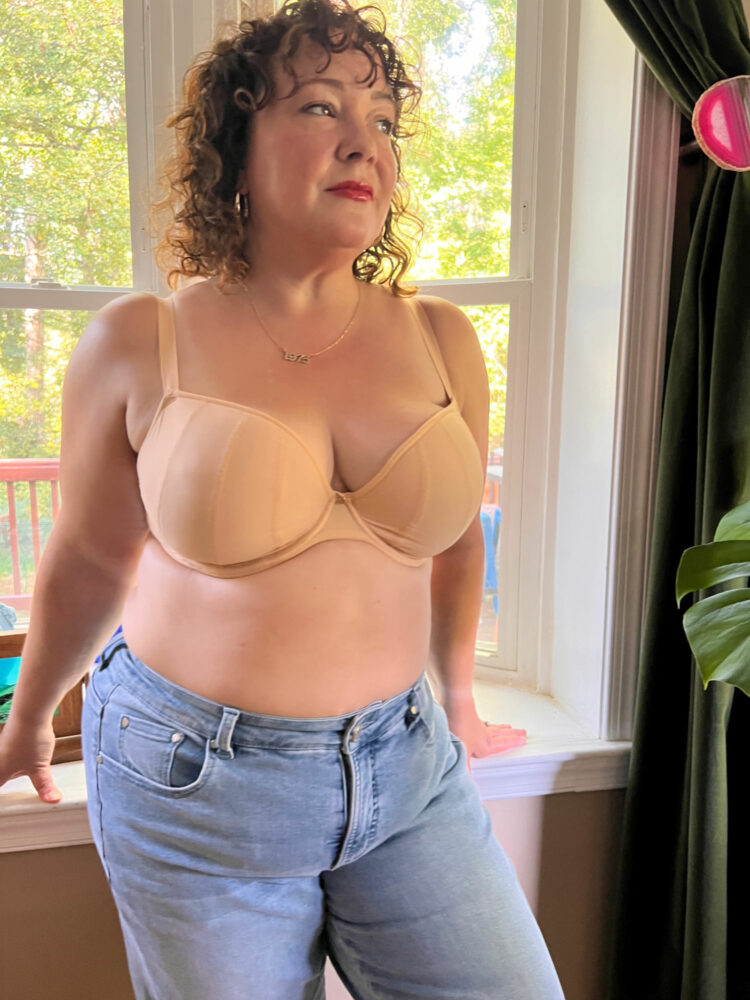 Since getting this bra I haven't wanted to wear any other. My Fantasie bras feel so hot and heavy, my Evelyn & Bobbies too complicated to get on, my Soma wireless so sad a silhouette. I want to donate almost everything in my intimates drawer and start over with Bravissimo.
Reviewing the Bravissimo Millie Bra?
The Bravissimo Millie bra at first glance looks like your regular run of the mill lace bra for big boobed-ladies. But now owning it I can see how it is very different and worth a mention.
Out of the package, I doubted this bra would do jack for my boobs. It doesn't stand on its own, the whole soft lace, mesh, and elastic thing collapsed on itself, the underwires and the hook and eye closure (only two hooks?!?!?), the only rigid parts of this deep forest green and Valentino Fuschia beauty. I hadn't owned a bra this pretty and delicate since high school.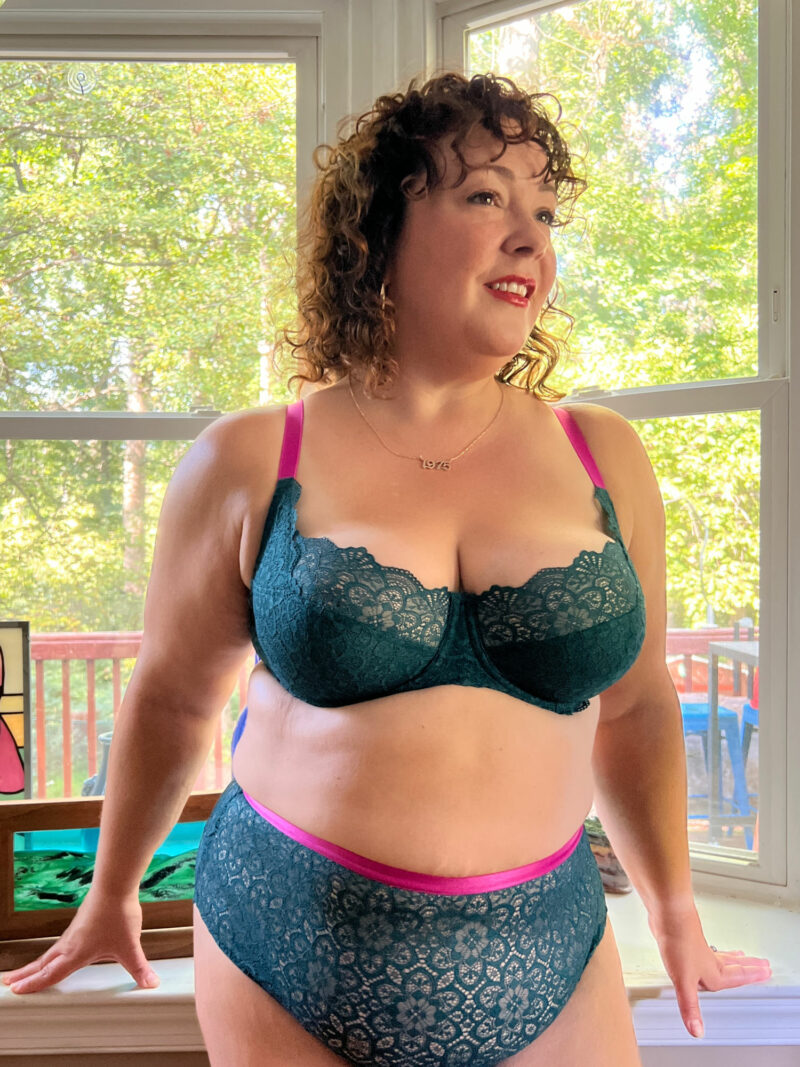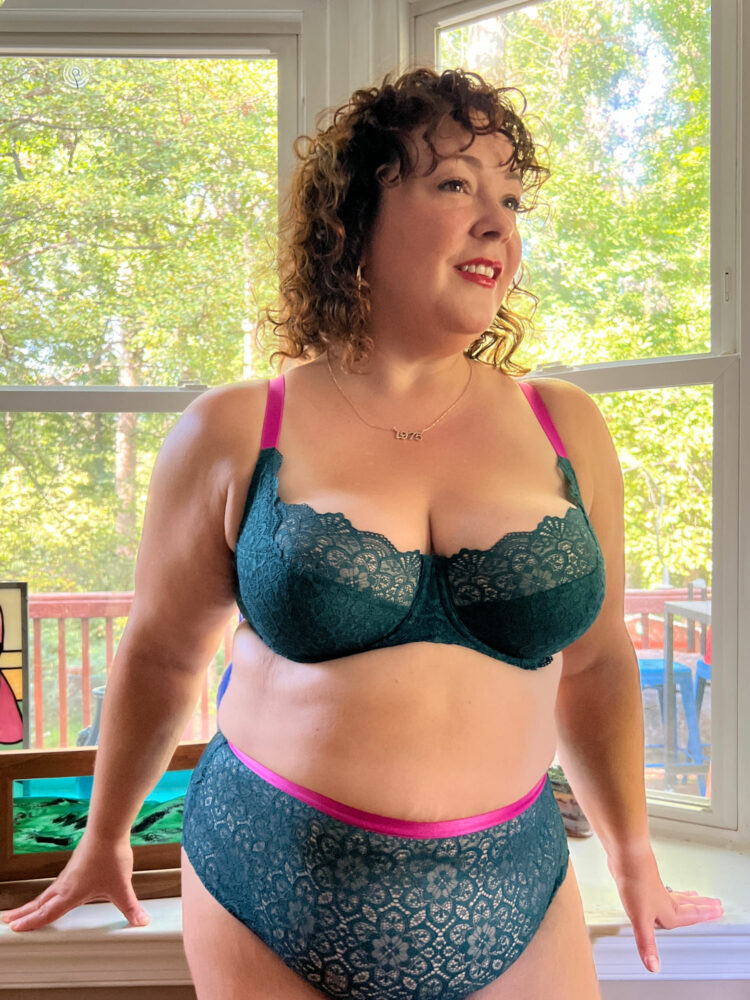 I put the bra on and… I couldn't believe it but this soft, feminine bra lifted and separated and made my middle aged boobs look pretty fantastic. No Newton's Cradle happening with this baby. The undies were a bit higher rise than I like for my petite frame, but very comfortable and no VPL (visible panty lines). I feel sexy and sophisticated in this luxe set.
Visiting the Bravissimo Boutique in NYC
I hope to go up to NYC within the coming year and when I do, visit the Bravissimo boutique. The quality of Bravissimo's brand, the stellar fit (without having to even be in the same room as me!), the customer service, the knowledge, and the dedication to the niche market of large busts offering 94 sizes, 25 brands (they carry all the well-known large bust brands as well as their in-house collection), and almost three decades in business… I now have a new favorite bra and a new favorite place to buy bras.