This article may contain affiliate links; if you click on a shopping link and make a purchase I may receive a commission. As an Amazon Associate, I earn from qualifying purchases.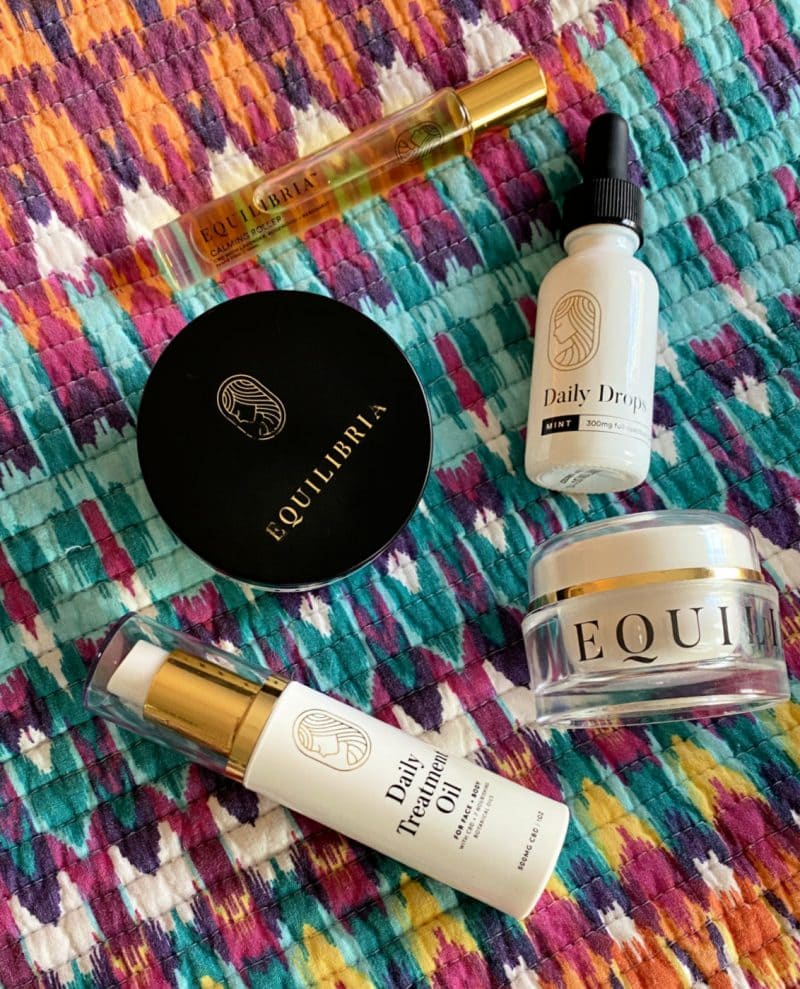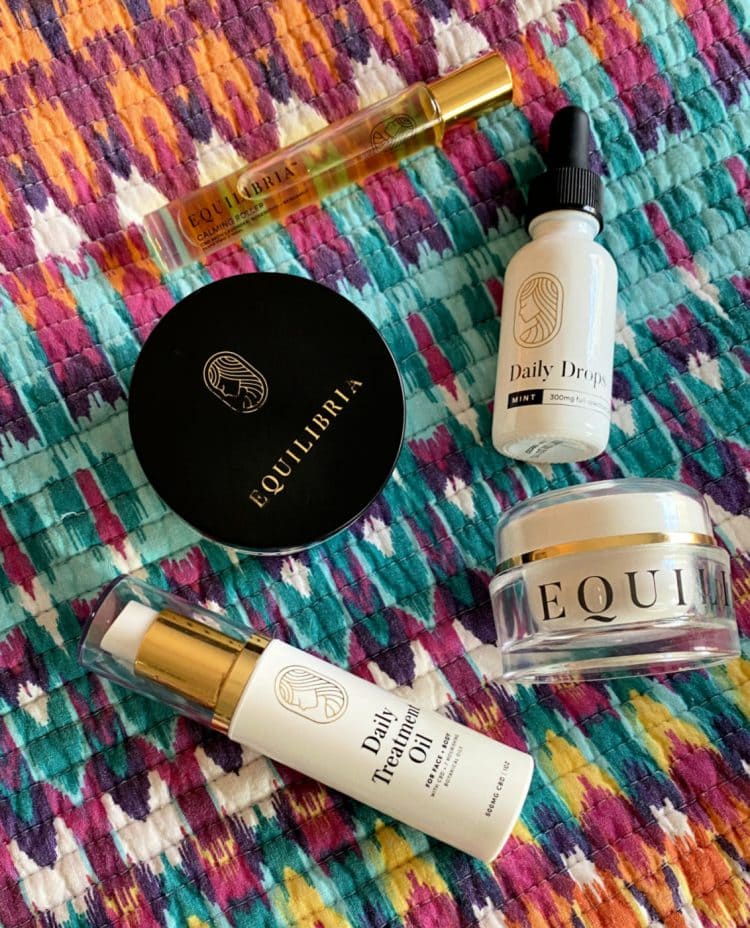 I am taking a few days off but I had to pop in because I have a special link that will give Wardrobe Oxygen readers 50% off your first month if you subscribe to Equilibria CBD. Yes, this Equilibria sale gives you 50% off! This is an awesome deal on what I find to be high-quality CBD. Click here to learn more about why Equilibria is better than many CBD lines.
Equilibria Sale: How to get 50% off a CBD Subscription
Through December 31, 2020, use this link (it has to be this link, other links on my site won't provide this special discount) and promo code WARDROBEOXYGEN50 get 50% off your first month subscription to Equilibria.
How to save 15% on any other Equilibria order
Use this special link for 50% off subscriptions with promo code WARDROBEOXYGEN50.
If you buy anything individual/non-subscription, you can use WARDROBEOXYGEN and get 15% off if this is your first order with Equilibria. This promo code does not expire.
This Equilibria sale is the company's biggest subscription sale EVER and I just had to share. So many of you have told me how Equilibria has been fantastic for you – helping with bursitis, osteo-arthritis, Parkinson's, PMS, sleep, anxiety, inflammation, aches and pains, skin hydration and redness reduction, and much more.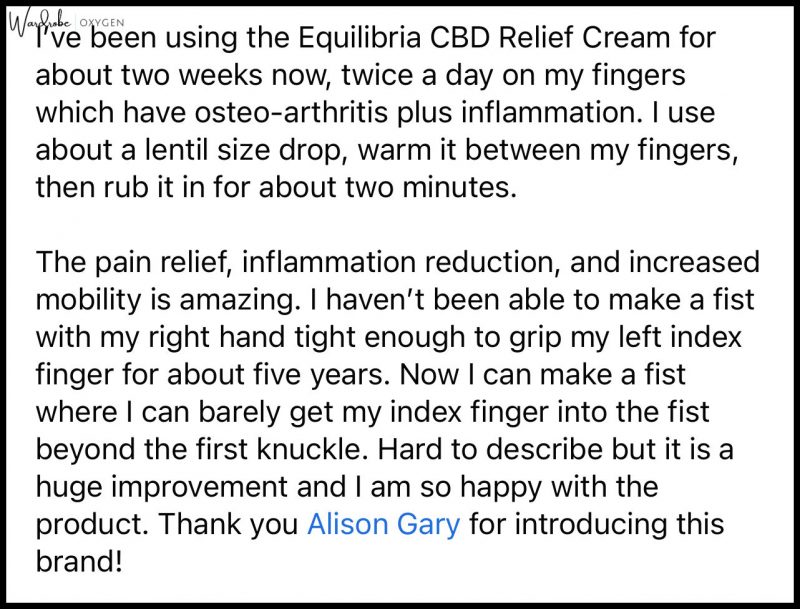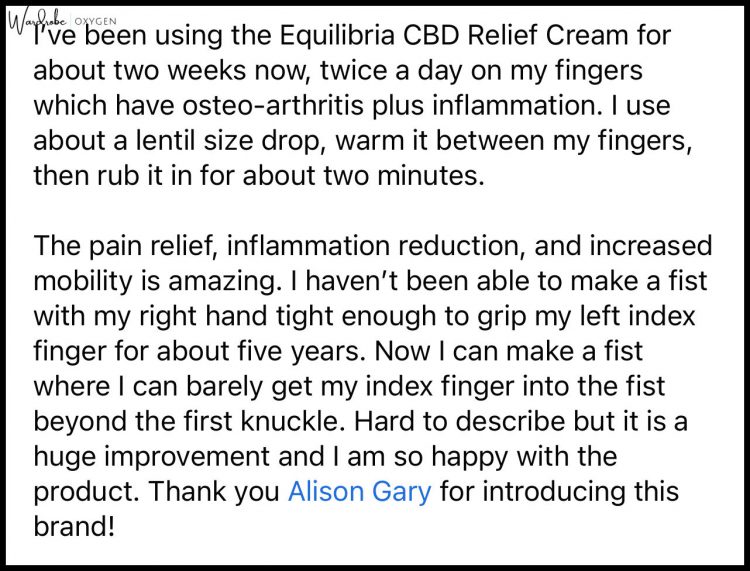 What is CBD?
Cannabidiol, or CBD, is a non-psychoactive component found in the Cannabis plant. You can't really overdose on CBD, and studies have shown it to be far safer with way fewer to no side effects compared to other medications and anti-inflammatory products. The more famous active compound in cannabis is THC/delta-9 tetrahydrocannabinol, which is psychoactive and provides a "high." CBD is not psychoactive and will not provide such a reaction.


What is the Benefit of Subscribing to Equilibria?
Well, the obvious answer to why you should subscribe to Equilibria is price. You automatically get a 20% subscribe and save discount every single month with Equilibria and then with this Equilibria sale it's 50% off your first month.
But the real benefit to subscribing is consistency. While CBD will start interacting with the cannabinoid receptors within minutes of being absorbed and you may feel a bit relaxed or a bit less pain, daily use is what will provide you with the best results.
The half-life of CBD is 11-24 hours; taking it daily will help sustain a level in your body that stimulates your endocannabinoid system to make it react more to CBD products like Equilibria. Many find it takes at least 30 days to truly experience the effects of CBD.
The endocannabinoid system is a complex cell-signaling system in your body that regulates functions like sleep, mood, appetite, stress, chronic pain, inflammation, and other immune system responses.
By subscribing, you not only get the best price (after the 50% off Equilibria sale is over, it will remain 20% off every month as long as you subscribe), you never risk running out or having to remember to place an order. Equilibria makes it easy to change your subscription or cancel at any time; you're never locked in or have to jump hoops to get out of an Equilibria subscription.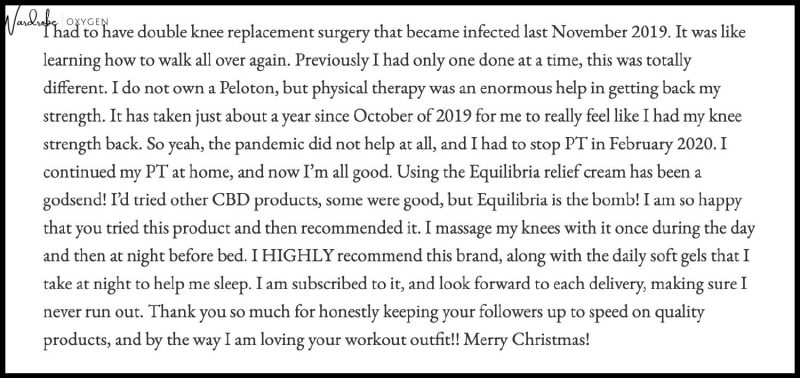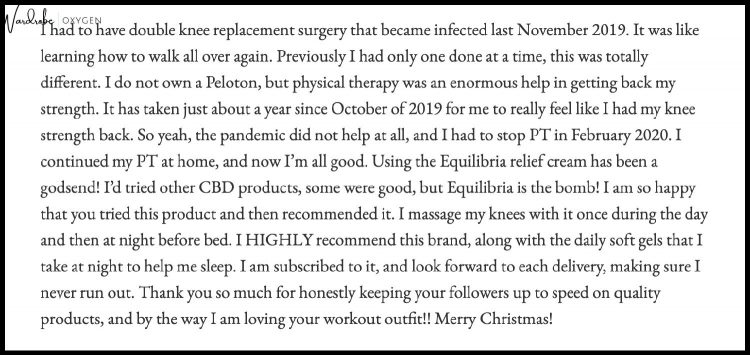 My Favorite Products from Equilibria
Since writing my initial unsponsored review of Equilibria CBD, I have used a lot of their products and have become even more so of a fan. My favorite products and why, and how I use them:
While there are the boxes that combine products for a discount, every one of the products listed above can be a subscription and get this 50% off Equilibria sale for the first month and 20% off every single month afterward. As a reminder, use this link and WARDROBEOXYGEN50 at checkout to access the Equilibria site if you want to get 50% off subscriptions.
After all the discussions about Equilibria in the Wardrobe Oxygen Community on Facebook and in my DMs on Instagram I felt it was worth it to share this Equilibria sale with you. There are affiliate links in this post; if you click and make a purchase I may make a commission. However, I am sharing this because I think it's a great deal on a product I truly love and use daily.
As always, if you have any questions I will answer them honestly and to the best of my ability!