This article may contain affiliate links; if you click on a shopping link and make a purchase I may receive a commission. As an Amazon Associate, I earn from qualifying purchases.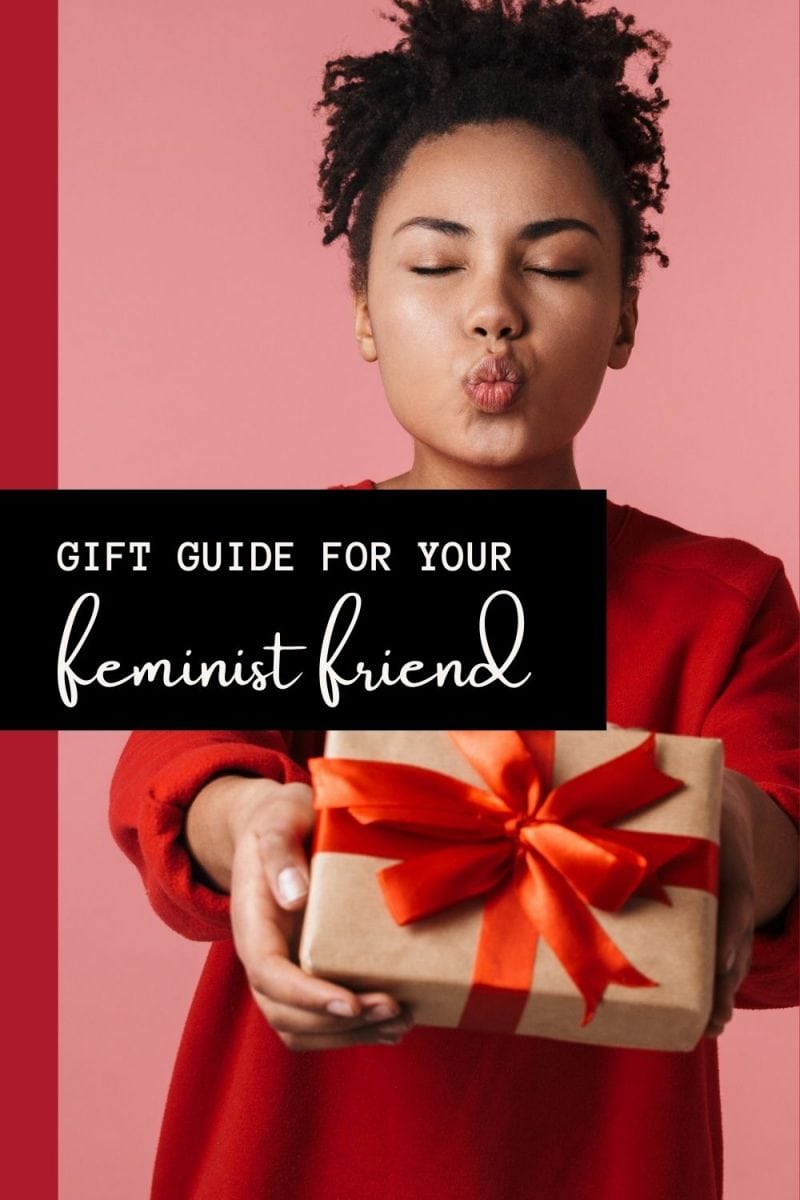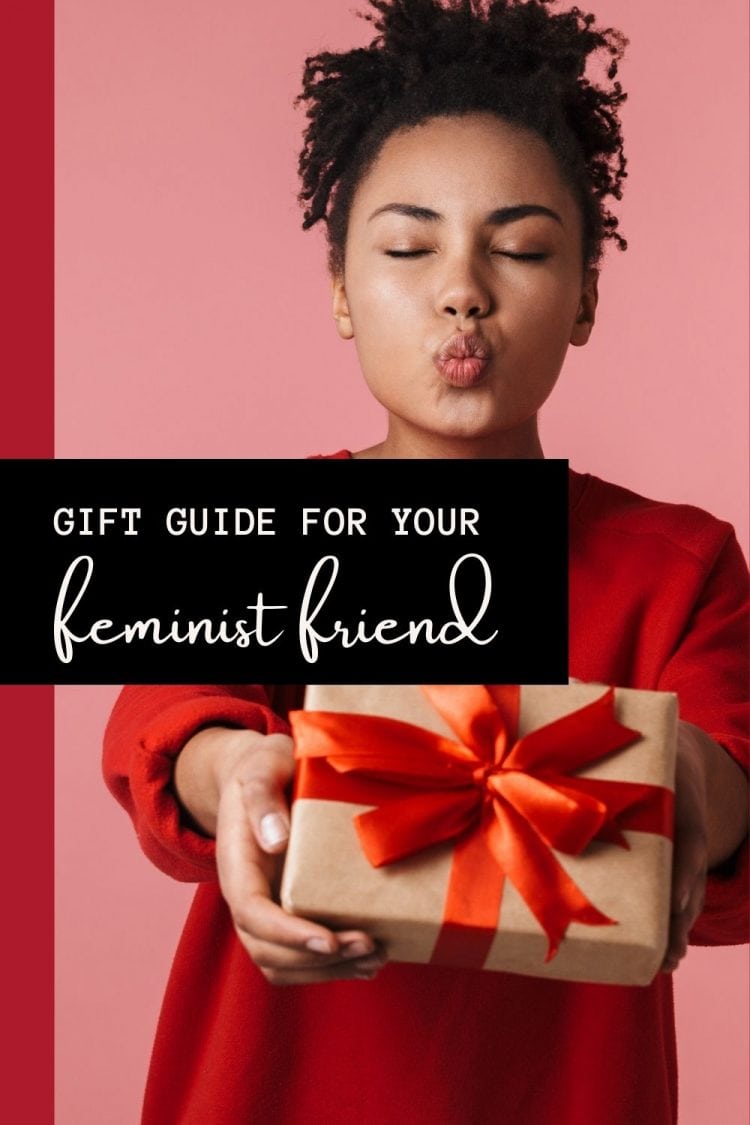 She's your ride or die, the meaning in your life, she's the inspiration. Maybe she's your childhood bestie, your work wife, your neighbor, your mentor, the mom of your kid's friend, your neighbor, your coach, your sister. She inspires you with her activism, her ethics, and her dedication to the feminist movement. She's an amazing woman who makes your life better and she deserves some recognition for her awesomeness.
Here is a gift guide for your feminist friend: gifts with a message reminding her that she's strong, special, and a total badass most from companies owned by and/or supporting fellow women.
Gift Guide for your Feminist Friend
Did your friend take up needlepoint this year? Merge their love of embroidery and smashing the patriarchy with this kit that comes with hoop, printed canvas, stabilizer, and even the ribbon to hang it on the wall after completed. It comes with in tones of red, orange and yellow with black text embroidered on white cotton but this Etsy seller is happy to switch up the colors for you.
Photo Credit: Metal Marvels
Just one of the dozens of inspirational, snarky, funny, and powerful messages available on these bangles from Metal Marvels. A woman-owned company, 10% of each purchase goes to the charity of your choice. While I feature one of their under $30 bangles here, Metal Marvels carries t-shirts, coffee mugs, and several other accessories at great prices that make wonderful gifts. Use promo code WARDROBE15 and get 15% off your order!
Photo Credit: Fempower Beauty
For every lipstick sold, Fempower Beauty, a woman-founded company, donates one to an organization helping womxn build resilience during a transitional time in their life. 'Lilith' is a blue-toned red and just one of many colors of clean-beauty lipsticks offered by Fempower Beauty.
Designed by graphic designer Stefanie Boyd-Berks for Otherwild, a Los Feliz, California-based queer-owned store and graphic design studio that also has an amazing online shop of apparel, accessories, and non-disposable, lo/zero-waste and upcycled products. This shirt is available up to 2XL and also available in kid sizes.
Photo Credit: Stella & Dot
As seen on Justice Ruth Bader Ginsburg in her Supreme Court photo, the original Stell a& Dot bib necklace looks supreme peeking out of a collared shirt or glamming up t-shirts and sweaters. I have Stella & Dot pieces that are over a decade old and still look great without tarnishing, chipping, or changing color. This is a statement piece that can become a signature, loved for many years to come.
Photo Credit: Uncommon Goods
This 1000-piece puzzle showcases 24 of history's most empowering, game-changing women along with quotes from icons such as Malala Yousafazi, Amelia Earhart, and Eleanor Roosevelt. Made in the USA from recycled paper.
Photo Credit: The Outrage
Stop telling womxn to smile. Period. This 00% cotton chino twill cap has an adjustable back and a portion of the proceeds will go to Planned Parenthood. This cap is sold by The Outrage, a shop but also a hub for activism with a shop in DC, one to come in Philadelphia, and a robust online store with a variety of accessories, apparel, and gift ideas.
Photo Credit: Uncommon Goods
Harriet Tubman, Susan B. Anthony, and Jane Austen ornaments are made from natural wool that's dyed, spun, felted, cut, and stitched by hand in Kyrgyzstan.
A set of six pencils with quotes from Harriet Tubman, Sojourner Truth, Rosa Parks, Ruby Bridges, Shirley Chisholm, and Fannie Lou Hamer to inspire you as you write, 50% of the proceeds from this purchase will help raise donations for Black Women's Blueprint.
Photo Credit: Emily McDowell & Friends
An 11 oz. dishwasher- and microwave-safe mug from this California-based woman-owned company has this fabulous message printed on both sides and comes in a box perfect for gifting.
Photo Credit: The Lipstick Lobby
In the Clear is a moisturizing, nourishing Vitamin E lip balm that glides on smooth to provide instant comfort and a touch of shine to your lips. The packaging is beautiful and includes Gloria Steinem's signature on the side. Cruelty-free, paraben-free, made in the USA, and 100% of the net profits from this lip balm go to the UnPrison Project.
Photo Credit: Uncommon Goods
100% cotton and 23" square, this bandana is versatile and stylish. From mopping one's brow after canvassing to using to accessorize a favorite frock, this is an accessory that will be well used and well loved for many years.
This is just a snippet of the great gifts out there; I recommend clicking the links to visit the online stores for additional ideas along the same feminist vein.
If you know of a great gift idea not featured in this list, do share in the comments! Your suggestion may be just the thing another person is looking for as a gift for another!