This article may contain affiliate links; if you click on a shopping link and make a purchase I may receive a commission. As an Amazon Associate, I earn from qualifying purchases. 
This past week had me craving prints and color and all things spring. While it got so cold this week in Maryland that we had frost and a chance of snow, spring has truly spring with happy birds, flowering trees, intensely blue skies, and every plant bursting forth electric greenery.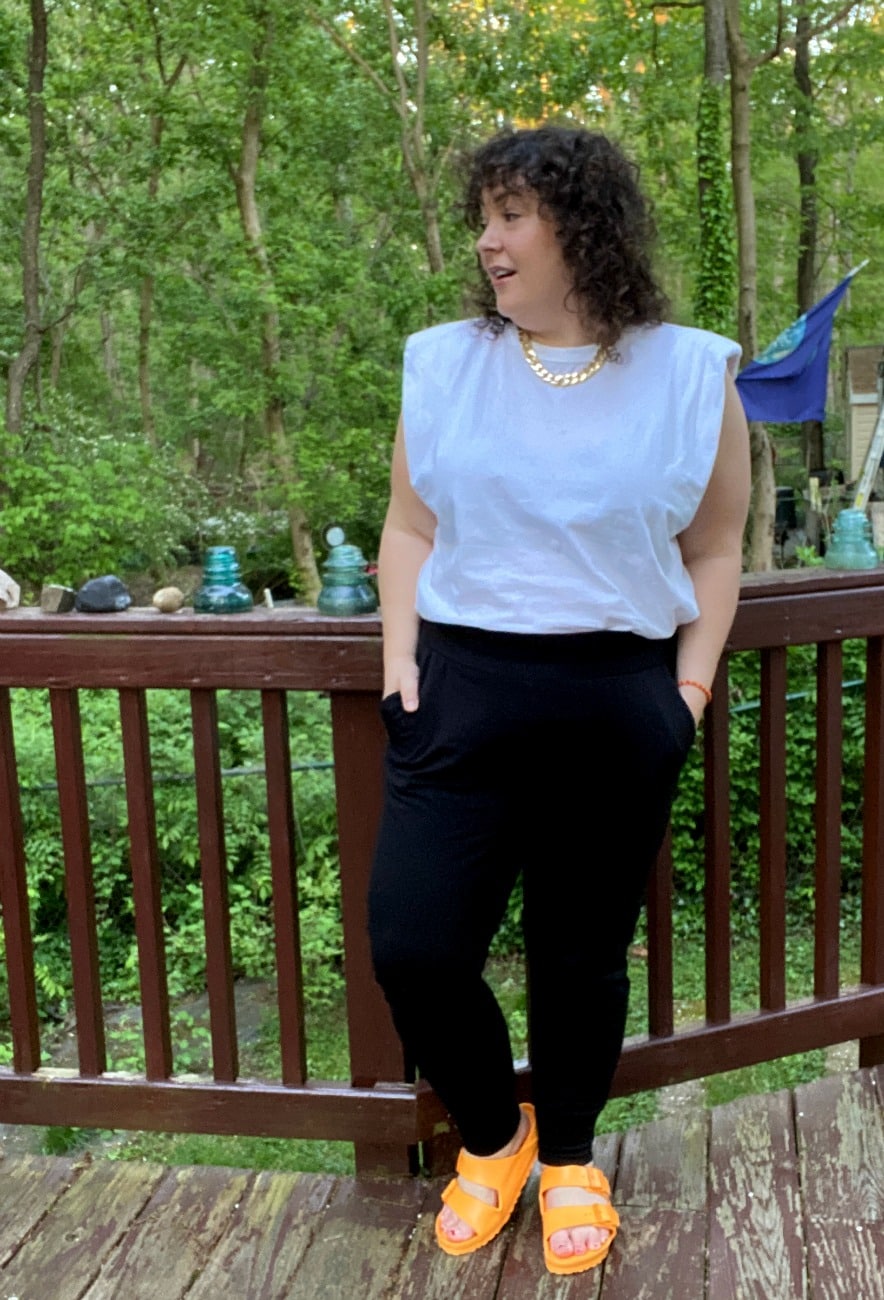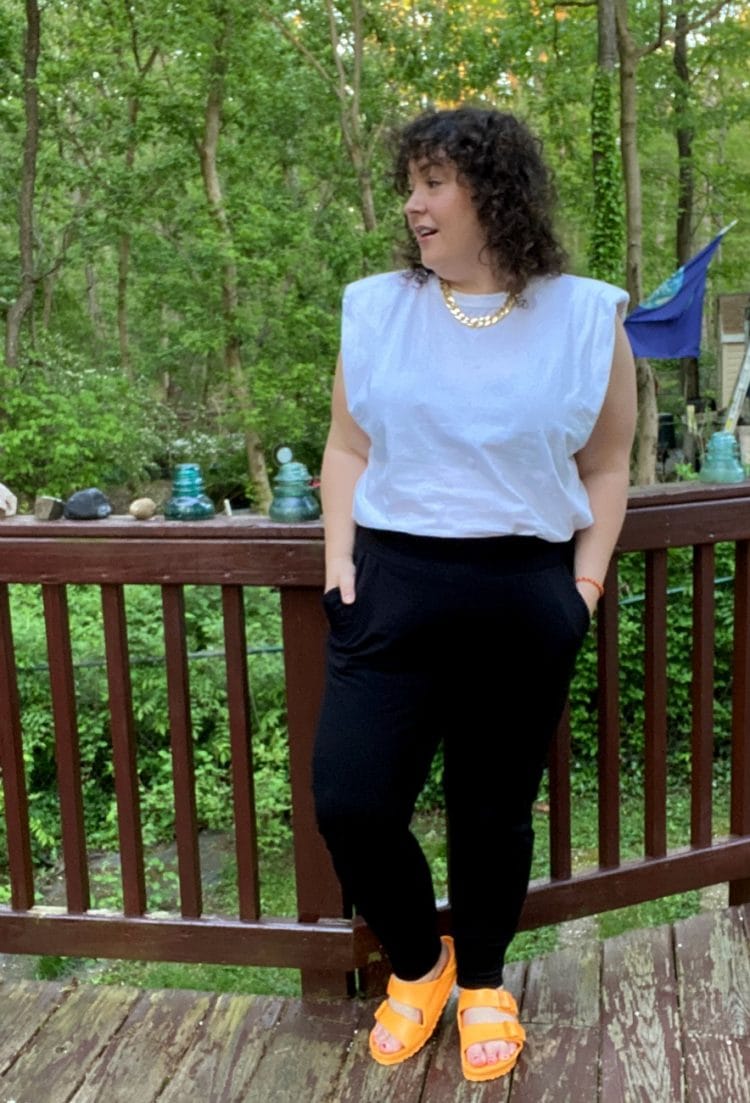 The week started off warmer and I pulled out this t-shirt with padded shoulders I got from Frankie when I visited NYC in February. You can see me wear it before in that trip recap post. The top is a size Medium and it comes in other colors as well. Right now Frankie is not doing orders due to COVID-19, but they're worth bookmarking for the future (though their size range sucks). With it I'm wearing my cabi joggers from last season (these are a great alternative from Soma that I have and love; many of you rave about these joggers from Universal Standard) and my orange EVA Birkenstocks. The necklace is from Baublebar that was previously seen in this outfit post from February.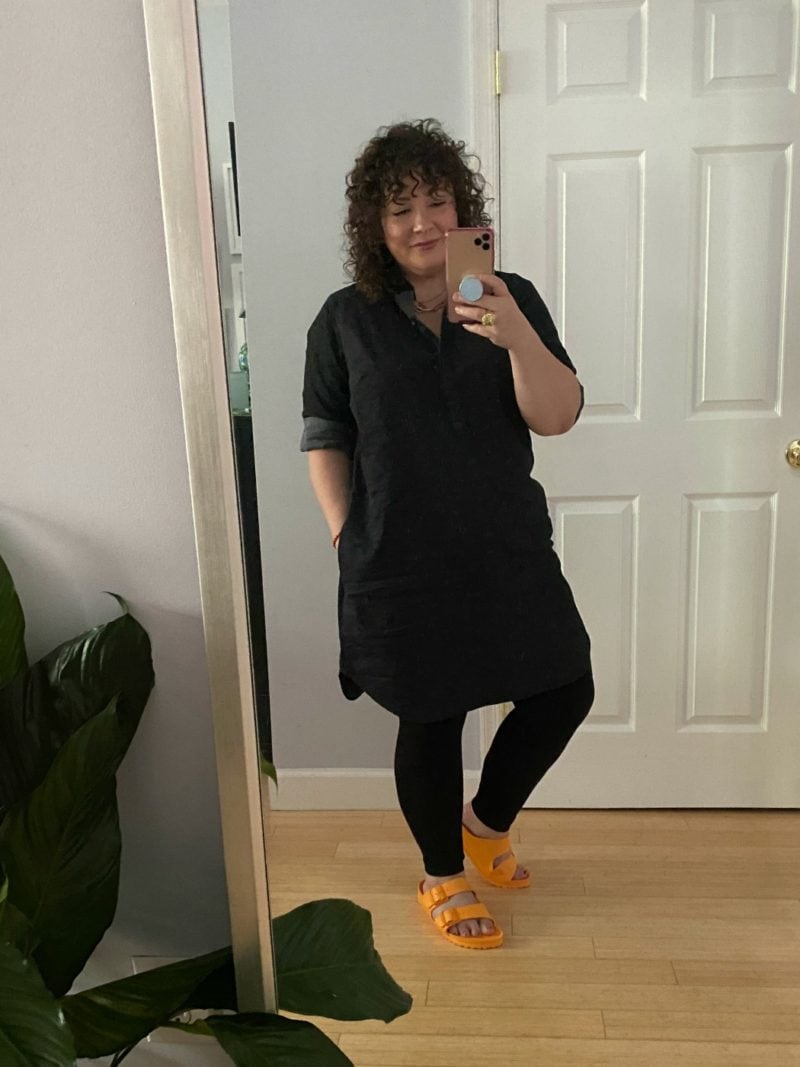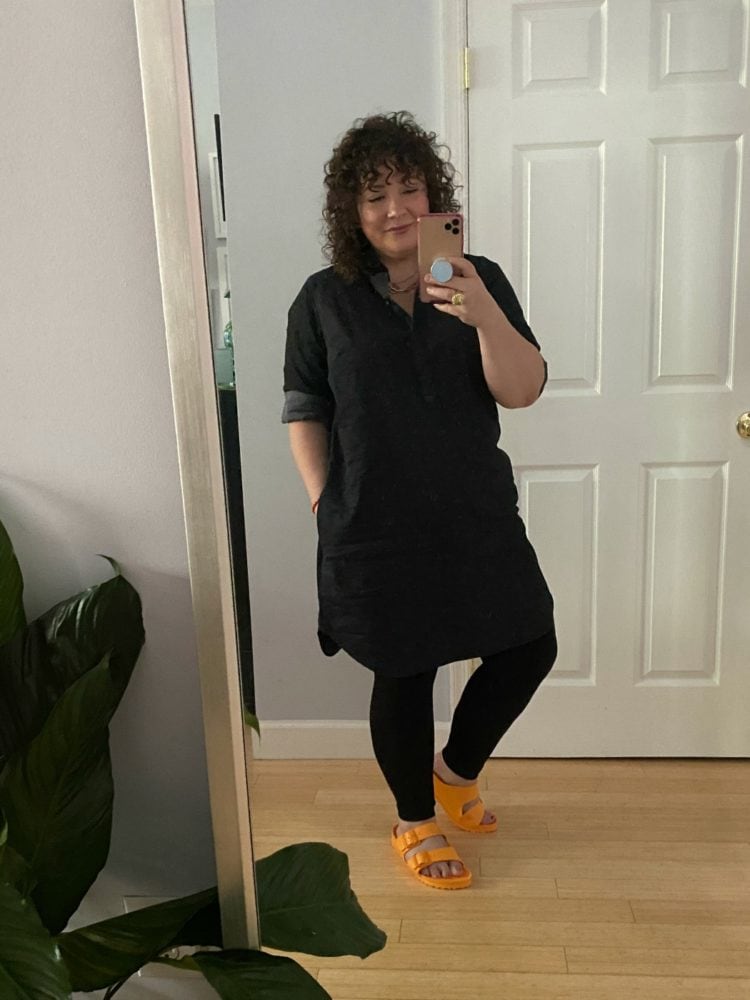 A bit chillier, I wore an outfit I wore last week as well – this denim dress from Universal Standard (XS, this is the black), and black Essential Leggings from Soma (L). I washed and dried the dress from Universal Standard and it got a bit softer and a tiny bit rumpled but otherwise exactly like when I received it, and no shrinkage at all. These leggings are super duper soft and not too thick, really great lounging around leggings and my favorite under long tunics and dresses and I love that they are available in three lengths. I'm wearing my Baublebar Hera necklace and my Jenny Bird initial necklace. And again the orange EVA Birks for a pop of color!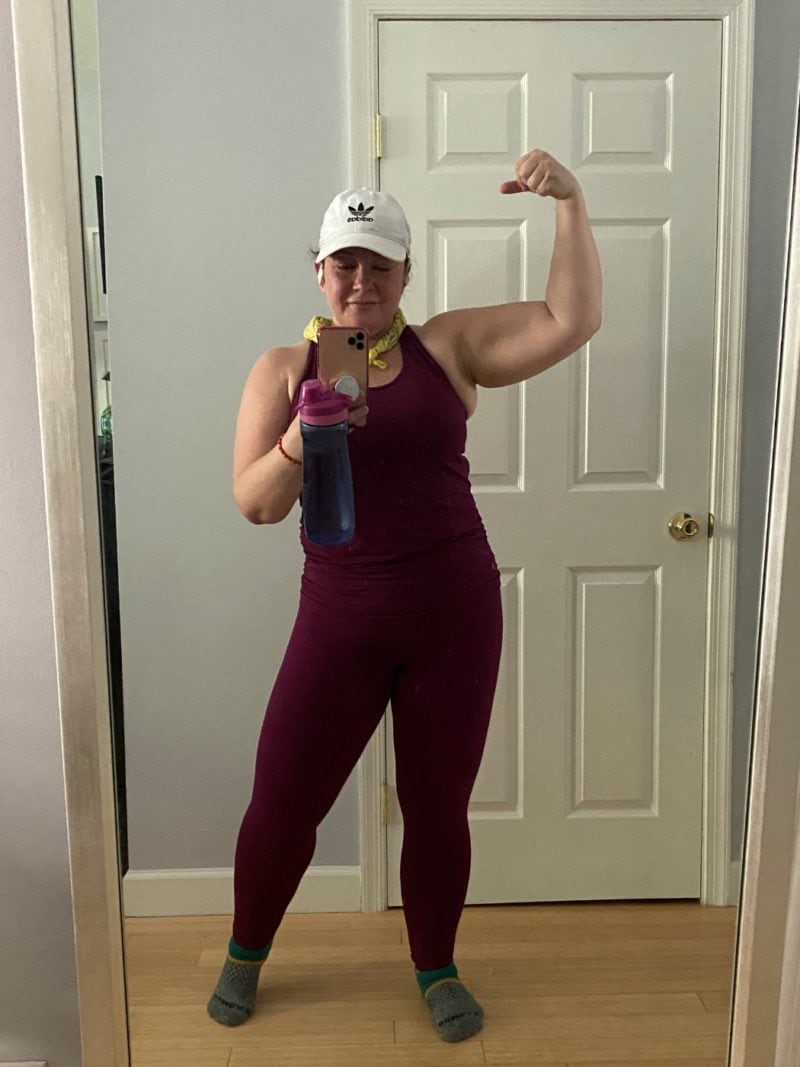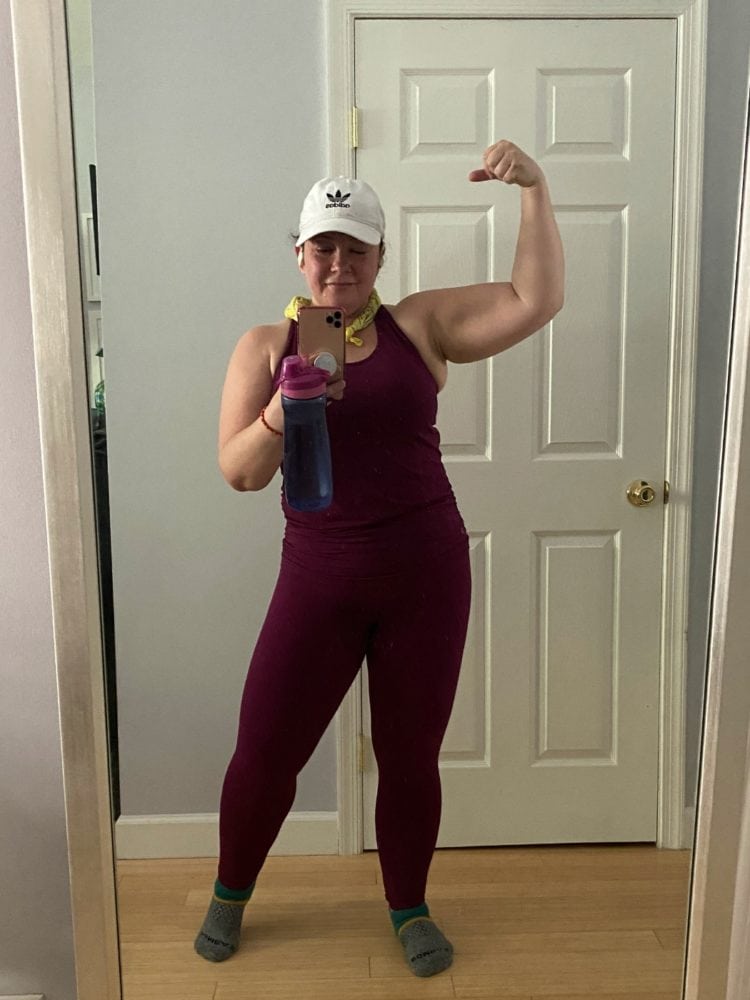 One of my workout looks this week that I remembered to photograph, and one you've seen before. This look is from Athleta; it's this tank in size large and these leggings (large petite). The tank is no longer available in this plum color but this sleeveless fitted top and this looser tank are. I can't rave enough about Athleta; while it is not a cheap brand, the quality is stellar. These pieces have been washed and (GASP!) dried over a dozen times and still look and fit the same. I have Athleta leggings years old that look newer than other leggings from other popular brands that are only a few months old. I also like that they have petite, tall, and plus options. When I ride the Peloton I like to wear a bandana at my neck to catch sweat, and if I'm not wearing a hat I slide it up on my head midway to catch flyaways and prevent sweat from getting into my eyes. For this day, I wore my Adidas baseball cap. The socks are from Bombas.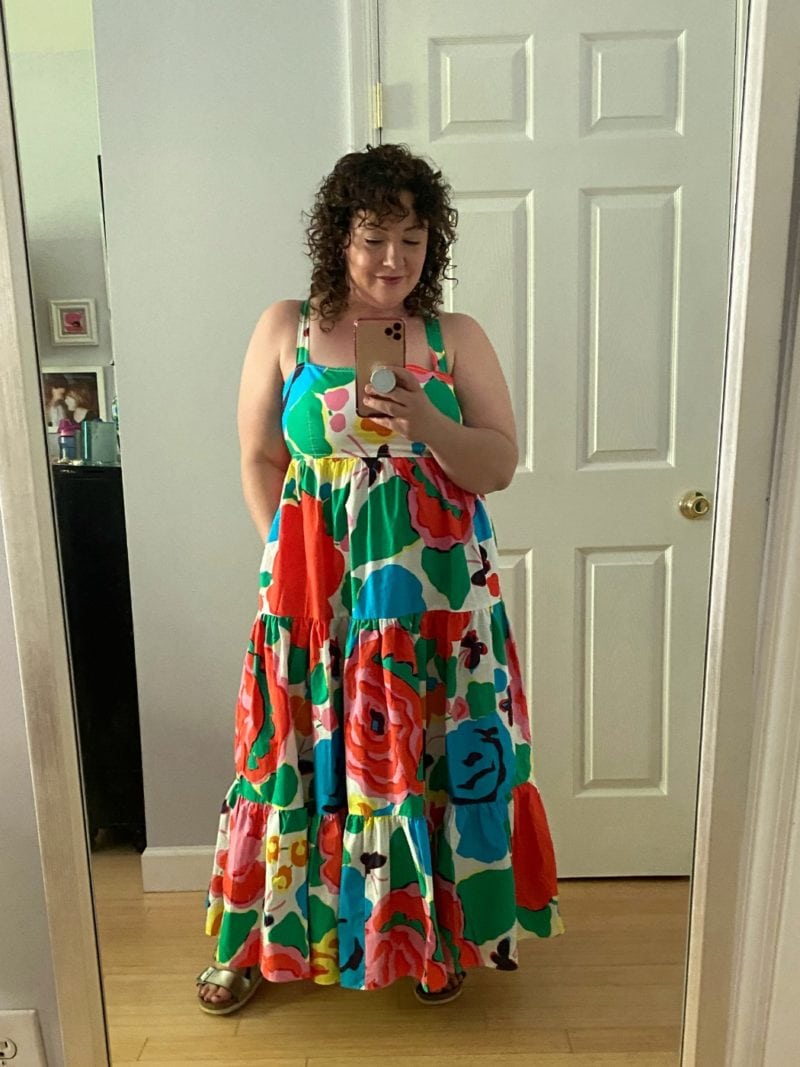 I mentioned in my Friday Sale Alert that I got this dress from J. Crew and like it very much. Well here it is! I wore it for part of a day before the sun set and it got too chilly. I'd like to shorten the straps a bit, but it's still wearable now. For reference, this photo I am NOT wearing a bra. I think it would work with a demi or balconette bra with thin straps or a strapless, but I wanted to see how it worked without and I found the double non-stretch fabric and seaming kept me in place all day even when sitting, bending over, and such. With it I am wearing my silver Birkenstocks. I really like cotton dresses like this for summer so linked to a few others below.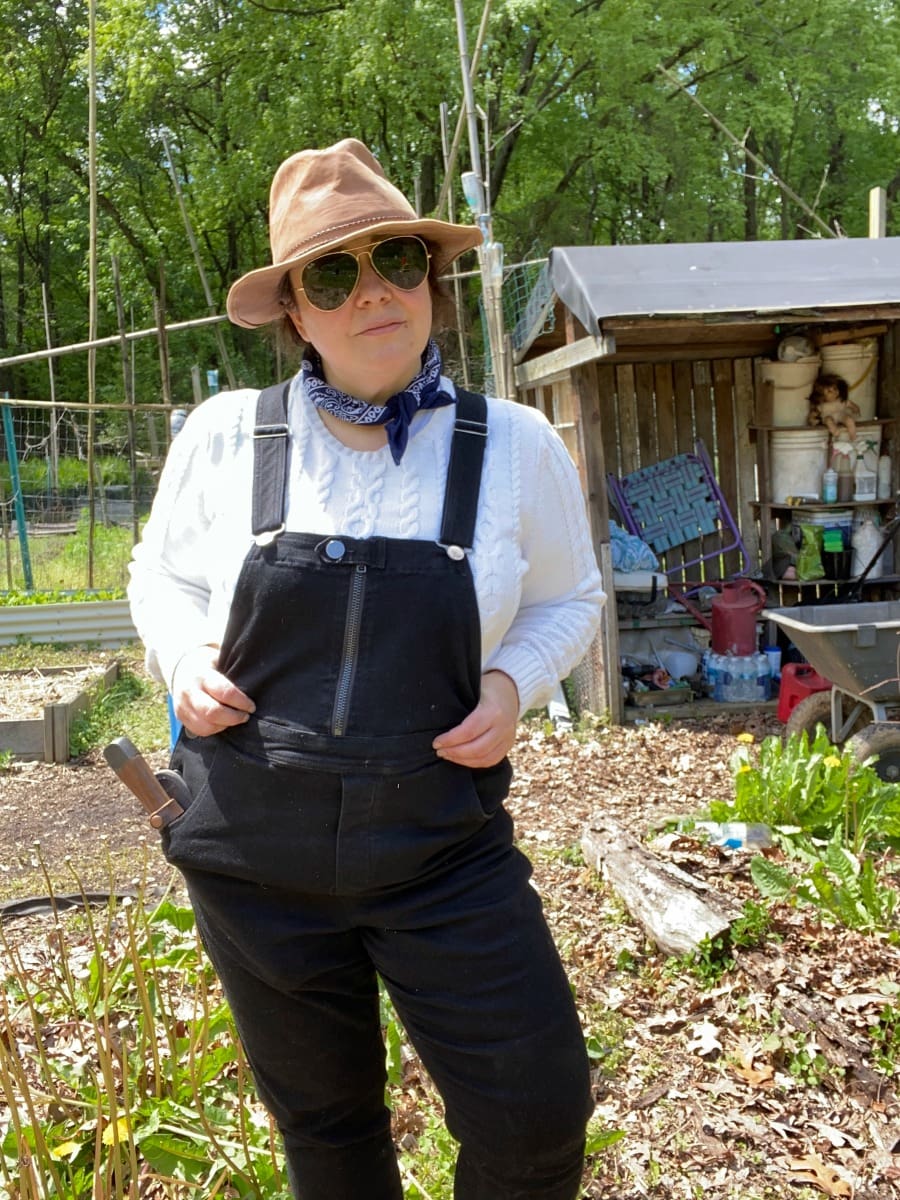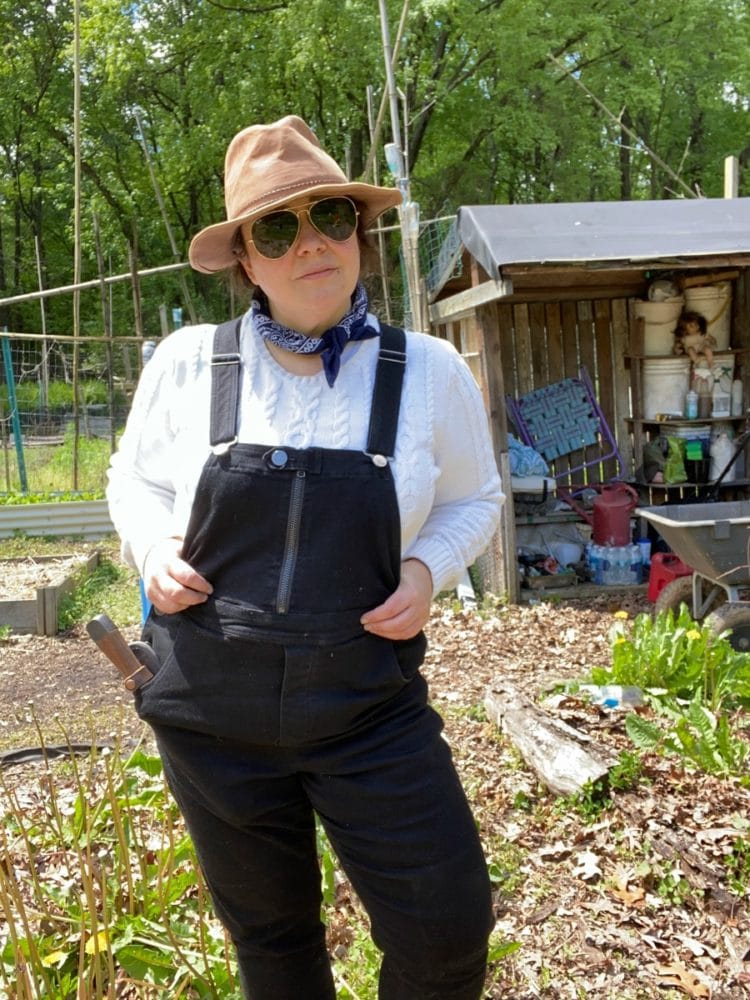 Saturday morning, went to the garden to pick what had grown. Karl grew so many radishes we dropped bunches of them off at the homes of 10 of our friends in the neighborhood and still ended up with dozens to roast, pickle, slice up and cook in olive oil, add to salads, and slice and place on crusty bread with a bit of butter and a touch of sea salt! We also got a lot of kale and herbs for upcoming dishes. These are my Universal Standard overalls; I have them in XS. I love these overalls, they are a good weight but soft and super stretchy. Mine are over a year old, have been washed and dried dozens of times. They're more tailored to a woman's curves than many overalls, more stylish too. Underneath I have this sweater from L.L. Bean; mine is several years old and they don't currently have this color, but Lands' End has a similar sweater in this color on sale. Not in this color, but they also have this sweater in plus sizes. Another bandana, which comes in handy so often. On my head is a leather safari hat from Stetson that was gifted to me from Tenth Street Hats. It has gotten a lot of wear; you can see it previously in this blog post. My sunglasses are the 60mm aviator from Ray-Ban; several years old and still my favorite. I found them on super sale at Overstock.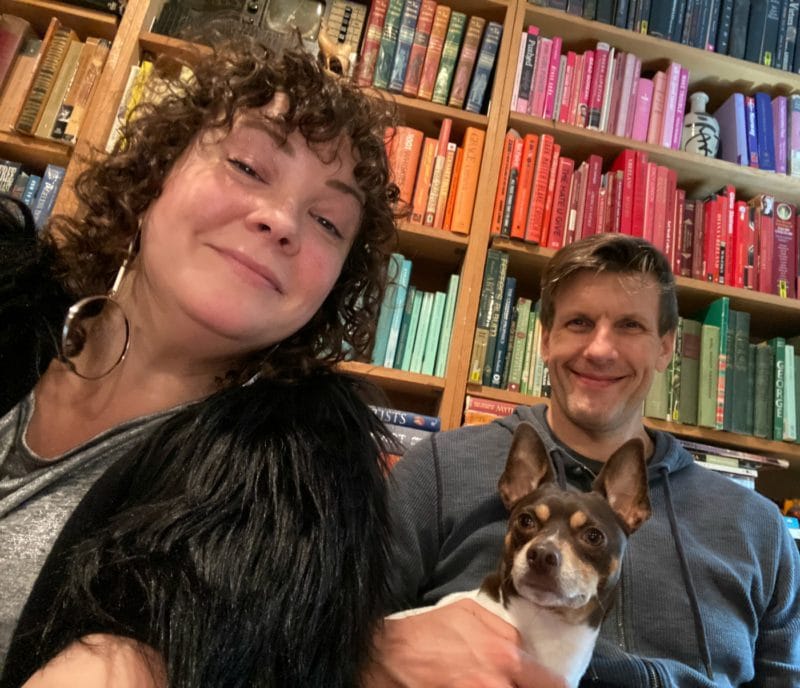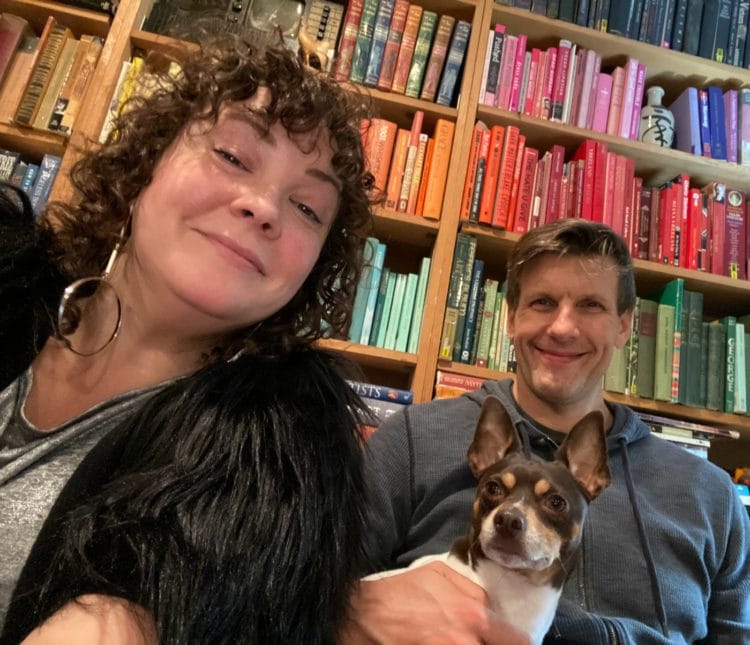 Saturday night, we had game night with friends over Zoom. While I was still in my living room I decided to dress up a bit. I wore a silver stretchy knit top I got on Etsy many years ago (you can see me wear it in this post recapping the Hopscotch Music Festival back in 2016) with a black knit shrug with furry sleeves from cabi last season. On the bottom were my Soma joggers. The earrings are from Jenny Bird and a few years old and no longer available.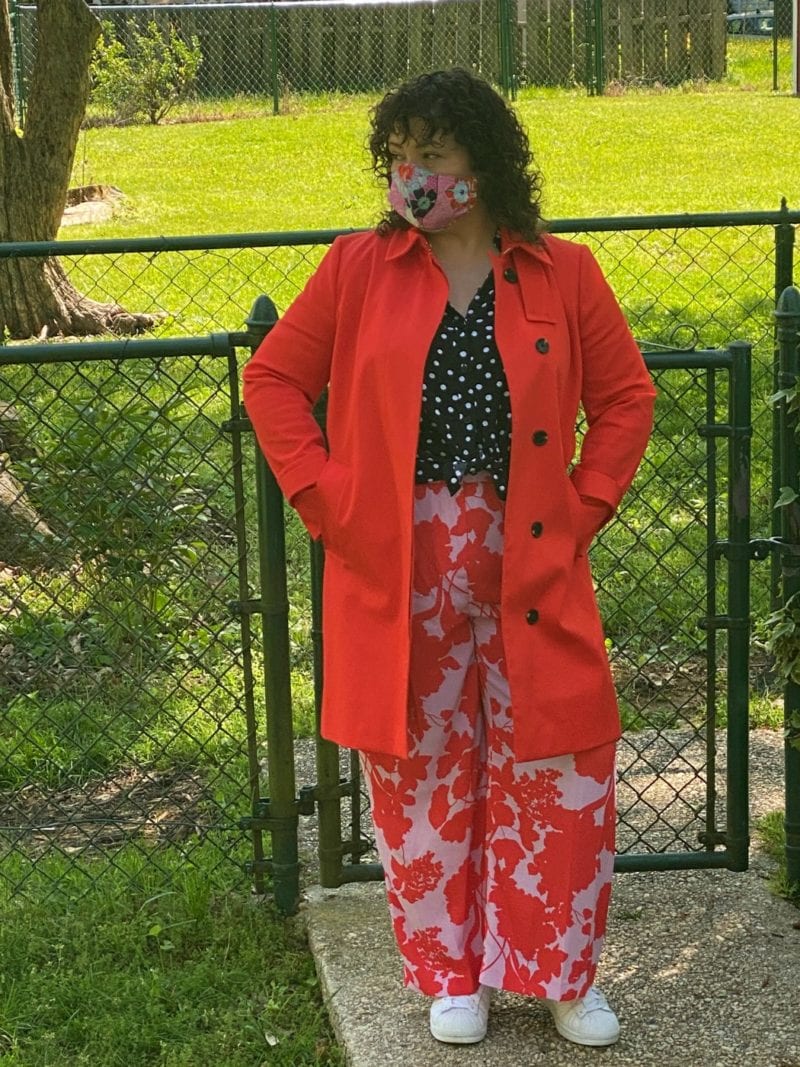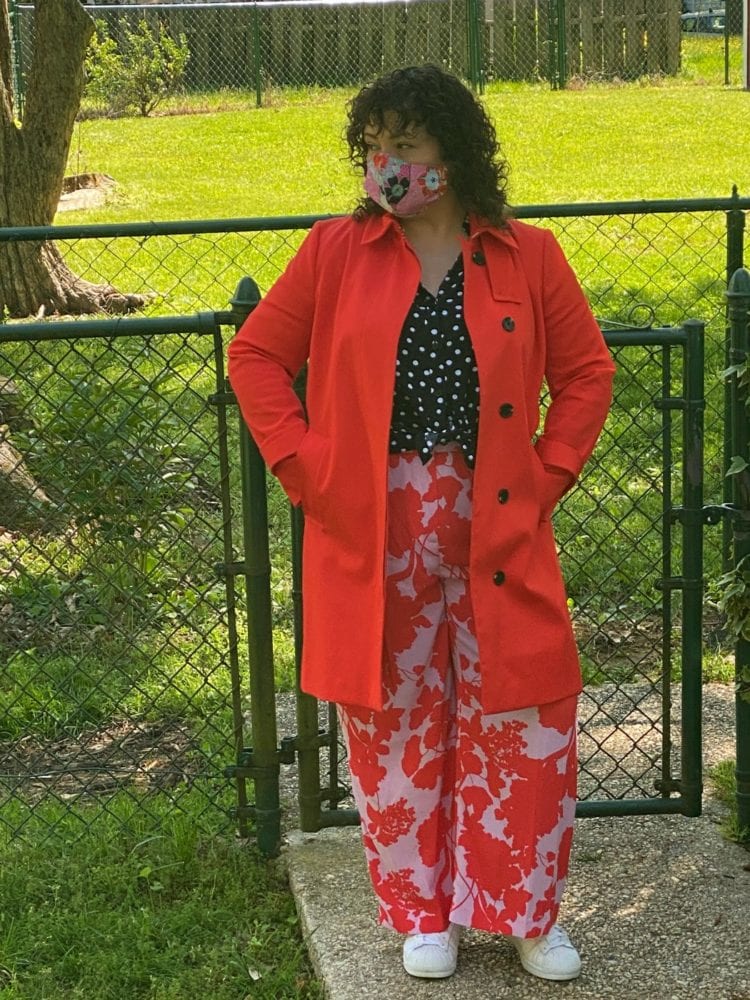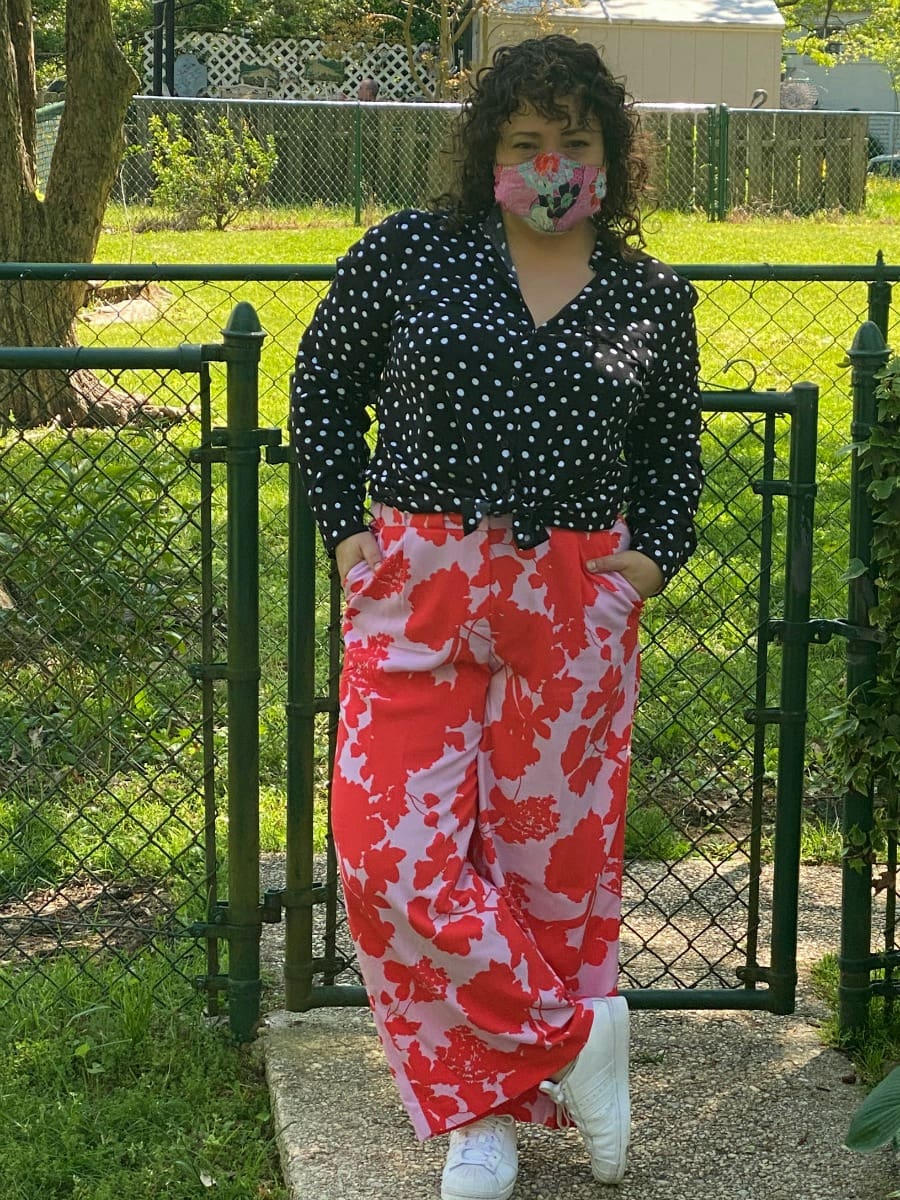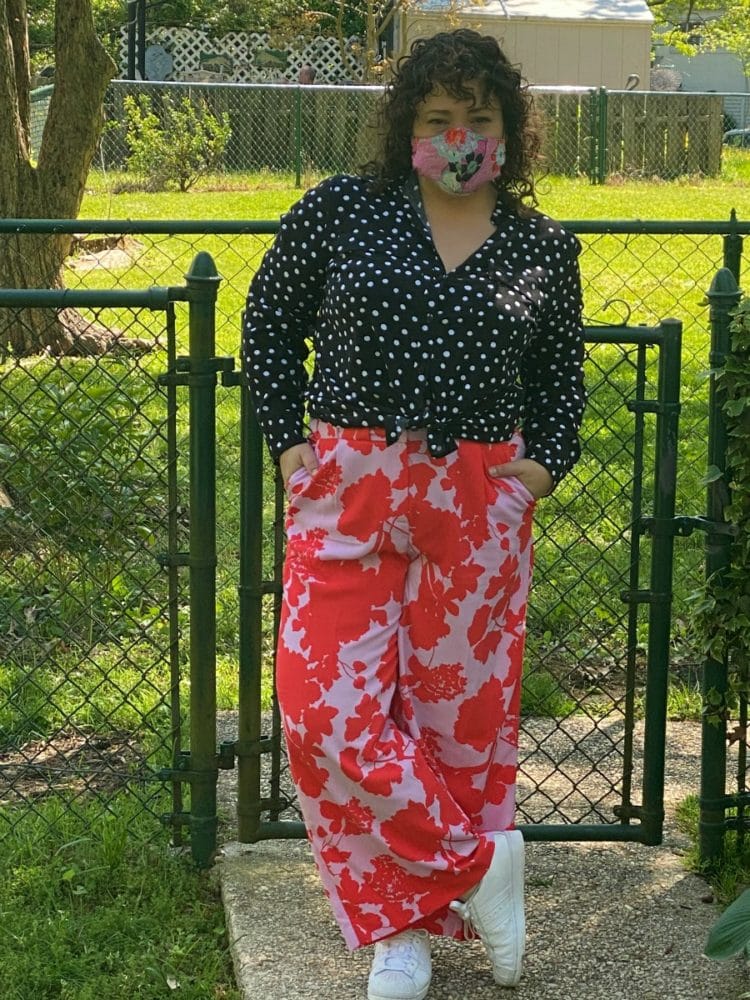 Mother's Day, I decided to get dressed and wore this look when my daughter and I walked to visit my mom (don't worry we stayed on the complete opposite side of her yard). the top is from Chico's and over a year old; you can see me wear it in this post from when I went to Palm Springs with Chico's. They don't have this print, but this link will take you to other prints of the same shirt which I adore. The pants are from the Halogen x Atlantic-Pacific collection at Nordstrom. Nordstrom had the collection on sale 30% off and I grabbed the pants. They are supposed to be cropped but on me they are full-length. They are very lightweight; you need to wear seamless skin-colored undies with them (these from Soma are my favorite for such garments). I wouldn't say they're the most… flattering but they are exactly the kind of thing I'll wear now and into the summer. I have this top which is the same coral color in the pants, and the sweater I am wearing in this blog post is also the same color. I think the pants also look cool with a Breton stripe, and I like them with a graphic tee and Birkenstocks in the summer. I like that they are machine washable, they don't cling, and they have pockets. Sometimes a fab print and a practical style wins out over figure flattery! As for the shoes, they are my Adidas Superstar sneakers. The coat is from Ann Taylor and several years old; you can see it in this blog post from 2016. This jacket from Banana Republic Factory is similar. The mask is from The Kit; this mask has elastic straps but instead of going around the ears, they go around the head. I like this for getting a custom fit without discomfort but it's not the cutest with a loose curly hairstyle. However, it's fantastic for a ponytail or wearing a hat or a short haircut and it helps cinch the mask around the face better since the elastic runs through the top and bottom of the mask instead of being sewn on the edges. The masks are sold in packs of five; I will be having a giveaway in the Wardrobe Oxygen Community for the other four from this pack later this week so stay tuned!