This article may contain affiliate links; if you click on a shopping link and make a purchase I may receive a commission. As an Amazon Associate, I earn from qualifying purchases.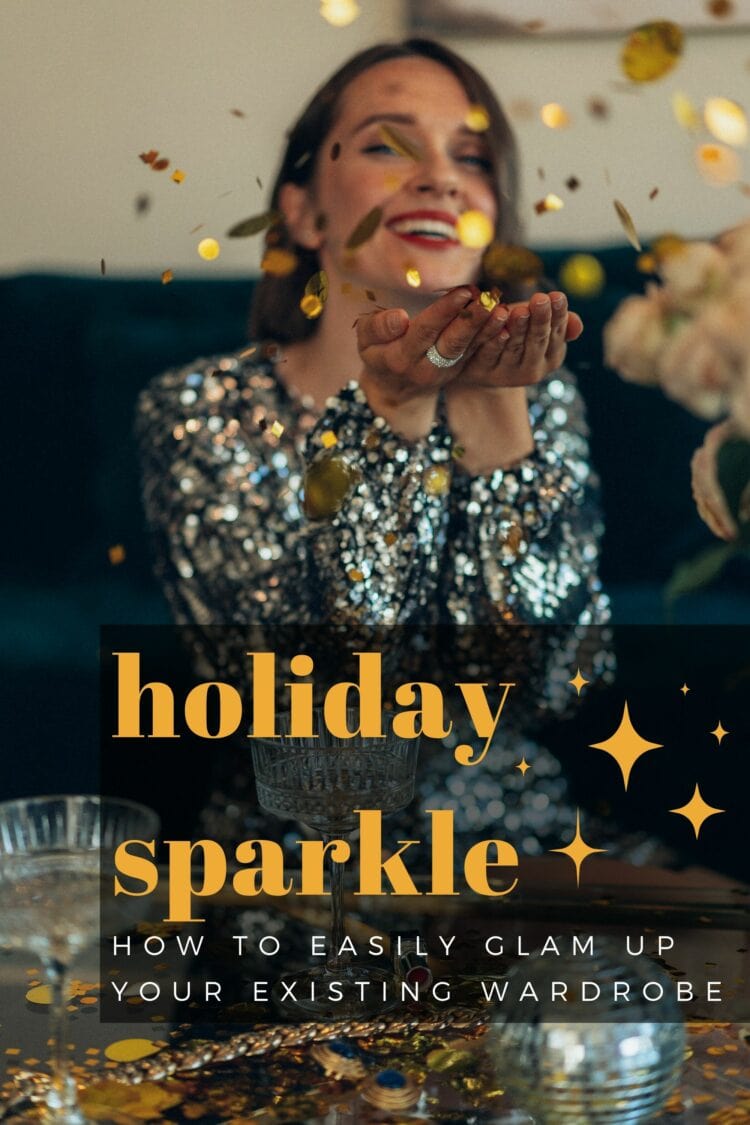 Want to know how to glam up your existing wardrobe? The easiest way to take your current closet from everyday to festive is with a shimmery, sparkly, sequined piece. Pair with denim, with your black work pants, with a trim turtleneck sweater, wear under a blazer, wear over a simple sheath or fit and flare dress… this is the kind of piece you can reach for beyond the holidays. Evening wedding? Girls' night out? Cocktail party? Fundraising gala? You're ready.
The key to having this piece feel festive now and beyond the holidays is to steer clear of anything that is a holiday-specific color, pattern, or has seasonal embellishment. Plaids, bright red or green, anything with snowflakes, Fair Isle prints, and obvious details like ornaments may be fun but are very memorable and really only wearable in the month of December. However, silver, gold, black, blush, and other soft tones, and darker colors like navy can work year-round.
The last thing any grown-ass woman wants to look like is a stereotypical Mother of the Bride, especially if she isn't at her child's wedding. There's no need in 2021 to be wearing cold shoulders (unless that's your signature style), sequined waterfall jackets, beaded twinsets, or shapeless shifts with high-low hemlines.
How to Glam Up Your Existing Wardrobe for the Holidays
When it comes to sparkle, this is the time of year to get it, even if you won't be wearing it for the holidays. And this is the time of year to break free from your typical retailers to find something that may feel more modern or versatile. Sequined and sparkly fabric has a different weight and drape from most fabrics; you may find a kimono-inspired long wrap or a blazer to look great when one in knit or suiting fabric doesn't make you feel confident.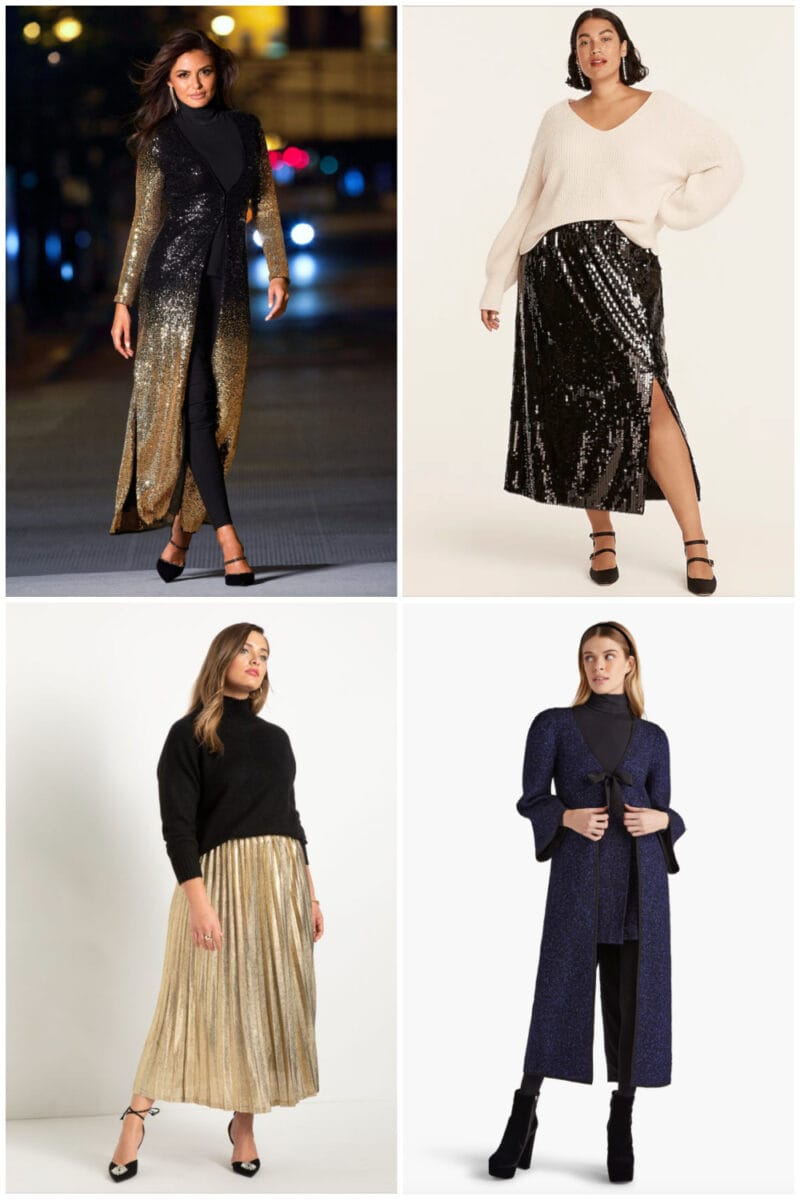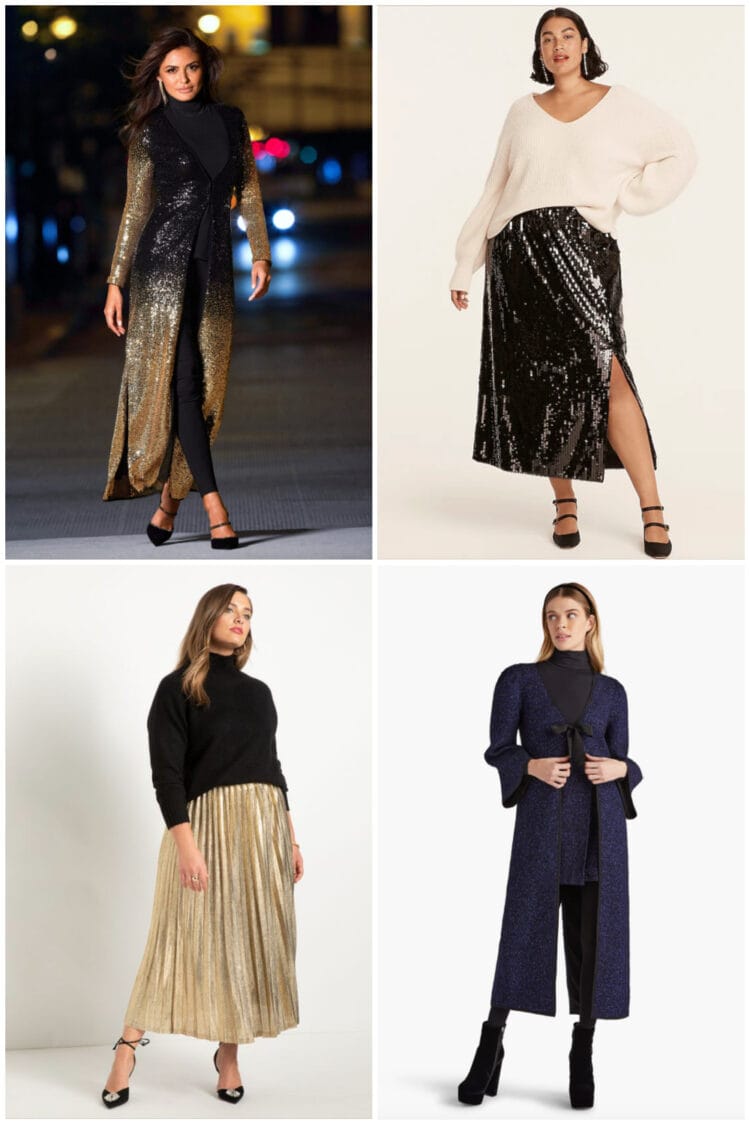 My biggest tip is to buy one piece in a color that makes you happy, but doesn't steal the show. Something that will mix and match with basics already in your closet. It could be a pair of brocade cigarette pants, a sequined tee, a tux jacket with satin lapels, a pair of lamé joggers. Your style is yours, you want to add festive sparkle that doesn't feel like a costume and doesn't force you to reinvent the wheel or purchase a bunch of other things to make it work.
I hope these suggestions inspire you to see beyond buying an entirely new holiday outfit and see how a single piece may be just the thing to elevate your wardrobe and elevate your holiday spirit!
Sparkly Tops and How to Style Them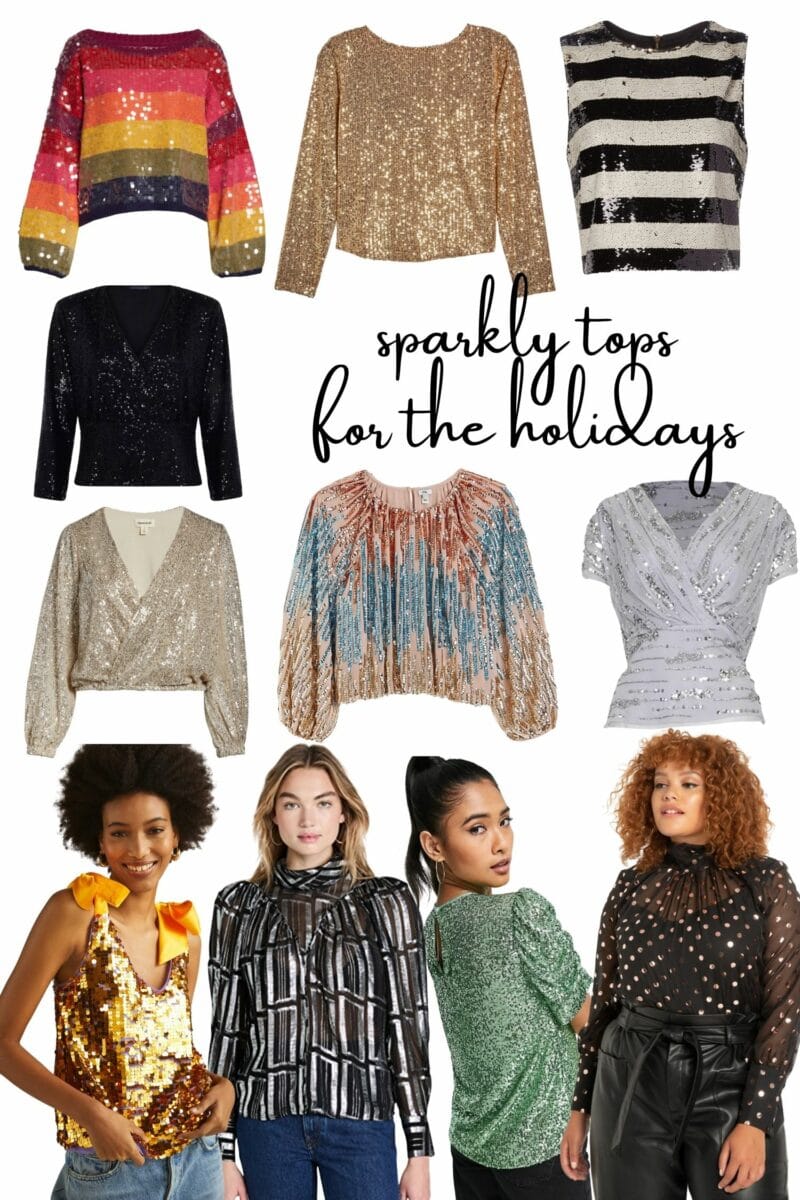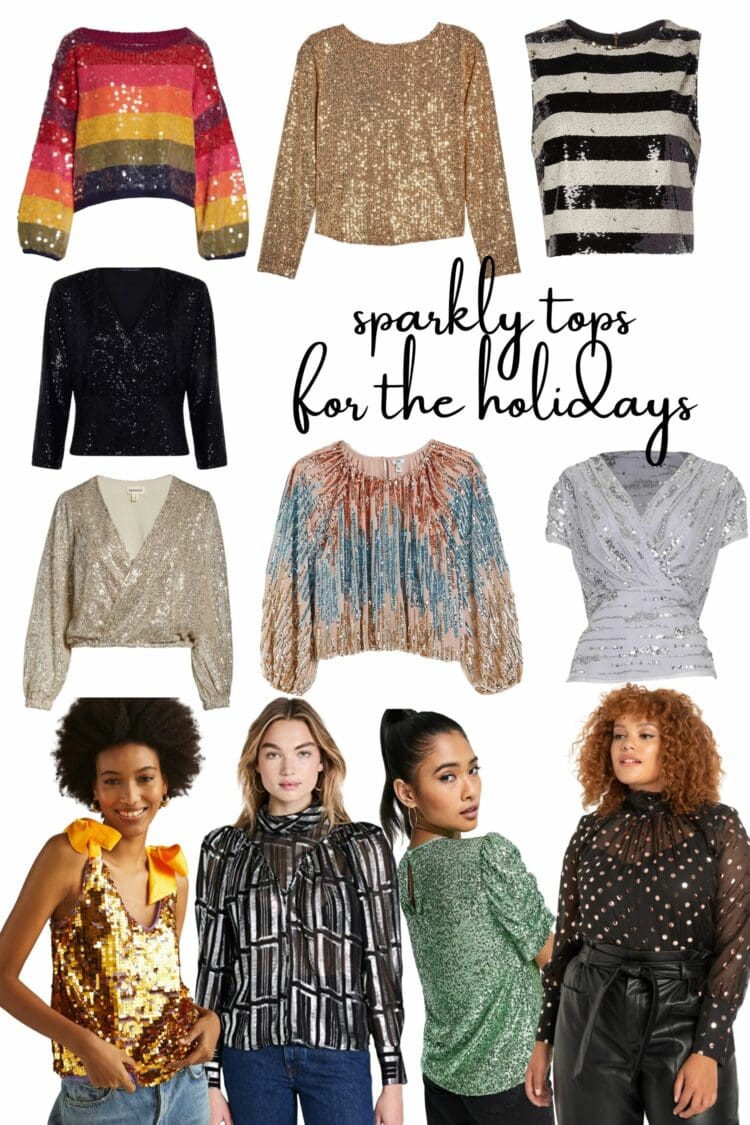 Shop the Collage:
rainbow stripes | gold (also available in rose gold, black, and pewter; click for plus sizes) | black and white stripe | black wrap front | champagne drapey wrap front (same in plus sizes) | pastel ombre | gray beaded | gold with bow straps (also available in pink and black) | silver and black | green puffed sleeves | black sheer with foil dots

A sparkly top is the easiest way to update your existing wardrobe for the holidays. A bit of shimmer and shine can take your favorite trousers, jeans, or even joggers and make them holiday ready. Dark denim or black will be the easiest to glam up; make sure the black is saturated and preferably a fabric that can look dressy in dim light. Suiting fabric, matte jersey, crepe, polyester blends, velvet, faux and real leather will work better than twill, jersey, and cotton blends.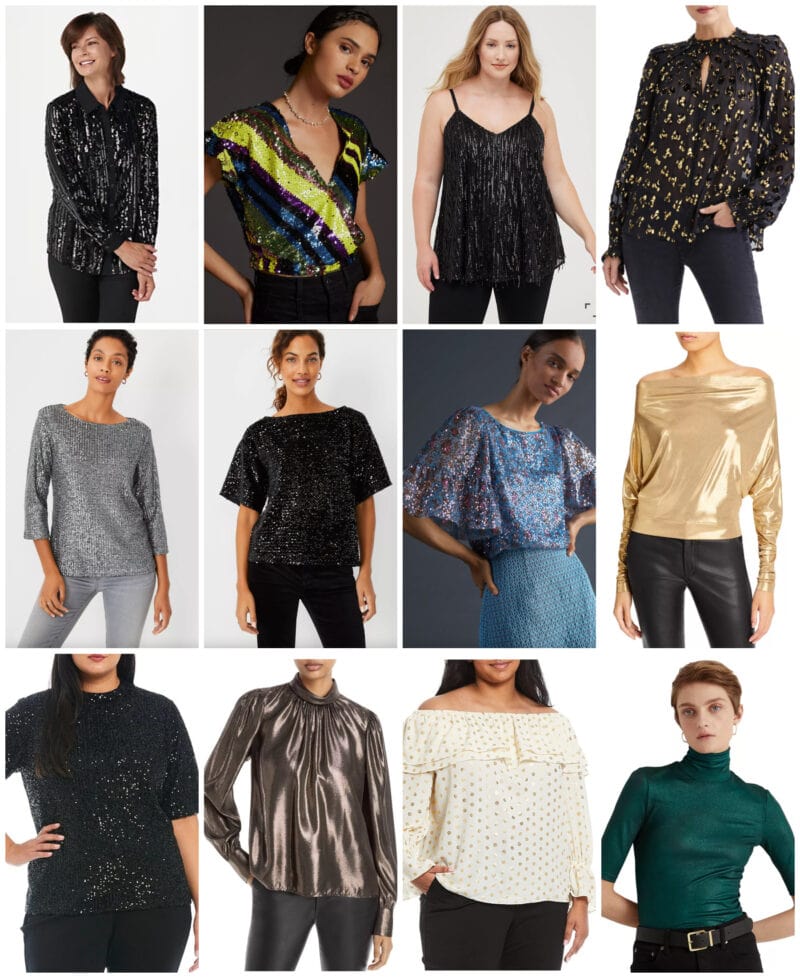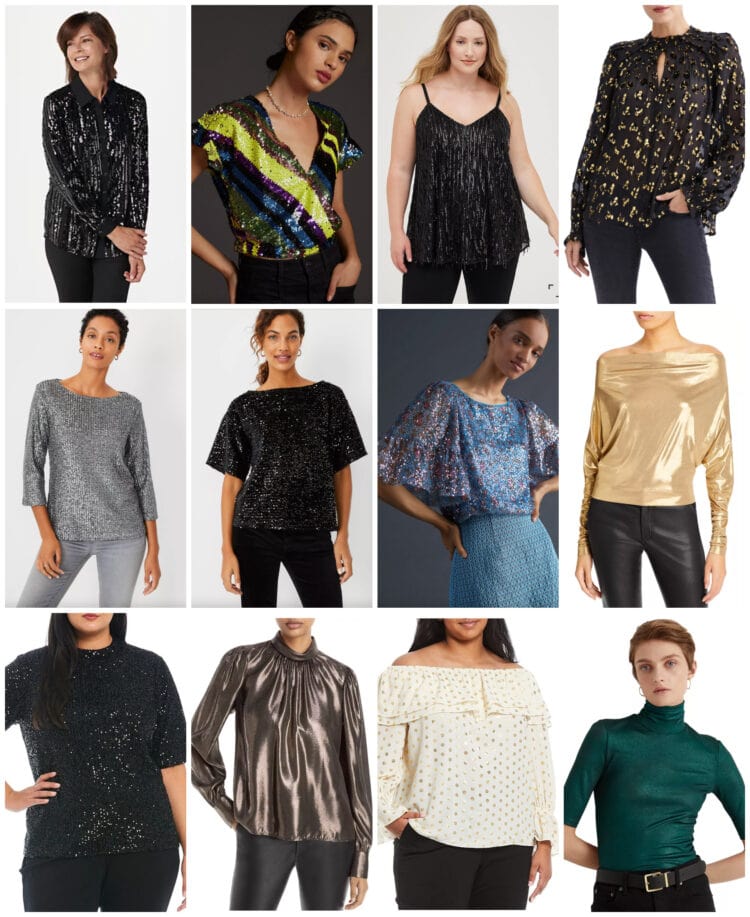 Shop the Collage:
sequined blouse (three colors to choose from) | sequin stripes | sequin fringe cami | sheer with gold foil | pewter sparkle | black short sleeves | blue with bell sleeves (also available in dark gray) | gold off the shoulder | black mock neck | metallic foil blouse | ivory with foil dots (also available in black) | green turtleneck (six colors to choose from)

Sequined and shiny tops are something you can find a lower pricepoints, but be careful that the details don't make the top look cheap. Steer clear of cold shoulders, sheer or lace cut-outs, and other details that can look dated. Some shiny tops have overlapped sequins for a consistent effect, others have sequins sewn flat so the fabric shows through. For a festive look, I recommend choosing overlapped sequins; it's dressier and provides an elevated look. For dressy occasions, I also recommend choosing a top that is completely embellished; a plain back and/or sleeves will make the piece appear more casual.
Shop Sparkly Tops:

Sparkly Jackets, Dusters, and Wraps and How to Style Them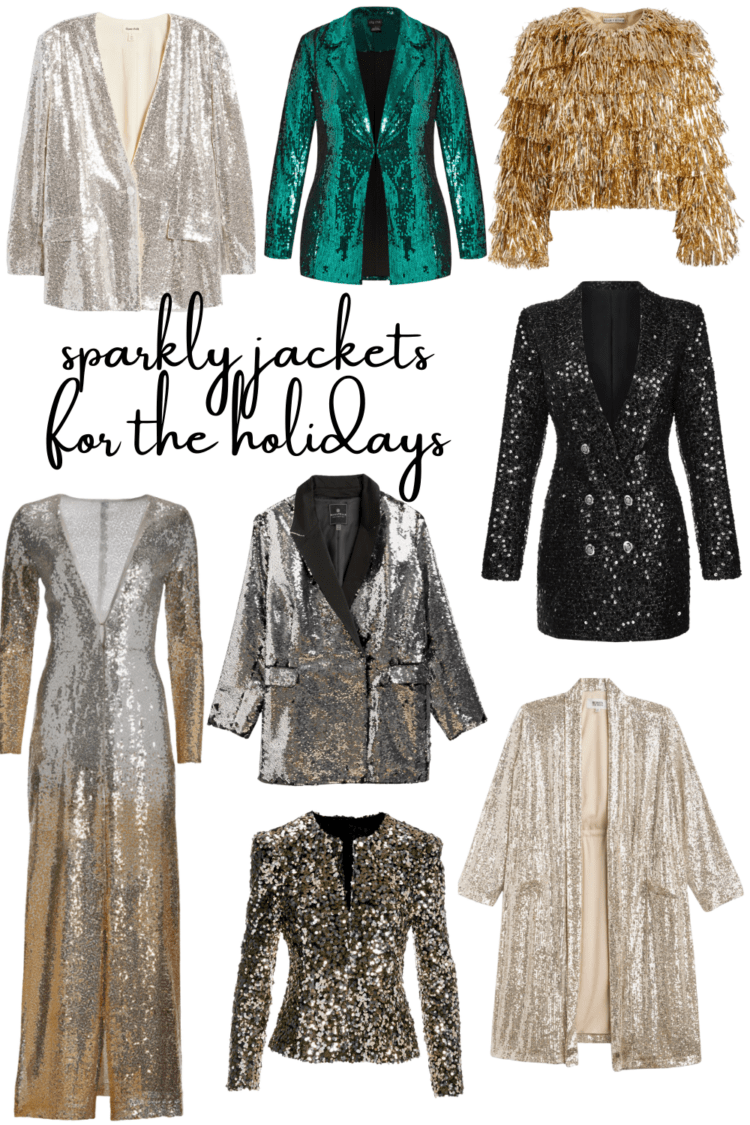 Shop the Collage:
champagne blazer (also available in black; same in straight sizes) | green blazer | gold fringe | black double-breasted (available up to 5X) | ombre long duster | silver with black lapels | gold fitted collarless | champagne duster

I will forever remember attending a gala for a local theater; there was a '30s theme because that was when the theater was built, but it was also dressy and festive. A friend of mine wore this velvet burnout long wrap with batwing sleeves. I believe it had a satin trim and was beaded and had sequins that caught the light. Underneath it she wore… I have no idea. It could have been a black t-shirt and sweatpants, it didn't matter because that duster jacket stole the show.
The right jacket, duster, or wrap can truly transform wardrobe basics. A simple fitted turtleneck and ponte wide-leg pants can be utterly glam with a layer of sequins, beading, and shimmer. To ensure your layering piece gets the spotlight, your black base pieces, including your shoes, need to be saturated in color and give a consistent, unbroken line. Don't mix a satin shell with ponte pants, if you are wearing flats have your hem long enough to cover your ankles, don't add a sparkly belt. I recommend choosing pieces like cashmere, merino, ponte, and crepe which will look luxe but also saturated black.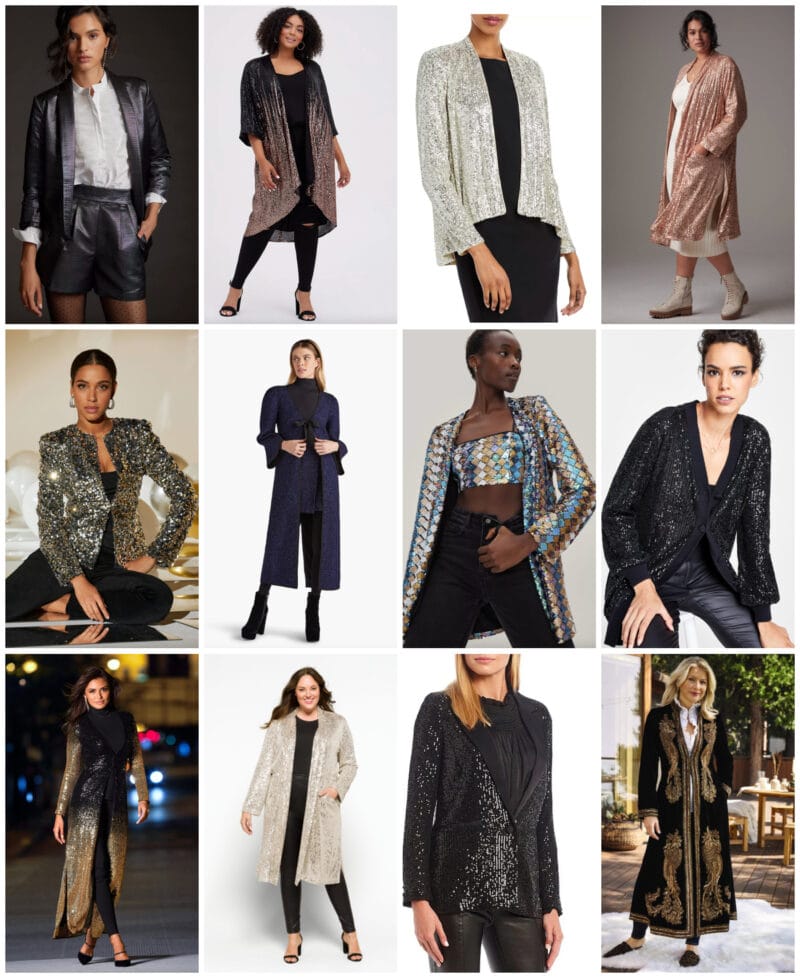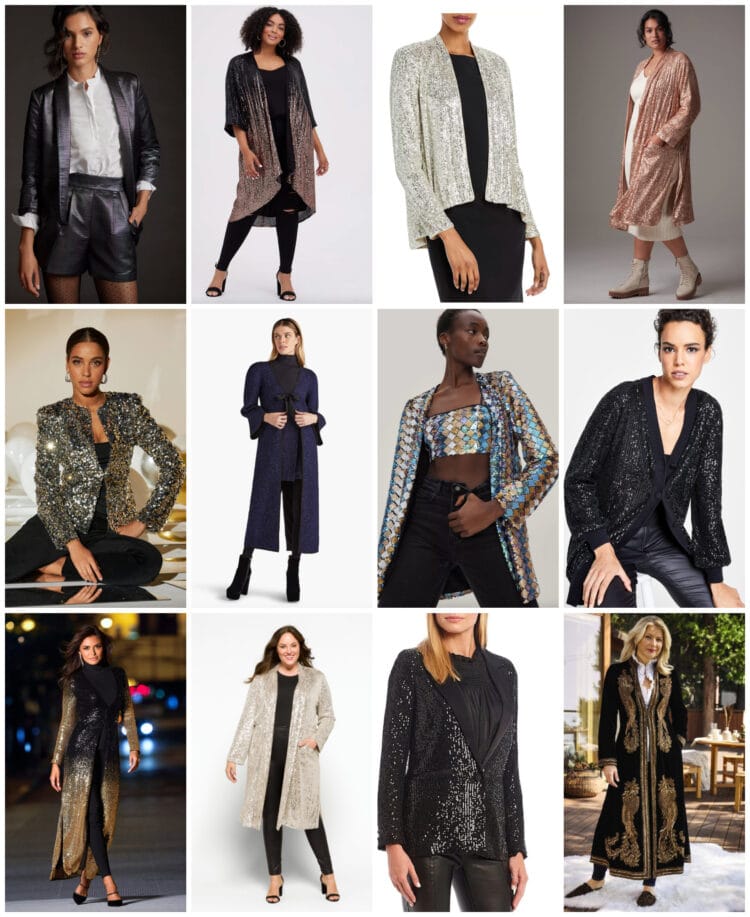 Shop the Collage:
metallic blazer (also available in rose brocade) | black ombre duster | silver swing jacket (also available in black) | rose sequined duster (also available in silver) | gold collarless jacket | navy metallic duster | multicolored squares jacket | black cardigan (also available in red) | black to gold ombre duster | champagne duster | sequined tux jacket | embroidered velvet duster (also available in gray/silver)

If black isn't your color, you can also achieve this with winter white, chocolate brown, or deep navy but the colors need to match to create that continuous line. If you don't have shoes that match, then try to have your shoes match your skin so there is no unbroken line and the layering piece is the star.
Shop Sparkly Jackets and Dusters:

Sparkly Skirts and Pants for the Holidays and How to Style Them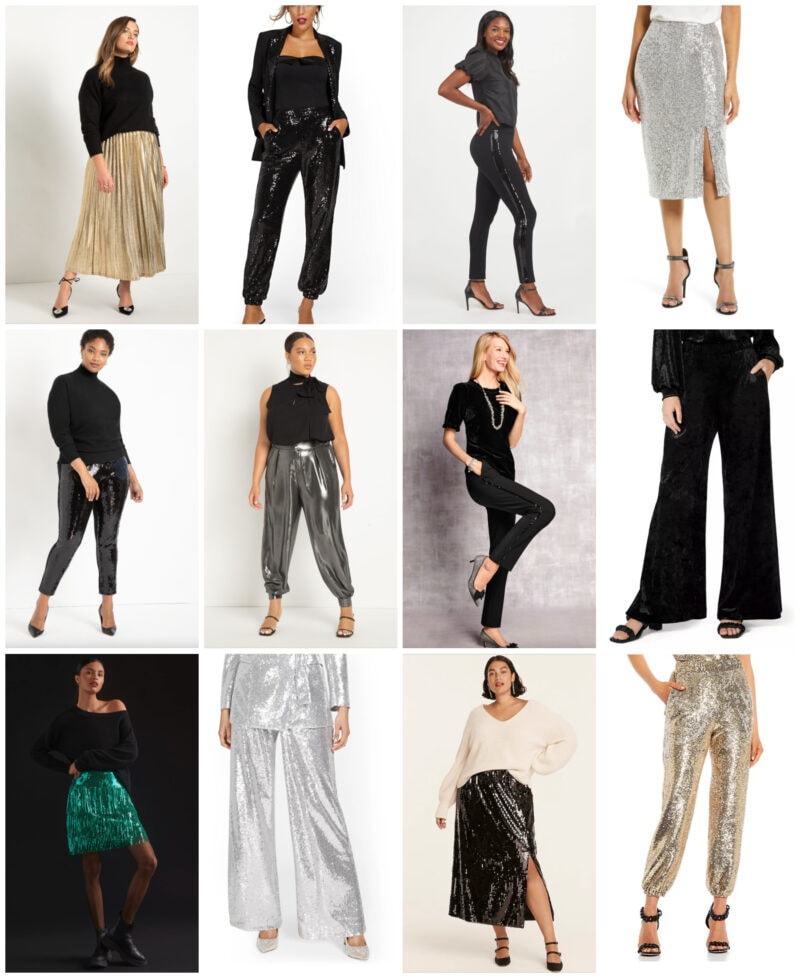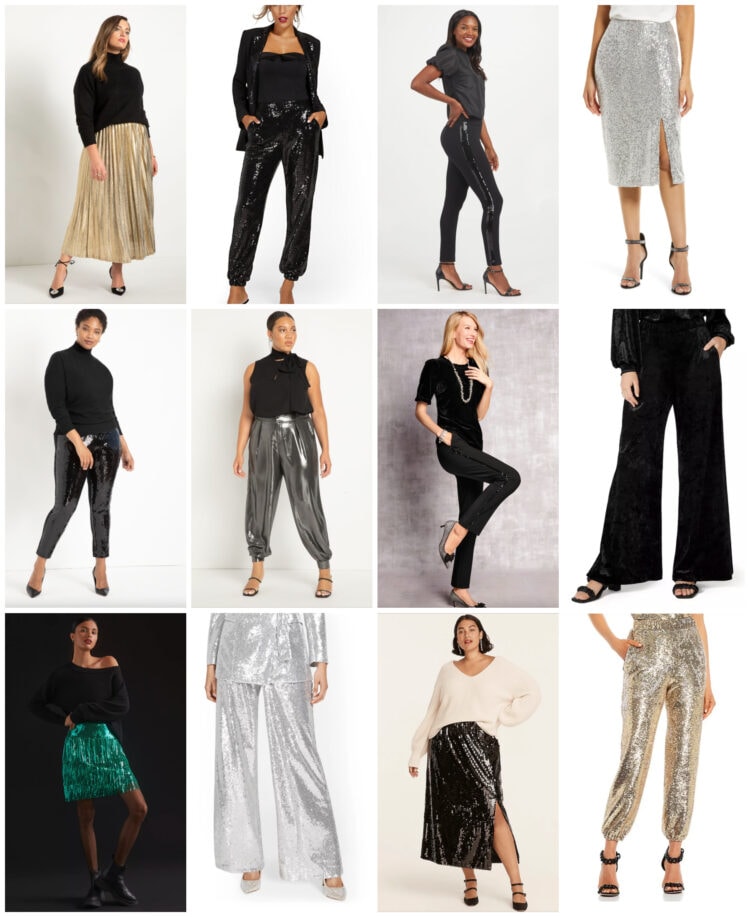 Shop the Collage:
gold pleated skirt | black sequin joggers | black fitted pants with sequined tux stripe | silver pencil skirt (also available in black; link to plus sizes) | sequined leggings | silver lame joggers | black pants with tux stripe | velvet wide leg pants | green fringe skirt (also available in copper) | silver sequin wide leg pants (also available in black) | black sequin midi skirt (also available in orange) | gold joggers

A dressy bottom piece can sound intimidating. We often don't want our bottom half to steal the spotlight and think that a black skirt or pants will help that part of our body receed. And it's true it will in some settings: photographs, standing on stage with a literal spotlight on you. But honestly, your body is the same shape whether you're encasing it in black ponte or purple sequins and wearing what you enjoy will help you actually have fun and be in a festive mood.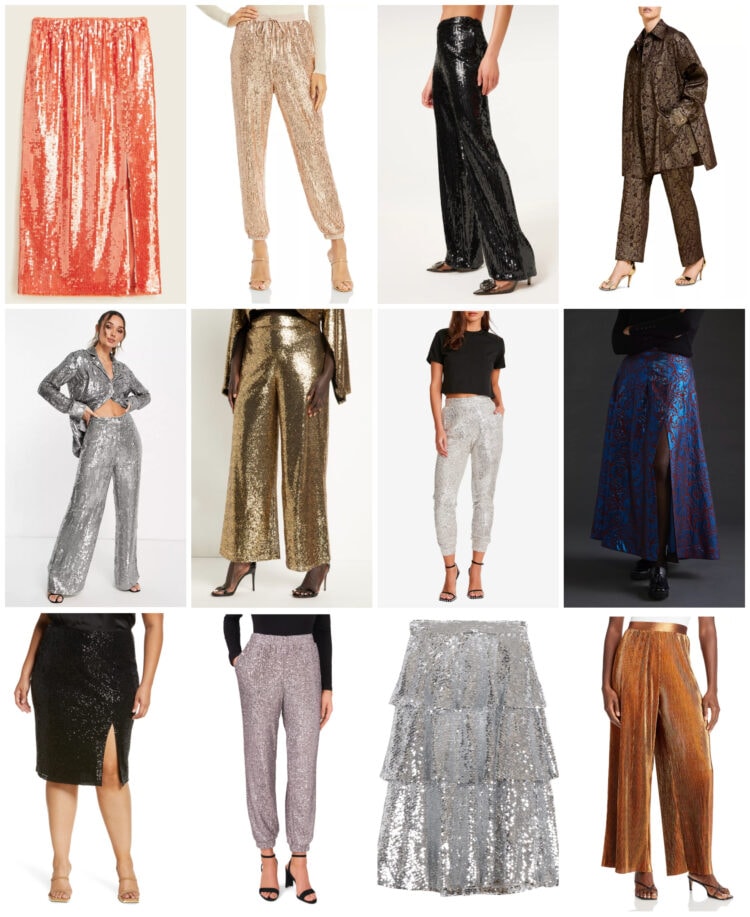 Shop the Collage:
coral sequin skirt (also available in black) | champagne sequin joggers (also available in black) | black sequin wide leg pants | bronze brocade pants | silver sequin wide leg pants | gold sequin pants | silver sequin joggers (also available in black) | blue brocade skirt | black sequin pencil skirt (link to straight sizes) | mauve sequin joggers | silver tiered skirt | copper metallic pants

The holidays is a good time to step outside your comfort zone. Go slow; I love a tailored trouser with a satin or sequined tux stripe down the side. A sequined or lamé pant in black or another dark color with a black sweater can be quite elegant and not make your curves the focus. A shiny skirt with a crisp white shirt or a cashmere twinset is eternally chic. That being said, there are many ways to add sparkle to your existing wardrobe for the holidays and it doesn't have to be on the bottom half of your body. Wear what makes you feel good.
If you do choose to go with a sparkly skirt or pant, it's important to have the top half look polished. Whether you're pairing it with a white t-shirt or a satin blouse, it needs to be in good condition, steamed or ironed, and looking fresh. While a sequined skirt can look cool with a distressed denim jacket or band tee, for a holiday festive look consider the more crisp and color-saturated pieces in your wardrobe.
Shop Sparkly Pants and Skirts:

What Shoes to Wear with Sparkles?
If your base pieces are black, you can wear black shoes. A black leather ankle boot, pair of black leather or velvet flats or pumps, or a strappy black shoe can work with any of the ensembles mentioned above. If you will have bare legs, you may wish to choose a shoe close to your skintone to keep the focus on the apparel.
A perk to wearing sparkles is your footwear isn't the focus; choose something simple but in good condition. Give your leather a polish before stepping out, use a Sharpie to fill in scuffs on heels, brush suede to remove dust.
Unless you are going full-out disco ball, I wouldn't choose sparkly shoes with a sparkle-focused ensemble. While a dressy fabric like silk, satin, and velvet will be a good choice for evening affairs, additional sequins or rhinestones at your feet can diminish the power of your sparkled piece above.
---
I hope these tips and photo examples help you see how to glam up your existing wardrobe with a single piece. And if you shop smart, you will have additional opportunities to style that piece beyond the holidays!