This article may contain affiliate links; if you click on a shopping link and make a purchase I may receive a commission. As an Amazon Associate, I earn from qualifying purchases.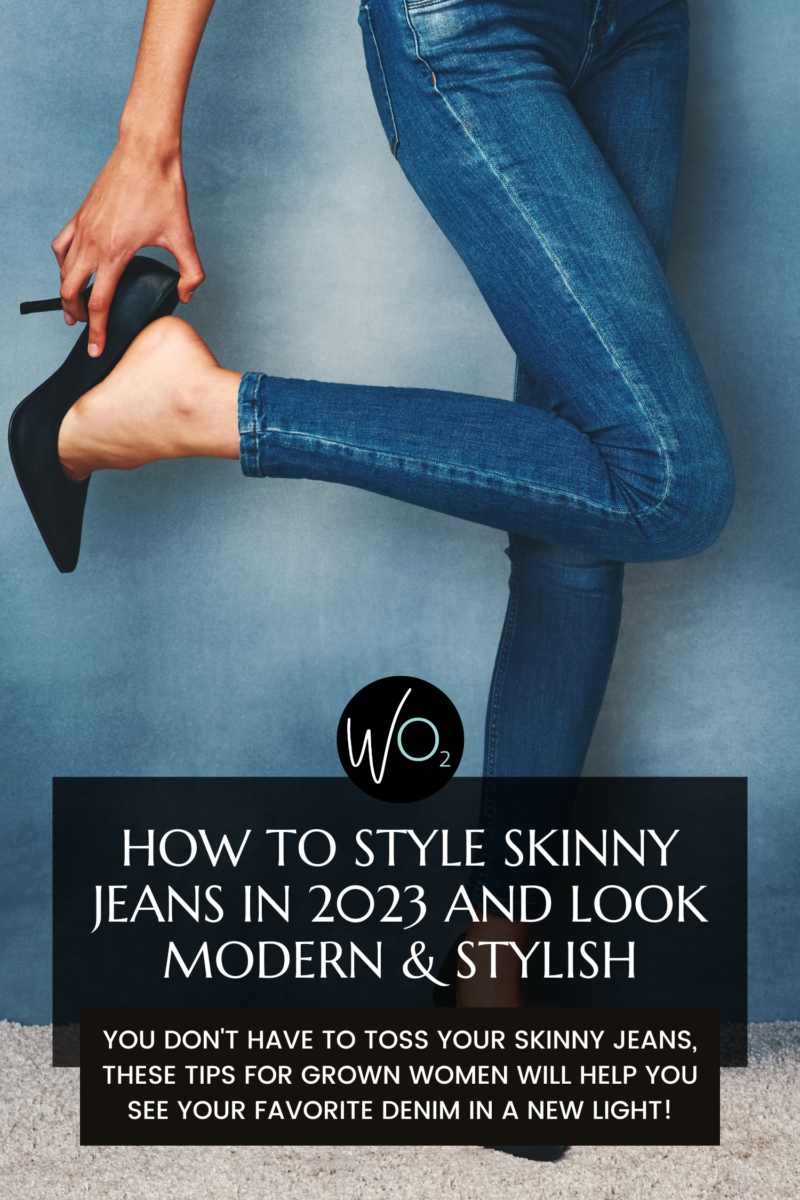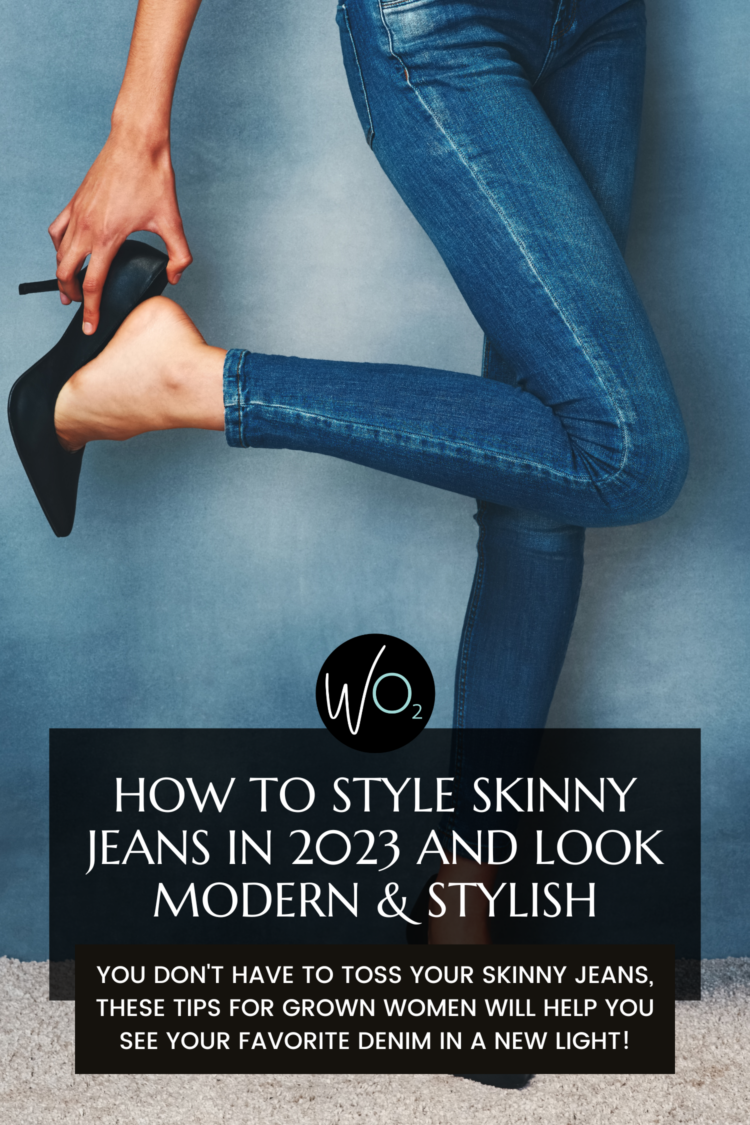 In my recent post about 2023 fashion trends, I explained why skinny jeans are no longer popular. However, I do not think you need to start a bonfire in a field and toss into it all your jeggings and Universal Standard Seines. I still have my skinny jeans in my closet, and while I won't be buying another pair anytime soon, I also will be wearing what I have for as long as they continue to fit my body, my lifestyle, and my personal style aesthetic. Below I share how to style skinny jeans in 2023.
Remember, 2023 fashion is fluid. The rulebook has been thrown out the window, and that includes all those Hot or Not posts. Your favorite thing is now considered passe? Eff that noise, wear what you want, and that includes skinny jeans, middle parts, and anything else younger generations consider "cheugy." Style isn't what you wear but how you wear it and if skinny jeans give you confidence, rock the heck out of them!
Silhouettes have changed, and we women are no longer lollipops apologizing for taking up the space we deserve. Skinny jeans were styled with tops that draped in an attempt to camouflage curves we were taught to be ashamed of and styled with tops that accentuated curves we were taught to highlight because they appeal to men. We used skinny jeans to follow rules to appear slimmer, longer, curvier in the right places, and appeal to the patriarchy.
If this sounds extreme, seriously think about fashion for women. From heels to the lack of pockets, women's fashion has been primarily driven by aesthetics, not practicality. And that aesthetic is of a young, firm, fertile body. Corsets and girdles, push-up bras and pumps, wrap dresses and wiggle skirts. And when our body cannot be manipulated into the desired aesthetic, we are taught ways to hide it.
How to Style Skinny Jeans in 2023
Well, the 2023 style theme is Take Up the Space You Deserve. And you can still rock your skinny jeans, but we're going to wear them with confidence, not as an apology. And here are some suggestions on how to do that, all featuring my personal favorite skinny jean, the Seine from Universal Standard.
Style Skinny Jeans with a Double-Breasted Blazer and Square-Toe Flats
This is likely an ensemble that feels very familiar but the details are what makes it modern. It's a spin on a classic that will update your skinny jeans for 2023.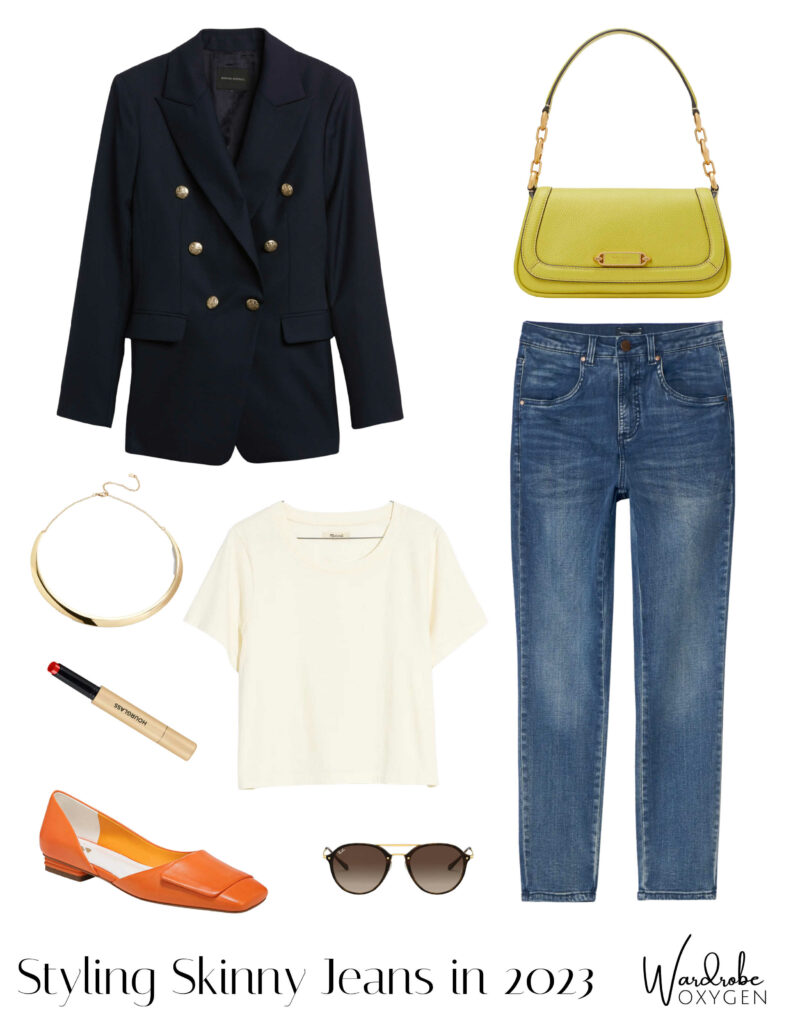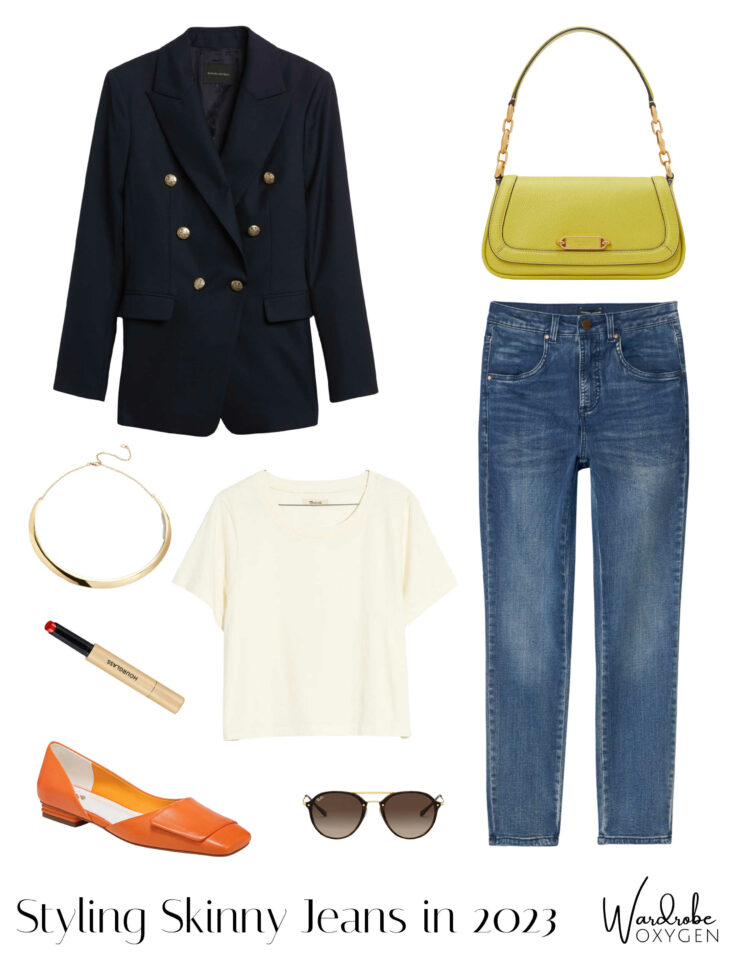 Shop this Look:
Blazer (0-20 w/ tall & petite) | T-Shirt (XXS-XXL) | Jeans (00-40) | Flats | Bag | Sunglasses | Lipcolor | Necklace

The blazer is double-breasted, which is having you take up space unapologetically. This blazer can be buttoned or left open. An alternative is an oversized/boyfriend blazer; the key is this volume with structure. This is something you may have in your closet already, something you may be able to thrift or buy on a resale site.
The t-shirt underneath is not a bodysuit, it is not a tank, it is a loose fit to balance the blazer and the skinny jeans. I chose a slightly cropped version because you don't want a t-shirt that hangs down below your belly line. That is an old rule created to make you think by somehow adding a layer of snug jersey over your curve you are hiding it/apologizing for it. Nope, go with a shirt that hits anywhere from just below your waistband to mid-zipper either untucked or tucked and bloused out.
If your current t-shirts are too long, don't be afraid to go to your dry cleaner or tailor and have them take off an inch or three. Seriously, this is what style setters and celebrities do, their t-shirts are not off the rack. And customizing an existing shirt is cheaper than buying new, better for the environment, and in the long run will be less of a headache to achieve your style goals.
To try out tailoring t-shirts, start with your least favorite, try it on, show where you want it to hit (From just where the belly curves under to shorter, you choose what you like). Err on too long, you can also shorten it and when it's the length you like you can take others in to be altered. Tailors can shape torsos, shorten sleeves, create side vents, and much more to create the t-shirt of your sartorial dreams.
The flats have structure and a square toe so they feel modern, and take up more space than a pointed or round toe. The bold color adds volume, as well as interest. The bag is more structured than the camera bag crossbody styles we've been rocking the past decade. And these bold colors are the new pops of color for the 2020's; you're going to see a lot of acid green, highlighter colors, and unexpected shades replacing traditional color pops of red and pink.
Even the necklace is bolder than the delicate chains we've been wearing. I don't think the delicate necklace trend will be ending any time soon, but I do expect to see a slow trend toward bolder pieces, more of a focus on earrings, and sculptural and architectural jewelry. This necklace is under $50 and a low-pressure way to try out this emerging trend.
Style Skinny Jeans with an Oversized Button-Front Shirt and Sandals
Think 2023 Coastal Chic; a shirt of linen, oxford cotton, or well-worn poplin catching the sea breeze, shirttails flapping, your Birkenstocks slapping the boards of the pier.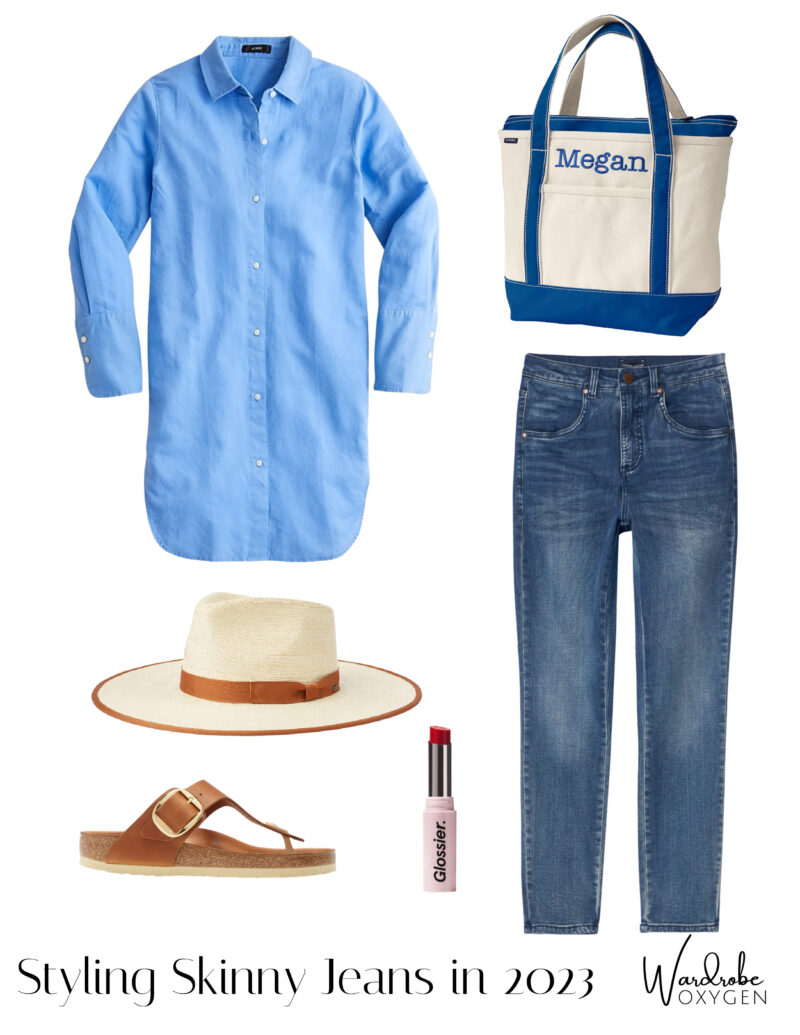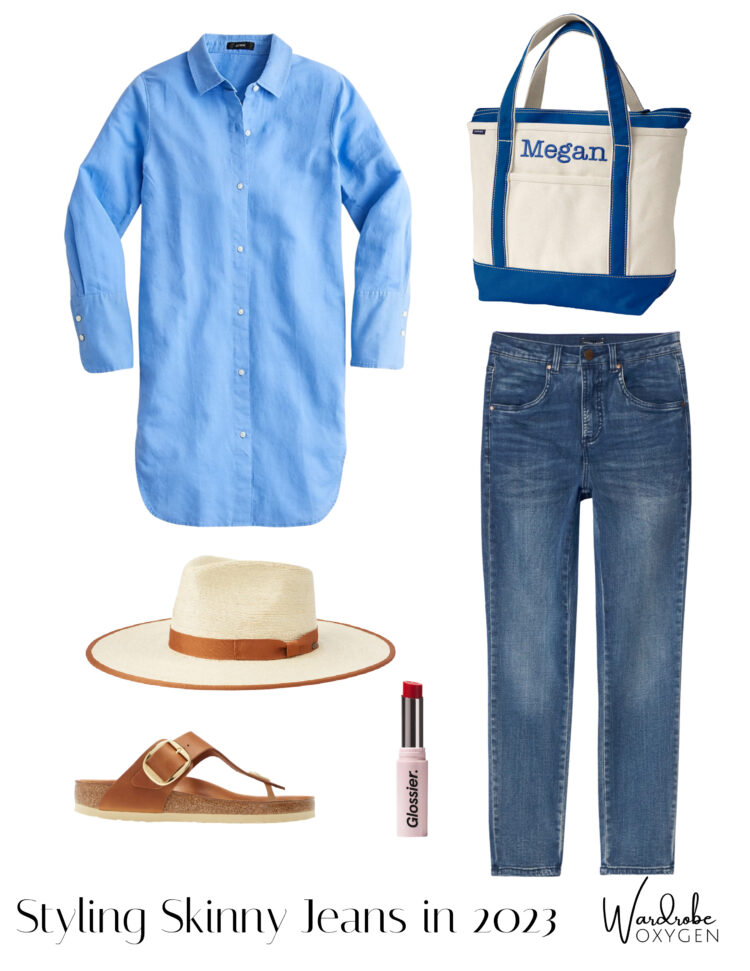 Shop the Look:
Shirt (XXS-3X) | Jeans (00-40) | Tote | Sandals | Lipcolor | Hat

Envision your coastal chic self. Your shirt is oversized, either an extra button unbuttoned so it slides back on your shoulders and maybe shows a peek of a camisole or tank, or all the top buttons are buttoned and the bottom few open to allow for flow and drape. Sleeves rolled up without much thought about even cuffs or precision.
Your skinny jeans are faded, distressed, or a soft beachy color like gray, white, or ivory. Accessories aren't necessary, though a canvas or straw tote or a soft brown leather bag would fit nicely. If you do want jewelry, it's small and intimate, something that won't get in the way. Don't be afraid of hair accessories: a headscarf or scarf tied around a ponytail, a straw fedora or a brushed twill ball cap in the color of the sand, the rocks, or the clouds.
Sandals have some heft to them, to balance the oversized shirt and the skinny jeans. I'm a fan of Birkenstocks, which are both on trend and comfortable. However, you can do most any sandal that isn't too precious and delicate, especially if it incorporates cork, rope, canvas, or other sea-worthy textiles. Espadrilles are another alternative that has heft and fits the aesthetic.
Okay, I hope I've created a clear visual. Now for the specifics. Look for tunics or even beach coverups to find the length you desire in as button-front shirt without it being too full and sloppy. Writing this I thought of the Tommy Bahama crinkle "boyfriend" shirt I got years ago as a swim coverup but often wear tied at the waist with shorts and relaxed jeans. I also think this beach shirt from J. Crew and this linen tunic from Garnet Hill look like great options. You can also go with a linen, gauze, or cotton voile tunic with volume like this one from COS or the one you bought on vacation 25 years ago that is hand embroidered and weathered just perfectly.
This is a combination that benefits from the skinny jeans because it makes it look purposeful, not like you just woke up. Your skinny jeans shouldn't puddle, gather, or be cuffed, they can be anything from almost capri length to just below the ankle bone. You need this precision to balance the rumpled shirt. Another way to add purposeful precision is with your hair and makeup; while a windblown look or a messy updo with a fresh face may feel like the right vibe, a slicked-back ponytail or bun and a glossy sheer red lip can actually elevate and still feel fresh and beachy.
Style Skinny Jeans with a Boxy Knit Top and Retro Classic Sneakers
This is a classic look that is often worn with a variety of denim silhouettes; again proportion is what makes the skinny jeans look great.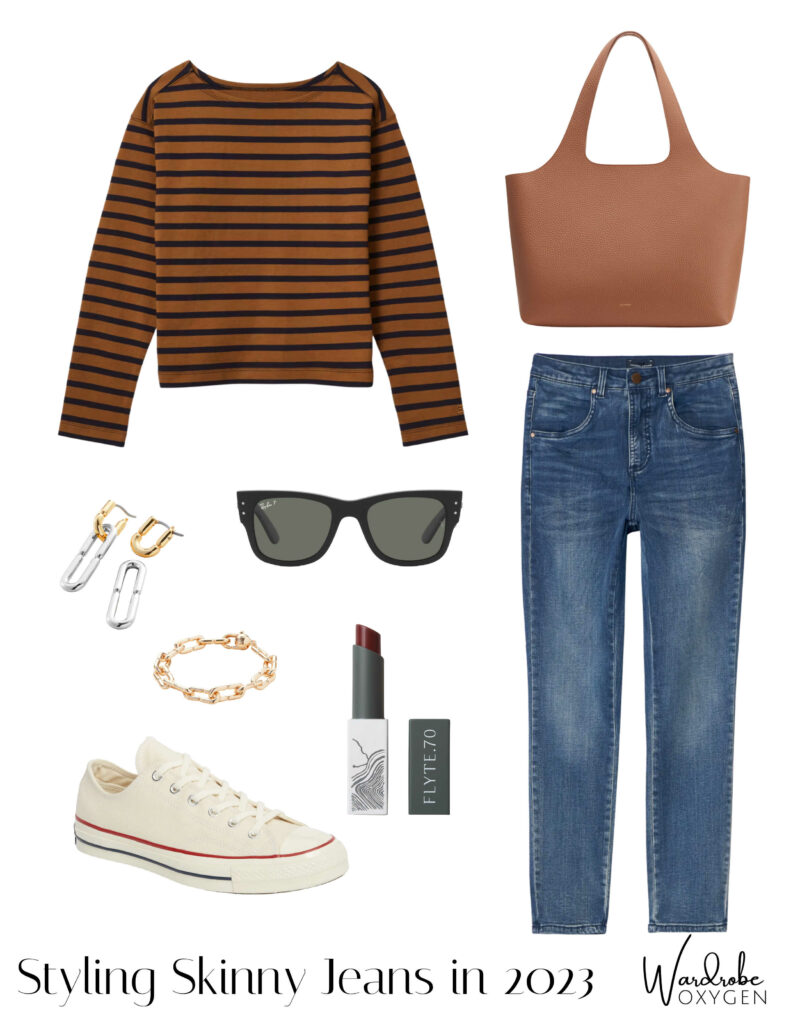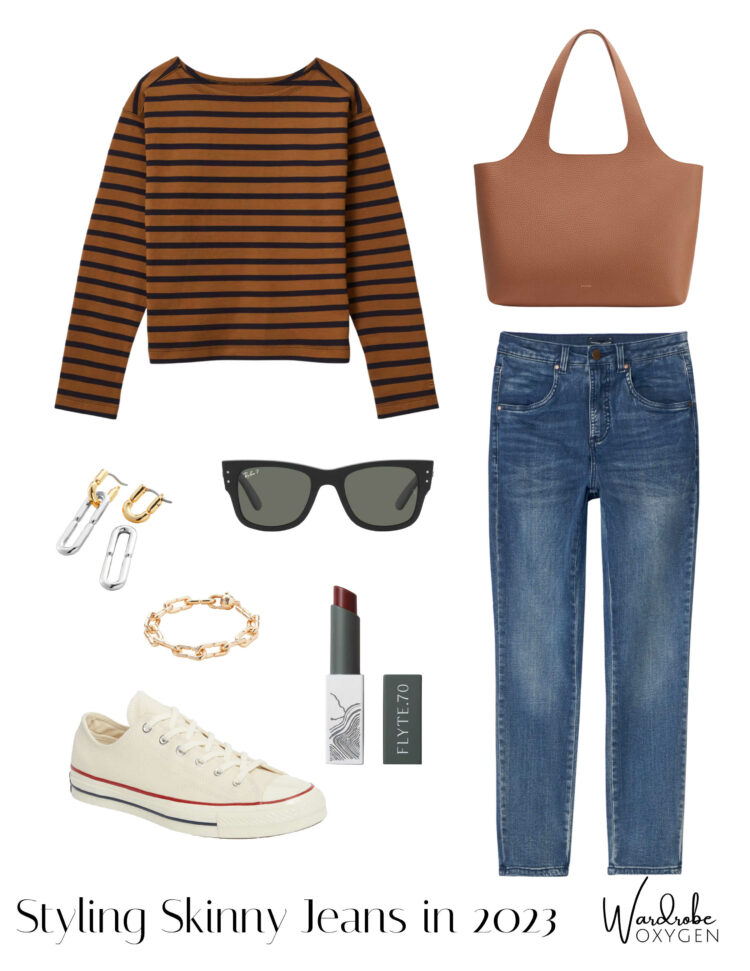 Shop the Look:
Striped Top (XXS-XL) | Jeans (00-40) | Tote | Earrings | Bracelet | Sunglasses | Lipcolor | Sneakers

The shirt is boxy, so it doesn't cling and it also doesn't hang past your zipper fly. This helps with proportion and shows you're taking up the space you deserve in 2023. Don't worry about trying to create a waist, you play with boxy and slim just by wearing skinny jeans. If this top isn't your jam, look for words like square, drop shoulder, boxy, fabrics without high percentages of stretch, and shirts with a straight, not scooped hem. For Breton striped tops, I also like this one from Saint James and this budget-friendly one from Appleseed's.
The Converse low-top sneakers are a classic; the off-white color nods to the shoe's long history and will prove quite versatile this spring and summer. After years of being careful to not get your sneakers dirty, in 2023 it's okay to have your retro classic sneakers show wear. It's also acceptable to have visible socks… if you want it.
Both ways work, but if you do wear visible socks consider a plain white quarter sock like this one from Bombas which will slip under your skinny jean without adding bulk but is also doable with dresses and shorts. I know, this is a hard trend to embrace after years and years of bare ankles. I reiterate, this is not a trend you have to adopt but it's there if you want it.
The Key to Style Skinny Jeans in 2023: Keep it Classic
It may seem counterintuitive, but the key to making skinny jeans feel modern in 2023 is to style them in a very classic manner. Think of looks you previously did with ankle jeans, how nothing was too long, too tight, too clingy. You may even be feeling that your ankle jeans seem a little too short for this season's looks; try out your skinny jeans and see how it feels.
Skinny jeans are always easier to style in the colder months. This fall and winter you will take these same cues, but incorporate moto and bomber jackets, chunky tough boots, boxy sweaters, and long wool and puffer coats.
Fashion is fluid, and nothing is completely "out" in 2023. However, because it's fluid, it's a perfect time to have a little fun with your wardrobe. Play with proportion, try new silhouettes, mix up your go-to ensembles. You deserve to find joy in your closet, and sometimes a little refresh is just what you need to put a smile on your face!