This article may contain affiliate links; if you click on a shopping link and make a purchase I may receive a commission. As an Amazon Associate, I earn from qualifying purchases.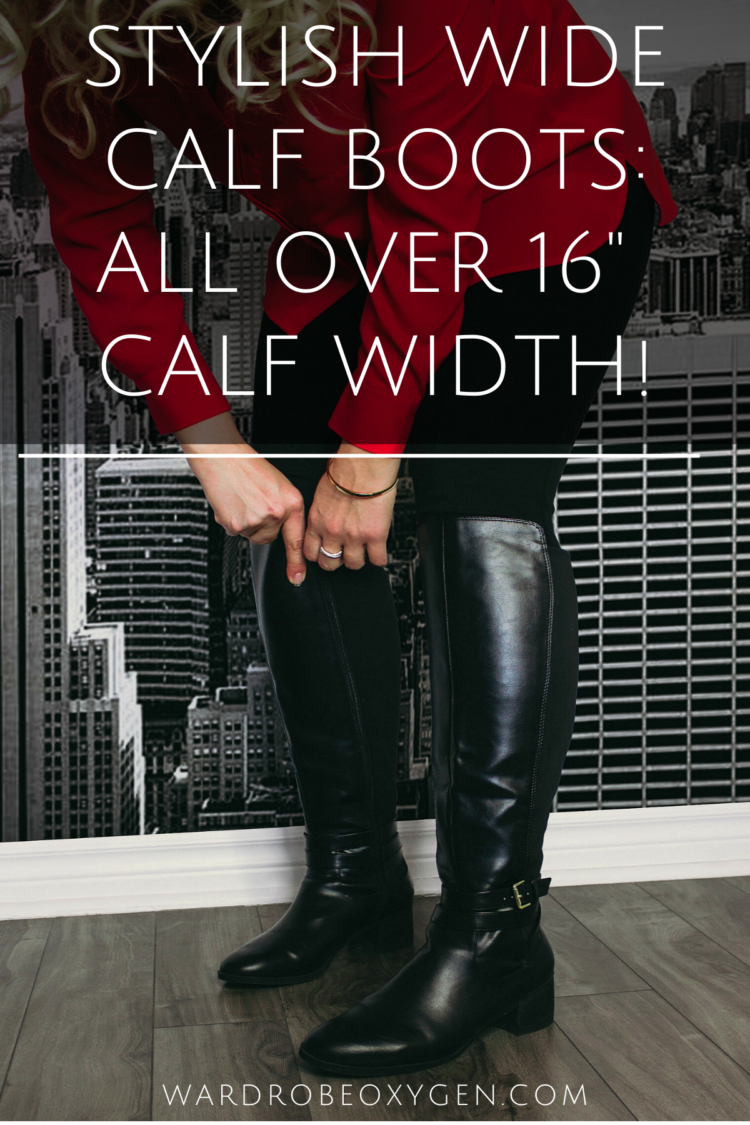 If you're like me, you can't go into any old shoe department and grab a pair of tall boots because they just won't fit. Even when I was a single-digit clothing size I wore wide calf boots, and I have always struggled to find stylish wide calf boots that are made of good quality. Just like plus-size clothing, I don't understand why so many wide calf boots are ugly: over-embellished, cheap fabrics, weird heels, and just plain awful. Below I share my picks of stylish wide calf boots, all are a minimum of a 16″ shaft circumference. For each style I will share the price as well as the shaft circumference so you can find the wide calf boot that is right for you!
What Makes a Wide Calf Boot Stylish?
When shopping for wide calf boots, keep embellishments to a minimum. Steer clear of styles that are buckle overload, have superfluous straps or lacing, studs, and other embellishments. Over-embellishment is a sign of a cheap shoe and it makes the boot look dated more quickly. A style that is simple will be more timeless and read more expensive.
Right now so many different shapes of toeboxes are in style. Bulbous round toes are often found on wide calf boots but they are a trend that went away a decade ago. For boots that are more timeless, look for a sleeker toebox. If in doubt, go with an almond toe which is slim without being pointy and has plenty of room for your toes. This is a toe that can dress up nicely while still looking great on the weekend with skinny jeans and a fleece.
Heels are a detail that alter the style of a boot. Like over-embellishment, the heel is a place where boot companies will try to be creative but often end up cheapening the look. Stubby cone heels, rubbery wedges, and laminated heels (ones with some sort of coating or sticker to look metallic, snakesekin, wood, etc.) are all looks I regularly see with wide calf boots. I prefer a heel that is not fabric covered or laminated so it is easier to patch if it gets damaged (look for a heel the same leather as the boot), and unless it's a statement you adore, steer clear of statement heels and go for one the same color or a natural pairing (like brown wood with black boots or black heels with white boots).
For a boot that will be stylish and versatile now and for many years to come, look for real leather or a non-leather fabric that is high quality and durable (a low-shine faux leather or microsuede, a tightly-woven heavyweight knit, etc.). If the boot has stretch panels, consider ones where they are the same color as the rest of the boot.
How to Measure For Wide Calf Boots
When measuring your legs for boots, it's important to do it correctly to get an accurate measurement that matches what the boot makers are following. You'll need a flexible measuring tape; they're not pricey and you can find them on Amazon (this one is less than $3 and has free Prime shipping).
To measure calf circumference: Sit in a chair and place your feet flat on the ground, your legs straight. Use the measuring to measure the widest part of your calf. Be sure to measure both legs; most people have one leg that is wider than the other. Use the largest measurement for shopping. Do not pull the measuring tape tight; it's better to have it a bit loose so you have room in your boots for hosiery, leggings, or jeans. If you are under 5'4″ you may wish to add an inch to your measurement as the widest part of the boot's shaft may be higher than where your calf's widest point may be.
To measure shaft height: When tall or short, the height of the boot shaft is imperative. Too short and it can look awkward; too tall and it can bow out like a pirate boot or even hit the back of your knees, making it hard to walk. Again, sit on a chair with your feet flat on the ground, your legs at a 90-degree angle. Place the measuring tape end on the ground right behind the bottom of your heel. Measure up to the place you would like your boot to end. For this measurement, you may want assistance to get the most accurate number.
When it comes to wide calf boots, it is better to go larger than smaller. When you factor in what you may wear under the boots you often need more space. Also, a cobbler has an easier time slimming down the shaft of a pair of tall boots than adding gussets or more material to enlarge them. And yes, if you didn't know, most cobblers can narrow the shaft of a boot; some even will adjust the shape for a custom fit! And always be sure to get heel caps replaced and boots resoled as they wear down to extend the life of your boots.
My Picks for Stylish Wide Calf Boots
My picks for truly wide calf boots that are at least 16″ wide in the shaft. I will share both the shaft circumference and price for each boot below so you can better narrow down to find the best stylish wide calf boots for your body and personal style.
Stylish Flat Knee-High Boots
This style of boot is a wardrobe workhorse. It is equestrian chic with skinny jeans and a sweater, boho chic with a midi-length skirt or dress, and practical for long days on your feet. Use a waterproofer (this is a good one) on them and they can trudge through pumpkin patches and slushy walks to the office. Since this is a classic boot, it's one worth spending a little more on when buying and also with protecting at the start of the season (waterproofing, taking to the cobbler to reheel and resole, store properly with boot trees or even rolled magazines so the shafts don't crease). Steering clear of too much embellishment will make this a boot you can wear for years, even decades.
While Walking Cradles has this boot in wide and extra wide, I am focusing on just the Extra Wide because reviews say they run narrower in the calf than advertised.  While the extra wide says it fits a 17" calf, reviews say it's more like 16".  That being said, these boots are simple, classic, and chic that can dress up and down with ease and still look stylish years from now.  Reviews say they are comfortable right out of the box.  $214.95
If you like the look of a harness boot or want more of a biker feel, these are a fantastic choice. This is the kind of embellishment that is classic and will look great for seasons to come. Again, when it comes to Walking Cradles I am only focusing on the Extra Wide Calf which not only seems to be roomier but also have a better shape at the ankles. While the description says these are for a 17" calf, it seems as though they are more a 16.5" based on reviews around the internet. $194.99
With a 20" shaft circumference, this is truly a wide calf boot. While many larger-calf boots are made from cheap materials, these are made from premium calfskin with a breathable lining and cushioned footbed. I have owned David Tate footwear in the past and find them comfortable and well-made. $222.95
I think this is a boot that looks more expensive than its pricepoint. I know many people IRL who own these boots and they look so chic and luxe. The Penny 2 is available in three colors and has a 17" shaft circumference. $149.90
This is a great boot for those who need their shoes to work as hard as they do. With a grippy lug sole and hidden gussets to offer more wind and weather protection, this leather boot can keep up with you. This boot's shaft circumference varies with your shoe size with options up to 19.5" width. For a size 8 shoe, the shaft circumference is up to 18.25". $259.99
This boot doesn't have an exact shaft circumference measurement on the site, but reviews rave about them fitting 17" - 18.5" calves without any issue. Available in six great colors, these classic leather riding boots also get great reviews for style and quality. $107.70.
This riding boot comes in three great colors and has a 16" shaft circumference. The curved opening and subtle hardware give an equestrian feel while making them classic enough to wear with all sorts of ensembles. $189.99
Available in five gorgeous colors with a 17.5" shaft, this is an elegant boot that gets rave reviews for being both roomy and comfortable. I have always been pleased with footwear from Børn and find the style of their boots timeless. $179.95
Stylish Heeled Wide Calf Boots
I have a harder time finding stylish heeled wide calf boots than I do flat ones. Very often for this category, wide calf boots are over-embellished, made of cheap materials, or have some wonky detail that makes them look weird or dated. Don't worry, every single one of my selections is not only a true wide calf boot, but also has classic styling making this boot a good purchase now and several seasons from now.
Available in two colors and with a 16.25" shaft circumference, this is an elegant heeled boot that would look lovely with skirts and dresses as well as pulled over a pair of ponte leggings. Reviews say these have a high shaft, so these are a great choice for those with longer legs. $229.00
Available in three chic colors and a 17.5" shaft circumference, this is an elegant and classic boot you'll love for years. Frye is known for their quality and longevity, and it's nice to see them extend their collection with wide calf options. $427.95
Available in 2 colors and with an 18" shaft circumference, this is an elegant high-heeled boot with minimal hardware making it a classic. While it is a higher heel, reviews say this boot is surprisingly comfortable. $229.90
This is the boot that inspired me to write this post! I have a pair of sleek black leather heeled wide calf boots that are over a decade old. Even with regular care, they are starting to fall apart and I've been on the hunt for a replacement. These look like a good choice! They come in two colors and a 16.5" shaft circumference. $189.00
These are statement-making boots with a 17" shaft circumference. These are made for the leggy ladies as these boots have an 18.5" tall shaft. These would look uber chic dressed up or dressed down. $298.95
The hardware on this 17.5" shaft boot from LifeStride is subtle enough that it won't be too trendy looking in a few years' time. With a walkable 2 3/4" heel, this is a great boot to wear with skirts or even a pair of leggings and a dressy sweater. $99.99
Simply Be offers their boots in a variety of widths - Curvy, Super Curvy, Curvy Plus, and Extra Curvy Plus. This leather boot has all these calf widths plus multiple foot widths and comes in black and Bordeaux. $109.99
Duo Boots is a UK company that offers wide calf boots by centimeter; these are available in shoe sizes 5-12 and calf sizes 30-50cm. While Duo is in the UK, they offer free shipping and their return policy has become less cumbersome than in the past. From experience, this boot is best for those who have slender calves and lower-volume feet. $350.00
Like the previously mentioned boots from this brand, you can customize this boot by shoe size and calf size up to 50cm. This boot comes in two colors and is one of Duo's best sellers. This boot also is best for those with a standard to low volume foot and more slender of ankles. $350.00
Stylish Wide Calf Over the Knee Boots
The over the knee boot trend went from being a hot trend to a winter classic thanks to the extra warmth they provide. While some over the knee boots are very trend-specific, I have focused on wide calf over the knee styles that are chic, classic, and will still be stylish next year. Wear with a sweater dress and fleece tights for stylish warmth, slip over jeans on the weekends, and make your athleisure off the shoulder knit top or turtleneck and leggings look downright chic.
The blue shade of these suede over the knee boots stopped me in my tracks. If blue isn't your thing, they also come in black. Pick your shoe size, then you can choose your calf size from 30-44cm. $475.00
I like the sweater knit of these over the knee boots; it helps provide a snug yet comfortable fit and has them stand out in a sea of suede sisters. On the Torrid site they share the calf size per shoe size but all are over 16" in circumference. $66.43
Stylish Trendy Wide Calf Boots
While I am not big on spending big money on boots that are trend-dependant I do think some "trendy" boots can be part of a person's signature style and transcend trends and become a lasting favorite. These are all wide-calf boots I think are high enough quality and stylish enough to have fun with fashion beyond a single season and not worry about being out of style.
How could I NOT share these highly-rated cozy warm and comfy combat boots? Seriously, read the reviews and you too will want a pair! They also come with a pair of solid black laces if you want to change up the look. $55.93

Western boots are so hard to find in wide calves; these get great reviews for being roomy... some even say they're too big! If black isn't your choice, visit Torrid where they also have them in brown, gold, and other variations. Also visit Torrid where they explain what the calf circumference is for your specific shoe size. $52.43

These boots are a little bit country, and a little bit rock 'n roll! Available in three colors plus a leopard print, they're a fun slouchy boot that will look amazing slipped over a pair of skinny jeans. With a 17.25" calf circumference, you have room to wear them multiple ways. $99.99

Oh gosh, I think these croco-embossed boots are so boss! Available in two colors with a 17.5" shaft circumference, these would look great with a variety of looks and add depth and interest with the textured finish. $102.00

Suede and studs, but make it elegant. These boots with a 16" calf circumference come in two different colors and are fun and funky while still having plenty of class. $249.95

One does not NEED a Western-inspired patent leather over the knee boot in white or black, but gosh it's such a fun boot you'll find any reason to rock them! 3.5" heel and a 17" calf circumference. $214.95

This boot is so cool - I love everything from the slouchy ankle to the mod heel to the pointed toe. I also love that it has a 16.5" shaft circumference. If white isn't your scene, this boot also comes in black leather. $178.95

Available in four colors including this fab cheetah print, these boots have a 17" shaft circumference and reviews for being comfortable and staying up all day. $79.99

These are the kinds of boots where you can wear the simplest items in your closet and look haute couture. Turtleneck sweater and leggings? Check. Fisherman sweater and jeans? Check. Denim skirt and a flannel shirt? Check. a 3" heel and 18" calf circumference. $229.95

I was stunned by these boots, and then stunned that such statement-making boots were available with a 16.5" calf circumference! $329.95

If you have any wide calf boots that you adore, do share them in the comments!
Shop My Picks for Wide Calf Boots: