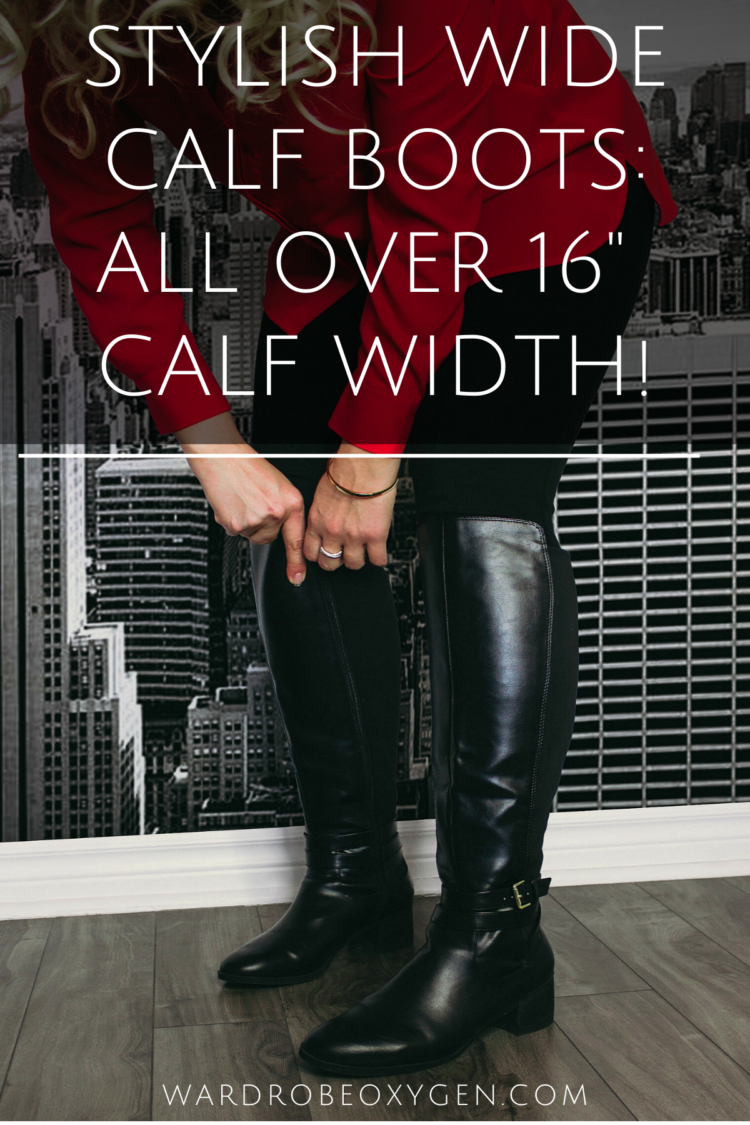 If you're like me, you can't go into any old shoe department and grab a pair of tall boots because they just won't fit. Even when I was a single-digit clothing size I wore wide calf boots, and I have always struggled to find stylish wide calf boots that are made of good quality. Just like plus-size clothing, I don't understand why so many wide calf boots are ugly: over-embellished, cheap fabrics, weird heels, and just plain awful. Below I share my picks of stylish wide calf boots, all are a minimum of a 16″ shaft circumference. For each style I will share the price as well as the shaft circumference so you can find the wide calf boot that is right for you!
What Makes a Wide Calf Boot Stylish?
When shopping for wide calf boots, keep embellishments to a minimum. Steer clear of styles that are buckle overload, have superfluous straps or lacing, studs, and other embellishments. Over-embellishment is a sign of a cheap shoe and it makes the boot look dated more quickly. A style that is simple will be more timeless and read more expensive.
Right now so many different shapes of toeboxes are in style. Bulbous round toes are often found on wide calf boots but they are a trend that went away a decade ago. For boots that are more timeless, look for a sleeker toebox. If in doubt, go with an almond toe which is slim without being pointy and has plenty of room for your toes. This is a toe that can dress up nicely while still looking great on the weekend with skinny jeans and a fleece.
Heels are a detail that alter the style of a boot. Like over-embellishment, the heel is a place where boot companies will try to be creative but often end up cheapening the look. Stubby cone heels, rubbery wedges, and laminated heels (ones with some sort of coating or sticker to look metallic, snakesekin, wood, etc.) are all looks I regularly see with wide calf boots. I prefer a heel that is not fabric covered or laminated so it is easier to patch if it gets damaged (look for a heel the same leather as the boot), and unless it's a statement you adore, steer clear of statement heels and go for one the same color or a natural pairing (like brown wood with black boots or black heels with white boots).
For a boot that will be stylish and versatile now and for many years to come, look for real leather or a non-leather fabric that is high quality and durable (a low-shine faux leather or microsuede, a tightly-woven heavyweight knit, etc.). If the boot has stretch panels, consider ones where they are the same color as the rest of the boot.
How to Measure For Wide Calf Boots
When measuring your legs for boots, it's important to do it correctly to get an accurate measurement that matches what the boot makers are following. You'll need a flexible measuring tape; they're not pricey and you can find them on Amazon (this one is less than $3 and has free Prime shipping).
To measure calf circumference: Sit in a chair and place your feet flat on the ground, your legs straight. Use the measuring to measure the widest part of your calf. Be sure to measure both legs; most people have one leg that is wider than the other. Use the largest measurement for shopping. Do not pull the measuring tape tight; it's better to have it a bit loose so you have room in your boots for hosiery, leggings, or jeans. If you are under 5'4″ you may wish to add an inch to your measurement as the widest part of the boot's shaft may be higher than where your calf's widest point may be.
To measure shaft height: When tall or short, the height of the boot shaft is imperative. Too short and it can look awkward; too tall and it can bow out like a pirate boot or even hit the back of your knees, making it hard to walk. Again, sit on a chair with your feet flat on the ground, your legs at a 90-degree angle. Place the measuring tape end on the ground right behind the bottom of your heel. Measure up to the place you would like your boot to end. For this measurement, you may want assistance to get the most accurate number.
When it comes to wide calf boots, it is better to go larger than smaller. When you factor in what you may wear under the boots you often need more space. Also, a cobbler has an easier time slimming down the shaft of a pair of tall boots than adding gussets or more material to enlarge them. And yes, if you didn't know, most cobblers can narrow the shaft of a boot; some even will adjust the shape for a custom fit! And always be sure to get heel caps replaced and boots resoled as they wear down to extend the life of your boots.
My Picks for Stylish Wide Calf Boots
My picks for truly wide calf boots that are at least 16″ wide in the shaft. I will share both the shaft circumference and price for each boot below so you can better narrow down to find the best stylish wide calf boots for your body and personal style.
Stylish Flat Knee-High Boots
This style of boot is a wardrobe workhorse. It is equestrian chic with skinny jeans and a sweater, boho chic with a midi-length skirt or dress, and practical for long days on your feet. Use a waterproofer (this is a good one) on them and they can trudge through pumpkin patches and slushy walks to the office. Since this is a classic boot, it's one worth spending a little more on when buying and also with protecting at the start of the season (waterproofing, taking to the cobbler to reheel and resole, store properly with boot trees or even rolled magazines so the shafts don't crease). Steering clear of too much embellishment will make this a boot you can wear for years, even decades.
Stylish Heeled Wide Calf Boots
I have a harder time finding stylish heeled wide calf boots than I do flat ones. Very often for this category, wide calf boots are over-embellished, made of cheap materials, or have some wonky detail that makes them look weird or dated. Don't worry, every single one of my selections is not only a true wide calf boot, but also has classic styling making this boot a good purchase now and several seasons from now.
Stylish Wide Calf Over the Knee Boots
The over the knee boot trend went from being a hot trend to a winter classic thanks to the extra warmth they provide. While some over the knee boots are very trend-specific, I have focused on wide calf over the knee styles that are chic, classic, and will still be stylish next year. Wear with a sweater dress and fleece tights for stylish warmth, slip over jeans on the weekends, and make your athleisure off the shoulder knit top or turtleneck and leggings look downright chic.
Stylish Trendy Wide Calf Boots
While I am not big on spending big money on boots that are trend-dependant I do think some "trendy" boots can be part of a person's signature style and transcend trends and become a lasting favorite. These are all wide-calf boots I think are high enough quality and stylish enough to have fun with fashion beyond a single season and not worry about being out of style.
Shop My Picks for Wide Calf Boots: