This article may contain affiliate links; if you click on a shopping link and make a purchase I may receive a commission. As an Amazon Associate, I earn from qualifying purchases.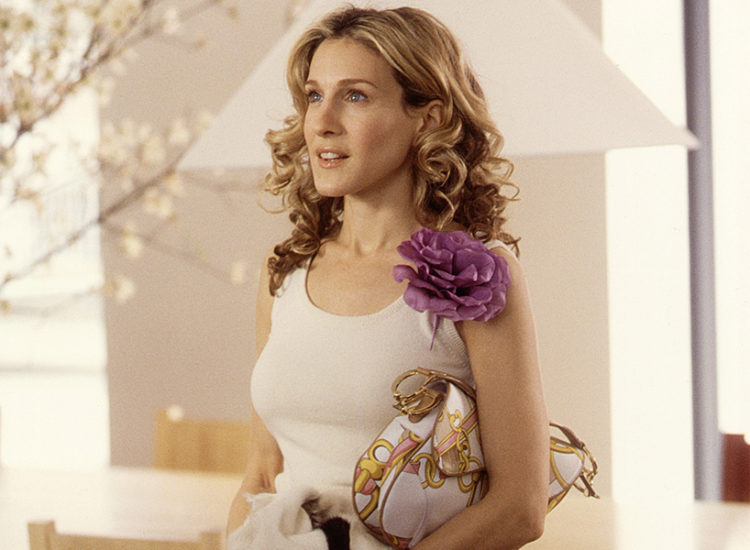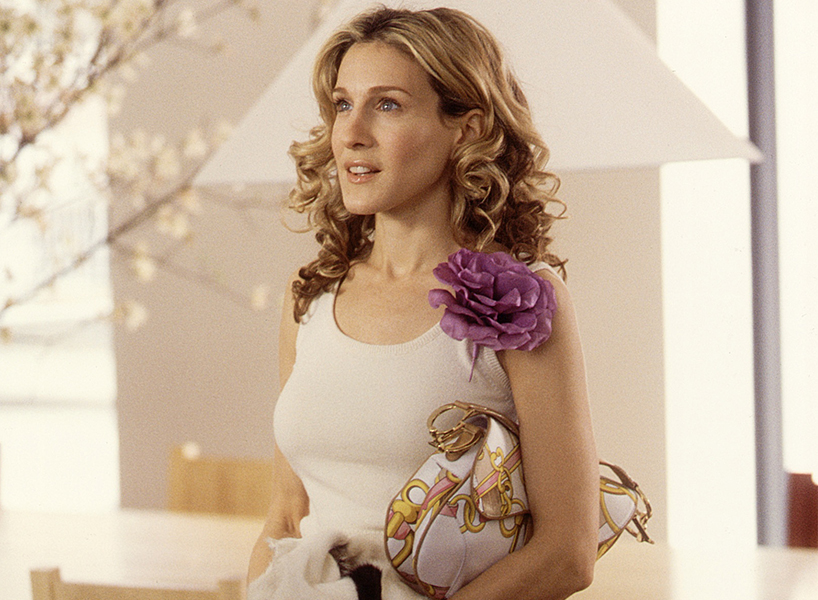 "Omigod Alison, you're SUCH a Carrie."
It was 2000 and I stood in the circle of store manager friends at an Express district meeting, wearing the brand's black microfiber bootcut pants and matching longline blazer with a large pink fabric peony pinned to my lapel. I wore it because I liked how it looked and liked that it referenced Chanel, I didn't know that a character on Sex and the City wore almost the exact same one. I couldn't afford HBO and this was before social media was a thing. As they all shared which character they thought they were, I just smiled and laughed but didn't participate.
Years later, I had a house with a TV with cable attached to it, and I scored a few free months of HBO. I adjusted my schedule to be sure I was home for every episode of SATC. I sometimes gathered with friends to watch where the post-episode conversation would turn to fashion, or New York, and always back to which character was most relatable. And again, I just smiled and laughed but didn't participate.
I wasn't a Carrie. I wasn't a Charlotte. I wasn't a Samantha, and I wasn't a Miranda.
I was a Jo.
Jo March to be specific.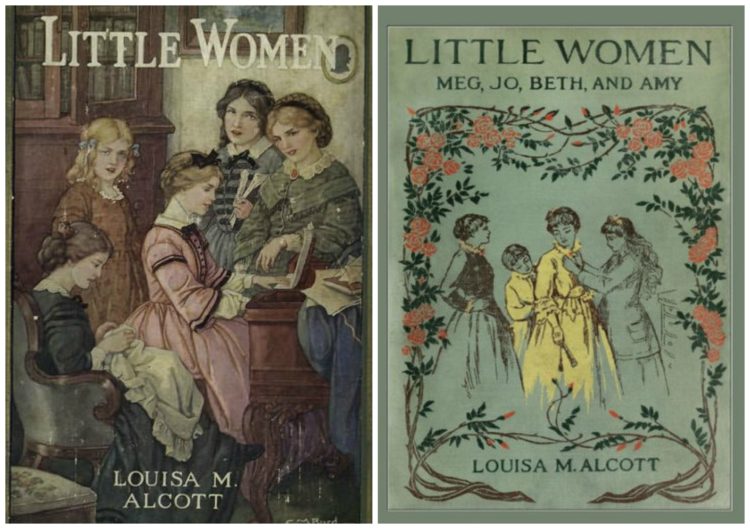 Growing up, I read Little Women at least three times and read it at least once more since high school. I've seen every film version of it. Even when I was in 5th grade reading it for the first time, I knew I was Jo. And knowing I was Jo made me decide I wanted to be a writer.
Jo had style. Jo had a way with words. Jo loved fiercely, summoned courage, had a sense of adventure. Jo wanted more, and knew there was always more.
My mom also connected with Jo. My sister, with Amy. At a middle school sleepover, before I got the silly idea in my head that boys were cooler than books, my friends and I sat in a circle and shared which March sister we were. Another girl also said she was Jo and shared the characteristics she connected with, which were different ones from mine. It made me realize that two very different people can be inspired by the same thing for different reasons and both were good. When I got older, I realized the power of an author who could create such a character with just words.
I am an Ashpes Girl. My mom married my dad who had that last name and they produced me and my sister. We were always known as The Ashpes Girls, either me and my sister together (far easier than trying to remember who was whom which became difficult around the time we were both in high school) or with my mom. When I got married, I had my middle name legally changed to Ashpes so I would remain an Ashpes Girl. When my daughter came on the scene a decade ago, she didn't need to have the name on her birth certificate, she was born an Ashpes Girl. Her first summer, she joined us on our annual Ashpes Girls trip to Rehoboth Beach. And once she was old enough to sit through an entire film, she joined us with our annual Ashpes Girls tradition of going to the movies on Christmas Day.
We've done well finding Christmas Day movies that both she and we would enjoy – Mary Poppins, Beauty and the Beast, The Greatest Showman. But those movies were geared towards an audience of 5 to 95 and I was a bit hesitant in having her see Little Women. See, unlike the rest of us Ashpes Girls, my daughter isn't a bookworm. She likes to read, she's doing extremely well in school, but her desire to curl up with a book on a Sunday afternoon or find pockets of reading like I did on car rides and while waiting in line at the grocery store only comes in fits and starts. While I reread books until I have them memorized down to the location of favorite passages on pages, her room is littered with never-finished novels that didn't grab her attention. I haven't offered her Little Women because I know once she starts and doesn't finish a book, she has no desire to return. And it would break my heart to find a book that defined so much of my childhood be discarded under her bed next to a Shopkin and an American Girl doll shoe.
But the three original Ashpes Girls, we wanted to see Little Women on Christmas Day. In fact, it was never discussed, just assumed. And when we saw it would be playing at the wonderful historic theater in our city's center it made it even more perfect. If my daughter didn't like it, that would be way easier to accept than her discarding the book. But I really really wanted her to like it.
I was so into the movie, I didn't look at her often during it. For a time, she rested on my arm, for a time I put my arm around her, but I couldn't tell if that was out of boredom or the wonderfulness of a young sentimental tween. I knew the story had her when she whispered to me, "Ma, does Beth die? Y or N?"
When the movie ended, we all clapped, not just because that's what we do at this charming historic theater in our city center, but because the film was so good and did such a good job of being fresh and new yet so respectful of and consistent to the book. My sister shared as they got up from their chairs and gathered their coats that my daughter asked her, "Which sister are you?" When my daughter caught up with me in the aisle, she said, "I enjoyed my first dramatic film!" As we walked to the car, the four Ashpes Girls guessed which March sister another connected with and then shared why we connected with her. I didn't want to tell my daughter which March sister I thought she was, I didn't want her to question herself. And I didn't want her to feel she had to pick one like I did when my friends discussed SATC. When she shared she felt she was a hybrid of two sisters, I saw both characteristics in her and got teary in thinking how much she has grown and developed into her own unique person.
"Ma, you remind me of Aunt March," my daughter said as we got into the car. "You're always yelling at me to READ!" We laughed, remembering that part in the movie when she yelled at Jo (which is soon after the clip I share above). It's true, I want her to love reading the way I loved reading at her age, and how I love it now. But expecting her to act as I did at her age is like expecting me to be a Carrie simply because I can rock a giant silk flower on my lapel. She and I may have the same eyes, make the same silly facial expressions, may even have similar tastes and interests, but we like different things and are different people. And while I will continue to yell at her to read because it's so valuable on so many levels, I need to understand that she is that hybrid of Jo and Beth, she is her own individual self. She can choose to read
Little Women
if and when she wants and I treasure that we enjoyed the film together.