This article may contain affiliate links; if you click on a shopping link and make a purchase I may receive a commission. As an Amazon Associate, I earn from qualifying purchases. 
Welcome to the December edition of What I Wore Off the Blog!  Looks that didn't end up in an actual outfit post, maybe ended up on Instagram in a Story or in the feed, and better showcase what I wear on a daily basis and how I re-wear the same things over and over, what I keep for years, what becomes part of my core wardrobe.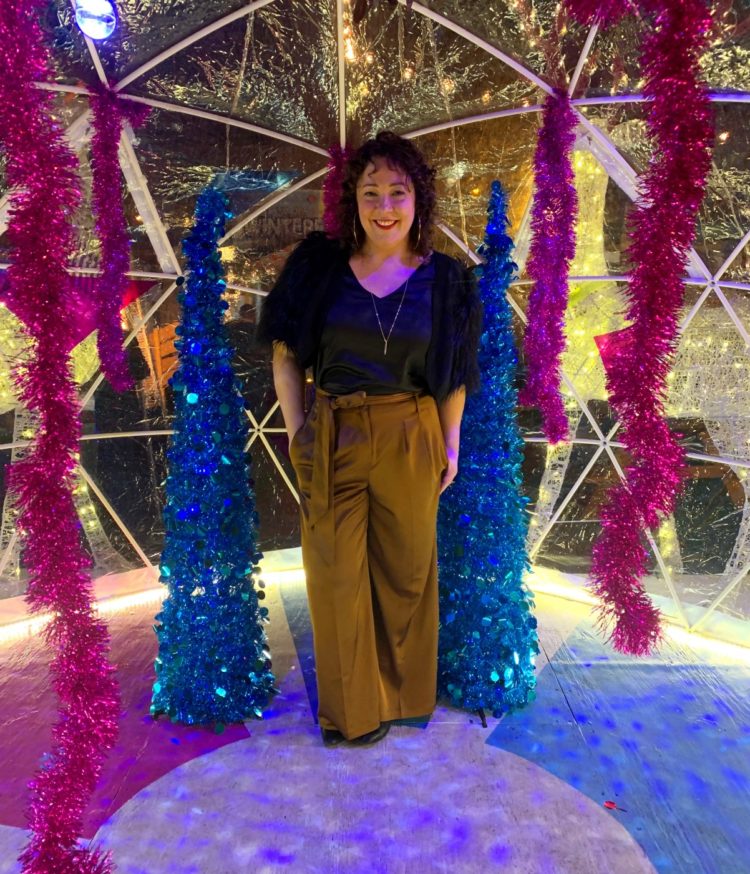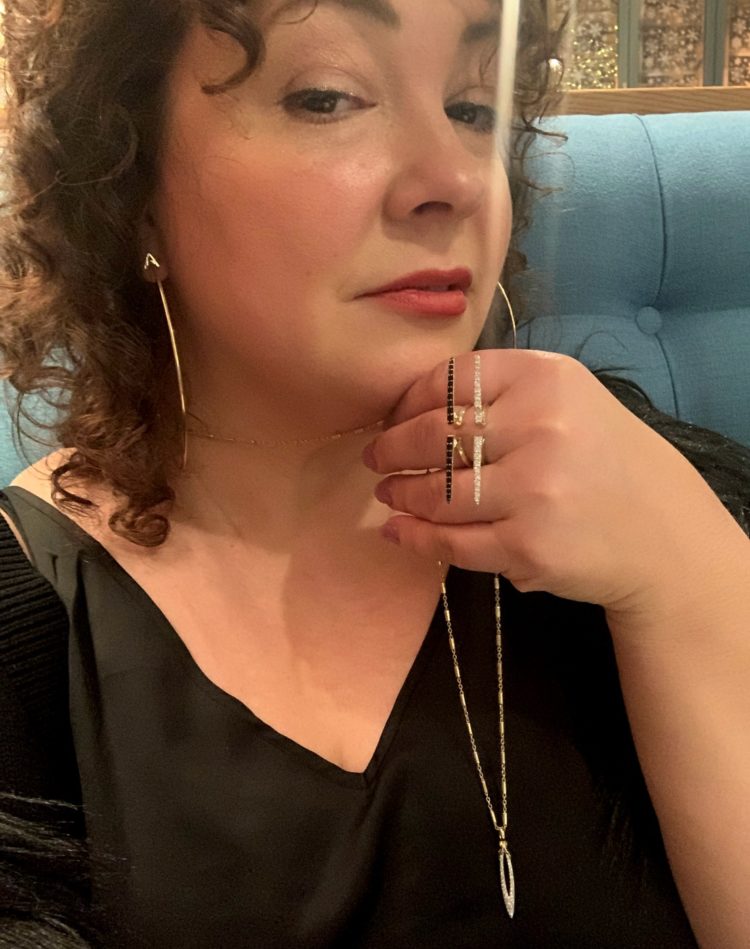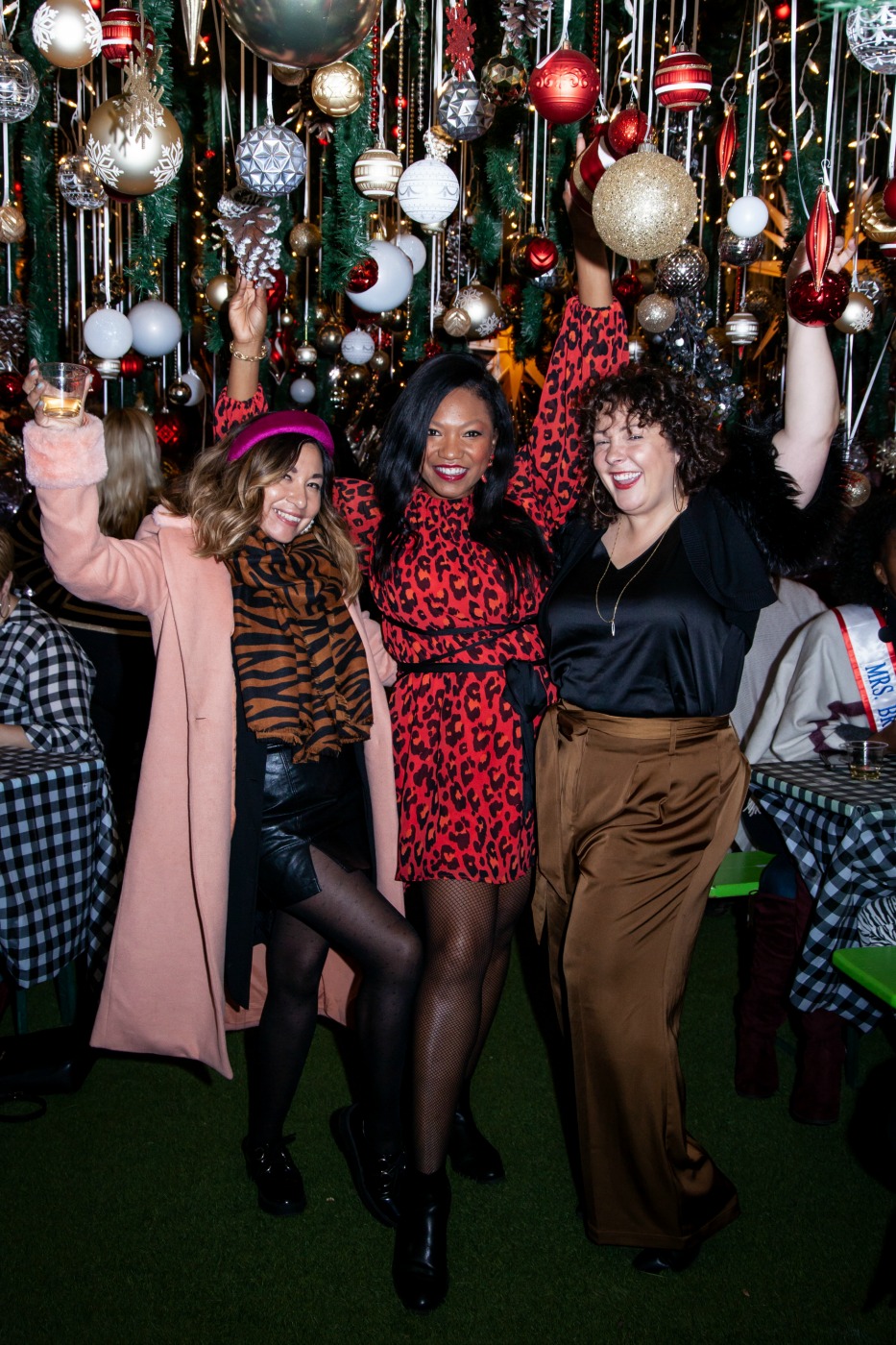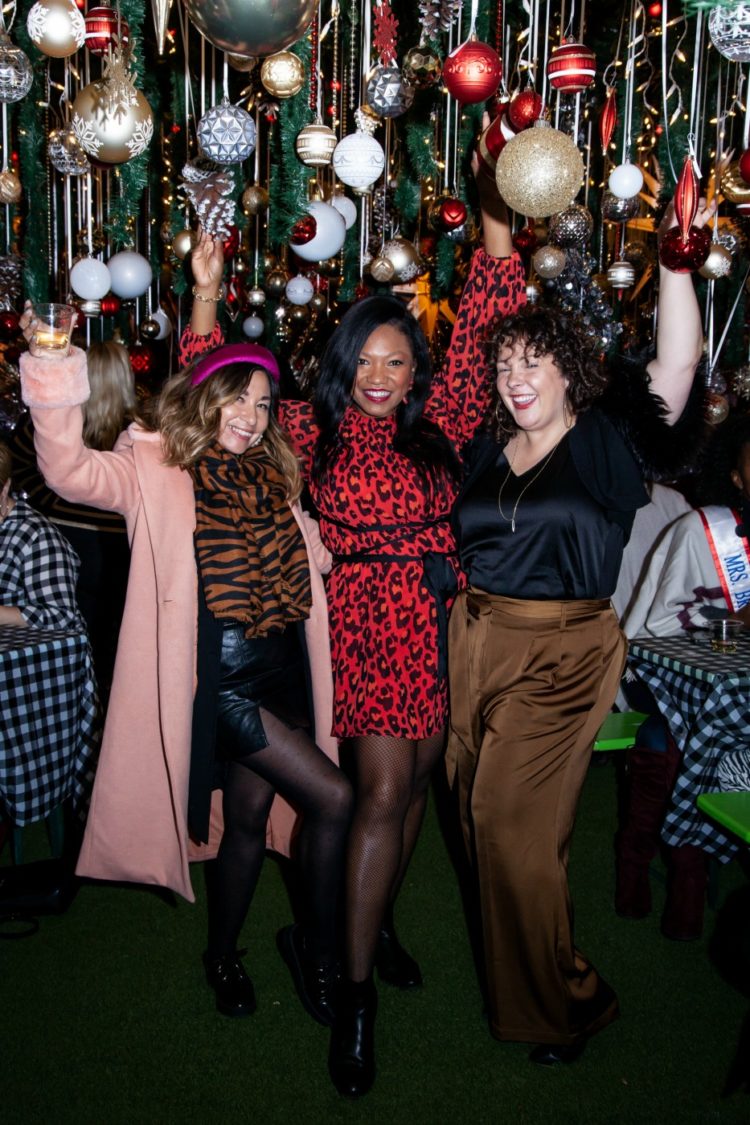 My friend Angelica hosted a holiday party at Wunder Garten DC.  It's an outdoor beer garden but also has indoor/tent areas that are heated and decorated by theme.  I knew it may be cold or else too warm, and I knew I wanted to be comfortable. I also knew there would be people there in sneakers and others in sequins.  I wore my Universal Standard wide-leg pants in bronze (seen here and here) with a black silky camisole from Soma.  I added a fur-trimmed shrug from cabi (sold out) for warmth and fun.  For jewelry, I wore my Jenny Bird gold hoops, REALM pendant and this REALM ring.It was a great choice – I wasn't cold (yes I also had a coat!), I was neither overdressed nor underdressed, and my feet didn't hurt at the end of the night.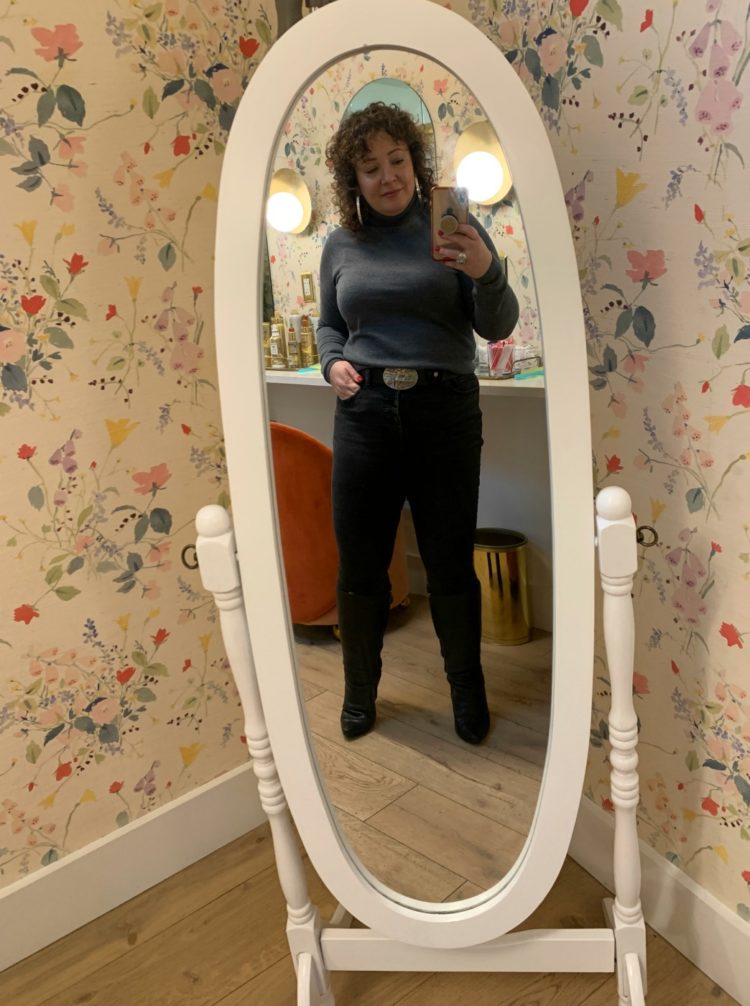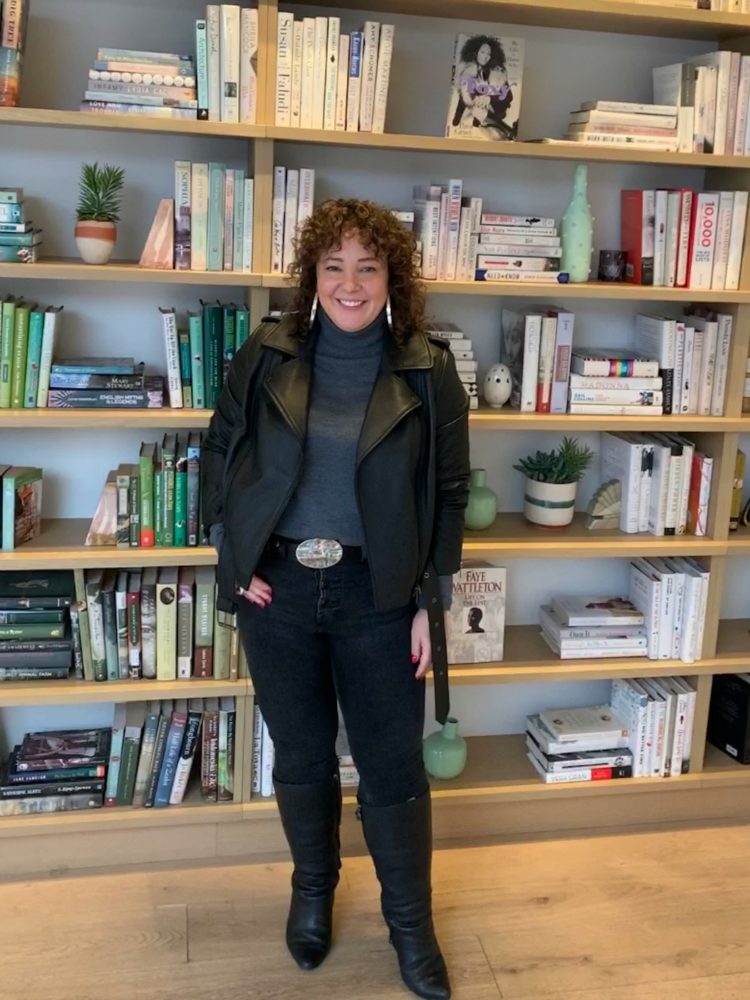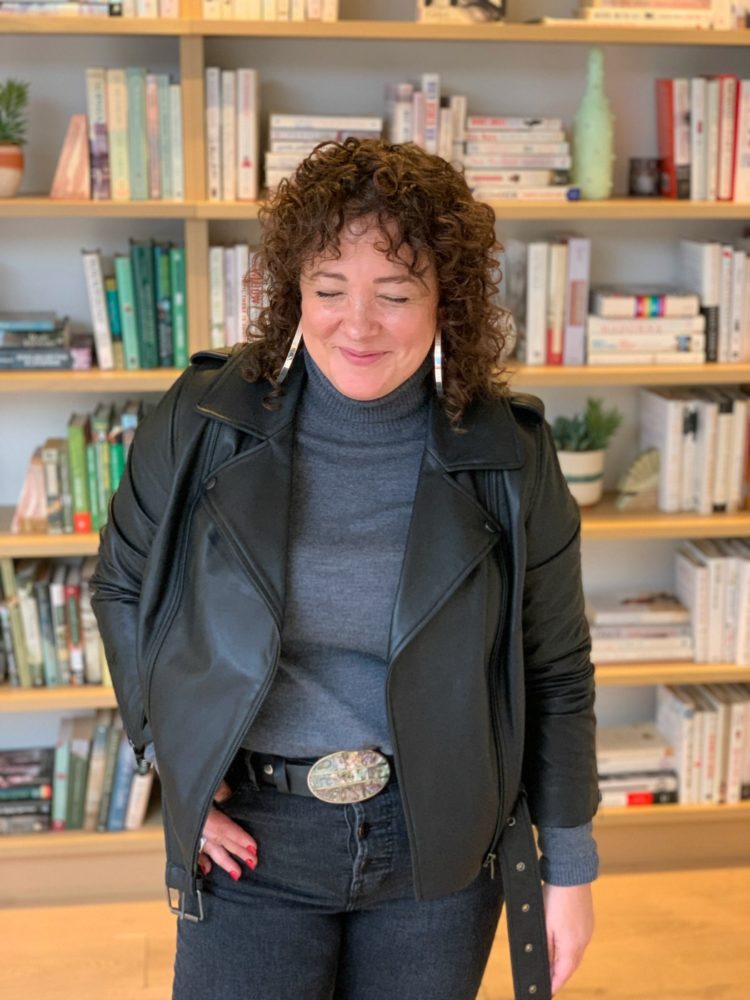 In the morning, I attended an event with the French fashion brand Sézane at The Line Hotel in DC. I am not really familiar with Sézane because they don't carry clothing that fits me or many of you, but my dear friend was hosting.  I'm glad I went, the clothing is stunning, their employees passionate and charming.  I can only hope someday they realize the value of increasing their size range. Then I headed to The Wing to work for a few hours and meet friends for lunch.  I wore my favorite jeans from Everlane with a recently purchased merino turtleneck from Universal Standard and my Universal Standard leather jacket.  To make it a bit dressier, I added my well-loved old black heeled knee-high boots, and to make it clearly me I added a big belt buckle and my Jenny Bird hoops.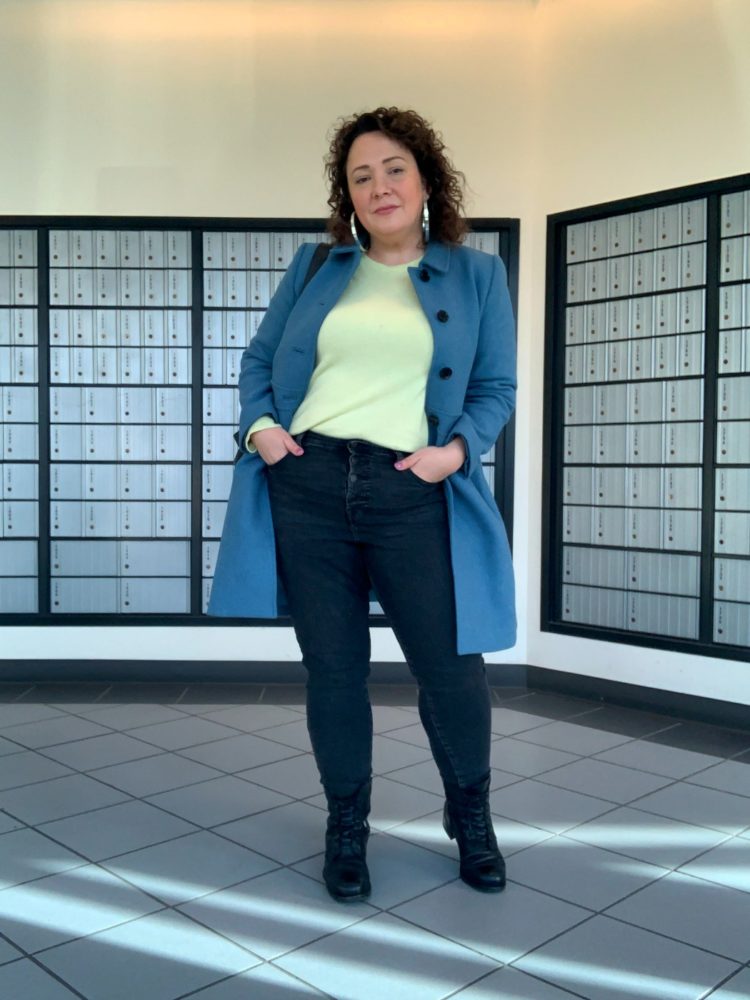 This is a typical day look for me.  This is the Everlane cashmere sweater I wore in this blog post with the same gray Everlane jeans seen above and my Talbots lady coat.  On my feet are the La Canadienne boots I mentioned in my Alison's Favorite Things of 2019. And again the Jenny Bird hoops!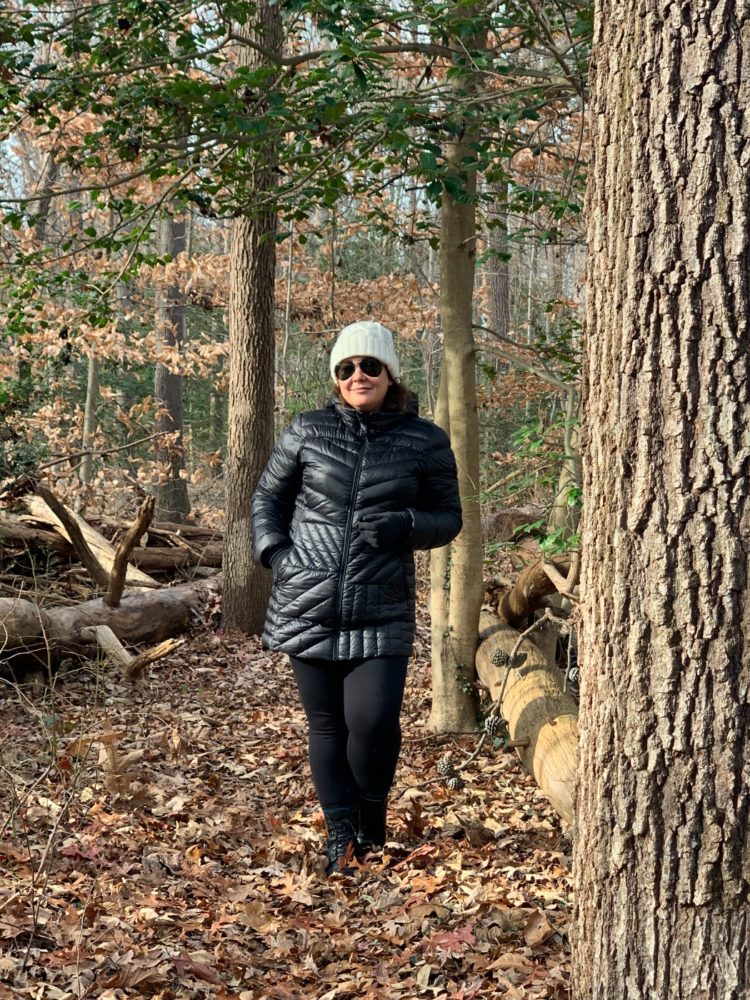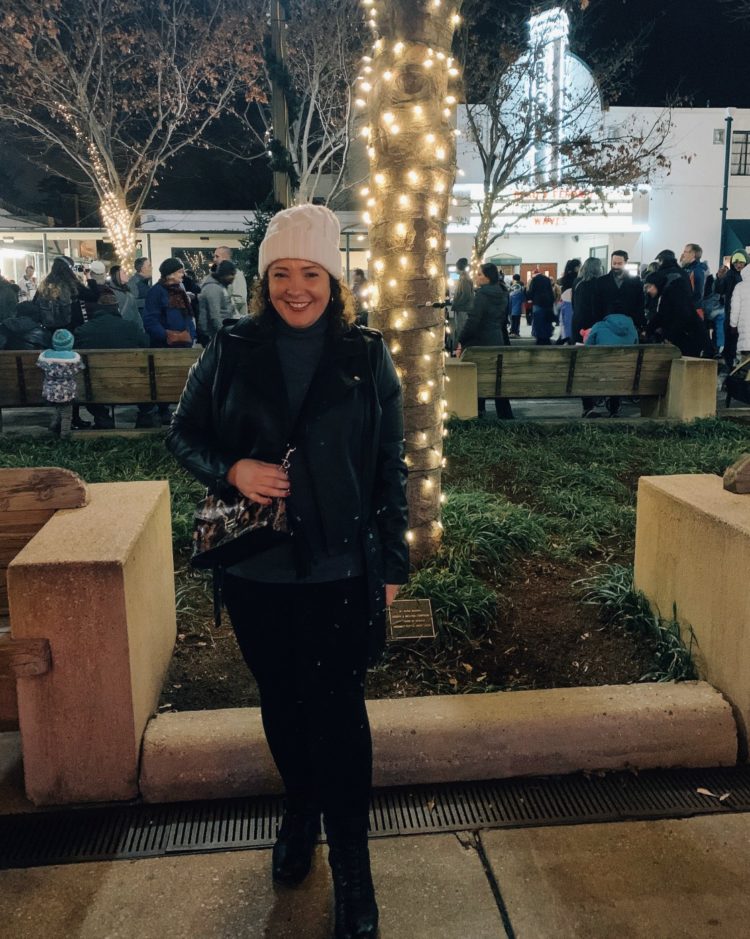 In winter, you rarely see what I'm wearing because I'm bundled up!  I love this coat from Bernardo; it's several years old, I wrote about it in this post.  The beanie was a holiday gift a few years ago from a brand with a matching scarf that my daughter has stolen.  There's no label in it so I have no idea who makes it.  Both looks I'm wearing fleece-lined leggings from Soma and my La Canadienne boots.  I made my boots more comfortable and warmer by adding these insoles.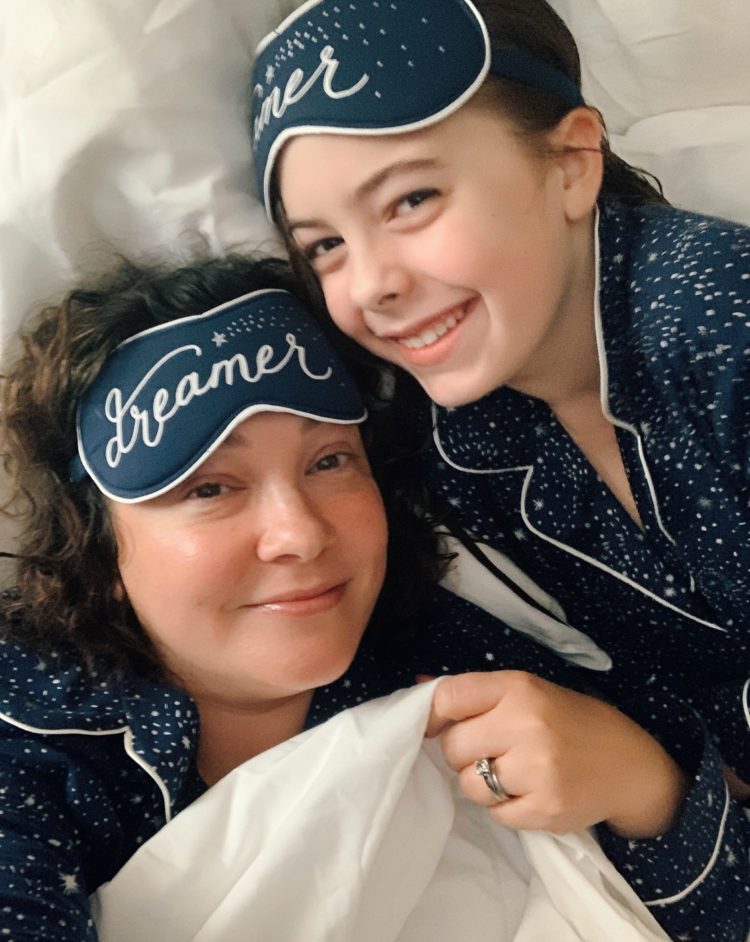 This summer, Soma sent me the cutest pair of palm leaf-print pajamas (a peek of them are seen in a photo in this blog post).  They were short sleeves with cropped legs and by accident, I received the top in XS instead of L.  They sent me an L and my daughter tried on the XS and bit fit!  So I bought her the matching pants in XS and we twined all summer long.  So this winter I thought it would be fun for us to twin together again and Soma was generous enough to send both of us this top, this bottom, and these eye masks.  And well, it's a bit too big for my kid.  And because Soma is good quality, we tried washing them in hot and drying on hot and it didn't do jack – they stayed the same size and same color saturation. But my kid, like so many of us, are obsessed with Soma pajamas so she wears them anyway and wears them all the time.  We visited relatives over Thanksgiving weekend and this is a selfie we took on the trip in our matching pajamas!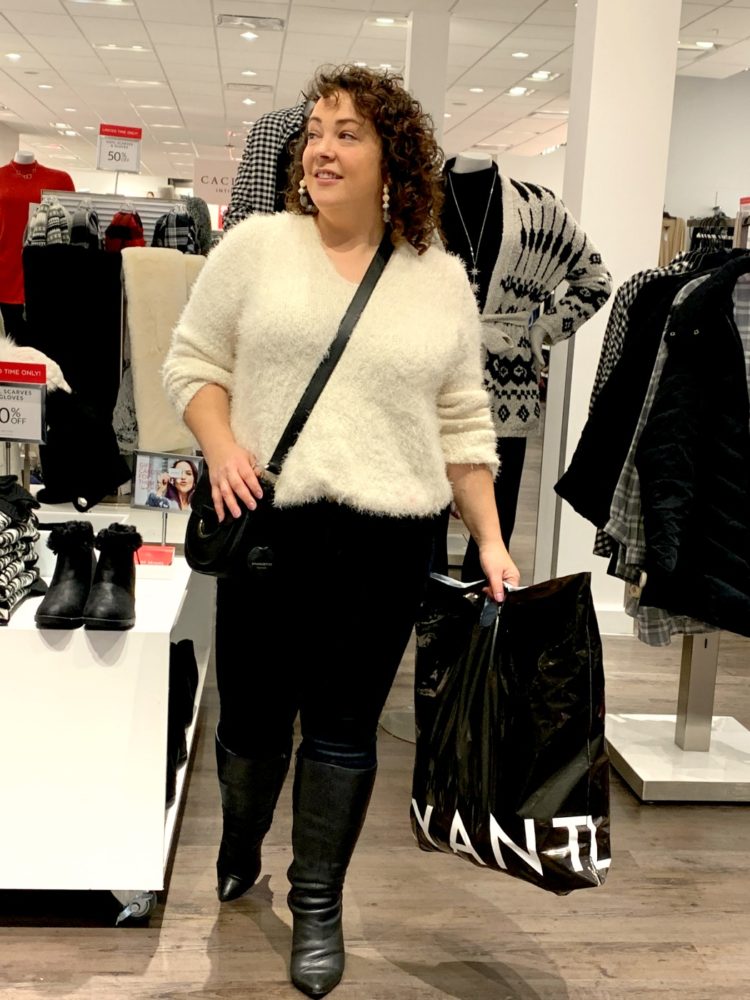 Saturday, my daughter and I went to the mall.  I have an upcoming campaign with Lane Bryant/Cacique so I went to check out their Semi-Annual Sale.  And I decided to wear all Lane Bryant to the mall.  The sweater is available starting with size 10/12; this is a 14/16 because I wanted it a bit more slouchy and relaxed.  It's a perfect sweater with skinny jeans or leggings, but it lightweight enough that you can tuck it in comfortably as I did here.  As for the jeans, they too are Lane Bryant and y'all were right, their jeans are AMAZING! These are the Signature Fit Skinny Jean in size 12 Petite.  The denim is stretchy enough that I wore them all day, even when lounging on the couch watching TV.  However, the denim is also stiff enough that they didn't stretch out in the bum or belly like lots of jeggings.  I find the silhouette more my taste with tall boots, I'm curious to try other cuts. And these are the earrings, which are very lightweight and quite pretty.  All three are 40% off with promo code MERRY.  The bag is Cole Haan and I got it from Rent the Runway Unlimited. FYI: if you want to try Rent the Runway Unlimited use promo code RTRDC22F051 and get $100 off the first month.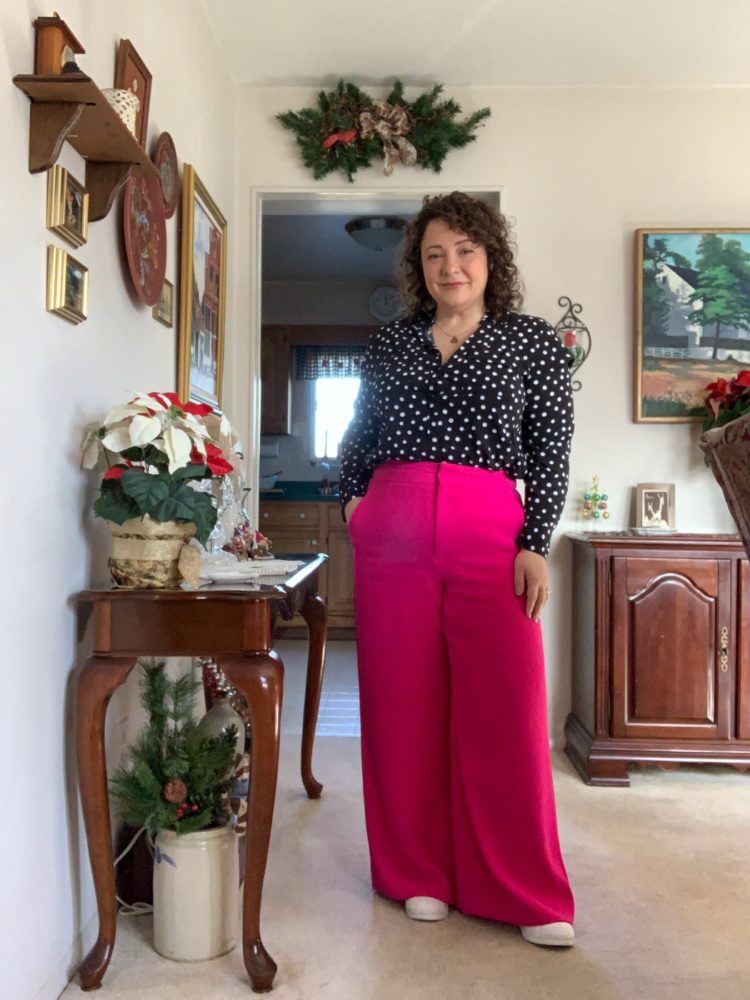 And this is what I wore yesterday!  We went to visit relatives to celebrate Christmas together.  This dotted top is from Chico's, I think the last time it was on the blog was this past spring. They don't have the print anymore but they regularly carry their Silky Soft Shirt and it's a fave (I also have it in leopard print).  The pants are from Banana Republic and part of this pantsuit.  They're the same pink pants I had in the last edition of What I Wore Off The Blog. On my feet are my white Adidas shelltops.
Shop the Look: