This article may contain affiliate links; if you click on a shopping link and make a purchase I may receive a commission. As an Amazon Associate, I earn from qualifying purchases. 
Buying a wedding dress is a stressful experience for any woman, but it's harder when you are fuller figured. Most bridal boutiques don't carry any samples larger than a size 10, and many dress retailers do not offer plus sizes for all their styles. When dresses are available in a larger size, they aren't usually designed to flatter and fit the fuller figured woman.
This is why I got really excited to find out that IGIGI, a company that creates gorgeous fashion for plus-sized women came out with a bridal collection! Finally a brand that can offer style and fit to a woman on her special day!
My friend Amanda is getting married this fall, so I had her be my "bridal guinea pig" to try out the bridal collection from IGIGI. Amanda tried the Christelle, the Eveline, and the White Diamonds. She came over for a fashion show so we could both remark on how these dresses fit, were made and were designed. To let you know, Amanda is petite as well as curvy, so these dresses may fit completely different on a woman with different curves or more height.
I have set up this review with Amanda and my remarks for each dress noted.


The IGIGI Bridal Collection:
Amanda: Overall, none of these dresses by IGIGI are overly formal or structured the way a lot of princessy, traditional bridal gowns are. This can be a truly good thing for a bride looking to get away from traditional dresses while still being lovely. They are also an excellent consideration for anyone who wants to have a beach or outdoor wedding where a 50 foot satin train dragging over the sand and surf would be a bad idea.
Alison: The dresses really vary in style and level of formality. From the three we received, I could see one work for a casual day affair, one for a beach wedding, and one for an event at a ballroom or historic mansion. I was happy to see such versatility in IGIGI's bridal collection.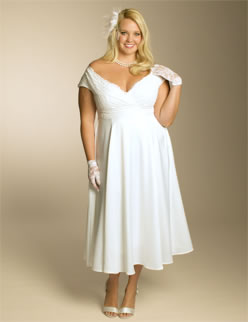 Christelle:
Amanda: Unfortunately, Christelle hit me in all the wrong places. This dress would be a much better fit for someone 5'6" or over, and probably someone with more of an hourglass figure.
The bodice was very flattering to the cleavage and I did like the back of the dress, especially where it transitioned from waist to skirt area creating a cinched waist look and then flowing out without over accentuating the back. The front hips were where Christelle fit worst on me.
The lace accents on the top are not well-suited to my tastes, but I think they would be great for someone slightly more traditional than me- especially at a spring wedding. I do love the idea of gloves with this dress.
Alison: Christelle was a really cute dress, and I agree, it would most likely work on a taller woman who has a true hourglass figure. The fit and flare cut would not be so flattering to a woman who carries much of her weight in her midsection. The slight off the shoulder neckline was very flattering and feminine and I could totally see this dress at a daytime garden wedding or an intimate brunch affair.
Gosh, this style would work for a non-wedding affair too!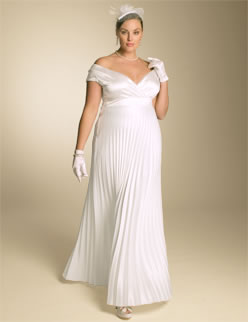 Eveline:
Amanda: Of all three of the dresses I tried on from the IGIGI line, Eveline one felt the most traditional. The material is heavy and very silky- I couldn't stop running my hands over the skirt because it felt so lovely! If you're a shorty like me, you need to have this dress massively hemmed, it is quite long.
The top of the dress above the waist line is very flattering to breasts and cleavage- if you are looking to cover up on your wedding day this is not the dress for you! But if you are comfortable bringing a little sexy to the day this could be a dress to consider. As they say, if you've got it, flaunt it!
Girls who are trying to minimize their belly will also want to steer clear of Eveline – this empire waist emphasizes a round tummy. However, the dress is very flattering in the rear and hips, so if that's your trouble area you may do well with Eveline.
Alison: Eveline was made of the most gorgeous fabric, the micropleats were quite elegant. The style is simple enough that a bride could really personalize the look with hair accessories, jewelry, gloves. A loose updo with chandelier earrings would make this perfect for an elegant evening affair, loose waves would make this lovely for a garden ceremony, and it could totally look glam with a bunch of varying long crystal or pearl necklaces and a low chignon.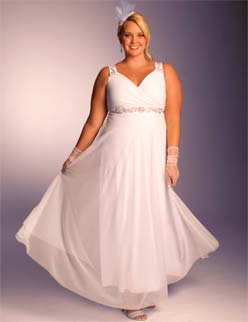 White Diamonds:
Amanda: One thing I have discovered while searching for "The" Dress: try on everything, because it just may be the one you like least on the hanger is the one you like best on your body. This turned out to be true with the White Diamonds style.
I initially thought this dress would be too sheer, too stretchy and too rough to the touch. Once I put it on, though, it was a whole other story. Of all three dresses this one fit me best and felt the best. The material is gauzy and sheer and made me feel like an ethereal goddess. The fit was great in all of the important places- hips, chest and rear. The beaded accents on the front were in exactly the right place, bringing attention up to my chest while minimizing the belly. Be forewarned though, White Diamonds IS sheer- there is no room here for special under garments, especially on your lower half so this dress should fit you as-is, with no nipping and tucking.
Alison: I fully agree, White Diamonds completely surprised me. Out of the box it looked like a pile of random chiffon and polyester. On my friend, it was elegant, flattering and quite lovely. White Diamonds truly gives a Grecian feel, and would be beautiful with a loose updo of curls, possibly with some ribbon or bands of beading through it to continue with that "goddess" feel. This would be a great dress for a destination wedding because it won't get destroyed in your luggage, and would feel cool and breezy during an outdoor ceremony. I am usually not a fan of "bling" on dresses, but this beading was quite pretty and really made the dress (especially the beading on the bodice). The bust covered nicely (believe a bride could purchase a traditional bra and have it hide under these straps – always a plus!) while still flattering a curvy figure.
If you are looking for a plus sized wedding dress that isn't the usual cupcake confectionery, you may wish to check out IGIGI's bridal line. I was pleasantly surprised by the variety, pleased with the quality, and look forward to them extending the line in the future. IGIGI has already gotten the reputation for being a plus sized designer that loves and flatters a women's curves; now they can be known for loving and flattering curvy brides!