This article may contain affiliate links; if you click on a shopping link and make a purchase I may receive a commission. As an Amazon Associate, I earn from qualifying purchases.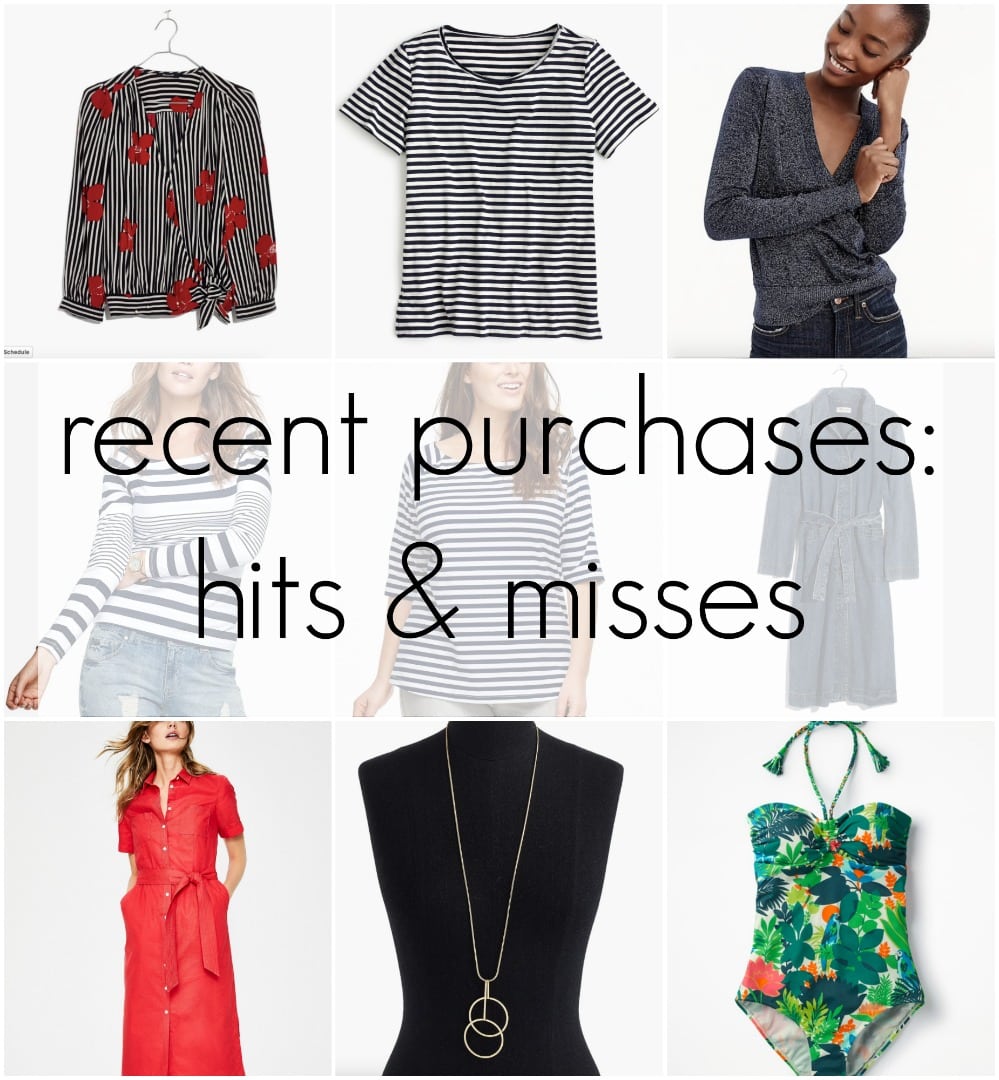 I told you there'd be a lot of these hits and misses! I haven't even lost 20 pounds since I started working out at the beginning of December, but with the increase in muscle most of my clothes are fitting weird or not fitting at all. My stomach is flatter, which makes a lot of my pants too long and saggy in the crotch. My breasts are smaller (went from a 38F to a 36DD), and while before I was in XL, 0X, 14W, and 16 Petite; now I am best in 14 Petite, L, and sometimes even a 12. A bunch of you have asked over the months for me to have photos with my hits and misses. Part of my Repair Mode is to get rid of the little bit of credit card debt I had and not add to it. Therefore, I am returning items next day so no interest accrues on my card. I missed photos for some of the items listed below, but will try to be more diligent in getting mirror selfies before I pack up and head to the post office.
Wardrobe Goals with these Purchases:
Replace my destroyed stripe shirt collection
Look for some transitional pieces that will carry me from early spring into summer and possibly fall, find items that will work for the weekend as well as a meeting or blogger event or day at my future coworking space (details TBA!)
Find relaxed yet not schlumpy style I can wear while at home, but not have to change when I head out for coffee or errands or to volunteer at my kid's school
Madewell
I have never shopped at Madewell before. Madewell isn't made for big girls. I have one camisole I got from them through Nordstrom and I only took a chance because all the reviews said the top was gigantic and to go down two sizes. Therefore their largest size fit me nicely though it was a bit short thanks to my boobs. But I thought… if I am back into 32 jeans and finding XL sometimes too big… will Madewell now work for me?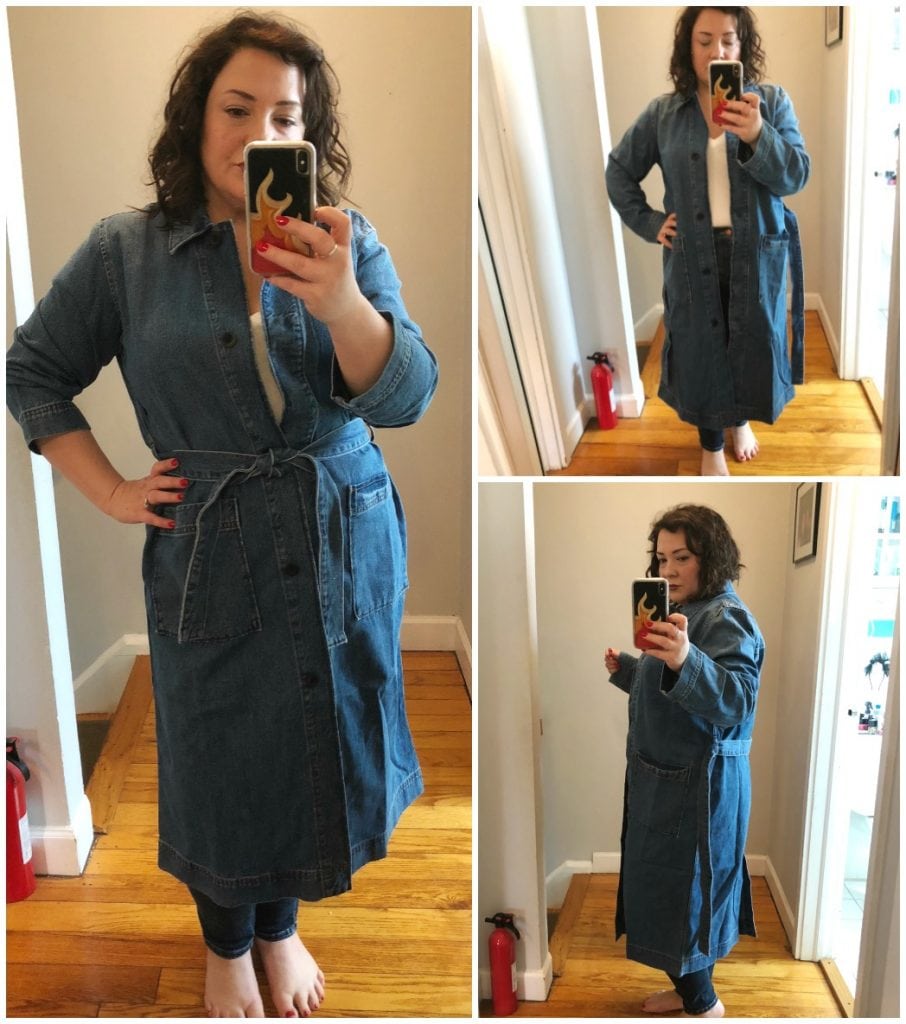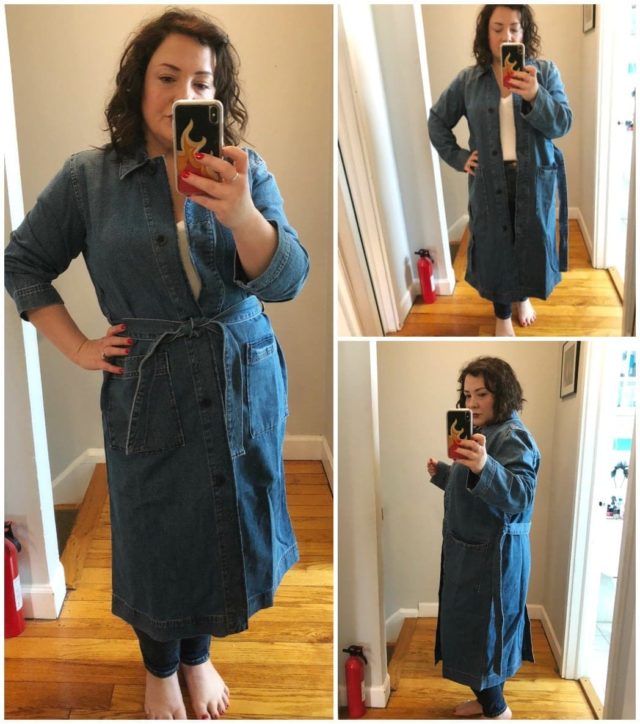 So for a few weeks I've been on the hunt for a denim trench. I wanted something longer than a utility jacket, fewer snaps and pockets and such than a denim jacket. Something more polished, but I could throw over a t-shirt and skinny jeans and flats and look pulled together, or belt over a black tee or turtleneck and leggings and have this chic look that only needs a red lip and maybe some badass earrings. I kept searching and everything was either sketchy cheap made in China companies that I refuse to support, or a million dollars. And then I saw this one, and one from J. Crew (see below). I ordered both. I worried about a Large Regular, but Madewell didn't offer petites and there was no way I was a Medium.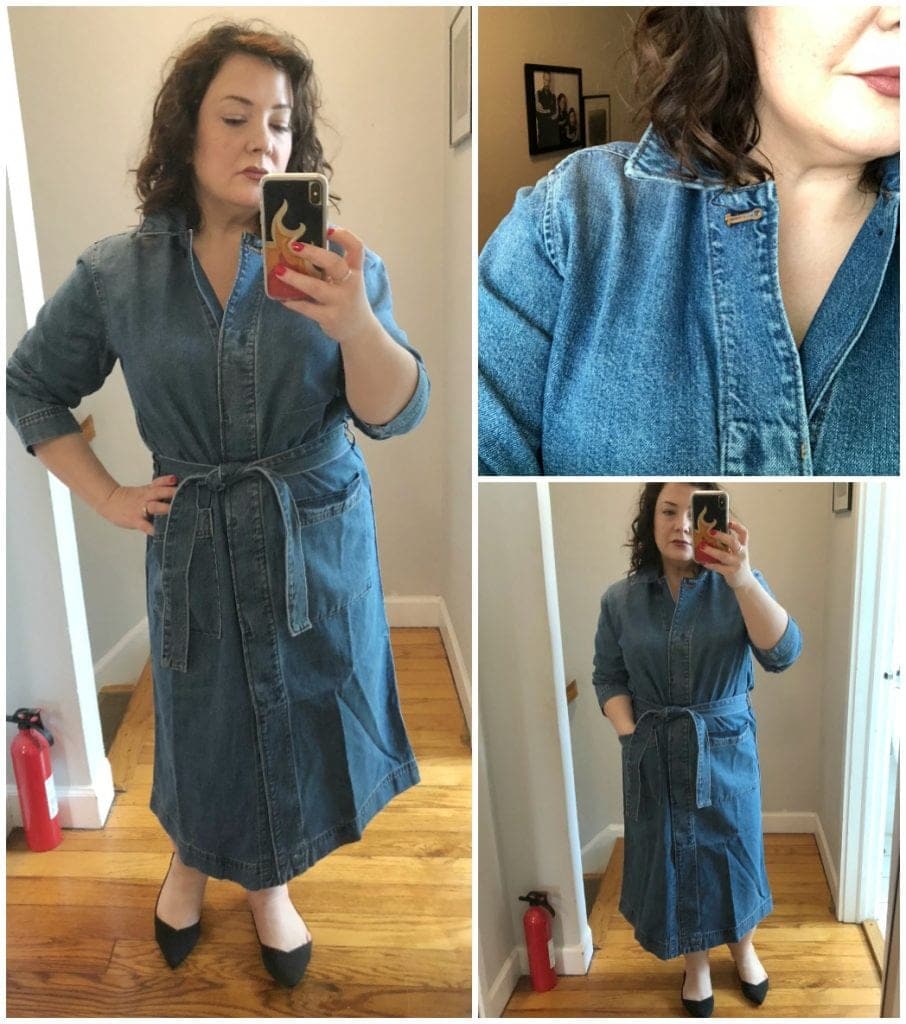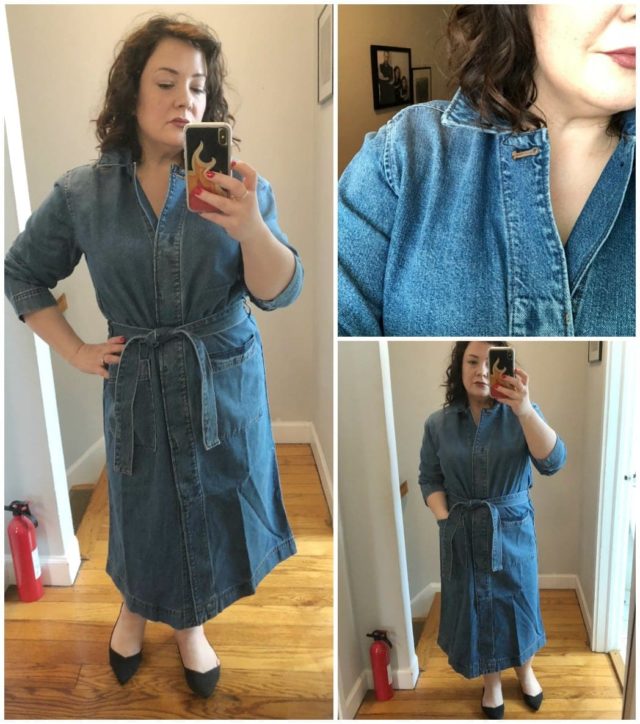 Well, this thing is big. I wish it came in Large Petite… but maybe now. Any way you look at it, this is not right. Too long, sleeves too long and full, the whole thing is just bulky. Maybe if it were lighter weight fabric I'd find it valuable enough to tailor, maybe if it had more style? I told my friend that this is cool but in a, "Dude, check out this awesome thing I found at the thrift store I'm going to wear it tonight!" kind of cool. Not in a, "Dude, this thing cost $178 and then I had to spend $100 to tailor it to fit me!" kind of cool. If you are taller, maybe slimmer, maybe have a life where you can wear big-brimmed hats and clogs and can afford $178 denim jackets, this could be great. I love the idea of wearing it like a dress, it does very well in that manner, actually better than as a jacket due to its stiffness. But for me, it's a fail and a reminder to go thrifting.
Oooh, a wrap top in black and white stripes with big red flowers on it. This top is SO ME! I'll wear it with my Universal Standard high-waisted jeans, I'll wear it with shorts this summer, I'll style it with white cropped denim or a black midi skirt. It will be amazing!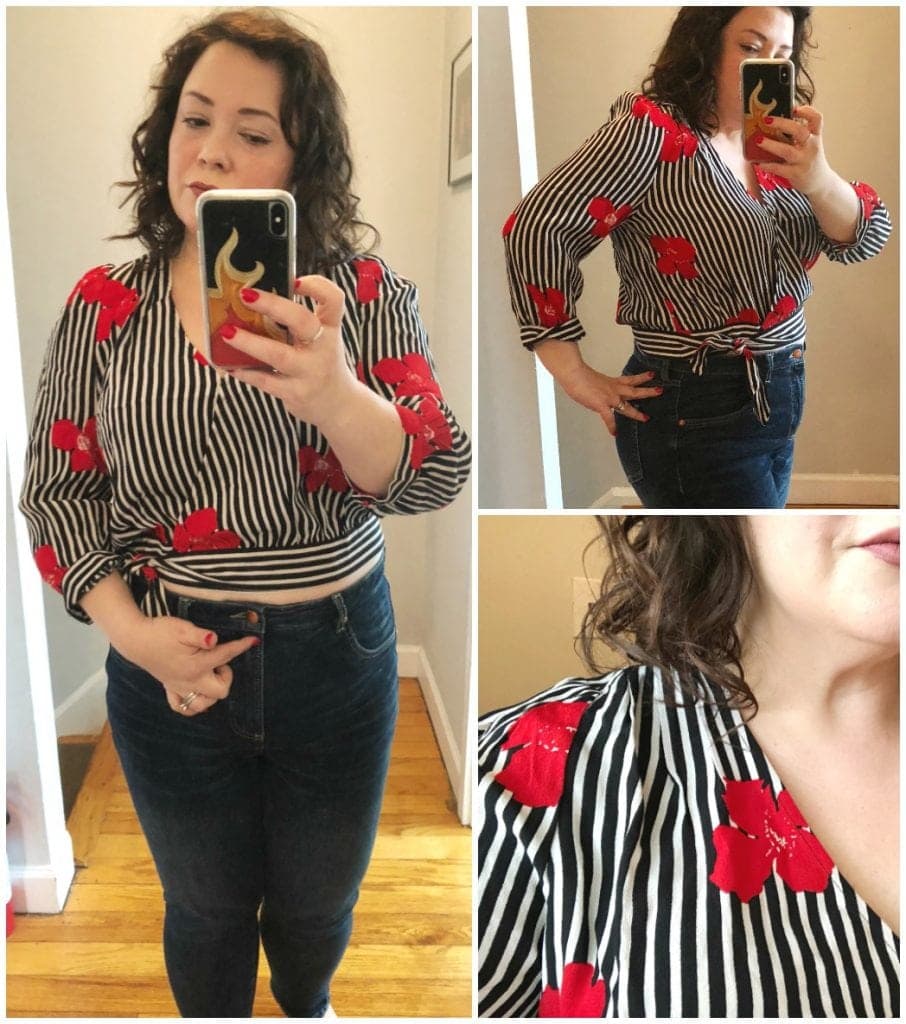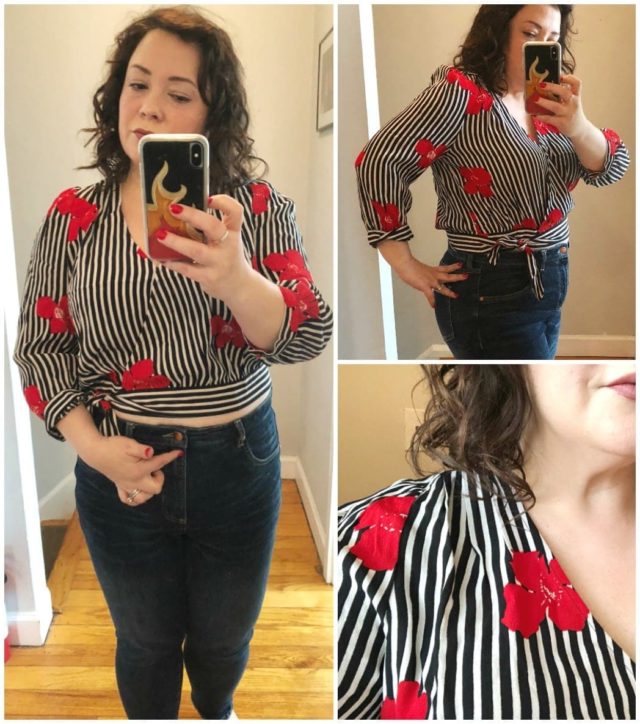 Except that this top doesn't fit. Yes, the sleeves fit, yes my bra is covered and the neckline is flattering. However, the waistband is very snug and rides up every time I move. Also this top is SHORT! This photo is me pointing to my belly button while wearing my highest waist jeans (the Universal Standards). This is crazy, I am not long waisted. It's gotta be the boobs, right? I should have known from my Madewell tank, Madewell doesn't design for boobs. However, if you're smaller, size up and try this top. It's super pretty in person and I think would look chic if it could be oversized on your body. But for me this is a big fail.
I figured, a sleeveless v-neck striped top would be great now under jackets and great in the summer. I'd throw it on with shorts, maybe knot it with a long hippie skirt, it's nothing mindblowing but a great staple. And the positive reviews didn't hurt in making the decision to click Purchase.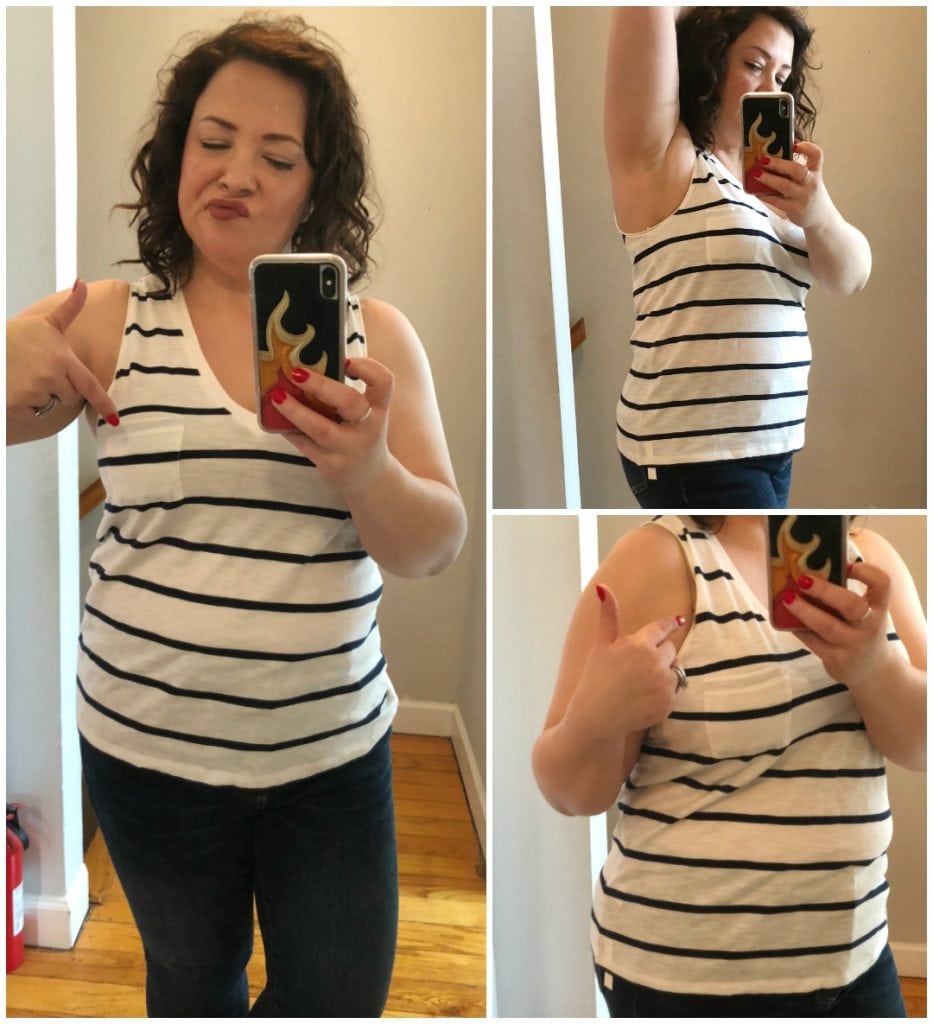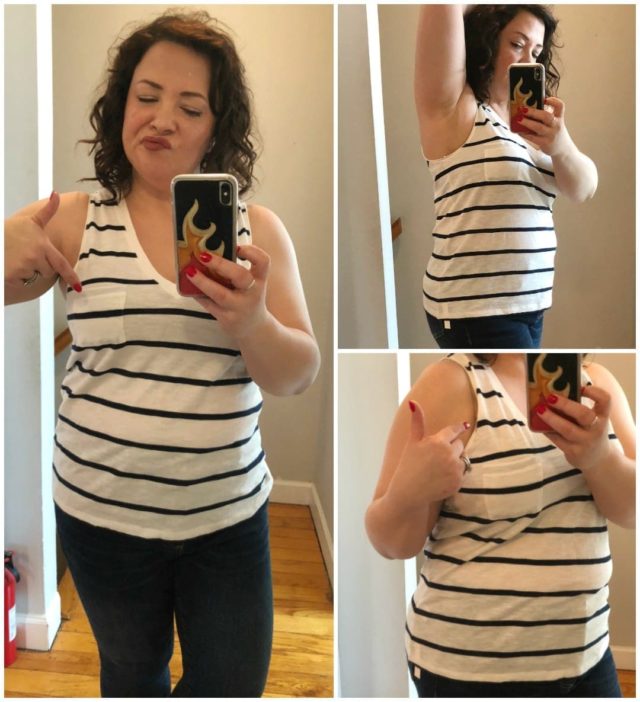 Seriously, I have found better fit and quality at Walmart. The armholes roll into themselves showing my bra. And I don't know about you, but I despise superfluous boob pockets. What's the point of a patch over my breast, especially when it's such a silly size and such silly placement? Fail.
J. Crew
As I mentioned above, I was on a mission for a denim trench coat and found one at J. Crew that had decent reviews. Not only that, it came in petites. And while I was there, they had 40% off so I ordered some other goodies.
This trench is verrrrry much like the Madewell one. I got this one in the mail first, and when I got the Madewell one I considered not even trying it on because I feared it was a duplicate (Madewell is owned by J. Crew). I'm glad I tried the Madewell one because it is NOT the same. I liked the Madewell denim wash/finish better, the pockets were better placed, and the fabric had a better drape. Considering how I reviewed the Madewell coat you can tell I didn't like this one.
The Large was too big, bigger than the Madewell one likely by a whole size. It looked like an adult jacket given to a kid to cover her clothes while doing pottery or painting. The wash was lame, that flat light stonewash that has no character and always looks cheap. But the weirdest thing was the pockets. They were so high they were a bit under the waistband and you can't comfortably put your hands in them. Also at that height it took away any waist making you look like a big blue box.
The Large Petite fit me really well. So well, if it was more like the Madewell jacket I would have considered keeping it (J. Crew's was $82.80 with the promo code, far more my speed). I would have had a tailor shorten it, maybe even shorten the sleeves to bracelet length, wash it a kazillion times to soften it, maybe with salt to weather it. But instead it was from some goofy Kirkland denim with pockets hiding under the waistband so I returned it. Fail.
I didn't need this sweater so I'm glad it didn't fit. And glad it was itchy. Seriously, this fit similarly to the Madewell wrap top in that it was super short and not made for boobs. I had an entire breast falling out of the neckline. There's no safety pin on this planet that could contain the mess made from this goofy sweater. Fail.
This was… fine. It was a relaxed fit striped t-shirt. I didn't need a shirt like this, even on sale for $21.90. If you need a soft striped t-shirt that fits like a t-shirt (I'd compare more to Lands' End tees versus say one from Hanes), this is a nice one and the Large fit me nicely. But for me, it was a miss.
My friend Carelia from My Small Wardrobe loves these shirts and sizes up for a relaxed fit. Carelia is a stickler for quality so I knew this wouldn't be a bad buy. I went with large because unlike her, I was looking for a more fitted tee to wear under overalls, with blazers, maybe tucked into a skirt. And it worked out! This is a really nice quality shirt, thick but super stretchy and it washes like a dream. You can see it below in my overalls review. Hit!
I ordered this so I could get free shipping. It's nice, and the price was good (with the promo code it was $23.90) but I don't need it. I didn't even take it out of the bubble wrap. I could use that $25 towards a denim trench or sushi or my next manicure. Not terrible, but for me it's a miss.
Boden
Boden's items are often backordered so purchases come in dribbles. This weekend I got a bag with two items, today while writing this I received another bag with two more items. I hope to receive the last piece before the 4th of July. But in all seriousness, Boden's spring collection is worth the wait. The colors, the prints, the fit… if you order the right size most of it is fantastic.
This seemed like a perfect dress for spring through summer. Breezy, crisp yet relaxed, could throw on with sandals or dress up with wedges. And pockets! I put it on and before I could even see my reflection, Karl said, "Did you get a job doing the night shift at Saint Elizabeth's?"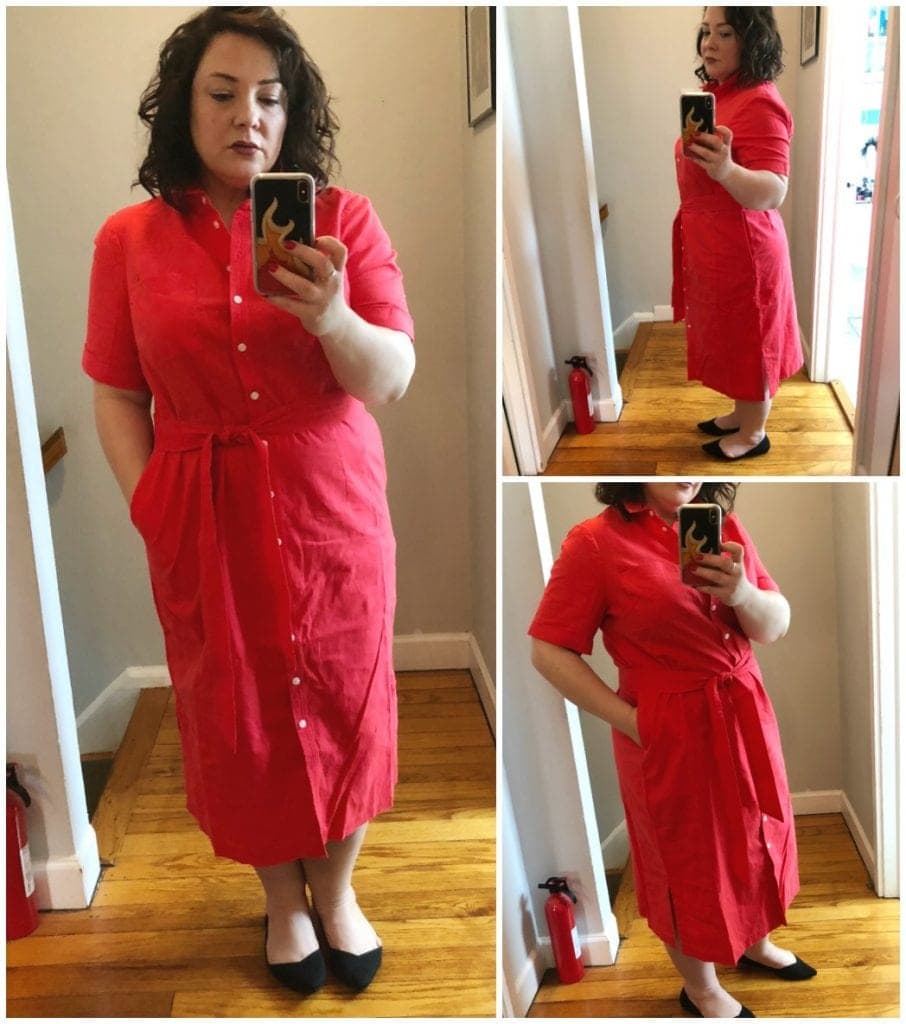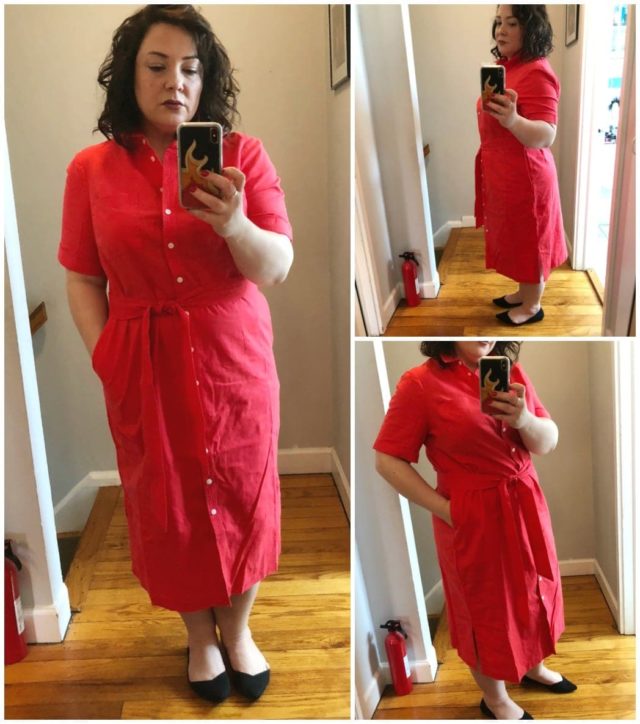 He was right, this looked like a uniform, something a nurse may have worn several decades ago. And yet again, a plea to Boden to make petites in sizes larger than 10 because I think this may have been less lame if it was shorter in the torso, sleeves, and length. But yeah, this was a fail.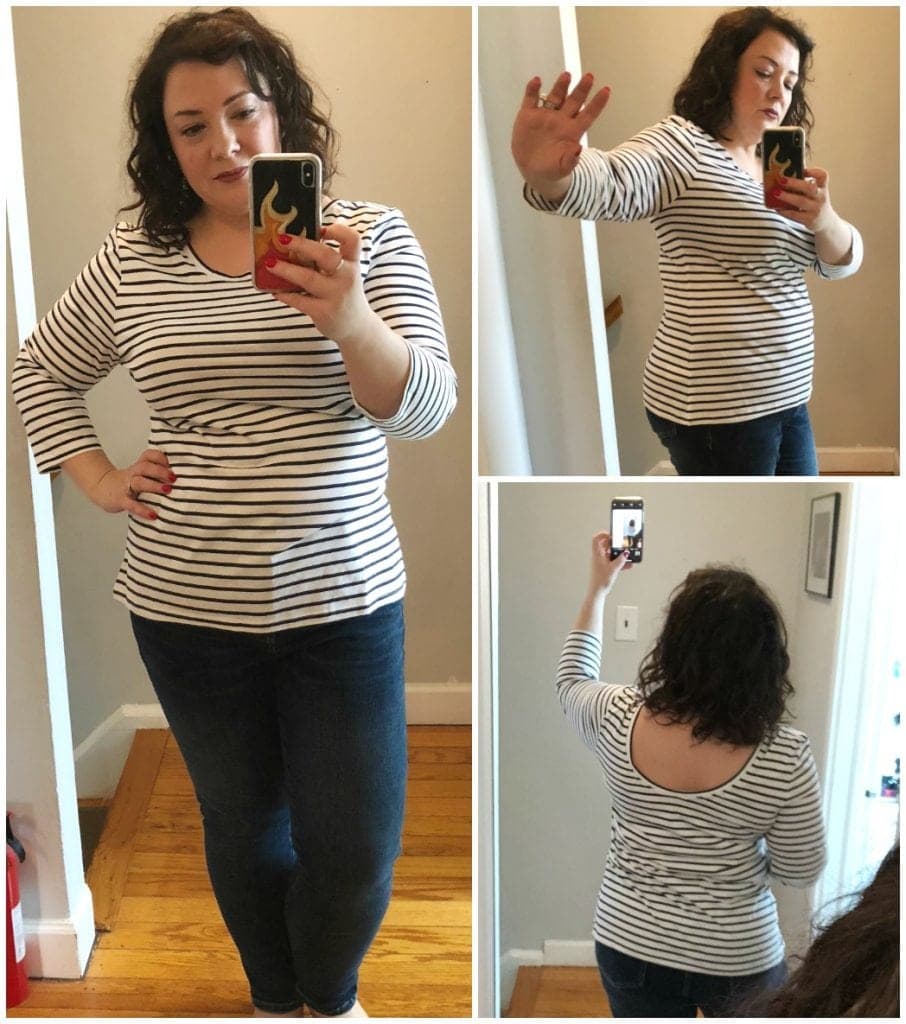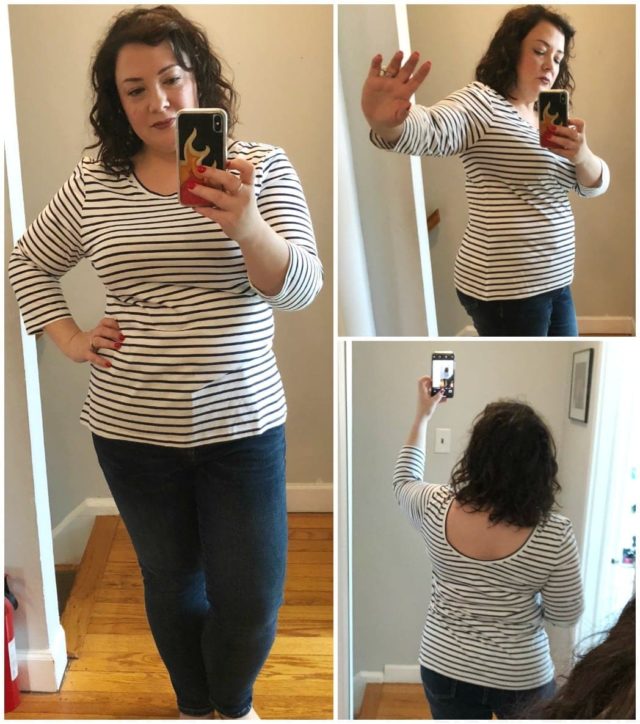 The goal for this was a comfortable striped shirt that wasn't boring and I think this achieves it. Boden makes great striped shirts, and this one is no different. The back is low, but not so low you can't wear your normal everyday bra. Not too tight to wear untucked, but can also tuck in and blouse out a bit. Hit!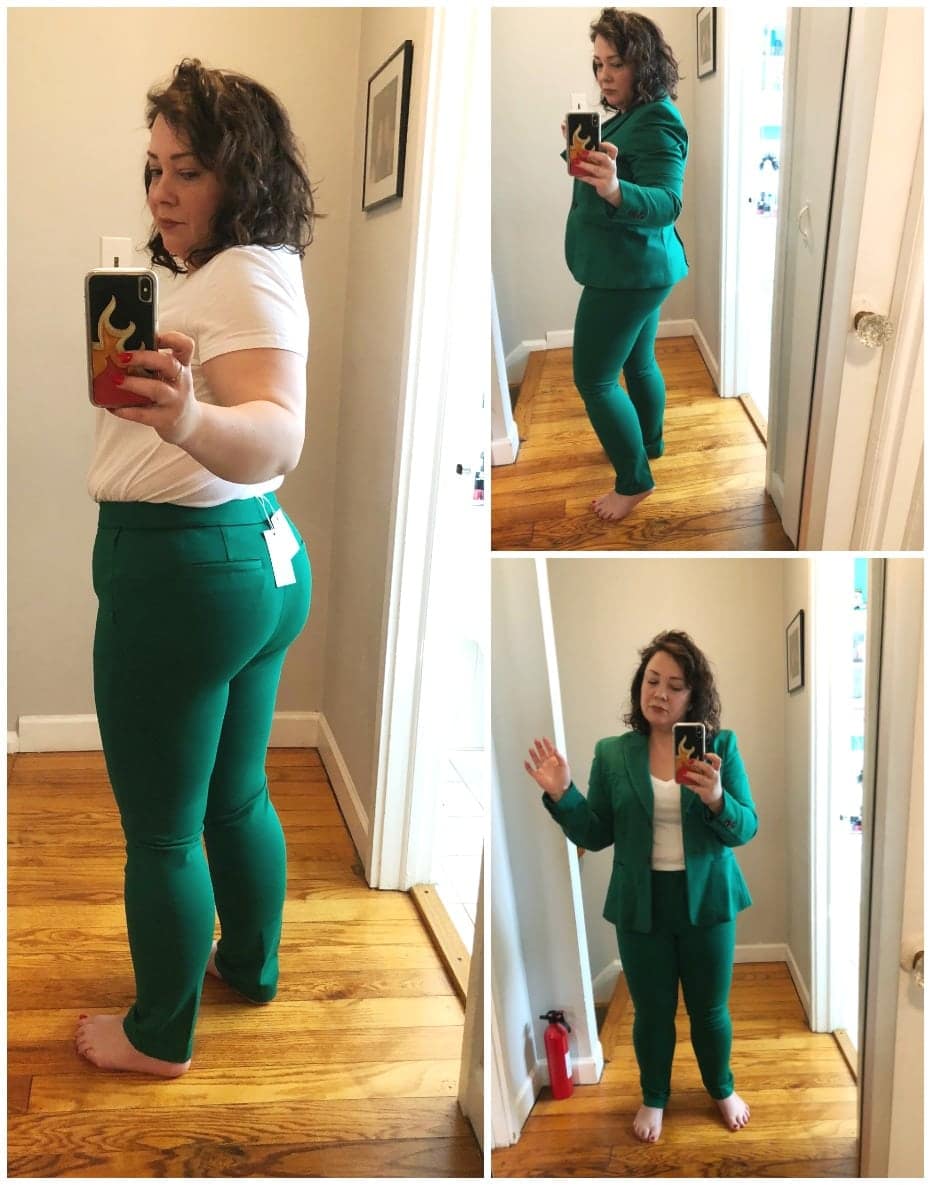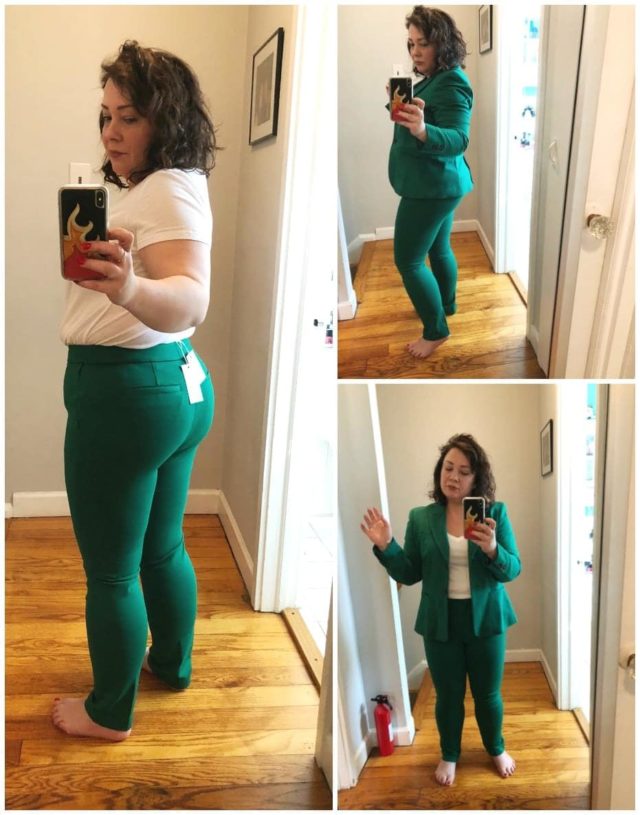 In this post I shared I ordered the pants in 14R and they were ginormous. Well, the 12 is tight. Painted on tight. And while an all-green suit on the Boden website looks smart and chic, on me I look like a leprechaun. Maybe if the pants weren't so tight and a bit more structured and an ankle length… but yeah these are a no. Fail.
I ordered the matching caftan but it hasn't yet arrived. I actually only ordered this suit after seeing the caftan. A few of you have raved about Boden swimwear so I decided to take a chance. I usually buy bathing suits that suck in the gut and have plenty of stuff on top to support the girls but decided to take a risk considering I have a different body this year.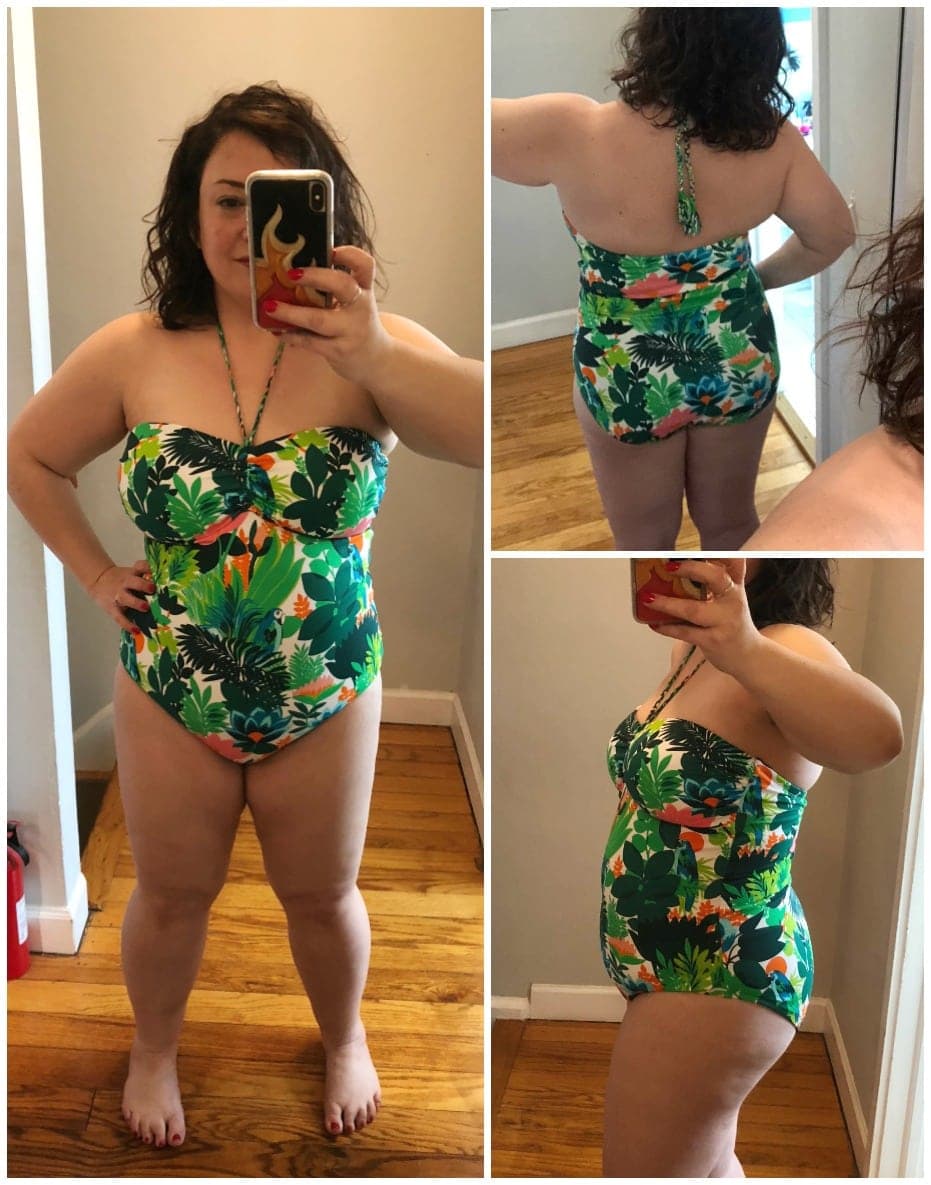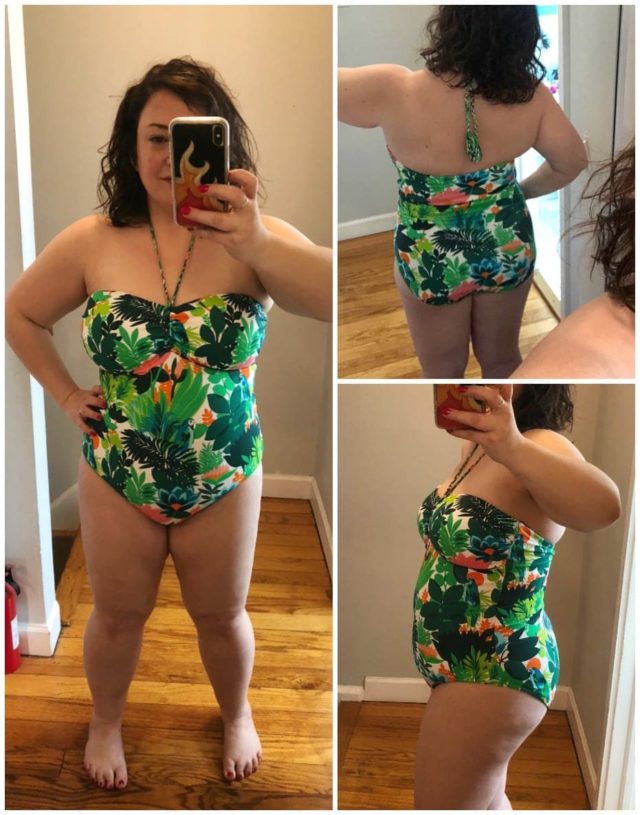 I'm glad I did. This suit is so cute.There's molded full cups inside which gives shape to my post-nursing and weightloss breasts. The print is an optical illusion and you can't really tell what goes in and what goes out. I haven't worn this in the pool but I danced around and jumped up and down and I didn't get a wedgie and I didn't fall out of the top. I removed the neck strap and jumped around and everything slipped lower but didn't fall out. I wouldn't go swimming without the neck strap, but I could lie on the beach under an umbrella that way and not fear I'd have a wardrobe malfunction. The quality is really nice too, elegant details like the braided strap is long, sturdy, and the same fabric as the suit. The bodice has boning on the sides and completely molded cups, not inserts. I just wonder if by time summer arrives and once it gets wet the 14 may be too big? I decided to order it also in 12 and see which one fits best as we get closer to pool weather.
Amazon
Amazon gives incentives to bloggers who promote buying fashion through them. They get gift cards, free clothing, and various other goodies. I find shopping for fashion on Amazon frustrating and more often than not, a fail. If you search for a term, you get a hot mess of promoted cheap weird stuff with the occasional good thing mixed in. And then that good thing only comes in two sizes and has $24 shipping. I have the most success looking for a specific item – I find something I like at a department store or Zappos and then search brand and style name hoping to find it on Amazon in my size or a lower price.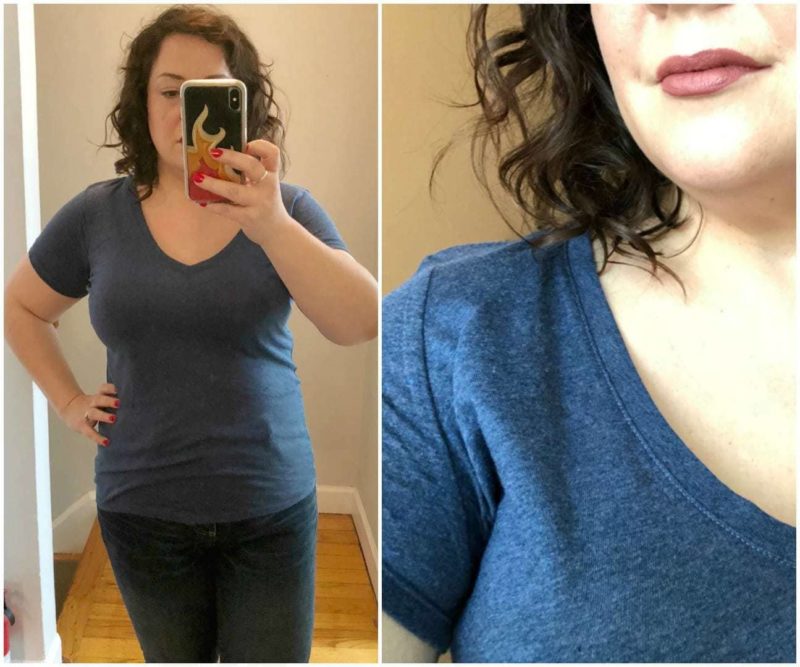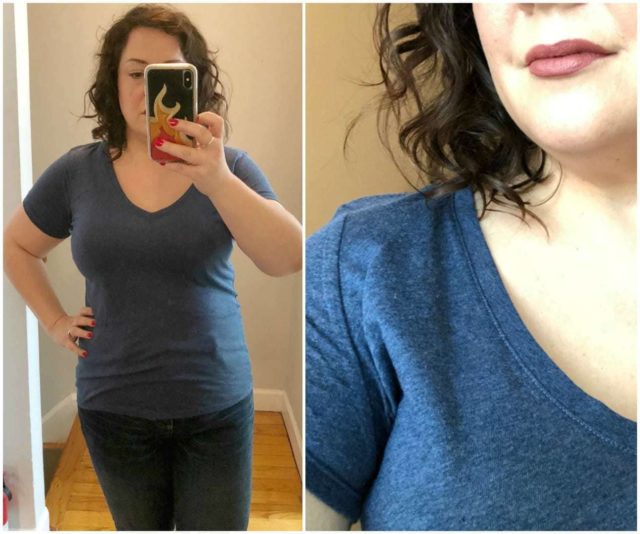 Amazon provided me with a promo code to get these shirts, usually $20 for the pair, for free. Actually, I could choose from two pages of basics from their in-house brand Daily Ritual but these t-shirts looked like something I could actually use and something that would help me gauge the quality and fit of a brand I was unfamiliar with.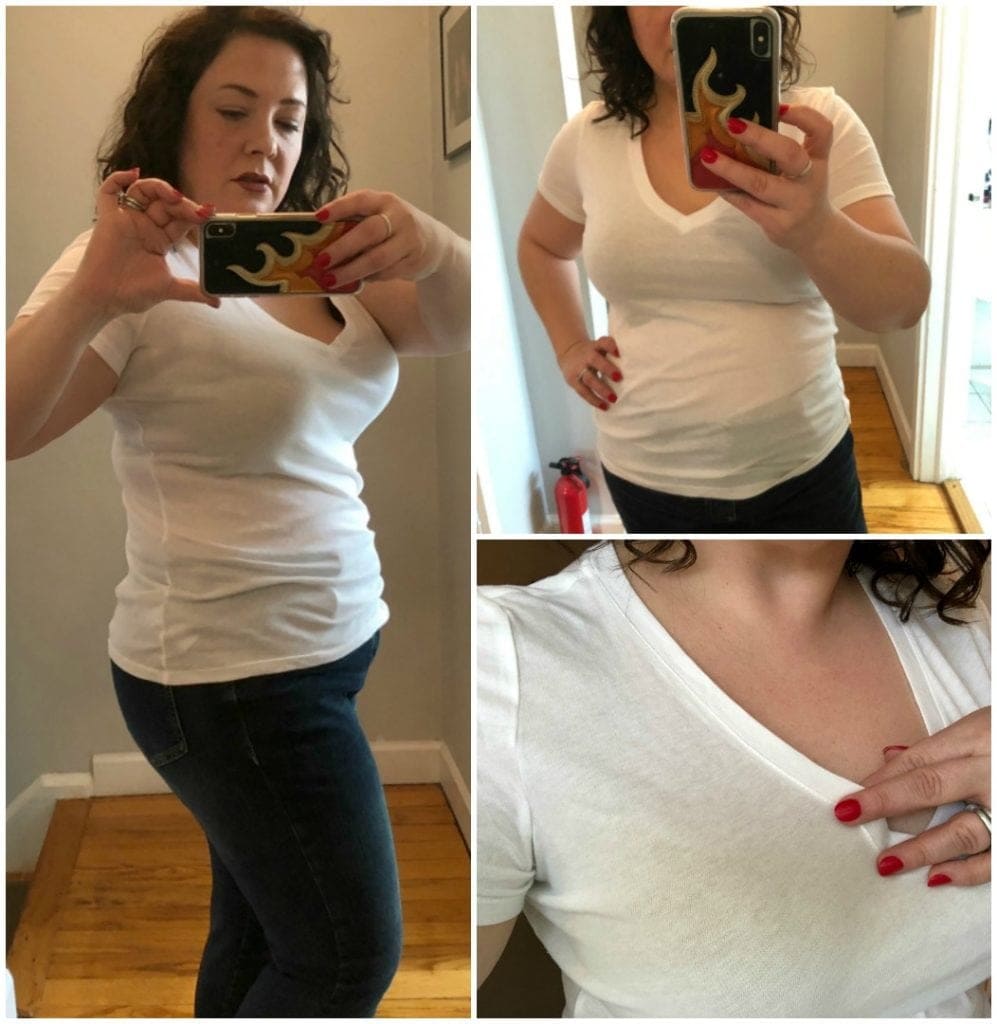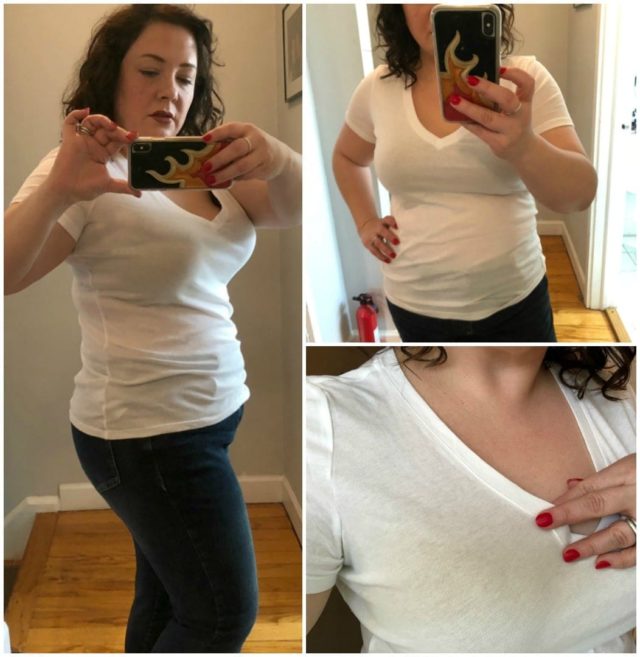 I took a risk going with a large considering I didn't know how it fit and am glad I did. These are fitted, perfect to wear under overalls and blazers and tucked into summer skirts. They're 100% cotton and super soft and tissue-weight which means the tendency to be sheer. I find the blue to be opaque, but the white is sheer enough that I'd wear only under something or tucked in (you can see the color of my skin but can't see any of my skin-colored t-shirt bra). I originally gave these shirts a positive review, but after putting the white shirt on again to show the Boden pants with the blazer I have to take it back. I tucked in the shirt and grabbed it to blouse it out and left dents all over the shirt. When I pulled the shirt out of the pants and took it off, the whole thing is crazy misshapen. I haven't washed it yet, but this doesn't seem like a durable shirt that will last. If you wish to baby the heck out of a v-neck, this could be fine as it's a flattering fit and I like the neckline. But even for $20 for a two-pack I think this isn't the best purchase. I wonder how the rest of the line is. Fail.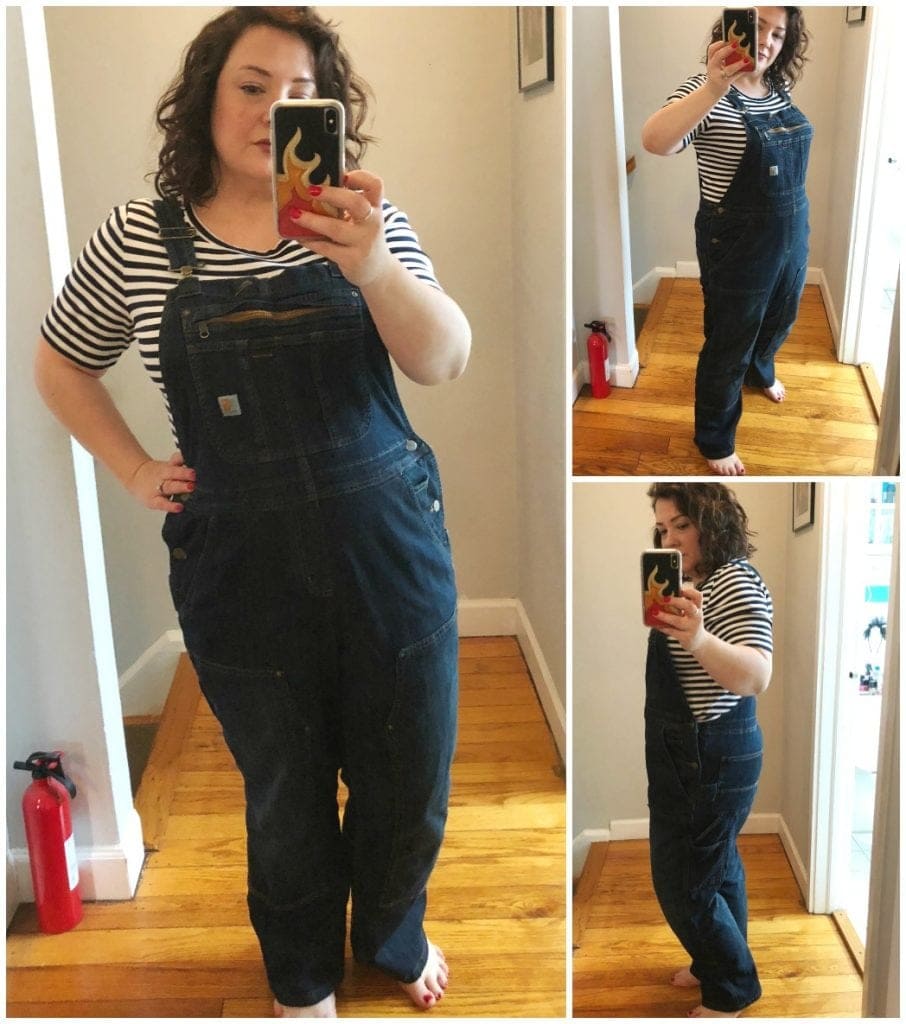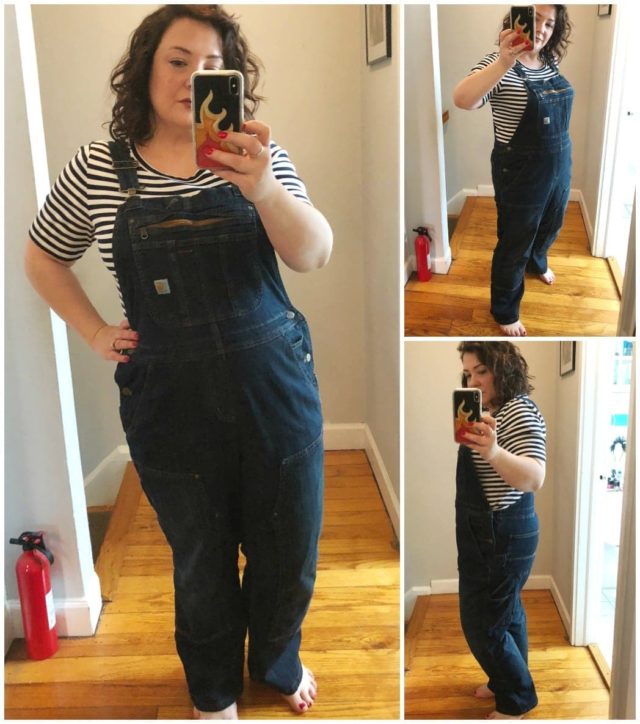 If you get my weekly newsletter you know I ordered these. I wear overalls a LOT now that I work from home. I wear my baggy beat-up faded ones with band tees when it's nice out and cableknit sweaters when it's not. My Universal Standard overalls are usually paired with a black cashmere crewneck. And then I saw someone on a street style blog in Carhartt overalls and I became obsessed. I justified the purchase because my baggy beat-up faded overalls are starting to get too big.
I like these. I like the dark wash, but that they're not heavy and stiff. I like that there's a zipper on the chest pocket so my iPhone won't fall on the floor when I use the bathroom. I like the reinforced knees and thighs which makes them look interesting and actually functional once I get over wearing overalls and use these for gardening. And I am thrilled to find overalls I don't have to cuff (though a think a single cuff with Birkenstocks this summer would be super cute). I've washed these twice and they look exactly the same (except that bit over the zipper folded up; I could iron it back but I don't really care very much). Hit!
Ellos
As I mentioned in this post, Ellos sent me some clothes for my giveaway blog post and none of them fit. I sent them all back and was smarter with my replacement order. FYI, all of these items were gifted by Ellos without any expectations to review or feature them on the blog or social media.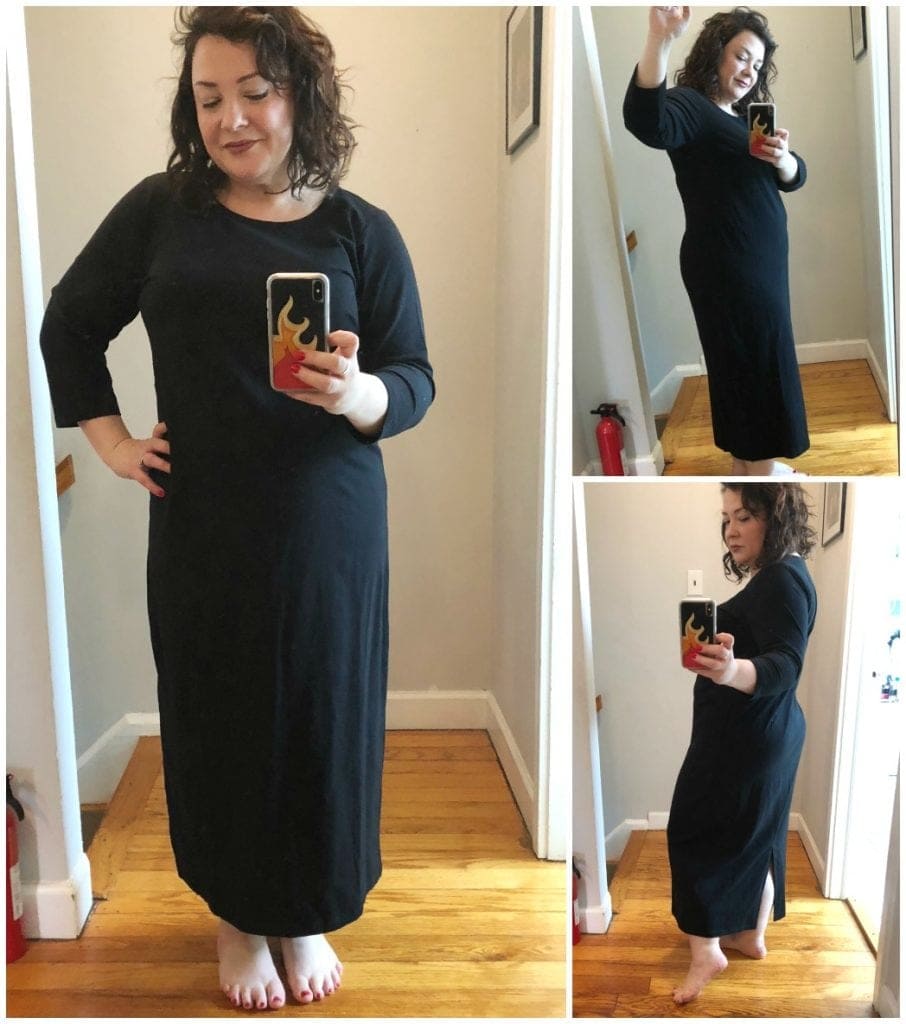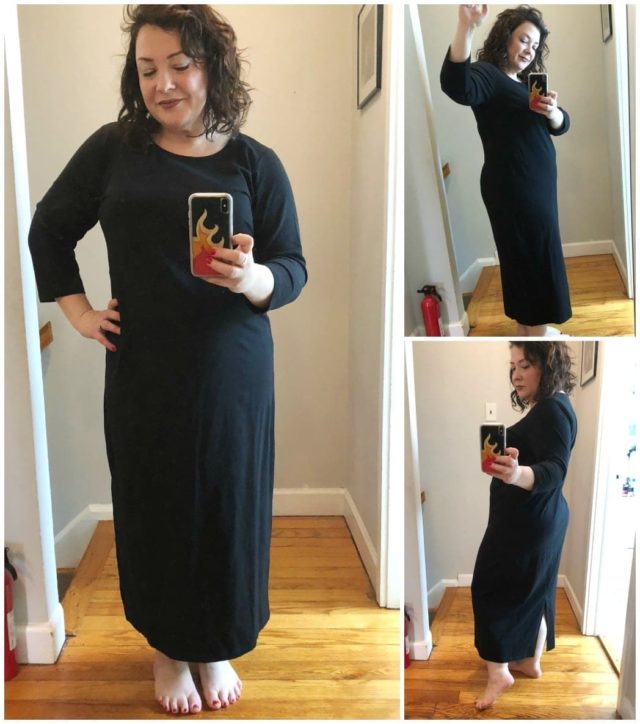 This is not the kind of thing I usually wear, but I've found since working from home it's the kind of thing I often wish I had. This is essentially a t-shirt dress but with a more flattering sleeve length. The knit is like many Ellos knits I already own – tightly woven, saturated color, smooth finish, nice stretch. The medium is perfect – not skin tight but not frumpy. I wore this out with knee-high heeled boots and a scarf, but can see me wearing it on weekends with a straw hat and some trendy sneakers. In fact I'm wearing it now as I type it, though I'm not terribly chic by pairing it with my slippers! But this is a nice basic at a nice price (just under $40).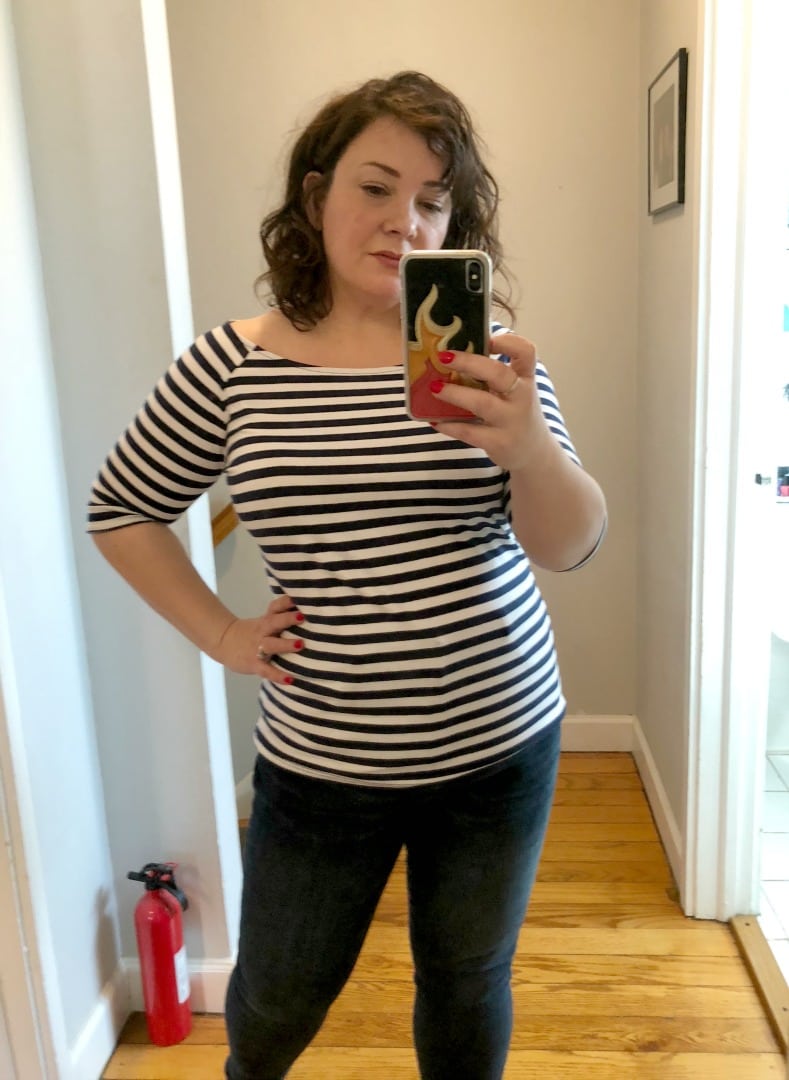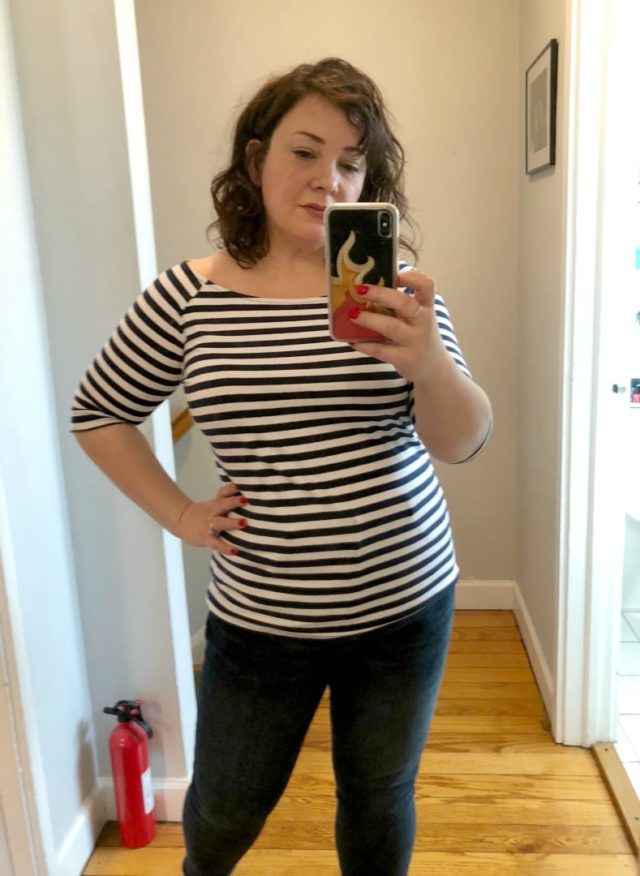 I have this shirt. I love this shirt. I wore this shirt in this post and I wore it to LA last year and so many places in between. It's been washed and dried and shoved in a beach bag with wet sandy towels and laundered with things like towels that dried off dogs and still looks great. But it's getting a bit big so I asked for the next size down. The next size down is much smaller which creates a completely different effect. Unlike the larger size which isn't really off the shoulder, this one is. But not too off the shoulder, you can easily tuck your bra straps under the neckline and they will stay in place. It's fitted, but not too tight. Similar to the J. Crew striped tee I kept. Hit!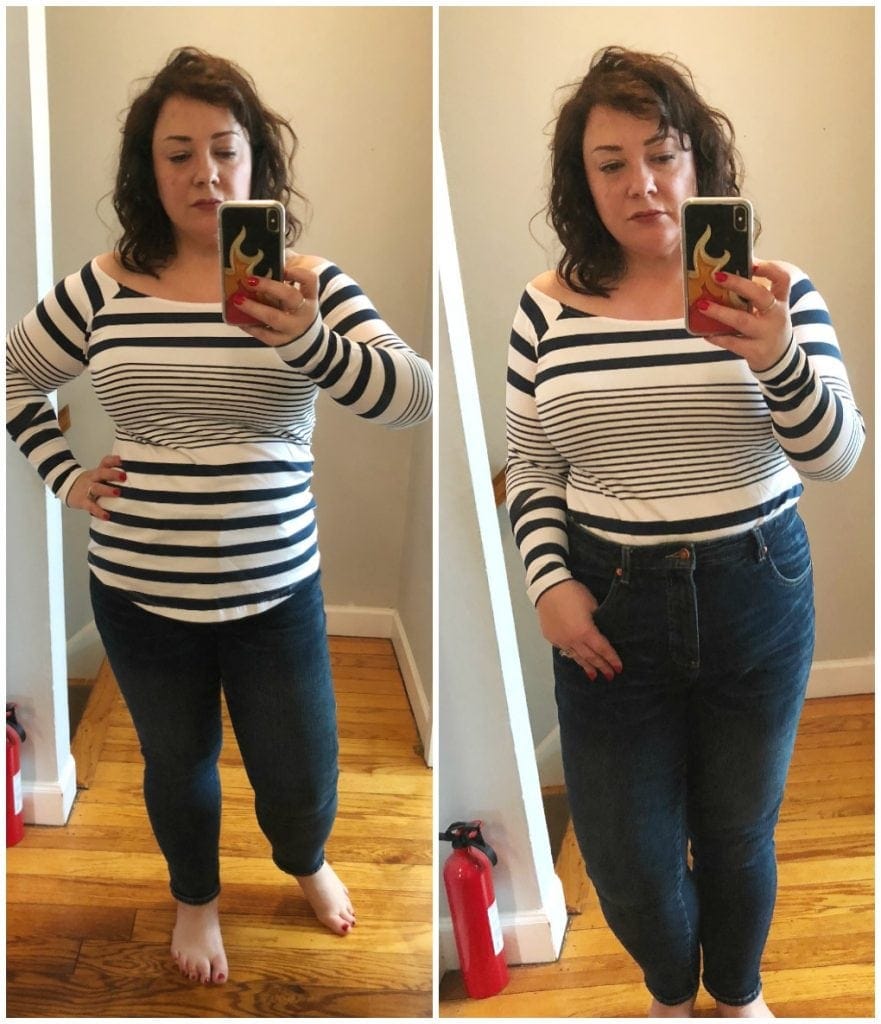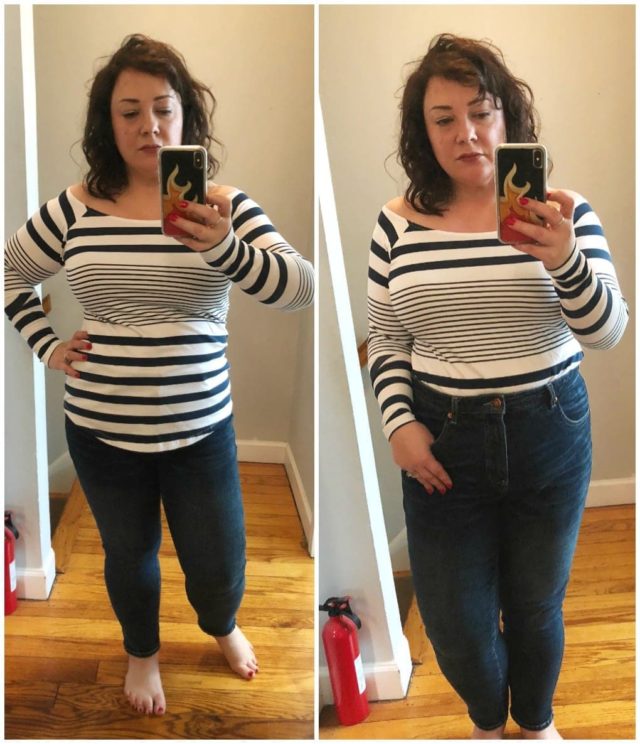 No, this isn't a duplicate, it's a completely different shirt on the Ellos site. This one has variegated stripes and long sleeves. It also has a scooped hemline. But like the other shirt, in a 10/12 this is the same amount of off the shoulder and the same amount of tightness. I don't love this shirt as much, the sleeves are long on me and untucked I think it looks a bit weird in side profile with the curved hemline. But I like it tucked in and wore it yesterday with the Carhartt overalls (I shared the look on my InstaStories on my Instagram). I may like this better with white jeans. So not 100% hit, but still a hit!
I come home from the gym, have enough time to brush Emerson's hair and teeth and then take her to school. Right now it's cold and I throw my long parka on over my leggings and sweaty t-shirt, but the temps will be rising soon. I wanted something that would cover like my parka but not be so heavy. I was also thinking this was good work from home fashion – pair with black leggings, a cute t-shirt and boots and I could leave the house without looking like I was in my pajamas. And it accomplishes exactly what I hoped. It's not as saturated black as the dress, but it's sweatshirt fabric so it wouldn't look the same and it doesn't look faded. I wore it this past Friday to yoga and afterwards to pick up take-out dinner and didn't feel like I was in gym clothes. I haven't washed it yet (it's in the laundry which explains the lack of photo), but so far it's a hit!