This article may contain affiliate links; if you click on a shopping link and make a purchase I may receive a commission. As an Amazon Associate, I earn from qualifying purchases.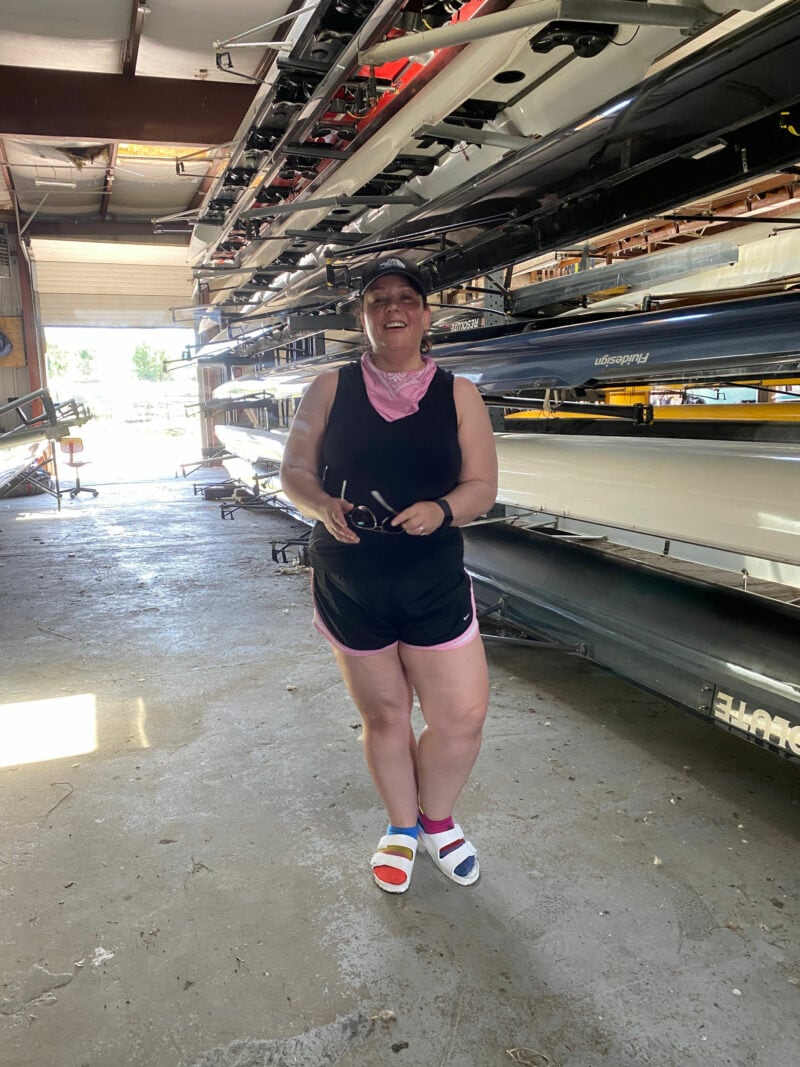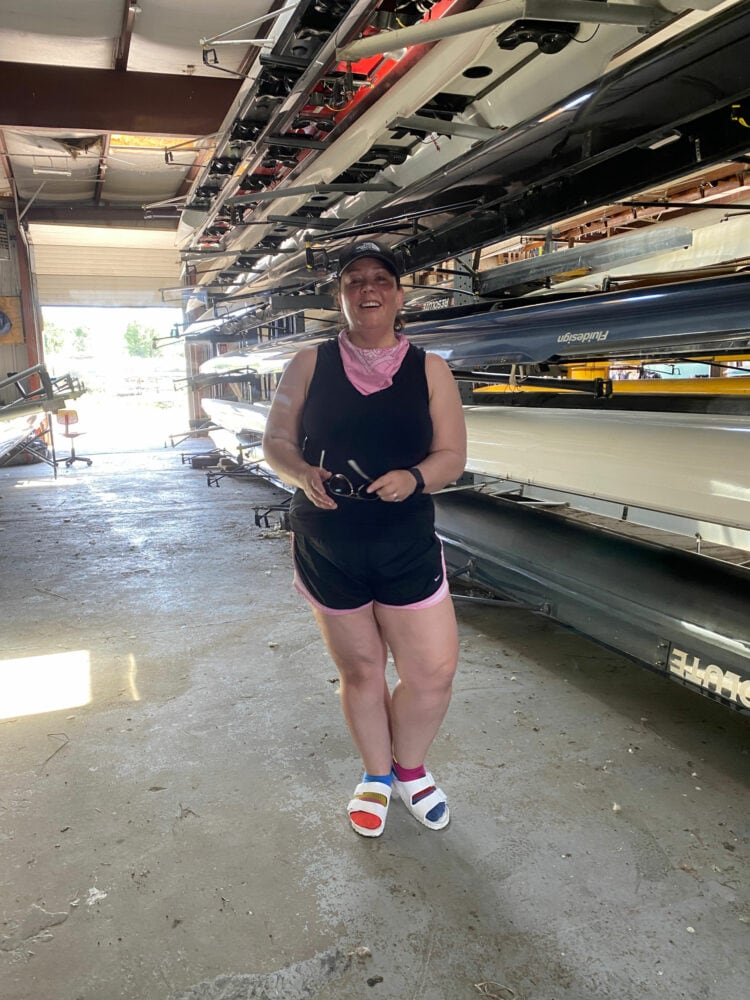 Before lockdown, I was going to a gym five mornings a week lifting weights. I did this for a little over two years, and it really showed me that it's never too late to start something new. As we get older, our bodies may not be as durable or flexible or capable, but a lot of that is not due to our age but our lifestyle. Starting weight training after being non-athletic and relatively sedentary for most of my adult life proved this. I gained flexibility, strength, muscle tone, but most of all a relationship with my body and self-pride.
When the world shut down, I stopped going to the gym but honestly, I was ready for a change. The gym changed my perspective along with my body, but I was looking for something different… a new challenge. I had ordered a Peloton bike just before lockdown and it arrived that first week at home. It worked out to be my perfect next challenge.
Over the past two years, I have had a few injuries (torn meniscus) and body issues (lower back pain that sent me to a chiropractor), and a lot of sadness, anger, despair, and frustration. I think many of you can relate to this. Just as there seemed to be hope on the horizon, something would happen in our country, the world, or our community that would knock us down again.
I've still been riding the Peloton a couple of times a week, I still do regular stretching, but I've lost a lot of the strength and flexibility I had as recently as last summer. That has added to my low feelings. And I remembered how low I felt when that gym slid into my Instagram DMs and invited me for a free session that launched a whole new lifestyle for me.
I realized I was ready for another challenge, and I couldn't wait for it to come to me. And like the gym, I could not use my current fitness status to hold me back.
Ready for my Next Challenge… Learning to Scull Class
I began a bucket list of things I have always wanted to do, regardless of cost or ability. Then I looked at the list and figured out which of those things I could realistically afford and fit on my schedule in the next few months. And the one thing that really stood out to me was rowing.
I have always been intrigued by rowing, and think if I had a different college experience, I would have joined the rowing team. I like kayaking and canoeing, but only do it a couple of times a year. But I see those boats gliding down the Potomac River and racing so elegantly in the Olympics and I always wanted to try it.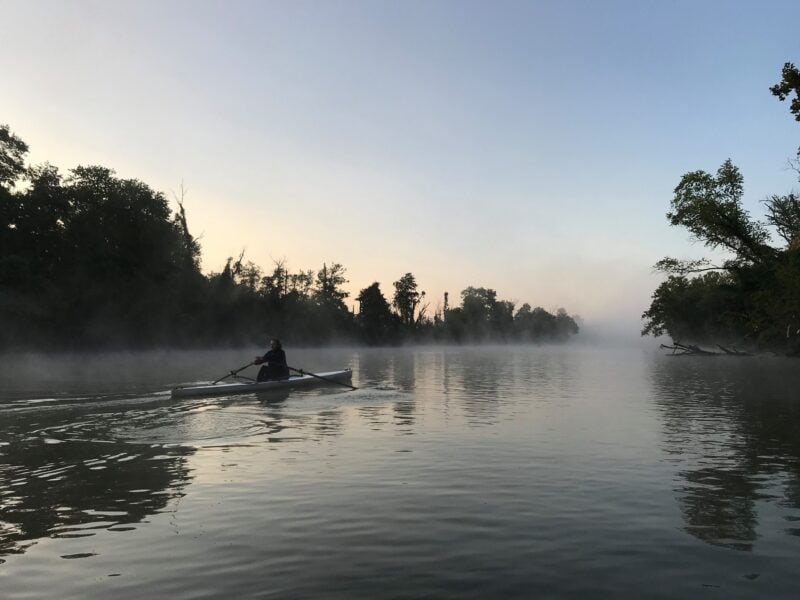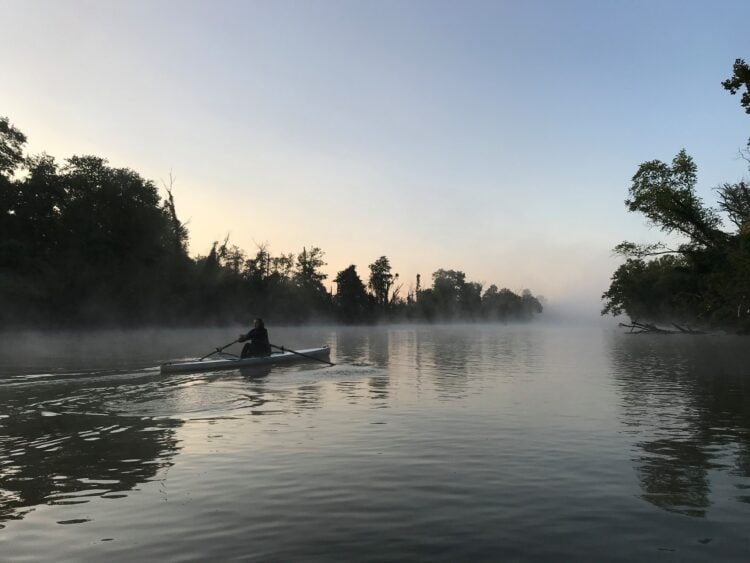 So I Googled learn to row classes near me and found a couple of different rowing schools and one was The Washington Rowing School at the Bladensburg Waterfront, which is ten minutes away from where I live in Maryland. The school offered a three-day intensive Learning to Scull class over Memorial Day weekend. I knew we weren't going anywhere that weekend, and I signed up so fast I couldn't psych myself out.
The first day of class, the weather could not be more perfect. It was 73 degrees, fluffy white clouds, and only a subtle breeze. There were nine of us in the class, we ranged in age from high school to I'm guessing mid-60s. There were bodies smaller than mine and larger than mine, firmer than mine and softer than mine.
Half the group has some sort of experience, whether it was taking a previous sweep class or being on the crew team in college several years ago. The other half of us had absolutely no experience but were excited to learn something new.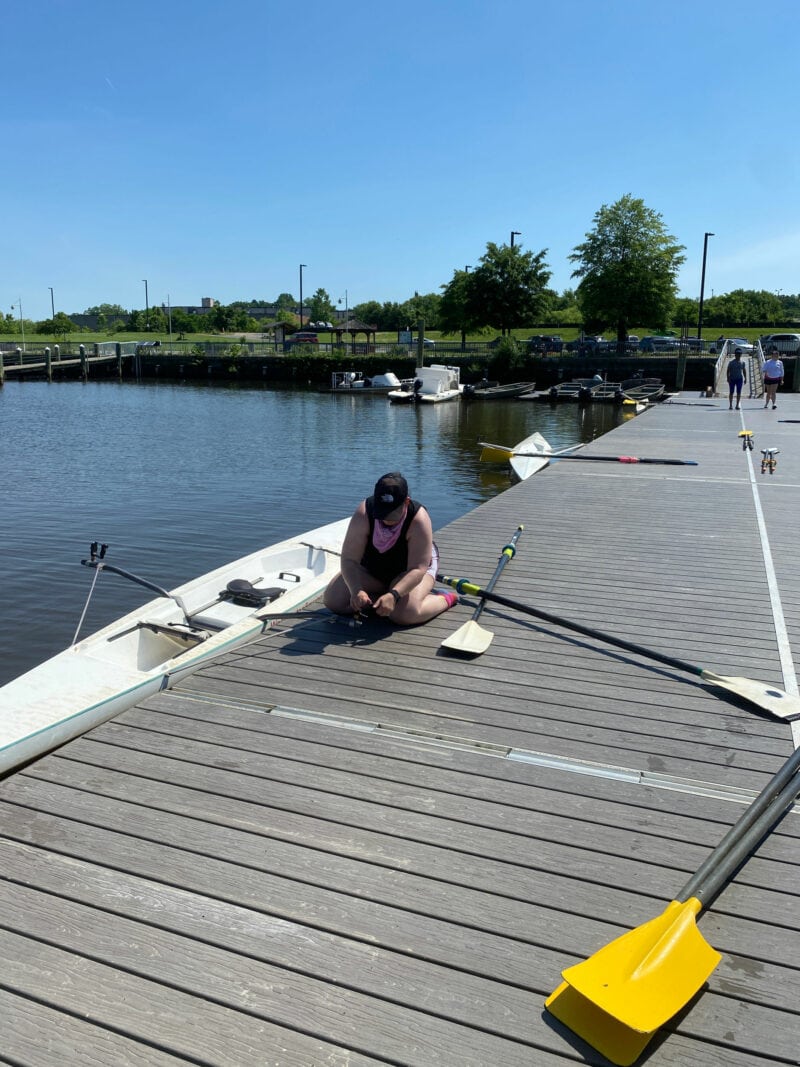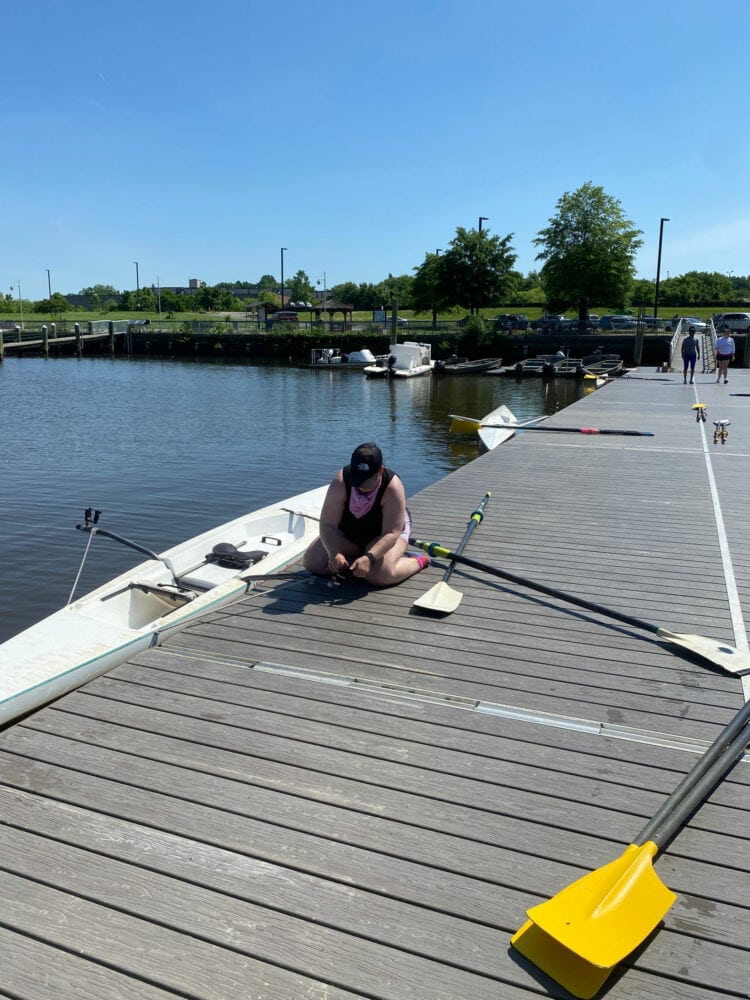 Scull boats come in three sizes; we each got a Zephyr, which is the widest option of the individual rowing boats, best for learning. We grabbed oars and carried them to the dock, then went back and in pairs, carried the boats down to the water.
There was the coach, but she also had a handful of assistants from the club. They showed us how to connect the oars, how to get in and out of the boats, and they also went out on the water with us to offer guidance and teach skills. While on the water, the coach pulled up next to me, adjusted the distance of my footrest and recommended I try shorter oars the following day.
The whole experience was fantastic – I felt secure, challenged, relaxed, inspired. We washed our boats and put everything away and I headed to my car with a spring in my step.
The second day, we immediately paired up and grabbed our gear from the boathouse. It was still a sunny day, but no clouds and about 10 degrees warmer. Now that we had basic skills, we could actually row a distance.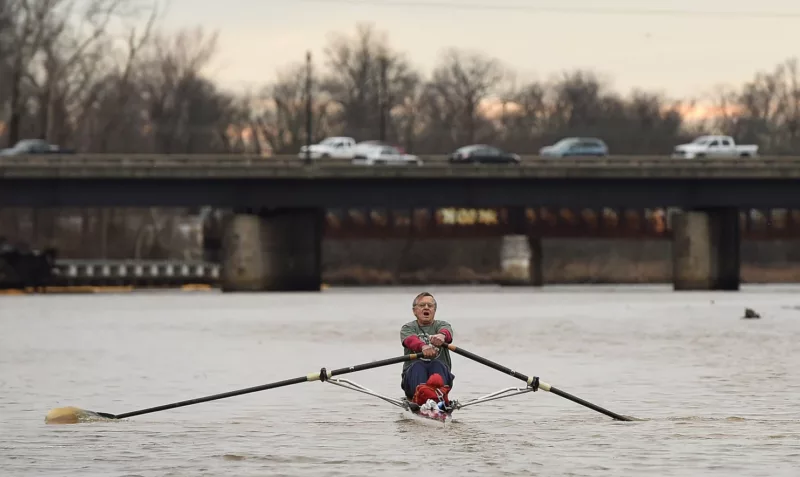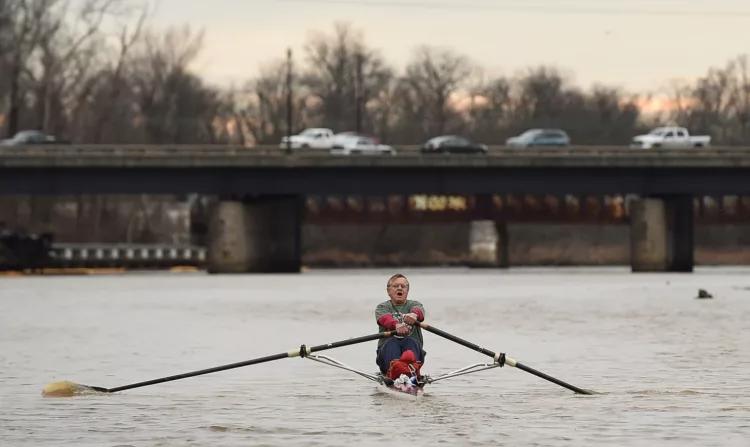 Four of us rowed from the waterfront to a pair of bridges a mile away. The first bridge was part of New York Avenue, right where it connects Maryland and DC. It's a road I have ridden and driven on hundreds of times and remember looking down as a passenger and seeing scullers just like me rowing merrily along. Inside the channels of the bridge, crew teams from local colleges and high schools left graffiti and it felt like I was part of some secret club to see it.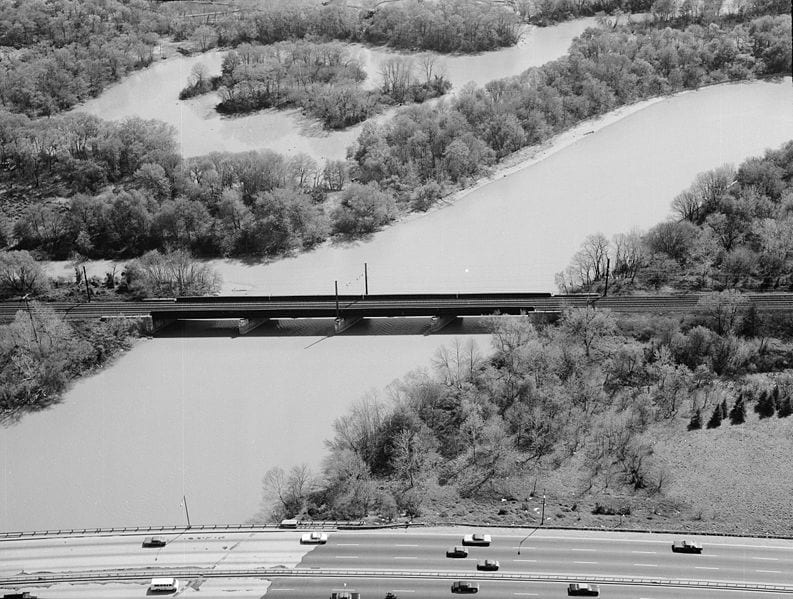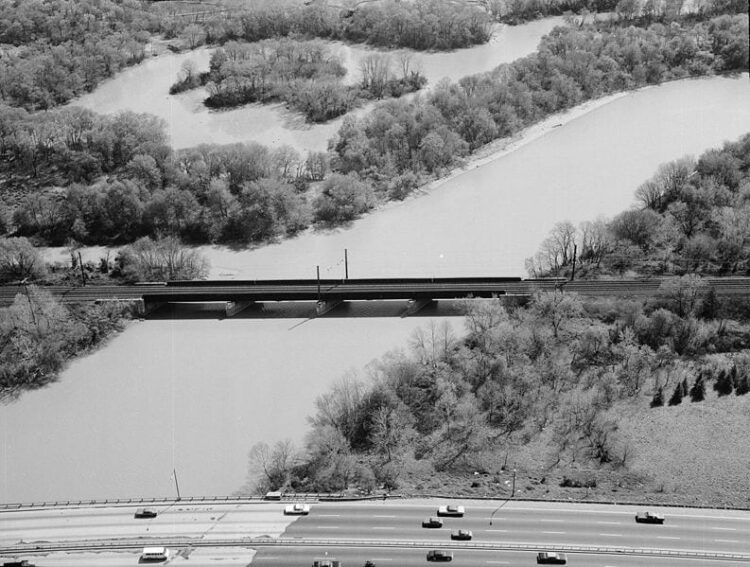 The second bridge was for the Amtrak train, which luckily wasn't racing by at that time because the noise from the auto traffic under the first bridge was already quite unnerving.
I went through the two bridges fine, turned around, and went through them on the other side. I got a little flustered under one bridge; I was in the last channel and got a little too close to the bridge piers and had to stop and do the scull equivalent of a three-point turn to get out.
But that was okay, it was part of the challenge, I made it. And while I was the last one back to the dock, I was only one of four of us who rowed out that far. I felt proud. The coach told us at the end of the class to be certified, the following day we had to go around the bridges I had already accomplished.
The third and final day was even warmer by ten more degrees, and it was slightly hazy. I was running a bit late (okay, late for me is on time but with a class, I like to be early to get settled before it starts). The waterfront was packed and I had to circle the lot and finally found a parking space far from the dock, which made me feel flustered and behind schedule, even though I was on time.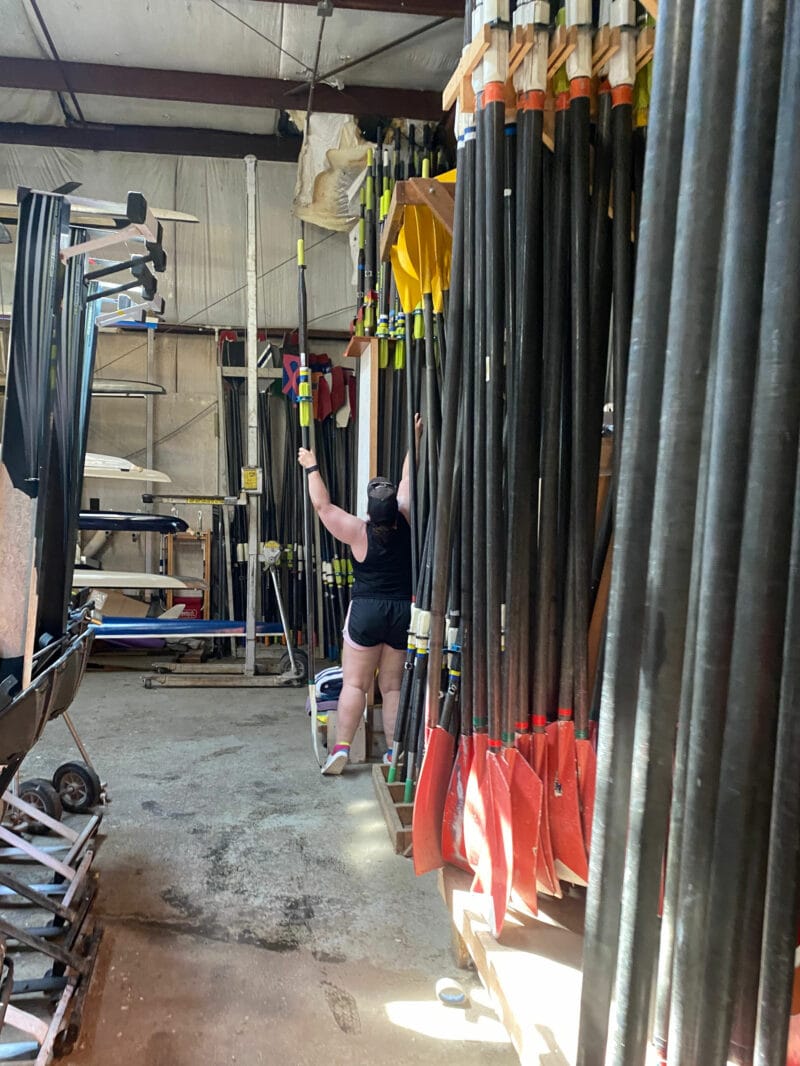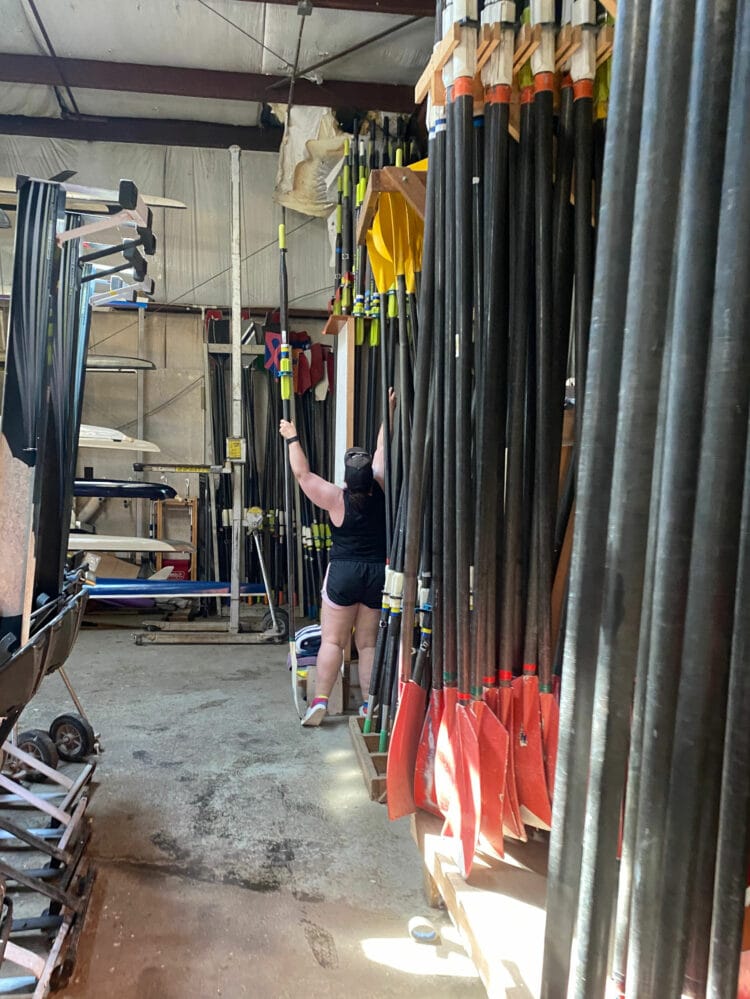 The person I paired up with the day prior, she and I were similar in ability and appeared to be within a decade of the same age. She also had on an Athleta tank I also owned so I decided she would be my class buddy. We paired up again and went to get our oars.
The coach asked if we were ready to step up from the Pienert Zephyrs to the Maas boats, which were a bit more narrow. I was tempted, but already off from the morning, I decided to stay with the Zephyr. My buddy went with the Maas.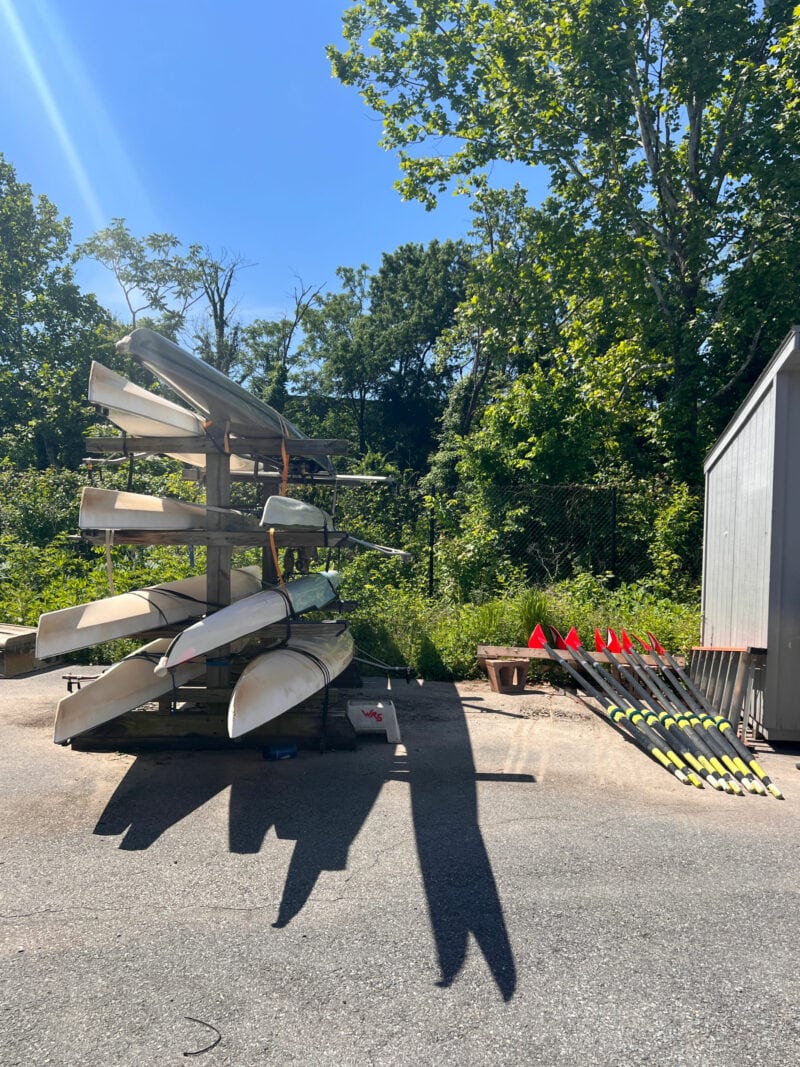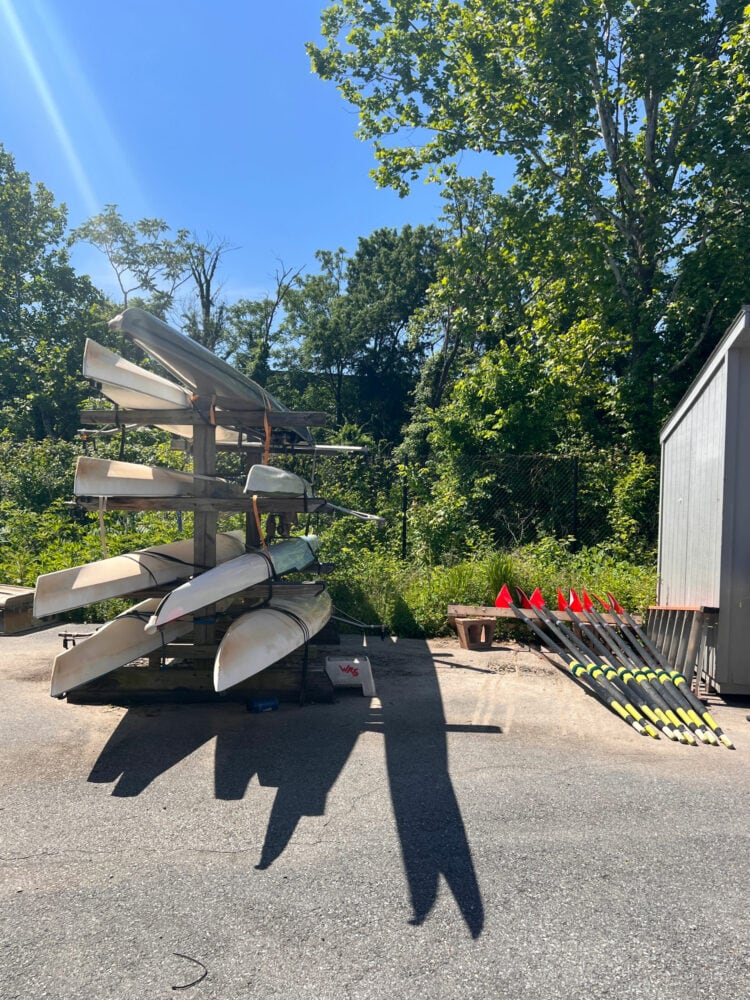 Even though technically I didn't have to row all the way to the bridges again, I had decided the day prior I was going to. A second opportunity meant a chance to improve. I was the second person in my class who left the dock that morning and my plan was to head straight for the bridges, get through, and then have a more leisurely row back.
And I powered through and got to the bridges in pretty good time. Already at the point of trying to angle myself just so to get through the right channel, one of the assistants called out and asked me to stop and return. I came back to where she was, and where she had gathered two other students and taught us some skills to get out of hairy situations.
While she was teaching these skills, I didn't realize I was slowly backing into the shore, surrounded by tree trunks sticking up in the water, branches from the shore hanging down like a curtain. The other students in our group headed to the bridge and I saw other classmates also catch up and head to the bridge, while it took me a while to use those skills I just learned to get out of that mess on the shore.
It was a physical and mental effort, sweat dripping down my face, sweat making my hands slip on the oars, sweat fogging up my sunglasses, my classmates already finished and rowing back to the dock. But dammit, I was going to go through those bridges again.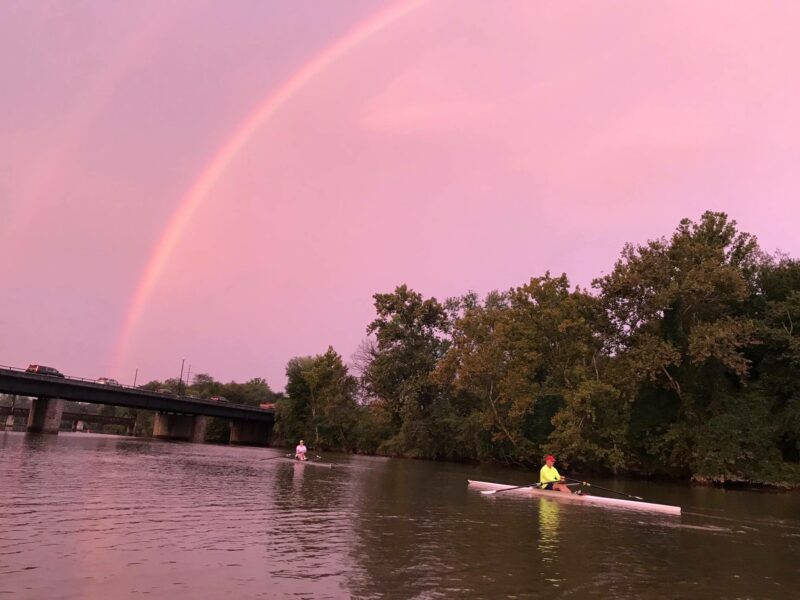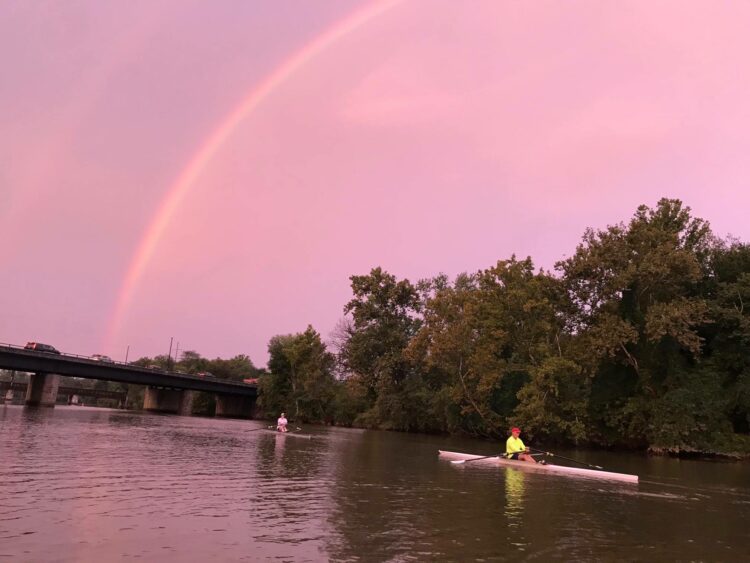 Rowing is a mental sport, and if you're not in the right mindset, it's hard to get your hands and legs and everything in sync. And on top of it, you're going backwards and just like any sport, wherever you look is usually where you end up heading.
I headed into a wall, righted myself, got through both bridges, struggled to turn around even though I had become comfortable with that maneuver, and almost headed into a wall on the way back. An assistant was with me the whole time, not telling me what to do but there to make sure I didn't crash. And we finally got back to the dock.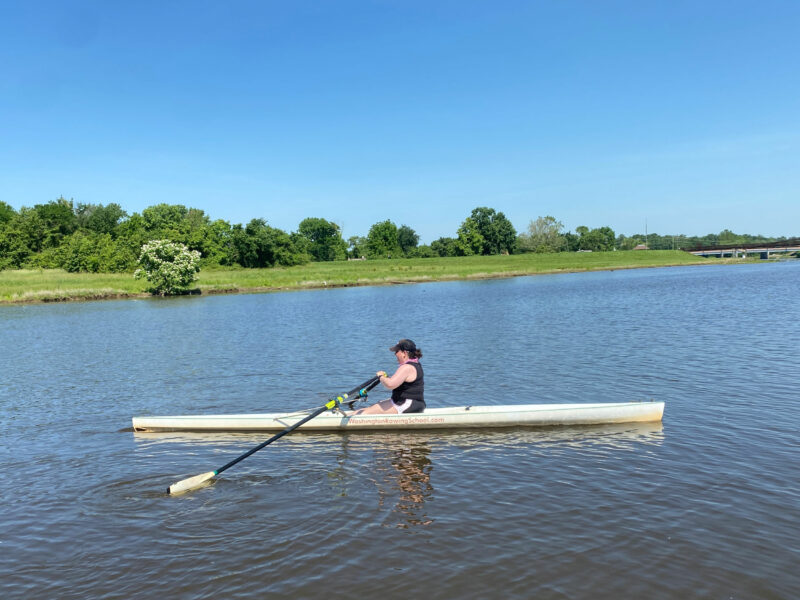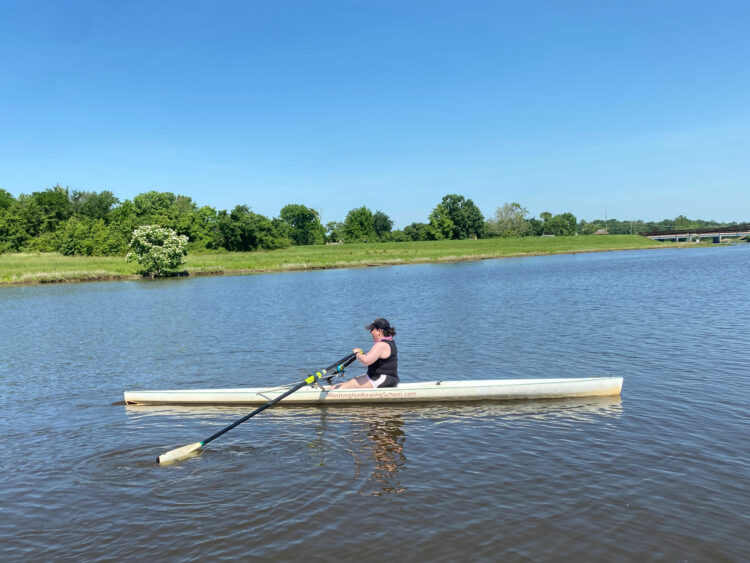 I'm a strong rower (when going straight!), and even with all this I got back not long after other students. And on the dock was my husband taking photos with his phone. I was sweaty and maybe cried a bit behind my sunglasses, but I made it and I felt just as exhilarated as I did on that serene first day of class.
I'm so glad I took on this challenge, and I hope the experience buoys me for a long while. I don't know if I want to continue with sculling. I inspired my husband to take the same class and then we can go out together, or maybe sweep together.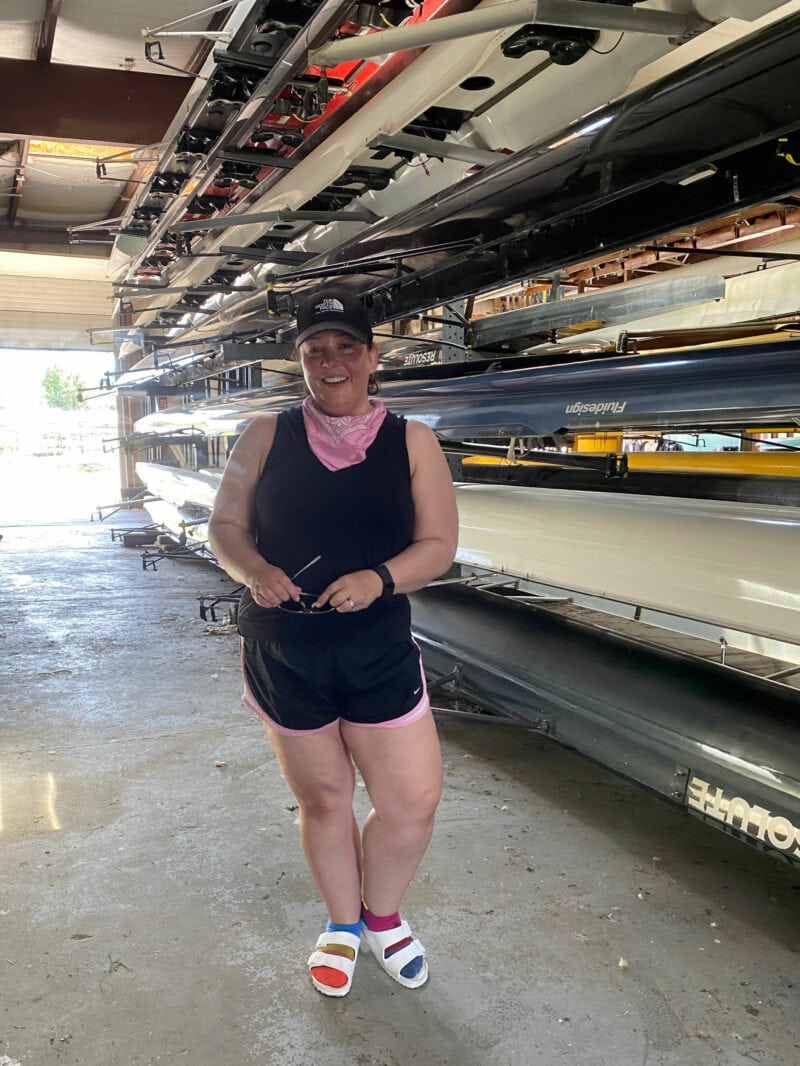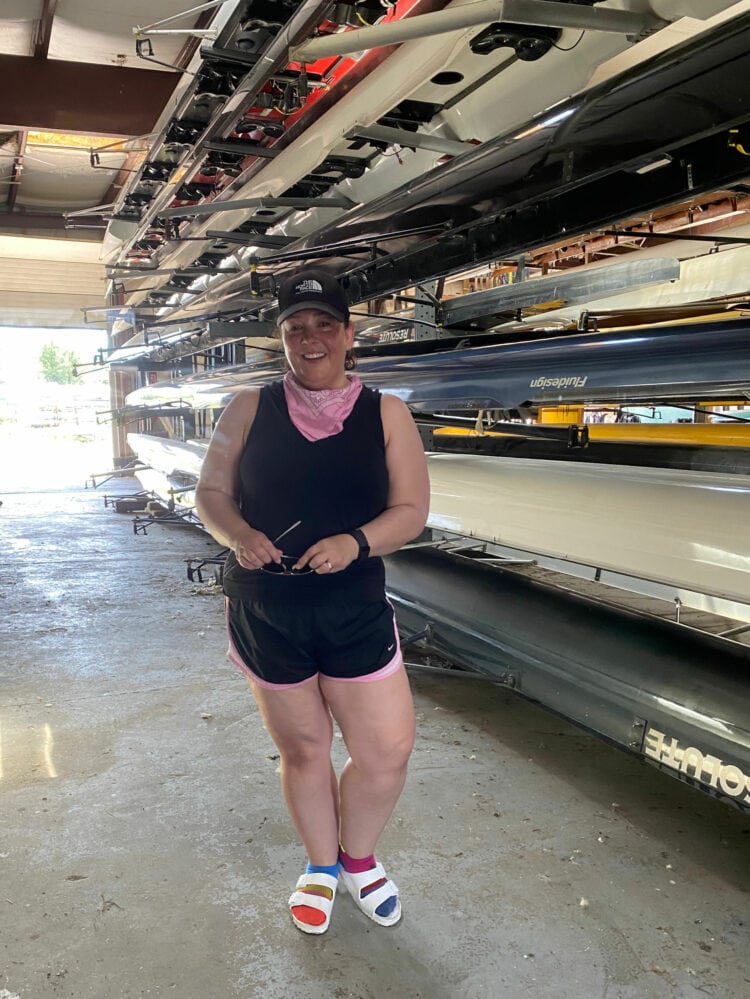 I look forward to my next step. I think I'll take a sweep class or learning session to experience the difference, and I'll go out again in a one-person boat with Karl in one nearby. I'm not going to let this be a one-time thing I tell people I did one time ago. And this is the continuation of many challenges I will choose to face, as challenges help us grow and get to better understand ourselves.
Because even if we are grown-ass women, we're not finished growing. We know a hell of a lot, but we have a hell of a lot more to learn.