This article may contain affiliate links; if you click on a shopping link and make a purchase I may receive a commission. As an Amazon Associate, I earn from qualifying purchases. 
About a month ago, my daughter screamed from her bedroom. There was a bug! Get it out! I ran in with an envelope (a great way to catch spiders and other bugs to safely get them outside) and a rolled-up issue of Rolling Stone (in case it wasn't the kind I could or would want to get out of the house in an envelope), ran in, squatted down, and my left knee went pop.
It was a ladybug, in case you were wondering. A freaking ladybug.
Thanks to telehealth, from my living room couch I found I likely tore my meniscus, which had already been diagnosed by over 50 individuals that follow me on Instagram when I shared my knee pain on Stories. And because they told me that before my scheduled call and thanks to the power of Google, I was already researching how to heal a torn meniscus.
And you bet I googled, "Peloton and torn meniscus." Because this cardio-hating gal who has never run in her entire life and hasn't properly ridden a bike since before she had her almost 12-year-old daughter, she loves her Peloton cycle.
We got our Peloton in March, right at the beginning of the 'demic. I ordered the bike when things seemed a bit off; I took my poll worker training the day prior and we sat next to one another gathered in pairs to share a sample machine, but each armed with a bottle of hand sanitizer believing that would solve anything. It arrived on the last day that our kid had school.
I didn't know if I would like it, but I hoped it would entertain me until I could go back to the gym. Ten months later I can't imagine life without it.
How the Peloton Has Helped me Physically and Mentally
I found my strength through weight lifting, which I started at the end of 2017, and with it, I came to respect my body for the first time in my post-puberty life. But the Peloton actually made me finally have a relationship with it. I began really listening and working on this relationship, it strengthened me physically and helped my all-over wellbeing.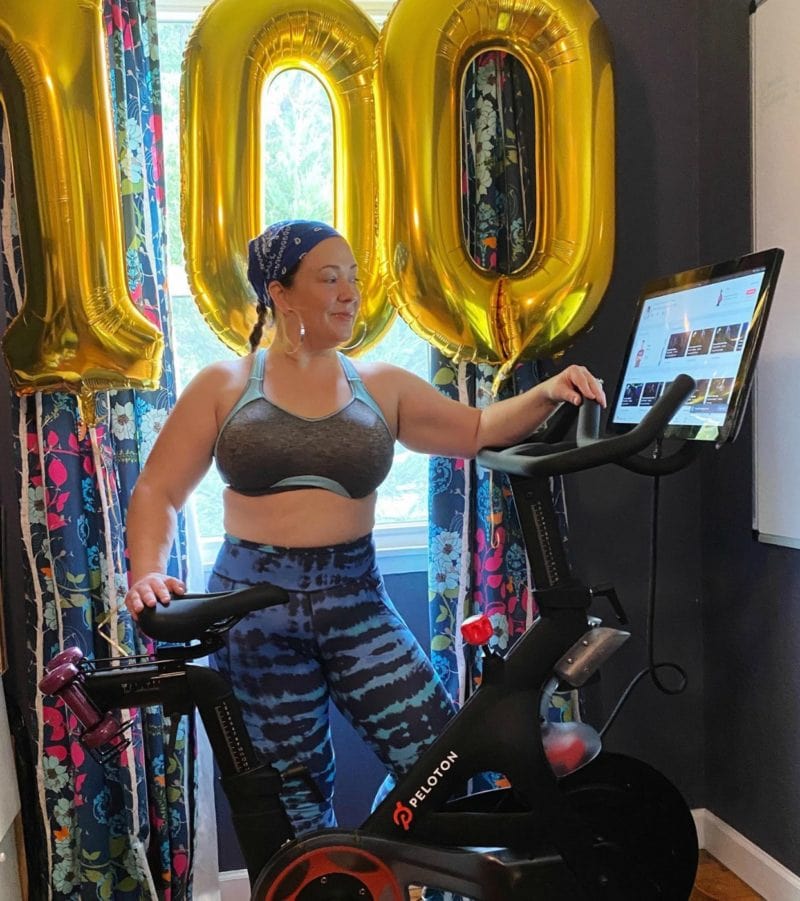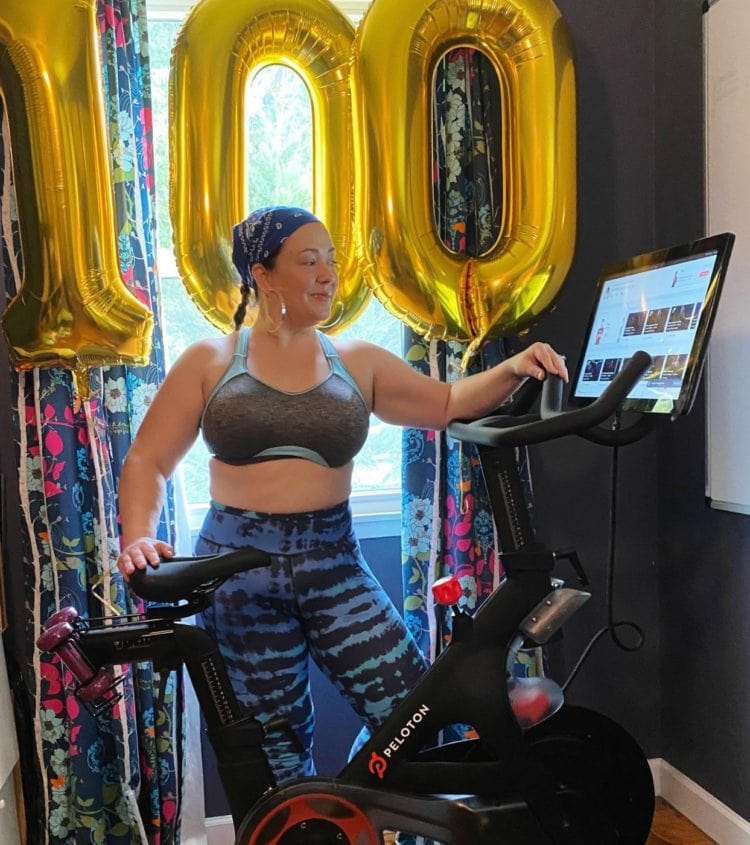 But the Peloton also strengthened me mentally. This year I took meditation classes, downloaded apps, listened to playlists, consumed supplements, tried talk therapy, and nothing improved my sleep, my back pain, my anxiety, and my patience like the Peloton.
With the Peloton, I was forced to spend the length of the ride/s focusing on me and just me. I wasn't available to my family, they weren't touching me or asking me questions, and learned early on to not interrupt a ride. When stuck within four walls with a family, my Peloton gave me a sense of freedom and peace.
And now I squatted to save a ladybug and pop went my ability to ride the thing that was keeping me from falling apart these past several months.
R.I.C.E. was prescribed. And no Peloton for at least two weeks. At two weeks I did a 20-minute recovery ride and felt good. I didn't watch the leaderboard, hid my metrics so I didn't try to push myself, I just moved and enjoyed it. So I did a 10-minute cool-down ride, and then a 5-minute ride after that. All was well, so I figured with my next time on the bike, I could do a 45-minute low impact ride. 30 minutes into the ride I felt a sharp pain in my bum knee.
I left the saddle sobbing and didn't get back on the bike for almost two weeks. I also didn't do any other kind of workout during that time including meditation. I felt so defeated.
My current Peloton Classes with a Torn Meniscus
I'm back to riding, but it's max every other day. I need a day in between to let my knee be elevated and iced and at rest. I like doing a 10-minute ride, then a 10-minute arm, and then end with a 10-minute cool-down. I have occasionally done a 15-minute ride, still with the leaderboard and metrics hidden, and it's okay but I know not to push myself farther.
I focus on low-impact and recovery rides on Peloton. There is a great variety, especially at the 10-minute length. I learned that the only real difference between a "regular" ride and a low-impact one is whether the instructor asks you to get out of the saddle. I have done some "regular" classes and just stay in the saddle for the duration.
Working out with a Torn Meniscus
It has been about five weeks since I tore my meniscus. The knee still twinges, it sometimes aches, and almost always I am aware of it. It makes me hesitant to work out.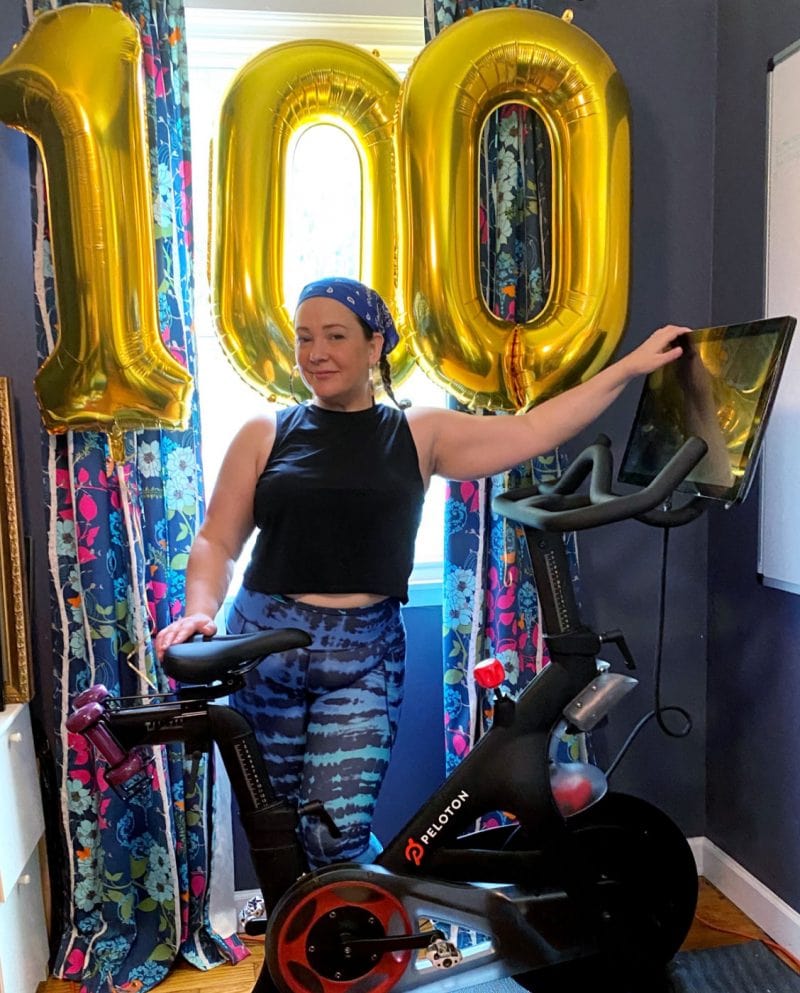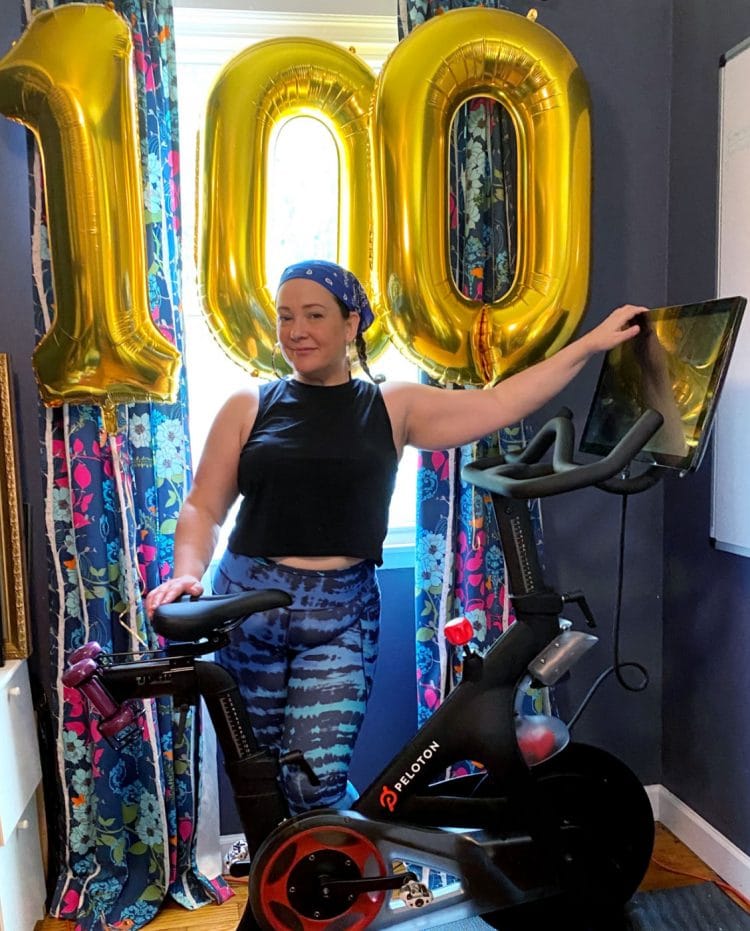 Before I tore my meniscus, I did a lot of the stretching classes on the Peloton app and they helped me tremendously. I'd sleep better, I'd recover from rides better, I had fewer twinges in my back and saw my posture even improved. I haven't done a stretch class since my knee because I'm afraid to angle my knee weirdly. I stretch on my own, but I know I'm not as dedicated without a class.
I have gotten back to focusing on my core, for that can be done without using knees. Before the 'demic, I had built a very strong core with my personal trainer and was really proud of it. Since riding the Peloton, I focused less on it and my strength workouts ended up being just a couple times and more focusing on arms, back, and shoulders.
Working on my core makes me feel less upset about this experience. I know with time and care my knee will get better and I will be able to ride harder and longer. I know I am especially upset because I am home-bound and already miss so many other aspects of everyday life. Being able to work my core at least makes me feel I am connecting with a pre-demic part of myself.
Torn Meniscus and the Peloton: My Current Care Routine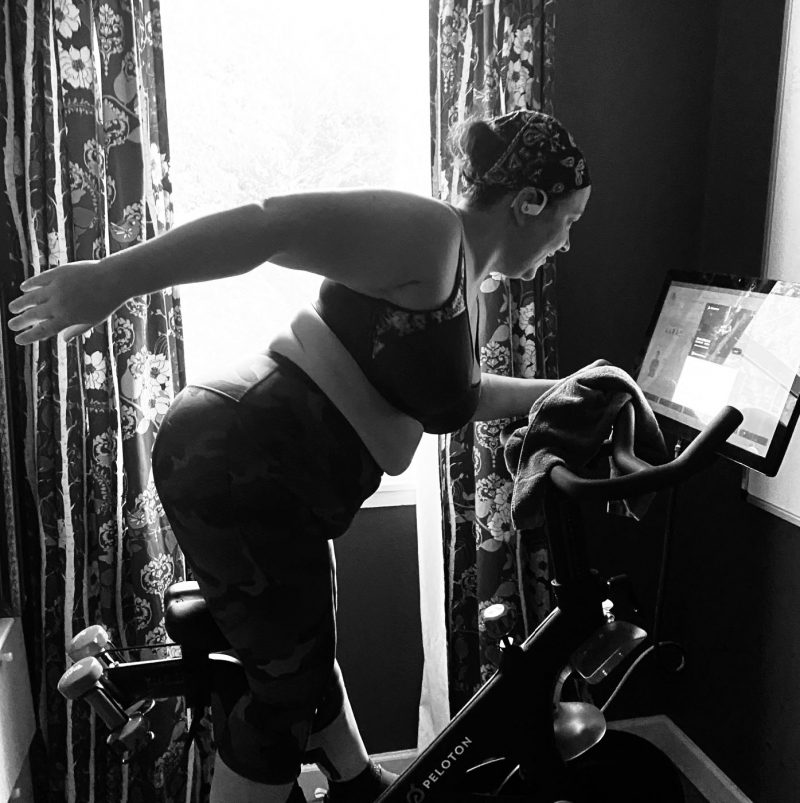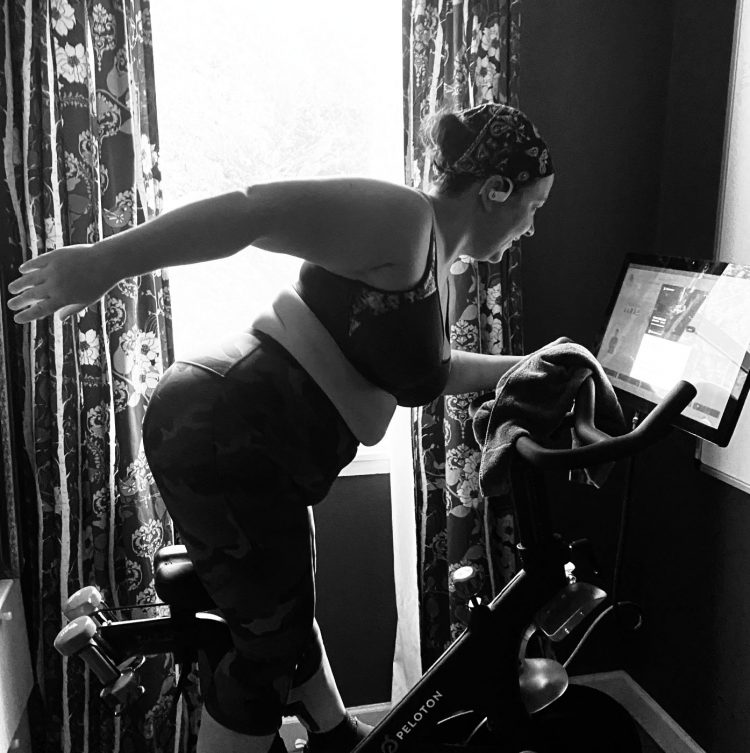 I try to ride every other day. I go to Classes on the Peloton screen, then choose low-impact, and then filter by length. The combination of a 10-minute ride, 10-minute arm, and then 10-minute ride seems to be perfect since I get a chance between the rides to let my knee rest while still working out.
I double-tap the screen so everything disappears – the leaderboard, as well as cadence and resistance. I regularly do these rides with my eyes closed so I don't get into competitive mode and push myself too far.
I use Equilibria Relief Cream on my knee just before a ride, after a ride, and just before bed. It helps with inflammation, and there is a noticeable difference after applying it.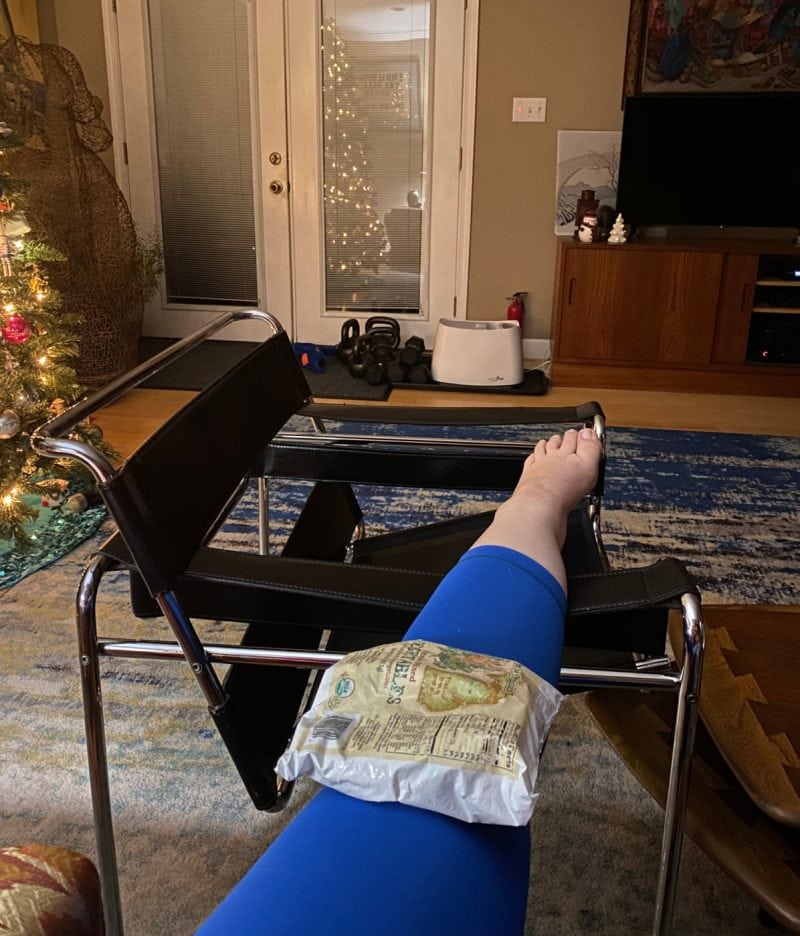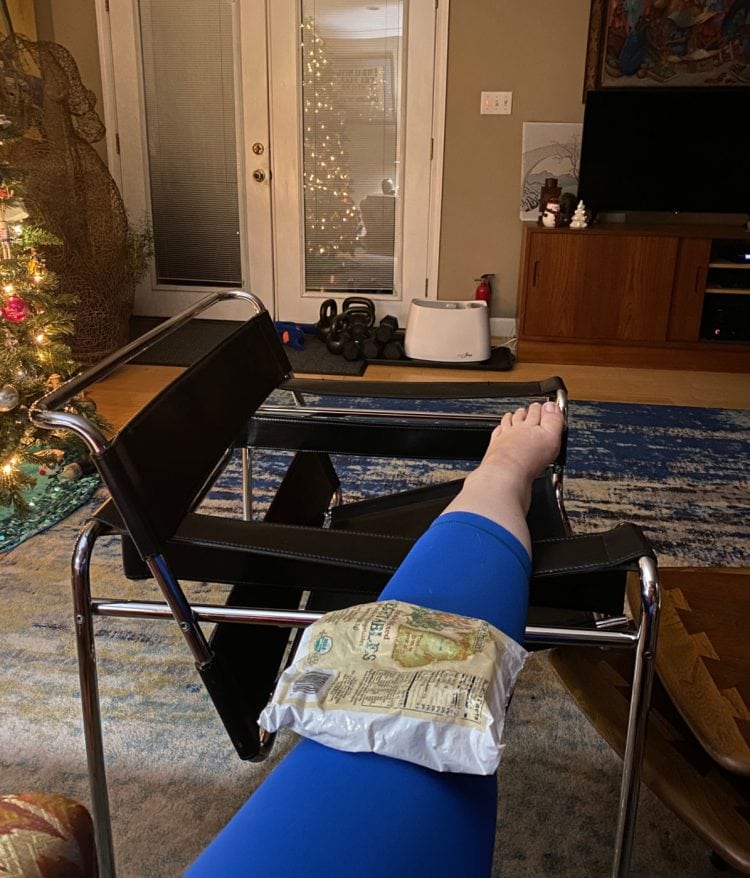 After dinner, my family and I watch TV for a bit; during that time I elevate my leg and ice my knee. I use the same bag of frozen veggies each time.
When I work, I switch up my location. When I am sitting in an armchair or at the couch, I use the coffee table and some books or else an ottoman and a shoe box to elevate my leg while I type.
At the end of the day I also perform a variety of exercises meant to strengthen the knee. My doctor said these were fine to do if I was also comfortable enough to do short rides.
I haven't done any form of compression. Braces can force the leg to be straight or bent too long; he said if I really want some sort of stability or compression to use KT tape. I felt the pain right down the center of my knee; my doctor said just to not do any activities that would twist or hyper-flex my knee. I don't even sit cross-legged when meditating because it puts pressure on the knee.
Did you also Google Peloton and Torn Meniscus?
If you are here because you also Googled Peloton and torn meniscus, don't use Google as your doctor. Contact your doctor. If you don't feel comfortable going to the doctor's office, this is an issue where it might be able to be diagnosed by your GP via telehealth. At least do that first, and then your doctor can tell you if it's necessary to visit an orthopedic surgeon, or will give you a schedule of how long you should R.I.C.E. before visiting a specialist.
A doctor will move your knee to feel for clicking, heat, and other indicators of a torn meniscus. Depending on the results, your doctor may prescribe an MRI.
Exercises to Heal a Torn Meniscus
There are exercises that you can do that will strengthen your legs and around the knee to help heal a torn meniscus. My doctor sent me a print-out and it seems to be the same one that many of your doctors gave you or your loved ones when dealing with a torn meniscus.
This article on Healthline has the same exact exercises for a torn meniscus and their website is desktop and mobile-friendly. I have found it easiest to just bookmark this for reference than have a paper document.
I know that this setback is hitting me harder because it's 2020 and this year sucks. I think we've all found those things that help us get through the tough parts of this year, and my Peloton has been the biggest one for me. I'm not stressed about losing muscle or not hitting metrics, I just miss the ritual of riding the Peloton.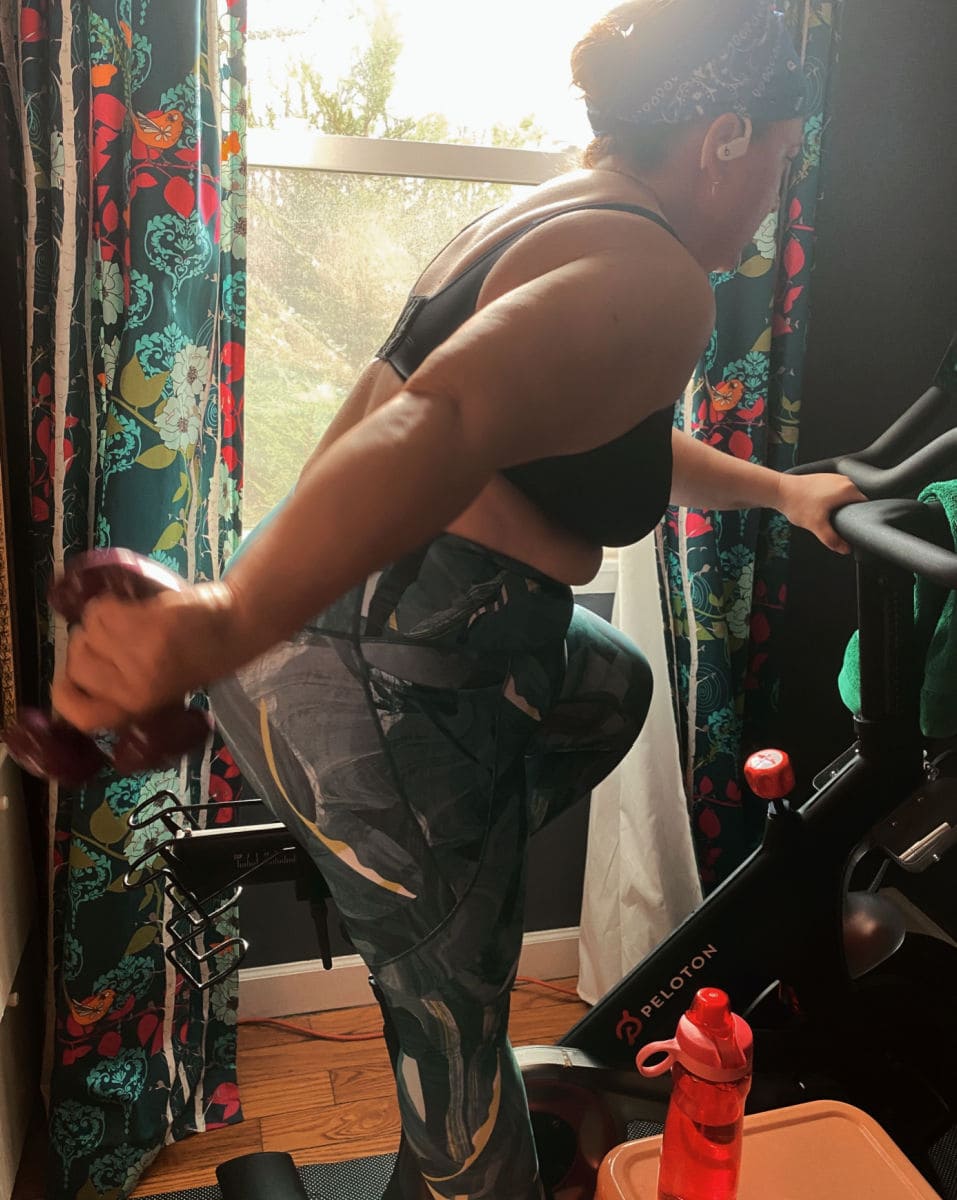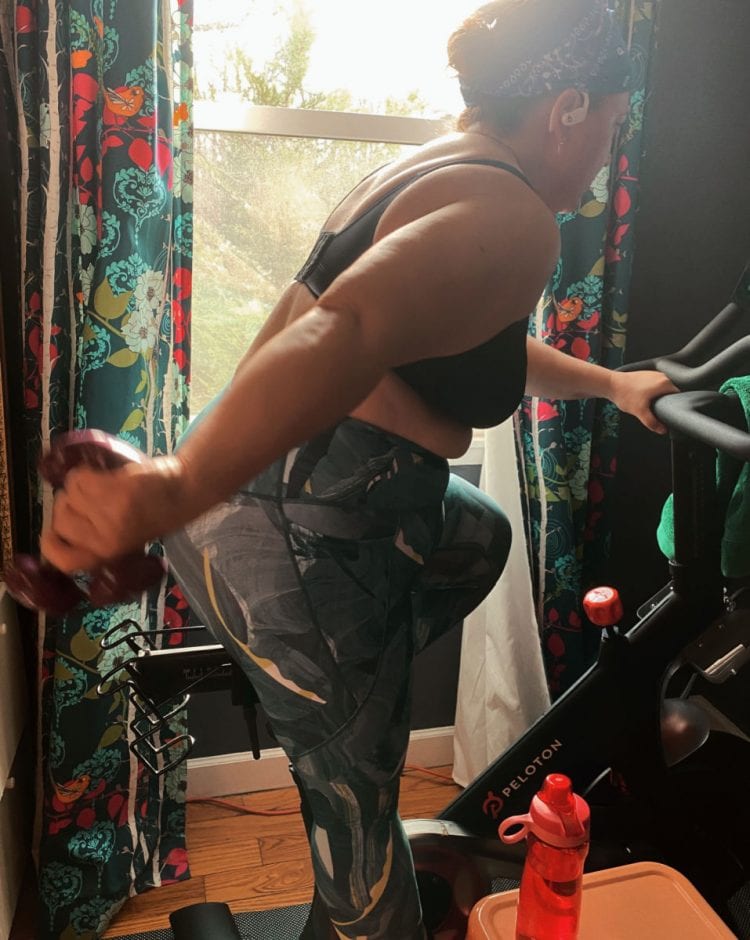 I learned to ride in the morning before my daughter has school, since she does distance learning in the same room as the Peloton. If I can get in 30 minutes each morning not worrying about output, I feel set for the day. I'd often do a strength workout at my lunch hour, and depending on how stressful the day or week, would do another ride in the evening or block out a whole hour on the bike on the weekend.
This is from someone who never liked working out. Who did go to the gym every morning, but knew it would be only 30 minutes and just strength training/weights. I've tried treadmills and ellipticals, morning walks, on-demand and in-person classes, and other forms of cardio and hated them all. But there's something about the Peloton that works for me. I look forward to when I am back to my routine!