This article may contain affiliate links; if you click on a shopping link and make a purchase I may receive a commission. As an Amazon Associate, I earn from qualifying purchases. 
Recently BlogHer asked some bloggers about our beauty shortcuts – It's the end of your day and you're rushing to get ready for an evening out. How do you create a nighttime look in just a few minutes? This is something I deal with often as a full-time working mother as well as a fashion blogger – I often run from an 8-11 hour work day to an evening blogging event or date with my husband. I have learned ways to make a day look quickly and easily transition to evening.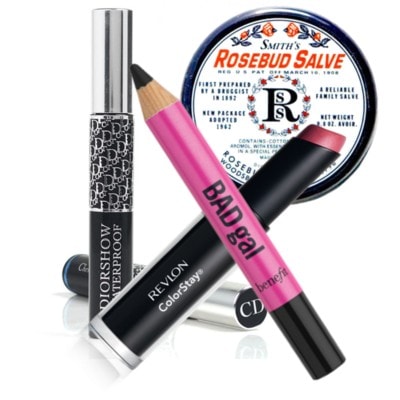 In my purse I have a small cosmetic bag with essentials to amp up my daytime makeup. A travel-sized tube of volumizing mascara, a black kohl pencil, a creamy lip balm, and a flame red lipstick. What I am wearing determines whether I amp up the eyes, or amp up the lips.
If I am wearing dark colors or a modern silhouette, I usually choose to get a rocker vibe with an intense eye. I will slowly circle my eyes with the kohl liner, use a warm ring finger to smudge a bit, and then add a few coats of mascara to up the intensity. For the lips I will keep it simple with the pinky-brown lipcolor I wore during the day.
If I am wearing bright colors, I find a red lip makes what could be seen as a day look instantly look evening-appropriate. I have a long-wearing red lipcolor so I don't have to bother with constant reapplication (or lipstick on my teeth or the cheek of the person I air kissed); I use my ring finger to add a thin layer of the lip balm to my eyelids – this makes the face look dressy without sparkle or shimmer. the balm then goes in my bag to keep the long-wearing lipstick shiny and feeling soft all night.
Both makeup updates only take a couple minutes and can completely transform not just my face but my entire ensemble.
I loved reading the other bloggers' responses to this question – lots of great tips on how to create an evening look in a jiffy. If you too would like to learn other bloggers' tips for keeping for a quick day-to-night makeup transition, I encourage you to check out this post. While there, share your own personal tips for a quick day to evening look!
While visiting BlogHer, be sure to enter the Life Well Lived Moments Sweepstakes – share your Life Well Lived Moment and you may win $250!
Follow Me | Twitter | Facebook