This article may contain affiliate links; if you click on a shopping link and make a purchase I may receive a commission. As an Amazon Associate, I earn from qualifying purchases.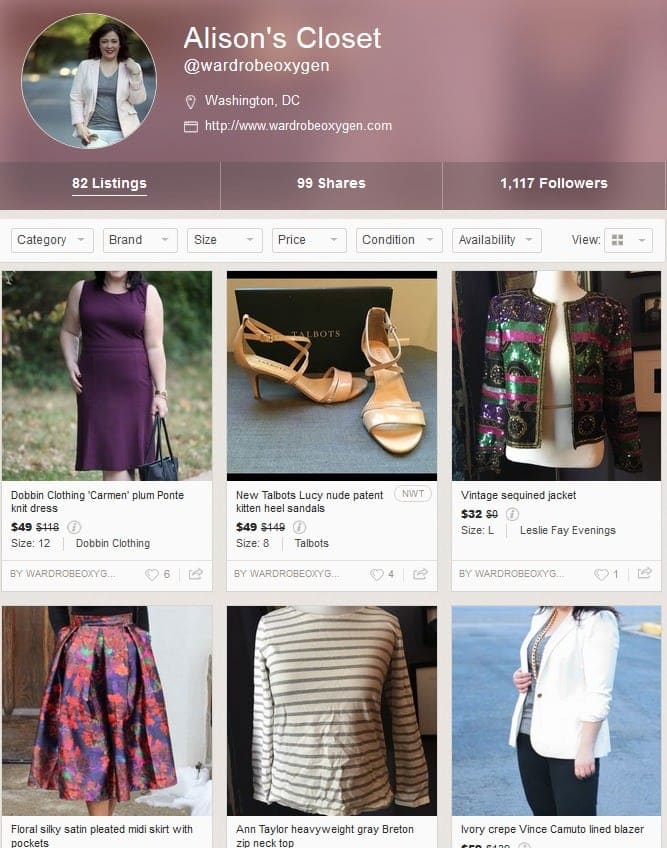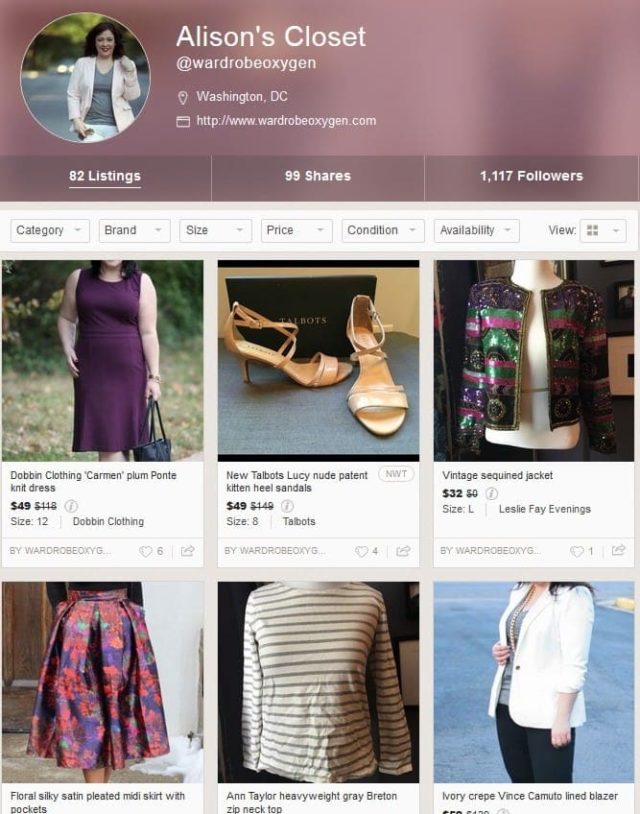 I've been saying for a while that I needed to get off my tuchus and sell all the clothes I don't currently wear. While I may clean out my closet I do have a dirty secret… I have bins and bags full of clothes in my attic (and there were a couple full contractor bags in my home office). I regularly donate career wear to a charity and have Freecycled and donated all my maternity clothes and clothes that are in "well loved" condition, but the nicer stuff I've been holding on to.
No more. All this clothing is doing no one favors being boxed and bagged up in my attic. A couple weekends ago, my best friend came over and for eight hours we dug through three bags. All pieces were photographed, packed up, labeled, and ready to ship. While I have used eBay and a Shop My Closet blog in the past, this time I decided to use Poshmark. My friend Alyson has raved about it for a long time and many of you have told me you use it with great success. It seemed simpler than eBay too.
For the past two weeks I have been using Poshmark and I have become as big of a fan as my friend Alyson! It's an app-based program; while you can visit Poshmark on your computer, to buy and sell you need to do it on your phone. As a seller, I think this makes the process uber easy – my pictures are already on my phone so I can easily upload them, write a quick description, and even answer questions and negotiate counteroffers. I've found the customers to be more… reasonable than on eBay. You're not usually expected to offer 5,000 measurements for a $6 LOFT tee, people are super friendly and quick to share and comment, and while I have had a couple ridiculous counter offers (no, I will not sell that NWT original retail still in the store $250 item for $15), in general it has been a friendly and painless experience.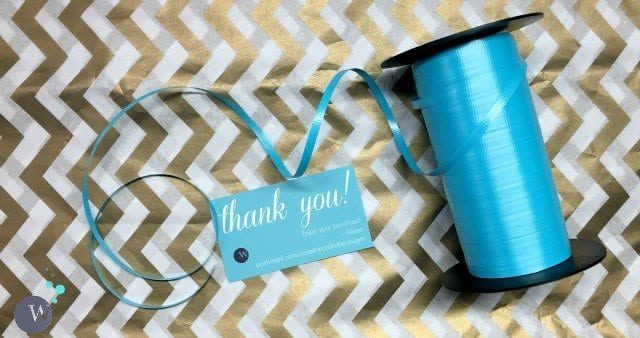 A couple of you saw on social media that I was on Poshmark and have joined to buy and sell. If you're interested, if you use this link and code PMZYS you'll get $5 off your first order and I too will receive a $5 credit (find me, I am wardrobeoxygen).  There's no auction or bidding, you can counter-offer and some sellers (myself included) offer  "bundling" where you can purchase multiple pieces from a seller at one time and save on shipping ($4.99/order).  If you're interested in selling on Poshmark, here's what I've learned so far:
Be Honest.  Like other selling sites, Poshmark has a rating system.  Buyers can give you up to five stars for orders.  It's not worth it to ruin your reputation by trying to pass off replicas, lie about the condition of a garment, or its original price.
Provide Details.  Is it an XL but fits more like a L?  How did you style it?  If you recall the original style name or number or even color name, include it.  While Poshmark won't let you write a novel, you can offer quite a lot of information.  The more details you provide, the more likely the item will sell and the more likely the buyer will get what she expected and leave you a favorable rating.
Take Good Photos.  I use my iPhone 6s and take the pictures in natural light near a window.  For Christmas I got this dress form; it's not high quality (in fact I cracked the base the day my friend and I were on a Poshmark selling spree and it's now held together with packing tape) but it gives a better idea of how an item will fit than lying a sweater on your bed or floor.  If you have a photo of you wearing the item, include that too.  I also search the internet for stock photos of the item.  A mix of all three is a great way to get an item sold.  Poshmark lets you upload four photos per item with the first photo being your cover photo.  I've found the most successful cover photos are those with me wearing the piece.  If you don't have a photographer taking your picture in items for a blog, a mirror selfie in a well-lit room is still good (and you can cut off your head in the photo if you wish to be anonymous).
Stock Up on Free Priority Mailers.  Your post office has Priority Mail Tyvek envelopes and boxes for free; these are perfect for shipping out your orders.  Included in the cut Poshmark takes from your sales (20%, or $2.95 if the item sells for $5 or less) is a shipping label.  When you make a sale, Poshmark emails you this Priority Mail label.  You can order shipping bags and boxes from USPS.com for free but know it takes up to two weeks to receive your order.  If you have a post office nearby, grab a few to get your sales going.
Take Care with your Sales.  I fold nicely, wrap in tissue, tie with a bit of curling ribbon, and carefully slip into the box or bag.  I got a pack of cheap tissue paper; you only need 1-2 pieces per order.  The curling ribbon I purchased when I attended a baby shower where all presents were to be wrapped in blue.  That yet-to-be-born baby is now 5 and as you see in the photo above, there's still plenty left even though every shower and birthday present since the shower had turquoise ribbon on it.  I bought some rolls of packing tape, and because I'm a dork like that, ordered some cheapy business cards from VistaPrint (this is a referral link that will give you $10 off your first order) that thank the buyer for her order, have my name and my Poshmark address on them.  The overall cost is minimal, but it makes the experience much nicer for the recipient.
Raise Your Rates.  Poshmarkers LOVE to counter-offer.  Consider this when making your prices.  It's worth it to up the price a few dollars to be ready for a counter-offer (if you accept a counter-offer the item sells immediately to that individual).  Also, if you have stagnant items that don't want to sell, you can then lower the price without too much heartache.  A plus to lowering the rate is anyone who "liked" the piece will end up receiving reduced shipping.
Be Quick with Communication.  If someone asks for additional details or makes a counter-offer, be polite and reply within 24 hours.  Since Poshmark is on your phone, it's easy to quickly type in a response and move on with your day.
Follow the Rules.  Don't accept sales through PayPal or offline.  Don't try to sell used makeup or clutter Poshmark with items they don't allow to be sold on their app (home goods, electronics, health and wellness products, used underwear and makeup).  Don't label something a blouse when in fact it's one of those belly wrap things that spam social media.  And don't call something Chanel-esque or like Louis Vuitton – that's a trademark violation and such names can only be used if the item is legitimately from that brand.
Be Part of the Community.  Share other people's sales (I only share that which I actually like), follow other accounts, leave comments and reply to comments.  Poshmark is very social, and by being part of the community you'll get a larger audience to see your closet, resulting in faster and more sales!
Are you on Poshmark?  I'd love to hear your experiences and feel free to share your closet in the comments!