This article may contain affiliate links; if you click on a shopping link and make a purchase I may receive a commission. As an Amazon Associate, I earn from qualifying purchases.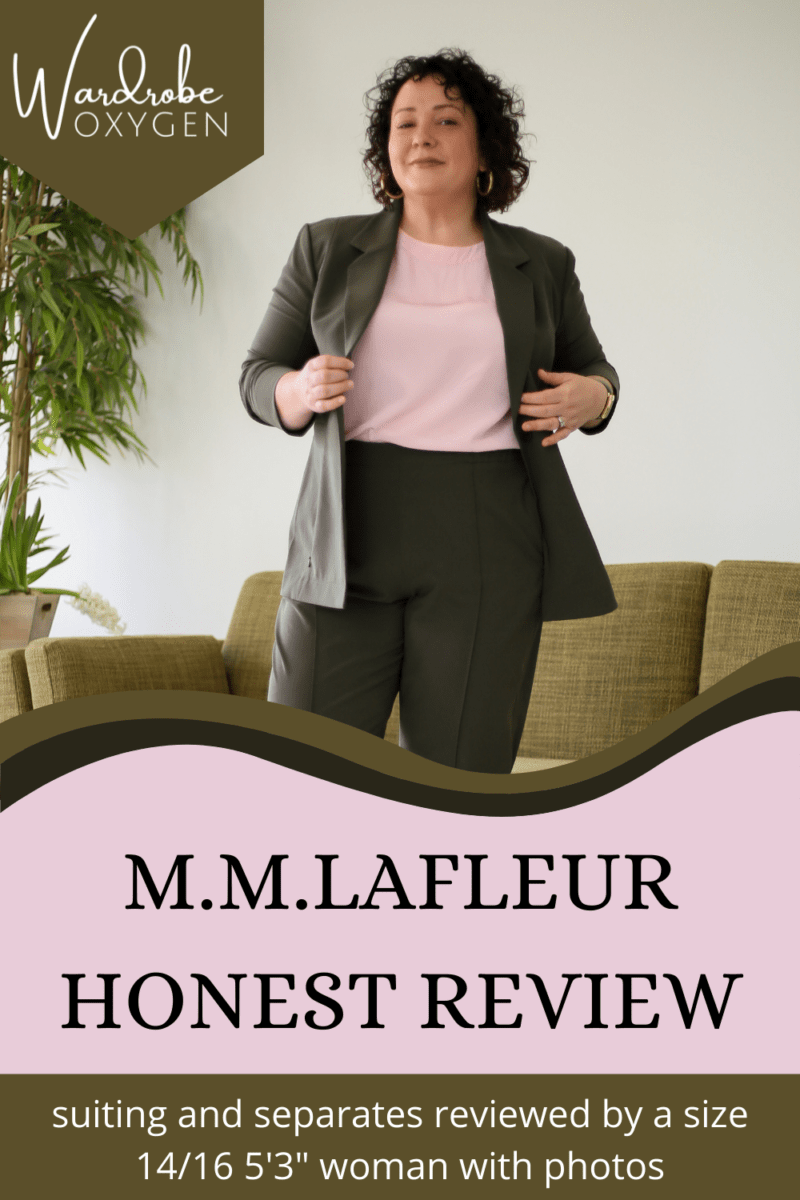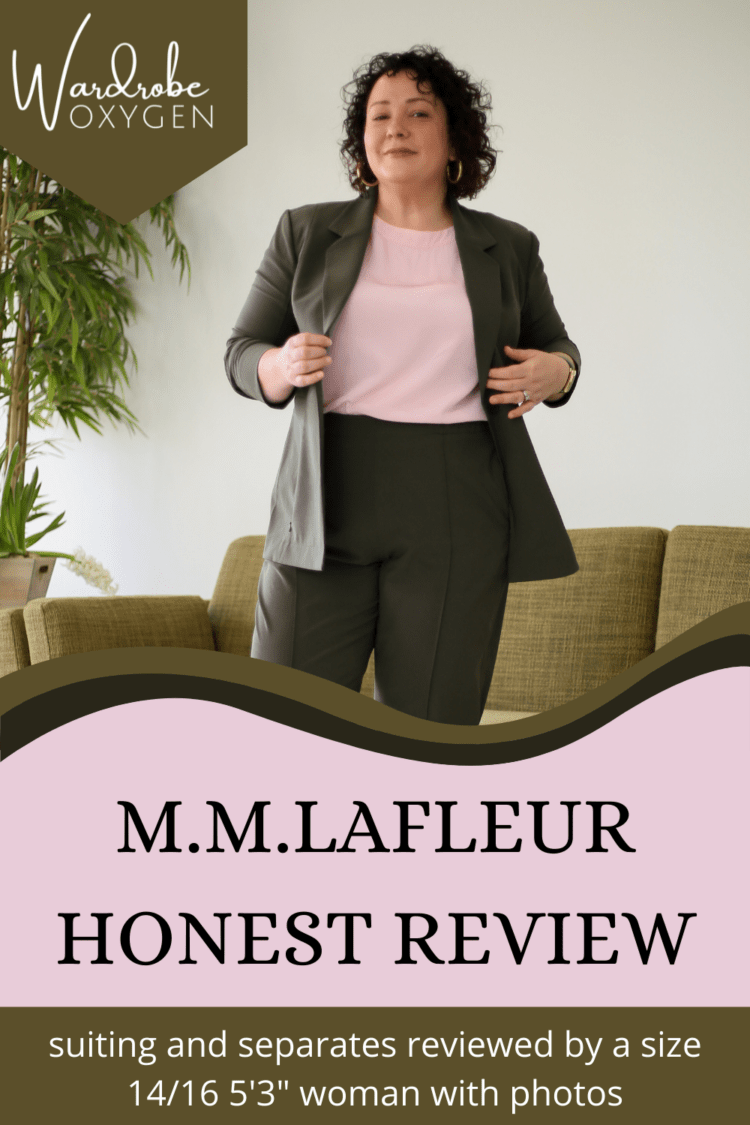 When I shared that I found M.M.LaFleur was a great place to shop for midsize fashion for grown women, the brand thanked me by offering an outfit of my choice. I haven't reviewed M.M.LaFleur in a long while (2018 to be specific) and found this a great opportunity to see how the brand has changed and see how it fits my petite curvy frame. Knowing many of you are looking for polished yet comfortable clothing for work and beyond, I decided to try some pieces of their travel-friendly OrigamiTech collection for an M.M.LaFleur OrigamiTech review.
I am 5'3″ with a large bust and soft curves. I usually wear a size 14, but for some brands I find 14 to run snug. The last time I did an M.M.LaFleur review, a lot of the pieces were snug. In 2020, the brand sent me an outfit and unfortunately, the only piece I could wear comfortably was the M.M.LaFleur Snyder Jacket. I asked for a size 14 pant and found it fit… but just fit. Like wouldn't be comfortable and surely couldn't wear it after a large meal or certain times of the month. I also received a size Large top at the same time that also fit the same… just a hair too snug especially at the bust. So for this M.M.LaFleur OrigamiTech review, I veered on larger rather than smaller for my sizing.
This M.M.LaFleur OrigamiTech review is not paid. I received the clothing as a gift from M.M.LaFleur without obligation to post about them. This post was not reviewed or edited by M.M.LaFleur or any other party prior to publishing; all thoughts are my own. There are affiliate links in this post; if you click on a link and make a purchase I may make a small commission.
What is M.M.LaFleur?
Sarah LaFleur was a management consultant who was frustrated by a lack of women's workwear options that were both stylish and practical. LaFleur teamed up with Miyako Nakamura (the former head designer of Zac Posen) and Narie Foster to launch M.M.LaFleur in 2013.
M.M.LaFleur ensures each garment they offer encompasses three things: functional details (think: adjustable hems and bra-strap holders); comfort (and not just comfortable-for-a-blazer comfort—we strive for I-could-nap-in-this comfort); and style. You'll find elevated looks in elegant fabrics and silhouettes that are machine washable, crafted for easy alterations, and have features like hidden buttons at the bustline to keep shirts closed and elastic waists to ensure comfort while still achieving professionalism.
M.M.LaFleur strives to make its manufacturing and shipping more sustainable, and to have an ethical and inclusive business model and team. You can learn more about M.M.LaFleur's sustainable methods at this link. The line is available in sizes 00P through 18. I will be going more into the sizing at the end of this M.M.LaFleur OrigamiTech review.
M.M.LaFleur OrigamiTech Review
While M.M.LaFleur offered 2-3 pieces, I really wanted to try a few pieces from the OrigamiTech collection; I asked for the Colby Pant in 14, Moreland Jacket in 16, and Langley Bomber in XL. To style the pieces, I also asked for the Annika Washable Silk Tee in XL. I think the Annika Tee and the Moreland Jacket are the right size, but I could have gone down a full size with the Langley Bomber and Colby Pant.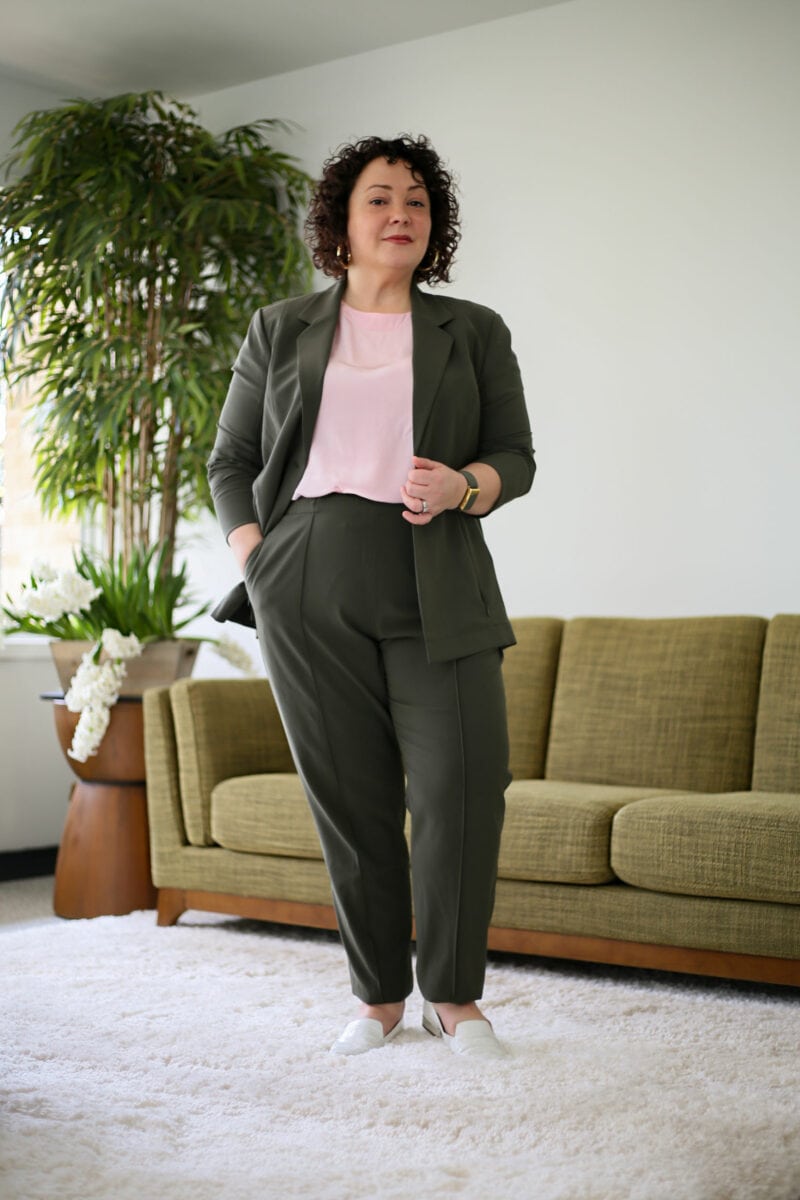 Unfortunately, M.M.LaFleur doesn't carry petite (though they have a category of petite-friendly pieces), but the sleeves of the Moreland Jacket are easy to have altered, and the Colby Pant has a very large hem to make it easy to elongate the legs, or have them hemmed shorter. I didn't have the pants shortened for this review; the pants are just folded under to be a more appropriate length for my height.
The fabric of the OrigamiTech is finely ribbed/textured, stretchy, but not shiny. It is 100% polyester, has a nice weight to it. I truly think this kind of fabric looks as polished or active/travel-friendly as you desire based upon styling. With a silk top and structured shoes, this is appropriate for the office or a conference. With sneakers and a knit t-shirt, this could be great pieces for sightseeing or the weekend.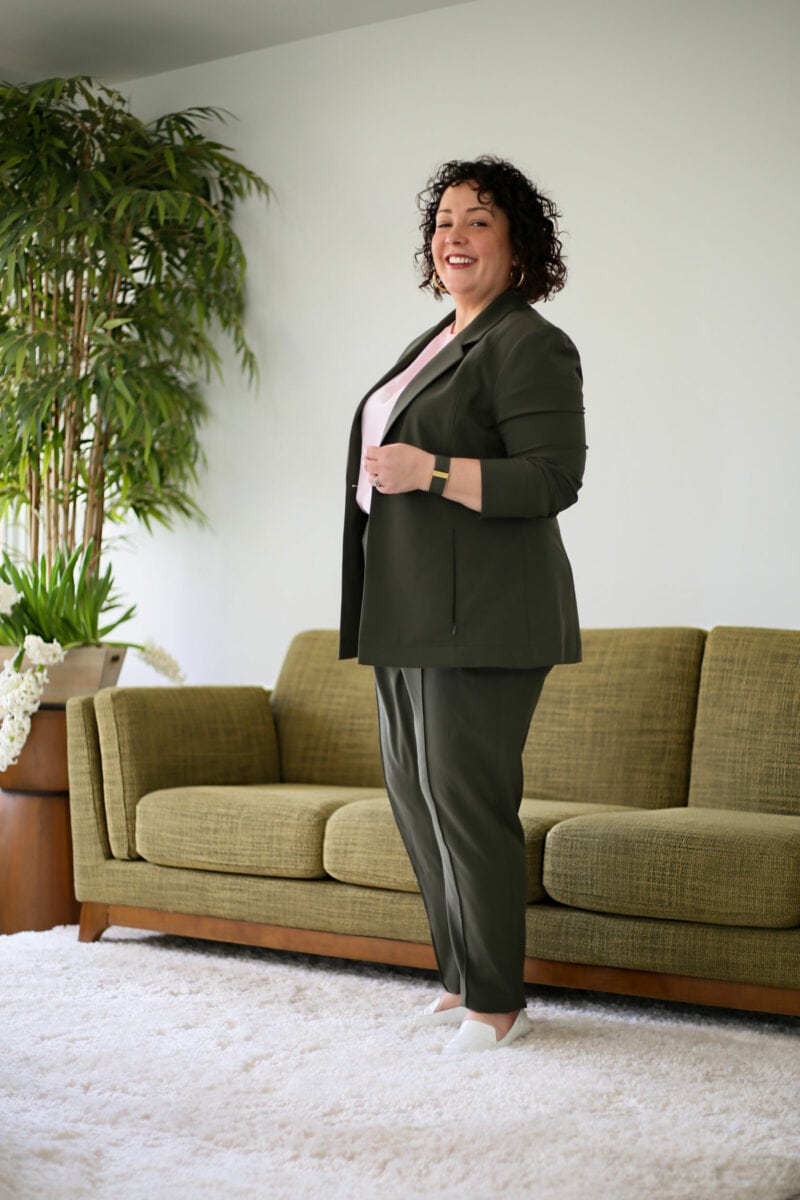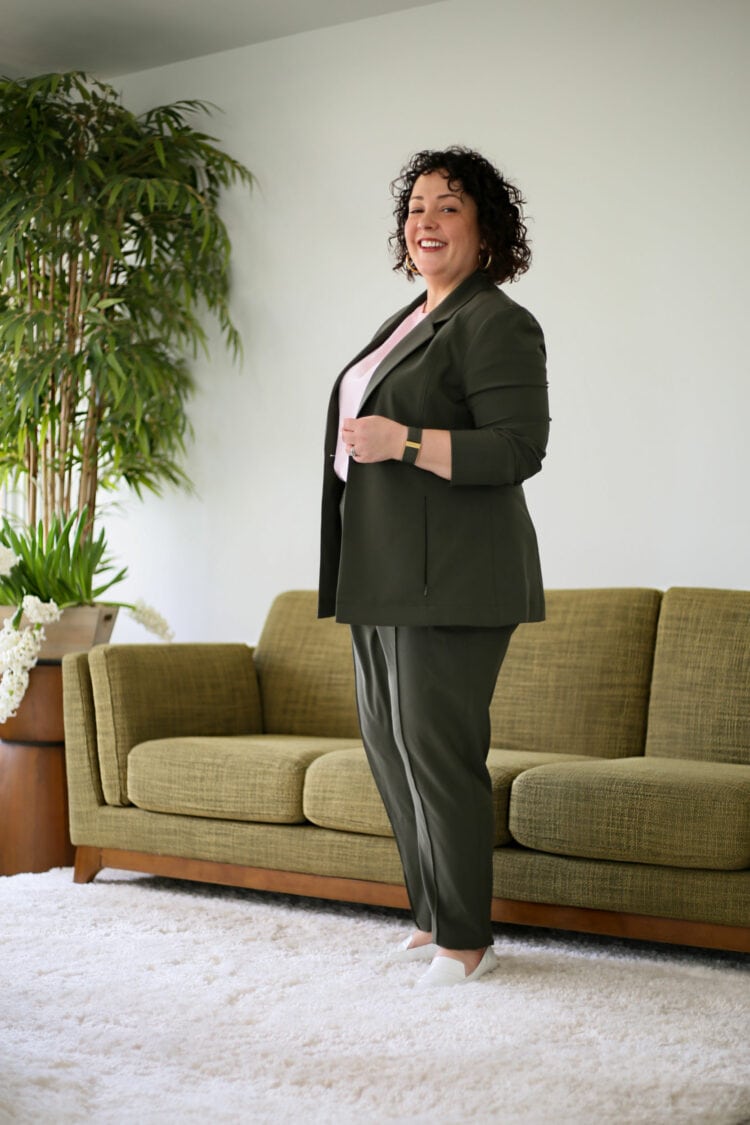 I washed the Moreland Jacket and Colby Pants before I scheduled the shoot for this M.M.LaFleur OrigamiTech review. I wanted to see how well the pieces held up. They did amazing. I machine washed cold and air dried by hanging the jacket over the back of a chair and the pants thrown over a shower curtain bar and they turned out hanging, fitting, and looking exactly like new.
M.M.LaFleur Moreland Jacket in OrigamiTech
I've washed machine-washable blazers and jackets before and they have always ended up… not as good. A bit wrinkled, a bit misshapen, not as crisp. Not so with the Moreland Jacket. This made me really see how this collection is great not just for the office, but for business travel and vacation travel.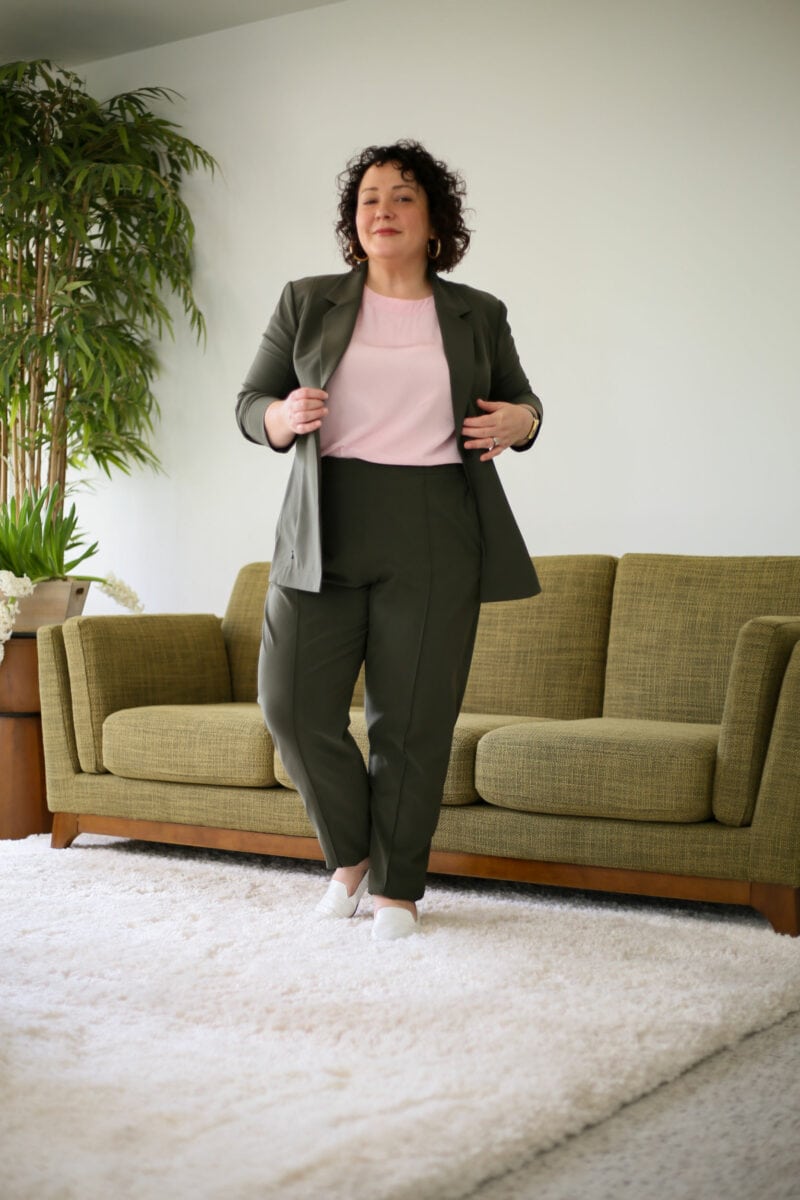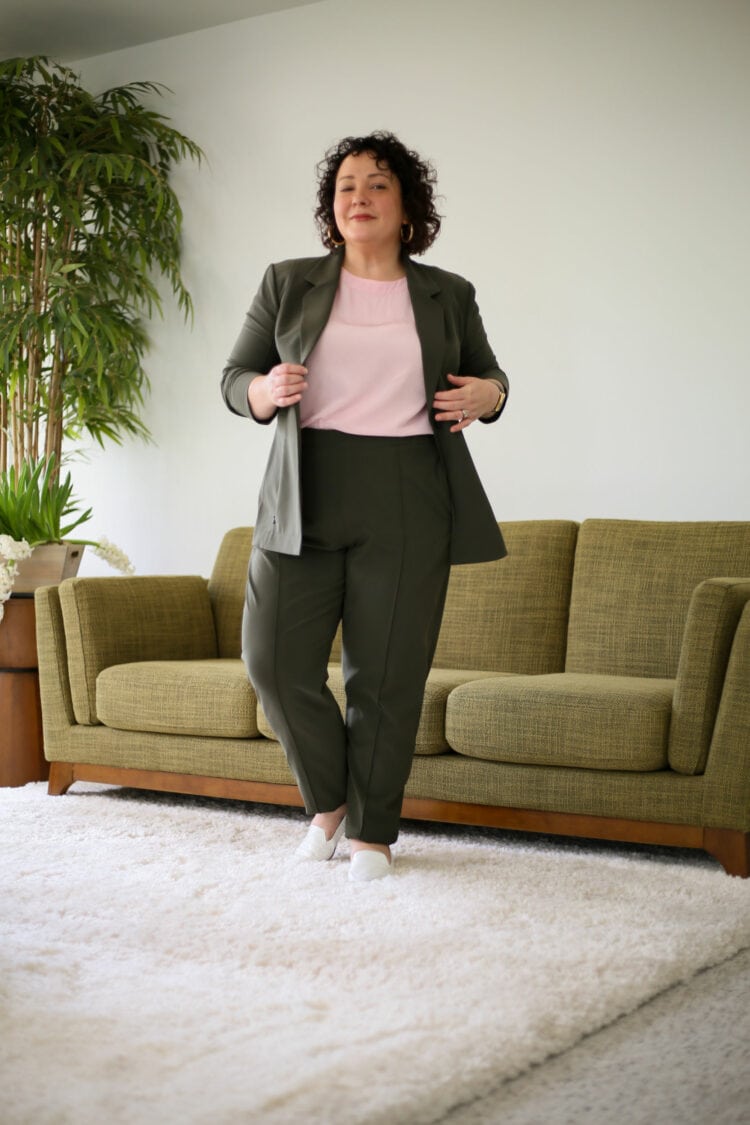 The Moreland Jacket has zippered pockets, and inside the deep pockets there are smaller pockets to hold an ID and some cash or other small items and keep them secure even if you're pulling your phone or other items out of the larger pockets. The sleeves are easy to push up or roll if it's warm, and the fabric has enough weight for great drape but lightweight enough to be comfortable under a coat or when on a long flight or train ride.
M.M.LaFleur Colby Pant in OrigamiTech
The Colby Pant also has zipper pockets, and deep ones that can easily hold a large smartphone or even a small bottle of water to keep your hands free while sight-seeing. The back view is minimal with just faux besom pockets.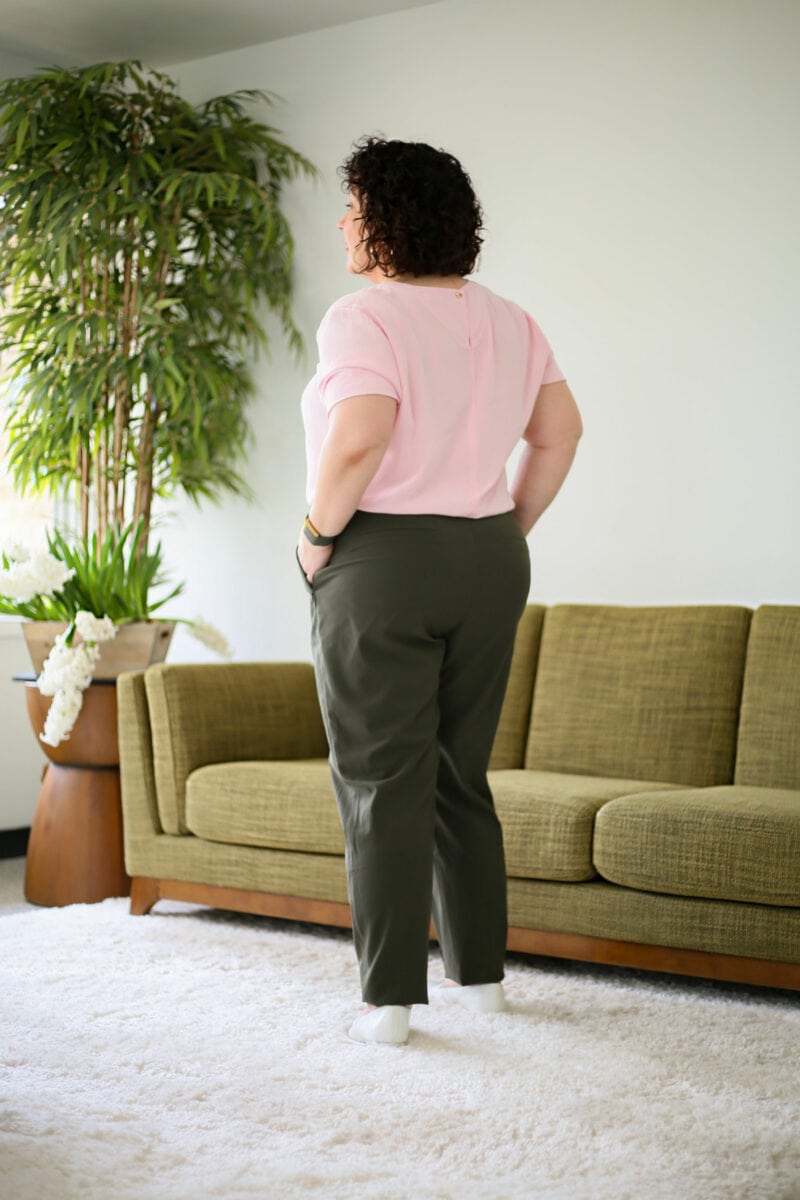 As previously mentioned, the pants have a very deep hem making them easy to let down if you are taller. The front seam adds polish even though the pants are stretchy. The front of the waistband is smooth; the remainder elastic and wide enough and stitched just so I didn't find it to roll or fold over.
M.M.LaFleur Langley Bomber in OrigamiTech
The Langley Bomber is super cool looking; a smaller size (along with better-fitting pants) would have provided a more formal look, but this version is an upscale alternative to a track suit. I could totally see wearing this combination for sightseeing, being ready to go from climbing hills and stairs at historical sites to enjoying a meal at an elegant cafe. However, the Langley Bomber does not have zipper pockets.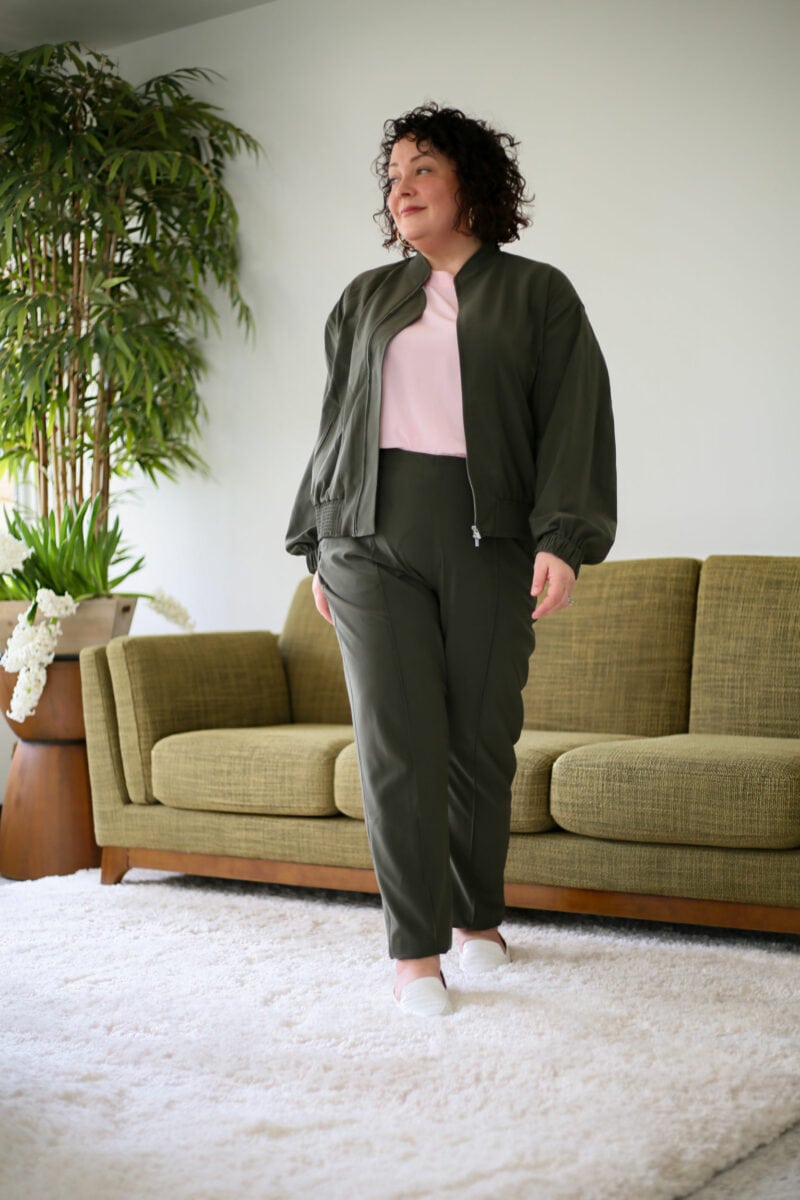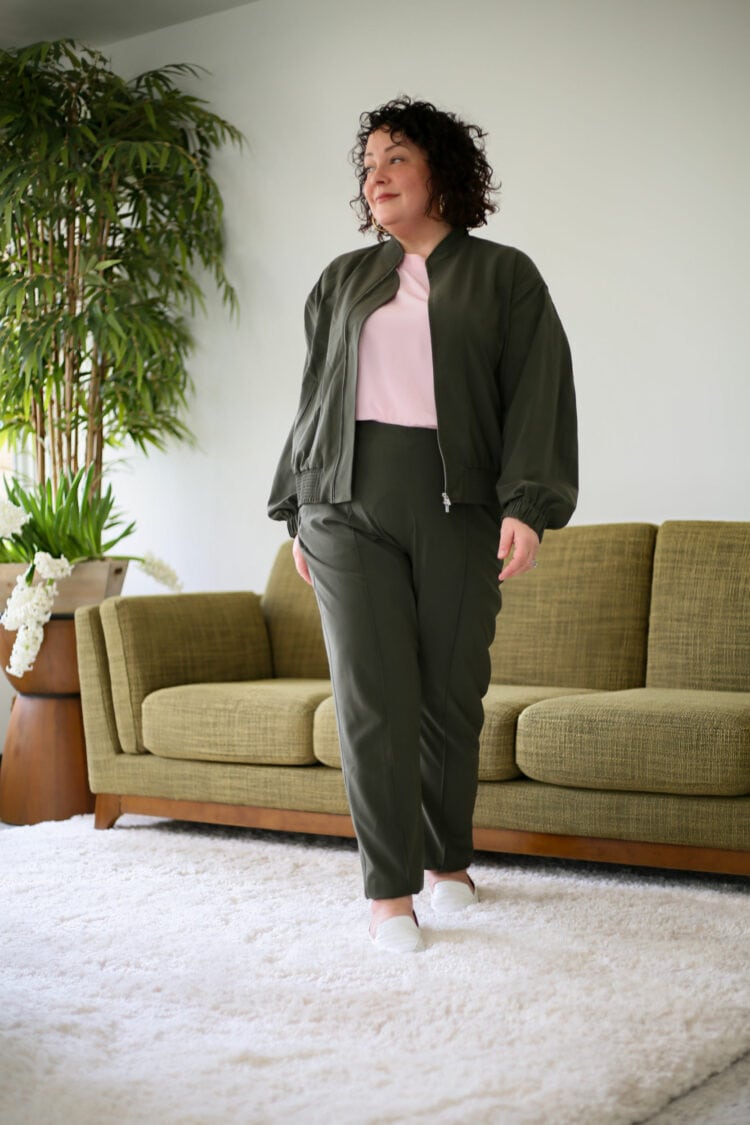 If the pants were a better fit on me, I was going to wear the Langley Bomber and them with a silky camisole and a pair of heels for a night out. I think the Delaney Jogger would be a cool alternative that would look equally great with heels and sneakers. I really see how this fabric and these cuts can dress up and down with ease.
M.M.LaFleur OrigamiTech Collection
A lot of travel-friendly collections are weird fabric. Too techy, too slinky, too shiny. The OrigamiTech collection from M.M.LaFleur is polished, elevated, yet still great for travel or if you just desire more comfortable workwear that is easy to care for.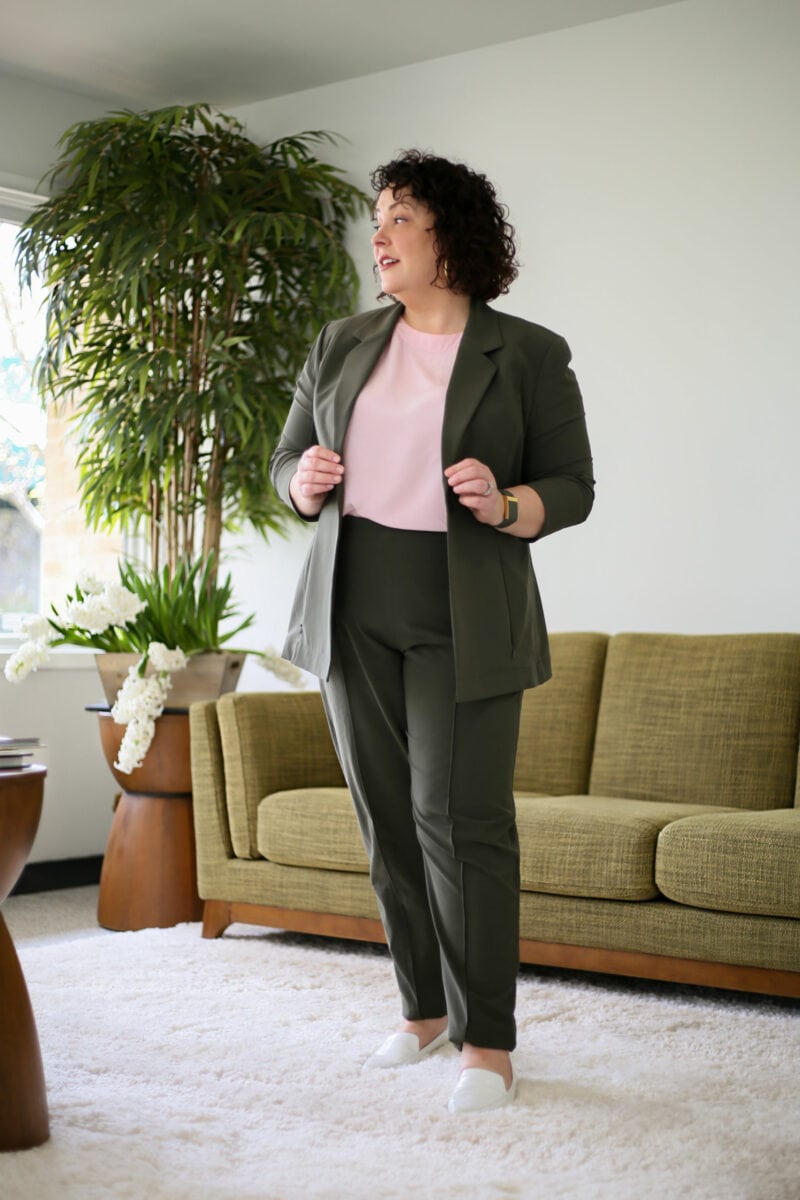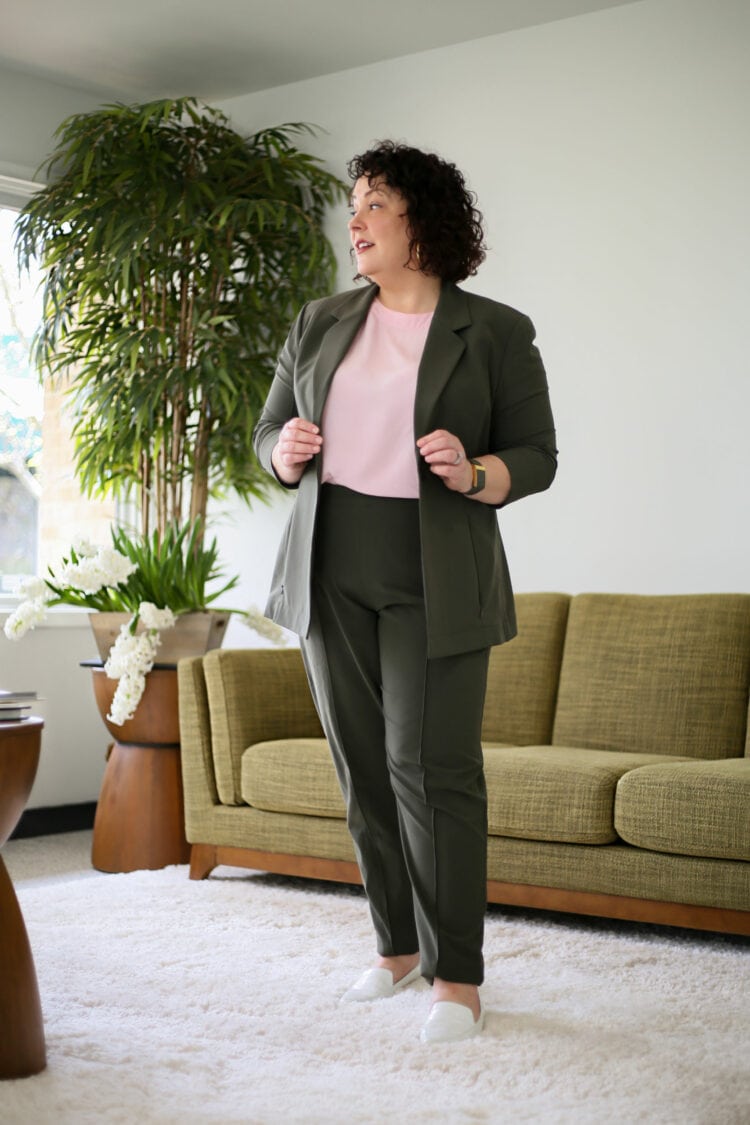 Prior to this M.M.LaFleur OrigamiTech review, the pieces went into the washing machine without a lingerie bag or fancy detergents, and then were haphazardly thrown over furniture to dry. They dried overnight and turned out looking fantastic. This is the kind of fabric you could wash in a hotel room sink or spot clean while on travel and still look great.
I appreciate the travel-friendly details like the zipper pockets, but how they are subtle and the color of the garment so the detail still looks polished enough for the workplace or a business conference. I also appreciate the focus on timeless style – these pieces look stylish now and will look stylish years from now.
Yes, this collection is polyester so don't expect breathability or to think this is the perfect capsule wardrobe for a trip to a hot and humid climate. However, the OrigamiTech collection is something I wish I had back when I had a job that had me travel a lot for work. I so often went from the airport right to the client site and would then fly from that client site to another, spot cleaning clothes in my hotel sink so I didn't look a hot mess at my second destination. This collection would have made my life easier and more comfortable.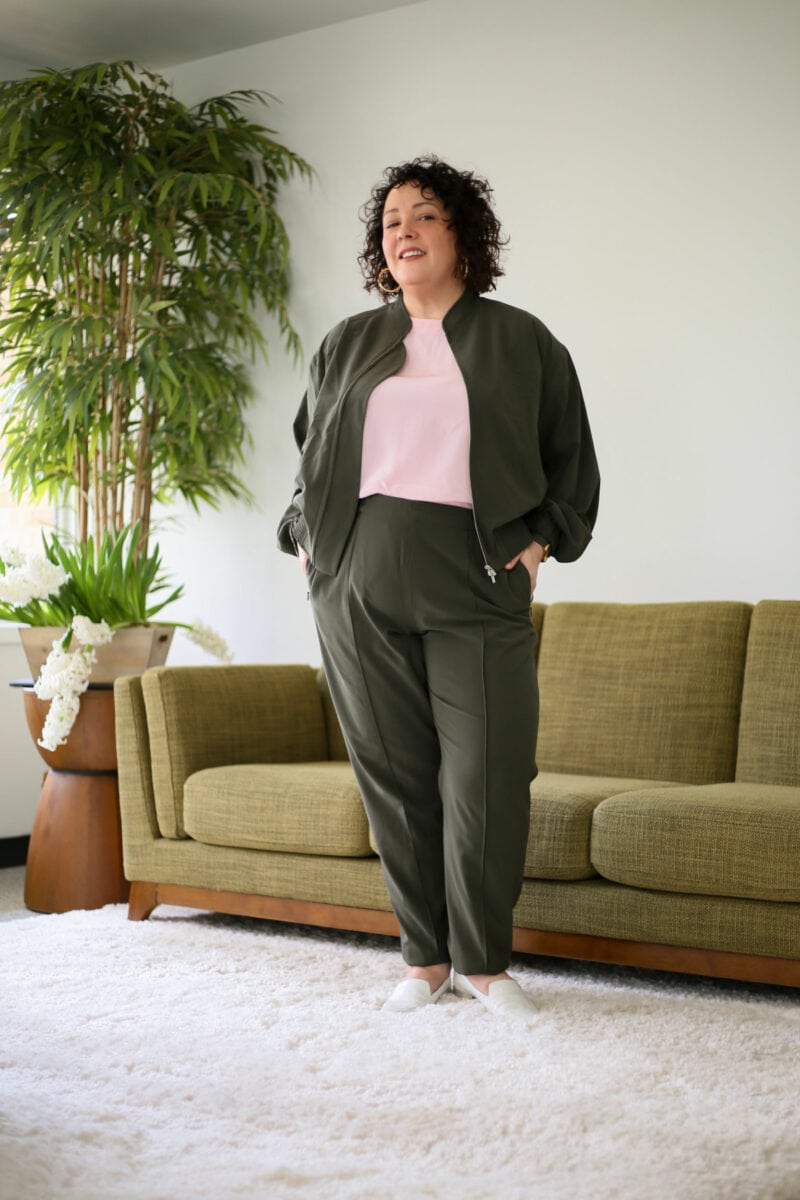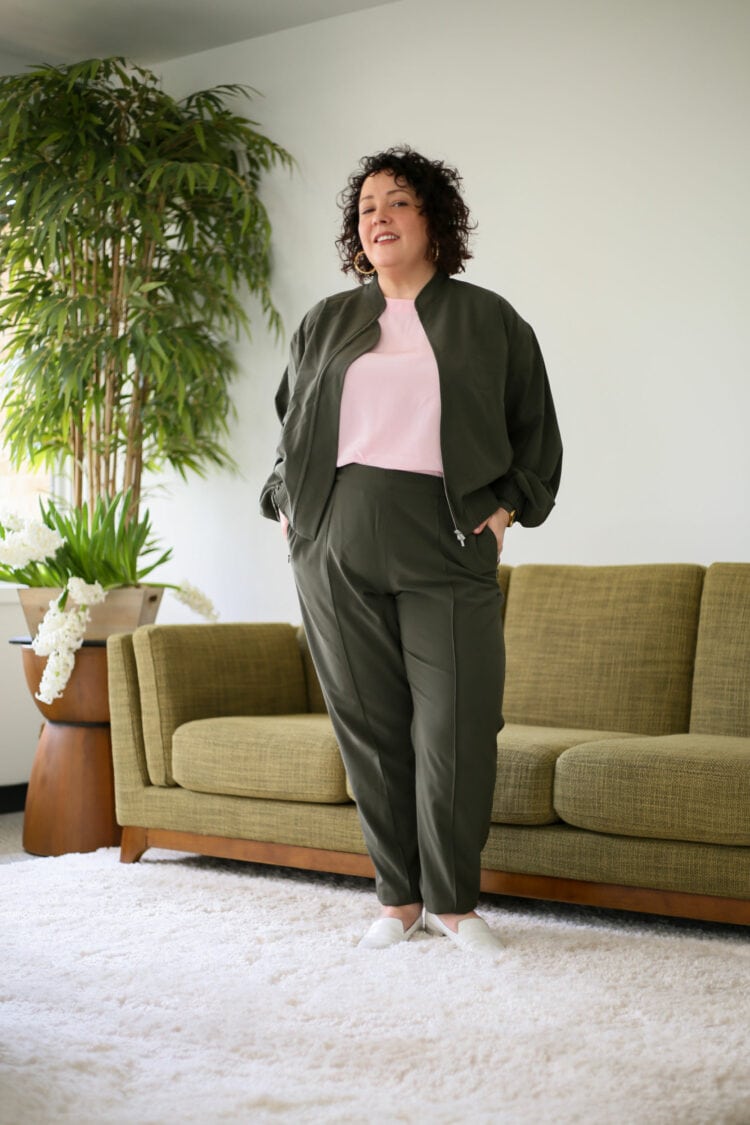 I also think of a two-week overseas trip my husband and I took years ago where we each lived out of a backpack. Back then I had a collection of matte jersey pieces that mixed and matched for everything from a casual day hike to fancy dinners but the fabric isn't the kind I'd be as comfortable in now as a 40-something with soft curves. The OrigamiTech collection is a great alternative to achieve the same versatility with a bit more structure and design.
Other than these pieces, M.M.LaFleur has additional pieces in their OrigamiTech collection, making it possible to create a capsule wardrobe for the office, business travel, or your next getaway. The Delaney Jogger was sold out in olive in my size at the time of my order or else I would have gotten a pair. The Mazza Dress is a cap-sleeved shift with pockets that can dress down with sneakers and a denim jacket or glam up with heels and pearls for a cocktail reception or daytime wedding. The Cassandra Dress is a vest-inspired midi-length shirtdress that can be a duster/elongated vest, a work-friendly frock that can be dressed down with sandals or sneakers, or a jumper worn over a turtleneck or blouse.
M.M.LaFleur Washable Silk Review
I love silk, but I hate having to care for it. I am a klutz and am usually wearing a dribble of coffee or salad dressing on my ensemble. I was intrigued by M.M.LaFleur's washable silk and was happy to try the Annika Tee. As I mentioned, I ordered this top in XL.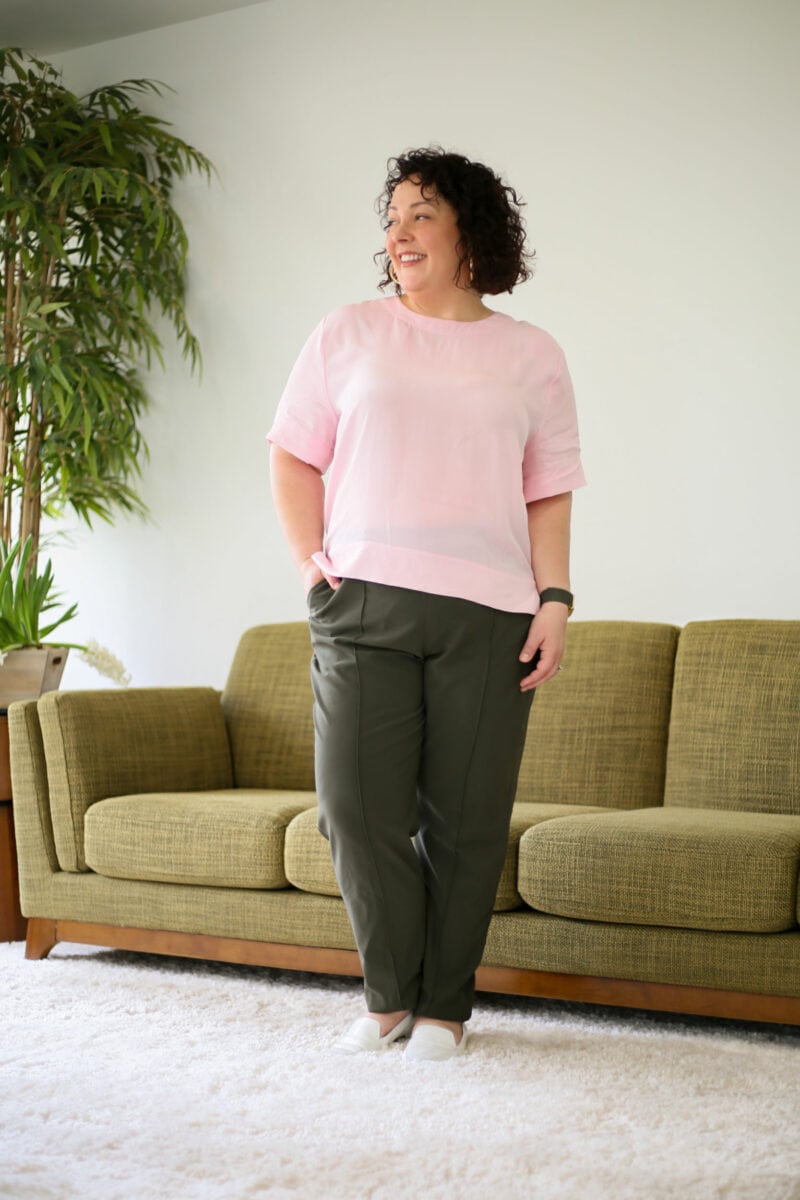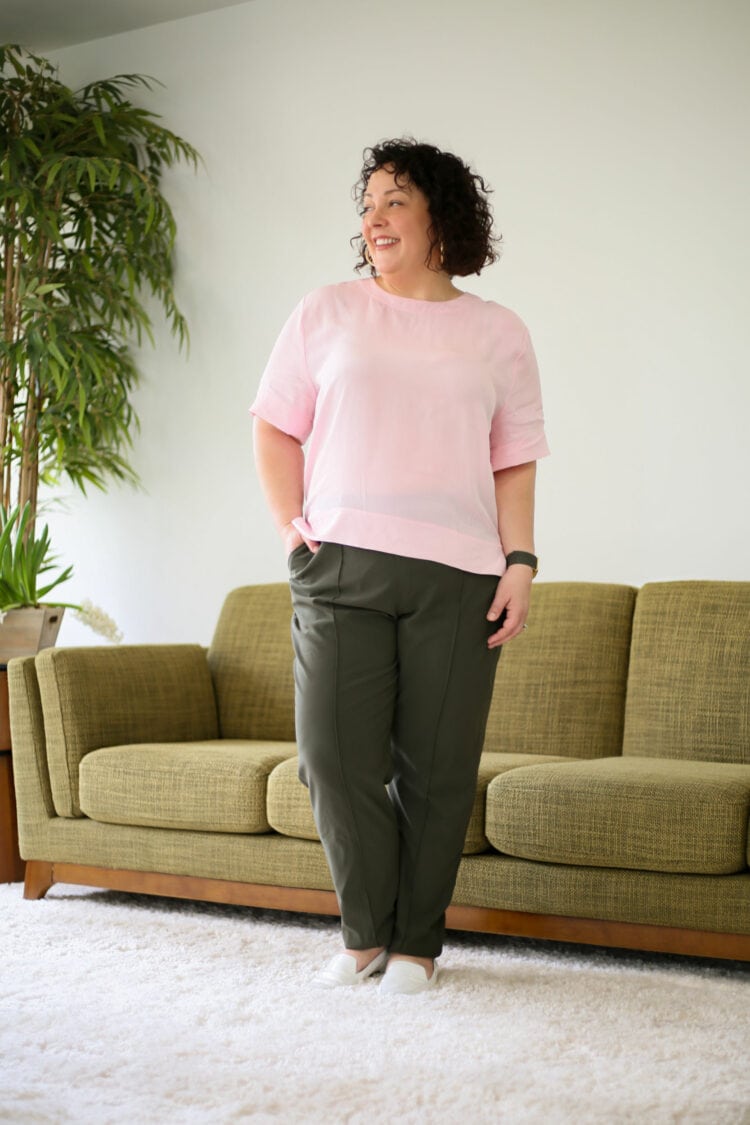 The Annika Washable Silk Tee has a bit of a nubby crepe-like finish, but a drape similar to silk. It is a relaxed fit with sleeves that have a wide hem (easier to alter and easier to cuff). The neck opening has a small gold button in back for ease, though I was able to get this top on and off over my big head without needing to unbutton it.
I think the XL in the Annika Tee was a perfect size for my busty size 14 self. There was also plenty of room for my shoulders and arms; I often find non-stretch tops like this snug on my biceps. I think it would remain comfortable even if I had a tailor shorten the sleeves.
To test the fabric prior to this shoot and review, I machine washed this top and line dried it. The result was a crinkly crepe-like feel. I used a garment steamer to remove the wrinkles and return the top to a pre-washed new effect. It did require pulling the fabric taut while steaming to get the wrinkles out, but I was able to return it to a like-new finish.
The washable silk used by M.M.LaFleur is made in an environmentally responsible factory that runs on solar energy and recycles 90% of the water used in production. The Annika Tee in Washable Silk is available in sizes XS-XXL in several different colors; I chose Rosewater which is nice for spring and I felt a great color to pair with the olive color of the OrigamiTech pieces.
Besides the Annika Tee, M.M.LaFleur has several pieces available in washable silk at this link. I also love the idea of this washable silk skirt to pair with one of the tops to create a dress effect or to have a versatile skirt for a travel wardrobe.
M.M.LaFleur Price and Quality
When I shared outfits featuring M.M.LaFleur on Instagram I received a few replies where folks are shocked by the price. That much for an unlined polyester jacket? The thing is, we are judging price on dated methods to determine quality.
Polyester was invented in the 1930's but didn't really come onto the scene until the 1950's when DuPont purchased the legal rights to polyester fabric and released Dacron. Polyester was cheaper to produce than natural fibers, but in exchange, comfort was sacrificed. Earlier polyester fabric was rough due to the size of the fibers and the doubleweave knit.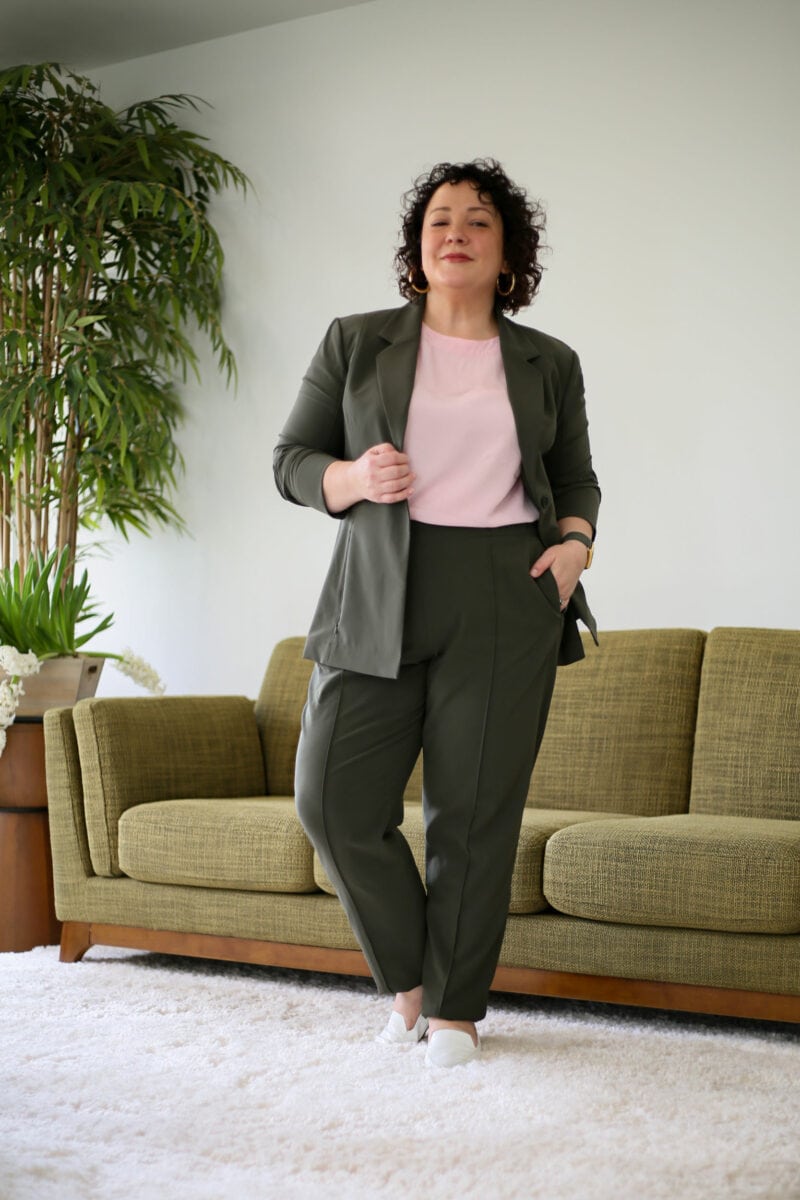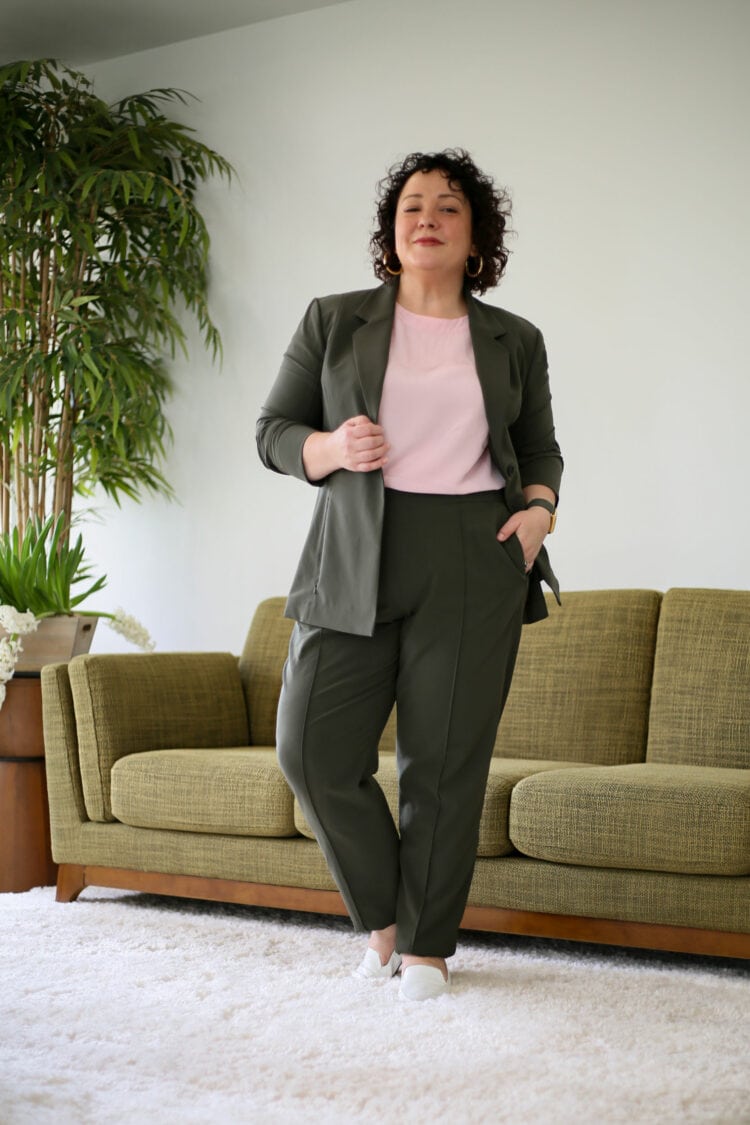 These days, polyester comes in a range of textures, finishes, and weights due to innovations in manufacturing of the textile and new ways to modify the fibers and completed fabrics. These methods have added to the time, effort, and cost to produce some forms of polyester. And with new methods and ethics for sourcing natural fabrics, sometimes polyester and cotton, wool, or linen cost the same to produce.
Polyester is a popular fabric for performance apparel due to its durability, ability to repel moisture, easy care, and how it doesn't wrinkle. These are reasons why the OrigamiTech line is made from polyester. M.M.LaFleur spends years developing fabrics that combine a luxurious feel with features like machine-washability and odor resistance that reduce the garments' impact once in a customer's closet. 
As for a lining determining quality/price, that is also debatable in 2020. With new as well as questionable methods for clothing production, things such as jacket linings aren't as difficult to manufacture, and things like jacket linings can prove the quality of manufacturing, which is a more valuable determinant of quality.
And one thing that has remained a constant with M.M.LaFleur over the years is the quality of craftsmanship on top of the brand's commitment to sustainability. Speaking of ethics, M.M.LaFleur is also committed to diversity, equity, and inclusion and states the racial and ethnic breakdown of their staff as well as their policies for inclusion, education, and accountability on the M.M.LaFleur website.
In 2022, price cannot be determined just by textile and details. What makes a company, how they treat their employees, how they source their materials, their attention to detail, who makes the clothes, and how they treat our planet are better determinants for the quality of a brand as well as its products. And when it comes to all of those factors, M.M.LaFleur is a quality brand that offers quality clothing.
Such a price may not be reasonable for all, but M.M.LaFleur's hope is the clothes you purchase from them last in your closet not for a season or two but for years and years. They create stylish yet timeless fashion from textiles that are easy care and durable. That's pretty rare, especially for such fashion appropriate for Corporate America and business settings.
M.M.LaFleur Sizing
If you are familiar with the brand M.M.LaFleur you may recall that in 2017 it extended its size range to include 14W-22W. The brand did a lot of customer research, featured their pieces on plus size models, and unlike many brands, didn't just grade up but created a different fit for their plus options. They were at the forefront of offering elevated corporate fashion in extended sizes.
Currently, plus size styles at M.M.LaFleur are minimal and all on sale. I reached out to M.M. LaFleur to provide information on their current sizing and the state of their plus size collection:
"While unfortunately we're not able to design a full run of plus sizes at this time, due to customer feedback and demonstrated interest we are currently able and happy to carry sizes 0P-18 in our size range… To provide a bit more context: many brands develop plus-size lines by simply scaling up their existing designs, but we refused to compromise on fit, fabric, or comfort. When we first launched our plus line, we hired a separate design team with plus-size experience, hired new models, and, in many cases, created new designs exclusively for the plus-size customer. The truth is that we struggled to sell enough of our plus-sized clothing to offset the cost of producing it. We hope this may change in the future." 
This is disappointing, but not surprising. Looking at analytics of clicks and sales for Wardrobe Oxygen over the years, I have seen that plus size clothing sells at a far lower pricepoint than straight sizes. Outside of Universal Standard, the plus clothing that I sell is usually from budget-friendly brands while straight sized clothing will easily sell at twice the price.
I often receive comments, emails, and DMs from readers sharing they won't spend such prices on their clothing because they don't believe they will remain their current size, or they won't reward themselves with higher-price clothing until they are a certain size. I understand this, as I used to do it myself.
Around 2016 or 2017 I decided that I deserved to wear what made me feel good, even if I wasn't at my "goal" size or weight. In fact, at that time I was at my largest size ever. I began purchasing higher-end pieces that were the styles and the quality I desired, knowing that clothes can be altered and resold if I did end up changing my size or shape. I found that I didn't end up spending more money because I was buying pieces that held up better, fit better, and I enjoyed beyond a single season.
I am grateful that more higher-end plus brands and retailers like 11 Honoré, Henning, and Pari Passu are on the scene because all women deserve to buy the kind of clothes that fit their bodies, their lifestyles, and their personal style aesthetics. Whether we like it or not, clothing can affect how we are perceived, and women of all sizes deserve fashion that will have them taken seriously in the workplace and look great for all sorts of occasions.
I know that not everyone can afford higher-priced pieces, and as I mentioned in my Old Navy denim haul, price doesn't equal quality. But if you are discounting certain brands or retailers because of their pricepoint, you may be doing your wardrobe and your confidence a disservice.
I hope the tide turns, more women realize they deserve quality fashion regardless of their size, and brands like M.M.LaFleur see enough of interest to bring back (or start) plus size lines. If you wish a brand carried a better size range, let them know. Comment on their social media, send them emails. We live in a time where we all have virtual platforms to share our thoughts and avenues to communicate directly with brands. Use them, and you may help change the future of fashion.