This article may contain affiliate links; if you click on a shopping link and make a purchase I may receive a commission. As an Amazon Associate, I earn from qualifying purchases.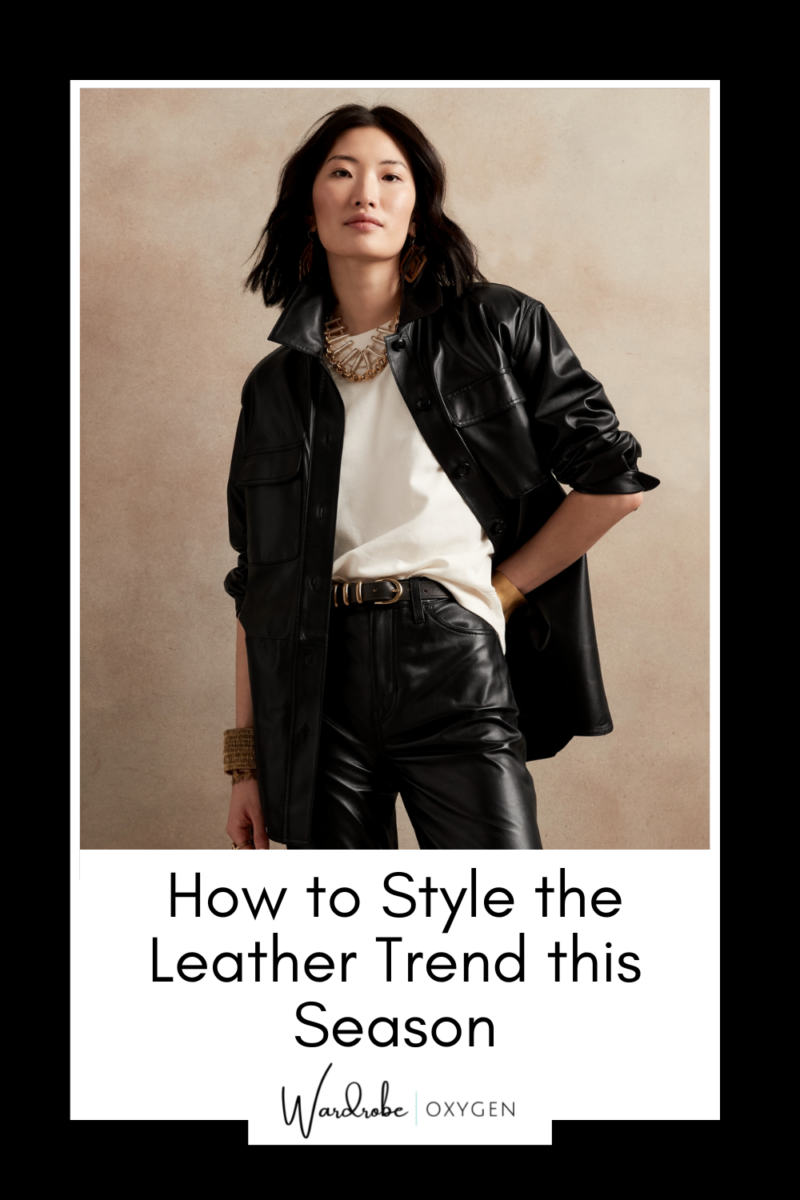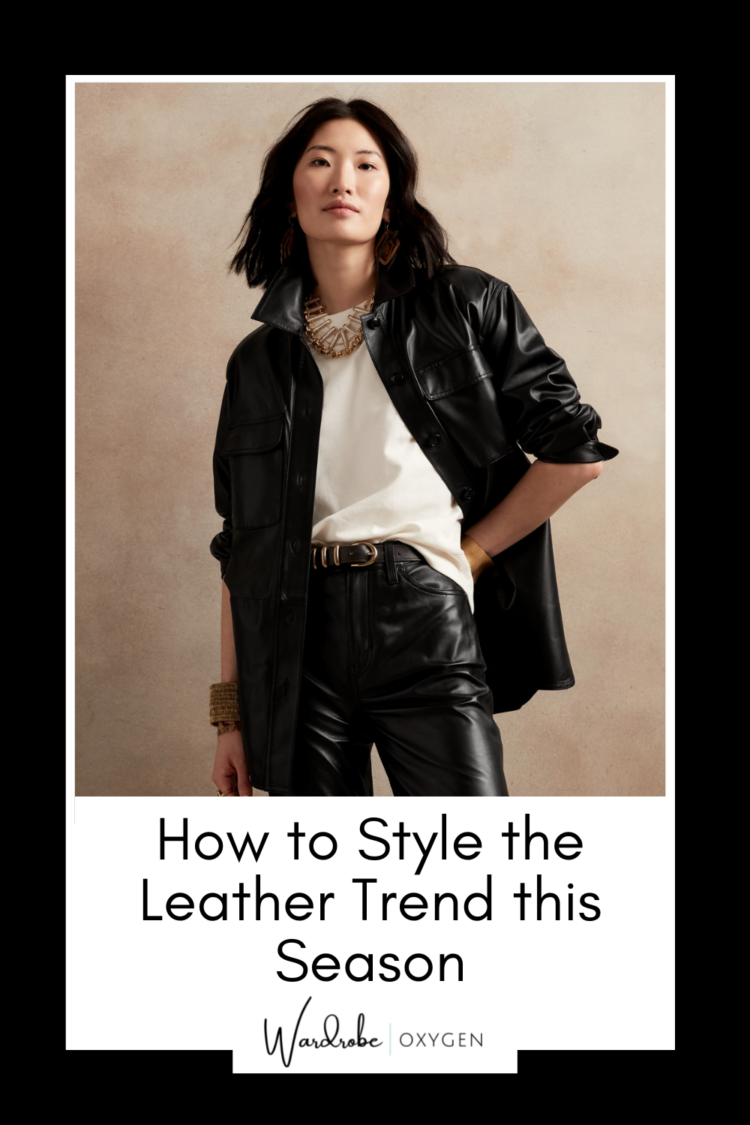 Leather is a big trend this fall, and a trend many of us have lived through it being a hot trend before before. But if you're like me, you still love some leather, whether it is real, recycled, faux, or a finish that replicates leather. How to style the leather trend now, as a grown woman, and not look like Leather Tuscadero?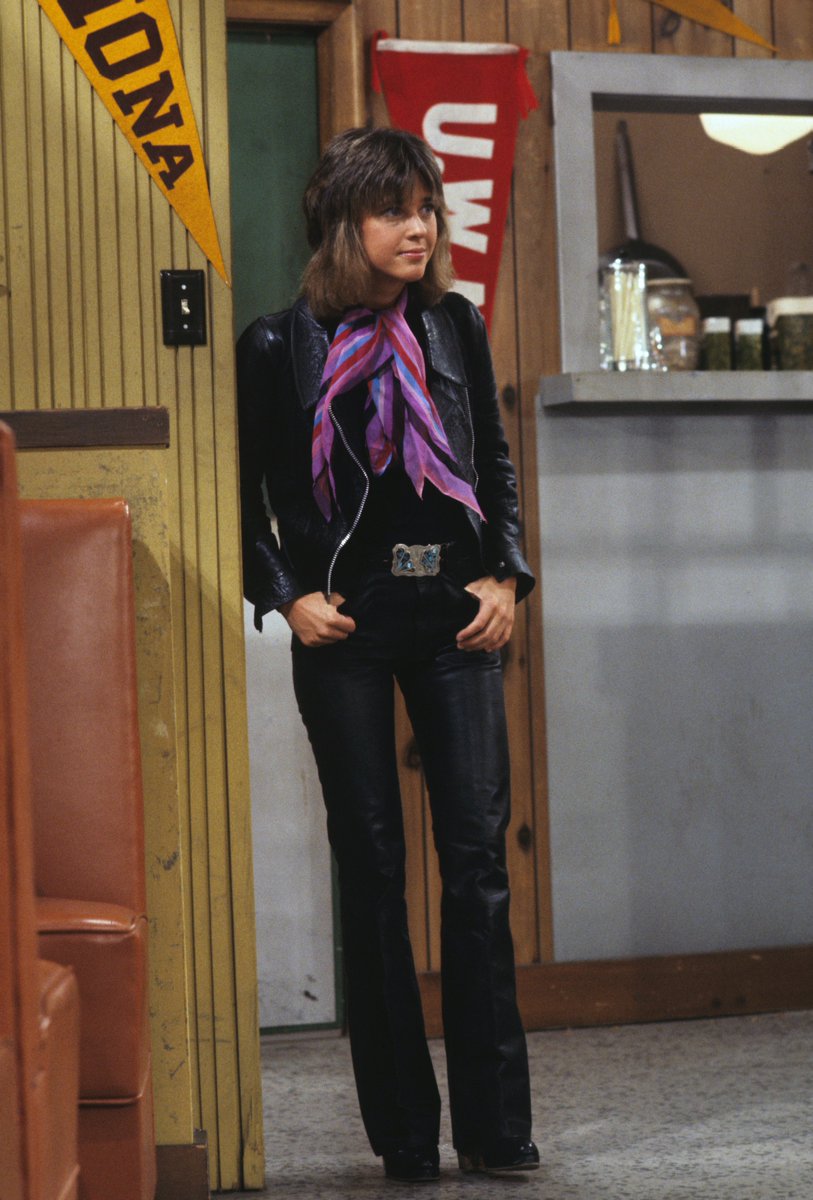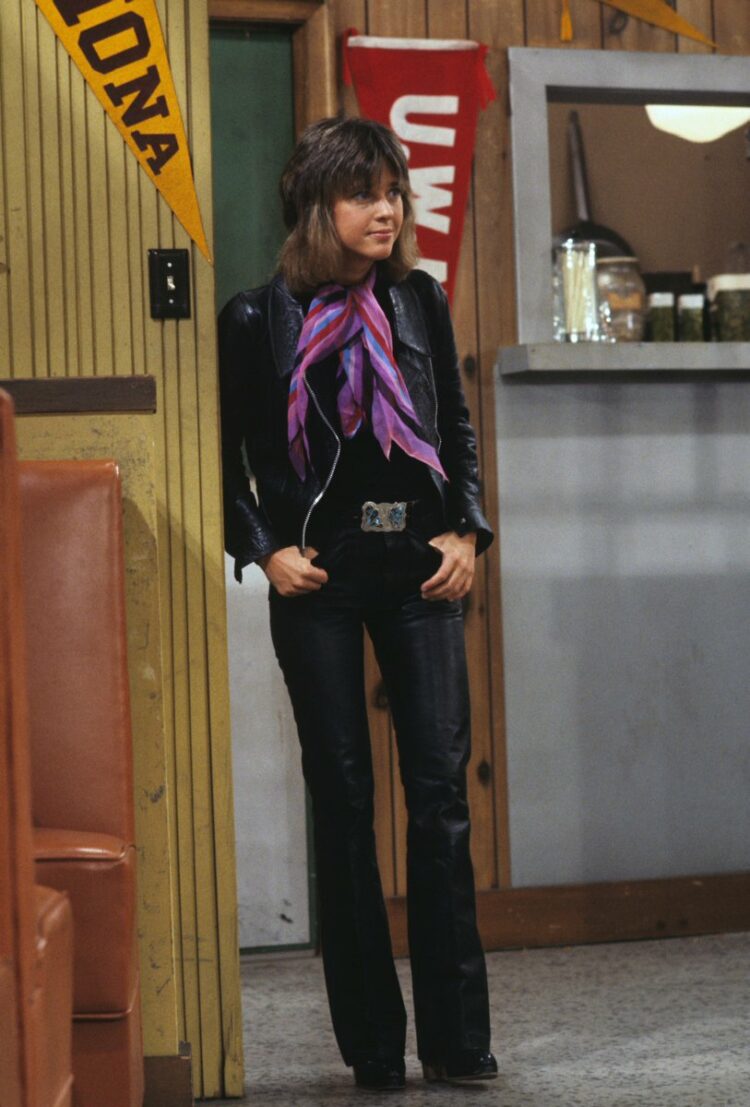 Don't get me wrong, if you want to emulate Suzi Quatro I fully support you, you badass grown woman. But if that's who you are, you're not here for advice on how to style the leather trend this year. For the rest of us who aren't sure how to rock leather this fall and not have it look like we flashbacked to a different decade, I share my tips below. I also share my best picks for leather and leather-looking apparel for fall and some suggestions on how to style it too.
Breaking Down the Leather Trend for Fall/Winter 2022/2023
Let's get one thing straight – we're grown women and we can wear whatever the heck we want to and look fierce AF. It's about choosing what fits with your taste and feeling comfortable and confident in it. And if you love leather, go ahead and rock it from head to toe. This fall, it's totally acceptable and totally on trend.
You will find leather hats, leather tops, leather dresses, leather gloves of all lengths, leather jumpsuits, leather pants and leggings and jeans of all cuts and silhouettes. And designers styled all this leather with leather boots and topped it with a big leather coat.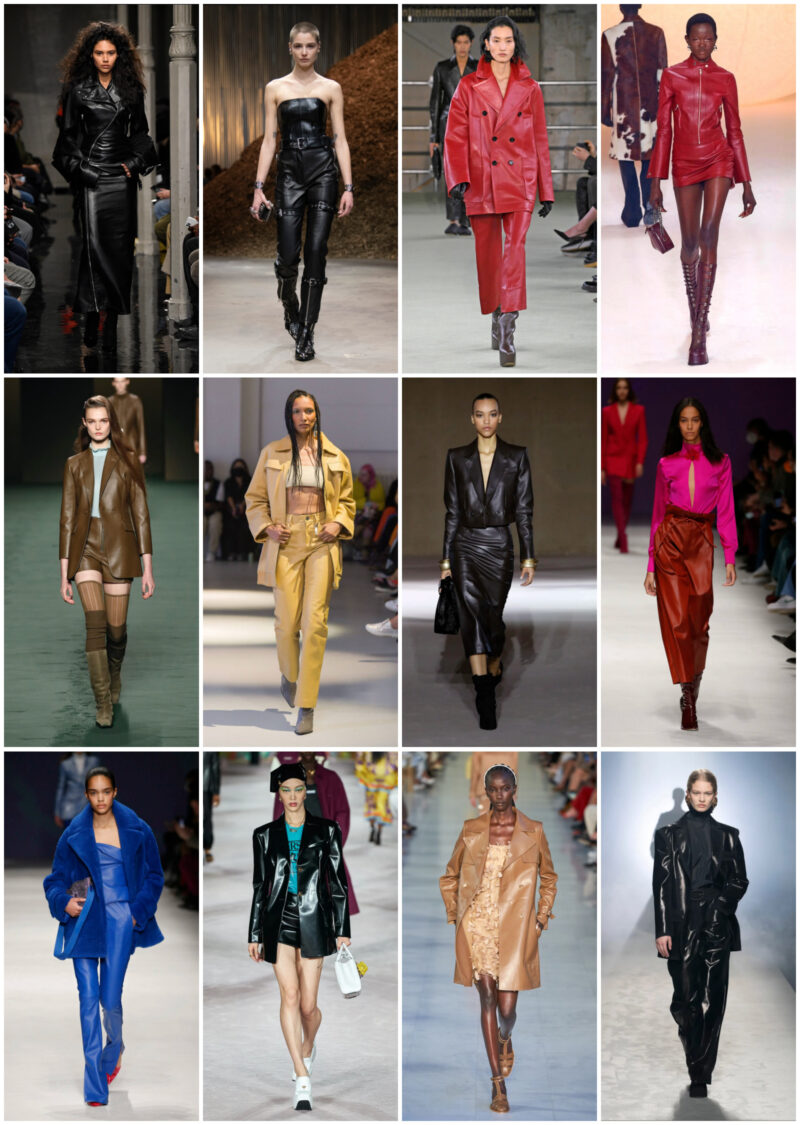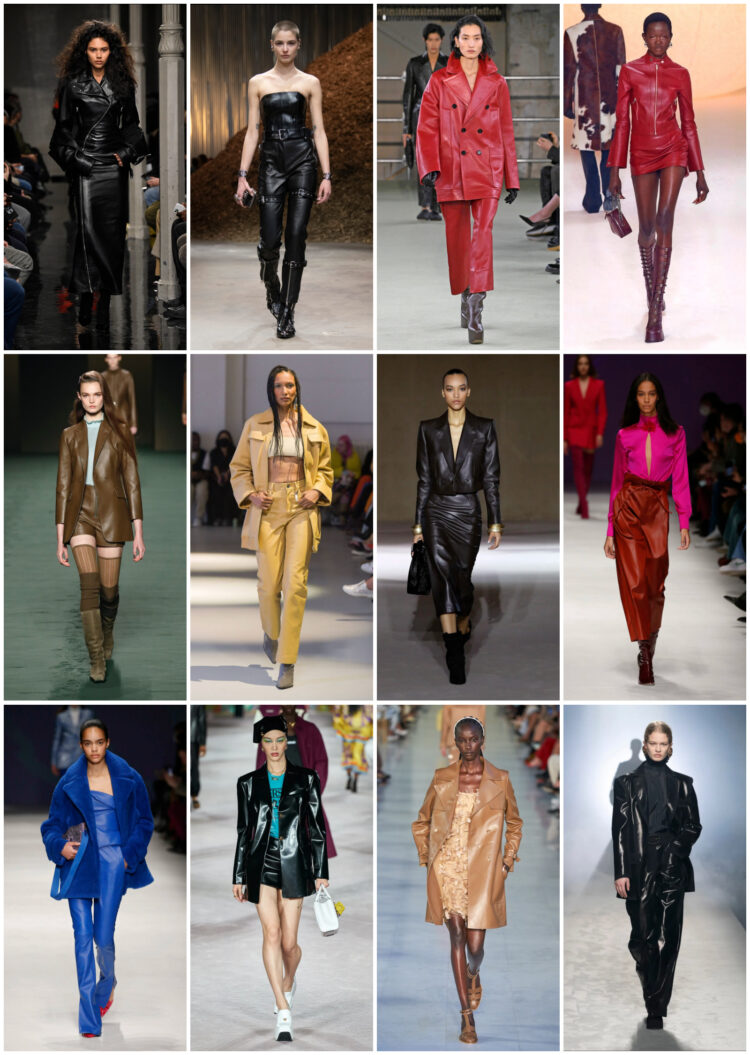 That being said, it is also quite chic to add just a single leather piece to your wardrobe or your ensemble. And a lot of the classic leather looks from past decades are back, meaning you may already own pieces to create a chic ensemble, or it may be easy to find such pieces at thrift and consignment shops.
This fall, there is no one specific way to wear leather. You will find second-skin leggings and bodysuits, voluminous dresses and tops with architectural details, wide-leg pants and oversized shackets, tailored skirts and blazers, joggers and jeans and Bermuda shorts. Leather is pleated, elasticized, thick and rigid, paper thin and stretchy.
While black is the most popular color for leather this fall, you will also find warm neutrals like cream and caramel, as well as colorful leather pieces in colors like red, lavender, and lime. A few finishes like croco-embossing are popular this fall, but the majority of leather seen on the runways and in the stores is smooth, glossy, and luxe whether it is real, faux, or a finish.
Tips to Style Leather Pants and Jeans as a Grown Woman
I think the easiest way to incorporate leather into your existing wardrobe is with a pair of leather pants or jeans. With so many lengths and cuts in the stores this season, you can easily find a pair similar to a silhouette you already rock regularly. Then, you can style it with the same blouses, sweaters, and knit tops you already wear with pants or jeans.
Leather, whether it is real or faux, stretches. If you can close the leather pants or jeans but are uncomfortable sitting… I hate to say it but that is likely the right size for you. The textile will mold to fit you; you may want to wear it a couple of times at home, first unzipped to mold the rear and legs to your figure, and once that is stretched, then work on the waist. Hike up the knees before sitting to give more fabric in the thighs and rear to prevent a saggy bum or front of your leather pants.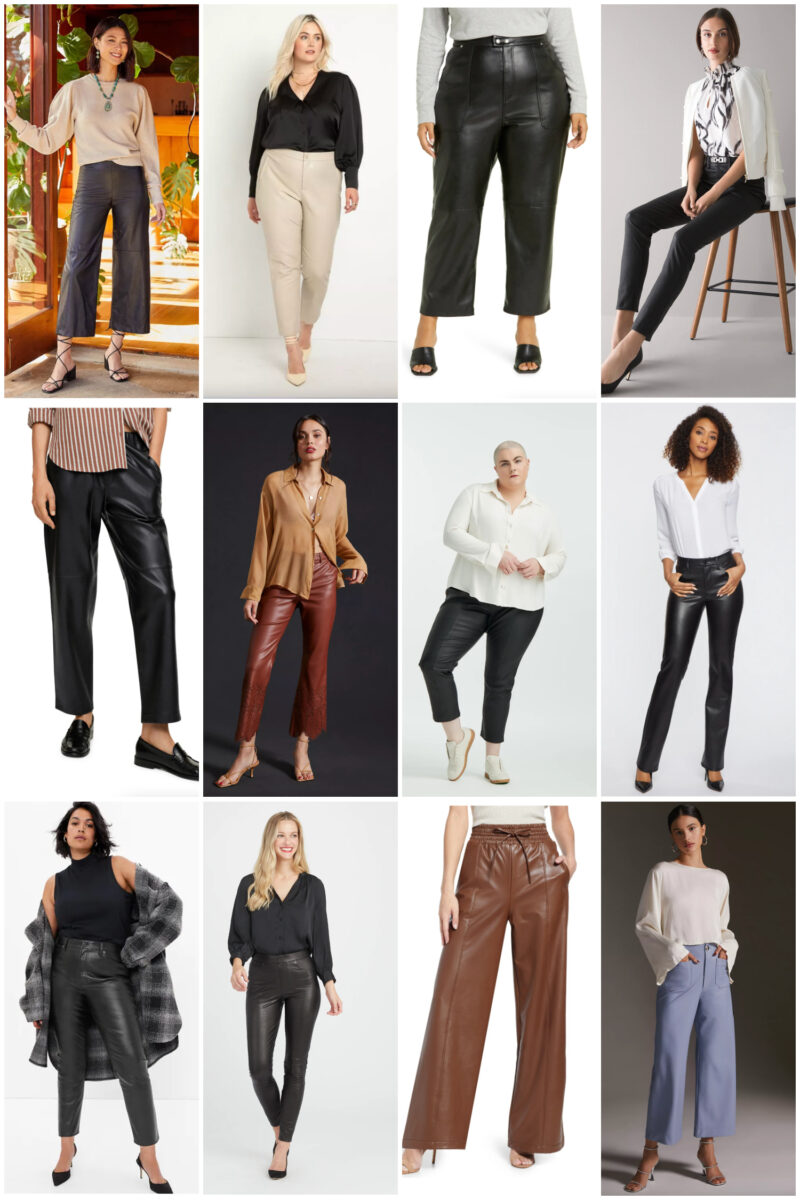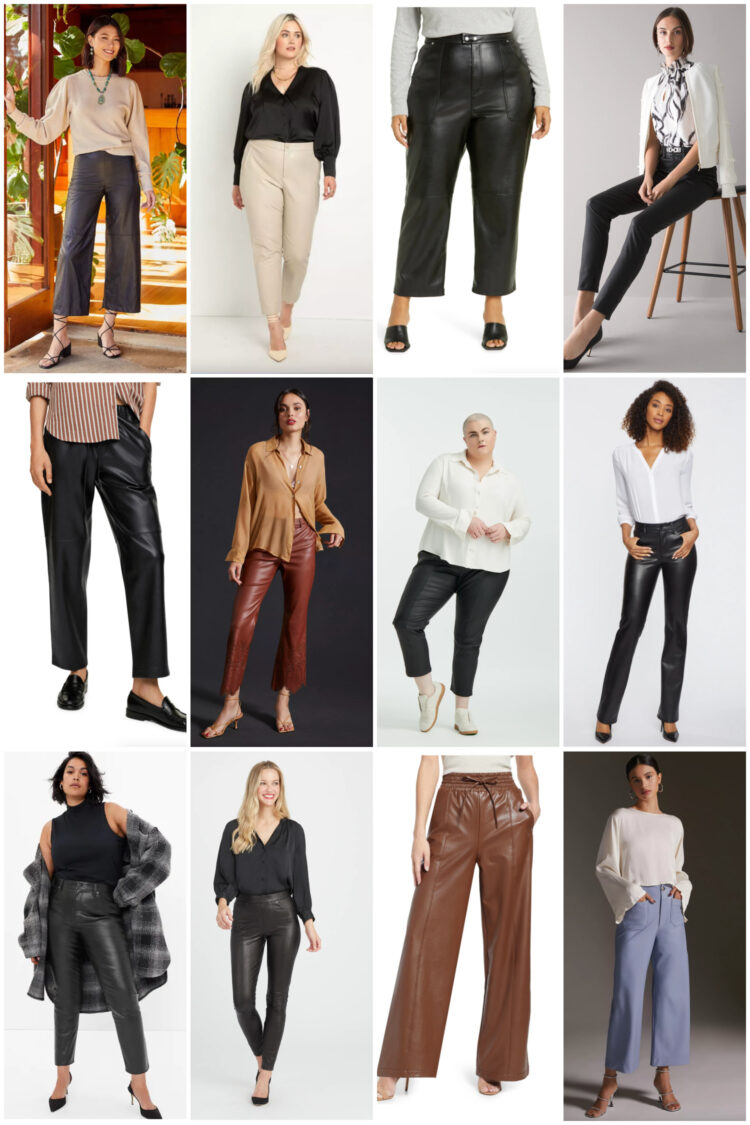 Top Row: cropped wide leg (XS-XL) | cream slim leg (14-28) | high-waisted crops (14-22) | slim ankle (00-18 with short and long)
Middle Row: elastic waist ankle pants (XXS-4XL) | brown laser-cut hem (00-16) | stretch leather (34″-52.5″ waist with a range of hip fits) | straight jeans (00-18 with petite options)
Bottom Row: slim jeans (24-35 with petite, tall, long, and short) | skinny pants (XS-3X with petite and tall) | brown wide leg (XXS-XL) | cropped blue (23-34 with tall options)

When it comes to footwear with leather pants and jeans, you want a shoe that either continues the line and texture, or completely goes in a different direction. You don't want to wear tumbled leather with patent, a glossy leather with a vintage finish, or two different tones of the same color.
A glossy (not patent) leather boot with a shaft high enough to slide under the pant leg will likely go with most leather and faux leather pants and jeans in stores this season. As for style, you can go with a flat boot, a chunky boot, a heeled boot… whatever floats your boat. I ordered a pair of these boots for fall and can't wait to see how they look with leather pants.
If your leather is an atypical color or finish, instead of trying to match, try to complement. Consider a pop of color or metallic or a contrasting neutral (for example white with brown, camel with burgundy, brown with cream, pink with red, gold with purple).
If your leather pants are the style that if not in leather you'd wear with sneakers, you can rock sneaker with your leather pants. Think wide-leg pull-on faux leather pants, leather joggers, faux leather leggings, cropped pants and jeans. A white leather sneaker (I think these are a classic, so are these, and I recently got these) is a great choice.
As for what to wear on top, you can do most anything. A merino sweater, a Breton top, a graphic t-shirt, a silky blouse, a blazer with a white tank, a cashmere turtleneck, and even a twinset is chic. This is a great year to casually incorporate leather into your closet and see how it feels.
Tips to Style a Leather Dress or Jumpsuit as a Grown Woman
Yes, you can be a grown-ass adult and rock a leather dress or jumpsuit this season and you won't look try hard. It's all about silhouette and styling, and luckily we have both on our side this fall/winter.
If you look at the leather dresses and jumpsuits that were on the runways and now at retailers, the silhouettes are recognizable. Short-sleeved shift dresses, belted shirtdresses, sleeveless fit and flare frocks, and other looks you'd regularly wear if in another fabric. The concept of an oversized shirt or loose shirtdress is also very popular this season in leather and leather-like fabrics and jumpsuits primarily have a flight-suit vibe.
Because these are recognizable silhouettes, you can style them in a manner similar to how you would style them if they were of cotton, wool, or denim. Rock that shirtdress with sneakers, pair that sheath with a blazer and pumps, style a shift with opaque tights and tall boots, wear that jumpsuit with your (freshly polished) combat boots.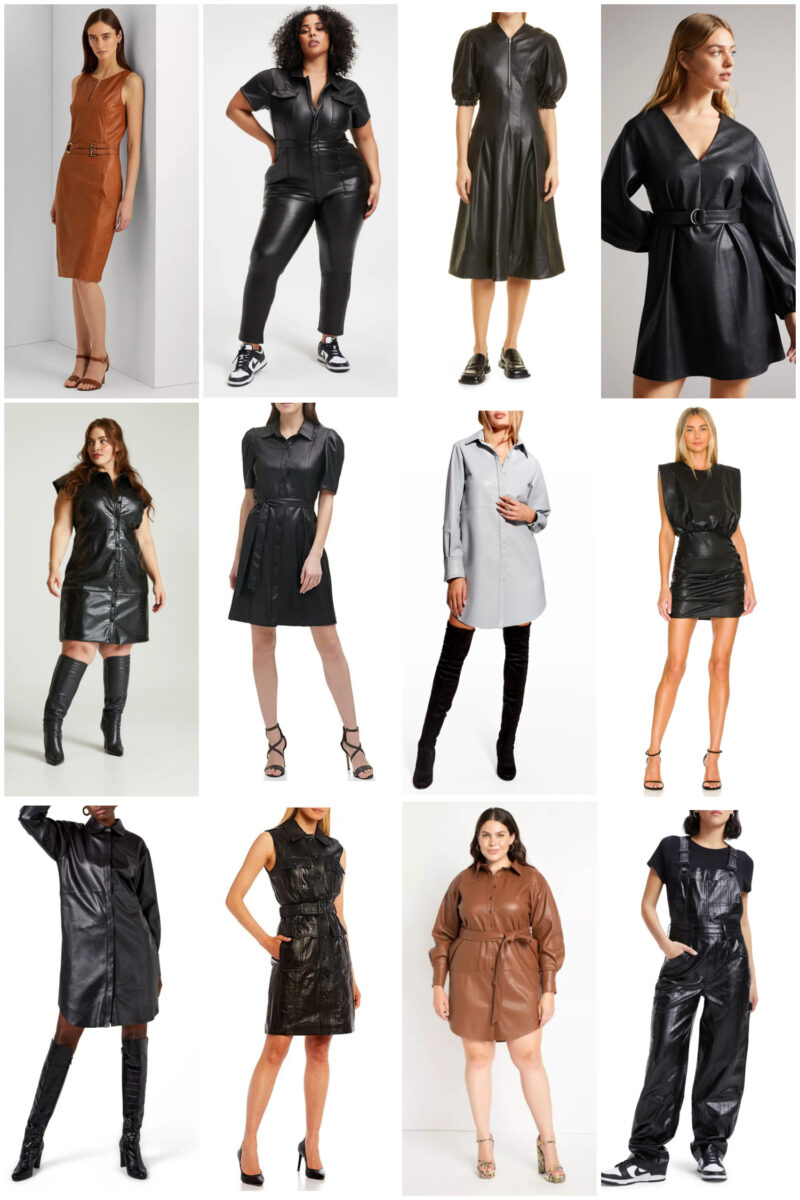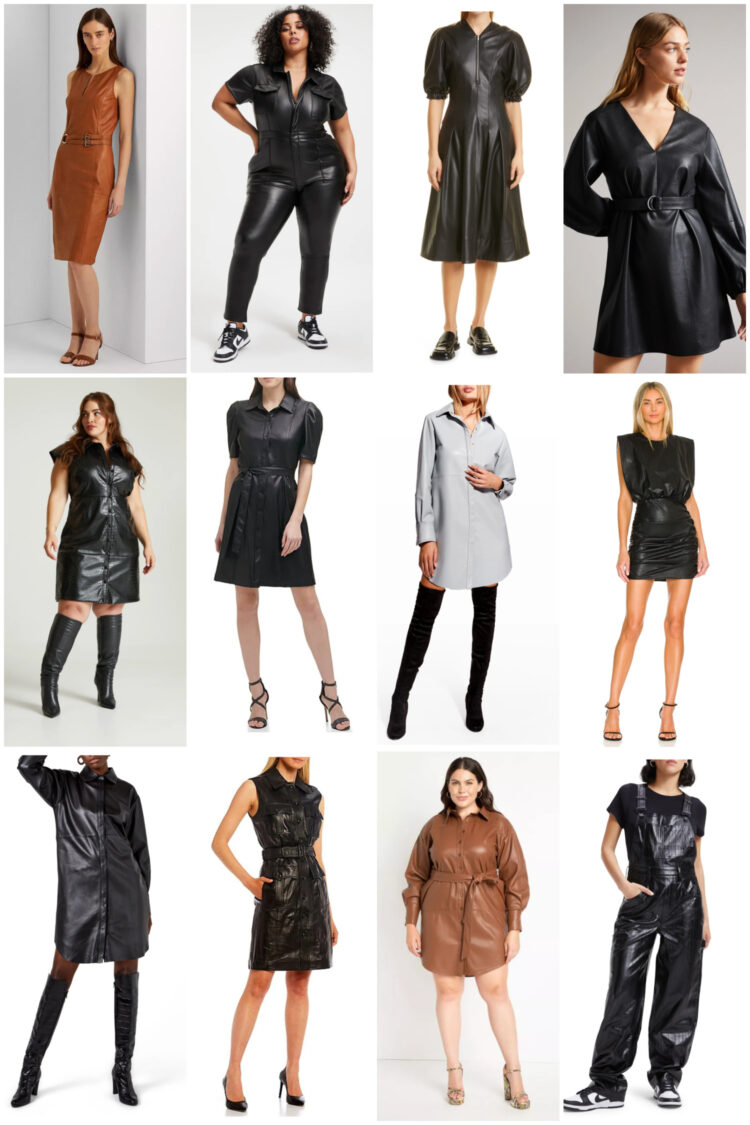 Top Row: brown sheath (0-18) | black jumpsuit (XS-5XL) | fit and flare dress (0-10) | belted long-sleeve dress (2-12)
Middle Row: croco-embossed shirtdress (1X-3X; same dress in sizes XXS-XXL) | puff-sleeve shirtdress (4-16) | gray shirtdress (XS-L) | strong shoulder dress (XS-L)
Bottom Row: black long sleeved shirtdress (XS-L) | belted sleeveless shirtdress (0-16) | brown shirtdress (14-28) | overalls (00-26)

The runways showed most leather in monochromatic ensembles, especially when it came to hosiery. If you are looking to pair hosiery and shoes with your leather dress, I recommend them all being the same color. Feel free to get creative with patterned and textured hosiery as that is a hot look this season, but I'd recommend wearing a black leather dress with black tights and black shoes.
For more casual leather dresses and jumpsuits, a pair of white leather sneakers is a safe bet. A leather shirtdress with sneakers is a fun look for fall and again come early spring.
Tips to Style a Leather Skirt as a Grown Woman
Essentially, style the skirt with a combination of advice I have above for pants and dresses. Wear the footwear you'd rock with a skirt in the same silhouette out of a different textile, but know you have some freedom to get a bit more casual, quirky, or bold.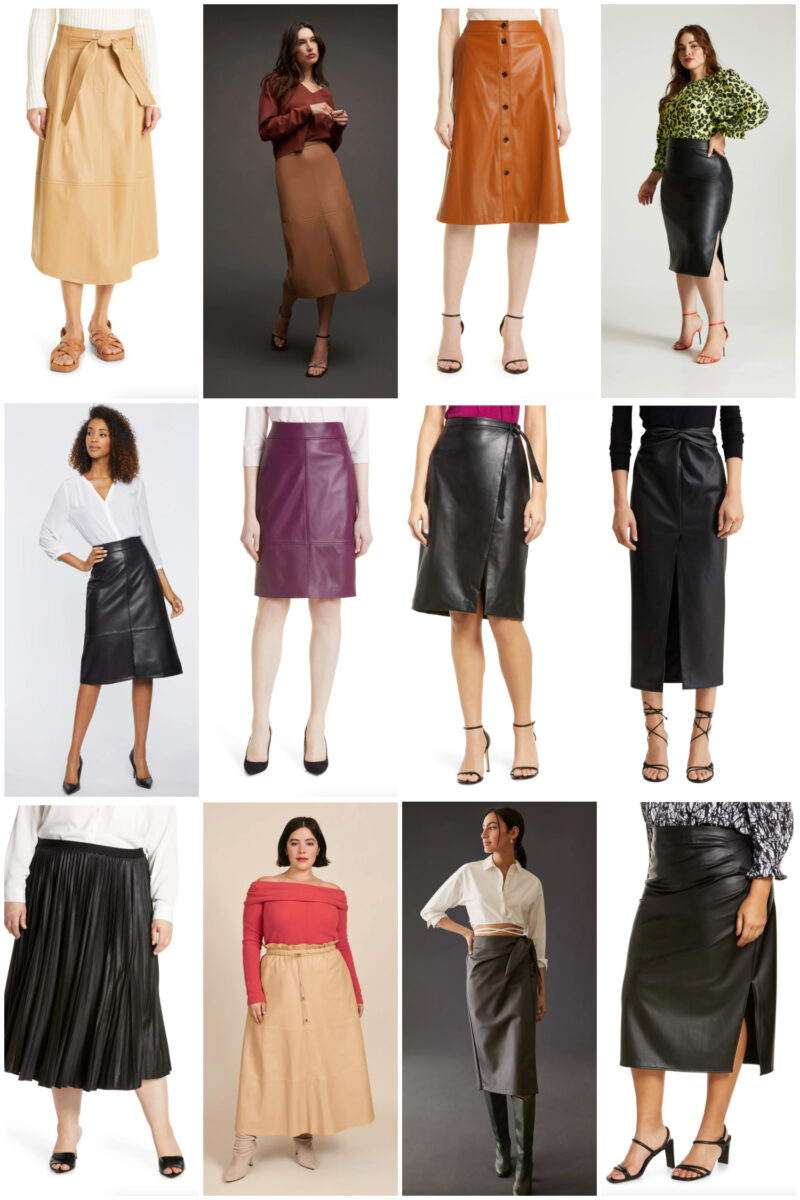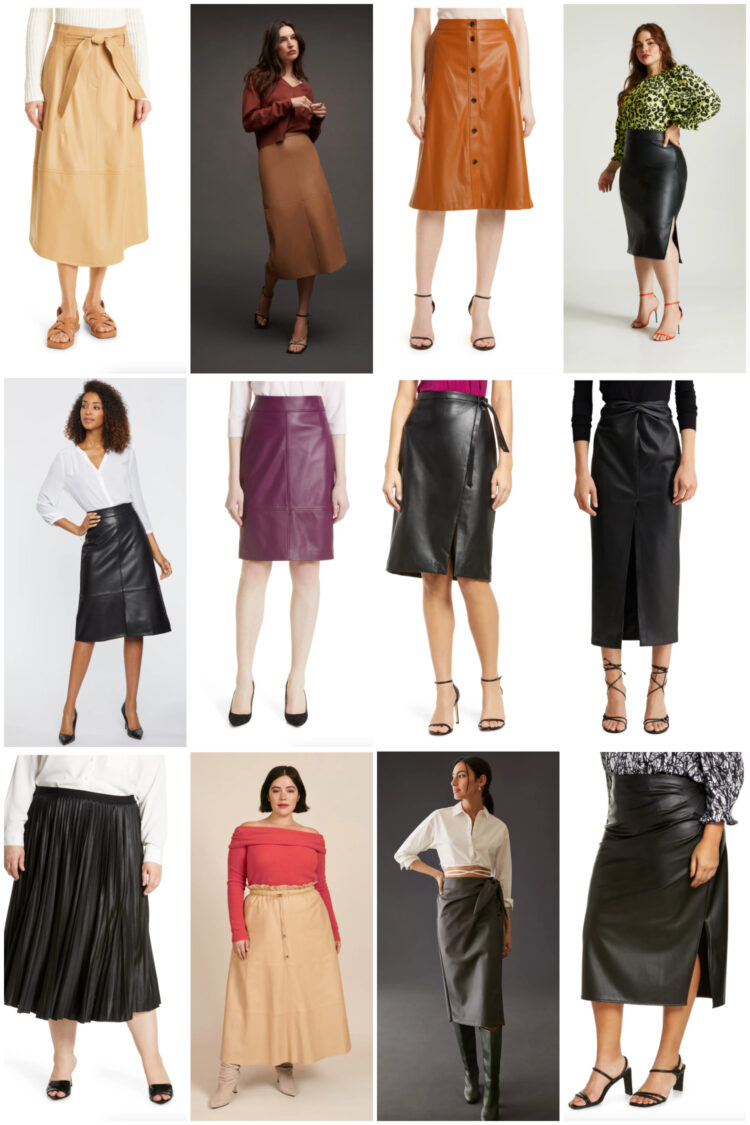 Top Row: gray belted (on clearance, only 4, 8, and 16 available) | camel midi (XS-XL) | caramel button-front (4-10) | black side slit (18-22)
Middle Row: black a-line (00-18) | berry pencil (0-16) | black faux wrap (4-12) | twisted waist (XS-XL)
Bottom Row: black pleated (1X-4X; link to same skirt in XS-XXL) | beige ankle-length (16-22) | tie waist (XS-XL) | side shirring and slit (18-24)

White sneakers are a great pairing with leather skirts, whether it's a pencil skirt with a graphic t-shirt or a pleated midi-length with a sweater. If you choose boots, again try to match finish and color of leather, or else go with a drastic contrast.
Tips to Style Leather Tops as a Grown Woman
With the buttery soft drapey faux leathers out this season, the concept of wearing a leather or leather-look top is doable for a grown woman (that is if you're not dealing with hot flashes!). Keep the stiffer leathers for boxier or more molded styles of tops (corsets, shift tanks, etc.).
Treat the leather top as you would a top made of sequins or beading or a shiny fabric – it's the piece that takes the spotlight. Everything else should be working to keep the leather as the focus. I also think leather tops work best with softer separates.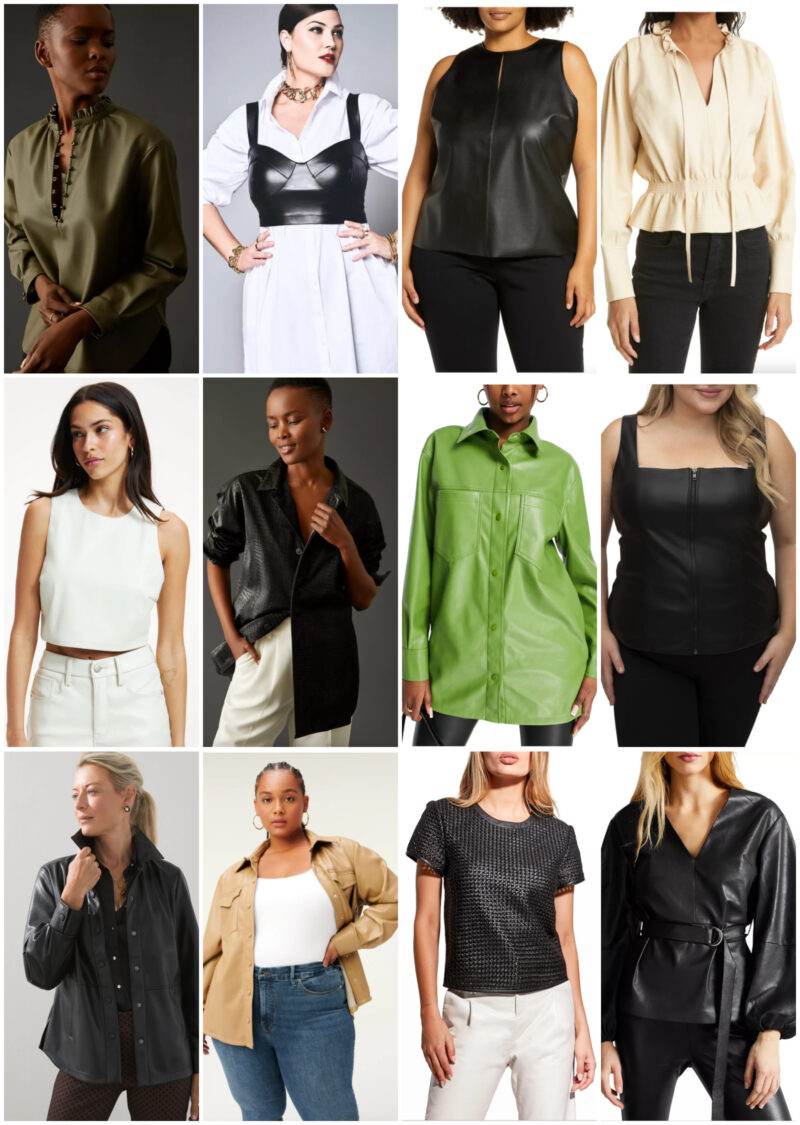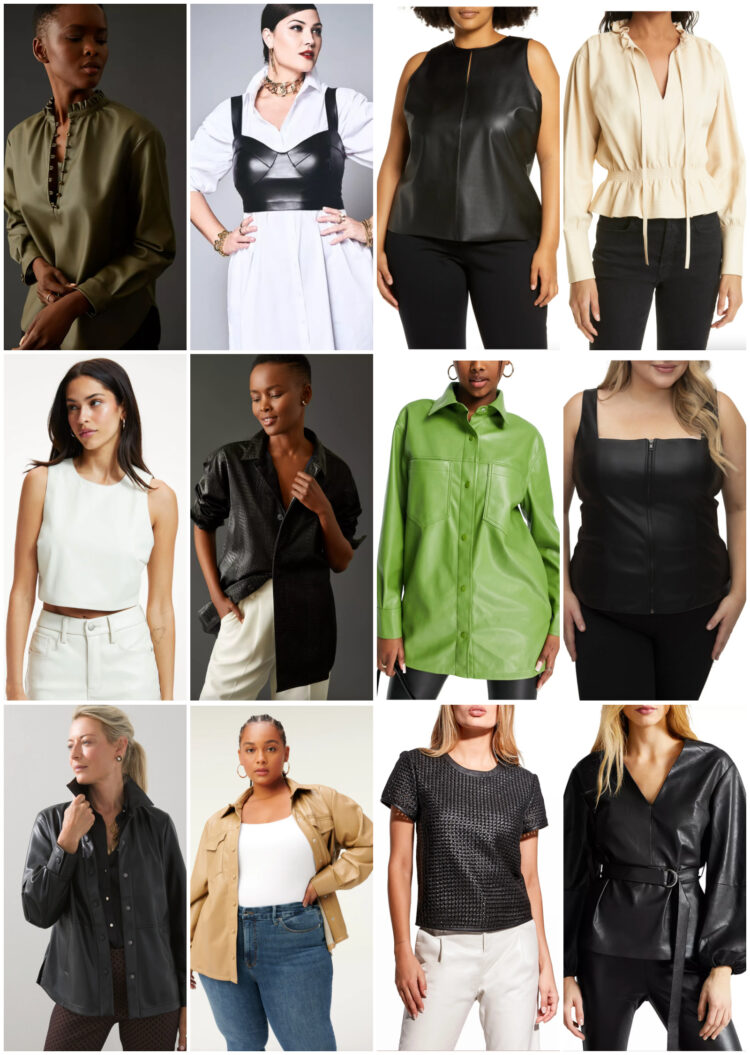 Top Row: green blouse (XXS-XL) | black bustier (14/16-26/28) | black shell (1X-3X; same in XXS-XXL) | cream blouse (XS-L)
Middle Row: white tank (XS-5XL) | black croco-embossed shirt (XS-XL) | green shirt (0-16/18) | black tank (22-26)
Bottom Row: black shacket (0-22) | camel shirt (XS-5XL) | woven tee (XS-L) | belted top (2-12)

Think a leather button-front shirt tucked into menswear-inspired trousers, a leather t-shirt with a silky midi-length skirt, a leather tank under a silk blazer with soft worn-in jeans. Mixing hard with soft is always chic while also making the outfit more comfortable.
When it comes to leather tops, if you feel or look restricted, don't do it. Leather isn't terribly forgiving to soft curves, and even if you're wearing the same size jeans you rocked in high school, there's a good chance your arms, bust, and midsection aren't as taut as they used to be. That's totally normal and beautiful and you deserve to wear clothing that works with, not against your grown woman self.
Tips to Style a Leather Blazer as a Grown Woman
This is just my own opinion, but I think a grown woman needs to be careful with her leather blazers. I know I had a two faux leather blazers in college that were my bar jackets because they could be wiped clean or deodorized with Febreeze. They looked as though they were made out of plastic marshmallows and were fine for a 20-something me staggering down College Ave. but wouldn't be too chic on my grown-woman self.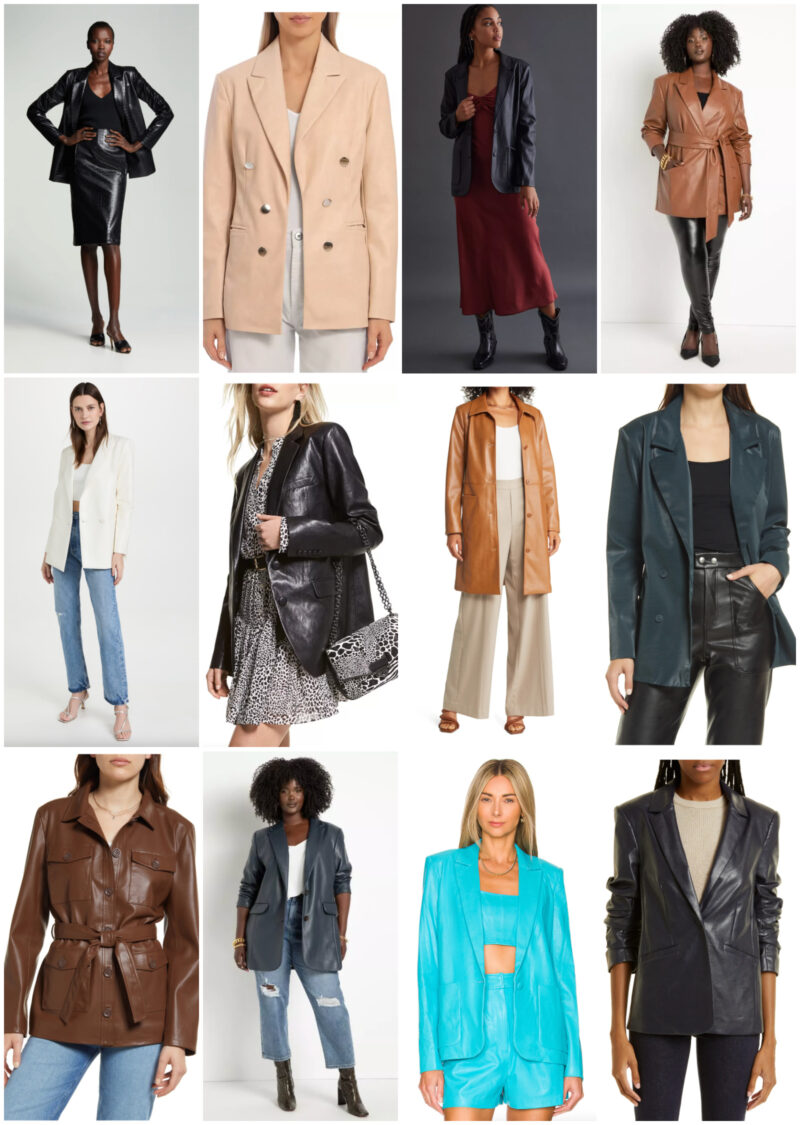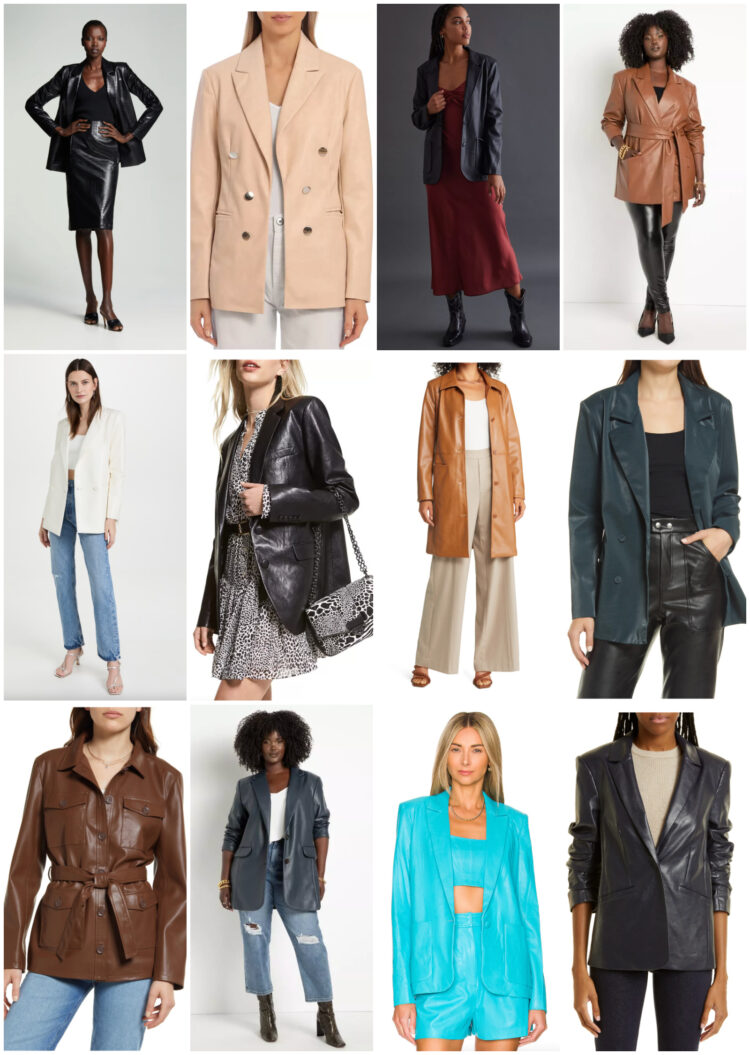 Top Row: croc-embossed (XXS-XXL) | cream double-breasted (XS-XL) | black relaxed fit (XXS-XL) | camel belted (14-28)
Middle Row: cream (0-14) | black (0-16) | camel long (XXS-XXL) | green double breasted (XXS-L)
Bottom Row: brown belted (XXS-XXL) | navy oversized (14-28) | turquoise (XS-XL) | black (0-10)

If it's faux, it should be a really good-looking faux. Nothing too puffy, nothing too plastic-looking. Even if it's faux leather, it should be well constructed with functioning buttons, a lining, functioning pockets, clean lines. Sometimes with faux leather, a color (red, cream, camel) will look more "real" than black or brown.
If you're going faux, sometimes details make it look more authentic, or at least more on trend. Look for a safari jacket-inspired style with pockets and a self belt. Consider a glazed finish, especially in a color.
Mixing Leather With Leather
Yes, this season it is perfectly acceptable to wear a leather shacket with leather jeans, a leather blazer with leather pants, a leather top with leather skirt. The key is have both pieces the same color, and both pieces with the same finish.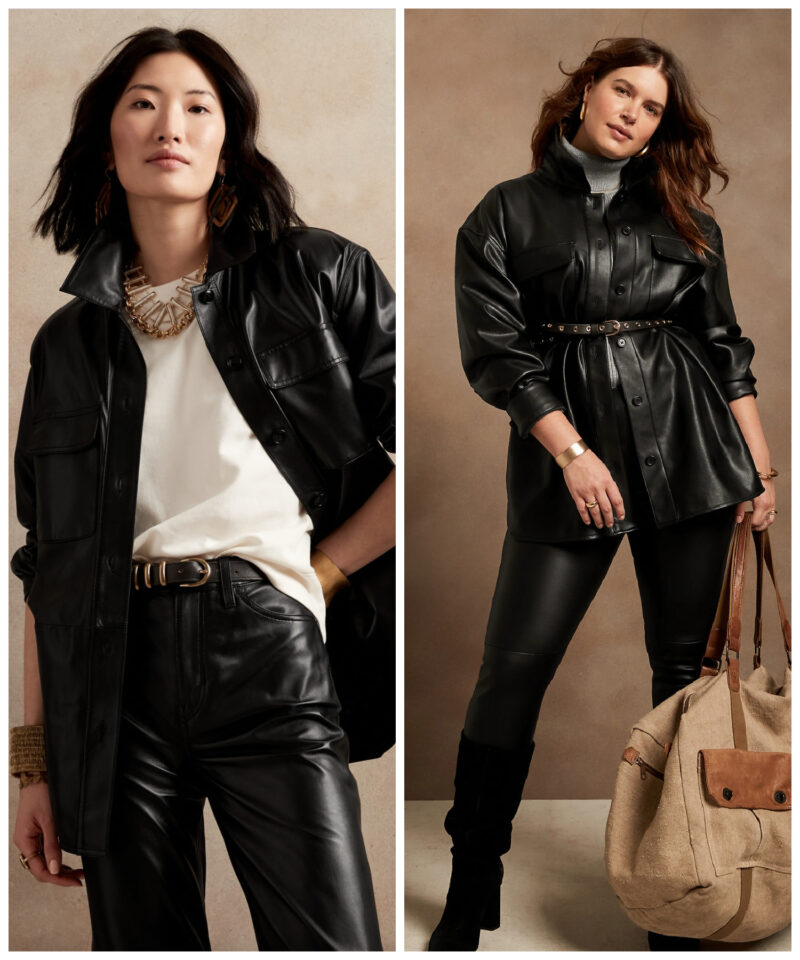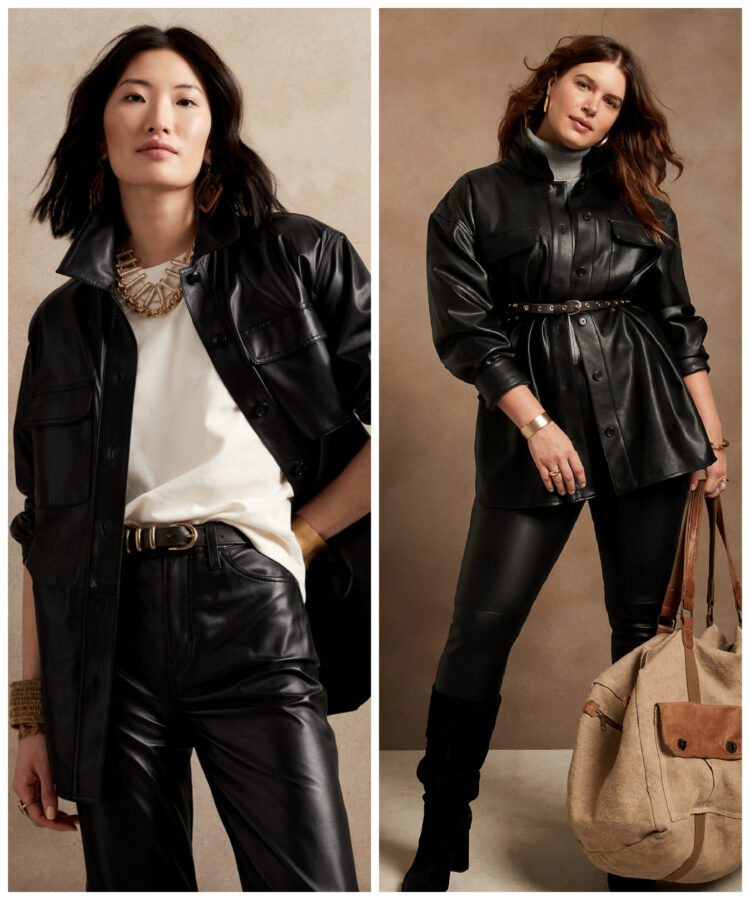 As with matching navys and blacks, it may be hard to match leathers, especially faux leathers, if not from the same manufacturer. If you desire a leather matched set, I recommend purchasing them from the same brand, or going with real leather that has undergone the same treatment.
How Much Leather is Too Much Leather?
If you're asking this question, you're either uncomfortable in leather or you're already in Tuscadero territory and want to push my buttons. You do you, grown-ass woman. If you love leather, this is your season – stock up! If leather makes you uncomfortable, bypass this trend. And if you just got your first leather piece, let it marinate in your closet, style it and wear it out of the house three times before you go out and buy more.
If you bought a pair of Spanx faux leather joggers after I've raved about them for years but never felt right wearing them, try them again this season, maybe with a black sweater and a pair of white sneakers or black Doc Marten boots. If you have a pair of faux leather leggings from one of the many NSales the past years, try them with a tunic-length silky blouse, or an oversized (not tunic cut) sweater in a chunky knit, or an oversized cotton poplin button-front shirt with a white tank and sneakers.
Leather is a trend that comes and goes, but never fully disappears. As long as you don't buy super trendy silhouettes this season, the leather and leather-like pieces you buy this fall should remain chic for years to come.