This article may contain affiliate links; if you click on a shopping link and make a purchase I may receive a commission. As an Amazon Associate, I earn from qualifying purchases.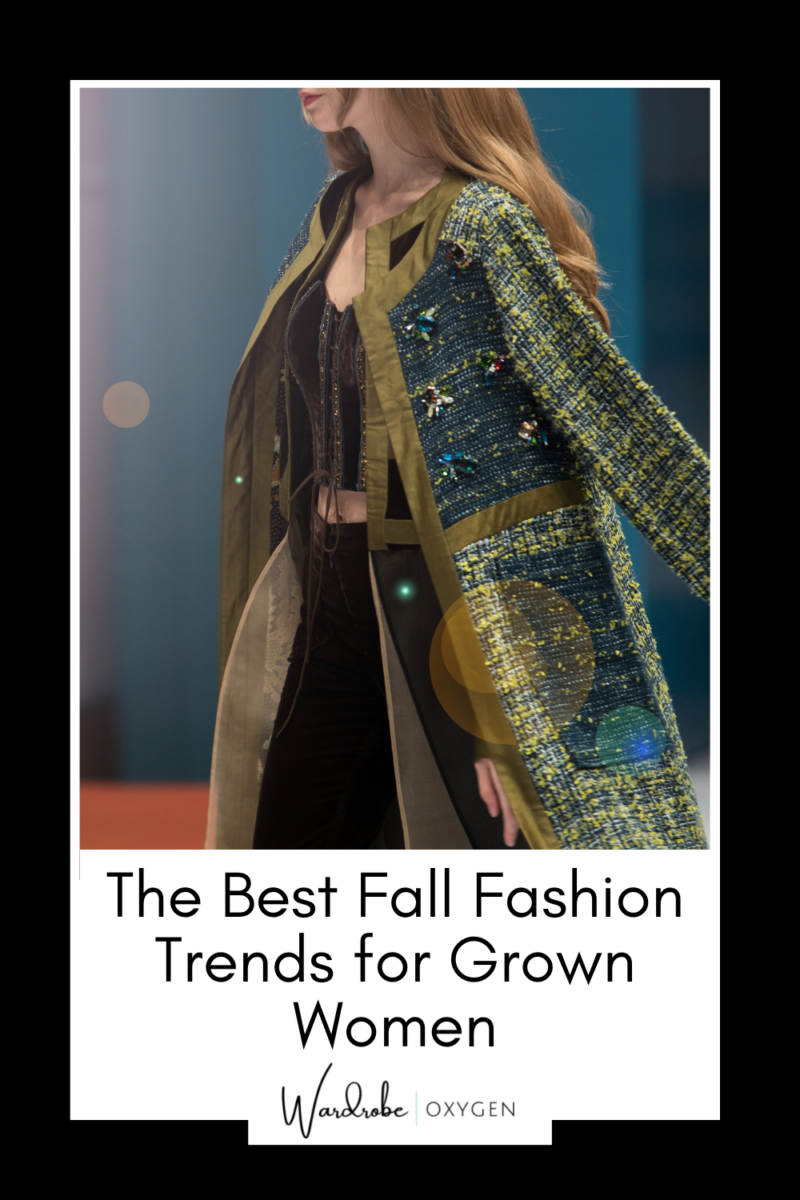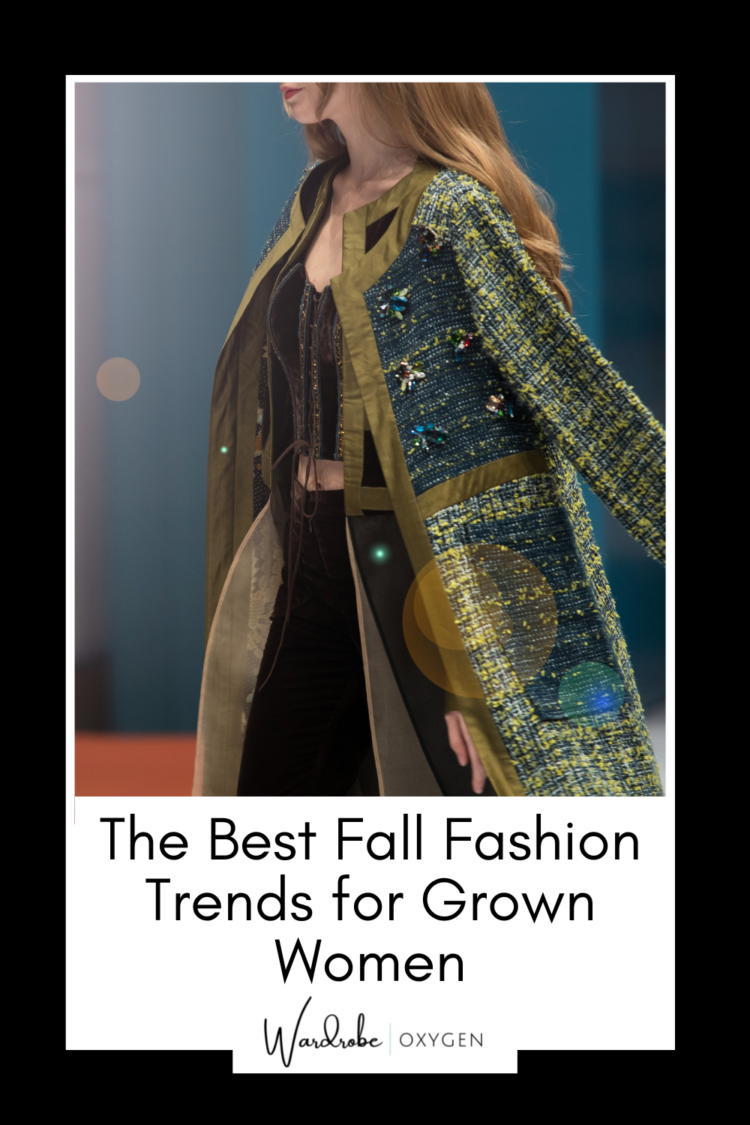 'Tis the season when every fashion publication shares their thoughts on the top fall fashion trends. I love this time of year, going through the trends, deciphering which ones are really going to have staying power, how the mall brands will translate them, and deciding which ones are truly wearable when you're a grown woman.
Don't get me wrong, any person of any age can wear whatever the heck they want. But some trends are more easily worn when your day-to-day is work, Target, the occasional social activity and others are better for the club and the catwalk. Below I share what I think are the best fall fashion trends for grown women. Current trends that can be translated into workwear, weekendwear, and wearable fashion for a range of bodies and budgets.
The Best Fall Fashion Trends for Grown Women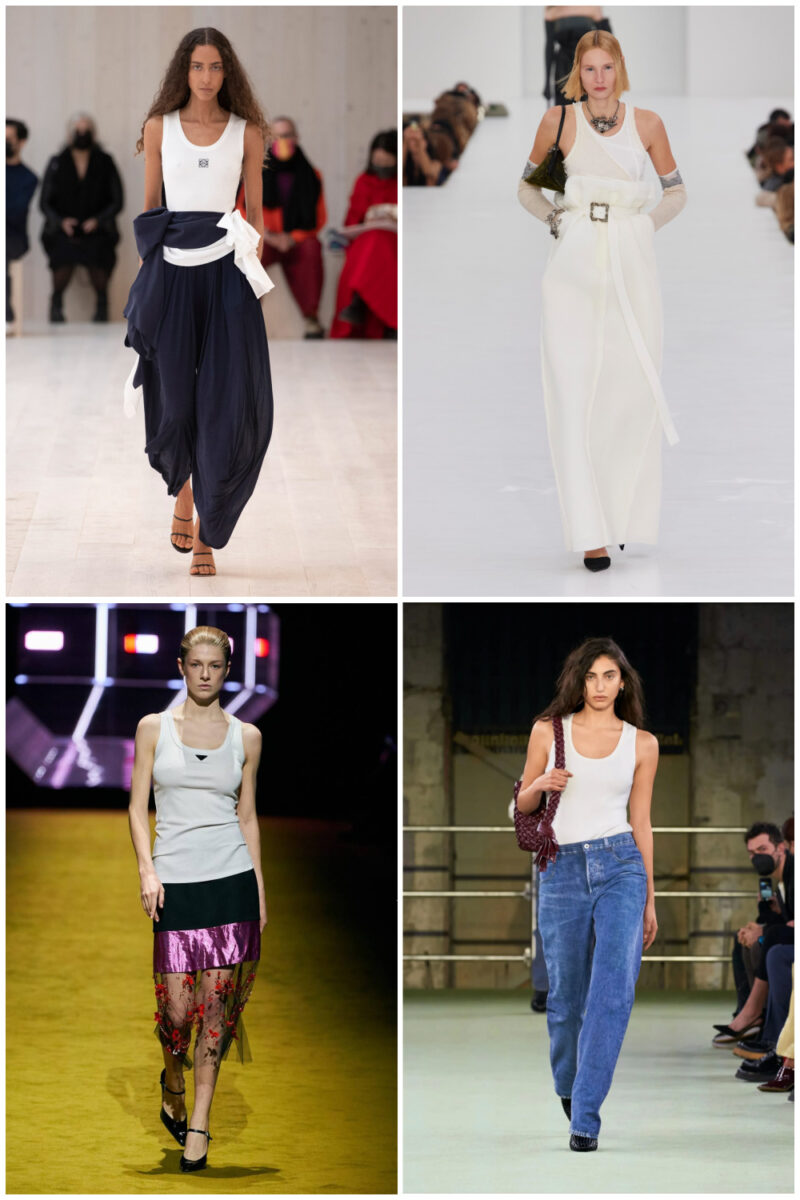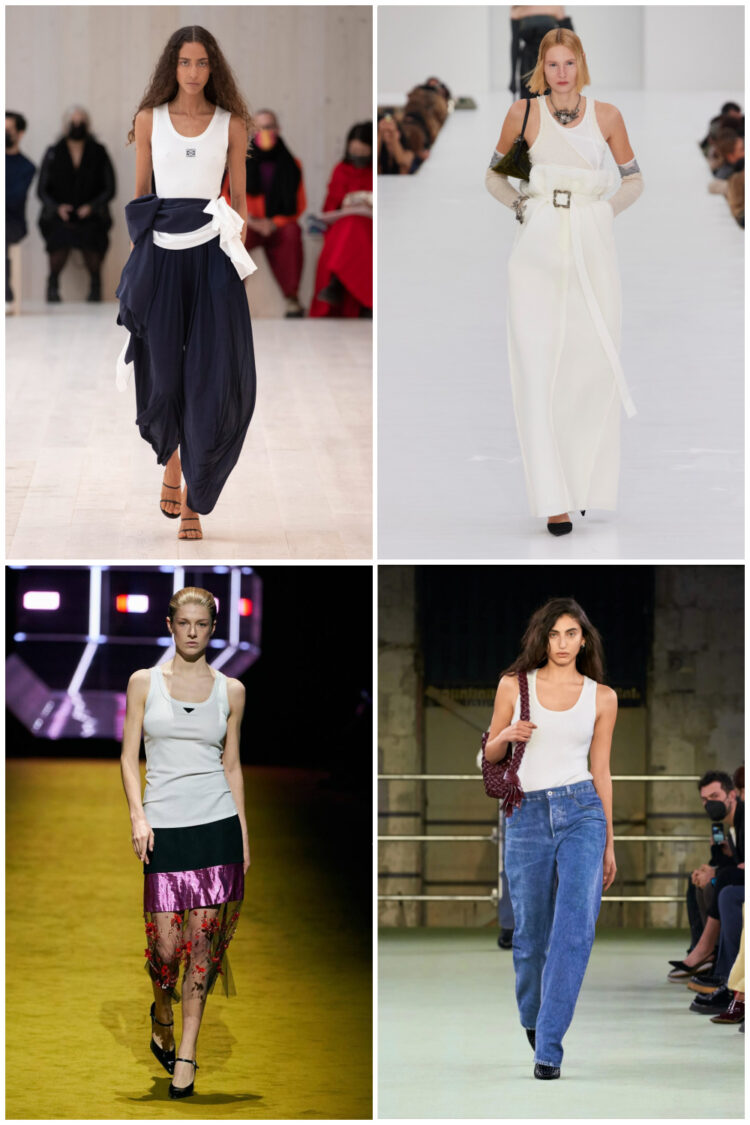 The White Tank
This seems so… duh, but I think it's because many of us found a white ribbed tank to be a wardrobe staple much of our teens and 20's and many of us never let it go. Why would we? It's so versatile. Well, the younger generations have caught on and the classic white ribbed tank is EVERYWHERE this year.
The thing is, a teen can grab a thin ribbed one from Hanes, wear with or without a bralette, pair if with most anything, and look chic AF. But when you're a grown-ass woman, you may wish to be more discerning with your white tanks, looking for opacity, slim but not skintight fit, a neckline that isn't too low or too high, a cut that covers the bra, etc.
Personally, I am a fan of this one from Athleta. It's casual but refined, completely opaque and hides my bra while looking modern and cool. If you wish for something more refined (say to wear under a blazer to work), I really like this tank from Chico's. And while more off-white than crisp white, this size-inclusive tank from Universal Standard is opaque, covers a standard bra, and is a modern fit.
Shop White Tanks for Women:

How to Style the White Tank for Fall 2022
As mentioned above, style your white tank under an oversized blazer. Go Y2K and pair your white tank with slouchy wide-leg jeans or trousers, or even glam it up with a dressy maxi skirt. Leather is back, a white tank with a leather pencil skirt is perennially chic. And oversized button-front shirts are in; wear one over your white tank with your favorite well-worn jeans.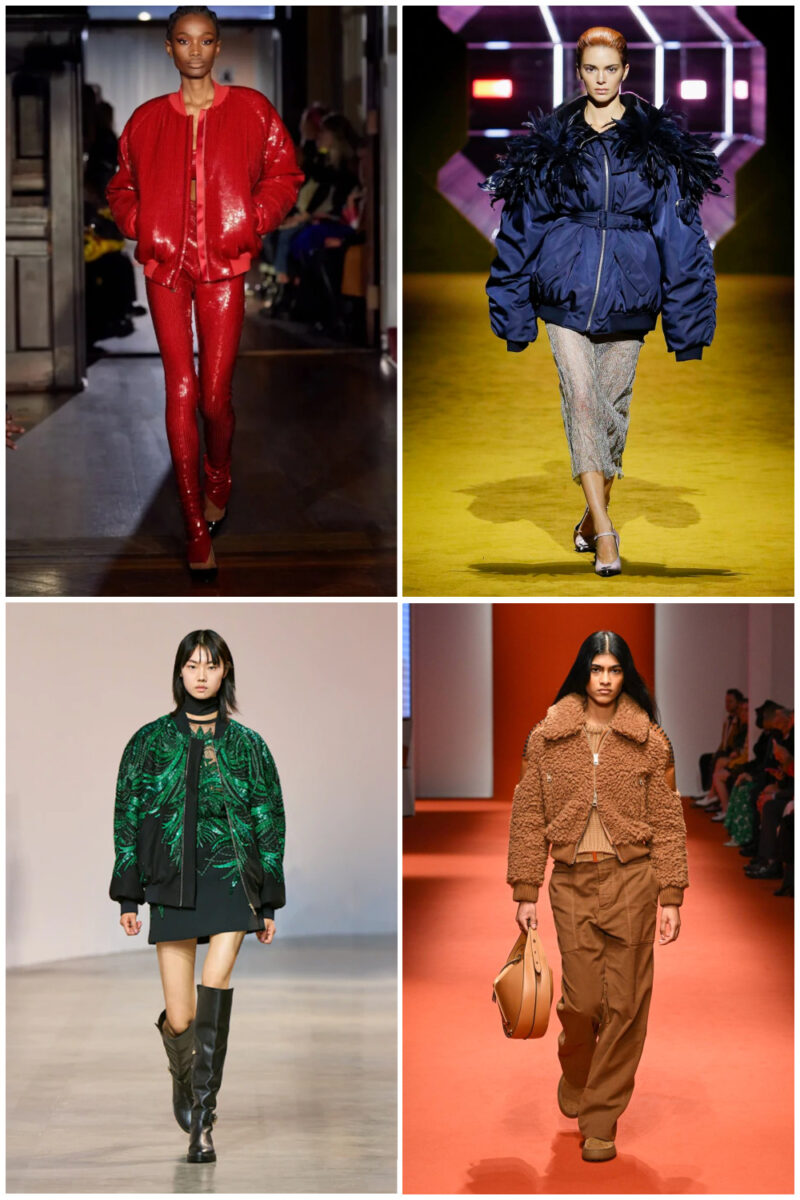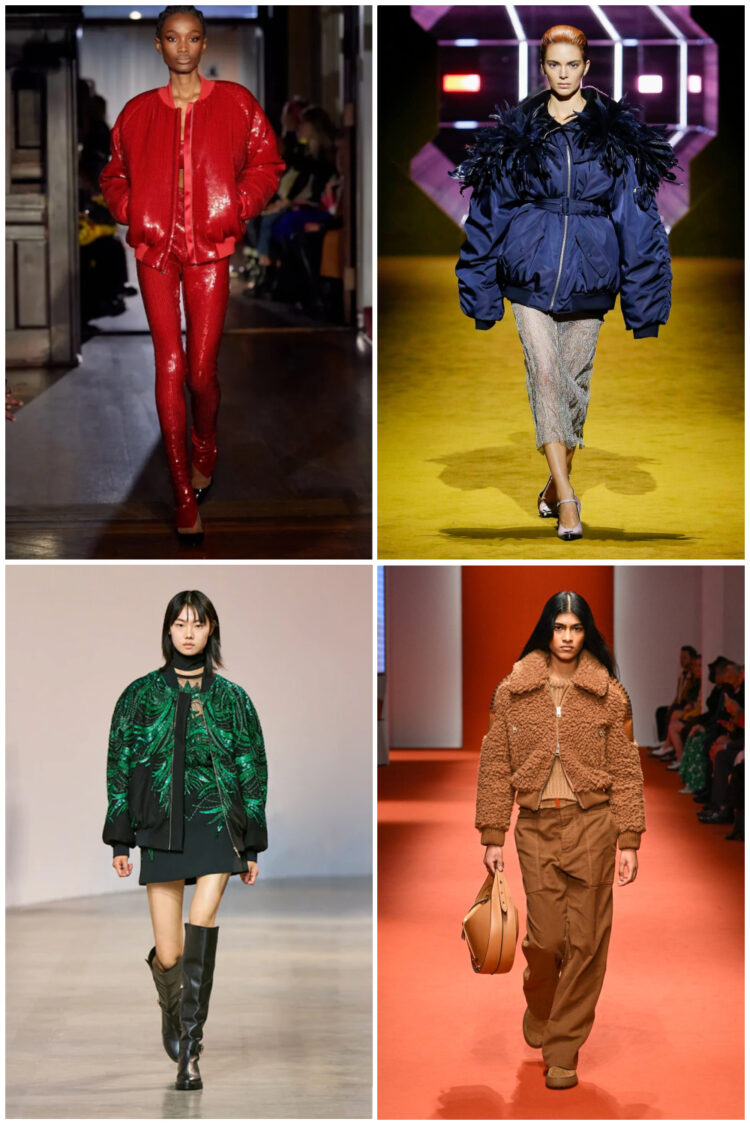 The Bomber Jacket
Call it the Top Gun effect, but bomber jackets are back and in a big way. While the classic military-inspired ones are chic, this season bomber jackets are in a range of colors, fabrics, and with plenty of embellishment making them perfect as outerwear, blazer alternatives, or a way to glam up a look for evening.
Shop Bomber Jackets for Women:

How to Style the Bomber Jacket for Fall 2022
This really depends on what kind of bomber jacket you are wearing. I have an olive green one I bought several years ago and plan on using it like a denim jacket or other fall outerwear. I also have this M.M.LaFleur bomber jacket and matching pants suit that will look extra modern this fall.
If you're one who loves to wear a simple black dress or separates and glam it up for evening with an embellished jacket, consider a bomber this year. They are available in all weights and lengths and the silhouette will add a modern touch to your wardrobe workhorses.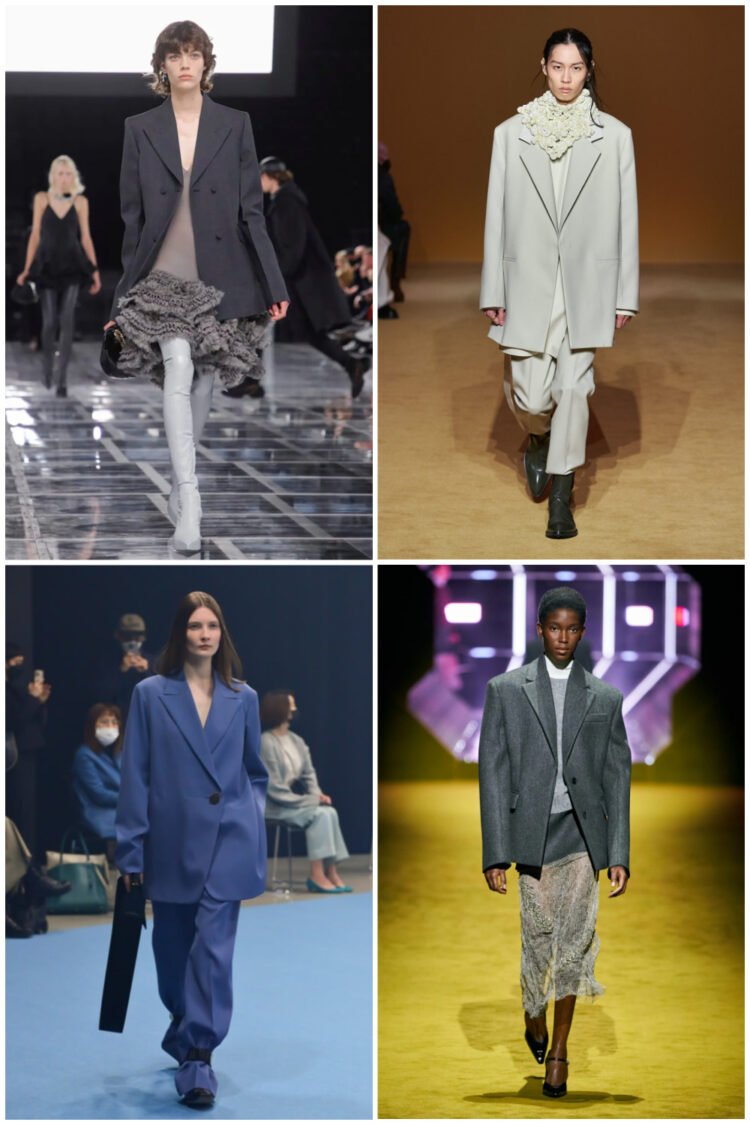 The Oversized Blazer
We grown-ass women are quite familiar with the oversized blazer; we've rocked them with stirrup pants and mini skirts and matching oversized suiting pants and thrifted 501's. The difference as a grown-ass woman is while this blazer is oversized, it is purposefully so, tailored to have the sleeves the right length, the shoulders strong but not sloppy.
I have a lot of luck with blazers from J. Crew. The price is reasonable for the quality and J. Crew incorporates current trends without having the piece so specific you're a fashion victim a year later. For classic tweeds and more casual fabrics, Madewell is a great place for this trend. And for blazers specifically designed in plus sizes, ELOQUII translates the trends extremely well.
Shop Oversized Blazers:

How to Style the Oversized Blazer for Fall 2022
Go classic with a white ribbed tank and a pair of straight or slightly relaxed jeans. While I am still a fan of skinnies, I think a slightly looser jean looks more modern with an oversized blazer. An oversized blazer also looks super chic with matching trousers; again the trousers should be straight to wide-leg instead of slim ankle styles of past years. Use the blazer in place of a hoodie or cardigan and pair with a Breton or graphic tee and joggers for the weekend.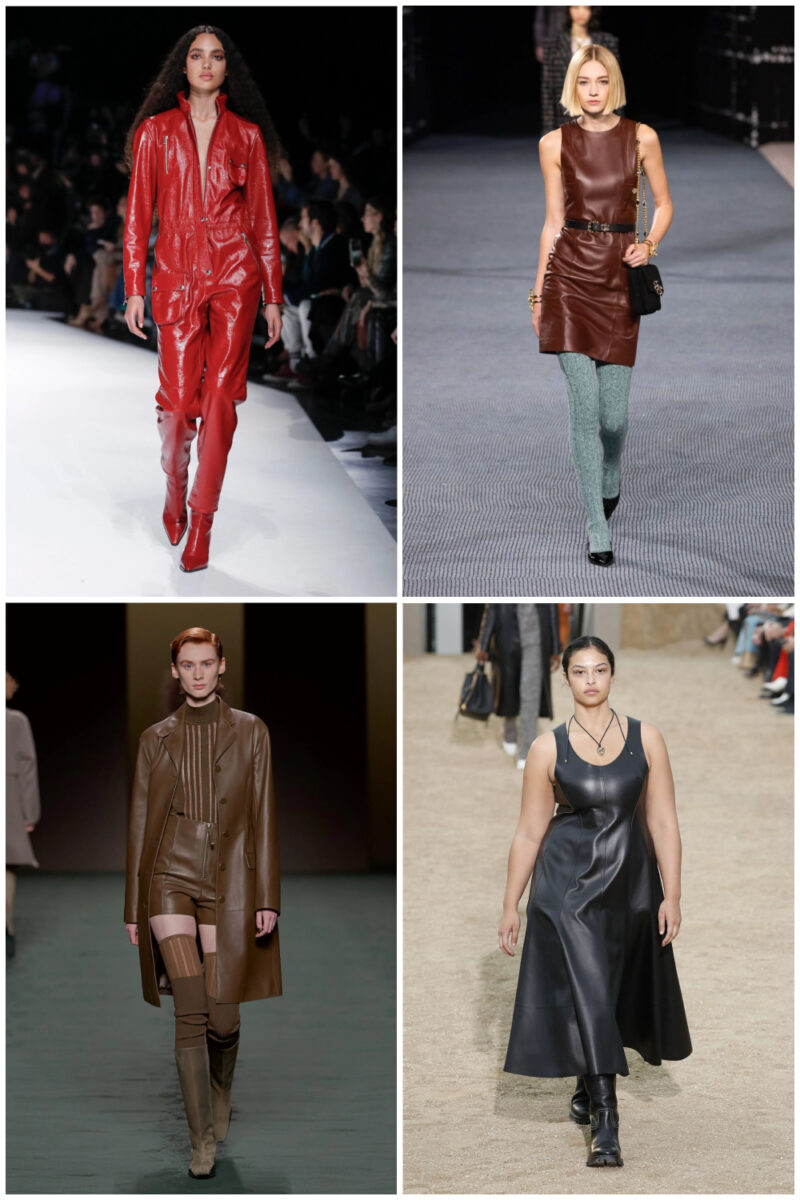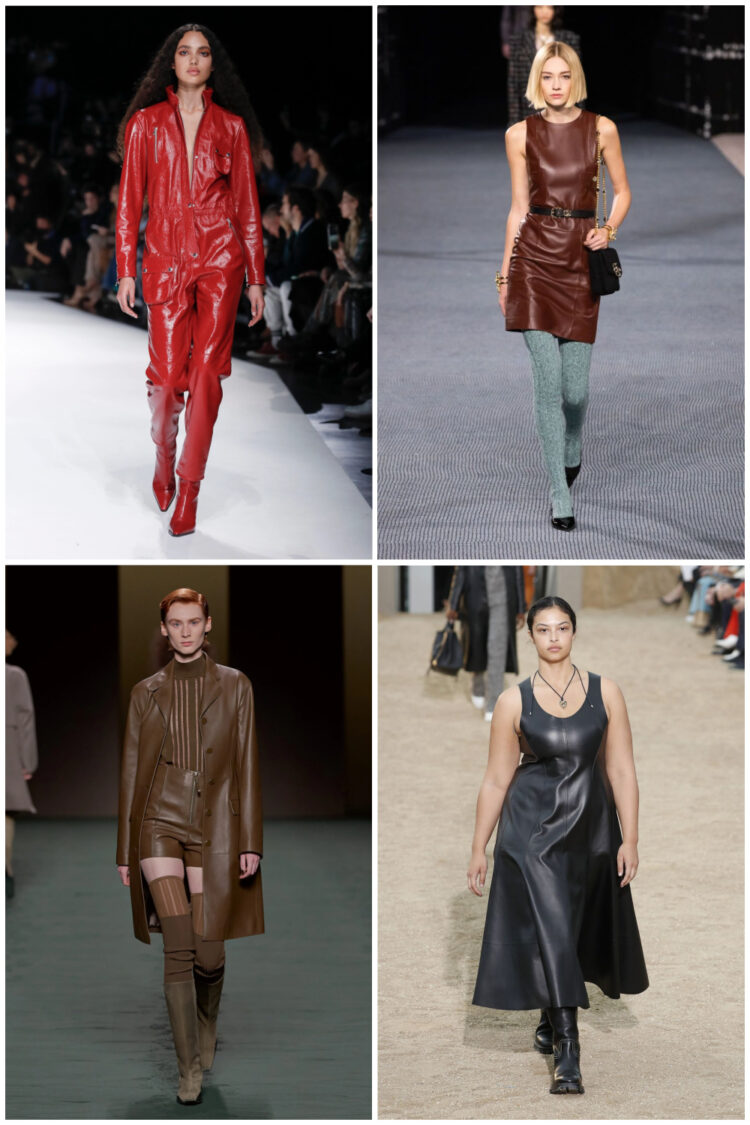 Leather
Leather is back, and it's being worn from head to toe. Leather dresses, leather two-piece sets, leather skirts and pants in a range of silhouettes and lengths. And of course, leather jackets are on trend, especially belted styles and leather blazers.
Shop the Leather Trend:

How to Style Leather for 2022
I suggest taking a silhouette you really love and considering it this season in faux or real leather. If you love a knee-length a-line skirt with sweaters for fall, consider one in leather. Try a leather wide-leg pant with a silk blouse or faux leather ankle pants with a slouchy cozy sweater. A leather blazer with a white tank and vintage-looking jeans are chic again, and a leather dress over a black fitted turtleneck and tights is elegant while keeping you warm in winter.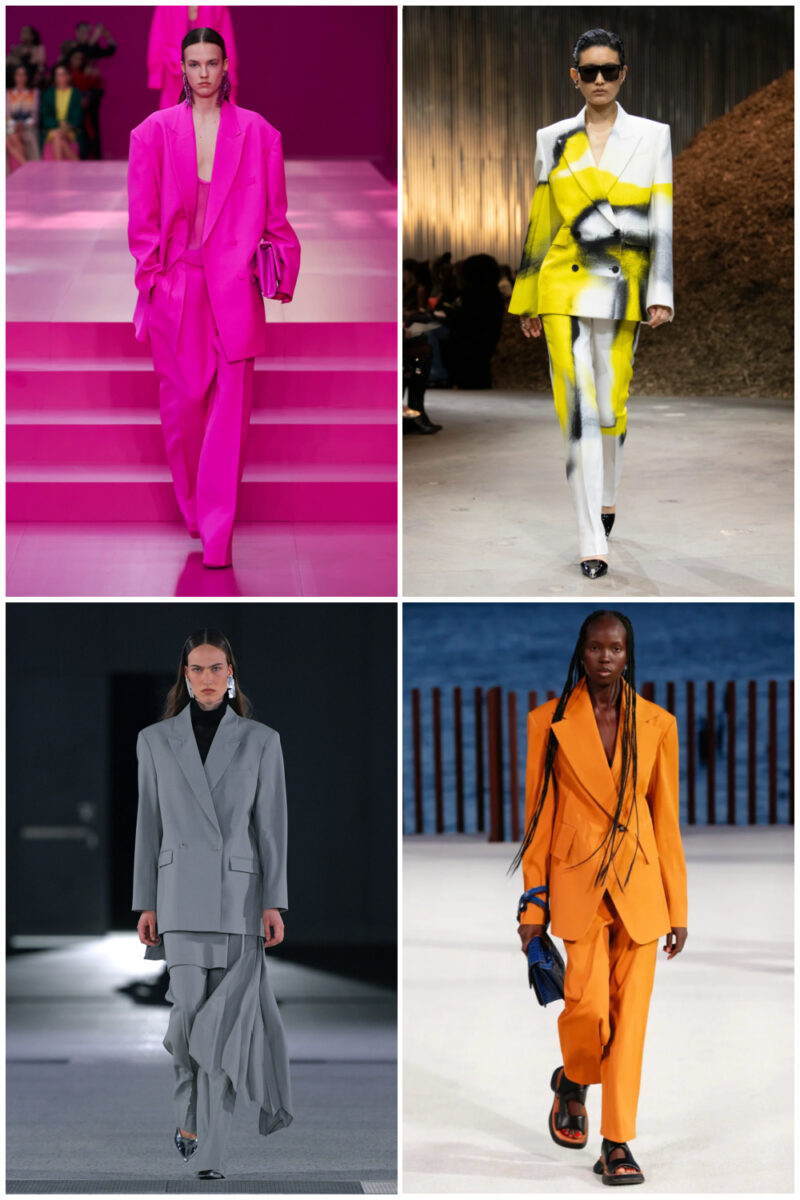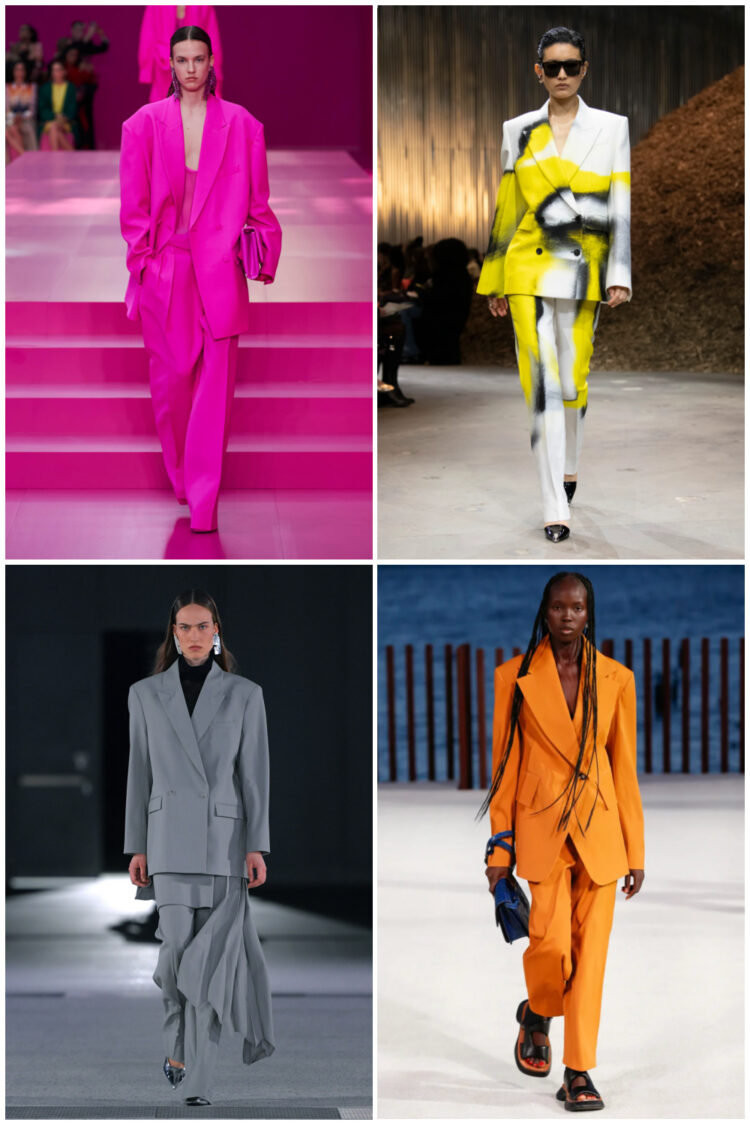 Suiting
As mentioned above regarding oversized blazers, suiting this season is oversized, but purposefully so. Strong shoulders, double-breasted styles, and menswear-inspired trousers reign supreme this fall. While black, gray, and navy are always classic this season don't be afraid of color. Red is hot hot hot this fall, but so are highlighter colors, icy pastels, and graphic printed suiting.
Shop Suiting for Fall:

How to Style Suiting for Fall 2022
Buy a matched set. Underneath wear a blouse, camisole, sheer fitted turtleneck, or fitted refined tee in the same or similar color. Think fuschia with petal pink, teal with celadon, rust with goldenrod, red with coral. As for shoes, if you have shoes in the same color as the suit that's grand, but a neutral or similar color is also a good choice (and more modern than sticking to black). I personally love the idea of a pale neutral boot to go with most everything this fall; I just ordered these white boots from Naturalizer and plan to wear them with suiting as well as jeans and other looks.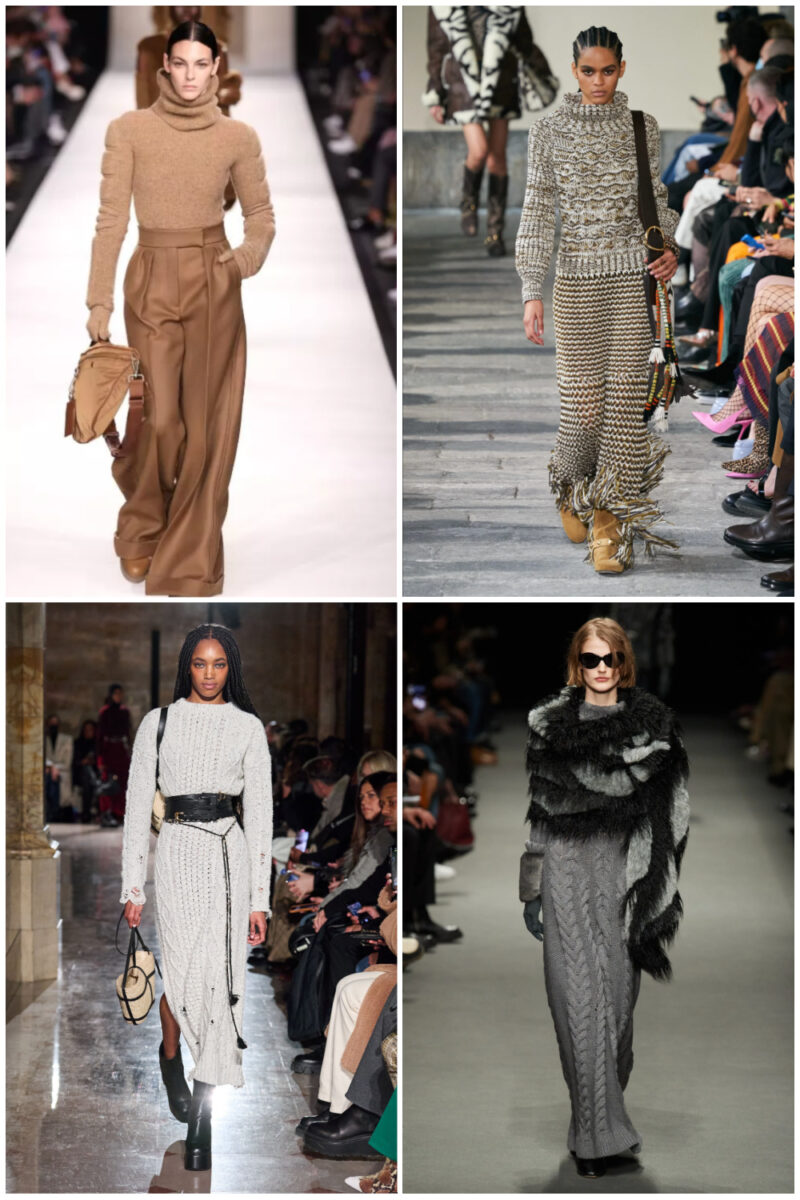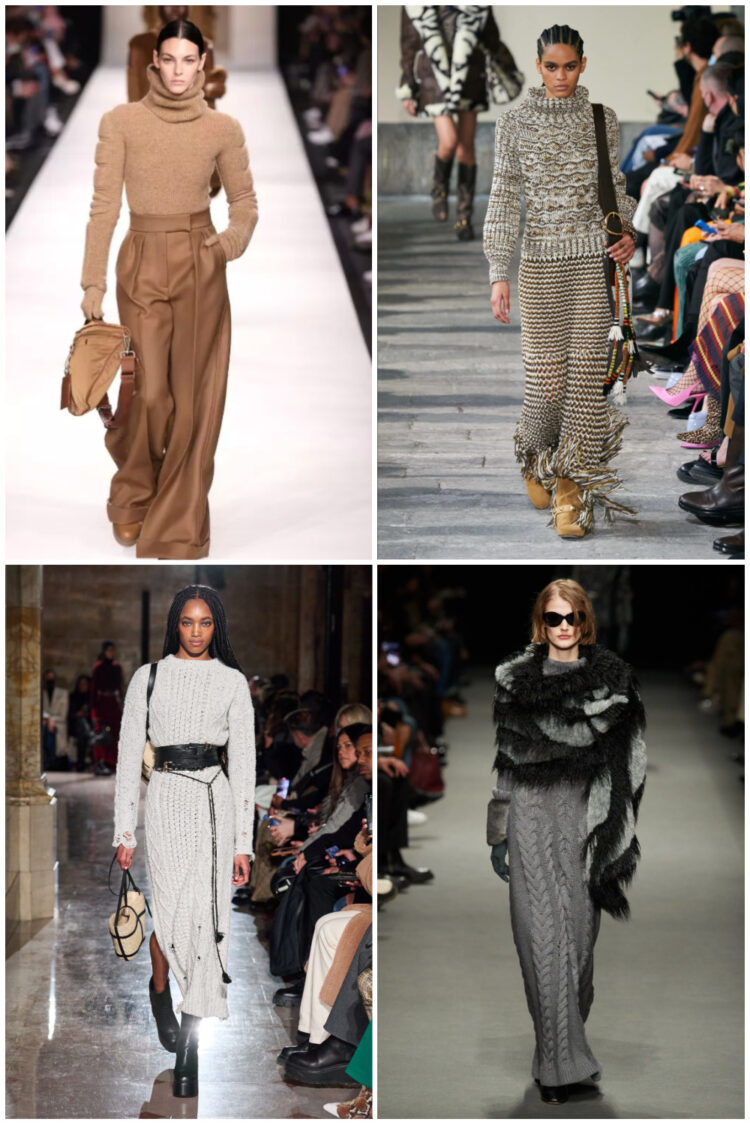 Sweater Weather
Sweaters are a no-brainer for fall, but this year, sweater knits go beyond the cardigan and pullover. Matched sets with sweater tops and skirts, sweater dresses, even sweater knit pantsuits are in this year. Heathered yarns, Fair Isle prints, patchwork and pieced sweaters, and graphic prints are in along with classic black, brown, and gray knits.
Shop Sweater Knits:

How to Style Sweater Knits for Fall 2022
For the office, consider a merino sweater and matching skirt or a turtleneck dress with tall boots and hosiery that either matches the dress or the footwear. For a night out, try a fitted sweater dress that hits anywhere from below the knee to the top of your shoes. Use this trend as a time to stock up on the kinds of sweaters you love – from tightly-knit merinos to chunky fisherman sweaters, Breton stripes and intarsia prints, fuzzy mohair and classic cotton cableknits, you're likely to find what you love.
After many years of sweaters fitting close to the body, this season if you like, you can go big and baggy. You will find oversized styles, or consider going up a size or two for a more relaxed fit. In the past, such sweaters were paired with jeggings or leggings; now consider a straight or relaxed fit jean or a looser fit of pant. Consider a half-tuck or French tuck of the sweater just in front to create a waist or use a belt (I like the Beltaway because the stretch "grabs" the sweater) over the sweater and blouse out to hide the belt and create a tucked-in effect.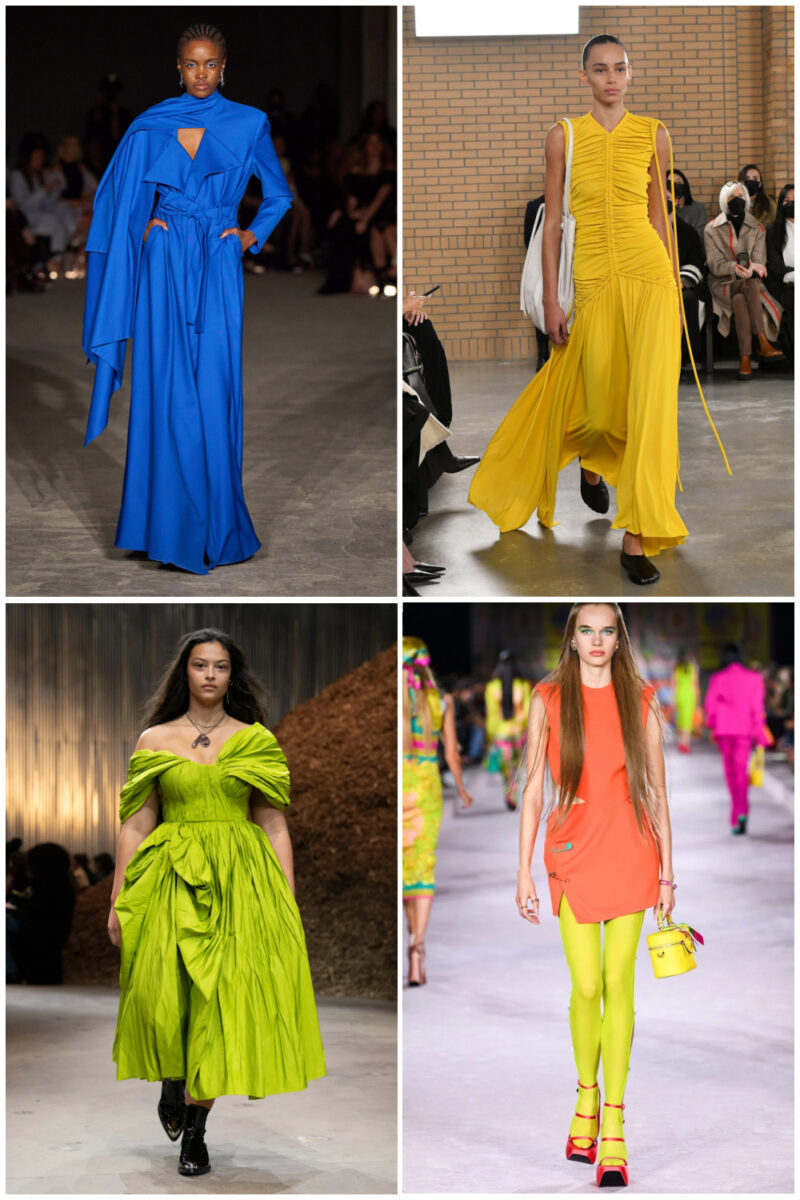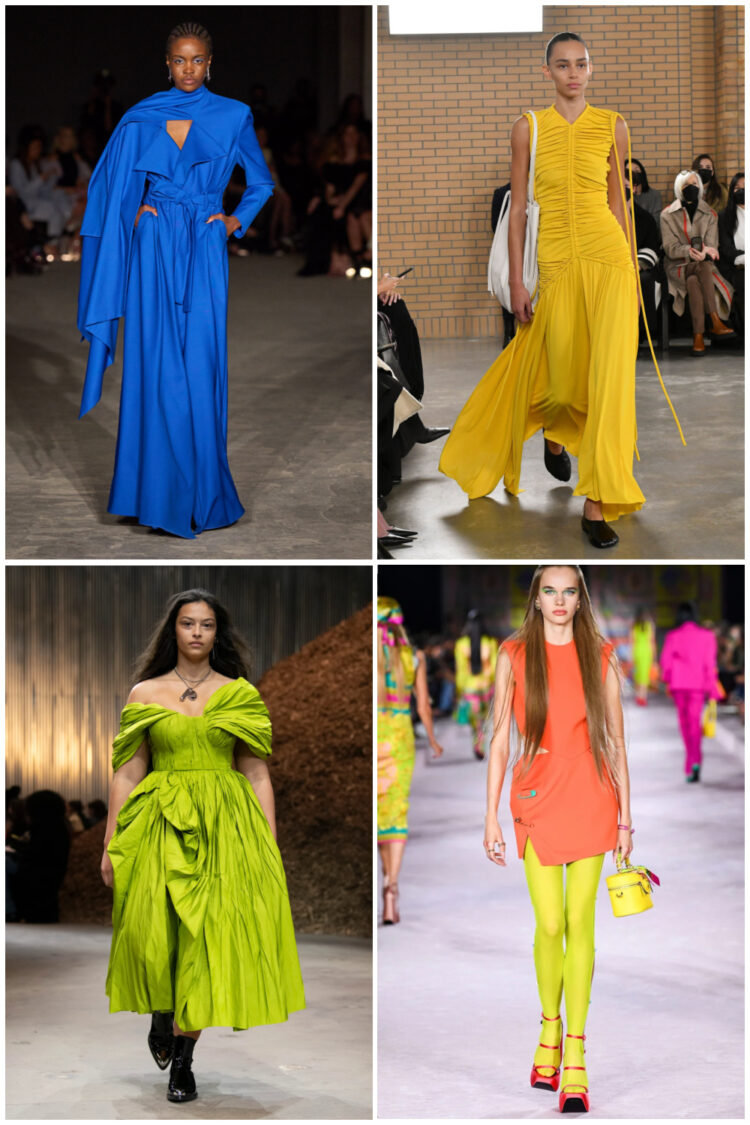 What Colors Are On Trend for Fall 2022?
If you love color, you are in luck this fall. While black is popular, so are a range of colors to fit most any personal style aesthetic, and complexion.
Red is a big color this season, from fire engine red to a darker version. This red is clear, not muddy or softened, whether it's bright or deep. Red shoes are a great accent, but red can be worn head to toe with a pantsuit, dress, or as a separate pair with neutrals or another bright color (think cousin colors to red like pink, orange, coral, and purple).
Hot pink, as I mentioned in this article, is a big trend for 2022. Think highlighter pink, Valentino fuschia, Barbie… it's bright and clear and can be an accent or worn head to toe.
Icy pastels, like lavender, blue, and blush are on trend, especially when worn with feminine fabrics and silhouettes. Think sheer layers, delicate embellishment and lace, soft cashmere and mohair, silky fabrics, bias-cut skirts and dresses. These can be worn head to toe, mixed, or paired with neutrals like gray, denim, and camel. I love mixing these icy pastels with jewel tones: lavender with teal, celadon with amethyst, blush with copper.
Highlighter colors, beyond pink, are also on trend. Think neon yellow and glowing orange as a full-out suit or dress, or as an accent. These colors are fantastic as a bag, belt, blouse, or consider for a personal accessory like the cover of your phone, kindle, or Airpods.
Caramel hues. Since 2020, beige and soft neutrals have been popular. This fall, the skintones are elevated with richer hues. Think caramel, bronze, chocolate, soft gold. Wear them in luxe fabrics – silky blouses, fuzzy sweaters, tailored suiting, and leather. This is a trend where you can wear the same color head to toe, or blends of caramel hues for a luxe effect.
Black is back, and it's best paired with black. Use fabrics and finishes to intensify the hue. Leather, silk, boucle, chiffon… texture will make black look luxe and fresh instead of a way to hide. This season, black is sophisticated and powerful. Consider glossy (not patent) black leather boots or a black silky blouse to update your existing closet.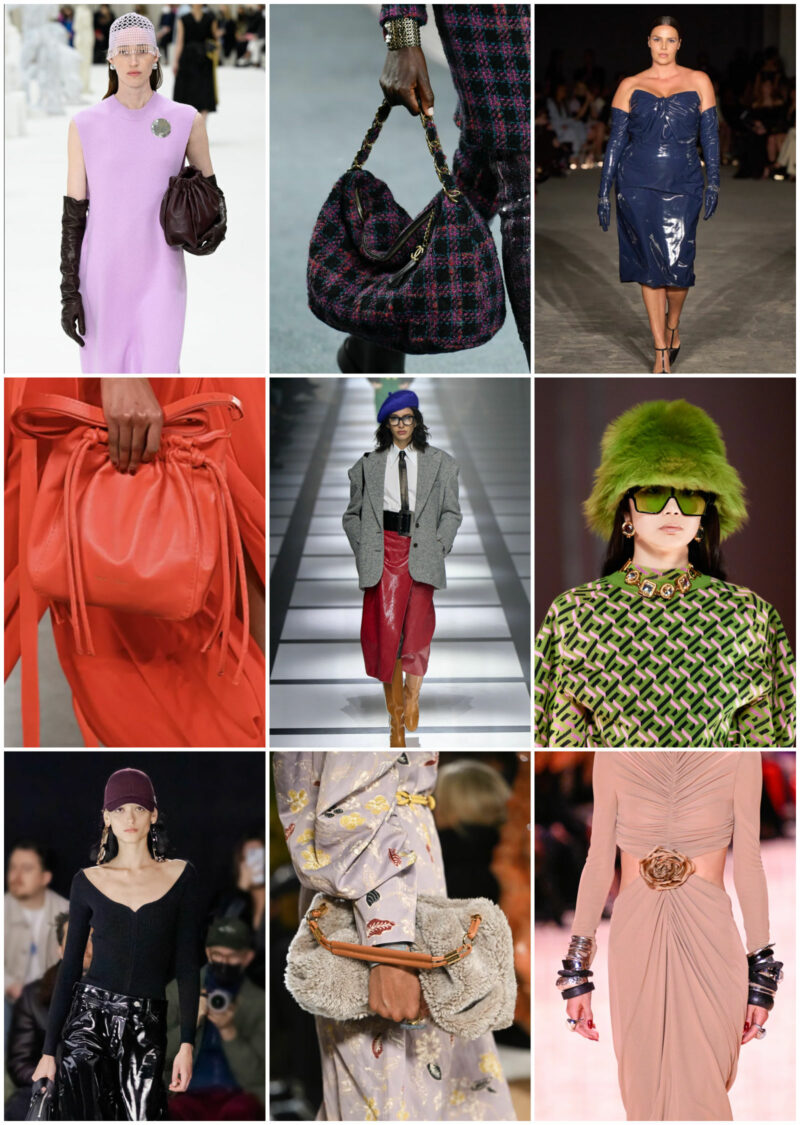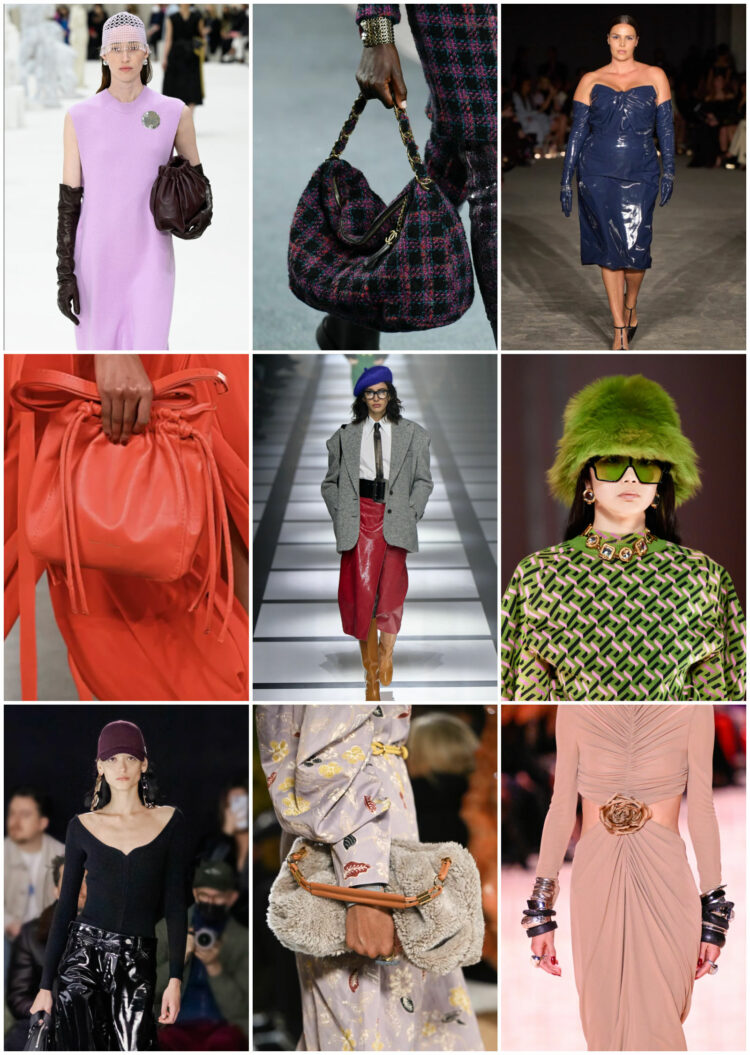 What Accessories are On Trend for 2022?
This list of trending accessories is not exhaustive, but these are the accessories I feel are pretty wearable, not so trendy they will be passe in a year, can be found at a variety of pricepoints, and some may already be in your wardrobe:
Chunky Loafers and Boots. This trend was hot in 2021, so likely you already have a lug-soled shoe in your closet. While 2021 was a bit more beat-up Doc Martens, 2022 is an elevated version so pull out your shoe polish. If you're thinking of purchasing a pair of chunky shoes, consider a loafer either in glossy (not patent but smooth) leather free of contrast stitching or quirky details. Or go with a color – red, Bordeaux, off-white, caramel, navy, and dark green are more versatile than you may think.
Handle-top Bags: The classic Hermes Kelly bag is inspiration for this fall's favorite handbag. From mini versions that can't carry more than a lipstick and credit card to commuter bags, the handle-top bag (with or without a shoulder/crossbody strap) is going to be everywhere. While classic colors are chic, this is an opportunity to bring in a pop of color. If you go with a classic color, you can invest more but if you want a trendy color, don't be afraid of faux leather and cheaper versions (just steer clear of additional embellishment, big logos, or quirky finishes).
Drawstring and "Dumpling" Bags: Soft faux and real leather bags are being cinched up and gathered this season. If you're looking for a new clutch, consider a "dumpling" bag which is a gathered pouch carried in the hand or with an optional thin shoulder strap or chain. For an everyday bag, a drawstring bag with crossbody strap is a modern alternative to the camera bag style that has been on trend for a decade.
Fur and Fluff: Fuzzy bucket hats, "teddy" clutch purses, furry mules, and fluffy cloches are all over the runways. Whether it's silky faux fur or more of a shearling vibe, fluff and fur of all colors (natural and not) will be on bags, shoes, and trimming outerwear this season.
Woven Leather Bags: The Bottega Veneta effect is strong this fall with woven leather bags being seen as soft clutches and small handbags to large totes. Expect to see the woven leather trend extend to other leather accessories like belts, hats, and footwear. While brown is popular, you will find woven leather in every color under the sun.
Neckties: The menswear vibe is hot this season and many designers showed neckties. Some were black and slim, some matched the blouse, some were reminiscent of styles worn in the early '90s. Don't be surprised to see black faux and real leather neckties being sold at major retailers this winter.
Hobo Bags: The classic curved bag is back, but this year it has polish. Woven leather, stiffer leather, metal and wood handles, gold hardware… the hobo is elevated and elegant and every size from evening bag to everyday carry-all. While camel and black are perenially chic, this is an accessory where you can incorporate a favorite color or even texture (fur and fluff, croco-embossing, crystal embellishment, quilted satin).
Baseball and Trucker Caps: The classic cap has gotten a makeover and this season you'll find baseball caps in real and faux leather, plaid and tweed, and trucker caps with logos and messages from the hottest designers. If you love the idea of a fall hat but find the wide-brimmed styles too big for everyday, this trend may be right up your alley.
Bangle Bracelets: Big cuffs and bold bangles were seen on several runways for fall. Metal, wood, and plastic were seen, with several on each wrist or one bold one on both or a single wrist. Pull out the ones you've had, but skip the skinny delicate ones for a couple of coordinating or completely mismatching ones. This is a great way to glam up a simple dress for evening or show your personality with a simple fitted top and jeans.
Gloves: If you love drama, this is the season for you. Gloves, from lacy ankle-reaching to full-length opera gloves are back. Skip the classic white gloves, this season they're satin or leather-look in black or a pop of color up your arm, or a lace or mesh covering your hand. FYI, I found plus size opera gloves at ELOQUII and these on Etsy get great reviews for fitting fuller arms. If you have longer or shorter than usual arms, these gloves on Etsy come in a range of lengths.
What Trends Should a GenX Woman Adopt This Fall?
Dude, you don't need to adopt a single trend this fall to look great. The chicest thing you can wear is confidence, and you can only be confident if you're wearing clothes that make you feel good and feel yourself. This review of fall fashion trends is only to give you some ideas if you're looking to update your closet for the coming season. Consider it a guide, not gospel.
Right now, fashion is more flexible and inclusive than ever. Wear whatever silhouette of jean you like, any length of skirt that you enjoy, and any color under the sun. The key to style this decade is owning it. Play with silhouettes and colors, try something new, pull from the past, tailor it to fit your unique frame, and make it your own.
As a grown-ass woman, you have lived long enough to see trends come and go, see your body change, and see attitudes change. You are you now, not you 20 years ago and that is a good thing. The you now has survived a pandemic, experienced great things and tragic things, worn uncomfortable and awful trends, ignored her gut to appeal to the masses and come out the other side brighter and better. You deserve to wear what makes you feel good, and feeling good is the hottest trend this decade!