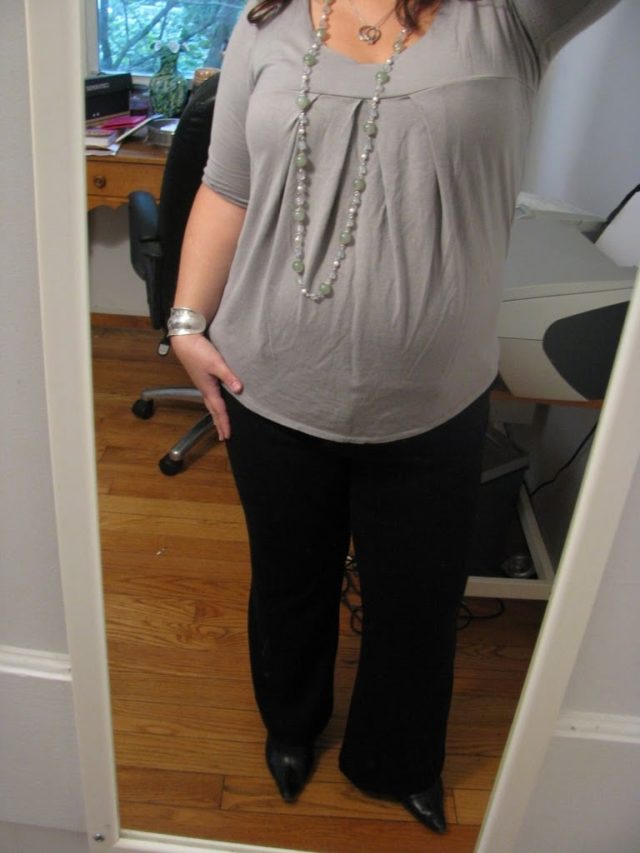 I actually ended up adding my Banana Republic Outlet collarless black ponte jacket and my gray print shawl as a scarf since it was so cold. Went for my monthly appointment and the nurse said I was a sassy pregnant diva – felt nice, considering my hair was acting crazy because I rushed and used my husband's cheapo Suave shampoo instead of Pureology (yes, shampoo can make a MAJOR difference – sometimes it's cheaper to get better shampoo than to get more regular of hair cuts!)
Attire:
Old Navy Petites – Black ponte trousers
Old Navy Maternity: Gray jersey top
Target: Silver and bead necklace
Diamond Nexus Labs – Diamond solitaire studs
Silver cuff
Sudini – Black leather booties
Hair:
Washed night before
In morning, put big sections in curling iron and used fingers to loosen curls.
Beauty:
Laura Mercier: Flawless Face Kit in Sand (minus tinted moisturizer)
L'Oreal: True Match foundation in C3, HIP cream eye liner in Black, Infallible Lip Gloss in Coral Sands
Napoleon Perdis: Long Black Mascara
Pop Beauty: Rust and Khaki shadows blended on lid
Nars: Blush in Orgasm
Smashbox: Soft Lights in Tint
Appointment went well – all seems healthy thus far. Will be taking my dreaded glucose test in the next week or so, but they are letting me take the version where you draw blood on an empty stomach, have breakfast, come back in two hours and redraw blood. Much better than the icky drink considering I have no problem with giving blood. Have my next appointment at the beginning of November and then i go to bi-weekly appointments.
Friday after work I met a friend in the city for dinner. Saturday went to lunch with my mom and her boyfriend, and then had a chill day at home doing mild housekeeping and watching movies with my husband. Sunday we went baby shopping – got the crib and mattress and finished up the registry. Exhausting! But I am glad it is finished. We haven't put together the crib yet, it is currently airing out at my mom's to get rid of any paint and chemical fumes.
As for the house, they may start as early as tomorrow. So excited and so READY! I am OVER this period of limbo and would love to know where the baby and I will be laying our head come late December/early January! Positive home vibes and thoughts would be seriously appreciated, as that this is really preying on my mind. With the economy, the current state of our old kitchen, the lack of space for a family at this point, etc. etc. it is a lot. Ugh. Can't wait until it is complete!!!