This article may contain affiliate links; if you click on a shopping link and make a purchase I may receive a commission. As an Amazon Associate, I earn from qualifying purchases.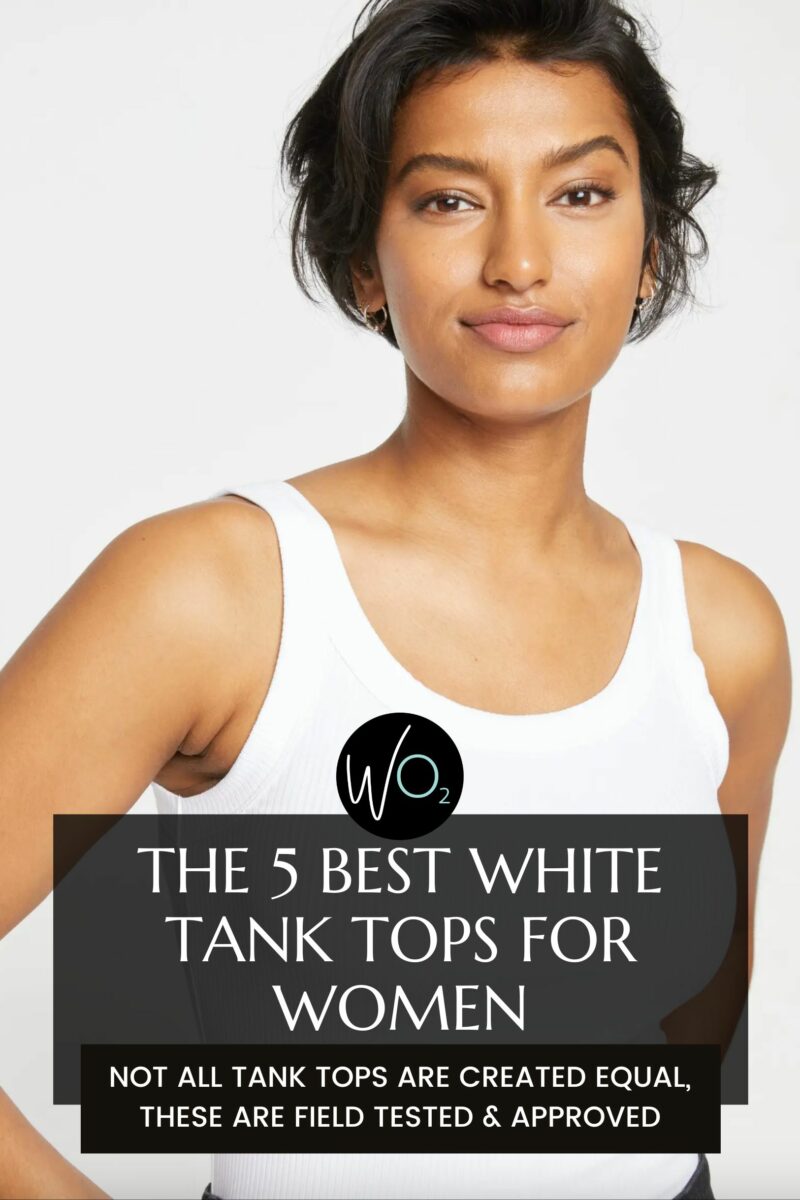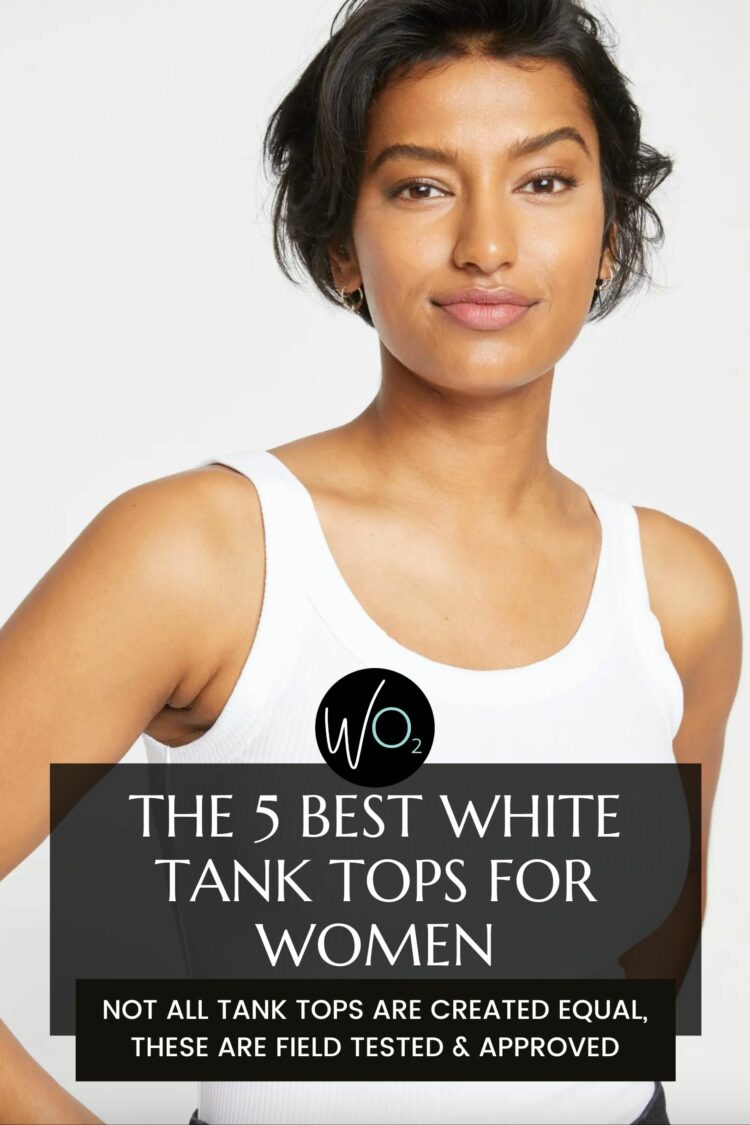 One of the biggest trends this season is the classic white tank. It is the base of so many fashion looks. Worn under an oversized blazer, paired with an elaborate maxi skirt, a pair of slouchy menswear trousers, or perfectly broken-in jeans, the white tank is a closet staple. However, not all white tanks are created equal and IMO grown women have different needs from their white tanks. Below I share the5 best white tanks for women.
What Makes for a Great White Tank?
I have certain criteria that go into a really great white tank for us grown-ass women:
Opacity. You can't see what color bra I'm wearing, you can't see my belly button, nor can you see the mole on my back. I want my tank completely opaque.
Can Wear a Standard Bra. I love the look of string tanks, cut-out shoulders, and deep racerbacks but as a grown woman, I am not going to buy a new bra just for my white tank.
Safe for Work Neckline. While I may not be wearing my white tank to the office, I don't desire a tank that is practically showcasing my areolas. I may like a bit of scoop, but a little is plenty for me these days, thank you.
Grown Woman Sizing. I won't support any business that has their largest size end around a US Women's 12. If the average woman in the United States is plus-sized, it's ridiculous for a brand to only offer junior sizing.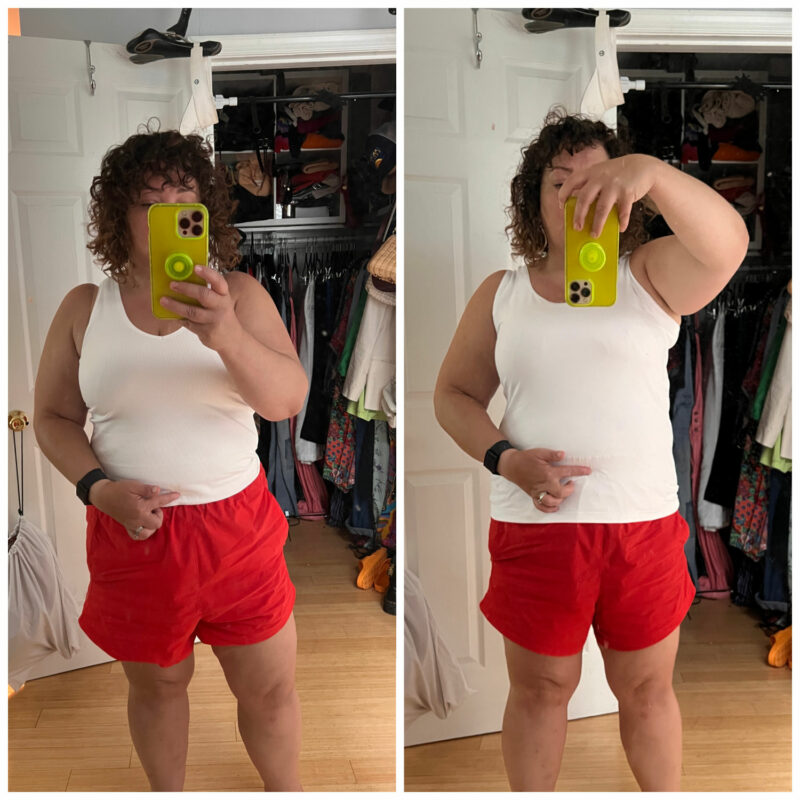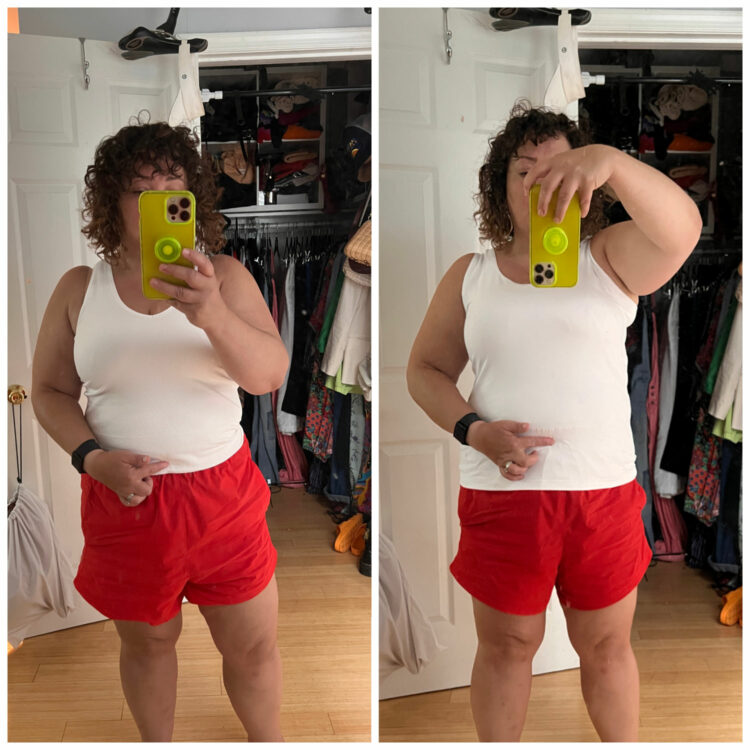 And with this, my list of the 5 best white tanks for us grown women!
My Picks for The 5 Best White Tanks for Women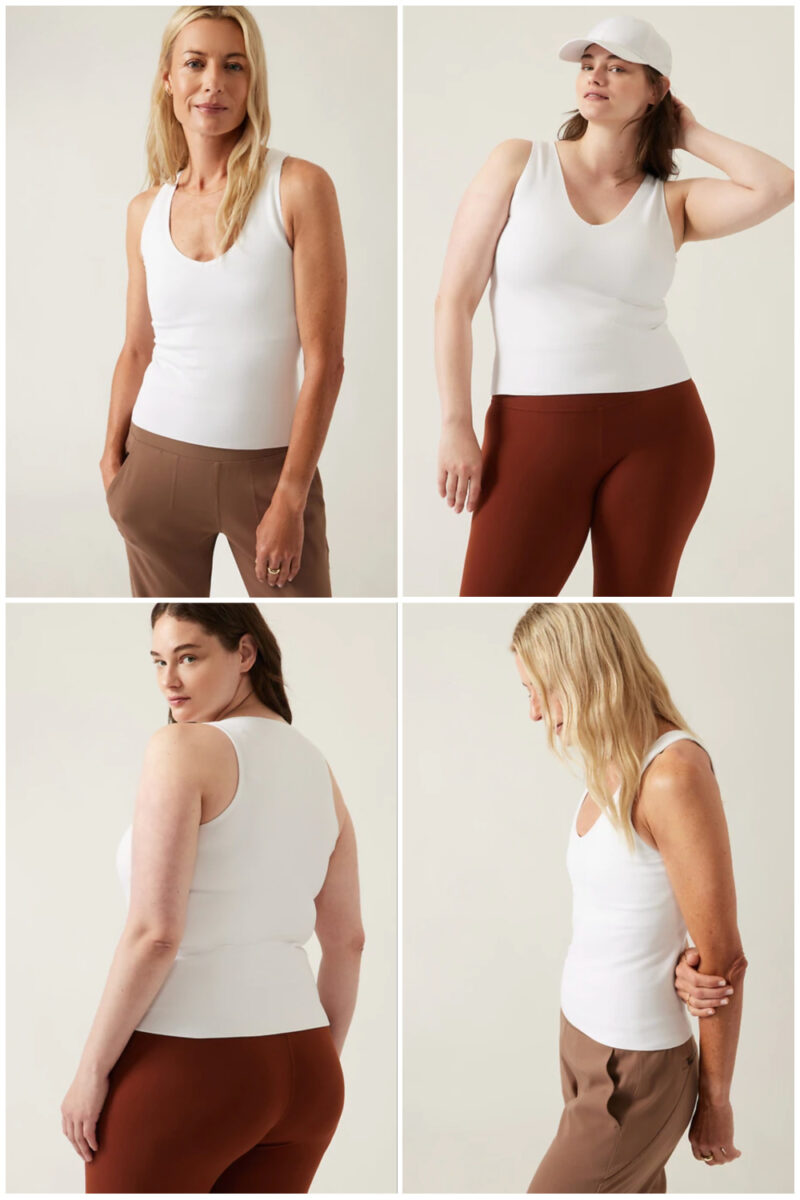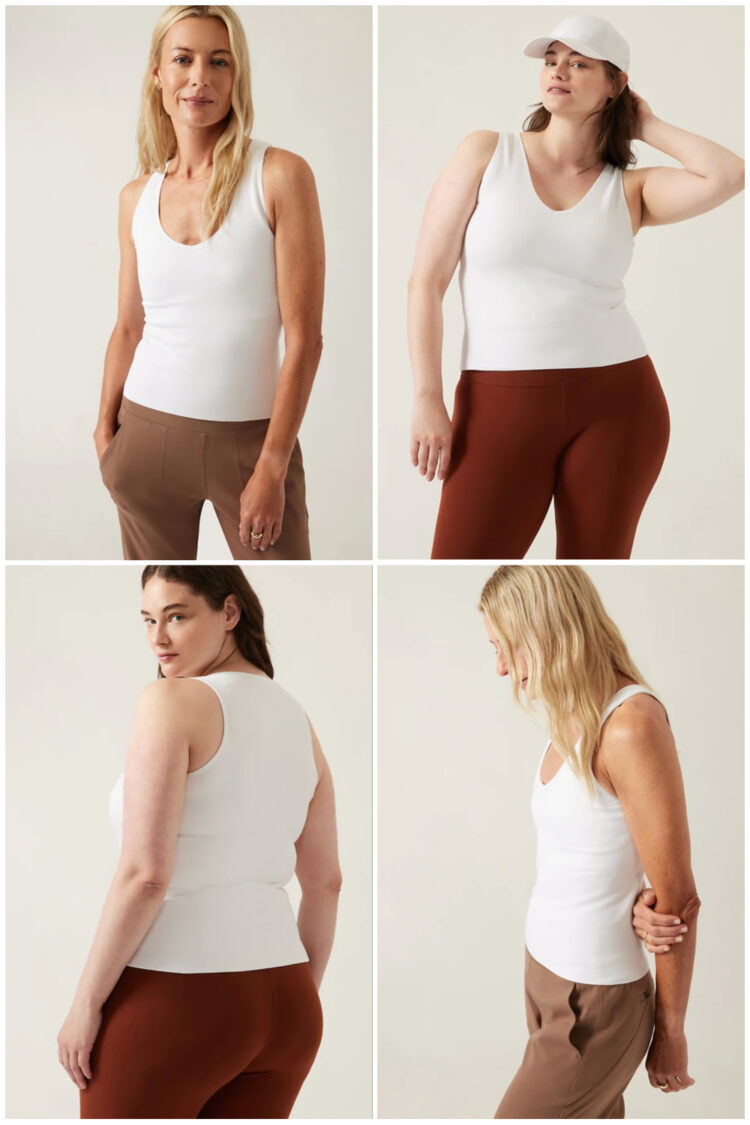 1. Athleta 'Aurora' Seamless Tank
If you're looking for a thick opaque white tank with a scoop neckline and the ability to wear with a standard bra, then the Aurora Seamless Tank from Athleta may be perfect for you. This double-layer tank is completely opaque and the weight smooths the figure and stays in place.
Some find the tank too heavy, but that is what I like about it. It looks more refined. Those who have long torsos may find it runs too short; I am 5'3″ and it's a good length for me tucked in or left out. I wash mine on gentle and line dry to keep it looking nice. If in doubt, size up. Available in sizes XXS-1X.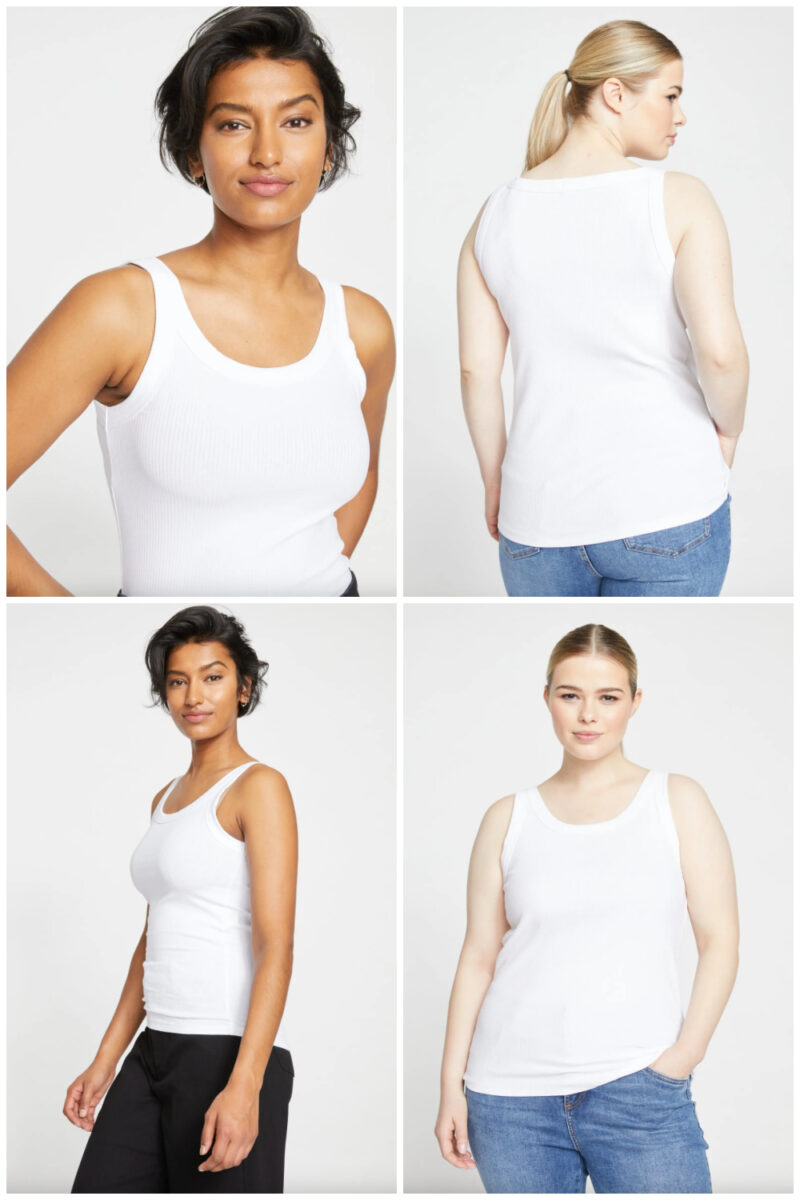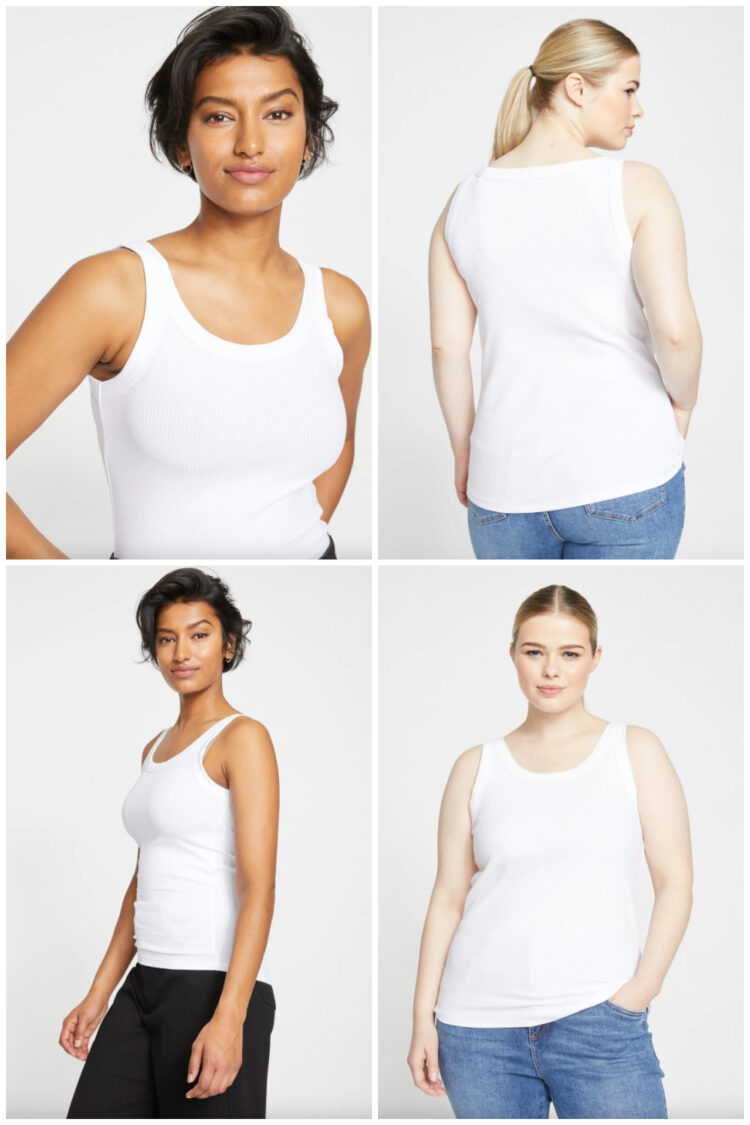 2. Universal Standard Roitfeld Ribbed Tank
This year, Universal Standard launched their Roitfeld Tank and I immediately ordered one to see if it was a good choice for us grown-ass women. I ordered the same size I wear in their t-shirts and found it way too tight. I then sized up and found perfection. Not too low, not sheer, covers a traditional bra, and instead of traditional mini ribs the ribbing is spaced out and looks elevated.
For those unfamiliar with the brand, Universal Standard is working to democratize fashion by offering every single one of their styles in sizes 00-40. Each size is designed with a separate fit model to ensure the pieces fit well, and aren't just graded smaller or larger like many other fashion brands. Available in sizes 00 (4XS) – 40 (4XL).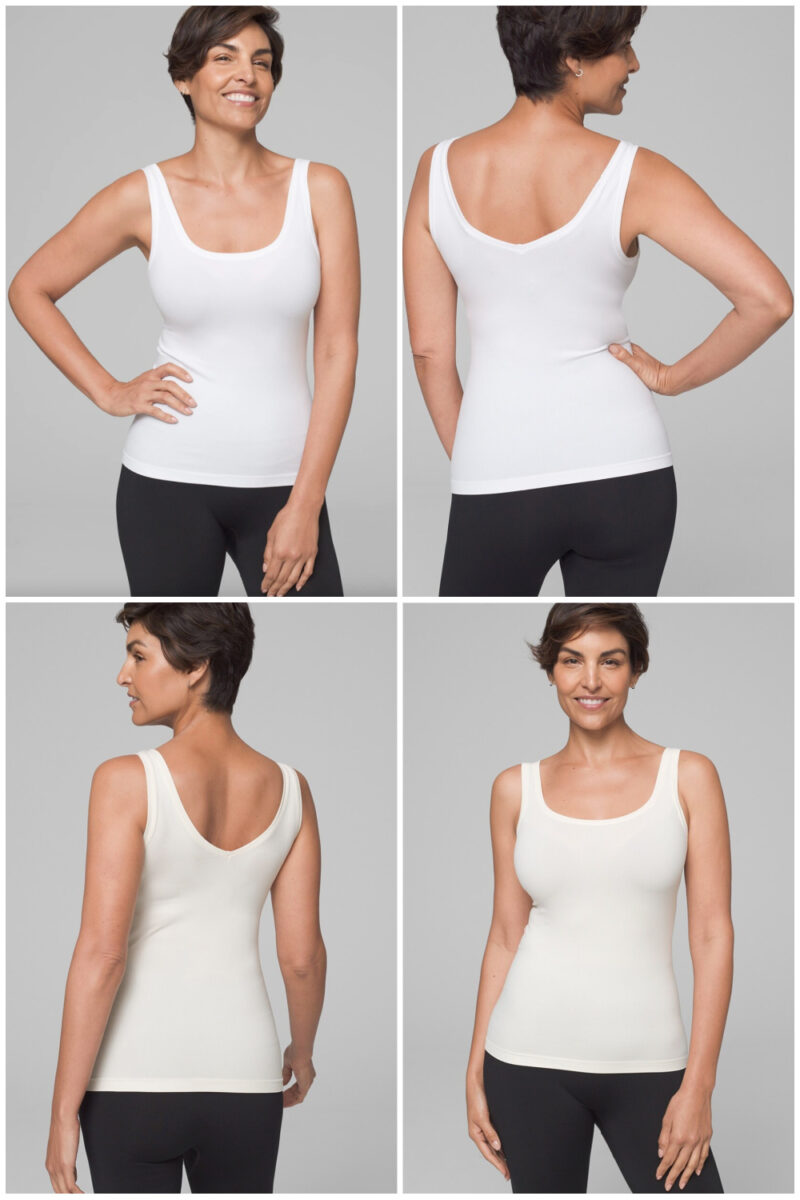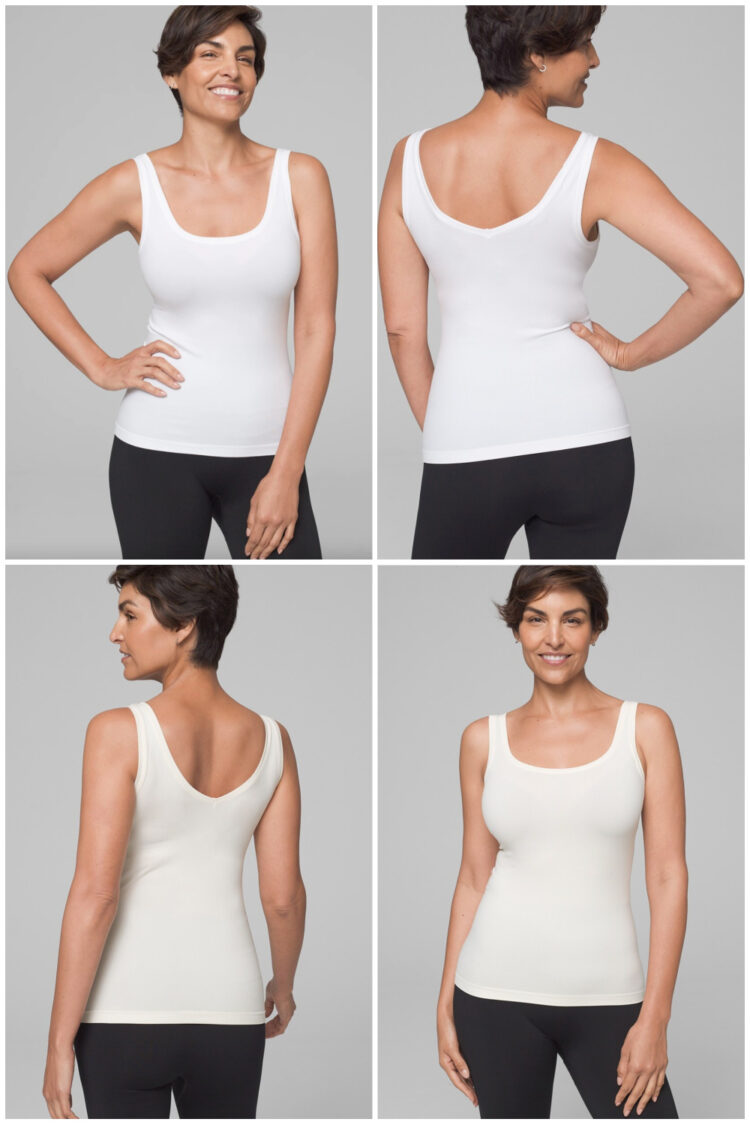 3. Soma Seamfree Turnaround Tank
If you want a tank that covers your bra but is trim enough to be a cami, the Soma Seamfree Turnaround tank may be just what you're looking for. I have owned this tank in a variety of colors over the year and I love how it is opaque but super lightweight, creating a trim silhouette or layering beautifully under other garments.
One side of this tank is a v-neck, the other a scoop so you have a lot of variety. This is a good tank for those who have a long torso or desire a slightly lower neckline that still covers the bra. If you wash it on gentle and line dry you will extend its life (I have a three-year-old one in black I still wear regularly). Available in sizes XS-XXL.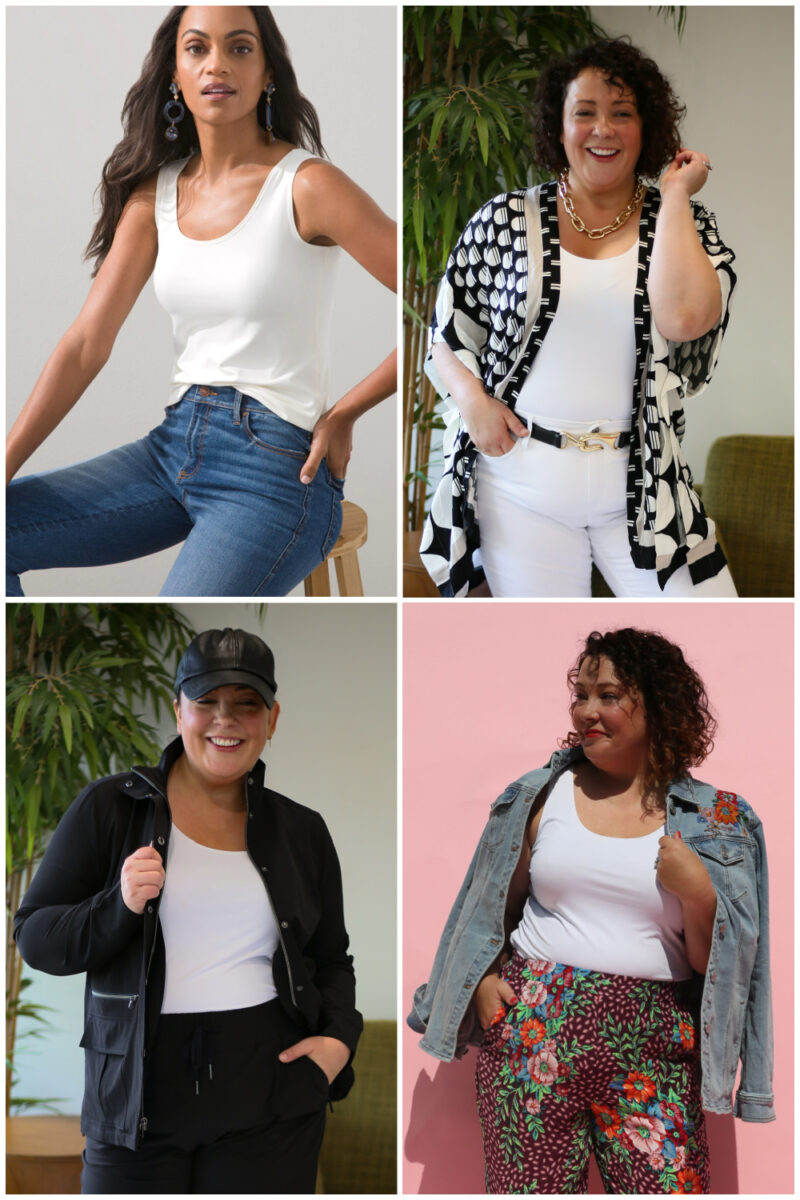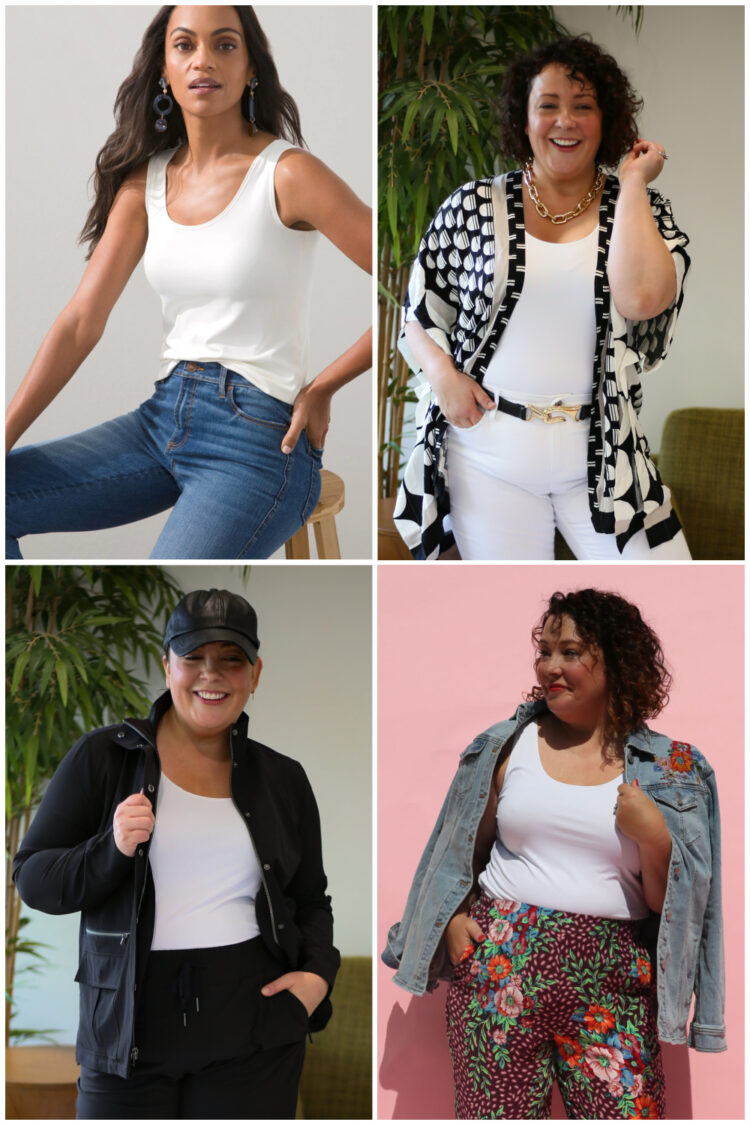 4. Chico's Microfiber Tank
If you desire a white tank that has a bit more polish than your typical ribbed jersey version, the Chico's Microfiber Tank may be perfect for you. That's me wearing it in three of the photos above; I am a big fan of its opacity, silkiness, and how it's fitted but not clingy. This is a great layering piece under cardigans and blazers for the workplace and looks chic paired with an elegant skirt or your favorite jeans.
Not too low for work but not frumpy, this tank fits well under the arms and will cover the straps of any bra. If you want a drapey fit, go up a half size. If you want tight like a bodysuit, go down a half size. I am wearing a size 2 in the photos above. Available in Chico's unique sizing which matches up to a 0/2-20/22.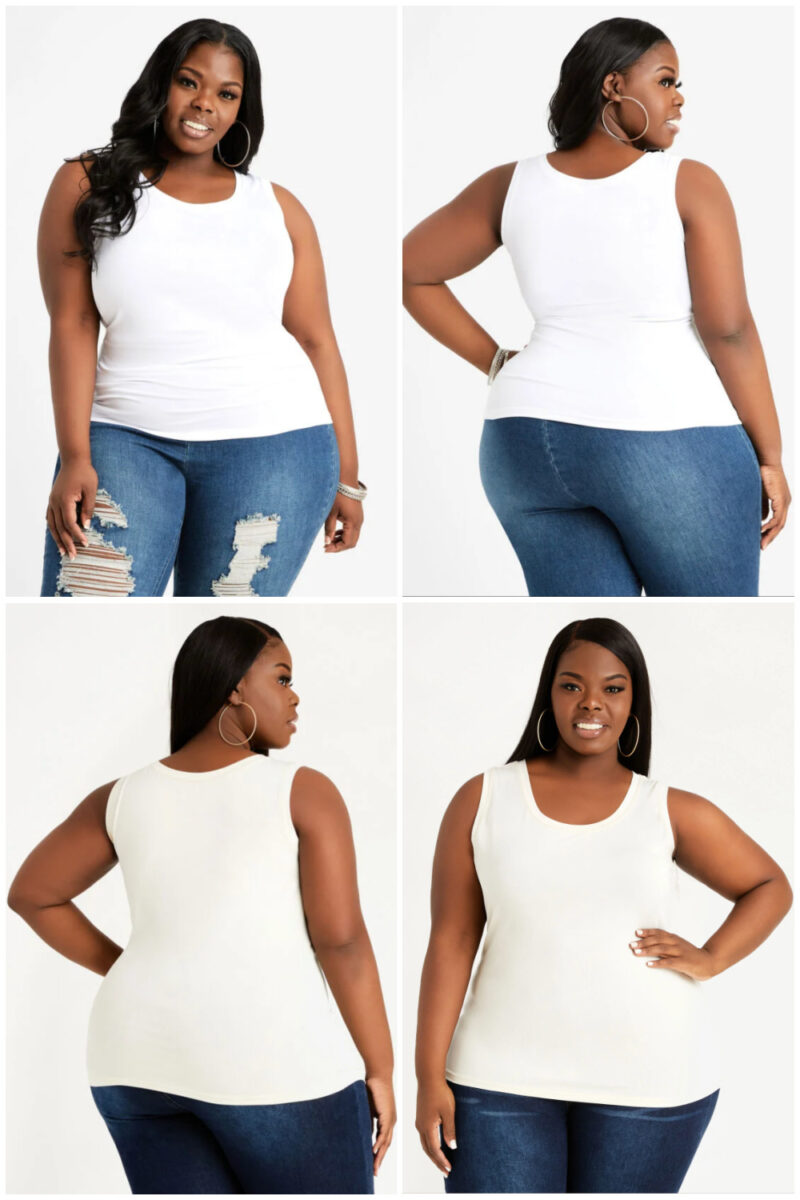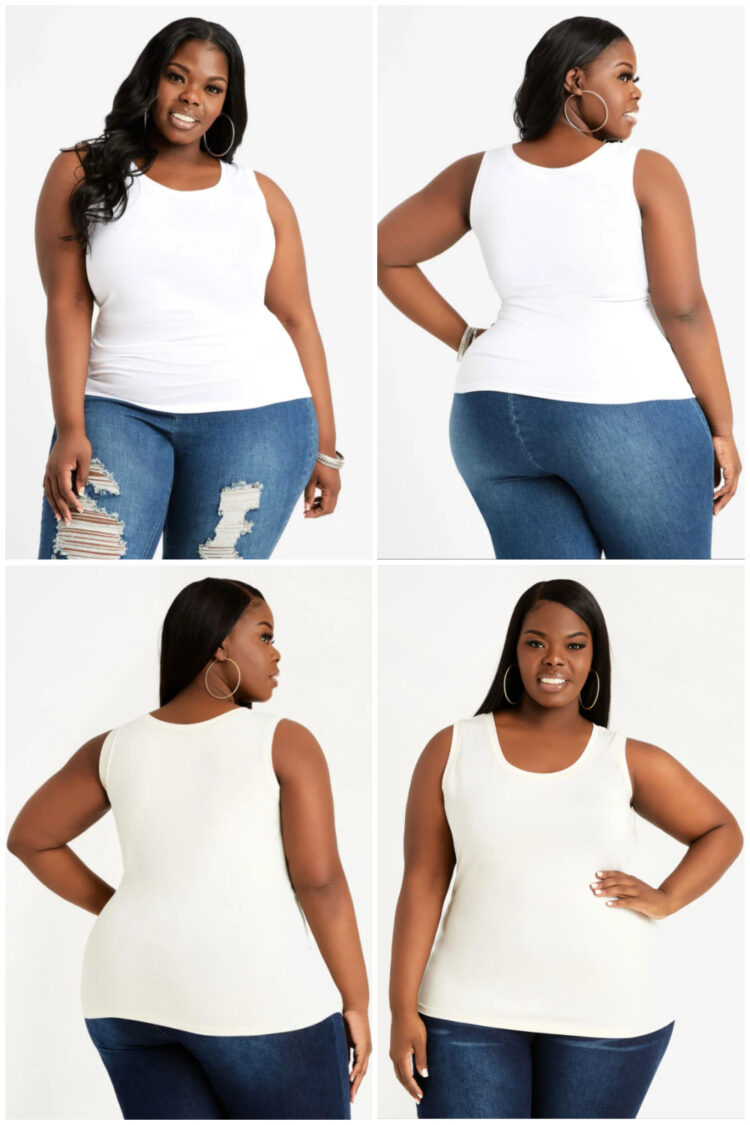 5. Ashley Stewart Not Your Basic Knit Tank Top
If you like the idea of the Chico's Microfiber Tank but desire a better size range, the Ashley Stewart Not Your Basic Knit Tank Top may be what you're looking for. A very similar nylon/spandex mix, this is an elevated tank that offers opacity and a classic fit.
This tank will cover a traditional bra with no show-through. Reviews suggest sizing down if you want a trim fit. Available in sizes 10/12-34/36.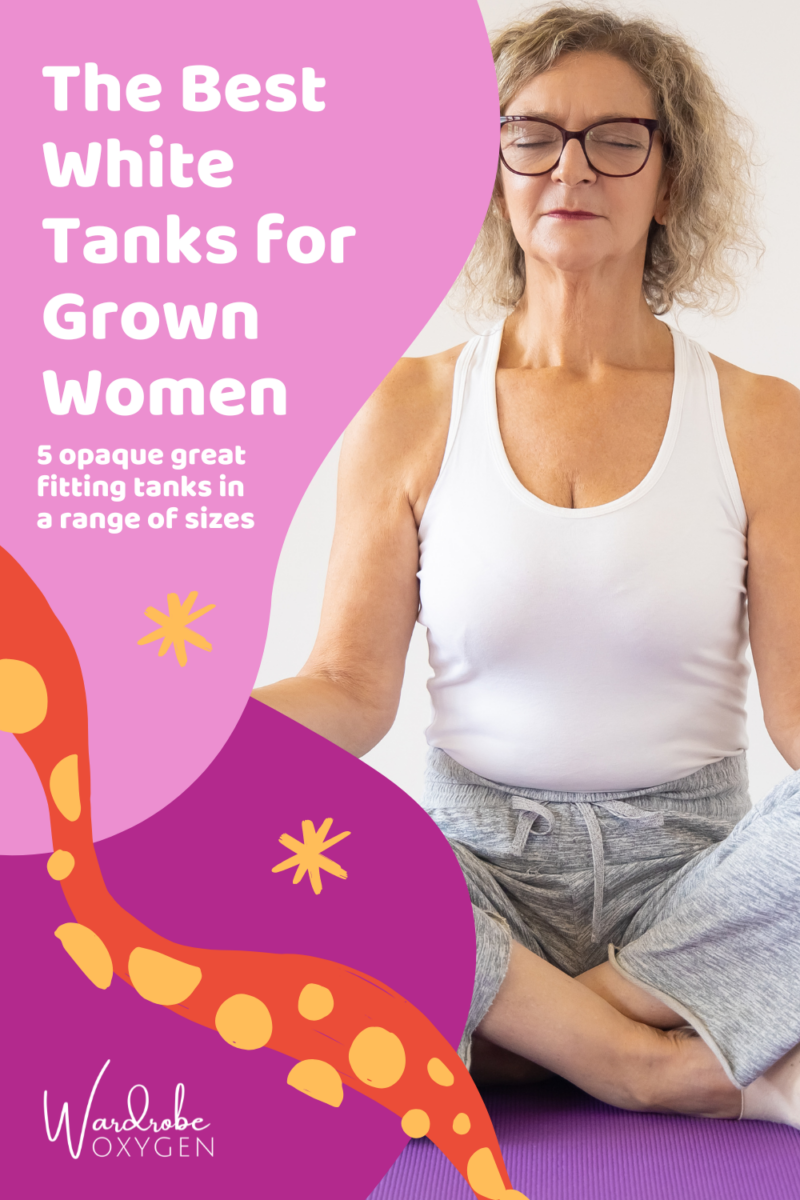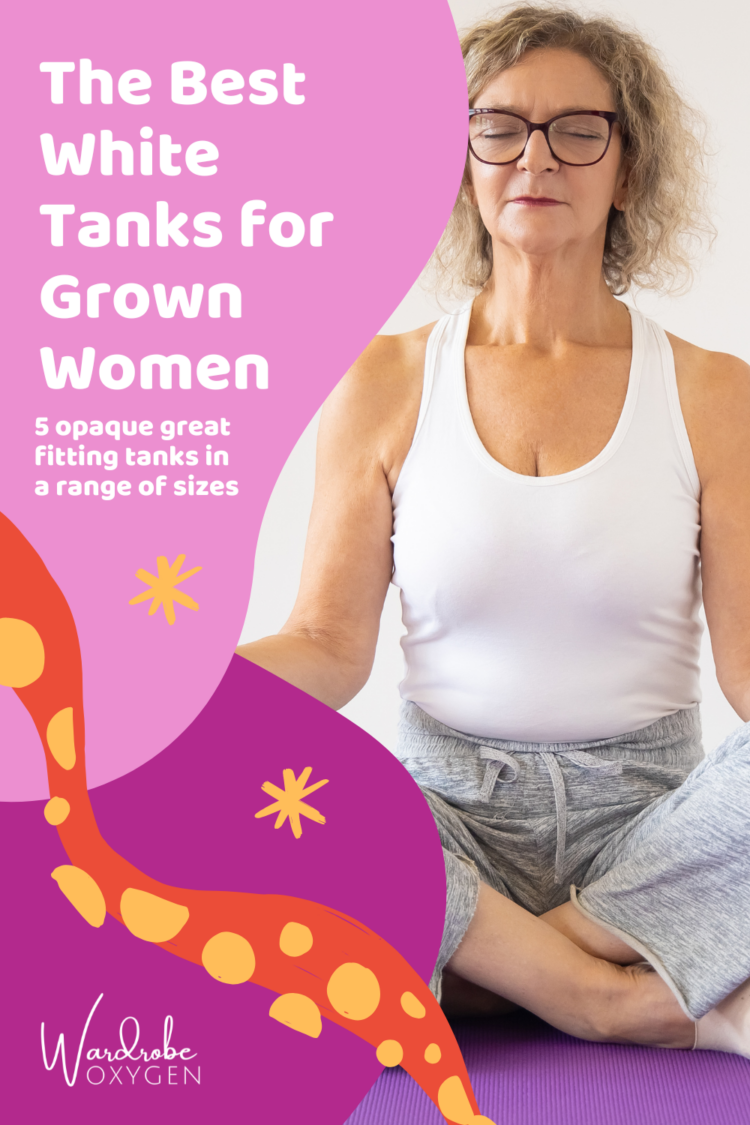 This post was updated from 2022. I previously recommended a tank that many of you bought and disliked. I apologize for that and wonder if the brand changed the fabrication. I spent the year trying other tanks, looking for quality, ethical, and/or size-inclusive offerings beyond the standard retailers, and did find a new one from Universal Standard, a brand I regularly wear and recommend, that I found to be a worthy replacement.
Do you have a favorite white tank that isn't listed here? Do share it in the comments; your fave may be exactly what another member of the Wardrobe Oxygen Community is looking for!