This article may contain affiliate links; if you click on a shopping link and make a purchase I may receive a commission. As an Amazon Associate, I earn from qualifying purchases.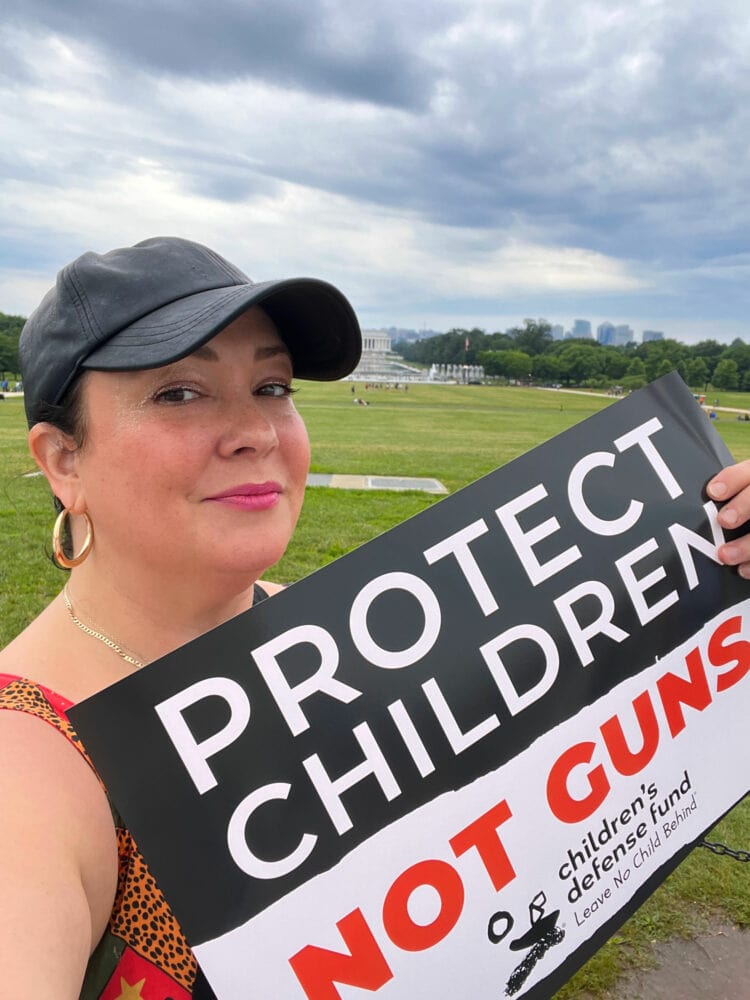 Talk about a juxtaposition, but that's Washington DC on any given weekend. There are protests and parades happening blocks from one another, for such a range of causes. And this past weekend, the second March for our Lives rally for gun control happened on the grounds of the Washington Monument with the US Capitol in the background. A few hours later, the Capital Pride parade went down the streets of Dupont Circle, Shaw, and Logan Circle.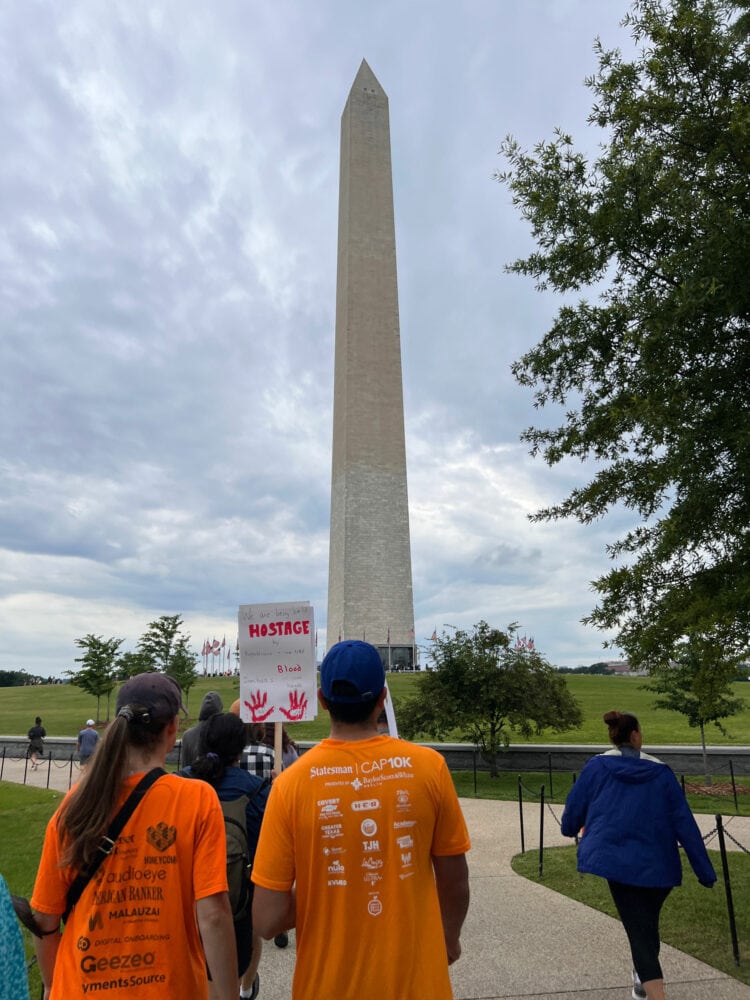 Both events I wanted to attend, be a part of, be another body tallied as supporting the cause. Maybe a juxtaposition, but also two causes that affect my community, my family, and this troubled country. I missed many protests and marches the past couple of years because of COVID and while I was still concerned this weekend, I knew I couldn't stay home any longer.
But what do you wear when you're going to a gun rally, a solemn event in a grassy field with rain expected, and then to possibly walk up to an hour to view a joyous celebration, standing for hours on a sidewalk with sun and humidity expected? What to wear to feel comfortable, be away from home for many hours, and sadly know there may be a need to run or escape from either of the events?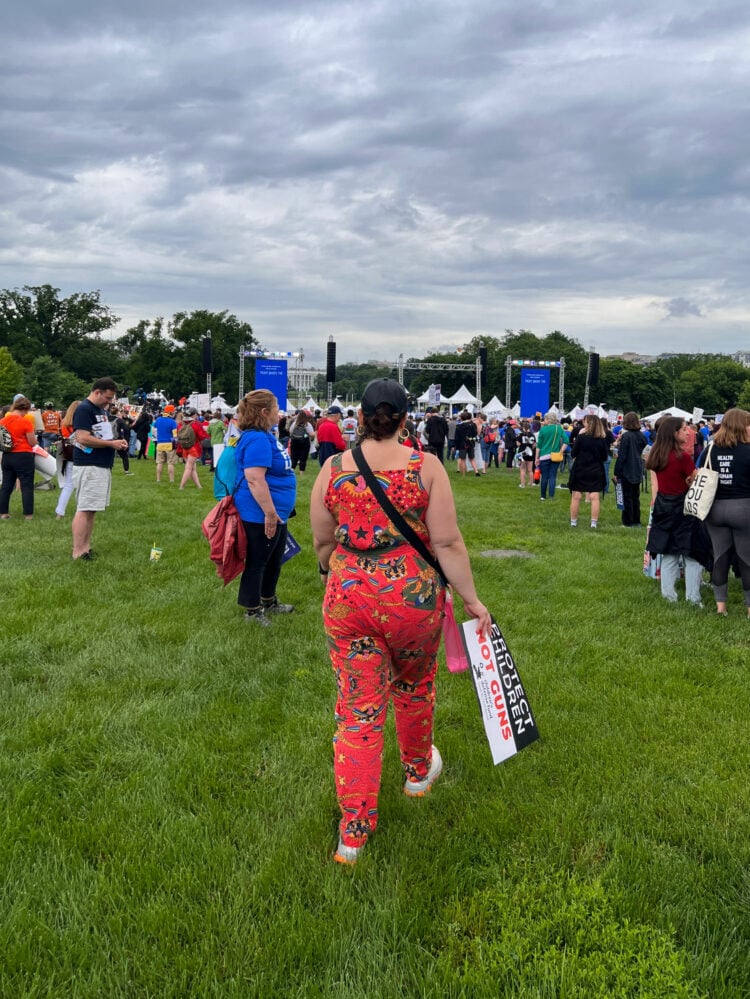 Orange is the color of gun prevention; wanting something that would be that color but also be great for Capital Pride I chose my Nooworks overalls. Made of cotton so it's comfortable in the heat, these overalls have been such a good buy. I wash on gentle and line dry, have never ironed, they fit and look almost like new after two years. The overalls have deep enough pockets that I can safety tuck my phone into one, and the button closure and elastic at the back of the waist make it easy to get on and off.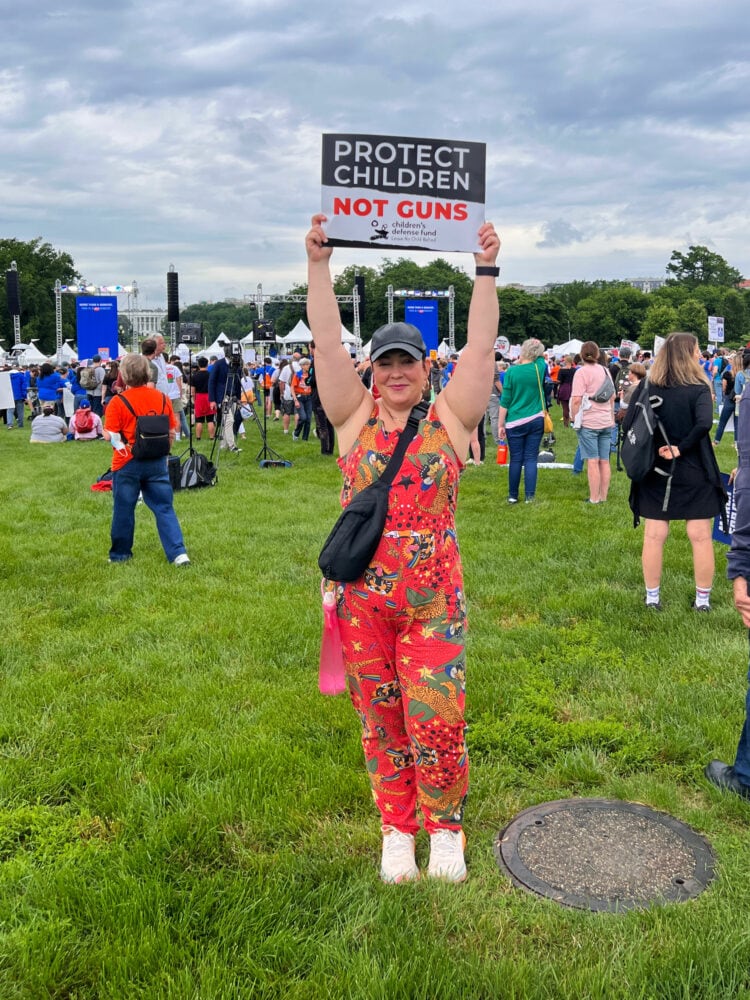 Click here to visit Nooworks, a woman-owned and woman-run fashion brand in California that offers along with jumpsuits, several other types of garments in sizes XS-3X (my overalls are a size XL and I usually wear a size 14 or XL). Nooworks also has accessories, towels, and some clothes for kids. Nooworks partners with small artists for their limited runs of cool patterns. Unfortunately, the pattern I'm wearing is no longer available but there are so many cool prints currently available (and a few solid colors too!).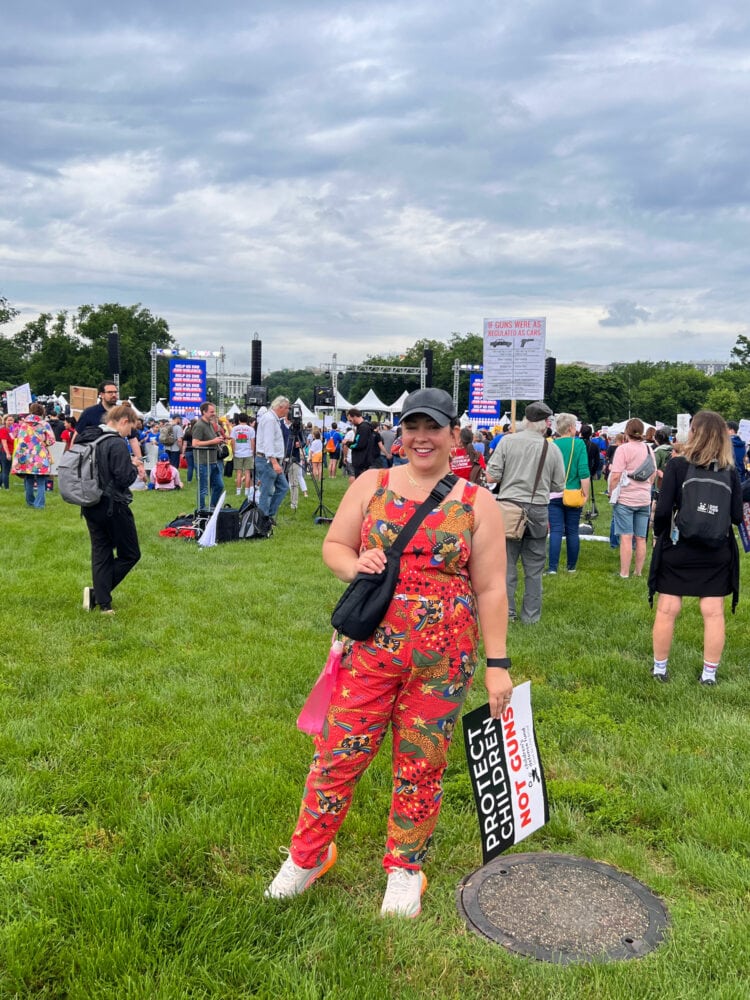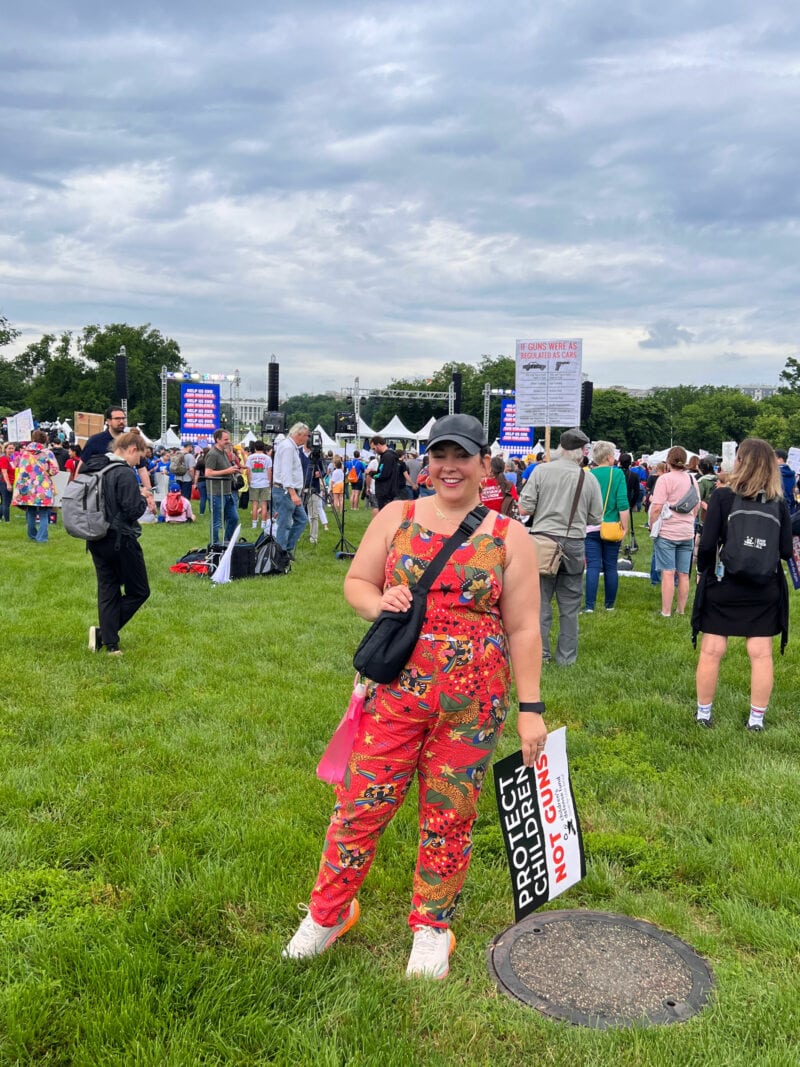 While they don't technically "go" with the overalls, I knew I had to wear sneakers for comfort. It was going to be a long day on my feet and in crowds so I needed a closed-toe shoe that could handle the different conditions. I wore a pair of Bombas cycling socks which are my new favorite; they may be visible peeking out of my sneakers, but the yarns and fit prevent hot spots and blisters and they truly stay in place even if my sneakers get wet.
The day started rainy with showers off and on through the early afternoon. There was absolutely no point in trying to make my hair look cute. I decided to just put it into a ponytail under my black faux leather baseball cap. I bought this cap last summer at Target when on vacation during a hurricane. The faux leather doesn't absorb moisture and looks more "cool" than a regular cotton cap. This was perfect for the rain, and also for sun protection later in the day at the parade.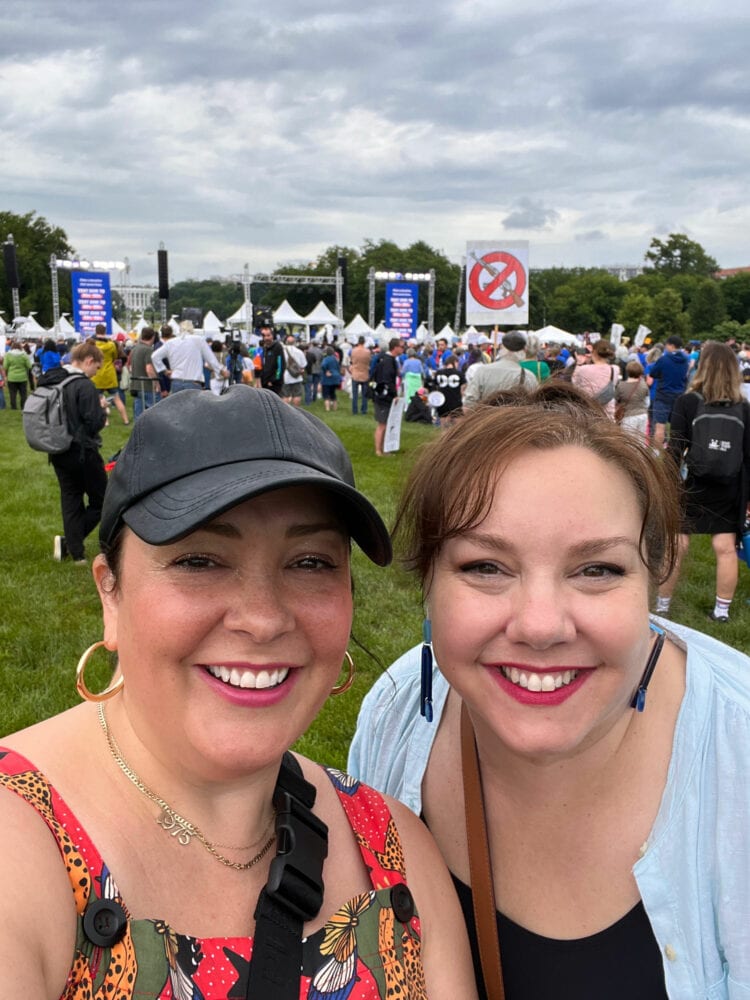 For a bag, I chose my Girlfriend Collective belt bag, because it is both the largest and the lightest weight belt bag I own. I wore it as a crossbody so it was easy to access the contents and I could slide under my arm or to the front of my chest depending on the crowd and situation. The fabric is also water-resistant so I knew if I got caught in a downpour it wouldn't be soaked for the rest of the day.
In my bag I had:
For makeup, I kept some aspects simple, and some I got fancy. Knowing I'd be rained on and would get sweaty, I didn't try to have a perfect face. I wore sunscreen (currently loving Black Girl Sunscreen) and then over it, Saie Beauty's tinted moisturizer and I set it with Saie's powder patted on with a Beauty Blender. I filled in my brows, curled my lashes and wore tubing mascara (no raccoon eyes but washes off easily).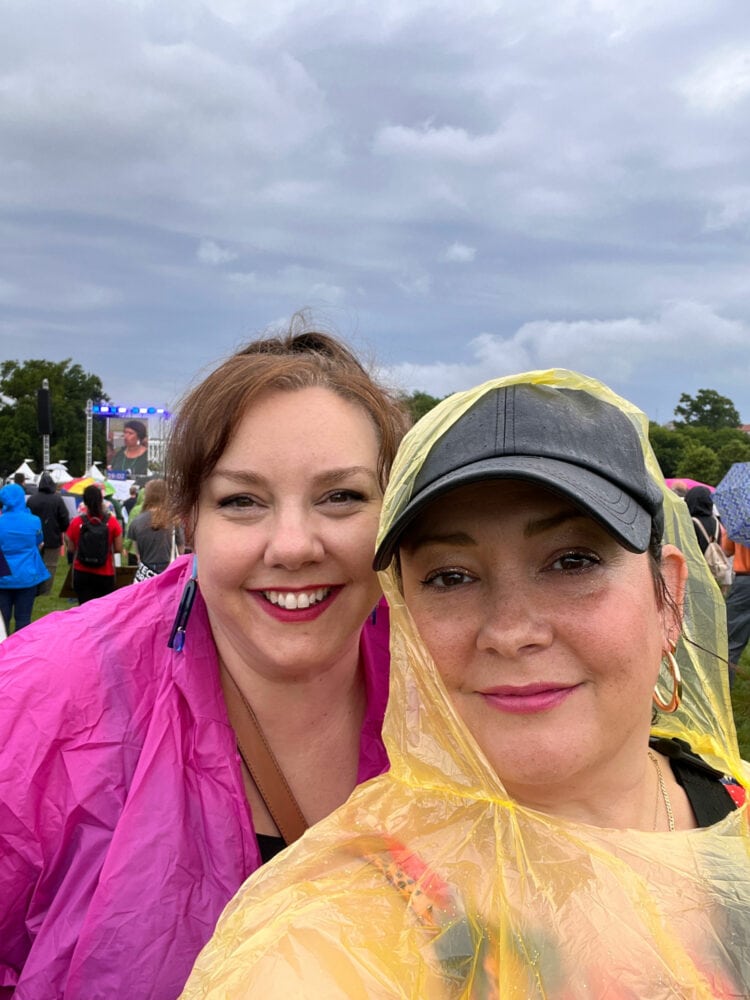 I then pulled out my beloved Urban Decay Heavy Metal glitter eyeliner. This is my favorite way to look festive. You don't need to know how to draw a straight line, you can dab it along your lash line and it's so fun and doesn't irritate my allergy eyes or smear if I rub. I have a few colors but decided to wear "Midnight Cowboy" which is a darker goldish/pewterish glitter.
Wet 'n Wild has this glitter eyeshadow that is essentially glitter in a base with the consistency of lip balm. I've found these cheap single compacts at Target, Walgreens, and Amazon and they're a super easy way to be glittery and control how glittery you are. Tap in your finger and tap on your face. I applied my gold glitter Wet 'n Wild shadow to my lids and along my temples and cheekbones.
Then for a pop of color, I wore L'Oreal matte lipstick in Matte Mandate which is a gorgeous fuchsia. I love these lipsticks from L'Oreal, they wear well, feel nice on, the colors are sophisticated (my favorite red is Matte-Traction Red) and the price is nice.
What I liked best about this look is there was nothing to futz with. I didn't have to adjust or shift or re-tie. When it got wet, it didn't become transparent or cling. I felt just as cute at 11am as I did at 7pm.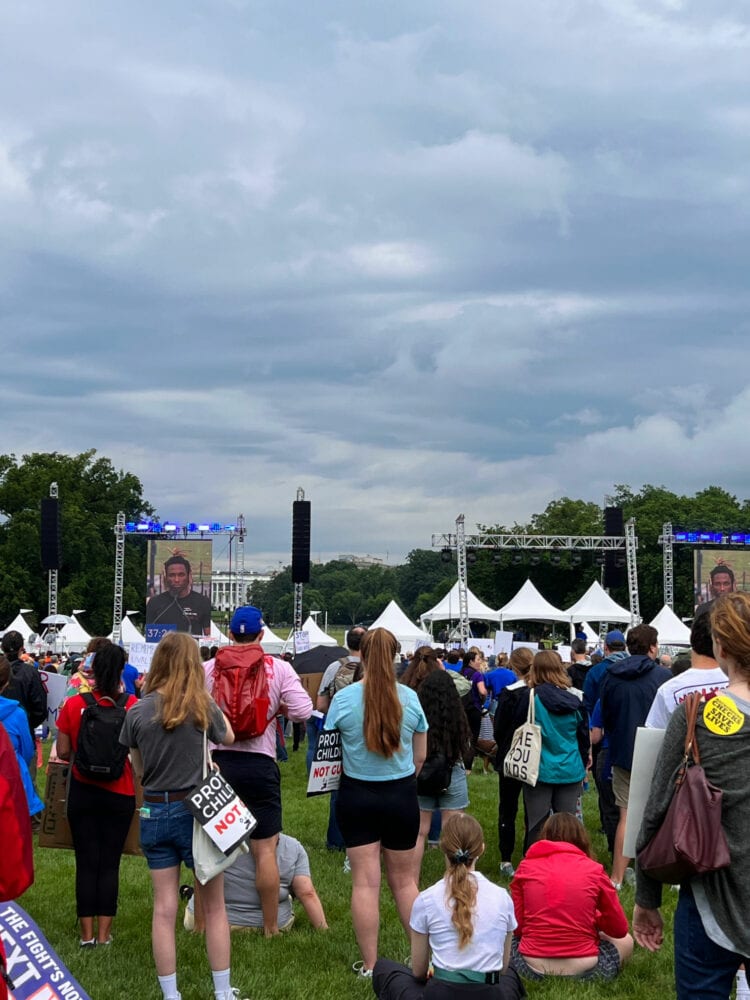 The poncho was smart as it did begin to rain. It was nice to have it so small I could tuck bag into my belt bag when the skies cleared.
And the sneakers were a good choice because as you may have heard on the news, there was a scare at the March for Our Lives rally. It was during a moment of silence. We weren't super close, wanting to be out of the crowd but suddenly the crowd started running towards us and so we turned and began to run too. Then someone got on the microphone and told us there was nothing to fear, to all return to our places.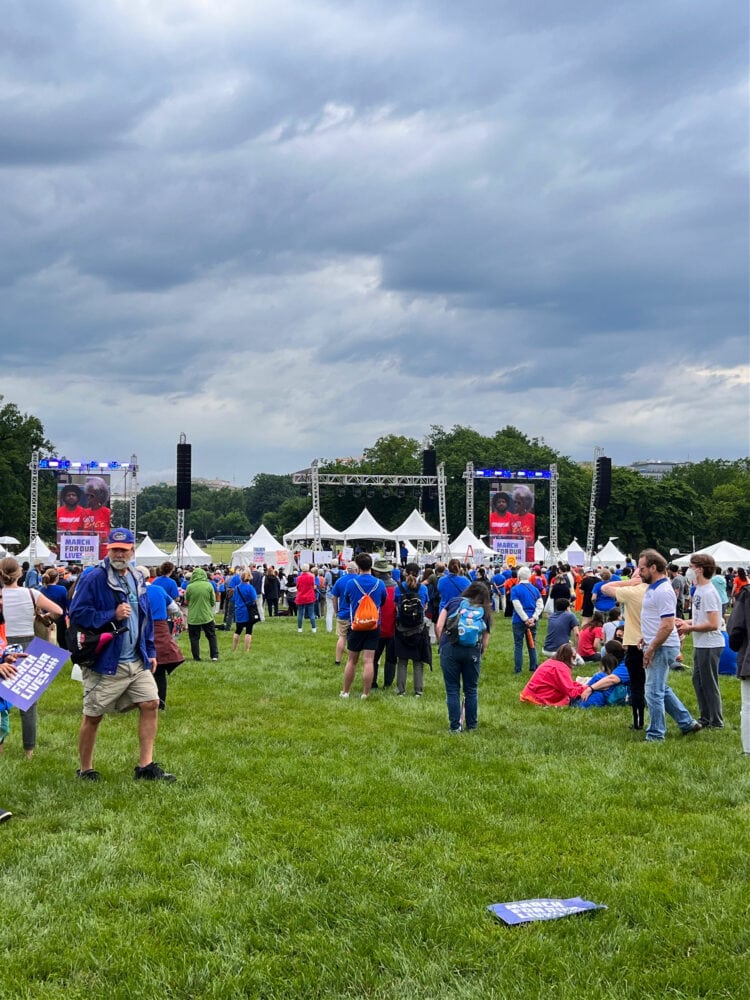 I heard after that someone jumped a fence, screamed, "I am a god" and threw a small Bluetooth speaker at the stage. I also heard that someone screamed, "Gun" during the moment of silence. Someone said they heard a man had brandished a gun near the crowd. All I know is the incident was only a few seconds long but was so incredibly traumatic.
The crowd was full of those intimately affected by gun violence. Of children familiar with active shooter drills in their schools. Of older adults and individuals with reduced mobility. We stopped running, but the crowd was full of individuals traumatized by the event, crying, curled up, hugging, requiring medical attention. Days later, I am still shaken by it.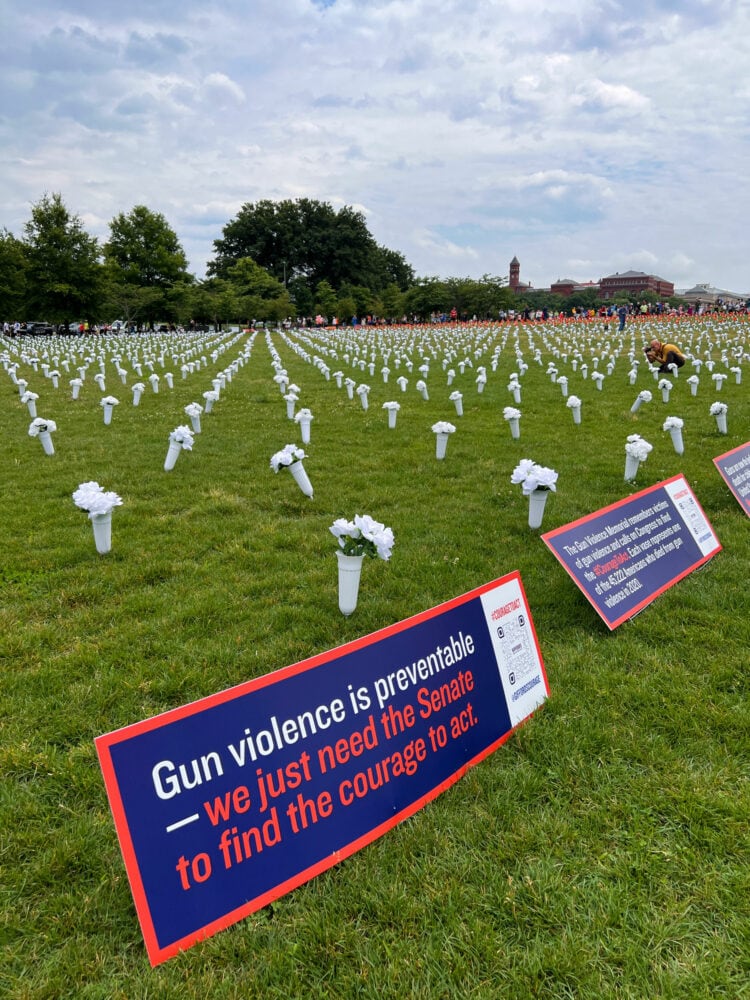 We left the rally soon after, it was so intense, so devastating. Next to where we all crowded, there were 45,000 flowers set up to represent the victims of gun violence. The whole experience was really hard to take, but necessary as it's easy to watch it all on TV or scroll through the articles, distanced in our bubble. But the incidents of just the past few weeks prove none of us are safe from gun violence and we need laws NOW to control the sale and use of guns in the United States.
We took an Uber to my sister's friend's place, which is steps from the Capital Pride parade route. While waiting for our Uber outside the Eisenhower building, we saw a UHaul pulled over by police. Later that day I saw on Twitter that police pulled over a UHaul in Idaho, full of white supremacists with a riot plan to disrupt the local pride parade. Our Uber arrived before we could see what happened between the Uhaul drive and officer but it was another example of how scary the United States is right now.
It was so great to enter my sister's friend's place, happy familiar faces, air conditioning, cold beverages, and yummy food. We used the facilities, cooled down and fueled up to head back out for the Capital Pride parade.
While Capital Pride is a time of fun and joy, we can't forget that Pride started because of a riot. That LGBTQ+ rights are being taken away across this country. That individuals are still being killed, our police and government not protecting individuals who just want to love who they want and be who they are.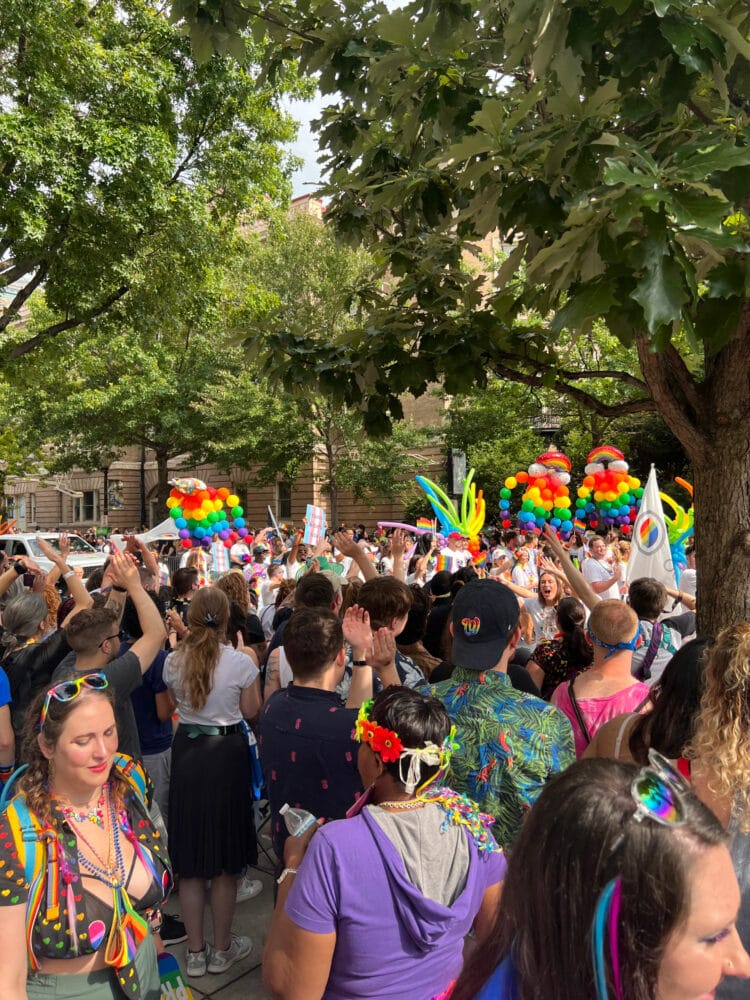 But to be surrounded by such celebration after the terror from a few hours prior was healing. I saw many individuals in T-shirts for the March for Our Lives cheering in the crowd along the parade route and some in the parade. I was glad to be able to attend both events, and inspired to act and fight for the safety of all our citizens.
I often am seen as superficial for having a fashion blog, but fashion is much more than worrying about our appearance. What we wear is the bookjacket to our novel. It tells the world who we are, what we believe, what we support. What we wear shows respect, celebration, allyship, our heart. It can help us enjoy situations and feel more comfortable in these bodies we possess.
In December of 2016, I met my friend Jessica for coffee and she suggested I write a piece about what to wear to a protest march, to prepare for the Women's March that was scheduled the following month. That post was shared thousands of times, and has been updated many times since to accommodate the pandemic and changes in our country. That post brought so much traffic to my site, and a lot of that traffic stayed. I think it stayed because fashion is political, and what we wear can determine how well we can fight for safety and human rights.
When I bought this orange jumpsuit with tigers vomiting rainbows backs in 2020, I got it because I wanted to support a size-inclusive ethical, and sustainable fashion brand here in the US. I'm so glad I had it to wear Saturday.
Wardrobe Oxygen donated a portion of May's income to Everytown, PFLAG, Pride Center of Maryland, and Casa Ruby. Every month I donate at least 10% of the previous month's income to charities and mutual aid groups.