This article may contain affiliate links; if you click on a shopping link and make a purchase I may receive a commission. As an Amazon Associate, I earn from qualifying purchases.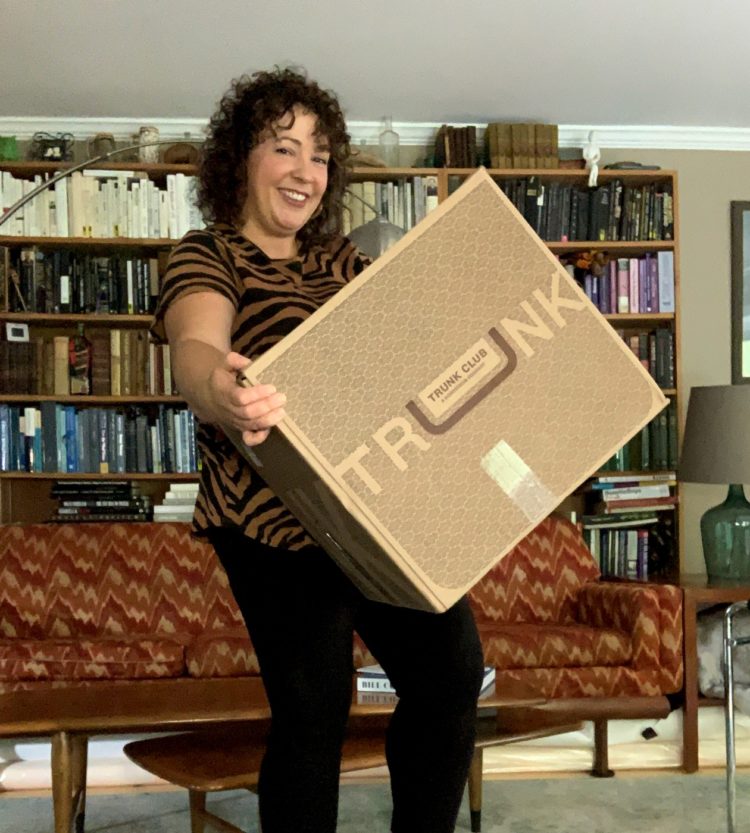 I haven't done a Trunk Club Review in a while; for reference here is my Trunk Club Clubhouse review and here is my spring Trunk Club delivery review and my fall Trunk Club delivery review. With the changing seasons, I was looking to update the wardrobe with new trends and autumn-feeling pieces that will help me transition from summer. I reached out to my stylist, Kelsey and let her know what I was looking for. Below are the contents of my latest Trunk from Trunk Club and my review on each piece. I apologize in advance for the photo quality – life intervened and I had to capture these the last day available before returning my trunk and I didn't have the tools (or the lovely photographer) I normally do for such posts. However, I balanced it with pretty detailed reviews.
My Experience with Trunk Club
It was clear Kelsey had a concept with this Trunk and I really appreciate it. I try to keep a small wardrobe, and the way to make that happen is to have pieces that mix and match nicely with one another. The majority of the Trunk were pieces that would mix and match with one another and it was on trend for the fall, not exactly what I normally buy, but similar concepts so the pieces, in general, would mesh into my existing closet. This is one of the factors that sets Trunk Club apart from other subscription services like Stitch Fix. As I read in this article, Stitch Fix isn't really an individual working to get it right, but a rushed person who is paid by how many fixes they can get out in a day. Kelsey is a person, someone I have met before in the DC Clubhouse, who has been my stylist from the get-go. The Trunk Club site has a message board where Kelsey and I can text to one another and there's a running history so she can better learn my style and I have the ability share extensive feedback, links to sites and Pinterest boards, and more. This concept was "rocker prep" with lots of stripes, tailored pieces, but the occasional badass detail that made it feel like me.
What is Trunk Club?
For those unfamiliar with Trunk Club, it's a virtual styling program through Nordstrom. There is no membership fee, you ask for a trunk whenever you wish or else sign up to have them auto-delivered. Each trunk has a $25 styling fee (which is waived if you have a Nordstrom credit card), but that cost is deducted from the price of anything you keep. Trunks from Trunk Club are usually large cardboard boxes; they come with everything to ship them back for free and Trunk Club makes it easy for a free UPS pickup so you don't have to haul it somewhere to ship it back. You have five days to review your Trunk before delivering it back (though if you message your stylist you can usually get another day or two). Since all the clothes are from Nordstrom, Trunk Club will do price matching and adjustments within 14 days of delivery.
How Does Trunk Club Work?
You can message your Trunk Club stylist general ideas ("I need work outfits, I have a business casual office environment and prefer pants") or something specific ("I am looking for a cobalt or royal blue cocktail dress or jumpsuit to wear to a fundraising gala in November"). You can even ask for specific items so you can "try before you buy" ("I would like to try this specific bag from Tory Burch in red"). When your stylist has built your Trunk, they will message you with a preview of what you will receive. Within 48 hours, you can review your Trunk and leave feedback for your stylist, including swapping an item for a different size or color, or removing items altogether. You do not get to review any replacement pieces, that is a surprise for once the Trunk arrives.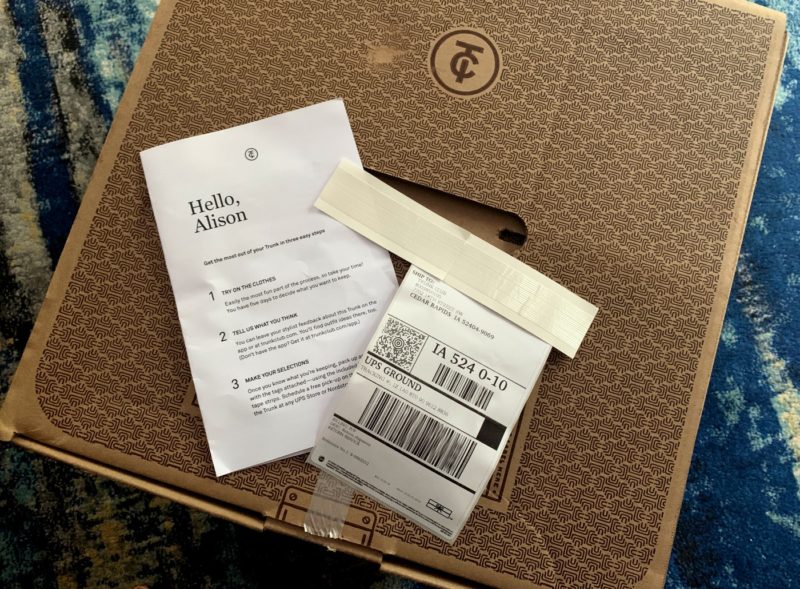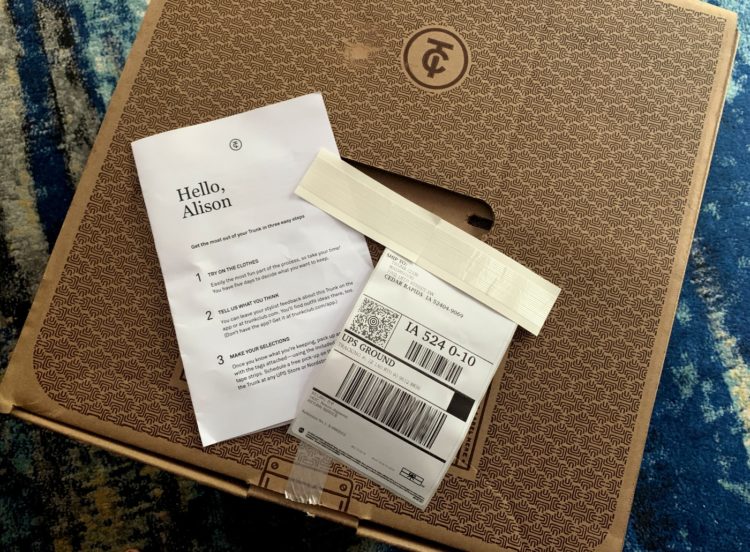 Since Trunk Club is associated with Nordstrom, you get some of the Nordstrom perks like points towards the Nordy Club and alterations. Select alterations on items purchased from Trunk Club or Nordstrom are free of charge, but others carry a fee. Your best bet is to visit your nearest location. If you go to Nordstrom, you will need a physical or digital copy of your receipt. If you come to a Clubhouse, we can look up your past purchases in your account. When you drop off your items for tailoring you can choose to pick them up or have them mailed back to you for free. Currently, Trunk Club only ships to the United States and cannot ship to PO, FPO, or APO boxes. However, your Trunk can be held at a UPS location for you to pick up.
Trunk Club has a referral program; if you refer a friend and they spend at least $50, you will receive $50 Trunk Club credit in your account towards a future purchase. If you wish to sign up and use my referral code, I thank you and ask you to use this link. Trunk Club offers gift cards, I think it's a great holiday gift idea for the person who has everything, someone job hunting, someone whose body has recently changed shape, or someone who is recently retired and looking to update their look. Unlike other subscription programs, a gift like this won't lock your recipient into a contract or future costs. Anyway, after all these Trunk Club FAQs, here is what came in my Trunk Club Trunk!
What Came In My Trunk Club Trunk?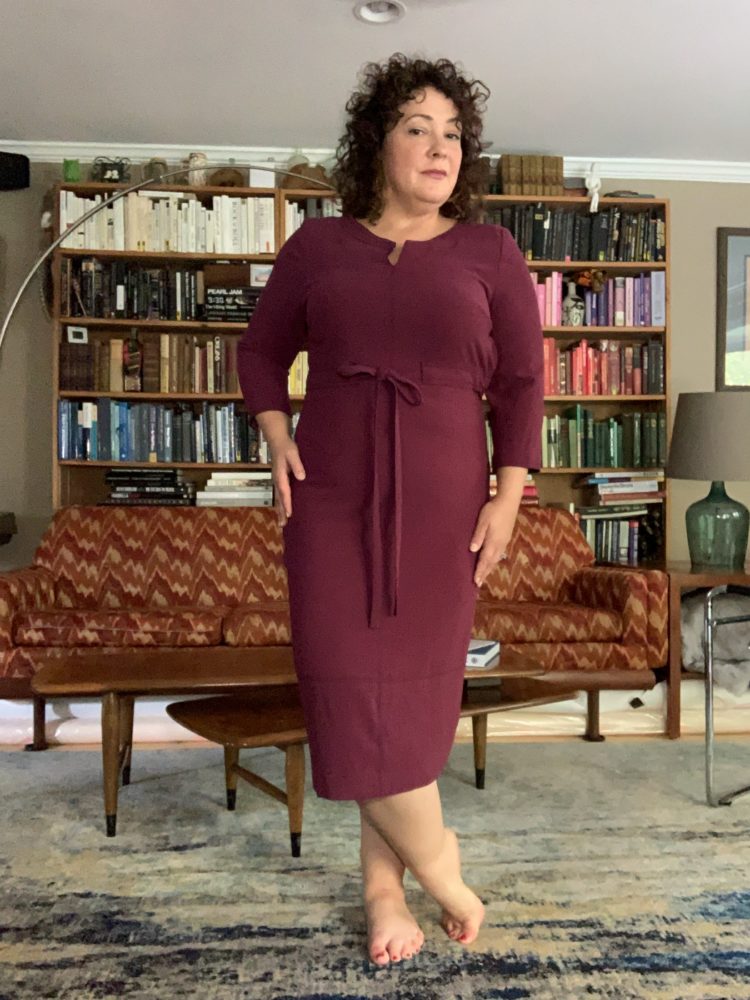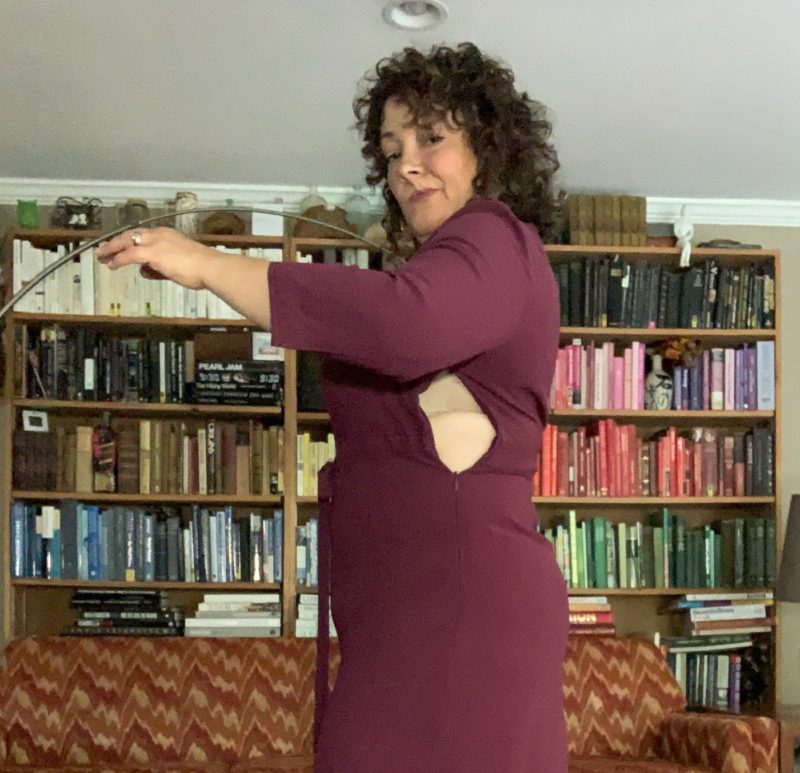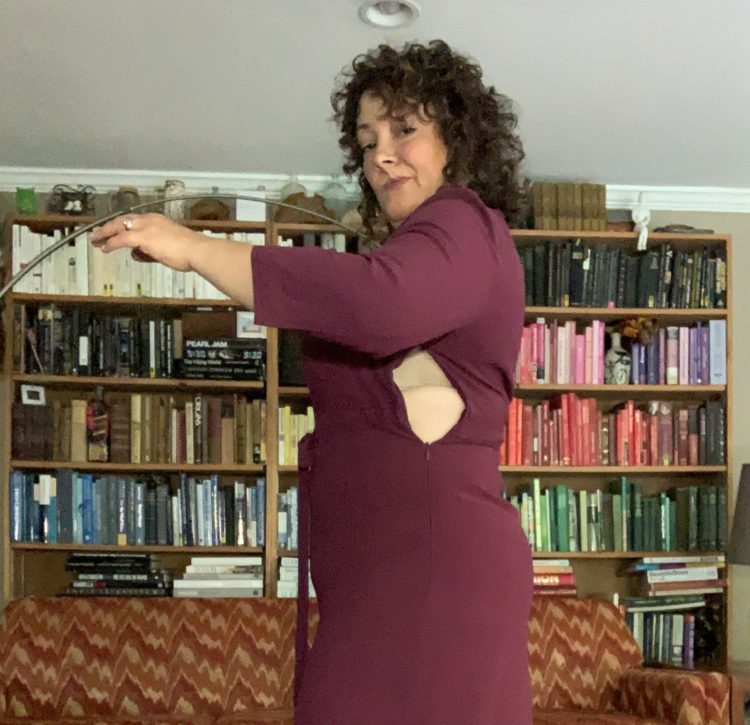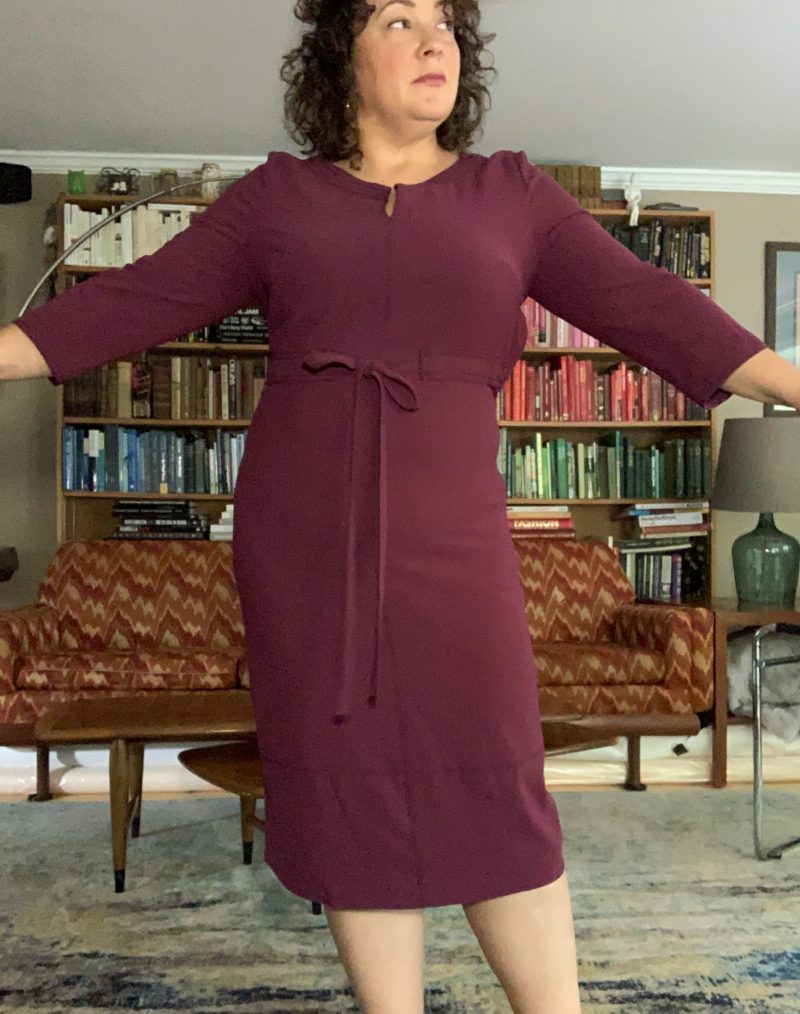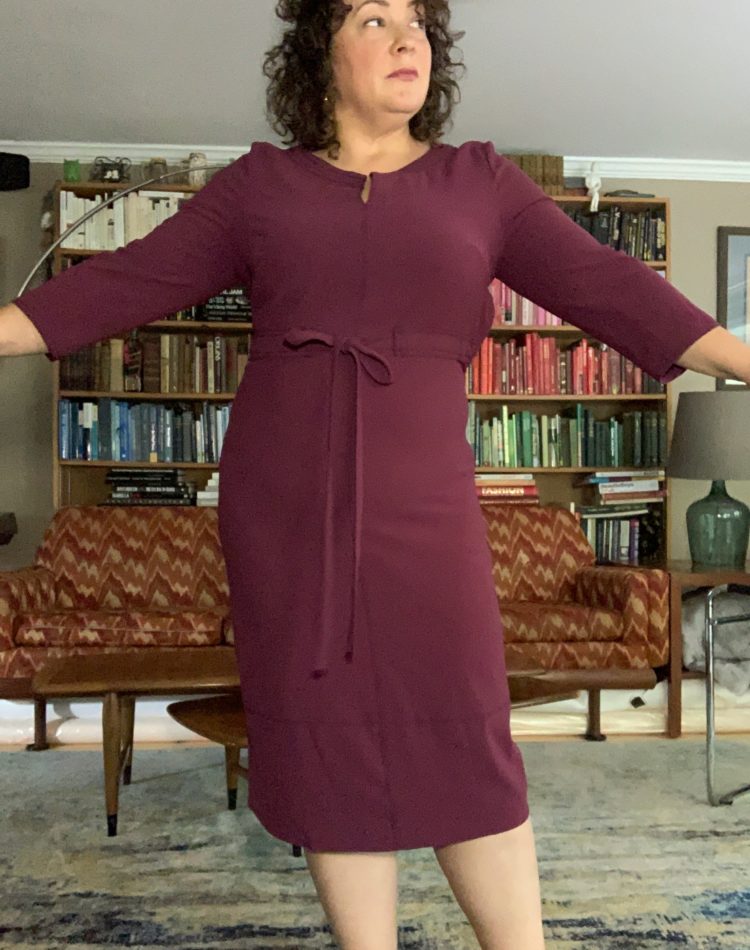 I adore Boden. Like Clare V., Boden is a retailer I would have all over my closet if I had the money. I usually buy 1-3 items from Boden every year. I love the style, but the fit doesn't always work with my short curvy frame. As soon as I saw this dress and that it was a 12, I knew it wouldn't work. I couldn't finish zipping it up, it was far too tight in the bust, torso, rear, and hips. However, a 14 I think would have been too big in the shoulders and sleeves. Oh Boden, why won't you do petites over a size 10???? Even if this dress was a 14 petite, I still would have returned it. The dress is more conservative than what I wear now that I don't work in an office setting, and the color was a bit subdued for my taste. Miss.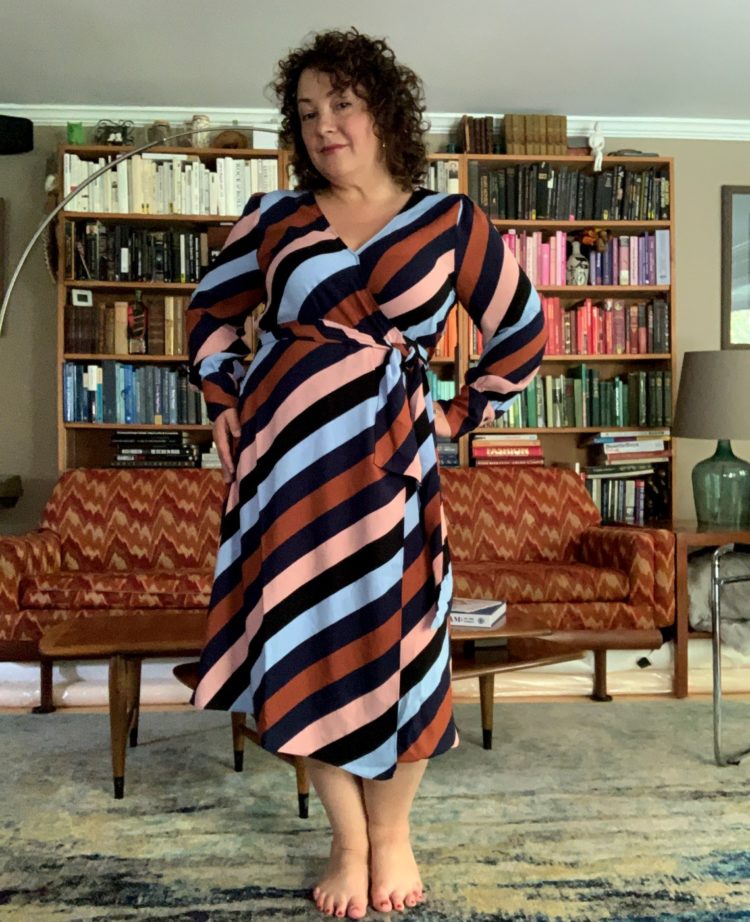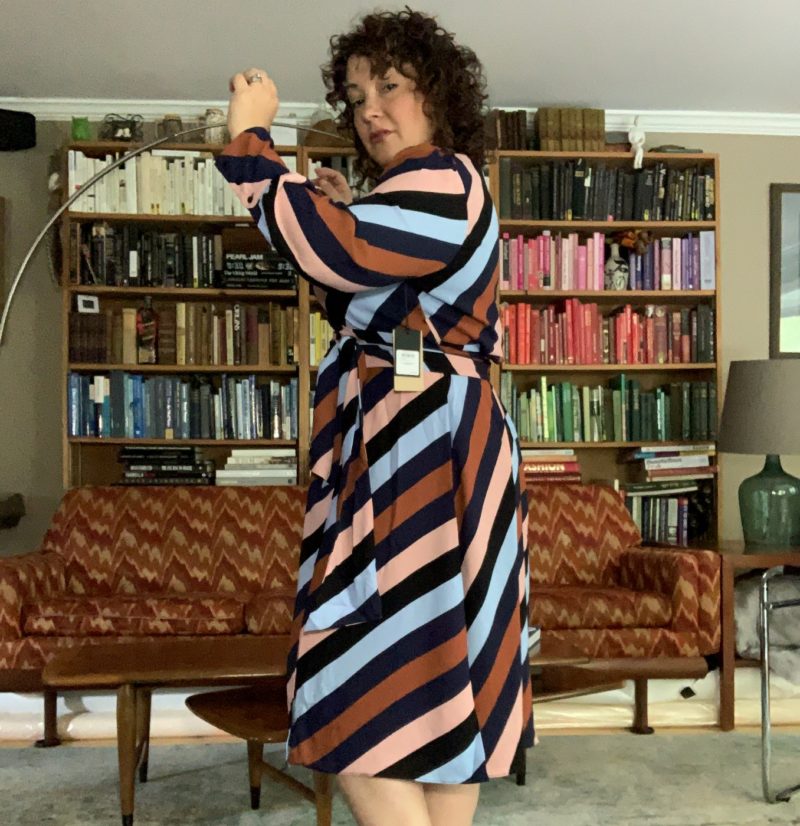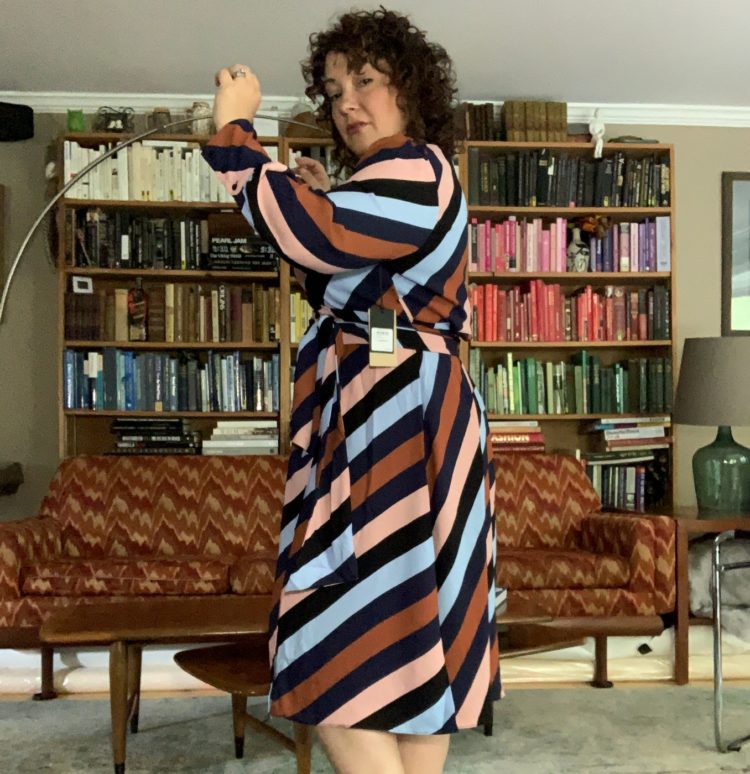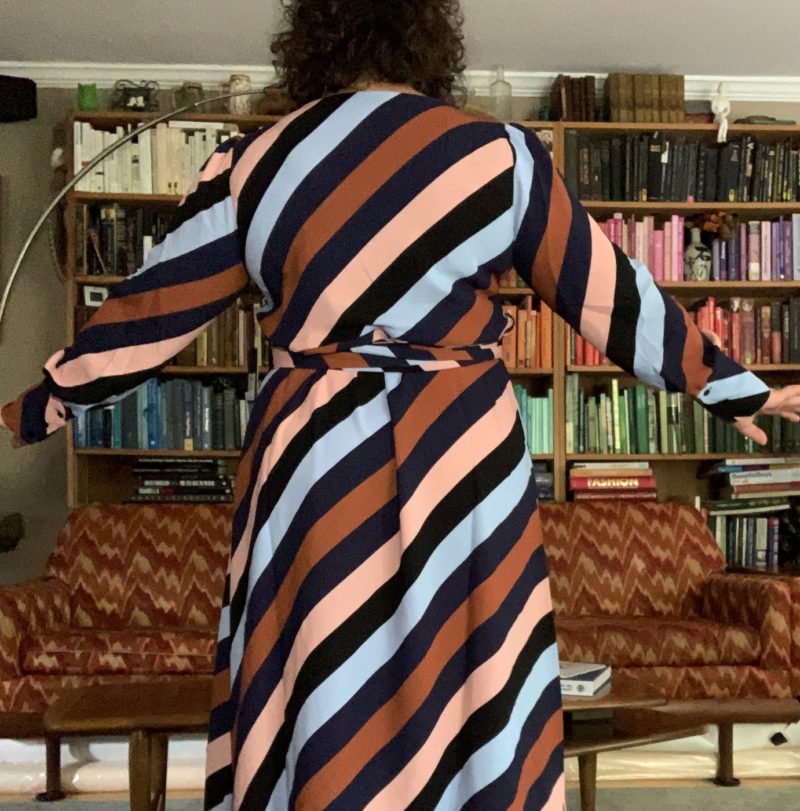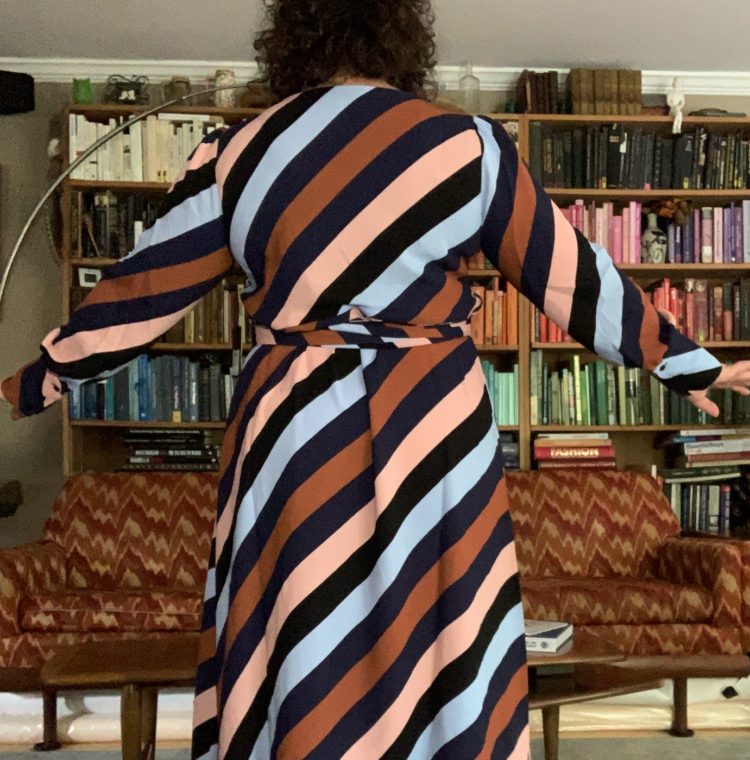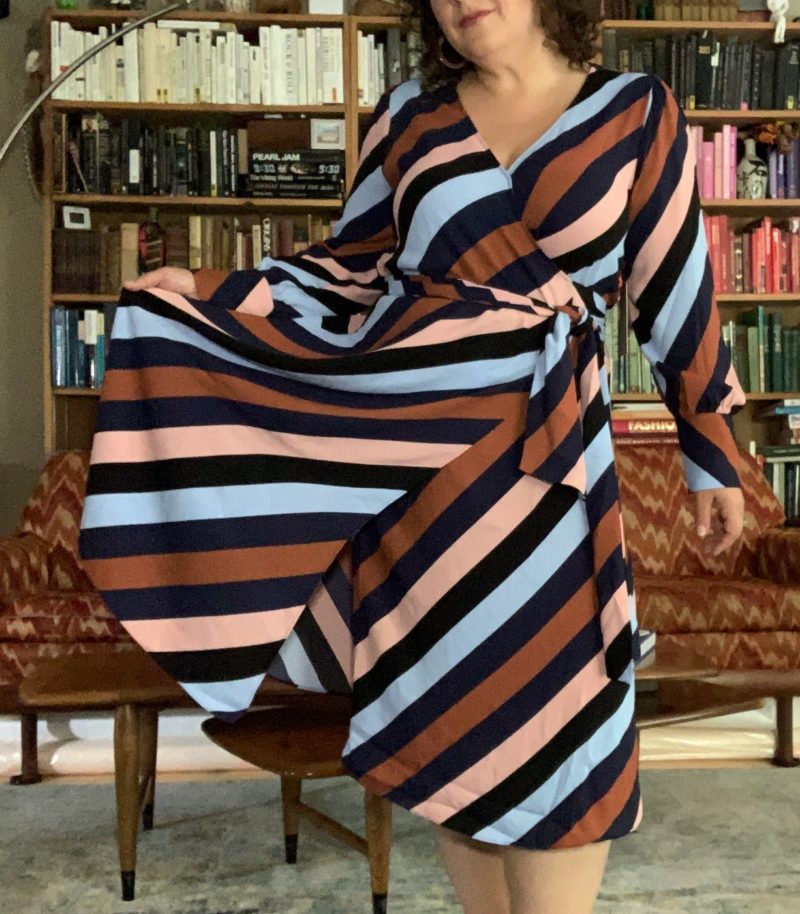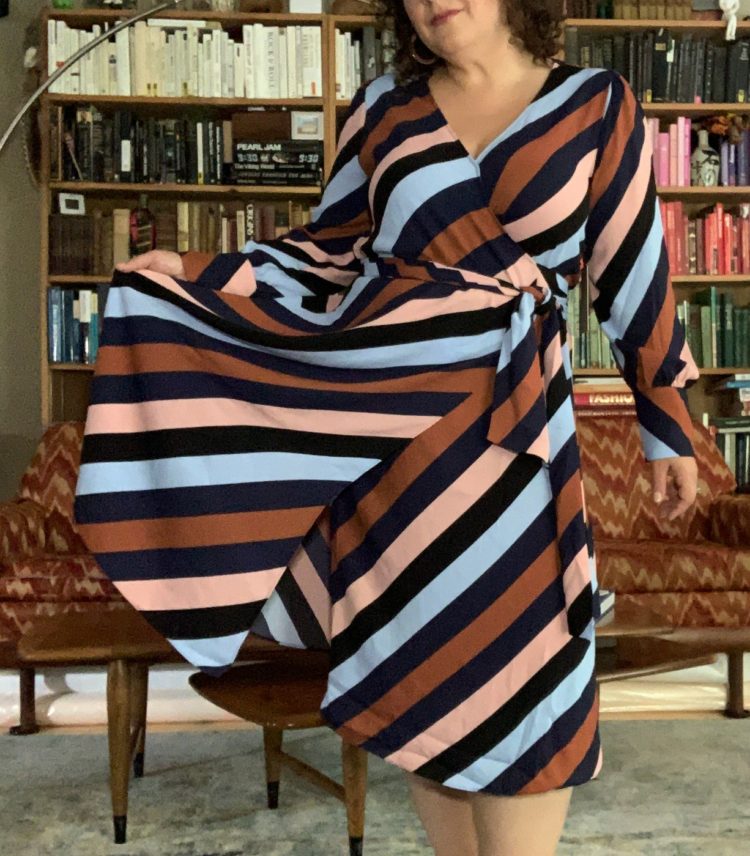 I own last year's version of this dress, and also got it from Trunk Club. It was a good dress to me – worn to a memorial service, a birthday brunch, a house of worship, several meetings, and more. It looked cute with flats and great as it got colder with tall boots. However, I never really liked the pattern. I think I'll like small florals but I never end up falling for them like I do other prints. I saw this print (which is only one of a few prints and colors this dress comes in) and swore I wouldn't like it. Then I tried it on and was really surprised by how much I liked it. I saw it with nude pumps, with camel pumps, with tall black boots. I safety pinned the neckline for this, but could pin it lower for a night out. I like the fullness of the skirt, there's enough coverage in the front that I can cross my legs or get caught in an unexpected gust of wind and not be showing all my goodies. I know this dress machine washes great (I line dry and steam where needed). Also this print is one that can work now, the middle of the winter, or come April. All this and it was on sale for less than $60 so I decided to keep it. For those interested, this is the link to the dress in plus sizes. Hit!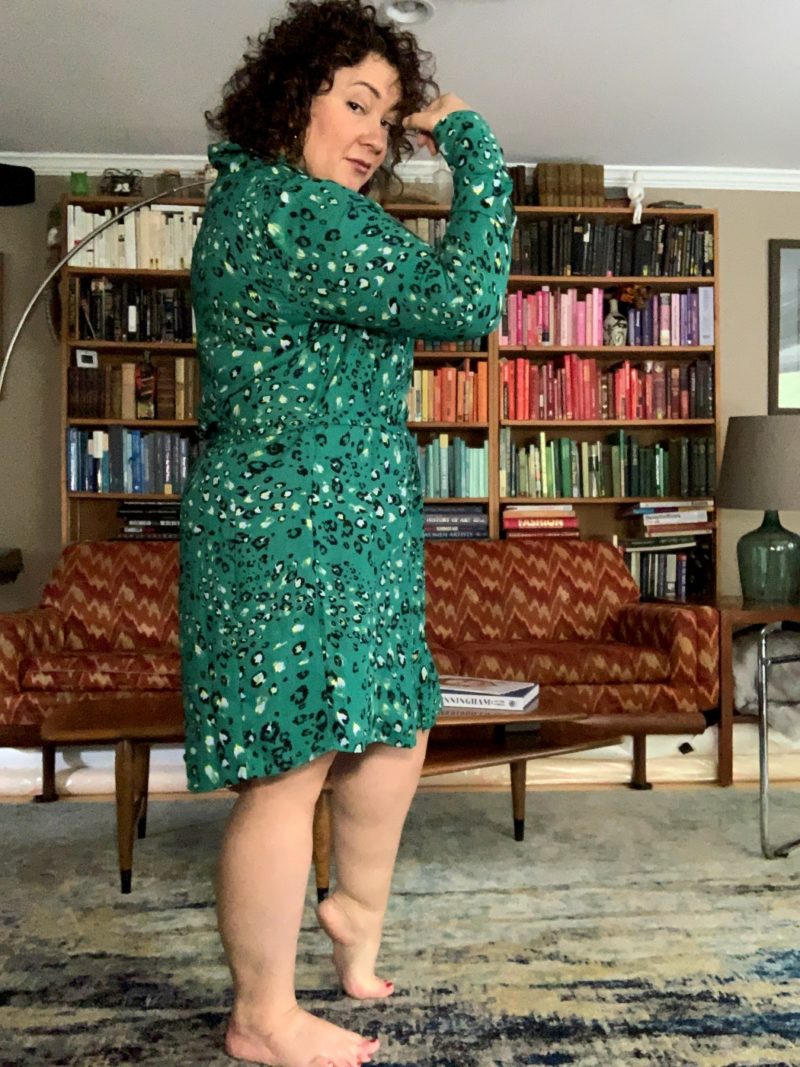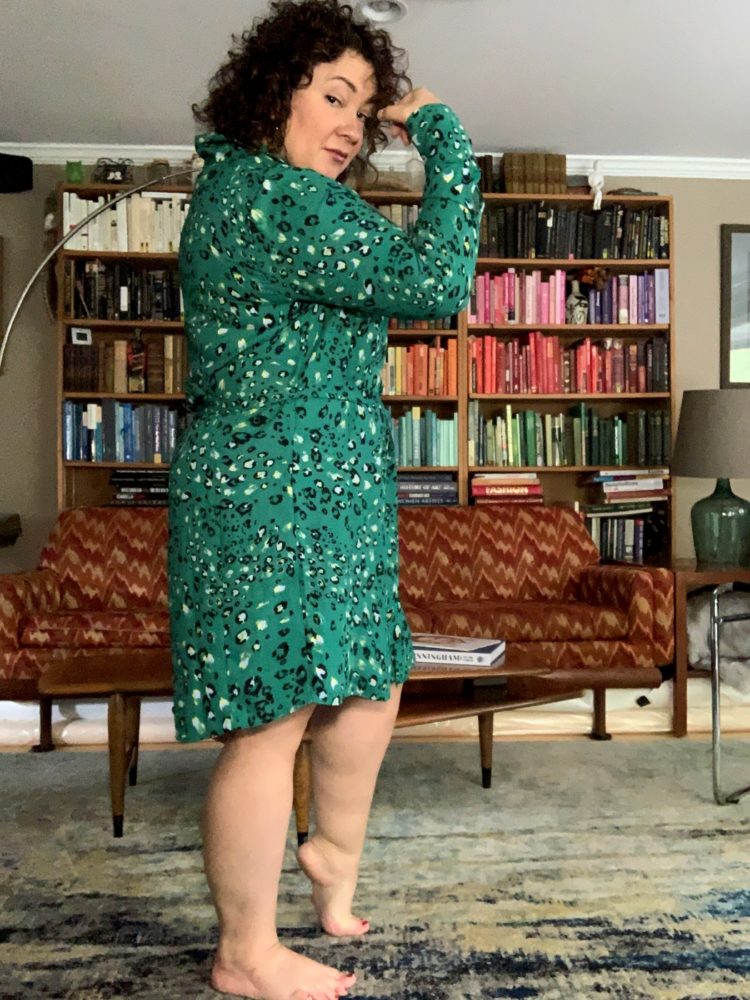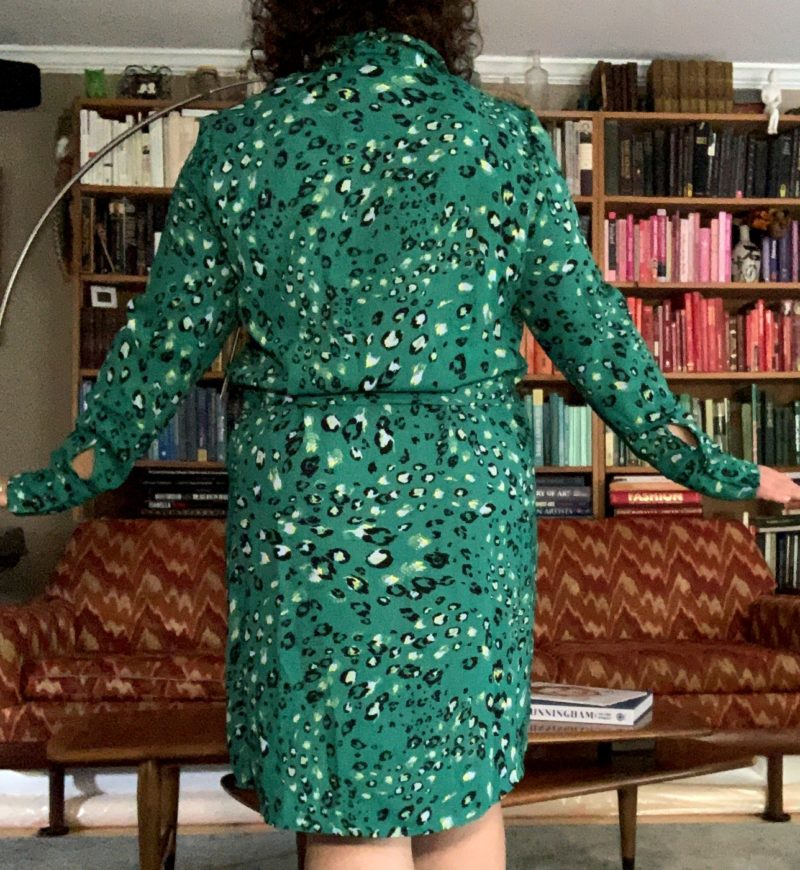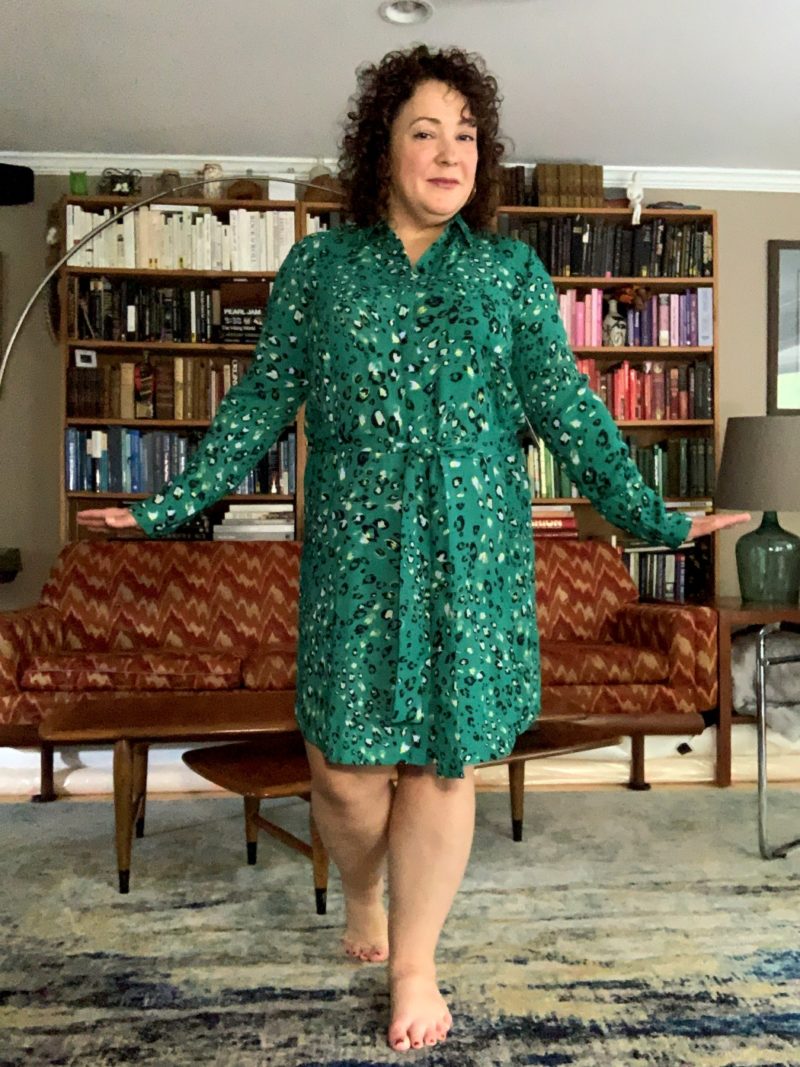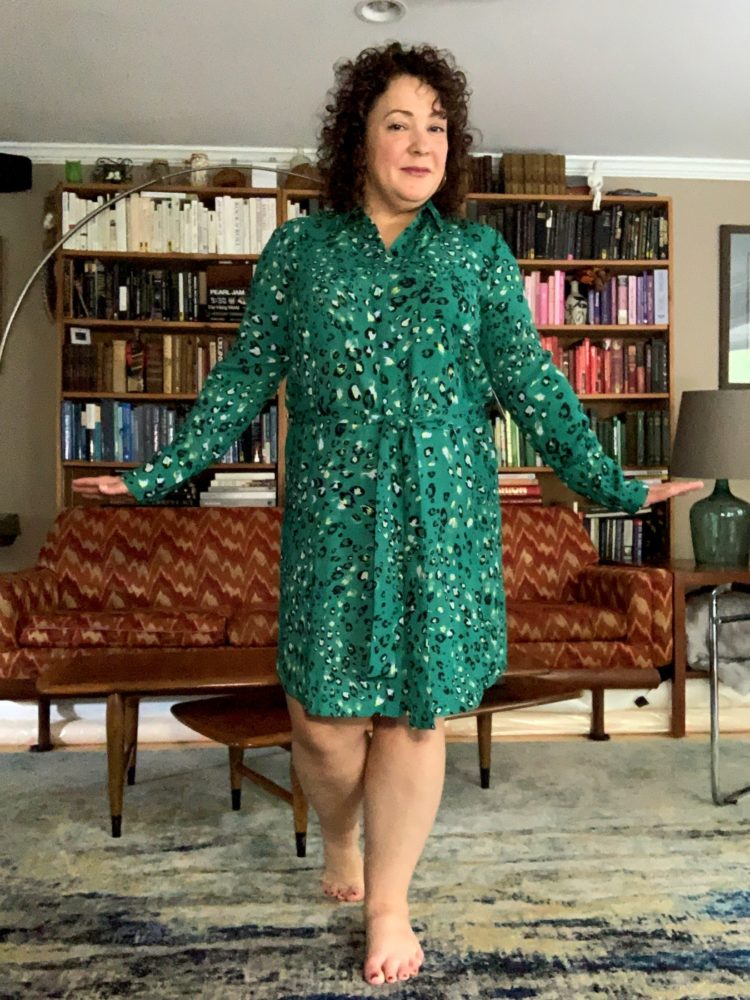 I considered ordering a version of this dress instead when I did this post, but I feared it would be too short. Receiving it in my Trunk made me feel as though my stylist Kelsey was reading my mind! I didn't think I'd get this print, online it looked too springy to work in fall and winter. I found the print better in person, and one that could work with black leather tall boots. However, this dress didn't work for me. My arms are just too buff/large and each time I bent my elbows the fabric was straining. But this is common for me, most non-stretch blouses and dresses are too tight on my biceps. The sleeves were also a bit long, but because there are three buttons on the cuffs, you can easily unbutton some and create a French cuff. Since the fabric is like crepe, you can also roll the sleeves and it won't get all messy through the day. However, my arms are just too big to cuff the sleeves past the middle of my forearm. I do with this dress came with pockets. It's an easy care dress (washer and dryer) plus it was made in a factory that supports women worker empowerment through HERproject, which creates partnerships to enable workplace-based interventions on health, financial inclusion, and gender equality. However, for me it is a Miss.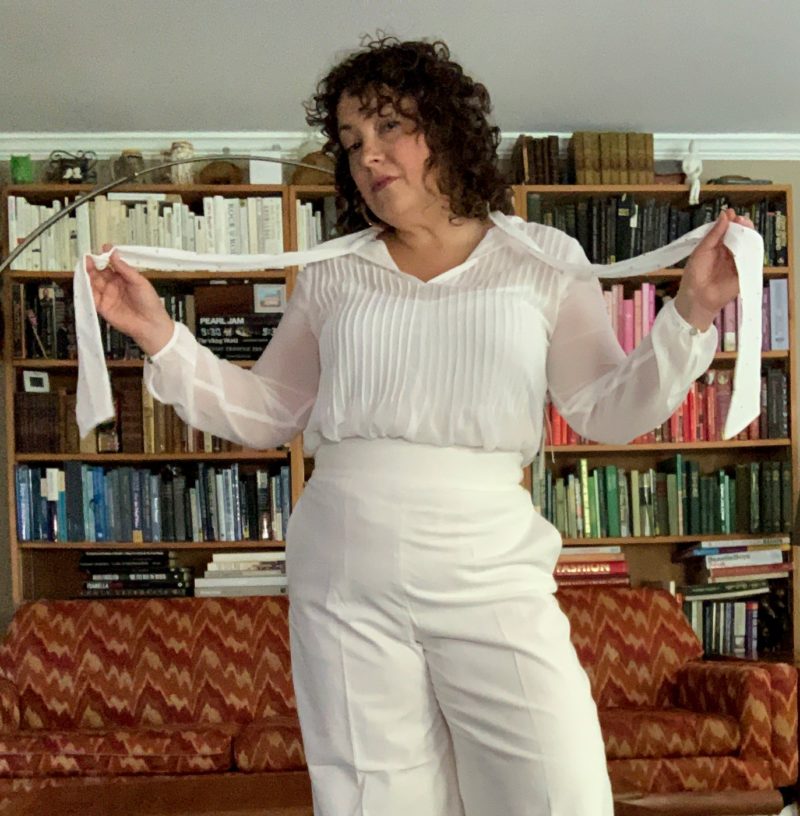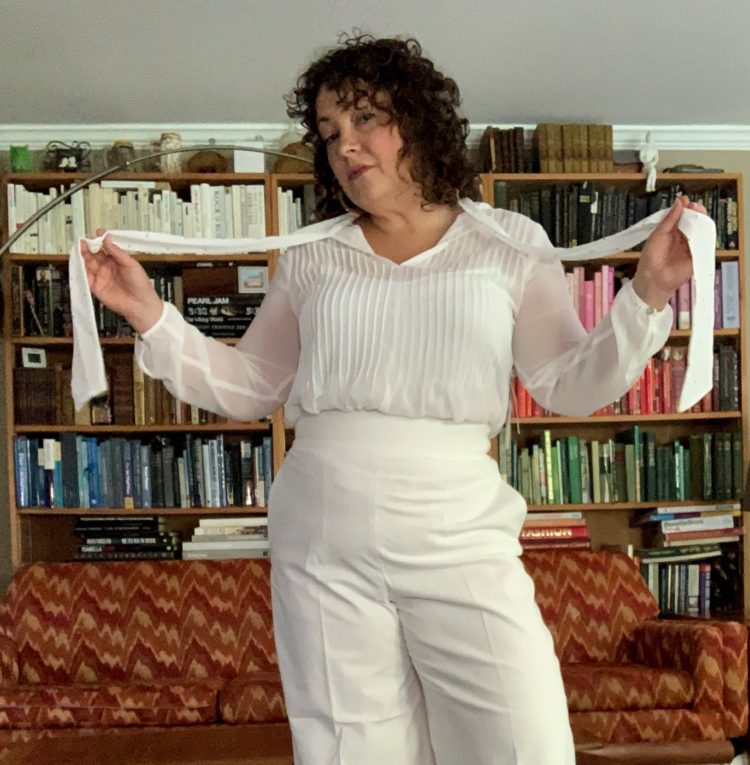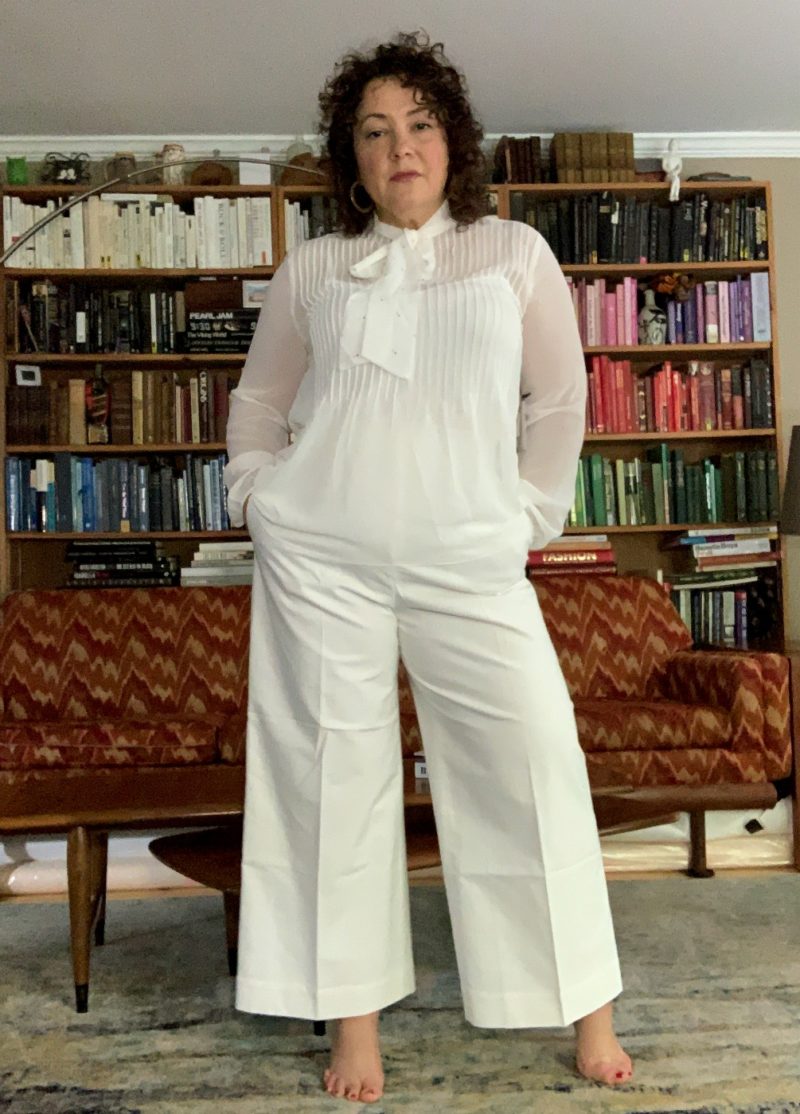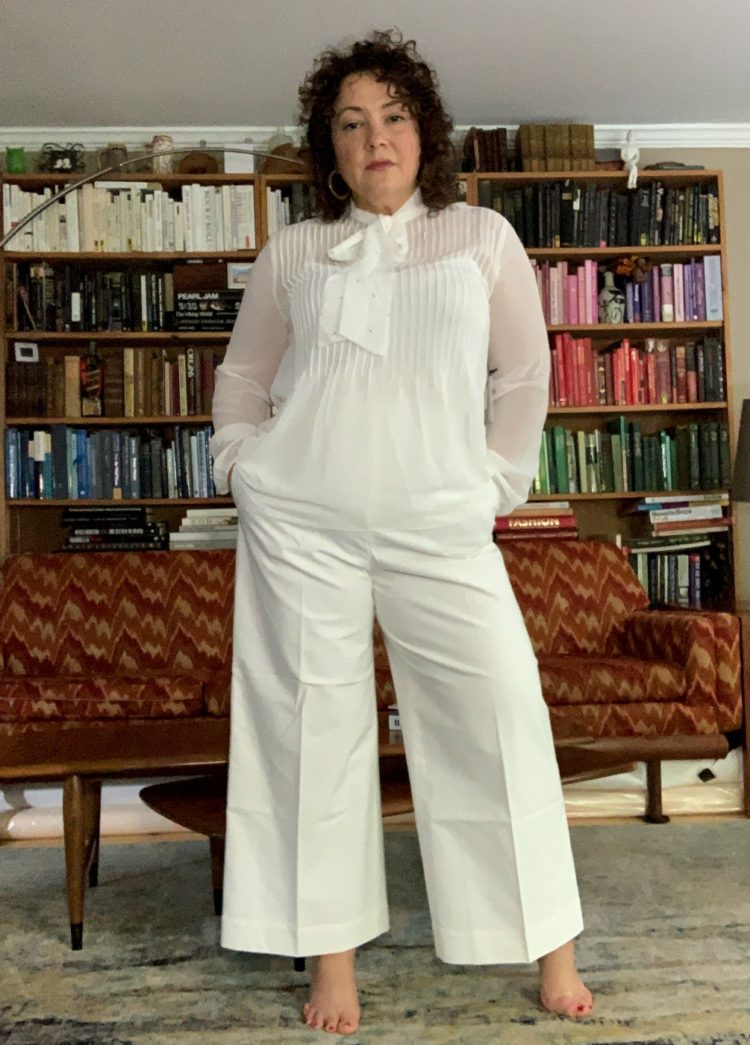 Wow, when I saw this top I was positive I'd hate it. Weird silver studs and chiffon and a camisole and pintucks and all the things. I was surprised when I put it on I liked a lot of it. I thought the sleeves looked good, the tie was cool BECAUSE of the studs, the pintucks gave shape to what could have easily looked like a pirate blouse. The camisole was detachable. This is a good top if you have a rocker side but want to look polished at work, but have your pieces transition nicely for happy hour. As an FYI this top also comes in plus sizes; here is the link. I liked this tucked in and bloused out, the neck tied in a bow or left loose. Thing is, my chest is far too big for this top and I think a size larger would be too big everywhere else. This was a sleeper hit in general, but for me it was a Miss.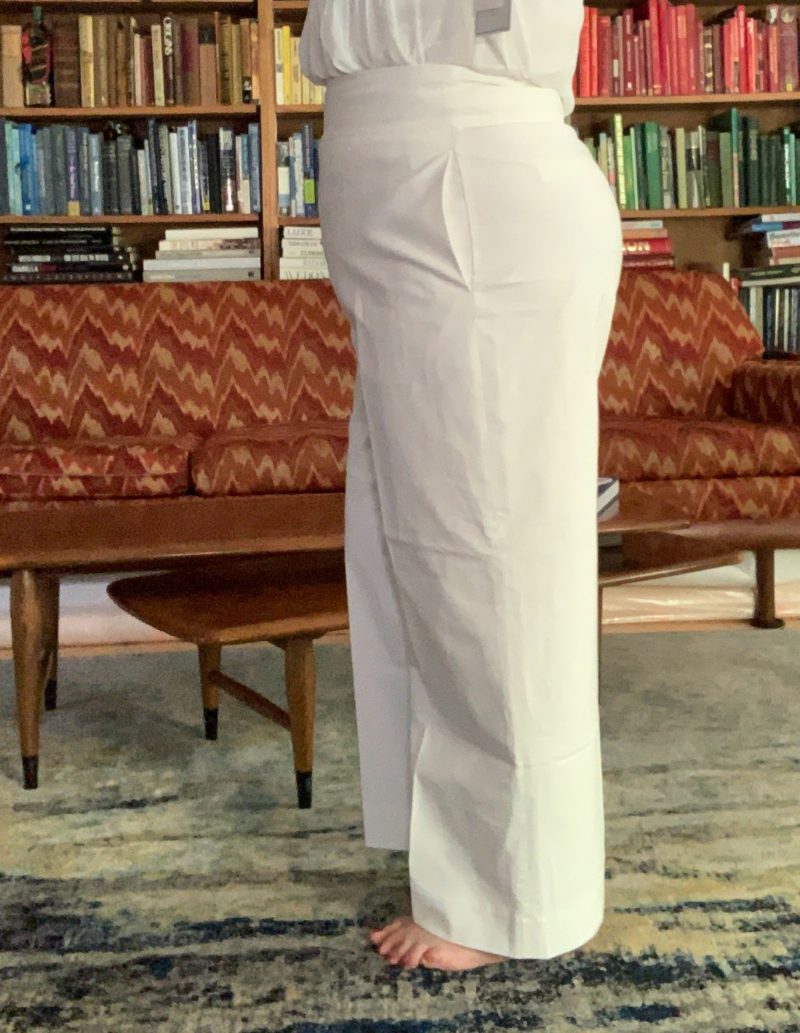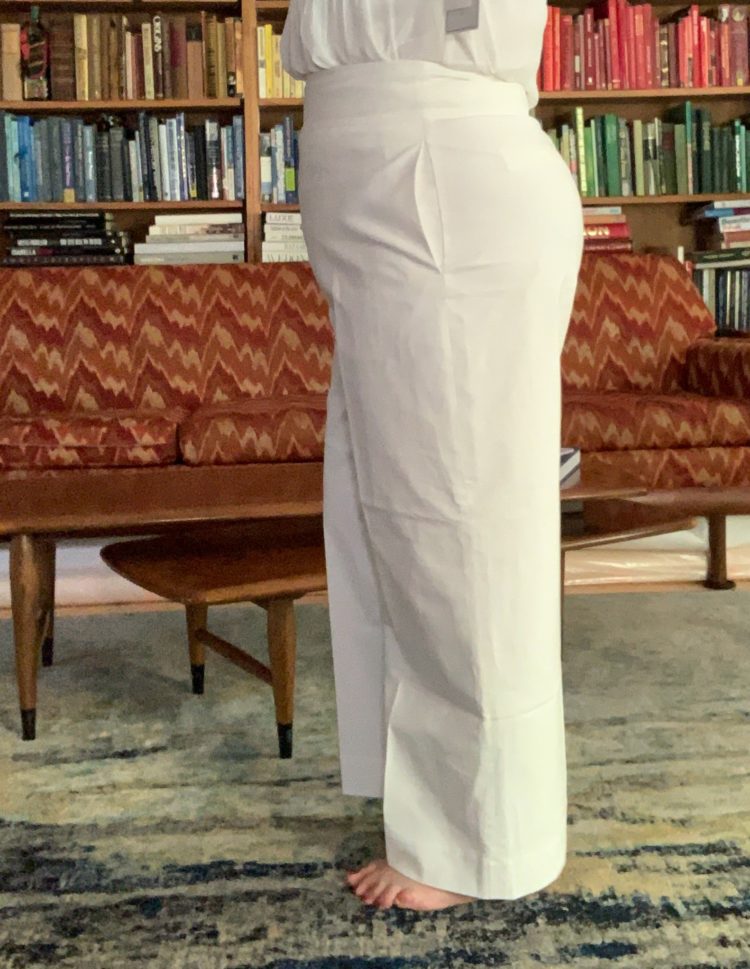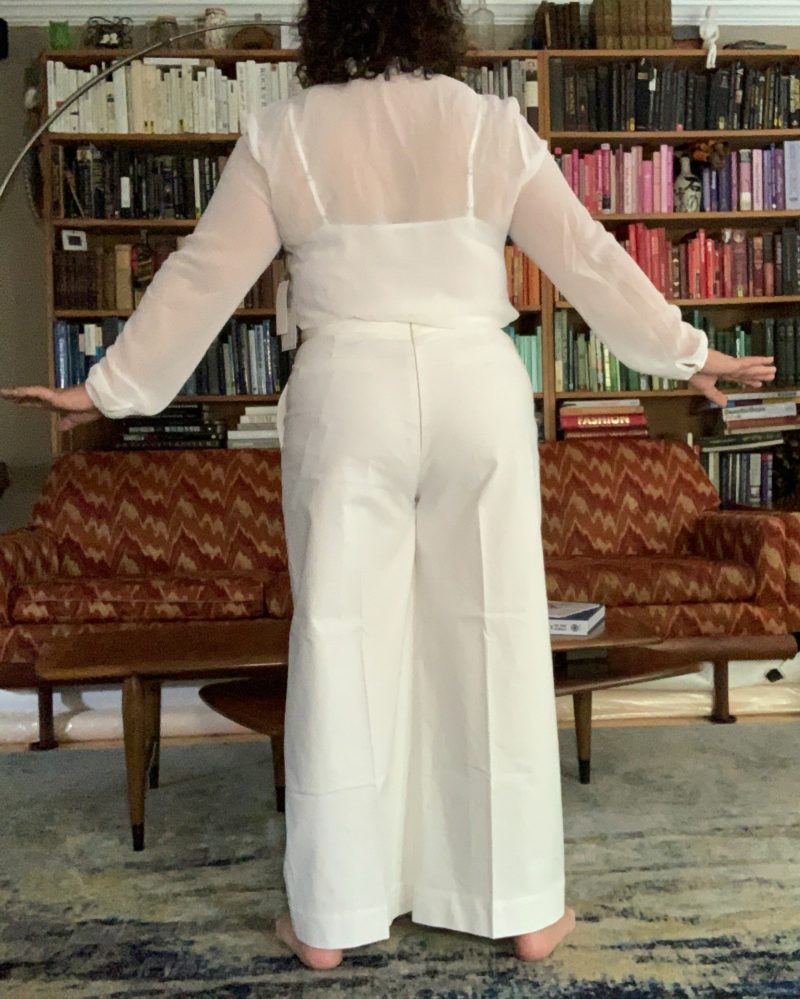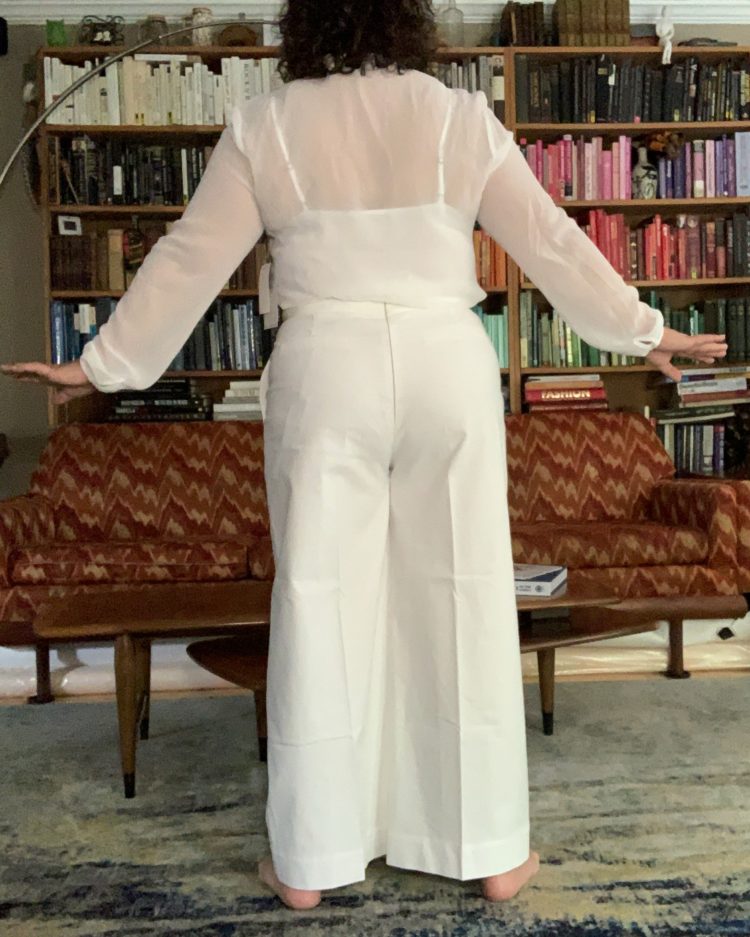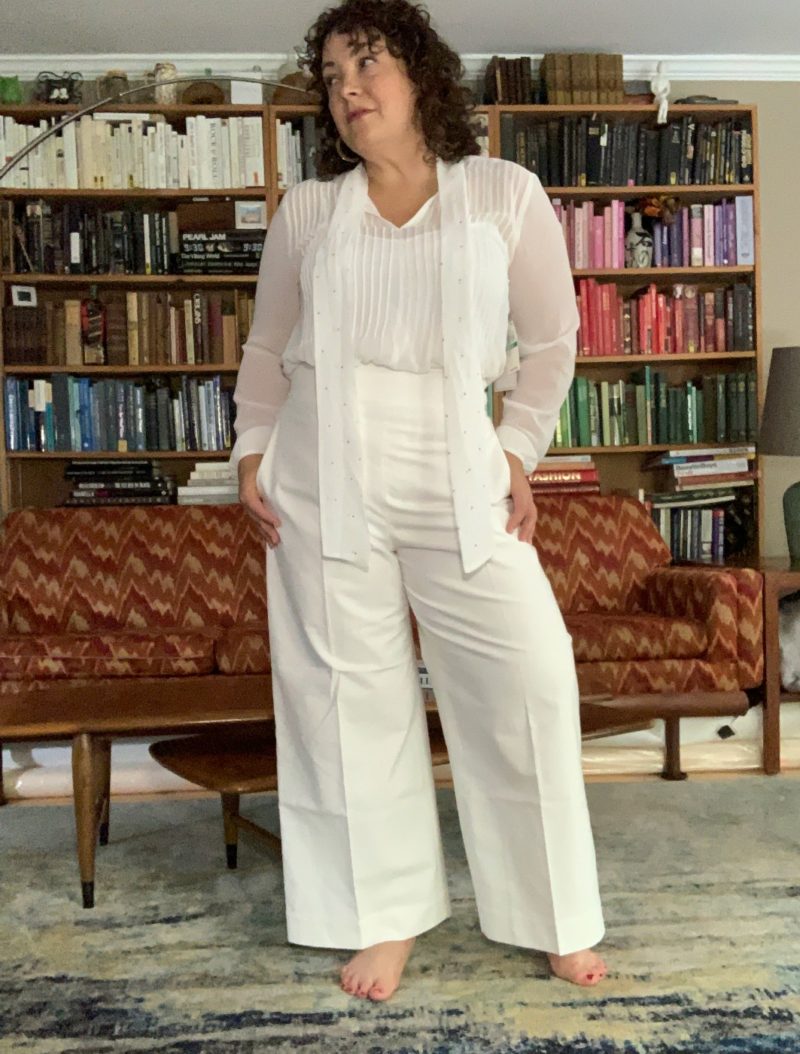 I am not comfortable with a back zipper on trousers. It's hard to maneuver in the bathroom, it scares me that it will pop open if I bend too far or eat too much bread with my dinner. On top of that, these pants have no hook and eye or button at the top of the zipper to keep it closed. These pants are also clearly too long for me as they are supposed to be cropped. I like the high waist with the fuller leg. I like the fabric and the color. But I think even if petite I would return these pants because of that back zipper and the fabric being a bit too stiff for my petite stature. A cool concept but a Miss.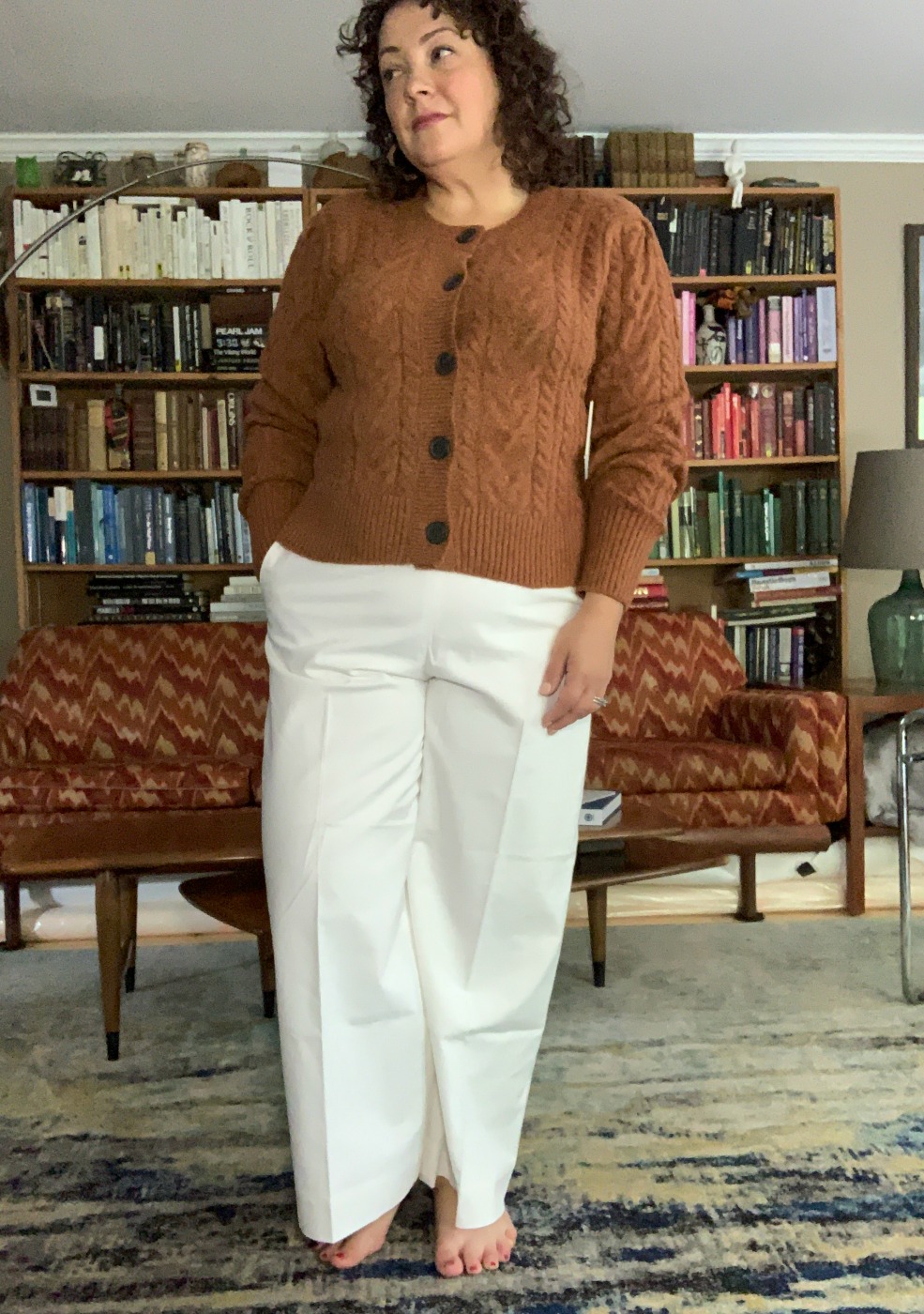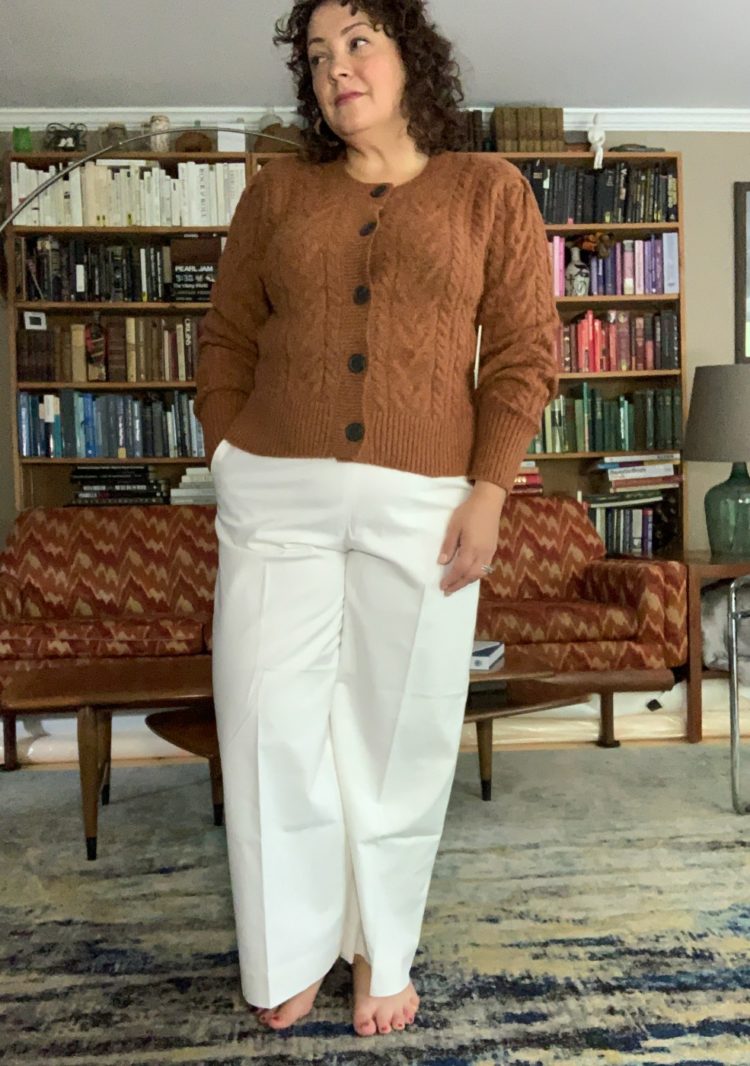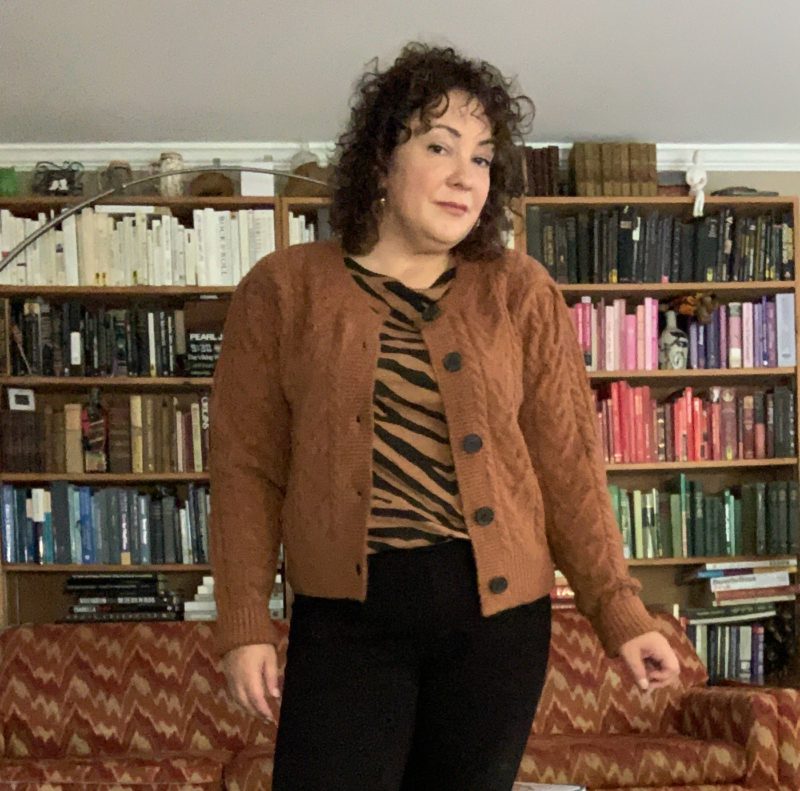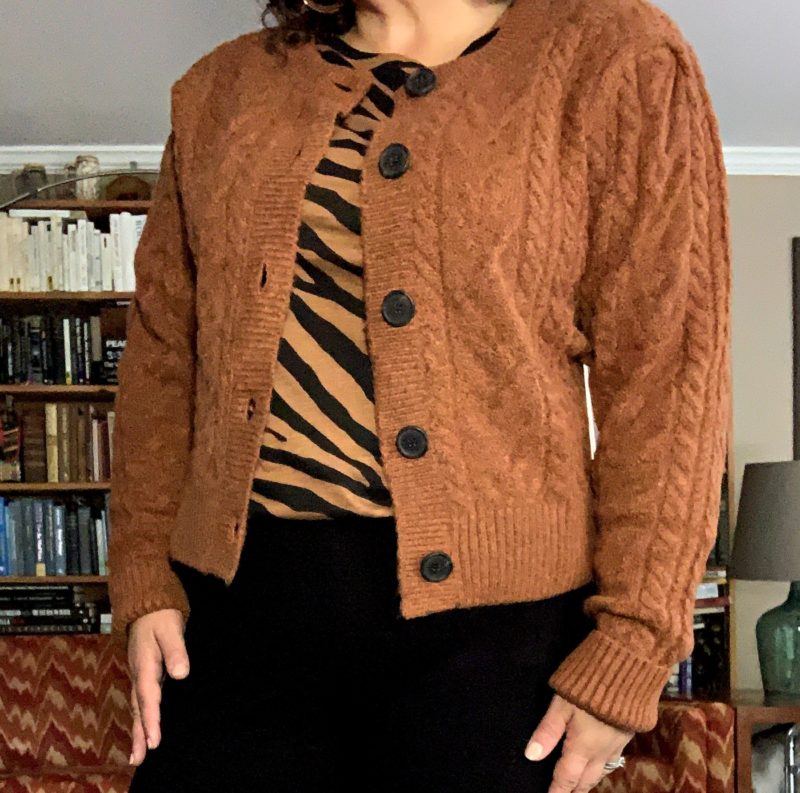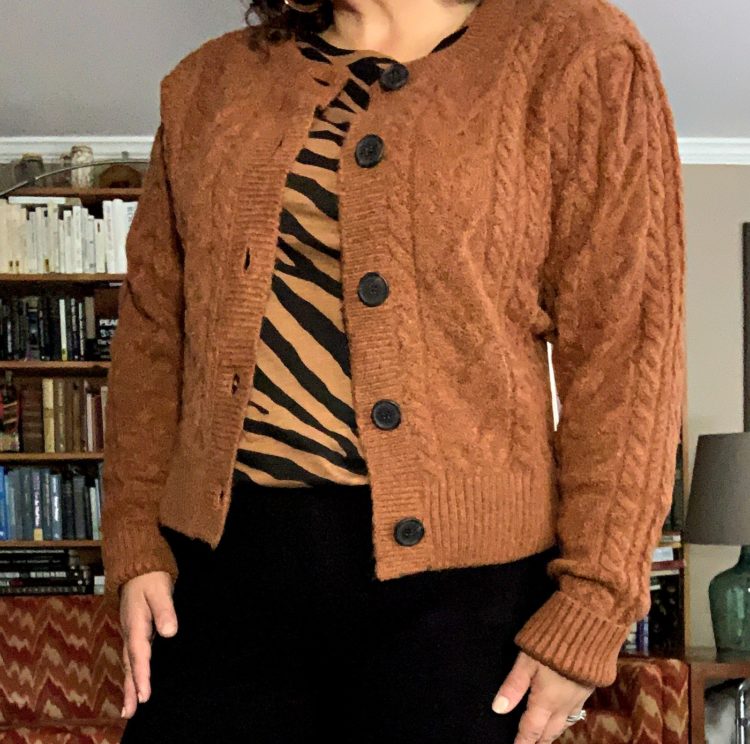 If I were 17 I'd be ALLLLLL OVER THIS. In fact, I have a photo somewhere from Picture Day one year in high school where I am wearing a cableknit chenille sweater almost this same color. This sweater is super soft and I like the subtle heathering of the color but that's where my likes end. This is not the right style for me at all. Wrong color, wrong buttons, wrong length, wrong everything. It's the kind of thing I used to buy all the time, thinking I could be some subtly tanned woman with windblown hair that looks so chic in a casual cardigan like this with a white slub-knit v-neck t-shirt and well-worn vintage jeans and a belt I inherited from my father and some well-loved chic yet practical shoes like clogs or suede Chelsea boots or even cowboy boots. But I'm not that woman, and this sweater doesn't belong in my closet. Miss.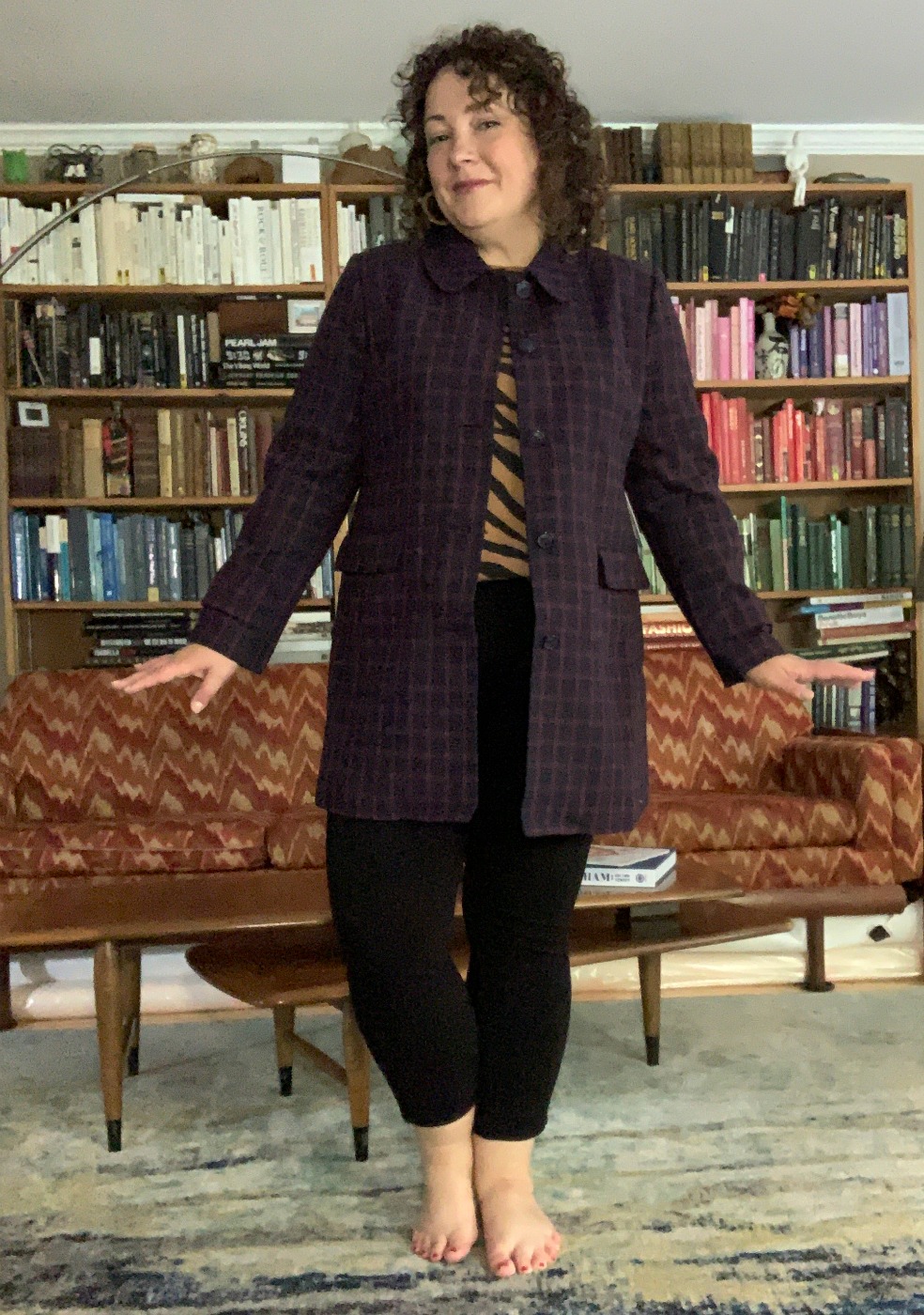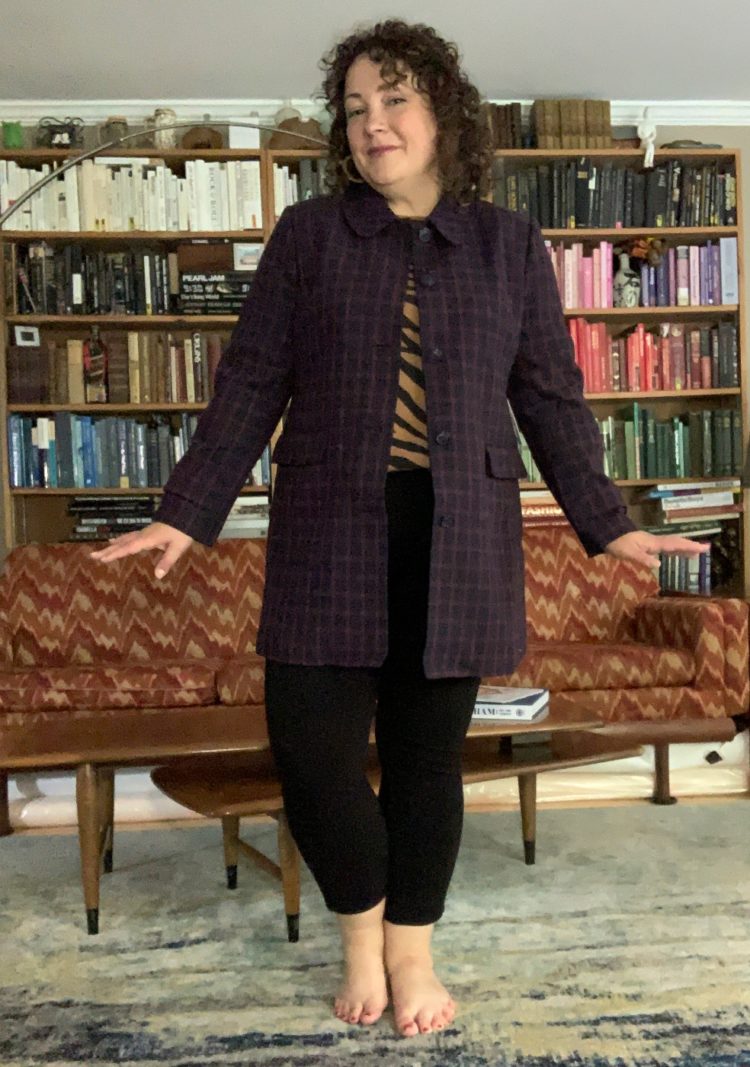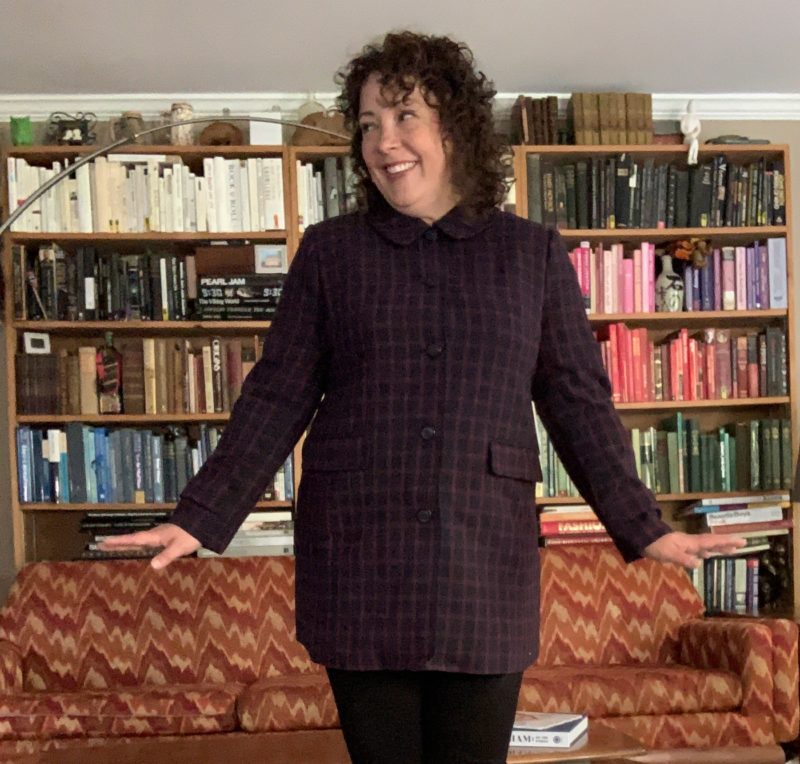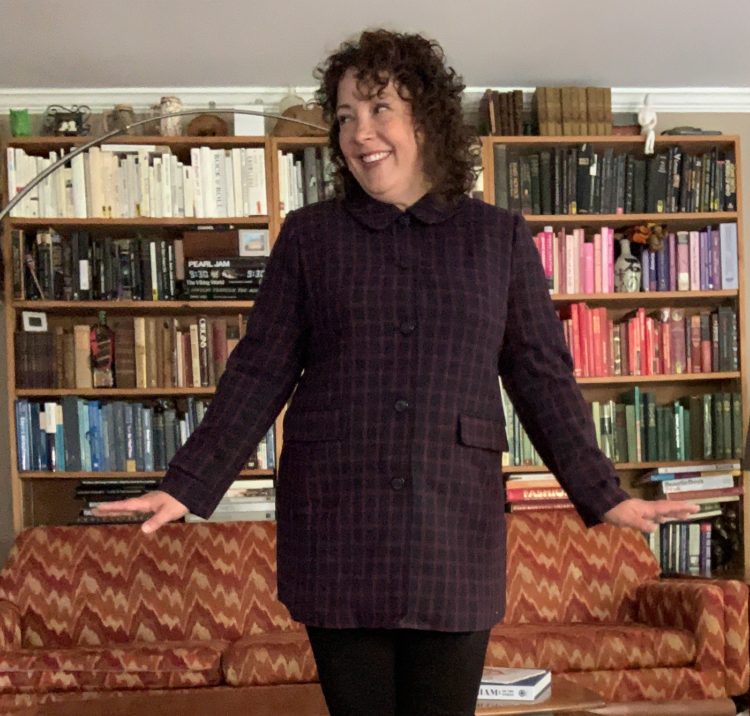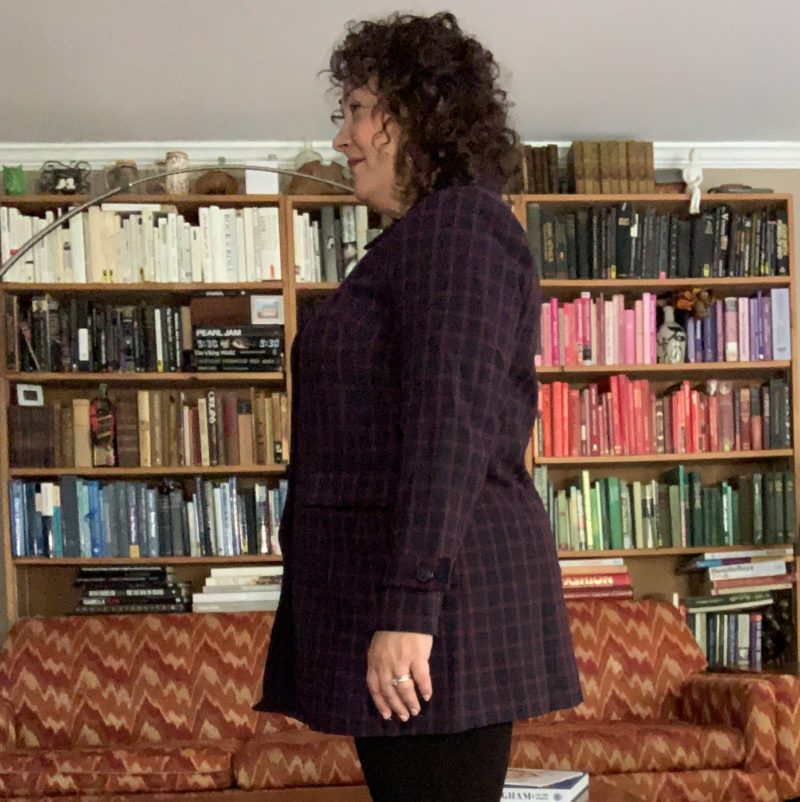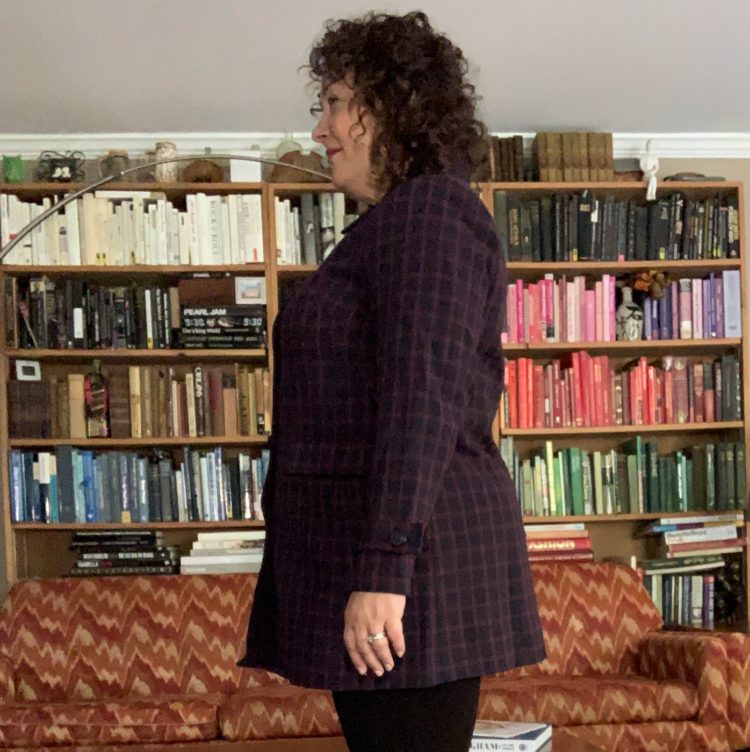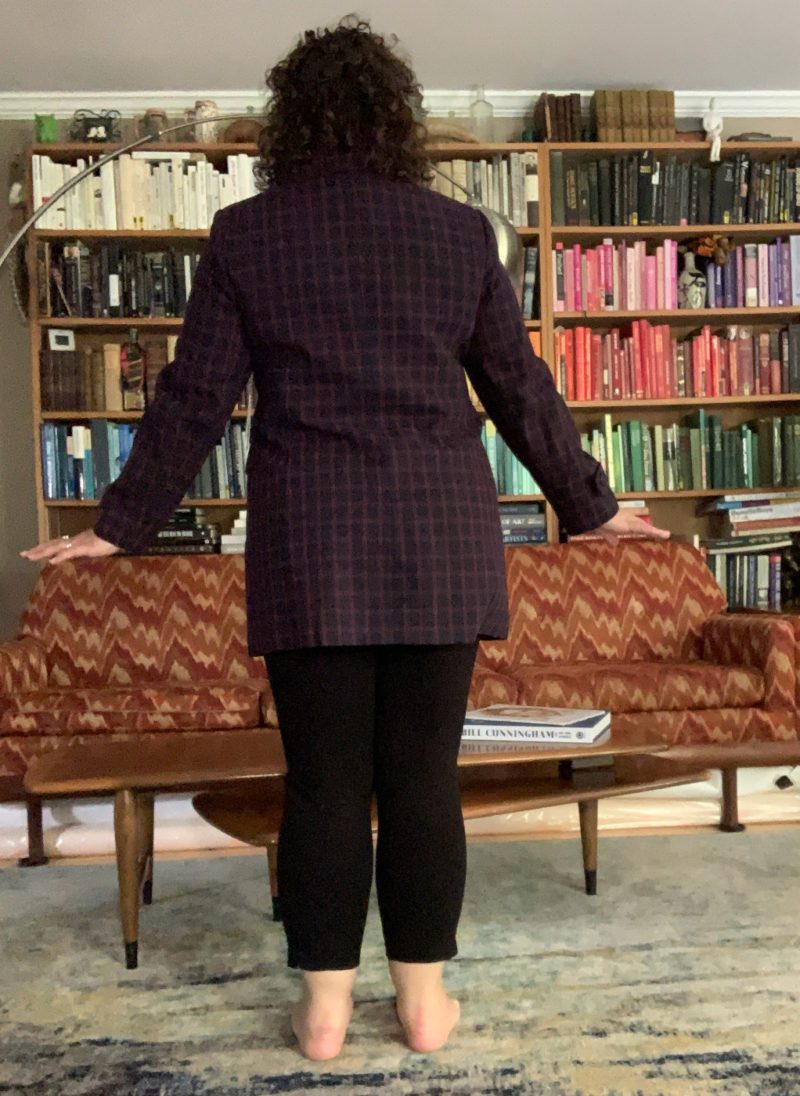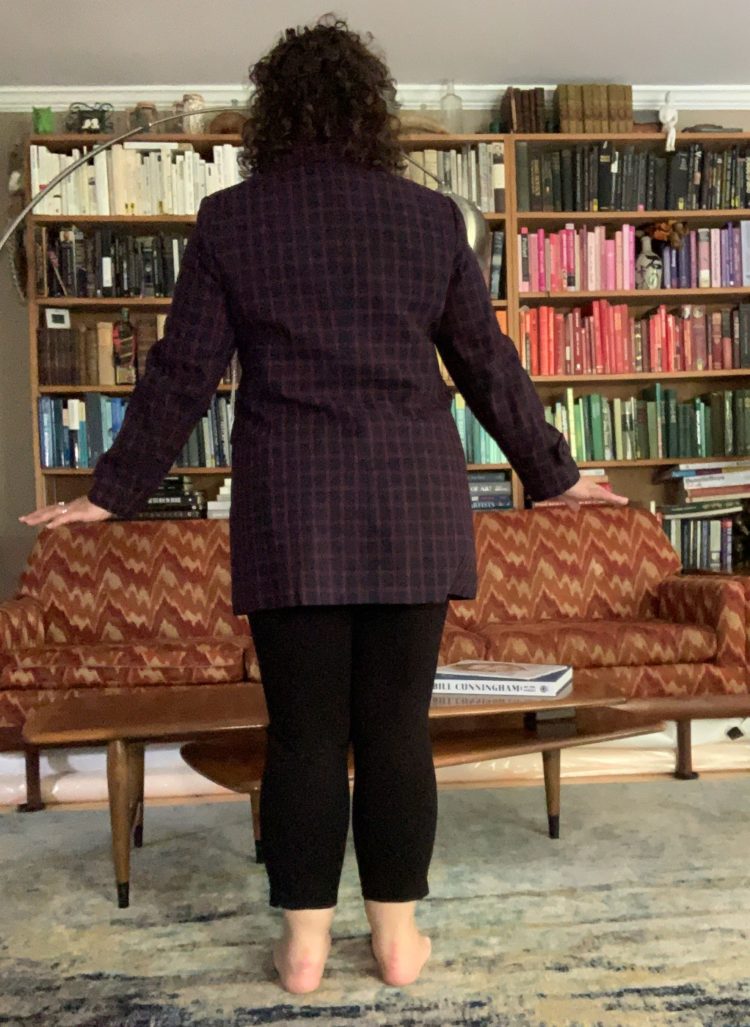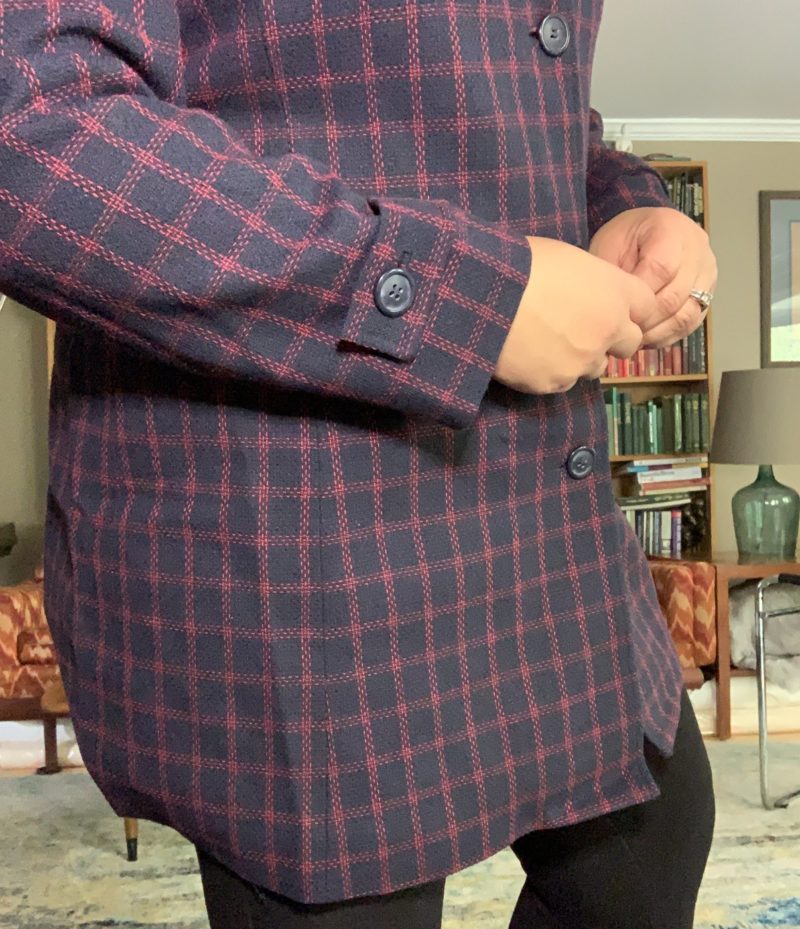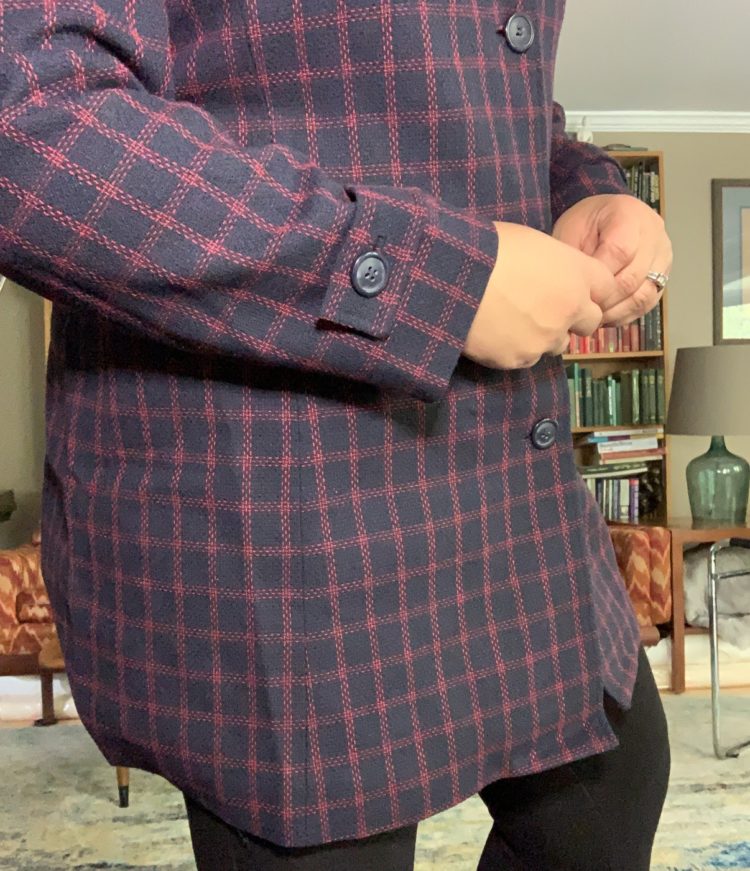 This totally fit with 90% of the items in the Trunk. I was very impressed with the fit, which looked great buttoned or left open. The fabric is textured, but because it's 48% polyester, 38% acrylic, 3% wool, 4% rayon, 4% nylon, 3% cotton it ended up feeling a bit… plastic. I wish this plaid topper was smooth or felt more like wool or cotton and less like polyester. Also the navy/red print doesn't really go with my wardrobe. I think this would be super cute over a dress or as a blazer alternative if you work in an office setting and get cold easily or want something heavier for winter. It would also be a cute lightweight piece of outerwear if you live in a warmer climate. Since I don't work in an office setting and don't need a lightweight topper, this is a Miss.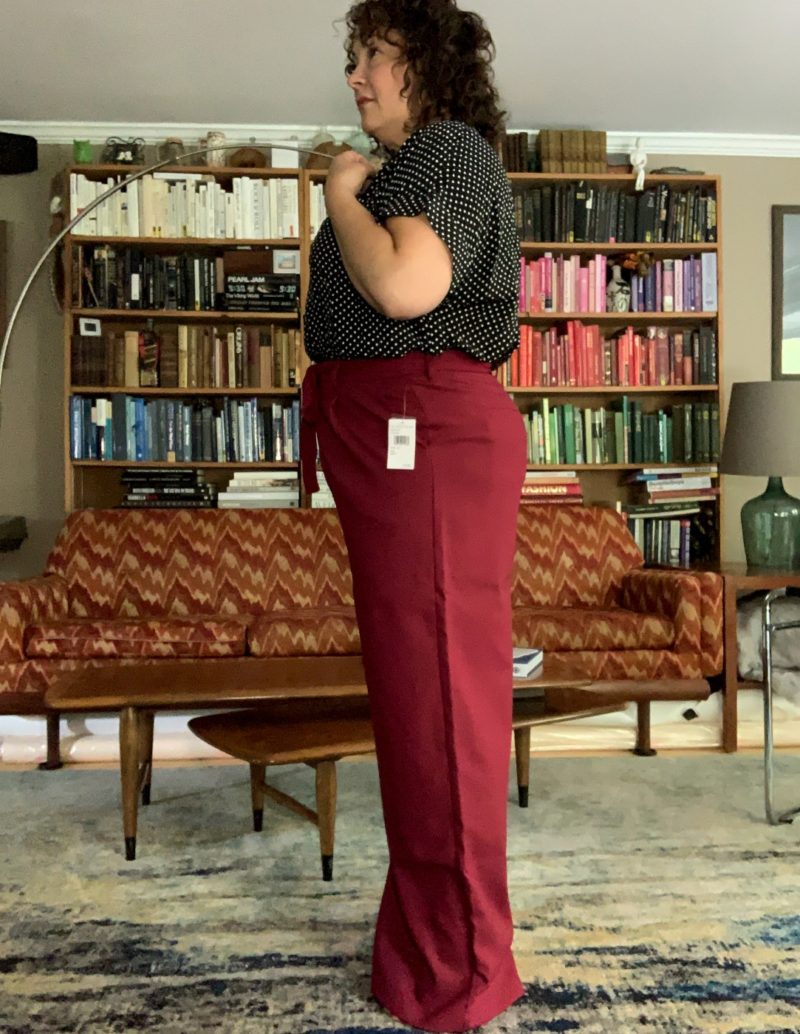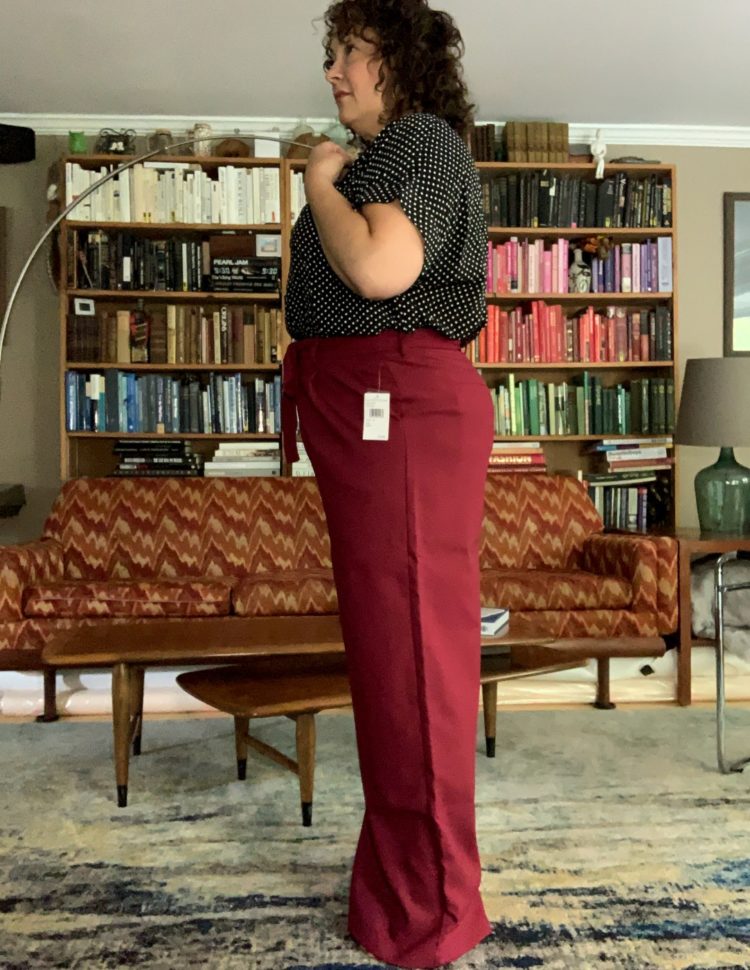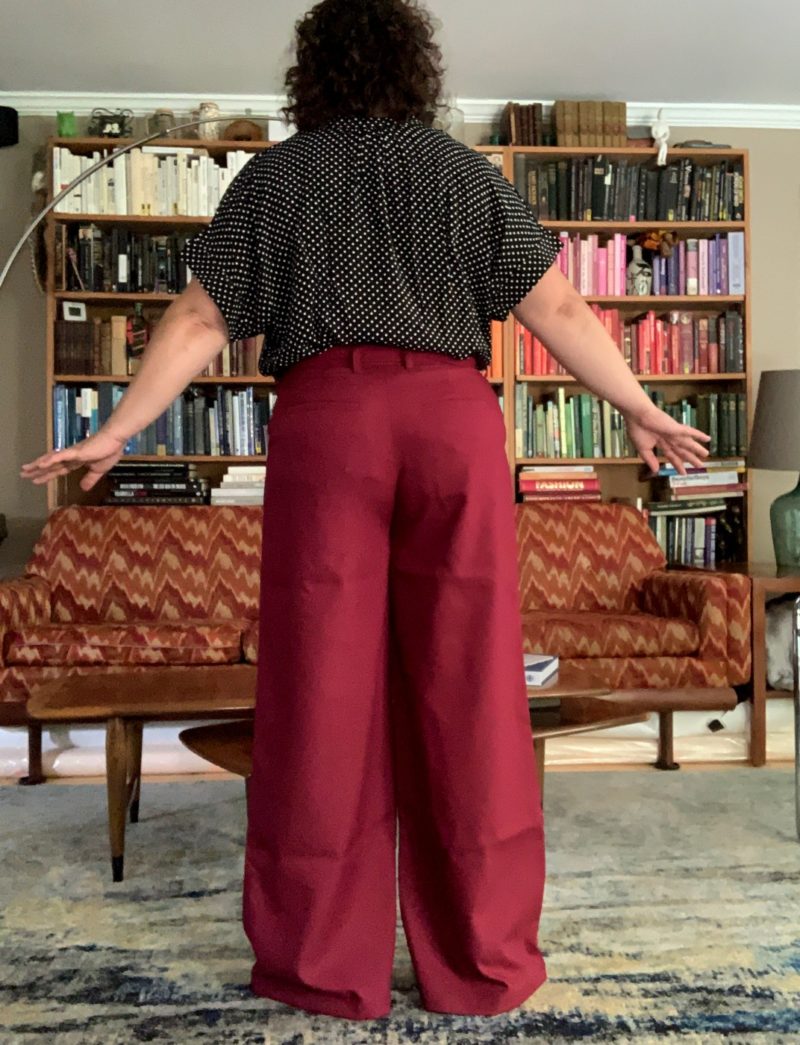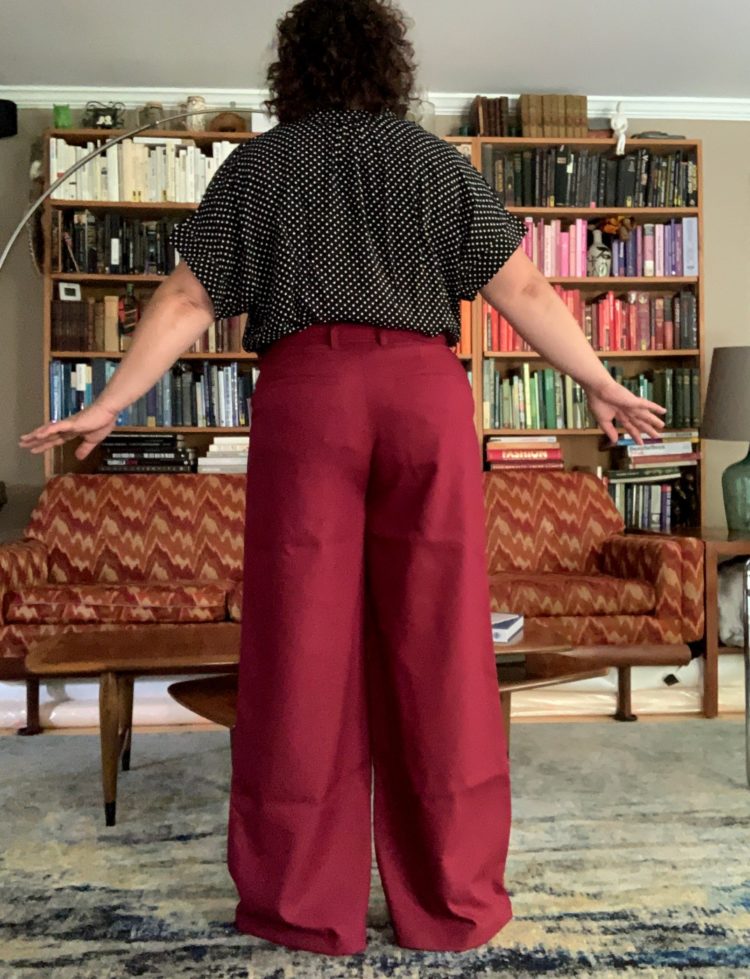 I was on the Madewell site recently and considered buying these pants in the same color, but wondered if they'd be too bold. These pants made me realize burgundy is a GREAT color for pants, even if in a wide-leg cut. These pants are a great price, feel nice, have pockets, have a detachable belt so you can replace it with a scarf or another belt, and the color is great for work or play. But I clearly need petite. Not only are they so long I am on my tippy toes in these photos, but they are also saggy in the crotch because the rise is too long. However, these pants have made me want dark red or burgundy trousers for fall and winter. These would be great if I was a bit taller or they came in petite, but as-is they are a Miss.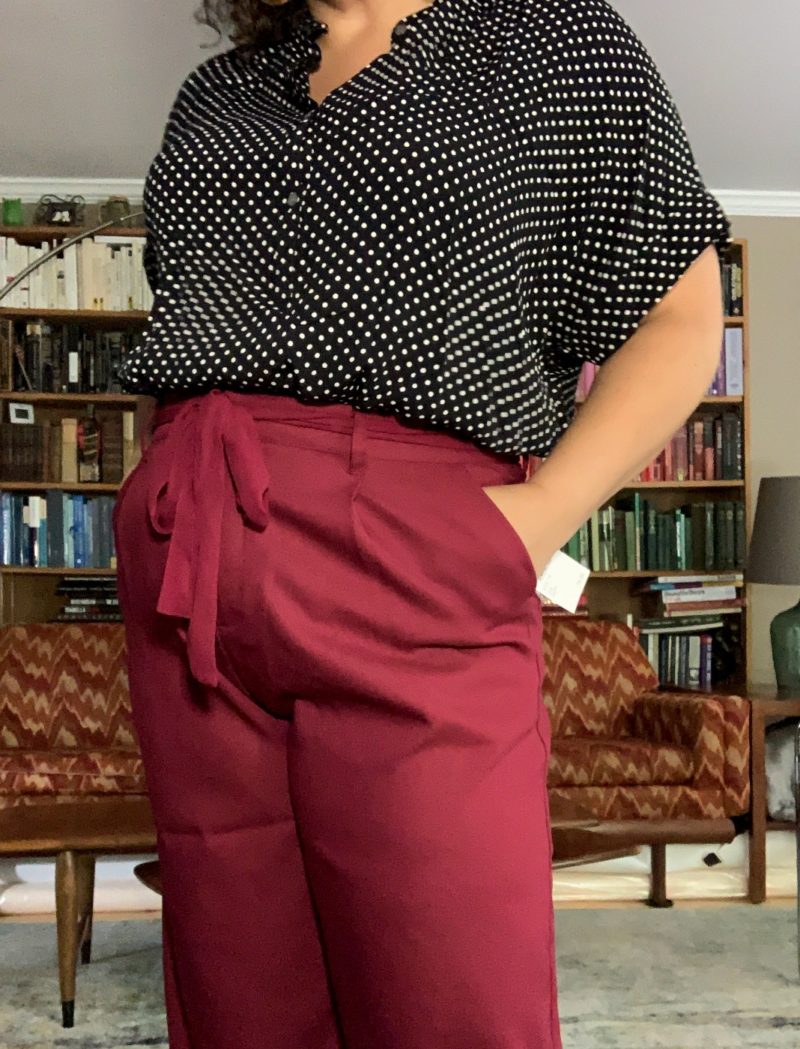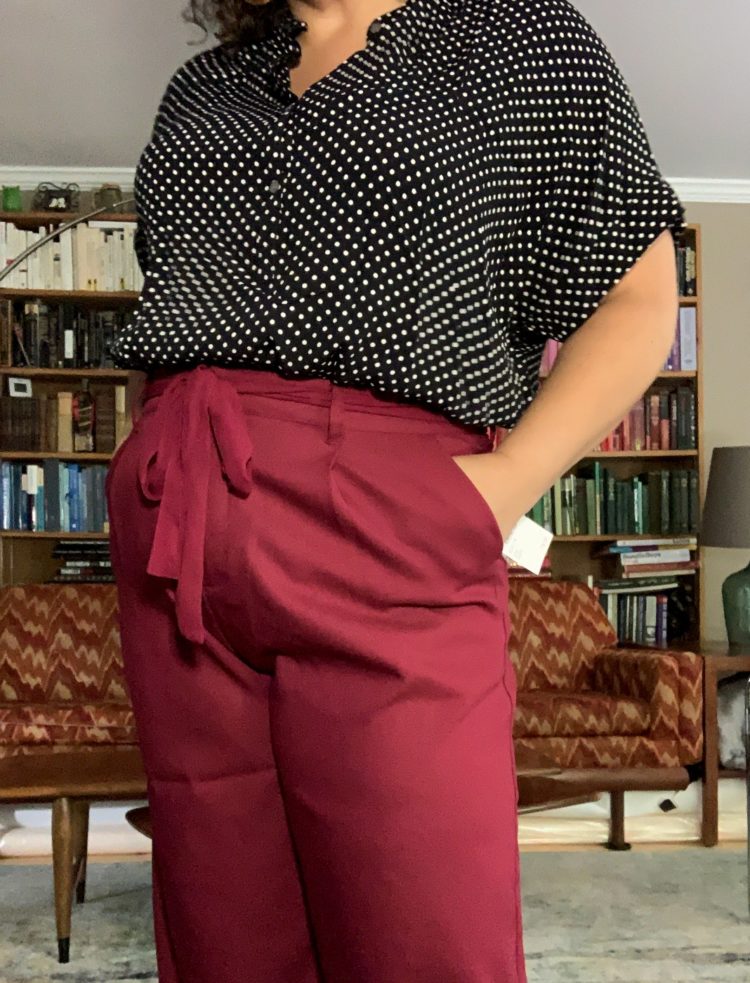 This is the kind of top I see in stores and pass over. I don't know, they just look so utilitarian, like glammed-up scrubs on the hanger. I never would order this on my own. I was really surprised by how much I liked this top, especially with a pair of wide-leg or slouchy pants. The fabric is so drapey, it works with a high-volume bottom. And the dots aren't twee, but a bit more interesting than a solid. If I still worked in an office environment, I would have kept this top. I'd wear it with trousers, under a blazer with high-waist dark jeans on the weekend, even in the summer with chino shorts. But since I don't, I feel this top will collect dust in my closet so I returned it. Miss.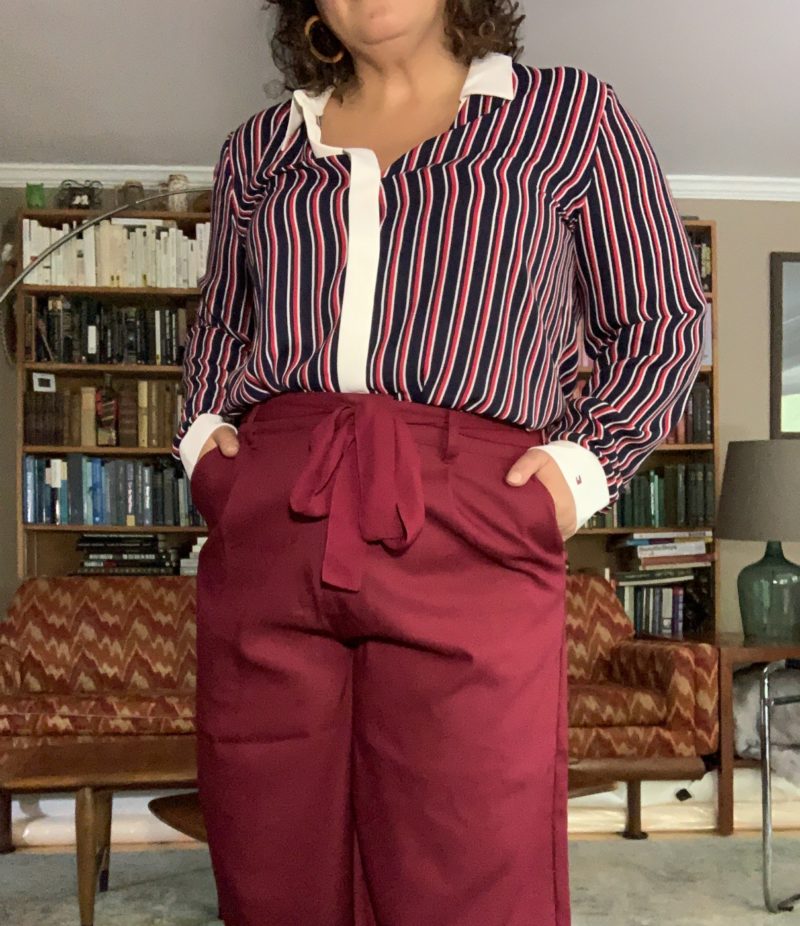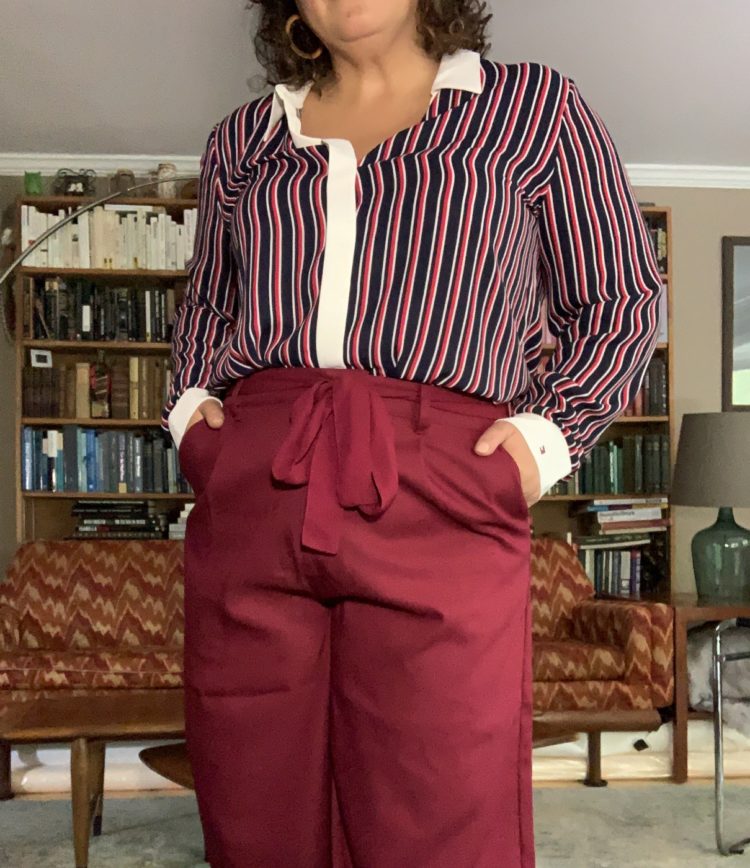 I saw this top in the Trunk and was positive I'd hate it. A striped woven shirt? However, this top isn't cotton or a stiff fabric, it's polyester and a blend between a silky fabric and a crepe. it drapes all cool with the collar sort of collapsing and it half tucks nicely and feels great. And I like the stripe with the white contrast trim! This is a sleeper hit… but it doesn't fit. An XL is just too big, the sleeves are far too long, it just needs to be a bit more tailored to work and I don't love it enough to pay for that to happen. I think a Large will be too snug in the biceps and bust. Miss.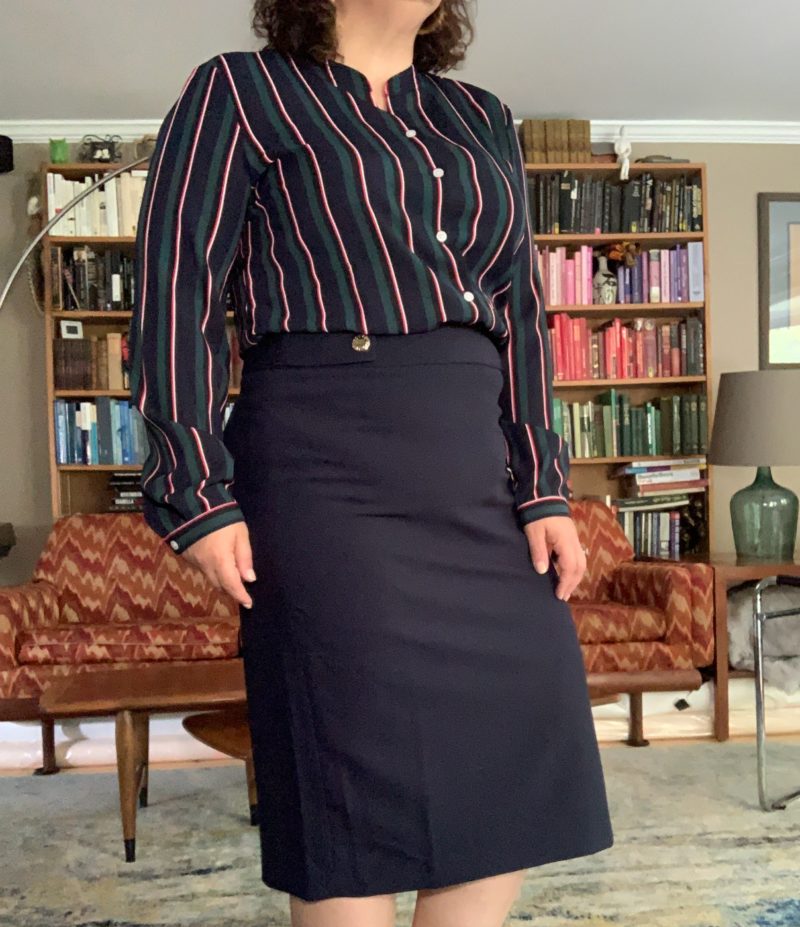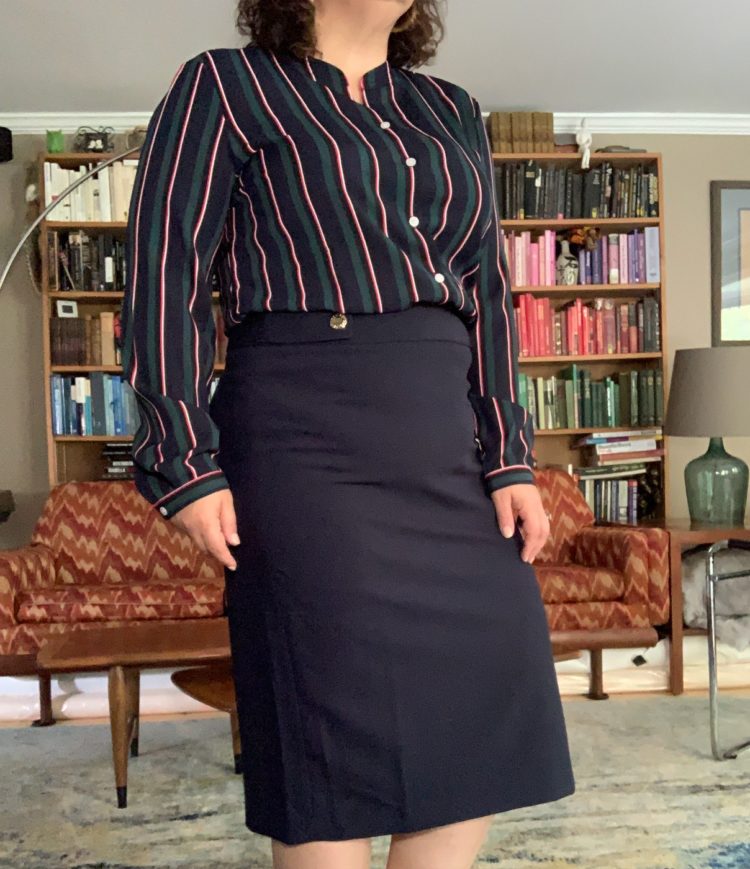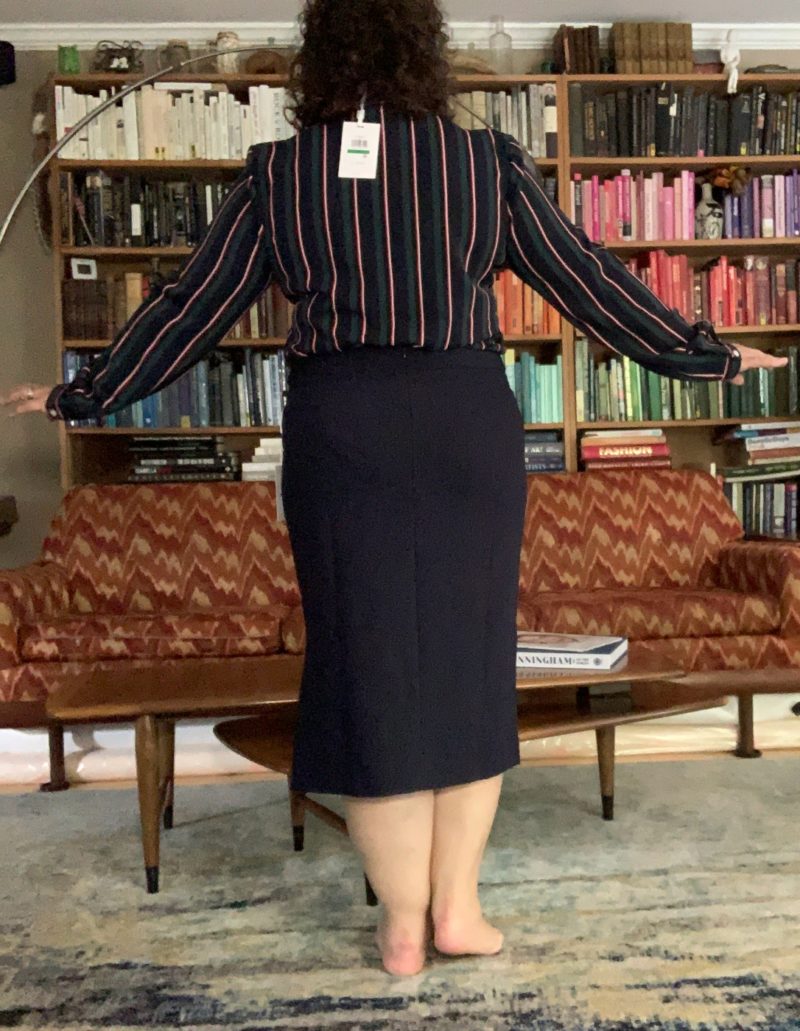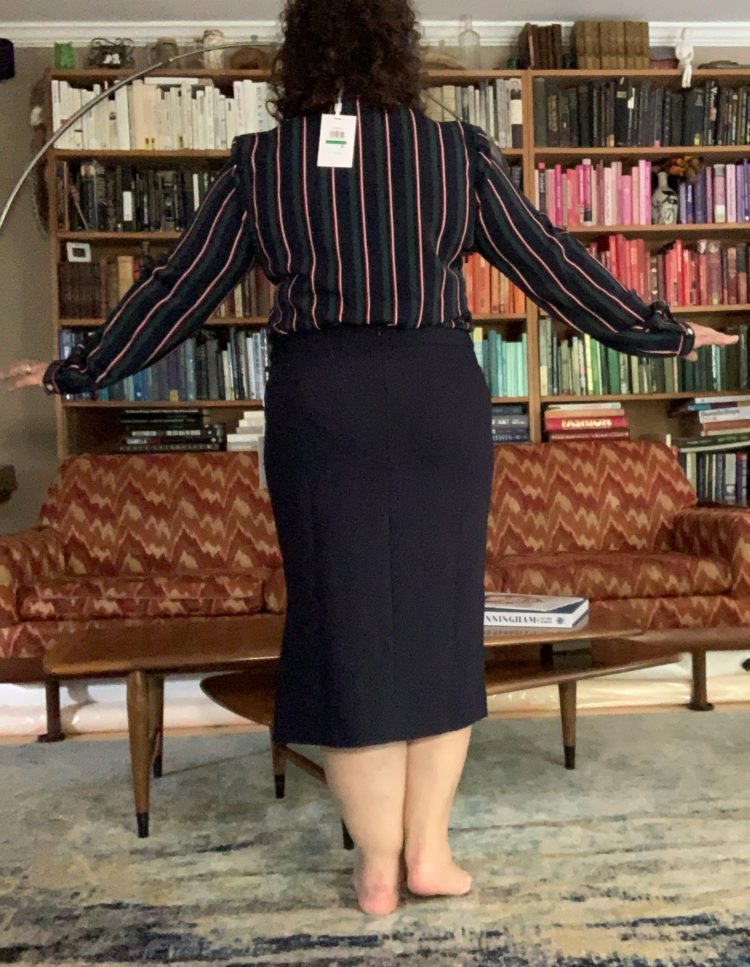 Oh I'd love to be this woman as well as the chenille cardigan woman. The kind who can wear a tailored classic pencil skirt like this with a silk shirt, or a simple t-shirt, or a cashmere crewneck. Hair pulled back in a low ponytail, fresh face with just red lips, some kitten heels and a smart Kelly bag. But I am not, and this skirt makes me look like a very short flight attendant. Miss.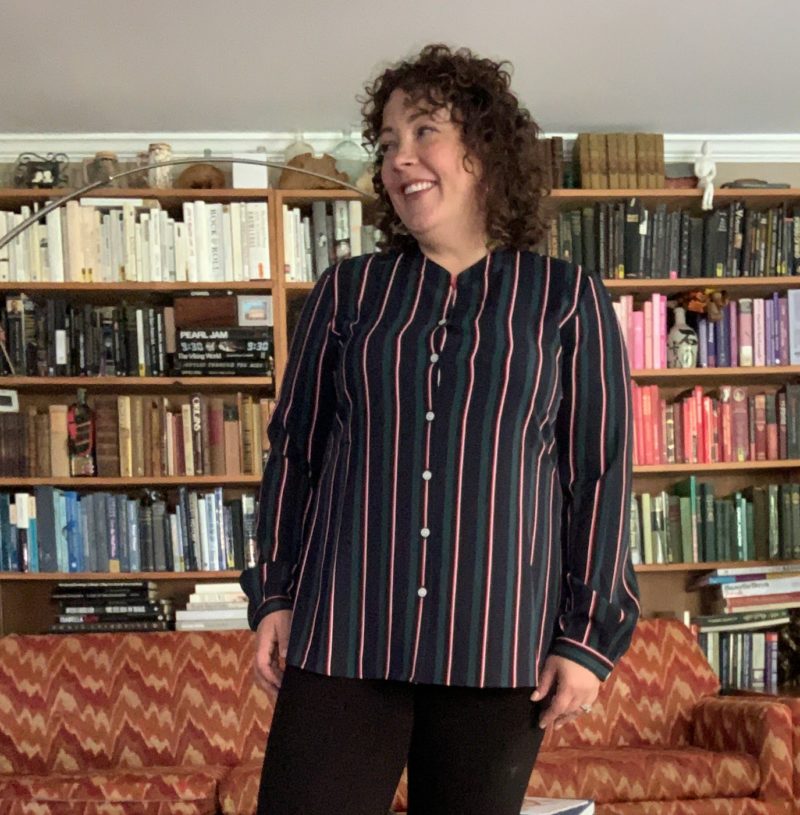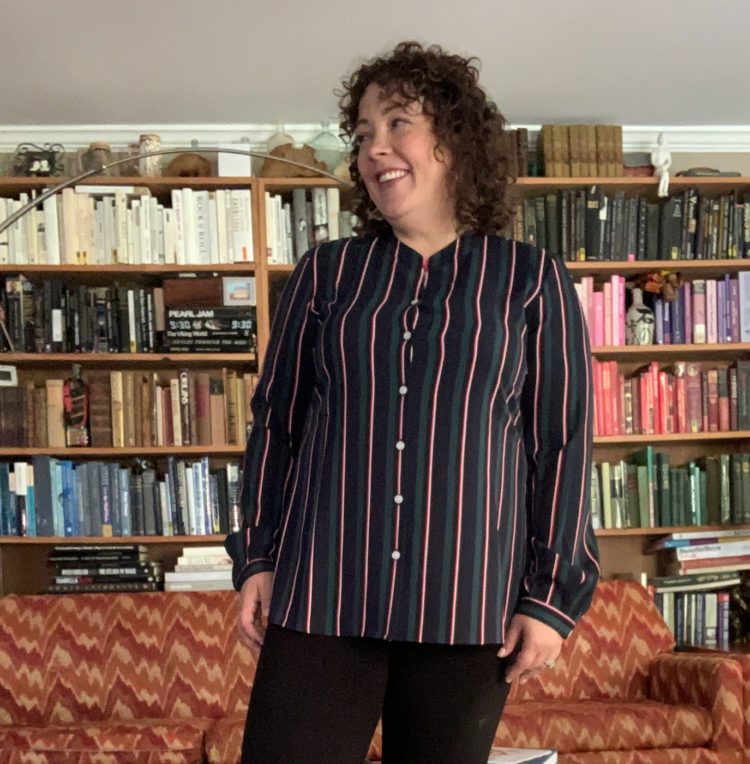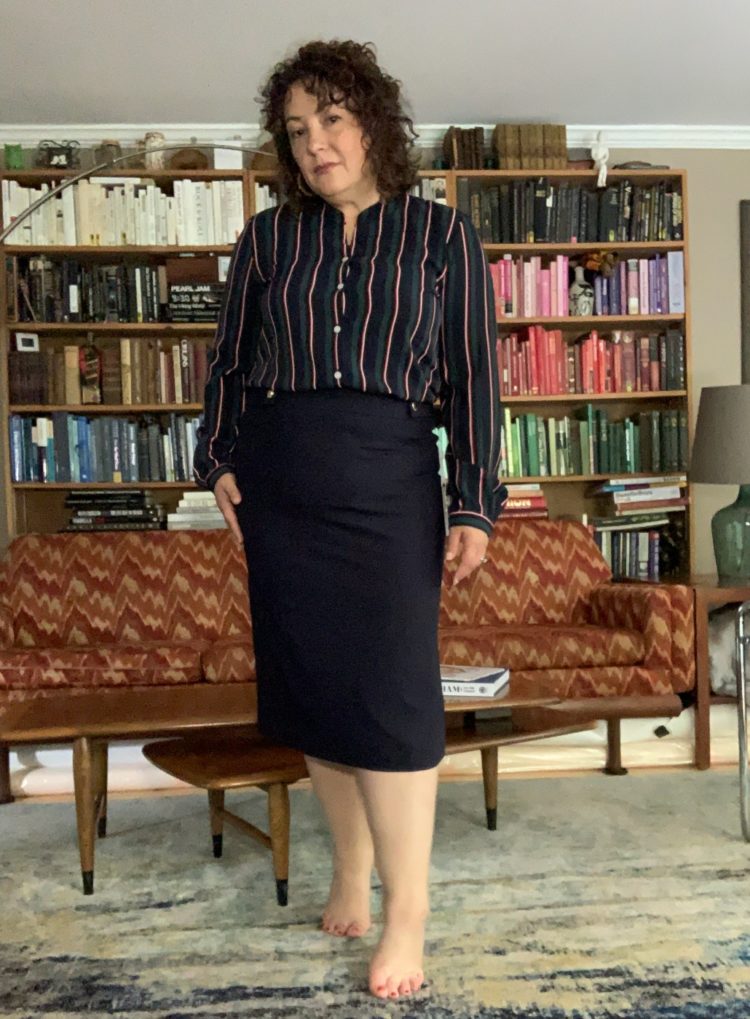 Another top I swore I'd hate and ended up liking. I think the neckline is very modern and cool without being too revealing for the workplace. The color combination is quite lovely and will go with a lot. It looks pretty tucked in or left out. It would look great with denim, with a pair of navy or camel or dark red or even a subtle tweed or plaid pants, but also with ivory trousers now or in the spring. It's also machine wash and dry. But I don't need a top like this, and it doesn't fit my bust. But this experience with the Tommy blouses makes me want to investigate the brand further. Miss.
Since I was so impressed by Tommy Hilfiger, I decided to gather some pieces from the brand across the internet that appealed to me. Tommy Hilfiger carries regular and plus sizes, wide calf boots, and even adaptive fashion.
My Misses Picks from Tommy Hilfiger:

Shop my Plus Picks from Tommy Hilfiger: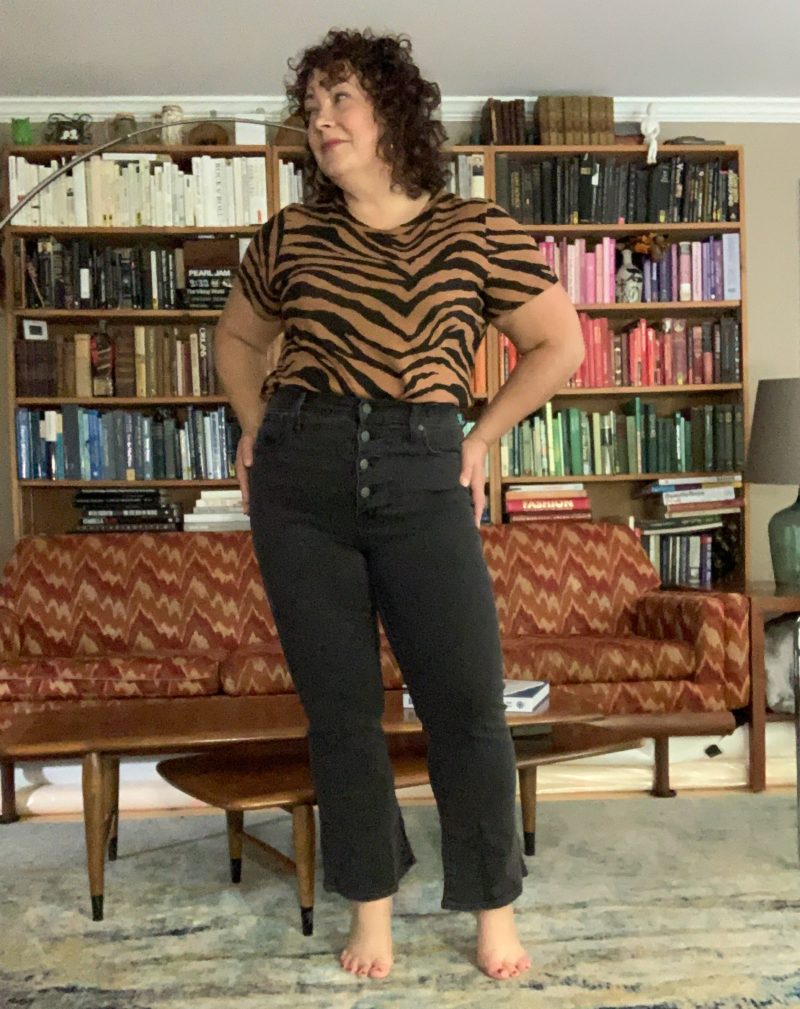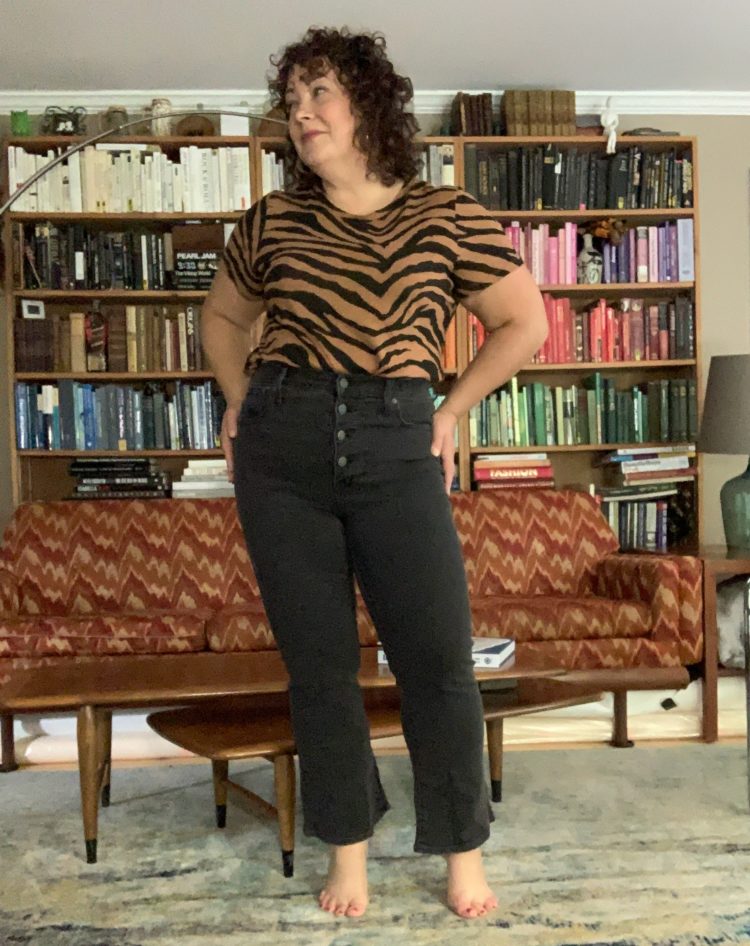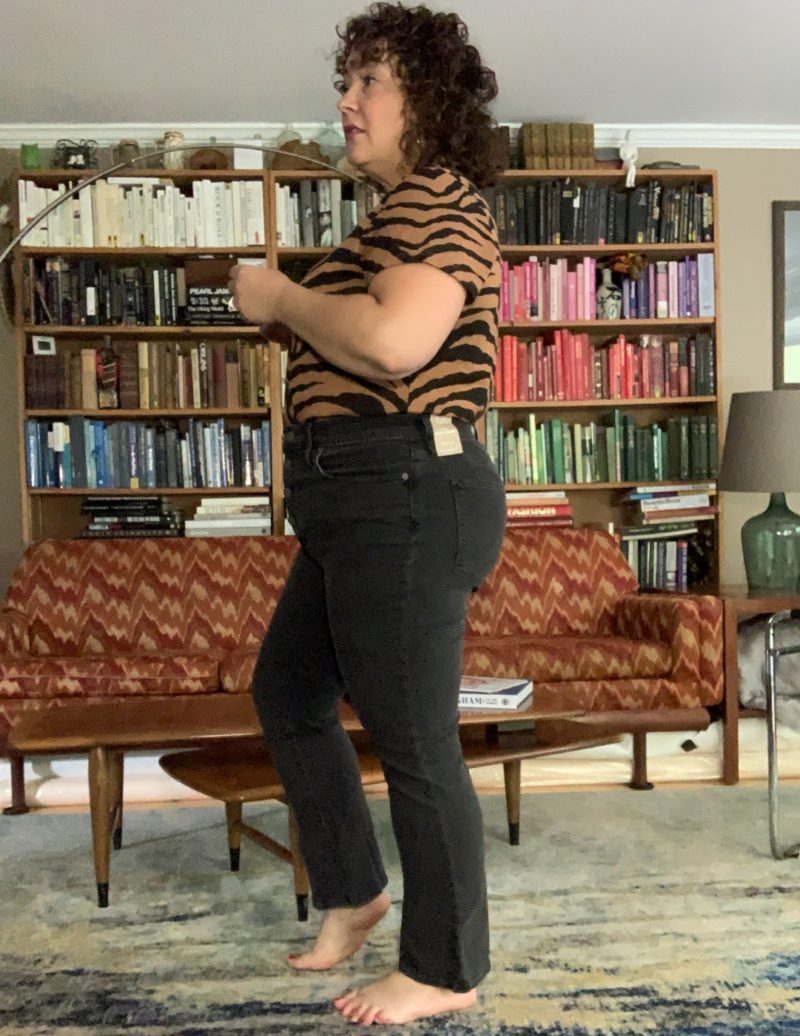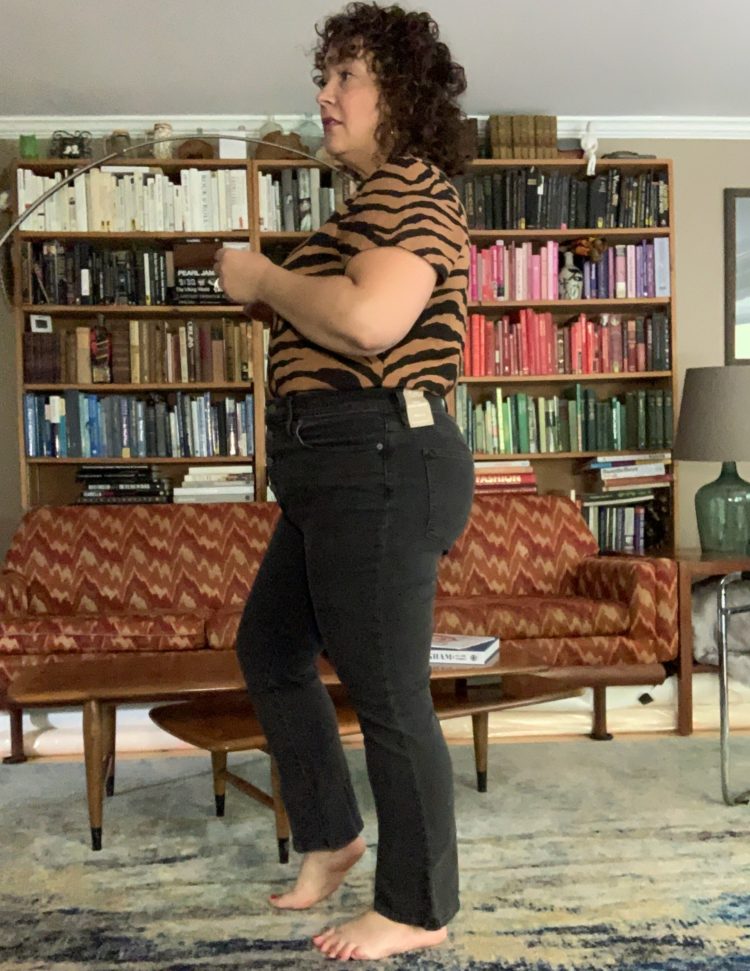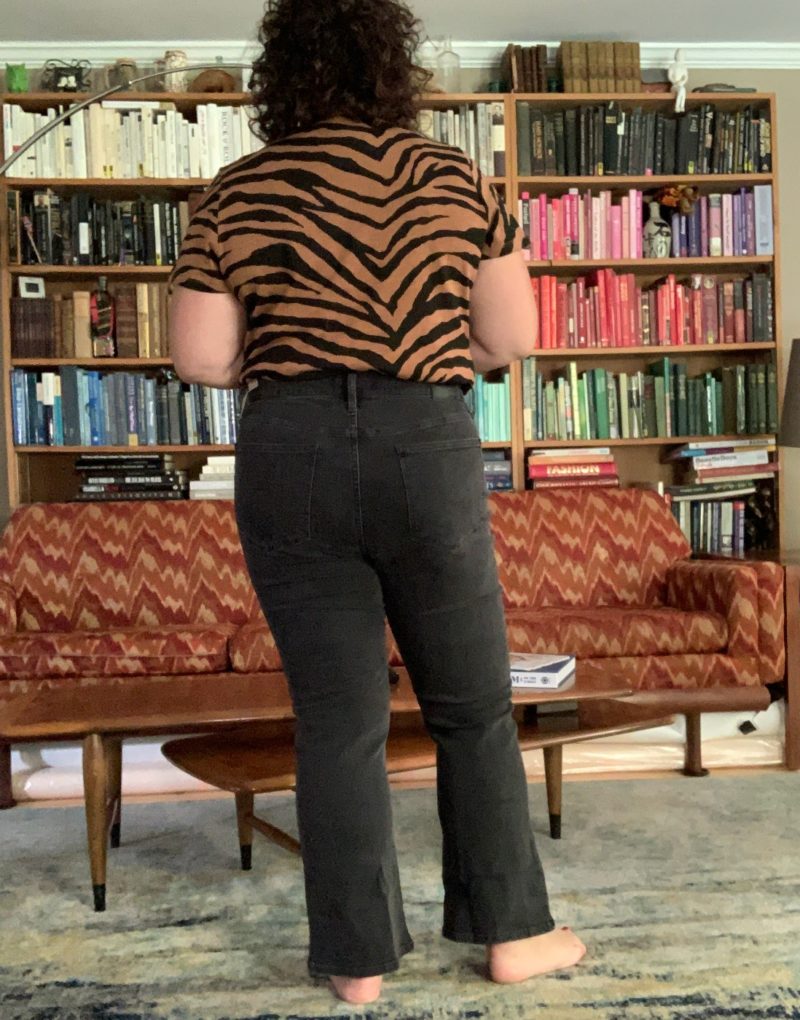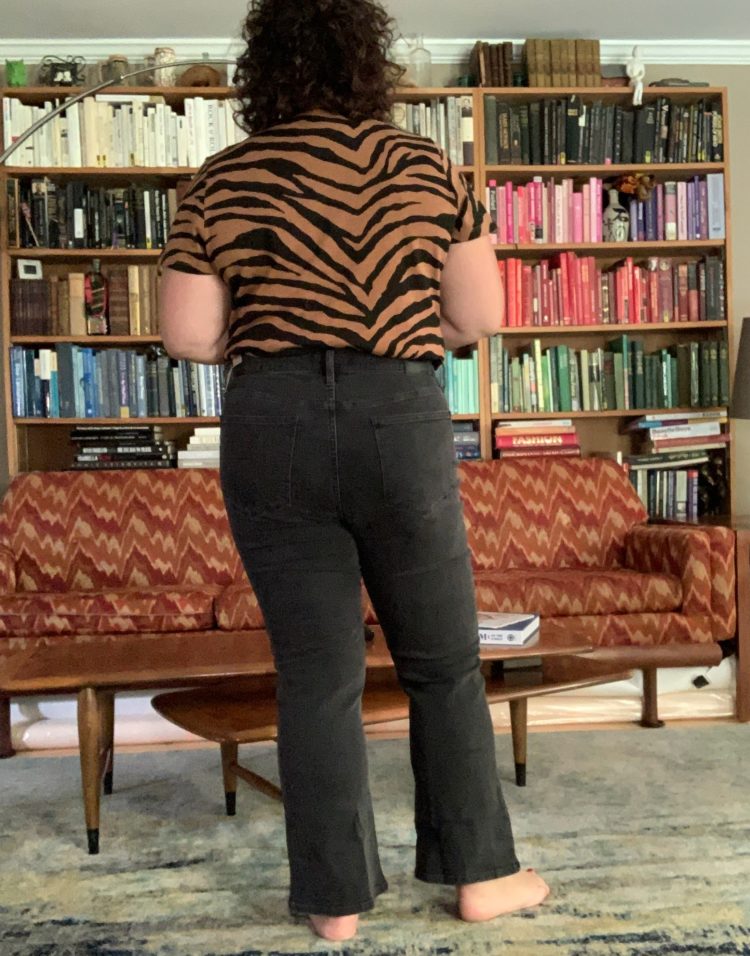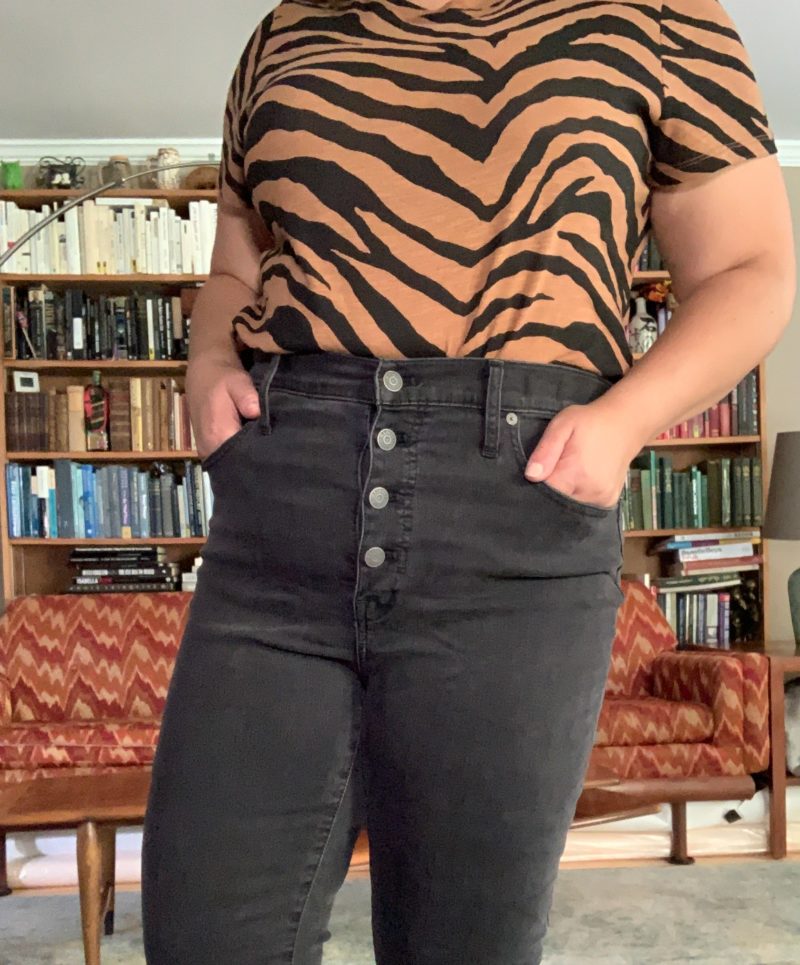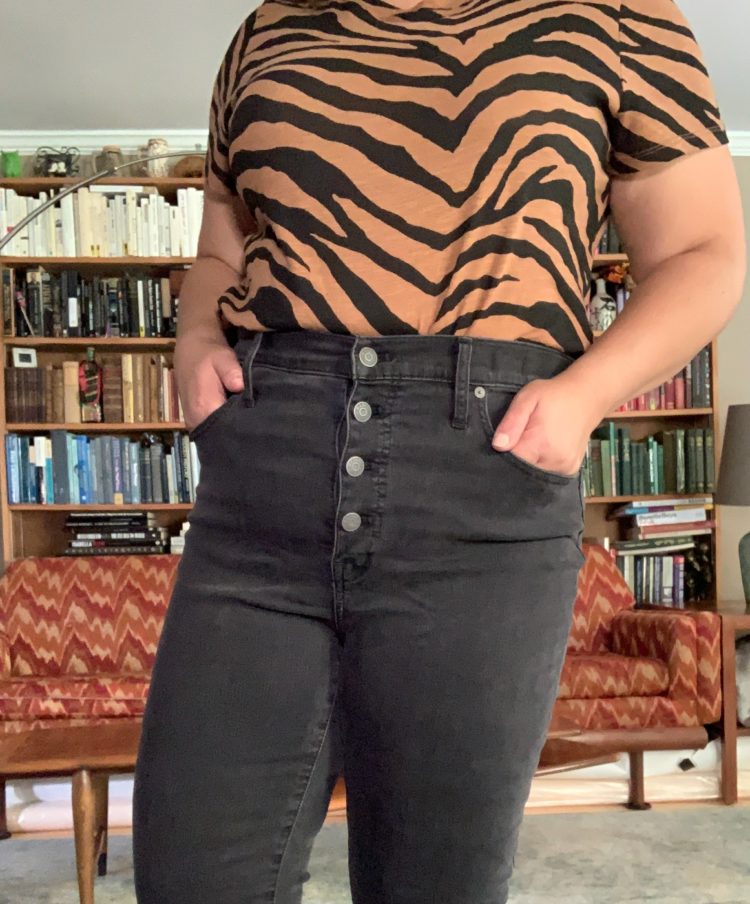 OMG Madewell jeans are soooo good Allie, you need to try Madewell, have you ever reviewed Madewell? Alison you should consider Madewell. I hear you I hear you! And I have tried Madewell and even placed another order recently but every time I've tried Madewell their jeans look like this on me. And this ain't cute. The fabric is too soft and stretchy, leaving me sagging all over. When I order petite it's too short in the rise, but the regular is a ridiculous length and a bit saggy in the bum. And I feel Madewell is made for women with smaller bellies and booties than I possess. I did that Madewell has ethics and extended sizing but I just can't let myself wear bad jeans because other people like them. So… Miss.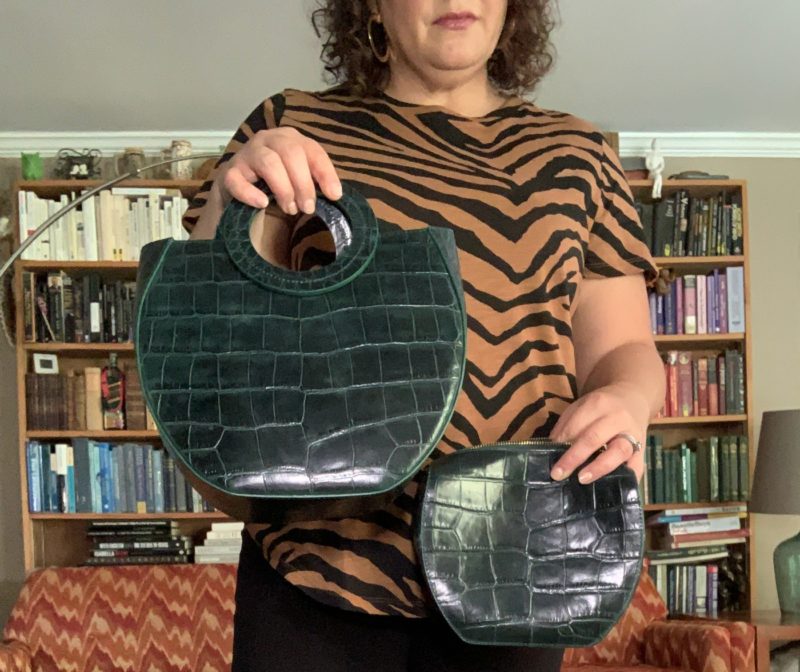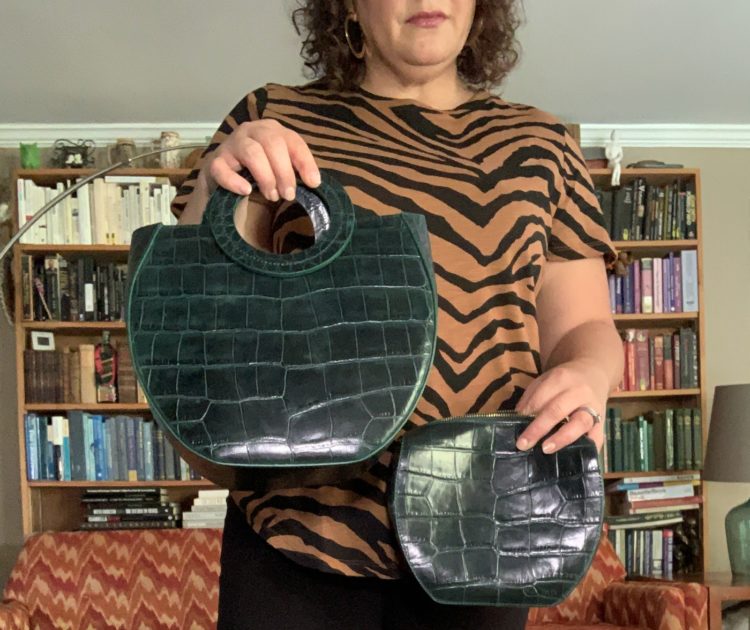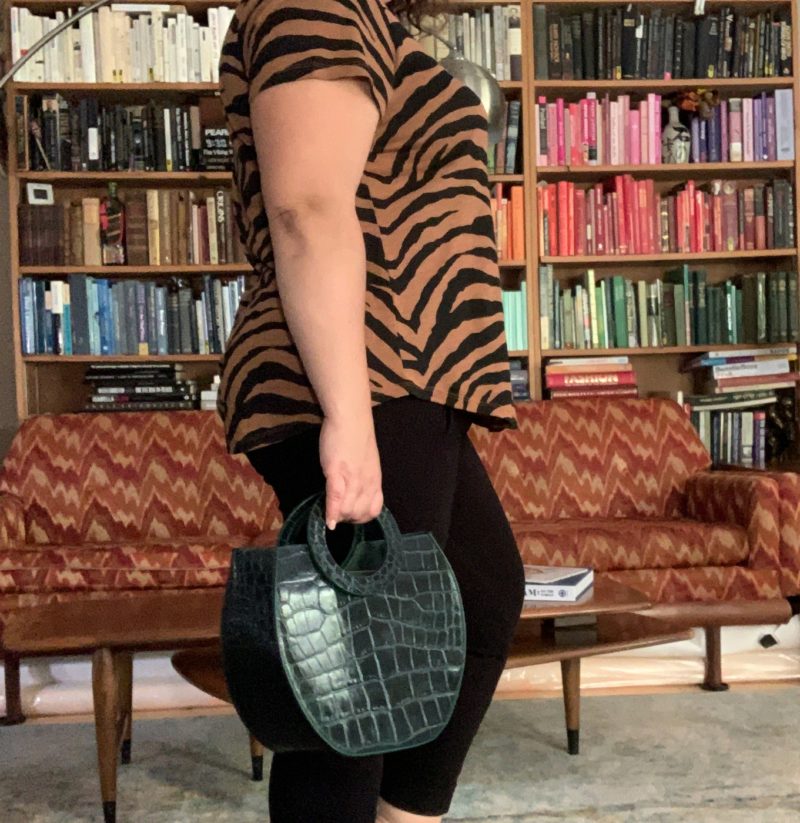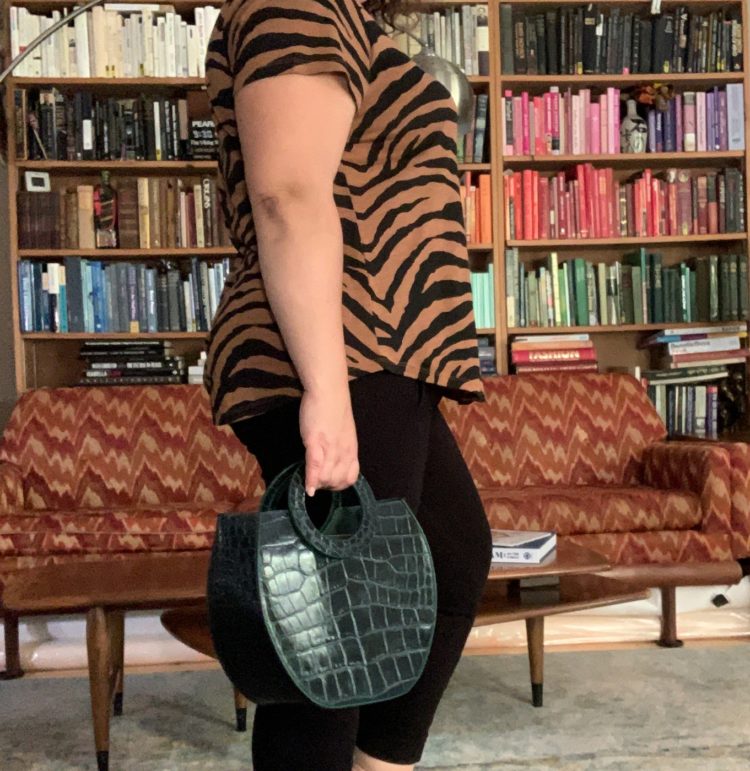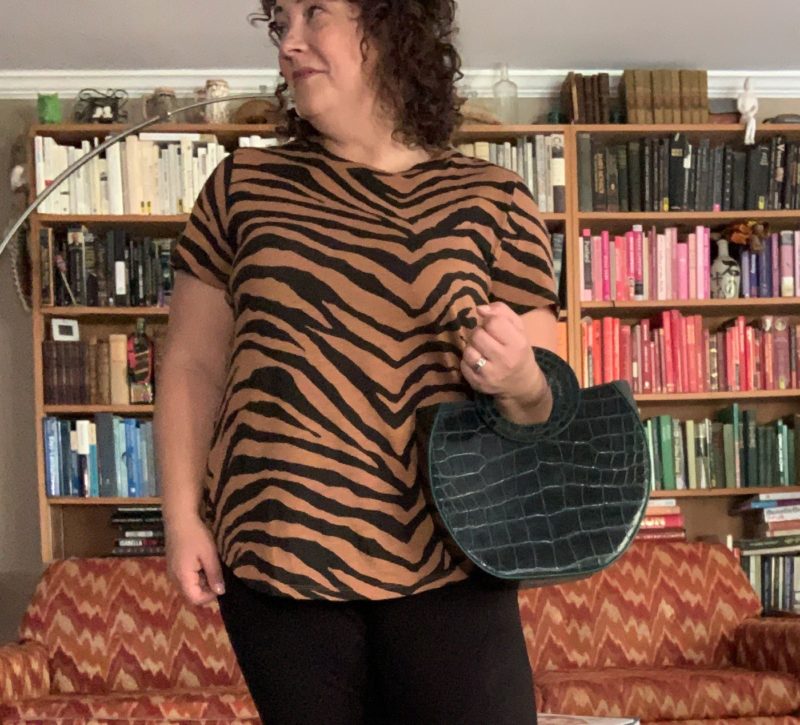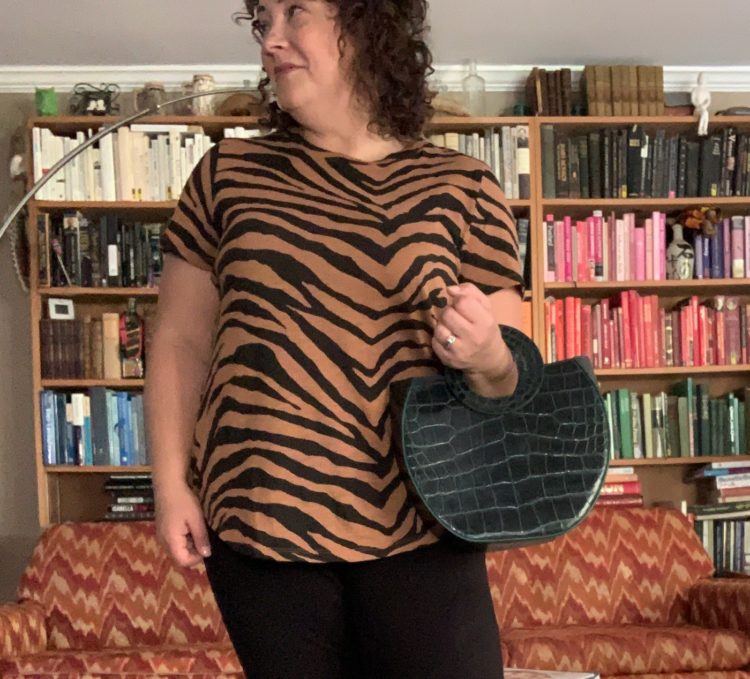 I love green croco, it's one of my favorites. I have a green croco clutch and am amazed at how well it goes with so many different looks and colors. This bag looked cute, and looked roomy enough to be a trendy/statement bag that could actually hold a lot. I was surprised to find it's a bag within a bag! That's a cool detail… but it makes it less practical for my needs. Because it's a bag within a bag it holds less and is harder to open and close and get your hand in it. My wallet didn't fit. If you remove the bag inside the main portion of the bag is essentially a bucket without a closure or pockets to secure items. It's a cute bag, it's well made, but it's not right for my lifestyle. Miss.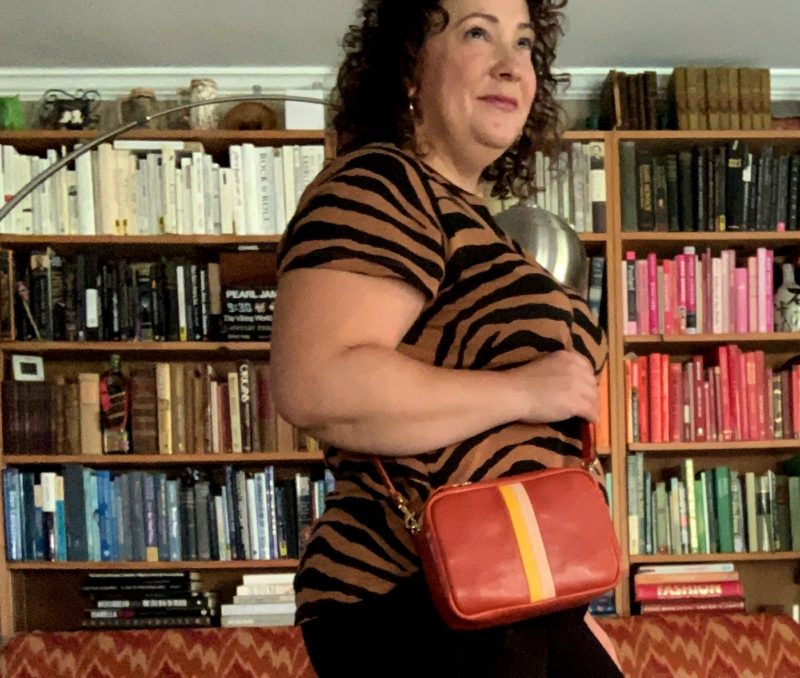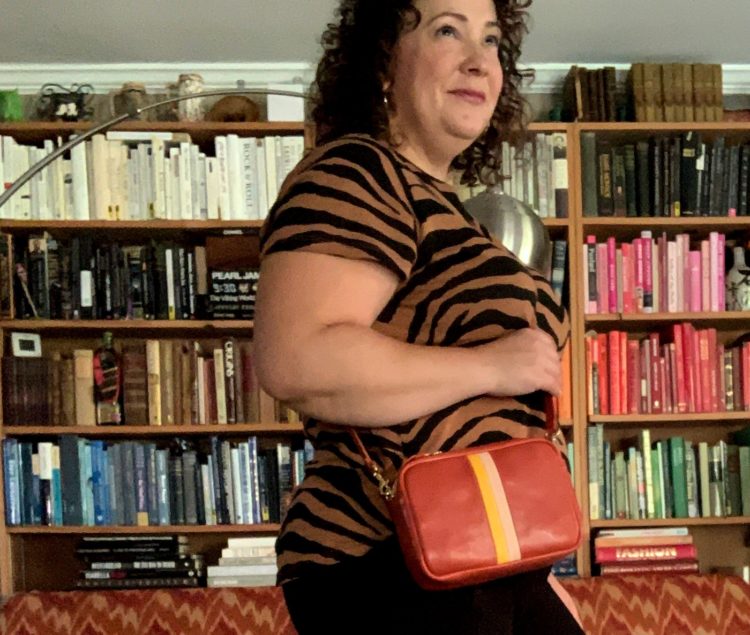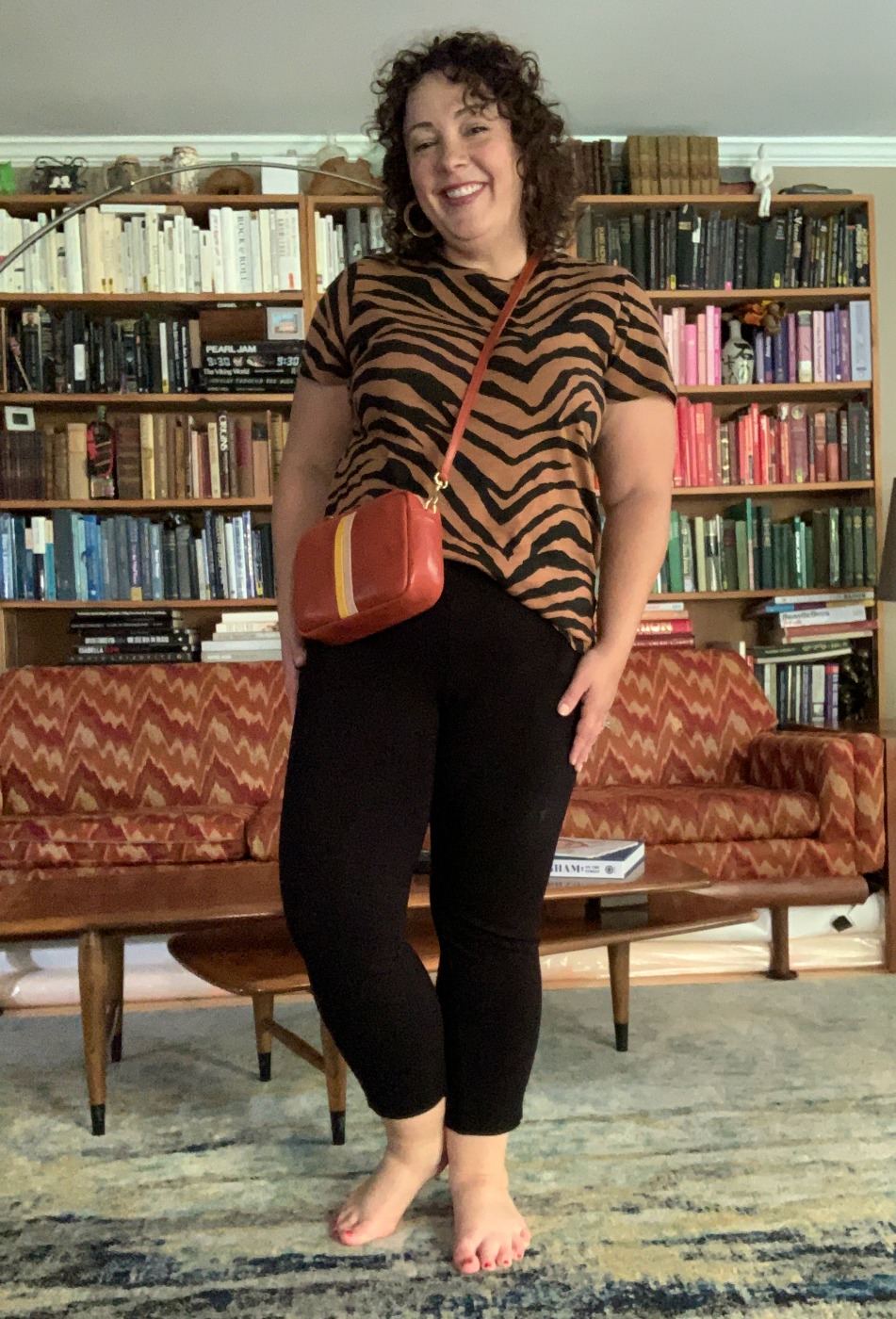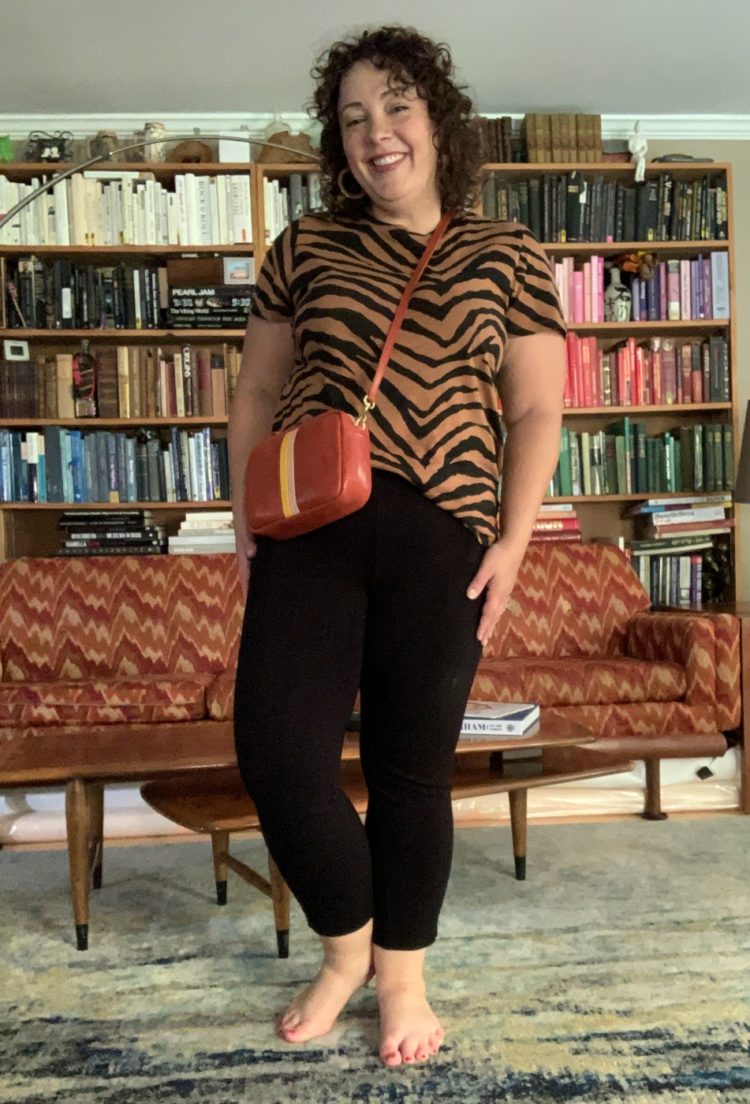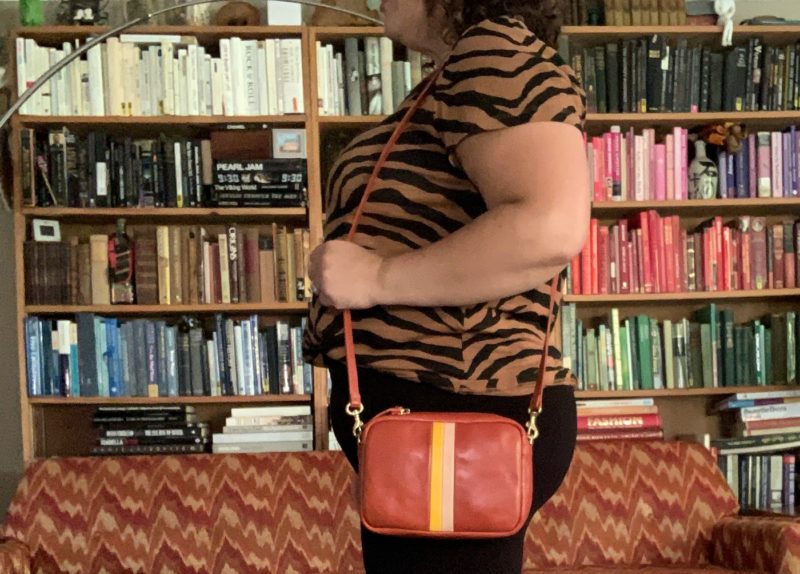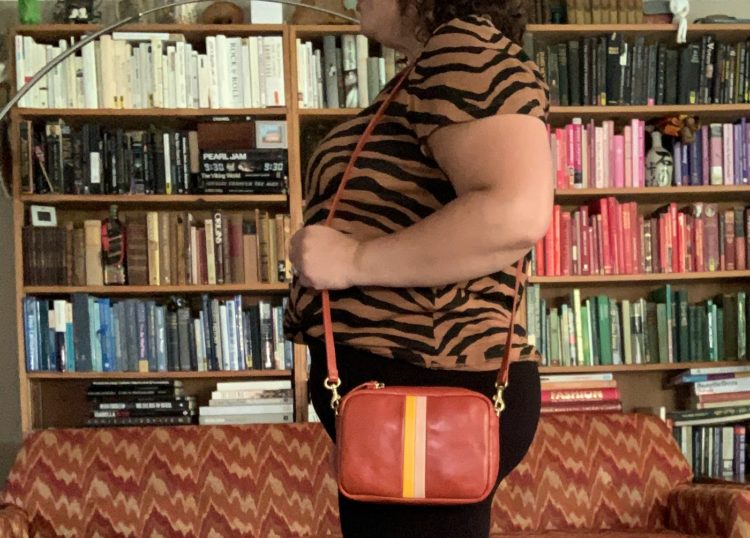 I love Clare V. I have one of their Le Zip Sac totes in orange leather (seen here) and a foldover clutch (my green croco bag). If I was rich, I would own even more Clare V. I love the aesthetic of the brand. So this bag was a smart choice to add to my trunk. It's a cute bag, a good size. I like that the strap is detachable so I could switch up the look with a guitar strap. I was concerned that the strap wasn't adjustable but found it a nice length for both on my shoulder and across my body. And I love the color combination, but the colors do not go with anything else in my closet and aren't the right colors to smartly contrast with my wardrobe. Also it's hard to stomach a Clare V. price for a pretty ordinary crossbody bag; I feel better coughing up that kind of money for one of their statement pieces like the two I own. This bag would be a hit if a different color and if I was more wealthy, but today it is a Miss.
Shop the Items in My Trunk Club Trunk:

My Trunk Club Trunk Review
At first glance, by seeing only one Hit you may think this Trunk Club Trunk was a fail. However, it did exactly what I hoped it would do. It helped me try on trends in the comfort of my own home, explore brands I am not super familiar with, and step a bit outside my comfort zone to expand my personal style aesthetic. Yes, I only kept one thing but I learned a lot about my shape and my style, and to be honest, my budget couldn't afford a Trunk of 100% wins! But armed with the information I collected from this try-on, I can reach out to my Trunk Club stylist Kelsey and better hone in one what I now feel is missing from my wardrobe. If you are interested in trying Trunk Club you can use this link; if you join and spend at least $50 I'll get a $50 credit (and you can do the same with your friends, it's how I was able to purchase my Clare V. orange tote!).
This post was not sponsored by Trunk Club, I pay for my Trunks and their contents like everyone else. I choose to use this company from time to time because I love the convenience, the ability to customize, to control if and when I receive a delivery, and the super easy return process.