This article may contain affiliate links; if you click on a shopping link and make a purchase I may receive a commission. As an Amazon Associate, I earn from qualifying purchases.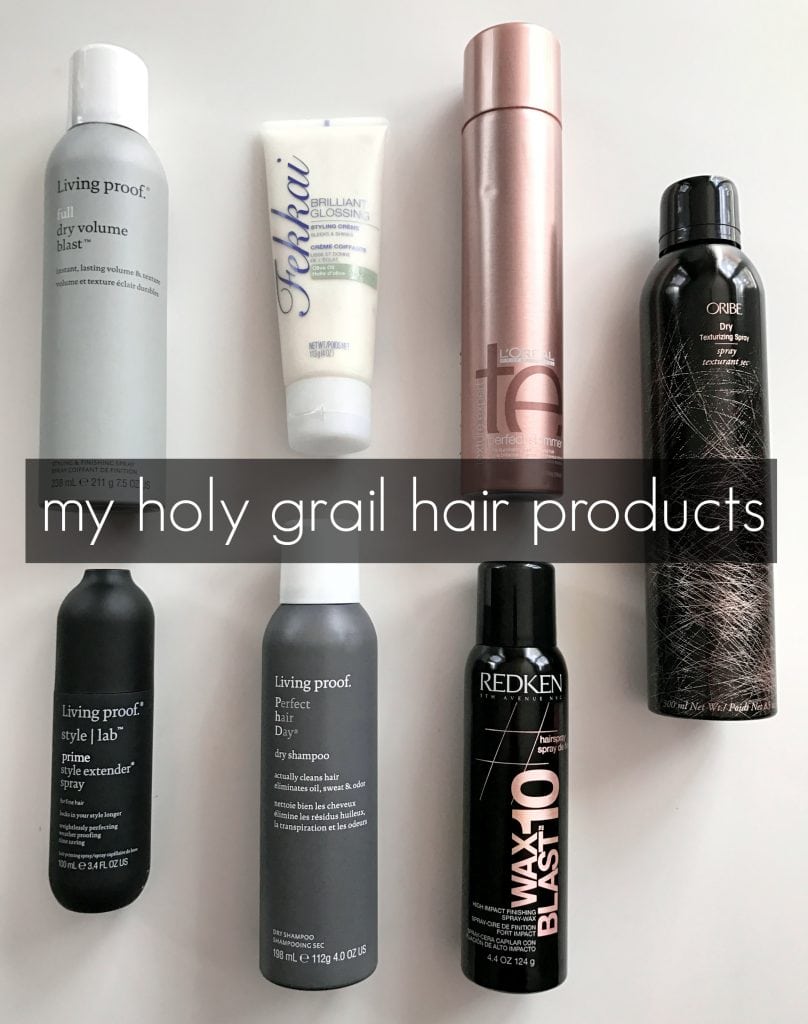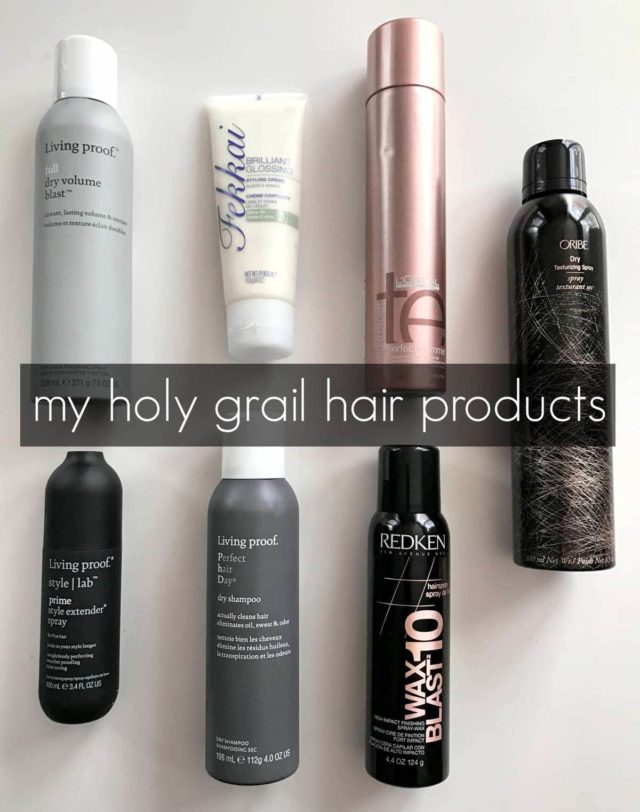 Since cutting my hair above my shoulders last January, I've found my hair easier to manage, look fuller, and more fun to play with. However, it took a while to get used to shorter hair and I realized my old styling products weren't cutting it. It's been a year since the chop; while the length has fluctuated between end of ears and my shoulders, I've found some fantastic styling products that consistently provide me with great hair.
Shampoo and Conditioner
My absolute favorite shampoo and conditioner is Living proof. When I use it, I can go longer between washings, my hair is soft and shiny without being limp, and it seems to perform better with styling products. Problem is the pricetag. I just can't afford $25 for just 8 ounces of shampoo. I've asked for it as a Christmas gift and have bought it as a gift after getting a bonus at work, but it's not a regular player in my shower.
When I can't afford Living proof. I use Pantene. Since I received Pantene's Moisture Renewal line a few months ago for this post, I've had it in my shower and love it. Seriously, Pantene makes my hair happier than pureology, Redken, Moroccanoil, Biolage, It's a 10, and Keratase.
Deep Conditioner
About once a month, I wet my hair, slather it in coconut oil, wrap it up and get in a hot bath full of Epson salts from the grocery store and some coconut or almond oil. I let it and my body steam, and then after take a cool shower and wash out the coconut oil. It works better than any deep conditioner I've purchased. When it's a Sunday and my hair is in need of a washing, I'll rub almond oil on the ends, sleep with greasy hair, and shampoo in the morning.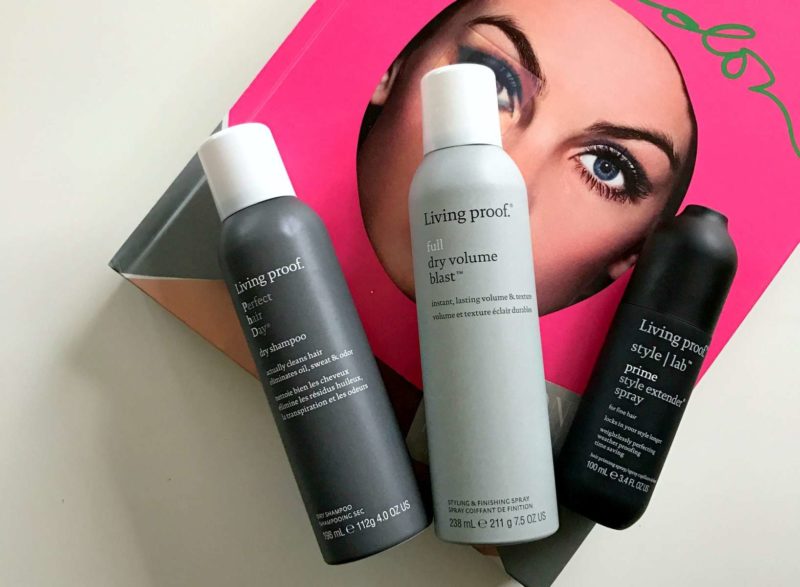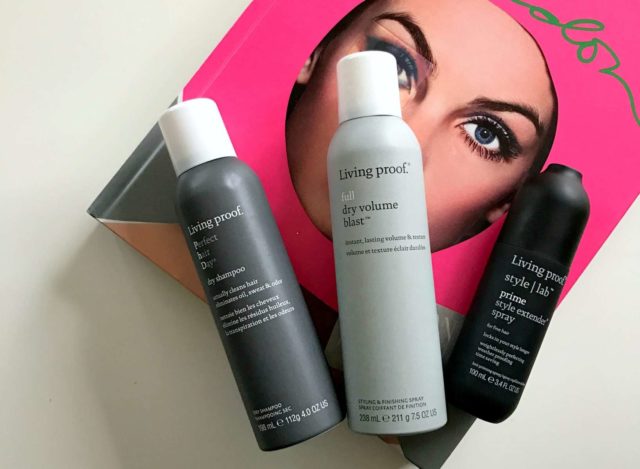 you could say I'm a bit of a Living proof. fan!
Styling Products
When my hair is still wet, I spray Living proof's Prime Style Extender Spray all over it. It's made for fine hair, and seems to give a little bit of control, a little bit of smoothing, and seems to make my hair dry faster and stay looking clean longer. If I am blow-drying, I'll only have that in my hair; if I'm air drying I add a bit of Fekkai's Brilliant Glossing Cream to the ends and pat a bit on the top of my hair to keep frizz at bay and help the curls form.
My Holy Grail styling product is Oribe Dry Texturizing Spray (read my previous post about it). I ended up running out in November and held off thinking I may get for Christmas. I didn't, and bought myself a bottle in January as a birthday gift. Going two months without it made me realize how revolutionary this product is, and how awesome it is for fine hair. This spray makes your hair not only look more full, but act like thicker, slightly coarse hair without leaving your hair sticky or heavy. I'll spray it and then use a curling or flat iron for waves and they'll hold better, look more natural, and last longer. I'll also re-spray with it like hairspray, it does a great job of keeping my sideswept bangs sideswept without being frozen in place. Best thing is using this spray works a bit like dry shampoo and you can go longer between washings because it absorbs oil even during the day.
Since I'm discussing Oribe, I'll share I've also tried Oribe's Apres Beach Waves and it's underwhelming.  It leaves my hair a bit limp and "product-y" feeling.  I know others who think it's great, they must have thicker or coarser hair.
When I want bigger hair without looking like Dolly Parton, I next use Living proof. Full Dry Volume Blast. I lift sections of my hair and spray and it really amps up my hair while looking natural. Be sure to shake it a lot, if you don't shake between sprays it doesn't really accomplish much.
I love messy rocker chick hair. When I want to get that effect, I swear by Redken Wax Blast 10. After the Oribe and the hot tools, I'll shake my head around and upside down, spraying blasts of this onto it. Then I use my fingers to separate pieces, twirl segments, and adjust. It's not heavy, it's not shiny or sticky or too matte. I bought this after seeing a YouTube video a year ago on how to style hair my length and I haven't taken a break from it. I keep an extra bottle in my linen closet because I would cry if this no longer was made. This spray doesn't make my hair look greasy or gross Day 2; in fact like Oribe Dry Texturizing Spray it makes Day 2 hair better than if it was free of product. You can re-shape waves and curls, use a boar bristle brush and brush it smooth and tuck it behind the ears and have it flip up a bit, or just rake it with your fingers and pretend you're Debbie Harry or Alison Mosshart.
When it comes to dry shampoo, the only one I will use any more is the one by Living proof. It's dramatically different from any other one I've tried, and I've tried a heck of a lot of them. It's not super fragrant, it doesn't make my dark hair look ashy, it doesn't leave my hair feeling sticky or heavy. It's not cheap (none of Living proof. products are) but it's so darn good it's worth the money. Also with the other products I use I find I only use dry shampoo a couple times a month.
If I want my hair to look softer and more silky, I use more Fekkai Brilliant Glossing Cream. I'll put a bit in the palm of my hand and rub my hands together and then grab pieces and smooth them, twirl waves to separate and smooth, and then when there's only a hint of product left on my hands I'll lightly run my hands from top to tips to smooth and add a bit of shine. A little goes a long way, I usually only need to buy a replacement tube once a year or less (I've been using this product off and on for almost a decade).  When writing this post I found this article from Into the Gloss about Fekkai Brilliant Glossing Cream and I can so relate to it.  While I've used it off an on for over a decade, only when my hair style is more… undone and relaxed is when I really use and enjoy it.
If I want big messy rocker hair or have the most perfect waves and am afraid if I touch them I'll ruin them but I want a bit of shine, I rely on L'Oreal Professional Texture Expert Perfect Shimmer Shine Illuminating Mist. I don't think L'Oreal makes this product any more; again I heard about this from a YouTube video and I found it on Amazon. I've been using the same can for a year, a little goes a very long way. Good thing Amazon still has it. It's brilliant for adding shine to hair without any oil, grease, heaviness, or making hair too silky or killing my volume.
Styling Tools
In 2011, a now-defunct online beauty company offered to send me the T3 Tourmaline Hair Dryer. Previously, I had used Conair dryers and they worked just fine. But as I wrote in 2011 when I reviewed this dryer, the T3 is a Corvette to my old Yugo hair dryer. And in 2017 this hair dryer is still rocking and still doing a great job. I never burn my hair, I can use the nozzle to target or get hair super straight, add a diffuser for curly hair, and I love the super long cord. My old Conair dryers would maybe last a year and if I wasn't careful would eat or burn my hair. This dryer taught me that it's worth it to pay for quality hair tools.
This same company sent me a T3 Micro flat iron in… I think 2012. Just like the dryer, this is still doing a fantastic job. I don't use flat irons often, especially with shorter hair. I haven't mastered flat iron waves, but I do use it from time to time to deal with bedhead or to fix my bangs.  This is the 2017 version of the iron.
My curling iron breaks all my styling tool rules for paying for quality. My curling iron died and my mom offered me hers as she never used it. That was like six years ago and I'm still using it and I LOVE it. Looking online I think it's the Infiniti Pro by Conair 1" Nano Tourmaline Ceramic, but it's black, not turquoise. It heats up super fast, it has adjustable heat settings, and it turns itself off so I don't have to worry about burning my house down. The only issue I have with it is I sometimes accidentally turn it off when using it because the buttons are right where my hand is when curling.
I went to see a new stylist last year and he chastised me for having such dry hair. When I told him what shampoo and conditioner I used he was surprised and asked me if I had a shower filter. I did have one many moons ago but it started acting weird and I got rid of it. He said to get another. I found the QwenchPurse on Amazon. It was easy to install behind our waterfall shower head. It hasn't affected water flow and it has made a major difference with not just my hair but my skin. Karl has also noticed the difference. We ended up also getting this filter for baths and it really improved Emerson's skin. Amazon reviews recommended getting waterproof tape for the shower head to get it to fit well, but we didn't end up needing it.
I wrote about them here, I still rave about them. They're a gamechanger for hair and for skin. I first tried satin but it was slippery and it made me sweat. The silk isn't as easy care but the results are worth it. I recommend going with a darker color, the light colored ones get really grody looking fast (though still work). This pillowcase after a few washes (I vary between hand washing and gentle cycle with a lingerie bag) will look disheveled but will still work well; if you like a pretty bed either hide this pillow in back or put a sham over it during the day.
Karl and I both love this brush; he's bad about walking off with his brush so we now have two and still I often I have to search all over the house for mine. We have one that is four years old and one that is a year old and they don't look that drastically different. Again, worth the price.
After writing this is seems like a lot, but it's not like I use all of them all the time. And also, it's worth it. I can now have my hair done from wet to styled in less than 15 minutes thanks to these products. I have reliable hair, which I appreciate more and more the older I get. I like running my fingers through my hair and like hair that feels like hair; it's nice to have created an arsenal of products that deliver but still let my hair feel like healthy hair.
Do you have favorite hair products? Share in the comments along with your hair texture or needs. You may end up helping a fellow woman find her new favorite!