This article may contain affiliate links; if you click on a shopping link and make a purchase I may receive a commission. As an Amazon Associate, I earn from qualifying purchases.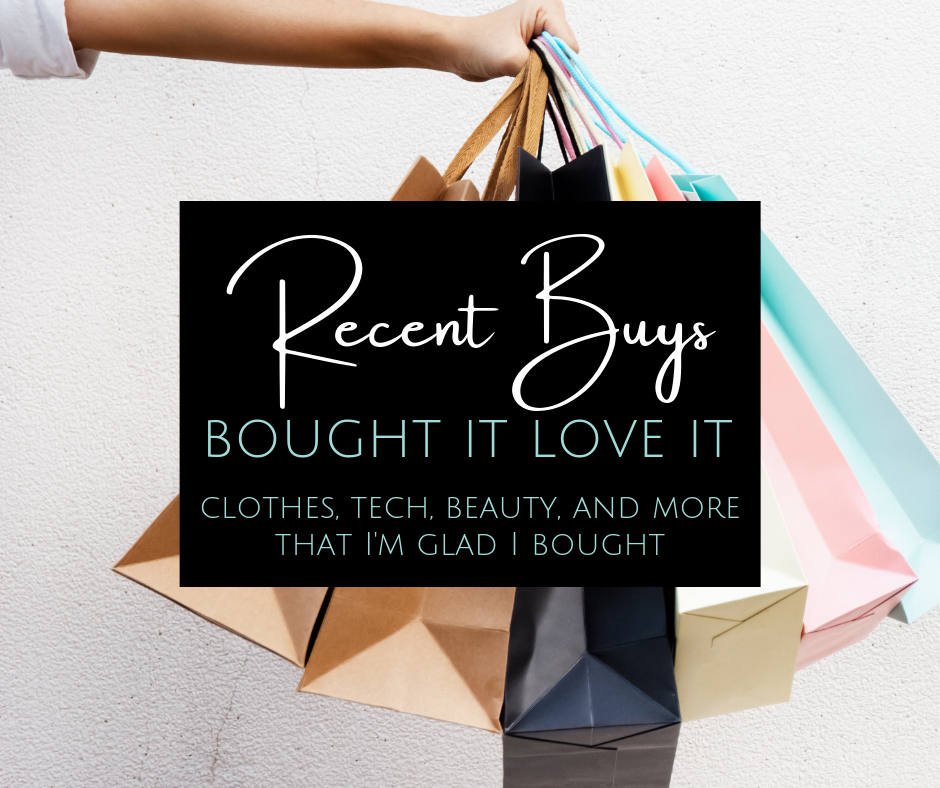 I haven't done a hits and misses lately because I haven't been doing a lot of clothing shopping. But I have done a bit of this and that shopping and wanted to share the hits I've bought, have used or worn more than once, and feel good sharing with you!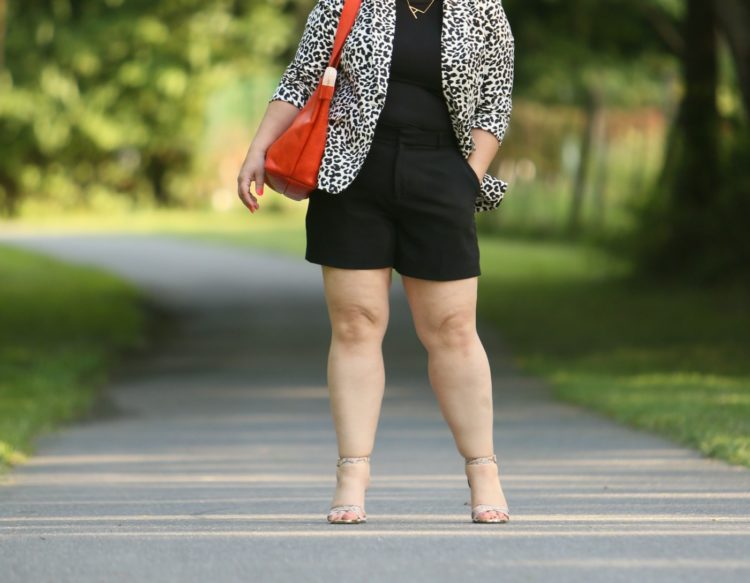 I shared these shorts in Friday's post but they're worth a second mention. This isn't the first year I've purchased these shorts from Banana Republic and likely won't be the last. These shorts are my FAVORITE. They're dressier than chinos; they're made of a stretchy fabric similar to work trousers but they're machine washable and dryable. They don't stretch out but they're super stretchy – comfy in the waist, don't do weird things to the belly/FUPA area, the pockets don't bow out, they don't get saggy in the bum. They're not too tight yet are a really clean and polished fit. On me, the 5" inseam is short enough to not make me look squat yet long enough to feel covered and not get chub rub. I've washed mine four times and they still look and fit great. My orangey-red pair from two years ago still look great too; each year they carry these in black and then a couple of interesting colors. I usually size up in shorts but find these fit in my regular pants size.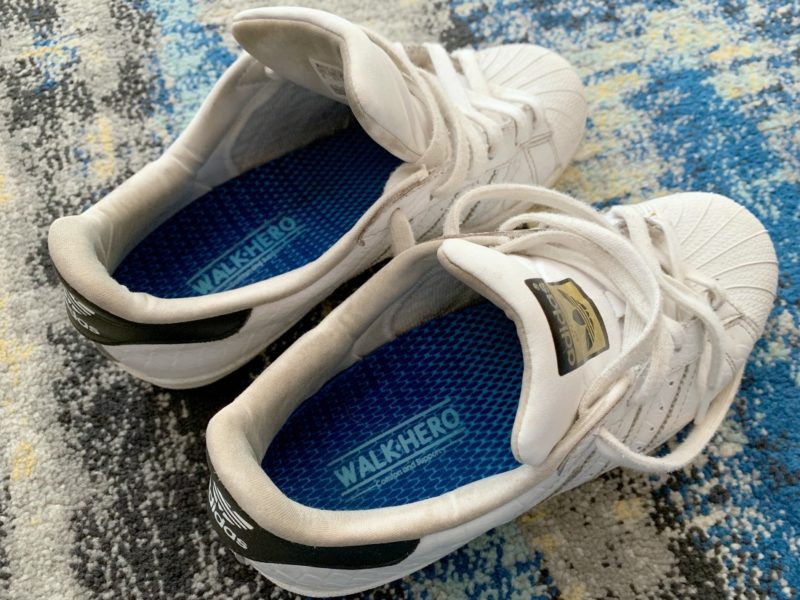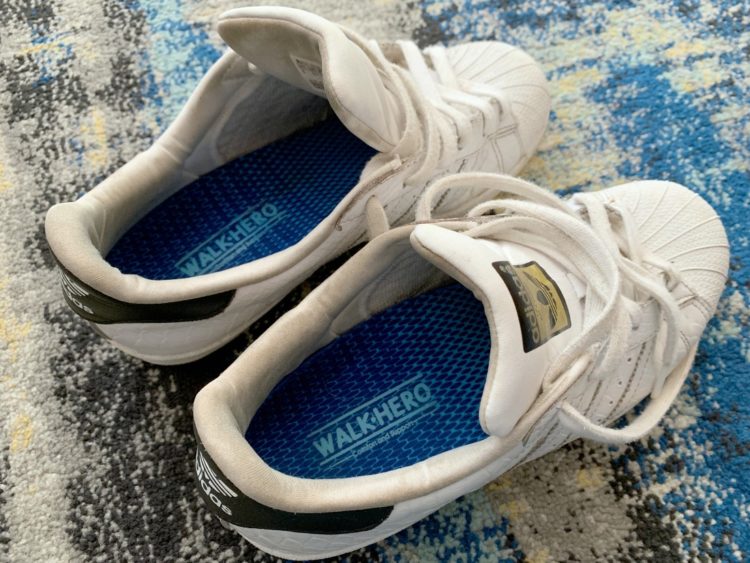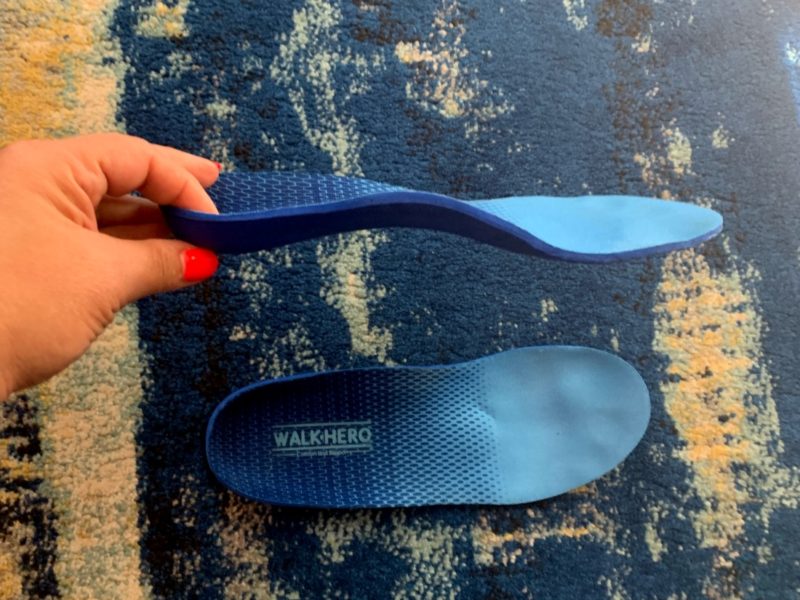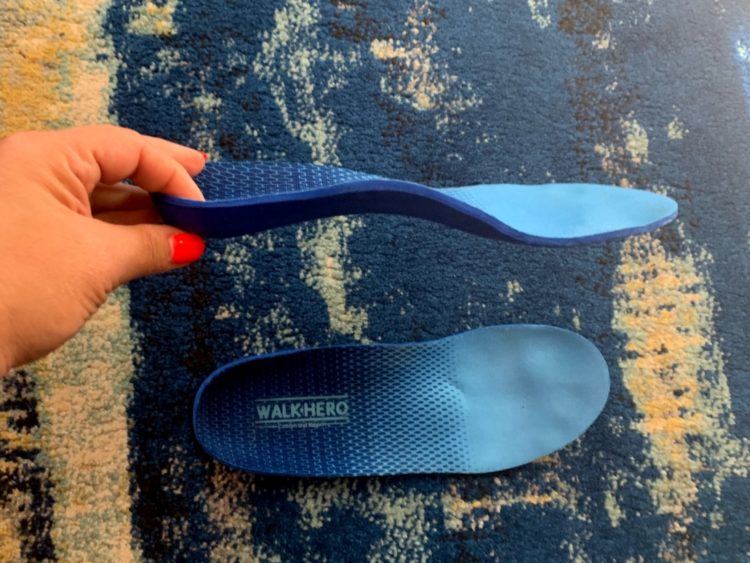 When I went to the DC Pride Festival, I wore my old Adidas Superstar sneakers. They're nice and wide and roomy with a sturdy toe to protect me in a crowd. But they had no arch support and my feet were miserable for days after. I was looking at replacement sneakers but didn't find any I liked the look of that also had support and then thought… why not try insoles? I mean, duh! I ordered three pairs from Amazon for these sneakers as well as my boots to see what I liked best. I put a different pair in my boots, wore them for a day at a music festival and couldn't wait until I was back at my hotel to yank them off. The insoles didn't accomplish much. I tried these from Walk Hero in my Adidas sneakers… so good I wore these two days in a row at a music festival. I walked nine miles one of the days, and both days I had the shoes on for at least ten hours straight. Sure my feet were tired but they weren't in pain. The arch support was good, similar to my Birkenstocks. I removed the thin insole that came with my sneakers, these fit in and I didn't find my shoes too small or too tight. I am an 8 in sneakers, 7.5W in sandals and ordered the 8-8.5 size and they fit perfectly with the arch in the right place. No blisters, no hot spots, no rubbing from the shoes fitting differently. I recommend reading the reviews on Amazon; supposedly there are counterfeits out there but there are photos showing the legit packaging and the counterfeit version. They're like $16 with free Prime shipping and returns and the company also has a satisfaction guarantee. I plan to buy another pair for my boots and may add them to my gym sneakers too!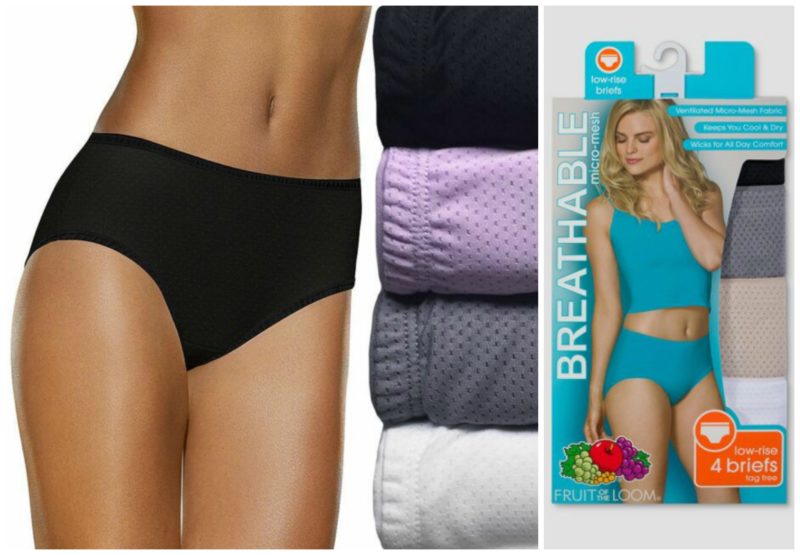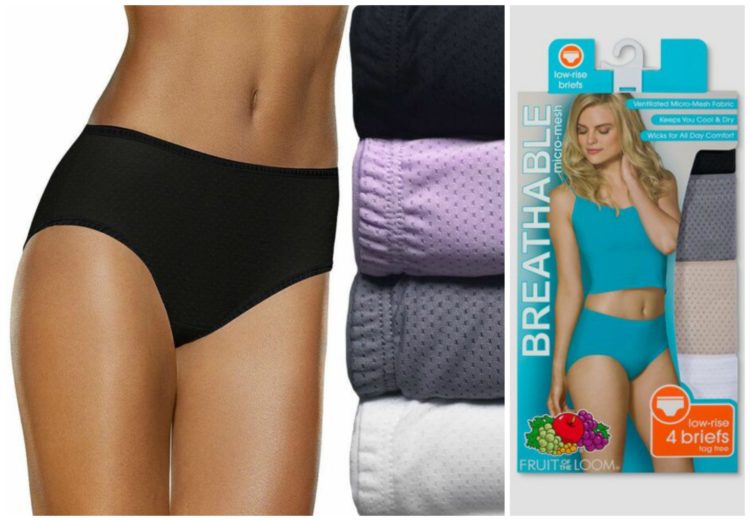 At 5'3" tall and with a belly, I find bikinis and hipsters slide down under my tummy and most briefs so high rise they peek out of my jeans and shorts. Low-rise briefs are hit and miss, as some are more like hipsters. I was looking for a comfortable pair of underwear for long days at music festivals but also good for the gym and other activities. No chafing at the leg holes, no wedgies, no sliding under the belly, no hanging out over the waistband of my leggings. I took a chance with these and glad I did! They aren't cute, they give you VPL (visible panty line) in leggings, but they don't give you swamp butt, they don't move, they're not thin little delicate things that will tear if you yank them too hard when you're sweaty in a hot potty trailer in the tiniest of stalls trying to get dressed fast without touching the toilet or knocking your backpack off the makeshift hook/lock, they won't shred if you accidentally wash and dry them with your jeans and overalls, they're great summer and workout underwear. I'm a 14, I got size 7 and they are the kind of fit where you forget you're wearing them. Oh, and $12.99 for three pairs of underwear is my kind of pricing.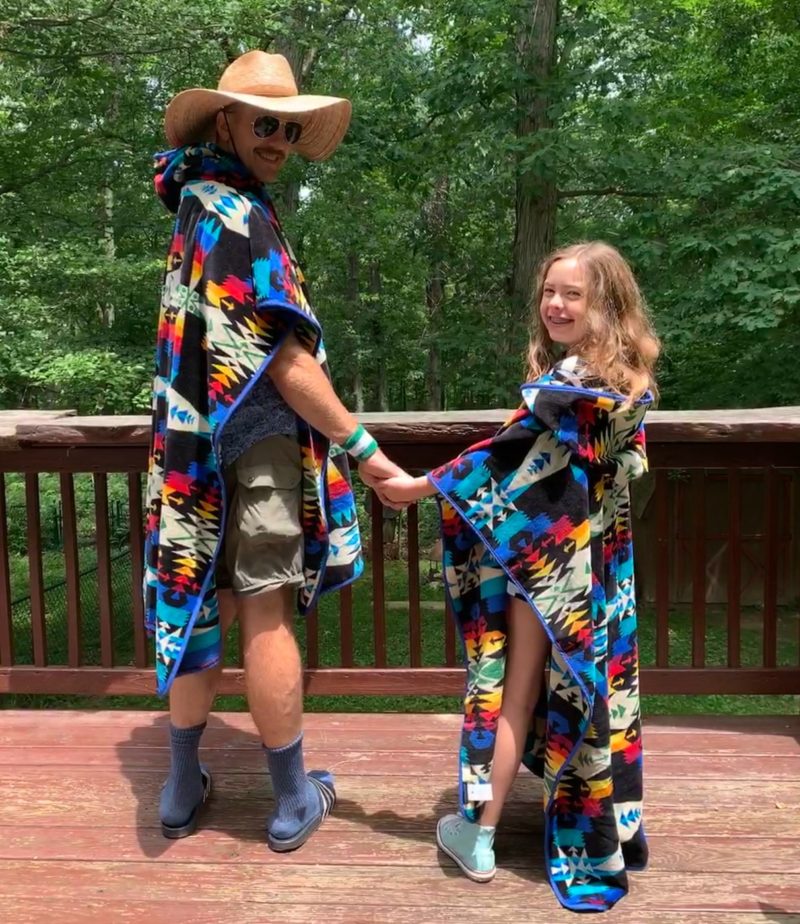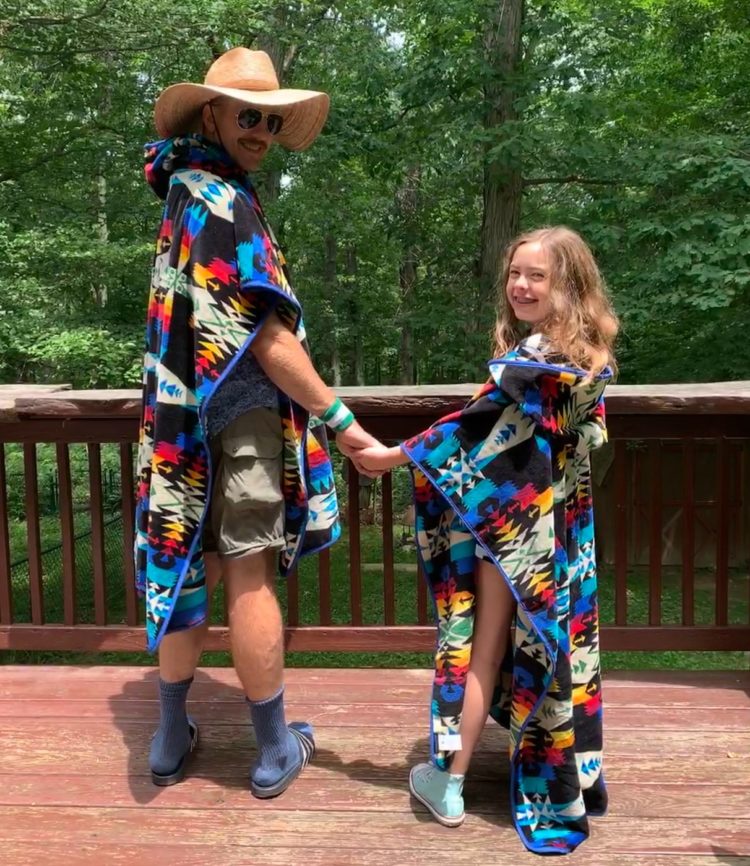 I love Pendleton and have for eons. Karl does too. Karl bought me a monogrammed Pendleton blanket for Christmas and now we get their catalog and it's so delicious and we want everything in it. So for Father's Day, I got Karl and Emerson matching hooded towels from Pendleton in the Tucson print. These things are thick, almost like a blanket. The color is super saturated. I got both of them the adult so Emerson won't grow out of it; on her, it almost hits the ground but is wearable. On my 6'5" husband it's still a good length for him to throw on after a day at the pool or beach. Both of them have been wearing them around the house like a Snuggie; the other day I came home from an event to find them on the couch watching a movie, both in their hooded towels with the hoods up. These are NOT cheap; they're almost $100 but the quality is so stellar I could easily see them using these for decades. At least that was my hope when ordering them!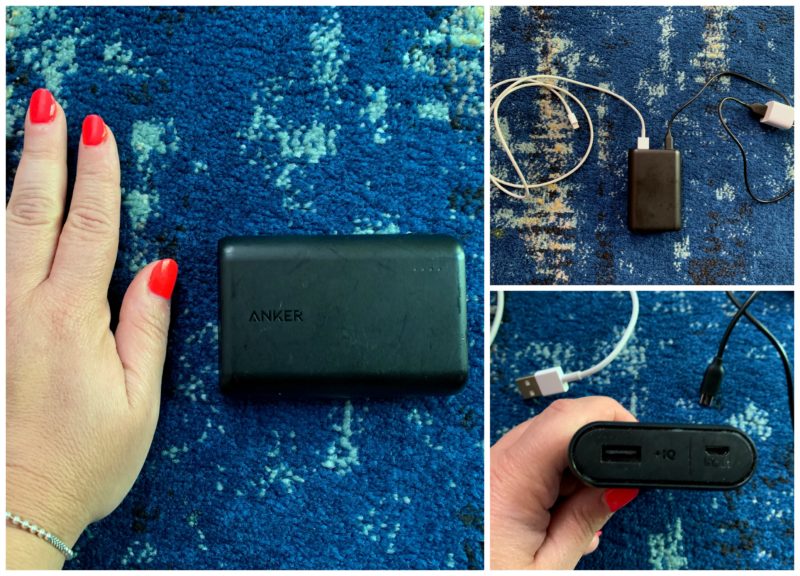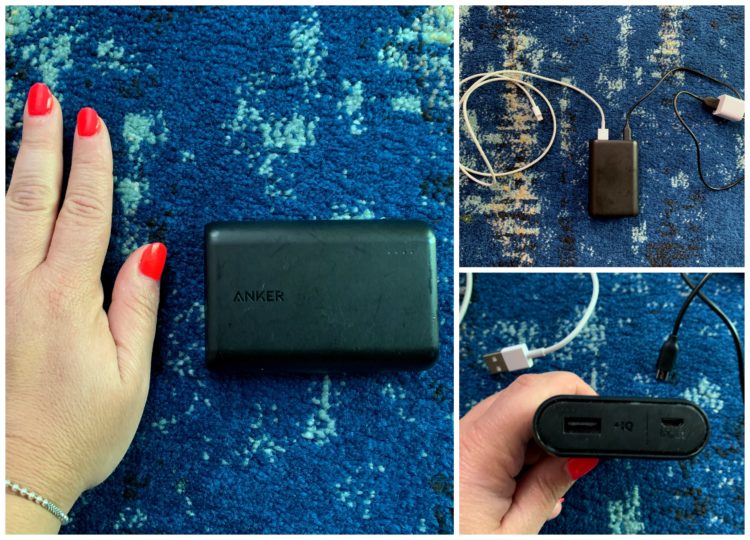 I didn't buy this super recently, I got it over a year ago but it's my BFF. As someone who uses her phone all the time for work, I love this thing. It seriously keeps a charge for days, even weeks. I can charge it up, take it with me for all day at a music festival, come back and it still has energy left. I can forget to charge it, a week later pull it out of my bag and still have plenty of juice to bring my phone to 100%. It's a reasonable size; shorter but a bit thicker than a pack of cards and takes a normal microUSB cord to charge it. I can fit it into most of my clutch purses and in my Ace fanny pack at a music festival had my phone (I have the plus-sized iPhone), this charger and cords, my sunglasses, my mini wallet, a lip balm, and a travel-sized sunscreen and it wasn't bursting at the seams. I have bought many batteries that have kicked the bucket after a year of hard use; this one keeps rocking. It's the best $32 I have spent in a long while. As an FYI, I also have the larger version and it too is fantastic and has enough juice to charge two phones or devices at the same time. It's fantastic for vacations, but much bigger (won't fit in a clutch purse but should be fine in a crossbody). I've always had success with Anker.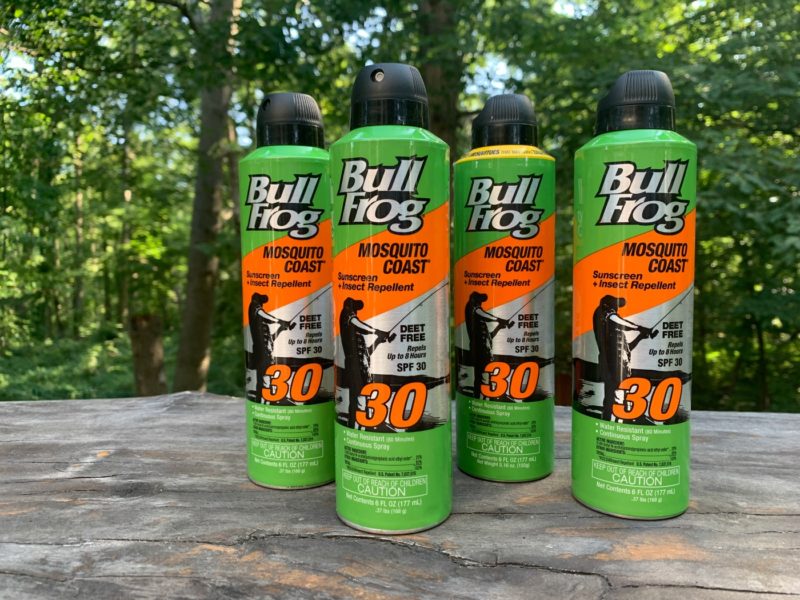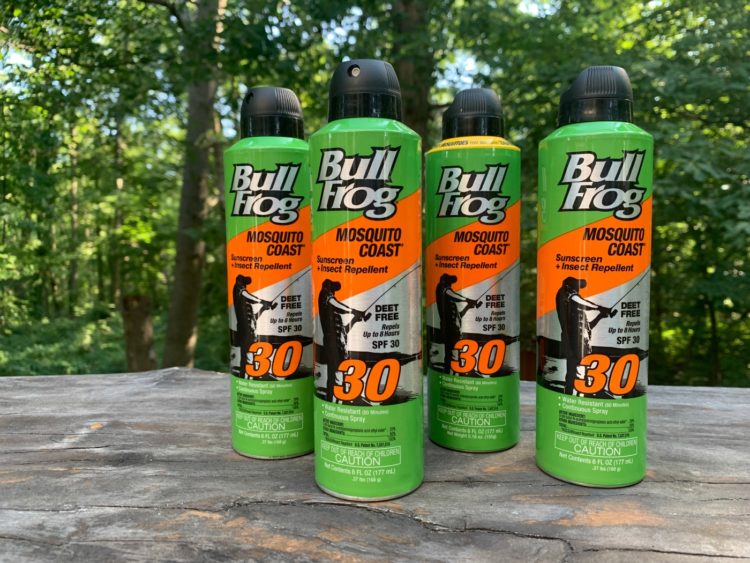 The mosquitos in Maryland are hearty, come out early, stay late in the year, thrive even through rain, wind, and all sorts of traditional ways to keep them at bay. We've come to accept that even for spending an hour out on our deck or a walk around the block we need to don bug repellant. My husband spends a good portion of the spring and summer at his plots in the community garden, Emerson is all over town on her bike and with friends, and I like to join them so we're always in need of both sunscreen and bug spray. This combo product from Bullfrog is our must-have each summer; this is our third summer of using it. It keeps us from being burned and from being eaten alive. It stays on well; Karl can go to the garden for three hours and come back burn and bite free and Emerson can hop in the pool and it doesn't immediately wash off. I love it at the beach when you can get chewed up from those tiny flies. The smell isn't overwhelming. It says it's non-greasy but I disagree; this will leave a sheen on your skin.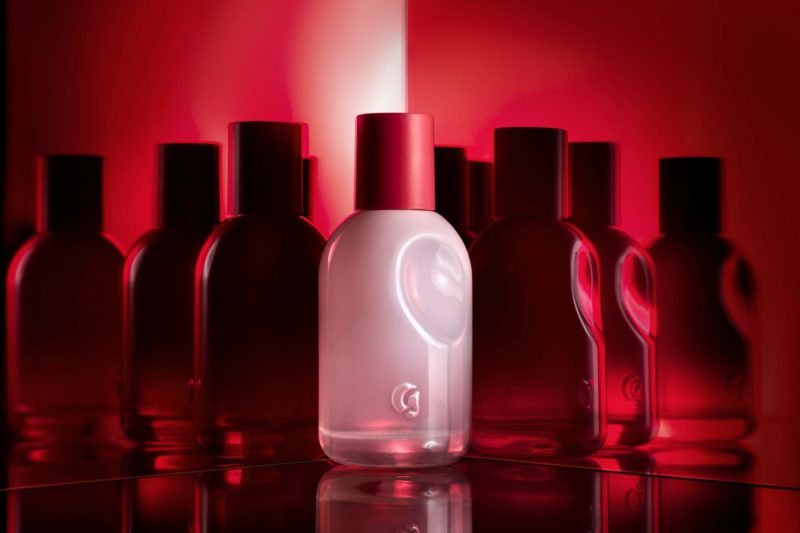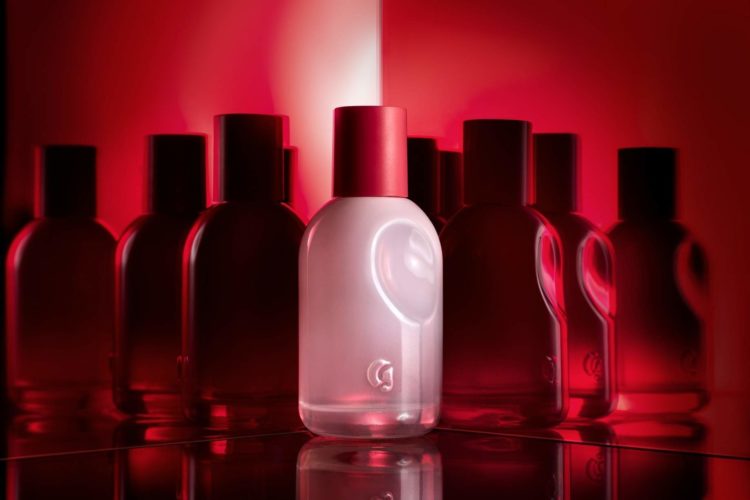 If you missed my Instagram Stories about this perfume, you may not get why sharing this is so funny. I've been trying to find a new perfume for a few years but everything is too heavy, too sweet, gives me a headache, or my husband thinks it smells like hay (Hello Le Labo's Santal 33). A friend recommended I try "You," the new fragrance from beauty brand Glossier which she described as a more delicate and slightly sweet Santal. At only $60, it was a lot cheaper than most fragrances I've considered and placed an order along with a refill of the two Glossier products I use: Boy Brow and their concealer. And I loved it right out of the bottle. It came in the mail while I was working; I did a spritz on my wrists and got back to my computer but couldn't stop smelling myself. The next day I went to an event; it was a hot and humid day and I figured it was a good test for the perfume. I loved it, even after sweating and having it on for hours. My family… that was another story. Karl said it too smelled like hay, and not in a quaint or charming way but in a barn way. Emerson also said it smelled bad. To quote her, it smelled like, "Hay, roses, and a fart." I wear whatever the heck I like, but I'm not going to wear a fragrance that doesn't appeal to the people I am literally closest to. But, this is a pretty scent that gets rave reviews on unbiased sites like Makeup Alley. If you like scents like Santal 33 but it's too pricey or heavy for you, Glossier "You" is a great alternative.
Shop the Post: