This article may contain affiliate links; if you click on a shopping link and make a purchase I may receive a commission. As an Amazon Associate, I earn from qualifying purchases. 
Reader Valerie asked me to discuss what every MAN needs in his wardrobe. Like women, men are bombarded with tons of overly trendy, unflattering and plain bad options in fashion. Men get stuck in ruts too, and don't find the time or importance for worrying about what they wear.
My husband is 6'5", has a 36" inseam, but is slim (34" waist). For years he has stuck to one or two pairs of Levi's jeans (he liked the baggy style from his high school days because he believed it covered up his slim build and "no-butt" shape), cargo shorts even in Summer, and plenty of tee shirts with band and surfing logos on them. When he dressed up he had a navy blazer bought at a Today's Man Going Out of Business Sale and one pair of tan dress pants. He'd wear the same tie to weddings that he wore to his high school graduation over a decade earlier.
A few months ago he was promoted to a manager position in his company. This required him to wear collared shirts, ties, jackets and nice shoes on an almost daily basis (the off days he could downgrade to a polo and khakis). He finally realized that he was a 30-something professional dressing as a teenage skater boy. He needed a new wardrobe, but didn't want to break the bank. What's the point of a raise if it's all spent on a new wardrobe?
We did our homework – men's magazines, looking at websites of classically stylish men's clothing websites, observing what subtly stylish celebrities wore.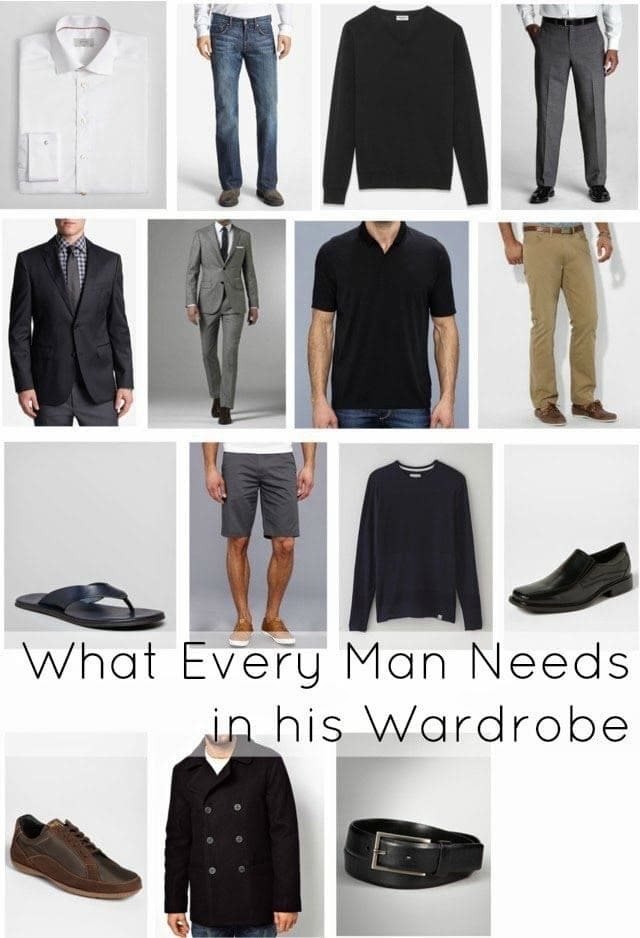 1. Crisp white cotton shirt – They do sell shirts that are not see-through; invest in one. This is crisp cotton, not an oxford. Take this shirt to the cleaners to keep it's fresh look unless you want to spend forever sprinkling, ironing and starching. To have it the most versatile style, forego any detail on pockets, a button-down collar or any other trimmings. Unless he is a cufflink-type of guy, go with traditional buttoning of the cuffs. Where to wear: with suits for interviews and more dressy of events (weddings, theater, etc.), with khakis for a more casual affair, with jeans and a blazer for parties and social occasions.
2. Comfortable bootcut jeans in a semi-dark color – Confused? So were we when looking for new jeans for my husband. What works with a tucked in shirt or a casual sweatshirt? What looks modern without being overly trendy? The best color is darker than stonewashed. A traditional bootcut ends up being too tight on thicker men, and look awkward on tall slim men. Gap carries a style called "standard fit" that I have seen look great on tall men, short men, stocky men and slight men. It has the stylish cut, but the room in the thighs and rear so that they don't look too cowboy or too hipster.
3. A black merino v-neck sweater – A lightweight black merino sweater can look refined, elegant and even dressy. With a collared shirt and suiting trousers a man is ready for a party or dinner out. With a white tee and jeans or khakis, one is ready for a trip to mall or a business-casual office. The lightweight merino dresses up nicely and doesn't get lumpy over collared shirts.
4. Flat front tropical weight wool trousers in gray – Black can be too severe, tan will look dated and cheap if not the right quality, brown and navy aren't terribly versatile. Gray works all four seasons and compliments most other colors in a wardrobe. With a collared shirt, a blazer, a matching suit jacket, a sweater or even a polo, these pants will get much wear. Pleated pants may seem like a safe bet, but they add bulk to heavier men and look odd on slender figures. Pleats are passé, your best bet is to choose a flat front or no more than one or two pleats.
Your pants should make a bit of a bend where the ankle meets the foot. Many men wear their pants either too long or too short. If pants are too long, it doesn't cost too much to get them hemmed at the local dry cleaner's. As for cuffs, they are optional for all but the very short – short men should stay away from cuffs because they cut the leg and make one look even shorter.
5. A black suiting blazer – Paired with matching trousers, a black suiting blazer creates an elegant ensemble for a formal event. With the gray wool trousers it's perfect for a business meeting. With jeans and a collared shirt, it's hip at a club or party. Keep it simple – no fancy fabrics, colorful or glitzy buttons, trendy details. The more subtle, the more stylish and the more versatile.
A three-button single-breasted jacket is a classic and flattering style for all shapes. A rule of thumb with buttons I saw once on What Not to Wear – Sometimes, Always, Never. Sometimes you can have the top button buttoned when standing, always button the middle button (your choice), and the bottom button should never be buttoned, no matter what.
6. A gray suit – Now you can cheat and have a blazer in the same fabric as the tropical weight wool trousers, or have a separate suit. Like the black blazer, keep it very simple and subtle. This suit should be able to be worn to a wedding or an interview. If there is a pattern, pinstripes or detail it will be memorable, and it won't be timeless. Again, the jacket should be single breasted with two or three buttons.
7. Three solid colored polo shirts – Little boys and college kids wear striped polos. Adults wear solid colors. Look around you at the men who wear stripes, and those who wear solids. Who look to be in better shape and better dressed? You'll see the more elegant and trim looking men are in solids.
As for colors, that is up to you. However I recommend one in gray, navy or black. This is a simple neutral that is flattering and classic and a bit dressier than other colors. As for the others, pick colors you enjoy. My husband has a sage green that looks great with khaki, navy and gray, and a dark plum that is an unexpected neutral that looks great with olive, khaki, gray and black. Wear with khakis or tropical weight wool trousers for business casual jobs, with cargo shorts for a summer cookout, with jeans on the weekend.
8. Flat front chinos in a khaki color (AKA khakis) – Please stop buying pleated khakis. They do not look good on anyone, and they make men look unfashionable. As for the khaki color – this is the most versatile and flattering. Lighter colors (often called stone) are not as popular and do not look appropriate past Labor Day. Darker and more yellow colors (British tan, taupe, sand) are memorable and often look more casual. As with the gray trousers, have them to the length where they make a bend (or "break") where the ankle hits the foot.
Khakis look great with everything. Pair with a black blazer and white shirt for dinner, with a polo for work or a day on the links, with a collared shirt or sweaters for casual affairs. These pants will be so versatile, I recommend you buying two pairs. They are so neutral, no one will realize they are two of the same pants. You do not want these too stiff, or too tight. J.Crew offers a style called "relaxed fit" that is very flattering on many shapes and sizes of men. The chino fabric is lightweight enough that it doesn't crease or bunch, but is refined enough for work, dates and social occasions.
9. A pair of sandals – I do not mean Birkenstocks and I do not mean those woven hurrache-style shoes. A simple sandal or thong in brown leather will be worn almost daily come summer. With shorts and tees, with jeans and a polo. There is nothing more attractive than a man in a crisp white shirt, well-fitting khaki chinos and a stylish pair of leather sandals in the summertime. Sandals will replace your Tevas and flops for casual affairs, sneakers with your shorts and jeans in the warmer months.
10. Longer shorts in olive or khaki – Get rid of the pleated shorts that are 4" above your knee, the faded navy and black chino shorts that you have owned since college, the beat up and threadbare stone-colored cutoffs. These shorts are a clean line without being too stiff, longer without looking sloppy. The ones shown have a 9″ inseam. The shorts should land close to or at the knee, but not below.
11. A casual sweater with a crew neckline – Keep it simple. No stripes, argyles, or overt details. A cableknit in navy, a Shetland in charcoal, a ribbed commando-style (featured) in a dark green. It should cover the wrists even when arms are extended, cover the waistband of pants even when stretching, and be a trim fit – not slim, but not overly baggy. Think refined, classic, simple. The color should be one you enjoy and you find flattering, without being too strong. Navy instead of royal, olive or forest instead of bright green, russet instead of red. This will be the most versatile with all your bottoms. These colors go with khaki, with gray, with denim. A crew neckline will look nice with a collared shirt or on it's own.
12. Black leather slip-on dress loafers – The best buy I have ever made for my husband. Being a slip-on style, they can transition from dress to casual with ease; a laced-up oxford can often seem too prim. These shoes look great with an oxford shirt and khakis for Thanksgiving dinner at the grandparent's house. With his suit for work, or for a wedding. With the merino v-neck and trousers for a party at a friend's house. These shoes go with every pant in my husband's wardrobe except jeans, and fit every occasion where pants other than jeans are appropriate. On top of that, they are comfortable!
13. A pair of Euro sneakers or rugged leather oxford shoes – These are what you wear when you can't wear the black loafers. Euro sneakers are leather, subtle in color and sleek in design. They are a dressier version of traditional tennies. If Euro sneakers are not your thing, consider a pair of sturdy oxfords – my husband has a pair of brown lace-ups from Merrell that have contrast stitching, sturdy laces and a chunky sole. My good friend has stayed tried and true to his black Dr. Martens for the past two decades. Like Euro sneakers, these shoes can fill in where the black loafer cannot – with jeans and to dress down khakis.
14. A wool winter coat – The parka is great for cold days, and the fleece is an easy layer for weekends. However for work, for evening, and for special occasions you need something not made of Gortex. A wool coat in black, charcoal or dark navy will get years of wear. Consider a traditional peacoat style – it works well with jeans and tee shirts or with suits. A single breasted style will make a thicker man look leaner and a shorter man look taller. As with the rest of these wardrobe basics, keep it simple. Buttons should be the same tone as the coat, collars and shoulders should not have adornments. A simple lining is good for moderate climates, consider a Thinsulate lining for those residing in the more northern of states.
15. Black leather dress belt – you need something to keep up those khakis and tropical weight wool trousers. A dress best is not like your casual belts – the leather is stiff and glossy. The buckle is polished and minimal. The whole style is slim, sleek and refined. The rugged brown leather belts with the hammered steel buckle is fine for the weekends, but should never be paired with suits or nice trousers. Your belt should always match the color of your shoes – as that I have only recommended black dress shoes, you will only need a black dress belt.

Additional Items You May Need:
A bathing suit in a simple pattern or solid that hits near the knees, without going below the knee
A French blue dress button-down shirt
Ties – stripes for work, solids for formal affairs, patterns for festive occasions. You should own at least two.
Casual button down shirts – for work with khakis, for play with jeans. Look for wrinkle-resistant styles so they can be easily washed and dried. Subtle stripes, solids in colors you enjoy and fit your personality, muted plaids. These shirts should be tucked in, one button unbuttoned without an undershirt, two buttons unbuttoned with a tee shirt underneath.
What to Remove from Your Wardrobe:
Any jeans with bleached out areas, sandblasted, or stonewashed
Any classic fit, overly baggy or tapered jeans
Short sleeved dress shirts – these look goofy on everyone. If you're hot, roll your sleeves
Plaid flannel shirts as work shirts – just because you tuck it in does not mean it is work or socially appropriate. Flannels are for casual affairs: camping, cold nights and weekends in the yard (my husband asked me to include Pearl Jam concerts)
Tee shirts with witty logos/cartoon characters/lewd jokes – these are corny, crass and tacky. Silly shirts are for college kids, not adult professionals.
White socks unless you are performing an athletic activity.
Sports jerseys unless you are attending a sporting event, participating in a sporting event, or going to a sport-themed party. Rappers can carry off a sports jersey for a red carpet event; until you have the bankroll of a rapper, you cannot dress like one. You will look childish or goofy.
Sweatpants with elastic at the ankle. Any sweatpants or athletic bottoms should be reserved to the gym and your home when you don't have guests. However, traditional elastic sweatpants are horribly unflattering and tacky.
That brown leather bomber jacket you have had since college. It was hip in the 90's, it is NOT hip today.
Athletic sneakers with shorts. Invest in some leather or athletic-inspired sandals. Sneakers with shorts look ridiculous and immature. Traditional sneakers are only for athletic events.
Denim shorts. NO buts about it, there is NEVER a good time to wear denim shorts.
Cliff Huxtable sweaters. Get rid of the jewel tones, the funky patterns and textures. Solids are safe and flattering. The crazy patterned sweaters look dated.
Mock turtlenecks. Whoever invented these should be shot. The only version of turtleneck you should be wearing would be on the ski slopes or part of a chunky sweater. There is never an appropriate place for knit mock turtlenecks