This article may contain affiliate links; if you click on a shopping link and make a purchase I may receive a commission. As an Amazon Associate, I earn from qualifying purchases. 
Happy Veterans Day everyone! A big thanks to all of those who serve and have served in the armed forces. My husband is a veteran – eight years in the Navy. He used to take this day with his dad and best friend – they would go down to the Vietnam Memorial and then go out for lunch and many beers. Now that his dad has passed and he and his friend both have kids, the tradition has passed. However it's nice to have me home so he can spend the day doing stuff outside and things he enjoys instead of being on "Emerson Detail" the whole day. My company doesn't have this day off, but I chose to take a floating holiday and stay at home. Our company gives a few floaters each year, they are "use it or lose it" and I ALWAYS forget to use them. Well this year I am taking full advantage – let that PTO carry over & use what I have now!
I started the day early because they are opening a Last Call by Neiman Marcus in Rockville, MD on tomorrow and today they had an early morning event for local fashion bloggers. We got a tour of the store and got to shop before the rest of the public tomorrow. It was really lovely (will have more details in a separate post) and so much fun to meet fellow bloggers!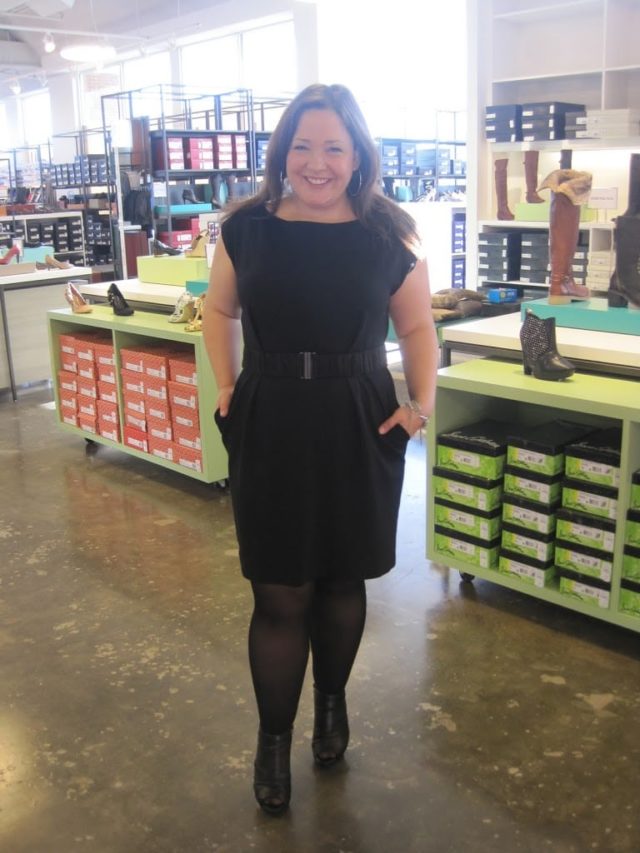 Dress – Ann Taylor LOFT (no longer available)
Tights – Nordstrom
Booties – Miss Sixty via Last Call
Bracelet – Tarnish, via Nordstrom
Earrings – Argento Vivo, via Nordstrom
Black knit biker jacket (not pictured) – Gap (their knit moto jacket that they had earlier this fall)
While there, I did do some shopping. That morning I was in the car with my sister (she went with me to the event) and I said for winter I really need:
Black booties that work with skirts/dresses as well as jeans, or else a fantastic pair of black pointy-toe Mary Janes with a tall, slim heel
A new handbag (which I figure I will score at the Hobo International sample sale this month)
A pair of dark straight crisp jeans (which seems to not exist for my body shape)
Oh I know you love the pigeon-toe look… I did it just for you!
I have been having a devil of a time trying to find good booties. I have wide feet, and even wider ankles. Most look as though I am strangling my foot, or are incredibly painful. Or they are not a style that is appropriate with skirts and dresses. How happy was I to find these at
Last Call by Neiman Marcus
?!? They have a nice rubbery grippy sole and a platform, so they are FAR more comfortable than they look. I actually took off my own shoes (wore my black Nine West pumps because I have no other shoes that would work with this outfit) and put on my new booties and wore them out the door. I wore them shopping at World Market (tablecloth, dishtowels, random foodstuffs) and then off to The Silver Diner where my sister and I met up with my husband and Emerson. Came home, didn't even want to take off these shoes (which make me feel VERY tall – I didn't have to strain my neck to kiss my husband!).
So I have become one of THOSE women who wears booties with dresses, AND who wears peeptoes with hoisery. I NEVER thought I would do either. Maybe I had too much coffee at the bloggers brunch that Last Call provided, maybe it was all the
Last Call
employees and fellow bloggers (and my sister!) telling me BUY THEM BUY THEM! Anyhoo, I am now a Bootie Mama!