This article may contain affiliate links; if you click on a shopping link and make a purchase I may receive a commission. As an Amazon Associate, I earn from qualifying purchases.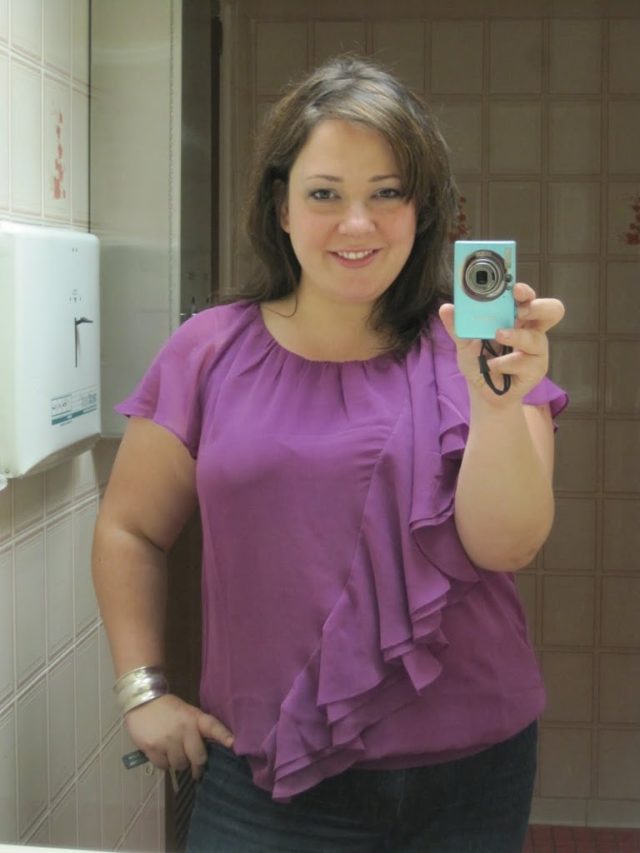 Greetings from the office bathroom!  Another early day at work, but today my husband didn't have anything until 10am so he slept in.  I left the house where everyone, dogs included were sleeping soundly.  The outfit is pretty simple:
Top – Ann Taylor LOFT
Denim Trousers – Gap
Shoes – Sofft (my brown croco-embossed T-strap sandals)
Silver Cuff
Hair was washed and conditioned, dried with round brush. Not much flair, since I was drying it downstairs in the half bath so not to wake anyone upstairs.  Makeup is exactly what I wore yesterday since I had it in my purse (yeppers, did my makeup on the Metro this morning.  Yesterday I was fancy and did it in the half bath).
Luckily I have a normal schedule on tomorrow and Friday!  Maybe I will then have the time to clean up my mess of a bedroom, get my laundry done and figure out my outfit for VirginFest this Saturday.  Are any of you going?  We will be taking Emerson so won't get there until after her nap, and either I or my husband will be leaving by 8 or whenever she's dunzo.  I think it will be a cool experience for her and can't wait to see her in her baby headphones
!