This article may contain affiliate links; if you click on a shopping link and make a purchase I may receive a commission. As an Amazon Associate, I earn from qualifying purchases. 
I ached all over. Maybe it was my pillow. Maybe we needed a new mattress. I wasn't sleeping well, and even if I did get more than five uninterrupted hours I still was exhausted the following day. I had quit my job, but my life hadn't really changed. I still felt tired, stressed, and old. I was scrolling through Instagram, caught in a rabbit hole of hashtags and came across Elite Technique, a personal training gym in the town next to mine. The guys who ran the place went to my sister's high school, the one my daughter will likely attend. They were passionate and not at all pretentious. I don't know what came over me, but I reached out to them. A week later, I was at the gym signing a contract.
I was sick and tired of being sick and tired. Quitting my job wasn't enough to change my life. I had never been athletic. I was on swim team from 2nd grade until high school, but otherwise I avoided sports and exertion. I even got an excuse to get out of the Presidential Fitness Challenge (sports-related asthma, thanks to my allergist). In college I made a friend and we went to the gym together, but most of the time was spent slowly walking on a treadmill while gossiping. After college, I occasionally tried to be fit via workout videos. I'd rent them from Netflix and if I liked one more than three views, I'd claim I never received it so I could keep it. Last summer I cleaned out my DVD collection and found three exercise videos, still in their Netflix sleeves. I did BioAerobics with my mom for a few months; that was the only workout I really enjoyed but even that I didn't stick with. But for some reason, I decided to start working out with a personal trainer.
I was paired with Khalil, though there are
two other personal trainers with Elite Technique
. Like me, Khalil is a parent, an entrepreneur, creative, and always learning and looking for ways to improve himself and his business. I like him, but I also trust him, which is top importance for a trainer. My first day I thought I was such a boss. While I have never been athletic, I have always felt I was strong. Khalil filmed some of my first training session and I remember thinking I looked pretty great. We focused on legs, I did lunges while holding onto a bar, a few leg extensions on the machine, and focused on core with leg lifts and bicycles. I was impressed with myself… and the next day I woke in so much pain I could hardly move. But I got on my leggings and sneakers and returned to the gym. Working with a personal trainer, I knew that this horrible pain was working weak muscles. If I had worked on my own, I may have given up thinking I was damaging myself. I decided to hold myself accountable, along with the contract I would check in on Instagram Stories after every workout. If I didn't work out, people would notice.
I survived my first week… barely. The second week was better but still painful. Khalil said by week 3 I would find it to be less painful. He was right. By week 3, a hard workout would leave a satisfying ache in the part of the body I exercised.
And now I am in Week 19. I have missed four workouts – once I was sick, once my trainer was sick, once the gym was closed for inclement weather, and once I was so exhausted and sick and spent from a crazy two weeks I needed to recover. When I am on travel, I try to recreate the workout at a hotel gym. Earlier this month I went on a sponsored trip not too far from home and both days I drove to Elite Technique to get in a proper workout. Yes, I've become that kind of person. The video above is from March 30th, a Friday that was nice enough that we went outside for part of the workout.
My Workouts
When I arrive, Khalil has me weigh in. I don't obsess over this number. I've done that in the past and it has taken me down a dark path of restriction, fake foods, and crazy techniques to lower the number. I didn't weigh myself before this except at doctor's appointments so the number freaked me out a bit. Now I try to not even remember it. I know weighing in is a necessary tool for a trainer to track progress and see how I'm eating during the day.
If I have gained or didn't lose, I go on the treadmill for 10 minutes. I do one minute at a comfortable pace, then one minute at a faster pace. I started with levels 2 and 5 on the treadmill and now I'm at levels 4 and 7 and keep running even past 10 minutes until I've hit a mile.
Each day we focus on a different part of the body – legs, arms, back, chest. Friday is a mixed bag where sometimes we revisit a part of the body, sometimes we focus on core, sometimes we focus on cardio or agility. Each week the exercises are different – sometimes we do heavy weights and fewer reps, sometimes it's lower weights and more reps. We use machines, free weights, bands, the TRX, battle ropes, and often our own bodies for resistance. My body never gets used to it and even this many months in I will have workouts that leave me sore the next day and some that leave me sore for a couple days after that.
No matter the day of the week, we end with core. That also changes up – sometimes it's ab rollers, sometimes it's crunches or leg lifts or bicycles or a variety of other exercises. The whole workout is around 30 minutes. When the workout is complete, I again weigh in. I usually lose (or sweat out) at least 0.2 lbs in a workout.
Khalil slowly increases reps, weight or resistance and watches my reaction to see how I handle it. I never feel pushed beyond my capabilities, but I am always pushed beyond my comfort zone. I don't focus on the amount of pounds on the bar or the machine, but I can tell when it's heavier and it motivates me to push through and prove I can do it. Sometimes I can't, but often I can and that accomplishment is exhilarating.
Right now, I don't do any workouts outside the weekday mornings. Elite Technique has a free bootcamp Saturday mornings, but it's the same time my husband teaches yoga so I stay home with my daughter. However, when she's at a sleepover or activity I may try to go. I now feel confident and strong enough to handle the group class concept. Also as the weather improves I know I'll be more active. I've already ridden my trike a couple times. Karl and I bought ourselves a tandem road bike with wedding gift money and it hasn't left the tool shed since I got pregnant. We've decided to pull it out this season and get back on it. I'm also looking forward to taking out our canoe more this year; now I have the upper body strength to truly help with rowing and we can go on longer trips.
Often when watching TV, I now get on the floor and stretch, do leg lifts, a few push-ups (still on my knees, but I'm getting stronger). Lounging on the couch used to feel amazing, now I get antsy after a bit. Yes, I have become that kind of person.
How I Motivate Myself to Stick with Exercise
Choosing to work out like this wasn't about being a certain weight or dress size. Before getting pregnant in 2008 I was a size 12; after having Emerson I have fluctuated between a 14R and 16W. I had come to terms with my body, came to love its curves and softness. This was and continues to be about strength. A strong body that can protect itself, fight off illness and also slow down aging. A strong mind that can stick to something more than a few weeks. A strong sense of commitment; something I have struggled with all my life. As I've mentioned before, I've always been one to give up. I've decided the one thing I will no longer give up on is my self.
Holding myself accountable isn't enough. I've tried so many times on my own with videos and gym memberships. I joined classes and dropped out and no one noticed or cared. I decided I needed someone to notice if I didn't go to the gym. This could be a friend who works out with you, a relative who is on her own exercise journey and you have a weekly coffee date to recap. For me, I used Instagram Stories. I could avoid a friend or my sister, but I couldn't avoid thousands of people, many who would love to call me out if I failed.
Speaking of which, working out has built up my strength in regard to confidence too. I care less what others think, and honestly, I care less what I wear. I used to obsess and freak out over what to wear to an event. Now, I don't care as much. I even shop less, now knowing that a new dress won't make me look thin or feel happy.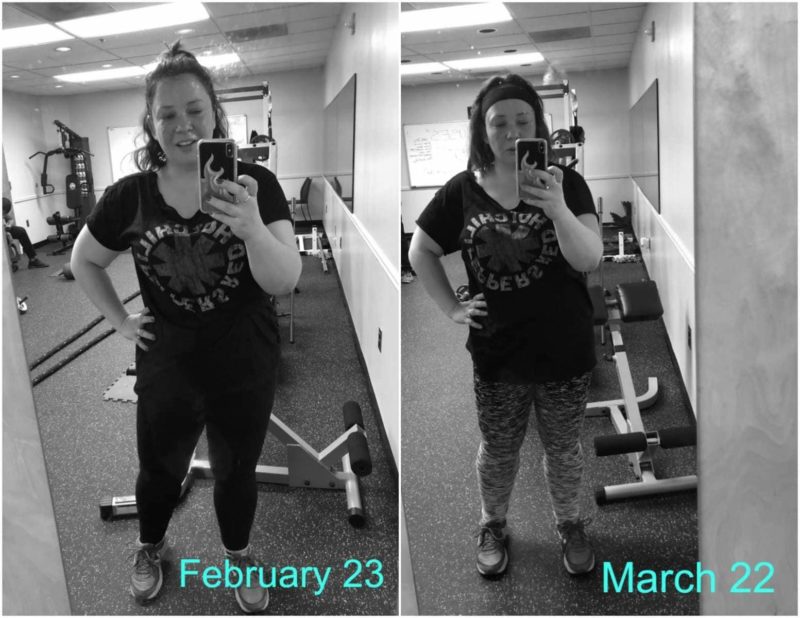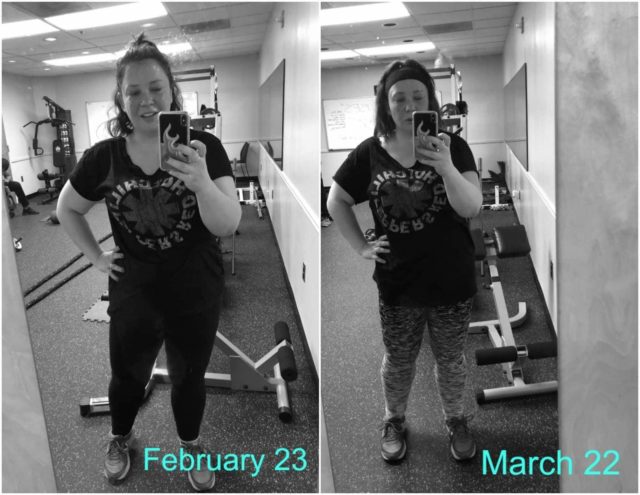 In almost five months I haven't even lost 15 pounds, but the results are obvious. I have a mountain of clothing in the side of my bedroom almost 4' tall of clothing that no longer fits. While I was buying size 16 pants and 14W, 0X, or XL dresses and tops, now I am a 14P in pants, a 12 or 14 in dresses and blazers, and size L. I bought a dress at ASOS in size 10 and it FITS! Not I can get it on but you can see the indentation of my belly button fit, but I think I'm going to keep it, it looks awesome fits. That FLOORS me. My bust went from a 38F to 36DD. I've had to buy smaller underwear, and yes, even smaller leggings from what I wore the first two months at the gym.
I've changed beyond my body shape from exercising regularly. I sleep better and fall asleep more quickly. My skin looks amazing, on my face and whole body. I have more patience after a good sweat and strength session in the morning. While my first few weeks I was wiped out the rest of the day, now I find I have more energy. My relationship with food has also changed.
What I Eat
I am an emotional eater. When I'm sad, I eat. When I'm angry, I eat. I celebrate with food, I commiserate with food. I've been known to get up in the middle of the night and make myself a box of pasta and eat the whole thing. Eat a whole box of Samoa cookies. Buy a bag of Tostitos and a jar of Doritos queso and consume the whole thing with a bottle of Pepsi on the ride home from work, and that's after lunch at District Taco, birthday cake in the break room, three coffees with vanilla creamer and Splenda, and breakfast taquitos from 7-Eleven. I get my nails done every 2-3 weeks, and my routine was after to stop by Wendy's and get a large fry, small Frosty, and a Junior Bacon Cheeseburger. This wasn't a meal, it was "a treat."
I also have always had a problem with portion control. My husband is a tall man, and one who lives a very active life. It's not surprising to see him fill one of our largest Pyrex bowls with brown rice, two or three chicken breasts, a can of beans, a bunch of broccoli, and various vegetables and leftover foods in the fridge and down the thing in about five minutes. He would cook dinner – giant steaks and big baked potatoes, plate-sized pot pies, crab cakes as big as my head. He'd serve me almost the same size he'd serve himself, though I spent the day sitting in front of a computer while he spent the day mowing, tilling, shoveling, biking or walking everywhere, and ending the day with 30 minutes on his bike. And I'd eat all of it. But then, I'm the gal when dared in college ate nine pot pies in one sitting and then went out to the bars and drank an entire pitcher of Alabama Slammer. I've never been able to tell when I am actually hungry, or when my cravings are so strong they trick my mind.
When you lift weights, your body needs fuel. Elite Technique provided me with a meal plan, which was extremely lean protein, tons of vegetables, and some fruits and whole grains. I found after a workout I was ravenously hungry, but the idea of anything fried or greasy made me nauseous. My post-workout favorite meal is ¼ cup dry oatmeal cooked, and then I sprinkle in it 90% lean ground beef (cooked) and a big handful of arugula. I add hot sauce, but then I add it to almost everything. It sounds gross, but it's so satisfying. I was getting headaches while working out; Khali suggested I eat breakfast at least an hour before coming to the gym. The idea of food at that hour grossed me out so I got some of these shakes and have one before 6:30am.
My body now lets me know when it's hungry, and I can now decipher that from cravings. I have my shake in the morning, a cup of coffee (with just a splash of coconut milk creamer) when I get back from the gym before I take Emerson to school, breakfast after taking Emerson to school, a snack, lunch, another snack, then dinner. My body craves this routine and I can tell that 2-3 hours after a meal it needs more fuel or I get cranky, flaky, and start craving sweet or salty or crispy. I carry Quest bars with me at all times (my favorite is Choclate Chip Cookie Dough) so I never get caught out and about hungry.
Karl has really helped stay on my meal plan. Each Friday he browns up a couple pounds of lean ground beef, bakes a dozen chicken breasts or thighs, throws sweet potatoes into the crock pot, and sometimes roasts some vegetables and/or grills fish. We buy the plastic tubs of spinach, kale, and arugula and he steams a big pot of brown or jasmine rice so the refrigerator all week is full of things for me to eat. I also have an Amazon recurring delivery of plant protein powder, Quest bars, and my morning shakes so I never run out. I also make sure I always have a ton of spices – cayenne, garlic, ginger, and anything else that brings the flavor without a lot of sodium.
I do occasionally have a cheat meal, but I try to make them earlier in the day (hello brunch!), and really worth it. My post-nail salon trip to Wendy's no longer seems worth it, but steak frites at Le Diplomate or sushi takeout and Riverdale a night when Emerson is at grandma's is. I know I have a weakness for cheese, chips, ice cream, and traditional pasta so it's just not in the house. The only cheese are cheese sticks for Emerson's lunch, the only chips are weird bean ones Karl likes, the only pasta is Tolerant, which is pretty good (and good enough that Emerson enjoys it), but not good enough that I crave it. There's really no need for those things, even with a 9-year-old in the house.
I also carry water with me everywhere. I have a 40oz. bottle I take with me to the gym. I used to drink half of it during a workout, but my body has gotten used to the exercise and I only take a couple sips. However, I challenge myself to finish that bottle by time I get home and park my car. I refill it, and my goal is to finish the second bottle by the end of my lunch. Then I refill it and finish my third before the end of the day. Sometimes I get in a fourth refill, especially when I don't drink anything else. Speaking of which, I have cut out almost all alcohol. A hangover and a 7:30 workout do NOT mix, and I've become such a lightweight one glass of wine will give me a headache and affect my sleep. I drink water, tea, matcha, coffee, and sparkling water.
I worried such a diet would be expensive, but because I am not stopping at Starbucks, not grabbing snack foods on my Target run, and eating out less, we're actually spending less on food. We eat everything, no more leftovers found in the back of the fridge that are covered with mold. We don't all eat the same meal, but we eat the same basics. Karl may make one of his "goulash" bowls of beans, meat, and vegetables; Emerson will have a chicken breast sliced with ketchup, half a sweet potato with a bit of Smart Balance and a side of steamed frozen veggies; I usually have my soup.
If you follow me on Instagram Stories you're likely familiar with my soup. I take a microwave-safe bowl or large mug and fill it 75% with fresh spinach (kale also works). I then add a chopped chicken breast or a scoop of ground beef or some fish. Add some veggies from the fridge – the leftover peas or green beans from dinner, thinly sliced half a carrot, a bit of onion, some garlic, chopped up asparagus, it doesn't matter. If it's early in the day, throw in a heaping soup spoonful of cooked rice. Then pour over it broth – we buy bone broth in cartons but you can do any low-sodium broth. Throw it in the microwave for 3:30 and when it's finished, season it (I do cayenne, garlic, and ginger). The greens will wilt down to almost nothing and absorb all the flavors. Nothing gets too soggy, and the seasoning makes it tasty without being too salty or fatty. There's been days where I've made soup for lunch and another bowl for dinner.
For afternoon snack, Karl often makes a smoothie. Each time it's different; he throws in kale or cucumbers, berries or bananas, carrots, apple, all sorts of mixes of veggies and some fruits. He puts in two scoops of our protein powder and dilutes with water and ice. This is also a great way to use up the little dregs of produce in the fridge; our goal is by Sunday breakfast to have an almost-empty fridge with nothing that has gone to waste. Soup and smoothies make all the difference.
What I Wear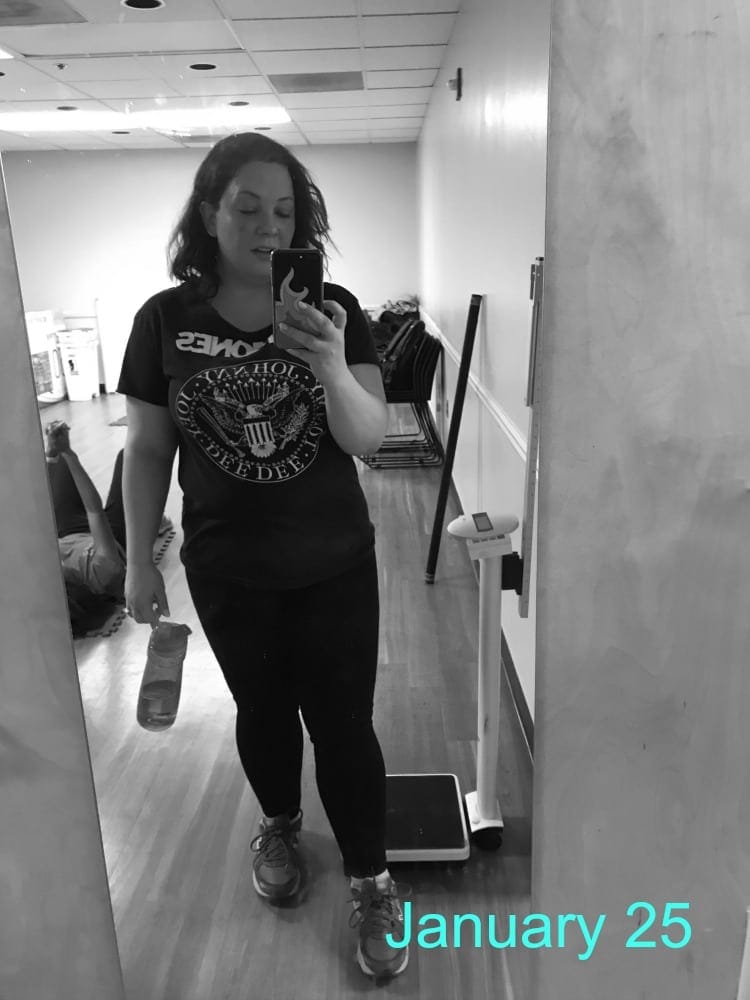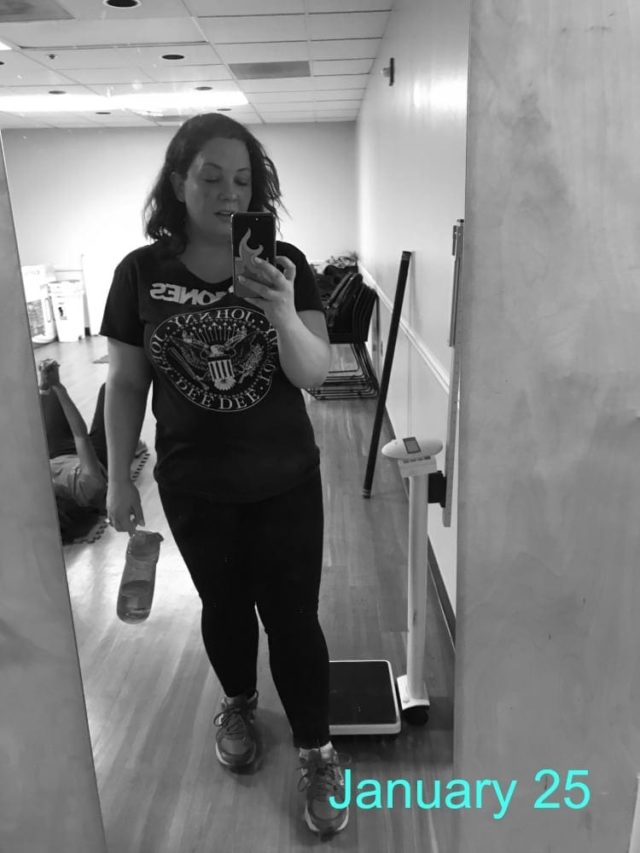 This may sound superficial, but I dreaded going to the gym because I didn't have cute gym clothes. My first day at Elite Techique I wore the only "gym clothes" I owned – a pair of Zella reversible leggings I got on clearance and a Zella top I bought back when I was walking every day after my arm injury. My sneakers were almost two years old, bought in clearance at 6pm and used so little they looked almost new. I showed up and saw all the other people. Some were in super cute leggings and tanks with brand new shoes, but many were in old t-shirts, leggings with fuzz balls on them, even old sweatpants. What I noticed after one day working out was that I didn't notice what the other people wore. And so I started wearing old band and political t-shirts. I stalked Zella on Nordstrom, looking for sale leggings (they fit me the best and hold up even over years of wear), but when I had none clean I pulled out lounge pants and ponte leggings. What mattered was not what I wore, but showing up.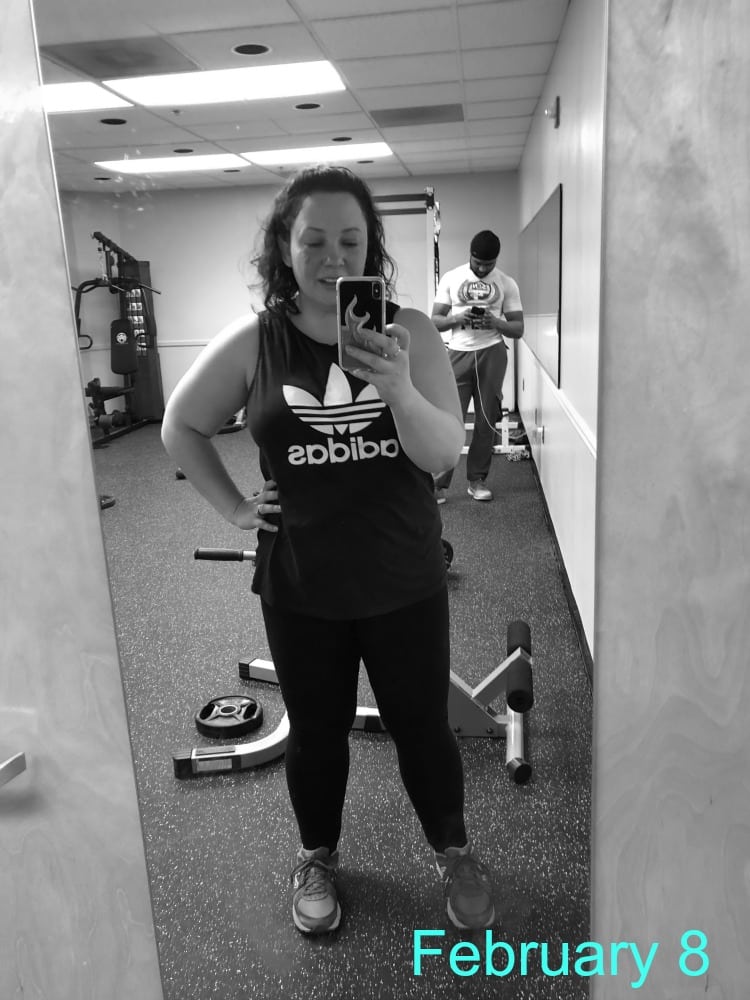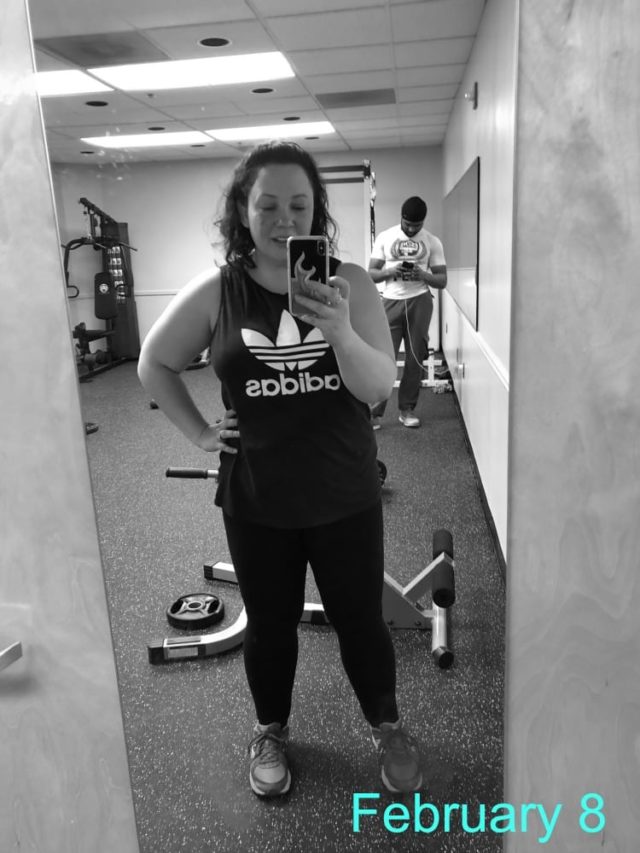 As I have gotten stronger and my body has changed, I have bought new items. I got a new sports bra (this one to be specific), new sneakers (these which are made for training), and since the temps are rising, I'm adding a few moisture-wicking sleeveless tops I find on clearance. Often with sponsored posts, I receive a gift card to buy the clothing featured. If I have money left over, I used to spend it on practical things (a new bath towel) or beauty. Now I look at sale athletic wear and see if I can pick up something for working out. While old t-shirts and ponte leggings worked in December, now that I've increased movement and strength I find those clothes uncomfortable. But if you're just getting started, don't buy a whole new workout wardrobe. Two or three pairs of leggings or yoga pants and your old t-shirts and the oldest bra in your lingerie drawer will be just fine.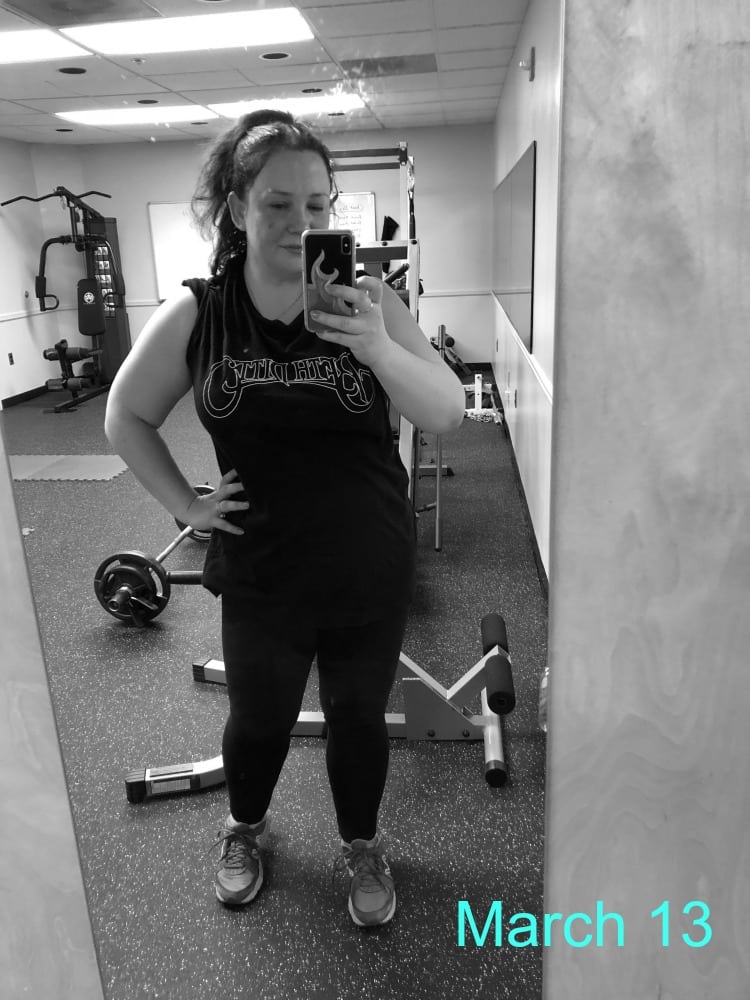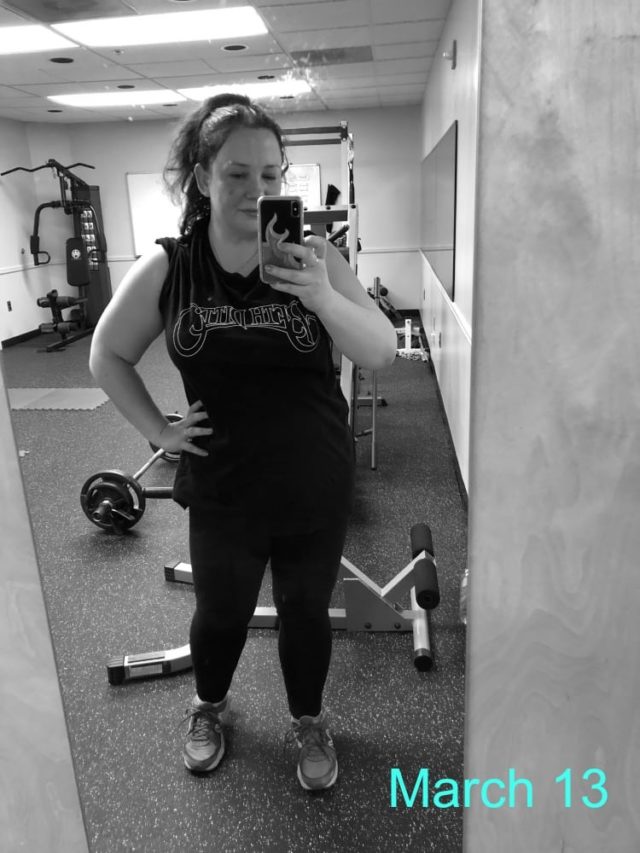 I got myself some gloves for lifting. I was getting calluses, and my hands were sweaty and slippery. These are the ones I got; they fit well and are machine washable. However, I didn't need these at first. I think I bought them a month and a half into training.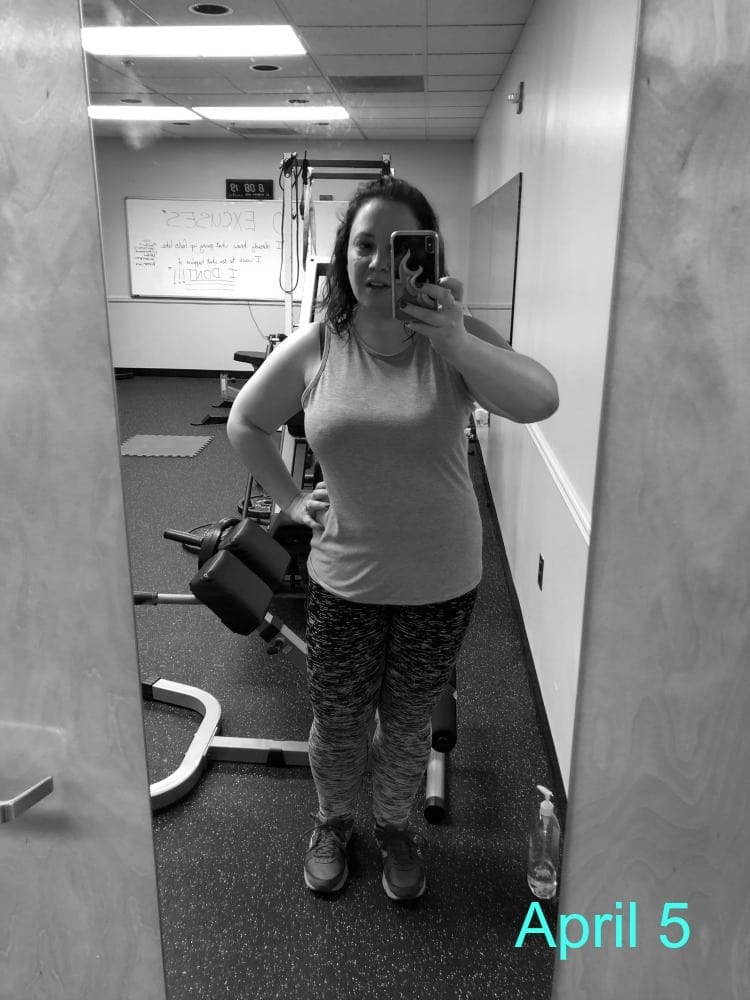 I was wearing my ordinary Hanky Panky underwear but it wasn't getting the job done and would often slide down. I now wear these from Ex Officio, and these from Knix. Both are comfortable, stay in place, reduce moisture and odor and wash up great.
I started with my hair back in a ponytail with clamp barrettes to hold back flyaways and bangs. I found the ponytail to be in the way when doing floor exercises. Now I just clip back my bangs and let my hair be free. I sweat pretty profusely, so usually by time I'm off the treadmill my hair is wet and slicked back from my face and not in the way. Just like with clothes, do what works best for you and what you already own. Some do headbands, some do baseball caps, some like a ponytail. No choice is wrong.
You Can Do It!
I started the Instagram Stories to hold myself accountable, but I've gained so much more from it. Many of you DM me, sharing how you're too on a fitness journey, that I inspired you to start or keep it going. Like me, many of you never were athletic and thought you were too old or too out of shape. Well I'm here and writing this to say it's never too late and you are not alone.
I am not a fitness expert, so I won't be sharing my fitness journey on a regular basis here on the blog. However, I do share almost daily updates on Instagram Stories and a photo in my Instagram feed every now and again. I'd love to connect with you over there!
SaveSave