This article may contain affiliate links; if you click on a shopping link and make a purchase I may receive a commission. As an Amazon Associate, I earn from qualifying purchases.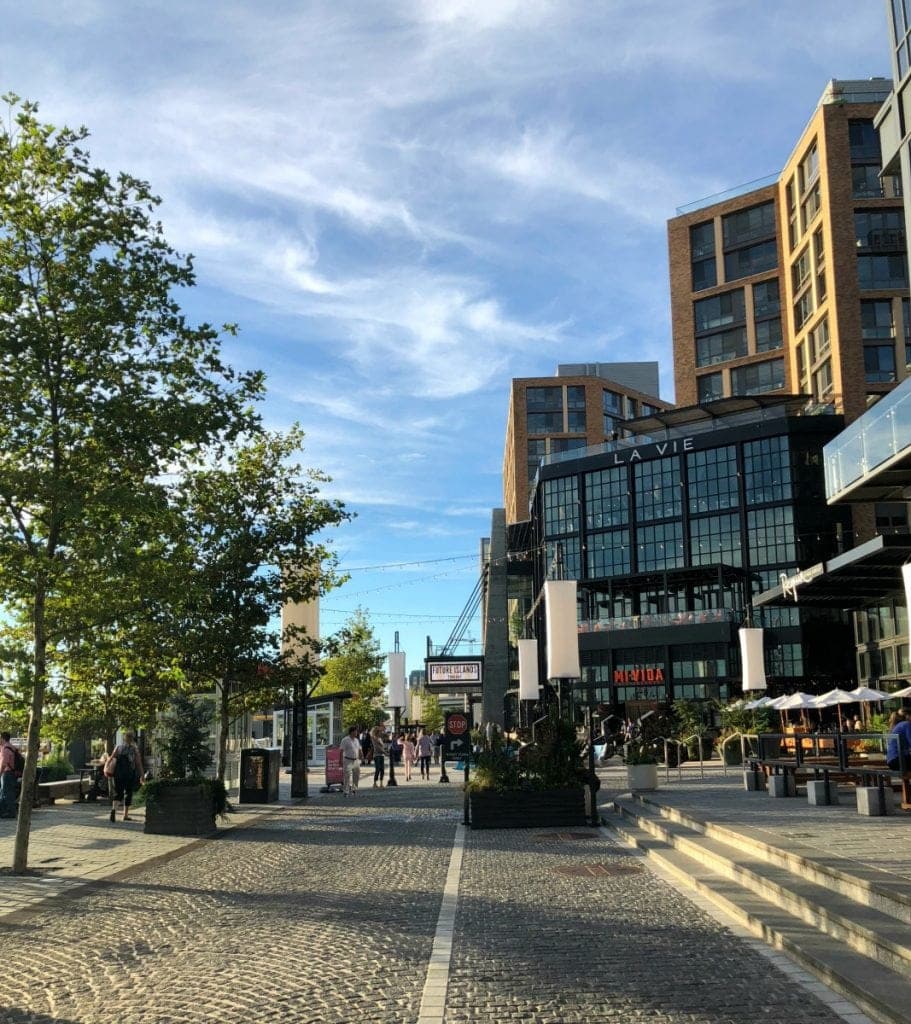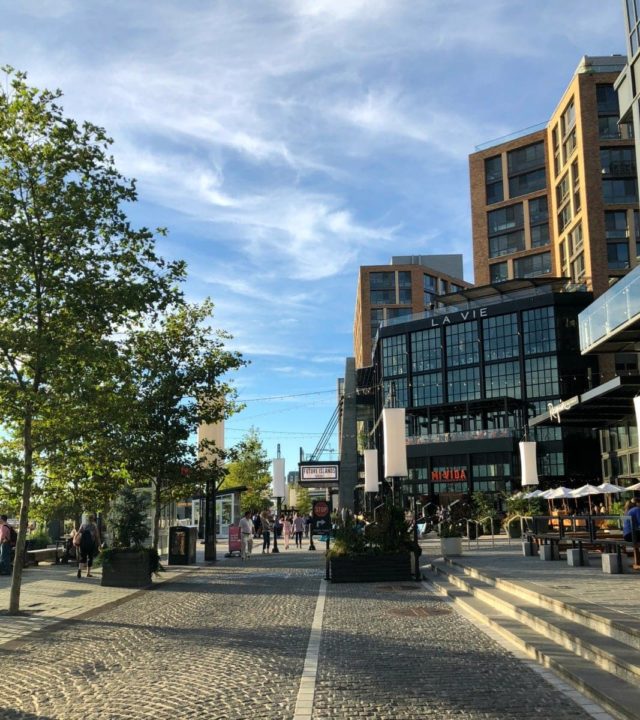 My husband's birthday was this past weekend, and it's known as usually being a beautiful weekend in DC… one of the last of the season. We've made it a tradition to go away as a couple for his birthday weekend. Sometimes we go somewhere new (see our Asheville weekend getaway), and sometimes we decide on a staycation (last year we stayed at the Kimpton Madera right in Dupont Circle). This year we decided on a romantic weekend at District Wharf in Washington DC as we had Friday night tickets to a show at The Anthem.
As a proper blogger, I pitched this weekend getaway to hotels at The Wharf and close by. And all the hotels either didn't reply or replied informing me I was not the "right aesthetic" or had too small of an Instagram audience to be any value to them. I felt boo boo kitty for about five minutes and then saw this as a blessing. This would be a work-free weekend. And you know what? I may not have a large Instagram audience but I have a successful business which means I have the money to pay for this getaway on our terms.
There are three hotels right on the waterfront; Canopy by Hilton (we stayed there in January for my birthday), Hyatt House, and InterContinental. I decided on the InterContinental Washington DC – The Wharf, partially because they told me they didn't work with influencers but I've seen others partner with them, the other part because it looks like a gorgeous hotel with an amazing view. I booked a King Premier Riverview because I wanted to ensure we had a great view and plenty of natural light. The rooms are a nice size with two chairs in front of the wall of windows, have a Nespresso maker, mini fridge, a nice bathroom with a shower (big enough for two) and a tub (really standard issue and small) and flattering lighting. I noted it was a birthday weekend when checking in and the InterContinental provided us with two drink tickets for the bar (which we didn't use since Karl doesn't drink but it still was a nice gesture).
While the InterContinental has valet parking, we decided to park in the garage right across the street which was cheaper.  We were able at 4:30 on a Friday to get a space right on P1 next to an elevator and we rolled our suitcases across the path to the hotel.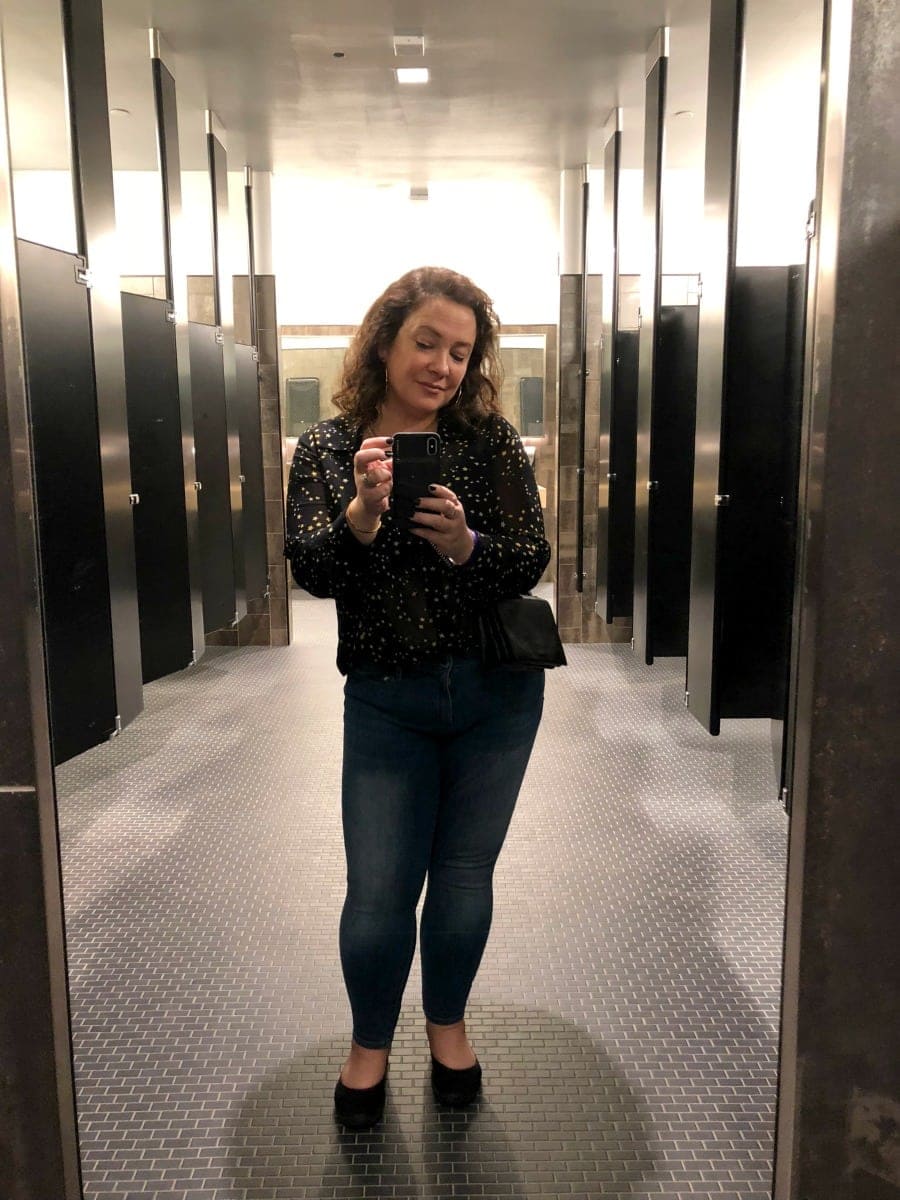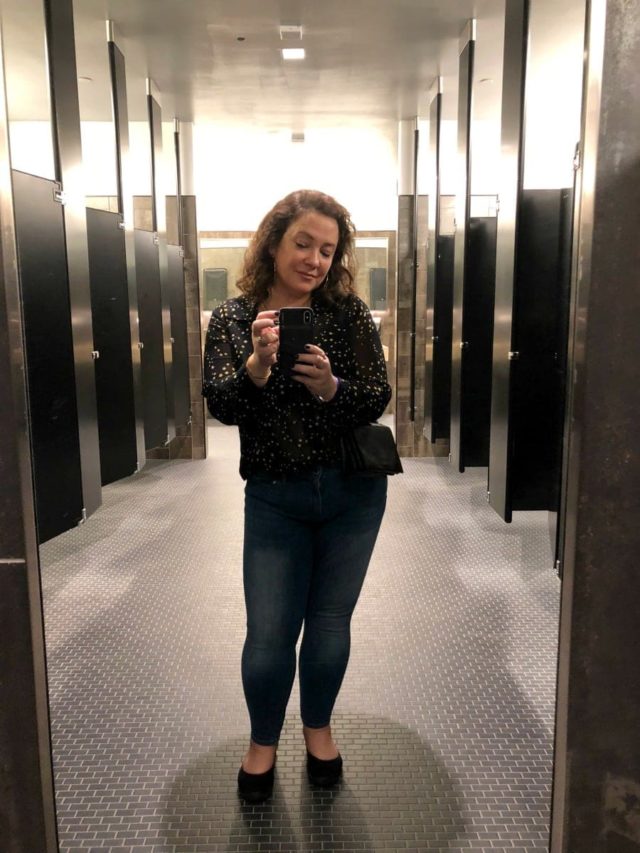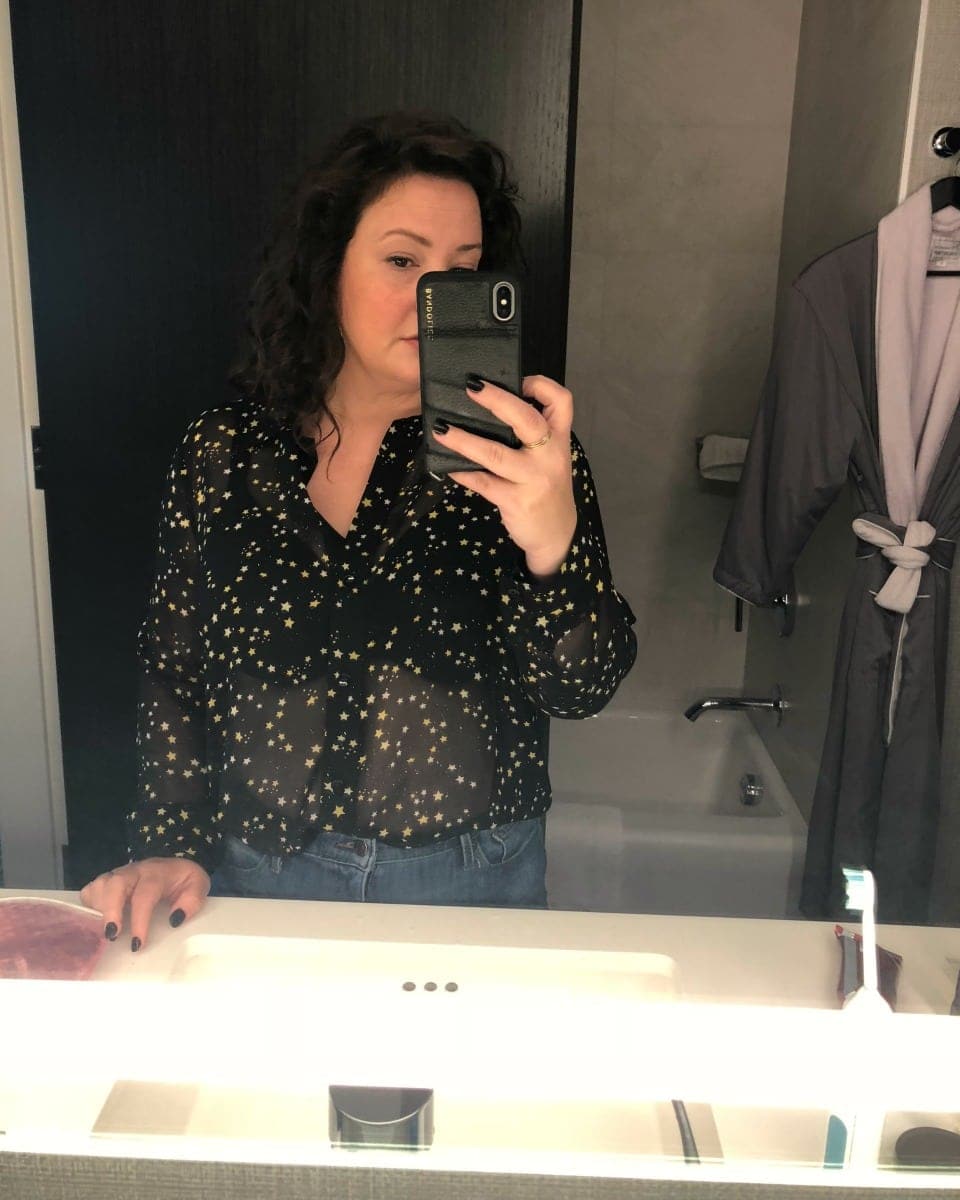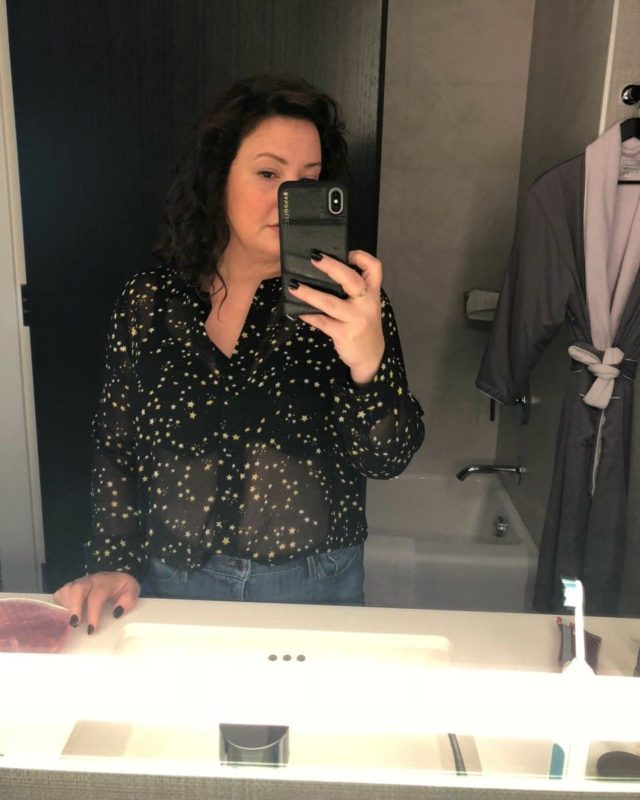 Concert at the Anthem: What I Wore
blouse (c/o cabi) | earrings | jeans | bag | shoes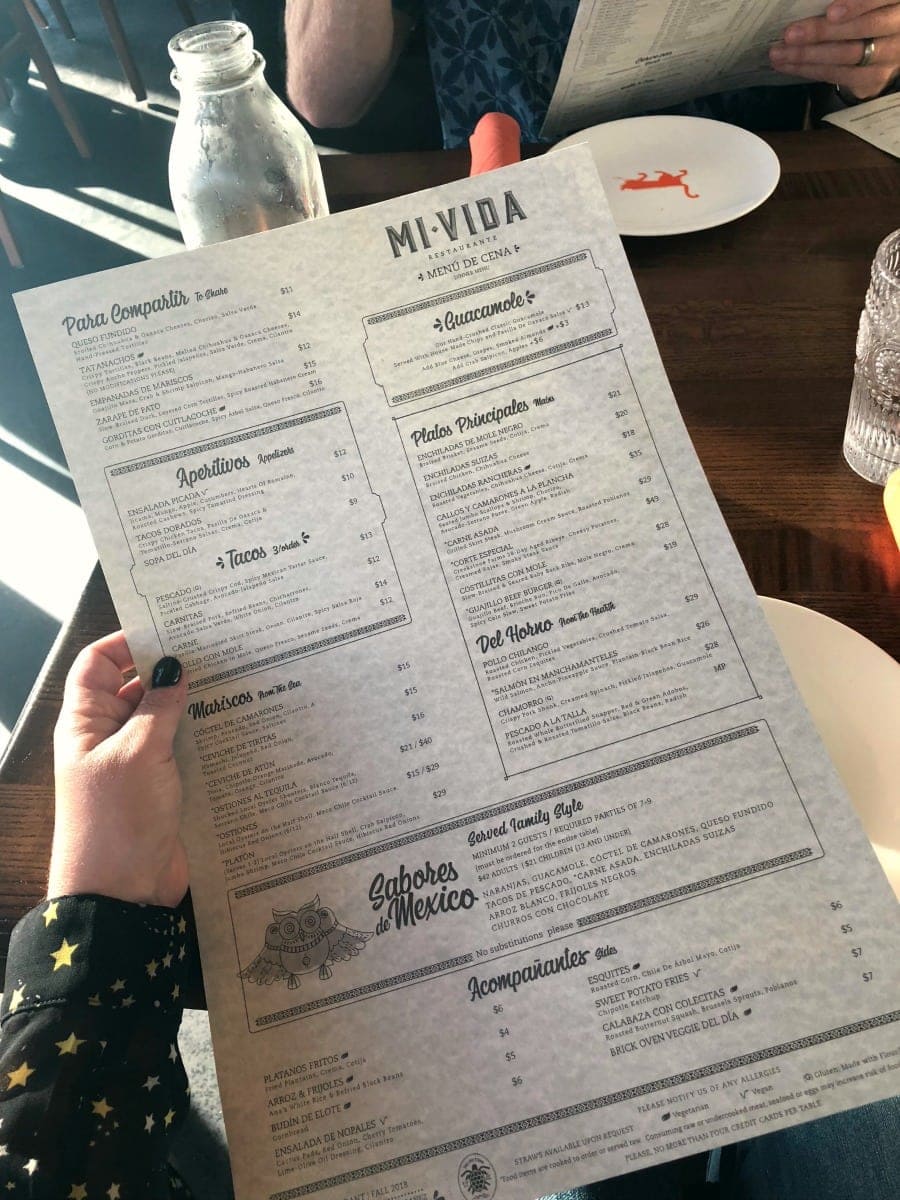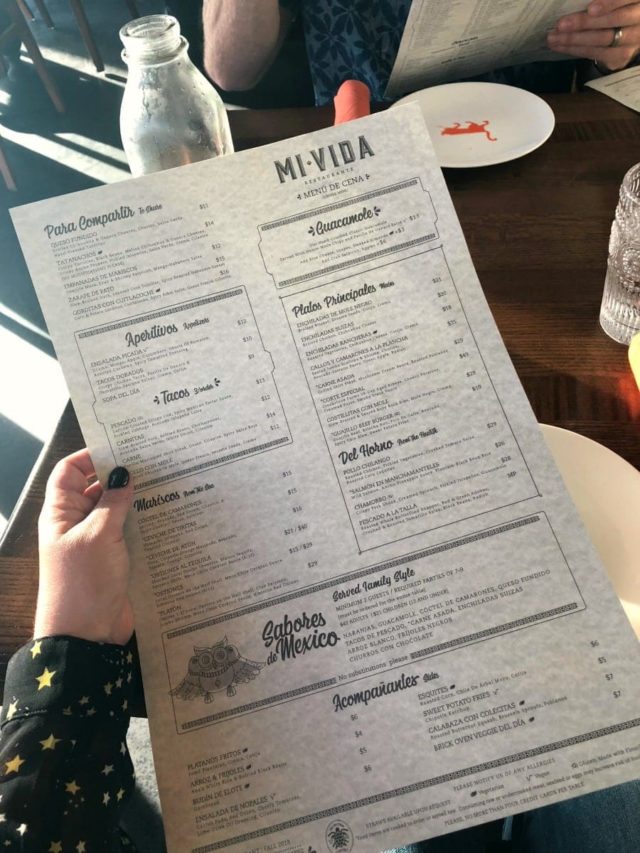 We checked in, unpacked, and decided to get dinner. We didn't have reservations, but it was 5:00, that perfect time between the happy hour crowd and the dinner crowd. We decided to go to Mi Vida, which I had been to before, liked, and thought Karl would like. I also figured it had the most healthy options (salads, ceviche, etc.). There would have been a short wait for a table outside so we agreed to sit inside. Last time I went there with my friend Nicole, they sat us on the main floor against a window and I wondered what it was like upstairs. They led us up to the top floor where we sat with a gorgeous view of the sunset over the Potomac River.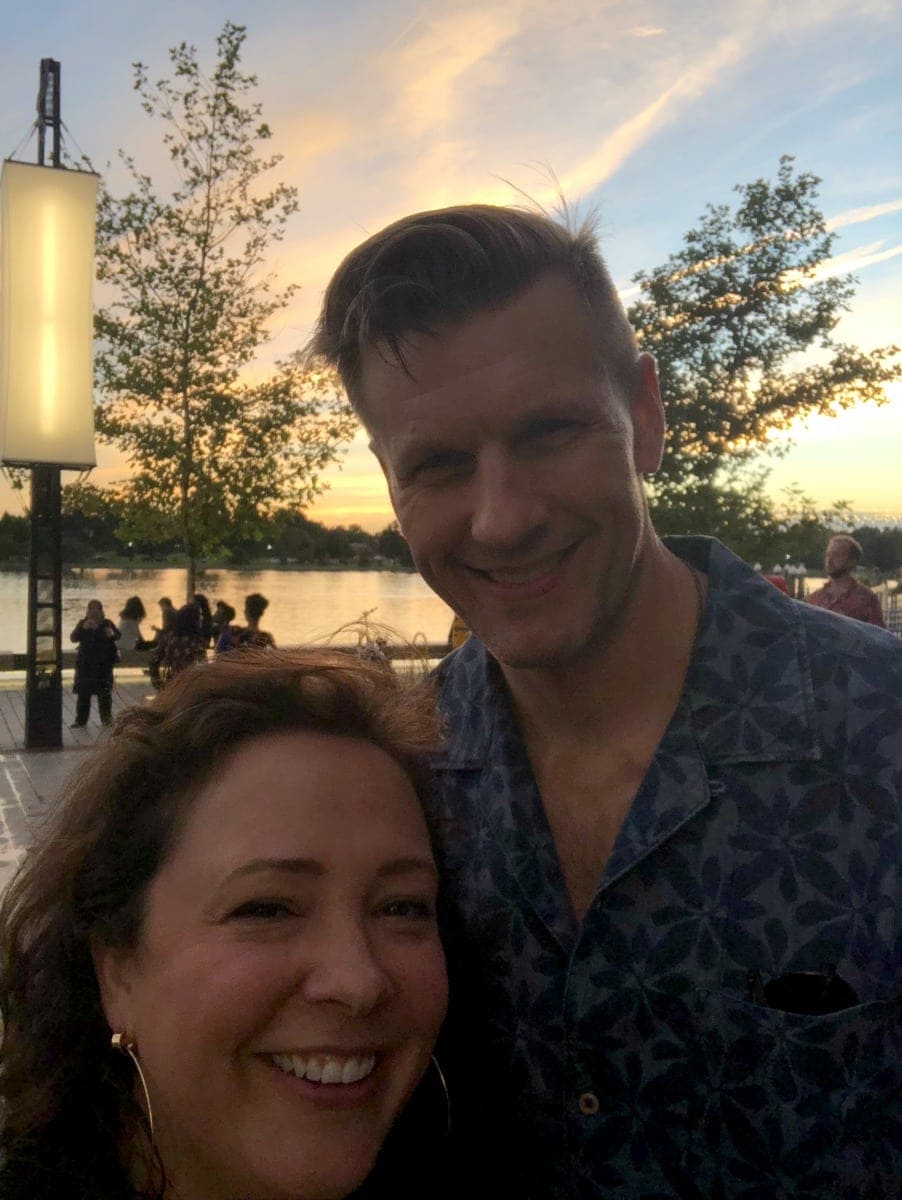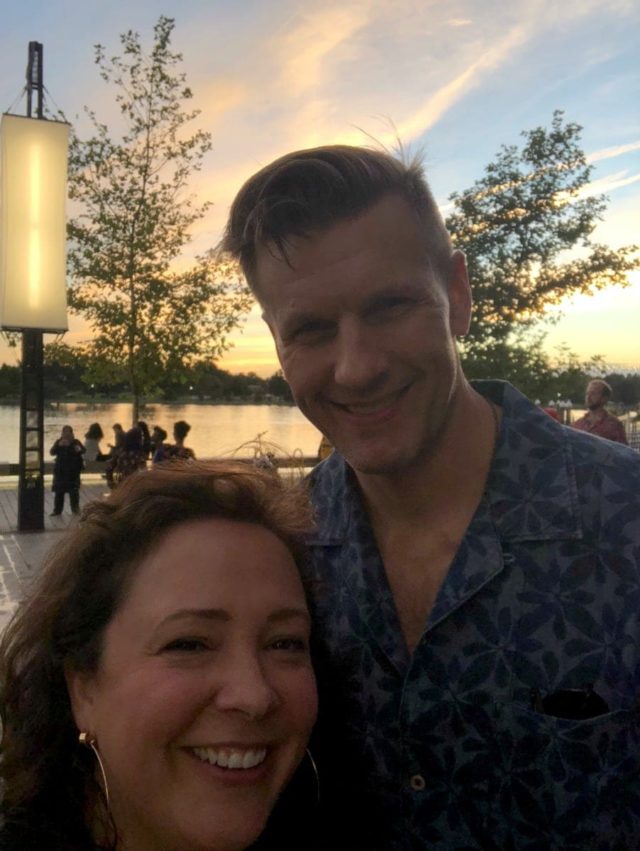 We had tickets that night to see Future Islands at The Anthem which is next door to Mi Vida. We picked up our tickets at Will Call and then went around the building to the entrance for those who bought seat tickets. If you haven't been to The Anthem, you should really see a show there. The place is gorgeous. It's gigantic, several times larger than the 9:30 Club. There's your traditional GA section, but there's also a roped-off area behind GA and two floors of balconies with assigned seats. The bathrooms are huge and always clean, there's a water bottle refilling station, a small menu of food, and so many bars you'll never wait long for a drink. On top of this, the staff is so welcoming and kind and not at all pretentious. We had seats first row on the third floor, at a perfect side angle to the stage.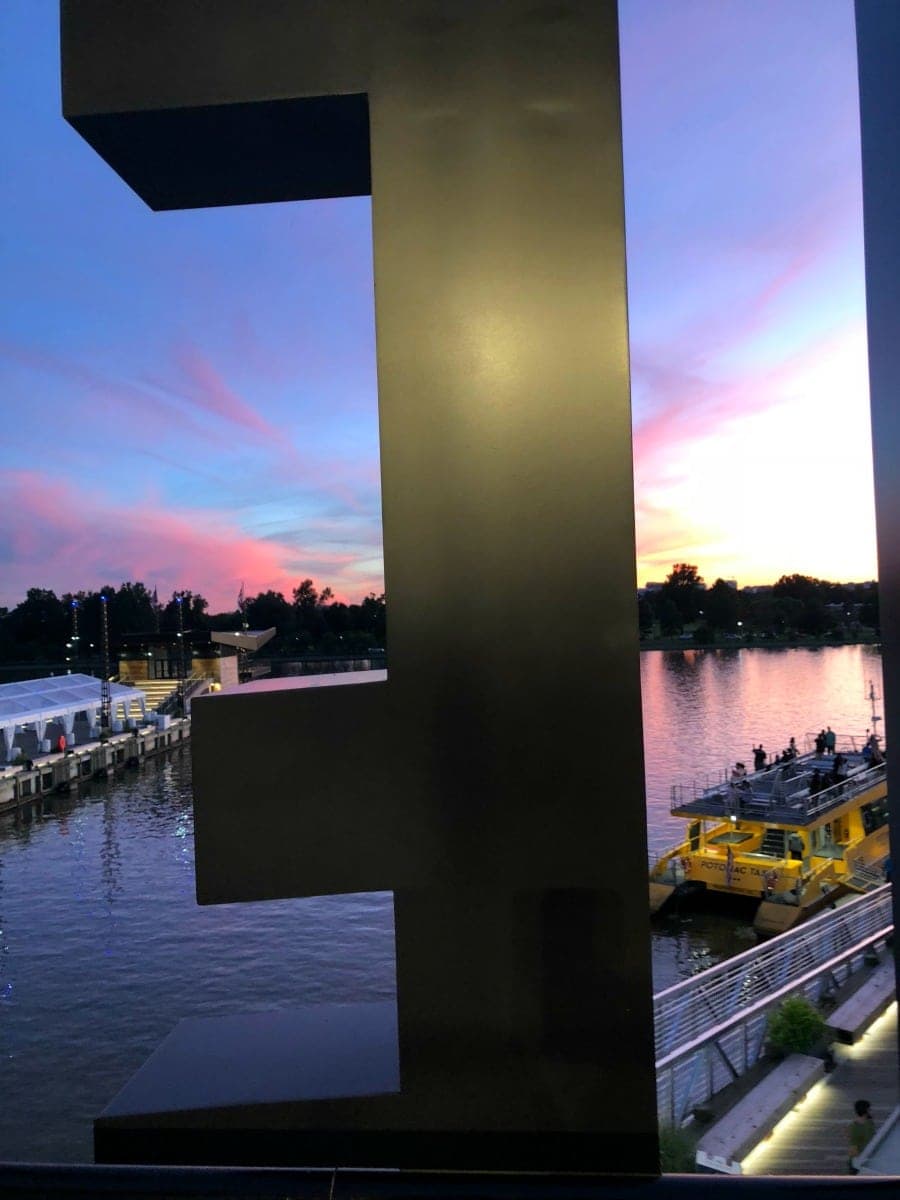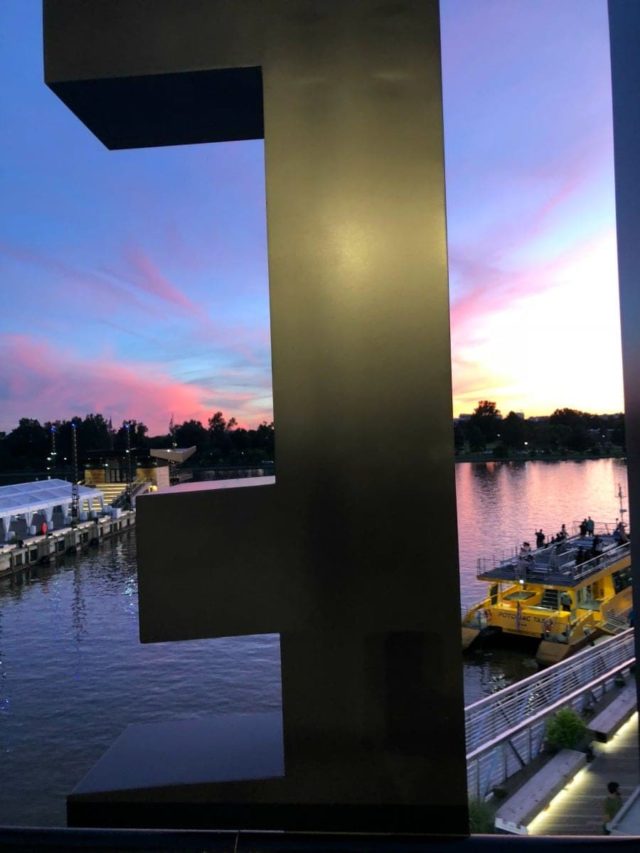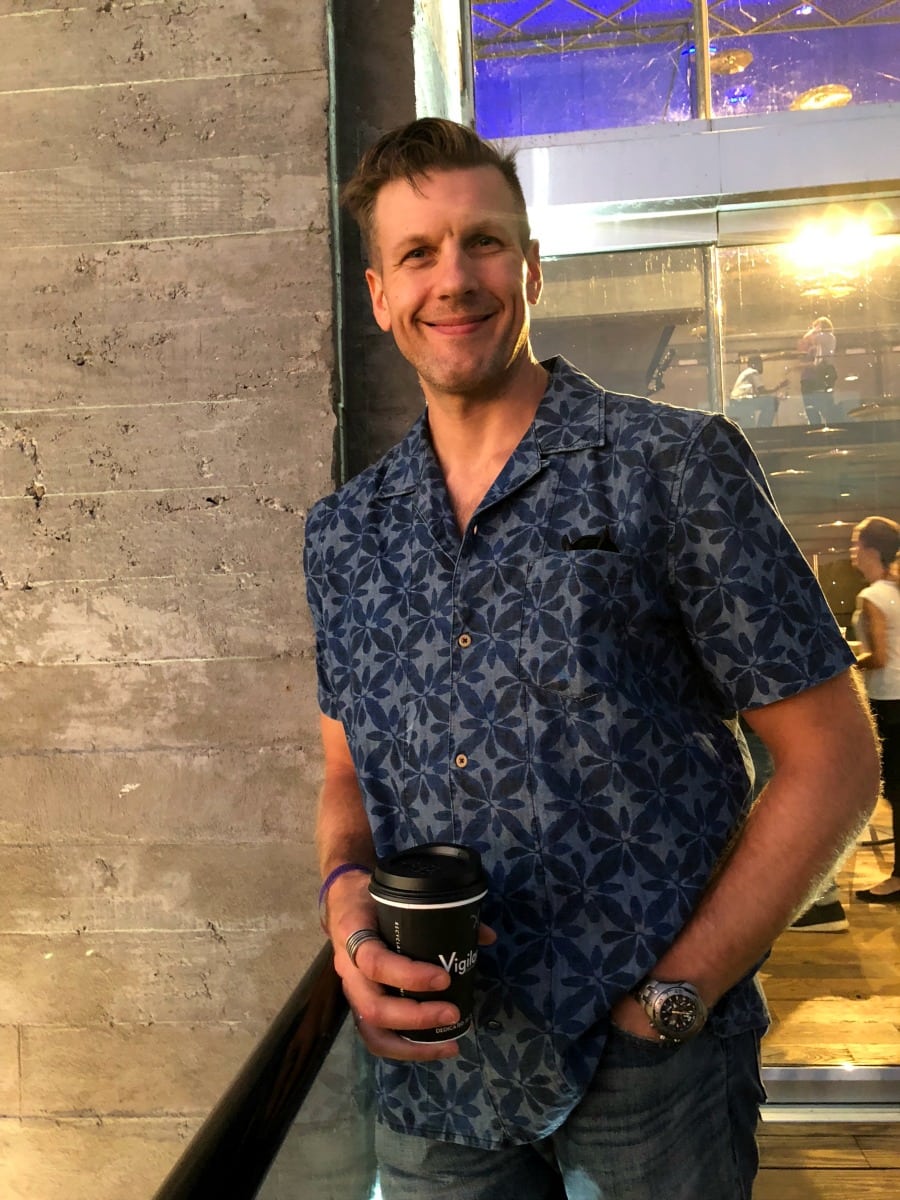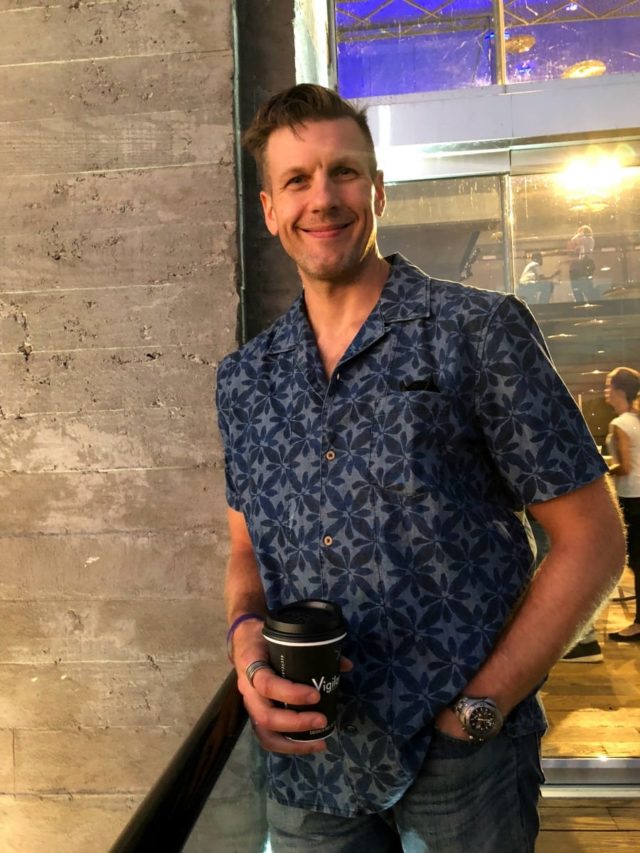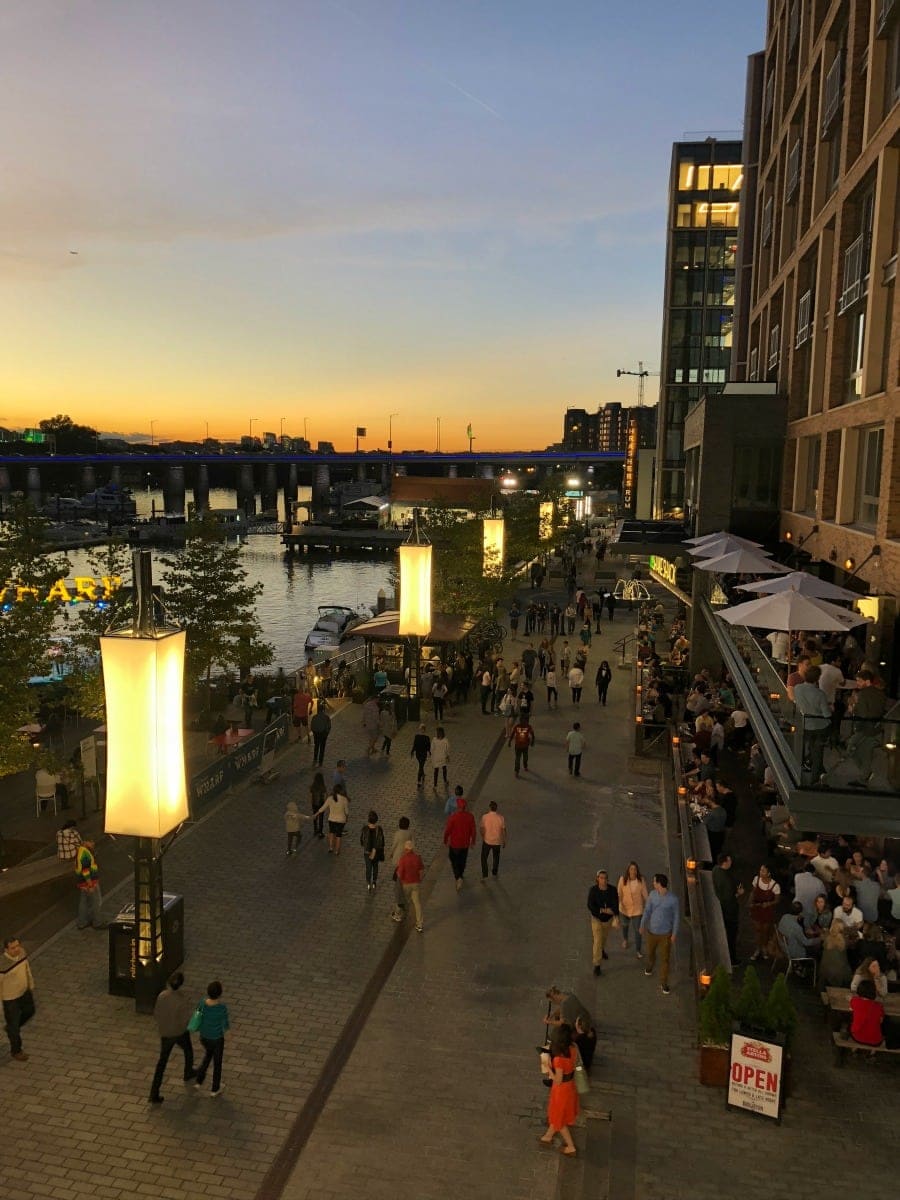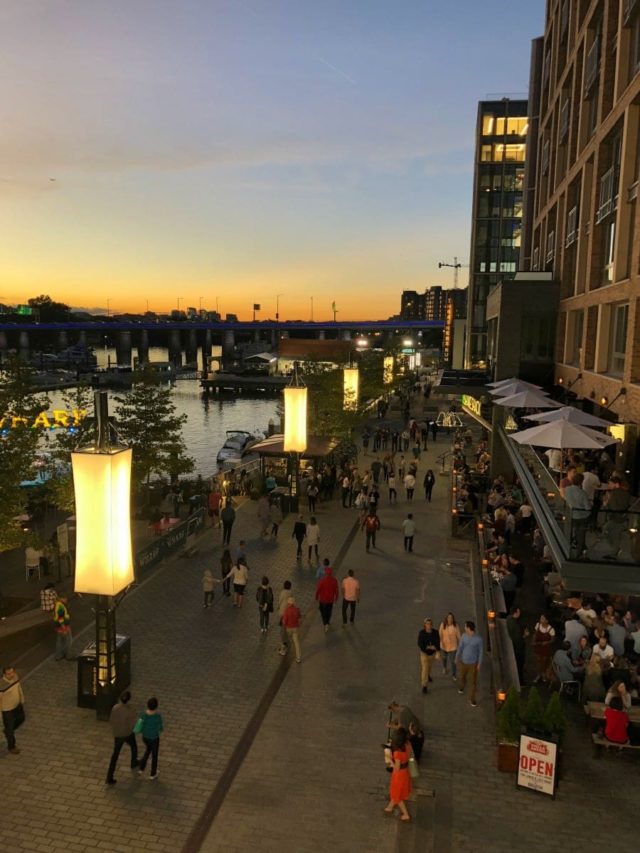 Once we found our seats, we each got an Americano from the Vigilante Coffee booth and went out to the balcony on the second floor. The sky was purple and pink through the ANTHEM metal sign and it was just stunning. We found a free spot on the balcony overlooking the walk and enjoyed some People Watching with our coffees. We came in and got some popcorn and found our seats. We had a spectacular view not only of the stage but the GA audience below, pulsating with the music.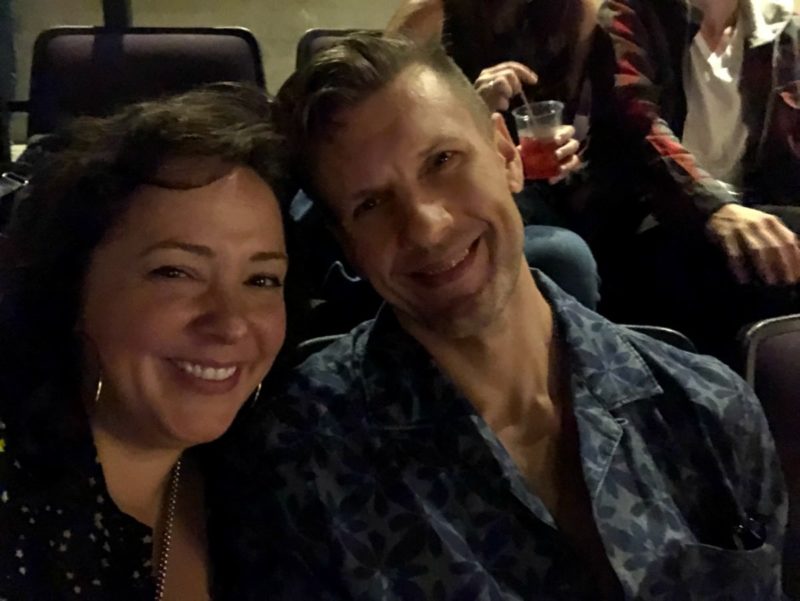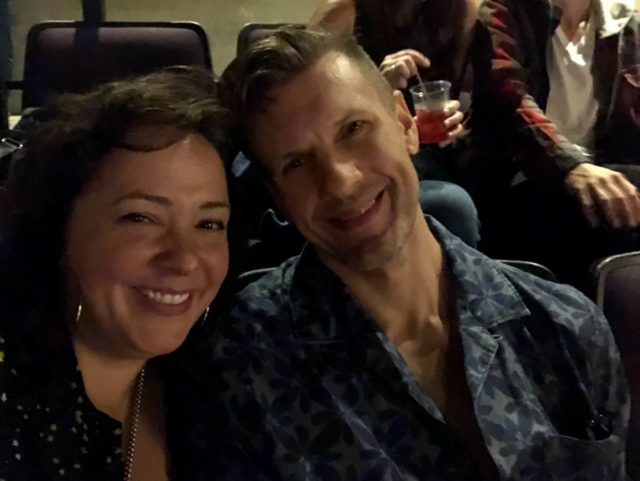 It was a brief walk back to our hotel after the show so we walked slow, enjoying the beautiful night.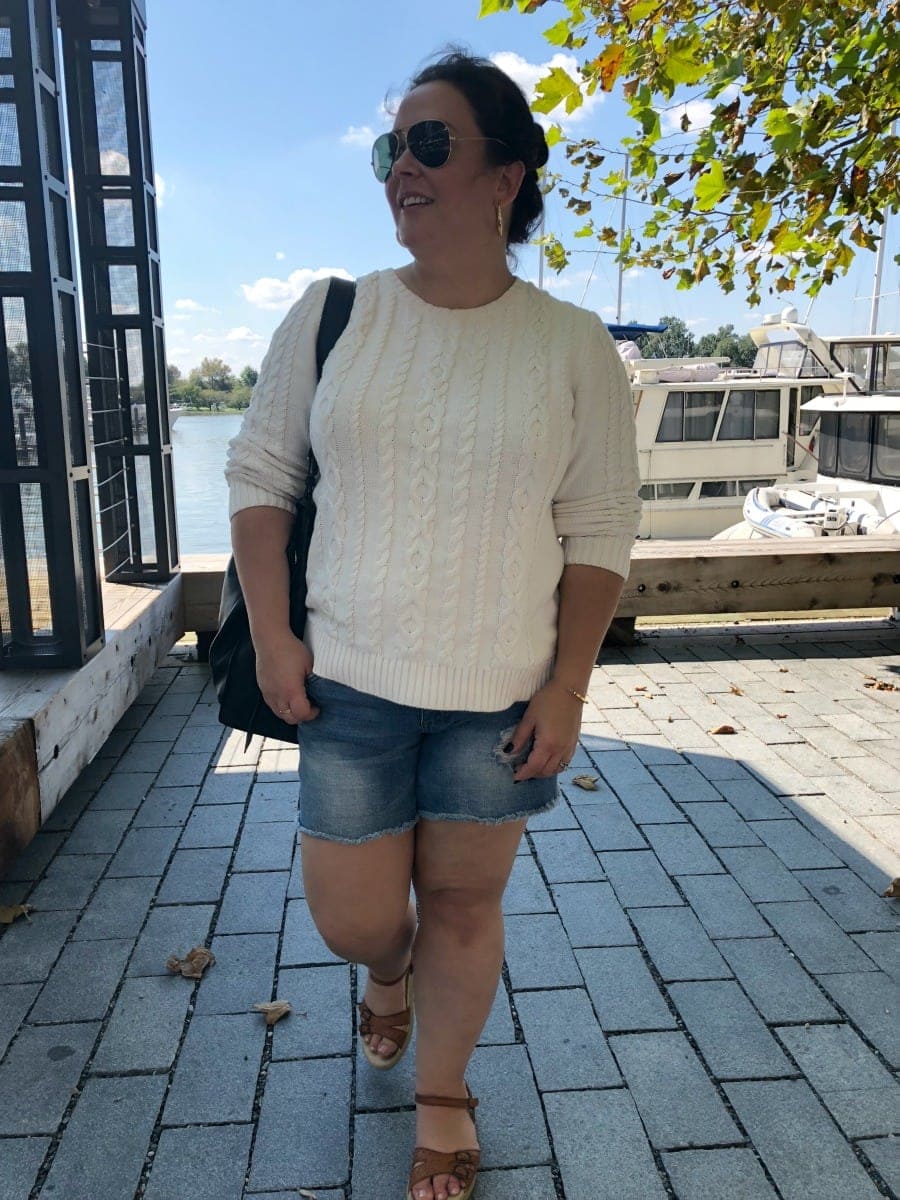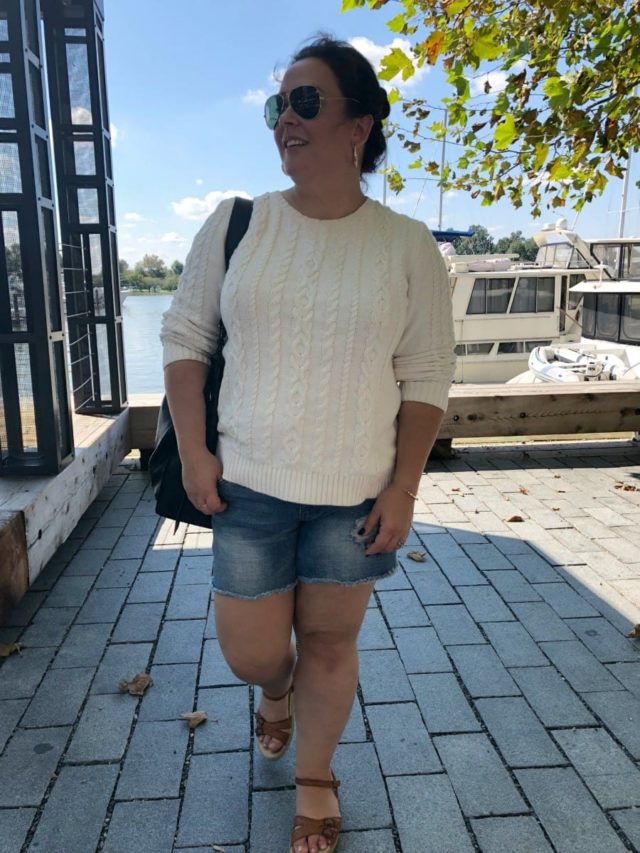 What I Wore:
sweater (on sale!) | shorts | sandals | earrings | bag | sunglasses
The next morning, we slept in late and woke slowly, enjoying our Nespressos. It was another perfect day in DC – weather mid-70s, slight breeze, bright blue sky. Looking for a breakfast that wasn't too pricey but a place where we could sit and chill, we went with Pearl Street Warehouse. A music venue (and the host of NewsBash which I attended earlier this year), it now offers breakfast in the front room. The place isn't large and there were several groups already seated so we grabbed two seats at the bar and ate our eggs and biscuits and chatted while watching golf on the TV.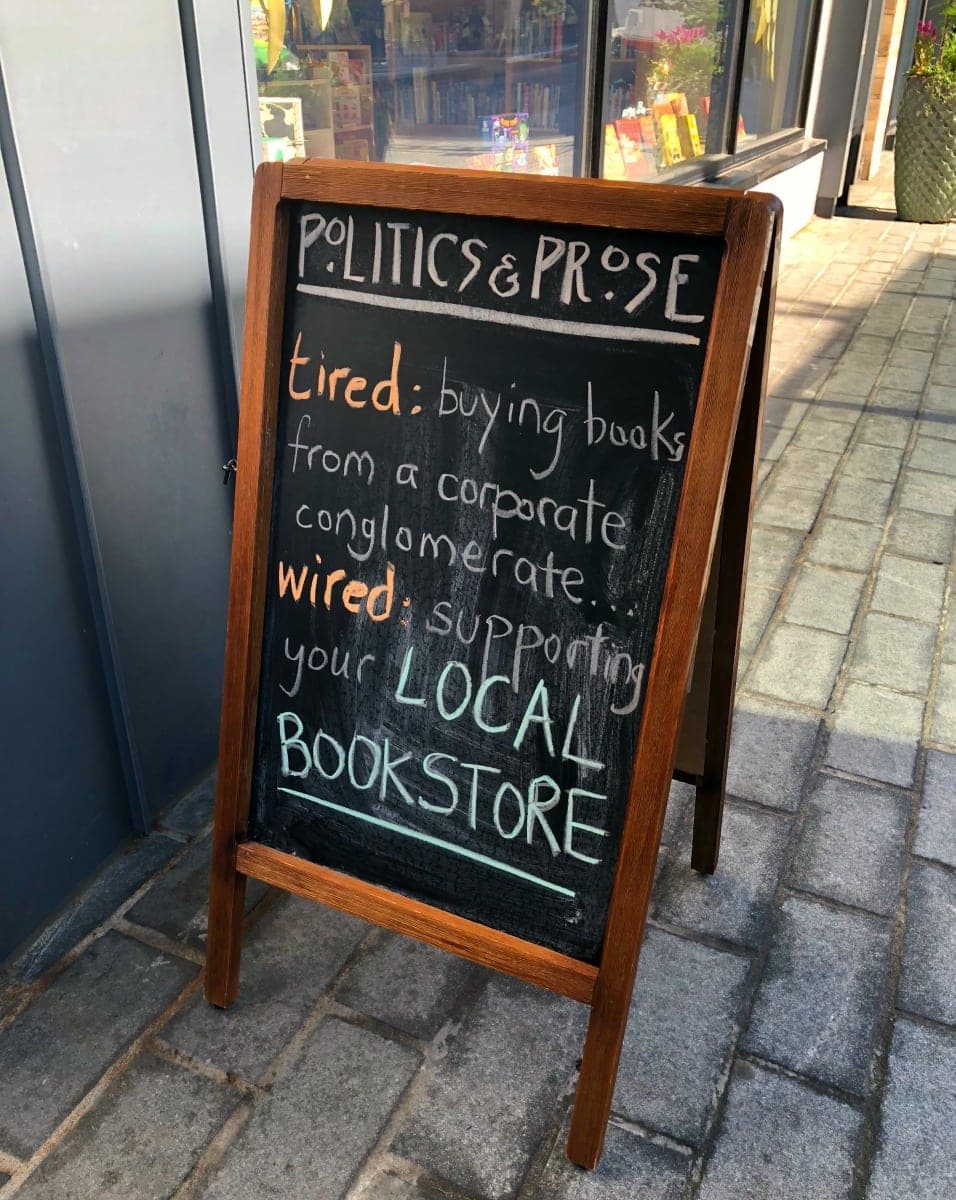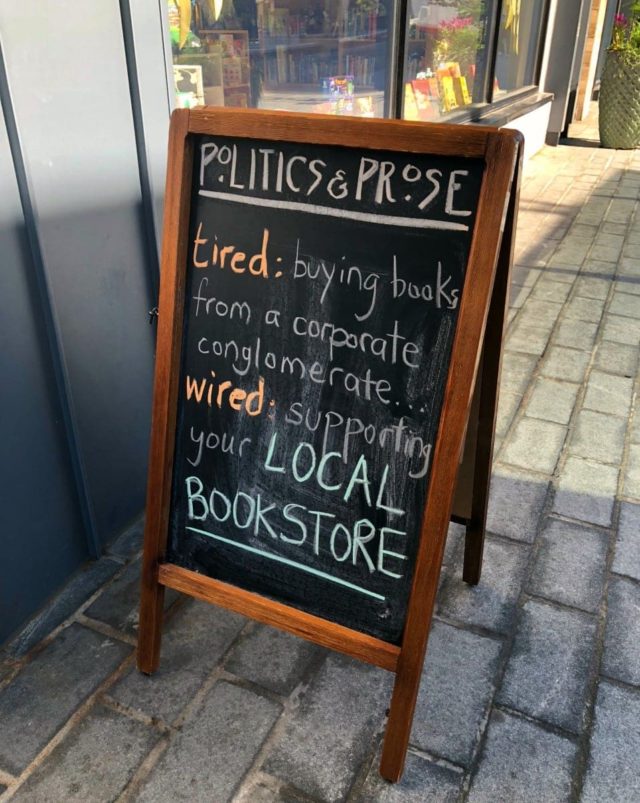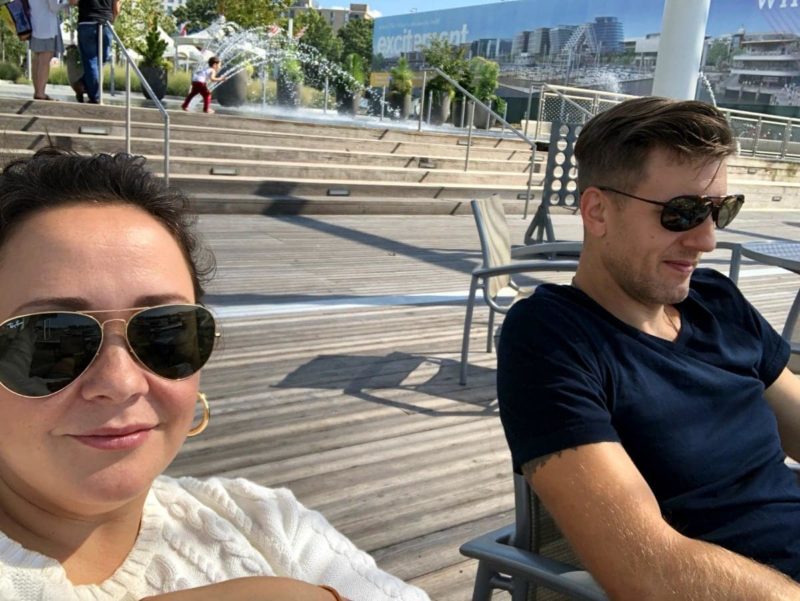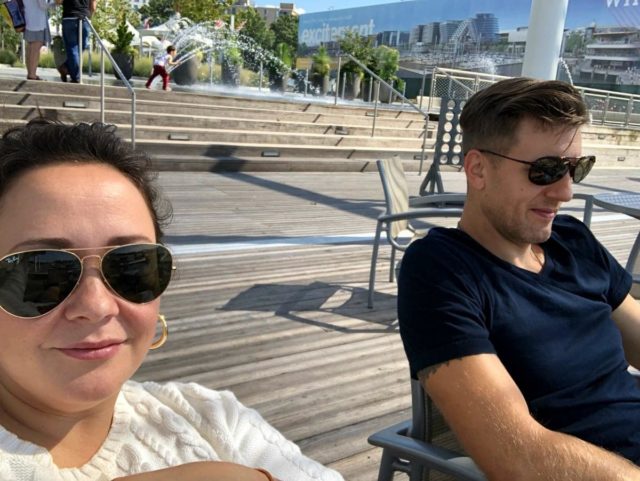 We stopped by Politics and Prose and spent a ton of time just walking around, reading bookjackets, checking out all the knickknacks. I picked a book out for Karl, he picked one out for me. We decided to find a place to chill and read. On our walk, we stopped by Dolcezza and got teas (they're great for recycling and using compostable containers and straws). We walked down to the end where there were some tables and chairs under a pergola of sorts with a view of the river and the pier. The weather was perfection. It wasn't crazy busy, only one other table occupied. We sat there for I have no idea how long reading, sipping tea, enjoying the view and the people enjoying the day.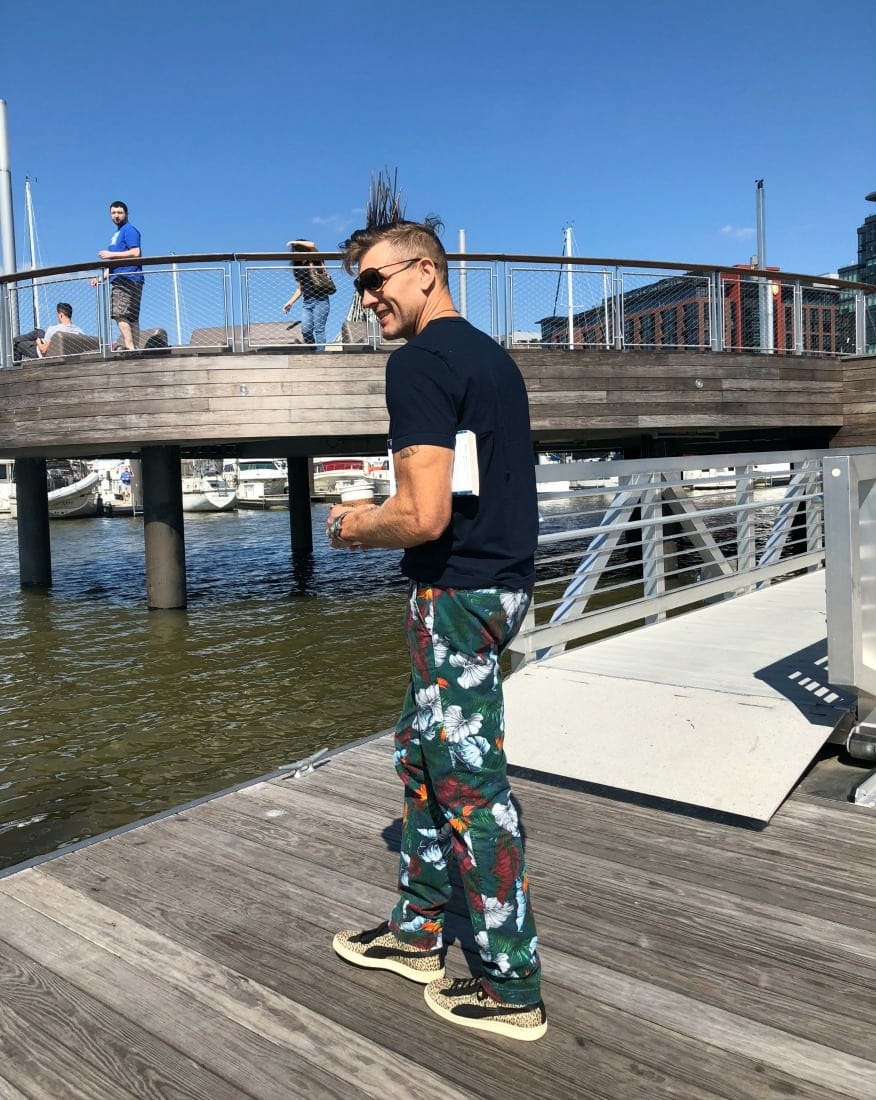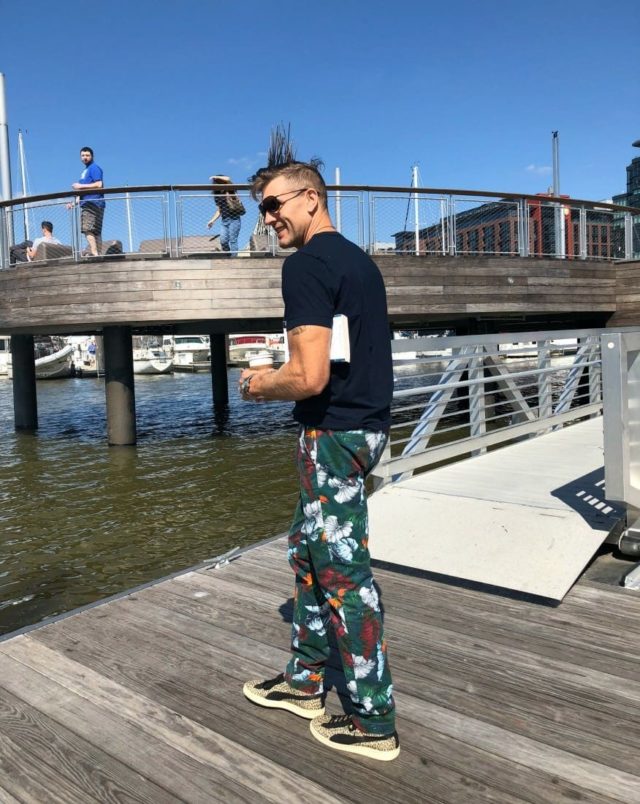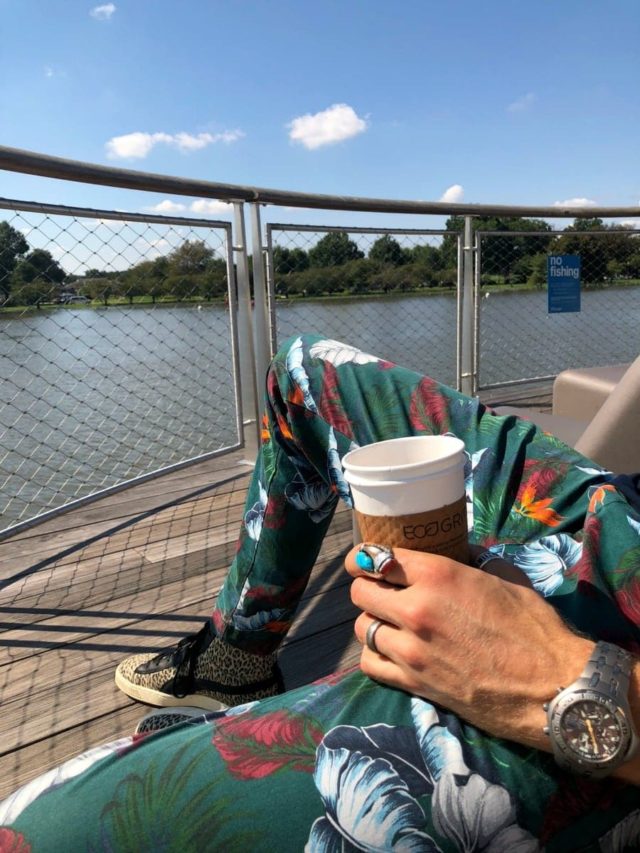 What He Wore:
t-shirt | pants (similar, his are from Gap from this summer) | shoes (on sale)
We took a walk down to the end of the pier where we met a man who had a foil board, which is one of those surfboards with a motorized fin so it's like surfing above the water. We couldn't help but ask him a few questions, but then left him alone and went to the top part of the pier where we found two chairs facing the water. We chilled there for a bit, watching the guy zip around on his foil board, as well as the kayakers and various boats.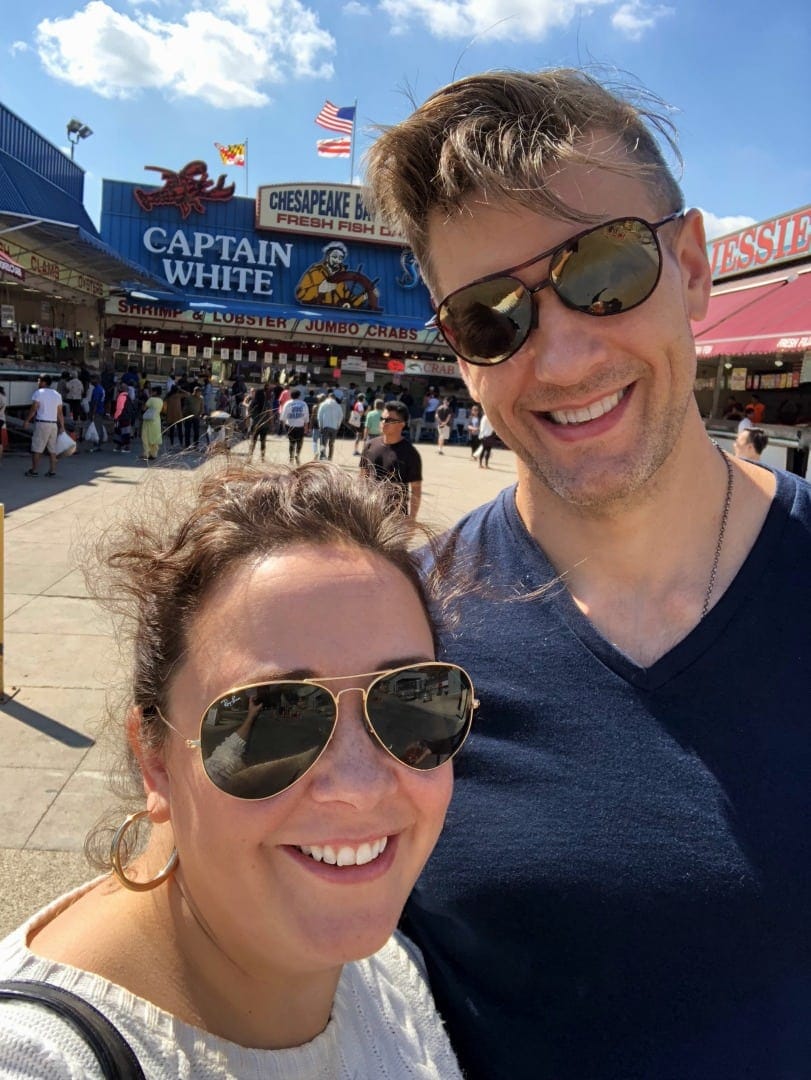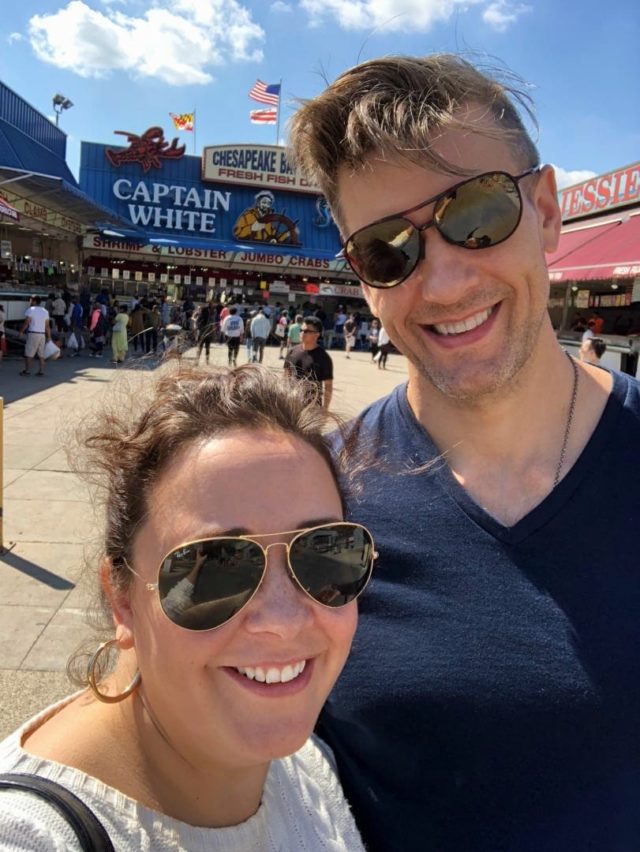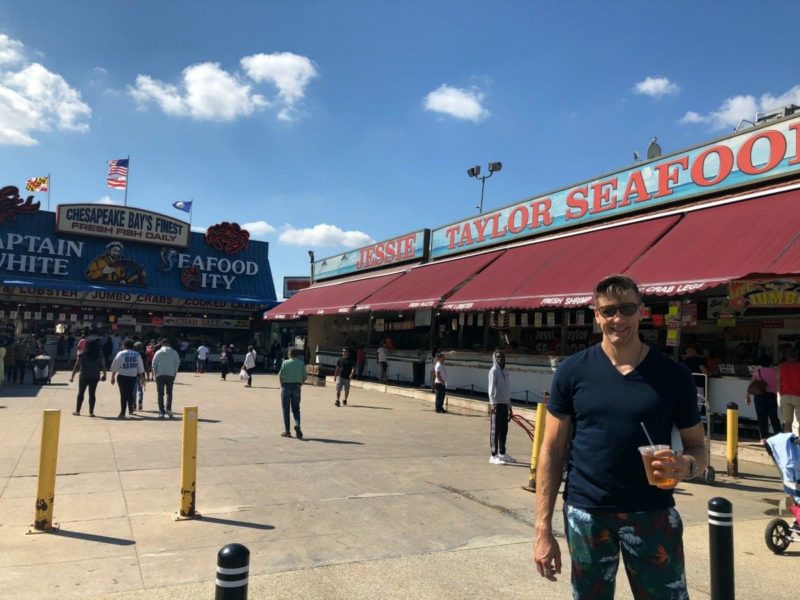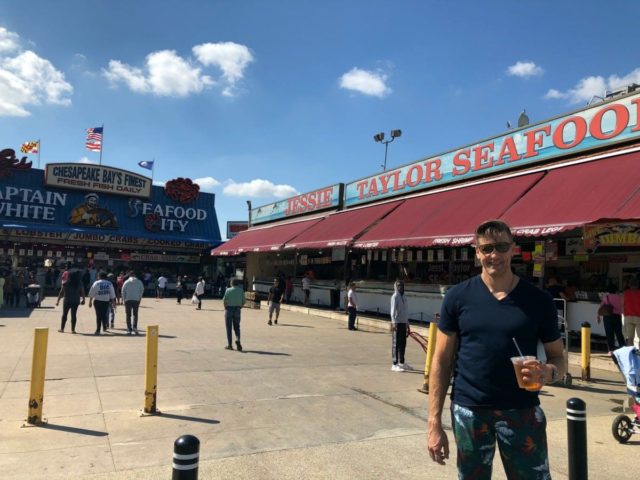 We took a walk down to the Fish Market. We've both lived in this area all our life yet neither of us had been before to the fish market. We didn't get anything but we want to come back this month with Emerson for the day and then grab some crabs or other seafood to take home for dinner.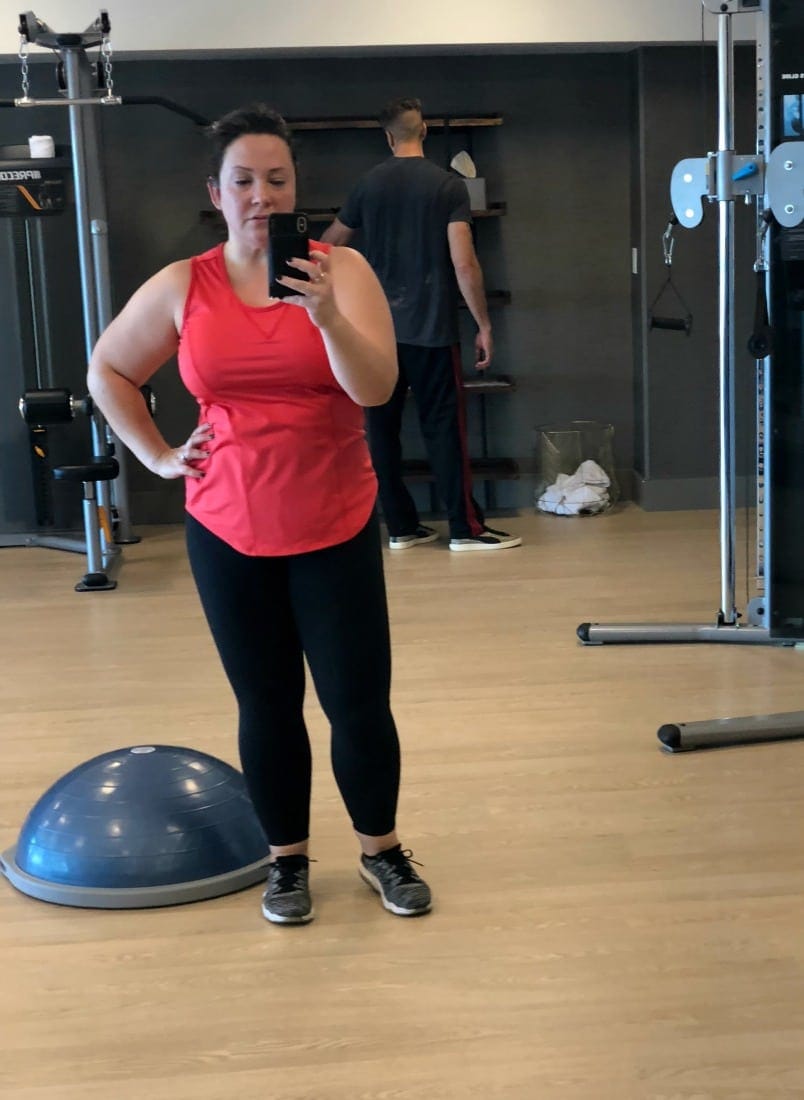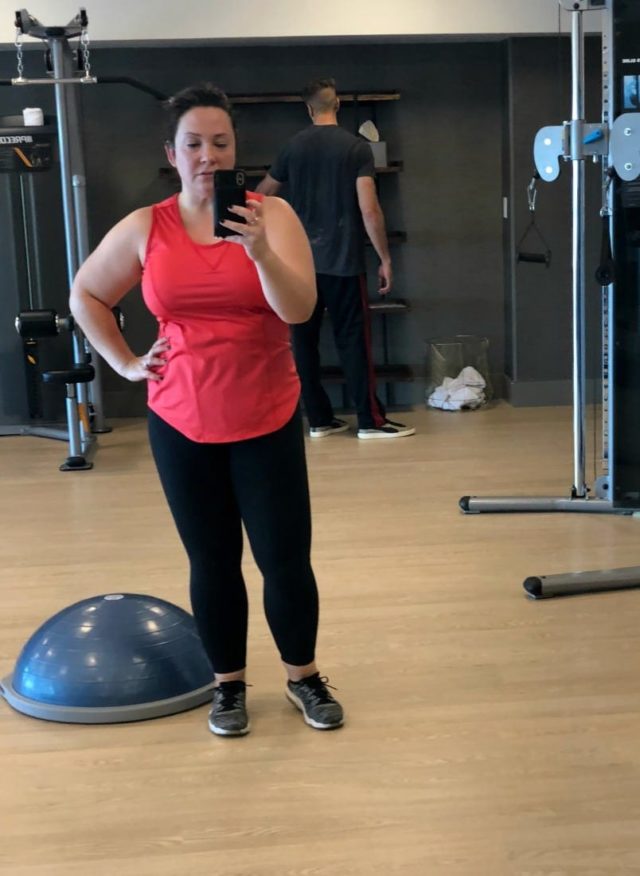 What I Wore:
top | leggings | sneakers (similar)
We headed back to the room and then decided to hit the hotel gym. We thought the view from our room was fantastic; the view from the gym is spectacular. It's a large U-shaped room with a wall of windows directly facing the Potomac. I grabbed an elliptical right in front of the windows and spent 35 minutes rocking out to Santigold and Lady Gaga while watching planes take off from National Airport and boats glide down the river.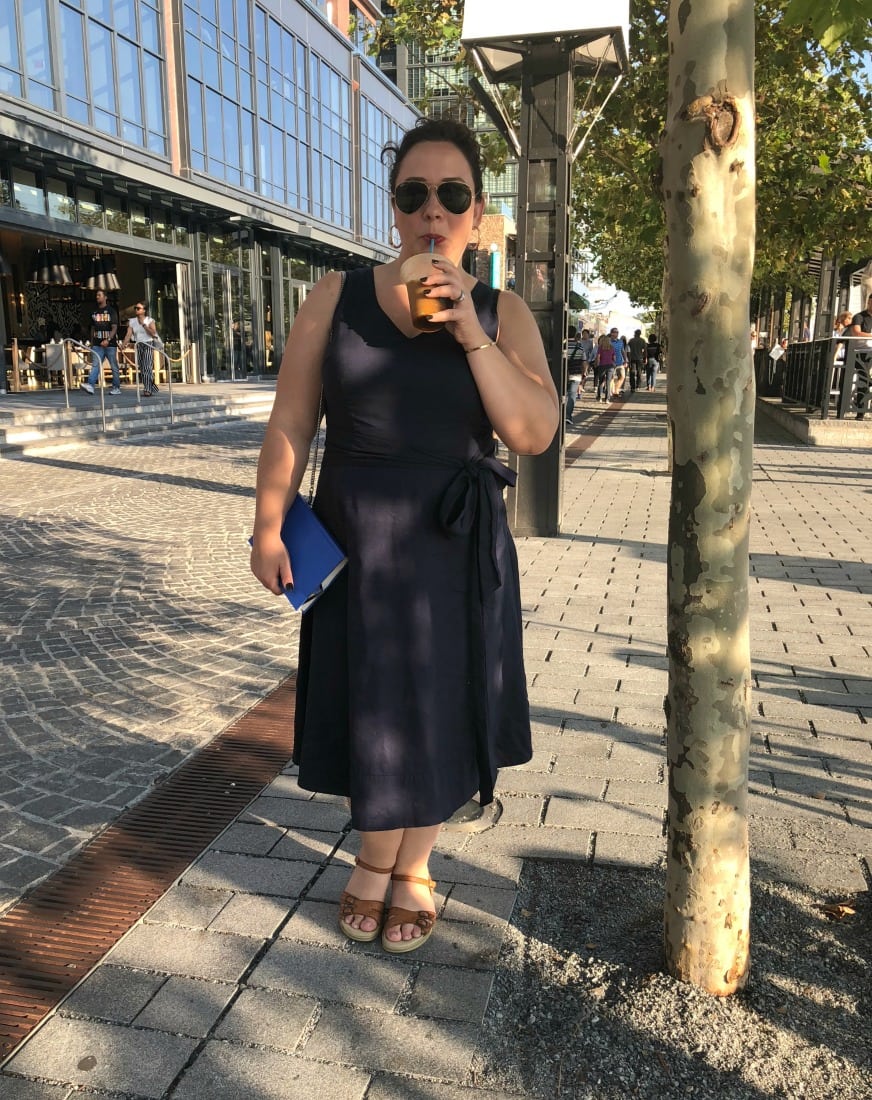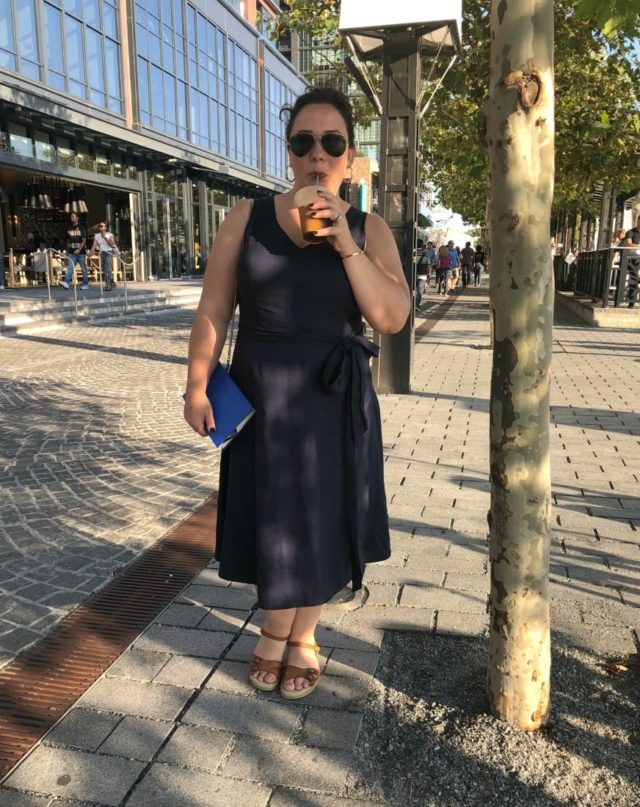 What I Wore:
dress (on sale!) | bag | earrings | sandals | sunglasses
After showers, we decided to get a late lunch. Again, we had a pretty perfect time of day between lunch and dinner and was able to get a table outside at Kaliwa. Kaliwa has small plates, so we ordered a few different things and brought back out our books and enjoyed the sunshine.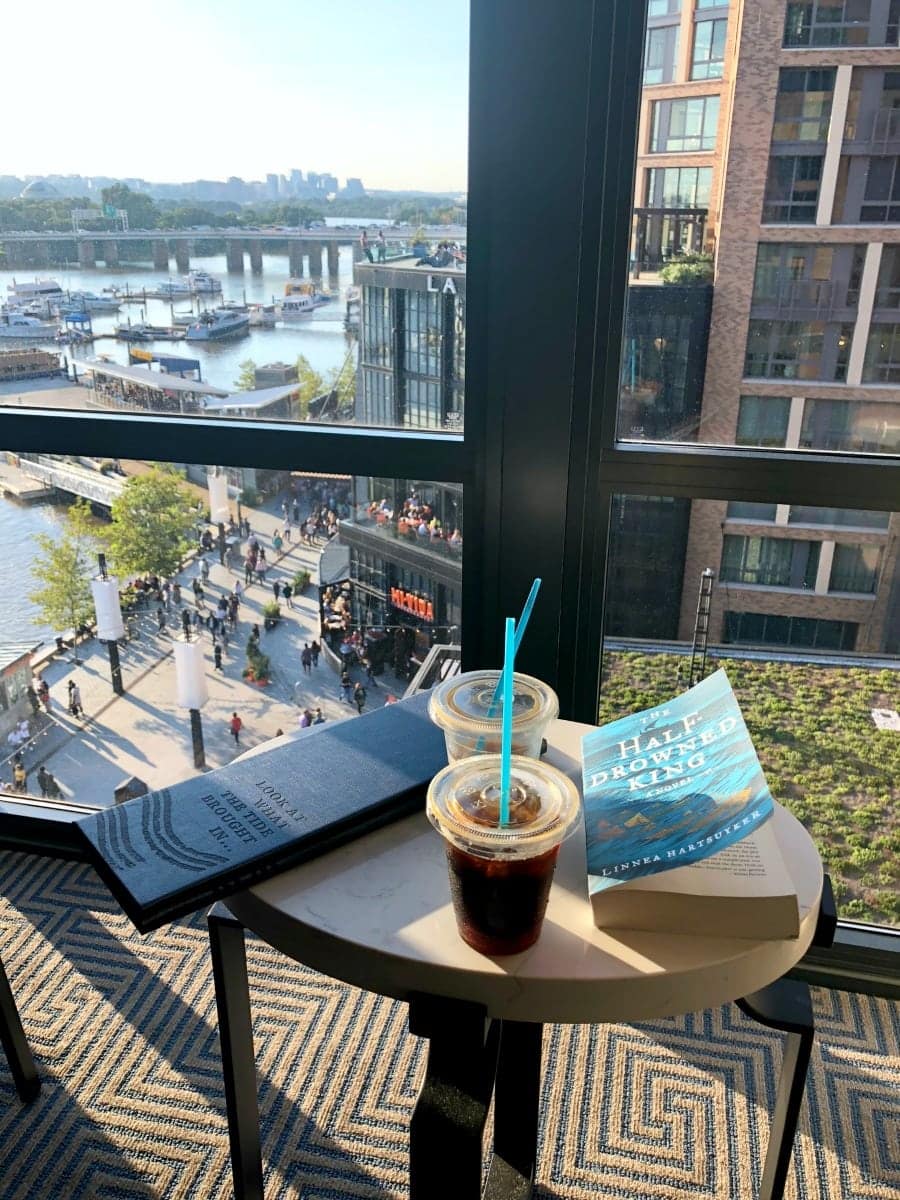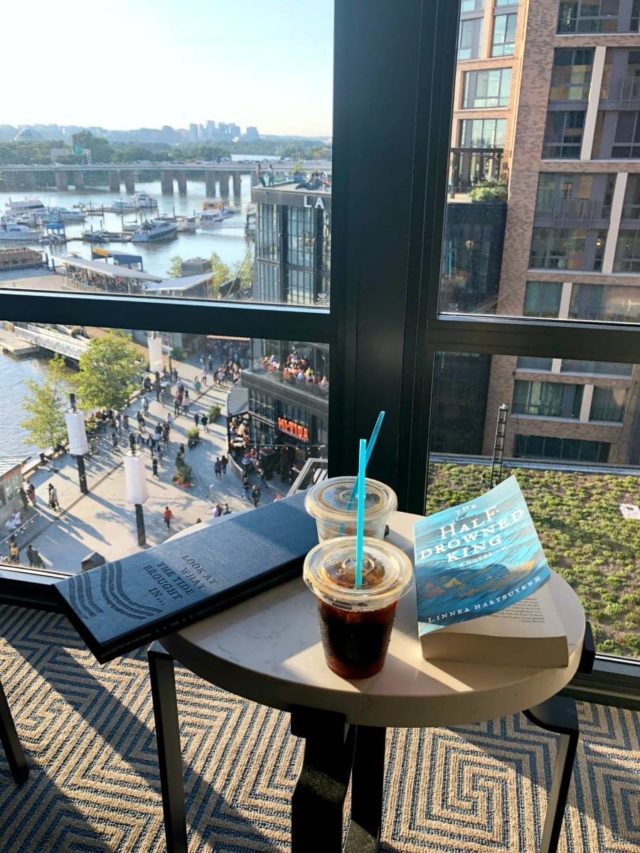 We wandered around, got some iced coffee from Blue Bottle (it's a bit hidden, it's behind District Doughnut; FYI Blue Bottle has fully compostable straws, cups, and lids), and watched how the Wharf's vibe changed as the sun set. Jo Koy was performing at The Anthem that night and the GA line snaked through blue barriers and all the way down the walk. The Wharf was hopping, far more crowded than Friday evening.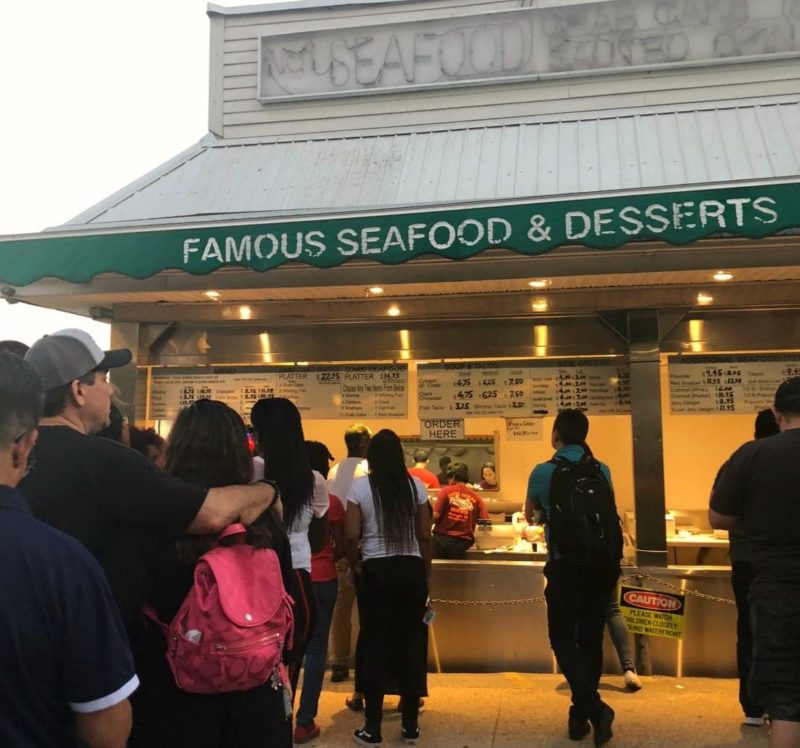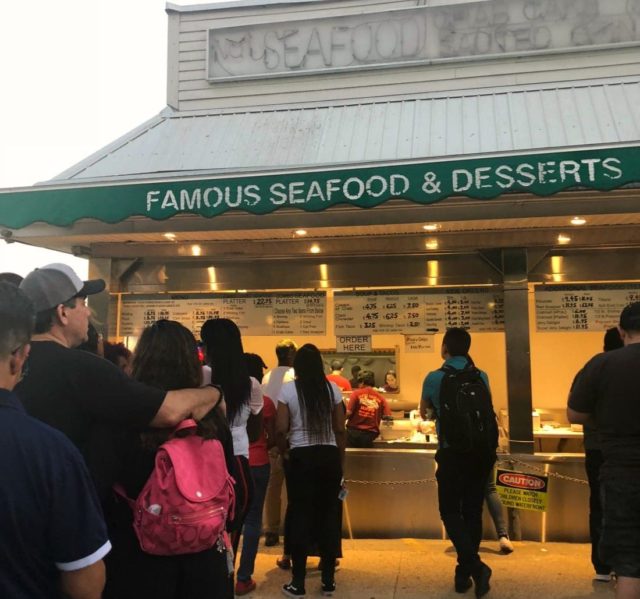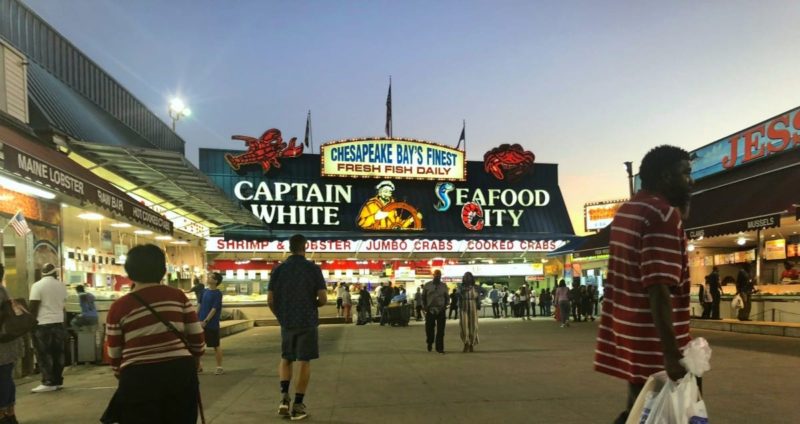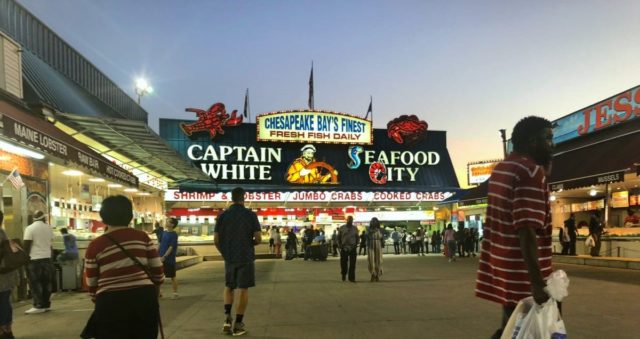 We headed down to the Maine Avenue Fish Market figuring we'd get food to go and eat it in our room… but we decided neither of us wanted fried food or anything too complicated (as an FYI, we heard the best crabcakes are from the place with the green awning pictured above and Jessie's Cooked Seafood). We didn't have reservations and could already see there were waits at all the restaurants so we went back up to our room, took a long hot shower, put on the hotel bathrobes and ordered room service.  It was a perfect decision.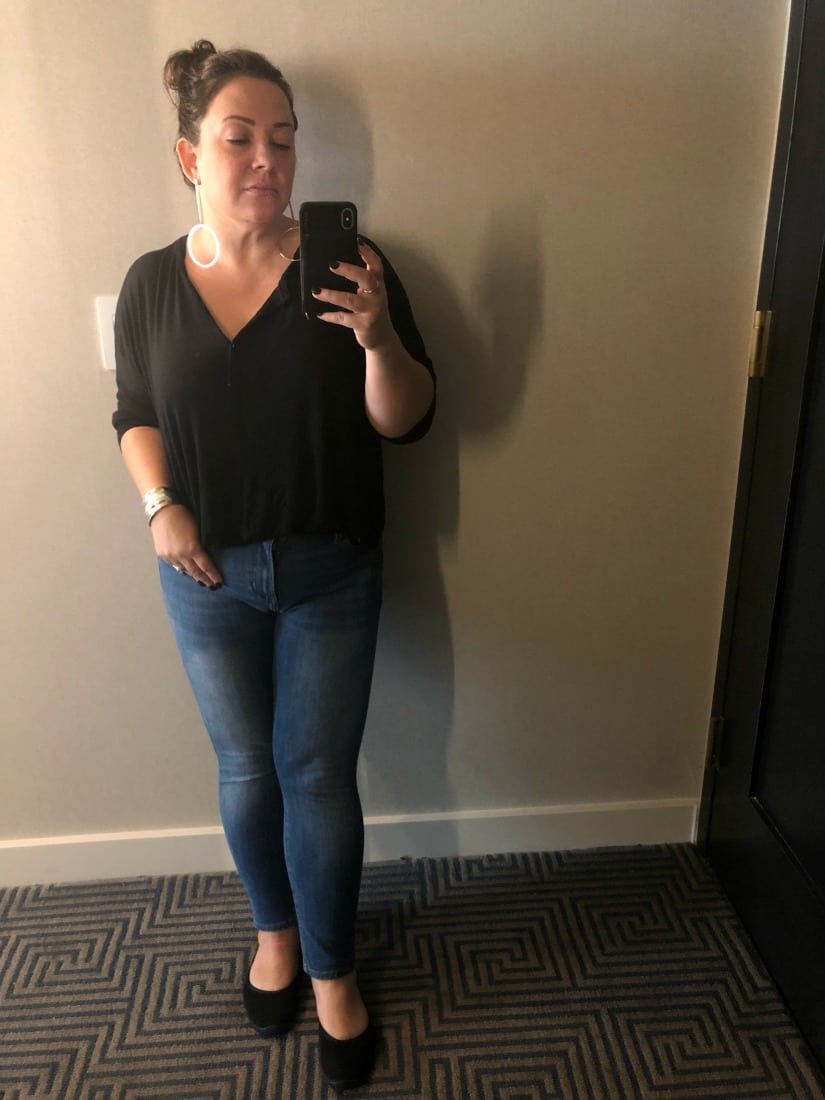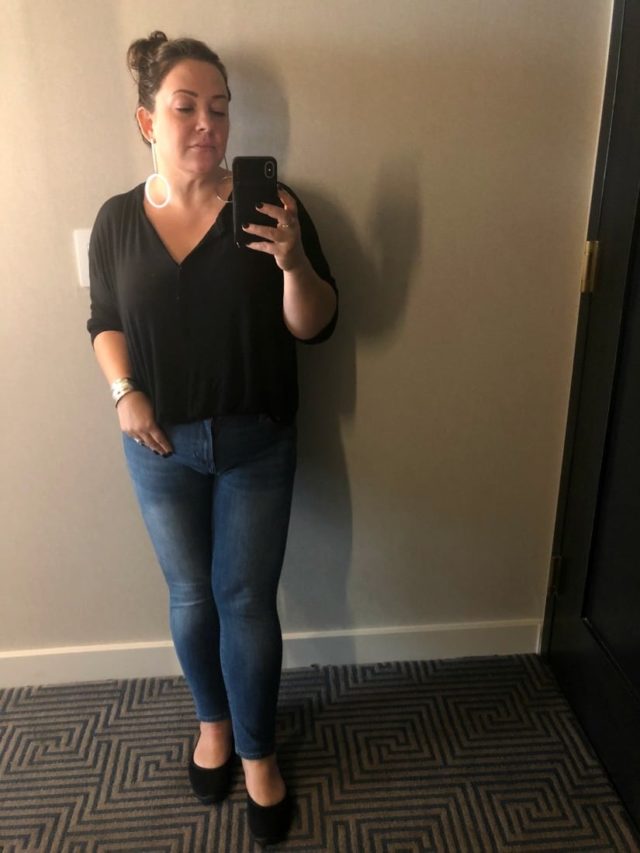 What I Wore:
top (c/o cabi) | jeans | shoes | earrings (smaller option)
Sunday morning, I got up before my husband and took another luxuriously long hot shower. He got up soon after and we headed down to Kith and Kin for breakfast. We got to-go cups of coffee and headed back to the tables and chairs where we chilled the day prior.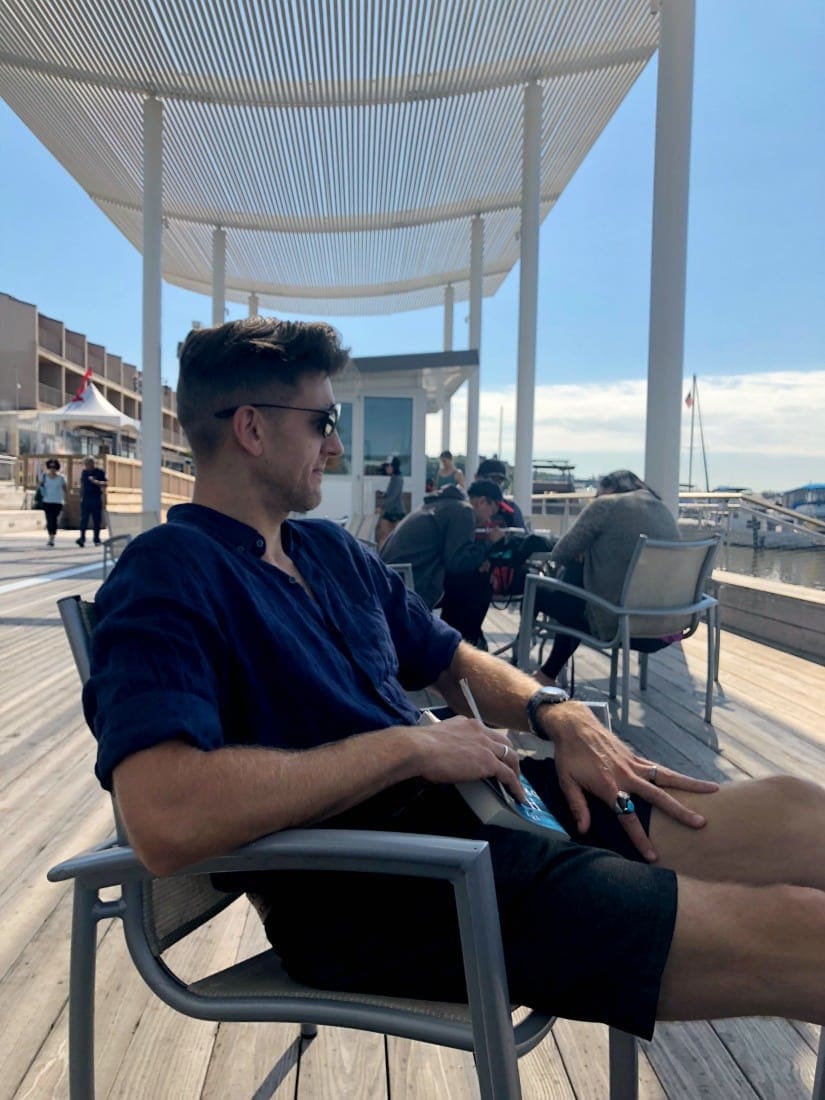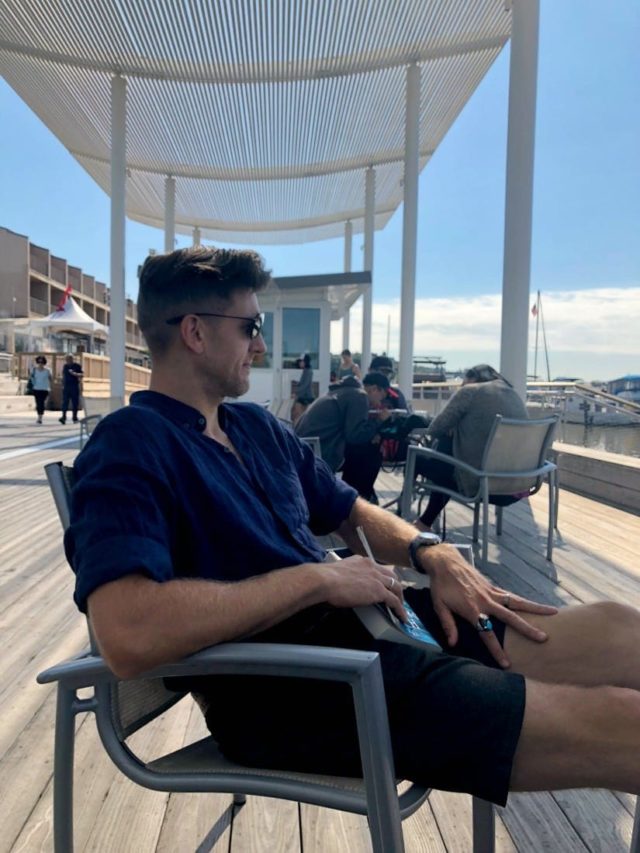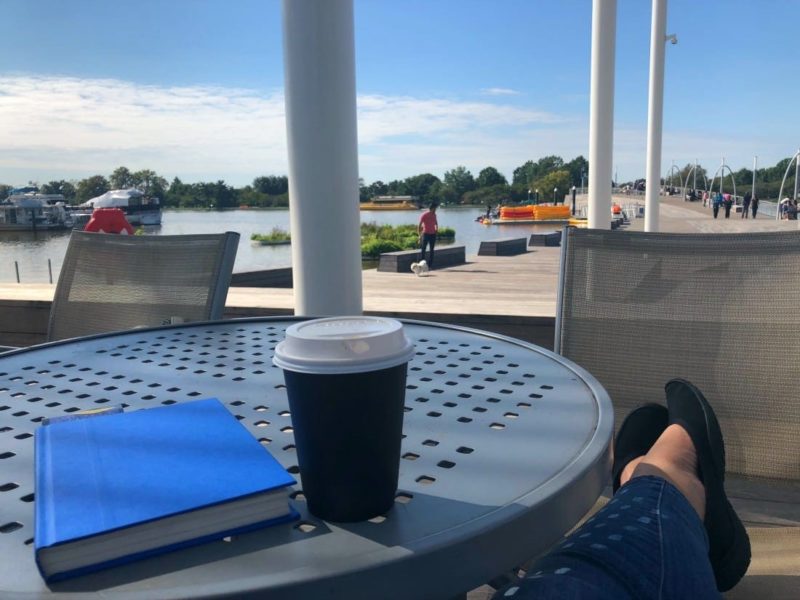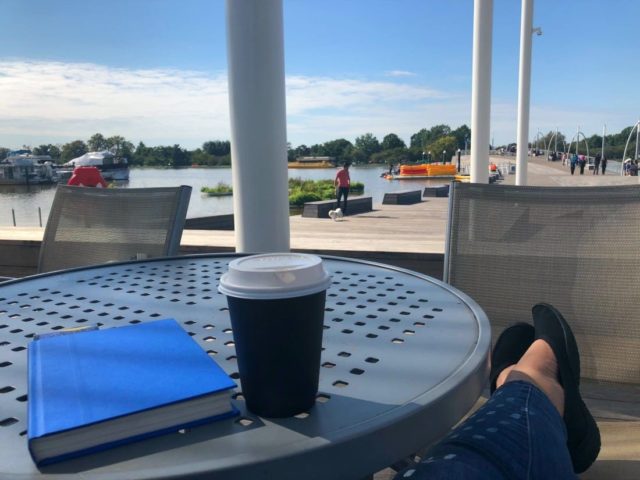 The pier was far more active. I never cracked open my book and from behind my sunglasses watched the families, the couples, and the oh so many photo shoots. We were where you rent paddles and lifejackets for the kayaks and paddle boards so that was also fun to watch. We need to come back and do it with our daughter. The Wharf is really well designed, so many places to sit, to be entertained, to enjoy the view. We saw people show up with their own kayaks on wheelie carts and others paddle in from other locations and head up for lunch or a cup of coffee and then paddle away.
We got a late checkout, so we took our time getting back to the room to pack up and head out.  We had an amazing relaxing, and romantic weekend at District Wharf and will definately be back!
Planning a Romantic Weekend at District Wharf
When Karl and I went to the District Wharf in January it was cold, wet, and gloomy.  Since it was off-peak, there was construction outside outside our window with beeping and honking at 6am and cars were able to drive down the waterfront walk, making walking dangerous and driving confusing. The restaurants (except for Del Mar which is amazing) seemed short staffed and our experiences were meh. It was definately a time of year where you hole up in your hotel room versus see the Wharf.
This weekend in late September, we felt we were at a resort.  It was clean, organized, staff everywhere was friendly, meals delicious, plenty to do, we never wanted to go inside.  Everyone seemed to be on a high after our week of rain.  While The District Wharf is open year-round, it is an area where good weather can make all the difference. Take advantage of the paddle boats, kayaks, and paddle boards. Take a ride on one of the swings on the pier. Grab a coffee at Blue Bottle or Dolcezza or District Hardware and grab a seat and watch the world go by. Grab a cocktail at one of the many restaurants that has outdoor seating or visit Cantina Bambina. Use the Wharf Water Taxi to visit the monuments, Georgetown, or Old Town Alexandria for the day.
Plan a Family Visit to District Wharf
The District Wharf is perfect for families.  We want to come back with our daughter, rent kayaks for an hour, get lunch, swing on the swings, say hello to a few cute dogs walking with their families, maybe take the water taxi to visit Jefferson Memorial, then grab some steamed crabs from Captain White's and head home to enjoy them for dinner.
All of the hotels are kid-friendly, as are most of the restaurants at least during the day.  When we went to the Anthem we saw several parents with their tween and teen children. Kids had a blast on the pier, trying to run up the slanted wall, jumping from one box-shaped bench to another. Folks took their kids and their dogs out on kayaks.
What to Wear to District Wharf
Sunday was a far more fashionable crowd than Saturday (more photo shoots and families after church), but honestly anything goes. Since we weren't working I didn't pack elaborate outfits and re-wore some pieces.  Shorts, jeans, casual sundresses, all of it is great. Be sure to have comfortable shoes; the walk is cobblestone and and you'll do a lot of strolling back and forth. It's sunny, bring a straw hat which will look perfectly in place with the crowd.  Consider a crossbody or even backpack to be free to hold hands or grip a cup of coffee.  Do not be afraid to look like a tourist, this is a tourist destination and a friendly one.