This article may contain affiliate links; if you click on a shopping link and make a purchase I may receive a commission. As an Amazon Associate, I earn from qualifying purchases. 
I can't believe this is my 181st Weekend Reads! It has become by far the most fun post I put together for Wardrobe Oxygen. It has also been such a fun way to connect with many of you. Thank you for the links you have sent to me, the comments and feedback, and how you have shared Weekend Reads with many unfamiliar to Wardrobe Oxygen.
Whether you realized it or not, even after ending the "How to Help" section of Weekend Reads earlier this year (though occasionally bringing it back), Wardrobe Oxygen continued to support charities and mutual aid groups on at least a monthly, and often weekly basis. 10% of what income I made from this site is donated to such groups, and I will continue this in the new year. If you're curious how I made money from Wardrobe Oxygen, this article breaks it down.
Thanks to your support of Wardrobe Oxygen, donations have been made to Bread for the City, Hate is a Virus, I Support the Girls, Meals on Wheels, International Women's Media Foundation, Give India, The Health Wagon, The Nature Conservancy, Dress for Success, International Rescue Committee, Stop AAPI Hate, as well as many other charities. Wardrobe Oxygen has also donated to multiple teachers through DonorsChoose, purchased items on wish lists for teachers, Afghan refugees, shelters, and those hurt by natural disasters, and donated to a variety of mutual aid groups.
This will be the last Weekend Reads until after the holidays. Weekend Reads will resume January 8th and I look forward to sharing with you and connecting with you then. Again, thank you. I never thought this random Saturday post sharing what is on my mind (or dog-earred on my nightstand, or in my DVR, or on my Spotify playlist) would end up being such a special part of Wardrobe Oxygen and my life.
Weekend Reads
Speaking of donating money… What's better than charity? (New York Times)
With the death of bell hooks, a generation of feminists lost a foundational figure. (NPR)
And in honor of bell hooks, a 1997 article where bell hooks interviewed Lil' Kim. (Paper)
New eye drops offer an alternative to reading glasses. (New York Times)
American Girl doll founder buys up real human town. (New York Magazine)
Life after quitting: What happened next to the workers who left their jobs. (Washington Post)
I'm the TikTok Couch Guy. Here's what it was like being investigated on the internet. (Slate)
Stop being so mean to yourself. Here are 5 tips to help you break the cycle. (NPR)
George Orwell's Nineteen Eighty-Four Will Be Retold from a Woman's Point of View. (Open Culture)
How the viral Wayfair sex trafficking lie hurt real kids. (Washington Post)
Could mRNA vaccines be the next frontier of cancer treatment? (NBC News)
Why are we so awful to our spouses? (The Cut)
Sara Ramirez is in complete control (IMO the best character on And Just Like That). (Glamour)
Call Your Girlfriend is happy to end on their own terms. (Vulture)
I was brought in by the clickbaity title, but the whole letterlocking thing fascinated me. Experts crack the secret to last letter of Mary, Queen of Scots before her execution. (NPR)
For three decades, Dunst has been one of our preëminent performers of conflicted womanhood. With "The Power of the Dog," she might be finally getting her due. (New Yorker)
How Shein beat Amazon at its own game — and reinvented fast fashion. (Rest of World)
Anne Rice changed vampires for the better. And helped her fans become their fuller selves. (Washington Post)
F.D.A. will permanently allow abortion pills by mail. (New York Times)
See/Hear/Read
I of COURSE had to check out, And Just Like That, the series on HBOMax that takes up where Sex and the City left off. Yeah, I am not impressed, but then I already heard this show was a bit of a mess. I have a real issue with what Carrie wears. I just think such a risk-taking high-low mixing badass who got married and seemed to have a happy secure relationship with her spouse and friends would be wearing such dated, complicated, and restrictive fashion in her 50's.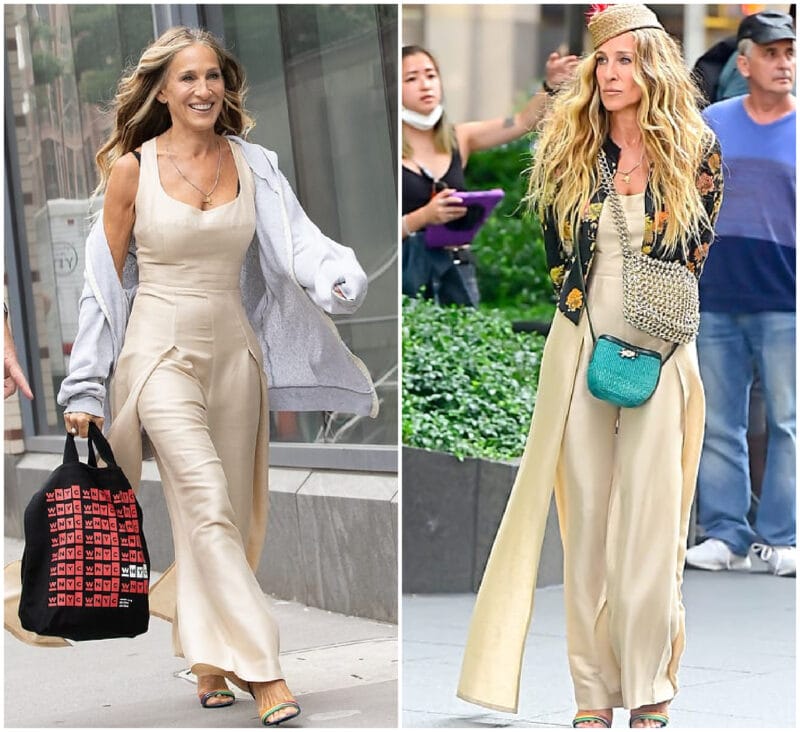 Let's take the first look that Parker wore in this new series. She met her friends for lunch wearing a vintage Claude Montana linen jumpsuit that was utterly fantastic and the sort of fashion yet wearable clothing I'd love to rock now as well as in my 50's. But then she paired it with a cropped satin black floral jacket with puffed sleeves, a weird little hat with a feather, a chain mail crossbody bag, and a teal metallic raffia bag, and multicolored strappy heels, and it all felt so incredibly… restrictive and high-effort.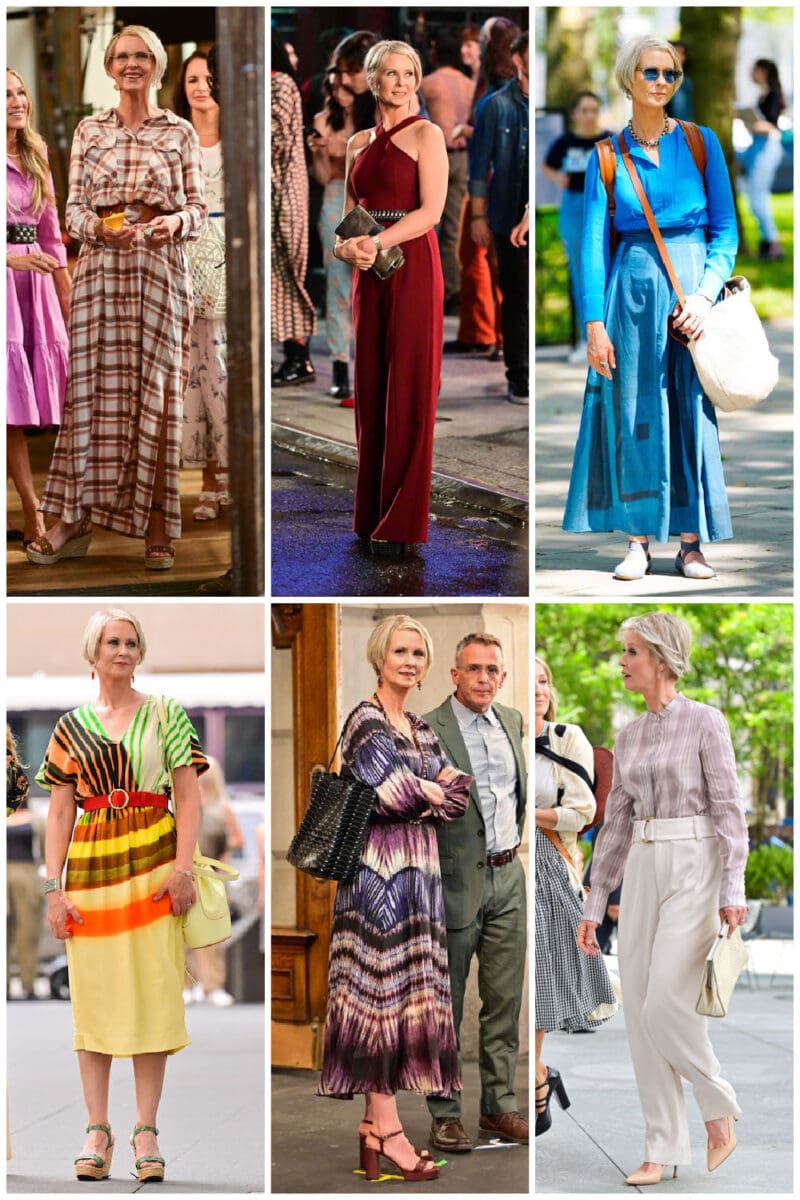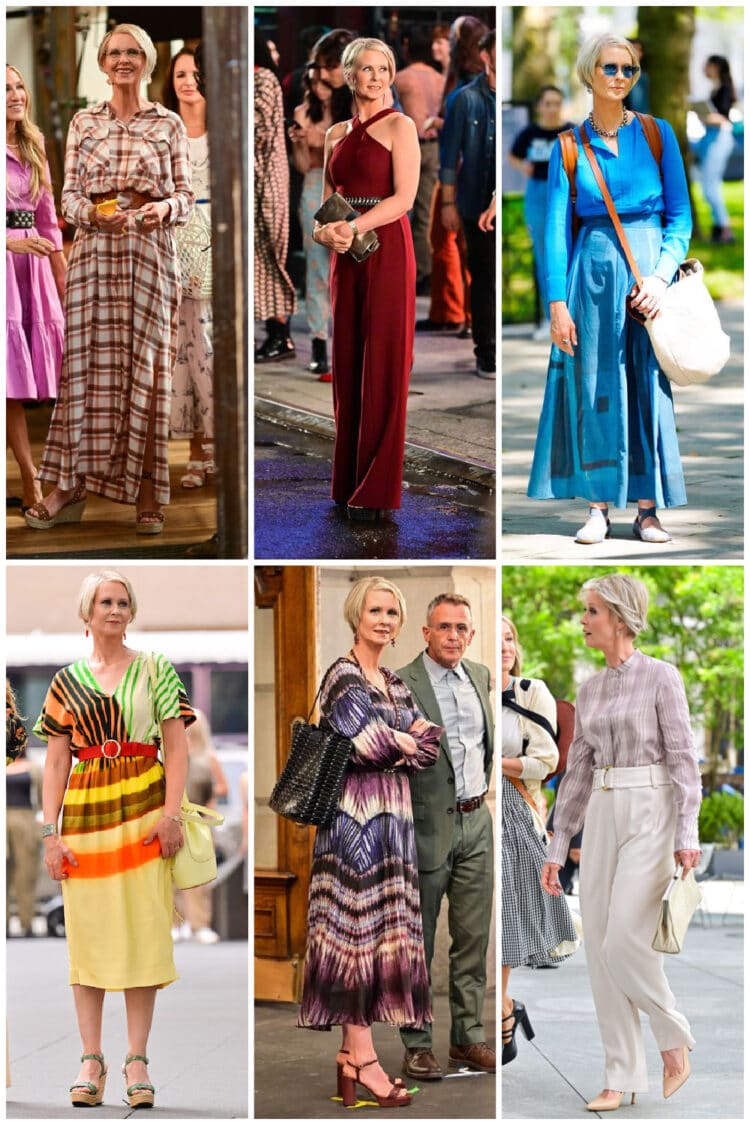 It also seems so heavy considering Charlotte and Miranda are wearing breezy summery looks. I can't imagine walking around NYC on the same day that Miranda is wearing raffia wedge sandals and a loose silk dress with all that on my person. Carrie in wacky fashion, yes, but that fashion was at least comfortable on a sweltering summer day. Once home when she took off all the bags and the hat and the layers she looked so effortlessly chic and darn sexy and comfortable in her skin.
Few women have a uniform that spans multiple decades. They may have a core style, but they also have style progression through life events and how with age, we have fewer fucks left to give. And this wardrobe doesn't quite feel like Carrie has reduced the number of fucks she has to give. If anything, her wardrobe seems even more try-hard in her 50's than it was in her 30's.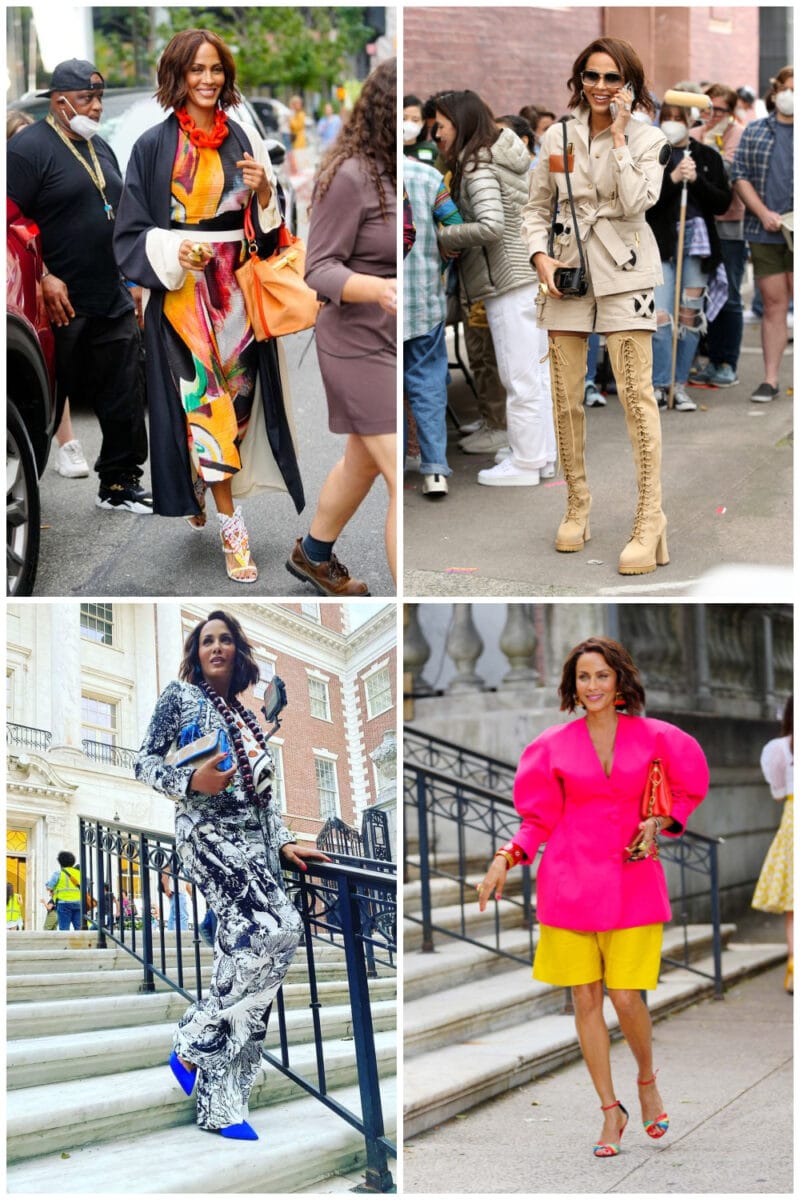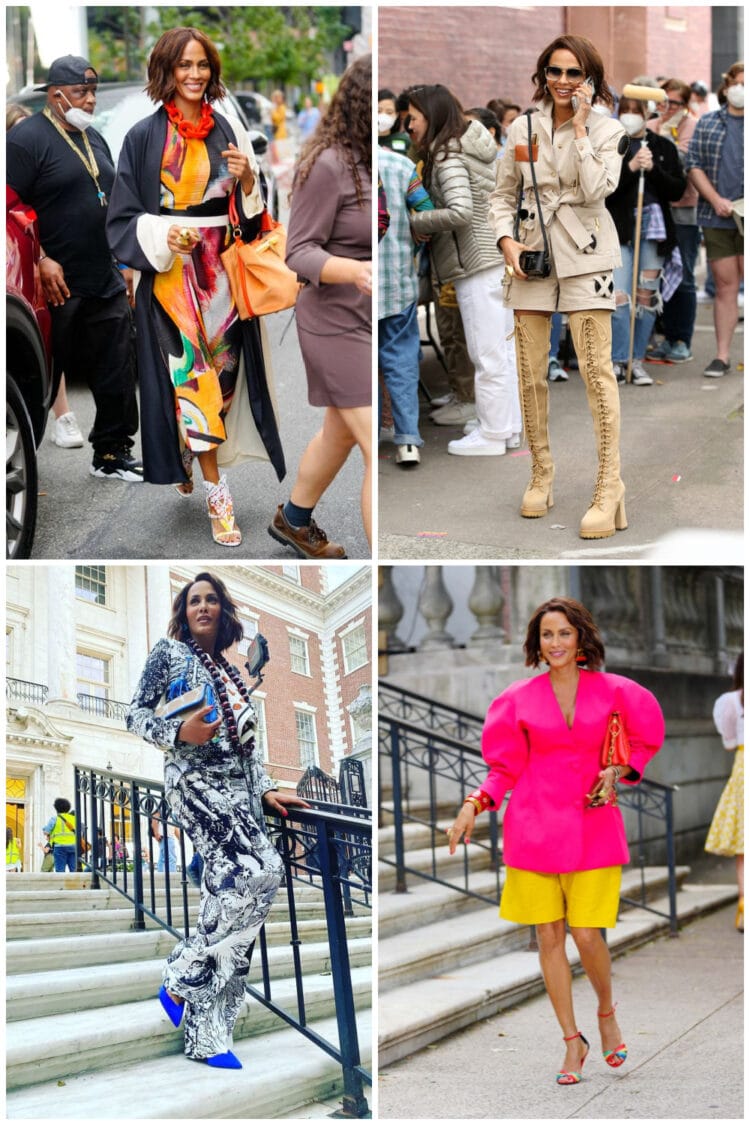 But this is the problem I see with all three main characters in this reboot – how many fucks these women are still hauling around in their It Bags. It all just seems really exhausting, and I just want to steal their pointed-toe pumps and stiff midi skirts and trade them some silk joggers and a pair of ridiculously expensive yet hella chic designer sneakers. But then, we couldn't have Charlotte diss Natasha for having the audacity to wear flats (and look breezy and cool while doing so, IMO).
I don't expect Carrie, Miranda, and especially Charlotte to lose all the heels and layers, but I feel their style is very struggling to let go of the past OTT, not heading into the direction of "Advanced Style" OTT. But then, the show writers have made these successful, sexy, and cool women into bumbling idiots who have lost touch with society and culture. It's no surprise their fashion is as dated as their attitudes.
I won't quit this series, I am in for the whole ride, but three episodes in I already see that this show is missing the opportunity to show that women over 50 can be chic and stylish and cool and feminine and pretty and tough and whatever the hell they want to be and they can do it soooo much better than their younger selves because there are fewer fucks holding them down.
And for those interested about the people behind the looks, I really enjoyed this video interview with the costume designers. (WWD)
There are a lot of really fantastic shows out right now about female friends, but And Just Like That is getting the press. I know, it has the history, but we all know it's not going to be an award-winning show and there are some shows that ARE good and ARE stylish.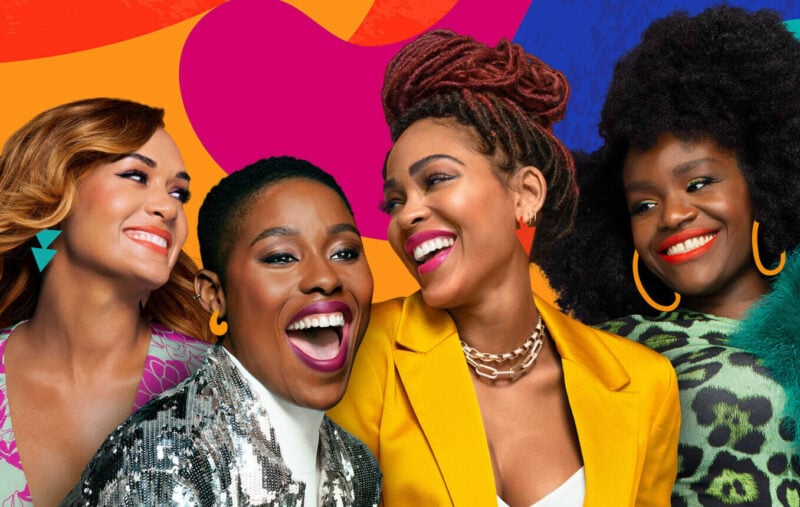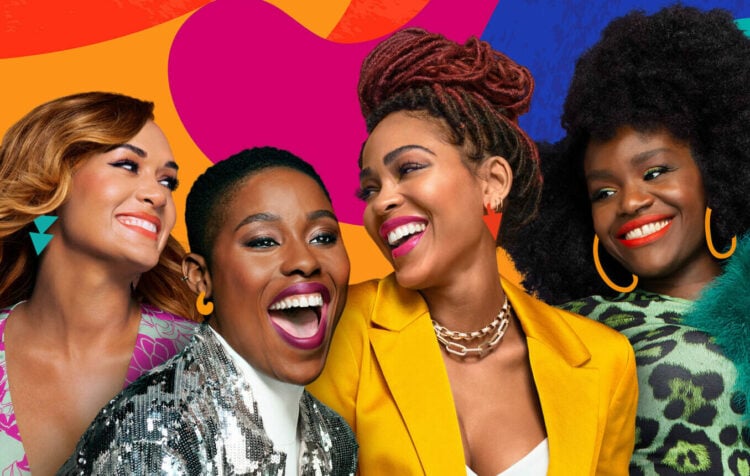 This week I began the series Harlem, which is on Amazon Prime. If you would love a 2021 version of what Sex and the City was in the '90s, this is the closest I've found. Four very different friends who have a healthy, supportive friendship, fabulous wardrobes, and interesting lives as they navigate being single, being Black, being women, and finding themselves in NYC.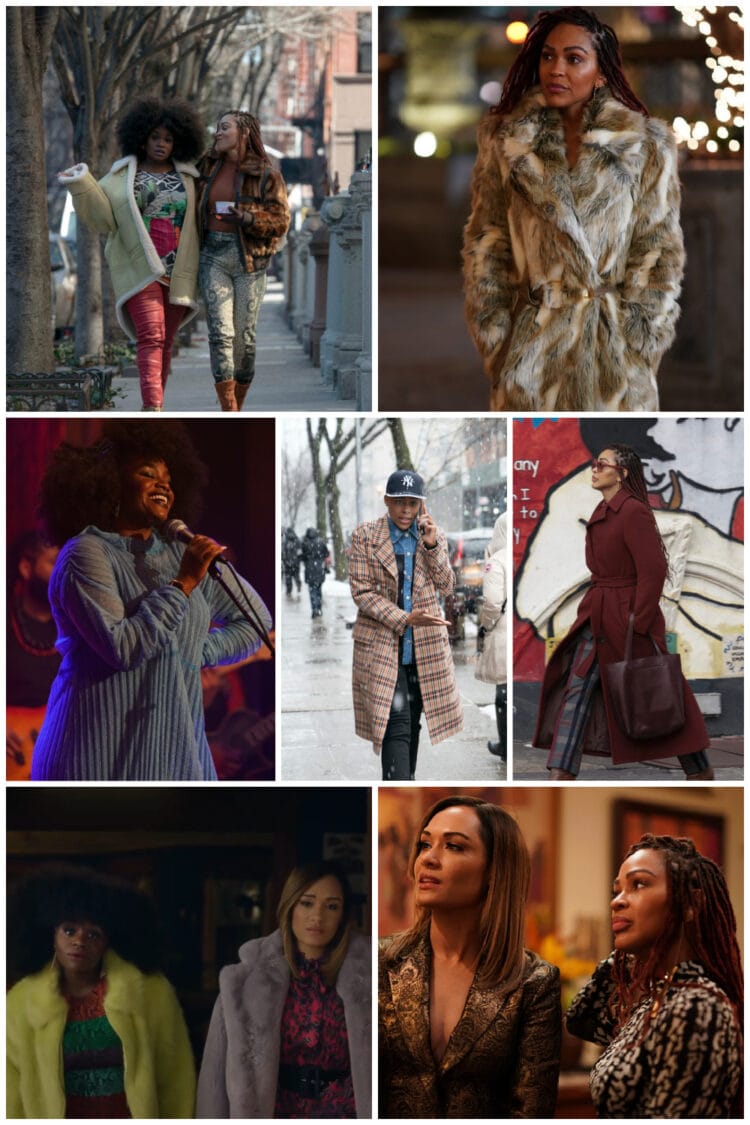 Harlem is silly and serious, funny, and thought-provoking. The use of color on this show in both fashion and decor is awesome, and I just love the creative fashion, decor, and makeup. I like seeing a show where women can be powerful at work but a human mess personally, or can be a strong woman while not having "it all." Camille, Tye, Quinn, and Angie are complex and nuanced, stressed, and silly, and it makes for a much more realistic and enjoyable show than And Just Like That.
For Your Entertainment
Getting into the holiday spirit, a sweet song and video from the utterly lovely Norah Jones. Wishing you all a safe and cozy season, and for us all to have a brighter new year.