This article may contain affiliate links; if you click on a shopping link and make a purchase I may receive a commission. As an Amazon Associate, I earn from qualifying purchases. 
This post is late because I thought today was Sunday, not Monday. We've come to that point of sheltering in place where I have no idea what day of the week it is. Makes for a witty relatable tweet, but does not make for a productive or successful person. Ugh. I also went through my phone and realized I didn't capture many of the looks I actually wore. So this post is a bit of a jumble, like my brain, which is also something that is likely quite relatable to many of you!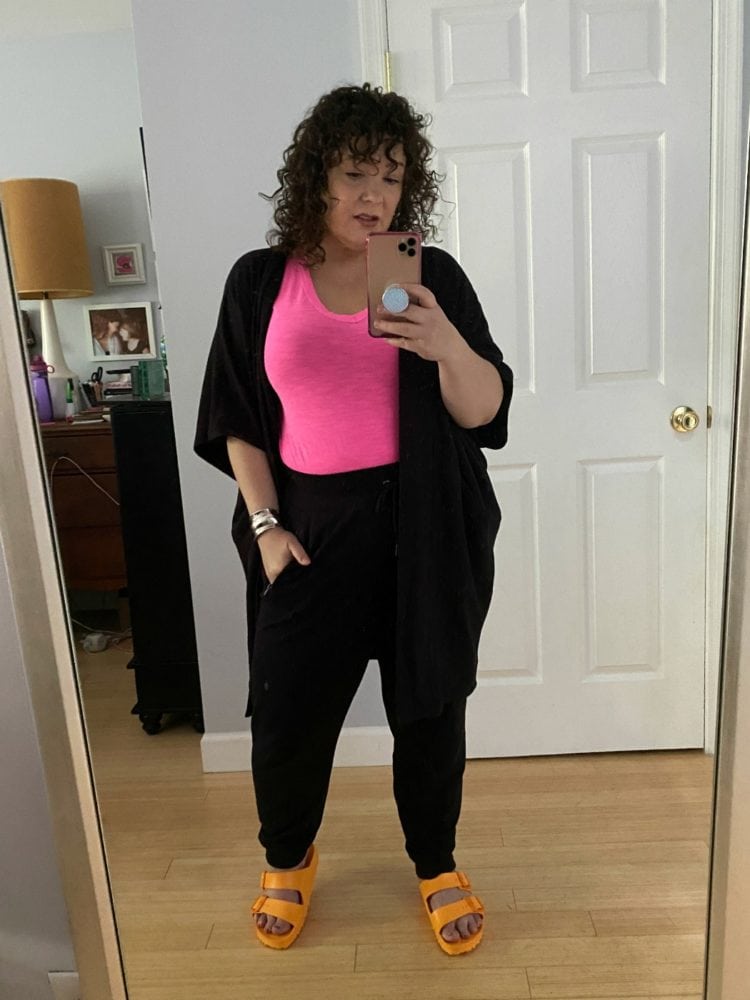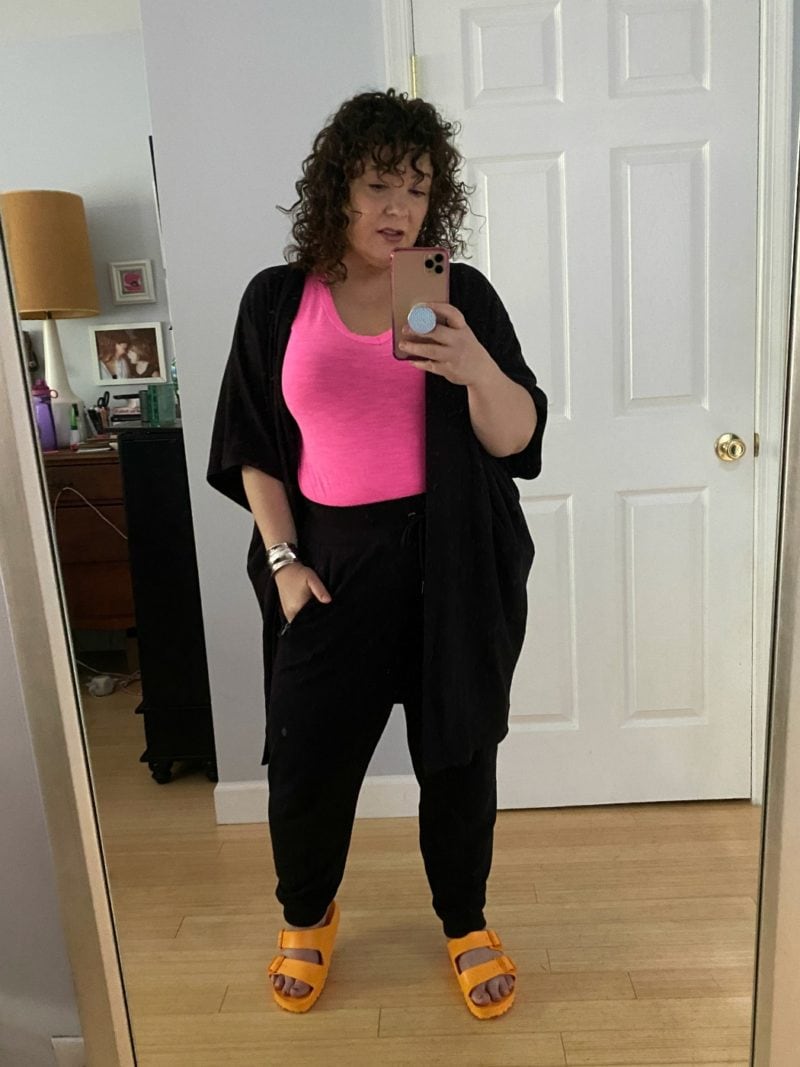 In my latest Friday Sale Alert I mentioned I got this t-shirt from Banana Republic, and here it is. I got a size large. It's soft and nicely shaped, but do know it's slightly transparent and requires a t-shirt bra. The t-shirt is on sale today for $17 and comes in a bunch of colors. I don't have a need for more, but it's the type that year ago Alison would have stocked up on and then realized she already has a white t-shirt that is similar enough from Soma. And speaking of Soma, these are my Soma joggers (size Large) and Soma wrap (L/XL) that I wear weekly and adore. They also get laundered weekly and you can see in this unedited photo they're still rich black and soft and not covered with pills. And then my orange EVA Birkenstocks.
In the Wardrobe Oxygen Community, we were discussing phone cases; I can't rave about my PopSocket enough and saw a few had never used them or understood them and this photo shows mine pretty clearly. You can use it to prop up your phone on the counter to watch a video while prepping dinner. You can clip it on the edge of a chair to make it like a tripod. They have adapters for the PopSocket so it can hold your phone in your car or even on your mirror. I like it because it wedges it between two fingers so I am less likely to drop it. Mine screws off so you can replace the head if you want to switch up your style. If you get a PopSocket, don't get it from Amazon as they often sell fakes. PopSocket sells them directly at the best price and with free shipping.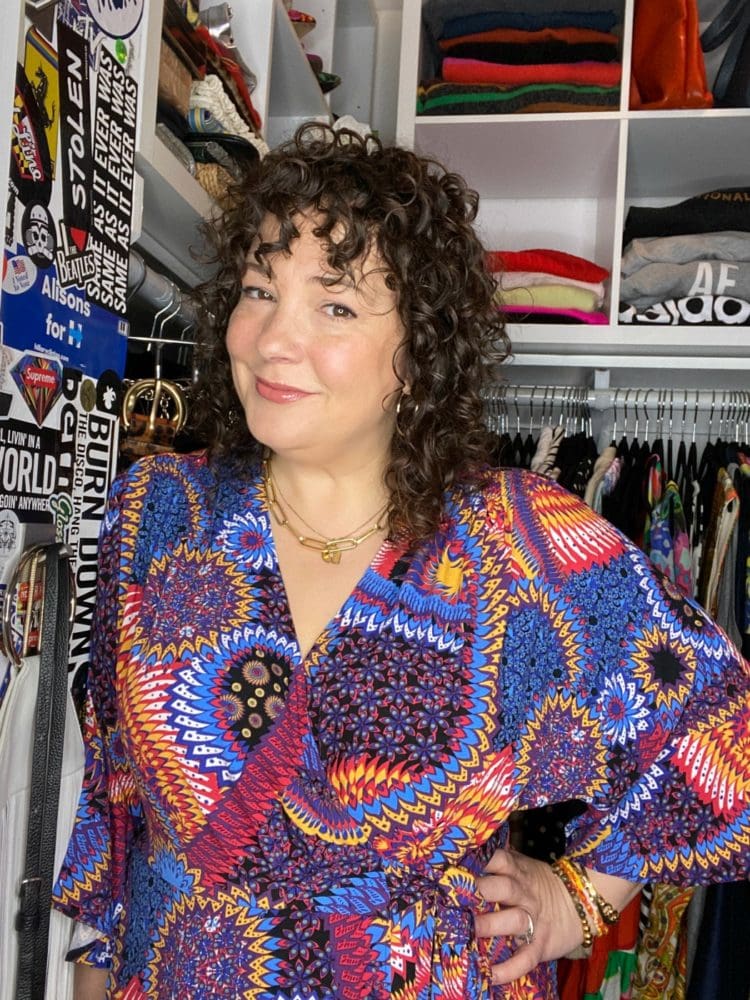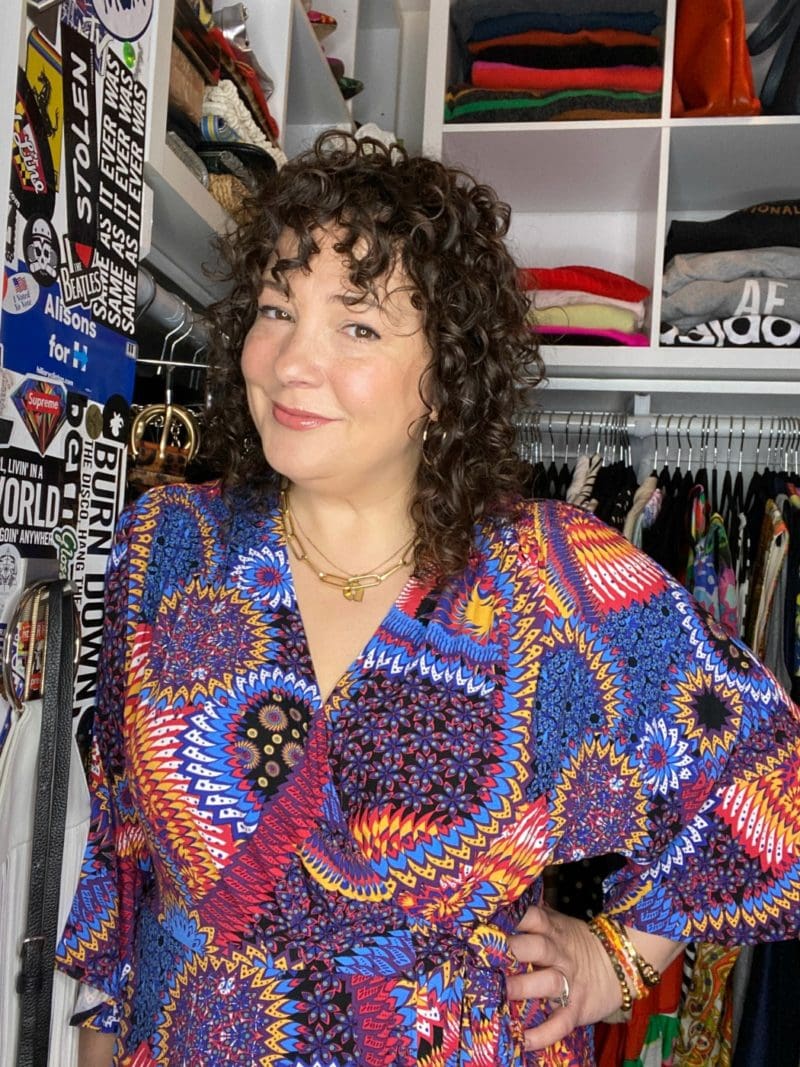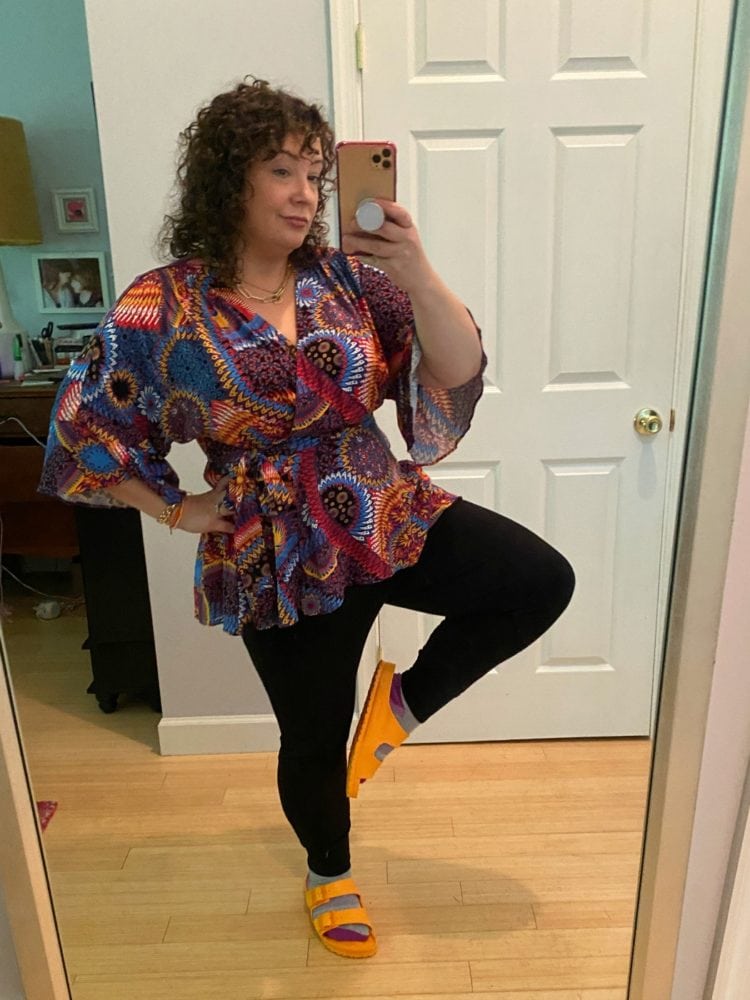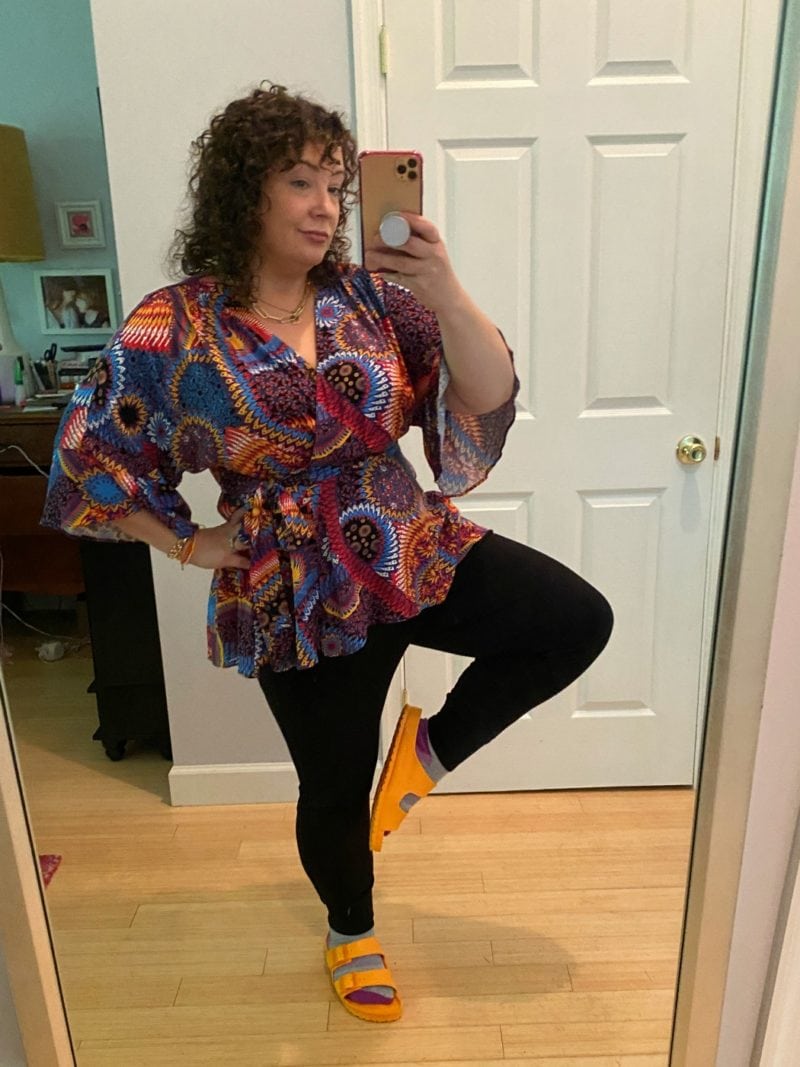 This look Tuesday was the epitome of "tabletop dressing!" I had my weekly Tuesday 1pm ET Instagram Live with Rosana from DC Style Factory so I did my hair and makeup and wore the blouse I mentioned in Friday Sale Alert… but I knew I wouldn't be filmed from the waist down! The blouse is from Anthro; it is now out of stock and there is no similar to link to. However, Anthro has some amazing prints and floaty tops this season. I was checking out this one in the panthers print for myself and then saw my friend Susan had it in the poodles print! On the bottom are my cabi joggers (no longer available; the Soma ones above are a good alternative) and my orange EVA Birks with a pair of socks (so chic). I'm wearing the Hera link necklace from Baublebar and my Jenny Bird initial necklace.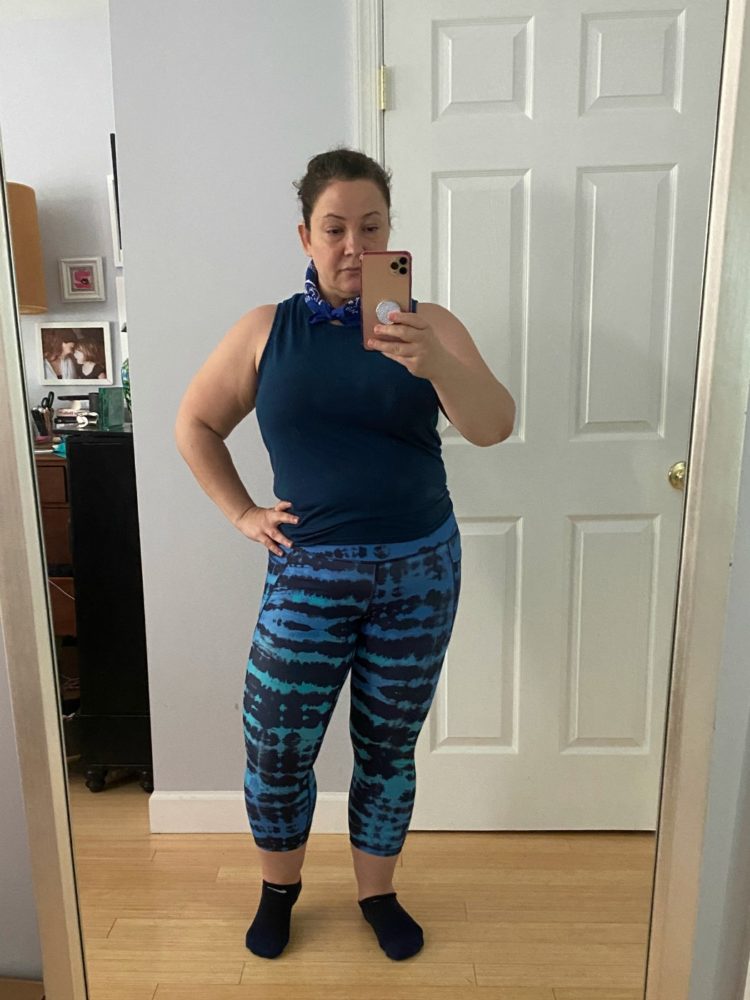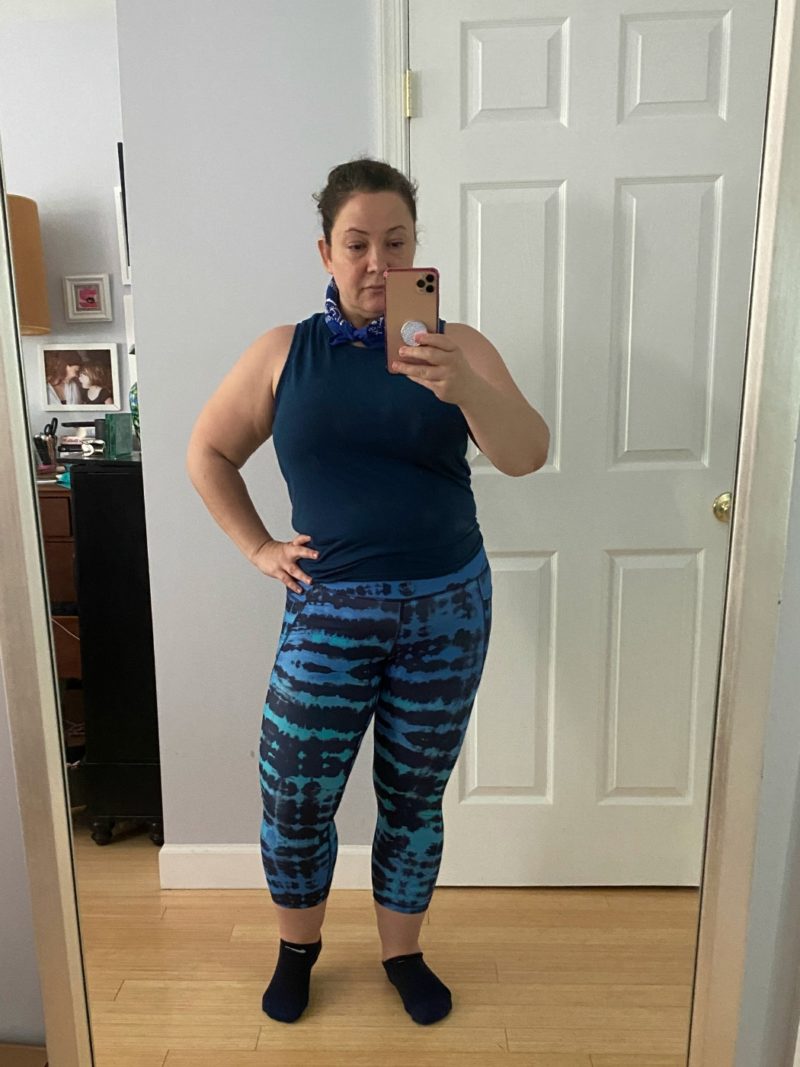 These leggings were also mentioned in my Friday Sale Alert; they are from Old Navy size large. Old Navy's activewear isn't bad especially for the pricepoint. It's not Athleta in regard to fit and quality, but they hold up quite well and don't roll down mid-workout. I find they fit me better than Fabletics. the side pockets can accommodate my iPhone max, they're thin enough to not drive me crazy on the Peloton. The top is also Old Navy but at least a year old; this is essentially the same top. I have it tied in back which makes it look cropped and fitted; it's a pretty comfy and breezy top when not tied and has held up nicely over many many launderings.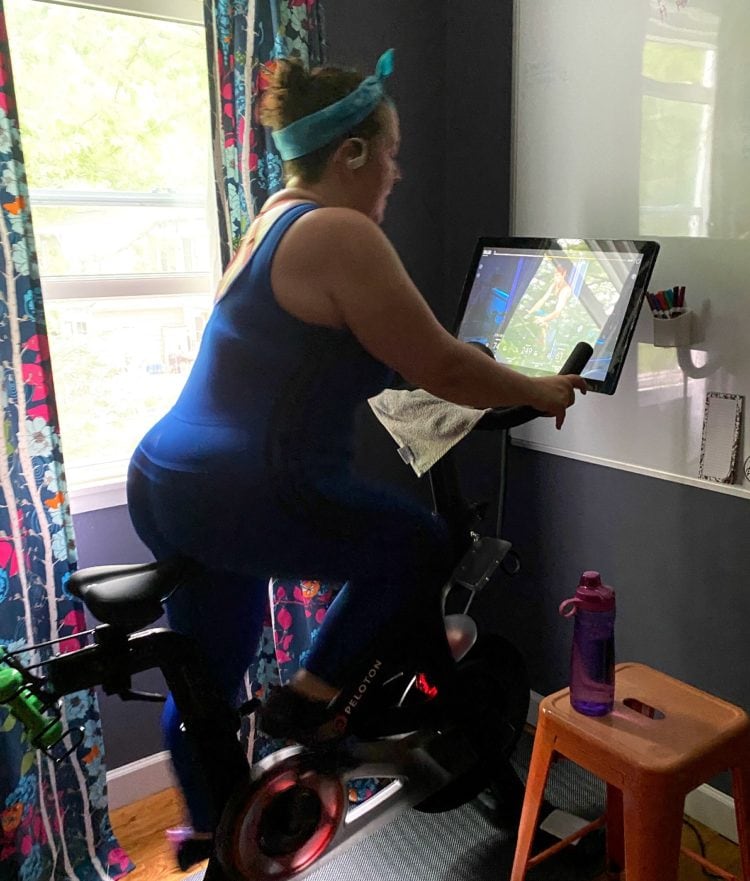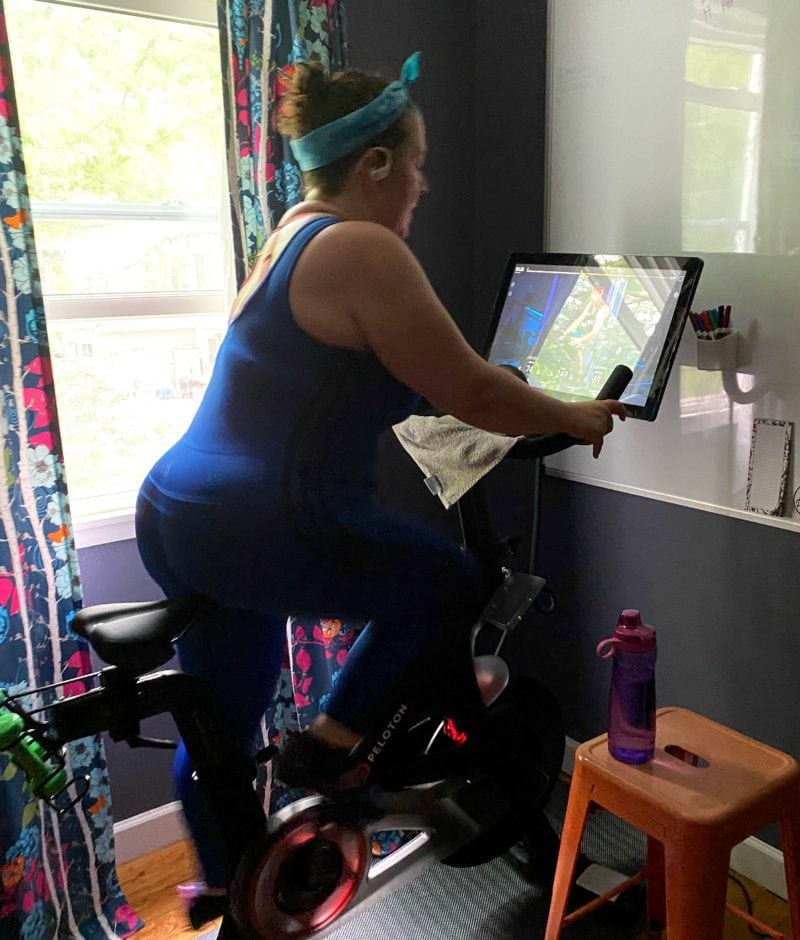 I'm still wearing and loving these unitard thingies from the adidas x Universal Standard collab that I reviewed earlier this year. I have one in black, one in blue. Adidas still has the collection, though it's on sale and sizes are limited. I like the lack of a waistband, how thin they are so they feel like nothing, and how the fabric is created so you aren't supposed to wash after each workout and it doesn't get stinky or gross. I am wearing a size Large; if I wanted compression I think I could go down to a Medium and still have my boobs and calves fit fine. If you're curious, the bra I'm wearing is the Freya Sonic which is a favorite. You can read a more detailed review of this sports bra here.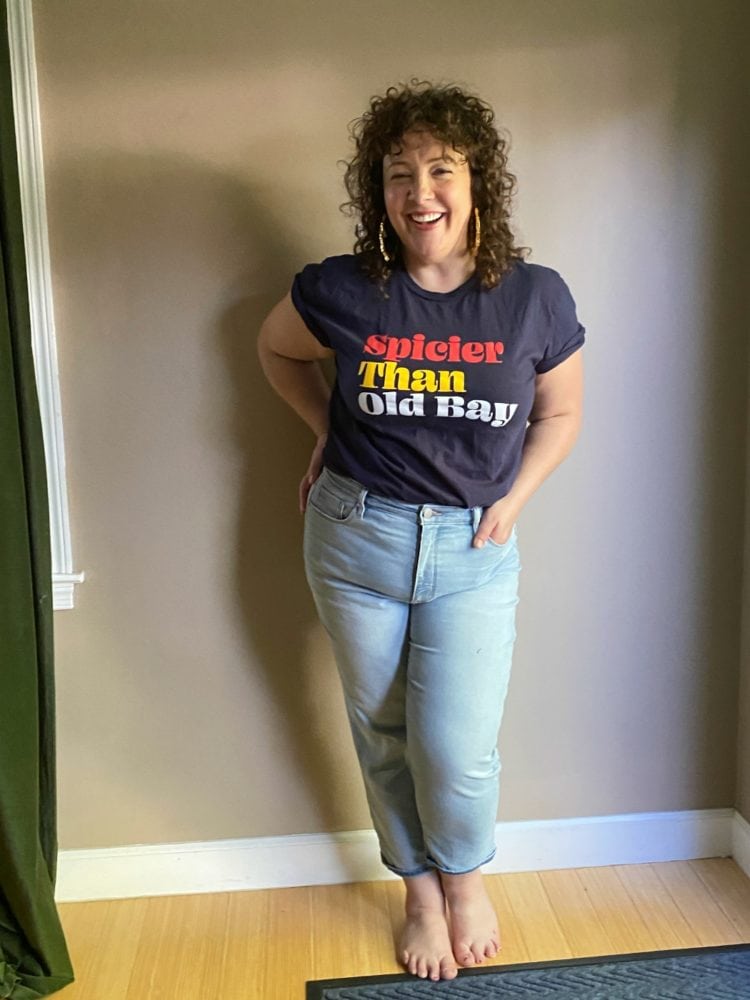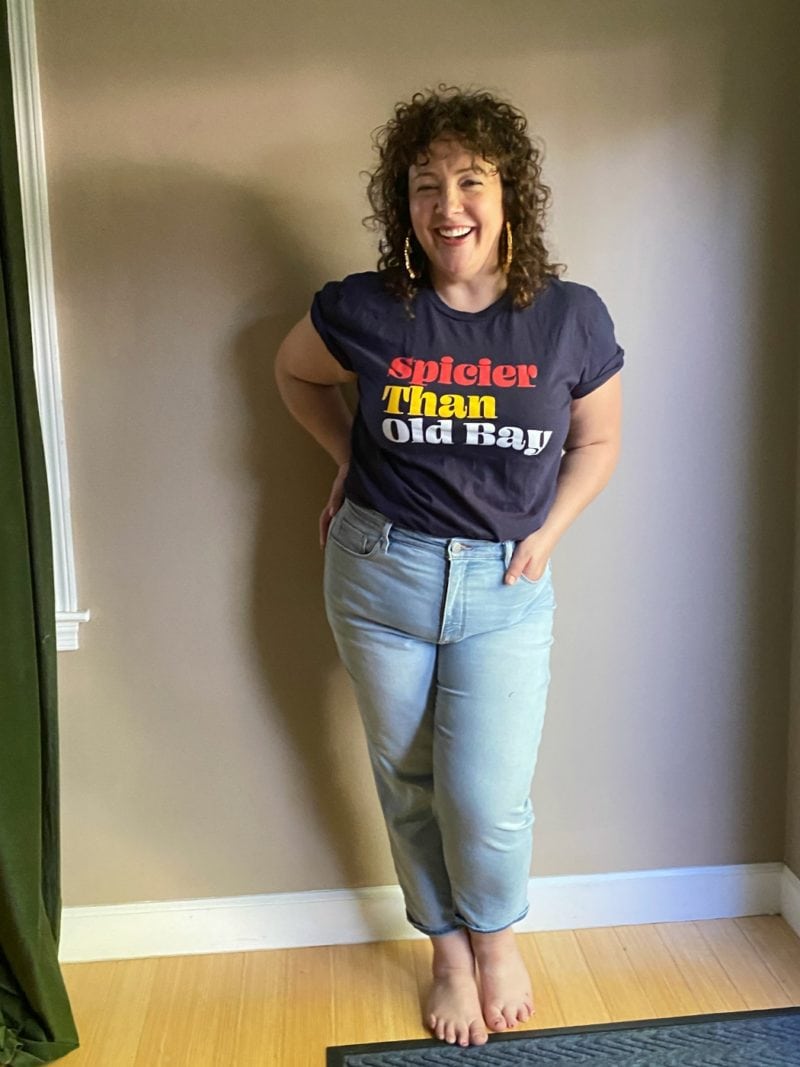 I shared this look on Instagram. I've shopped Route One Apparel before; you can see my Maryland flag bandana in this post and my Maryland flag golf umbrella in this post. When I saw our governor wearing a Maryland Strong face mask from Route One Apparel, I ordered one and while there also got this Old Bay t-shirt (size Large). Route One Apparel is a small business in Maryland, started by a woman who went to the University of Maryland at College Park just like me. While the gear is for fellow Marylanders, others may find things, like this t-shirt, that they like no matter where they live! The jeans are from Athleta; I've worn them several times and even thrown them in the dryer and still like them. I know a few of you ordered them and didn't like them, they are more of a "mom jean" fit but they're stretchy and comfy and don't bag out (I have them in 14 petite). They're also currently on sale. And my earrings are from Etsy.