This article may contain affiliate links; if you click on a shopping link and make a purchase I may receive a commission. As an Amazon Associate, I earn from qualifying purchases.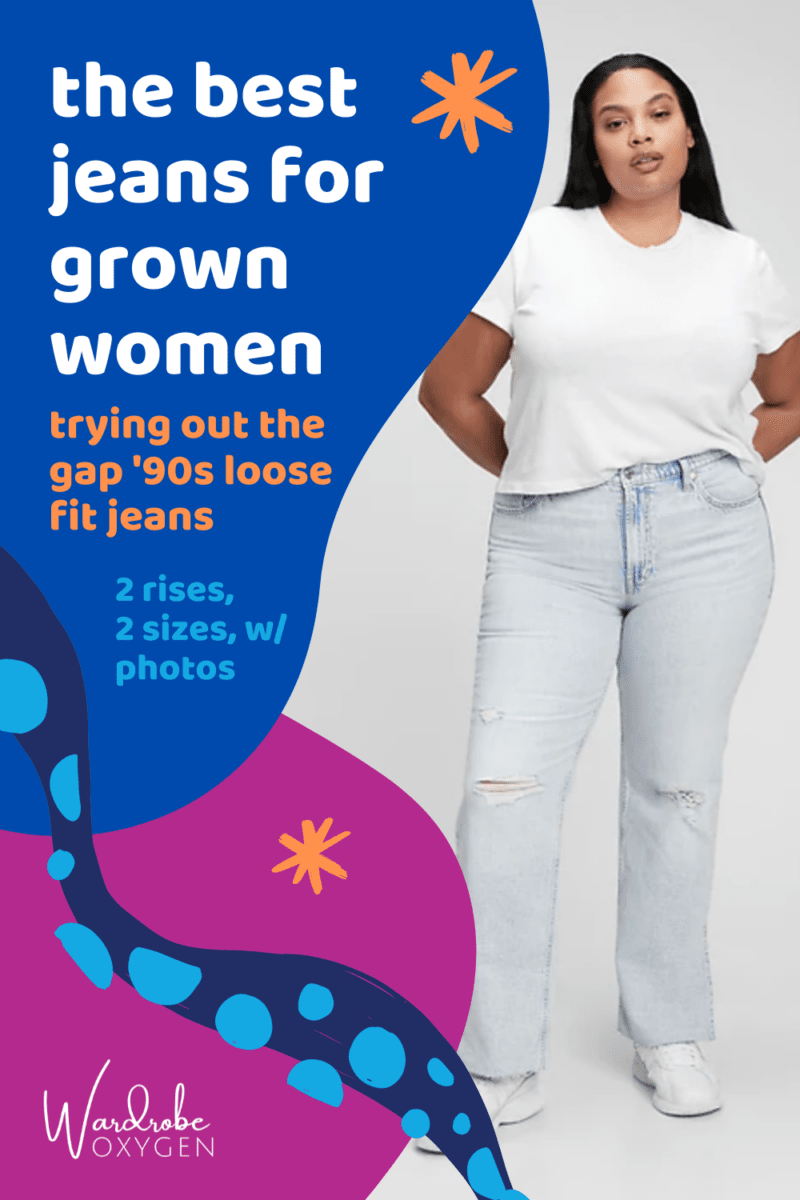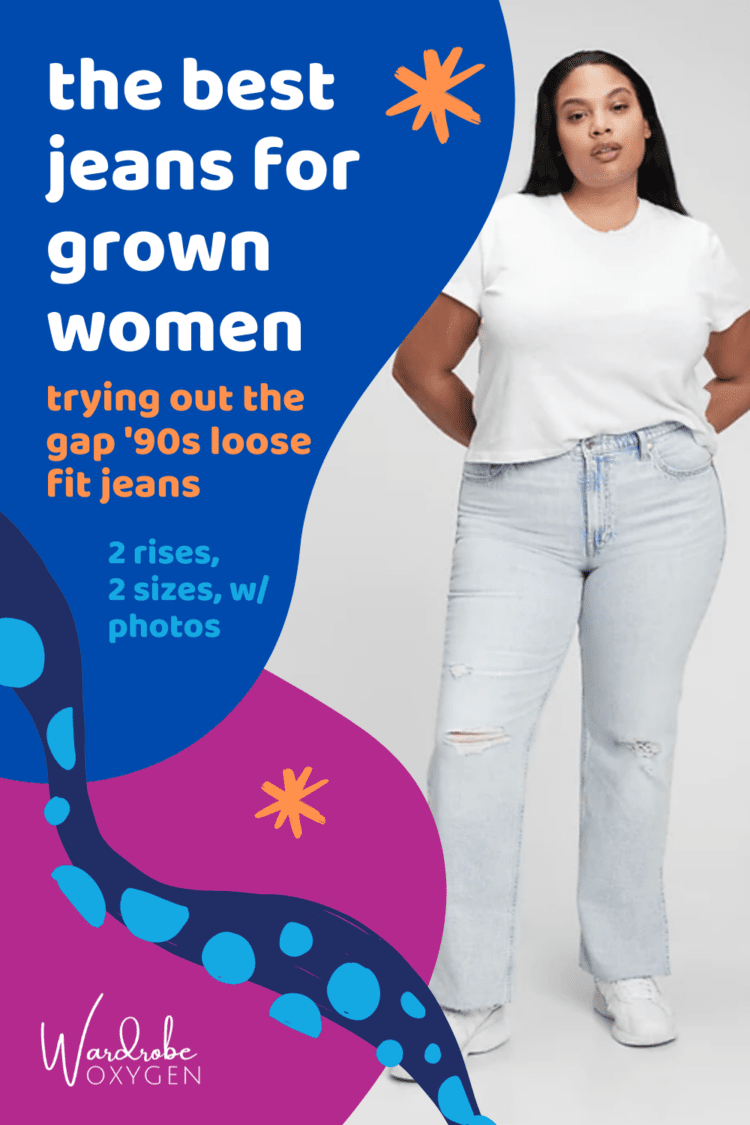 In the 2000's it was all about the bootcut jean. The 2010's was all about skinny jeans and jeggings. Now in the 2020's it seems most every style of denim is acceptable but there is a real resurgence of the 1990's style of jean. A little loose, a little borrowed from the boys, sort of worn in, relaxed, as though you've owned them for years (or thrifted a pair that was owned by another for years). Many members of the Wardrobe Oxygen Community have shared they found their perfect 2020's jean in the Gap '90s Loose Jeans. It's a modern take on the '90s style and a great fit for us grown-ass women. I had to find out for myself if the Gap '90s Loose Jeans are the perfect 2020's jean?
I recently did a Gap denim haul and at the time, the Gap '90s Loose Jeans were not available in my size and ended up not part of the review. But when they came back in stock, I ordered myself four pairs to see what the hype was all about. I didn't even plan to do a proper review like this but they arrived the day I did an Old Navy denim haul (coming this week) so I added them to the shoot!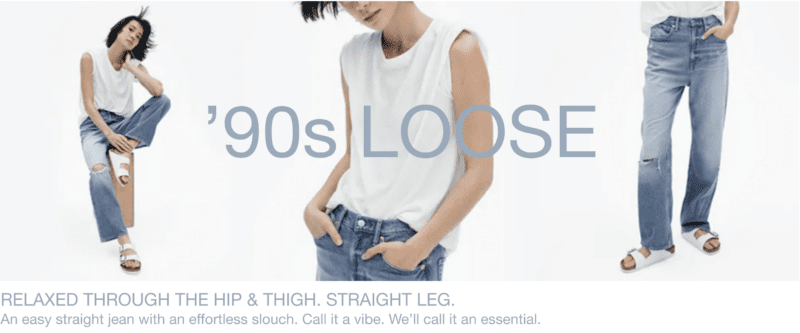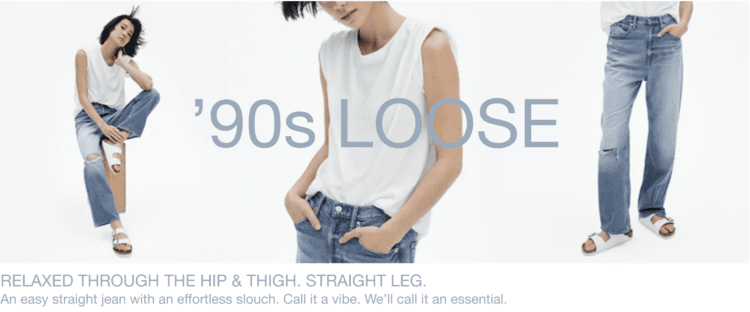 What Are the Gap '90s Loose Jeans and Why Are They So Popular?
So what exactly is the fit of the Gap '90s Loose Jean? In the Wardrobe Oxygen Community, some called them "NFL" jeans and I had no idea what that stood for. Just an FYI, if you Google "NFL jeans" you will get plenty of pairs of denim promoting your favorite sports team, not anything that looks at all like the Gap '90s Loose Jean. I realized that NFL likely stands for "no f*cks left" which sounds pretty perfect for us grown-ass women.
As I wrote about before, there is a difference between having no f*cks left and not giving a sh*t. And when you have no f*cks left you want jeans that make you feel good wearing them, and that likely includes feeling good when you see your reflection. You're not necessarily elongating or lifting or accentuating but instead wearing what works with your body, your lifestyle, and your mood.
NFL jeans would be comfortable, but not schlubby. They would work with, not against your body and your wardrobe. They are the kind of jeans a woman puts on and doesn't have to think about the rest of the day. And the kind of jeans that fellow grown-ass women notice and ask where did you get them so I can get a pair myself. When I saw the Gap '90s Loose Jeans on community member Judy I said I had to try them myself.
These jeans are looser than the Levi's 501's you may have worn in the past, but not so loose that they're heading into JNCO territory. They fit at the waist, but have a bit more room in the seat and thighs with a straight leg that looks good with your Birkenstocks, your Docs, your Tevas, your sneakers, your Blundstones, a pair of polished heeled boots, or even some clogs.
These aren't to be cuffed, but with so many lengths available at Gap you should be able to find a good length for you and if not, tailoring wouldn't be too costly since the hem is standard and there isn't any flare or tapering.
Gap '90s Loose Jeans Review
The Gap '90s Loose Jeans come in two rises – mid rise (9.5″ rise) and high rise (11″ rise). Both styles are made with 99% organic cotton and 1% elastane, come in regular, tall, petite, and in regular you can choose from three lengths. Regular is available in sizes 23-35, tall in 27-33, and petite in 23-30.
I vary between a 14/32 and a 16/33 in jeans and I am 5'3″ tall, so I ordered both styles of the Gap '90s Loose Jeans in 32 Short and 33 Short.
Shop the Gap '90s Loose Jean:
Reviewing the Mid Rise Gap '90s Loose Jeans
I first tried the Mid Rise Gap '90s Loose Jean in Light Indigo. When I was walking downstairs to photograph these jeans, my 13-year-old asked where I got these jeans and if she could get a pair in her size. I was shocked, something for me would be deemed "cool" enough for her? I have to admit, that put a bit of swagger in my step.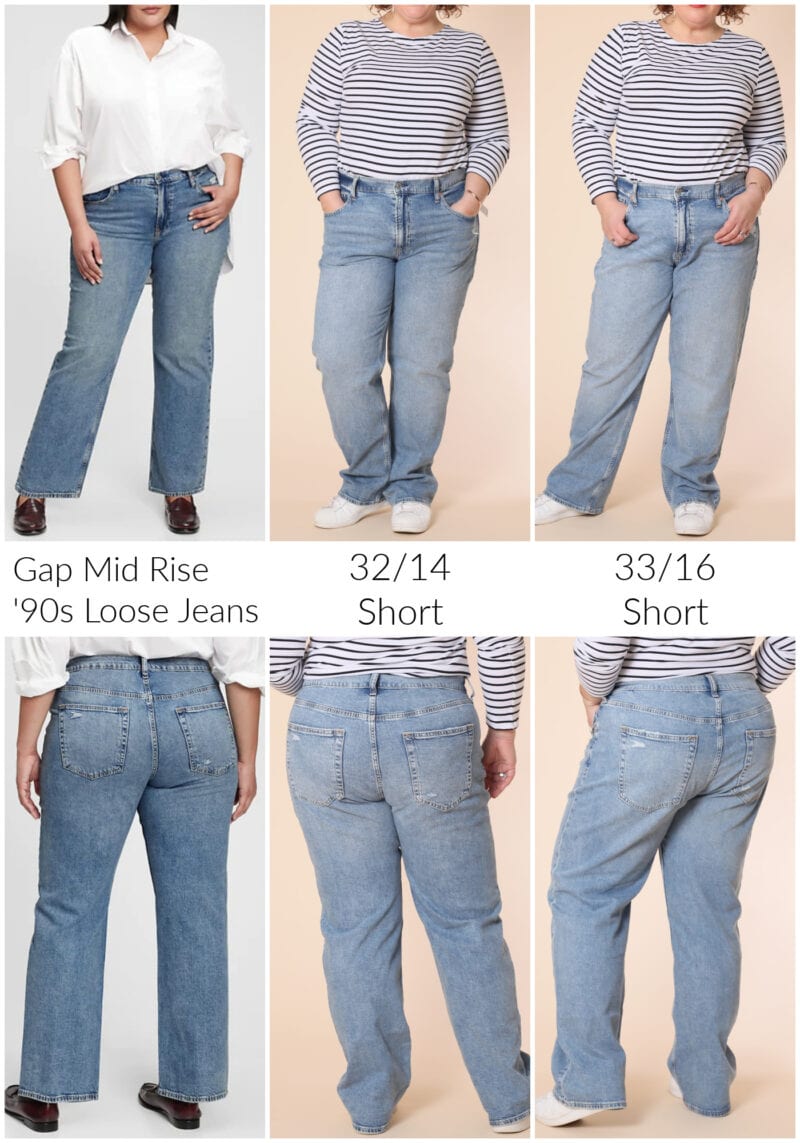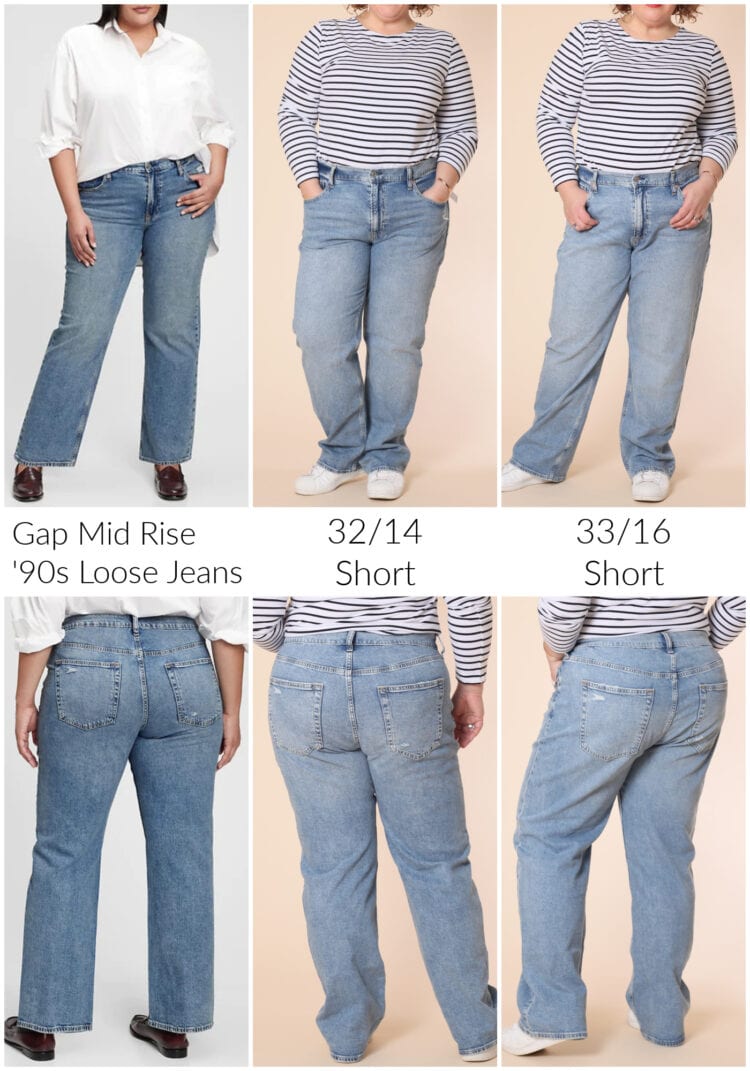 These jeans are soft, but feel durable. They feel like what you want a pair of thrifted jeans to feel like – soft and worn in but substantial. I did some squats in them and I didn't find them to stretch out more than any other jeans with this fabric content. The looser but not baggy fit also gave room when moving so there wasn't as much of a chance for stretching out at the waist/crotch/bum/knees.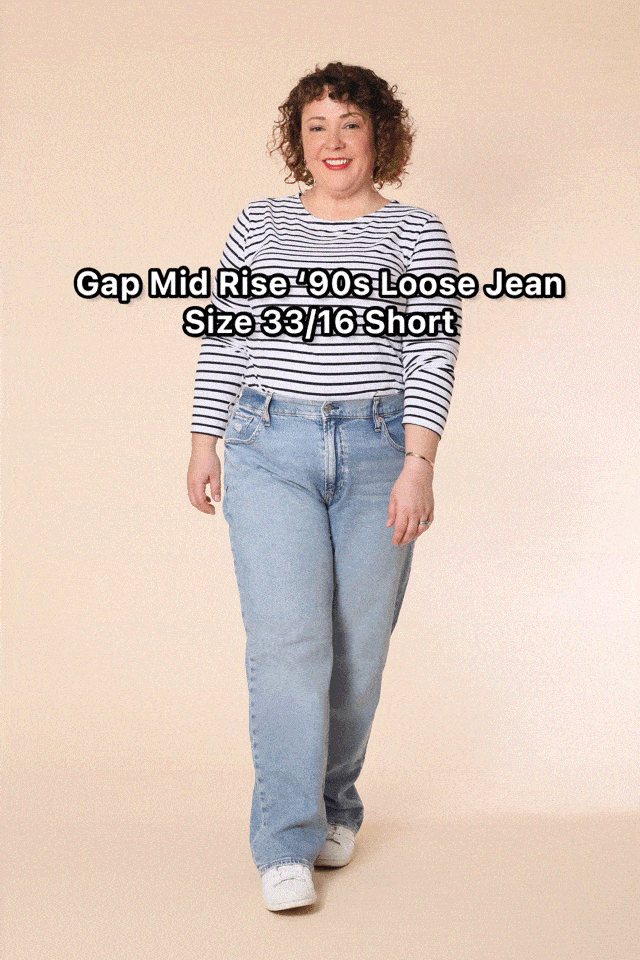 As for pockets, they are deep enough that you can carry your keys in one front pocket, your phone in another, and a slim wallet in back. I also found the Light Indigo wash to look cool – not too blue, not too gray, not too bright, like a pair of jeans you found at the thrift store or in the attic. The jeans were a hair long for wearing with sneakers and flat sandals, but that's to be expected at 5'3″.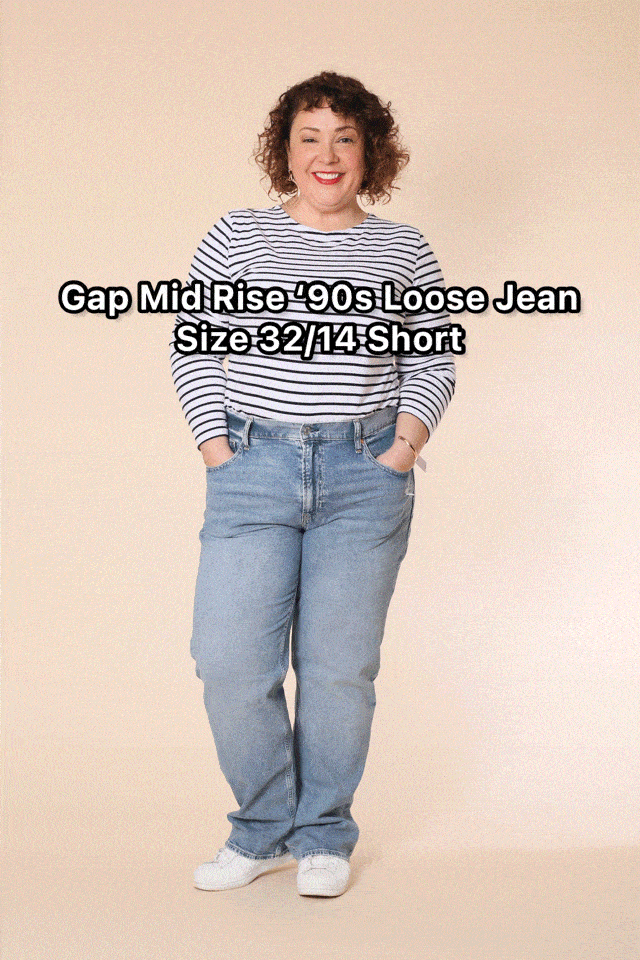 The 16 was a bit big, but the 14 didn't have the slouchy effect that felt both cool and comfortable. The rise felt a hair too short for me; this is normal since I carry my curves in my lower belly and bum. I think if I had a smaller bum and/or belly or carried my curves more in my hips and thighs, these jeans would be pretty fantastic. If they were a hair higher in rise, I would have kept the 16 and had them tailored to be the right fit at the waist and length.
Reviewing the High Rise Gap '90s Loose Jeans
Figuring the Mid Rise Gap '90s Loose Jean was almost perfect except for the rise, I was excited to try the High Rise Gap '90s Loose Jean. Unfortunately, the high rise version wasn't available in Light Indigo, but the Medium Indigo color was still nice, reminiscent of my beloved 501's I wore in high school.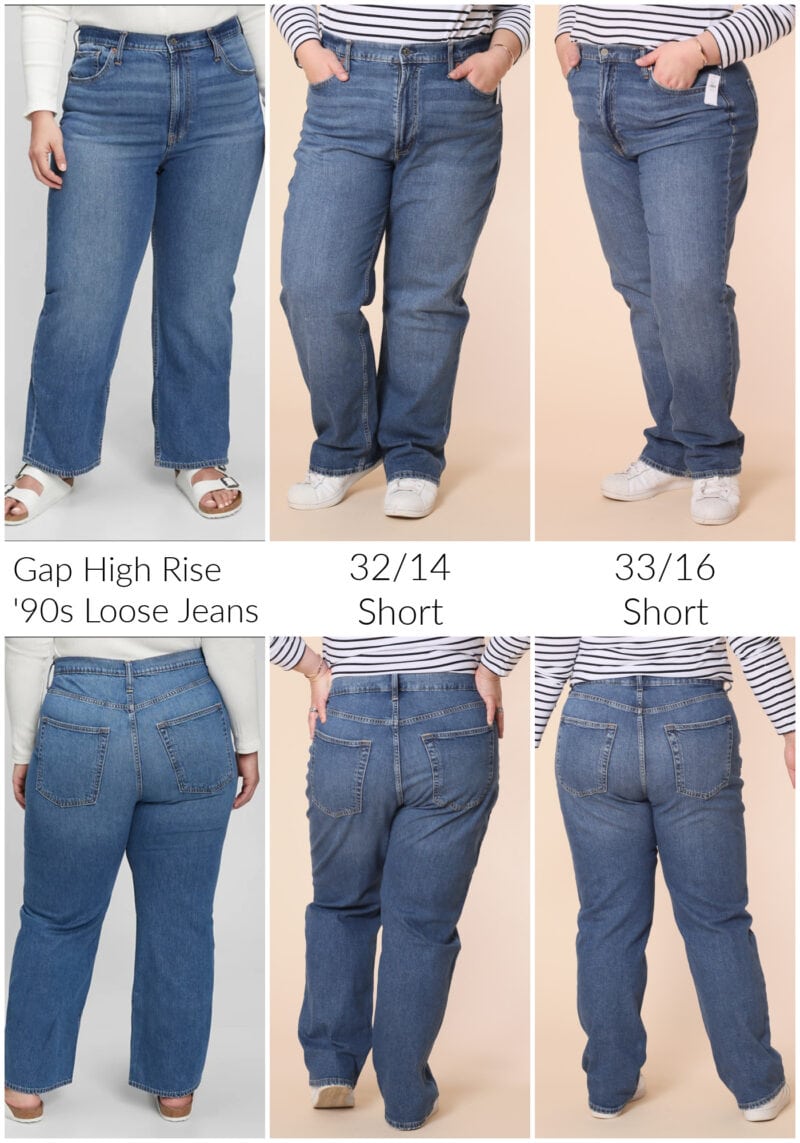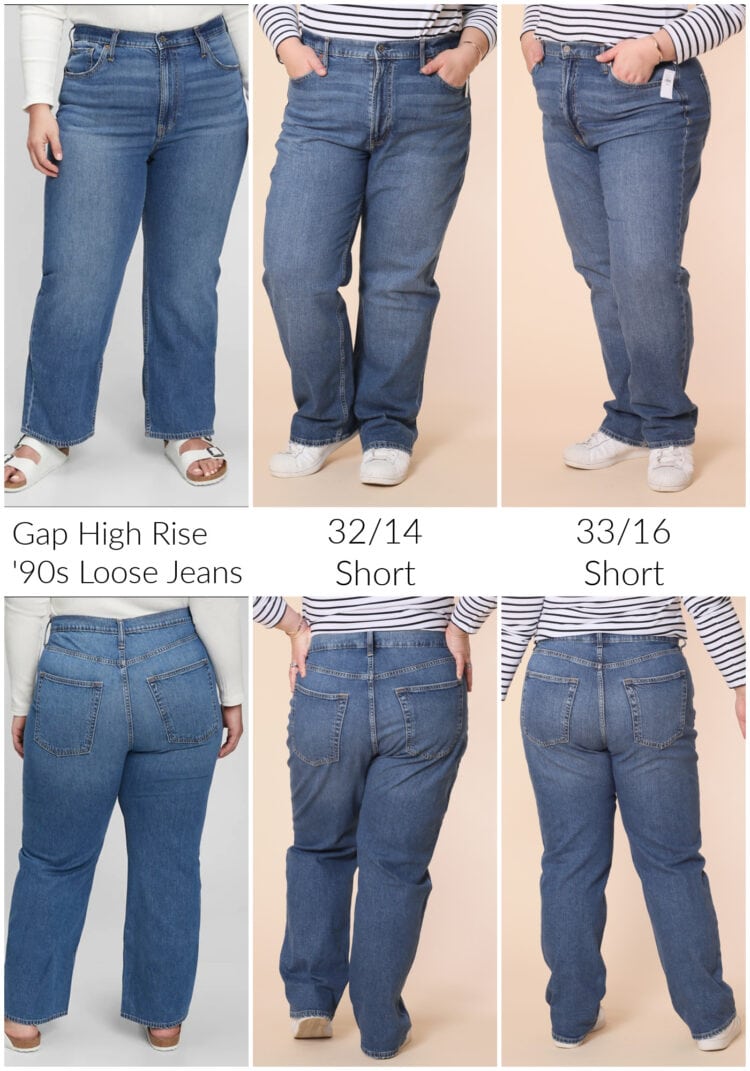 Unfortunately, the high rise of this style of jean was just too high rise and too long for this 5'3″ body. This is yet another time when I wish Gap would carry petites over a size 30; I think a petite would have provided the perfect proportions for my figure.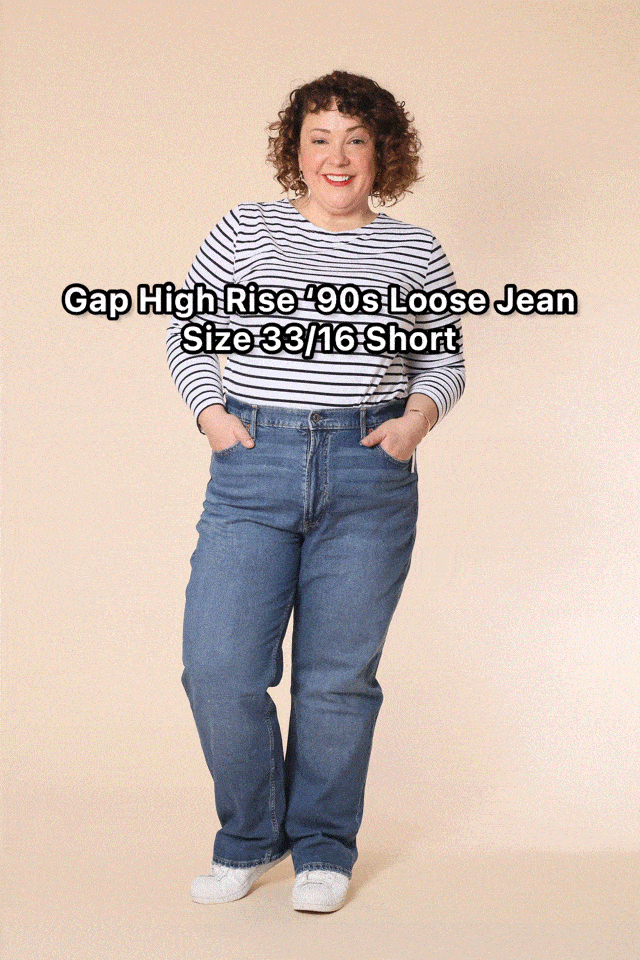 I also found the Medium Indigo to be a bit stiffer than the Light Indigo and the combination made these jeans look really awkward (AKA my daughter wouldn't be asking me for a pair of her own). I preferred the feel of the Light Indigo for my soft curves, even though I usually find a more rigid denim better at holding it all in and smoothing my shape. I think for "NFL" jeans softer denim just feels right.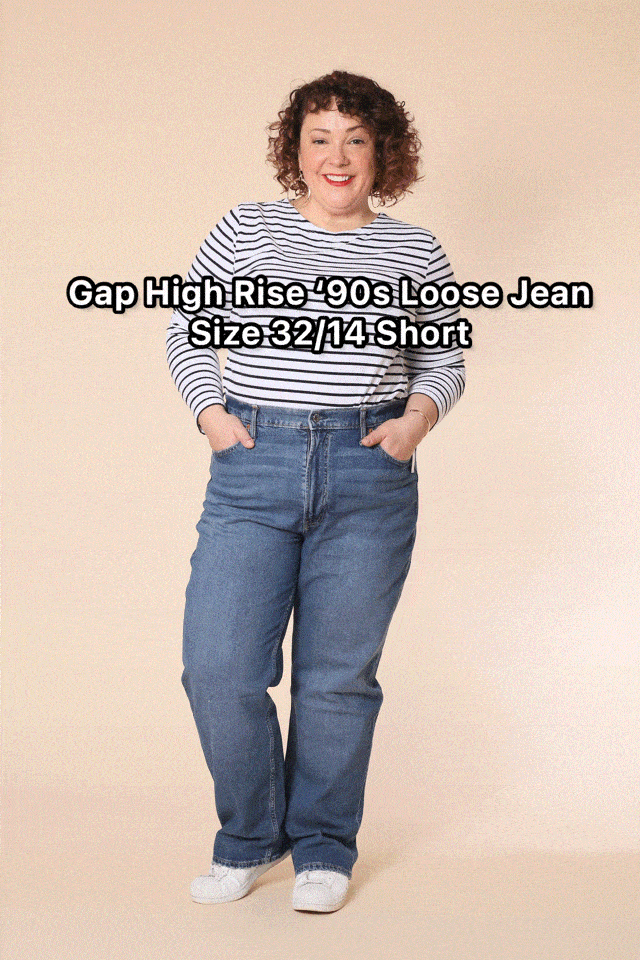 I think this jean would be great if you had more of an hourglass shape or carried your curves in your hips and thighs, and had a bit longer of a torso than I do (or if you wear the sizes available in petite).
So, Is the Gap '90s Loose Jean The Perfect 2020's Jean?
There is no way for one style of jeans to work for every body, and the Gap '90s Loose Jean is not the perfect 2020's jean for my body… but that doesn't mean these jeans aren't pretty perfect, especially for grown-ass women. I had terrible luck with Gap jeans in my Gap denim haul but the Gap '90s Loose Jean gave me hope in this retailer.
I found the fit of the '90s Loose Jean consistent, the sizing consistent, and the wash/cut on trend. This is a jean that can work for my teen, and also for my mom. It's not too loose that it makes it hard to wear tops untucked, it's not so distressed that you feel like you're a Lita Ford backup dancer, it's the kind of jeans that after two years of being at home in joggers and sweats, you may find comfortable as well as looking pretty good on your Post-Pan figure.
While the Gap '90s Loose Fit Jean was a fail for me, this is a style of jean I do recommend to my fellow grown-ass women. If you're nervous about trying a non-skinny style, if you hate the feel of rigid denim, if you're not down with the knee holes but want that vintage vibe, if you miss the jeans you wore back in the day with your plaid flannel tied around your waist, these may be the jeans for you!
Have you tried the Gap '90s Loose Fit Jeans? If so do share your feedback in the comments and help fellow members of the community! Also, let me know what you think of the GIFs showing the four views. I was thinking it was a better use of space than four separate photos, but let me know how it works on mobile, etc. and if you'd like to see it in future reviews.